Heading to Virginia's National Park and looking for a great place to stay? These are the best Airbnbs near Shenandoah National Park!
We have several Shenandoah Airbnbs listed below that we believe will make your trip epic! There are cabins, cottages, homes, and much more.
Whether you're visiting Shenandoah National Park in winter or in summer, there is an option for every traveler.
If you have any cool cabins near Shenandoah National Park to recommend (or just any great accommodation, in general), please let us know by leaving a comment below! Thanks!
Best Airbnbs near Shenandoah National Park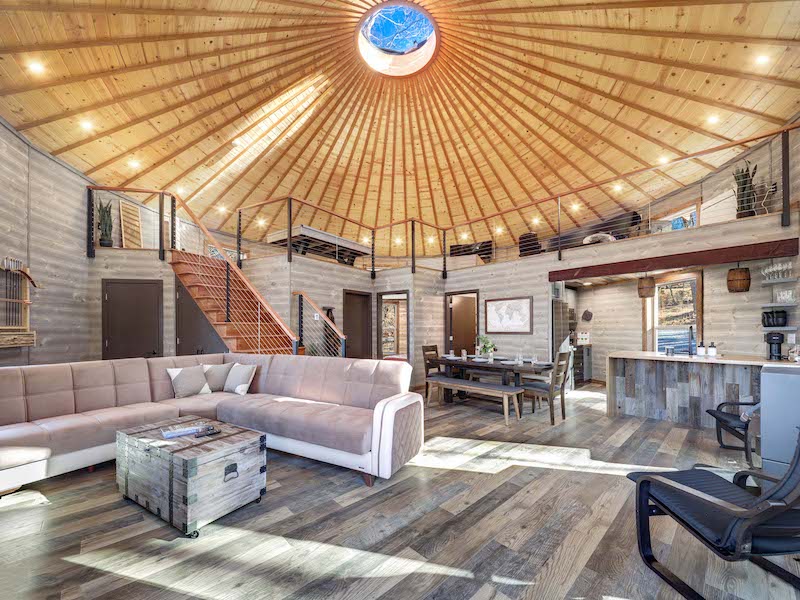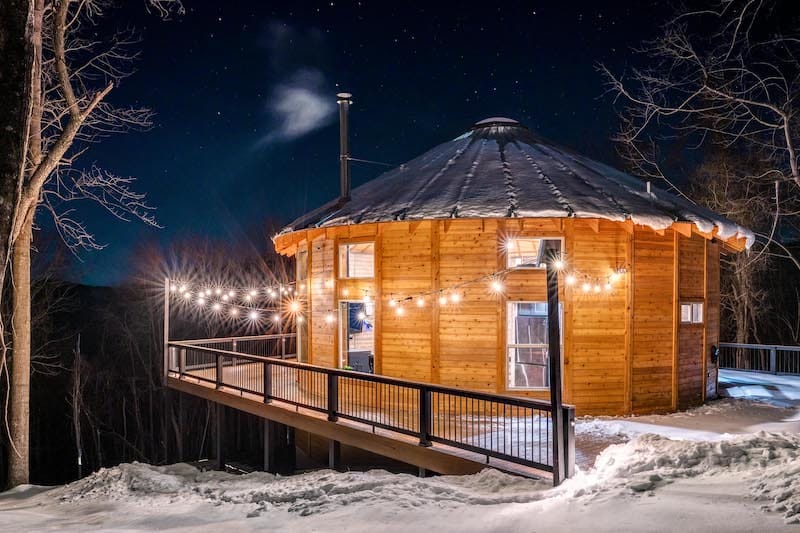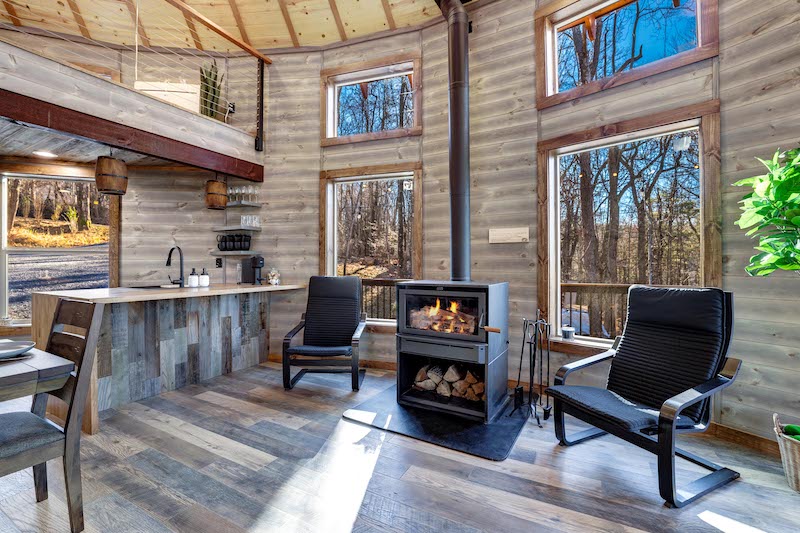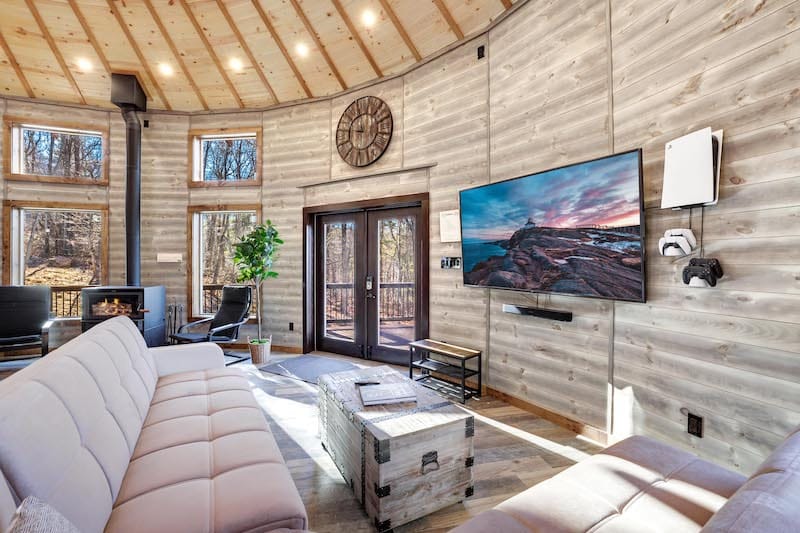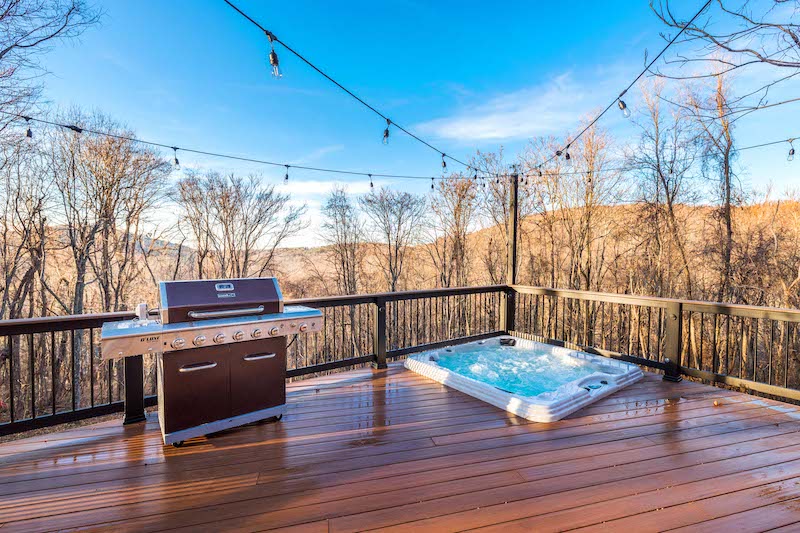 You will find many amazing places to stay near Shenandoah and this incredible yurt is my top pick!
This luxury escape is situated merely a mile from Shenandoah and has everything from a hot tub, wood-burning stove, EV charger, pool table, and more. Honestly, this is the place to get out of the city without compromising the modern amenities you are used to!
There is high-speed wifi, a smart TV (includes Netflix and Disney+), board games, and so much more. They also offer e-bike rentals if you're looking to spend most of your time outdoors and not inside! On the bikes, the park is only about 15 minutes away.
Inside, you will find a fully-equipped kitchen, Nespresso machine, 2 bedrooms with queen-size beds, and more. The place sleeps up to 8 in total but is best suited for 4. This is one of the coolest accommodations in the entire state!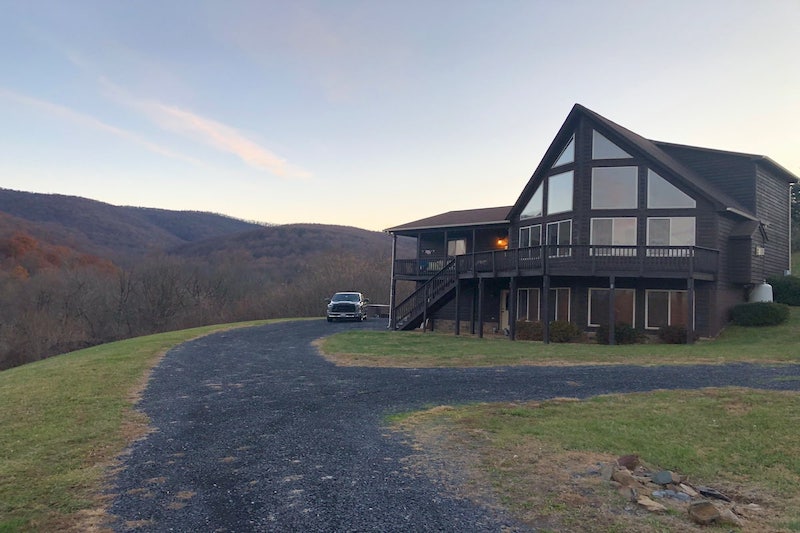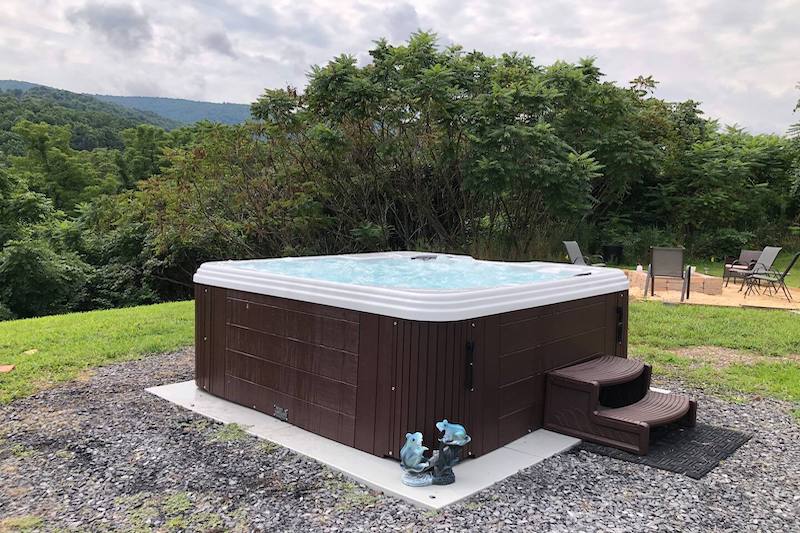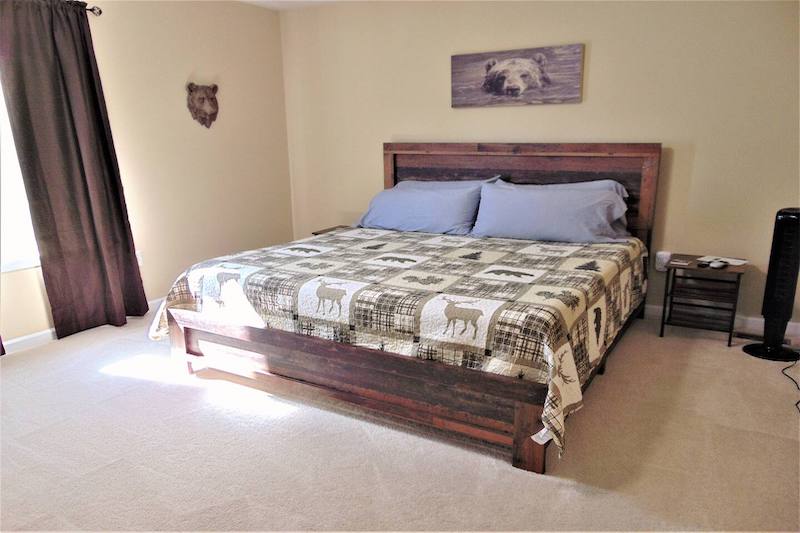 Located in the Shenandoah mountains, this luxurious lodge will be your perfect getaway destination!
It offers a living room, 3 bathrooms (one with a bathtub), a well-equipped kitchen with everyday essentials, and it can comfortably sleep up to 6 guests in its 3 bedrooms with a king-sized, queen-sized, and a double bed.
Take the time to relax in the outdoor hot tub or sip your morning coffee on the balcony surrounded by panoramic mountainous landscape views.
In less than 10 minutes, you can enjoy everything Front Royal has to offer, such as Shenandoah National Park wineries, hiking trails, the Shenandoah River, and much more.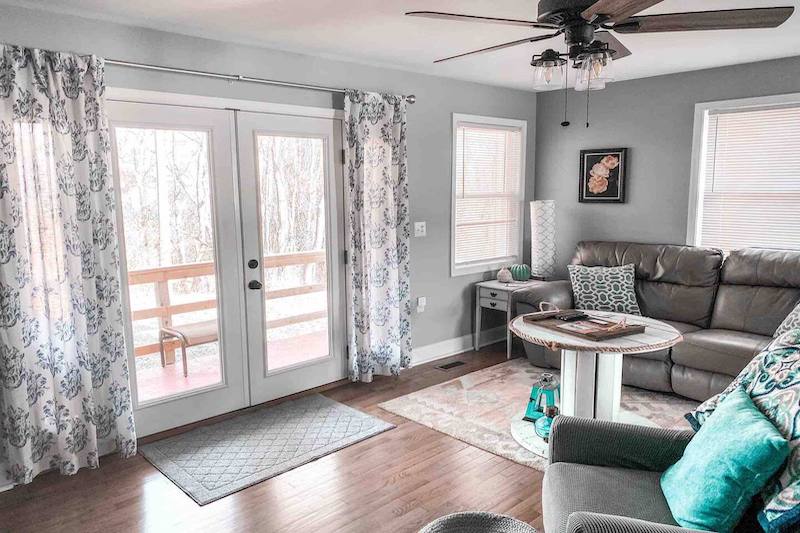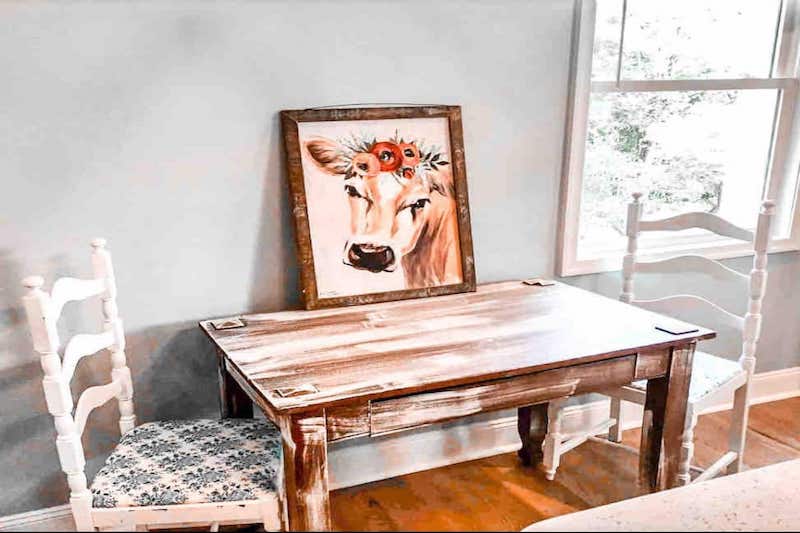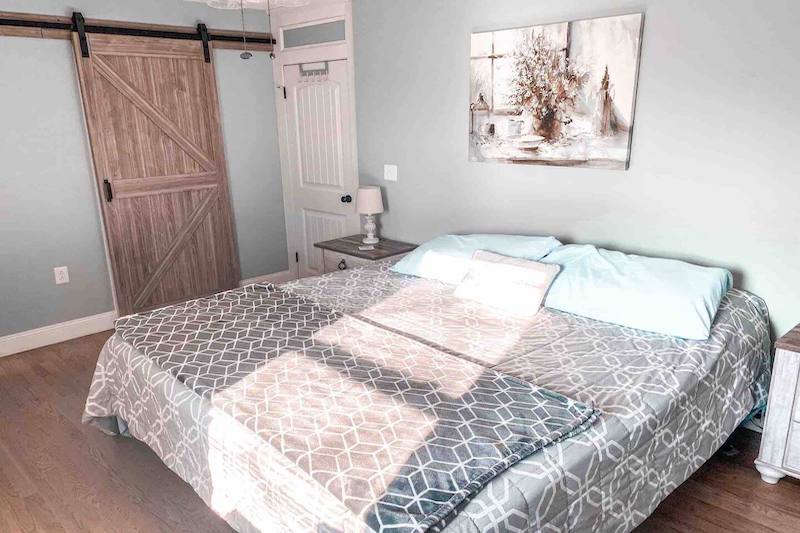 This renovated, charming home will grab your attention with its modern style interior with accents to rustic décor elements.
It can accommodate up to 4 people in its 2 bedrooms with king and queen-sized beds, 2 bathrooms (one with a bathtub), a fully-equipped kitchen, and a living room.
The conveniences it offers are free parking, WIFI, heat and air-con, an indoor fireplace, and much more. Enjoy your evening strolls in the garden while admiring the abundance of wildlife in close vicinity.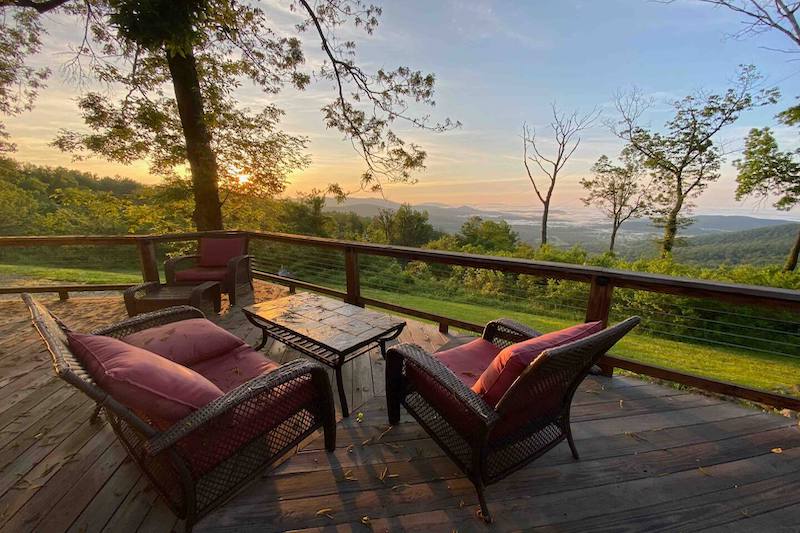 Are you looking for a place to escape from the city chaos and have a relaxed and peaceful getaway? If so, you should consider visiting this charming and luxurious retreat with rustic style interior dating back to the 90s, where architectural perfections will make you feel like part of the surrounding (and breathtaking!) nature.
Its roomy area is suitable for up to 6 guests who can enjoy their comfortable stay in 2 bedrooms (one in the upper loft), 2 bathrooms, a fully furnished kitchen, and a living room with an indoor fireplace.
You will have access to all modern amenities, including an outdoor hot tub, heat and air-con, WIFI, BBQ grill, and much more. The ample outdoor seating can entertain any group and be the perfect place to stargaze.
In close proximity, you will find the Appalachian Trail and Shenandoah National Park.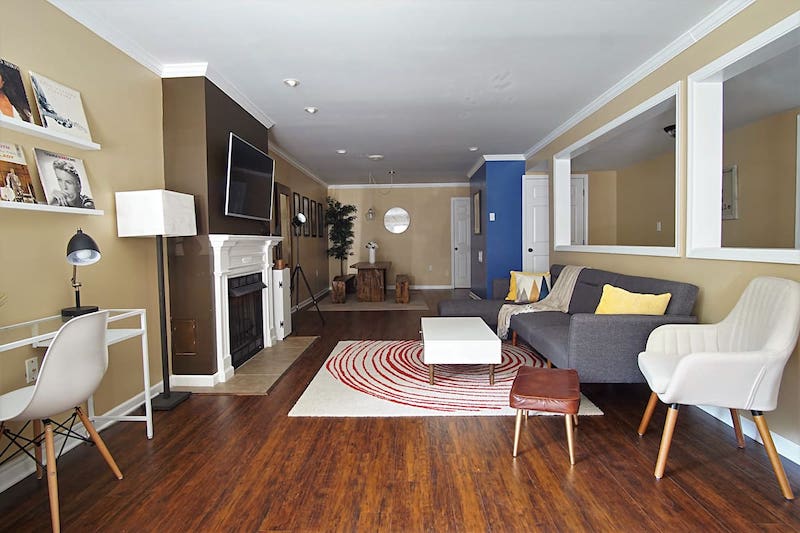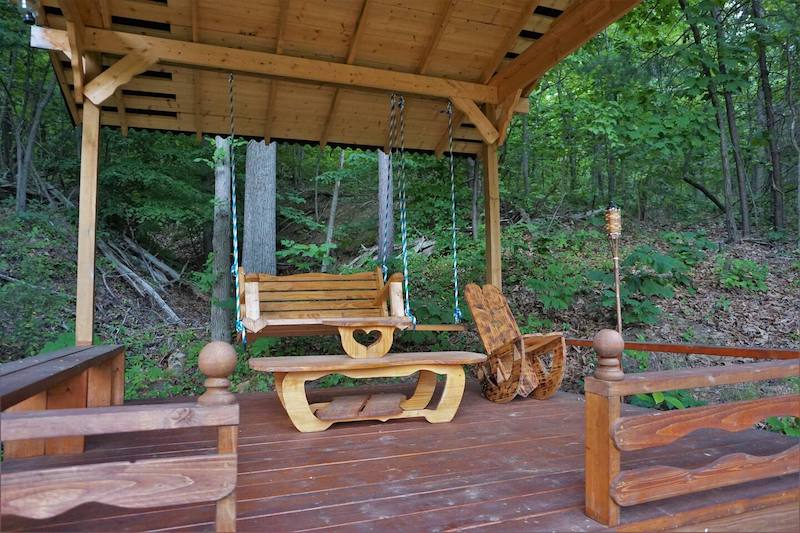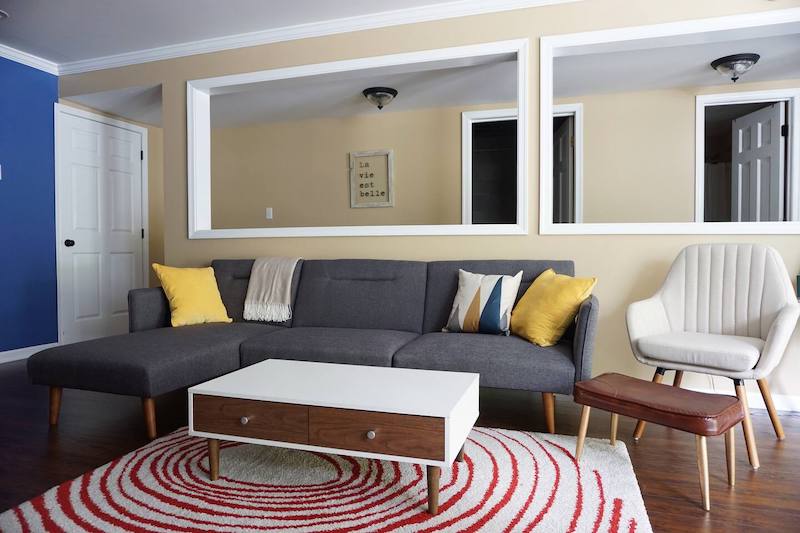 Suitable for up to 5 people, this spacious Airbnb near Shenandoah National Park will grant you access to almost all attractions that Front Royal has to offer, such as the Skyline Caverns, Chester Gap Cellars, Front Royal Brewing Co, and more.
Nestled in an idyllic location, it offers nice country views with a bit of city life.
It is a roomy, 1st-floor basement suite with fresh touches that provides 2 bedrooms (one with king bed and the other with bunk bed), a large walk-in closet, 1 bathroom, a large fully-furnished kitchen, and a living room with a farmhouse dining table. It also has a 2-car parking space.
This Shenandoah Airbnb will make you switch off your phones and enjoy quality time with your friends or family around the shaded picnic table and the fire pit… or simply just admire the green surroundings in the outdoor gazebo.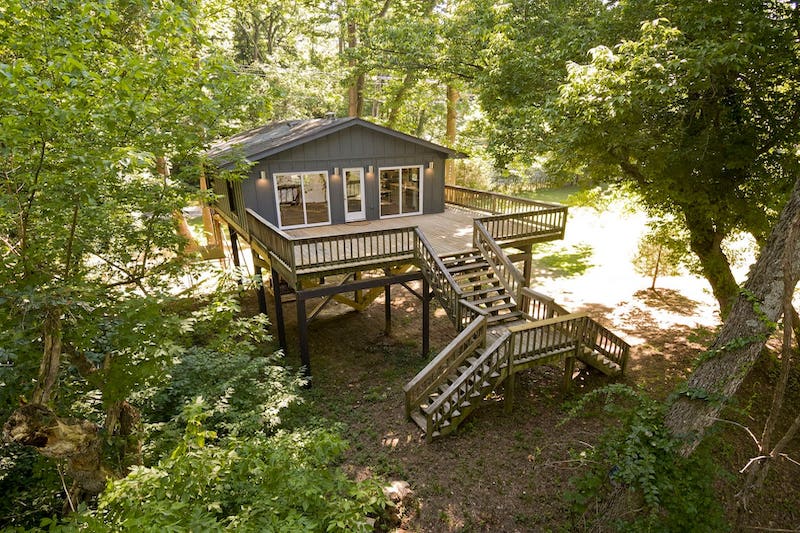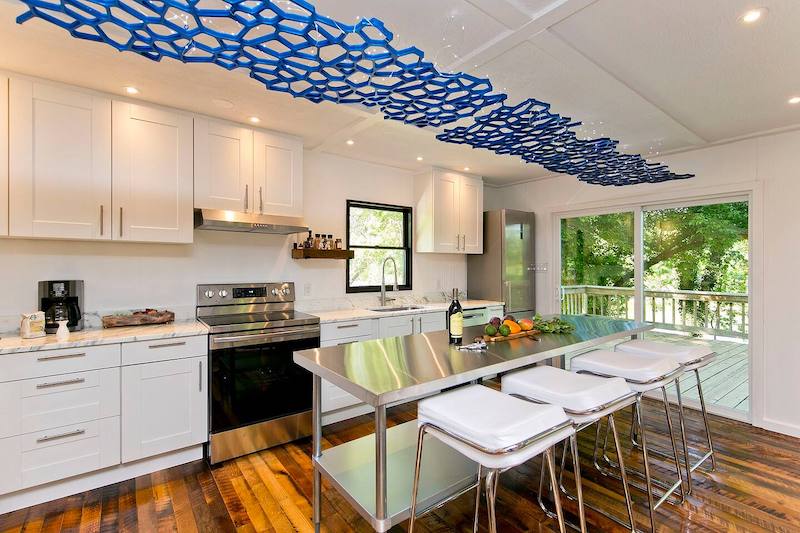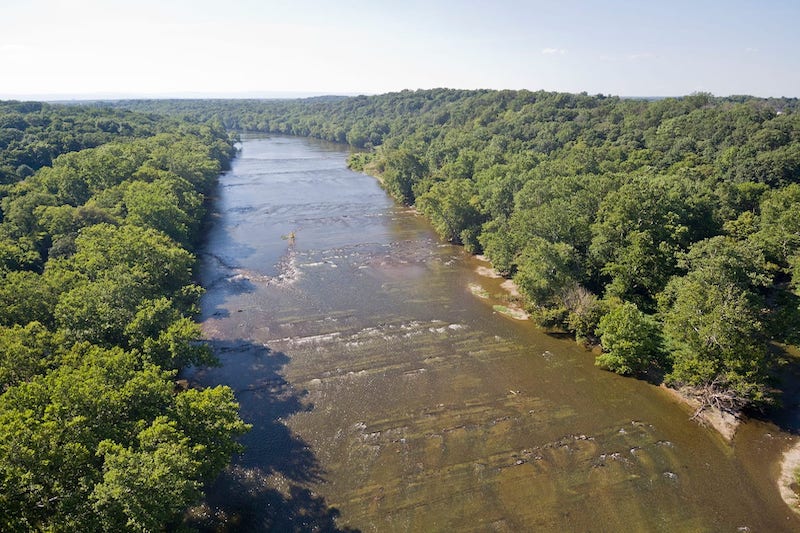 Skyhouse, with its unique architectural approach, will guarantee you a true escape where you can enjoy a romantic getaway or a trip with your friends.
This peaceful and captivating riverfront cottage in the middle of the forest is an excellent fit for up to 4 guests. It offers 2 bedrooms, both with double beds, 1 bathroom, a fully-equipped kitchen, washer/dryer, air-con, and a private fire pit and grilling area on the outside.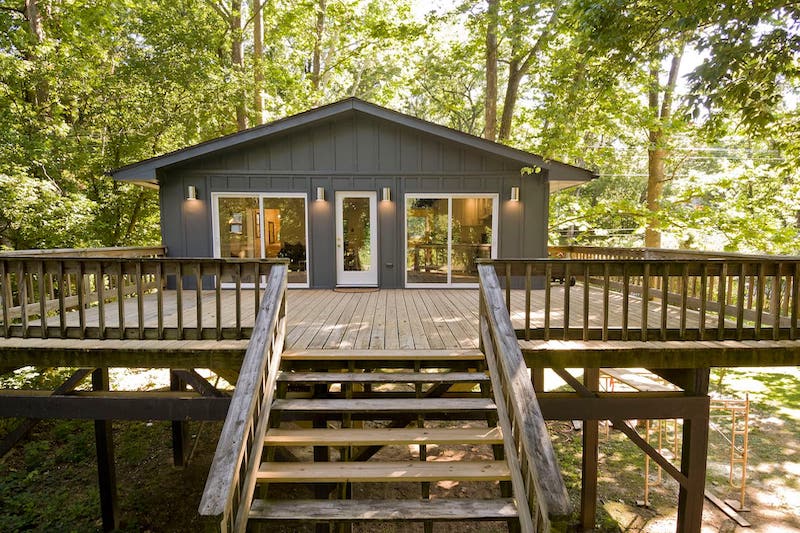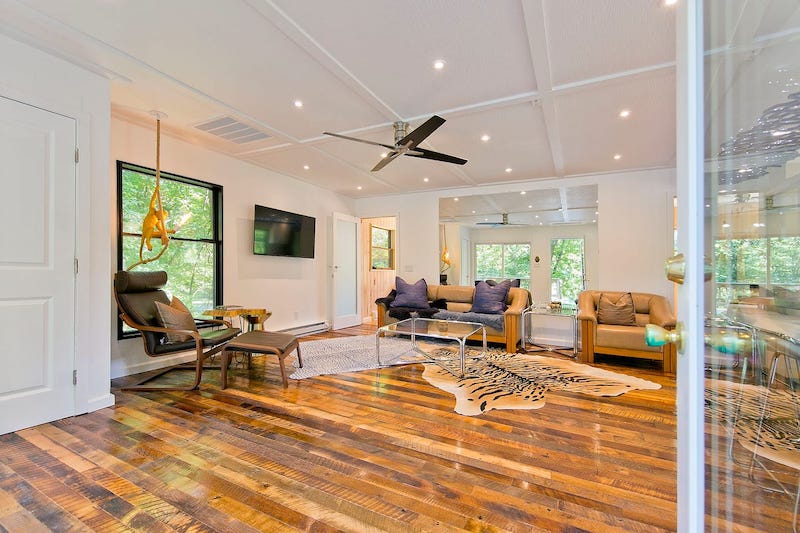 Private patio seating will ensure magnificent views of the Shenandoah River and the Blue Ridge Mountains, where you can finish off your day with a glass of wine while gazing over the river.
It's a great place to organize hiking, fishing, or hop on Skyline Drive… and merely a 10-minute drive is all you need to get to Front Royal.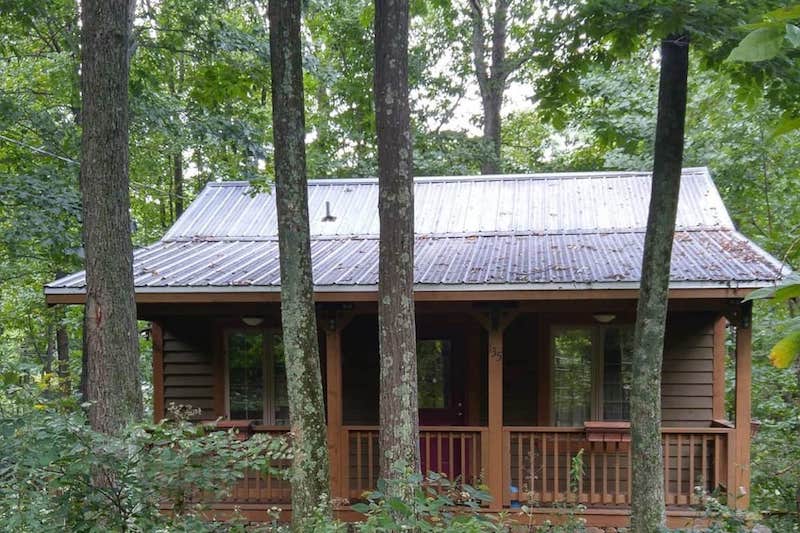 This 500-square foot, studio cottage in the community of Chester Gap is the perfect place for extended work-from-home opportunities or for spending a long weekend with your significant other
It offers all the conveniences needed for 2 people- one bedroom with a double bed, one bathroom with a bathtub, a kitchen, a small living room area with a stove, etc.
The cozy gazebo and the picnic table in the backyard will greatly add to your romantic dining experience. A 5-minute walk is all you need to get to your next destination: the famous Appalachian Trail or Shenandoah National Park.
This rustic retreat for two has a quirky design that will be your home away from home for your entire trip. After an exciting day checking out local sites such as wineries, breweries, and the Luray caverns, you can arrive back there and get recharged in the relaxing cabin for another adventure the following day.
Conveniently practical in size, it offers its guests a kitchen, living room, one bedroom with double and single beds, one bathroom, a laundry room, heating and air-con, a deck, front and back yards, and a free parking spot.
The home is located 1.5 miles away from the entrance of the Shenandoah National Park and Skyline Drive.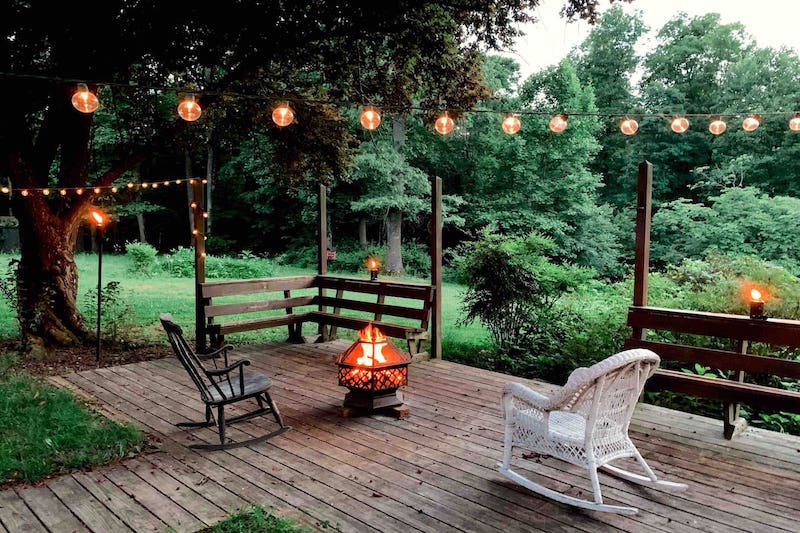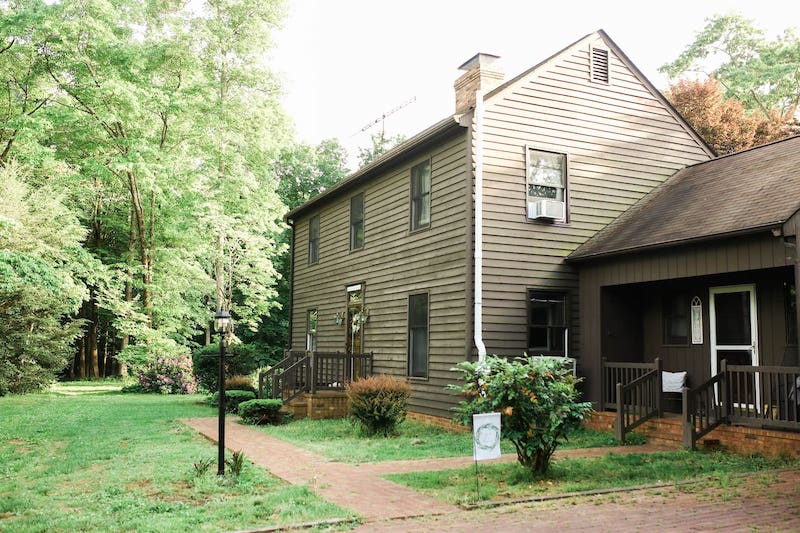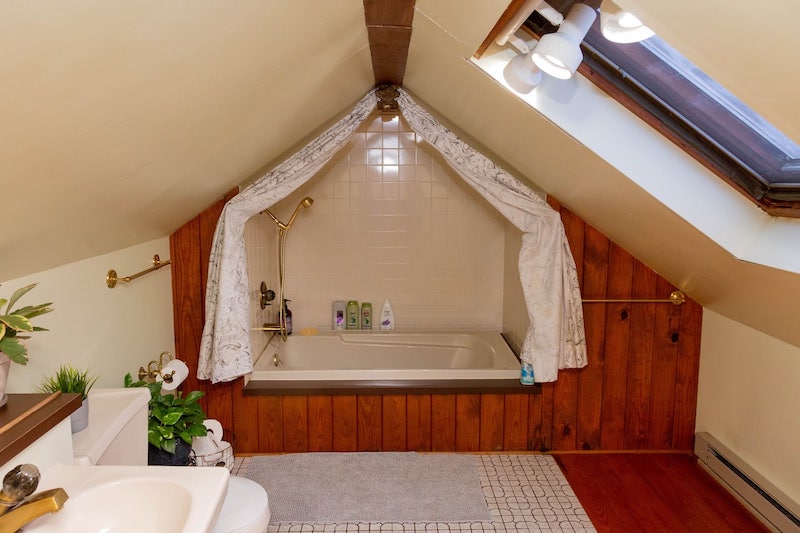 This comfy place in Rochelle submerged into green surroundings is waiting for you to have a staycation (or vacation)!
This apartment is the right fit for up to 3 people. It offers a bedroom and a living room combo space with a queen-sized bed plus one extra twin-sized sofa bed if needed.
In addition, it has one bathroom with a bathtub, a kitchenette with basic cooking supplies, TV, wifi, free parking space, and other conveniences.
The spacious back deck is a lovely place to have a cup of tea and get peace of mind while listening to the rustling of trees and admiring the beauty of the woods.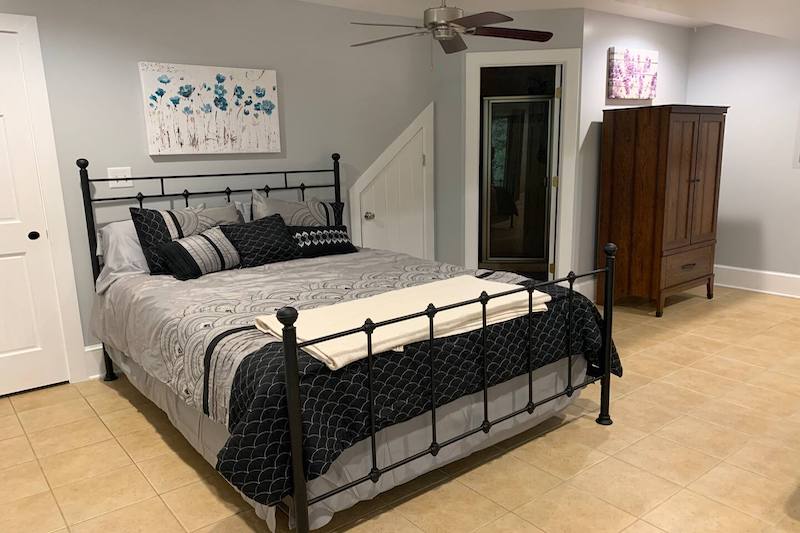 Bring your special someone into this neat and picturesque cottage and add to your list of unforgettable memories!
In Ruckersville, the Welsh Run Farm perfectly accommodates 2 people in its one bedroom with a queen-sized bed, one bathroom with a shower stall, fully-equipped kitchen, living room area with TV, and large backyard.
Wake up to the glow of the sun rising and enjoy your breakfast on the spacious balcony while enjoying the breathtaking views. Stroll around the backyard and meet the horses in the boarding facility.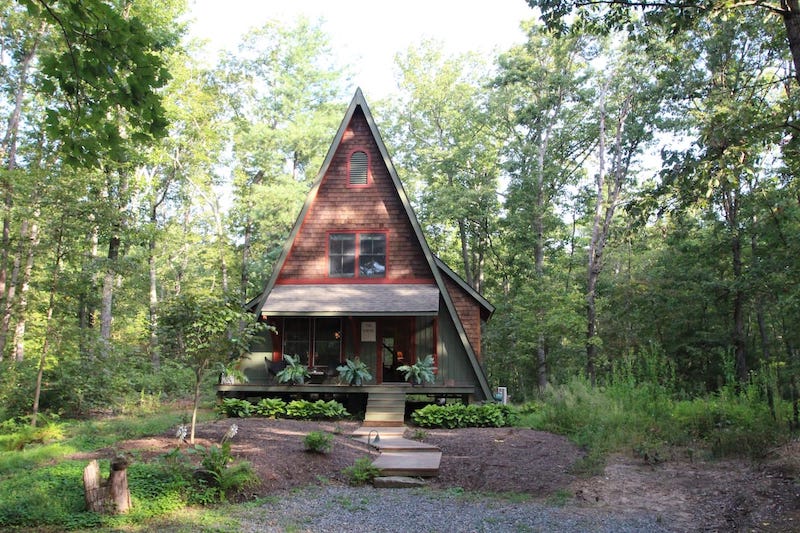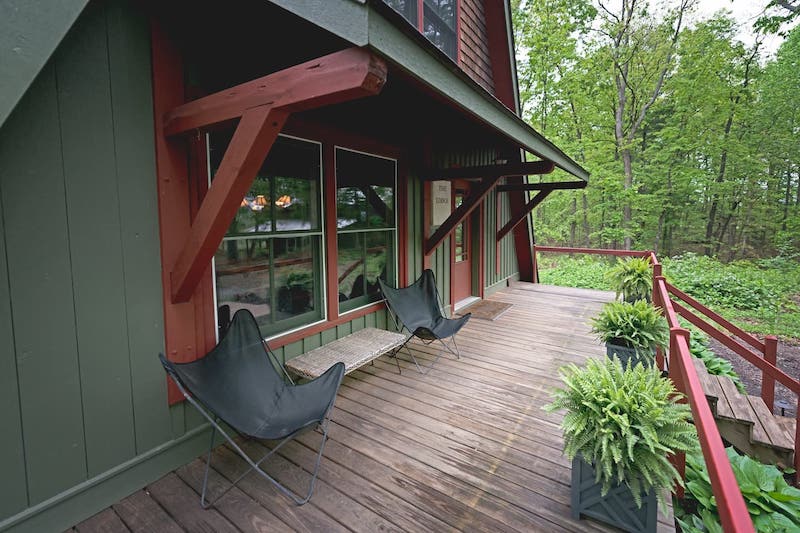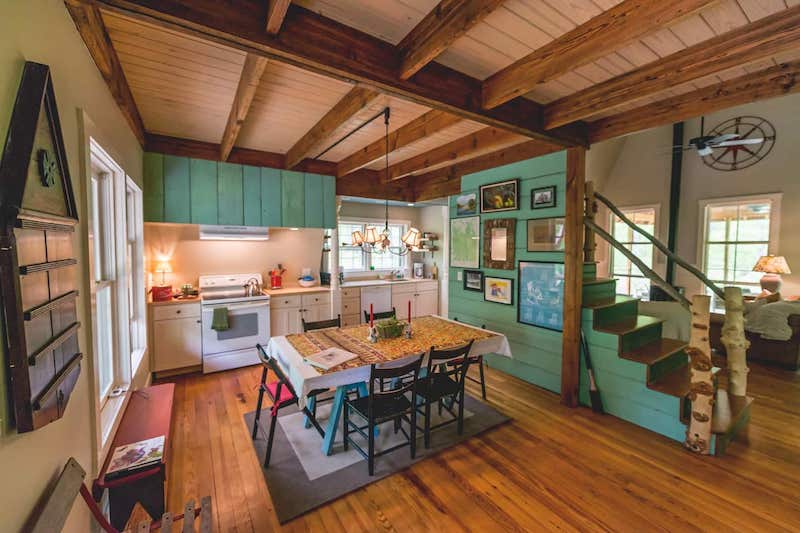 Are you looking for an adventurous and exciting trip to a unique spot? You definitely found it at this Shenandoah Airbnb rental!
This charming lodge located in Madison-Barbour's rural historic district offers a unique retreat for up to 4 people. Its artistic and eco-friendly interior has enough space for a loft bedroom (plus an extra pull-out sofa bed if needed), a bathroom, a fully equipped kitchen, and a living room area with an indoor fireplace.
You can have your morning showers in the outdoor shower area or organize friend gatherings on a spacious back porch. Even though it is very close to Rt. 20, you can still experience the feel of rural Virginia.
Suitable for 2 people, this lovely, landscaped house sits away from the hustle and bustle, offering its guests a romantically designed bedroom with a double bed adjacent to its own bathroom.
Provided conveniences are a kitchen, a living room, closet space, indoor fireplace, free parking, air conditioning, wifi, TV, and much more.
Located at Vineyard Vista Country Getaway, only 5 miles separate you from getting to town, where you can enjoy your meal in the nearest restaurant or just enjoy your evening strolls while exploring the city.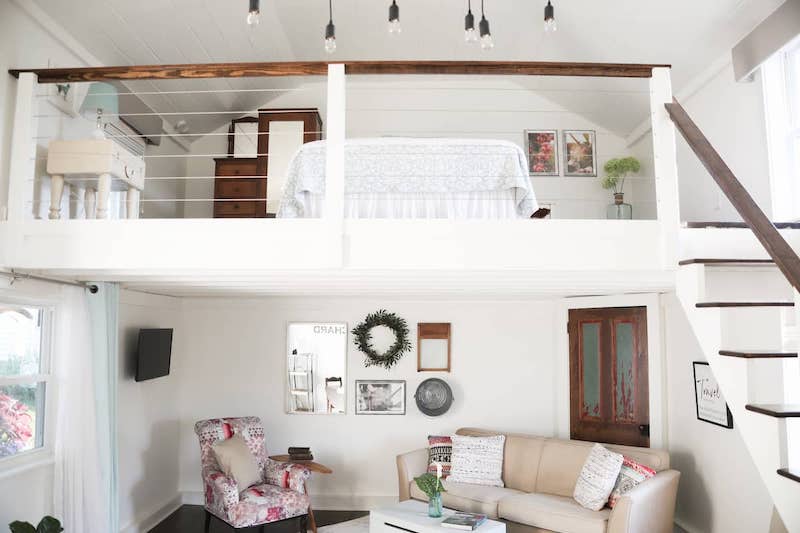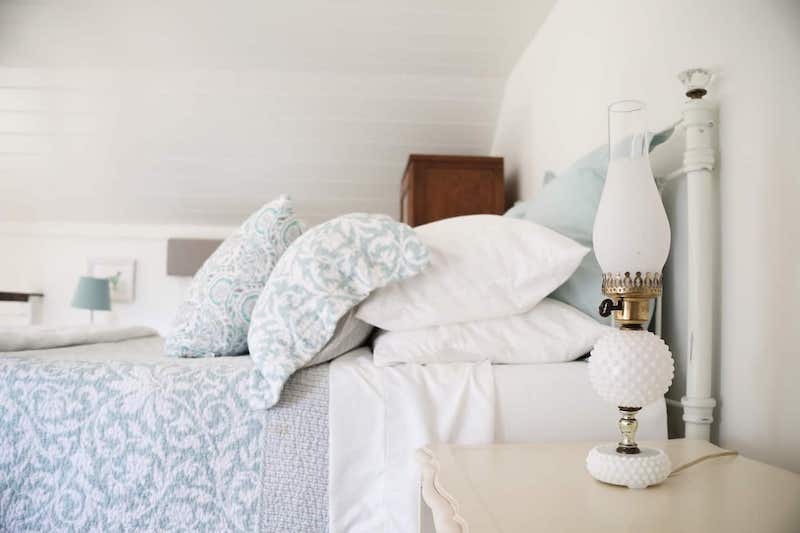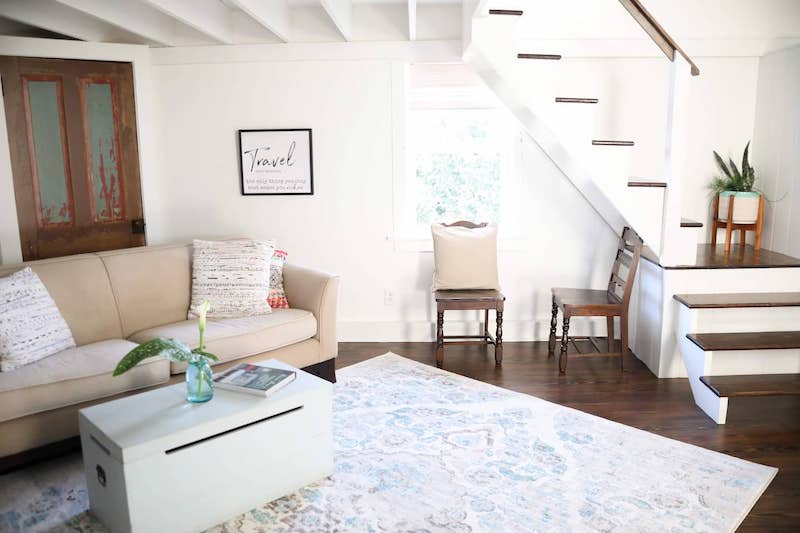 The most romantic Airbnb on this list is located in Timberville and it will grab your attention with its elevated interior design and ensure you a memorable stay near Shenandoah National Park!
This detailed and clean cottage is mere steps away from Showalter's Orchard and it comfortably sleeps two. It offers one bedroom/one bathroom, a fully-stocked kitchen, free parking space, heat and air-con, wifi, and other conveniences.
The garden will offer you fresh produce and will be the perfect place for an enjoyable picnic under the trees. You can spend your evenings on the outside patio under the canopy of enormous oak trees around a fire pit and soak up the magnificent views.
This will be your home base after checking out the local wineries, distilleries, breweries, award-winning restaurants and discovering other entertaining places nearby.
We hope that you found one of these Airbnbs near Shenandoah National Park suitable for your group and desires for visiting the park!
Do you have a favorite Shenandoah National Park Airbnb rental? Let us know in the comments!
Additional Shenandoah National Park Resources
Pin this Shenandoah National Park Airbnbs Guide