Are you on the hunt for the perfect tree for your family this holiday season? These are some of the top-rated Christmas tree farms in Virginia, including ones where you'll find festive activities (and more)!
These Virginia Christmas tree farms are diverse – some more affordable than others, some have community initiatives, and some offer year-round fun depending on what the farm has to offer.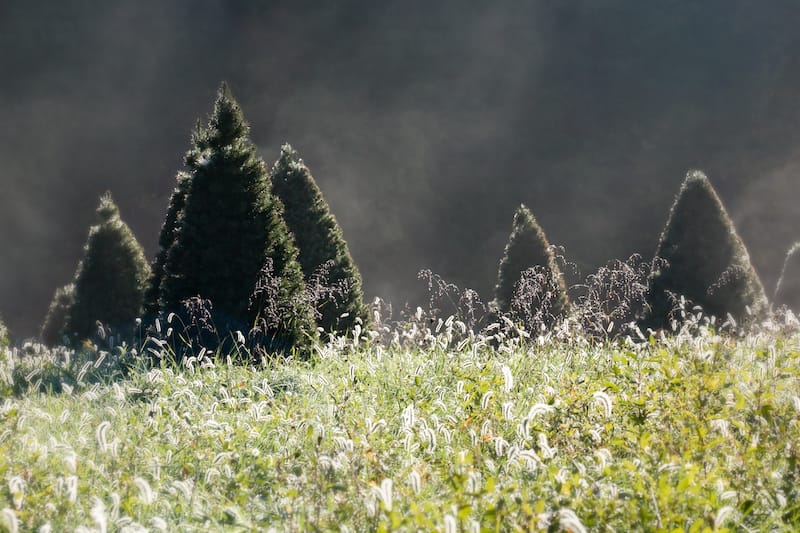 What is your favorite Christmas tree farm in VA? Let us know in the comments!
Christmas Tree Farms in Virginia
Valley Star Farm
Location: Luray
Website
Pick up a gorgeous locally grown Christmas tree at Valley Star Farm located in Luray!
The farm offers various trees such as White Pine, Norway Spruce, Colorado Blue Spruce, Canaan Fir, Concolor Fir, and Fraser Fir.
You can choose-and-cut or pre-cut trees from this lovely family farm. After finding the perfect tree take a look at the Holiday decorations, the farm offers, from beautiful wreaths to centerpieces and more.
Most of the choose and cut trees cost $49 excluding sales tax.
Chilly Hollow Christmas Tree Farm
Location: Berryville
Chilly Hollow Christmas Tree Farm, a family-owned business where you'll have the option to choose and cut or let them cut the tree you desire for you.
Some of the varieties grown on the farm are Norway Spruce, Blue Spruce, Scotch Pines, and White Pines. Prices of the trees can vary based on species from $30 to $70.
After choosing the tree, round up your day by buying Raspberry Jelly & Syrup, Real Maple Syrup, and Picked Jalapeno Pickles made on the farm.
Reed Island Farm Christmas Trees
Location: Hillsville
Website
Choose and cut your own Fraser Fir or Canaan Fir in the beautiful Blue Ridge Mountains. You have the choice to walk the fields or jump on the hayride to explore the farm further.
In addition to finding trees at Reed Island Farm Christmas Trees, you and your family can enjoy a picnic along the scenic Little Reed Island Creek.
While your tree gets shaken and baled, visit their Christmas Shop and browse through handmade gifts and ornaments.
The couple who owns the farm also makes homemade wreaths, which you can choose to pick up right from the farm or ship to your house.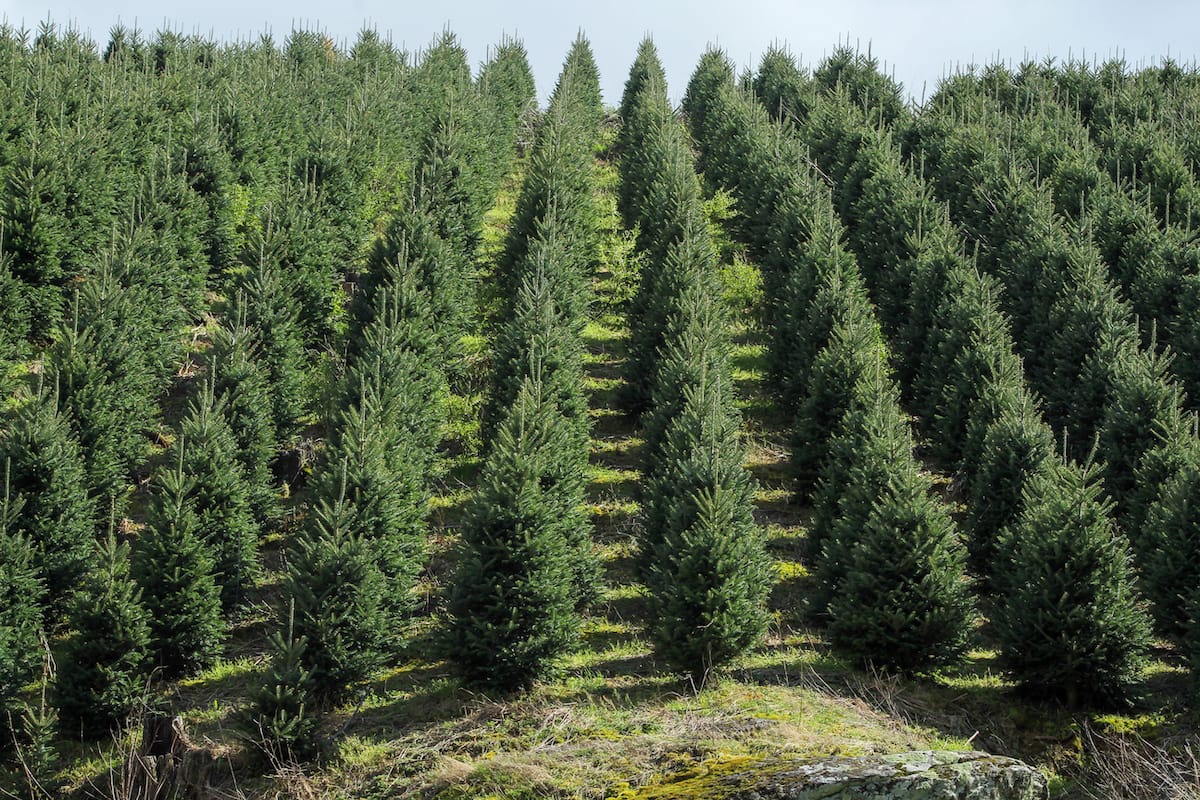 Middleburg Christmas Tree Farm
Location: Round Hill
Website
Known as the oldest and largest Christmas Tree Farm in Loudoun County, the Middleburg Christmas Tree Farm is the perfect place to search for your Christmas tree.
Choose and cut the perfect tree at this farm that grows Norway Spruce, Colorado Blue Spruce, Douglas Fir, and Concolor Fir.
The farm provides you with saws to cut the trees and tree carts to carry them from the fields. Prices of the trees depend on the size, trees up to 10ft cost $150, 10 to 16 feet cost $200.
After successfully finding the perfect tree, enjoy a scenic picnic lunch with your loved ones.
​​Hartland Farm
Location: Markham
Website
Hartland Farm and Orchard offers Fraser Fir, Douglas Fir, Blue Spruce, White Pine, as well as Serbian Spruce, which you can choose and cut from. The farm provides saws, shaking, wrapping, and tie-down assistance free of charge.
Along with your lovely tree, you'll get complimentary hot chocolate on weekends that goes hand in hand with the atmosphere.
The farm also has wreaths, decorated and undecorated, made on-site available for everyone to purchase.
The wreaths are available on a 12-inch ring which makes a 24-inch wreath; however, you can contact them beforehand if you need other sizes.
Evergreen Christmas Tree Farm
Location: Evergreen
The Evergreen Christmas Tree Farm is a traditional farm all about the lovely Norway Spruce and White Pines trees.
The farm offers approximately 5000 trees in several stages of growth, from which you can choose. If you want to choose and cut your own tree, saws are provided by the farm.
Otherwise, your tree of choice will be cut for you. You can visit the farm on weekends to select and tag a tree and cut when desired from the beginning of November.
If you want to visit the magical farm any other day of the week, call to make an appointment.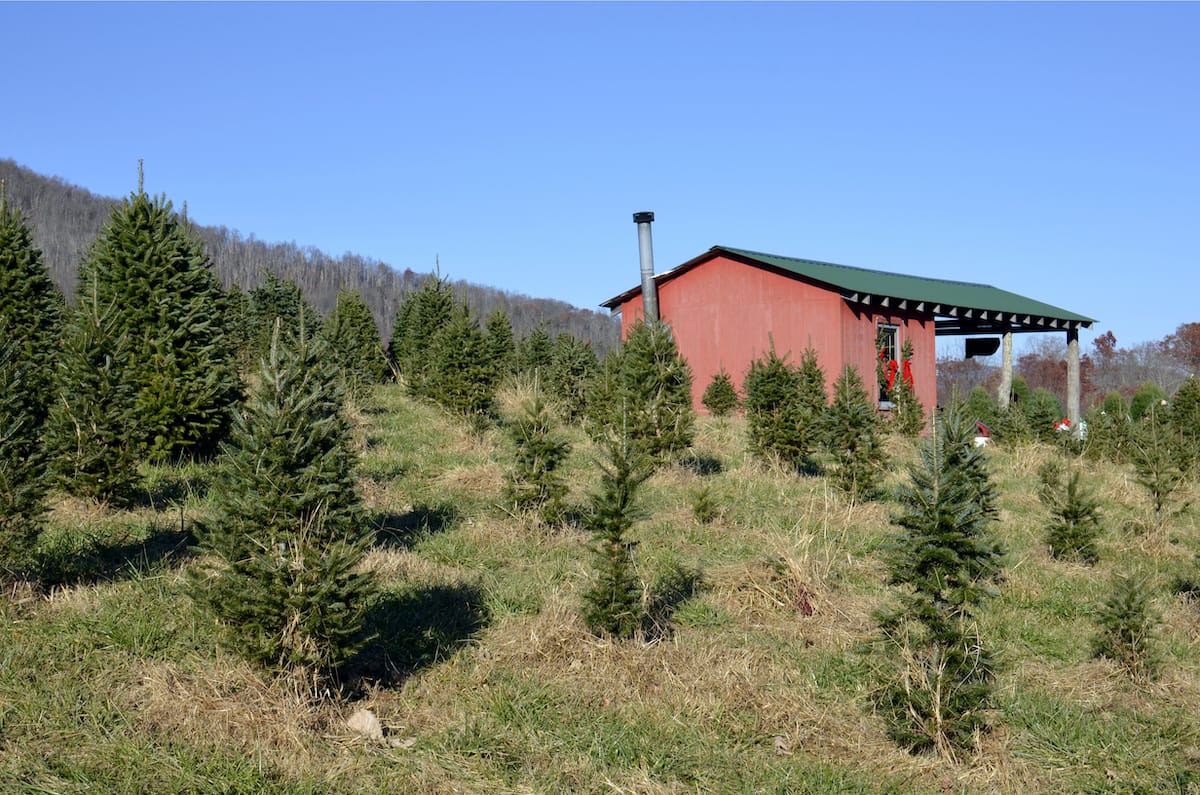 Anne & Eddie Blevins' Christmas Tree Farm
Location: Damascus
Anne & Eddie Blevins Christmas Tree Farm grows a beautiful variety of Fraser Fir trees from 5 feet to 12 feet. If you want to get the whole experience you can choose and cut the trees on your own.
If not, then you can pick from trees ready to go. After finding the perfect tree, choose a gorgeous wreath made on-site available in all shapes and sizes.
Don't forget to try their delectable apple butter and applesauce made freshly from the apples from the farm. The farm indeed promises fun for all the family.
Greenbrier Farms Nursery
Location: Chesapeake
Website
At Greenbrier Farms Nursery, you can find the perfect variety of pre-cut Fraser Fir trees from which you can choose.
The farm will also offer earth-friendly plantable trees for purchase from this year on, such as Leland Cypress, Eastern Red Cedar, Deodar Cedar, and White Pine.
After choosing a tree, celebrate the farm's annual event of hosting Santa. The event has limited tickets so if you want to have fun with your family, hurry up!
Holiday songs, Souvenir Ornament Craft Station, Christmas Stories, Cookie Decorating, and all the fun stuff will be available to enjoy at Santa's Workshop.
Boys' Home Christmas Tree Farm
Location: West Augusta
Website
If you are searching for the perfect Christmas tree and at the same time want to support an organization financially, then Boys Home Christmas Tree Farm is the place to head to.
The farm helps young boys become responsible and productive members of society.
You can find the perfect tree from the variety available. Trees can be chosen and cut by you, or if you need assistance, the boys are always ready to help. They can also cut and deliver the trees wholesale if required.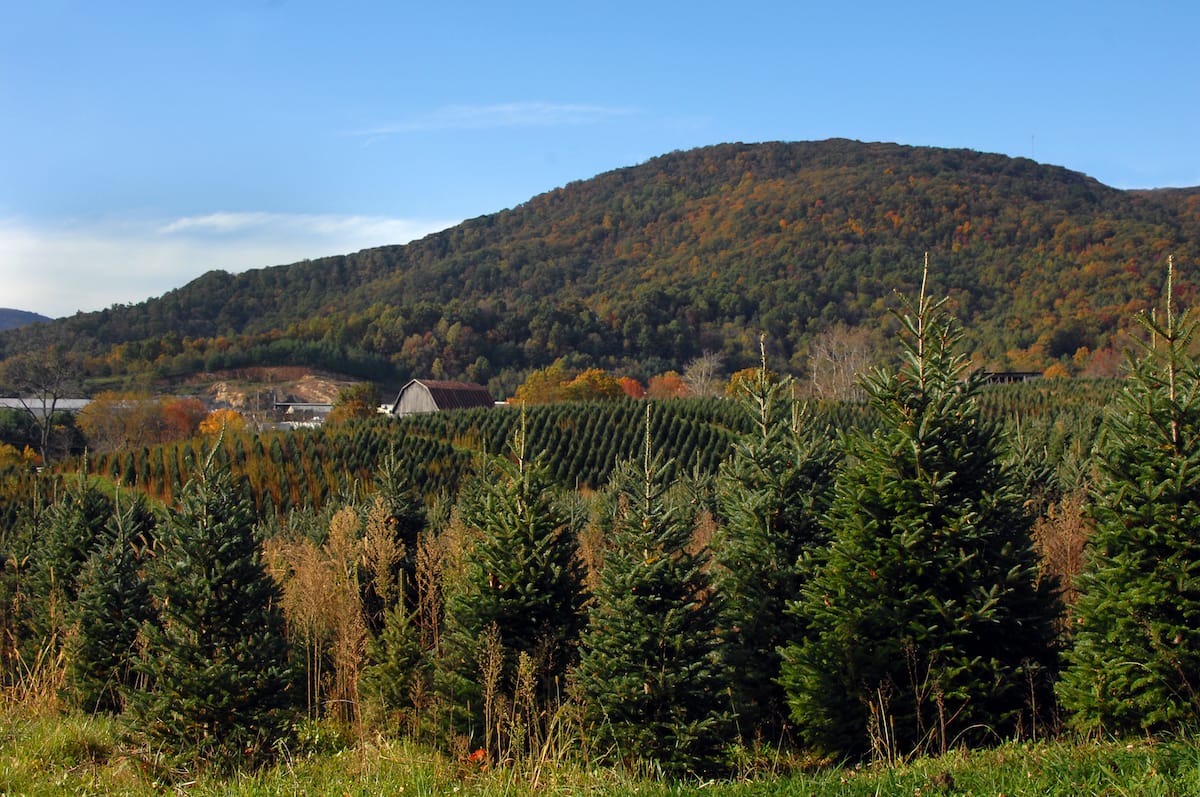 Belmont Christmas Tree Farm
Location: Spotsylvania Courthouse
Facebook
At the Belmont Christmas Tree Farm, you'll find so many magical trees, and you won't know which one to take home with you.
It is an old-school type of farm where you can enjoy one of the most memorable family traditions. The farm offers numerous trees, including the famous Frasier Firs.
The trees can be sold pre-cut, yet if you want to do everything on your own for a more memorable experience, you can cut your own. Another plus is that wreaths are also sold on the farm.
After finding the tree your heart desires, head to Santa's Workshop, where you'll enjoy a small lunch and hot cocoa while chatting with Santa.
Don't forget your cameras since the farm is full of adorable picture opportunities!
Moose Apple Christmas Tree Farm

Location: Berryville
Visit Moose Apple Christmas Tree Farm, a 33-acre farm with seven varieties of trees such as Blue Ice, White Pines, Fraser Firs, and other Spruces and Firs. Fraser Firs that are pre-cut cost $85.
However, if it is more than 8 feet, then it costs up to $300. In addition, White Pines are $65, and Blue Ice is $95.
If you are interested in getting a tree from this farm, you need to visit it in October or the beginning of November to pre-tag the trees, after which you choose a date to cut and take it home.
Joe's Trees
Location: Newport
Website
If you crave the actual choose and cut experience, then heading to Joe's Trees is the right choice! They offer trees in nine varieties and sizes. After choosing a tree, you can move on to the traditional wreaths available on site.
The farm also presents custom greeneries unique for your houses, from mantelpieces to tabletops and swags. Don't forget to visit the gift shop for some pre-wrapped gifts, holiday home decor, canned goods, and many beautiful ornaments.
In early December, Santa tends to visit Joe's Trees as well, so if you're lucky enough, you'll meet him!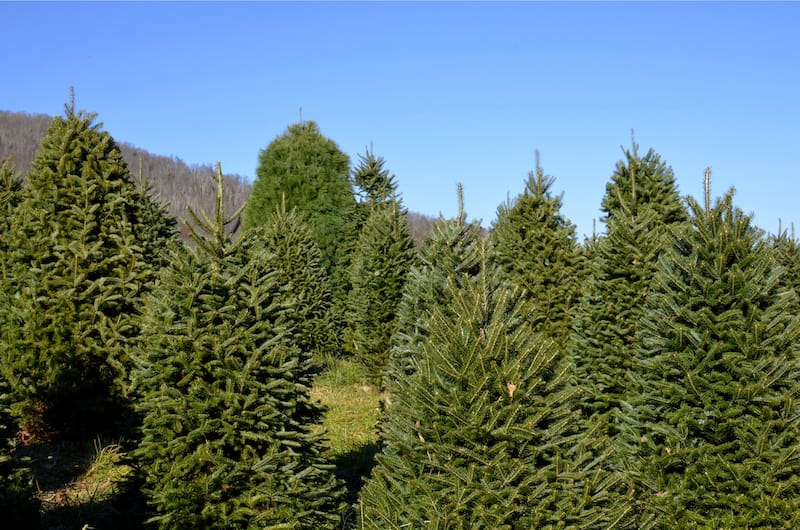 Hamill Christmas Tree Farm
Location: Roanoke
At Hamill Christmas Tree Farm, you'll find the perfect White Pines, Virginia Pines, Fraser Firs, and Norway Spruces. The farm offers pre-cut trees as well as choose and cut trees, depending on which type you choose, prices vary.
Pre-cut White Pines cost $30 and more, while the choose and cut ones are $25. Pre-cut Virginia Pines are $26 and more, choose and cut ones are $21.
The price of Fraser Firs starts from $55 while the Norway Spruce are $45 and more. It's a place where you'll indeed find the special tree that you wish for. This is one of the best places to visit in Roanoke if youʻre looking for a little holiday spirit!
York Ridge Nursery
Location: Mouth of Wilson
York Ridge Nursery has offered the lovely Fraser firs, ball, and burlapped trees for over 25 years. The farm offers trees from 3 feet to 16 feet long, so you'll definitely find a special one for your house.
You have to choose and cut the trees on your own, so get ready to have the whole experience there. The farm also offers Wholesale trees that you can pick up or let be delivered to you.
After selecting the ideal tree, have a look at the wreaths and garland offered on the property as well.
To make the special family tradition more unique, the farm offers over a century-old log cabin for rent where you can stay and choose your next Christmas Tree.
Pin this Virginia Christmas Tree Farms Guide