Alexandria is definitely one of the cities in Virginia that deserves the tourism it receives. This is a guide of things to do in Alexandria, VA for first-time visitors to the Northern Virginia city.
If you have your own tips- please drop them in the comments! Thanks!
Where is Alexandria, VA?
Alexandria is located in Northern Virginia right on the Potomac River and south of Arlington and Washington DC. The city is 2 hours (105 miles) from Richmond and 19 minutes (8 miles) from Washington DC (it is one of the best day trips).
Take mind that traffic will inevitably make this journey longer.
What to Do in Alexandria
Alexandria is known for its historic Old Town and for being the gateway to Mt. Vernon. This guide showcases the many things to do in Alexandria, including where to stay and what to eat.
It is a perfect day trip from Washington DC in spring to escape the crowds (and any other time of the year, for that matter).
If you have any recommendations, leave us a comment so that other travelers can hit up the same spots!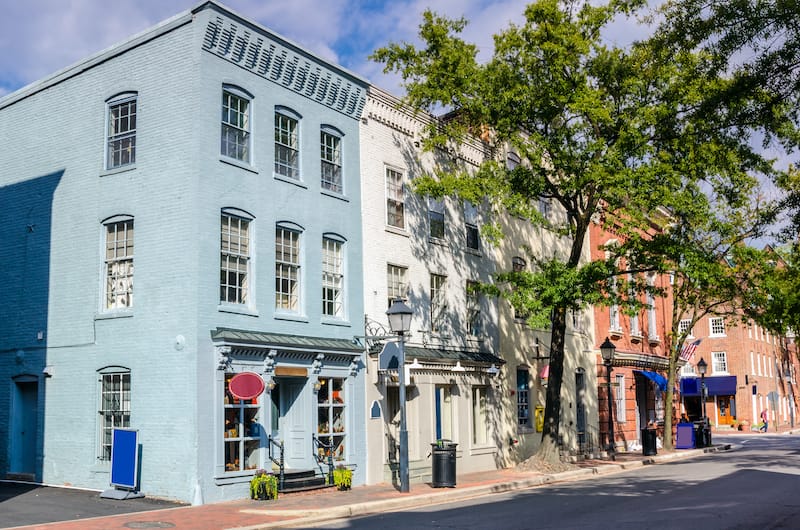 King Street Mile
Stroll down the red-brick sidewalk on this beautiful tree-lined mile-long street filled with independent boutiques and unique restaurants.
You can find a huge variety of shops such as bookstores, cafes, restaurants, antique shops, salons, art galleries, home stores, and boutiques with sustainable clothing, woodworking, stationery, and vintage items, just to name a few.
Along your walk, you can view several colorful murals, perfect for stopping to take a good photograph. This is also home to some of the best coffee shops in Alexandria!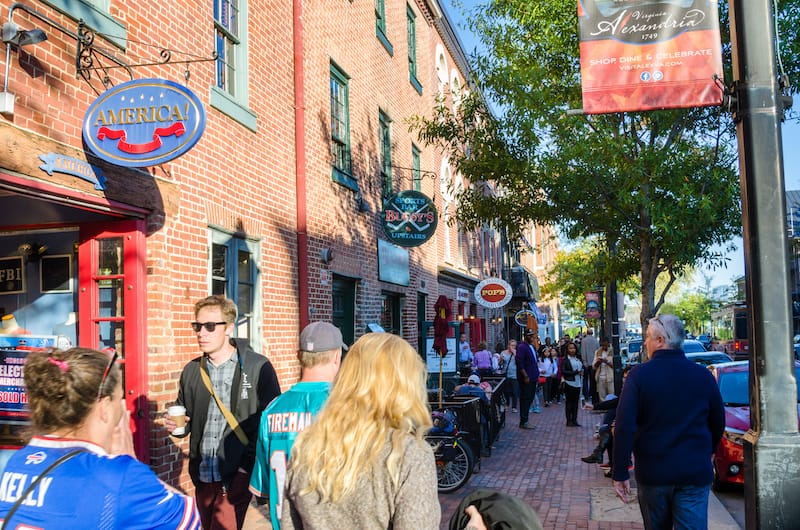 When you're visiting Alexandria's Old Town- be sure to check out a company called Classical Movements that offers unique outdoor concerts!
While not located on King Mile Street, you can find them nearby on Princess St (in the historic Rectory there). Since June 2020, they have held 74 concerts in the garden where they are located.
They have many programs (usually on Thursdays) and do so throughout the summer until the end of August.
You will find everything from jazz music to opera and more! Check their website for more information.
Gadsby's Tavern Museum
The Gadsby Tavern first opened in 1785, and later in 1792, the City Tavern and Hotel opened. This two-building complex is now a museum with daily tours to find out what life was like back in colonial days.
The tavern was frequented by several famous people, including George Washington, John Adams, Thomas Jefferson, James Madison, James Monroe, and the Marquis de Lafayette.
George Washington also attended two Birthnight Balls held in his honor here. You can dine at the tavern restaurant that gives off a colonial vibe.
You can find Gadsby's at 138 N. Royal St in Alexandria. Check out their website for additional information. The Museum is open Fri/Sat 11a-4p, Sun 1p-4p.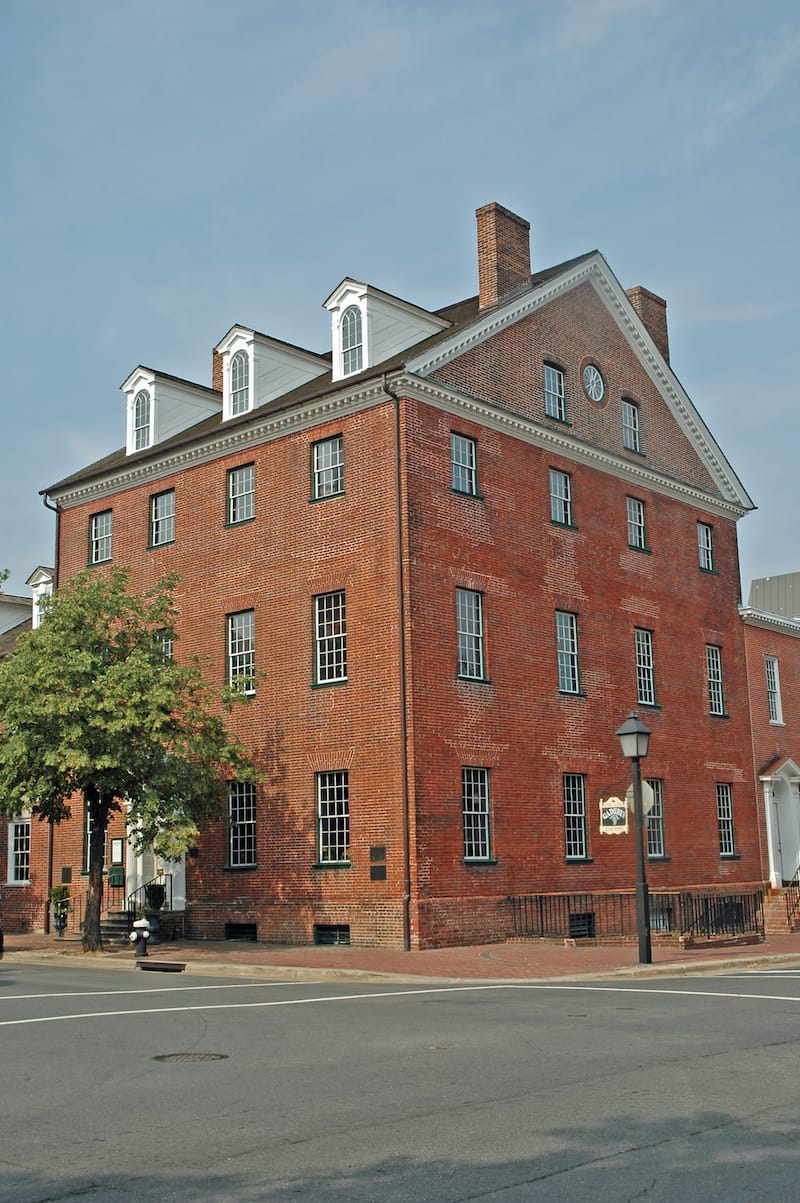 Stabler-Leadbeater Apothecary Museum
This apothecary shop was opened in 1792 by pharmacist Edward Stabler, run as a family business all the way until 1933.
Famous customers have included George and Martha Washington and Robert E. Lee. After the shop closed for business, it was turned into a museum.
You can see many original products and ingredients used by the family for over 140 years, including old medical equipment, recipes, journals, ledgers, hand-blown glass bottles, and herbal remedies.
Harry Potter fans especially love this place as some of the original ingredients used at the shop are found in the Harry Potter series, such as mandrake root, valerian, dragon's blood, and castor oil.
You can learn about the real-life uses of these medicines. The museum tour takes you around the selling floor as well as the storage floor of the shop. Admission is $5.
You can find the Stabler-Leadbeater Apothecary Museum at 105 S Fairfax St in Alexandria. Check out their website for additional information. The Museum is open Wed-Sat 11a-4p, Sun 1p-4p.
Escape Room Live
While we have decent weather in Virginia, it is not always ideal and if you hit a rainy day and want something super cool to do, I definitely recommend visiting an escape room in Alexandria.
You will find a variety of different escape rooms at Escape Room Live and they offer unique themes for each! The Wizard's Apothecary is a 45-minute game that has several hours throughout the day and is a 6/10 difficult!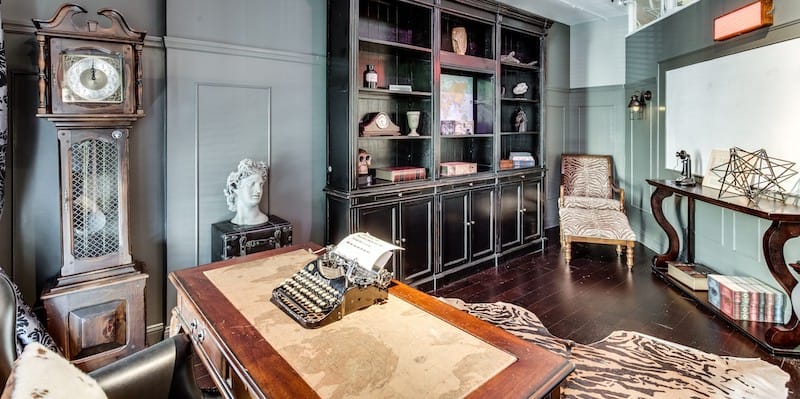 You will also find Sherlock Holmes: Bomb's Away which is another 45-minute game with many slots!
If you're opting for something a bit longer, Sherlock Holmes: A Matter of time is a 60-minute option where you will actually go on a hunt for the detective himself!
Escape Room Live can be found at 814 King Street on the second floor in Alexandria.
Alexandria Farmers' Market
The Old Town Farmers' Market is one of the oldest farmers' markets in the country. Even George Washington sent his produce from Mt. Vernon to be sold at this market.
In peak season, there are over 70 vendors selling meat, cheese, bread, pastries, pasta, fruits, vegetables, plants, flowers, jewelry, soap, and art.
There are many things to discover at this market, whether you want to buy souvenirs, food, or just enjoy strolling around looking at the many things the market has to offer. Parking is free in the Market Square Parking Garage, and access is also available by the Old Town Trolley and DASH bus.
You can find the Alexandria Farmers' Market at 301 King Street in Alexandria. It runs weekly on Saturdays from 7am-12pm.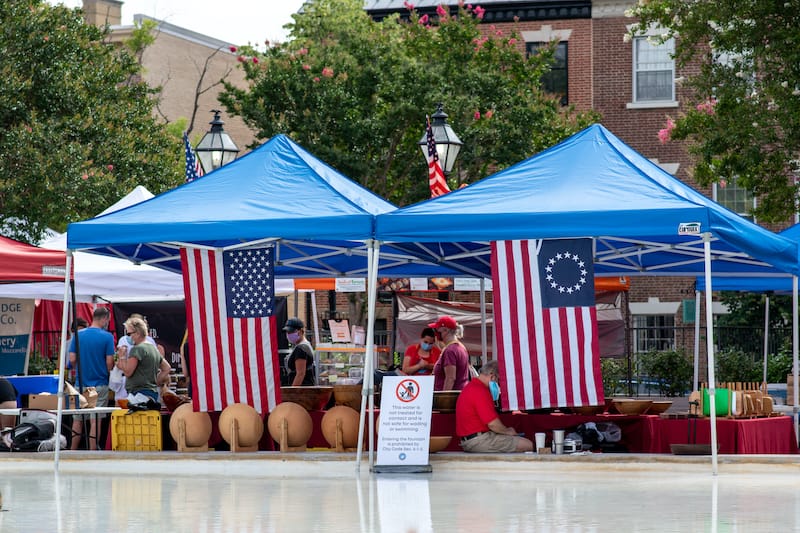 Take a Ghost Tour
An interesting and spooky option for your time in Alexandria is to take a ghost tour. Alexandria Colonial Tours offers a nighttime ghost tour led by a Colonial-costumed guide who leads you by lantern light over six blocks of Old Town Alexandria.
You'll hear ghost stories, unsolved mysteries, legends, folklore, and tidbits of history from Alexandria's past. Tickets are $15 per person and the tour lasts one hour.
To find out more, head to their website.
If you're interested in both pubs and ghosts, the Frights and Pints Old Town Alexandria Tour is the one for you! This pub crawl combines drinking a glass and hearing a ghost legend told by your costumed guide as you visit 3-4 different pubs and several historic spots on the way.
The tour lasts approximately 2-2.5 hours. For more information, head to their website.
Mt. Vernon
A must-see place in Alexandria not only for its historical significance but for its beautiful grounds and view. Mt. Vernon was the home of George Washington, owned by his family for generations.
You can start the tour at the main house, which has been restored to how it would have looked in colonial times. You can still see many original items such as furniture, gifts, and even the deathbed of President Washington.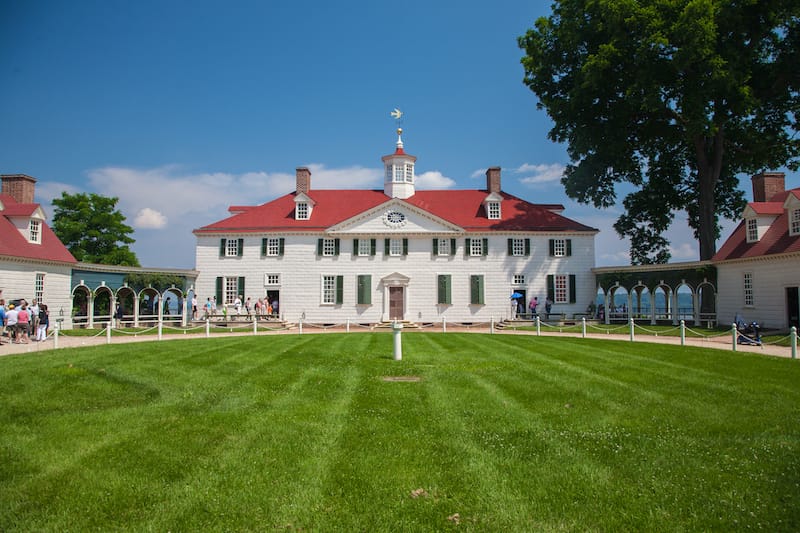 Other buildings you can visit include a museum to learn more about George Washington's life and presidency and the slave quarters near the house.
You can also walk around the grounds, see the beautiful view of the water from the back porch, visit the four-acre farm, barn, distillery, and gristmill.
Sometimes there are special events such as reenactments, so check out the calendar to see if there is anything special happening during your visit. This is one of the most popular things to do in Alexandria for history lovers.
You can find Mt. Vernon at 3200 Mount Vernon Hwy in Mt. Vernon, Virginia. It is open daily from 9am-5pm. Click here for additional information.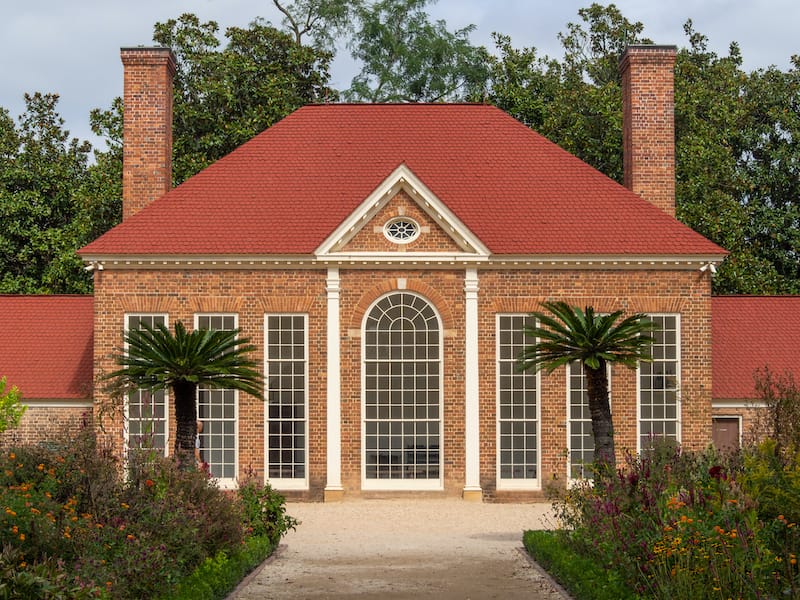 Spite House
This tiny house was constructed in 1830 by John Hollensbury. He was annoyed with horse-drawn wagons and loiterers in his alleyway and built the house to spite them and prevent them from using the passage, thus getting the name of a spite house.
It is two stories tall and only 7ft wide! It is currently privately owned, so you can't tour it, but it is a great place to take a photo.
You can find the Spite House at 523 Queen Street in Alexandria.
Mt. Vernon Trail and Dora Kelley Nature Park
The Mt. Vernon trail is an 18-mile paved walking and biking trail that parallels the George Washington Memorial Parkway and the Potomac River.
It goes from the northern trailhead near Theodore Roosevelt Island down past the airport, through Old Town Alexandria, and further south along the river to the endpoint at Mt. Vernon estate.
This trail gives you a nice opportunity to get out in the fresh air while seeing the Washington D.C. skyline and the Potomac.
It is open year-round from 6am until 10pm. Check out the National Park's website for more information.
If you want something a little less urban, wander through the woods at the Dora Kelley Nature Park. This 50-acre forested park is a natural haven cut out of the urban sprawl.
There are hiking and biking trails, picnic areas, restrooms, and information available about the park. Keep your eyes open for the many different types of birds that live here as well as interesting plants. Visiting the nature park is a great way to spend the afternoon out of the city without having to go far.
You can find Dora Kelley Nature Park at 5750 Sanger Avenue in Alexandria. Click here for more information.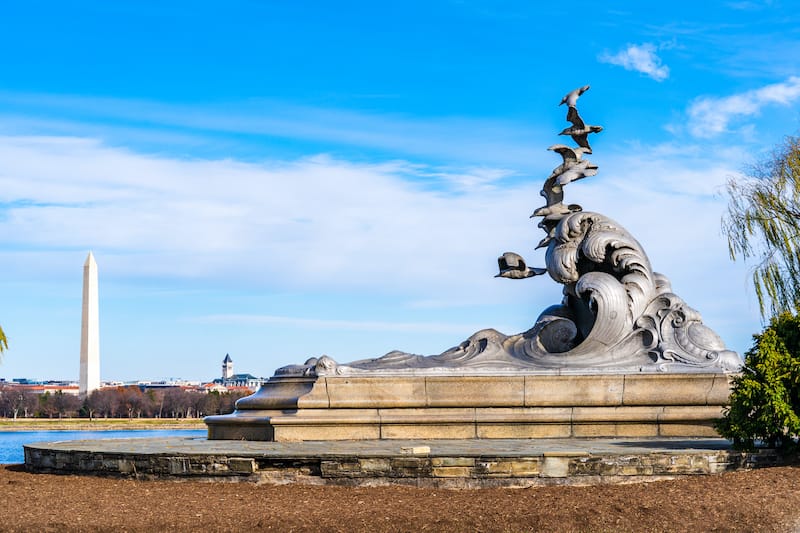 George Washington Masonic National Memorial
This memorial building dedicated to George Washington is fashioned after the ancient Lighthouse of Alexandria in Egypt. The memorial is 333 feet tall and is located at the top of Shooter's Hill.
The building was dedicated in 1932 but the interior was not completely finished until the 70s.
The memorial has nine floors total, with the Memorial Hall, Memorial Theater, and several floors of exhibits dedicated to the activities of the freemasons, George Washington, a memorial library, as well as ancient Egyptian and Hebraic architectural styles.
To visit other floors aside from the first or second, you will need to book a guided tour. Admission is $18 for adults and free for children.
You can find the George Washington Masonic National Memorial at 101 Callahan Drive in Alexandria. It is open daily from 9am-5pm. Click here for more info.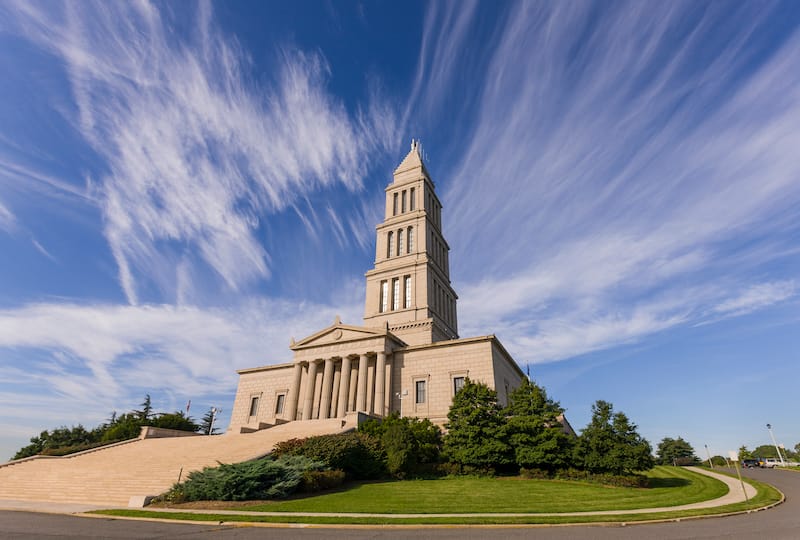 Torpedo Factory Art Center
This old naval ammunition factory was converted into an art center in 1974 and now houses 82 artists' studios, seven galleries, two workshop spaces, and the Alexandria Archaeology Museum.
All art spaces are open to the public and you are welcome to stroll through the building, chat with the artists, and watch them at work. There are often classes and workshops held, so check out their website for more information about what is happening.
You will see a variety of artists including sculptors, painters, photographers, jewelers, printers, and glassmakers. Make sure to check out the Beaded Curtain Mural on the outside of the building for a fun photo op.
You can find the Torpedo Factory Art Center at 105 N. Union Street in Alexandria. It is open daily from 10am-6pm except on Thursdays where it is open until 9pm. Click here for more information.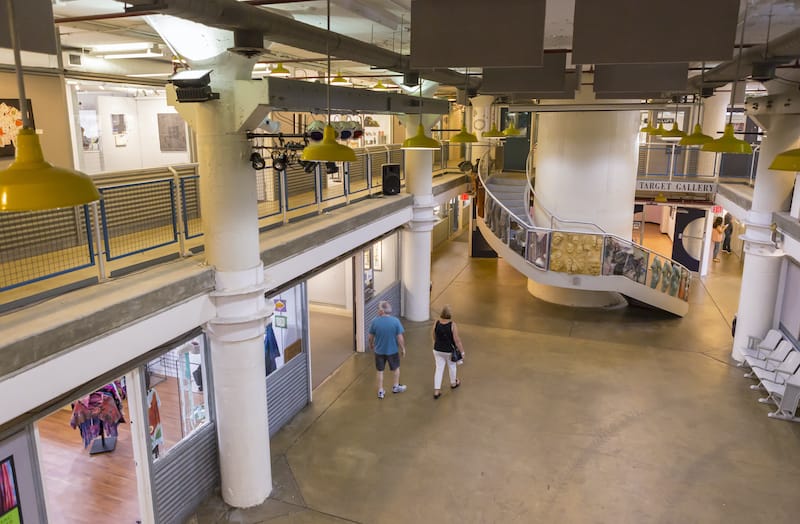 Jones Point Lighthouse
Jones Point Lighthouse was an important navigational tool for ships traveling the Potomac River. It was in operation from 1856-1926 and was made into a museum in 1964 when Jones Point Park was established.
It is the only riverine lighthouse still standing in the Chesapeake Bay. This spot is very picturesque and perfect for an outdoor stroll and picnic along the river. The park also offers two playgrounds, two basketball courts, informational signs about the area and its significance, a canoe launch point, and two docks perfect for fishing.
Currently, the lighthouse is not open to the public as the interior is undergoing renovations. When it is open, it is a fantastic Alexandria attraction.
You can find the Jones Point Lighthouse at the southern edge of Old Town Alexandria underneath Woodrow Wilson Bridge on S. Royal St. It is usually open from 6am until 10pm. Click here for more info.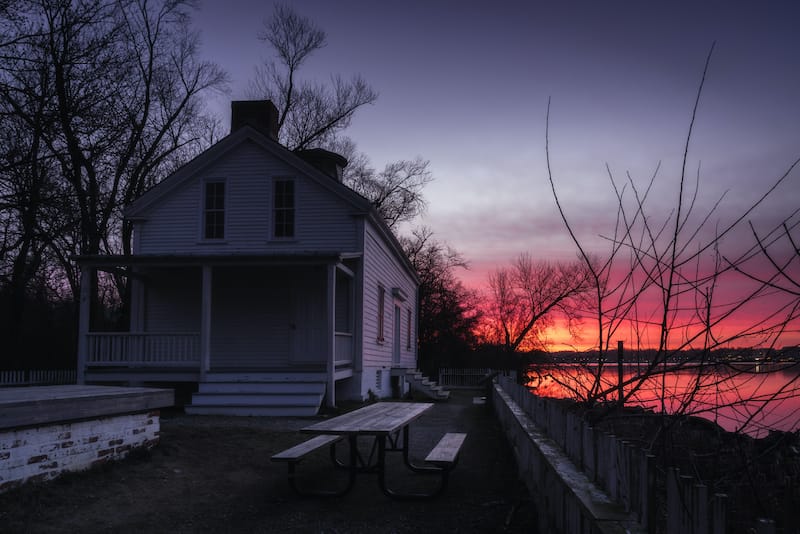 Take a Boat Cruise in Alexandria
Enjoy seeing D.C. from a different perspective… on the water! Take a cruise down the Potomac and see sights from a new point of view.
There are several different cruise options including a taxi boat from Alexandria to Washington, D.C., a pirate cruise, a sunset cruise, a Mt. Vernon cruise, and a monuments tour cruise.
To find out more about cruise options, check out the city of Alexandria's website.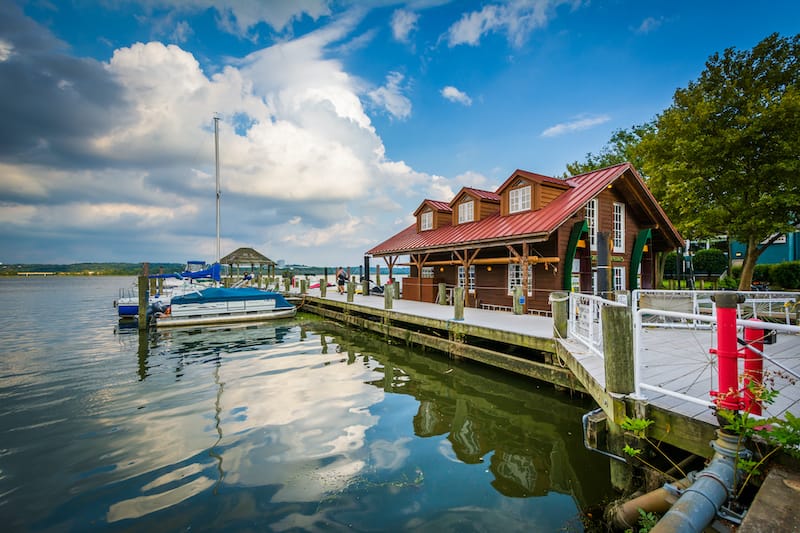 Alexandria Black History Museum
This museum is housed in what used to be the first segregated library in the city. It documents local and national history as well as the culture and contributions of African Americans.
The museum's mission is to "enrich the lives of Alexandria's residents and visitors, to foster tolerance and understand among all cultures, and to stimulate appreciation of the diversity of the African American experience." The museum also operates the Alexandria African American Heritage Park and a cemetery.
You can find the Alexandria Black History Museum at 902 Wythe St in Alexandria. Click here for more information.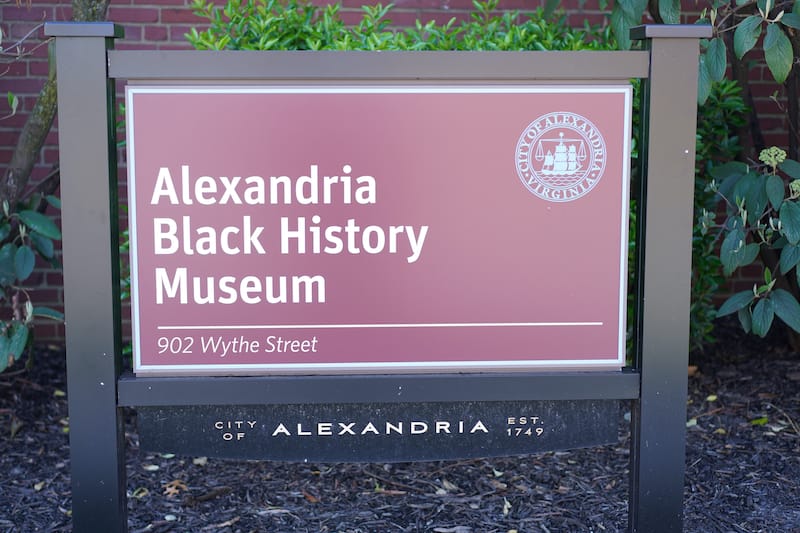 Carlyle House
This historic Georgian-style mansion was at one point the center of Alexandria's political and social life. The wealthy British merchant John Carlyle and his family moved into the house after construction was complete in 1753.
The mansion is now restored and open to the public for tours. NOVA Parks, which owns the house, went to great care to try to acquire as many of the original interior pieces as possible, giving an interesting glimpse into what mansions of the era would have looked like.
The house also boasts a beautiful garden, maintained in the style as you would have seen it when the Carlyles owned the house.
You can find the Carlyle House at 121 N Fairfax St in Alexandria. It is open Tues-Saturday from 10am until 4pm and Sundays from 12pm-4pm. It is closed on Mondays. Click here for more information.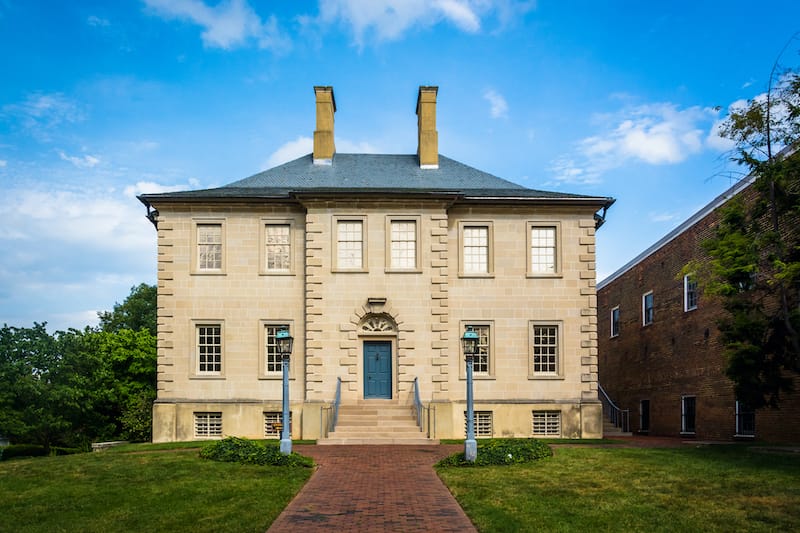 Find a Delicious Restaurant in Alexandria
There are so many amazing restaurants in Alexandria, it is hard to just choose a few. Below is a list of several of the best places and a diverse range of cuisines. Bon appetit!
Fontaine Caffe: enjoy amazing European-style crepes here. They serve breakfast, lunch, and dinner as well as brunch on the weekends. It is located at 119 S Royal St in Alexandria.
Taverna Cretekou: tasty Greek food from a restaurant that has been family-run for almost 50 years. Try to get a table on their beautiful terrace! It is located at 818 King Street in Alexandria.
Don Taco: a taqueria with 14 delicious varieties of tacos, as well as empanadas, churros, tortilla soup, and ceviche. You can find it at 808 King Street in Alexandria.
Smoking Kow BBQ: American bbq tacos, sandwiches, and "mac 'n' meat" (signature bbq meat over mac 'n' cheese). It is located at 3250 Duke Street in Alexandria.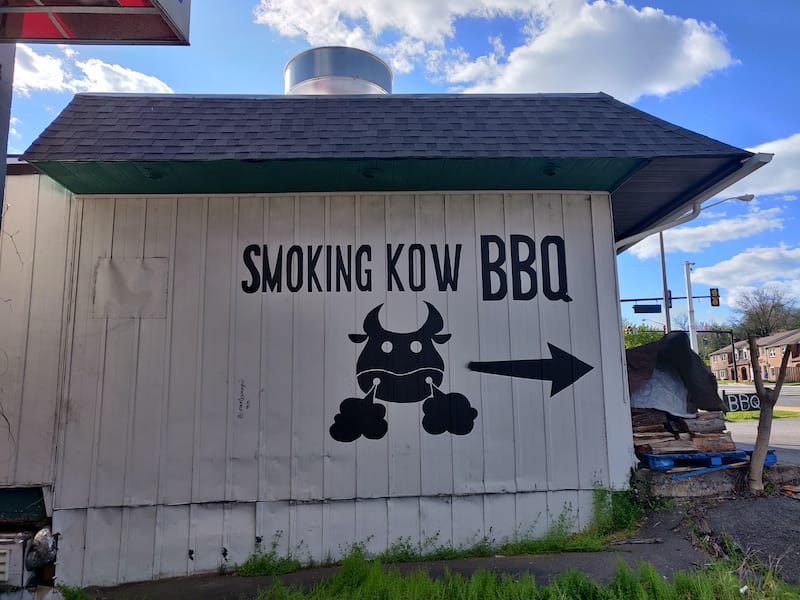 Del Ray Pizzeria: one of the best spots for delicious pizza, as well as sandwiches and salads, with many of the ingredients grown in the vegetable garden right next to the patio. You can find it at 2218 Mt. Vernon Avenue in Alexandria.
Mia's Italian Kitchen: choose from a variety of brick oven pizzas, housemade pasta, and family-recipe-inspired items, including items with a twist such as breakfast spaghetti and brunch pizza. You can find it at 100 King Street in Alexandria.
Caphe Banh Mi: get your pho fix at this Vietnamese restaurant that serves classics like banh mi sandwiches and pho bowls. You can find it at 407 Cameron Street in Alexandria.
Hen Quarter: a cafe with classic Southern comfort food like chicken and waffles, hushpuppies, seafood, and collard greens. You can find it at 801 King Street in Alexandria.
Captain Gregory's: this hip speakeasy with delicious bar food and mixed drinks is only accessible through a secret door in Elizabeth's Counter, a tasty donut place with many vegan options. You can find it at 804 N. Henry Street in Alexandria.
Green Spring Gardens
If you love plants, or just appreciate beautiful things, then Green Spring Gardens is a must-visit on your trip to Alexandria.
It has over 20 gardens, ponds, wooded areas, a greenhouse, plant shop, gift shop, and a historic house you can visit.
It's a great way to spend a few hours in the sun, while enjoying beautiful flowers and trees. There is sure to be something beautiful in bloom whenever you go.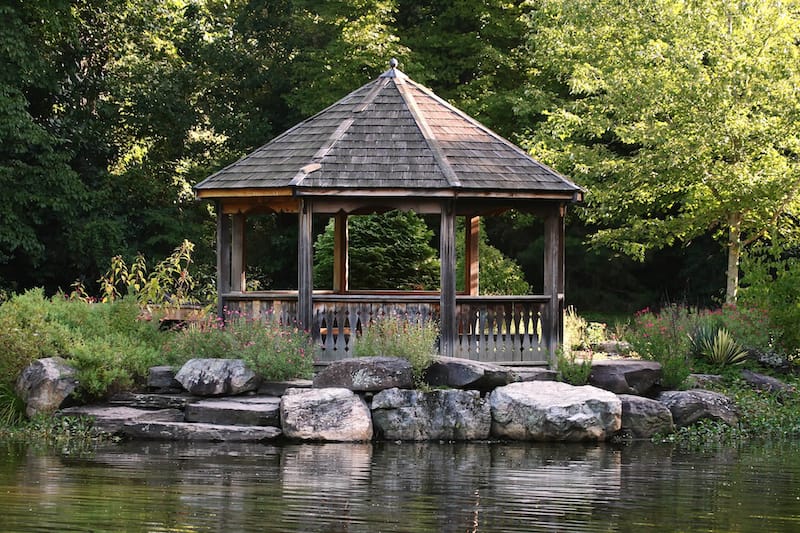 They have events year-round, such as art workshops, special garden tours and talks, plant swaps, and family events.
The on-site historic house also has English afternoon tea events, as well as private group tours of the gardens followed by a tea.
Entrance to the gardens is free of charge for individuals and families.
Address: 4603 Green Spring Rd, Alexandria, VA 22312
Should You Visit Alexandria?
Alexandria is a very historical city in Virginia and one you should definitely add to your Northern Virginia itinerary.
There are many amazing things to do in Alexandria for history lovers and nature lovers. But, it is also a great break from Washington DC if you have a trip planned there.
We hope you consider putting Alexandria on your Virginia bucket list and you find this guide useful!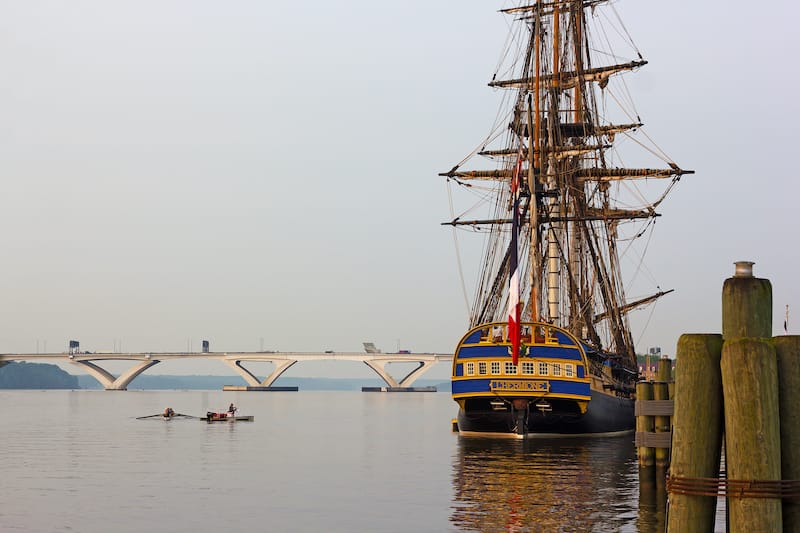 Where to Stay in Alexandria
There are several places to stay in Alexandria if you're going to be overnighting there. We are listing several options of great hotels to stay at in Alexandria. Most are located next to all the best things to do in Alexandria or the Old Town.
Here are some recommendations we have for Alexandria hotels for any budget:
Additional Northern Virginia Travel Resources
PIN IT FOR LATER!