Located in Northern Virginia, Falls Church is a charming city and suburb of Washington D.C. The small town has played its part in American History, especially in the American Civil Rights Movement.
Despite its small stature, there are many things to do in Falls Church VA.
Are you planning your trip to Falls Church last minute?
If you're traveling to Falls Church last minute, you want to ensure you have lodging ahead of time! Below are some of our top picks in town!
Top hotels in Falls Church (and nearby!)
🚗 Looking for the best way to get around VA? Click here to check rental car rates for Virginia!
This guide will take you through some of the best things to do in and around the city – from Victorian architecture to epic hiking trails! There is something for everyone in Falls Church!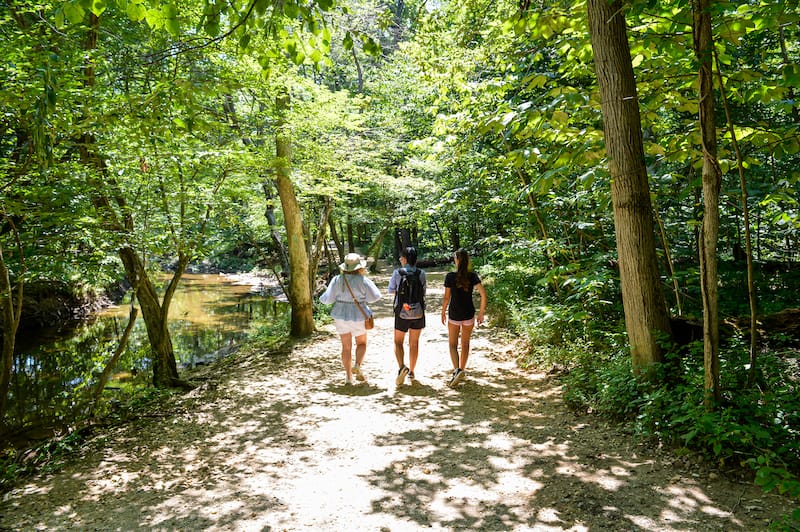 Best Things to Do in Falls Church VA
The State Theatre
There are few better ways to spend an evening than a visit to The State Theatre. Hosting a vast range of events, some of the world's biggest names have graced the theatre's stage, from Hanson to Blondie.
Opened in 1936, the theatre went through a restoration in the early 1990s; however, the main stage and balconies are originals. A restaurant within the theatre serves up some epic burgers and drinks, perfect for getting some energy before a concert or club night. There are also temporary outdoor options for both the restaurant and the theatre.
The State Theatre is located at 220 N Washington St, Falls Church, VA 22046
Luzmila's Bolivian Restaurant
Luzmila's Bolivian Restaurant is one of the best places to grab a quick and tasty lunch in Falls Church.
Serving up a range of Bolivian dishes from Chichorones to Saltenas, there is something that will satisfy everyone's hunger.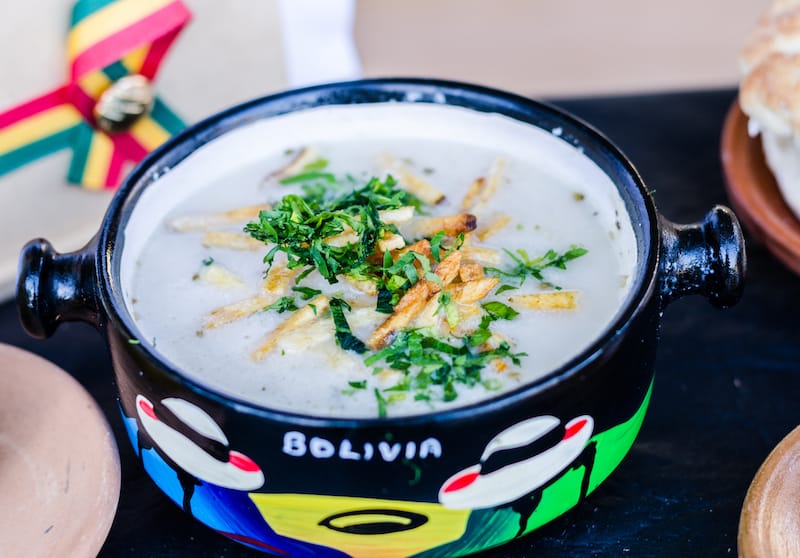 I highly recommend trying out the Saltenas, a Bolivian baked empanada; it is not unusual for customers to come from far and wide to grab one.
The restaurant is mainly open during the lunch hours, but it is open for early dinners on the weekends.
Luzmila's Bolivian Restaurant can be found at 809 W Broad St, Falls Church, VA 22046
Falls Church Farmers Market
One of my favorite ways to learn about a region's food is to visit the local Farmer's Market. Every Saturday morning, regional farmers bring their produce to the center of Falls Church, where they can sell directly to the residents.
You can check out what is fresh and in-season while perusing the stands. It is a great place to grab some local fruit to keep with you for snacking on the go (we have really good apples in Virginia!)
The Falls Church Farmers Market is held every Saturday at 300 Park Ave, Falls Church, VA 22046
Washington & Old Dominion Regional Park
Affectionately known as Virginia thinnest park, it runs along the old rail route that connected inland Virginia to the Arlington seaport. The Washington and Old Dominion Regional Park is a great place to spend the day hiking or biking along the 45-mile paved trail that runs through the park.
You can venture into the wooded brush in some parts along the path where charming little streams trickle down through the trees. For those keen on horse riding, there is a gravel equestrian route that runs parallel to the paved path, although occasionally goes a little more off the track.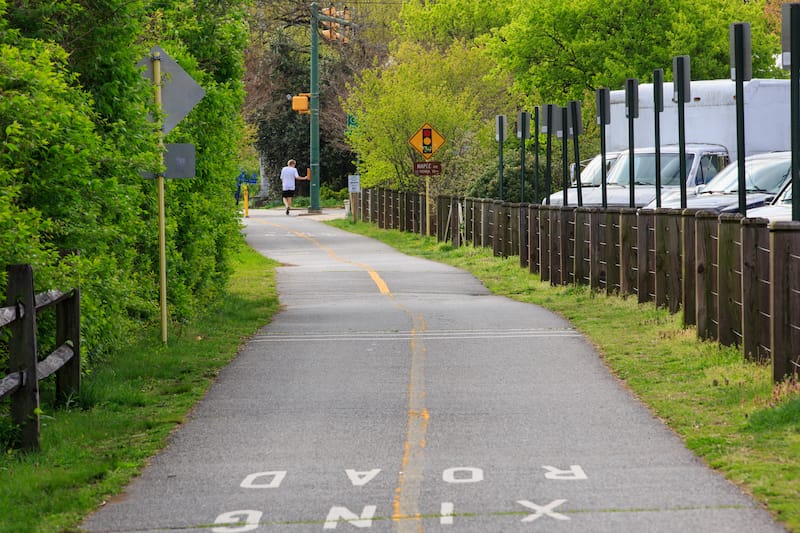 The trail passes through suburban areas where you can stop and grab a bite to eat or have a drink in one of the cafes and restaurants close to the park. It is one of the best places to go biking in Virginia!
Cherry Hill Historic House and Farm
Cherry Hill Historic House and Farm is a restored farmhouse and farm on the outskirts of Falls Church. It was designated a historical site to celebrate the bicentennial of American Independence.
The farm was restored to how it most likely would have looked during the mid-19th-century when the Greek Revival-style was all the rage. The community and the local government put a lot of effort into sourcing the right furniture and discovering the farmhouse's history as it entered the Civil War-era.
Visitors can explore the house, where you can see how the owners lived and protected themselves and their valuables during the Civil War. The barn has many tools on display that would have been used on the farm, showing just how hard farm work was.
Throughout the year, tea parties are hosted at the house, where you can learn all about Victorian-era afternoon tea traditions. Tea parties need to be booked in advance and tend to happen around public holidays.
Address: 312 Park Ave, Falls Church, VA 22046
Audacious Aleworks
Enjoy an evening drink at Audacious Aleworks, an awesome craft brewery in downtown Falls Church. An on-site taproom offers up a rotating tap list of over 15 beers that have been brewed in-house.
There are also great can, bottle, and growler options that can be taken home with you. I love their Thirsty Work New England IPA, which has a smooth mouthfeel and refreshing citrus notes from the hops.
View this post on Instagram

I also love their sour beers, but if you are not keen on sour beers or IPAs, the brewery offers a range of darker-style beers. The bar also serves up traditional bar food, with their grilled cheeses being a highlight on their own.
There is indoor seating within the open-plan brewery and an outdoor space where you can enjoy your beer in the sunshine.
Audacious Aleworks can be found at 110 E Fairfax St, Falls Church, Virginia 22046
Wolf Trap National Park For The Performing Arts
Visit the unique Wolf Trap National Park for the Performing Arts, the only national park in Virginia that highlights the creative arts and the sublime Virginian nature.
During the summer, the park hosts various shows that suit just about anyone's needs, from local theater groups to country music shows. Prior to the shows, visitors can spend time enjoying the various hiking paths that wind through the park, with two main trails going through the park.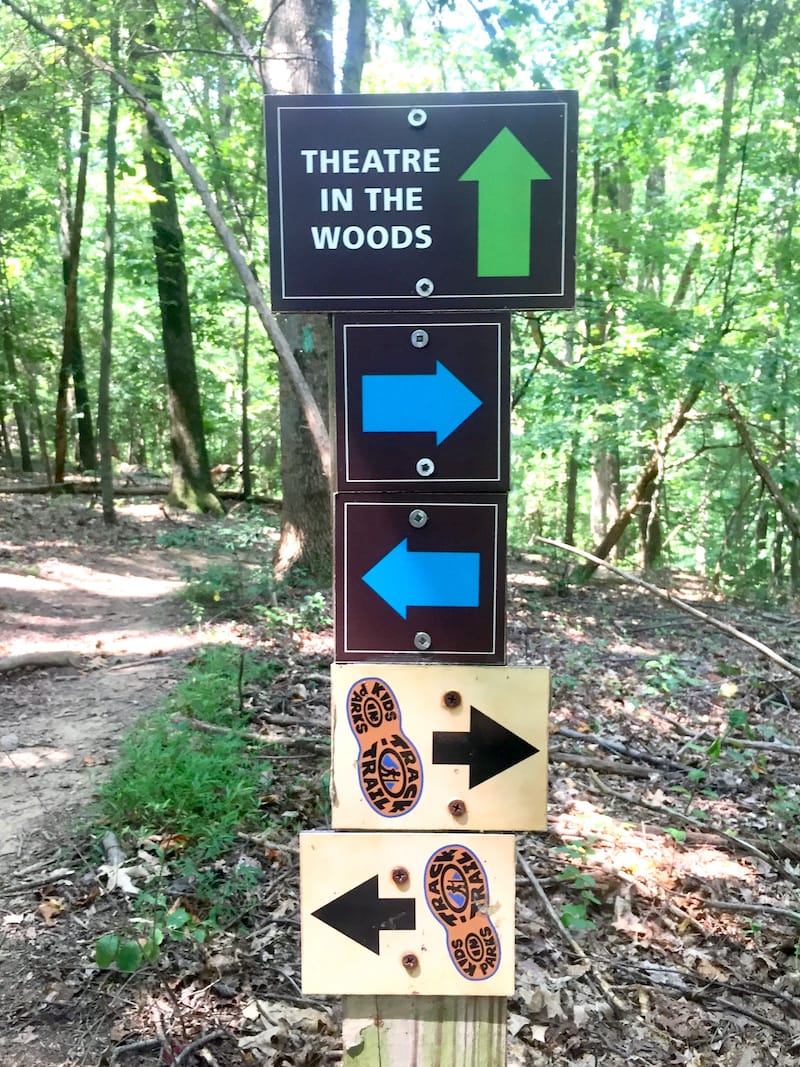 Both trails are just a couple of miles long and can be easily completed by hikers of all skill levels. Visiting the park from fall to spring is excellent for those who wish to avoid getting caught up in crowds.
While there are no performances during this period, the park and trails are still open and just as beautiful as in summer. The park is open year-round from sunrise to sunset; however, only those with tickets can be in the park on performance and festival days.
Take a Victorian Walking Tour
Falls Church experienced a boom during the Victorian-era, and many of the houses built during this era are still in existence today. A free walking tour map by the Victorian Society of Falls Church can be found at the Mary Riley Styles Public Library or Cherry Hill Farm. Or, you can download it here!
The guide will take you through Falls Church and explain the Victorian era's history and architectural styles. It is important to note that the houses are all private residences, and only Cherry Hill Farm is open to the public.
Scotts Run Nature Preserve
One of the most beautiful places in Virginia is Scotts Run Nature Preserve. The reserve is home to an array of rare Virginia wildflowers that grow throughout the area, including in the forests and along the cliff faces.
For those wishing to see the flowers in full bloom, I recommend going during spring when the majority of flowers come back to life, sprouting out of any bare patch of the ground.
There are also plenty of interesting geological features scattered throughout the park, especially along the southern borders when tectonic activity pushed up rock from the seabed at the time. There are also plenty of hiking trails throughout the reserve.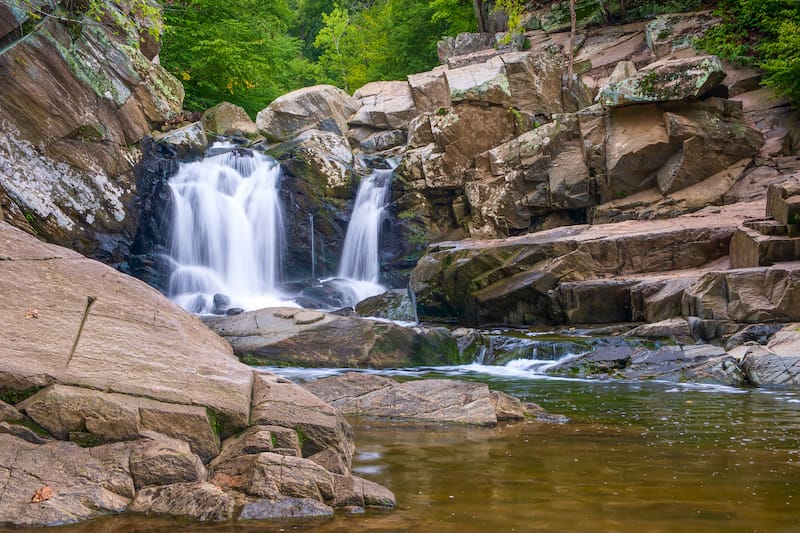 However, plan your route based on your ability ahead of time as some of the routes can involve steep and challenging terrain. As you hike, keep an eye out for hemlocks carried down to the area during the last ice age.
There are two parking points at either end of the reserve, but there are no proper visitor services apart from a few signs around the park and some marked trails.
Tinner Hill
Tinner Hill played a vital role in the American Civil Rights Movement and today continues to be an important place to learn about African-American history in Virginia.
Tinner Hill came into existence after the Civil War, when the Tinners, an African-American family, bought the land and, with their nine children, quarried stone and crafted items that were used to build many of the buildings in the area.
The land then rose to prominence when a group of influential members of the Falls Church African-American formed a chapter of NAACP, the first branch that was not in a city.
After forming, they successfully fought against the segregation of housing in Falls Church, a landmark victory. The Tinner Hill NAACP chapter's successes were pivotal in the civil rights movement and ending segregation in Virginia.
Today, at Tinner Hill, you can walk around the park and see the monuments dedicated to these brave people who fought for what was right. The stone arch monument was built using stones that the Tinners had quarried.
Throughout the park, there are some informational signs explaining the history and importance of the area. This is one of the most essential landmarks in Falls Church and should be visited by everyone.
Falls Church Distillers
Falls Church Distillers is a charming distillery in the center of Falls Church. The veteran-owned, family-run business offers a fantastic range of spirits, from whiskeys to vodkas.
The distillers have aimed to perfect smooth and palatable drinks, using their knowledge of chemistry and flavor profiles.
The owners have Italian-American heritage and have opened a restaurant bar on the premises where you can sit and order some house-made cocktails and a range of pasta dishes and pizzas.
View this post on Instagram

I recommend tasting some of their aged spirits, such as the whiskeys and rums on offer, which are rare to find in some newer craft distilleries. I also love their unique takes on well-known cocktails.
Disclaimer: Falls Church Distillery is moved to Manassas.
Falls Church Distillers can be found at 8420 Kao Cir, Manassas, VA 20110
Places to Stay in Falls Church
Since Falls Church is relatively small, there are not too many options for accommodation. Below, I have listed some hotels that can be found in the city.
We hope that you found this guide of the best things to do in Falls Church VA inspiring enough to book a trip to visit the Northern Virginian city!
Please let us know if you have any suggestions for what to do in Falls Church in the comments! Thanks!
Additional Northern Virginia Travel Resources