The arrival of spring have you amped up for some new activities and nature? These are the best things to do in Virginia in spring!
Spring is one of the best times of the year to visit Virginia (pending you don't have extreme allergies), and there are several things to do for kids, adults, families, and more!
We have picked a diverse number of things that make spring in Virginia such a great time to go there! Some of these are obvious picks (like Northern Virginia and DC for the cherry blossoms), but others are lesser-known.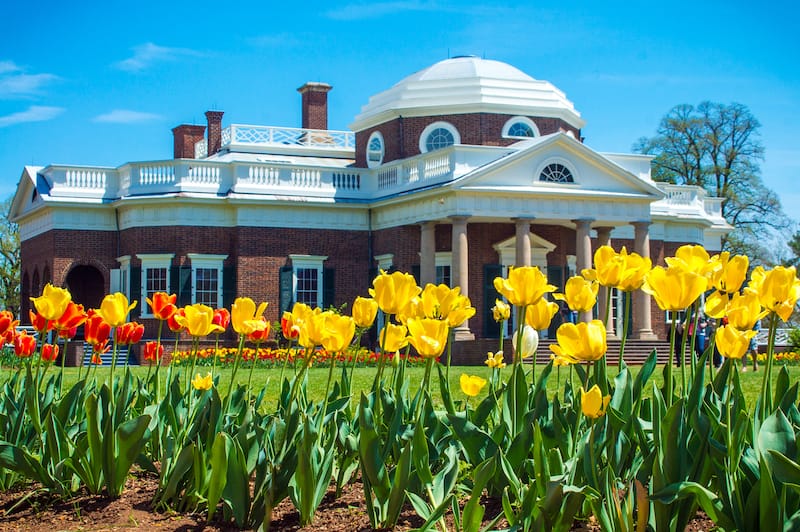 Let us know some of your favorite things to do in Virginia during spring in the comments! Thanks!
Things to Do in Virginia in Spring
Visit Shenandoah National Park
This famous Virginia National Park has mountains ranging from 2000 to 4000 feet. Located in the western part of Virginia, Shenandoah National Park is a great destination for tourists with its numerous attractions as well as hiking trails.
While winter in Shenandoah can be a bit harsh and prolonged, in spring, there are lots of flowers both in the forest areas of the park and in the meadows.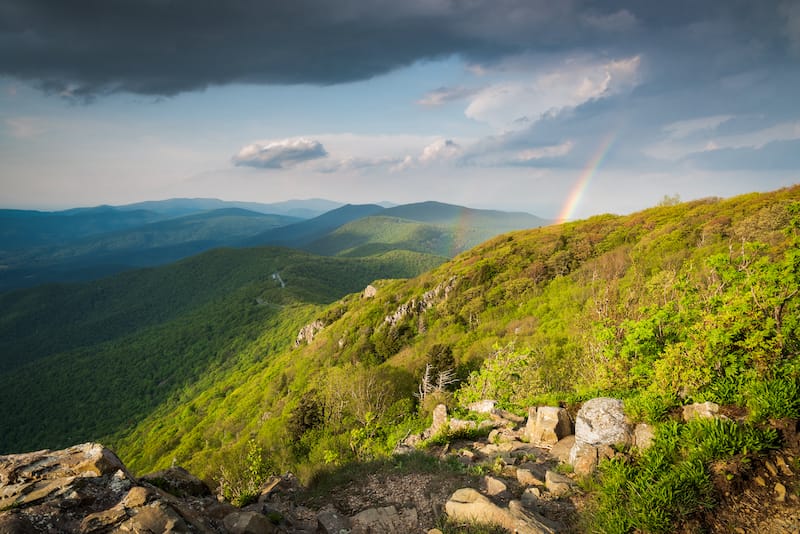 Shenandoah National Park is known for Skyline Drive, a 105-mile scenic drive that winds throughout the park.
Some of the hiking trails in Shenandoah Park that can be enjoyed in spring include White Oak Canyon, Old Rag Mountain (requires reservation spring-fall), Graves Mill Trail, Doyles Falls, and High Top Mountain.
The park is also home to some spectacular waterfalls, which are at their most powerful during spring.
This is one of the most popular national parks on the East Coast and well worth a visit during the springtime before it gets rather crowded in summer!
Alternatively, the Shenandoah Valley has some of the best places for strawberry picking in Virginia – be sure to check some out!
Go to the Shenandoah Apple Blossom Festival
One of the most iconic festivals in Virginia in spring is the Shenandoah Apple Blossom Festival in Winchester. This festival is so much more than just apples! It takes place from the end of April until early May (see dates here).
You will find wine festivals, a carnival, an 80s dance party, a 10k race, a country music party, and more!
Once you're done hanging out at the festival, be sure to stick around and explore Winchester, one of the most adorable places in Virginia (in my opinion)! The city has a cozy feeling and there are some cool cafes and craft beer bars there.
Explore the Small town of Damascus
There are a total of seven trails in the USA that intersect in Damascus, a small town now popularly referred to as Trail Town USA. This town is perfect for various outdoor activities such as hiking, climbing, or biking as it is surrounded by mountains.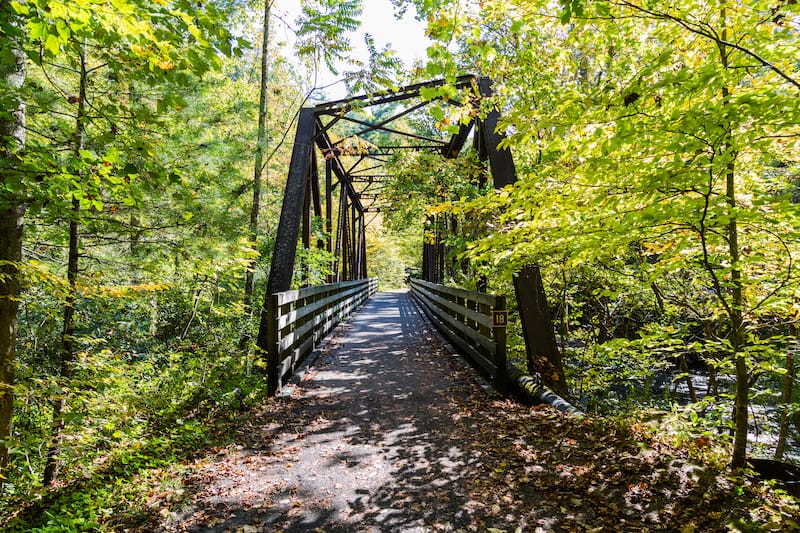 Its terrain includes rugged, rocky paths, thick forests, open fields, and streams. You may even follow the local Virginia rails to trails where the easiest and most common one is the trail that runs between Whitetop and Abingdon called the Virginia Creeper Trail.
The small town is surrounded by nature and is pure and unadulterated. There are restaurants in Damascus that serve the best food and drinks you would need to replenish your energy after a long and exhausting tour.
Take a Trip to Chincoteague Island
Though small, this island packs a lot of punches to rival other larger islands on the East Coast. There are so many things to do in Chincoteague and it is one of my favorite places in Virginia!
Connected by a beach to Assateague Island, Chincoteague Island offers the chance to experience small-town life away from the hustle and bustle of the city.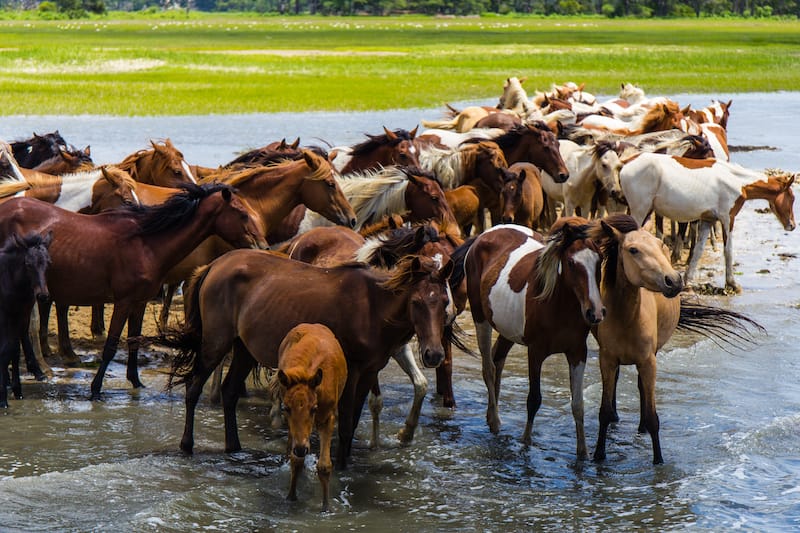 You can hike or bike through the land that is mostly marshes and forests. You can also go on a boat cruise to get a perfect view of Chincoteague from the water.
A trip to Chincoteague is not complete without seeing the wild ponies or visiting the Assateague Lighthouse. If you're a space lover like me, you can also make a stop at the nearby Wallops Island Flight Facility!
Click here to check out some of our top picks for Airbnbs in Chincoteague.
Enjoy the Charm of Harrisonburg
Go into the heart of Shenandoah Valley to discover this beautiful blend of modern and rustic life.
Harrisonburg has so much ethnic diversity that many young people speak many different languages from English to Arabic and beyond. It is also home to James Madison University.
You can enjoy a drive through Shenandoah National Park or enjoy the landscape of the valley while your kids have an educative, yet thrilling time at the Explore More Discovery Museum.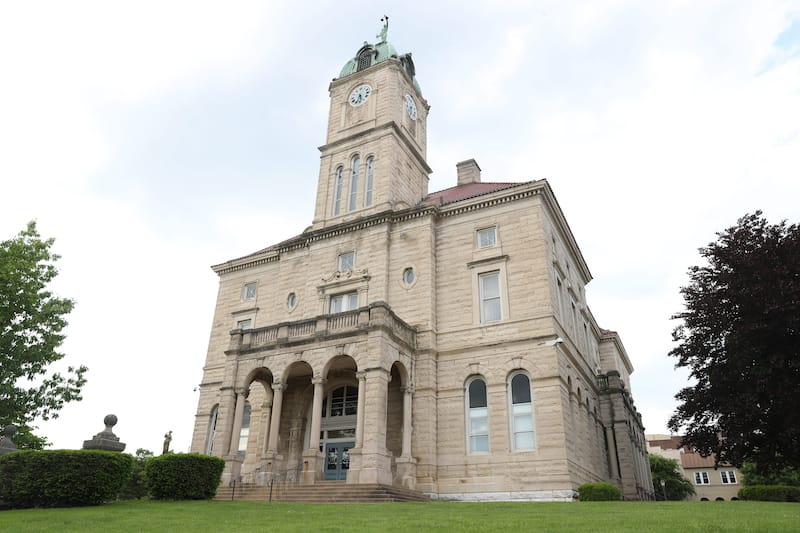 There are also hiking trails if you are feeling a bit energetic. Harrisonburg was the first culinary district in Virginia and also has a wide range of food to satisfy your taste buds.
Sightsee around the Tidal Basin
The Tidal Basin is most popular for its amazing view of blooming cherry blossoms during the colorful Virginia spring. But, there is a lot more that this place holds.
About 10 ft deep and 107 acres wide, the Tidal Basin offers landmarks that include the Martin Luther King, Jr. Memorial as well as the site of the First Cherry Tree Planting.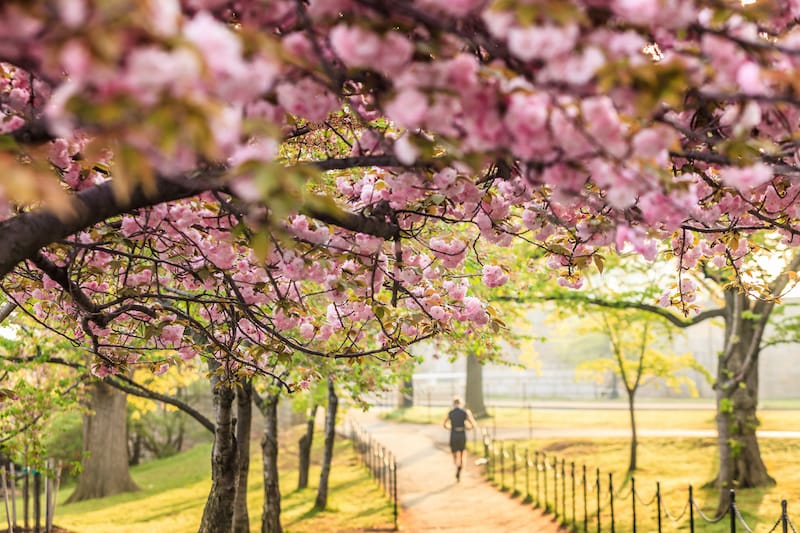 The basin was built to harness the power of the tides in the Potomac River and is located between the Potomac River and the Washington Channel. It is an essential place to visit in Virginia and DC in spring.
Don't miss out on visiting gorgeous Arlington, Virginia as well! There are a lot of sites around there that are worthy of stopping by to check out.
Visit Van Gogh Bridge in Reston
Van Gogh Bridge is easily one of the most Instagrammable spots in Virginia. Named after Van Gogh's original painting, this bridge has a perfectly picturesque view of cherry blossoms and is serene for a picnic or a stroll.
This footbridge links Washington Plaza to the Lake Anne Village Center and is located in Northern Virginia in Reston.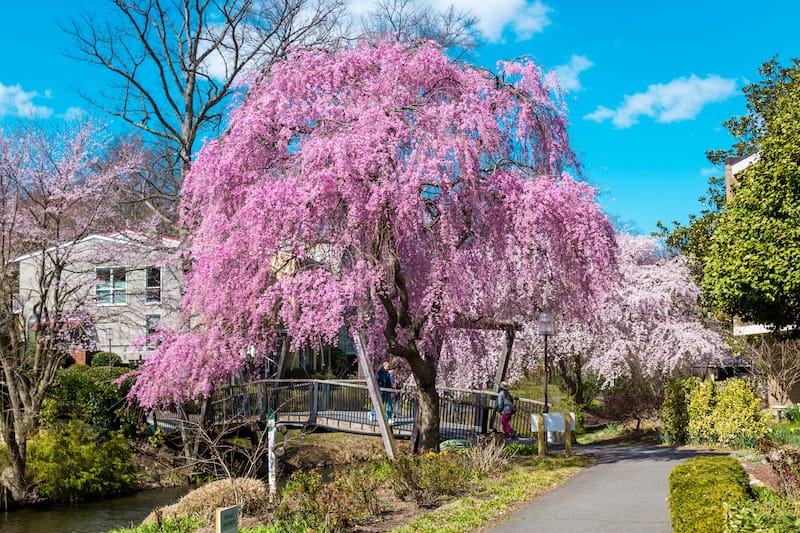 The bridge has been compared to places like Piazza San Marco (St Mark's Square), Venice's famous public square.
Soak Up the Sun in Virginia Beach
Unlike summer, Virginia Beach is quiet and less crowded in spring. While the ocean may not have 'swimmable' temperatures until the end of May into June, it is still a pleasant weekend getaway in Virginia in spring.
It is also a fantastic place to visit in Virginia with children. There is an adventure park close to the oceanfront with several games, rides, etc.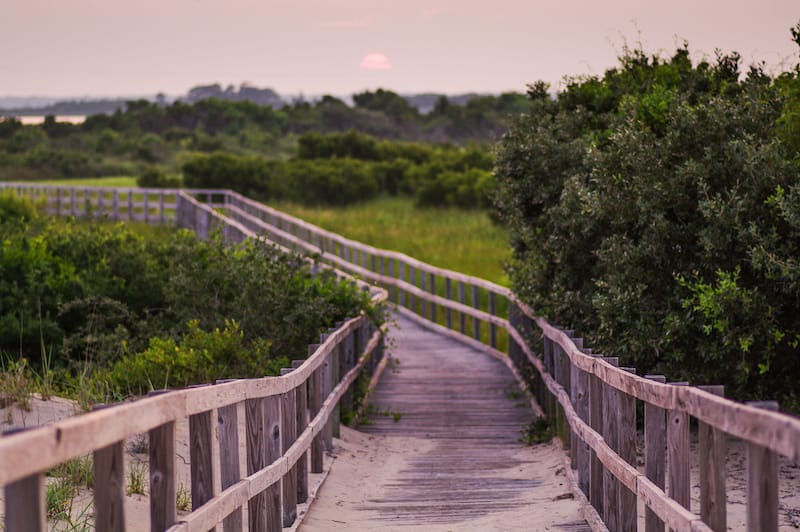 Some of the top things to do with kids in Virginia Beach are visiting the Cape Henry Lighthouse, enjoying a game of mini-golf at Jungle Mini Golf, take a boat ride around Rudee Inlet on the Rudee Rocket, going indoor skydiving at iFly, and just hanging a lot the Boardwalk enjoying ice cream and the sound of the waves.
If you're looking for things to do in Virginia in spring, definitely opt for a weekend in Virginia Beach! Click here if you're looking for some awesome timeshare rental options in VA Beach.
Explore Carvins Cove Natural Reserve
This mini oasis is just a few minutes-drive from Roanoke and it is a massive reservoir ideal for so many outdoor activities.
Carvins Cove Natural Reserve is one of the most beloved destinations in Virginia for bikers, hikers, and nature lovers.
This cove is safely protected in the mountains of Botetourt and Roanoke providing beautiful scenery that is as picture-perfect as it is breath-taking.
It is especially fantastic in spring after the Virginia winter thaw and you can start enjoying all of its offerings!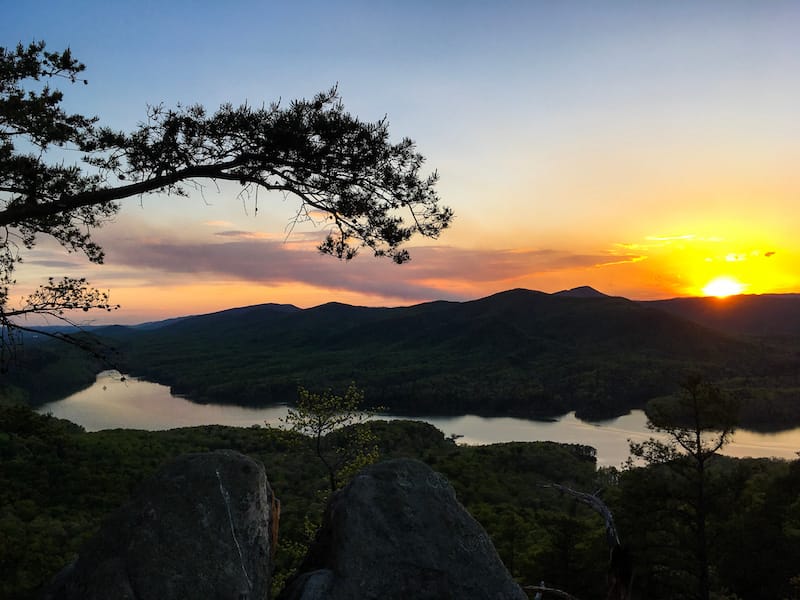 The cove is well-maintained and the water there is treated at the Carvins Cove Water Treatment Facility.
The massive cove covers over 11,000 acres of land that includes trails, picnic areas, and fishing platforms. You can also see some beautiful spring wildflowers in the area.
Carvins Cove is open every day except on Christmas and Thanksgiving days. it is open from April to September from 6:30 am to 9:30 pm and from October to March from 8:30 am to 6:30 pm.
Attend the Annual Cherry Blossom Festival
Cherry blossoms are a sight to behold especially in spring. In Washington DC, an annual Cherry Blossom Festival is held and it is one of the most magical sights in the entire US!
This event takes place from the end of March until early to mid-April… the blossoms will arrive somewhere during that time (the date changes year to year).
There are also many events around the capital city and in Northern Virginia celebrating spring and the cherry blossoms!
There are free events for visitors, such as the Blossom Kite Festival which takes place this year on April 1 (2023).
This festival celebrates the release of hundreds of kites to the sky from the grounds of the National Mall. It is a can't-miss thing to do in VA in spring!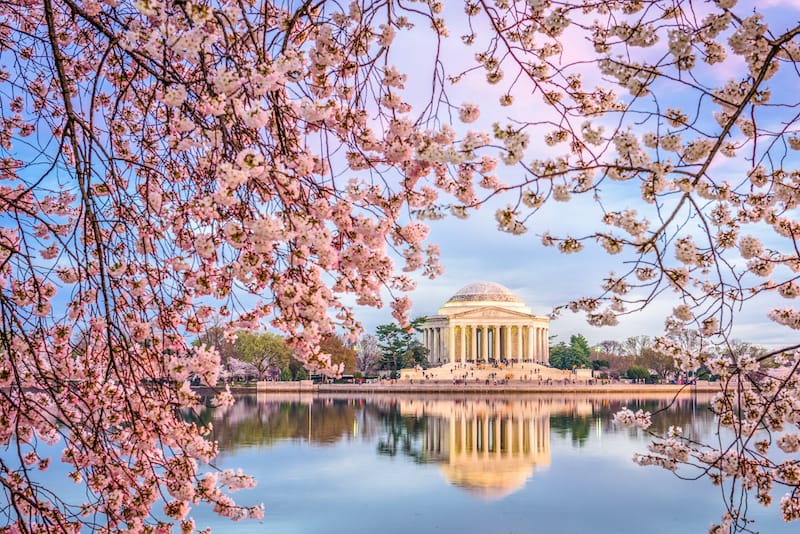 If you're looking for cheaper accommodation during this time, opt to stay in Alexandria, VA instead. It is cheaper and they have some beautiful cherry blossoms there too!
If you hit rain when visiting Washington DC for the Cherry Blossom Festival, you can still see colorful flora and flower displays at the National Botanic Gardens (or you can head to Meadowlark Botanical Gardens in NOVA).
What are your favorite things to do in Virginia in spring? Let us know your tips below!
There is an endless number of fantastic spring activities in Virginia and this is only hitting such a small number of them!
Be sure to check out our guide to spring in North Carolina if you're heading there next!
Pin this Spring in Virginia Travel Guide