Do you love getting lost in the flora and wonder of a beautiful garden? These are the best botanical gardens in Virginia (and Washington DC)! Be sure to stop by them if you're in any of the cities they are located in!
One of my favorite things about Virginia is that we have some unusually beautiful parks and botanical gardens. I never seemed to take advantage of them until I became a bit older, but I love them all the same!
This guide takes you through some of the most popular Virginia botanical gardens and arboretums in the state. If you have any gardens in Virginia that you think are worth a visit, please pop it into the comments! Thanks!
Virginia Botanical Gardens – Map
To add this map to your Google Maps account, click the 'Star' icon next to the map name. You can then view it on your cell phone or computer by heading to your Google Maps account, click the menu and add it to 'Your Places'.
Norfolk Botanical Garden
Address: 6700 Azalea Garden Rd, Norfolk, VA 23518
Official Website: https://norfolkbotanicalgarden.org/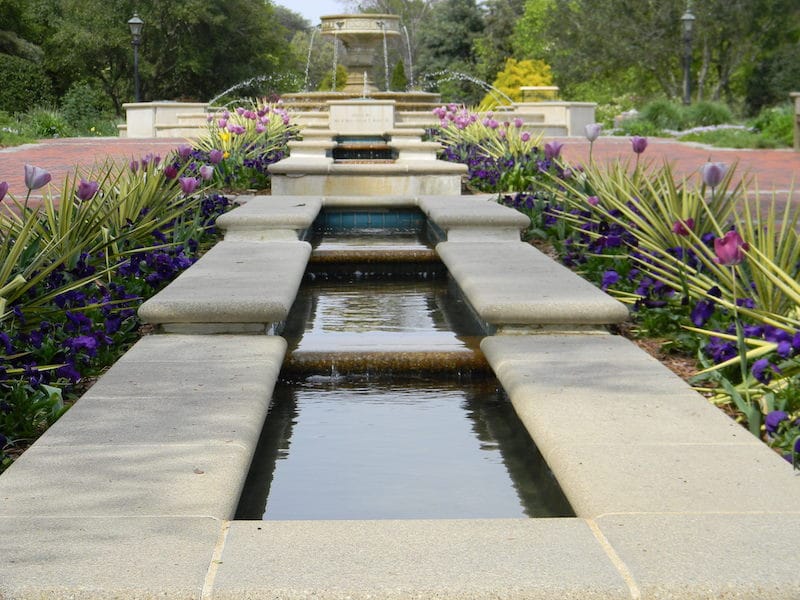 The Norfolk Botanical Garden is the largest botanical garden in Norfolk, Virginia and it is spread across 158 acres. With various events taking place daily, it is a very famous tourist attraction in Hampton Roads and should be on your itinerary for the area!
The foundation of this garden was initiated by the manager of the city, Thomas P. Thompson, and horticulturalist Frederic Heutte. The land for this garden was granted to the pair in 1938 included 75 acres of land and 75 acres of reservoir.
By March 1939, the garden was filled with a variety of trees and shrubs and was open to the public. The botanical garden is one of the best attractions in Norfolk for visitors.
Read more: Best beaches in Virginia
In 1958, the site was taken over by the Old Dominion Horticultural Society and they eventually changed its name to what it is today. In 2005, it was placed on the National Register of Historic Places.
Today, you will find a large number of theme gardens there, including a Japanese garden, rose garden, and desert plants garden. It truly is a one-of-a-kind place in Norfolk and one of the best arboretums and gardens in Virginia.
This botanical garden is a great half-day trip from Virginia Beach!
Meadowlark Botanical Garden
Address: 9750 Meadowlark Gardens Ct, Vienna, VA 22182
Official Website: https://www.novaparks.com/parks/meadowlark-botanical-gardens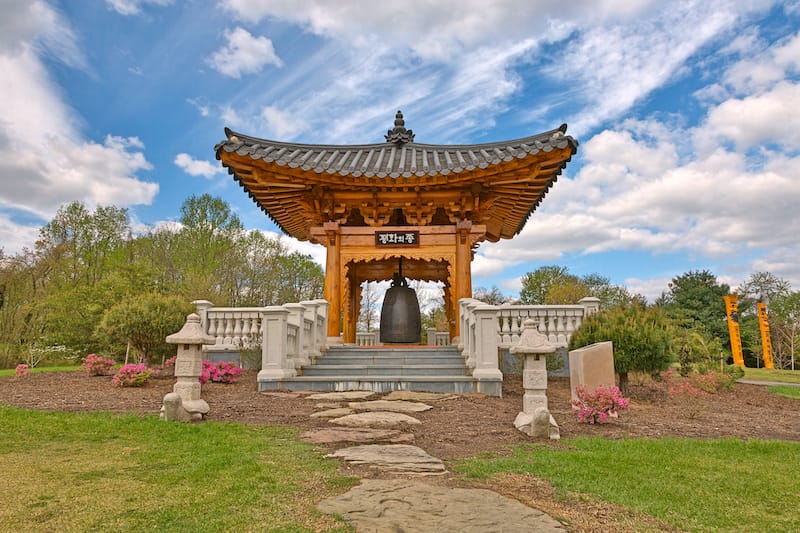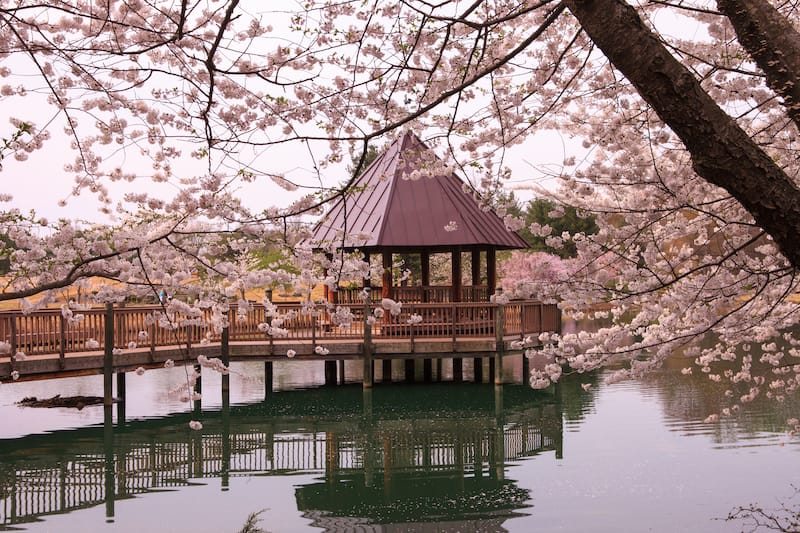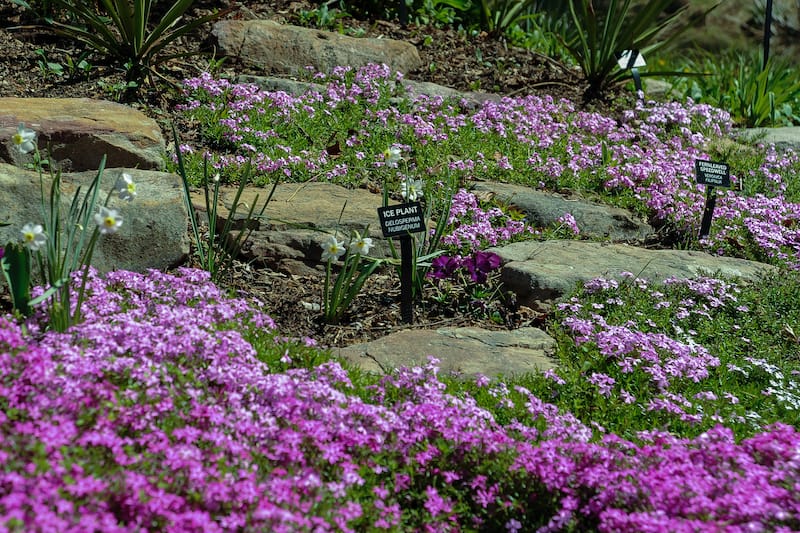 Explore ornamental and native plant gardens at the Meadowlark Botanical Garden in Vienna, Virginia. This garden is spread over 95 acres and is teeming with colorful display gardens and a unique and distinct plant collection native to the climate of Virginia.
The meandering walking trails take you through the garden that is filled with lakes and forests, allowing you to discover the flora and fauna present there. It is one of the best things to do in Centreville and other NOVA communities close by!
Have a look at the majestic Piedmont Hills, traverse through the Korean Bell Garden, and visit the restored and replenished log cabin dating back to the 18th-century. This garden is open daily barring major holidays and bad weather.
The Korean Bell of Friendship and the pavilion were donated to Los Angeles, California in 1976 by South Korea.
The construction of the pavilion was completed in 2010 and the bell in May 2011. The official inauguration of the park was done on May 19, 2012.
Lewis Ginter Botanical Garden
Address: 1800 Lakeside Ave, Richmond, VA 23228
Official Website: https://www.lewisginter.org/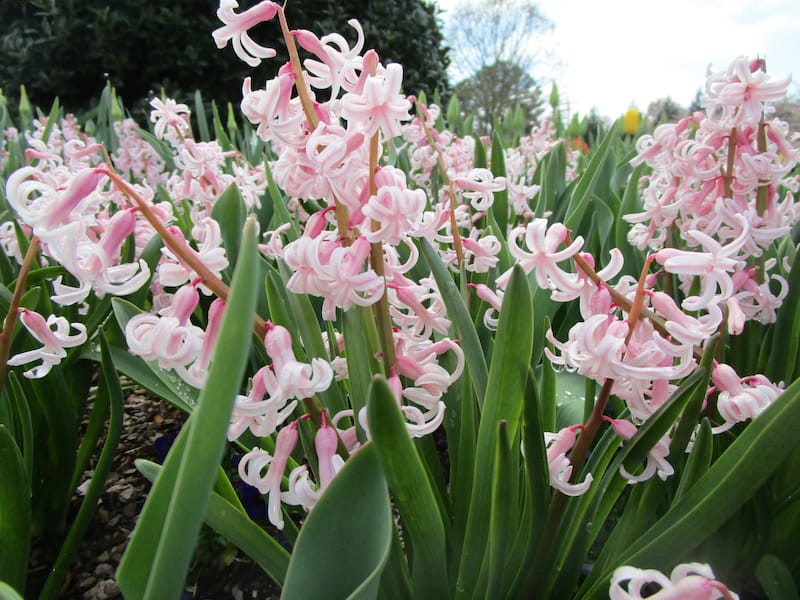 Spread across 50 acres, the Lewis Ginter Botanical Garden is located in Richmond, the capital of Virginia. It is located in Lakeside. This garden proudly boasts a conservatory, a library café, as well as a tea-house restaurant.
One of the most popular times to visit the Lewis Ginter Botanical Gardens is during the winter, actually. It is known for its GardenFest of Lights which brings in around 80,000 visitors annually!
During the warmer months, however, you will find an interesting exhibit that focuses on the lives of tropical butterflies that is perfect for children. There are also frequent concerts and kids' events.
Become a member of the Lewis Ginter Botanical Garden and enjoy various perks. Experience the fun by registering for online Zoom classes regarding gardening, floral design, yoga, and more!
Williamsburg Botanical Garden
Address: 5537 Centerville Rd, Williamsburg, VA 23188
Official Website: https://www.williamsburgbotanicalgarden.org/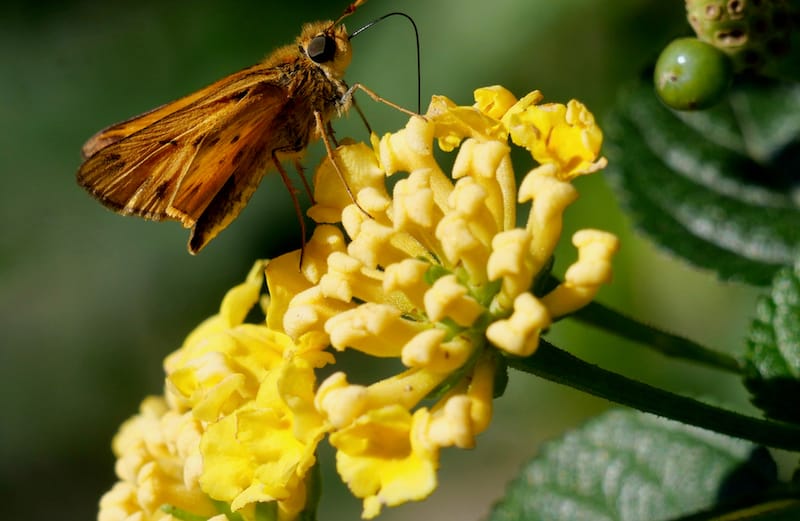 The Williamsburg Botanical Garden is a non-profit botanical garden with an aim of enhancing and boosting the lives of every resident and visitor to Williamsburg by promoting and creating awareness about gardens and how it is enjoyable to spend a day with family at a garden.
This non-profit botanical garden in Virginia occupies the Ellipse Garden in Freedom Park and spans over 2 acres.
It has more than 2,000 varieties of plans and includes everything from a butterfly garden to various shrubs and trees to wetlands. It is free to visit.
Read more: Best lighthouses in Virginia
This garden provides all-year-round educational and recreational programs so for kids and adults. The Virginia botanical garden can also be rented for wedding ceremonies, portrait photography, or other important events by payment of fees at least 30 days before it.
State Arboretum of Virginia
Address: 400 Blandy Farm Ln, Boyce, VA 22620
Official Website: https://blandy.virginia.edu/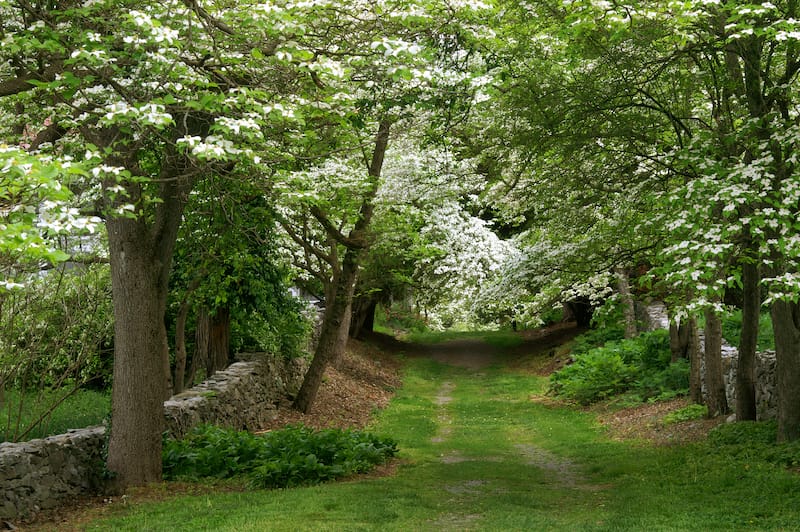 A part of the Blandy Experimental Farm, the State Arboretum of Virginia is a research field station for the University of Virginia.
It is primarily meant for research and educational purpose by the students of the nearby university as well as the local and faraway crowd. It is also called the Orland E. White Arboretum.
The arboretum contains over 1000 species of over 8000 trees and shrubs. The most interesting collection is that of boxwood cultivars and the pine collection which includes over half of the entire world's species of pine.
The entire arboretum is on limestone soils making it the only one on the east coast.
The grounds are also open for pets from dawn to dusk all year round.
Hahn Horticultural Garden
Address: 200 Garden Ln, Blacksburg, VA 24061
Official Website: https://hahngarden.vt.edu/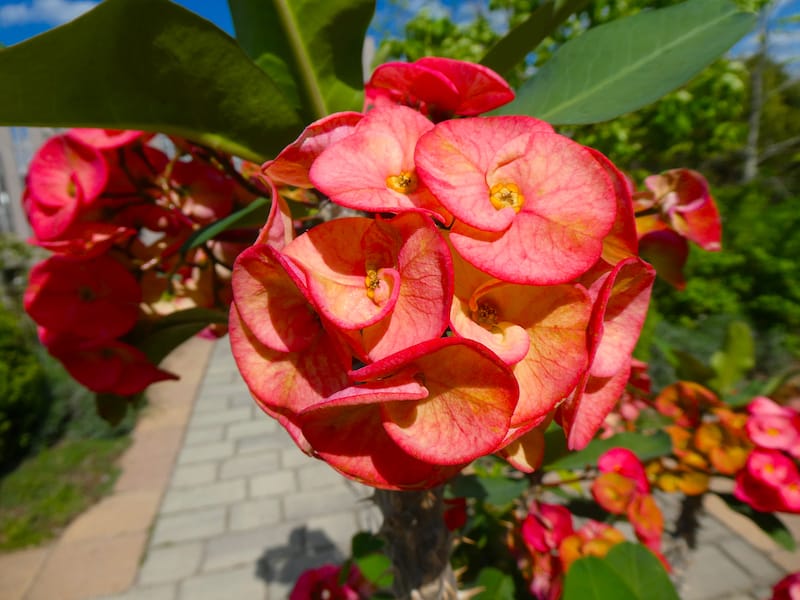 The Hahn Horticultural Garden covers an area of about 6 acres and is an educational experience for anyone visiting it. The display garden is housed on the campus of Virginia Tech in Blacksburg, Virginia.
This garden in Virginia was established by the Horticulture faculty in 1984 to help the undergraduate students and the local community to resource plant materials for research and awareness.
Hahn Horticultural Garden has perennial water gardens, shade gardens, and many more other places to visit within its grounds. The Peggy Lee Hahn Garden Pavilion is also a major attraction there.
Because of the perennial nature of plants here, Hahn can be visited at any time of the year!
Edith J. Carrier Arboretum
Address: 780 University Blvd, Harrisonburg, VA 22807
Official Website: https://www.jmu.edu/arboretum/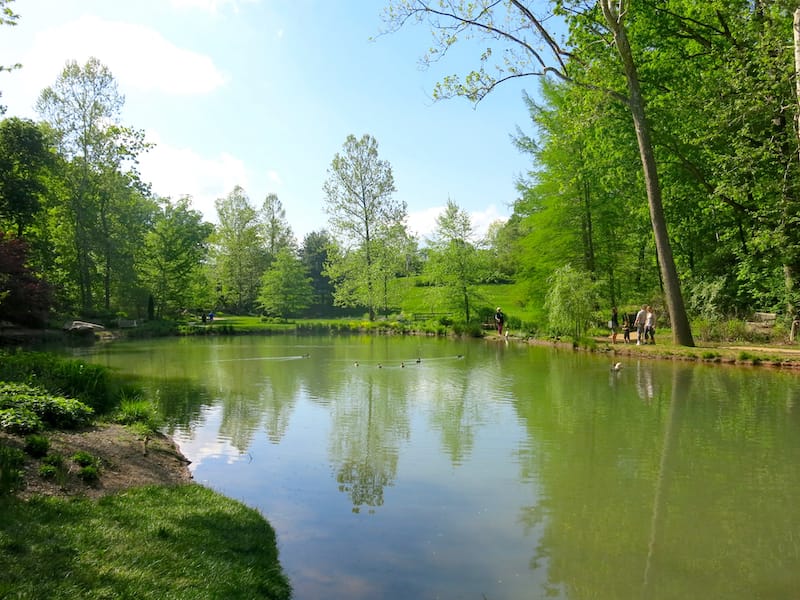 An arboretum and a botanical garden, the Edith J. Carrier Arboretum is situated on the James Madison University campus in Harrisonburg, Virginia in the Shenandoah Valley.
This garden aims to inspire everyone to engage in a woodland sanctuary.
As mentioned above, this garden is a woodland sanctuary that acts as a research ground for all interested students and a place of leisure for the common people.
It is a Virginia garden that believes in promoting knowledge and spreading awareness about the botanical and natural world outside our homes!
Its popularity extends far beyond the students and faculty at JMU and is a must-visit to those exploring the area or nearby Shenandoah National Park!
They also host exhibitions and wedding ceremonies throughout the year.
Chesapeake Arboretum
Address: 624 Oak Grove Rd, Chesapeake, VA 23320
Official Website: https://www.visitchesapeake.com/listing/chesapeake-arboretum/155/
Located in the middle of the city of Chesapeake, the 48-acre Chesapeake Arboretum is "Nature's Classroom." This arboretum aims to promote awareness for horticultural and environmental factors through several mediums like displays, education, and extensive research.
They always highlight lands that are ecologically and historically important along with being scenic and having a recreational purpose. This garden truly is the treasure of Virginia.
Read more: Best caverns in Virginia
Its trail systems pass through the mature hardwood forest that was planted in 1996. This forest also houses a variety of trees and plants.
The Chesapeake Arboretum is focused on a "green mindset." This means that the supporters of this botanical garden are driven by spreading awareness about protecting the trees and plants and not causing harm to any tree present, especially the ones on-site.
They have the Pecan Grove Gazebo which is the perfect location for organizing various ceremonies. With the payment of the standard payment fee, all the arrangements will be provided by this garden.
United States Botanic Garden (Washington DC)
Address: 100 Maryland Ave SW, Washington, DC 20001
Official Website: https://www.usbg.gov/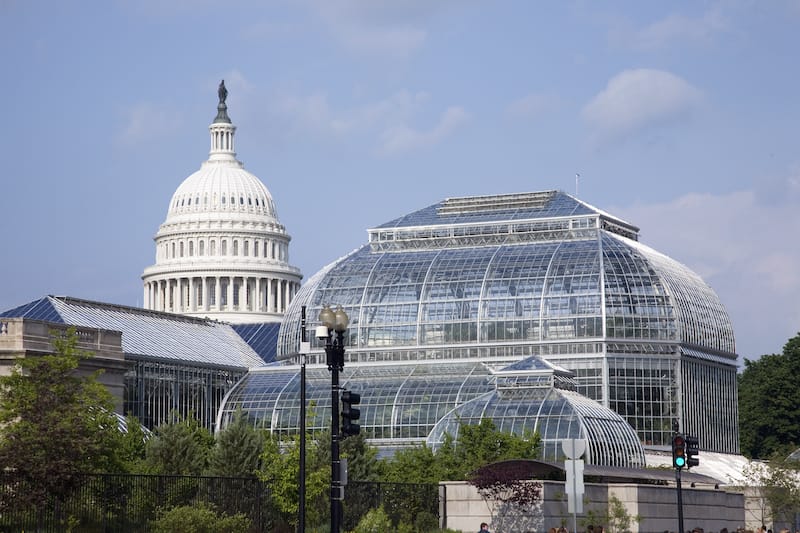 The United States Botanic Garden (USBG) is located near Garfield Circle on the grounds of the United States Capitol, Washington D.C. The responsibility of maintaining this garden is in the hands of the Architects of the Capitol who are supervised by Congress.
The major attractions of this park are its conservatory, Bartholdi Park, and the Production Facility. The conservatory is divided into many different parts each housing a different variety of plants from a different habitat.
To the south of the conservatory just across from Independence Avenue, is Bartholdi Park. It was named so because of the famous Bartholdi fountain that is situated in the center of it.
The Production Facility is where plants are stored and grown for further uses in exhibitions and shows… making this definitely one of the most exciting places in Washington DC.
This garden is open 365 days of the year, even on federal holidays. However, be sure to check the website to see if there are any temporary closures. It is an essential thing to do if you're visiting Washington DC in spring!
Maymont Park
Address: 1700 Hampton St, Richmond, VA 23220
Official Website: https://maymont.org/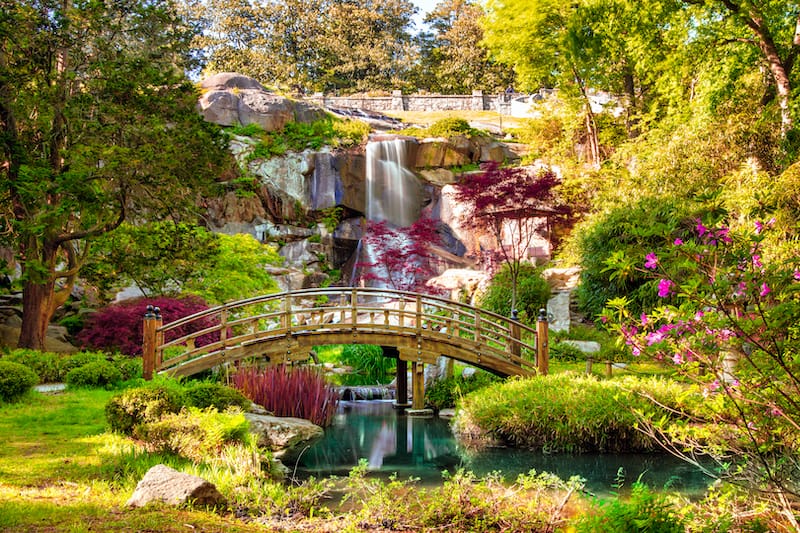 Located in Richmond, Virginia, Maymont Park is spread over 100 acres of land. It is a historic Victorian estate and a park that also contains some very colorful gardens and it is one of my favorite places to visit in all of Virginia!
Visitors are enamored by the historic house museum called the Maymont Mansion. There are other places worth visiting inside, like the formal gardens, arboretum, native wildlife exhibit, and a children's farm. But, it is really the flowers that keep me going back, personally.
You can visit all the different gardens available there. Take a nature walk through the trails in the garden to witness breathtaking views and also finds man-made waterfalls along the way.
You can also host events there if you're in town for a while. Also, you can adopt an animal here and let the keepers take care of it for you.
Or, just come and visit the park to spend a day full of fun with your family or friends. Become a member of the park and experience the extra perks they provide.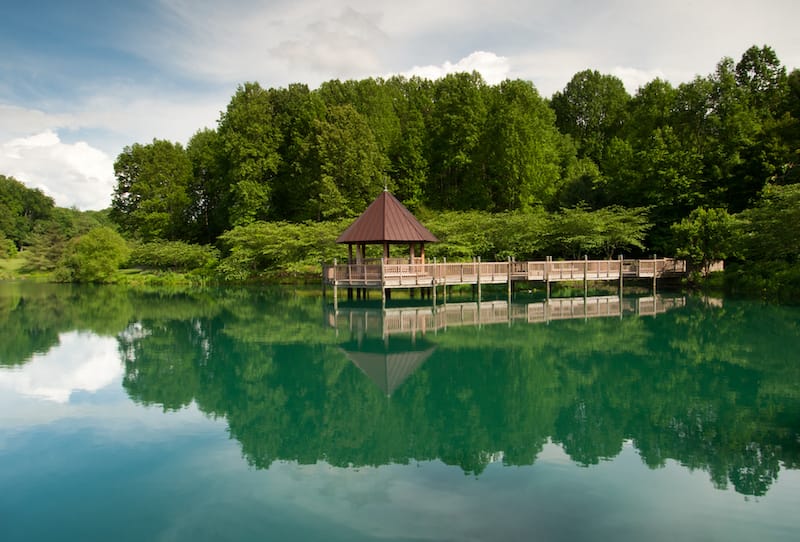 There are many incredible botanical gardens in Virginia and these are some of our top picks! They are great to visit during the Virginia spring, summer, and beyond!
What are your favorite gardens and arboretums in Virginia? Tell us your favorite garden in Virginia below and why we should add it to our VA bucket list!
Pin This Gardens in Virginia Guide