Are you planning to visit Williamsburg? This guide details the best things to do in Williamsburg VA for first-time travelers – read on!
Are you planning your trip to Williamsburg last minute?
If you're traveling to Williamsburg last minute, be sure to have lodging/tours booked ahead of time! Here are our top picks!
🇺🇸 Best Tickets and Tours in Williamsburg:
🛌 Where to Stay in Williamsburg:
🚗 Looking for the best way to get around VA? Click here to check rental car rates for Virginia!
Have you ever wondered what it would be like to live in another era? While we haven't yet invented time machines, you can come as close as possible to traveling back in time by visiting Williamsburg, Virginia.
Known as the largest outdoor living museum in the United States, a trip to Williamsburg will take you back to Colonial America.
With people dressed in period clothing and reenactments from 18th-century America, Williamsburg is every history buff's dream.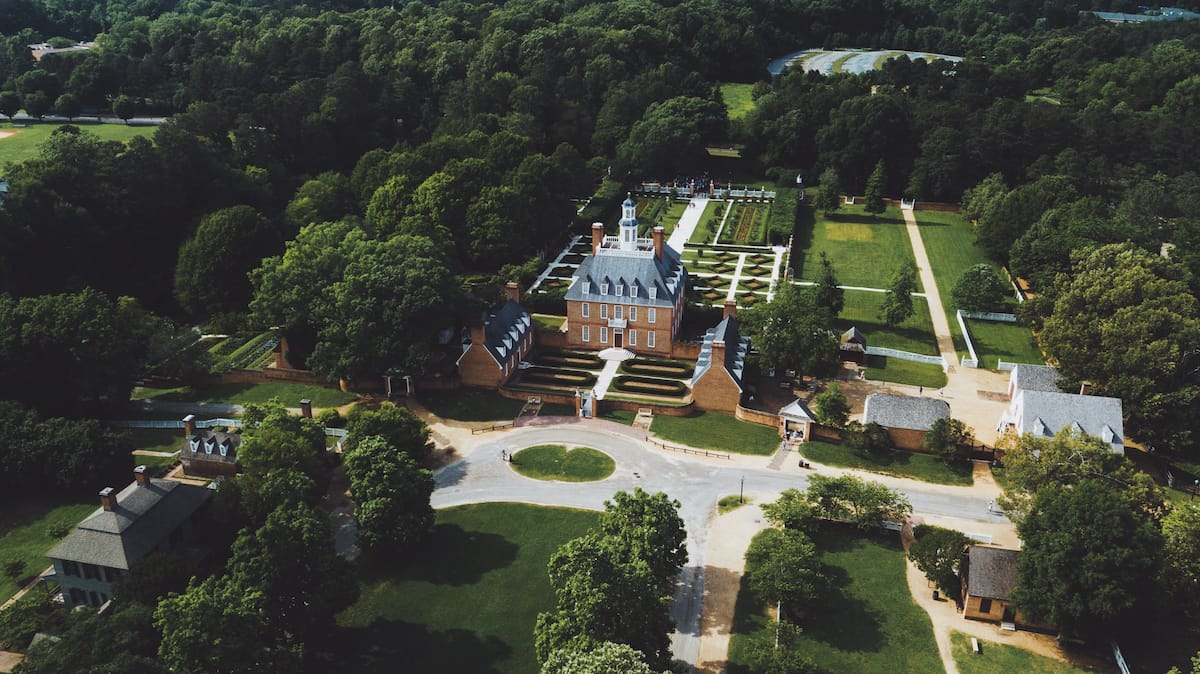 But, there is more to this Virginia city than just history.
This guide will detail the top Williamsburg attractions, landmarks, and things to do. Some are historical, others not so much!
Read on to find out our top recommendations for places to visit in Williamsburg!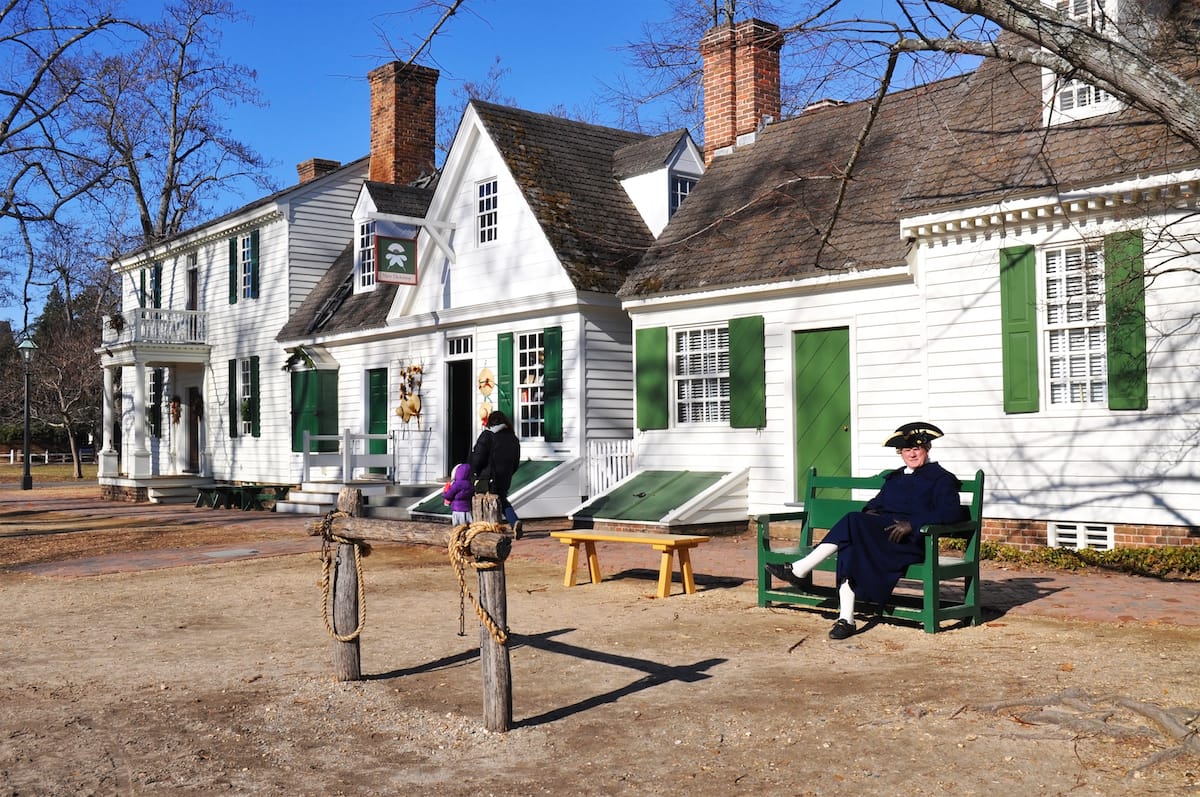 If we left out any of your favorite landmarks in Williamsburg (or anything!), let us know in the comments. Thanks!
Best Time to Visit Williamsburg VA
One of the best things about Williamsburg is that it's the perfect place to visit year-round, but summer tends to be the city's peak season.
With that said, summer in Virginia gets very hot and humid, and you can expect there to be lots of crowds and price hikes for accommodations.
Therefore, a lot of people recommend visiting in the spring or fall, when the weather is a lot more bearable and there aren't as many crowds.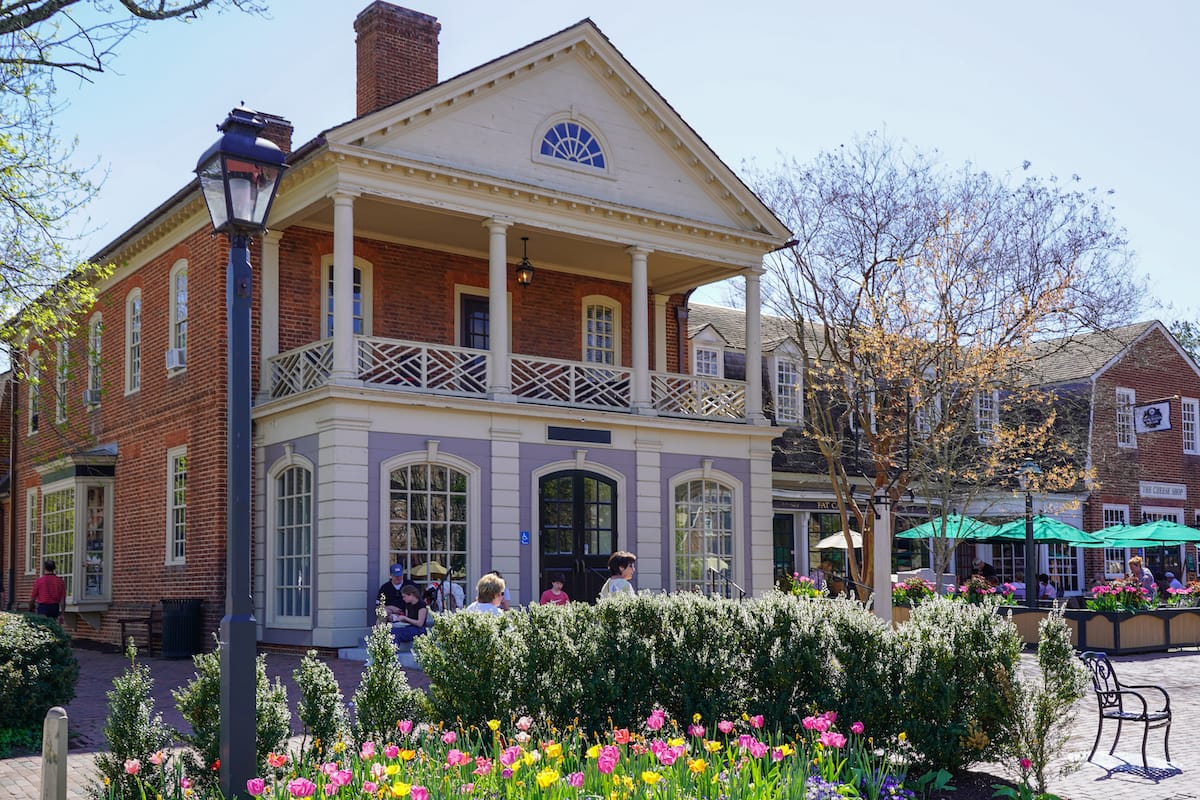 In addition, Christmas can be a busy time of the year because Williamsburg offers tons of celebrations. In short, you can visit whenever you wish!
Popular Tours in Williamsburg
One of the best things to do in Williamsburg is to book a tour of the historic sites.
Not only does it help you learn more about what you're seeing, but it also helps you maximize your time so you have it left over to spend in other cool places (like the breweries!) in Williamsburg.
Here are some of the top-rated tours in Williamsburg:
Best Things to Do in Williamsburg VA
1. Take a Candlelit Ghost Tour of Williamsburg
Immerse yourself in the creepy local legends of historic Williamsburg with this candlelit guided ghost tour.
You'll learn about the lesser-known side of Colonial Williamsburg and the old tales that have surrounded the city for decades.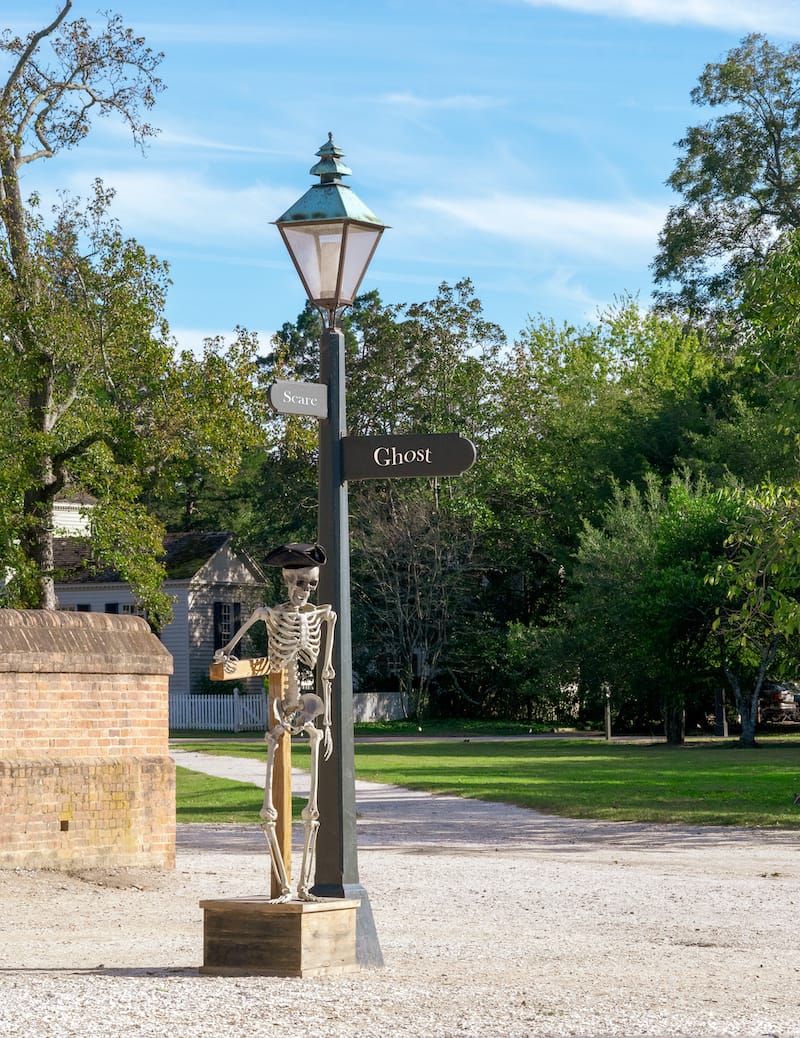 Your expert storytelling guide will take you throughout the city while giving you fascinating tidbits of both local history and spooky legends. Add to the ambiance by walking around town with candlelight to light your path.
This 90-minute walking tour is family-friendly and your engaging and interactive guide makes this fun for all ages.
>> Click here for tour rates and availability
2. Take a Walking Food Tour in Williamsburg
Get to know Williamsburg's foodie scene with a guided walking food tour! It's a great way to explore the city's neighborhoods and learn about some of Williamsburg's best dining spots.
On this walking tour, you'll get a chance to taste a wide variety of food and drink. You can sample handmade pizza, fudge, gourmet mac and cheese, pastries, and a flight tasting of local beers.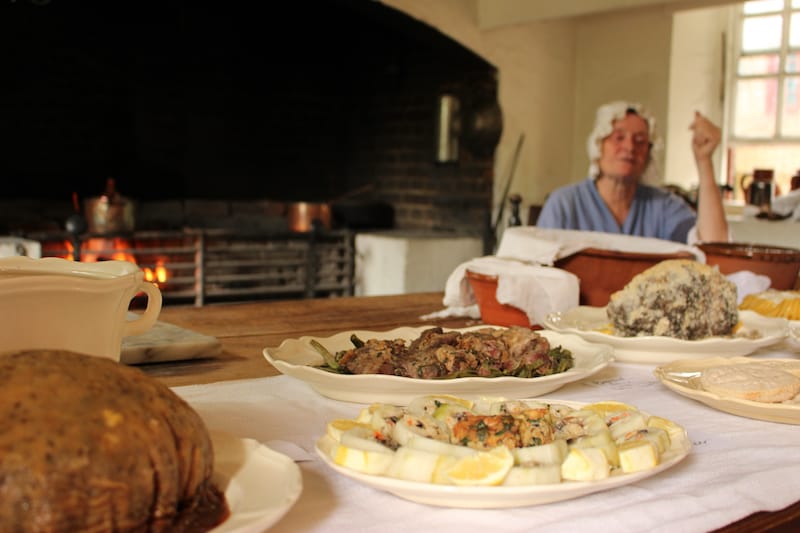 You'll meet the local chefs and producers at the locations who will give you insight into Williamsburg's up-and-coming food scene.
This tour departs from St. Merchant's Square at 2pm and ends in the same location approximately three hours later.
>> Click here for tour rates and availability
3. Visit Colonial Williamsburg
Immerse yourself in American history and travel back in time while meandering through the historic streets of 18th-century Colonial Williamsburg.
This Revolutionary City serves as the nation's largest living history museum, where one can witness more than 100 original and 400 reconstructed buildings dating back to the 1700s.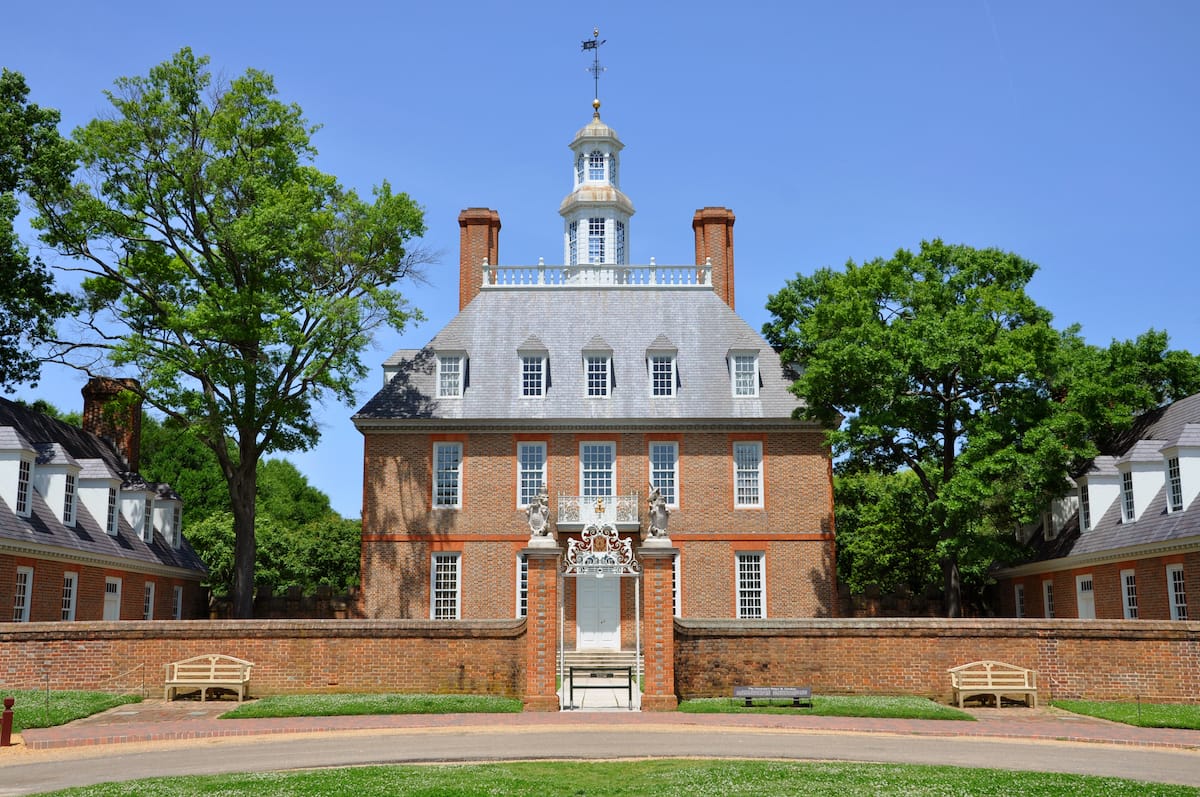 Here you can walk in the footsteps of important figures, marvel at meticulously restored gardens, and experience the authenticity of this 18th-century city.
By strolling down Duke of Gloucester Street and taking part in the 18th-century scenes playing out in every corner, you will be caught up in the sights and sounds of Williamsburg as it was during the American Revolution.
💥 INSIDER TIP: You need an entire day here (or two). I can not stress this enough. The complex is huge and you can not easily combine it with Jamestown in one day.
A few of the must-visit historic sites are the Capitol, Governor's Palace, George Wythe House, the Magazine, and the Courthouse.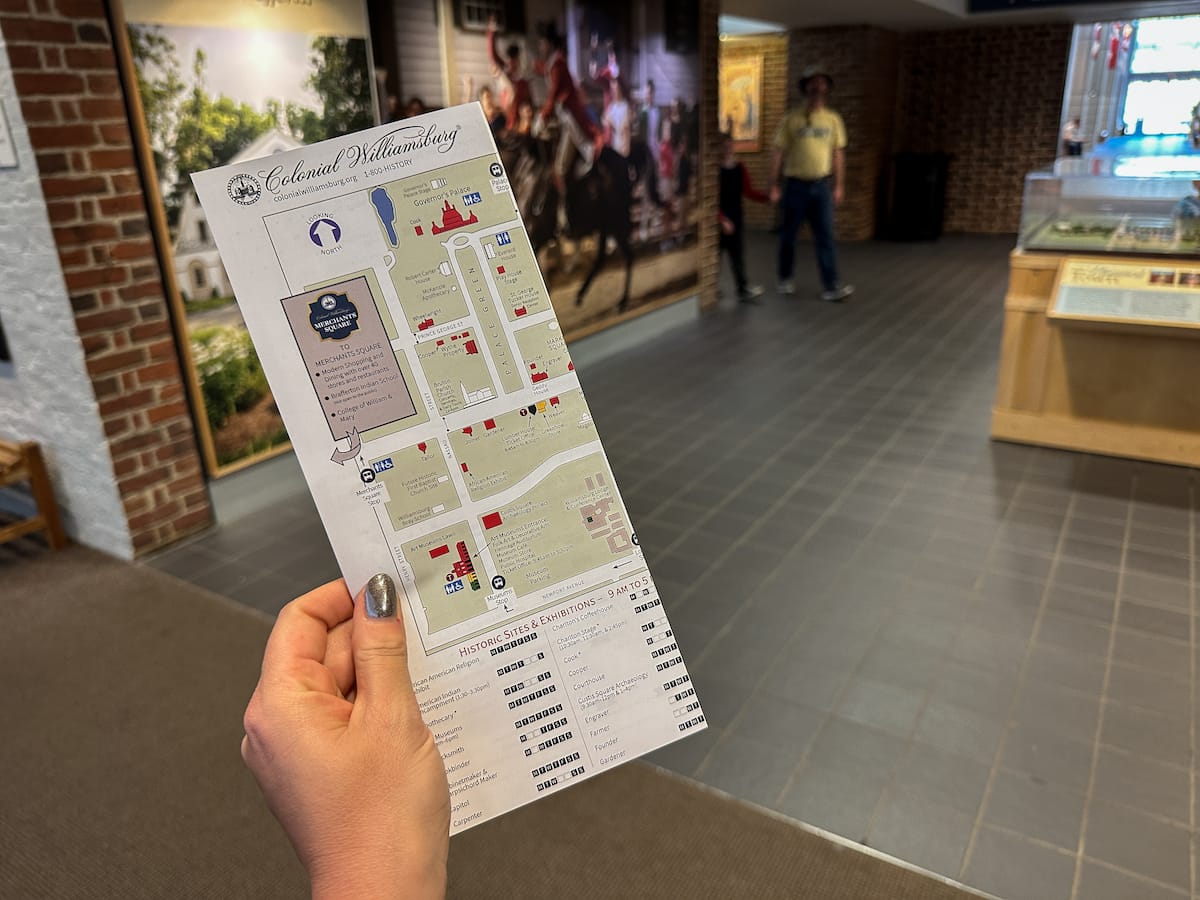 This historic city allows you to have hands-on experiences with brickmakers, gunsmiths, shoemakers, weavers, and many other tradespeople who still use 18th-century tools and techniques in their crafts.
Those who appreciate period art and want to admire rare collectibles should head to explore the DeWitt Wallace Decorative Arts Gallery and Abby Aldrich Rockefeller Folk Art Museum.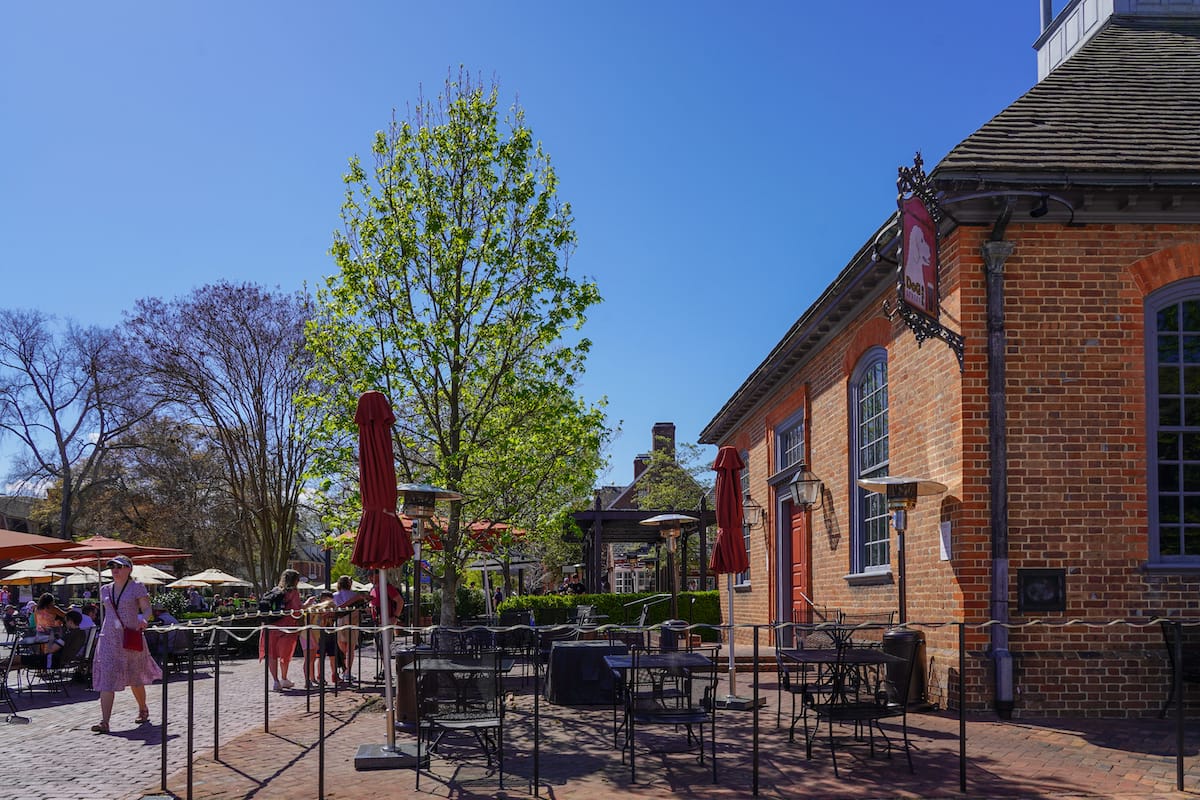 After exploring the city, head to Raleigh Tavern, Shields Tavern, or King's Arms Tavern to witness how stories of the past can come to life on your dinner plate.
To shop for souvenirs belonging to the time period, browse through Merchants Square on Duke of Gloucester Street, which is an 18th-century style retail village offering over 40 shops and restaurants.
4. Check Out the Colonial Taverns
Visit one of the historic colonial taverns to experience what it was like to dine back in Williamsburg's past.
At King's Arms Tavern, you will certainly travel back in time, where historic ambiance, the 18th-century inspired chophouse menu, and colonial elegance will guarantee a one-of-a-kind dining experience.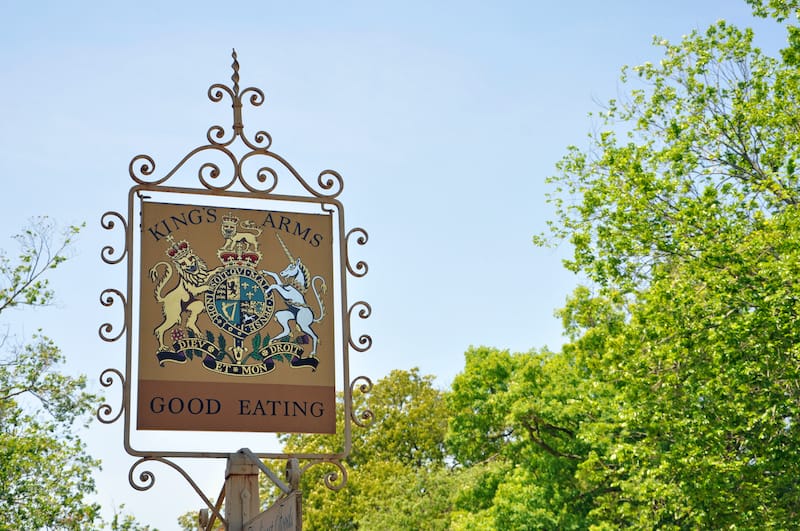 Shield's Tavern, opening in spring 2022, is the perfect place to savor authentic blends from around the world.
Colonial-inspired pub fare at Chowning's Tavern will make everyone savor the taste of history.
Try their mouth-watering Shepherd's Pie in an authentic alehouse atmosphere, and for a moment, you will feel like you are in another era.
5. Explore Historic Jamestowne
Delve deep into the early history of North America's first thriving English colony in Jamestowne.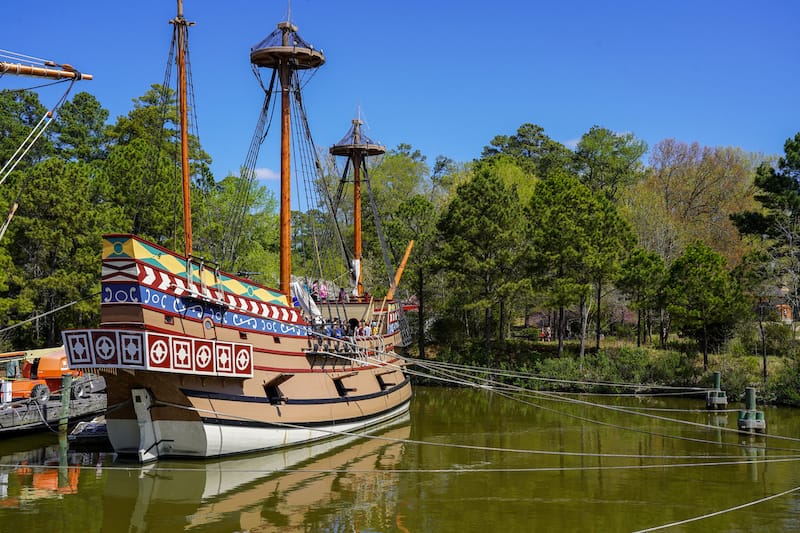 Here you can trace the footsteps of Captain John Smith, Pocahontas, and John Rolfe. The Colonial history here dates back to 1607!
Inside the footprint of the original James Fort, you can see archeology in action, be part of ongoing excavations, and witness colonists' own tools and treasures that have been in the ground for 400 years.
💥 INSIDER TIP: Once you purchase your ticket, there is an optional film in a theater in the visitor's center – it is a good 30-minute watch to refresh your mind on Jamestown's history.
Make sure to check out the 17th-century church tower, the last surviving above-ground structure from early Jamestowne that has survived.
History buffs shouldn't miss a visit to the area's archeological museum, Voorhees Archaearium, to admire diverse artifacts, such as helmets, bone dice, crystal arrowheads, Powhatan pottery, and more.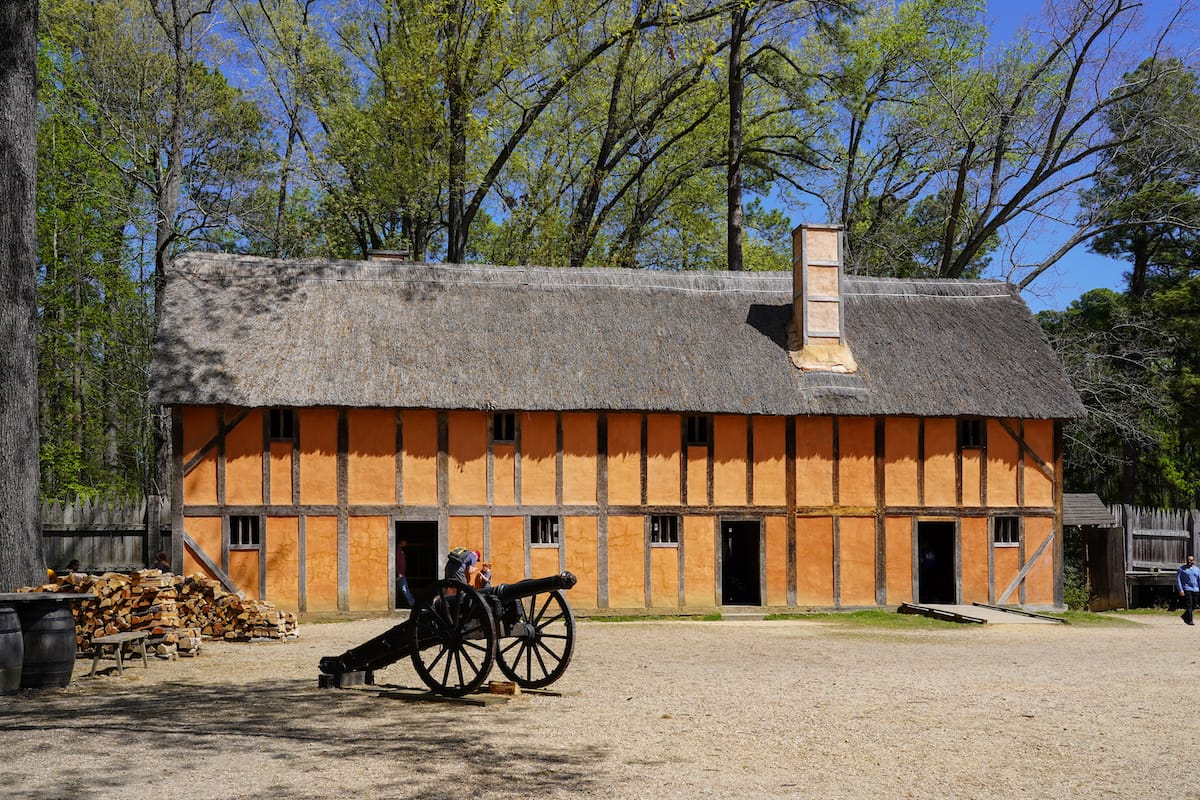 Today, the town is referred to as Jamestown (without the -e).
The best deal you can get is to purchase this combo ticket that gives you 7-day access to the Revolutionary Museum in Yorktown in addition to the Jamestown Settlement.
>> Click here to check Jamestown + Yorktown combo tickets
6. Have a Beer at AleWerks
When in the mood for beer, head to AleWerks Brewing Company, which is one of Virginia's leading breweries. Established in 2006, beer lovers will certainly appreciate AleWerks' signature beers that are still true to their traditional style.
They offer a wide variety of colonial-style Ales, Porters, and Stouts to choose from, including year-round brews like Superb IPA, Tavern Brown Ale, and Chesapeake Pale Ale, seasonal selections like Shortcake and Tangerine, and special reserve beers like Deja Vuberry, Pumpkin Latte, and more.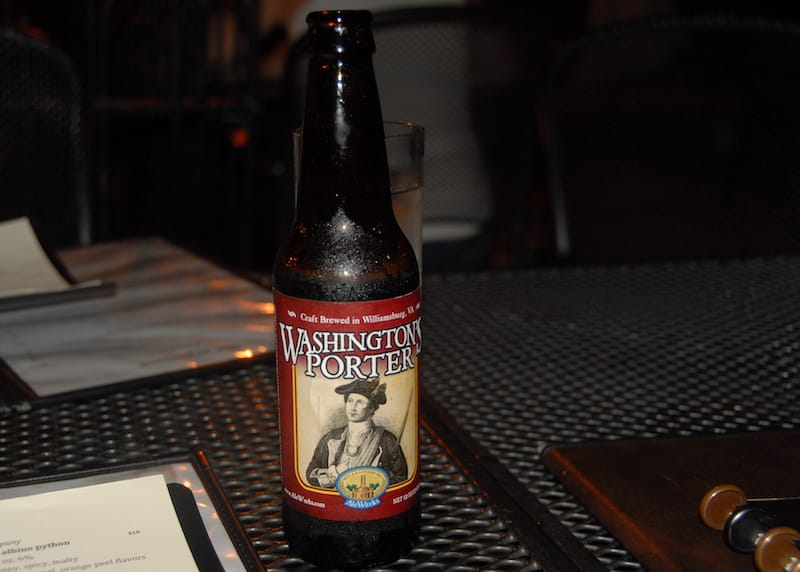 For a complete one-of-a-kind beer experience, visit Brewery Taproom or the newest L.A.B Taproom to savor a great selection of quality beers and pair it with Alewerks' famous soft pretzels and beer cheese dipping sauce.
Address: 5711-36 Richmond Rd, Williamsburg, VA 23188
7. Go to the DeWitt Wallace Decorative Arts Gallery and Abby Aldrich Rockefeller Folk Art Museum
Whether you are an art enthusiast or not, visiting the Abby Aldrich Rockefeller Folk Art Museum is a must to explore American folk art and learn more about Rockefeller's importance to Williamsburg.
Operating since 1985, the museum houses an extensive collection of 18th, 19th, and 20th-century paintings and sculptures created by brilliant artists with vibrant colors and imaginative fabrics.
Those eager to witness centuries-old English and American antiques displayed under one roof need to pay a visit to the DeWitt Wallace Decorative Arts Gallery.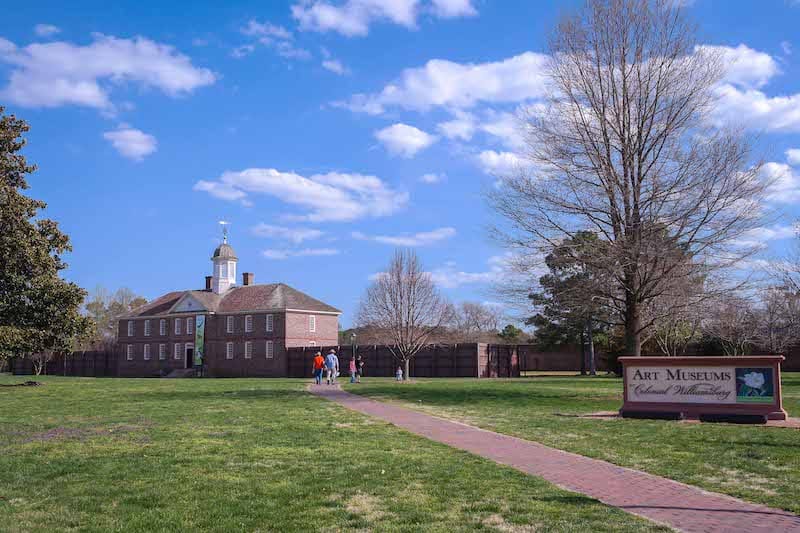 The impressive collection includes everything from furniture, textiles, ceramics, and glass to paintings, prints, and firearms created between 1680 and 1830.
The 1773 Public Hospital, an exhibit on psychological disorder treatment methods, is one of the Museum's permanent displays.
Address: 301 S Nassau St, Williamsburg, VA 23185
8. Stop at the Artisans' Shops
Get a real taste of this historic area and treat yourself to some great finds in Artisans' Shops.
Shop for locally-made breeches, waistcoats, short gowns, cloaks, petticoats, mitts, caps, decorated straw hats, and fashionable jewelry in Tarpley, Thompson & Company.
Visit Everything Williamsburg to bring home a piece of historic Colonial Williamsburg with you. It offers a broad selection of products and souvenirs with the Colonial Williamsburg logo on it.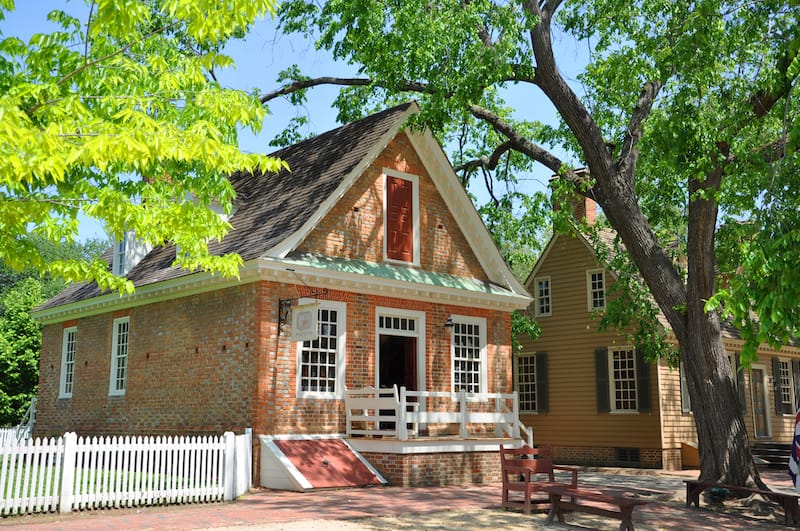 Antique lovers should definitely check out John Greenhow Store and Prentis Store for replica dinnerware, Native American crafts, reproduction furniture, pottery, and more.
Before leaving the city, make sure to visit the Williamsburg Lodge Gift Shop to pick an eclectic gift or two for your loved ones.
9 Enjoy a Stay at KingsMill Resort
To immerse in a memorable riverside getaway, book a room at the stunning KingsMill Resort. It offers cottages, guest rooms, and condos perfect for family weekends, business trips, romantic getaways, and "The Estate" for luxury retreats.
The resort features a wide range of recreational facilities, such as an indoor and outdoor pool, tennis court, sauna, game room, fitness center, bike rentals, and more.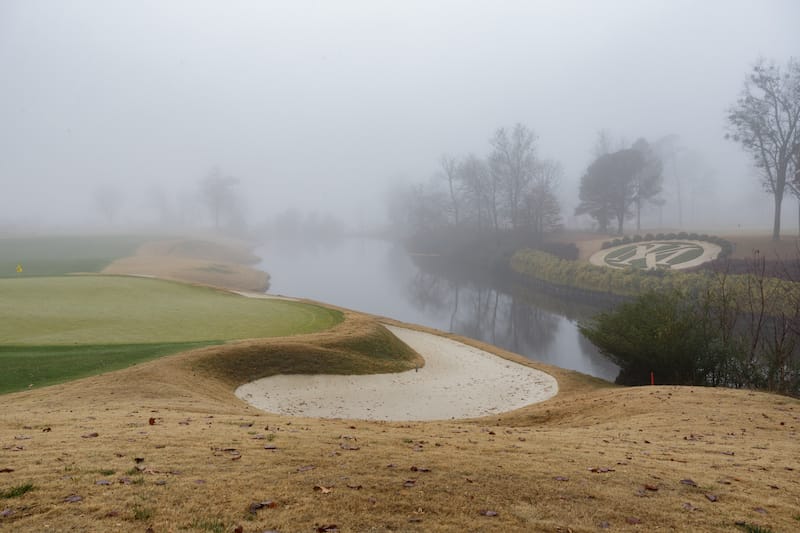 A well-deserved spa time at KingsMill Spa followed by a relaxing dip in the Sports Club Pool will guarantee an ultimate rejuvenating experience.
Improve your golf skills at the Golf Academy and challenge yourself for a truly unforgettable round of golf on the River Course, one of Virginia's best golf courses, Plantation Course, or Woods Course.
Address: 1010 Kingsmill Rd, Williamsburg, VA 23185
10. Discover York River State Park
Designated as a Chesapeake Bay National Estuarine Research Reserve, York River State Park is one of Virginia's top 10 parks.
It is known for its delicate estuarine environment, which is home to rich marine and plant species, fossil beds, and Colonial and Native American artifacts.
Your first stop should be the Visitor Center to learn more about the history, use, and preservation of the York River.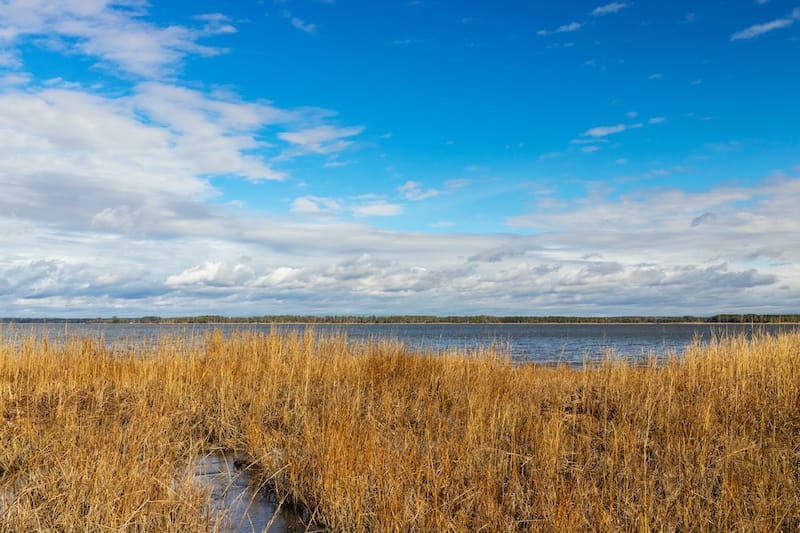 Go hiking, biking, or horseback riding along 30 miles of stunning coastal trails to explore river shorelines, marshes, and forests.
Visitors will have access to a boat ramp, fishing pier, playgrounds, fresh and saltwater fishing spots, picnic areas, and recreational equipment rentals.
Address: 9801 York River Park Rd, Williamsburg, VA 23188
11. Head into Whitley's Peanut Factory
If you are nuts about nuts, then add Whitley's Peanut Factory to your bucket list.
After more than 30 years in business, the factory is known throughout Virginia for its deliciously seasoned peanuts, hand-cooked to golden perfection in a traditional way.
They offer a variety of different flavors to satisfy everyone's tastes, like Fire Roasted Garlic & Onion, Sweet & Savory Barbecue, Wasabi Ginger, Butter Toffee, and Honey Roasted.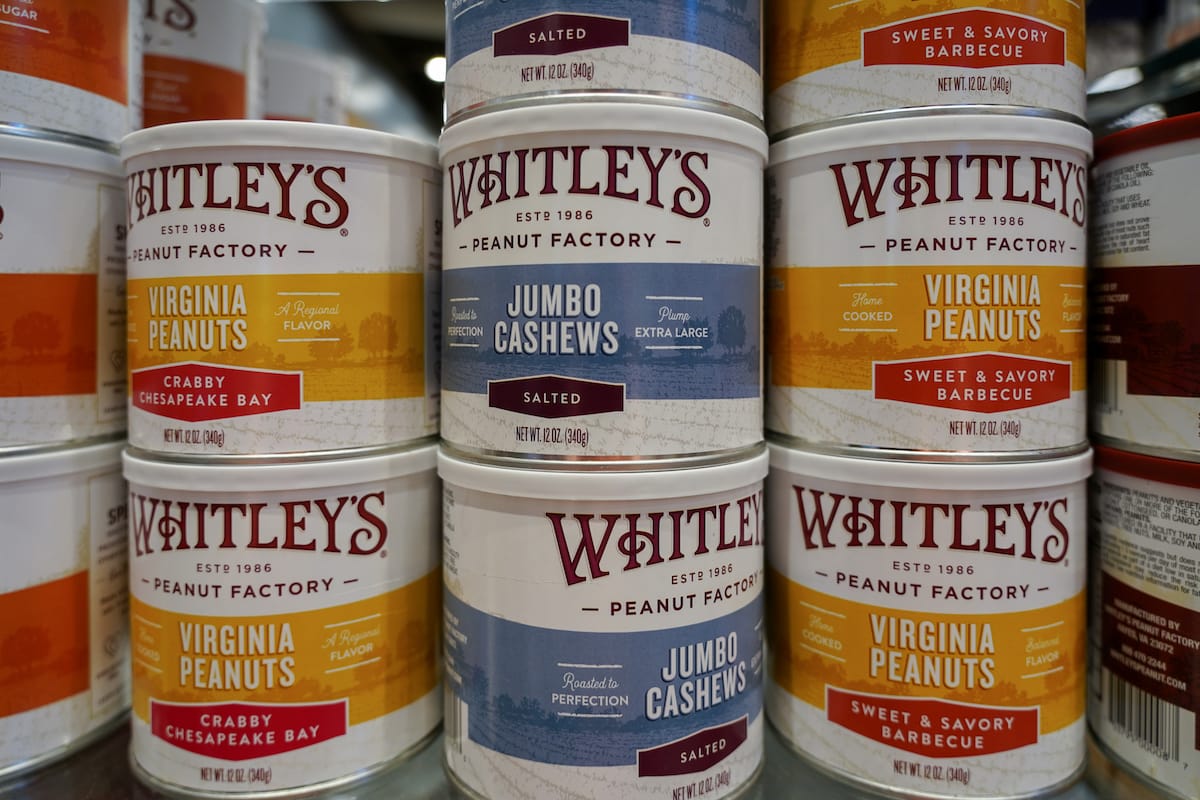 In the factory, you will also find peanut butter, jumbo cashews, pecans, pistachios, and gourmet nut mixes.
Before leaving, you can make a gift box from mixed nuts for the one who absolutely adores nuts (we all have that one friend).
Address: 1351 Richmond Rd, Williamsburg, VA 23185
12. Relax at Chickahominy Riverfront Park
Escape into the world of serenity in Chickahominy Riverfront Park, a 140-acre gorgeous park nestled on the banks of the Chickahominy River.
Fishing enthusiasts with a freshwater license can go fishing on a 290-foot lighted fishing pier or enjoy calm waters with canoe and kayak rentals.
The park also features 120 campsites, a few offering scenic views of the Chickahominy River and Gordon Creek, while others provide access to the water.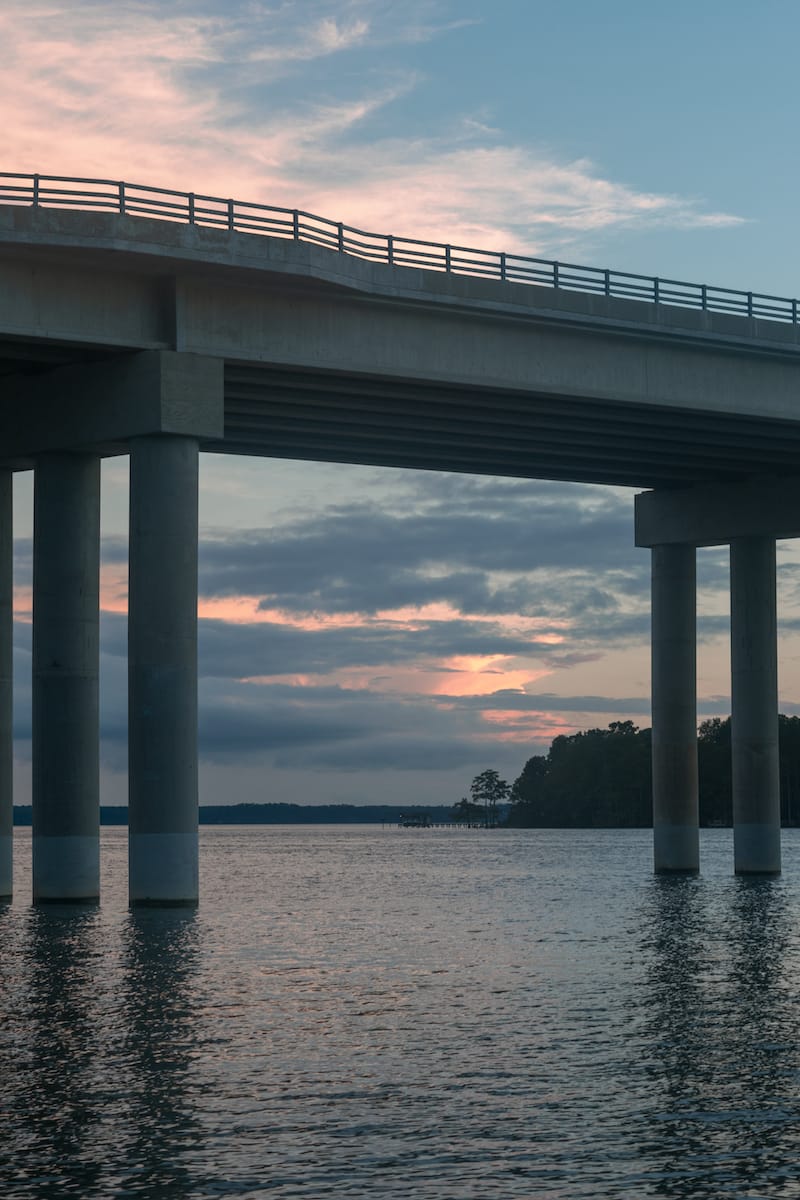 Explore the park and admire the wildlife by hiking or biking the 52-mile multi-use Virginia Capital Trail.
Whether you are here with friends or family, the park has something for everyone: a sand volleyball court, basketball court, horseshoe pits, corn hole, splash pad, picnic areas, and so much more.
Address: 1350 John Tyler Hwy, Williamsburg, VA 23185
13. Check Out the Jamestown Glasshouse
Get a glimpse into the living history at Jamestown Glasshouse, which showcases the unique art of glassmaking, America's first English industry.
The original glasshouse was first built in 1608 with the main purpose of generating considerable profits from this extremely lucrative industry; however, it didn't turn out as expected.
The ruins of the workshop were excavated in 1948, and a nearby glasshouse that you can visit today was built in the 1970s.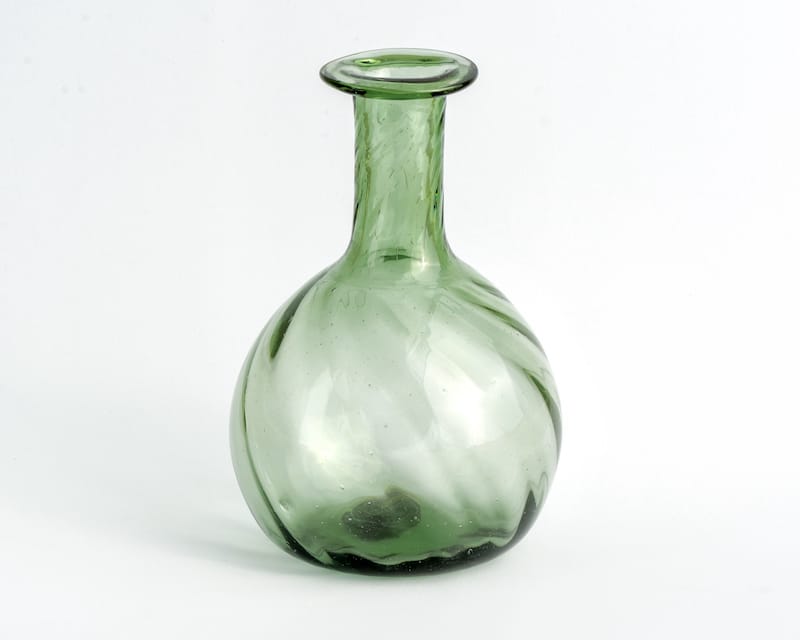 Here you can witness how glassmakers create stunning pieces, such as pitchers, wine bottles, candleholders, and other glass objects using the same techniques that have been used more than 400 years ago.
After admiring the glassblowing process, head over to the Glasshouse Gift Shop to take home a piece of Jamestown's original glass artwork with you.
Address: 1348 Colonial Pkwy, Williamsburg, VA 23185
14. Visit the College of William and Mary
Immerse in an unmatched educational experience at the College of William and Mary, which is the second-oldest university in the US established in 1693.
While UVA in Charlottesville may get all the 'historic university hype' in VA, for more than 300 years, W&M has offered a world-class education at an exceptional value and is worth checking out!
Despite its cutting-edge facilities, the historic Sir Christopher Wren Building, the US's oldest active educational building reconstructed in 1732 after a fire, still retains its sense of heritage.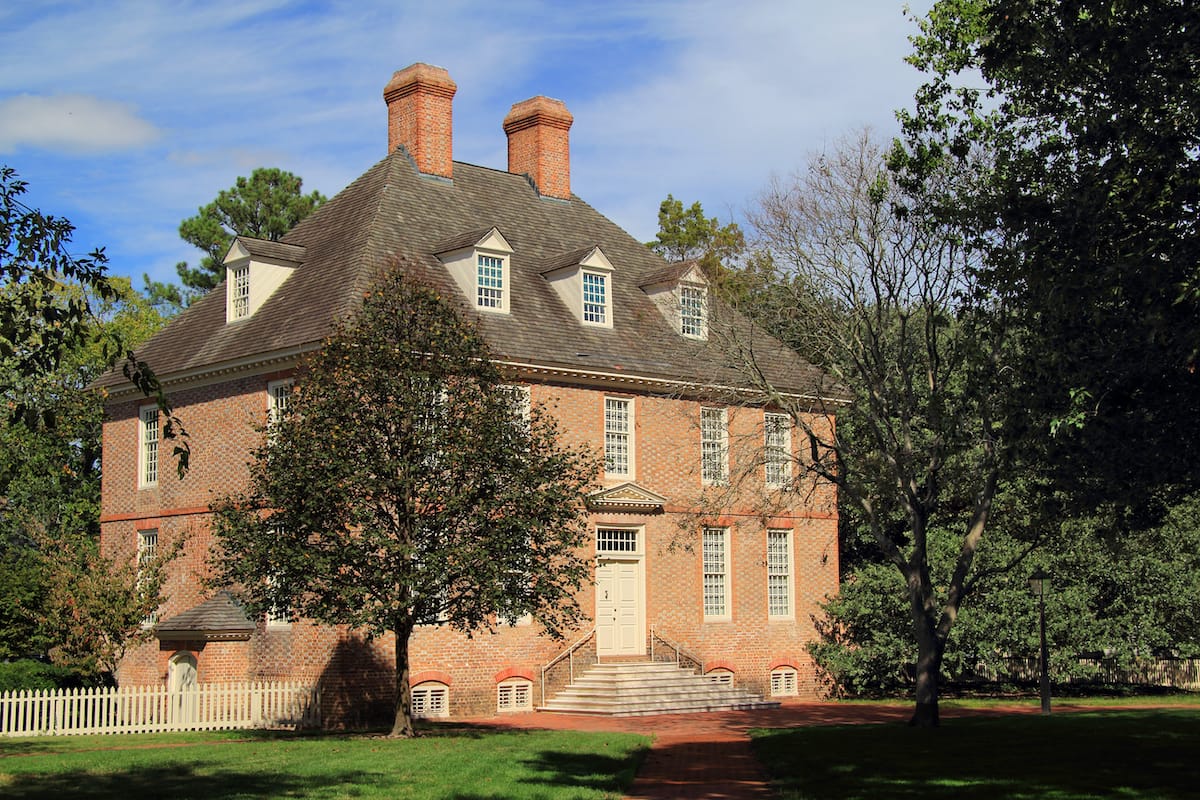 Thomas Jefferson, Jon Stewart, Glenn Close, George Washington, James Monroe, and John Tyler are among those who studied here.
Quench your thirst for learning and delve deep into the history of the college by taking part in student-led campus tours on the first floor of the Wren Building.
Address: Sadler Center, 200 Stadium Dr, Williamsburg, VA 23185
15. Have Dinner at Opus 9 Steakhouse
Level up your dining experience at Opus 9 Steakhouse, which offers some of the best steaks in Virginia.
You'll certainly enjoy Opus 9 Steakhouse with its mouth-watering steaks, which are perfectly paired with its diverse selection of fine wines.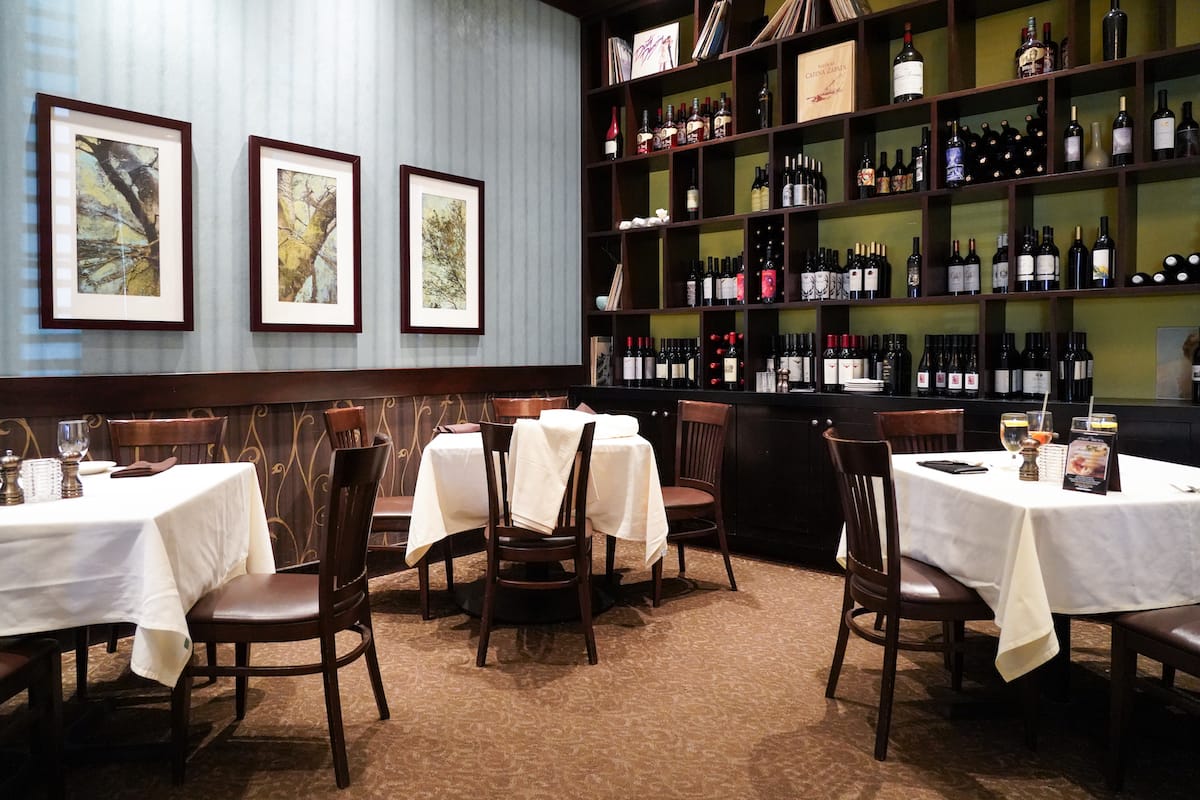 A cozy but sophisticated ambiance, professional staff, and a juicy menu will make your business lunch, a romantic date, or any other special occasion the most memorable one.
Ordering steak is not your only option here since their diverse menu includes everything from Shrimp Opus and Seafood Trio to Opus Salad and Rosemary Roasted Pork Chop.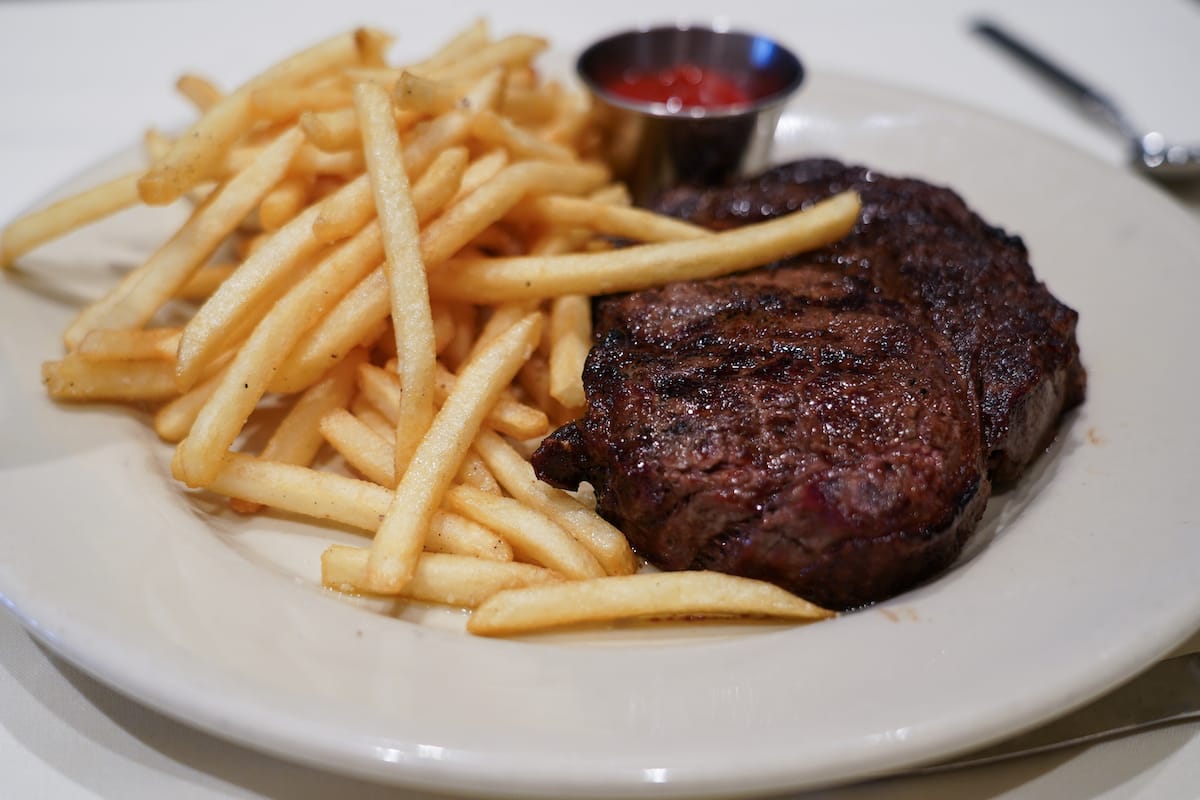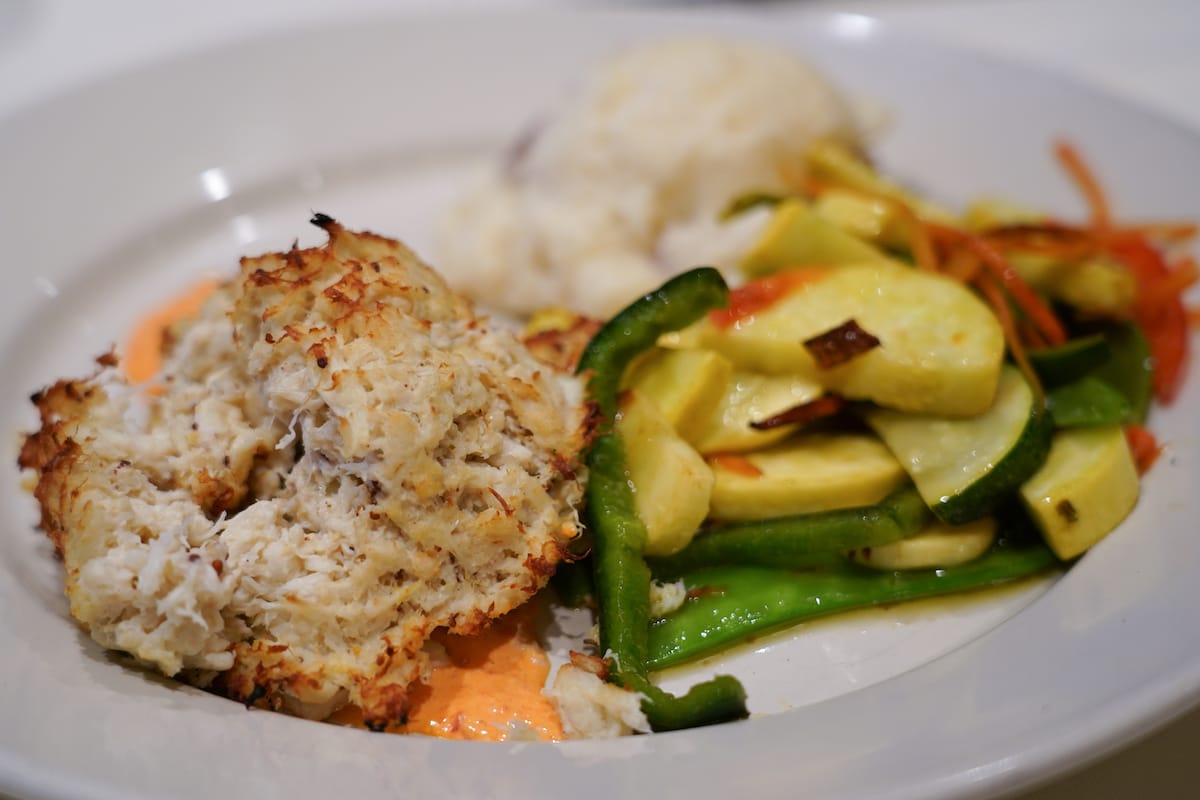 However, I highly recommend getting the crab cake dish if you like crab. They sell this as 'crab cakes without the filler' and my goodness was it delicious! It was so much crab and no breading nonsense throughout.
Make sure to leave a little room to top it off with delicious homemade desserts.
Address: 5143 Main St, Williamsburg, VA 23188
16. Take a Tour with Yorktown Sailing Charters
Learn about the American Revolution while setting sail on the historic York River with Yorktown Sailing Charters.
This is an absolute must for history buffs to indulge in the rich surrounding history while on the water.
Travel back in time as you join the crew of the Yorktown Schooner Alliance and sail past the Victory Monument and Battlefield, where the country won its freedom.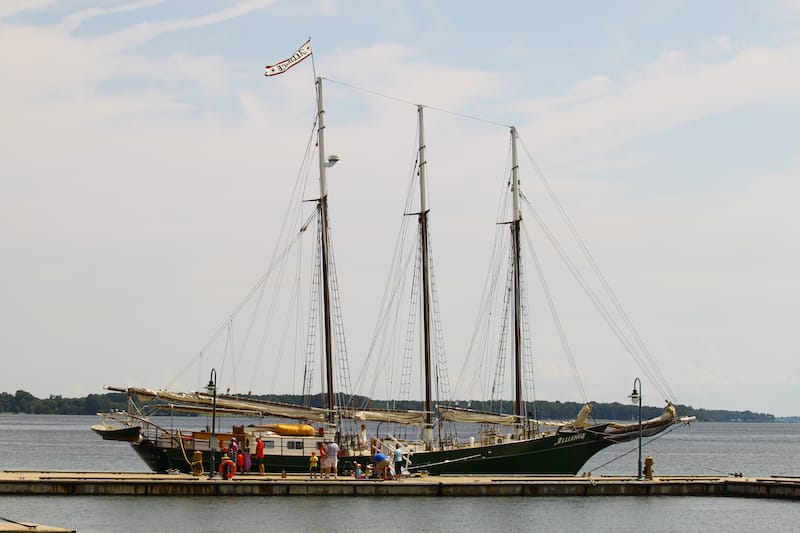 Yorktown Sailing Charters also offers pirate cruises, corporate cruises, and private sailing charters to celebrate special milestones. Keep your eyes peeled for dolphins and osprey as you cruise along the historic waters of Yorktown.
Address: 425 Water St, Yorktown, VA 23690
17. Get Wet at Water Country USA
When tired of history tours and antiques, pop over to Water Country USA for fun and exciting water adventures.
Daredevils will enjoy plunging down the thrilling Vanish Point or Cutback Water Coaster.
If you're visiting with family, enjoy free-floating fun along Hubba Hubba Highway (watch out for surprise geysers and serious sprays!), experience thrilling waves in Surfer's Bay, and ride Colossal Curl and Big Daddy Falls for action-packed adventures.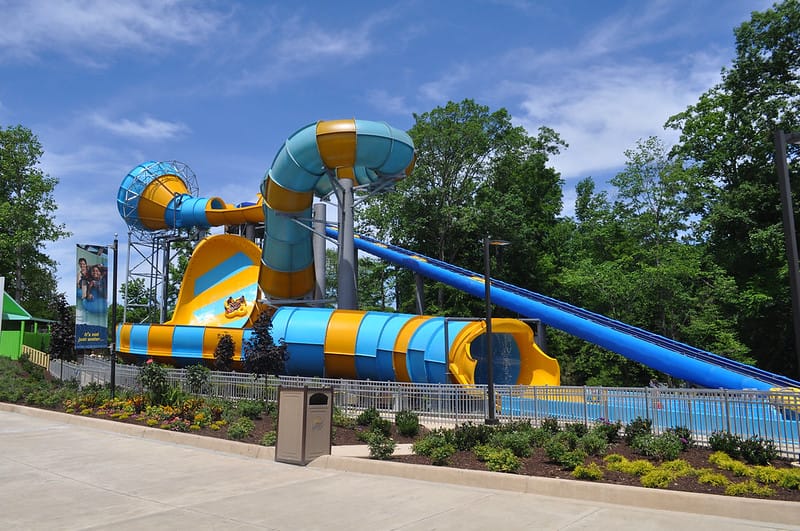 The water park also features two play areas just for kids: H2O UFO with spray jets, water slides, cool waterfall, and COW-A-BUNGA, a cow-themed play area with a shallow heated pool, three water slides, and water canons.
>> Click here to book your ticket to Water Country USA
Address: 176 Water Country Pkwy, Williamsburg, VA 23185
18. Go Shopping in Williamsburg Premium Outlets
For some retail therapy, head to Williamsburg Premium Outlets. It houses more than 120 popular stores along with a variety of high-end ones, including Adidas, Michael Kors, The North Face, Tommy Hilfiger, etc.
This outdoor mall is conveniently located near several major cities, like Williamsburg, Virginia Beach, Richmond, and Norfolk.
Local customers may join the outlet's VIP Shopping Club, which notifies shoppers about sales, promotions, and free access to exclusive offers.
A lovely atmosphere and knowledgeable staff will guarantee an exceptional shopping experience. After an exhausting shopping trip, treat yourself to some delicious ice cream at Ben & Jerry's.
Address: 5715 Richmond Rd, Williamsburg, VA 23188
19. Visit the Williamsburg Antique Mall
The last one on this list is absolute heaven for antique or collectible lovers. Williamsburg Antique Hall is a huge complex where over 300 dealers sell vintage items, ranging from dolls and pottery to Civil War memorabilia and jewelry.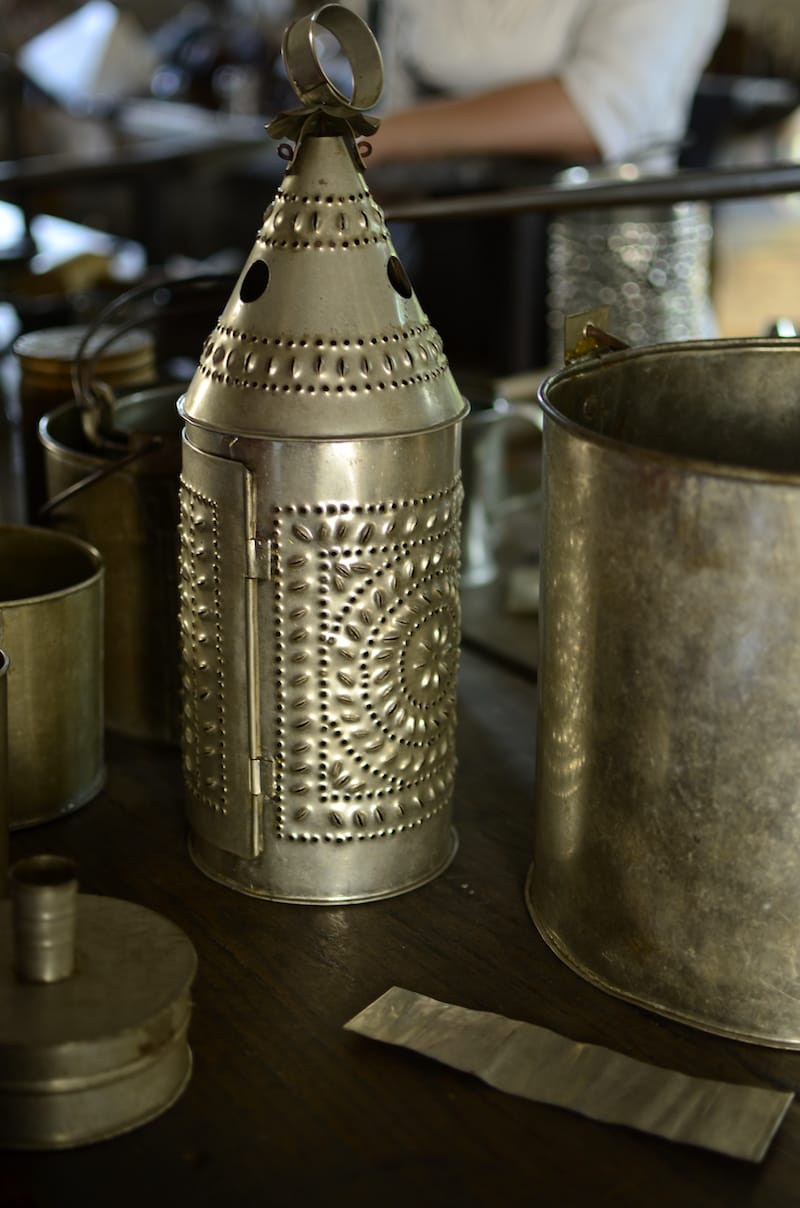 Even if you are not here for shopping, browsing through the mall is enough to immerse you in real nostalgia. After a bit of shopping, grab some lunch at the Veranda Eats and Sweets.
Visit the consignment area in case you are thinking about adding an eclectic piece from your antique finds to the mall's massive collection.
Address: 500 Lightfoot Rd, Williamsburg, VA 23188
Where to Stay in Williamsburg
You will find plenty of places to stay in Williamsburg if you're looking to visit as more than merely a day trip from Richmond, Washington DC, Virginia Beach, or beyond!
Here are some of our top picks for Williamsburg VA lodging:
Did we miss any of the top things to do in Williamsburg VA for beginners? Let us know your Williamsburg travel tips in the comments. Thanks!
More Eastern Virginia Travel Guides
Pin this Williamsburg VA Things to Do Guide