Virginia may not be a snowy paradise like other places during the colder months – but some of these winter getaways in Virginia will transplant you to a place that genuinely feels festive and wintry!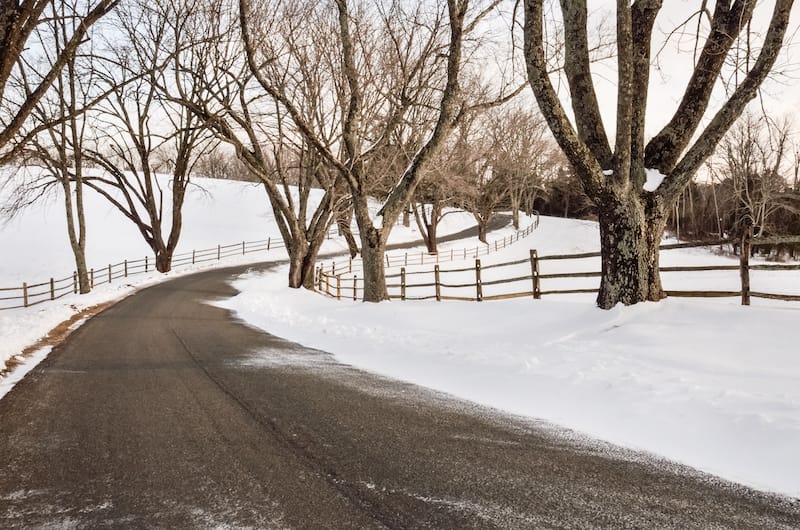 We have listed an array of Virginia winter getaways that the whole family will enjoy. Did we miss your favorite place? Let us know in the comments! Thanks!
Best Winter Getaways in Virginia
Massanutten
Massanutten Resort, located in the Shenandoah Valley just 120 miles west of Washington DC, offers a variety of fun things, from high-energy thrills to relaxing times.
It is a unique resort that features 6000 acres of mountain fun and is an easy day trip from DC.
Massanutten offers a wide variety of things to do for all families, including an indoor/outdoor water park, ski and adventure park area, two golf courses (if the weather cooperates during winter!), shopping options, and a day spa where you can enjoy some downtime.
It is the ideal place for winter sports lovers where one can enjoy snowboarding, skiing, and snow tubing. Massanutten Resort offers an impressive 14 trails, a 1,110-foot vertical drop, and a top lift elevator to 2,860 feet. The place contains fun for all ages and all ski levels.
Snowboard enthusiasts can enjoy some of the region's most challenging terrain parks, and tubers have a snow park that includes a carpet lift to get you back to the top of the slope faster.
People can also take some lessons to improve their skills at the Snow Sports Learning Center. For more fun, race down the Mega Zipline, a 750-foot zip line and one that everyone will enjoy as a change-up from the winter activities.
Ice-skating is also an option at Massanutten and the resort has also converted a tennis court into an outdoor ice rink where you'll find plenty of open-skate sessions as well as skating lessons.
Roanoke
Located in the Roanoke Valley in Virginia's Blue Ridge Mountains, Roanoke is one of the best winter getaways in VA. Not only will you find many things to do in Roanoke, but youʻll also find some of the stateʻs prettiest scenery!
Begin your winter adventure by going ice skating in Roanoke at Elmwood Park located downtown. It is one of the visitors' and locals' favorite places to visit during the magical season.
Elmwood Park is near the Historic Roanoke City Market, and numerous shops and restaurants, which means you can walk around before and after your visit to the park.
If you're looking to escape the city a bit, head to the mountains, where you can enjoy a romantic dinner at one of the many farm-to-table restaurants.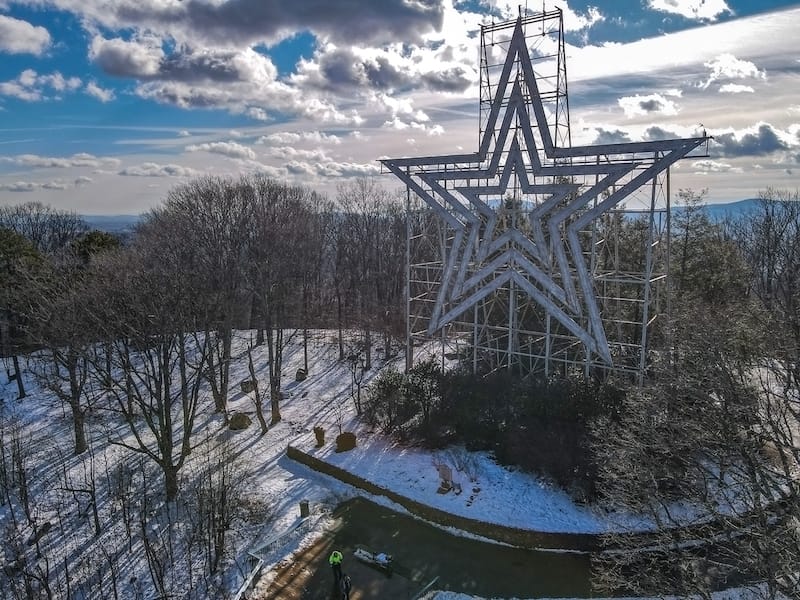 Head to the Winterfest Beach Blast if you want to melt away the winter cold with some summertime music. It's a unique experience that will be memorable, which is the reason that the place has become one of the most popular winter events over the years!
Of course, it would be a shame not to visit the Mill Mountain Star if you're traveling to Roanoke in winter. It is known to be the world's second-largest lighted artificial star, established in 1949 at the summit of Mill Mountain.
At first, the star was a removable decoration that was only seen during the winter season; however, now you can see it throughout all seasons, and it has become the city's icon!
Salamander Resort & Spa
Located in Middleburg, Virginia, approximately an hour away from Washington DC, you'll find the beautiful Salamander Resort & Spa. The place is ideal for you and your loved ones if you're looking for a winter escape in VA!
The luxury resort is the perfect place for wine lovers, history enthusiasts, and adventure seekers and it offers several dining options.
Harrimans Restaurant offers locally inspired breakfast, brunch, and dinner alongside a scenic view of the countryside, ensuring a memorable time.
Executive Chef Ryan Arensdorf has created a romantic five-course dinner experience for couples at Harrimans Virginia Piedmont Grill, as well… so it is a great place to visit for couples looking for a romantic winter getaway in Virginia.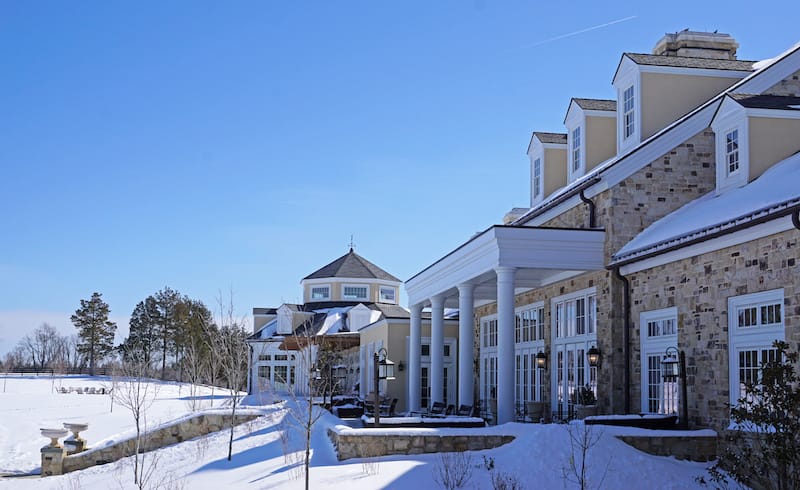 Guests' dinners will be complemented by live jazz music and a unique confection for two crafted by Executive Pastry Chef Jason, all while being surrounded by Northern Virginia's rolling countryside.
Couples visiting Salamander Resort & Spa need to visit their spa, which provides traditional services like prenatal, hot stone, and couples massages.
Some other things you'll find at the resort is ballroom dancing, art classes, and a diverse library where you can cozy up and enjoy an excellent book in the holiday spirit.
Wintergreen Resort
Wintergreen Resort, which spans 11,000 acres on the eastern slopes of the Blue Ridge Mountains in Central Virginia, offers breathtaking views and year-round entertainment but is best known for its skiing and winter activities.
Every winter sports lover will find something they enjoy here. Wintergreen Resort is a "mountain-top resort," which means that all its amenities are surrounded by picturesque mountains, including lodging and dining options.
Wintergreen Resort has state-of-the-art snowmaking equipment as well as 24 slopes and trails, appropriate for all skill levels. For those who want to improve their skills in skiing and snowboarding, the resort offers lessons.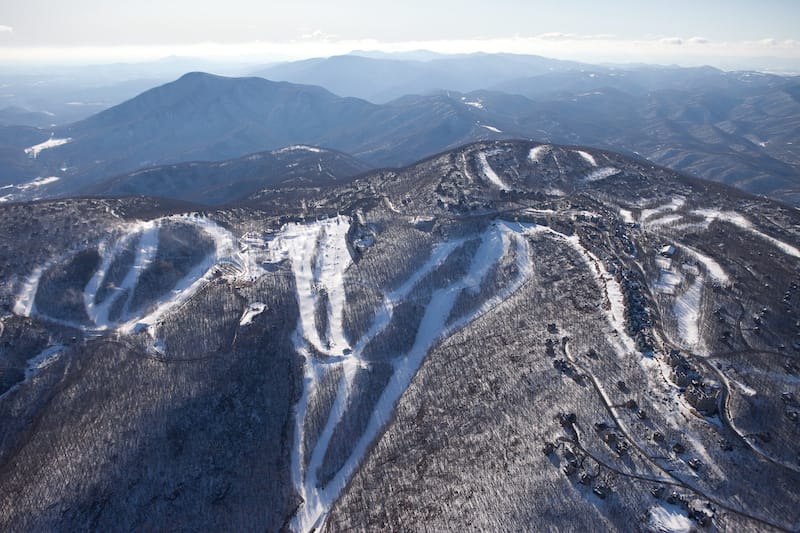 At Wintergreen Resort, snow tubers will also find the largest tubing park with ten lanes on a hill, making you feel like you're atop a 10-story building.
After all, Wintergreen Resort offers family-friendly pubs and elegant clubhouse dining to complete your day. Wine lovers should also visit the Divine Café, which is a wine shop and diner.
The shop carries a wide variety of Virginia-made beverages and is a great place to enjoy wine near Shenandoah.
Virginia Beach
When talking about Virginia Beach, the first thing that crosses people's minds is summertime and warm sun; however, that is not all that Virginia Beach offers visitors!
Beach lovers would enjoy a day on one of the uncrowded beaches. Head to the Boardwalk, which is a bustling experience no matter what season it is. It is a great place to enjoy a walk and views of the ocean.
The Virginia Beach Boardwalk offers the annual BayPort Credit Union Holiday Lights Merry Mile during the winter season, where you can watch the magical lights.
During the winter, there are fewer crowds of tourists visiting Virginia Beach. Hence, visitors should take advantage of it and relax at one of the city's beaches, such as Chic's Beach, the Oceanfront, or Sandbridge.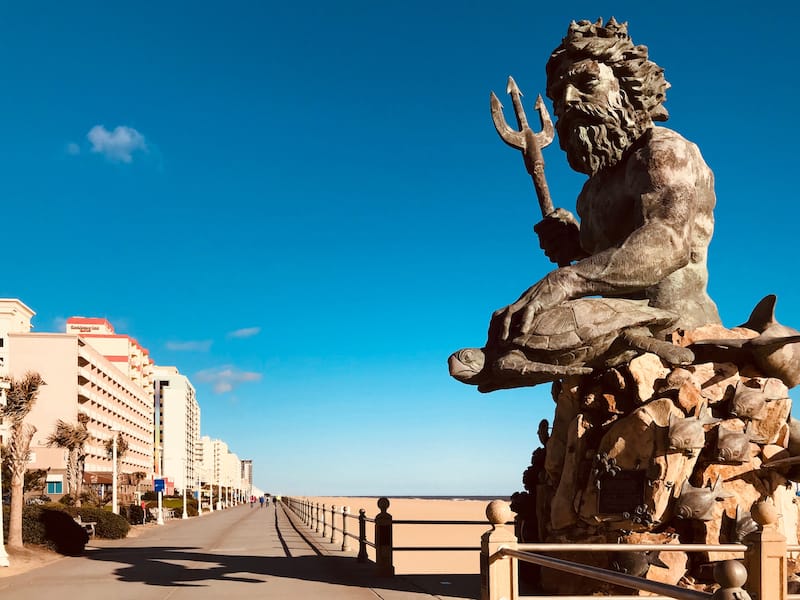 While there is no sun to tan, enjoy your day by taking peaceful strolls around the miles of shorelines, searching for seashells and sea glass, and even spotting some dolphins playing in the waves.
Surfing and fishing are also an option on the beaches (as is kayaking on some of the salt marshes). Virginia Beach Horseback also offers horseback riding on the beach for those who want to have the experience.
At the end of the day, if you want to warm up, head to the Chesapeake Bay Distillery, where you can drink some vodka. The distillery has a tasting room where you can pick from the numerous craft vodkas.
Rain or shine, summer or winter… this is definitely one of the best beach towns in VA!
Abingdon and The Martha Hotel and Spa
Another town in Virginia that you shouldn't miss in the winter is Abingdon. It is a lovely town with brick-lined sidewalks that is beautiful in all seasons but transforms into a winter wonderland during the colder seasons.
Each year the town greets the season with its Main Street Parade which is lined with lights and lamp posts. If you want to try some delectable food, you should head to the Tavern for a cozy fireside meal.
Also located in Abingdon is the historic Martha Washington Inn, which was built in 1832 and was a hospital for wounded soldiers during the Civil War.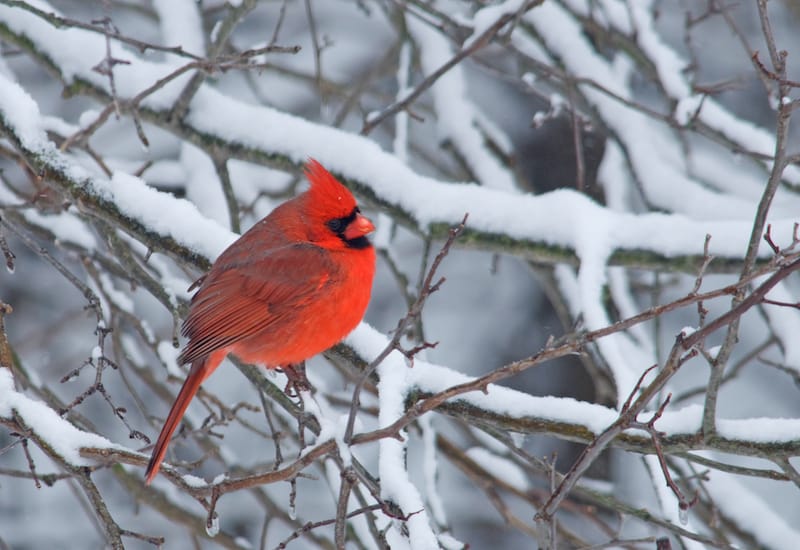 It still holds romantic stories of the nurses and soldiers in the photos and antique displays around the property. The Martha Hotel and Spa is also known for its world-class spa treatment and unique rooms.
The spa offers rejuvenating facials or messages for those who want to have some relaxing time. You can also enjoy the hot tub by the fire pit.
The library includes more than 1,000 books to check out if you enjoy reading, and the best part is that you will be able to sit next to the cozy fireplace to do so.
The Martha Hotel and Spa also has a tennis court and golf courses, a fitness center, and an indoor saltwater pool.
Shenandoah National Park
Snuggled between the Blue Ridge Mountains, Shenandoah National Park is one of Virginia's most popular destinations. It is located just over 75 miles from Washington DC and is home to over 200,000 acres of protected lands, waterfalls, hiking trails, and wildlife.
It is definitely a place where winter lovers would enjoy themselves. First things first, drive through picturesque Skyline Drive that runs 105 miles north and south along the crest of the Blue Ridge Mountains in Shenandoah National Park.
If you want to explore the whole drive, it will take you approximately 3 hours. Hiking enthusiasts will enjoy the park since it offers some of the best hiking trails in the country.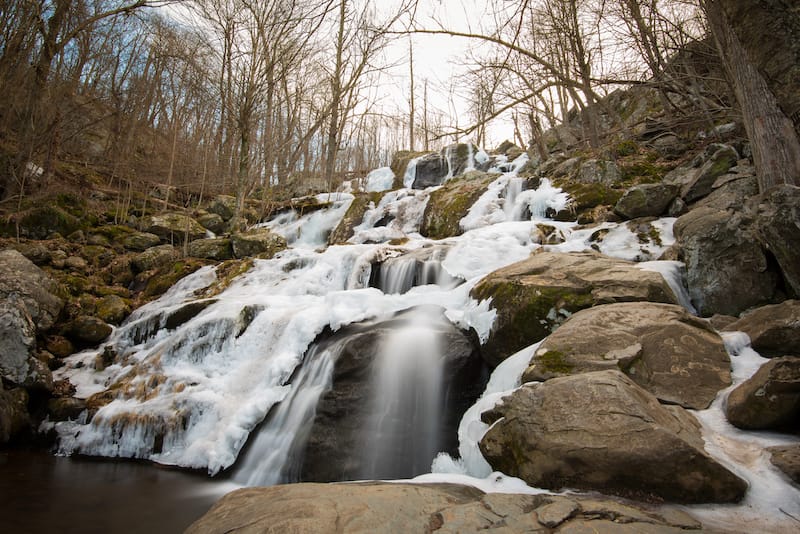 With over 500 miles of trails, the park provides a variety to choose from, including many waterfall trails. For those who want to enjoy a day in nature, Shenandoah National Park has more than 196,000 acres of backcountry camping area.
It is a rustic adventure that immerses you in the beauty of Shenandoah's wilderness. If you are interested in the park's history or want to learn more, there are guided ranger programs. Click here for more information about Shenandoah in winter.
Visitors are required to pay an entrance fee. The entrance fees are $30 for vehicles, $25 for motorcycles, and $15 on foot.
Williamsburg
Williamsburg is an excellent location for your winter getaway, with plenty of things to do and memorable experiences awaiting you. It is especially perfect for history buffs.
First, you can head to one of many live entertainment venues to check out any of the shows. Explore the Kimball Theater, the Williamsburg Symphony Orchestra, and the Williamsburg Library Gallery and Theater.
The winter weather in Williamsburg is also perfect for those who want to have some outdoor fun. Head to the Liberty's Ice Pavilion for ice skating or spend time bird-watching at New Quarter Park.
Hiking enthusiasts should visit the York River State Park, which includes 2,550 acres of clean and marked hiking trails. Spend some time gift or souvenir shopping at Merchants Square, which is bustling in any season.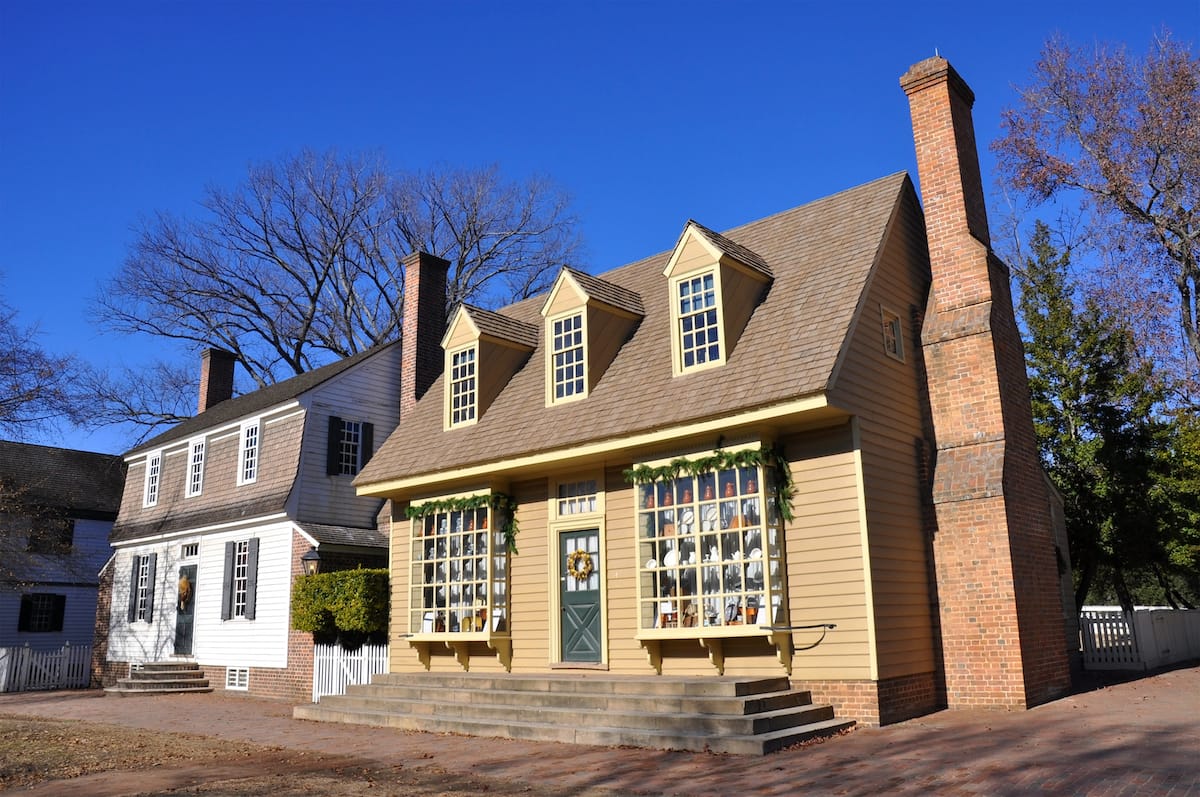 The shop also offers home accessories and 18th-century flatware and furniture. Williamsburg is also known for its historic sites, such as the DeWitt Wallace Decorative Arts Museum, to explore the American and British antiques.
History buffs can also visit Yorktown Battlefield, which provides rangers who are more than happy to tell you everything about the history of this town.

Bryce Resort
Bryce Resort was established in 1965 with a tiny ski building and an airstrip in scenic Shenandoah County, about two hours west of Washington DC.
Nowadays, it has more than 400 acres of all-season outdoor thrills. During the winter season, skiing, snowboarding, tubing, and ice skating are offered at the resort.
Bryce Resort offers eight lift-accessed slopes and a learning area, including a carpet lift that will take you to the beginner terrain. Trails for all skill levels are available, providing fun for all ages.
There are also ski schools for those who want to learn or improve their skills. They also added a new outdoor bar and grill called Carters. It is a German theme open-air bar where people can ski and get a beer, bratwurst, or soup.
Snow tubing is another popular activity here. Visitors can enjoy the 800-foot-long tubing that runs for an hour and a half. Bryce Resort also offers a zipline where you can enjoy the beautiful winter wonderland from a bird's eye view.
There are ten different lines, and it cruises over chairlifts at over 80 feet off the ground. This resort makes it impossible to want to hop down to NC to go skiing and to stick around VA!
Alexandria
There is an awful lot to see and experience in historical and magical Alexandria this winter. The town is identified as one of the most charming Christmas towns and villages across the world by Oprah Daily!
Take a stroll through the beautiful Historic King Street, where twinkling lights shine above you, making sure you get into the holiday spirit. Along the street, there are buzzing shops and restaurants.
If you are searching for lovely dining, head to the traditional Italian fare at II Porto on lower King Street. To have some drinks, head to the Sonoma Cellar, where you'll find immersive wine tasting experiences.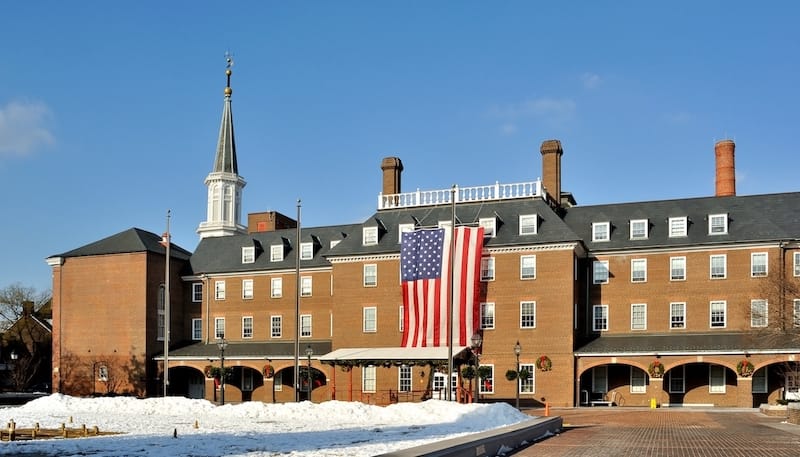 Visitors should visit George Washington's Mount Vernon, where they can have a tour of the mansion, meet Aladdin, the Christmas camel, and watch chocolate-making celebrations.
If you want to learn more about the town's history and see where George Washington used to wine and dine, head to the Gadsby's Tavern Museum or visit the Lyceum, Alexandria's history museum.
History buffs who would like to learn more about Alexandria's African-American history should also visit the Alexandria Black History Museum. You can find more things to do in Alexandria VA here.

The Omni Homestead Resort
Wintertime is the perfect time to embark on a snowy getaway to The Omni Homestead Resort. Packed with all sorts of fun winter activities, it is the ideal place to enjoy the holiday season.
As you drive to the resort, you will be amazed by the scenic views offered by the Allegheny Mountains. Skiing and snowboarding enthusiasts can enjoy their day on the 45 acres and nine slopes that the resort provides.
It is suitable for all ages and skill levels. If you don't have the equipment, there are rentals available in the area. You can also check out the Sepp Kober Ski School if you want to start your journey of learning how to ski and snowboard.
Mini snowmobiles available for your little ones are also provided at The Homestead, where they can spin around and have the time of their life.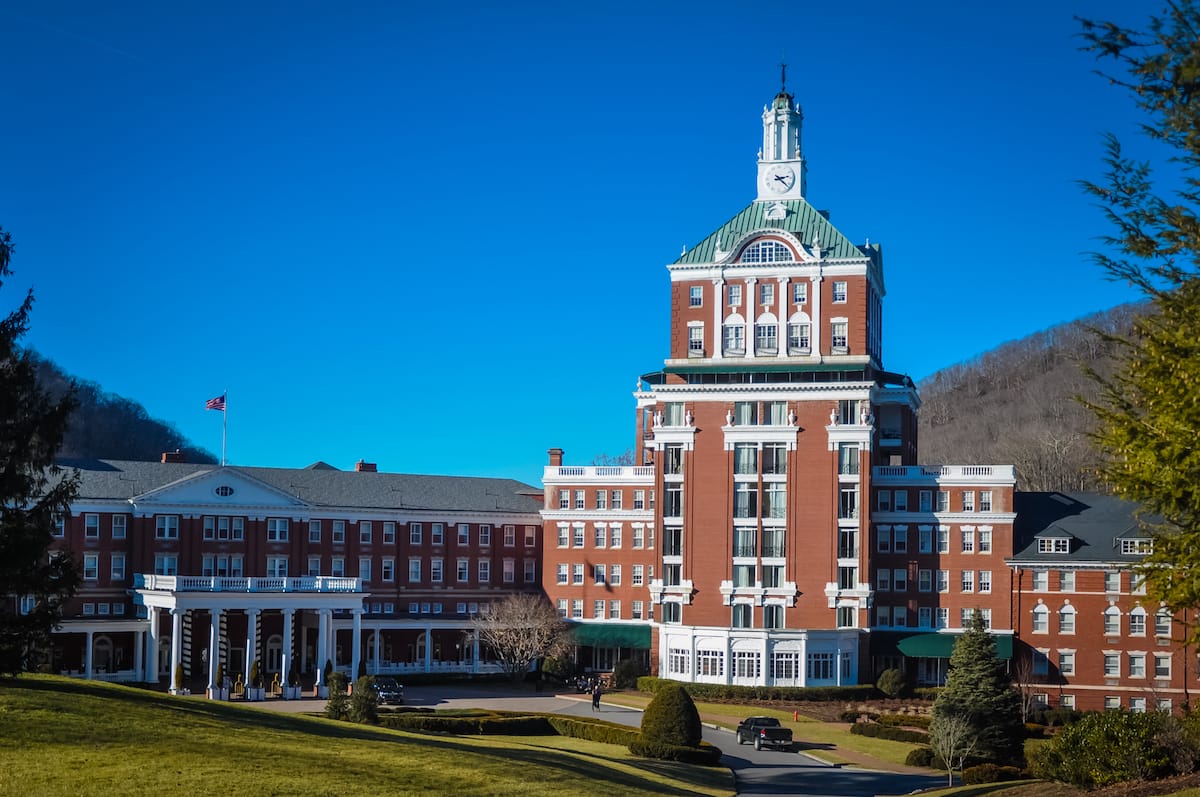 The resort also has a Tubing Park where you can experience exciting tube rides down the hill, after which the Penguin Express conveyor will bring your tube back to you on top of the mountain.
Finally, you can enjoy an outdoor spring pool after a day full of winter activities. The infinity pool is heated at 85-92 degrees, as well as the hot springs Octagon Pill with a temperature of 96-97 degrees.
Did we miss any incredible winter getaways in Virginia? Let us know your favorite Virginia winter trips in the comments. Thanks!
More Virginia Winter Guides
Pin this Virginia Winter Getaways Guide