One of my favorite places in Virginia (and the US as a whole) is Shenandoah National Park.
The park comes to mind when people think of fall, but there is plenty to keep one occupied in Shenandoah National Park in winter.
This is a guide to winter in Shenandoah National Park– including what to do, what to expect, and if it is worth the visit.
Winter in Shenandoah National Park
Shenandoah National Park is a national park in Virginia that stretches its way along the Blue Ridge Mountains and Shenandoah River.
Covering 311 square miles, the park is home to fantastic fauna and flora and can be explored year-round.
Every season has its perks.
One of my favorite times to visit Shenandoah is during winter, when the park contrasts the typically temperate winter temperatures of the coastal regions of Virginia where I grew up.
Founded in 1935, the park was established to bring tourism to Virginia with the hope of mirroring the success of the large national parks in the western states.
The land for the park was slowly acquired during the early 20th century, as those behind the park looked to purchase the land off of those that inhabited the area.
Many of the landowners were happy to sell up the land as a disease had wiped out large numbers of chestnut trees and drought had ruined the fruit crops, meaning a payout gave the opportunity to create a new life in more profitable areas.
However, there were a few families that had farmed and lived on the land for generations that did not want to leave at any cost.
Eventually, deals were made and some owners were allowed to live out their lives on the land after selling the land providing the homesteads did not impede the view from the Skyline Drive.
The creation of the park had an immediate positive impact on the local area, with over a thousand people employed through the Civilian Conservation Corp to build the impressive Skyline Drive that works its way along the ridge of the mountains.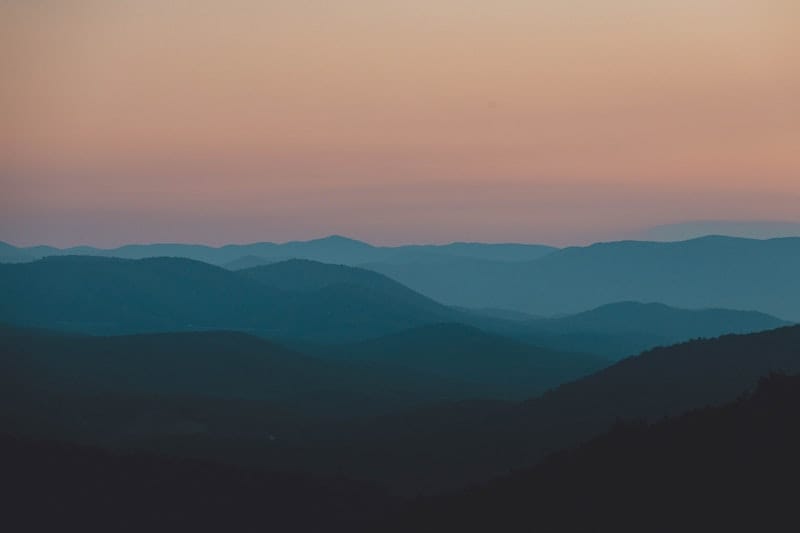 The agency ended up employing over 100,000 people in Virginia alone during the creation of the park until the agency was disbanded in 1942.
Tourism in the region also quickly exploded, with the natural beauty of Shenandoah bringing people far and wide to visit the park.
To this day, well over a million people visit the park each year and it is one of the best day trips from DC!
While many people visit the park during the summer period, the park is open year-round and winter offers heaps of opportunities if you like traveling in a less crowded place.
In addition, summer in Virginia can be brutal (and suck, to put things mildly). But, winter in Virginia can be a decent experience in most places!
Visiting Shenandoah National Park in winter alleviates the humid and high temperatures Virginia is known for.
This guide will take you through everything you need to know about visiting the park during the winter months.
Shenandoah National Park in Winter – Practical Info
Winter Climate
While I was growing up, winter in Virginia was typically warm and I would spend Christmas Day outside playing.
The thought of a snowy Christmas never crossed my mind.
However, head inland in Virginia and the Appalachian mountains tear their way through the state and create the region of the Blue Ridge Mountains.
The winter climate of the mountains significantly differs from the rest of Virginia, with average highs topping out at 39°F (4°C) and nightly lows of -2.2°F (-19°C).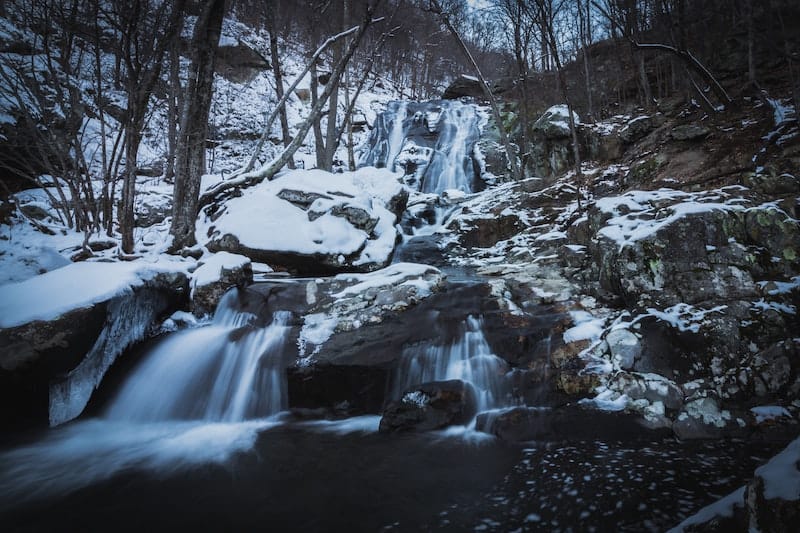 With the cold temperatures, the mountain tops regularly receive a decent amount of snowfall of about 19 inches on average (although this is well lower than the US national average of 28 inches).
But, don't always count on there being snow there.
During periods of heavy snow, Skyline Drive can be closed for safety reasons although the rest of the park will remain open.
Shenandoah National Park Entrance Fees
The park is open year-round and there are four separate entrance points throughout Skyline Drive, the only road that crosses through the park.
While the park is open, parts of Skyline Drive will close to cars if the weather is not safe in winter.
The price to enter the park is the same year-round no matter the season, and each pass lasts for seven days.
Eighty percent of the money generated goes directly to the park and pays for its upkeep.
For those planning to drive Skyline Drive, the price for a vehicle including passengers is $30 dollars.
This pass will last for 7 days and is valid for the whole 105-mile stretch of the road.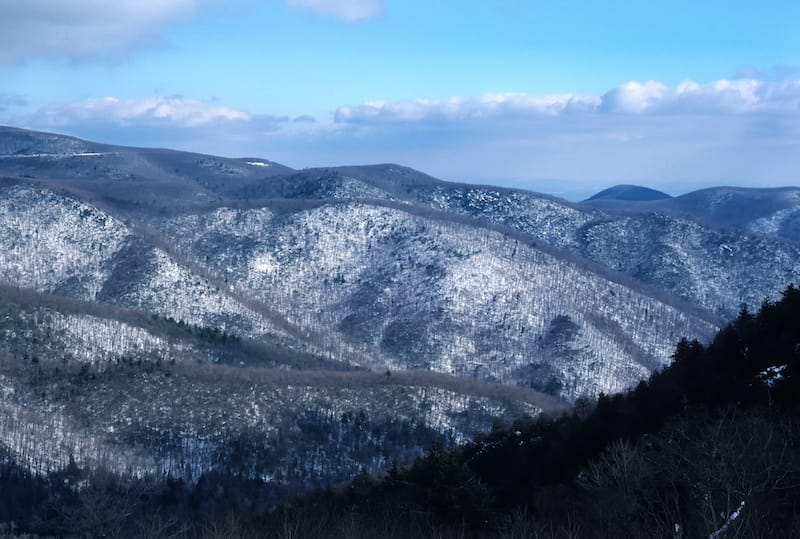 Before heading into the park, make sure you have enough gas to last the journey.
The price per motorbike is $25 and only includes one person within that price.
If you are planning to enter the park by foot or bike, the cost is $15 dollars per person (over the age of 16).
If you are a family traveling with multiple family members over the age of 16 the price will be capped at $30 for the family.
Camping in Shenandoah National Park
Backcountry camping is free, but you must secure a permit before setting up camp. Permits can be acquired at any entrance point, however, they must be obtained an hour before sunset.
You are not permitted to set up camp after sunset in order to protect the park and yourself.
Alternatively, you can provide a written application for a permit and have one sent to you by mail but this must be done more than two weeks in advance of your trip.
Reasons to Visit Shenandoah in Winter
Winter on Skyline Drive is Quiet
The highlight of any trip to Shenandoah National Park is completing the 105-mile long Skyline Drive.
The stunning road works its way along the top of the Blue Ridge Mountains, looking out over the picturesque Shenandoah Valley.
While the summer drive is known for its green lush beauty, winter transforms the valley into a winter paradise with treetops blanketed in pristine white snow or visions of reds and oranges leftover from fall.
The drive is best done slowly as you take in the beautiful viewpoints along the way and make as many stops as you wish.
The beauty of completing Skyline Drive in winter is that there a distinct lack of cars and people you will encounter along the way, giving you a true feeling of solitude as you take in the incredible nature.
Along the way, keep an eye out for frozen waterfalls, held in time by the frigid winter.
During the winter months, you need to keep an eye on the weather forecast as Skyline Drive is often closed during snowfall and can be closed for days on end if it has snowed heavily.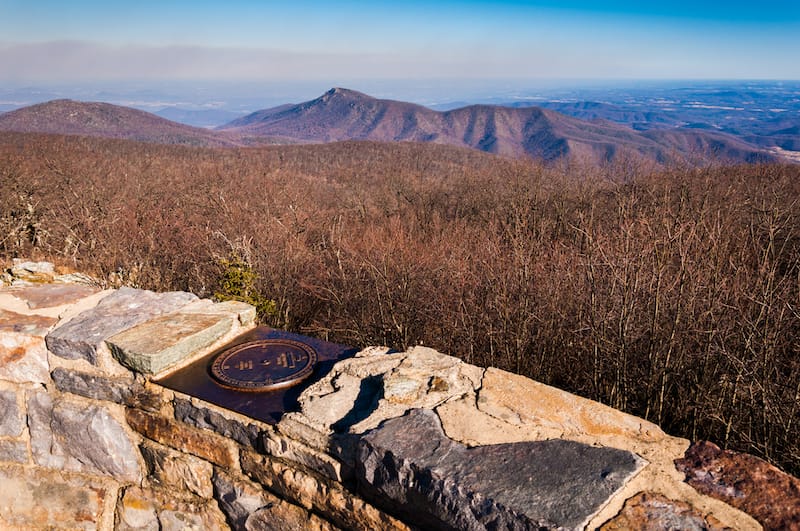 Normally, after a heavy snowfall, the road is cleared as quickly as possible, and where possible, they will only look to close the most heavily affected segments of the road.
If the road is closed for cars, you can always choose to walk along it and enjoy the beauty in almost serenely peaceful conditions.
From late November to mid-March in Shenandoah National Park, amenities close down and you will need to venture off the path to purchase food or other services.
Stunning Nature
As with all national parks in the US, Shenandoah has unprecedented beauty when it comes to nature.
Nearly 40% of the park has been declared wilderness, having not been significantly impacted by human activity and where nature has been able to flourish in its true form.
The Appalachian Mountains are known to be the second oldest mountain range in the world, and some of the exposed rock found in the park has been dated back to be over a billion years old.
The land is home to many species of flora, however, during the winter months, much of it will not be on show once the cold has taken its grip.
Winter Wildlife in Shenandoah
Shenandoah National Park in December, January, and February can interestingly make spotting the wildlife easier with visible tracks in the snow.
When it comes to larger mammals, the white-tailed deer is a common spot throughout the winter as they forage on the forest floor for food.
During the Virginian winter, bobcats can also be seen.
While they are often shy, winter is their breeding period and the cats become much braver as they search for a mate.
Along with these larger mammals, plenty of smaller creatures can be seen such as skunks, raccoons, and squirrels.
They tend to spend the winter trying to find enough food to survive until spring arrives in Virginia.
For those interested in birds, the park is home to an array of birds from wild turkeys to more commonly found birds.
You can also spot birds of prey such as owls and peregrine falcons, which returned after many efforts to reintroduce them in the 1980s.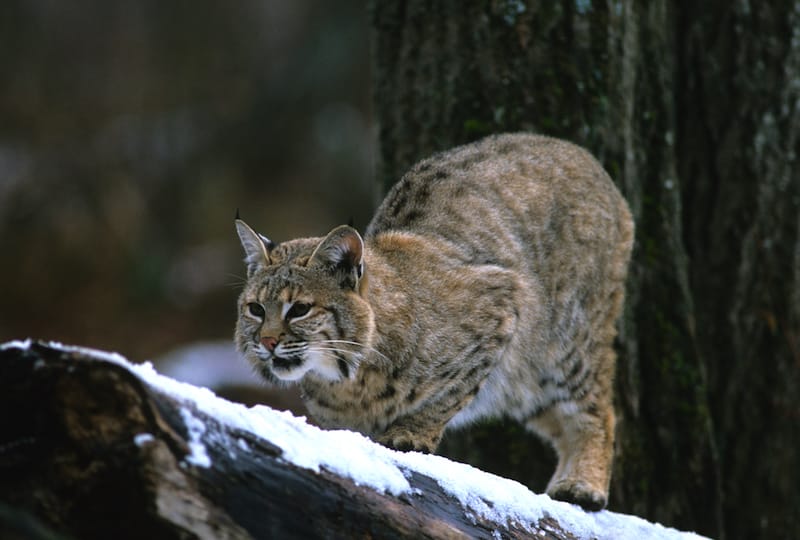 In the park, there are two dominant predators- the coyote and the black bear. While coyotes have only recently started to inhabit the area, they are slowly becoming more common but are rarely seen.
There are around 300 – 500 black bears in the park and they should be admired from a distance at all times.
During the winter months, the bears hibernate, taking refuge in their dens that they have built towards the end of summer.
Sleeping bears should never be disturbed and if you see a bear at the end of winter, it will likely be extremely hungry and unpredictable.
While they look cute, human interactions with the animals, including feeding them, can have devastating consequences for both humans and bears.
Avoid poking around in caves or tree hollows during this time as they are common places for bears to hibernate and where female bears give birth in their dens during February.
Finally, there have been unconfirmed sightings of cougars in the park (many sightings annually). Park rangers have not yet confirmed this but just be on alert in case it proves true.
Winter Hiking in Shenandoah NP
During the summer months, Shenandoah National Park is a hive of activity. However, as winter approaches, the park starts to slow down and all of the amenities shut up shop for the winter.
Luckily, the park remains open during this period and there is still plenty you can do.
While Skyline Drive is normally open, there are over 500 miles of hiking trails that work their way through the park with varying degrees of difficulty.
These trails are accessible throughout the year but you will need to make your own judgment whether you feel safe attempting them in the winter, especially the trails that are higher up the mountains.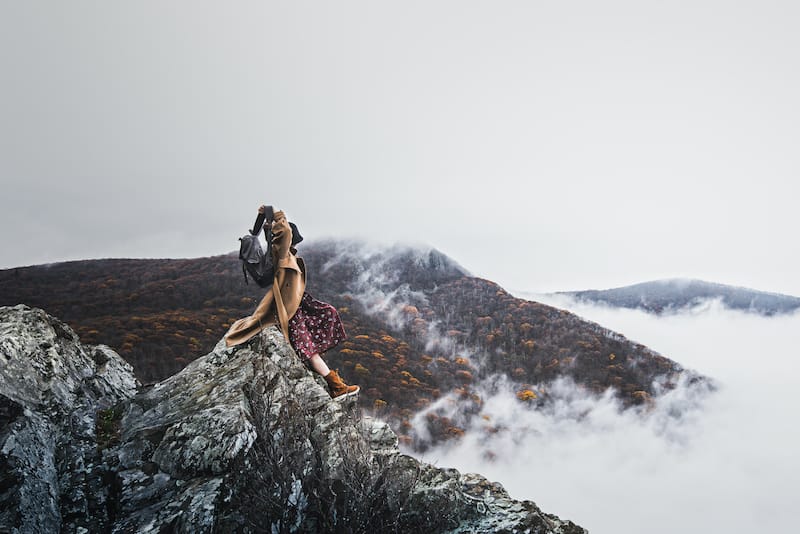 Hiking in Shenandoah during the winter gives you the unique opportunity to experience a far more peaceful park where you can spend hours walking without seeing another soul.
For those who are not as experienced in hiking, I recommend taking shorter trails like the Fraizer Discovery Trail where you can enjoy the beauty of the park but remain safe.
If you are planning to spend a whole day out in the wilderness, be sure to download the offline maps from the National Parks Services Hiking in Shenandoah Page.
Also, be sure to wear the correct clothing and bring supplies with you because the weather is unpredictable and a sunny day can quickly change to treacherous conditions.
Shenandoah is one of the most pet-friendly national parks and all but nine trails allow dogs to join their owners on the hikes.
Dogs must be kept on a leash at all times. The leash must be no longer than 6 feet long.
In addition, be careful of your dog foraging in piles of leaves or bushes as snakes are known for keeping themselves warm in them!
Go Wild With Backcountry Camping
If you are looking for a more rugged and thrill-seeking activity, try your hand at backcountry camping in Shenandoah.
With over 120 square miles of wilderness, backcountry camping is a great way to get up close and personal with Shenandoah and experience a wilder side of the park.
Park regulations allow people to wild camp within the boundaries of the park providing they follow the rules and leave no trace of their existence.
During the winter months, all official campgrounds are closed for the season, however, if you obtain a backcountry camping permit, you can venture off of the standard trails and set up camp in the middle of nowhere.
Read more: Washington DC in winter
Wild camping in the middle of winter is no easy feat and you should ensure that you have all the correct equipment for the trip, as you will need to not only deal with the terrain and wildlife but the elements, too.
You will need to be able to hike with all your equipment for at least half a mile to avoid being near any paved routes or infrastructure.
Once you have set up camp, you will then need to be able to store all food properly to avoid attracting bears and putting yourself and your camping group at risk.
You can find all the rules and regulations here. If you follow them all, you will have an unforgettable winter experience in Shenandoah.
Other Things to Do Near Shenandoah National Park
Luray Caverns
Within the vicinity of Shenandoah is another of Virginia's amazing sites, the Luray Caverns.
The complex cave system is home to a fantastic array of geological features from huge stalactites and stalagmites to beautiful mirror pools.
Discovered in 1878, the caves have been a key tourist attraction of Virginia ever since.
One of the main features is the Great Stalacpipe Organ, an imposing machine that uses stalactites of various sizes to make wonderful organ-like music.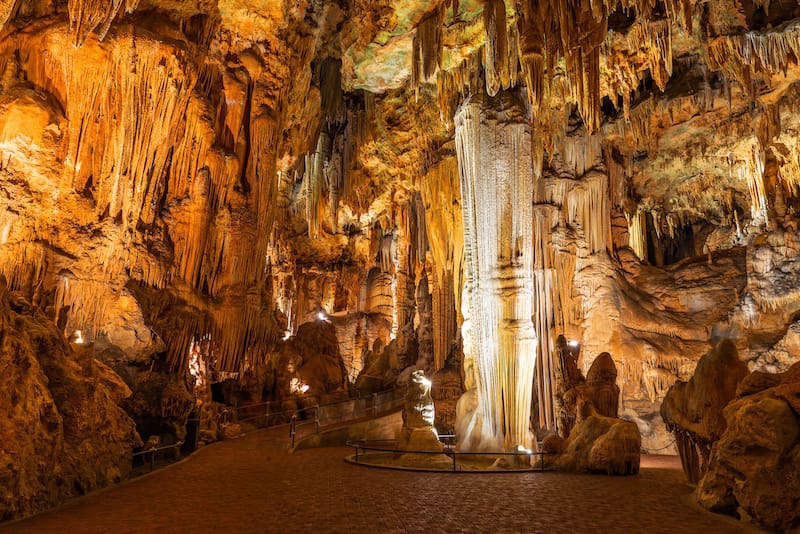 These Virginia caverns should definitely be visited as part of your trip to Shenandoah, and they make a great escape during bad weather days.
The caves open during the day but winter hours are slightly shorter.
The cost to visit Luray Caverns is $32 dollars per person over the age of 13 and children between the ages of 6 and 12 cost $16. Click here if you're looking for the best things to do in Luray instead!
Virginia Wineries
Virginia is one of America's best-kept secrets when it comes to wine and the area around Shenandoah is key to the state's production.
The state has only recently started producing wine, with the oldest winery, Willowcroft Farm Winery, opening in 1984 towards the northern end of the park.
The Blue Ridge mountains provide the perfect climate for growing grapes and the region has started to produce some fantastic red wines from Merlot, Pinot Noir, and Chambourcin grapes.
Spend the evenings checking out some of the wineries near Shenandoah National Park and tasting the local offerings.
Around Charlottesville alone, there are 35 different wineries within a 30-mile radius and you can easily spend some time getting lost on the Virginia wine trail.
Where to Stay Near Shenandoah National Park
Staying in Shenandoah during winter is not possible unless you are planning to go backcountry camping.
But, there are many amazing Airbnbs near Shenandoah National Park that you can call home for your trip!
However, there are plenty of places just outside of the park where you can base yourself or stay for a night as you work your way along the 105-mile Skyline Drive.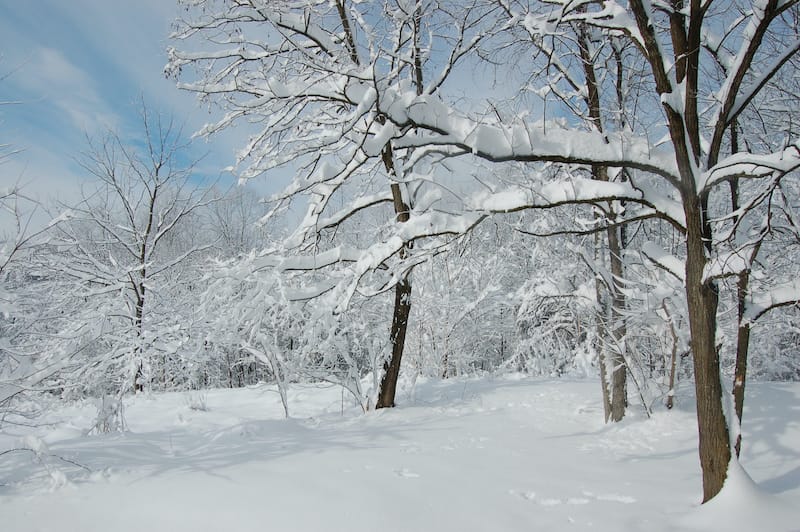 To help you plan your trip and your route, I have selected the best accommodation options in some cities along the route.
Charlottesville
One of the best places to base yourself is Charlottesville, sitting just south of the Shenandoah.
Home to the Unversity of Virginia, the city has a vibrant nightlife along with a rich cultural history that is perfect to explore if you find that Skyline Drive is closed.
I recommend staying at Fairfield Inn & Suites by Marriott Charlottesville, the elegant and modern rooms are the perfect place to wind down after a long day exploring Shenandoah.
Waynesboro
In the heart of Shenandoah Valley and located just off Skyline Drive is the small city of Waynesboro.
It is the perfect stopping point for those looking to learn a little more about the history of Virginia.
Waynesboro is close to some of the most important Civil War sites in the country and it provides a fantastic insight into the history of the region.
Close to the town, you will also find some of Virginia's best wineries where you can enjoy some locally produced wine.
The Best Western Plus Waynesboro is a great budget-friendly hotel just outside of the city center and close to the many things to do in Waynesboro that should be on your Virginia bucket list!
Massanutten Ski Resort
For those looking to a little more than explore the Shenandoah National Park, I recommend staying at the Massanutten Resort which is home to some of Virginia's best skiing.
The resort is one of the largest in the area and is home to a nice array of pistes that will suit all levels and provide a nice contrast from driving Skyline Drive or hiking the extensive trails of Shenandoah.
Harrisonburg
Alternatively, you can base yourself in Harrisonburg which is within easy reach from both Shenandoah National Park and the ski resorts.
The city is also home to James Maddison University and is an amazing place to catch some college sports games, with JMU being home to a good football and basketball program.
I recommend staying at the Fairfield Inn and Suites by Marriott Harrisonburg, located close to the city center where you will find plenty of bars and restaurant the hotel offers a very comfortable night's stay.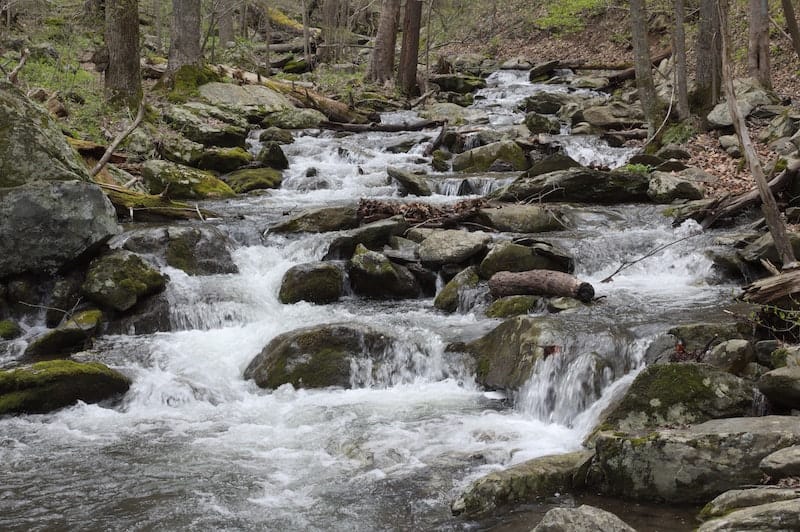 What to Bring to Shenandoah During Winter
Shenandoah during winter is no walk in the park and you will need to pack some essential items that will help you deal with the elements and conditions within the park.
During your trip, you will need to bring your own food and drink as all the amenities in the park are closed. I always carry my Klean Kanteen with me where ever I go.
In winter, they are perfect as not only do they keep your water cool but they are also able to keep hot drinks warm for 24 hours perfect for warming up after a cold hike in the wilderness.
Even though bears hibernate during the winter, if you are in the park at the beginning of winter, there may still be some bear activity and you should store all food in a bear-resistant food container, especially if you are planning to go backcountry camping.
The cold can easily wear you out and it's important to carry enough snacks with you, I never go hiking without a couple of Cliff Bars to keep me going.
For those planning to hike or backcountry camping, I recommend bringing along a durable flashlight as you may find an overcast sky and the dense forest will block out some of the light making it hard to navigate or put up a tent.
One thing I have found useful when hiking during winter is a pair of Foxelli hiking poles which will help you keep your footing in the snowy and icy conditions.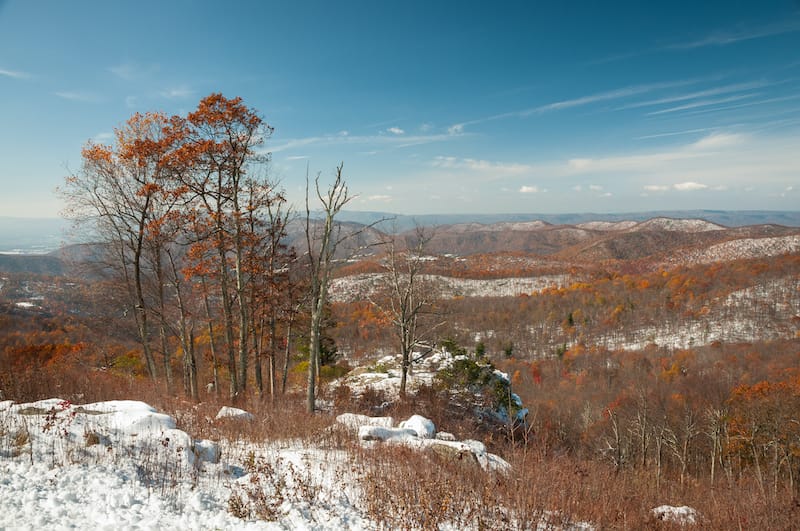 Finally, make sure you bring a camera along with you to photograph the epic scenery and nature, I personally use this Canon DSLR camera along with a zoom lens – it is perfect for amateur photographers.
We hope this guide to Shenandoah National Park in winter empowers you to make a decision of whether or not the Virginia park is worthy of your visit during the colder months.
While we, personally, think it offers a totally varying experience, if you're looking for a crowded, green experience, winter won't be your best bet.
However, if you're seeking solitude and the chance to connect with nature, winter in Shenandoah is definitely your cup of tea!
Additional Shenandoah National Park Resources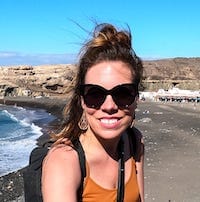 Megan is a travel blogger and writer with a background in digital marketing. Originally from Richmond, VA, she has lived all around the world (including Germany, Finland, Norway, etc) but her heart always finds its way back to Virginia. This blog is to help encourage travelers to explore the great state of VA… and its wonderful neighbors! Megan has written for or been featured by National Geographic, Forbes, Lonely Planet, Fodor's Travel, the New York Times, and more. She has visited 45 US states and 100+ countries… and wholeheartedly believes that Brunswick Stew is probably the greatest food to ever exist.