Growing up in Virginia, one thing I quickly noticed about my state was the sheer amount of caverns that exist throughout the western regions. Visiting caverns in Virginia is a very popular activity for both the solo traveler and families, especially during the scorching summers.
This is a guide to the best caverns in Virginia that can you visit. It also includes practical information, a map, and what you should bring with you when traveling to Virginia caverns.
What is a Cavern?
A cavern is a type of cave that is formed from soluble rock that has the ability to grow speleothems. While all caverns are a type of cave, not all caves are caverns, if that makes sense. Nevertheless, Virginia has plenty of caverns and it has become a popular attraction in the state.
You will see a few references below to stalactites and stalagmites. Stalactites hang from the ceiling and the stalagmites come up from the cave's floor, simply put.
About Caverns in Virginia
There are 9 caverns in Virginia that you can explore, currently. Most of them remain within close proximity of the Shenandoah Valley, but you will also find Natural Tunnel and Gap Caverns in the far southwestern corner of the state. Crystal Caverns used to be in operation as the 10th cave, but it is currently closed.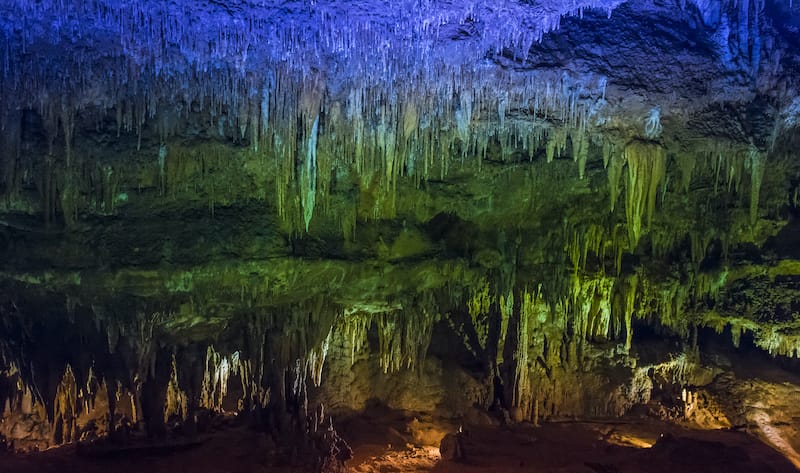 While there are only 9 commercial caverns in the state, there are actually more than 4,000 caves in the state. In the caves, you will find a variety of wildlife and most notably, bats.
You can find around 8 species of bats in the Virginia caves and 3 of the species are actually on the endangered list. These species are the Gray bat, Indiana bat, and the Virginia big-eared bat.
Over 95% of caves in Virginia are privately owned, so please refrain from visiting the non-commercial caves in the state or get permission from the owner of the property.
Virginia Caverns You Can Visit
Luray Caverns
Address: 101 Cave Hill Rd, Luray, VA 22835. It is 93 miles from Washington DC (1 hour and 48 minutes) and 123 miles from Richmond (2 hours and 21 minutes).
Official Website: https://luraycaverns.com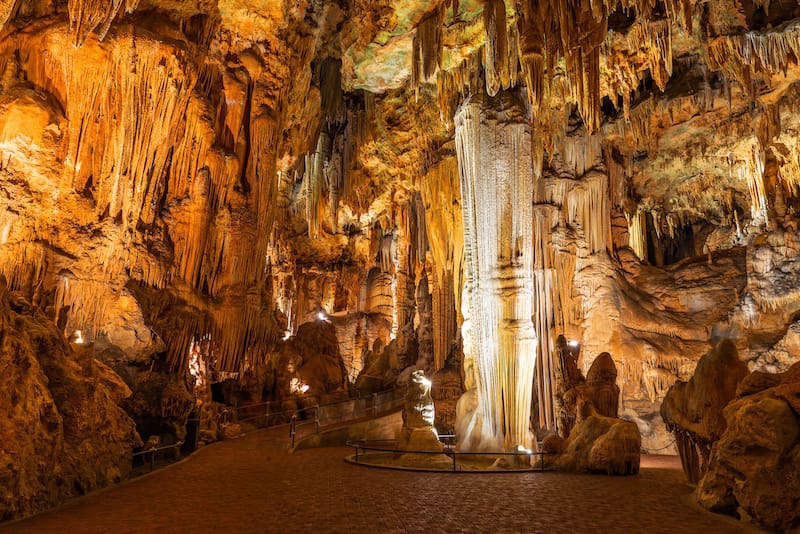 The Luray Caverns are arguably the most popular and well-known of all of the caverns in Virginia. The reason? They are the largest caverns in the eastern United States and at a near-constant temperature of 54 degrees (feels like 65 due to humidity), they offer the perfect refuge from the ruthless Virginia summer temperatures outside.
Luray Caverns used to be known by the name 'Luray Cave' and it is located slightly west of Luray, Virginia. It was discovered in 1878 by 5 local men and is known for its jaw-dropping speleothems. Inside of Luray Caverns, you will find mud flows, stalactites, columns, flowstone, stalagmites, and several mirrored pools.
The most popular feature you'll see when visiting Luray Caverns is the 'Great Stalcpipe Organ'. Other notable formations inside include the Dream Lake, Saracen's Tent, and more.
There is a marked path that you need to remain on for safety, but it will eventually lead you to the Wishing Well, a memorial that honors veterans from Page County, Virginia.
The entire path is 1.5 miles long and takes about 45 minutes to an hour to complete. The path and caverns now have access without stairs and even though it is feasible for wheelchairs to visit, it still can not be cited as a 'handicap accessible' landmark.
Over half a million people visit Luray Caverns annually and in 1974, the National Park Service designated the Luray Caverns as a National Natural Landmark, adding to its appeal.
Today, there are more than just a series of caves at Luray. They have also built a rope course and hedge maze there. Be sure to check out our guide of things to do in Luray to see more beyond the caverns.
In addition to access to the caverns, your admission ticket will also grant you access to three museums that are on-site. The Toy Town Junction Museum, Car and Carriage Caravan Museum, and the Luray Valley Museum & Shenandoah Heritage Village are all included in the ticket price (you can find them at their website).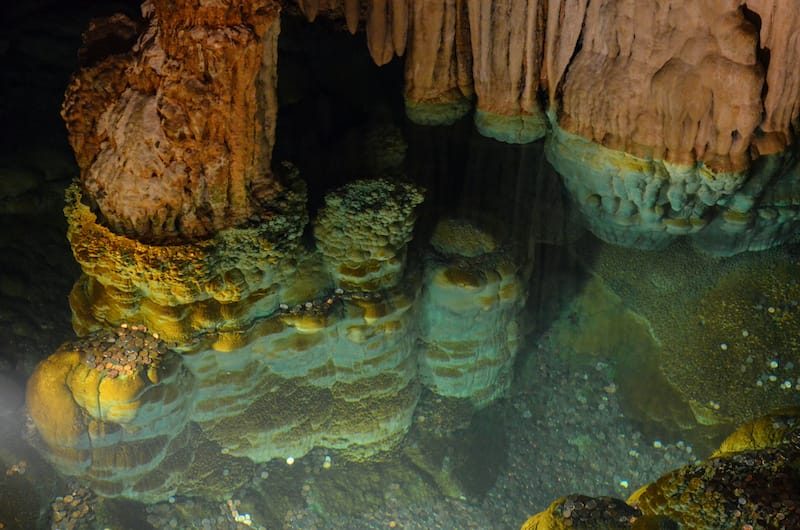 Shenandoah Caverns
Address: 261 Caverns Rd, Quicksburg, VA 22847. It is 112 miles from Washington DC (1 hour and 52 minutes) and 152 miles from Richmond (2 hours and 23 minutes).
Official Website: https://shenandoahcaverns.com
A constant 56 degrees year-round, the Shenandoah Caverns are 220 feet underground at its deepest point. There are 17 jaw-droppingly beautiful rooms and passageways waiting to be explored.
Some of the notable formations at Shenandoah Caverns in Virginia are the Capitol Dome, Rainbow Lake, and Beyond the Veil. There is also a famous one called 'Breakfast Bacon' that has been written about in well-known publications.
The history of Shenandoah Caverns is a fascinating one. In 1884, the Southern Railway line was being built through the Virginia county and when the workers were away, the farmer and property owner allowed his children to play in the quarry. A
s they played and lowered into the ground, they discovered a hidden world just waiting to be explored.
While they were too scared to go any further, they informed their family about their discovery, eventually leading them to uncover the entire cave system.
Over time, construction was initiated on the cave system, developing it into a tourist sight and one of the most popular places to visit in Virginia. Shenandoah Caverns officially opened to the public in May of 1922.
Later on, in 1930, the owners opted to install an elevator to the caverns and it still remains the only caverns system with an elevator in Virginia.
Visiting the Virginia caverns is quite easy and they will take guests around in a guided tour that fills up as people arrive. Guests rarely have to wait over an hour for their tour.
The path you will walk on is graveled and about 1 mile long. You must be able to stand for the duration of this and Shenandoah Caverns is not considered handicap-accessible by ADA standards despite the elevator (it can be challenging to push a wheelchair around the gravel path through the caverns).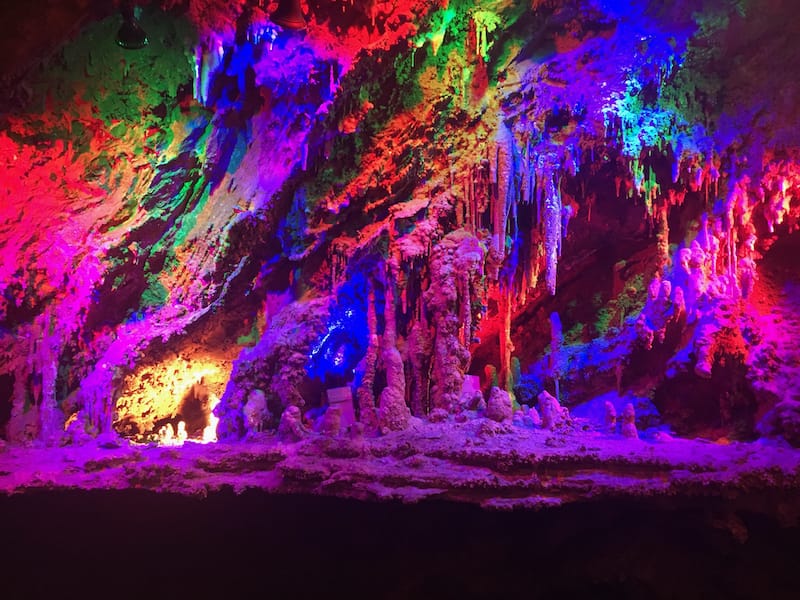 Grand Caverns
Address: 5 Grand Cavern Rd, Grottoes, VA 24441. It is 149 miles from Washington DC (2 hours and 25 minutes) and 110 miles from Richmond (1 hour and 47 minutes).
Official Website: https://www.grandcaverns.com
Formerly known as Weyer's Cave, Virginia's Grand Caverns are aptly located in the town of Grottoes. Having been in operation since 1806, it claims to be America's oldest show cave.
In 1973, the National Park Service designated the natural phenomenon a National Natural Landmark due to its mind-blowing formations such as flowstone, stalactites, and stalagmites.
According to legend, Grand Caverns was discovered in 1804 by a 17-year-old who was a manager of the local distillery and was out trying to fix a work problem. Eventually, the cave took the name of the young boy and it was called Weyer's Cave.
During the Civil War, the famous cave was visited by soldiers on both fronts and over 230 of them carved their names into the cave's walls.
The colors in Grand Caverns vary slightly to those of other caverns in Virginia and you will even find that the passages to the north are rather dry and bright white… giving them the name 'New Mexico'.
Some of the most notable formations at Grand Caverns are the Cathedral Hall, Bridal Veil, Stonewall Jackson's Hore, Tapestry Room, and Dante's Inferno.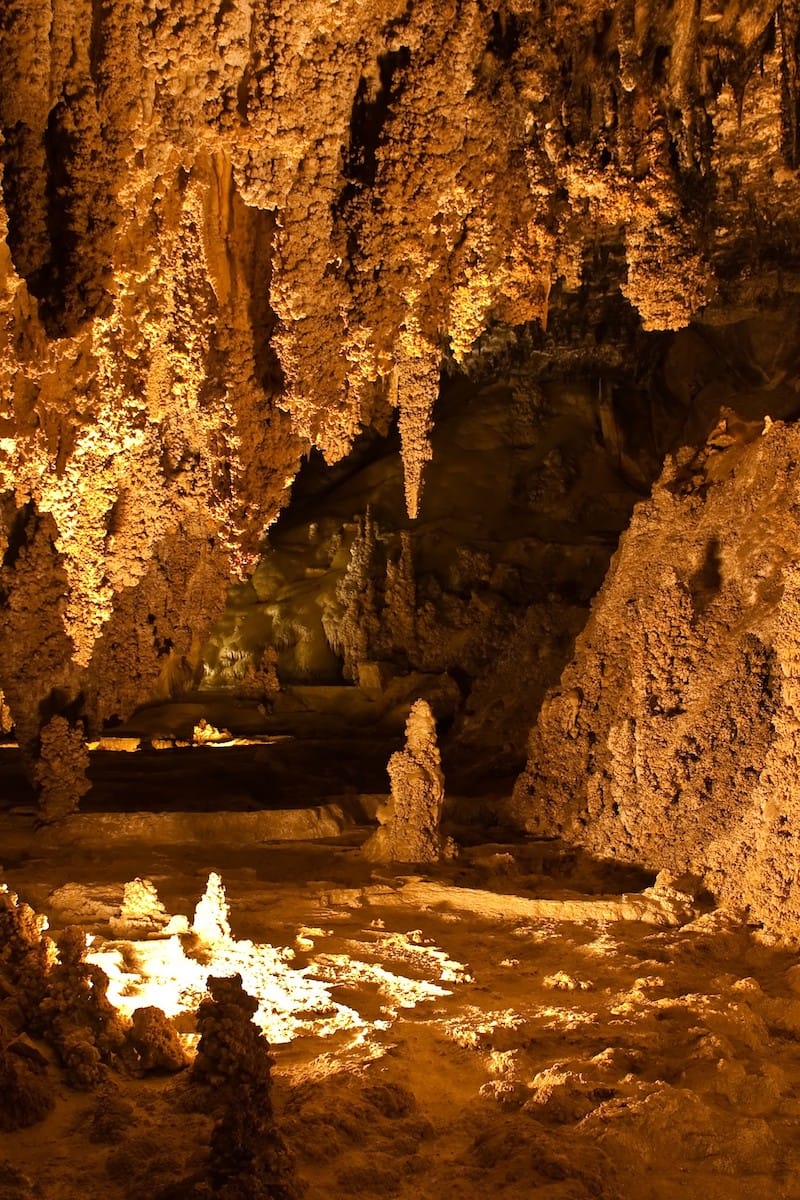 Skyline Caverns
Address: 10344 Stonewall Jackson Hwy, Front Royal, VA 22630. It is 70 miles from Washington DC (1 hour and 20 minutes) and 126 miles from Richmond (2 hours and 10 minutes).
Official Website: https://skylinecaverns.com
In the Northern Shenandoah Valley, you will find a unique cave system that is home to Skyline Caverns. It is located merely one mile from the city of Front Royal and they have been a popular Virginia cavern since their discovery in 1937 by Walter S. Amos.
A former geologist and mineralogist, Amos stumbled across a sinkhole when he was under contract by government and private agencies to search for caves and caverns associated with Skyline Drive. After noticing a colony of camel crickets, an insect that only lives in wet, dark places, he started digging.
Using techniques unique to other cave systems, he finally managed to have the caves opened to the public in 1939. Skyline Caverns are estimated to be anywhere from 50-60 million years old.
One thing that makes the Skyline Caverns so special is that Amos discovered anthodites, an unusual form of crystal that is made of pure calcite. This is secured behind closed doors but is open to the public with a tour guide.
The 'Chandelier', as the anthodite is called, is 18 inches long and is the largest and oldest one in the world. This type of formation is extremely rare and Skyline Caverns is one of the few places globally where you can see anthodite formations.
You can also witness 3 flowing streams in Skyline Caverns although there are a total of 5 there. For children, there is also a miniature train ride and mirror maze.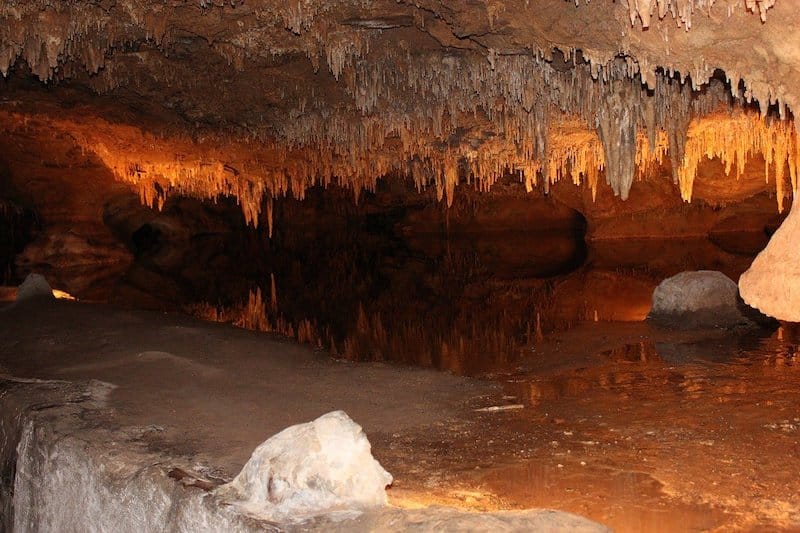 Endless Caverns
Address: 1800 Endless Caverns Rd, New Market, VA 22844. It is 113 miles from Washington DC (1 hour and 52 minutes) and 147 miles from Richmond (2 hours and 11 minutes).
Official Website: http://endlesscaverns.com
Located about 3 miles south of New Market, Virginia you will find the Endless Caverns. This limestone solution cave is a show cave and one you can easily visit if you're in the area.
According to the tour guides, the cave was found by two young boys in October 1879 while hunting rabbits. As they tried to lure the rabbits out from a hiding space, they began moving around loose stones and they consequently found a hole.
They ran some unofficial tours through the cave and its chambers before selling it to Colonel Brown who had the cave ready for visitors and got electricity for it in 1920. There was more work done in 1928 on electrics
Endless Cave is the 20th longest cave in Virginia and the 176th in the US. At its deepest point, it is 160 feet below the ground and it is a total of 5.5 miles long.
The Virginia cavern is home to colonies of different species of bats– notably the little brown bats that you will likely see on your tour.
Some of the notable and famous formations inside include the Yosemite Room, Curtain Room, The Crock, The Cathedral Room, and The Blue Room.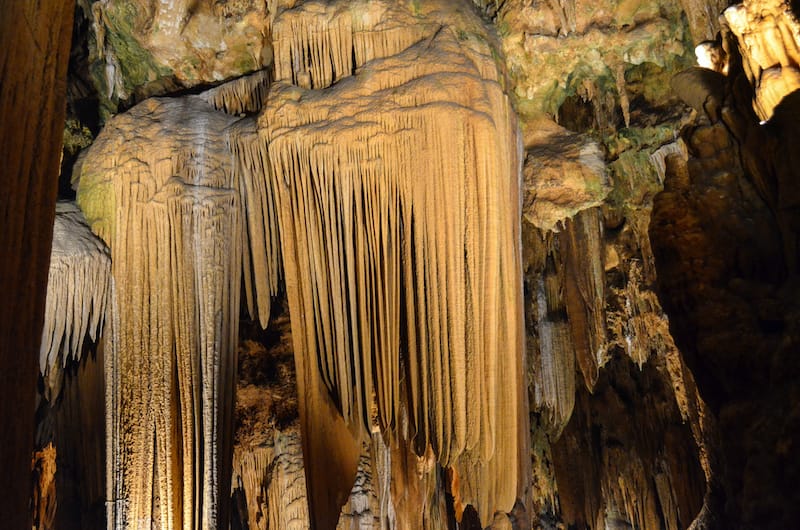 Gap Caverns
Address: Route 58, Ewing, VA 24248. It is 455 miles from Washington DC (7 hours and 11 minutes) and 403 miles from Richmond (6 hours and 15 minutes).
The Gap Caverns (better known as Gap Cave) as located inside of Cumberland Gap National Historical Park in Ewing in the far southwest corner of Virginia.
This cave is kind of an off-the-path experience for those not from the area. In order to visit Gap Cave, you will need to take a guided tour from one of the park rangers who know the history and geology of the formation. The tour is around 2 hours in total and you will need to walk approximately 1.5 miles via pathways and through the rooms.
The cave's total length is 18.5 miles and it is considered to be the 42nd longest cave in the US and the 154th longest in the world. It has 6 entrances.
One large appeal to visiting is that it is not as commercial as other caverns in Virginia. This one is lit by lanterns and you must venture down 183 stairs to get to the cave.
However, once you're down there, you will be greeted by one of the largest stalagmites in the world known as the 'Pillar of Hercules' in Gap Cave.
Another highlight in Gap Cave is the 'Talking Stalactite' (also called the Gurgling Stalactite). It makes a funny sound like a tree frog or cricket and the sound is produced by falling water.
Natural Tunnel State Park Caverns
Address: 1420 Natural Tunnel Pkwy, Duffield, VA 24244. It is 416 miles from Washington DC (6 hours and 28 minutes) and 364 miles from Richmond (5 hours and 32 minutes).
Natural Tunnel State Park is a Virginia park where you can witness several natural phenomenons- including a cave brimming with unique rock formations such as stalactites and stalagmites.
There is also a waterfall inside. This is an off-the-path site in Southwest Virginia but definitely one worth visiting if you're at the state park or looking for something adventurous to do.
The Natural Tunnel Caverns and Cave is so large that it is also used as a railroad tunnel. It is acknowledged that Daniel Boone was the first European to see it in the 18th-century.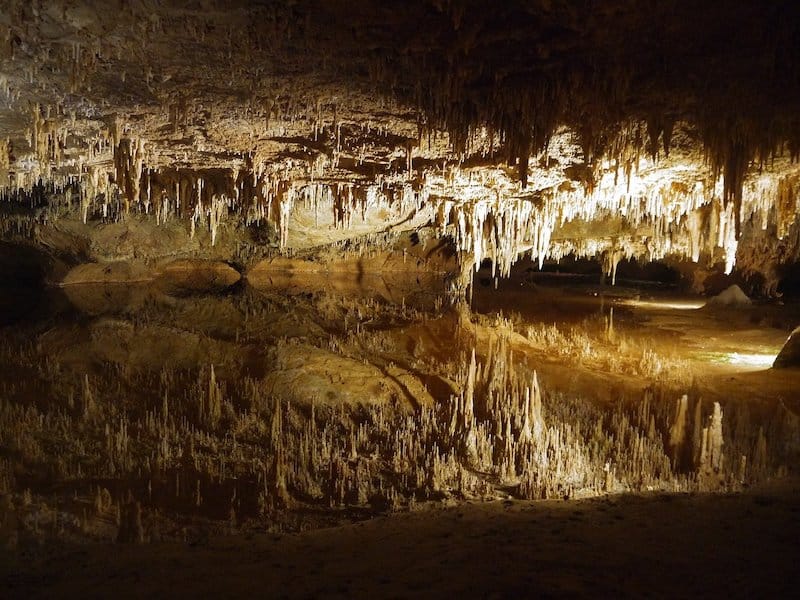 Caverns at Natural Bridge
Address: 6313 S Lee Hwy, Natural Bridge, VA 24578. It is 200 miles from Washington DC (3 hours and 7 minutes) and 148 miles from Richmond (2 hours and 12 minutes).
Official Website: https://naturalbridgeva.com/caverns
One of the most popular Virginia attractions are the Natural Bridge Caverns inside of Natural Bridge State Park. They were discovered in the 1890s and eventually opened to the public in the 1970s. They were formerly called the Buck Hill Caverns.
Located in Virginia's renowned Shenandoah Valley, these caves are the deepest commercial cavern on the east coast and it is the home to two different species: the Natural Bridge Cave Beetle and the Natural Bridge Isopod.
Tours at the Natural Bridge Caverns last for 45 minutes and they are guided with lanterns.
The temperature remains constant around 54 degrees and the most famous structures and formations worth visiting inside are the Colossal Dome Room, Mirror Lake, Well Room, and the Canyon Room. The Virginia cave's deepest part is 347 feet below the ground.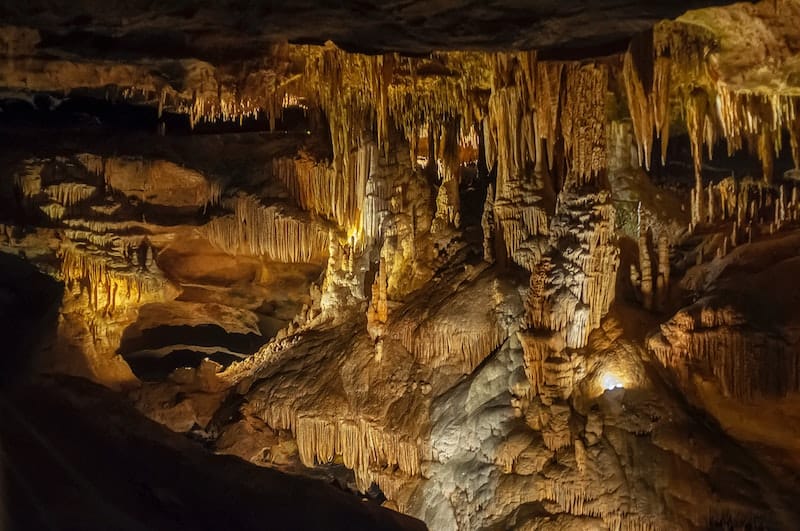 Dixie Caverns
Address: 5753 W Main St, Salem, VA 24153. It is 239 miles from Washington DC (3 hours and 41 minutes) and 187 miles from Richmond (2 hours and 46 minutes).
Official Website: https://www.dixiecaverns.com
A lesser-known show cave in Virginia is the Dixie Caverns located four miles west of Salem. It is a limestone solution cave and it is open to visitors today.
There is a 45-minute tour that you will get to experience if you visit this Virginia cavern. Dixie Caverns were discovered in 1920 by two farm boys after their dog fell through a hole that led to a whole new underworld. They subsequently named the caverns after the dog.
In 1923, tours of the caverns began. The most famous formation inside of Dixie Caverns is a flowstone one called the 'Wedding Bell'.
Map of the VA Caverns Mentioned
Here is a map of the VA caverns mentioned above. To see the full, interactive map with all the detailed locations, click here.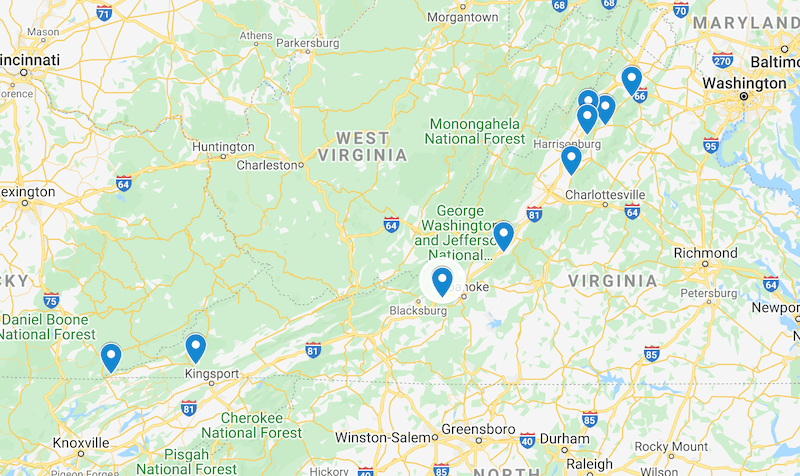 Quick Tips for Visiting Caverns in Virginia
Here are some quick tips to help you know what to expect when visiting a cavern in Virginia.
Wear comfortable, closed-toe shoes! The caves can be a bit wet from condensation and water dripping from the ceiling. Not all of the caves listed are as well-maintained as Luray Caverns, for example. All tours are at least 45-minutes regardless of the cave you visit, so comfortable shoes are a must!
Make sure you dress for the temperature. The temperature in most of the caves hovers around 55 degrees at all times but the humidity can make it seem slightly warmer.
If you're exploring a 'lesser-known' Virginia cavern, be sure to bring a flashlight or headlamp. I recommend this headlamp as it is the one I travel with.
If you're also heading on one of the Virginia waterfall hikes nearby, be sure to have good grips on your shoes as it might get slippery!
If you're keen to explore some of the caverns in Virginia, I hope that this post can give you an idea of where to start and how to plan your trip!
Additional Virginia Resources
PIN IT FOR LATER