Are you looking for the best things to do in Washington DC for your first trip to the US capital city? We've got you covered!
Are you planning your trip to DC at the last minute?
Are you planning your trip to Washington DC at the last minute? Check out these top-rated tours and hotels!
🇺🇸 Top Tours & Activities in Washington DC:
🛌 Best hotels in Washington DC:
🚗 Looking for the best way to get around DC? Click here to check rental car rates for Washington DC!
I grew up in Virginia and have spent most of my life hanging in and around DC! My sister has lived there and so have many of my friends.
This is a guide to the best DC attractions and things to do for first-timers… but with a local's touch.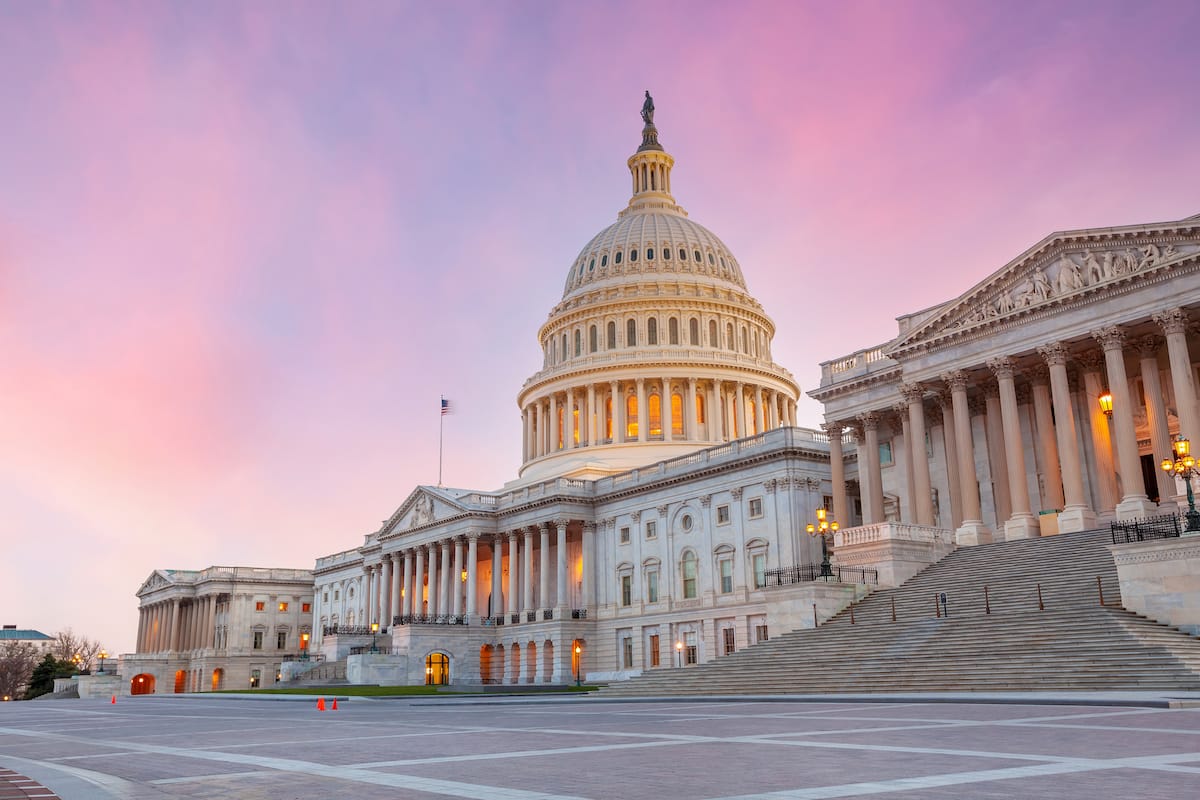 Did we miss anything that should be on a Washington DC bucket list? Let us know in the comments!
Best Washington DC Tours (to Maximize Your Time!)
If you're looking for something more organized when in Washington DC and the surrounding area, here are some awesome Washington DC tours you should check out.
These tours will help you maximize your time, which is especially important if you only have a short amount of time in the nation's capital! We listed a variety so that you can pick which one is most suitable for you (and many include multiple places!):
Best Things to Do in Washington DC (Overview)
This list is not geared at someone who lives in Washington DC or has been there several times. It will contain the most popular Washington DC attractions, landmarks, and activities.
But, it will also contain some of my favorite places to eat, have a drink, or get a cup of coffee (ya know, the important stuff).
Needless to say, this guide could contain many more museums and DC landmarks, but I'd rather keep that for other guides and allow this guide to be a little diverse.
And, of course, this guide is in no particular order!
Washington DC Bucket List
1. Go on a DC Monuments and Memorials Night Tour
The top-rated tour in Washington DC, hands down, is this DC Monuments and Memorial night tour.
It is an affordable option that allows you to maximize your time in the nation's capital while you take a luxury mini-bus ride past the city's most iconic landmarks at night!
The landmarks are all lit up and beautiful – particularly the Jefferson Memorial and the Lincoln Memorial.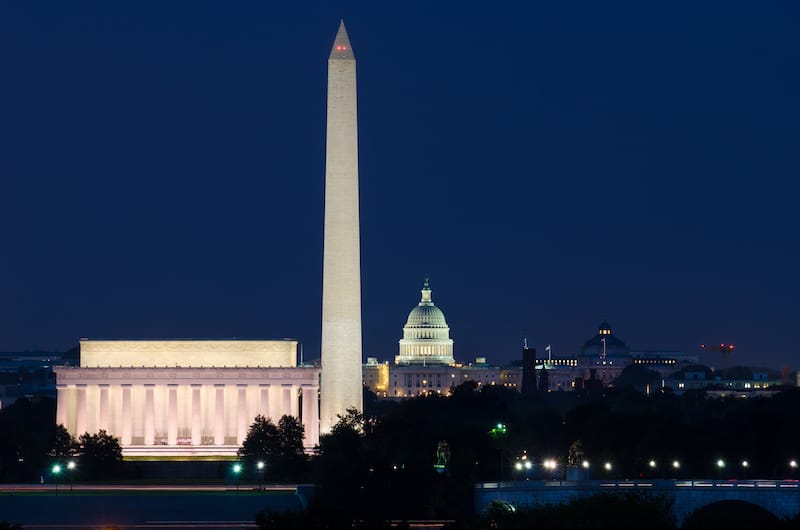 The bus will have around 30 people on it and your professional guide will get off at the stops with you so that you can learn a bit more about each and take some photos as a personal keepsake!
This is such a fantastic option to get the highlights of Washington DC in easily and then you can always venture back and see them independently if you desire!
>> Click here to check rates and availability
2. Explore Beautiful Georgetown
There is something so special about this DC neighborhood and Georgetown is always one of the first places I flock to when I head back to DC.
You'll find cobblestone streets and sidewalks, beautiful brick homes, and the tranquility of the C&O Canal in a place that feels like a peaceful respite from the hectic downtown area.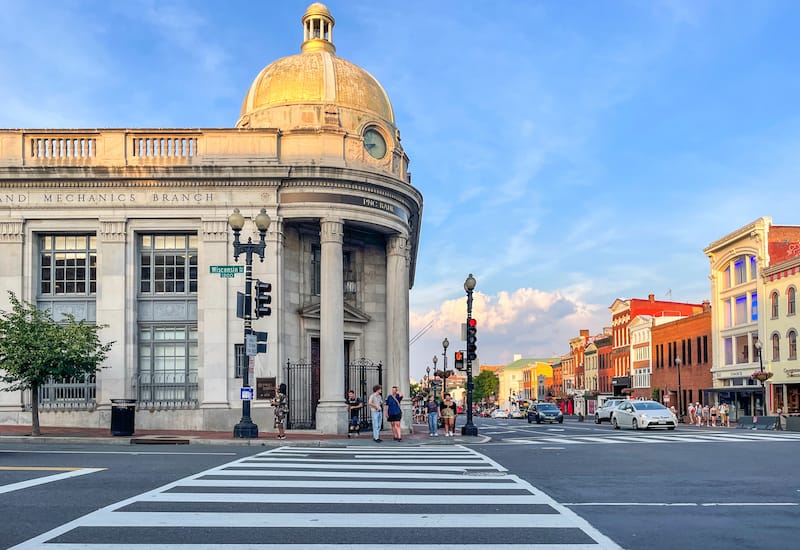 Not to mention, some of the coolest coffee shops and boutiques are located in Georgetown. I finally had the chance to stay in the neighborhood last summer (I usually stay in a different area) and explore it deeper.
Some of my favorite places to visit in Georgetown are:
Levain Bakery (the chocolate chip cookies are what dreams are made of!)
Georgetown Seafood (unpretentious food and tasty crab cakes!)
Blue Bottle Coffee Shop (another chain but they have a terrace overlooking the canal that is so lovely)
Bandoola Bowl (Burmese eatery that serves fresh bowls)
While there, also wander through Rock Creek Park and see the Old Stone House – it is open daily and the gardens are beautiful.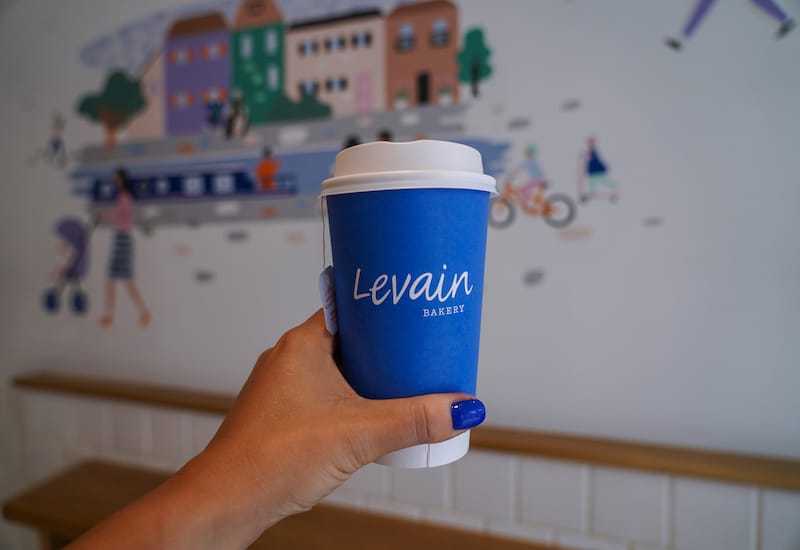 If staying in Georgetown is on your Washington DC bucket list, I stayed at The Georgetown House Inn and really loved it. The rooms are small (very European-like) but it is located right on the canal.
3. Check Out the White House
A trip to the nation's capital is not complete without visiting the White House. The grand building has been home to Presidents since the 18th century, often finding itself at the center of major world events (and the occasional controversy!).
However, the building has changed drastically throughout the years, undergoing numerous renovations and restorations.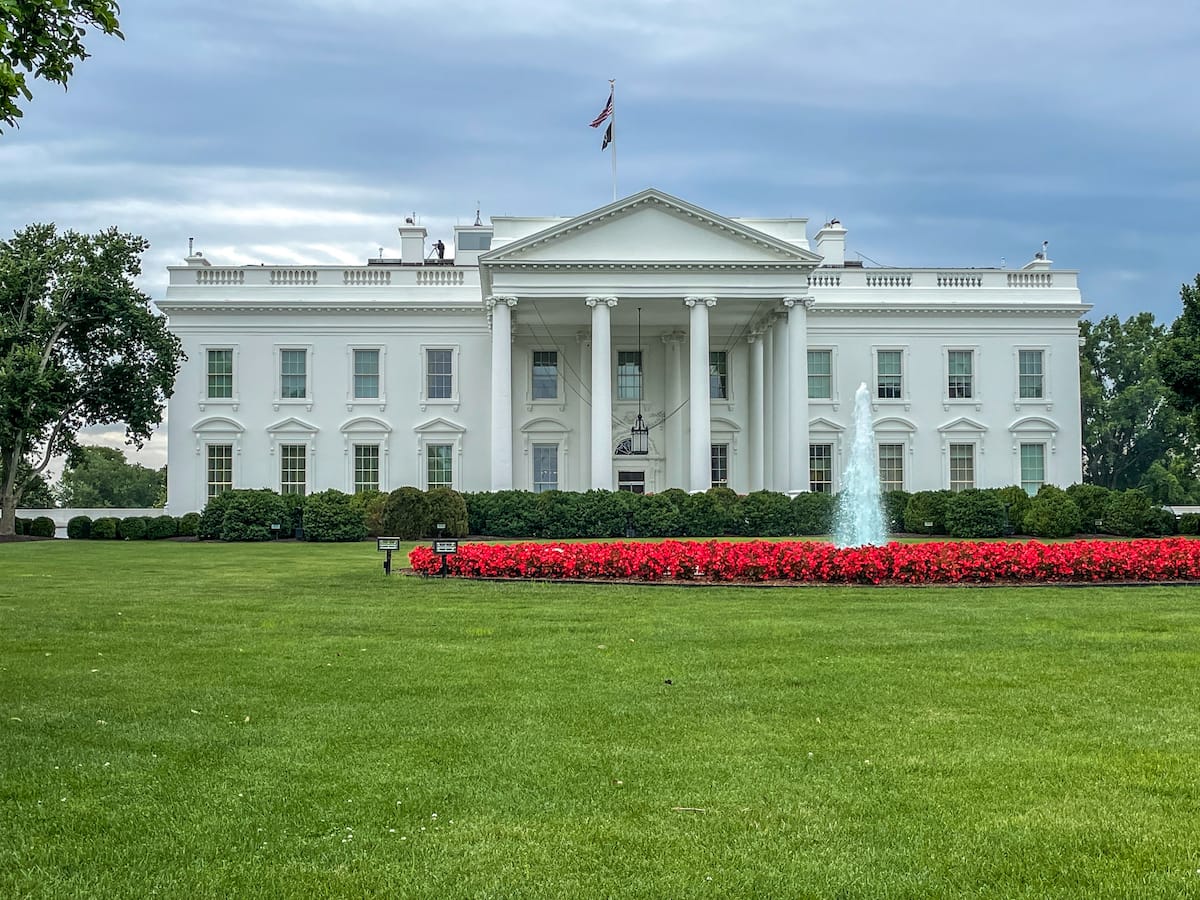 And while you can tour the White House (if tours are allowed at the time), it is easiest to check it out from behind a fence.
The White House had its first stone placed in 1792 and remains one of the most famous residences in the world to this day!
Address: 1600 Pennsylvania Avenue NW, Washington, DC 20500
4. Take a Day Trip to Alexandria, VA (& Mount Vernon)
One of the most popular day trips from Washington DC is the charming city of Alexandria, Virginia… which is only a 13-mile trip from the nation's capital!
Alexandria is known for its historic Old Town, and most notably, Mount Vernon, the former residence of George Washington.
This estate is located on the Potomac River and dates back to 1734 and the Founding Father is even buried there.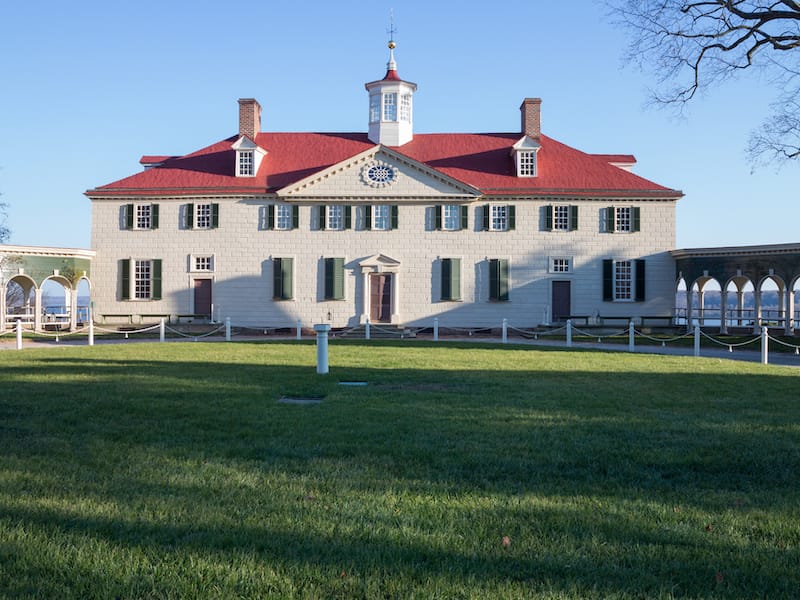 Taking a day tour from DC to Alexandria will last 5 hours and depart at 10 am – on the tour you will get to see the Old Town of Alexandria as well as hit up Mount Vernon for 3 hours.
Admission is covered as part of the tour and this is not a wheelchair-accessible excursion.
>> Click here to check rates and availability
5. Visit the National Museum of African American History and Culture
I highly recommend spending a morning at the National Museum of African American History and Culture.
It is a Washington DC museum dedicated to the African American experience in America.
The Smithsonian Museum is located on the National Mall and boasts an impressive collection of over 37,000 artifacts/pieces, ranging from clothing and artwork to historical documents and photographs.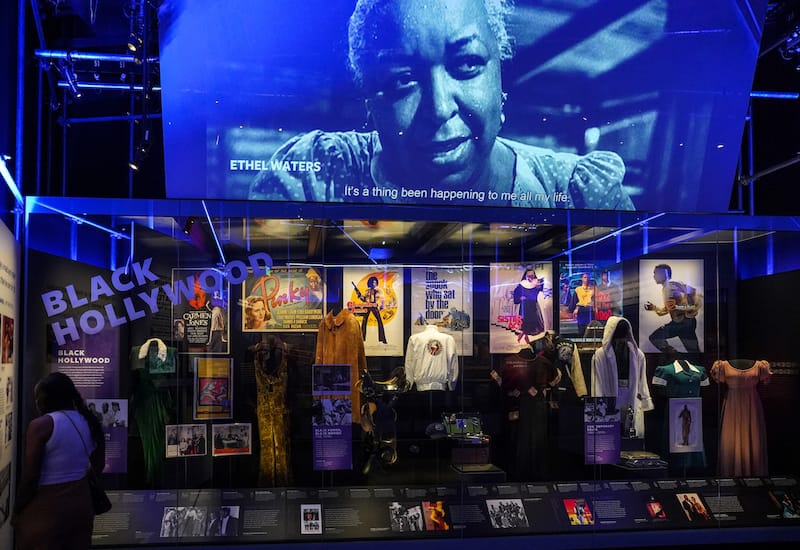 Its exhibits cover topics such as slavery, the Civil Rights Movement, and African American culture and achievements.
Notable exhibitions include the moving Emmett Till Memorial and the Oprah Winfrey Theater, which hosts cultural events and performances.
🌟
GOOD TO KNOW:
This is my favorite museum in Washington DC. It felt like a story was being told from the perspective it was supposed to be told from. But, you
need to book ahead
as it is one of the few museums in DC that requires a time slot reserved (but it is still free)!
It is a popular museum, so it is difficult to get into last minute, especially during the summer months. I highly recommend reserving in advance to avoid disappointment!
Address: 1400 Constitution Ave. NW, Washington, DC 20560
Official website: https://nmaahc.si.edu/
6. See the US Capitol Building
The United States Capitol was built in the 1800s and is the US government's legislative arm, housing both the Senate and the House of Representatives.
Completed in 1800, the building design came from a competition where architects were invited to submit proposals. Unfortunately, most of the designs were not fit for purpose or ended up being too costly.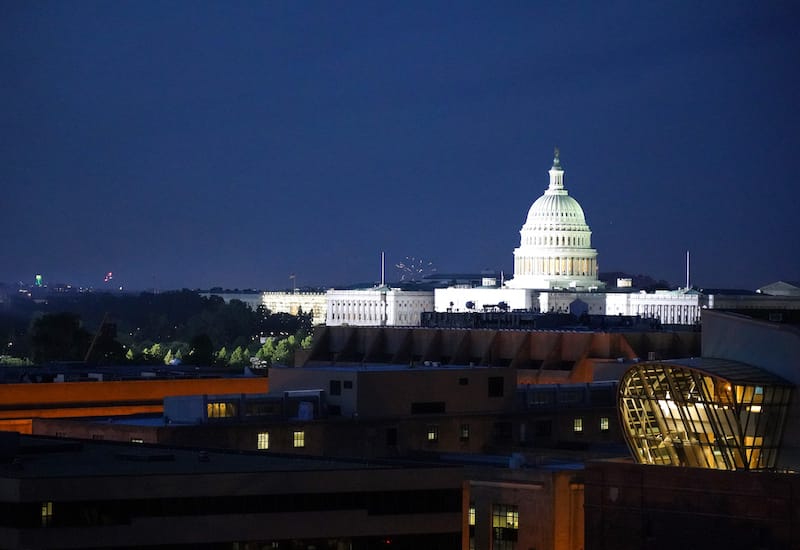 A late entry from an amateur architect won the competition and 14 years after completion, the building was partially destroyed by the British.
The US Capitol was rebuilt, and various parts have been rebuilt over the years, including a slightly disastrous remodel of the east facade.
You can visit the building and it has a number of exhibits and a gift shop. Tours run Mondays through to Saturdays and can be booked online or on the day.
Address: First St SE, Washington, DC 20004
7. Peruse the National Air and Space Museum
One of the best Smithsonian Museums is the National Air and Space Museum. It was actually the first DC Smithsonian museum I went to as a kid (on a field trip).
Dedicated to everything space and aviation, the museum has some fantastic items on display, such as Niel Armstrong's spacesuit, spacecraft, and various historical planes.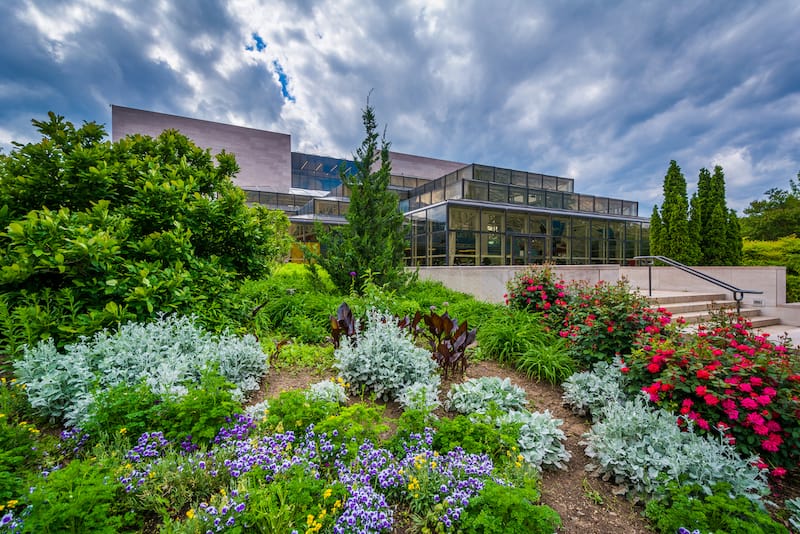 The museum is split across two locations, with the main museum located right off of the National Mall, while the second site is the Steven F. Udvar-Hazy Center in Chantilly, Virginia, where some larger planes are on display.
The museum is free to enter, but you will need to book a time slot before visiting.
Address: 6th St. and Independence Ave SW, Washington, DC 20560
8. Broaden Your Horizons at the Smithsonian Folklife Festival
The Smithsonian Folklife Festival is one of the most underrated festivals in Washington DC (in my opinion) and I am so happy I got to enjoy the 2022 festival when in DC last summer.
This festival's purpose is to showcase living cultural heritage around the world and it takes place on the famous National Mall surrounded by some of the biggest landmarks in DC!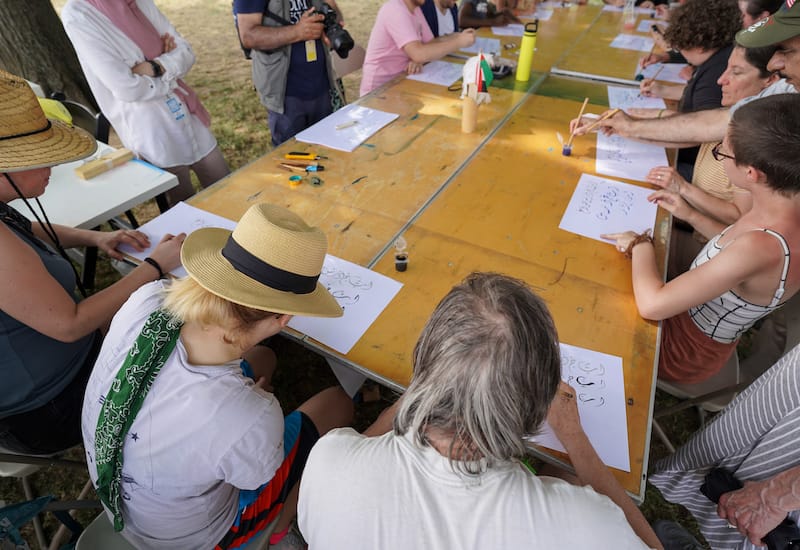 It lasts for 1-2 weeks and always takes place over the 4th of July celebration. It dates back to 1967 and has seen over 25,000 musicians, artists, performers, and more to the festival.
One thing I love about it is that it seems to focus on a country or region each year. Actually, in 2018, Armenia was a focus country.
When I was at the 2022 one, the UAE was the focus country. The fest had food, cultural activities, workshops, crafts, and more from the Middle Eastern nation.
In 2023, the festival will focus on Living Religion and the Ozarks. It will take place from June 29 – July 4.
9. Get Fueled at the Best Coffee Shops in Washington DC
One thing I always hunt down when I am traveling are some delicious coffee shops. Fortunately, Washington DC has no shortage of them!
You can find amazing coffee throughout the entire city but I have my own personal favorites that I will list here.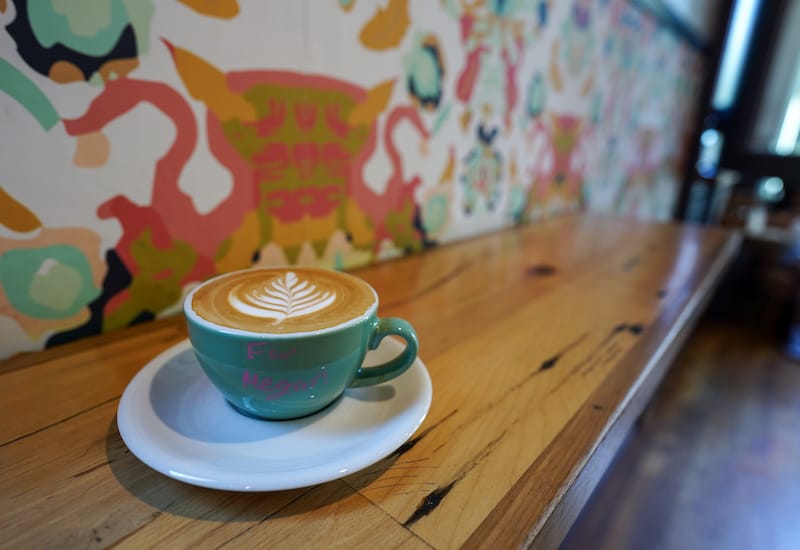 Some of my favorite Washington DC coffee shops are: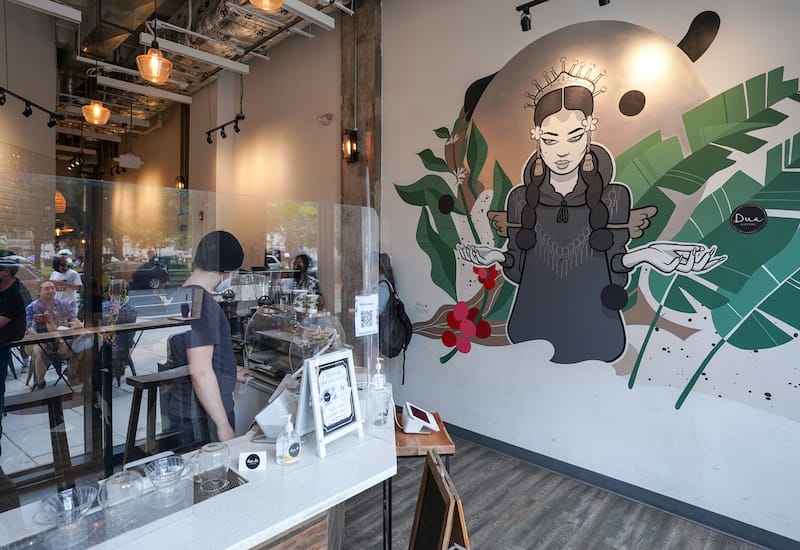 I would love to discover some new coffee shops in DC – so let me know if you have any favorites!
10. Pay Respects at the United States Holocaust Memorial Museum
The United States Holocaust Memorial Museum aims to teach the world about the atrocities that led to one of humanity's most despicable acts.
Through documents and imagery, the museum details what life was like during the Holocaust, hoping that people will stand up to this hate and stop further genocides throughout the world.
While the museum is in the same area as many of the Smithsonian museums, it is not technically part of the group.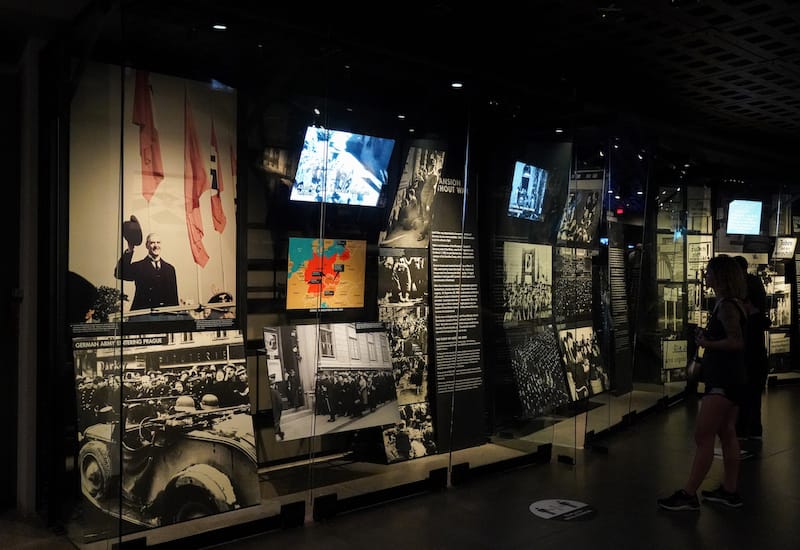 The museum's tickets are free, but there is a $1 transaction fee if you reserve online (which you kind of have to do if you want to ensure you are able to visit).
At the end of the museum, there is an educational center where you can learn about other genocides throughout history (and many of them are not even discussed in American schools – trust me, I was shocked and so saddened by it).
Address: 100 Raoul Wallenberg Pl SW, Washington, DC 20024
11. See the Martin Luther King, Jr. Memorial
The Martin Luther King, Jr. Memorial is located in West Potomac Park by the National Mall.
The memorial's centerpiece is a giant granite statue of Martin Luther King, Jr. called the Stone of Hope.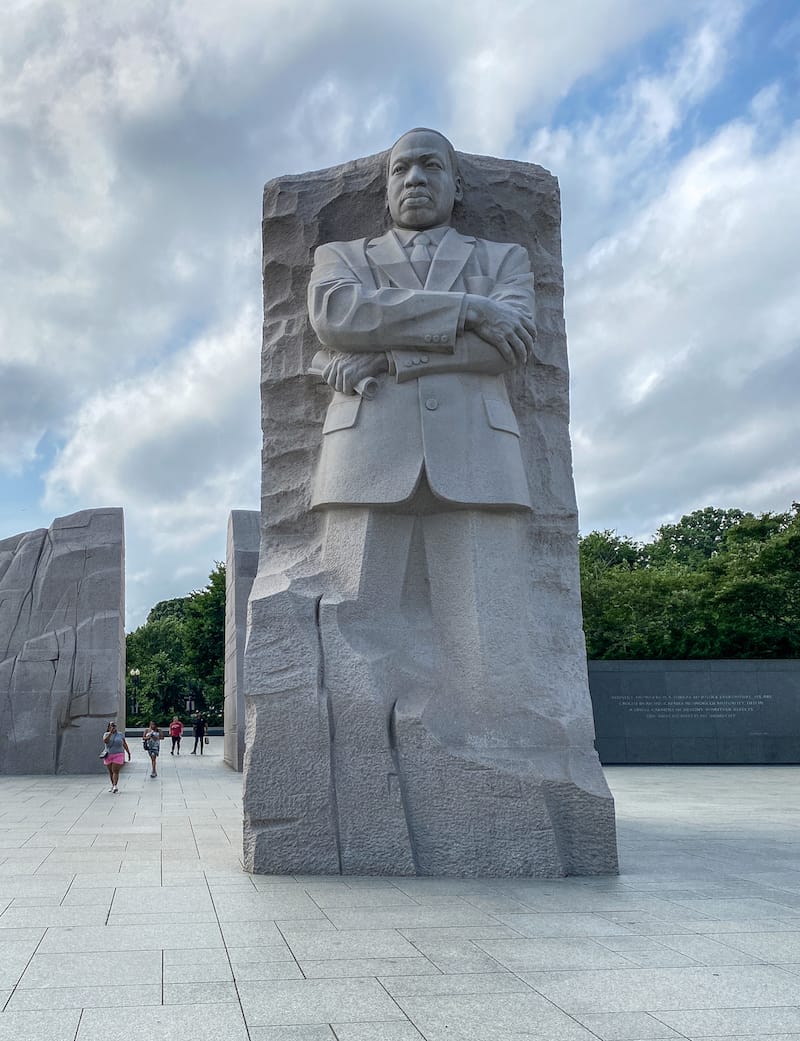 The monument is only the fourth dedicated to a non-President in the National Mall's proximity and the only one honoring an African American.
Address: 1964 Independence Ave SW, Washington, DC 20003
12. Go Back in Time at the National Museum of American History
The National Museum of American History is a one-stop shop for cataloging and preserving artifacts of the American way of life. It is actually one of the world's most-visited museums!
The Smithsonian Museum boasts an impressive collection of historical items such as Lincoln's Top Hat to more pop culture artifacts such as Julia Childs's kitchen. It even has Dorothy's shoes from the Wizard of Oz!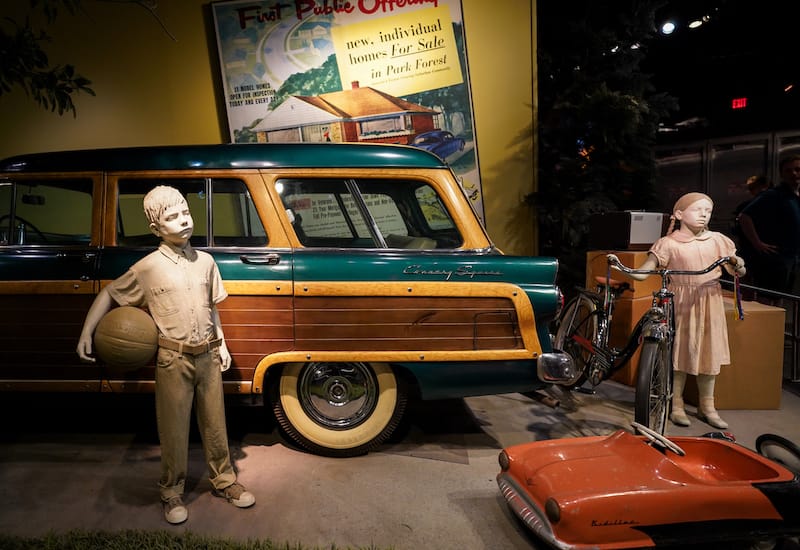 Each of the exhibits has a leading article or display that dictates the theme of that area.
It truly is a beautiful place to learn about everything that has shaped the America of today and was also one of the first museums I ever visited in DC as a kid.
Address: 1300 Constitution Ave. NW, Washington, DC 20560
13. Stop by the Lincoln Memorial
One of the most iconic sights in Washington DC is the Lincoln Memorial, a monument that honors one of America's most beloved Presidents.
The site is historically significant as it has played host to many important events, such as the Martin Luther King, Jr. "I Have A Dream" Speech.
There are several curiosities about the statue; it is believed the sculptor may have purposely made the hands spell A and L in sign language.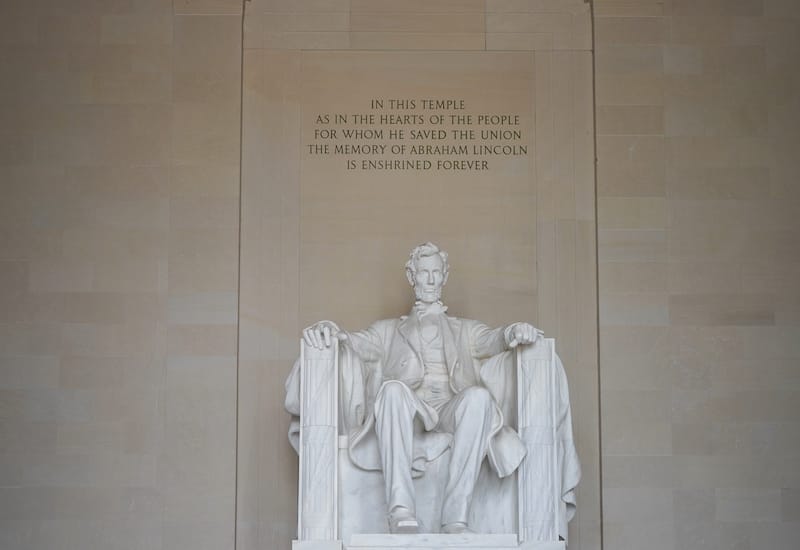 There was also a spelling mistake made during the Second Inaugural Speech carving when an E was mistakenly carved instead of an F, although it was since covered up.
The Lincoln Memorial is located on the National Mall's western side is open 24 hours a day and is one of the city's most popular tourist sites.
It is especially beautiful during spring in Washington DC as the nearby area is teeming with cherry blossoms!
Address: 2 Lincoln Memorial Cir NW, Washington, DC 20002
14. Visit One of DC's Best Craft Breweries
Washington DC has a fantastic craft beer scene (the entire DMV area does!) and one of the best ways to enjoy your trip is to head to a few of the best breweries in the city!
I have a few favorites in the city and one is Aslin Beer Company, a Northern Virginia brewery that has been recently expanding (to VA Beach, Pittsburgh, and DC).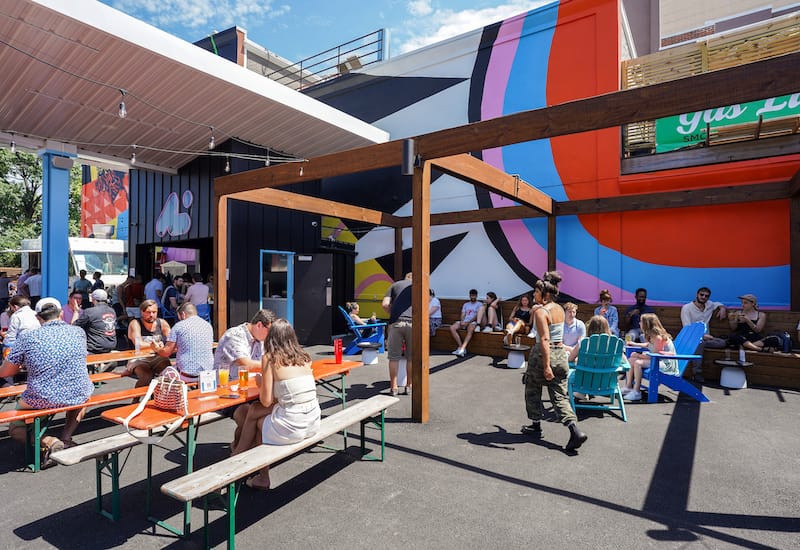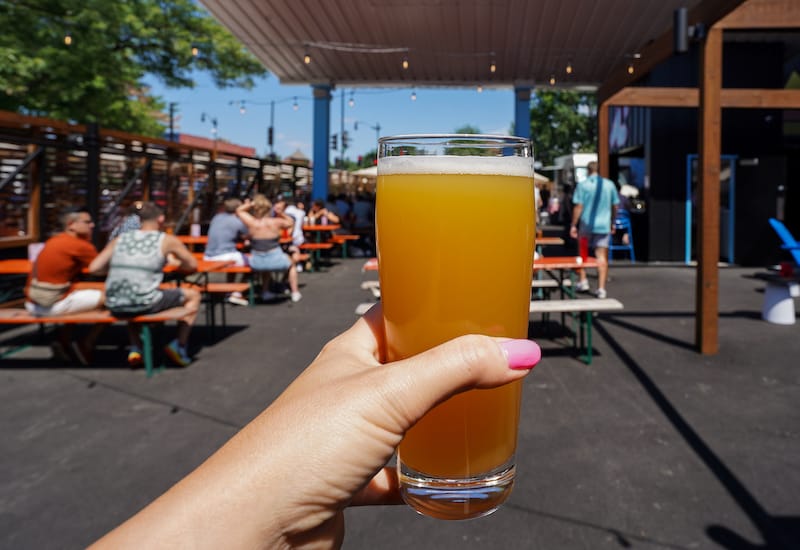 You can visit Aslin Beer Company's location in Logan Circle where you'll find a 211-seat indoor/outdoor beer garden. They have 21 beers on draft and it seriously was one of the most chilled-out places I visited on my last trip.
And, they have a coffee bar that serves up pour-overs, espresso-based beverages, and more.
Address: 1740 14th St NW, Washington, DC 20009.
15. Spend the Morning at the National Museum of Natural History
The National Museum of Natural History is one of the most popular national history museums in the world (and one of the most-visited!). It is actually the United States' most-visited museum with over 3.9 million visitors in 2022.
With over 140 million items in its collection, the museum does a fantastic job cataloging the Earth's history, from dinosaurs to the emergence of humans and more modern mammals and creatures.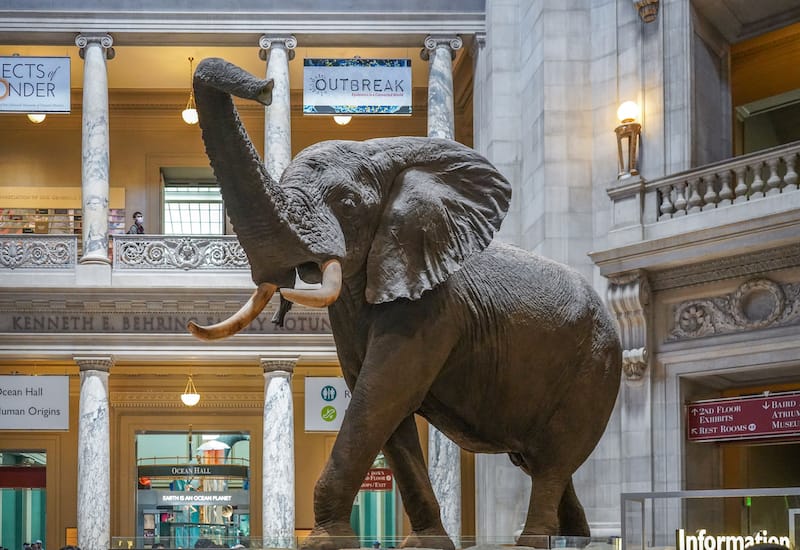 As our understanding and knowledge of the world change, so does the museum. Researchers work around the world to paint the most precise picture of how the world came to be.
The museum is free to enter, but due to its popularity, expect large crowds on most days!
Address: 10th St. & Constitution Ave. NW, Washington, DC 20560
16. Spend a Rainy Day at the Escape Game Georgetown
In Georgetown, you will find a unique experience that is great for downtime or if you're looking for something to do on a rainy day (I love escape rooms regardless)! Head to The Escape Game in Georgetown!
This Washington DC escape room has several different rooms to escape from and many different games!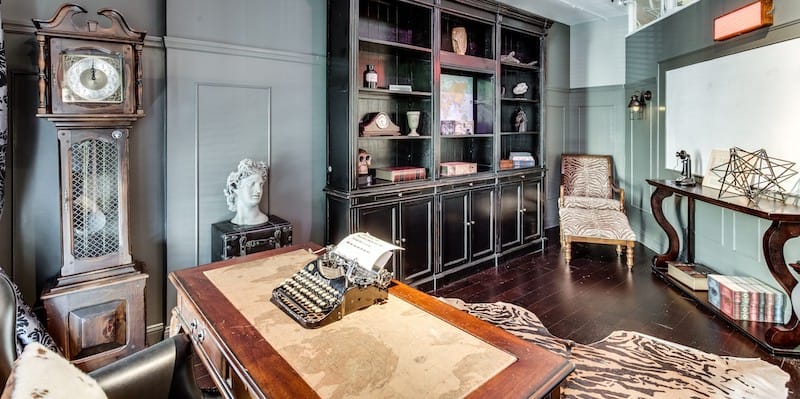 If you're looking for one that is an hour long, you can try your hands at Dr. Whack's Elixir of Life, a 60-minute game where you will need to retrieve the secret to eternal life or you can play What's in the Woods – The Cabin where you will have 45 minutes to break into the cabin and lock yourself in before it becomes too late!
Escape rooms are an awesome end to the monotony of museums, in my opinion, and are a great thing to do on a rainy day in Washington DC!
Address: 3345 M St NW, Washington, DC 20007
17. Admire the Washington Monument
In the center of the National Mall is the Washington Monument, the world's tallest obelisk!
Dedicated to the memory of the first President, George Washington, the impressive stone structure was the tallest building in the world before being overtaken by the Eiffel Tower.
Visitors can visit the top of the monument via an elevator, where you will be able to spend ten minutes enjoying the observation deck. It is best to book tickets in advance; the lines are often unreasonably long.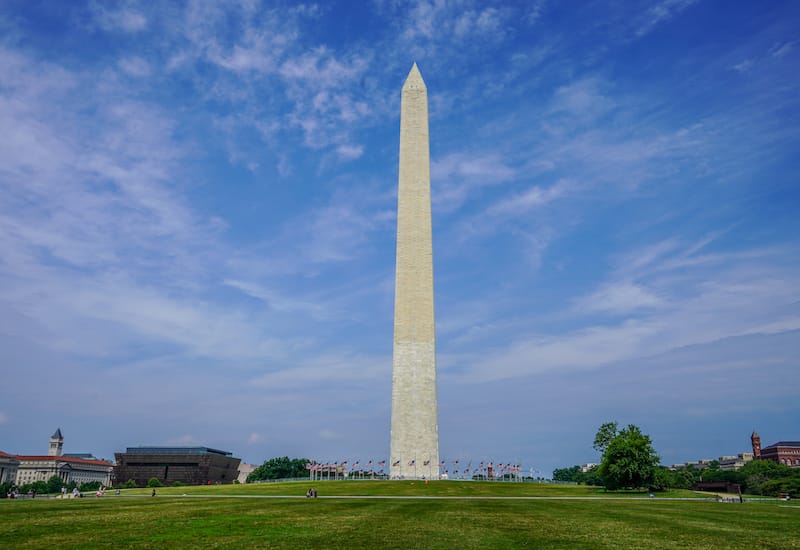 Curiously hidden under a manhole cover close to the monument is a 12-foot replica of the monument used for mapping purposes. If you sweet talk a ranger, they may be willing to show it to you.
Address: 2 15th St NW, Washington, DC 20024
18. Have Lunch at Chicken + Whiskey
While I love a sit-down meal, sometimes I love nothing more than unpretentious food that is hearty, messy, and quick.
Chicken + Whiskey fits this so well and the Peruvian chicken joint was a pleasant surprise in Logan Circle (although they have multiple locations).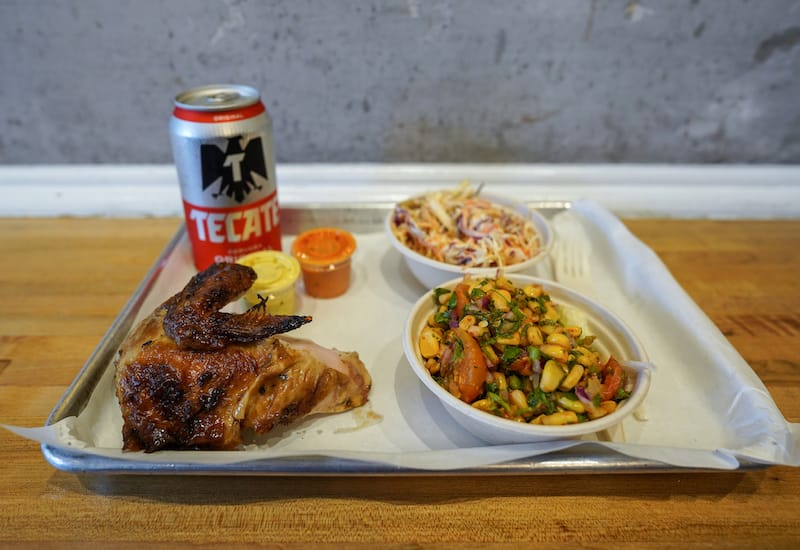 The chicken joint opened in 2017 and wanted chicken that was affordable and tasty and they decided to open up a whiskey bar there just for fun, as well.
They brine the chicken for 12 hours and slow roast over natural wood charcoal, giving the flavors time to enhance before getting devoured!
This DC restaurant has extended weekend hours and you can search their website to find a location near you.
19. Get Your Research On in the National Archives
The National Archives holds some of the most important documents in American and world history (and is far more interesting than its name suggests).
The archives contain the Declaration of Independence, the Constitution, the Magna Carta, and numerous other priceless documents.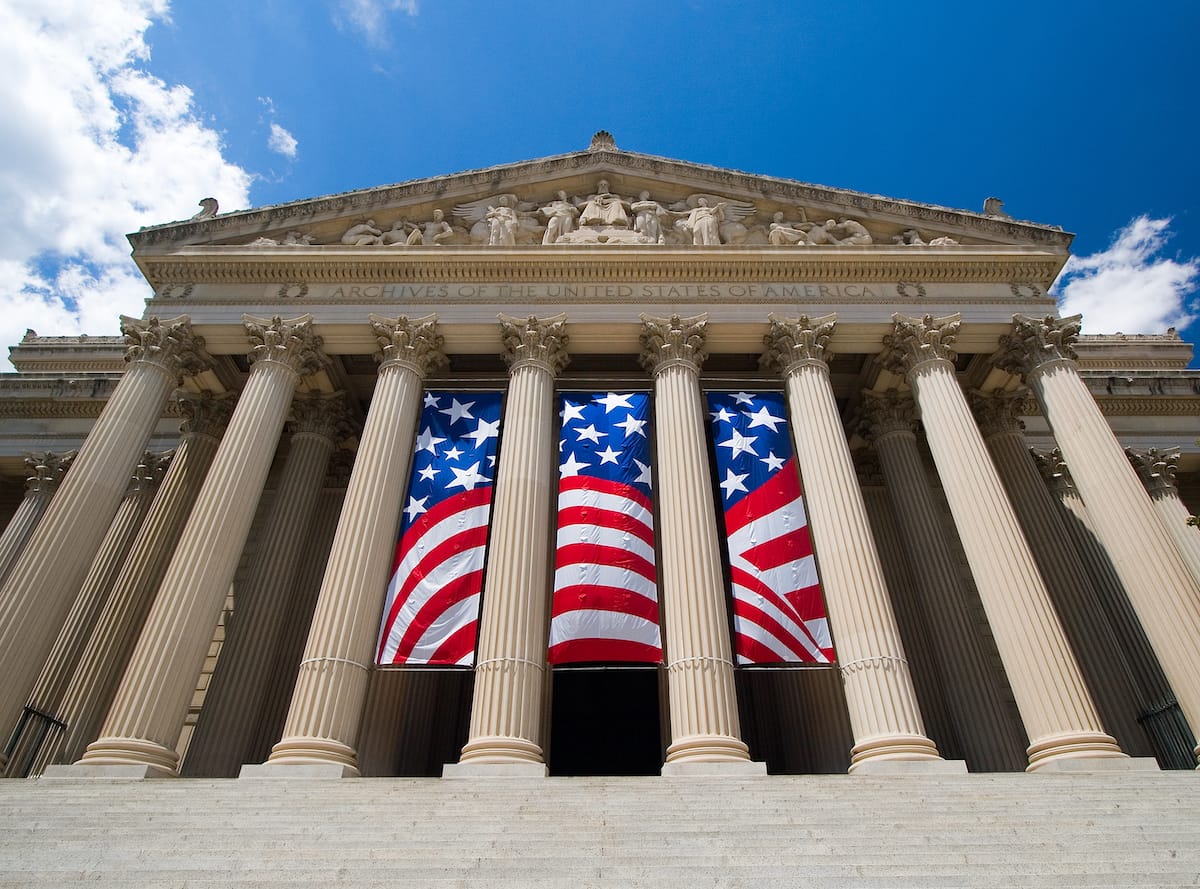 The center was built due to the need for a safe space to store documents after many of the papers in America's formative years were lost in fires or among other paperwork.
Reservations are not needed to visit the archives but are recommended to avoid disappointment.
Address: 700 Pennsylvania Avenue NW, Washington, DC 20408
20. Play Mini Golf at Swingers (Ages 21+ Only)
Exploring museums and historical sights can get a bit tiring after a while and you will need something laid-back and fun to enjoy!
Enter Swingers Crazy Golf! This is a new mini-golf place in Washington DC and is part of the successful entertainment venues throughout the UK that finally crossed the Pond and opened in the US.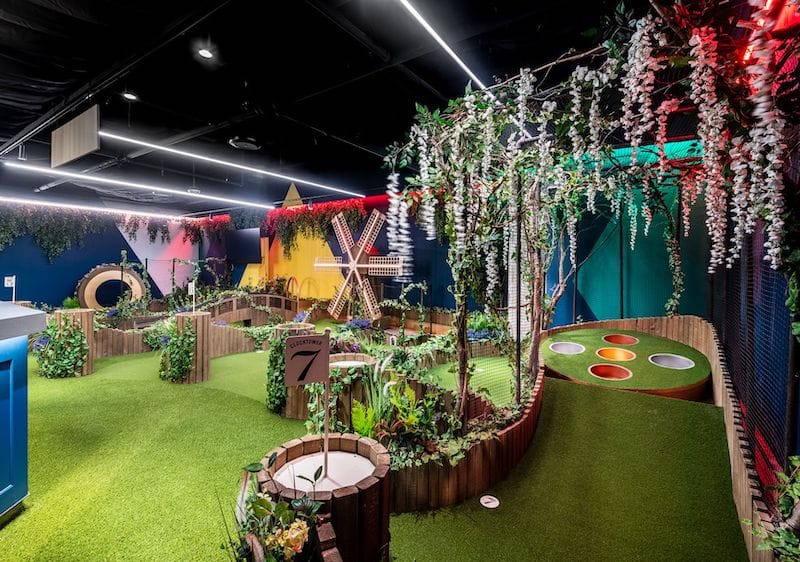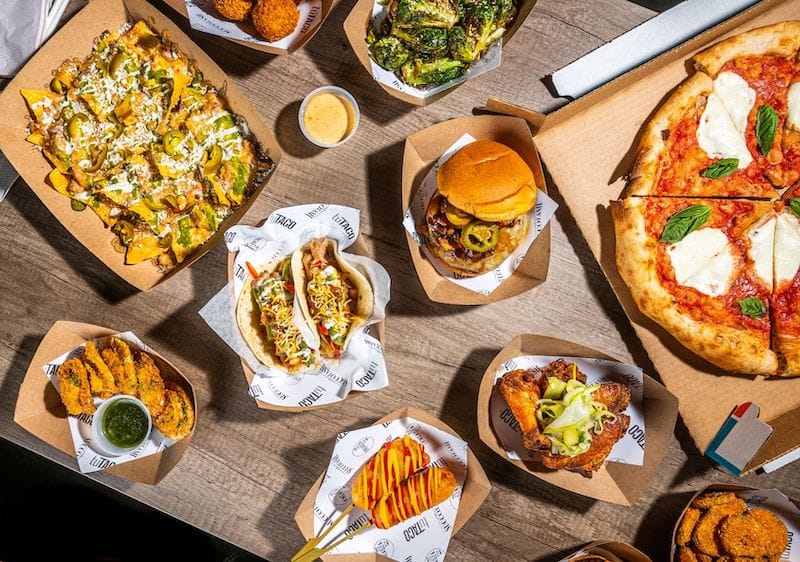 Located in Dupont Circle, Swingers combines cocktails and gourmet street food with live DJs and 'crazy golf' (the British term for mini-golf).
At Swingers Crazy Golf in Dupont Circle, you will get a chance to enjoy some super delicious (and international) street food from vendors like Kneada Pizza, Mah-ze-Dahr Bakery, Taco, and Lil Succotash.
This is one of the best things to do in Washington DC for adults who are looking for an activity that is not a tour or museum!
Check the website for Swingers Crazy Golf Washington for more information (and to book a tee time)!
21. Take a Morning Trip to the Arlington National Cemetery
The Arlington National Cemetery is a cemetery dedicated to those who have served in the Armed Forces. Since the Civil War, the cemetery has been in use and is the final resting place of many soldiers who lost their lives fighting for the country.
There are also other notable non-military burials within the cemetery, such as John F. Kennedy and Jackie Kennedy Onassis.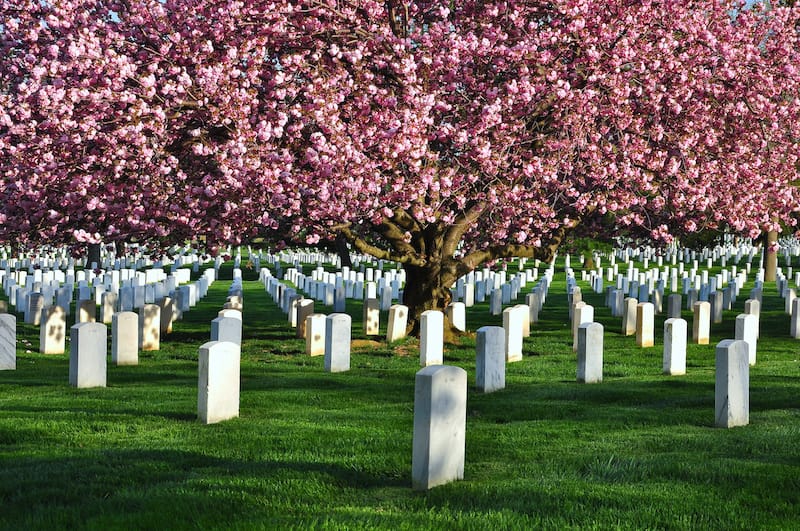 One of the most famous tombs is that of the Unknown Soldier, dedicated to those that died during wars and could not be identified.
The cemetery costs $19.5 to enter, although there are concessionary rates for military personnel. There are many things to do in Arlington, VA and this is a can't-miss landmark in the city!
22. Visit the War Memorials in Washington DC
Washington DC is home to many famous landmarks and some of the most-visited are the war memorials around the Tidal Basin and the National Mall.
The World World II Memorial is dedicated to those who served in the Armed Forces during WWII.
This memorial is located on the National Mall and has 56 pillars, each representing a US state or territory… as well as two triumphal arches for the theaters of the Pacific and the Atlantic.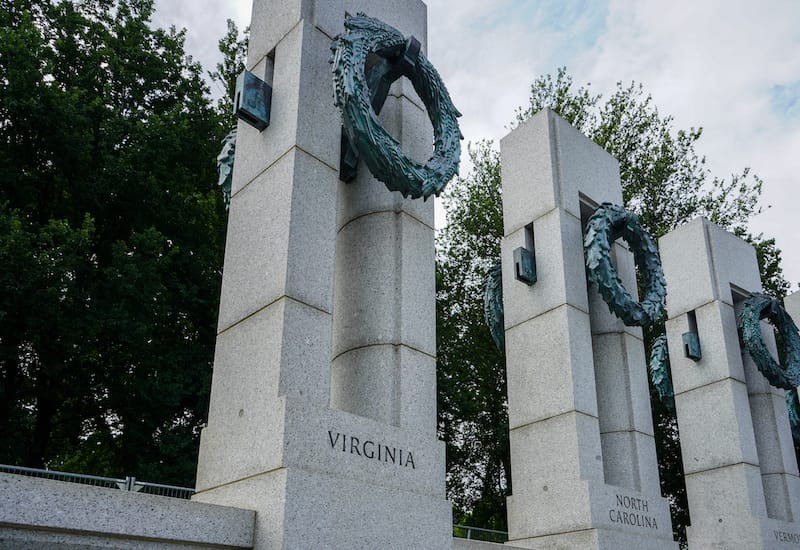 There is also a large fountain at the memorial. You can find it at 1750 Independence Ave SW, Washington, DC 20024.
The Korean War Veterans Memorial is located in DC's West Potomac Park just southeast of the Lincoln Memorial.
The war memorial was dedicated in 1995 and has 19 statues that are of US military personnel in action. You can find it at 900 Ohio Dr. SW, Washington, DC 20024.
Another popular memorial in Washington DC is the Vietnam Veterans Memorial. This is easily the most visited memorial on the National Mall, receiving over 5 million visitors annually.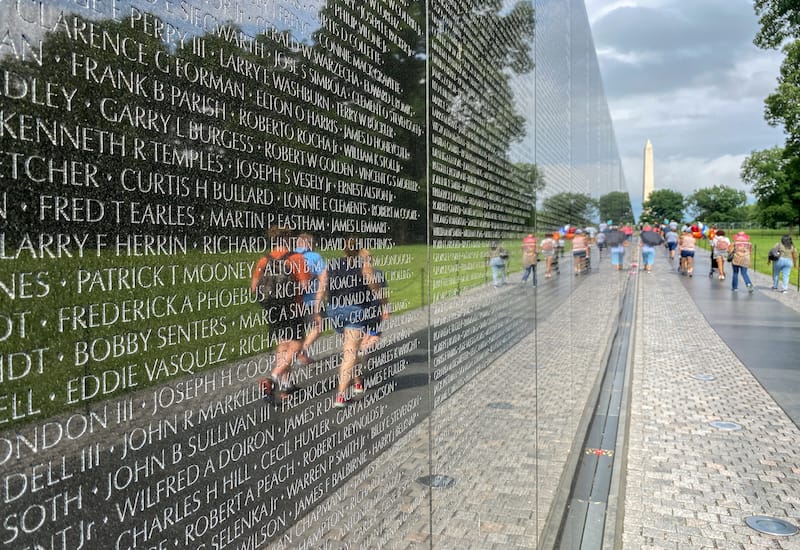 The 2-acre site pays tribute to 58,320 soldiers who lost their lives in the controversial war. You can find it at 5 Henry Bacon Dr. NW, Washington, DC 20002.
23. Stop at Ben's Chili Bowl (& Murals!)
Ben's Chili Bowl has been a staple in Washington DC for over 60 years and is a fantastic place to check out if you're looking for what to do in Washington DC.
It is located on U Street, which was historically known as "Black Broadway," because it was the entertainment center for African Americans during the time of segregation.
And although the city was segregated, Ben's Chilli Bowl lived by the ideology of inclusivity. Everyone was welcome to eat and enjoy their incredible food, such as the famous half-smoked sausage.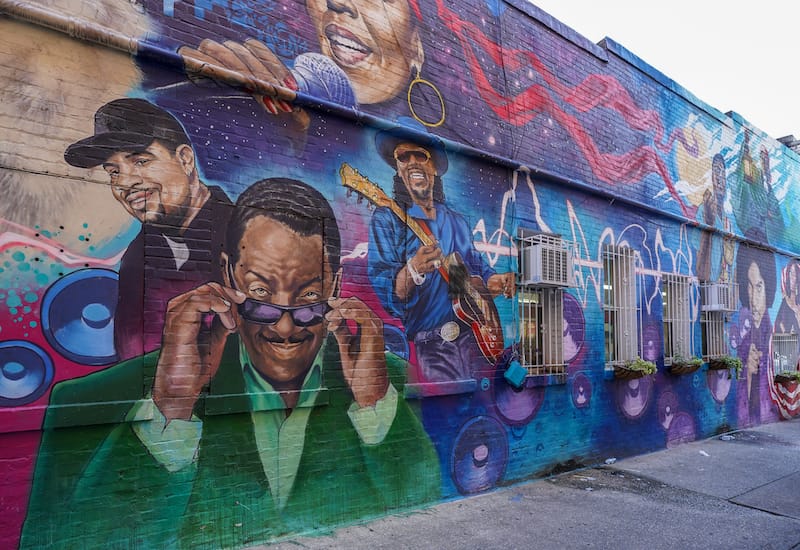 The restaurant is so renowned that ten days before his inauguration, Barack Obama ate there.
I will admit, I have never eaten there so I can not attest to the taste of the food – but, I have been there to check out the murals on the side of the building and this is reason enough to make the journey out there!
Either way, definitely head out to Ben's to grab lunch and a few photographs of the (somewhat ever-changing!) murals!
Address: 1213 U St NW, Washington, DC 20009
24. Head to the Washington National Cathedral
The Washington National Cathedral is a Protestant Episcopal church that has been the site of many significant ceremonies, such as state funerals, Presidential prayers, and remembrance services.
The church was also where Martin Luther King, Jr. gave his last sermon in the Cathedral days before his assassination and it is a mix of classic architectural styles, although predominantly classed as Neo-Gothic.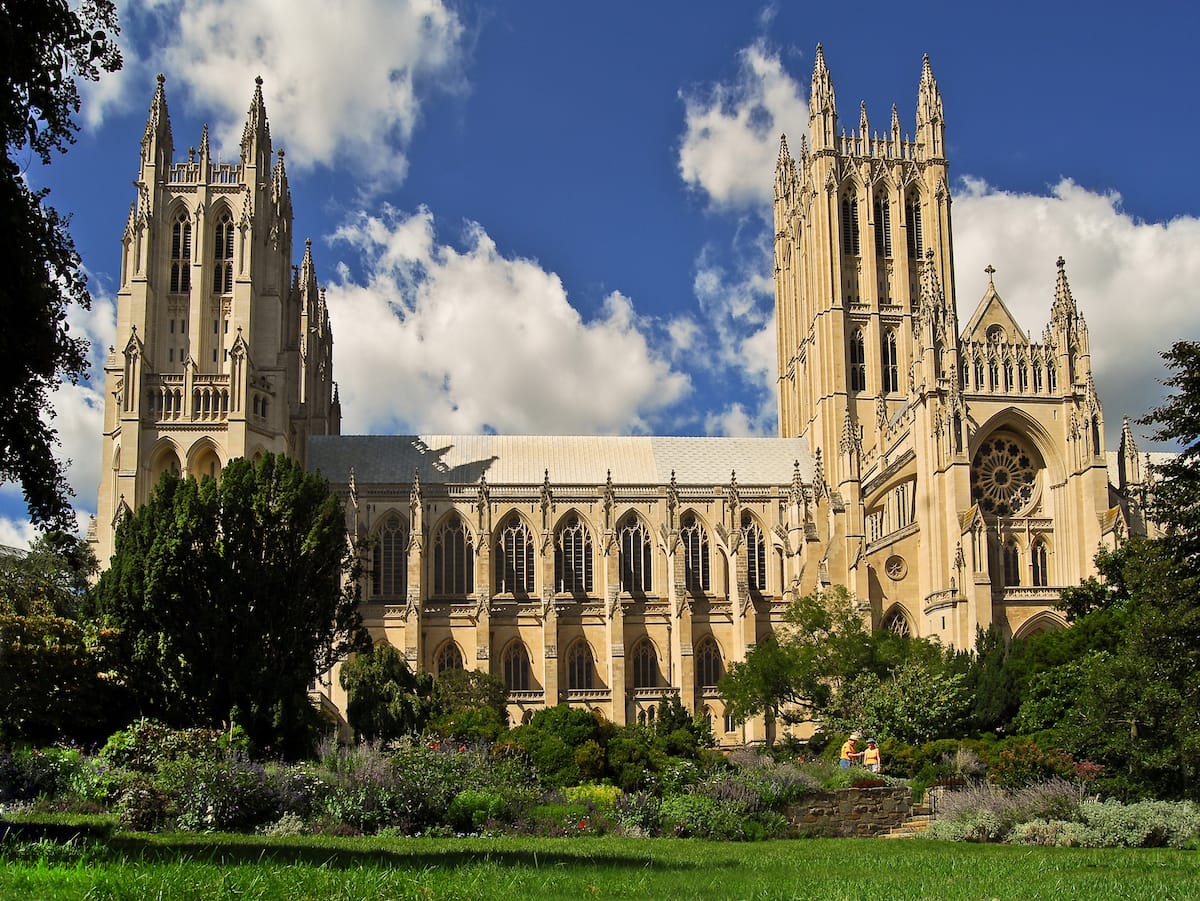 There are gargoyles and grotesques on the church's exterior- two of which were designed by competition winners.
Spend time searching the building for one of the competition entries, a grotesque image of Darth Vader's helmet!
Address: 3101 Wisconsin Ave NW, Washington, DC 20016
25. Visit the Infamous Ford's Theatre
One of the most famous theaters in the world is Ford's Theatre, although not for its theatrical performances. The theater was the site of Lincoln's assassination in 1865, one of the most significant events in American history.
Following the assassination, the theater was closed for public enjoyment and turned into offices and a warehouse, quickly falling into disrepair and partially collapsing.
After being repaired, the building continued having offices along with a small museum dedicated to Lincoln. In the 1960s, it was restored to be a theater once again.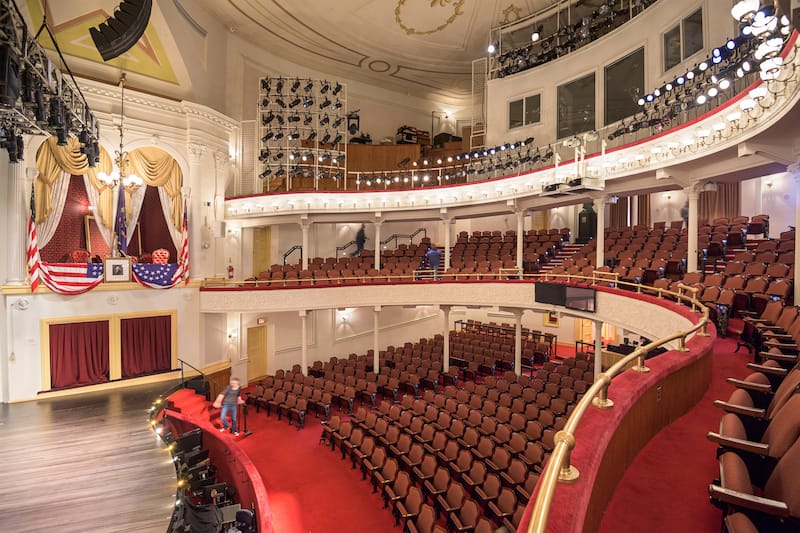 Since reopening, it has continued to put on performances, although the Presidential box always remains empty. Visitors can tour the theater, along with the museum across the street and the Peterson House, where Lincoln eventually died.
The museum not only covers Lincoln but the Civil War and the conspiracy that led to his untimely death.
To visit Ford's Theatre, you will need about 2-3 hours and you will need advance tickets and reservations. You can book them here.
Address: 511 10th St NW, Washington, DC 20004
26. Take a Gastronomic Tour of Georgetown
On this historical and culinary tour of Georgetown, you'll get to indulge your appetite for both food and knowledge!
Discover the 250-year history of Georgetown, from its origins as a blue-collar port city to its present-day status as a fashionable college town, while also stopping to sample some of the best cuisines the neighborhood has to offer.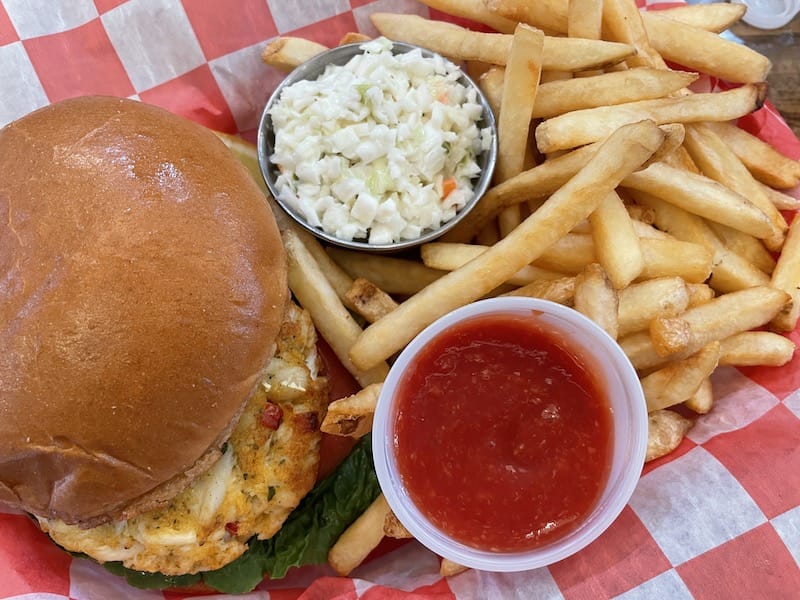 Your taste buds will be treated to a diverse range of flavors, from tacos to Korean tapas to French cuisine paired with wine, with all tastings included in the tour price.
You'll enjoy a walking tour of Georgetown, learning about its rich history and stopping along the way to savor the local fare.
The tour is conducted in small groups to ensure a personalized experience and lasts 3.5 hours.
>> Click here to check tour rates and availability
27. United States Botanic Garden
The National Mall is known for its historical sites and museums, but one of the best sites is actually the United States Botanic Garden.
The botanical garden is the oldest botanical garden in the country and George Washington's brainchild, who wanted the growing nation to be educated on the natural world.
The gardens are home to a fantastic array of plants, including some of the world's rarest plants.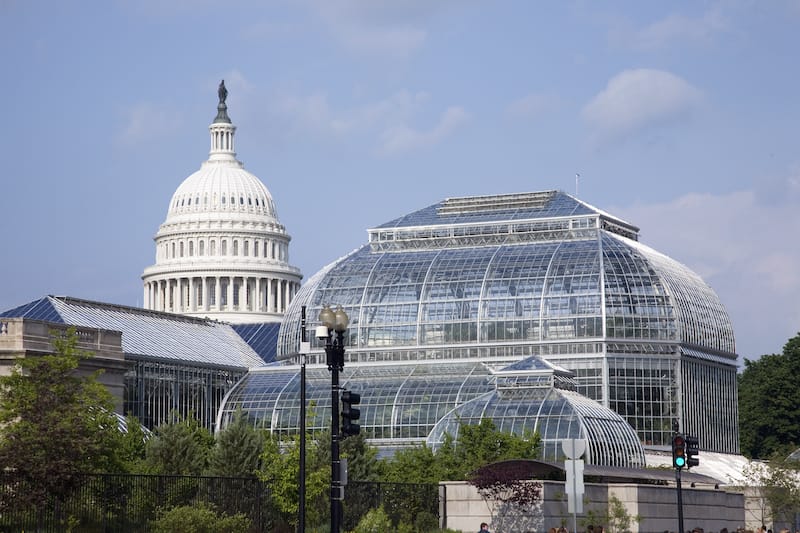 One of the most unusual plants is the Amorphophallus Titanum, known commonly as the corpse flower. The humongous flower blooms every few years, and the flower lasts up to 2 days before collapsing.
However, the flower's most distinguishing feature is the putrid smell it creates, which has been likened to that of a rotting corpse. The gardens are open year-round.
Address: 100 Maryland Ave SW, Washington, DC 20001
28. Indulge in Ethiopian Food in Washington DC
Washington DC has an insanely good Ethiopian food scene and it is one of the best places (outside of Ethiopia, of course) to try it!
Many refugees came to DC in the 1970s and 1980s and the scene flourished in the decades to follow.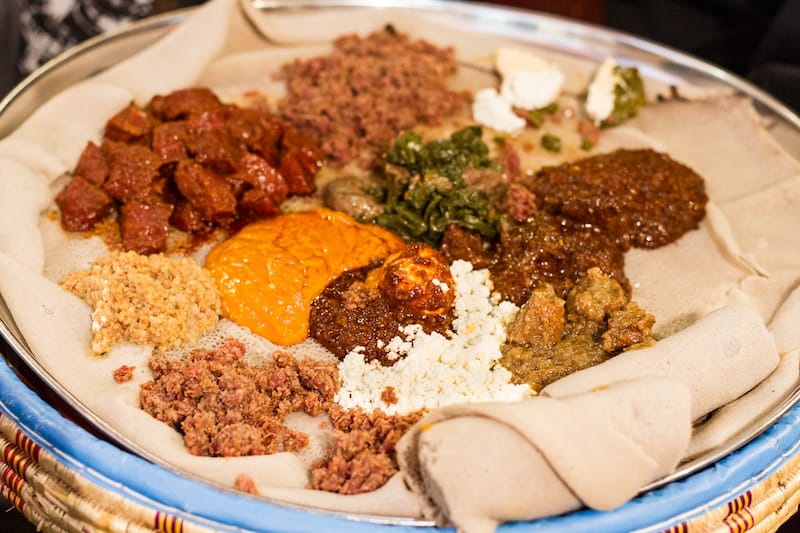 Today, the DC metro area is home to the largest concentration of Ethiopians in the US.
Some of the top Ethiopian restaurants in Washington DC are:
Chercher Ethiopian Restaurant & Mart: 1334 9th St. NW
Ghion Ethiopian Restaurant: 2010 9th St. NW
Family Ethiopian Restaurant: 1414 9th St NW
Elfegne: 2420 18th St NW
29. Spend an Afternoon at the International Spy Museum
Dedicated to everything espionage, the International Spy Museum takes visitors through the history of spying. You will learn about assuming a new identity and the basics behind being a spy at the spy school exhibit through several interactive exhibits.
Learn all about how spying has evolved throughout history from ancient times to the modern digital era.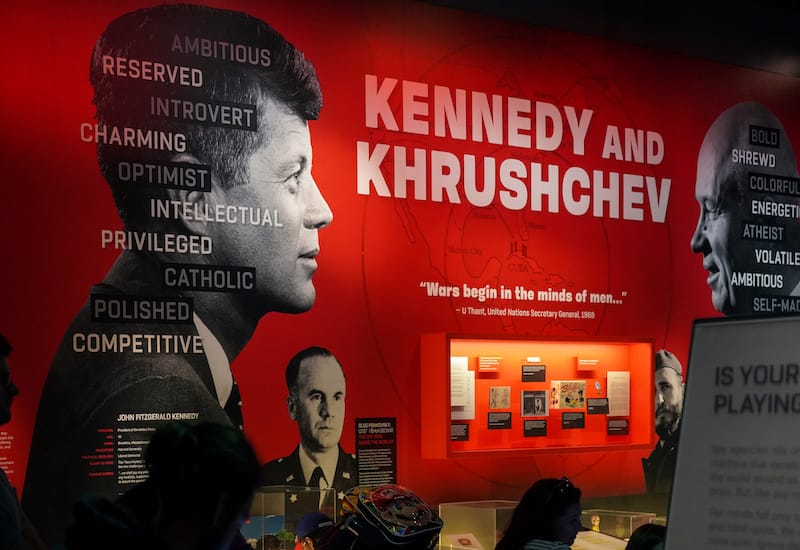 This is seriously one of the most interactive museums I have ever been to (and one of the best things to do in Washington DC for kids).
One of the most famous exhibits is 'the spies among us' one and it takes a look at well-known people who had careers in espionage, such as renowned chef Julia Childs.
Do book your ticket in advance as it can be harder to get a time slot in the summer months!
Address: 700 L'Enfant Plaza SW, Washington, DC 20024
30. Have Dinner at Le Diplomate
After a few drinks at Churchkey Bar, I headed to Le Diplomate for dinner and a drink. The place was crowded on a late afternoon and the bread was absolutely out of this world!
So, I think that if you're in Logan Circle, this is a definite place to enjoy dinner if you enjoy French fare.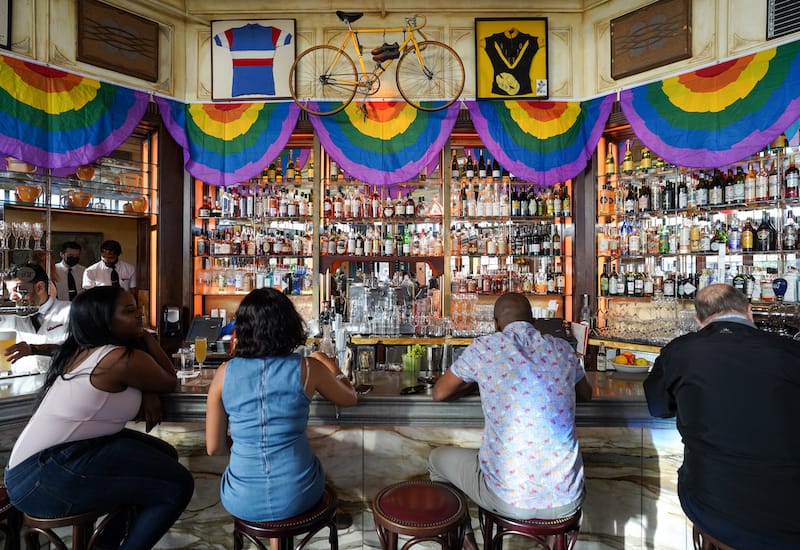 You will find indoor and outdoor seating at Le Diplomate – including dinner, lunch, and brunch menus. Sundays are for Coq au Vin and Wednesdays are for Cassoulet.
This place is sensational and one of my favorite places to eat in DC!
Address: 1601 14th St NW, Washington, DC 20009
31. Visit the Jefferson Memorial (in Spring!)
Well, the Jefferson Memorial is a must-visit landmark in Washington DC no matter what time of the year you are there, but it is especially beautiful in spring when the cherry blossoms are at their peak!
Located in West Potomac Park just south of the National Mall, the circular building pays homage to Jefferson's favorite architectural style and can be seen in buildings he designed, like the Rotunda at the University of Virginia in Charlottesville.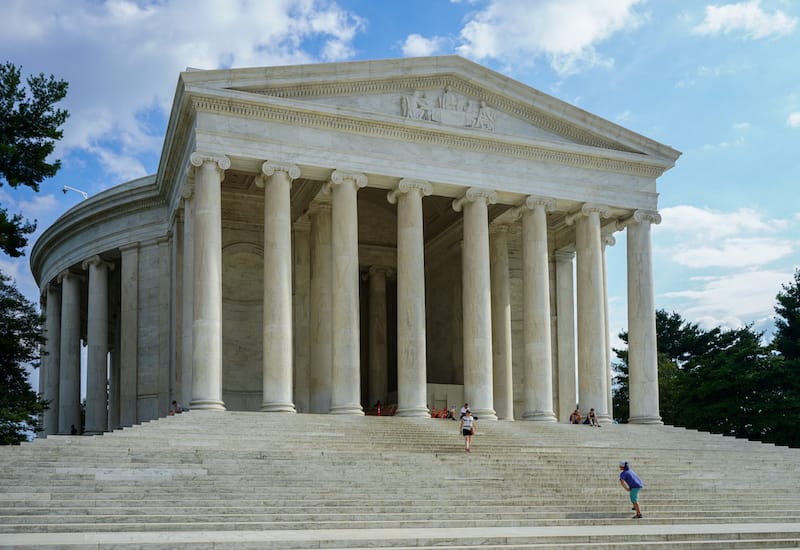 This iconic site is such a beautiful place any time of the year and is a great stop when walking along the Tidal Basin.
Address: 16 E Basin Dr. SW, Washington, DC 20242
32. Take a Trip to Armenia at Yerevan DC
Aram (one half of this blog!) is from Armenia and you can taste a little bit of his homeland at Yerevan DC!
Yerevan DC serves several Armenian dishes but also incorporates an Armenian flair on dishes that are typical to the DC region!
On the menu, you will find Lahmajo (one of my favorites!) and Zhingalov hats, a typical flatbread stuff with green herbs from Artsakh and Syunik.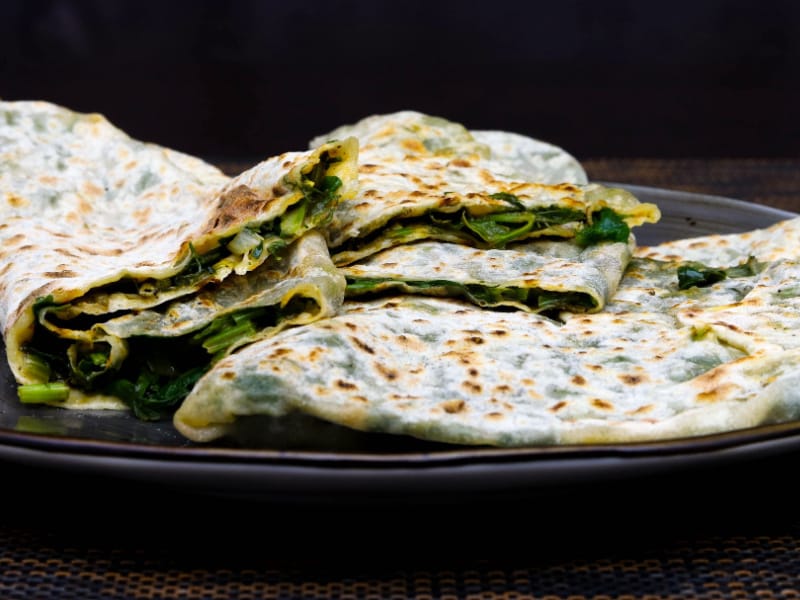 They also have homemade dolma and cheese/charcuterie boards with Armenian deliciousness like Lori tarragon cheese, basturma, dried fruit, and more!
Whatever you decide to order, be sure to grab a slice of honey cake to finish things off – this is my favorite Armenian dessert.
Address: 2204 18th St NW, Washington, DC 20009
33. Enjoy a Stroll on Theodore Roosevelt Island
In the middle of the Potomac River, you will find Theodore Roosevelt Island. The small island is managed by the National Park Service and has several trails running throughout it.
The island itself is natural, but the landscapes are man-made as much of the original forests were removed by European settlers.
Roosevelt was a natural-born explorer and went on many safaris, so the island seems appropriately named as this is a great place in DC to take to the trails!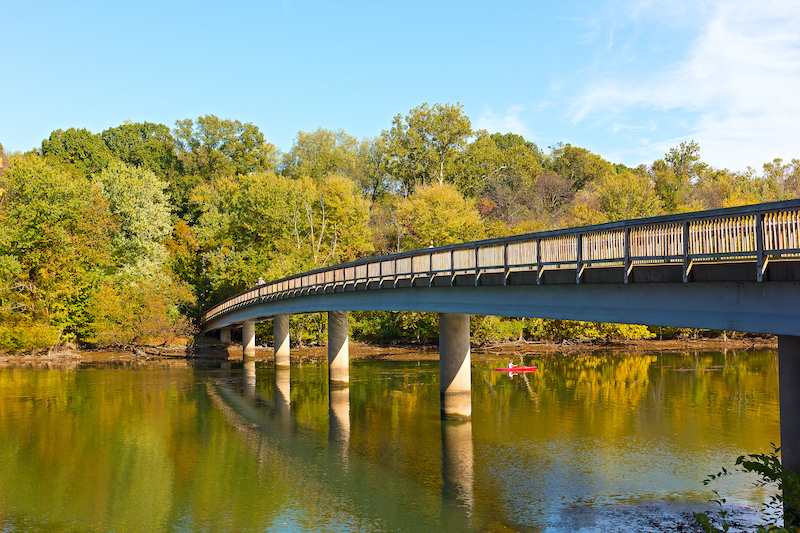 Roosevelt Island has three distinct terrains, swamp, forest, and uplands, to represent his love of adventure.
Each area has been designed to look as natural as possible and has designated hiking trails through them.
The park is open all year and can be reached by foot from Arlington. There are no cars or transport options other than foot traffic.
Where to Stay in Washington DC
If you're looking for a place to crash while you're visiting Washington DC, here are some of our top hotel picks:
Did we miss any of the best things to do in Washington DC? Let us know your favorite places in DC in the comments!
More Washington DC Travel Guides
Pin this Things to Do in DC Guide