There is no denying that visiting Washington DC in spring is at the top of many bucket lists. The Washington DC Cherry Blossom Festival is internationally known and worth a visit at least once!
Are you planning your trip to DC at the last minute?
Are you planning your trip to Washington DC at the last minute? Check out these top-rated tours and hotels!
🇺🇸 Top Tours & Activities in Washington DC:
🛌 Best hotels in Washington DC:
🚗 Looking for the best way to get around DC? Click here to check rental car rates for Washington DC!
This guide details why you should visit Washington DC in spring – and trust me, there is more going on than just the cherry blossoms! This post will list things to do in DC in spring, reasons to visit, where to stay, and more.
If you have spent spring in Washington DC, please leave a comment with your own tips below. Thanks!
What to Expect in Washington DC in Spring
We assume that if you've landed on this guide, you are interested in viewing the famous cherry blossoms in Washington DC. And rightfully so! The festival and display are truly out of this world and it makes Washington DC unique in spring!
However, there are so many things to do in Washington DC beyond just that!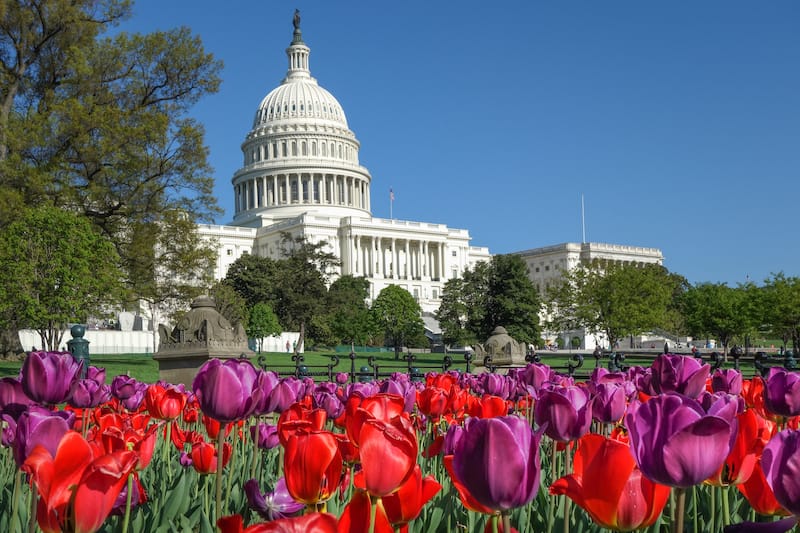 The US capital city has some of the best museums in the world and many of them are free to visitors.
The weather can be a bit unpredictable during spring, just like most of the Mid-Atlantic, but the option to take refuge from the rain inside of a museum without a fee is definitely a win!
Because the cherry blossoms attract visitors from all over the world, you will notice several other festivals and happenings taking place during spring in DC.
In addition, baseball season is back after a long winter and is a popular thing to do in the city.
Washington DC Spring Weather
As mentioned above, the weather in Washington DC is unpredictable during spring. Below are the average temperatures and days with rain for March, April, and May.
Washington DC in March: Highs of 56F / 13C ; Lows of 35F / 2C ; 7 rainy days
Washington DC in April: Highs of 67F / 19C ; Lows of 44F / 7C ; 8 rainy days
Washington DC in May: Highs of 76F / 12C ; Lows of 54F / 2C ; 9 rainy days
One thing to make mention is that allergies are horrendous for some in Washington DC during spring. It is pollen season, so if you suffer from seasonal allergies, be prepared!
Best Things to Do in Washington DC in Spring
This next part contains reasons to visit and things to do in Washington DC in spring. Of course, this is not conclusive and you can find hundreds of amazing things to do during spring in DC! But, this is a first-timer's list to get started with.
1. Annual Cherry Blossom Festival
This festival is one of the most famous events that Washington DC prides itself on. It is truly magical to witness nature's awakening and admire the amazingly beautiful blossoming of the cherry trees.
It takes place from the end of March until the beginning (mid) of April.
In 2023, the Cherry Blossom Festival takes place from March 20 – April 16. Click here for more info.
Of course, there is no exact date for the blossoming of the trees. It varies from year to year so keep checking things out on the web!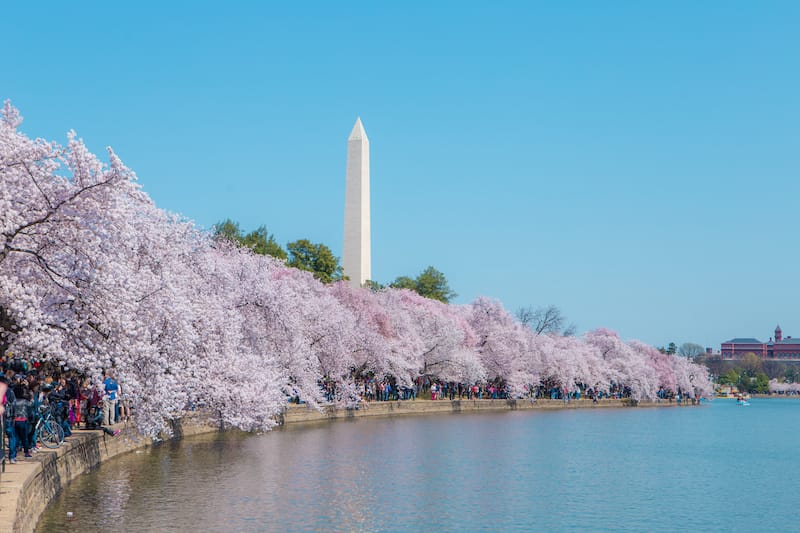 It's essential to be there on the right date to experience the most from this famous event, so don't hesitate to check The National Park Service's prediction for the official peak bloom.
Another question that most of the visitors have prior to their visit is where exactly to go to see the blossoming trees.
The most renowned place is at the Tidal Basin, providing excellent photo spots near the Jefferson Memorial, the Martin Luther King, Jr. Memorial, and Franklin Delano Roosevelt Memorial.
Read more: Things to do in Alexandria, VA
Some lesser-known locations for blossoms are (but that are still quite popular) the area around the National Mall, the Washington Monument, the shoreline of East Potomac Park, northwest of the Lincoln Memorial, etc.
Also, keep in mind that almost every hour of the day is perfect for visiting the cherry blossoms. During the festival, the least busy and probably the best time to visit is in the evening or the early morning.
Just like anywhere else, you should expect larger crowds on weekends and at the time the peak bloom.
The festival holds a lot of free events for visitors to take part in. One of those free events is the annual Blossom Kite Festival (April 1), which sees hundreds of kites take to the sky on the National Mall.
The other one is the Petalpalooza (April 8) and the National Cherry Blossom Festival Parade (April 15). These are updated for 2023.
2. Visit the National Botanic Garden
Despite there being many national monuments in Washington DC, there is also the United States Botanic Garden, a botanical garden that is a fantastic place to put on your Washington DC bucket list.
The popular DC attraction has over a million guests yearly and has endless reasons that make the location worthwhile to visit.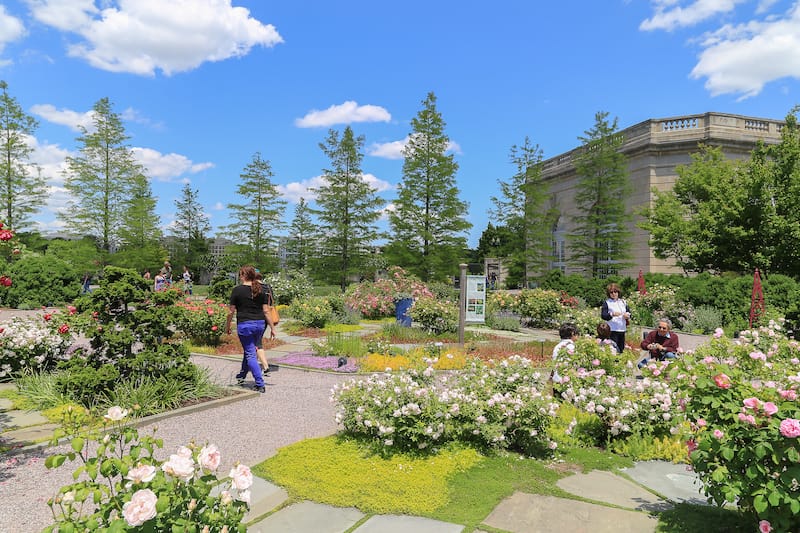 First of all, it's free and accessible every day of the year from 10 am to 5 pm. It is known for being the oldest botanical garden in the US that has been in continual operation.
One of the garden's treasures is the "Conservatory," an area that encompasses 28,944 square feet. It's a greenhouse with 2 courtyard gardens and 10 garden rooms.
3. Attend Passport DC
A month-long festival named Passport DC is yet another interesting event/festival to attend when you're visiting Washington DC in spring. It takes place during the month of May. The first two Saturdays of the festival are entirely devoted to embassy open houses.
There are more than 50 foreign embassies on the Around the World Embassy Tour available for visits. To see the updates regarding the participating embassies, follow to get an announcement from Cultural Tourism DC.
During this festival, you're also given a chance to visit the EU Open House (around early/mid-May). Visitation to both of these Passport DC's embassy open house experiences are completely free.
4. Explore Georgetown
Even though Georgetown's known mostly for its beautiful architecture, shopping, and food, it's definitely worth a visit.
This oldest neighborhood of Washington DC has an abundance of scenic views, high-class eateries, and some unique events taking place year-round.
One of the best things to do in Georgetown during spring is to walk along the Potomac River waterfront.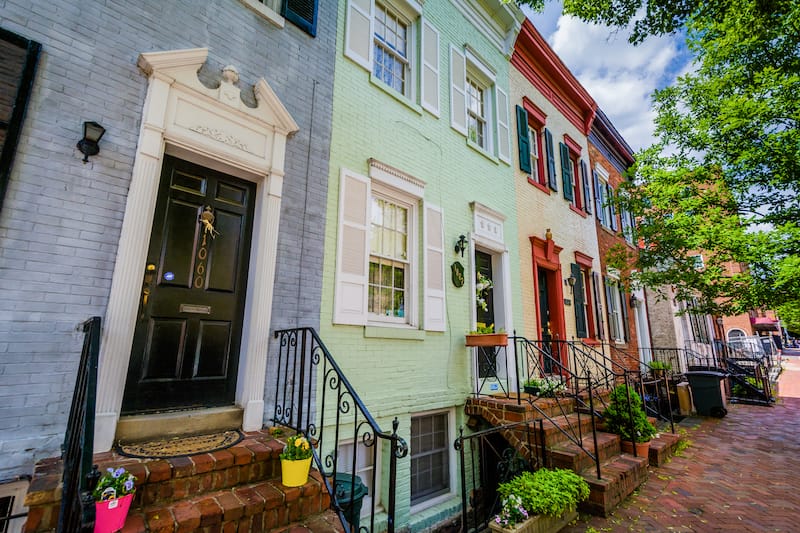 You will be able to take your morning routine and workout back outside instead of in the gym, and you can also go standup paddleboarding at the Key Bridge Boathouse where you can soak in the DC and Virginia skyline panoramas.
5. Attend a Baseball Game
If you're a sports fan or just enjoy something different, attending a Washington Nationals baseball game is one of the things you can do to occupy your time in DC.
The Washington Nationals have a great history and are a very important part of the DC sports culture these days. The season starts in March and typically ends in September.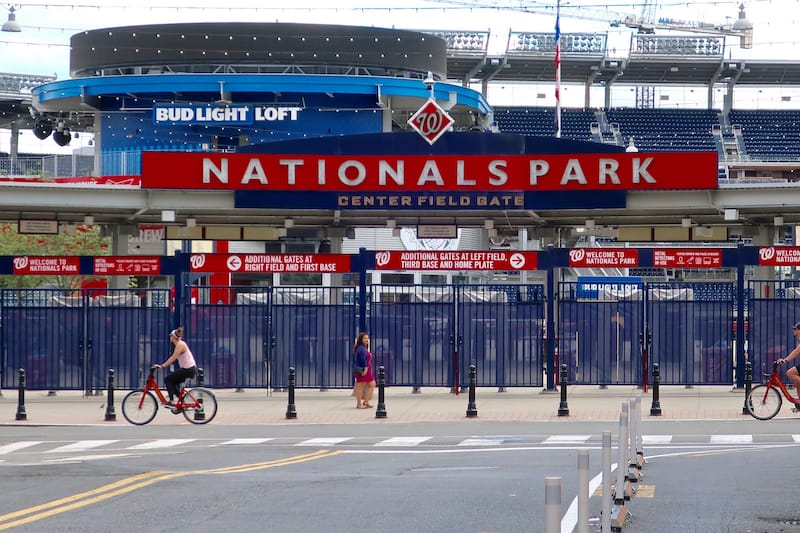 If you want to watch the game, make sure to save the big date beforehand. To get yourself a ticket, be sure to check out the MLB website.
6. Visit the Smithsonian Museums
One of the most famous places to visit in Washington DC are the Smithsonian Museums. There are 19 Smithsonian Museums available to visit (not all are in DC, however) and the best part is that they are all free.
Two can't-miss museums are the National Museum of African American History and the Culture and the National Museum of African Art, which is the only one in the United States to be dedicated exclusively to the exhibition, collection, and study of African art. Many famous pieces from the continent are exhibited in the museum.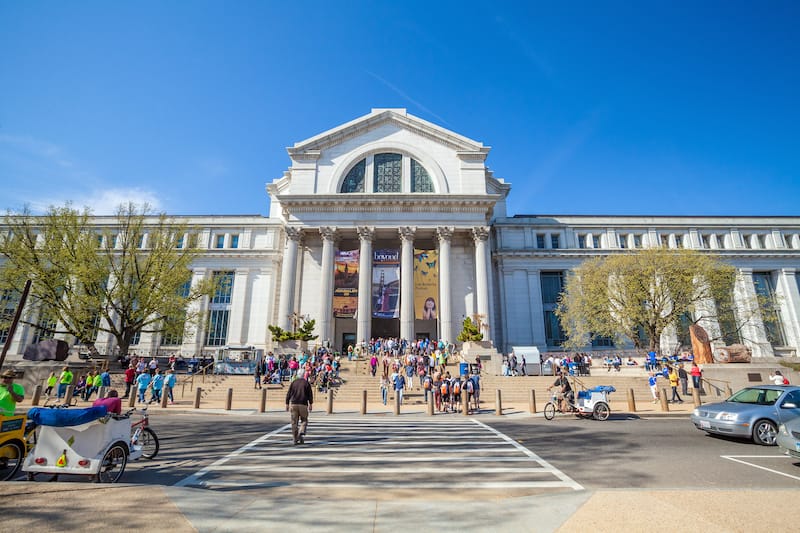 Another location worth paying a visit to is the National Air and Space Museum Steven F. Udvar-Hazy Center. It's located near Washington Dulles International Airport in Chantilly, Virginia.
Read more: Things to do in Arlington, VA
It features numerous historically significant space and air crafts, also a few thousands of small artifacts, which are exhibited in a hangar-like, open setting. Other popular features of the Center are the Airbus IMAX Theater, the Mary Baker Engen Restoration Hangar, and Donald D. Engen Observation Tower.
The National Museum of American History is yet another very prominent museum that is definitely worth a visit. The American History Museum's collection maintains more than three million historical objects.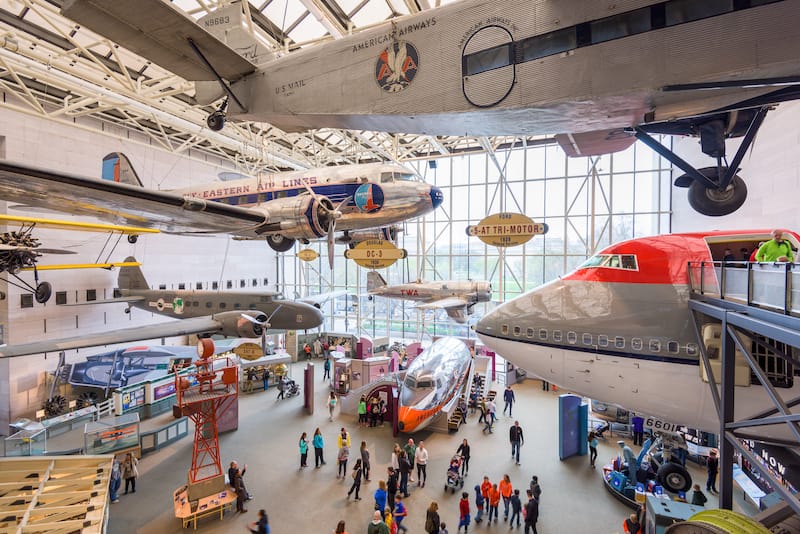 From the scientific, cultural, and social to the technological, and political development of the United States, this museum exhibits a lot of information, covering from colonial times up until the history of the present.
Check out the Smithsonian's website for more.
7. Walk along the Tidal Basin
We previously mentioned the Tidal Basin when discussing the cherry blossoms, but the DC attraction really does deserve a lot of attention as it is an essential place to visit in Washington DC at any time of the year!
The Tidal Basin is 107 acres and is 10 feet deep.
It was built with the main purpose of harnessing the power of the tides in the Potomac River.
There are some really remarkable sights in Washington that are around the Tidal Basin.
Washington DC landmarks such as the Martin Luther King, Jr. Memorial, the Jefferson Memorial, the FDR Memorial, the George Mason Memorial, the Floral Library, the John Paul Jones Memorial, the Japanese Pagoda, the Japanese Lantern, and the site of the First Cherry Tree Planting are located along this famous place.
All of this can be visited via the Tidal Basin Loop Trail.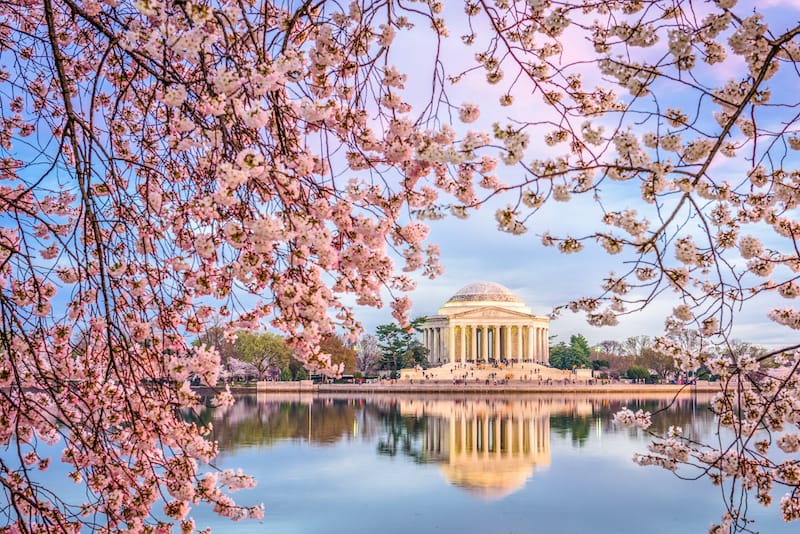 8. Day Trip to Arlington, Virginia
Arlington, Virginia is home to approximately 216,700 people. In addition to being the home of the Pentagon (well, that is nearby in Crystal City), the Marine Corps War Memorial (Iwo Jima), Arlington National Cemetery, and the United States Air Force Memorial, Arlington has also recently been recognized as the "Best City to Live in America."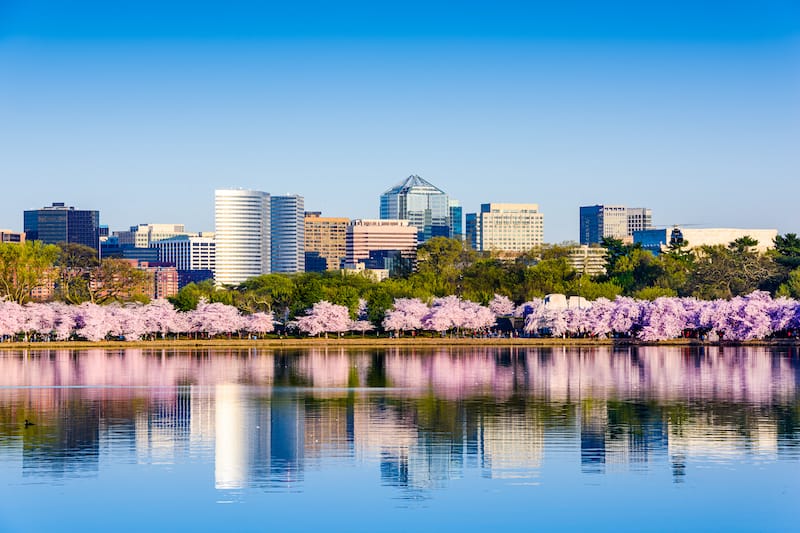 Overall, there are indeed many fun and interesting places to visit in Arlington. It is truly one of the best Washington DC day trips.
Some of the things to do in the Northern Virginia city include attending a show at the Signature Theatre, taking a Pentagon Tour, skating at the MedStar Capitals Iceplex, and walking or biking on the Mt. Vernon Trail.
One of the locations that is definitely worth a visit is the Arlington National Cemetery. The Tomb of the Unknown Soldier is a memorial in the cemetery, representing all unnamed soldiers who perished in battle.
It's a very emotional place to go to but it is a must-see sight in the DC area.
There are many things to do in VA in spring and it should definitely be an add-on to your DC itinerary!
Spring in Washington DC Packing List
Washington DC is temperamental during spring. Particularly during April. Therefore, I recommend dressing in layers to ensure that you're taken care of no matter what the weather happens to be!
Here are some of my top picks for what to wear in Washington DC in spring, as well as a few things to bring with you in your suitcase.
Rain jacket (or an umbrella): It doesn't always rain in Washington DC, but spring is moody and anything can happen, especially during April. There is no point in letting the uncooperative weather ruin your trip. I love this rain jacket from Rains Journal (Denmark). I have it in light blue. Alternatively, you can bring an umbrella instead. I use this exact one from HappySweeds, and ironically, it has cherry blossoms on it!
Waterproof backpack: You will be walking a lot so I do recommend bringing a nice, waterproof backpack for the journey. I love my raingear, and I have this waterproof backpack from Rains Journal (in black). It is great for spring in Washington DC!
Lonely Planet Washington DC: While some people think guidebooks are old news, I certainly don't. And you don't want to spend your entire day glued to your phone! That is why I recommend purchasing a Lonely Planet Washington DC guidebook from Amazon before the trip.
Good walking shoes! Seriously, you will probably walk more than you ever have in your life! Have comfortable, already-broken-in shoes on your feet and you should be good for the day!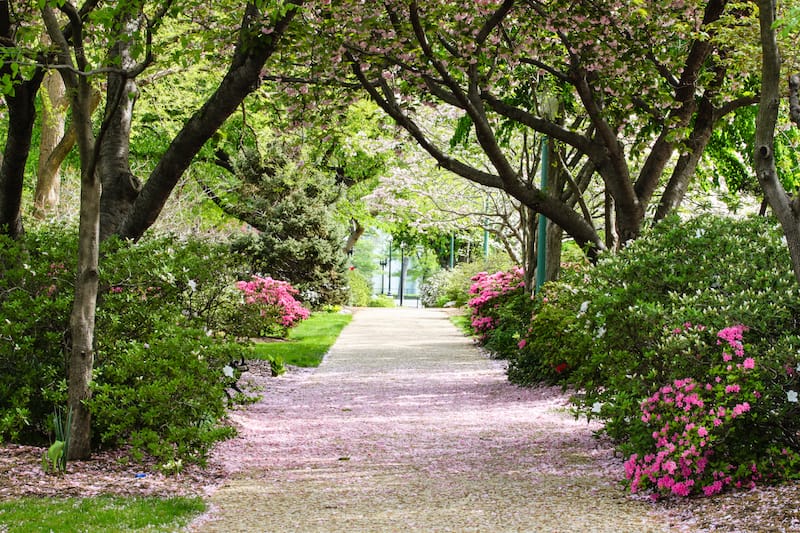 Where to Stay in Washington DC
There are several options for where to stay in Washington DC for those visiting during spring. If you're wanting to save a little bit of money, perhaps opt to stay outside of the city in Maryland or Virginia.
Or, you can stay in the city at a hotel with one of our top picks below! One thing you need to be cautious of is that accommodation books up quickly!
Here are our top picks for Washington DC Hotels:
⇒ Hotel Lombardy (on Pennsylvania Avenue)
⇒ Embassy Suites by Hilton Washington D.C. Georgetown (near Dupont Circle)
⇒ Hilton Washington DC Capitol Hill (near the US Capitol Building)
⇒ Grand Hyatt Washington (close to center and metro)
We hope that this guide helps you plan your trip to Washington DC in spring!
Be sure to book early as the city definitely fills up during the Cherry Blossom Festival! Please let us know if you have any questions. Thanks!
Additional Virginia & Washington DC Travel Guides
Pin This DC in Spring Travel Guide