Are you looking to spend a weekend in Washington DC? This 2 days in Washington DC itinerary has you covered!
Are you planning your trip to DC at the last minute?
Are you planning your trip to Washington DC at the last minute? Check out these top-rated tours and hotels!
🇺🇸 Top Tours & Activities in Washington DC:
🛌 Best hotels in Washington DC:
🚗 Looking for the best way to get around DC? Click here to check rental car rates for Washington DC!
Continue reading for all kinds of tips, including a suggested itinerary, best places to eat in DC, where to stay, and more!
Did we miss anything on this DC itinerary? Let us know your tips for a weekend trip to Washington DC in the comments. Thanks!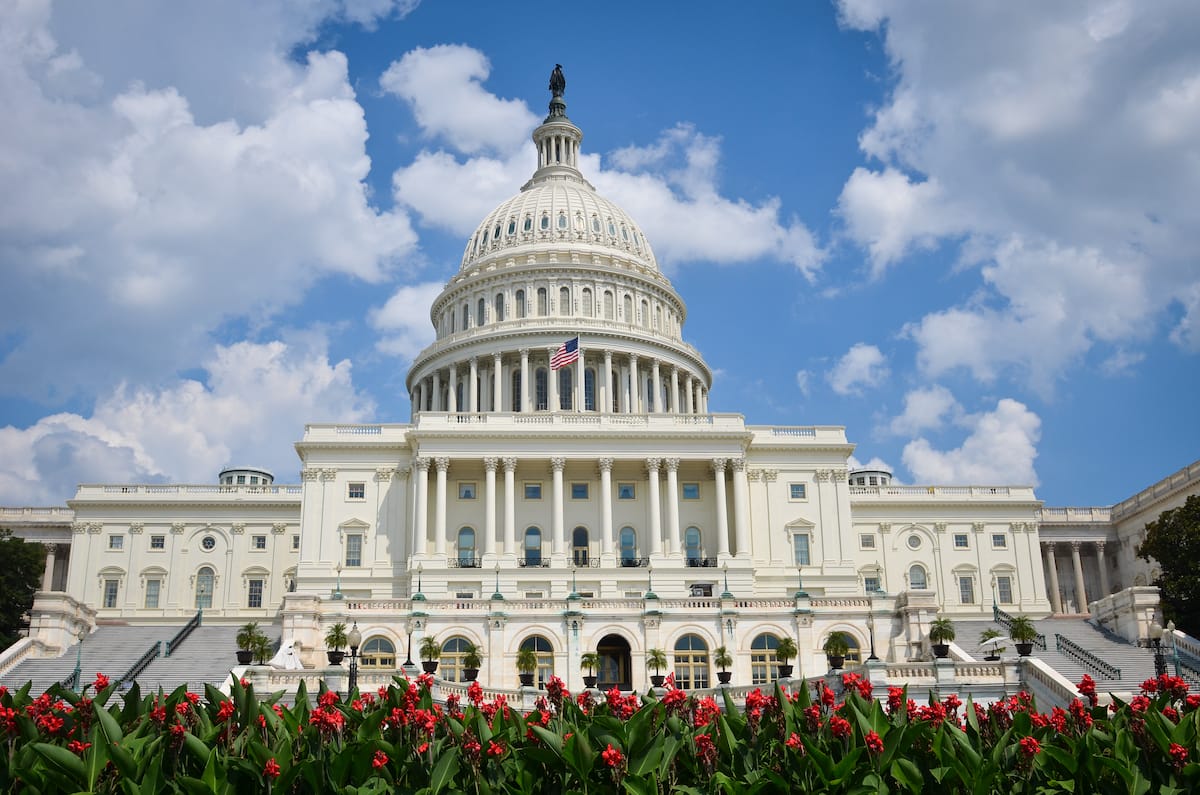 Best Time to Visit Washington DC
Washington, D.C. is a terrific place to visit year-round. However, during the spring (March-May) and fall (September – November), the temperatures are great for walking around the district.
During the summer, you most likely will have 80-degree temperatures and humidity that is unbearable for many.
In the spring, from the end of March through the beginning of April, flocks of people visit Washington each year for the National Cherry Blossom Festival.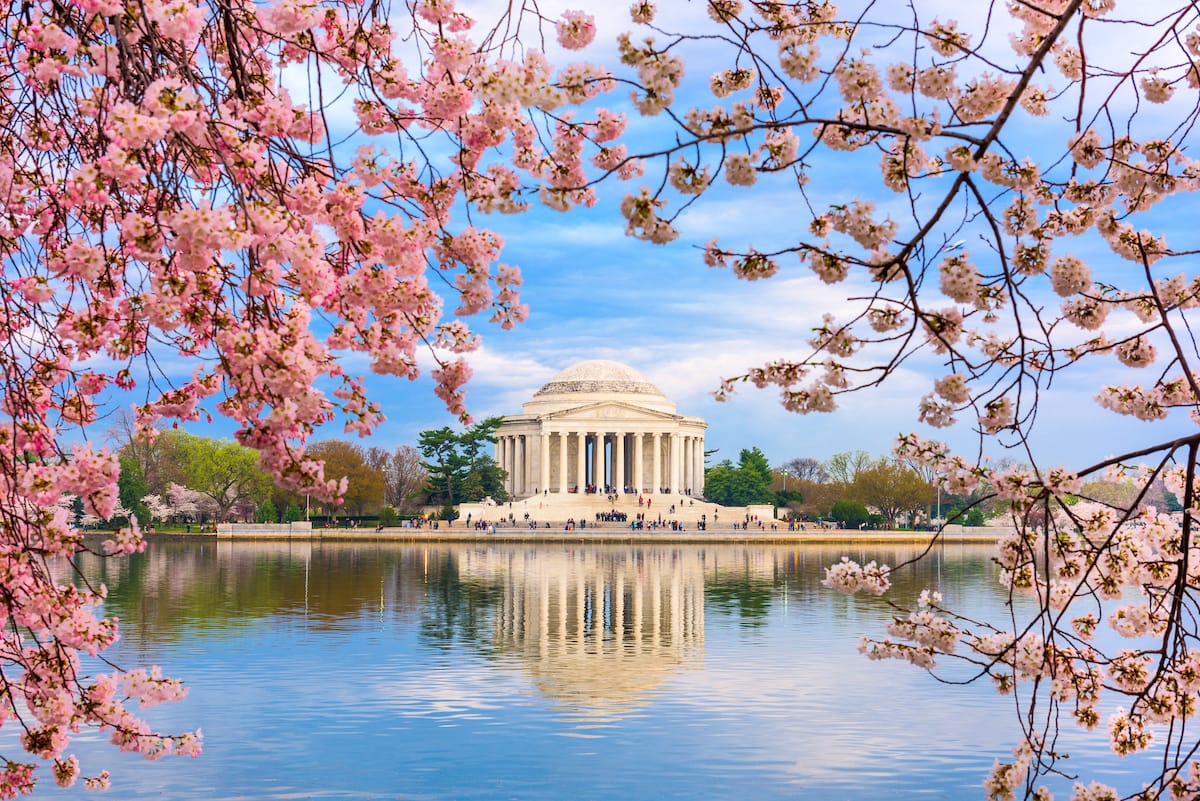 There are lots of events going on throughout the area during the festival. The Tidal Basin is truly a beautiful site to see when the trees are all in full bloom.
Even though the temperatures and humidity are high, the summer is D.C.'s busiest season. If you visit during this time, be sure to enjoy a variety of air-conditioned museums to get a break from the heat.
How to Get To and Around Washington, DC
Washington, D.C. is very easy to get around, so either fly into the Ronald Reagan Washington National Airport, park in one of the Metro Station parking lots, and hop on the Metro and not have to worry about your car.
Four stations around the city have long-term parking.
Amtrak services Washington and arrives at Union Station and is an excellent option for those that live along the east coast.
When I visited D.C., my husband and I boarded the Amtrak train early in the morning and were in D.C. by 10. We then spent the day and caught the evening train home. It was a great way to enjoy a day trip and see a few sites.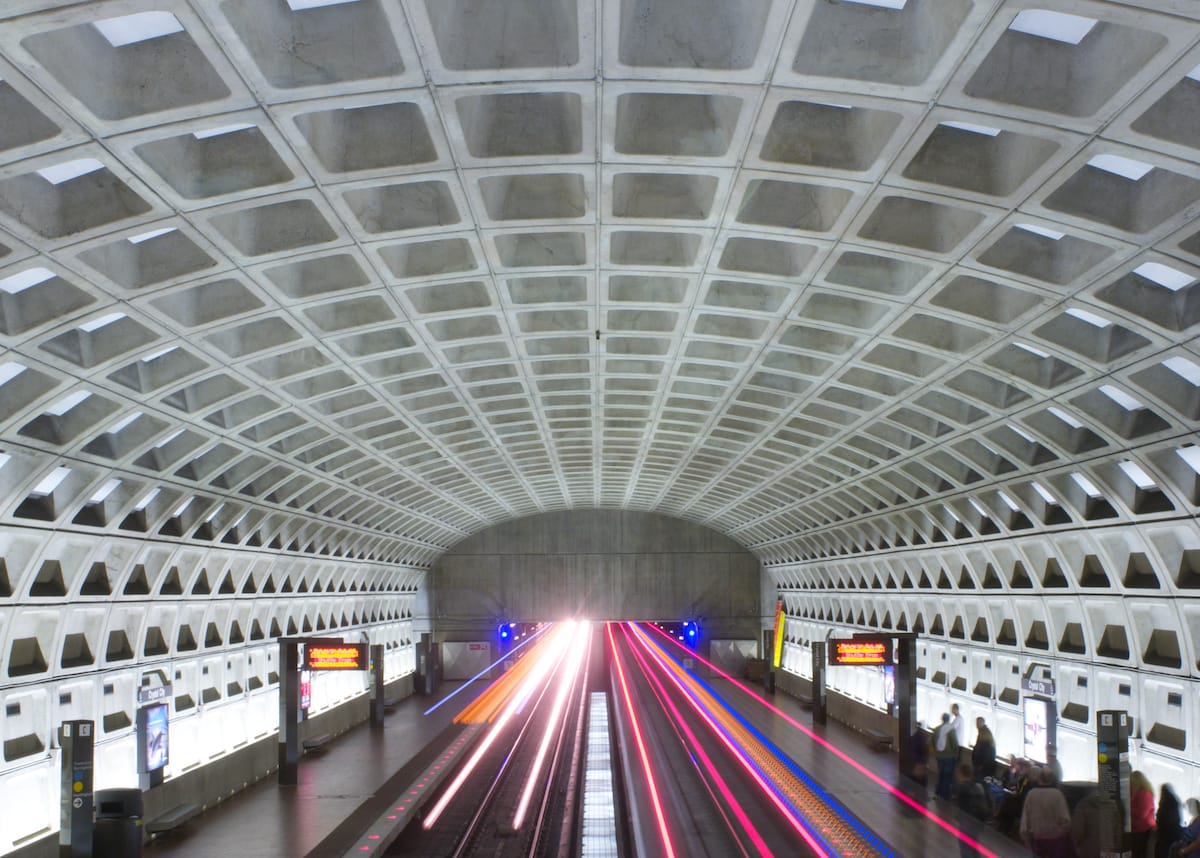 Once you arrive in Washington, one of my favorite ways to get around town is also the cheapest – walking.
There is so much to see that I enjoy strolling along the streets, popping in various museums, wandering through gardens, and picnicking on the grassy hill on the National Mall.
However, if walking 10 miles is not your thing, then get a ticket for the Hop On Hop Off bus or take the Metro around town. The Washington, D.C. Metro features six lines with 40 stations within D.C., 20 stations in Virginia, and 26 in Maryland.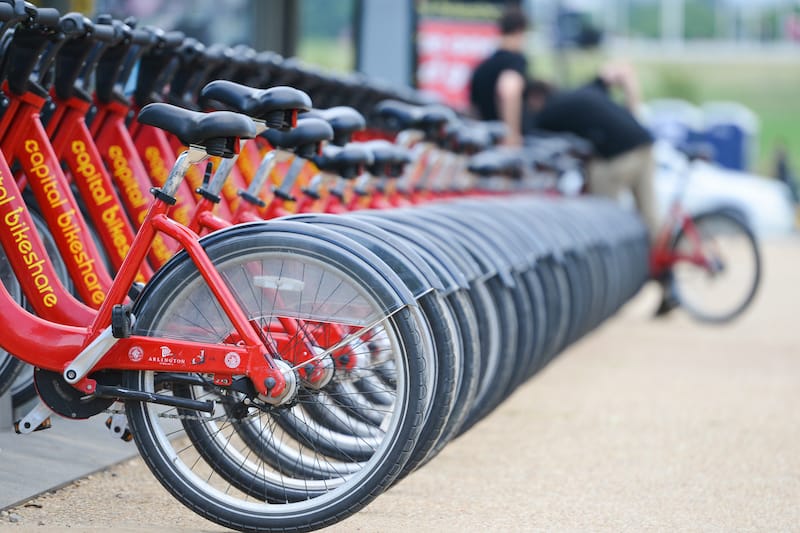 The Capital Bike Share program has 5,000 bikes at more than 600 locations in and around Washington, D.C. this is an easy and convenient way to see the city.
They offer e-bikes and bicycles and range from $0.05 to $0.15 a minute or $8 for an entire day.
Suggested 2 Days in Washington DC Itinerary
Day 1
Walk or bike around the National Mall

Washington Monument

Museum of Natural History

National Air and Space Museum
Day 2
U.S. Holocaust Museum

U.S. Bureau of Engraving and Printing

9-11 Memorial at the Pentagon

Arlington National Cemetery

Mount Vernon Trail
Weekend in Washington DC Highlights
National Mall and Memorials
Depending on the time you want to spend, a trip around the National Mall and visiting the memorials and monuments could take you an entire day.
From the Capitol Building to the Lincoln Memorial is a 2.6-mile trek where you can stop to explore a variety of Smithsonian Museums, tour the U.S. Capitol Building, take a photo of the White House, and visit all the monuments and memorials.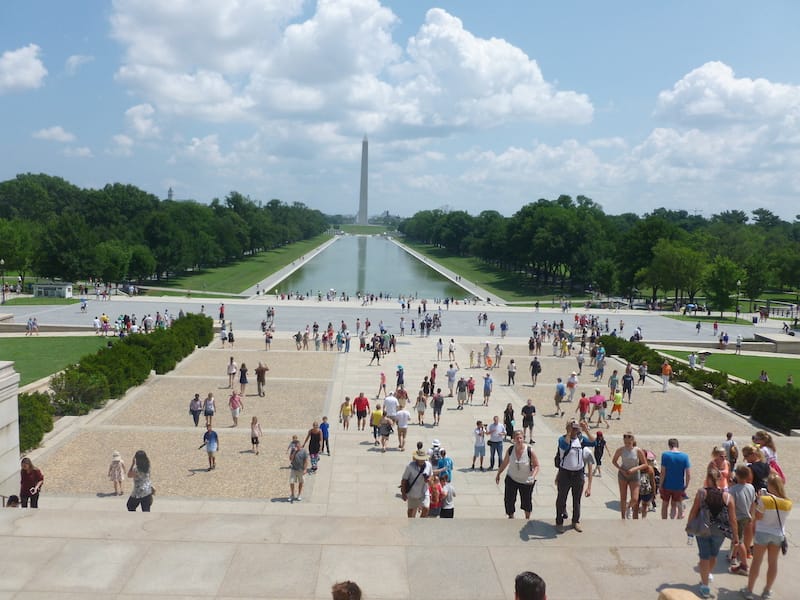 Many memorials can be visited 24/7 and are least crowded first thing in the morning and the evening.
The prominent memorials and monuments along the National Mall are:
Vietnam Veterans Memorial

Lincoln Memorial

Korean War Veterans Memorial

World War II Memorial

Washington Monument

Thomas Jefferson Memorial

George Mason Memorial

Franklin Delano Roosevelt Memorial

Martin Luther King, Jr. Memorial
The Big Bus Tour offers two hop-on, hop-off tours that will take you past various DC landmarks and museums.
Choose to enjoy the ride and learn a bit of history along the way, or choose where you want to visit and hop off and explore before hopping back on to continue the route.
National Museum of Natural History
The National Museum of Natural History is one of my favorite museums in Washington and one of the most visited. Plan on spending 2-3 hours exploring the exhibits.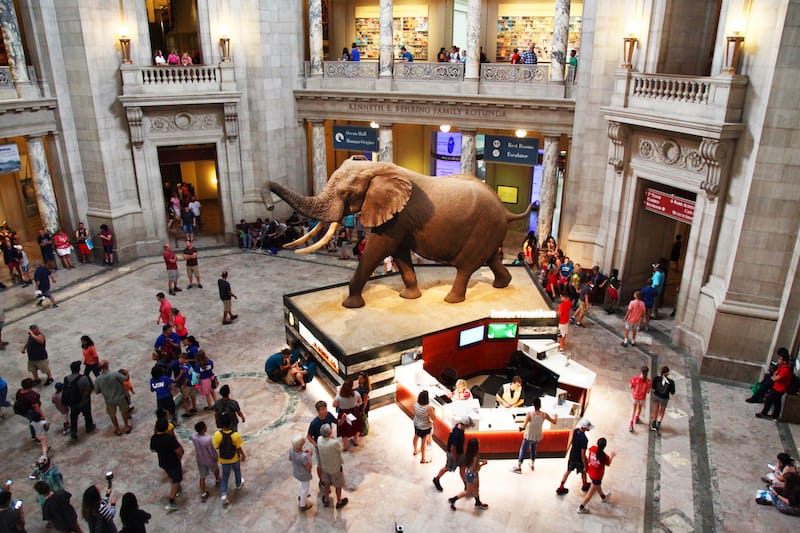 As you enter the museum, the life-sized elephant will greet you before heading off to the butterfly pavilion, the dinosaur exhibit, and the gem exhibit that includes the magnificent Hope Diamond.
Address: 10th St. & Constitution Ave. NW, Washington, DC 20560
National Air and Space Museum
More than three million people visit the National Air and Space Museum each year.
You do not have to be a space lover to spend several hours in this exhibit-filled museum. However, for those who love airplanes and space exploration, allow plenty of time, maybe even all day, in your schedule to properly enjoy the exhibits.
As you wander through the exhibits, look up to see WWI, WWII, and early planes suspended from the ceiling.
Through the exhibits, you will learn about how planes were used during various wars and where the NASA space program has been, and where it is heading in the future.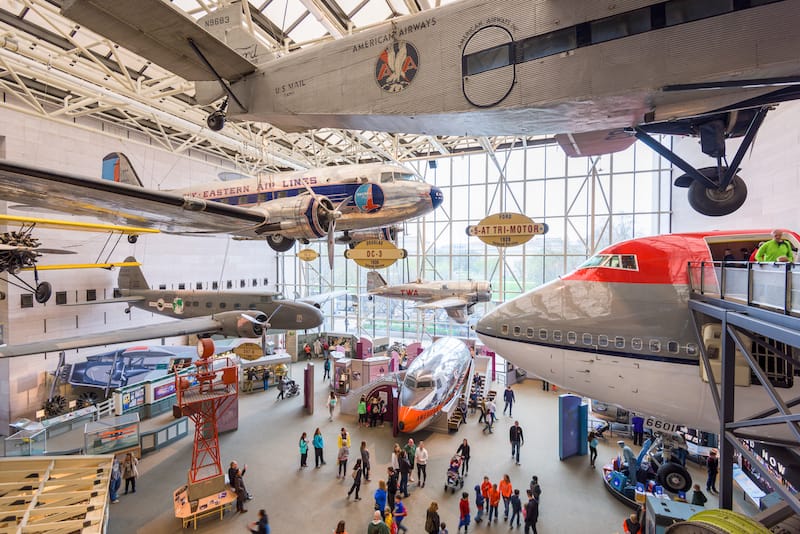 The children's education lab is an excellent place for kids to get their hands-on science and participate in the interactive activities offered throughout the day.
Address: 600 Independence Ave SW, Washington, DC 20560
Washington Monument
The Washington Monument is hard to miss, situated on a rise of land in the center of the National Mall.
From the top of the 555-foot-tall marble structure, you can see the White House, The U.S. Capitol Building, the Lincoln Memorial, and many other buildings around the National Mall and beyond.
To take the 30-minute tour, you will need to get your reserved tickets here.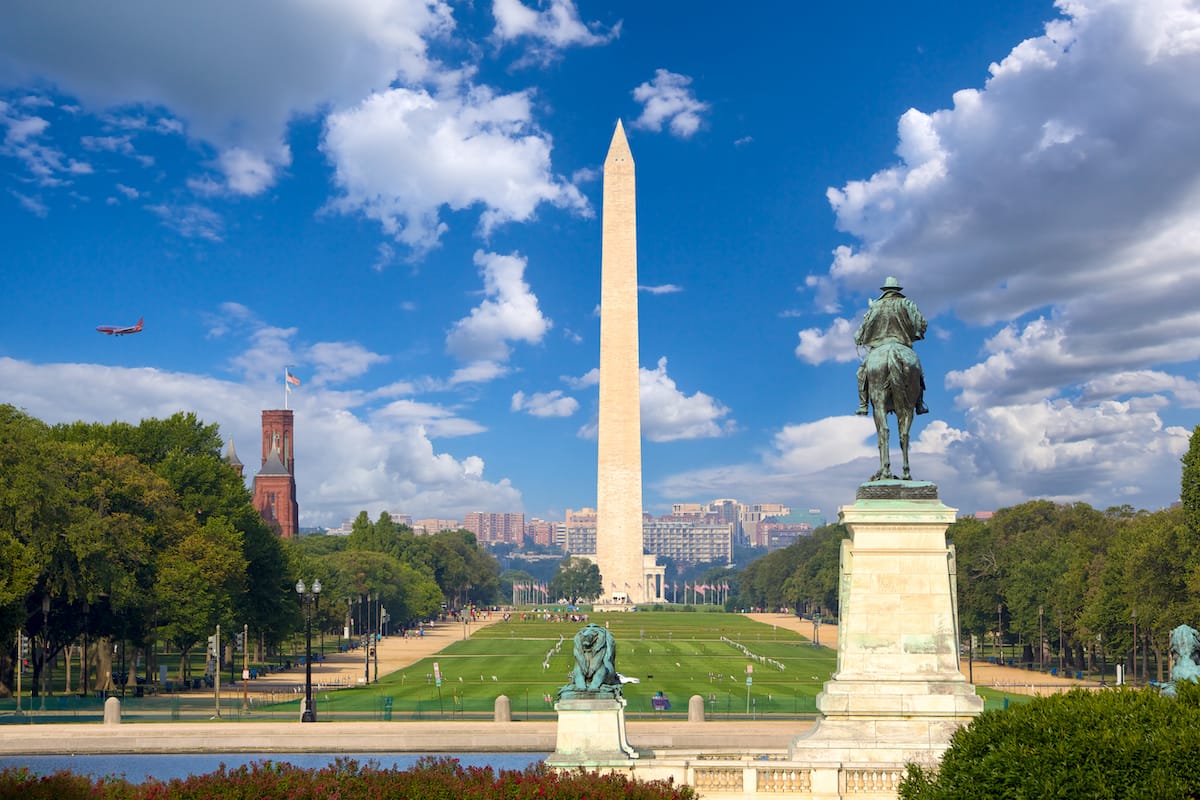 The tickets are free, but a $1.00 reservation fee applies to each order. Each day's tickets are available the day prior at 10:00 AM.
Unfortunately, there are no tickets available on-site or given out on the day of the visit, and they sell out quickly when they become available.
Address: 2 15th St NW, Washington, DC 20024
U.S. Holocaust Memorial Museum
The five-story U.S. Holocaust Memorial Museum is an emotionally difficult one to explore, but one that is well worth your time.
The museum does an excellent job of educating visitors on confronting human dignity challenges and how dangerous hatred can be.
The museum's permanent exhibits focus on one of the world's worst tragedies, the Holocaust. The Holocaust exhibit spans three floors of a chronological timeline of stories through films, photos, and artifacts.
Note: This exhibit requires a timed ticket during the busy spring and summer seasons.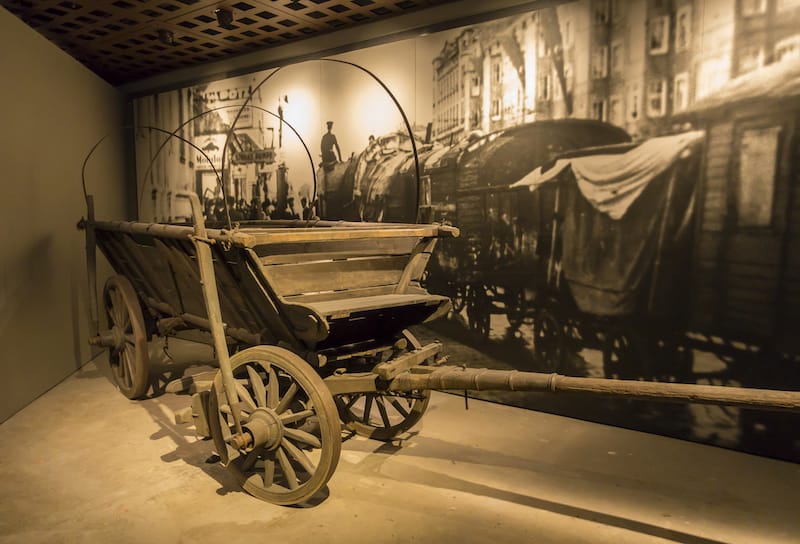 Besides the permanent exhibit, four other temporary exhibitions on the upper two floors take between 10 and 45 minutes to go through each.
Explore the collection of 1,078 photographs of blue sky in the One Thousand and Seventy-eight Blue Skies exhibit. Each picture is of the blue sky above the Nazi concentration camps and killing centers across Europe.
The Americans and the Holocaust exhibit studies the American people's response to the war and Nazism. Learn more about the motives, pressures, and fears in this exhibit.
The American Witnesses features the first-hand experiences of Americans through film, photos, and oral testimony as they worked to expose Nazi crimes and care for prisoners. The audio tour is well worth it for this exhibit.
Address: 100 Raoul Wallenberg Pl SW, Washington, DC 20024
U.S. Bureau of Engraving and Printing
The U.S. Bureau of Engraving and Printing is a relatively quick place to visit and is one of the best things to do in Washington DC.
Within an hour to 90-minutes, you can explore the historical exhibits, learn the value of your height in $100 bills, and peruse the gift shop while waiting for your 40-minute tour to begin.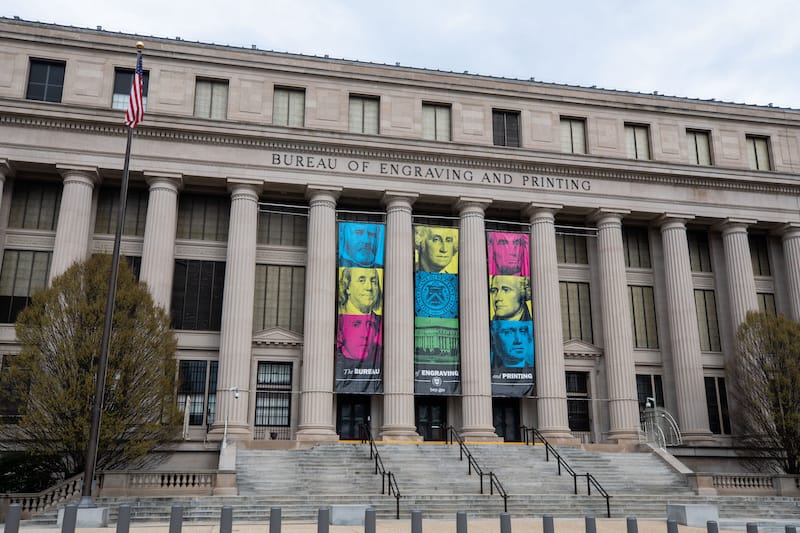 While on the tour, you will walk along a cat-walk hallway that allows you to gaze down on the production floor. You will see money being printed, how the sheets are cut, bundled, and stacked.
Address: 301 14th St SW, Washington, DC 20250
National 9-11 Pentagon Memorial
Catch the Metro and visit the moving tribute to the 184 lives lost at the Pentagon on September 11, 2001, at the Pentagon 9-11 Memorial.
This moving tribute features 184 memorial benches across the two-acre plot of land. Each bench is in memory of someone on the American Airlines flight 77 or within the Pentagon.
They are ordered according to their age and positioned to show if they were on the plane or in the building.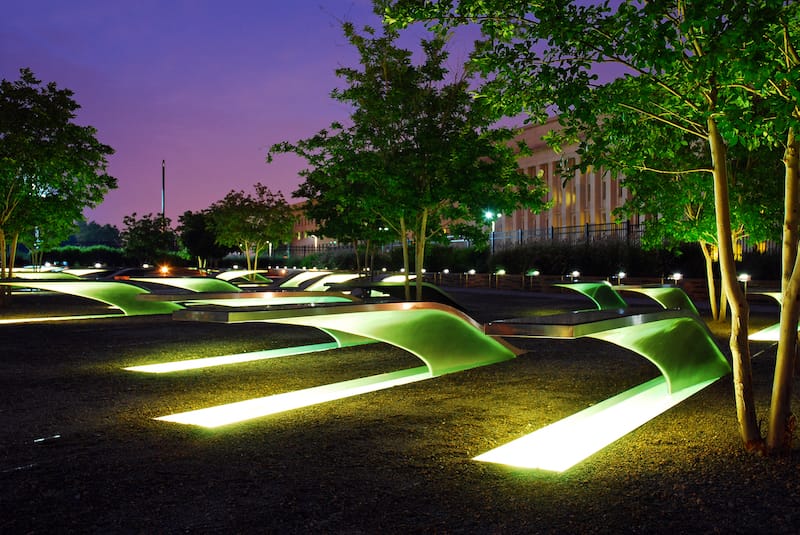 The curved wall along the back of the memorial represents each victim's age. The wall begins at 3 inches for the three-year-old, the youngest victim, to 71 inches for the oldest victim.
Along the walkways, the different stones represent where the plane passed over. There is a phone number to call at the entrance to listen to a 24-minute audio tour of the memorial.
Address: 1 N Rotary Rd, Arlington, VA 22202
Arlington National Cemetery
Across the Potomac River from Washington, D. C., the rolling hills of Arlington are the final resting place for nearly half of a million American military heroes and federal government members.
This number grows by about two dozen each week.
The easiest way to visit Arlington National Cemetery is to take one of the interpretive bus tours, and the guide will point out various memorials and graves as you travel through.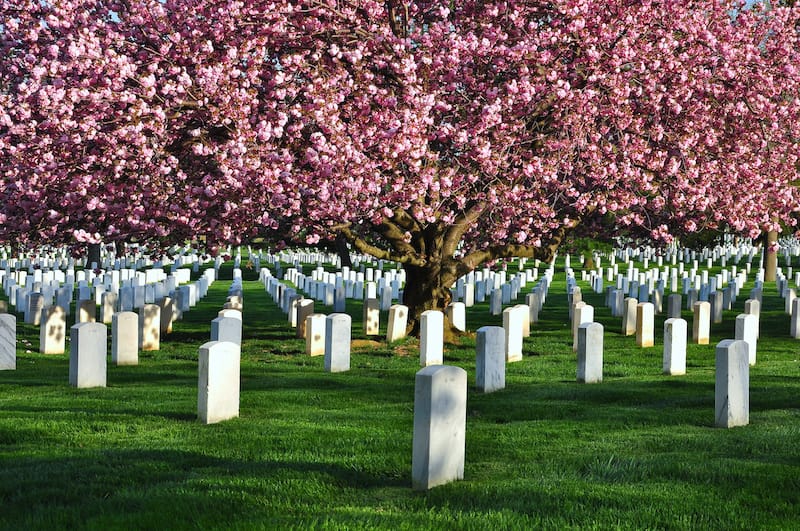 The bus stops at the Arlington House, Robert E Lee's historic mansion, where you can watch the precise steps of the 3rd U.S. Infantry Regiment soldiers as they guard the Tomb of the Unknown Soldier during thunderstorms, blizzards, hurricanes, and blue-sky days.
While here, take time to visit the graves of John Kennedy, Ted Kennedy, and Justice Ruth Ginsburg.
Address: 1 Memorial Ave, Fort Myer, VA 22211
Mount Vernon Trail
When your Arlington National Cemetery tour is over, you can enjoy a walk, run, or pick up one of the Capital Bike Share bikes and take in the views along the Potomac River.
The 18-mile trail stretches from the Theodore Roosevelt Island in D.C. to George Washington's estate, Mount Vernon. It is a great place to get in touch with nature whether youʻre visiting DC in winter or summer!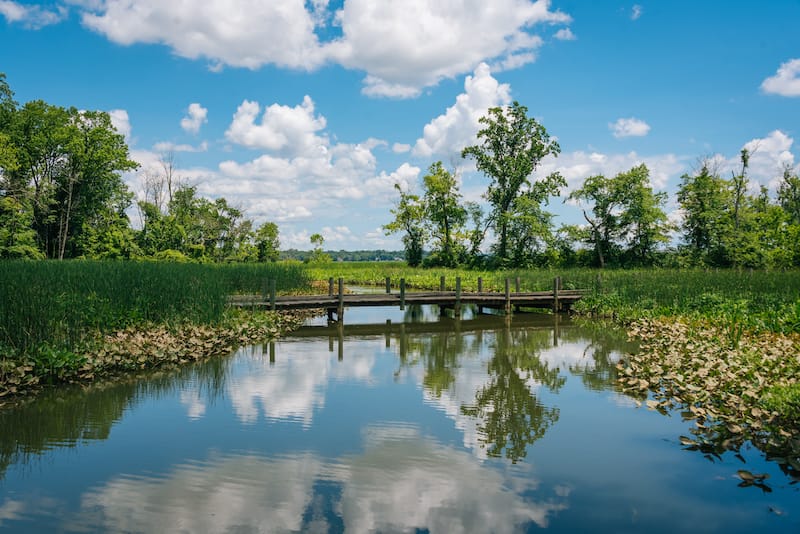 Along the trail, you will see a different perspective of the National Mall and the Washington Monument, planes landing at the Regan National Airport, and a chance to catch a majestic sunset.
More than Two Days in Washington DC?
Visit Mount Vernon
Along the banks of the Potomac, you can enjoy the majestic views and tour the red-roofed mansion and property of the first president of the United States. Mount Vernon is one of the best day trips from DC.
On the guided tour and through the exhibits, learn about George the spymaster and what life was like for him, his family, and the enslaved at Mount Vernon.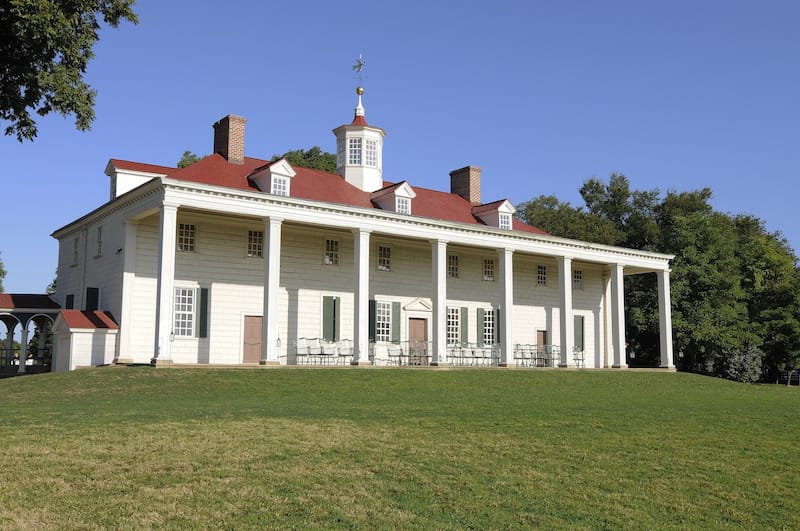 Besides the mansion, stroll through the beautiful gardens, explore the working farm, and visit Washington's final resting place.
The front lawn is also a terrific place to have a picnic if youʻre in Alexandria.
Ford's Theatre
A visit to Ford's Theatre and the Petersen House is a must for any history buff. The National Park Service offers tours of both six days a week (closed on Tuesdays).
Your visit will begin with time in the museum. Here you could spend hours exploring the rare artifacts, learning about Lincoln's presidency, and seeing Booth's weapons.
Following the museum, you will head to the theatre where the shooting of Lincoln occurred.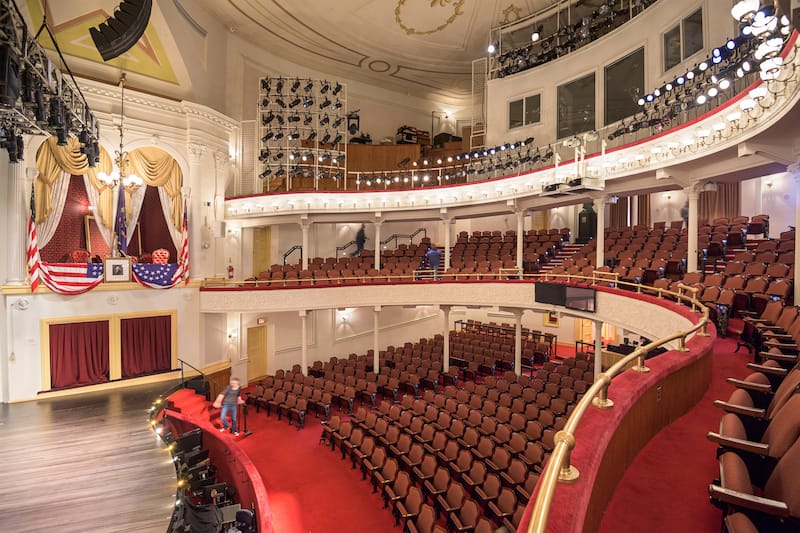 As you sit and gaze around, the NPS ranger will lead you through the events that preceded President Lincoln's assassination and death.
Your final leg of the tour will take you across the street to the bedroom in the Petersen House where Lincoln died.
Also in the house are Aftermath Exhibits that are interactive and follow the 12-day search for John Wilkes Booth and the funeral trail.
Address: 511 10th St. NW Washington, DC 20004
Explore the Logan Circle Neighborhood
Take the self-guided walking tour along the Logan Circle Heritage Trail. Along the 1.5-mile route, you will visit 15 locations, including historic homes, Automobile Row, Witman-Walker Clinic, and other famous sites in Logan Circle.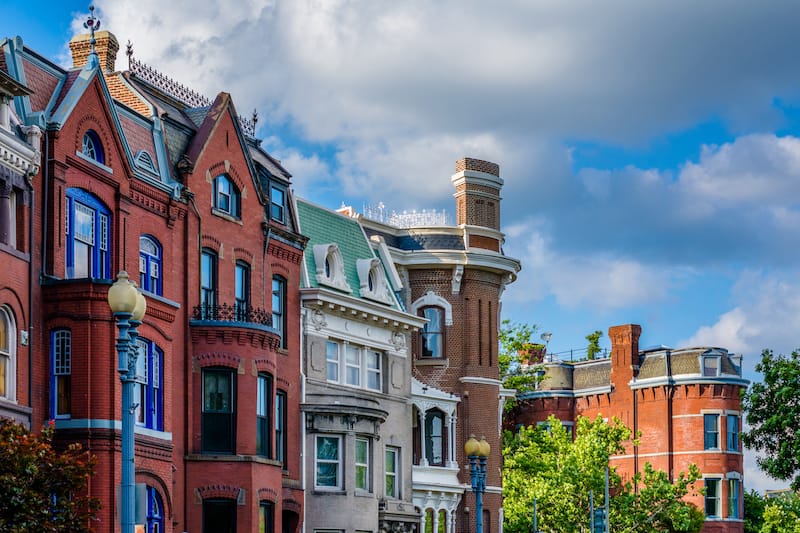 Contact Washington Walks to inquire about their 2-hour guided tour around Logan Circle if you would rather have a guided tour.
Go on a Self-guided Mural Tour
The 51 Murals DC Project focused around several artists creating 51 murals in July of 2020 that all had the theme of Washington, D.C.'s possible statehood.
Across the city, you will find murals on 13 different walls spread across each of the city's wards. At 4608 14th Street NW, you will find the You Complete Me mural depicting the joining of different races in harmony.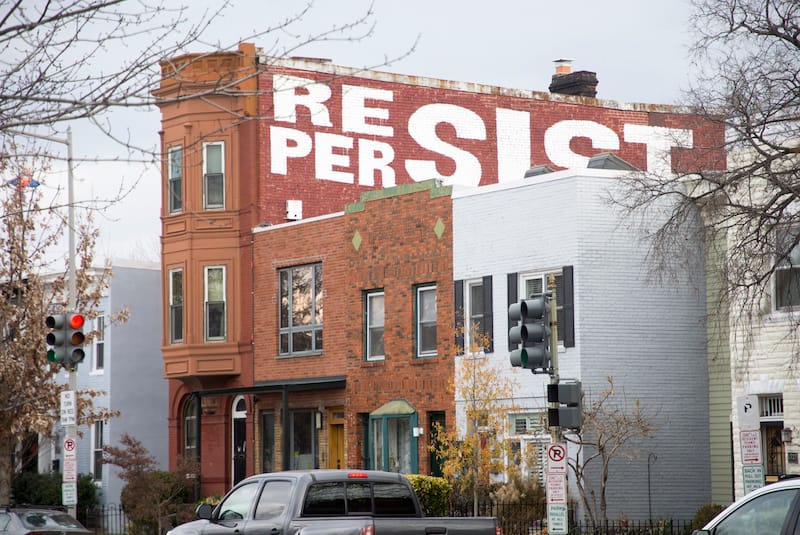 The Compass Coffee at 1351 Wisconsin Avenue, NW, features a vibrant rainbow of colors with the outline of DC and 51.
The Navy Yard at 809 Virginia Avenue SE has three murals, one saying Community Everything.
Where to Eat in Washington DC
Georgetown Cupcakes (aka DC Cupcake)
Start your day by visiting Katherine and Sophia of TLC's D.C. Cupcakes at their famous cupcake shop. Before satisfying that sweet-tooth craving is prepared to stand in line, sometimes up to 45 minutes.
Each day the shop sells around 5,000 cupcakes with their famous vanilla cream cheese icing. Choose between vanilla birthday, chocolate coconut, carrot, salted caramel, chocolate ganache, or even peanut butter fudge.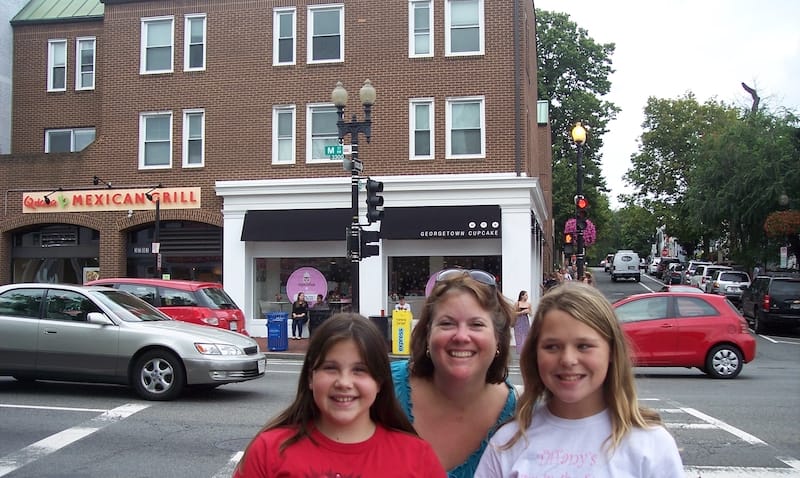 Once you have gotten your order, sit in front of the glass window, watch the baker's ice and decorate cupcakes.
Be sure to take your Instagram-worthy picture out front before leaving.
Address: 3301 M St NW, Washington, DC 20007
Explore the DC Food Halls
When you can't decide what you want to eat or everyone wants something a bit different, head to one of the Food Halls around D.C.
This way, everyone can have just what they want, or you can make your own Tasting menu from items at various stalls.
Check out the selections at the Eastern Market in Capitol Hill, Union Market on 5th Street NE, or The Block Foodhall DC near Thomas Circle.
Altogether there are 14 food halls in and around the Washington, D.C. area.
DC Farmersʻ Markets
The daily and weekend Farmers' Markets around the D.C. area are a great way to enjoy brunch or coffee on the go.
There always seems to be a stand with muffins and bread. That, along with all those fruit stands, makes the perfect breakfast or mid-morning snack.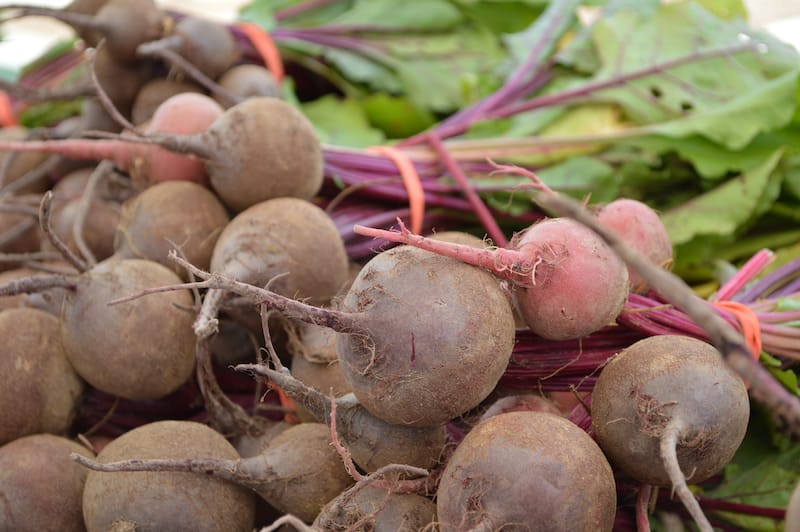 The Union and Eastern Markets are open daily. If you are out browsing on a Saturday, you may want to visit the Adams Morgan Farmers' Market or the 14th and U Street Market.
In need of something special for Sunday dinner? Visit the FreshFarm at Capitol Riverfront Market or Dupont Circle.
St. Vincent Wine
Enjoy sitting on the enormous pebble patio where you can enjoy a late afternoon lunch or dinner and a glass of wine from St. Vincent Wine.
Each evening you can sit back and tap your toes to the local bans that play your favorite jazz and funk.
Head upstairs to the sky-high bar for a glass of white wine and an elegant charcuterie plate during the cooler months.
Address: 3212 Georgia Ave NW, Washington, DC
Cork Wine Bar and Market
When avocado toast or fried chicken is the taste you are craving, head to the Cork Wine Bar and Market in Logan Circle.
Owners Diane Gross and Khalid Pitts have prepared over 70,000 orders of avocado toast and won awards for their chicken since opening in 2008.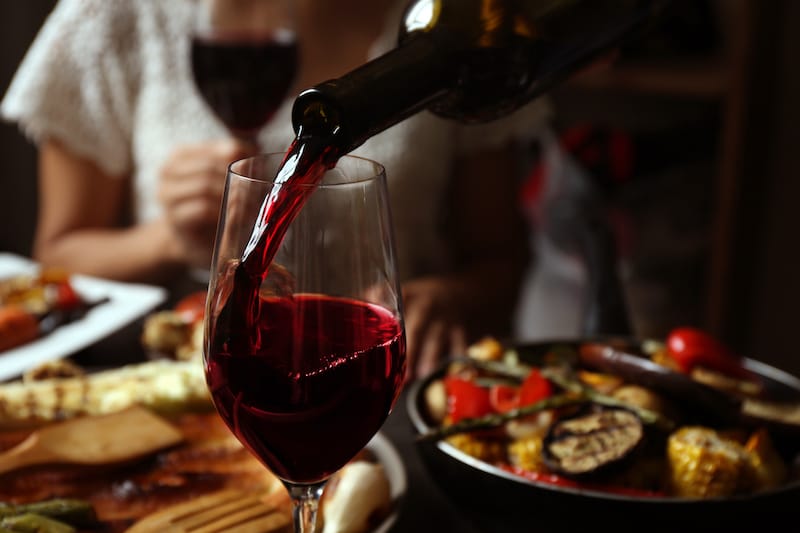 Besides chicken and avocados, choose between 50 wines available by the glass and over 250 bottles from small wineries worldwide.
Address: 1805 14th St NW, Washington, DC 20009
Kramers
What could be better than a delicious breakfast, lunch, or dinner, and a good book? At Kramers, which opened in 1976 in Dupont Circle, you can have both simultaneously.
Sit along the sidewalk or in the solarium and enjoy a lunch of French onion dip, an open-faced carrot chickpea tartine, or a burger.
Inside, the 26-seat bar has 18 craft beers on tap and something for almost everyone.
Address: 1517 Connecticut Avenue, NW, Washington, D.C. 20036
Philotimo
When looking for an elegant, five-star dinner, head to Michelin-starred chef Nick Stefanelli's Philotimo restaurant in Midtown Center.
The upscale Greek restaurant seats only 68 and opened in January 2022.
The five-course prix-fixe menu makes dinner an adventure as your tastebuds come alive to the sophisticated Grecian dishes like mantia, veal-stuffed dumplings, the classic Greek soup klakavia, and slow-cooked Shenandoah Valley lamb.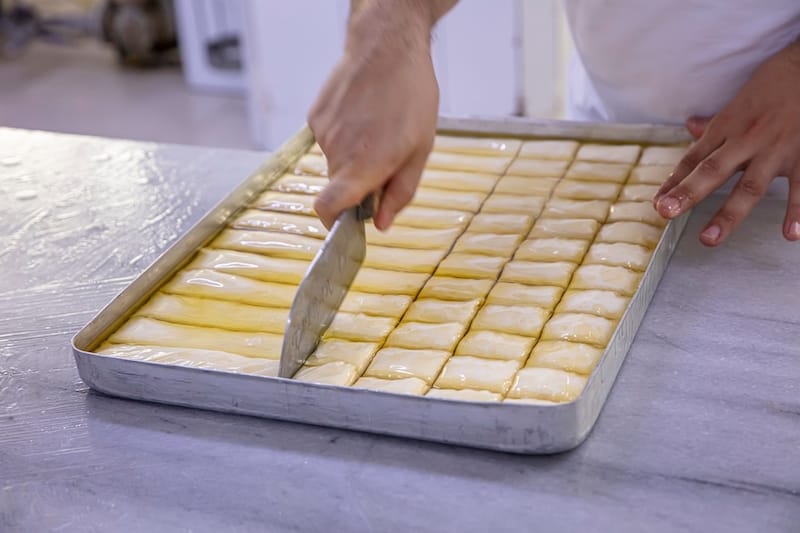 Pair your dinner with wines from Crete or Thessaloniki. However, a Greek dinner wouldn't be complete without some honey-laced baklava or a piece of karidopita.
Address: 1100 15th St NW, Washington, DC 20005
Caruso's Grocery
When you have a taste for Old School Italian, a trip to Capitol Hill's Caruso's Grocery should be in your plans for dinner.
Here you will sit down to a meal of chicken parmesan, Veal Francaise, Penne alla Vodka, five cheese ravioli, and four cheese garlic bread.
This Italian dinner wouldn't be complete without a glass of Italian wine, a Mulberry St. Cosmo, or an Espressos Martini. For dessert, the excellent tiramisu or the New York-style strawberry cheesecake will be hard to pass up.
Caruso's Grocery is open for dinner Wednesdays – Sundays beginning at 5 o' clock.
Address: 914 14th St SE, Washington, DC 20003
Where to Stay in Washington DC
Whether you are staying in Washington, D.C. overnight, for the weekend, or the entire week, you will want to stay near the mall area or close to a Metro station to maximize your time exploring.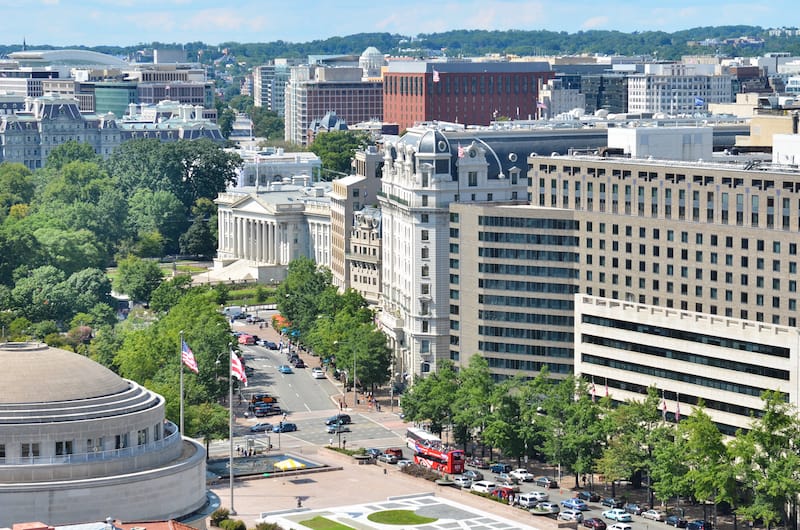 Comfort Inn and Suites Alexandria Van Dorn Street (Budget)
Address: 5716 S. Van Dorn Street, Alexandria, VA 22310
For those on a budget or those who don't want to drive into the city, the Comfort Inn and Suites Alexandria Van Dorn Street is a great option. We stayed here the last time we headed to D.C. for a few days.
The hotel is within a half-mile from the Van Dorn Metro Station and offers a shuttle service to and from the hotel. This is convenient since you don't have to pay for parking or hunt for a parking space.
The Comfort Inn is pet friendly and also offers a grab-and-go breakfast.
>> Click here to check rates and availability
Hotel Hive (Mid-range)
Address: 2224 F Street NW, Washington, DC 22037
The Hive is a reasonably new micro-hotel that opened in 2017 and is just a 10-minute walk to the Lincoln Memorial.
The hotel has a contemporary flair with micro-hotel-sized rooms that sleep up to 2 people, a pizza shop, a bar, and a rooftop seating area. This hotel is also pet-friendly.
Note: It is a bit cheaper to book a room straight through the hotel than through sites like Expedia and Trip Advisor.
>> Click here to check rates and availability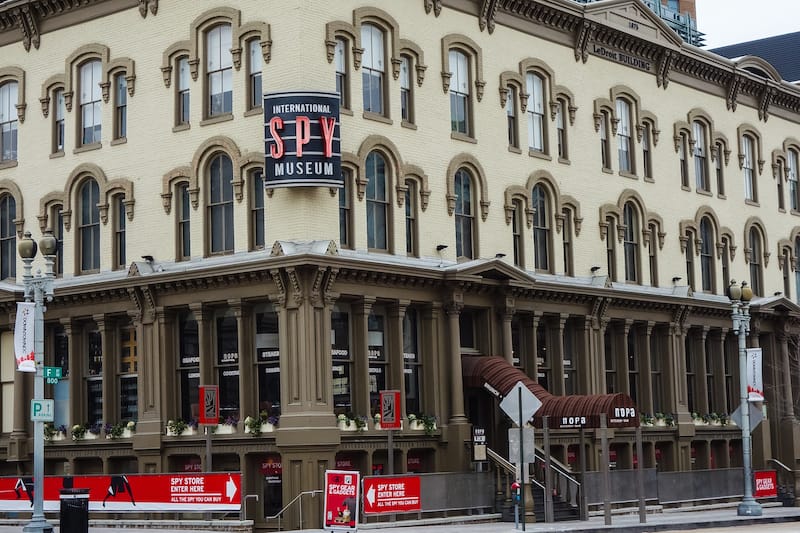 Viceroy Washington D.C. (Luxury)
Address: 1430 Rhode Island Avenue NW, Washington DC 20005
In the Logan Circle neighborhood, just a few blocks north of the White House, the Viceroy Washington D.C. features 178 spacious suites and rooms.
The hotel also has a magnificent rooftop pool and penthouse deck that offers an excellent view of downtown D.C.
The rooms are spacious and feature marble bathrooms, a virtual concierge through the Google NestHubs, and plush linens.
>> Click here to check rates and availability
Mandarin Oriental Washington D.C. (Luxury)
Address: 1330 Maryland Avenue, SW, Washington DC, DC 29924
Mandarin Oriental Washington, D.C. hotel is a favorite during cherry blossom season and is only a 7-minute walk to the Smithsonian Metro Station and the International Spy Museum.
The hotel sits along the Southwest Waterfront and offers five-star luxury like the 3-bedroom Presidential Suite, the Forbes 4-Star Spa, fantastic pool, and afternoon tea in the Empress.
The Wharf is just a few minute stroll down Maine Avenue S.W. to a wide selection of nightly entertainment, restaurants, and pubs.
>> Click here to check rates and availability
Did we miss any amazing things to do during a weekend in Washington DC?
Let us know your tips for a 2 days in Washington DC itinerary in the comments. Thanks!
More Washington DC Travel Guides
Pin this Washington DC Weekend Guide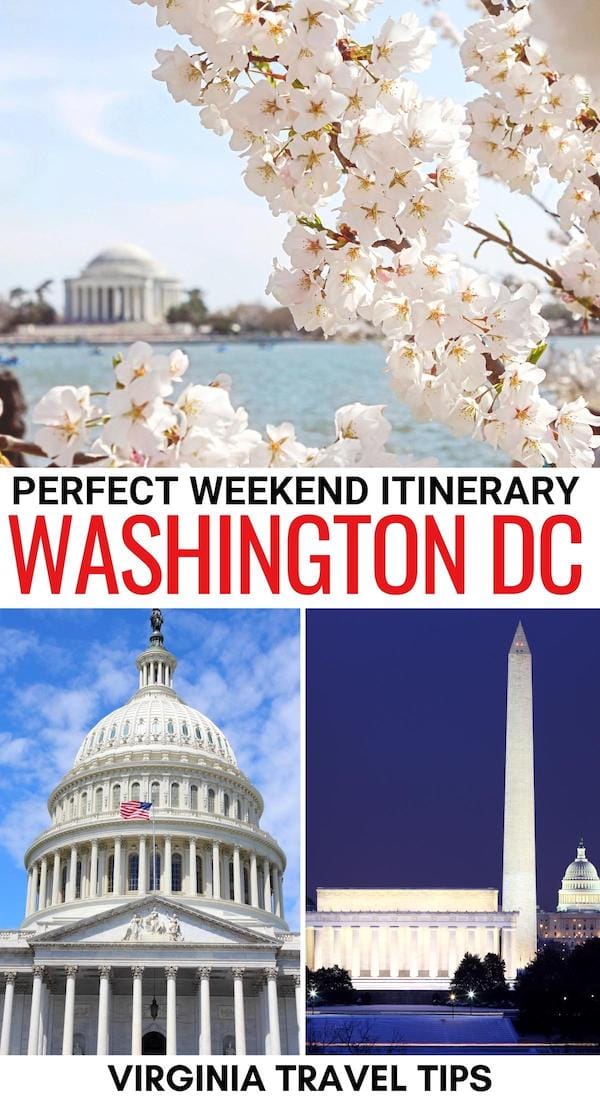 Laura Gray is a travel blogger and retired teacher. She is from Western Pennsylvania but has lived in Virginia for the past 30+ years. During the summer months, you will find her enjoying the beach in her hometown when not out on an adventure. Laura thrives on creating itineraries to make the most of each place she visits. She enjoys exploring National Parks (Laura has explored 1/3 of all the US National Parks), waterfalls, and beaches. Her travel blog posts have been featured on nearly a dozen sites.