Apart from being the nation's capital and the site of American government buildings, Washington DC is one of the most unique towns in the country.
And, you will find plenty of things to do in Washington DC in winter even though most people head there when it's warmer!
Are you planning your trip to DC at the last minute?
Are you planning your trip to Washington DC at the last minute? Check out these top-rated tours and hotels!
🇺🇸 Top Tours & Activities in Washington DC:
🛌 Best hotels in Washington DC:
🚗 Looking for the best way to get around DC? Click here to check rental car rates for Washington DC!
The nation's capital boasts metropolitan vibes without as much chaos and features lots of history right at your fingertips.
Washington DC is spectacular any time of the year, but it is especially magical in the winter because of all the Christmas and holiday activities.
Although it does get somewhat cold in DC, that shouldn't stop you from visiting- in fact, that will get you into the holiday cheer even quicker!
There are also plenty of nice towns near DC for an all-in-one road trip.
Here is all you need to know in order to plan a trip to the American capital this winter.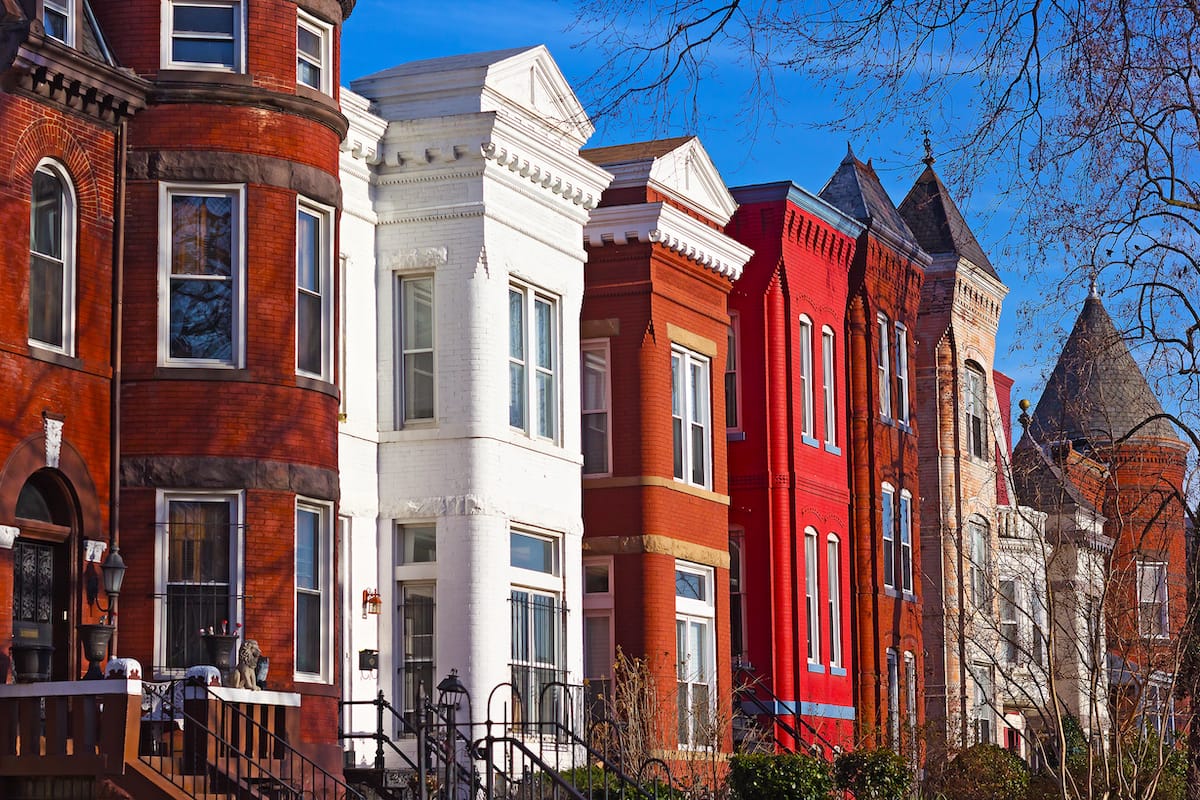 Average Temperatures during Winter in Washington DC
Overall, Washington DC has a mild climate that also includes four seasons.
The weather doesn't get too cold, especially at the beginning of the winter, but you should still pack warm clothes just to be on the safe side.
It also tends to be well above freezing during the day, but temperatures can drop to below freezing at night, so be sure to bundle up.
Here are the average temperatures in DC for November through March (high/low).
Washington DC in November: 59° / 37°
Washington DC in December: 48° / 30°
Washington DC in January: 43° / 25°
Washington DC in February: 47° / 27°
Washington DC in March: 56° / 35°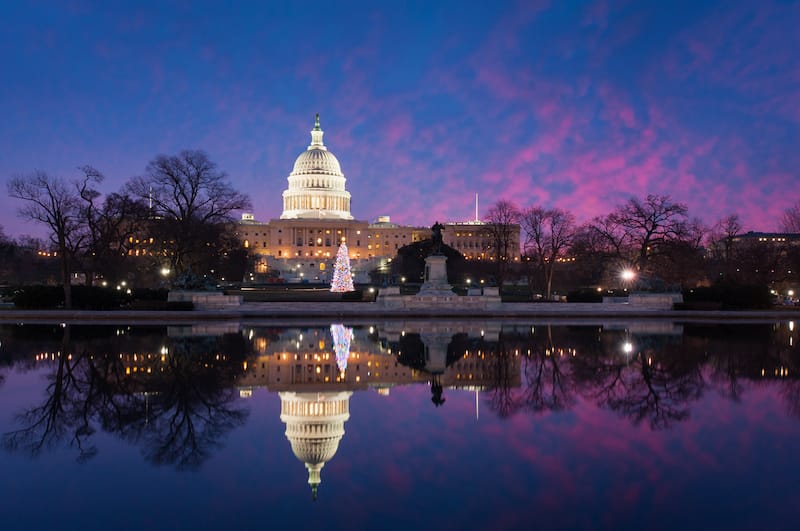 Does it Snow in Washington DC?
Winter in Washington DC can get very cold in the winter, so be sure to pack appropriately.
It also snows, especially in January and February, so be sure to plan your trip around then if you want to see some snow.
However, DC isn't one of the snowiest cities in the US, so it's typically not one of the first destinations people head to if they're looking to experience some snow.
Don't expect too much snow if you're visiting around Thanksgiving or Christmas as a rule of thumb- although some years, you may get lucky. Overall, DC gets an average of 15 inches of snow per year.
Things to Do in Washington DC in Winter
1. Spend Christmas at Mount Vernon
Home to first President George Washington and his wife Martha Washington, Mount Vernon is America's most visited historic estate and museum and it is located in Alexandria, VA.
Christmas at Mount Vernon leaves this historic mansion embellished in wintry lights and fireworks shows, giving off magical vibes and offering you the chance to kick off the holiday season on the right foot.
Many holiday activities and tours are organized from November 26 to December 31, with admission starting at $23 for adults and $12 for kids.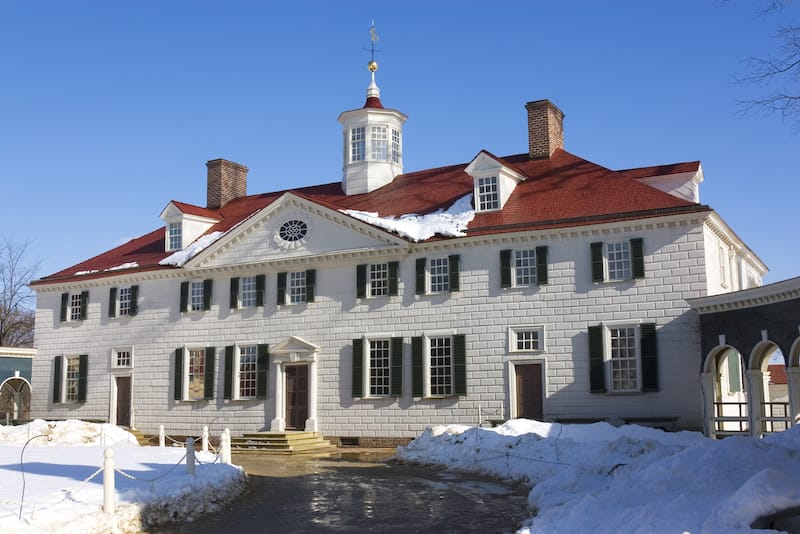 During your trip to Mount Vernon, you can check out this historic area and get a deeper look into 18th-century Virginian holiday traditions by taking part in the Mount Vernon by Candlelight tour.
During Camel Talks starting on November 27, you can learn more about George Washington's interest in exotic animals. The next Holiday Dinner for the Washington tour is for foodies.
The dinner helps you to get more insight into how food was grown and served at Christmas, which was truly a special holiday at Mount Vernon.
2. Head to the DC Chocolate, Wine & Whiskey Festival
Indulge your taste buds with delicious chocolate and other sweet delicacies during the D.C. Chocolate, Wine & Whiskey Festival.
Whether you prefer dark or milk chocolate, bean-to-bar artisan chocolates, or melted gooey chocolate on caramel, you will get a taste of everything during this delicious festival.
This is a real paradise for those with a sweet tooth who love trying their cakes, cupcakes, cookies, Macarons, candies, cake pops, donuts, and popcorn.
All you need to do is to dip your chosen fixings in the Chocolate Fondue and enjoy them. You will also have access to Italian Prosecco, Champagne, fine whiskies, premium wines, ciders, craft beers, and non-alcoholic beverages that perfectly match with chocolates.
Savory food lovers need to try pretzels, artisan cheeses, and charcuterie. When leaving, choose some of your favorites and take them home with you. Check out their website for more information and upcoming dates.
3. Celebrate at the Chinese New Year Parade
D.C.'s Chinese New Year Parade is a great way to immerse yourself in the Chinese New Year and celebrate along with the locals.
The main theme of each year's signature parade is dedicated to the zodiac for that year. Every year, the parade is centered around the traditional Chinese gate, The Friendship Arch.
You can expect to see traditional Chinese dragon dances, kung fu demonstrations, beauty queens, marching bands (Falun Gong), different floats, lions as power symbols, and traditional dragons or qilins, in line with a stunning parade passing through Chinatown.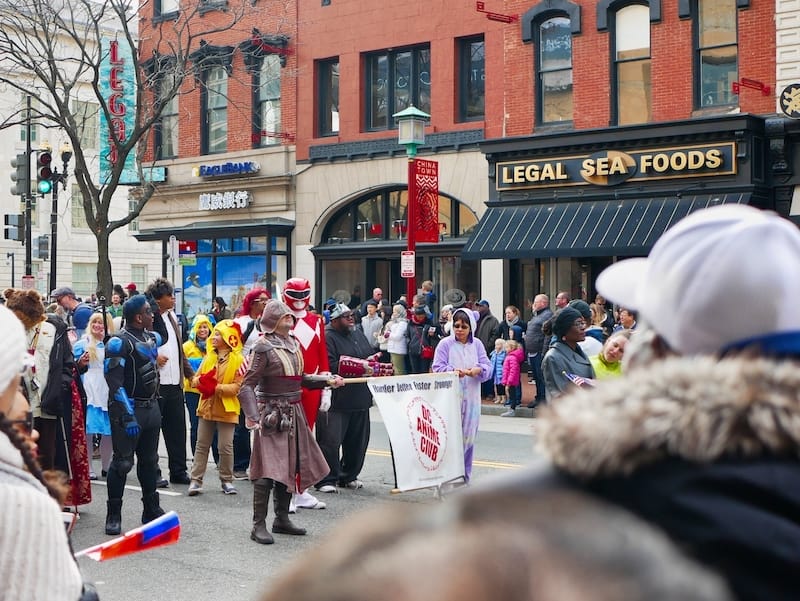 This festive parade's highlight is red, a traditional color in Asian culture to fend off evil spirits.
Get ready to be in awe of the final bang with the lighting of a huge firecracker that marks the end of the parade and serves as a sign to bring in good fortune.
4. Enjoy the District's Holiday Boat Parade
Get into the holiday spirit by taking part in the iconic District's Holiday Boat Parade, which starts on early December.
This annual D.C. tradition features a parade of sixty spectacularly adorned boats cruising along one mile of the Potomac River shoreline.
No registration is needed for this event, which is free for public access. Here you can go ice skating, admire the Christmas Tree, and head to the Waterfront Beer and Wine Garden for some winter beverages.
Kids will love the Christmas decorations provided by A.R. Workshop Alexandria. They will also get the chance to write a letter to Santa with the help of Penny Post's paper goods and try delicious popcorn at America's Favorite Gourmet Popcorn.
Wait for the arrival of Santa and Mrs. Claus at 3:30 pm, who will attend the annual Torpedo Factory Art Center Holiday Festival.
When hungry, pop over to Mae's Market and Cafe for some tasty treats or warm up with a cup of hot chocolate at Dolci Gelati.
5. Check Out the National Museum of African American History and Culture
Delve deep into rich African-American life, heritage, and culture at the National Museum of African American History and Culture, nestled on the National Mall.
This 19th museum of the Smithsonian Institution is housed in an architectural masterpiece, established by the Act of Congress in 2003 and opened to the public in 2016.
Explore the history and diversity of African-American culture and learn more about how it shaped this nation through more than 36,000 artifacts and interactive exhibits about slavery, arts, athletics, the Civil Rights Movement, and much more.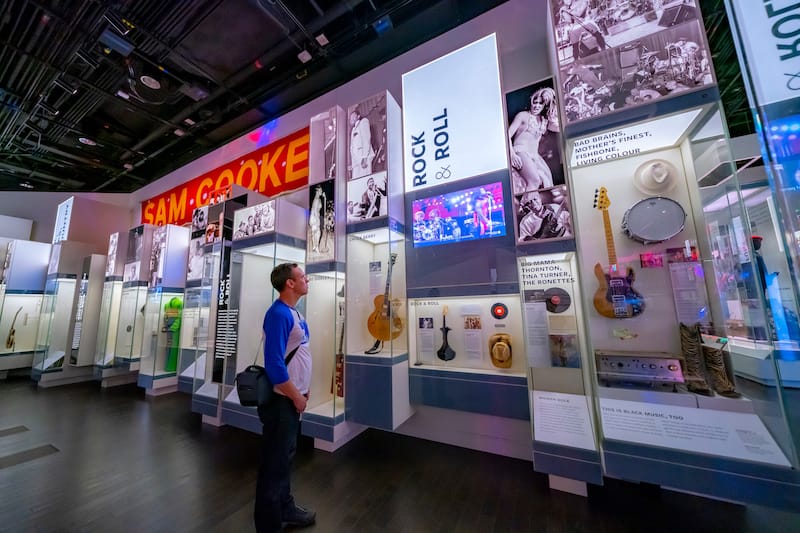 The museum's rich collection also includes a display of many unique treasures, such as Nat Turner's bible, a plantation cabin from South Carolina, Harriet Tubman's hymnal, Michael Jackson's fedora, a Guard tower from Angola Prison, and many other highlights.
The Washington DC museum is also home to spectacular marvels of world-renowned artists such as Elizabeth Catlett, Henry O. Tanner, Charles Alston, Romare Bearden, and others.
6. Visit the Washington DC Christmas Markets (& Year-Round Markets)
Downtown DC Holiday Market
From November 19 through December 23, the 17th Annual Downtown DC Holiday Market is going to be a magical marketplace where you can find the perfect holiday gifts for your loved ones.
This year, the outdoor shopping village will feature more than 70 exhibitors, ranging from unique artworks, landscape photography, and festive decor to clothes, jewelry, and specialty items offered by local vendors.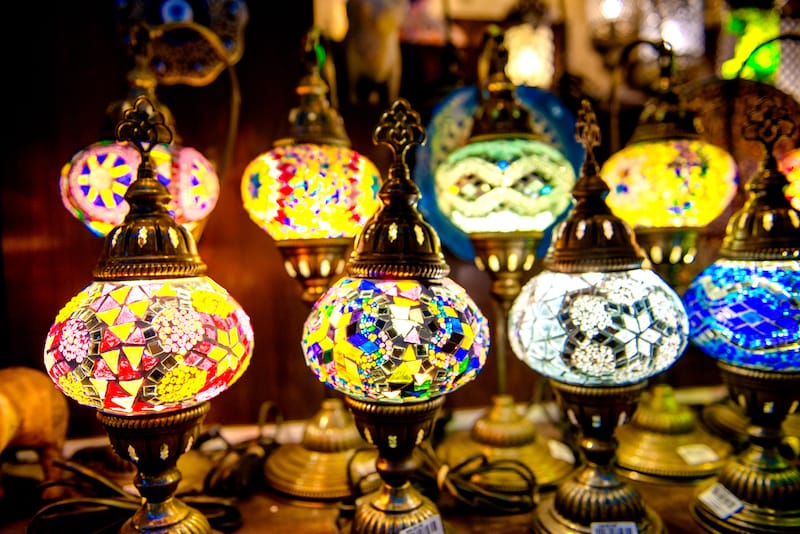 Six food vendors will provide you with delicious snacks and hot beverages to keep you warm while browsing through the market.
Magical festive ambiance will be guaranteed here as many regional and world-renowned musicians perform rock, jazz, soul, and country music, along with your favorite holiday songs on a live stage.
Eastern Market
Get a full taste of D.C.'s local produce and shop authentic crafts at the indoor and outdoor venues in historic Washington DC Eastern Market, housed in a 19th-century brick building.
In the South Hall, you will find everything from artisanal cheese and seafood to flowers and pottery offered by 13 shops (don't forget to try mouth-watering blueberry buckwheat pancakes in Market Lunch), while the open-air flea market features more than 100 vendors from every continent who offer vintage items, collectibles, and antiques.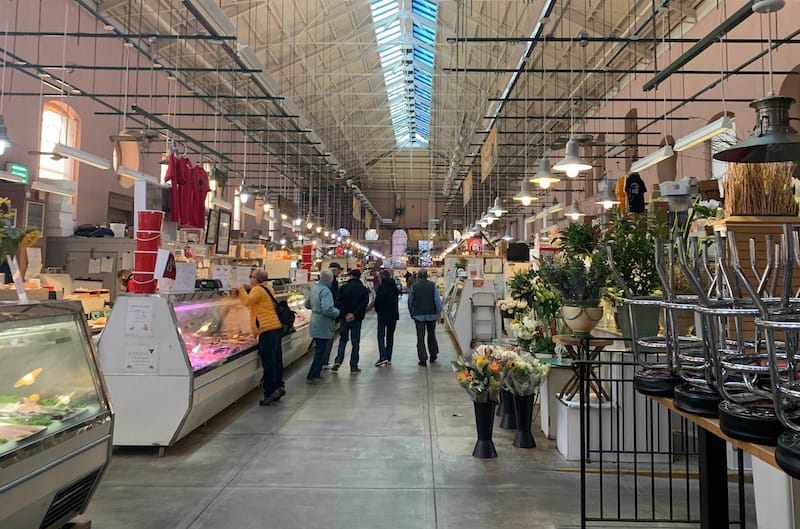 This market community organizes seasonal programs throughout the year to draw even more visitors to integrate into this charming atmosphere, enjoy the vibrant energy, and shop.
Union Market
Spend your weekend at Union Market which is packed with local food vendors and offers a wide range of dining and shopping options.
Refresh your kitchen pantry in Salt & Sundry, Bazaar Spices, and Teaism, which offer everything from crafty tableware and small-batch seasonings to cookbooks and local crafts.
Level up your dining experience in Arepa Zone for Venezuelan cuisine, Fava Pot for Egyptian meze, Red Apron Butchery for beer and bratwursts, Michelin Star Masseria for caviar-accented burrata, Rappahannock Oyster Co., and other delicious meals.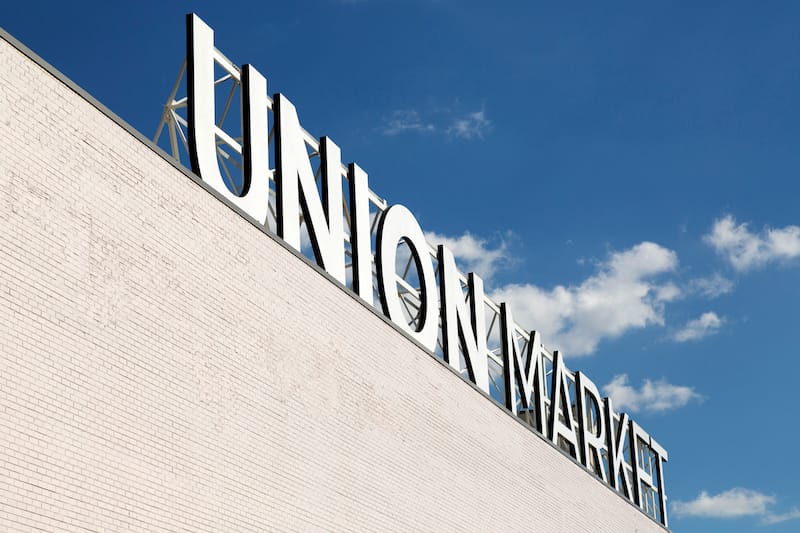 Immerse in Latin American heritage in La Cosecha, which features Salvadoran pupusas, Peruvian sandwiches, Panamanian coffee roasters, vegan Bolivian fare, and Colombian furniture.
7. Skate at the Washington Harbour Ice Rink
Let the ice skating season begin in the stunning plaza of Washington Harbour! From November 14 to March 13, the Harbour's large central fountain transforms into over 12,000 square feet of a skating rink, making it D.C.'s largest outdoor rink.
It is open for public skating seven days a week, including holidays.
Have fun adventures on the ice every week at various special events organized throughout the skating season, such as Two for Tuesday Skate, Cartoon Skate every Saturday morning, Rock N Skate every Saturday night, and College Night Skate every Thursday evening.
If you don't have your gloves and socks with you, you can buy some in the Skate Shop for only $4 a pair.
After you're finished skating alongside the gorgeous Potomac River, head to the nearby Farmers Fishers Bakers, Bangkok Joe's, Fiola Mare, or Sequoia to enjoy their delicious signature dishes.
8. Go on a DC Boat Tour or Cruise
Hop on a boat and set off to explore D.C.'s famous attractions and take in the stunning views of the Capitol from the water.
Capitol River Cruises offer short and affordable 45-minute cruises on the Potomac River and, besides the historical narration, they also provide soda, snacks, and drinks. Alternatively, they combine their cruises with other tours like this one.
If you want to check out world-renowned memorials around the National Mall, National Harbor, and Old Town Alexandria, choose the Potomac Riverboat Company, which offers the Washington Monuments Cruise for only $32 (round-trip).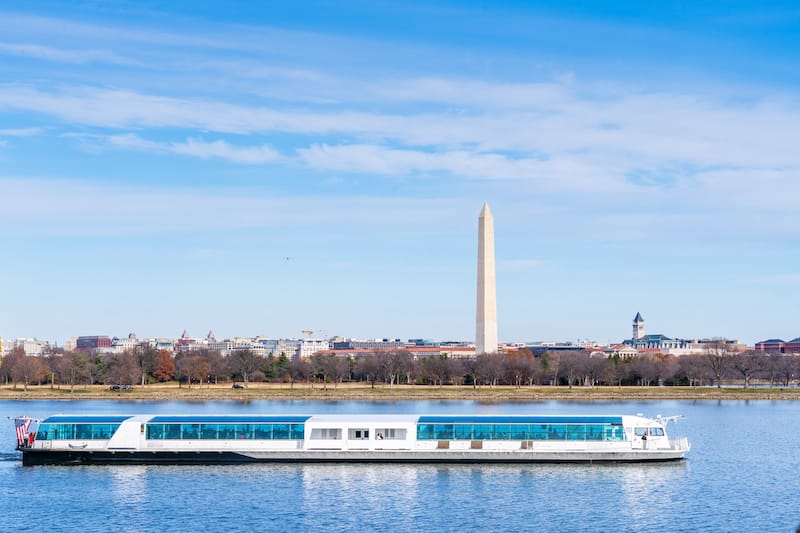 You can even dine while cruising on the river with Odyssey or Spirit Cruises for a premium experience. If you are not in the mood for a boat cruise, you can go for a bus tour leading to gorgeous Mt. Vernon.
In case you prefer a more laid-back tour, you can choose D.C. water taxis to get to and from Washington. Adventure lovers should explore the Potomac River on a sailboat for some unforgettable memories.
9. Stroll through the United States Botanic Garden
Visit the U.S.'s oldest Botanical Garden to dig deep into the importance of plants and learn more about their significant effect on our lives and the overall ecosystem.
Housed in a glassed-in Art Deco structure, the United States Botanic Garden is deeply rooted in the rich heritage of the country.
It was established in 1820 on the National Mall by the U.S. Congress with the efforts of George Washington, Thomas Jefferson, and James Madison to create a spot where Americans would gain more information about useful plants.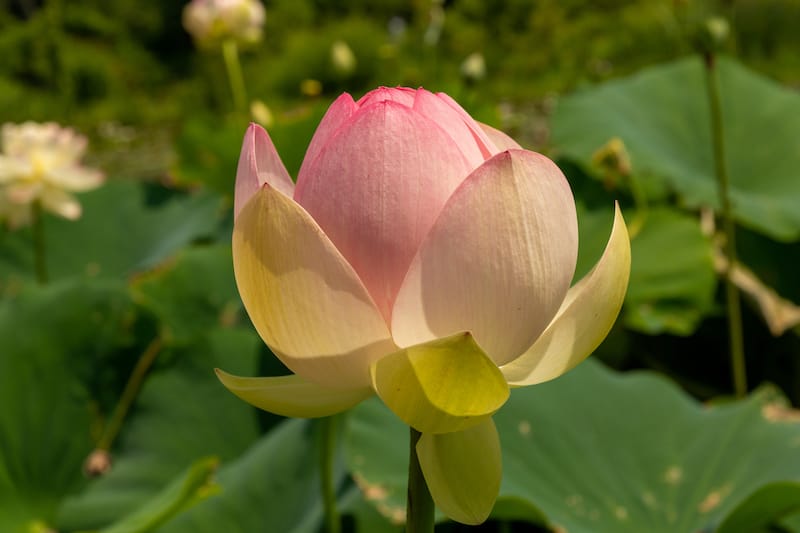 USBG is a living plant museum home to over 65,000 domestic and exotic plants, 4,000 of which are gorgeous orchid collections. The Garden is made up of three parts: the Conservatory, the National Garden, and Bartholdi Park.
All of the plants are shuttled frequently to help you discover new plants at every exhibition.
USBG also organizes many gardening seminars, concerts, and education programs for Congress and the public to promote environmental sustainability and plant protection.
10. Peruse Down U Street/14th Street Corridor
Once being the hub for America's Black culture, U Street/14th Street Corridor now serves as a famous vibrant spot among young people with a joyful approach to life.
The street is lined up with popular theaters like the historic Howard Theater, African American Civil War Memorial and Museum, vintage houses, boutiques, and eclectic galleries.
It also has many exciting options for foodies. People with a sweet tooth can try delicious ice cream with different flavors at Ice Cream Jubilee.
Night owls will appreciate this part of the District that never sleeps and features many bars and late-night dancing options.
Live music never ends on U Street, which you can enjoy in U Street Music Hall or 9:30 Club.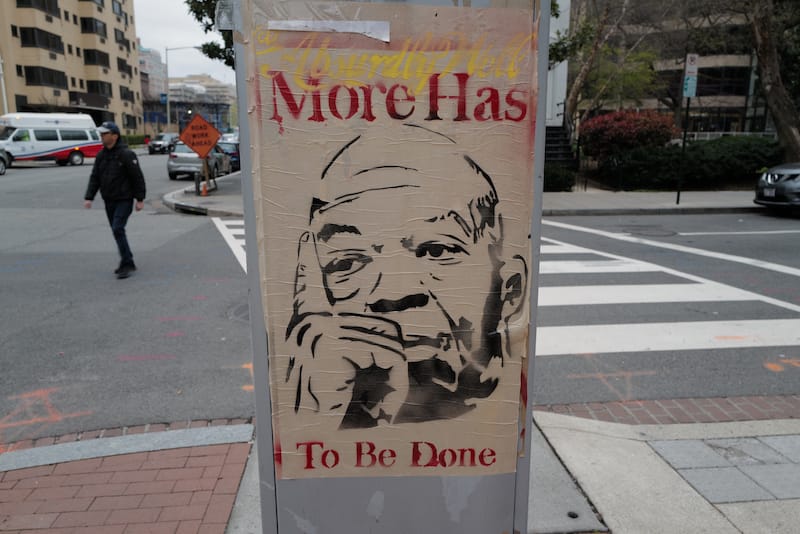 Wake up early and head to 14&U Farmers' Market to taste the area's local produce or visit the largest Meridian Hill Park to witness North America's longest cascading fountain inspired by the Italian Garden.
For a one-of-a-kind culinary experience, check out time-honored eateries lined along "Little Ethiopia" that pay tribute to the Horn of Africa, or visit Ben's Chilli Bowl, which has been serving locals, celebrities, and presidents with their signature D.C. half-smoke since 1958.
Before leaving, snap a selfie with stunning street murals to bring home a piece of U Street with you.
11. Indulge at DC Winter Restaurant Week
If you are planning your next winter tastebud-tingling trip, then add DC Winter Restaurant Week to your bucket list.
Winter Restaurant Week is a bi-annual event organized by the Restaurant Association of Metropolitan Washington (RAMW).
Running from January 25 to February 7, DC Winter Restaurant Week showcases the best of the DMV restaurant community, including more than 250 restaurants, such as Immigrant Food, Matchbox Capitol Hill, Colada Shop, Old Ebbitt Grill, and others.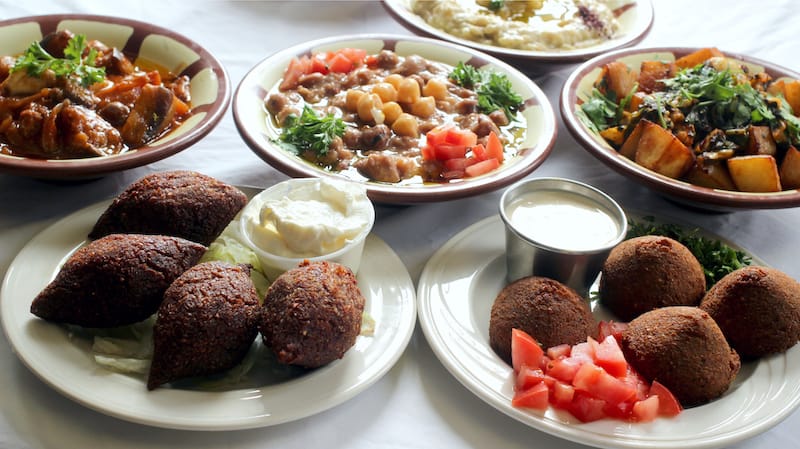 Here, a variety of participant restaurants will provide you with exclusive multi-course fixed-priced meals, ranging from $22 lunch, $22 brunch, and $35 dinner options for you to choose from.
You can have your meal delivered, enjoy outdoor dining, order take-out, plus choose cocktail or wine pairings.
Enjoy delicious French cuisine in Le Chat Noir for $35. For a quick bite, head to Farmers Fishers Bakers for $35, and try mouth-watering 3.6.9 mini burgers or pizzas in Matchbox Capitol Hill for $55.
12. Visit the Hirshhorn Museum and Sculpture Garden
Quench your thirst for art and get a great dose of inspiration at the Hirshhorn Museum and Sculpture Garden.
The Museum's unique cylindrical design by Gordon Bunshaft makes it stand out from its surroundings.
Here, you can admire more than 12,000 international modern and contemporary artworks created by major international and regional artists, historical developments, otherworldly sculpture exhibits, works on paper, performances, and important trends.
The Museum devotes a national platform for today's artists to experiment and create masterpieces with the help of digital media, video, and technology.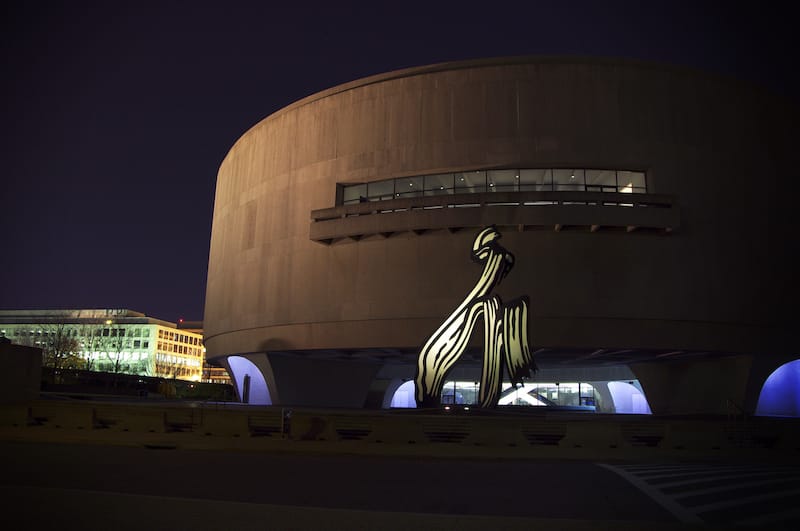 The Hirshhorn Museum's unique collections include one of the world's most noteworthy 20th-century collections of postwar American and European art.
In the outdoor galleries, Sculpture Garden and Plaza, you will find stunning sculptures amidst perfect settings created by world-renowned artists, such as Alberto Giacometti, Auguste Rodin, Henry Moore, Yoko Ono, and others.
Another highlight of the Sculpture Garden is ARTLAB+, which serves as a digital art studio for local teens.
13. Explore Capitol Hill
Capitol Hill is the center of the city and the seat of the U.S. government. It is home to the Senate, Houses of Representatives, and the U.S. Capitol, one of the world's most recognizable buildings, where you can see the Congress in session with an advance pass.
The second must-see government building is the neoclassical marvel Supreme Court from the 1930s, which you can tour on your own or even take part in free lectures to learn more about this majestic building.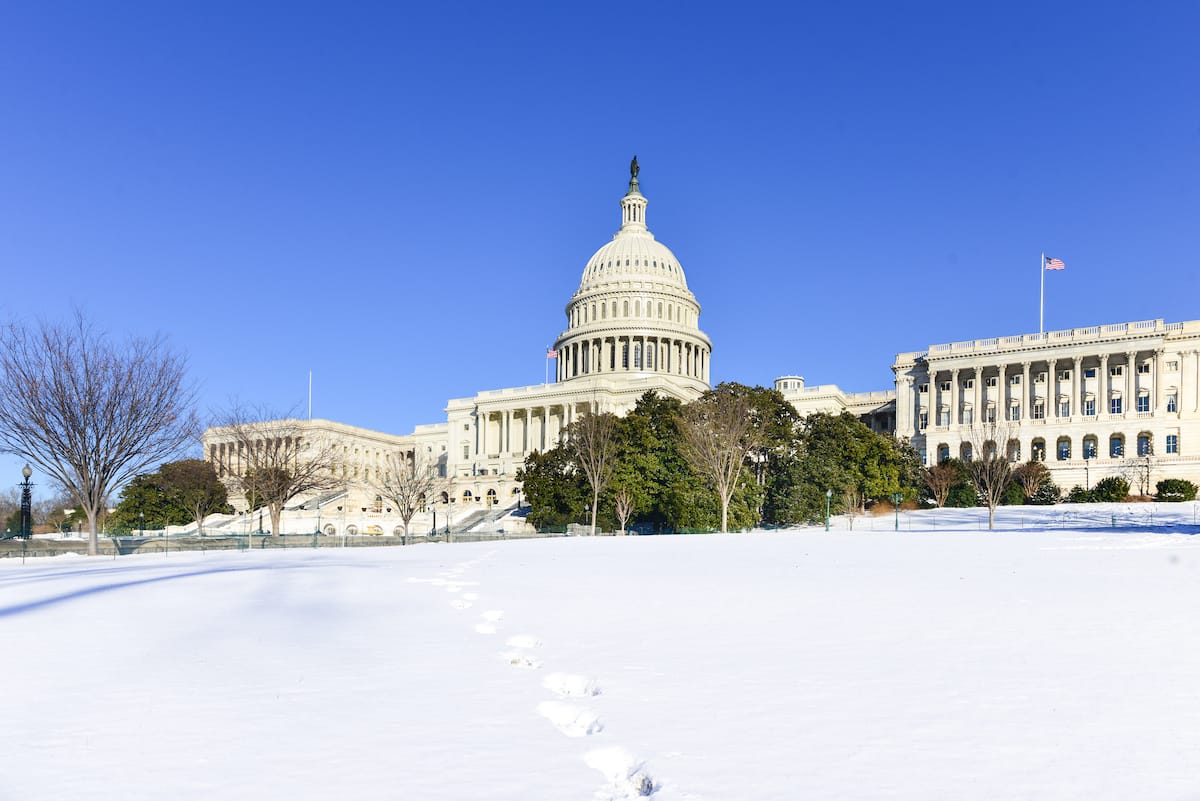 Marvel at Italian-Renaissance style architecture by exploring the 1897 Thomas Jefferson Building and the historic Library of Congress, which is the world's largest library that also features many exhibitions and tours.
Food enthusiasts can pop over to the nearby Eastern Market and Barracks Row for some delicious treats.
Enjoy a spectacular play at the Folger Shakespeare Library which offers the world's largest collection of Shakespeare's timeless works, or visit the U.S. Botanic Garden for a peaceful escape into the world of green.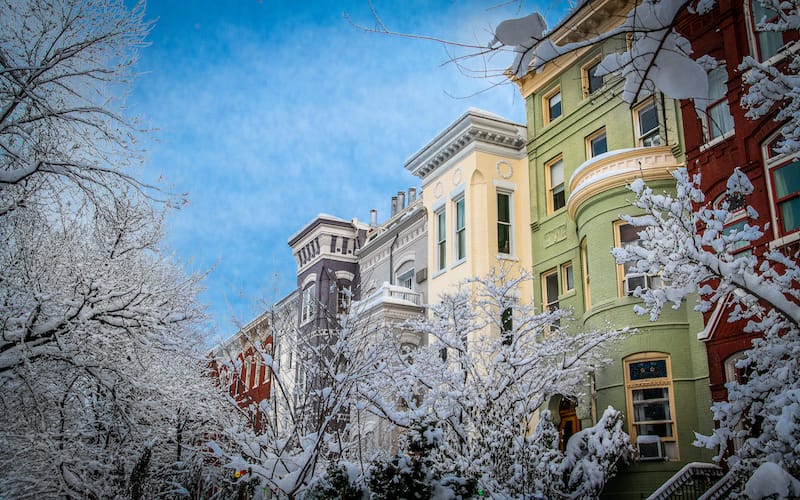 14. Participate in the DC Snowball Fight
This year, everyone's favorite D.C. tradition made a huge comeback. Active since 2010, Washington DC Snowball Fight Association organized a fun event and called it "The Great Snowakening."
It took place near the Smithsonian Castle, where hundreds of people joined to have snowball fights on the grounds of the National Mall.
All the brave ones got their snow gear out of storage and headed out to have safe and fun adventures in the heart of D.C.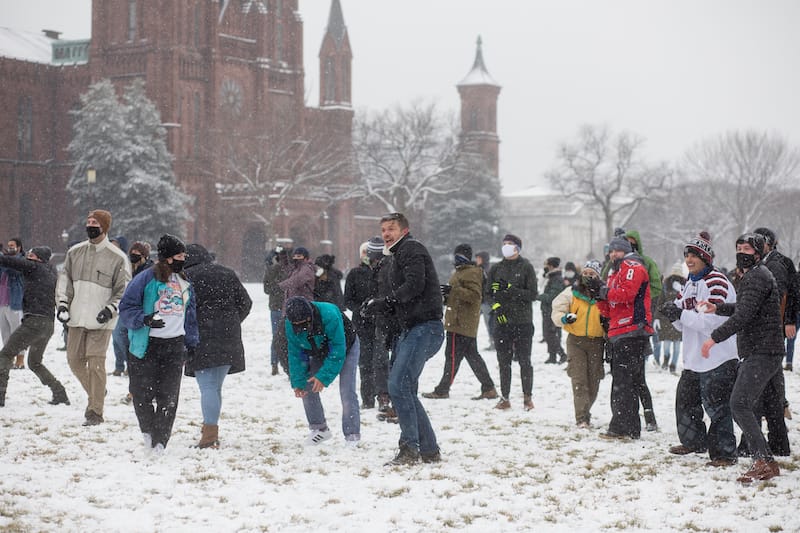 This year's impressive snowfall was one of the heaviest during the last two years, which blanketed the area creating perfect conditions for people to let their inner child out and call a snowball battle.
People were building snowmen, sledding, and even skiing on the 2 to 3 inches of snow. This lively event was a continuation of similar events organized previously in Dupont Circle and Meridian Hill Park.
15. Discover the Wharf in Winter
Head to the stunning waterfront Wharf to enjoy the change to the holiday season. Stroll along the Pier to admire fireworks, live music, and art shows along the waterfront.
You also have plenty of fine dining and shopping options to choose from.
For a day out on the water, you can rent a kayak or paddleboard from the Wharf Boathouse to view the District and check out some of D.C.'s well-known attractions.
Don't forget to participate in the annual Holiday Boat Parade or see a concert at The Anthem.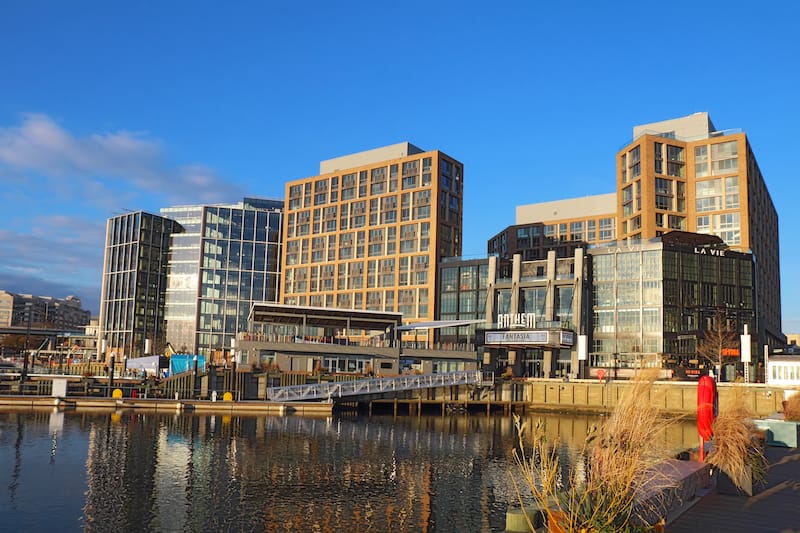 The Wharf transforms into a magical destination during winter events, which includes the Lighting of The Wharf Christmas Tree on November 26, Lighting of the Menorah on November 28, and The District's Holiday Boat Parade on December 4.
Skating enthusiasts can lace up their skates and pop over to Transit Pier to enter the waterfront Wharf Ice Rink, which opens from November 24 and allows you to take in the stunning views of the water and nearby monuments while gliding over the ice.
Where to Stay in Washington DC during Winter
If you're looking for a place to crash while you're visiting Washington DC (and not far from some of the top landmarks!), here are some of our top hotel picks:
⇒ Hotel Lombardy (on Pennsylvania Avenue)
⇒ Embassy Suites by Hilton Washington D.C. Georgetown (near Dupont Circle)
⇒ Washington Court Hotel (near the US Capitol Building)
⇒ Grand Hyatt Washington (close to center and metro)
What are your favorite things to do in Washington DC in winter? Let us know your DC winter tips below! Thanks!
More DMV Travel Guides
Pin this Winter in DC Travel Guide