You will find so many cool things to do in Baltimore that you don't need to leave the city to enjoy your time. However, you will find so many cool day trips from Baltimore that you'll want to plan more time into your itinerary so that you can enjoy some of them!
Are you planning your trip to Baltimore last minute?
If you're traveling to Baltimore last minute, have your lodging and tours booked ahead! Below are some of our top picks for both!
🇺🇸 Best Tours and Experiences in Baltimore:
🛌 Where to Stay in Downtown Baltimore:
Sagamore Pendry Baltimore (5-star right on the water!)
Hotel Revival Baltimore (warm interior, yet modern!)
🚗 Looking for the best way to get around Baltimore? Click here to check rental car rates for Maryland!
We have listed some of the best Baltimore day trips, including some of the usual suspects mixed with some lesser-known places.
All of the day trips are within three hours or less, but please factor in traffic if you're heading out on the Beltway.
What are your favorite places to visit near Baltimore? Let us know in the comments!
Best Day Trips from Baltimore
1. Gunpowder Falls State Park
State: Maryland
Distance from Baltimore: 22 miles (29 minutes)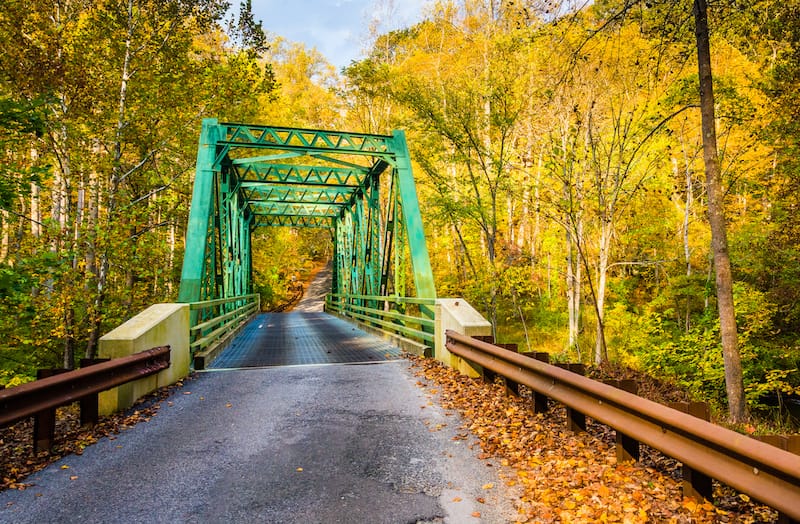 Known as one of Maryland's largest state parks, Gunpowder Falls State Park is a dream destination for adventure seekers and waterfall lovers.
Divided into six sections, the park features four picnic pavilions, a swimming beach, playgrounds, concession stands, sailboat rentals, water trails, etc.
It spans over 1800 acres of land and is home to over 120 miles of scenic hiking trails, which are great for hiking, biking, horseback riding, and other recreational activities.
Fishing, paddling, kayaking, windsurfing, sailing, and swimming are also allowed at the park's 1,500-foot beach. Snow blankets the park during the winter season, making it perfect for some cross-country skiing.
2. Philadelphia
State: Pennsylvania
Distance from Baltimore: 106 miles (1 hour, 47 minutes)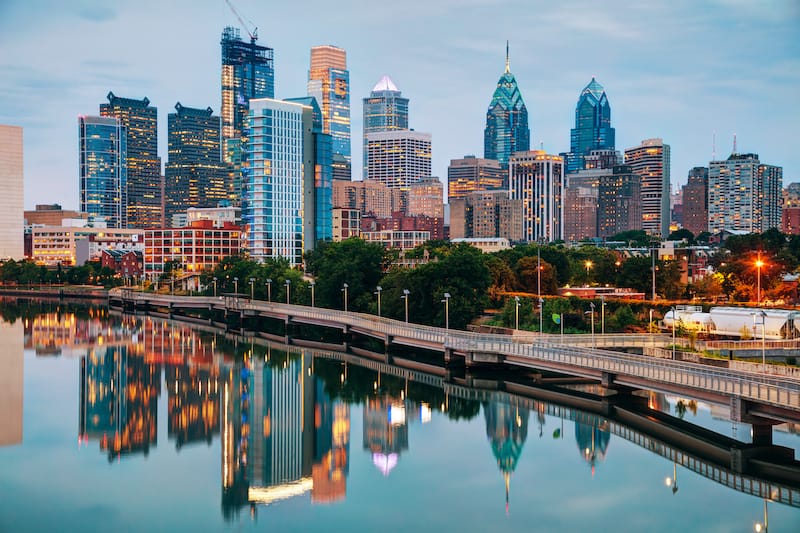 The historic city of Philadelphia, known as the City of Brotherly Love, is where American ideals of liberty were born.
Immerse yourself in history by touring Independence National Historical Park, home to Independence Hall and the Liberty Bell, check out the African American Museum, or stroll along historic Elfreth's Alley.
In Philly, you can see the famous LOVE sculpture and quench your thirst for art by visiting the city's many art galleries and museums lined along Benjamin Franklin Parkway, such as the Franklin Institute, the Philadelphia Museum of Art, Barnes Foundation, etc.
When hungry, head to Geno's Steaks or Pat's King of Steaks to taste Philly's most famous food… cheesesteaks!
While there are quieter day trips from Baltimore, Philadelphia never fails to keep an entire family entertained and occupied.
3. Michaux State Forest
State: Pennsylvania
Distance from Baltimore: 70 miles (1 hour, 38 minutes)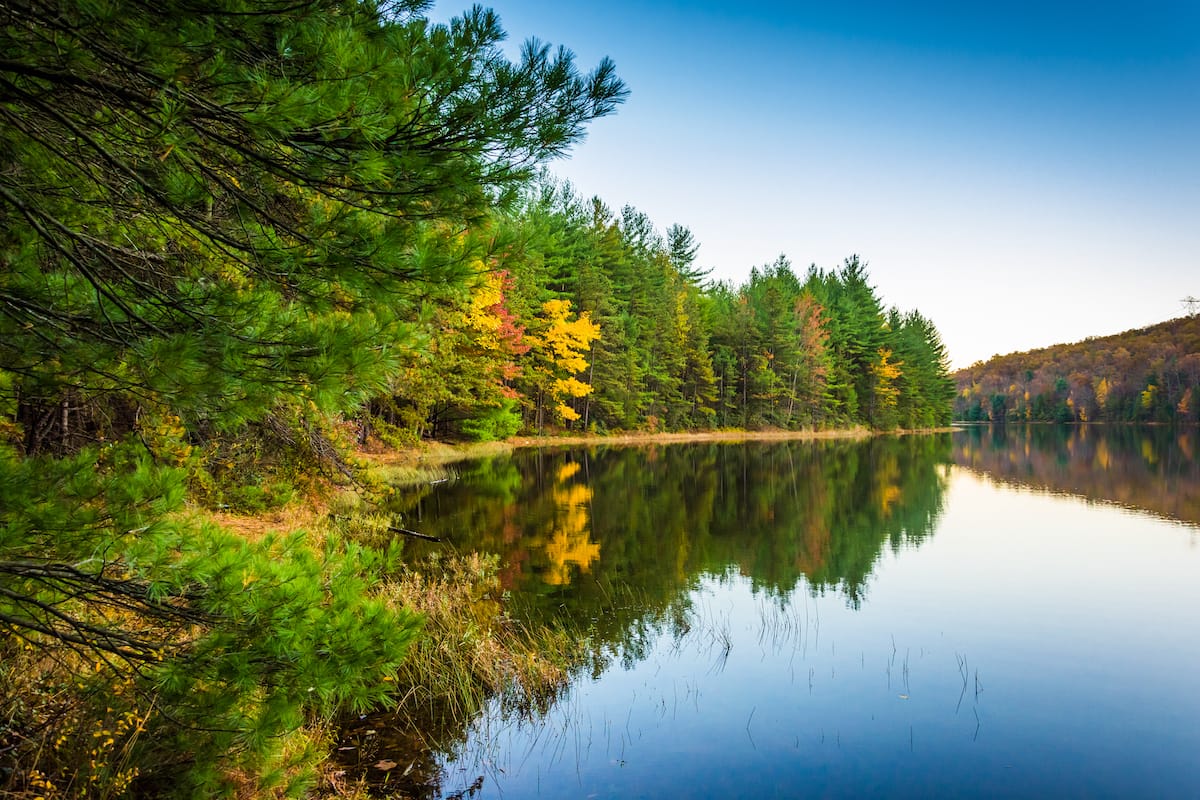 Michaux State Forest is a historically significant forest that covers part of the Blue Ridge Mountains and three counties in southern Pennsylvania.
Before becoming a protected forest aiding the local economy, the designated natural site served as a "center" for the iron industry for many years.
Michaux State Forest is packed with ample recreation opportunities for every season, so you can enjoy boating, cycling, camping, horseback riding, and mountain biking in the warmer season while ice fishing, hunting, snowmobiling, ice skating, and cross-country skiing during the winter months.
Nature lovers can even head to hiking a part of the famous Appalachian Trail that will reward you with stunning natural scenery from Maine to Georgia. While you can visit as a day trip, it is also one of the best weekend trips from Baltimore!
4. Annapolis
State: Maryland
Distance from Baltimore: 30 miles (38 minutes)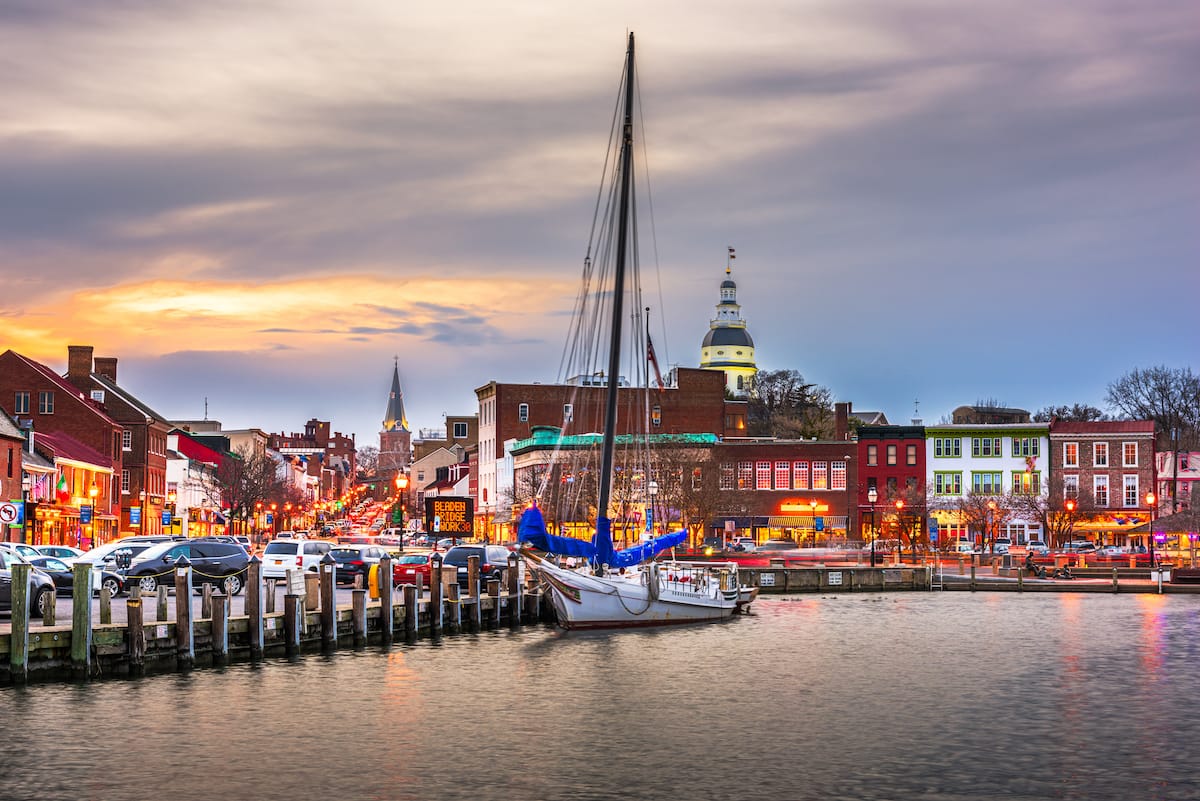 Home to the US Naval Academy, Annapolis is the perfect destination for those who enjoy being by or on the water.
Located close to the Chesapeake Bay, charming Annapolis has plenty of options for boat rentals, kayaking, as well as waterfront restaurants to try delicious seafood feasts (seriously the tastiest crab and seafood of any place I have visited!).
Stroll around Maryland's capital city to witness the unique architecture of Historic Annapolis, such as the 1700s Maryland State House, Banneker-Douglass Museum, and other 18th-century historic buildings on every corner (it's quite romantic!).
Outdoor enthusiasts can head to Quiet Waters Park for hiking, biking, and running. Don't miss the annual Renaissance Festival held in Greenstreet Gardens if you want to travel back in time!
While Annapolis is one of the obvious Baltimore day trips, it is still one that you can take over and over to get a deep feel for the city.
5. Shenandoah National Park
State: Virginia
Distance from Baltimore: 107 miles (2 hours)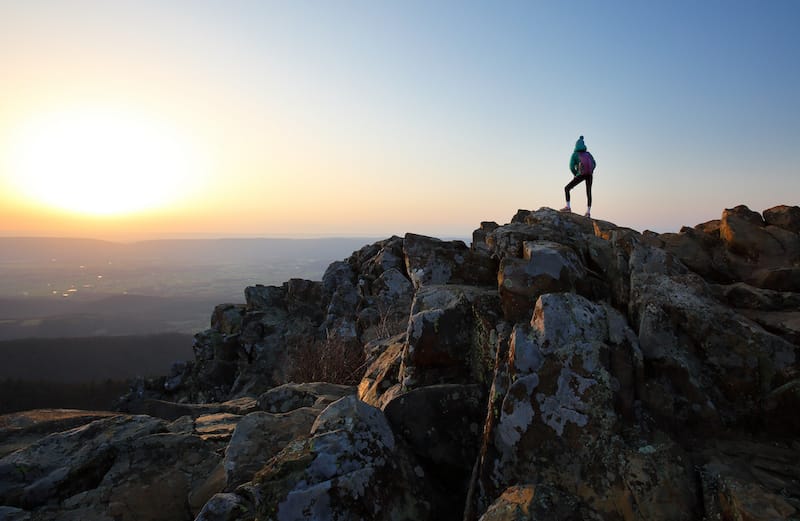 Reconnect with nature by discovering Virginia's unspoiled natural beauty in Shenandoah National Park, home to endless scenic wilderness.
Situated along the Blue Ridge Mountains, the National Park in Virginia will reward you with panoramic vistas of mountain streams, wooden hollows, summits, waterfalls, fields of wildflowers, etc.
There is also 80,000 acres of designated wilderness and a 300-square-mile sanctuary for birds, deer, and black bear.
Skyline Drive, one of the park's main features and one of the most famous drives in the US, offers 105 miles of scenic road and promises mesmerizing splendor of majestic mountains and the Shenandoah Valley from 70+ overlooks.
The park also offers 500 miles of trail for you to immerse in serene nature and explore the surrounding wilderness.
6. Harrisburg
State: Pennsylvania
Distance from Baltimore: 79 miles (1 hour, 20 minutes)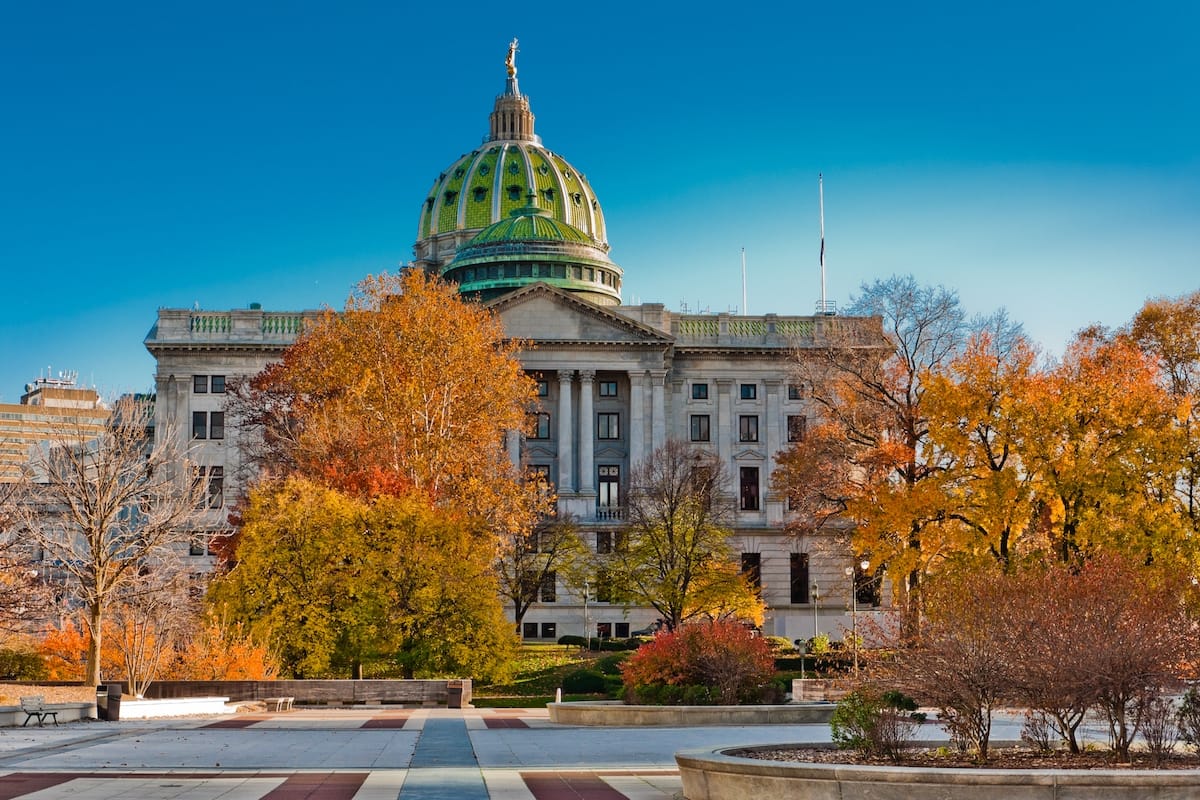 For those who love nothing more than discovering history-filled places through its past, then Harrisburg, Pennsylvania's capital, should be a Baltimore day trip that you consider!
The Pennsylvania State Capitol Complex is the centerpiece of the city that will make you experience awe from its impressive architecture inspired by St. Peter's Basilica.
The National Civil War Museum offers a glimpse into one of America's most important conflicts, while the State Museum of Pennsylvania will help you delve deep into the history of Pennsylvania.
Step back in time at the John Harris and Simon Cameron Mansion or visit the Pennsylvania National Fire Museum housed in an 1899 Victorian-style FireHouse to learn more about fire safety.
7. Leesburg
State: Virginia
Distance from Baltimore: 73 miles (1 hour, 13 minutes)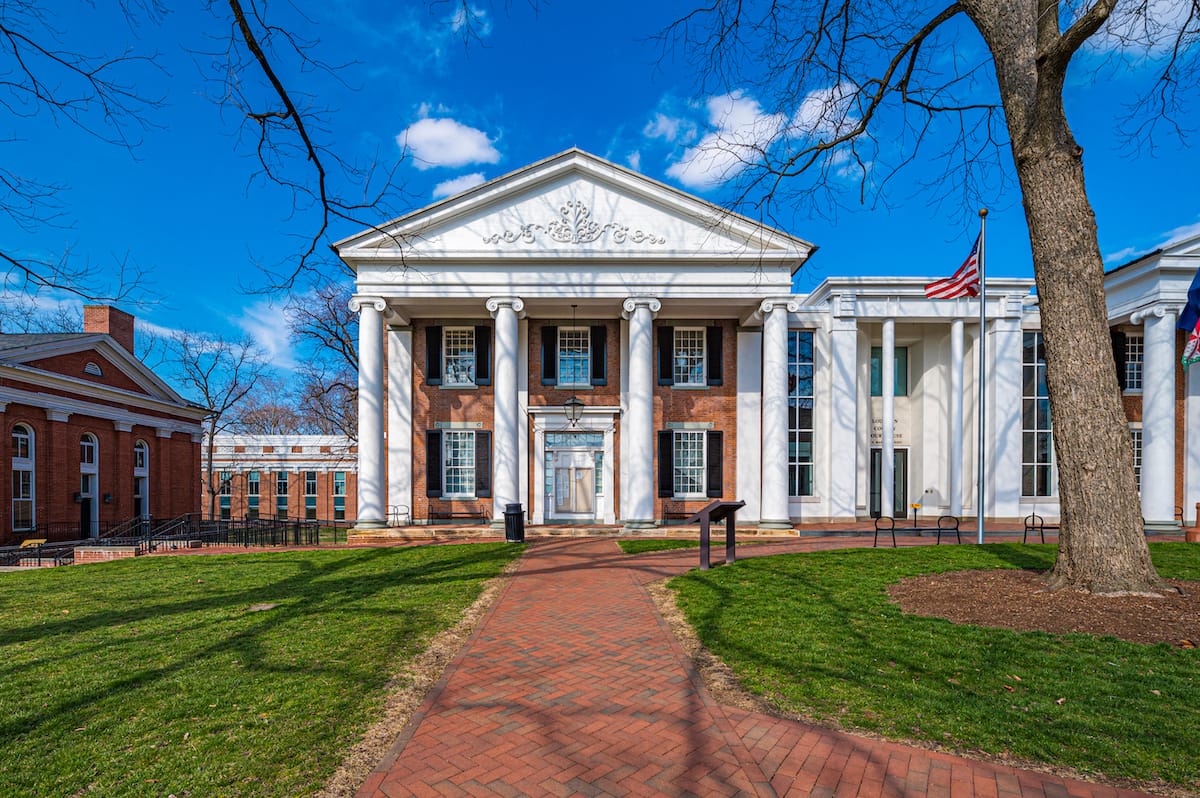 Situated at the foothills of the Catoctin Mountains, Leesburg is a historic town in Virginia that has been home to many prominent American families and has witnessed more than its fair share of astonishing history.
As the last one of 100+ ferries operating on the Potomac River, White's Ferry still transports trucks, cars, and pedestrians and offers picnic facilities, canoes, boats, etc.
Morven Park is another must-visit place to see the historic Morven Mansion, Museum of Hounds and Hunting, and the Winmill Carriage Museum.
History buffs will certainly gather unforgettable memories by touring two centuries-old Oatlands Historic House and Gardens, George Marshall's House, Ball's Bluff Battlefield Regional Park, and the Thomas Balch Library.
8. Chesapeake Beach
State: Maryland
Distance from Baltimore: 56 miles (1 hour, 6 minutes)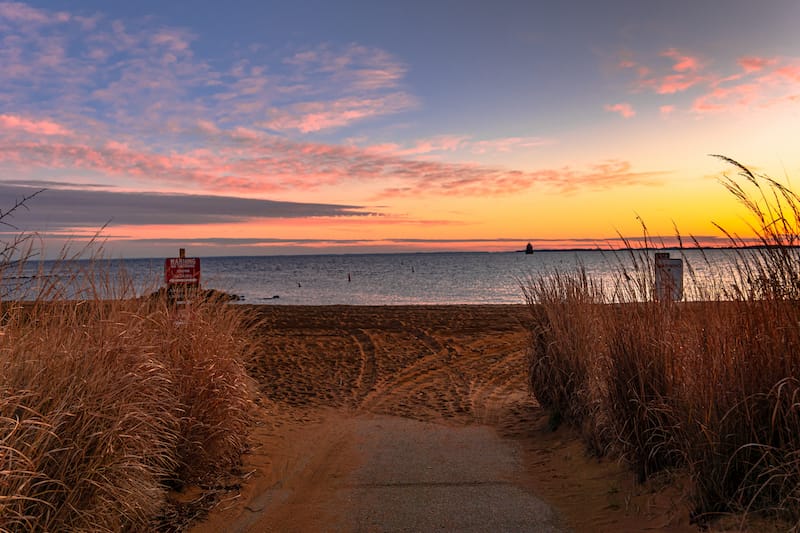 Those in search of a relaxing day trip from Baltimore can definitely have fun and enjoy hours of sunshine at Maryland's charming Chesapeake Beach.
Visit Bruce Snake Gabrielson's Surf Art Gallery and Museum to learn more about the art of surfing and dig deep into the city's surfing history.
Another must-visit spot is the Railway Museum, detailing the history of the Chesapeake Bay Railway Company through various historic exhibits and photographs.
Avid swimmers can enjoy the warm water, sunbathe on golden sandy beaches at BayFront Park or get wet and wild at the Water Park.
Don't forget your fishing gear since your next great catch is guaranteed on chartered boats departing from Breezy Point Marina and the Rod N' Reel Marina.
9. Alexandria
State: Virginia
Distance from Baltimore: 55 miles (1 hour, 1 minute)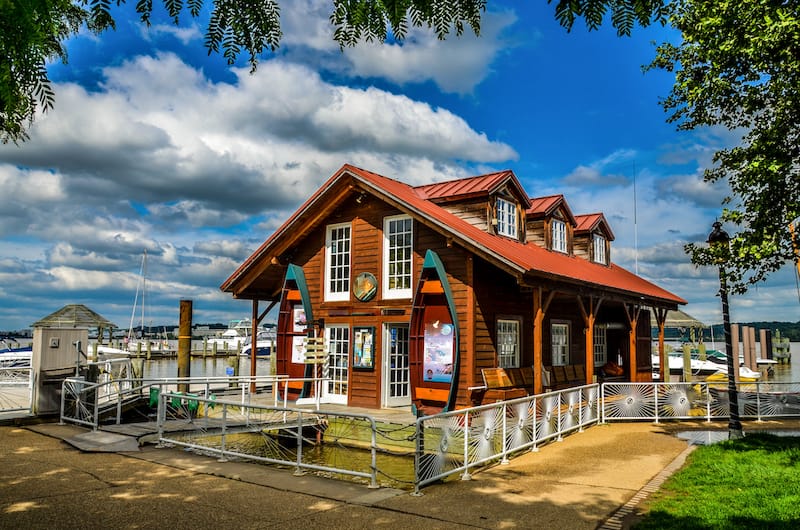 Escape the crowds and immerse in history in Alexandria, nestled south of Baltimore and Washington DC.
Take in stunning centuries-old architecture, check out shops and restaurants while strolling the red brick King Street Mile, one of America's "Great Streets."
George Washington's Mount Vernon is a must-visit place in Alexandria where you can tour the grounds and explore the inner world of one of the founding fathers.
Unlock secrets of American history in the Gadsby Tavern Museum, Carlyle House, and Stabler-Leadbeater Apothecary Museum, or admire unique art at the Former Torpedo Factory. For some outdoor fun, go hiking and biking along 18 miles long Mt. Vernon Trail that will lead you from Theodore Roosevelt Island through Alexandria to Mt. Vernon.
Be sure to check out some of the cozy coffee shops in Alexandria when you're there too!
10. Rehoboth Beach
State: Delaware
Distance from Baltimore: 119 miles (2 hours, 39 minutes)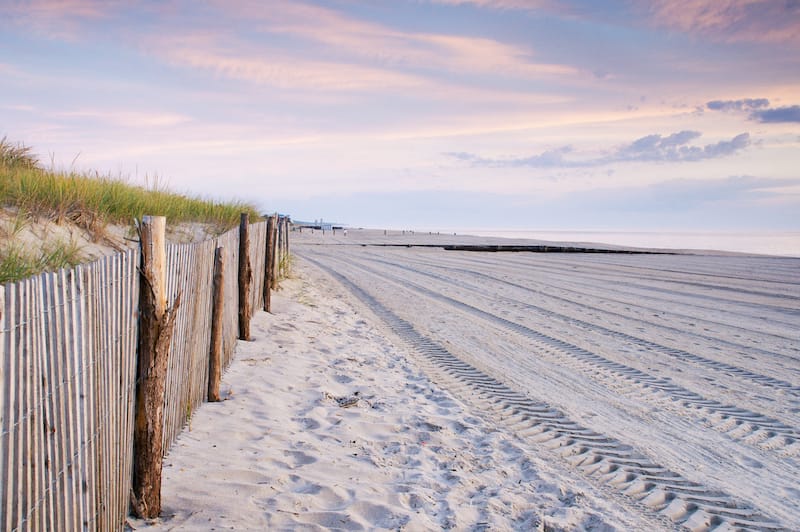 As Delaware's largest beach resort area, Rehoboth Beach is the "Nation's Summer Capital" and it attracts visitors with its unique vibes and family-friendly atmosphere.
And, there are many amazing things to do in Rehoboth Beach!
The Delaware town's main feature is its iconic boardwalk that features many fine dining restaurants, stores, historic hotels, tax-free shopping centers, etc.
Visit Funland for some family entertainment at a small 1960s theme park and enjoy the city in lights during the evening hours.
Escape the city's hustle and bustle at nearby Cape Henlopen State Park, where you can go hiking through sand dunes and wild beaches.
Dogfish Head and Crooked Hammock are the places to go if you want to enjoy Delaware's signature craft beer scene!
11. Antietam National Battlefield
State: Maryland
Distance from Baltimore: 72 miles (1 hour, 23 minutes)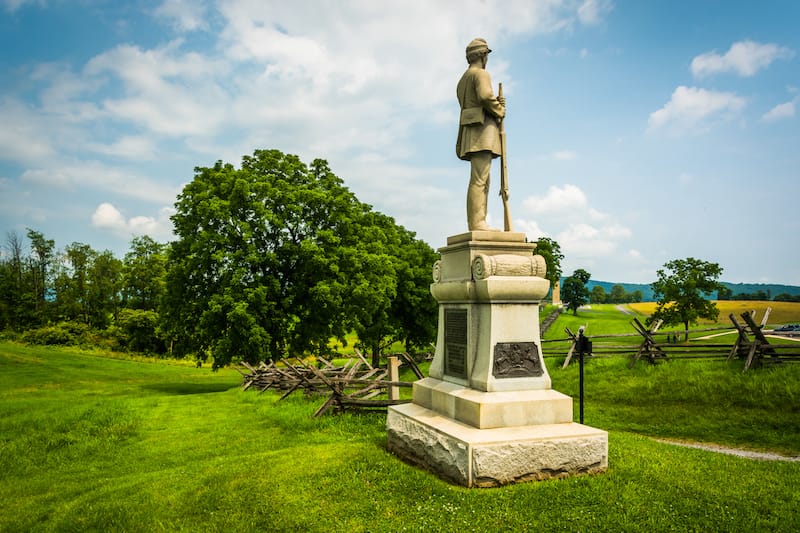 If you are looking for a history-filled day trip from Baltimore, then Antietam National Battlefield is the place to go.
Antietam is one of the US's best-preserved battlefields that allows you to experience the real-life terrain where one of the Civil War's bloody battles took place.
Stop by the visitor center and then head to check out Dunker Church, Bloody Lane, Burnside Bridge, National Cemetery, Newcomer House, and Pry House Field Hospital Museum.
Take part in park ranger programs for an educational battlefield talk, go for self-guided hikes to Cornfield, Final Attack, and Sherrick Farm, or check out the Museum Store to bring a piece of history home with you.
12. Atlantic City
State: New Jersey
Distance from Baltimore: 156 miles (2 hours, 37 minutes)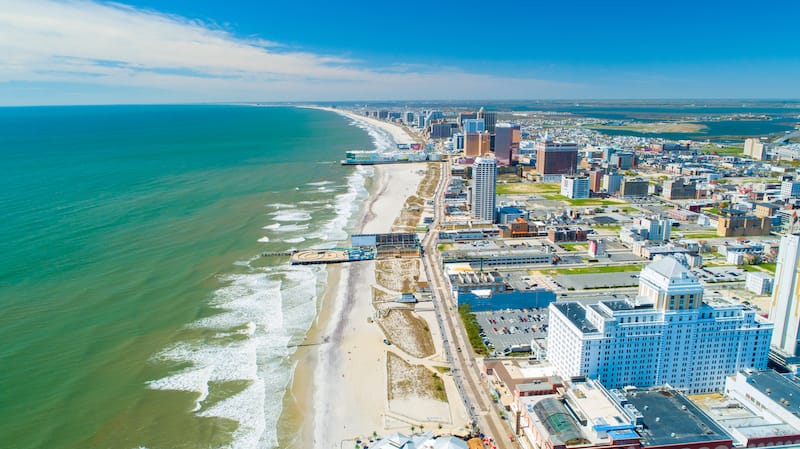 Atlantic City, also known as Monopoly City, is a resort town perfect for those after some luxury. The lively city is known for its epic nightlife, luxurious casinos, stunning Jersey Shore beaches, fine dining, etc.
Stroll along the Boardwalk to check out towering casinos, unique boutiques, and small restaurants like Crafty Crab while admiring spectacular views of the ocean.
Adrenaline junkies will feel at home at Steel Pier Amusement Park, where you can experience the thrill of roller coasters, the Monster Plunge, swinging carousels, etc.
Round off your day by enjoying a lovely show at the Atlantic City Ballet or quench your gaming thirst in the world's largest Hard Rock Hotel and Casino.
13. Ocean City
State: Maryland
Distance from Baltimore: 145 miles (2 hours, 50 minutes)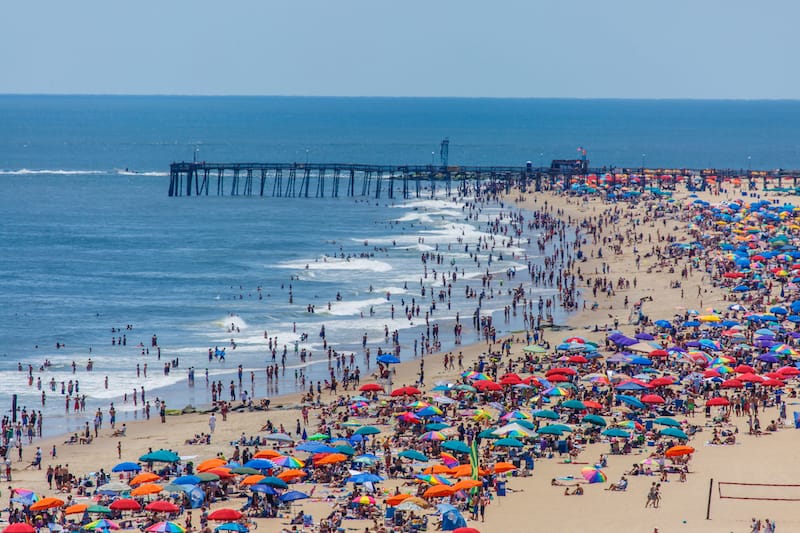 If you are looking for a fun family vacation at the beach, then add Ocean City to your Maryland bucket list.
A 3-mile lively boardwalk is the main feature of the beach city, lined with plenty of shops, delicious eateries (Love's Lemonade, Boog's BBQ), and game and amusement centers such as the oldest Trimper's Carousel, Ripley's Believe It or Not!, etc.
Water junkies will love this city for its ample water activities, such as stand-up paddleboarding, kayaking, jet skiing, parasailing, pontoon boating, sailing, and even fishing from Ocean City Pier.
Put your party shoes on since things heat up in Ocean City during the nighttime, where you can enjoy jazz, blues, or dance until the morning in bars and nightclubs.
14. Six Flags America
State: Maryland
Distance from Baltimore: 34 miles (52 minutes)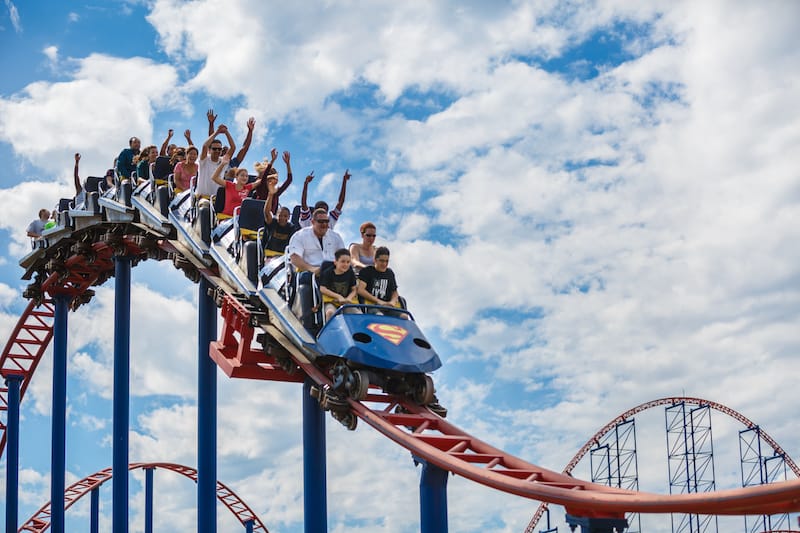 Embark on hurt-pumping adventures at Six Flags America, the Washington-Baltimore area's largest theme park.
Thrill-seekers can't resist the more than 50 exciting rides that will surely guarantee your weekly dose of adrenaline. Get wet and wild while taking a plunge on thrilling water slides or riding the waves in a huge wave pool.
Kids will certainly enjoy twisting swings and music-filled whirlwinds, while brave ones can try family-friendly roller coasters.
Many restaurants and snack corners will help you fuel up by offering delicious snacks, healthy fare, and full meals.
Make sure not to miss special events and live shows and check out the park's unique shops to bring home a piece of the park with you!
15. Hershey Park
State: Pennsylvania
Distance from Baltimore: 90 miles (1 hour, 31 minutes)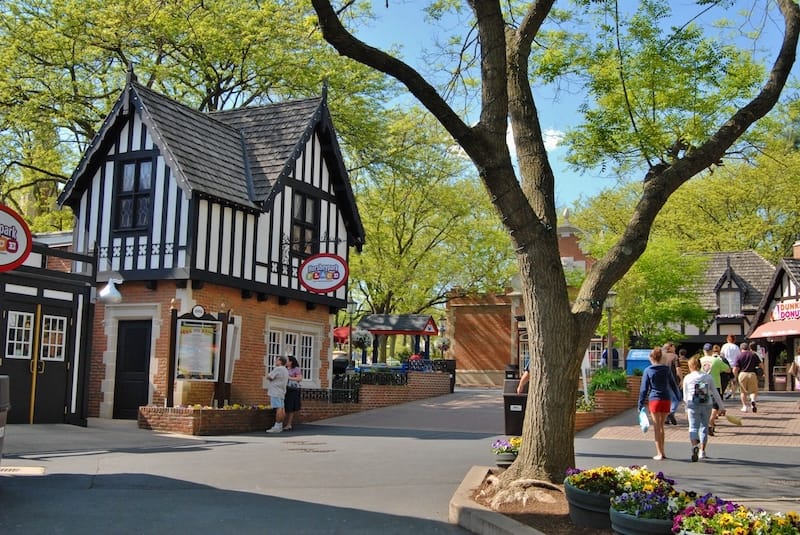 Embrace your inner child at Hershey Amusement Park, one of the coolest destinations on the East Coast which features 76 attractions, including 14 thrilling roller coasters, various entertainment attractions, and a water park.
The PA park is nestled in the town of Hershey, 15 miles east of Harrisburg. The amusement park's main feature is the Boardwalk which offers a children's area, seven-story high water slides, and a tidal wave pool.
For some spooky adventures, visit Hersheypark In The Dark during Halloween weekend for trick-or-treating adventures and ride heart-pumping, light-out rides in total darkness.
Take a break from the water and action-packed rides by attending exciting performances organized throughout the park.
16. Washington DC
Distance from Baltimore: 38 miles (depending on traffic)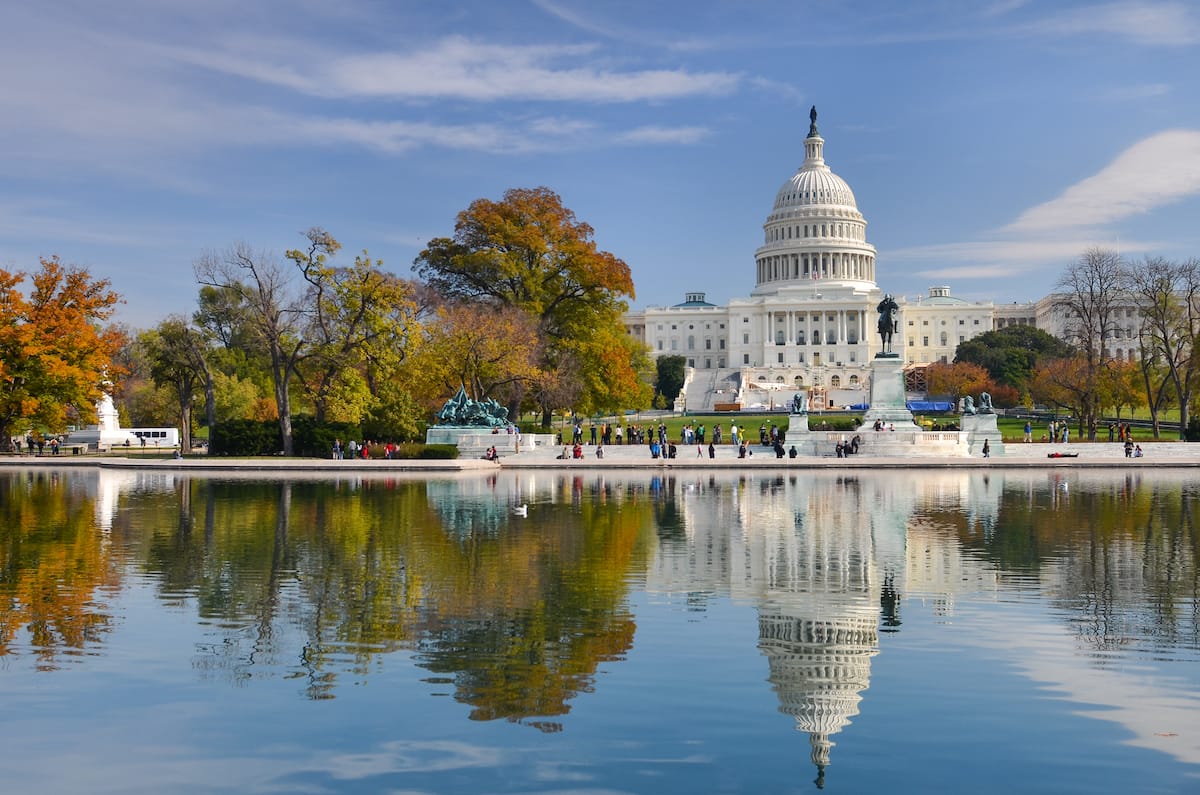 The nation's capital, Washington DC, has so much to offer its visitors that it's basically impossible to see everything within a day, but please make sure to at least see the following highlights of the city!
The National Mall is one of the city's must-visit places and it is a grassy 1000-acre park home to the world-famous Lincoln Memorial, Washington Monument, and is surrounded by Smithsonian museums, the US Capitol Building in the east, and the White House in the north.
Baseball fans should head to Nationals Park to witness the city's beautiful baseball stadium where the Washington Nationals play.
If you still have time, check out the Eastern Market to pick fresh local produce or Union Market to enjoy mouth-watering dishes at Arepa Zone, Rappahannock Oyster Co., or Red Apron.
17. Sandy Point State Park
State: Maryland
Distance from Baltimore: 41 miles (36 minutes)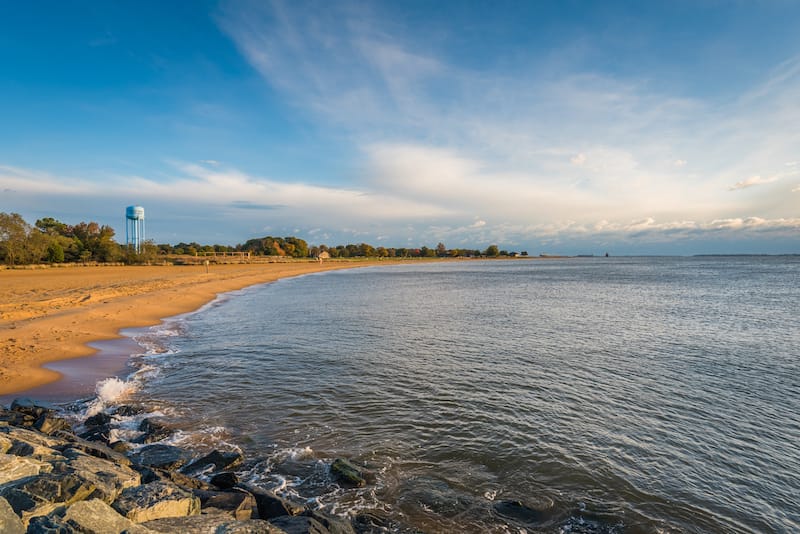 Sandy Point State Park is another great option for family fun adventures and an easy day trip from Baltimore and Washington DC.
Ample outdoor recreation activities await you in the park, including hiking, fishing, strolling along the Chesapeake Bay, etc.
After a hot and sunny day, cool off in the designated beach areas, which feature restrooms and shower facilities.
No Sandy Point State Park experience is complete without taking in the stunning views of the bridge to Kent Island (one of the largest bridges in the bay).
If you are in the mood for a picnic, you can either take your own lunch or order from the food concessions stands and enjoy your meal in the many picnic pavilions.
18. Frederick
State: Maryland
Distance from Baltimore: 49 miles (51 minutes)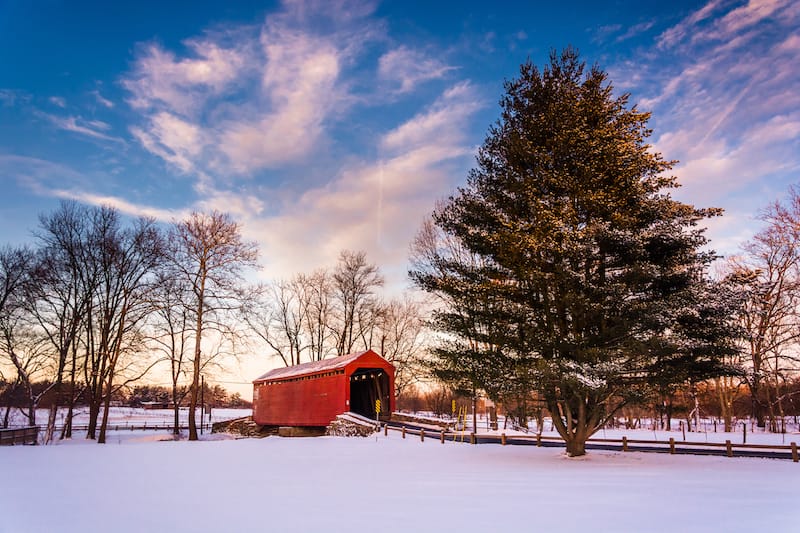 Rich in history and heritage, Frederick is another quaint town for history buffs.
Feel the real charming small town vibes by strolling through lovely Downtown Frederick, packed with award-winning restaurants, brewpubs, excellent museums, and more than 200 retail stores.
The National Museum of Civil War Medicine is there to detail obscure bits of medical history from the Civil War. Visit Flying Dog Brewery or Milkhouse Brewery at Stillpoint Farm to taste the area's signature craft beers.
If you love experiencing the outdoors, then head to nearby Gambrill State Park for plenty of hiking and biking opportunities, where you can also take in stunning surrounding vistas from many stone lookout points in Frederick.
19. Assateague Island National Seashore
State: Maryland and Virginia
Distance from Baltimore: 146 miles (2 hours, 43 minutes)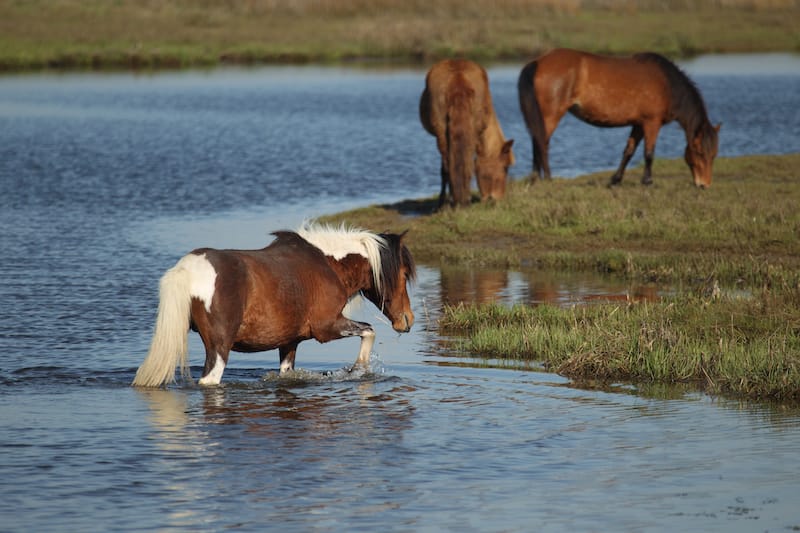 Nestled on Assateague Island and Maryland's only oceanfront park, Assateague Island National Seashore is a real beachgoers' paradise. It is a shared park with Virginia.
The Park offers 2 miles of white sandy beaches for you to swim, surf, and fish in clean waters and get your daily dose of vitamin D while sunbathing and beachcombing on impossibly soft sands.
Take a canoe or kayak and head to explore gorgeous secluded coves.
After a day in the water, visit the marshes abundant with wildlife and end your day by camping under the starry skies and be ready to witness wild horses roaming freely around you.
Of course, Assateague is one of the best day trips from Baltimore, but we highly recommend staying the weekend and even deeply exploring Chincoteague!
What are the best day trips from Baltimore, in your opinion? Let us know in the comments! Thanks!
More Maryland Travel Guides
Pin this Baltimore Day Trips Guide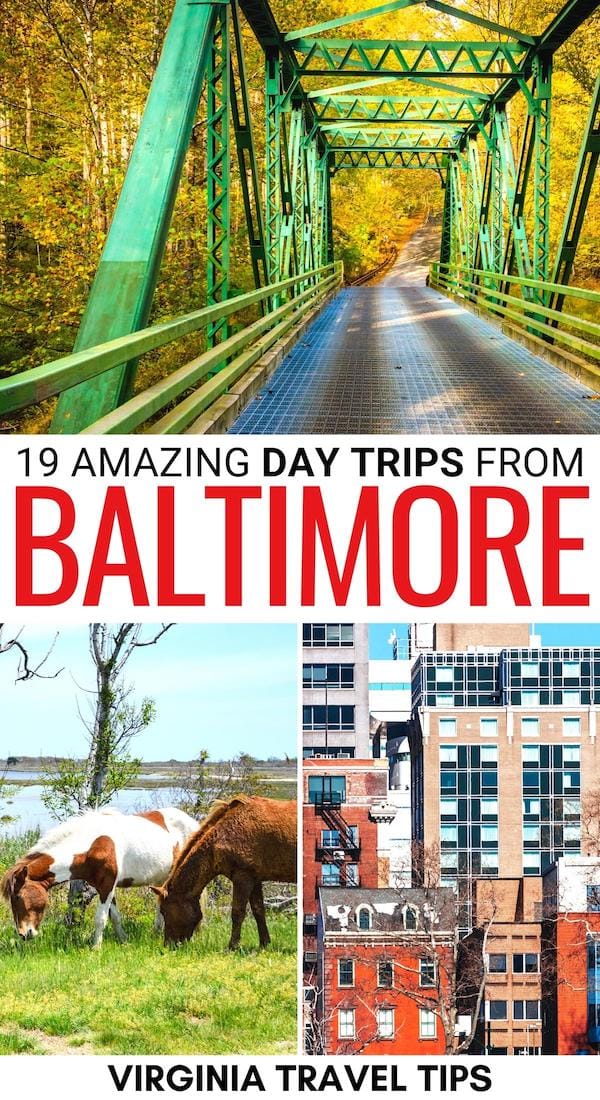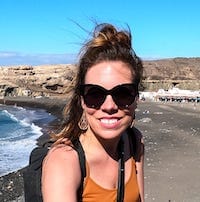 Megan is a travel blogger and writer with a background in digital marketing. Originally from Richmond, VA, she has lived all around the world (including Germany, Finland, Norway, etc) but her heart always finds its way back to Virginia. This blog is to help encourage travelers to explore the great state of VA… and its wonderful neighbors! Megan has written for or been featured by National Geographic, Forbes, Lonely Planet, Fodor's Travel, the New York Times, and more. She has visited 45 US states and 100+ countries… and wholeheartedly believes that Brunswick Stew is probably the greatest food to ever exist.