Are you looking for the best places to visit in Delaware? If so, this guide has you covered!
From the beautiful beaches of the small state to the capital city of Dover, we have listed some amazing Delaware destinations to consider!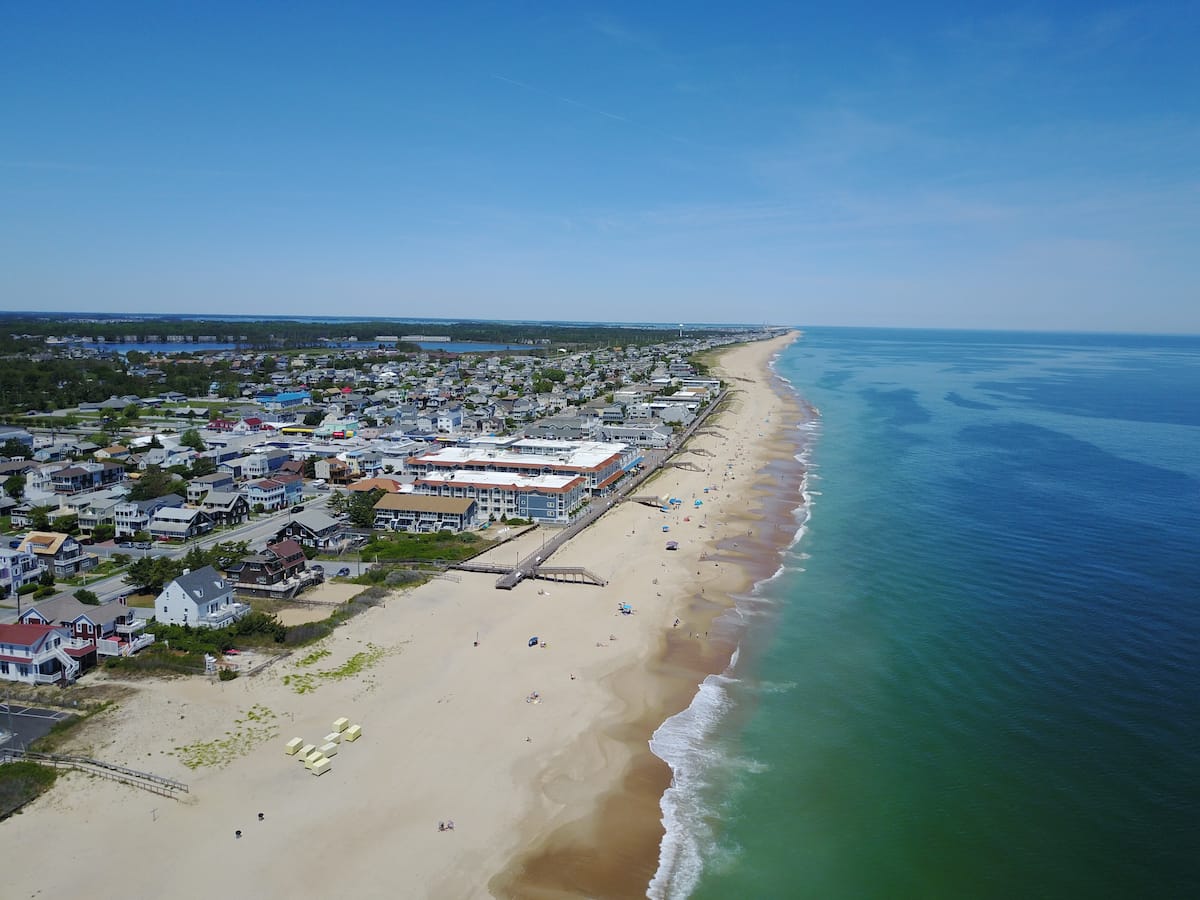 Which places are on your Delaware bucket list? Let us know in the comments!
Best Places to Visit in Delaware
1. Wilmington
Wilmington is the biggest city in one of the smallest states, unassuming Wilmington has an unexpectedly large array of activities, nightlife, and culture to enjoy.
You can start from central Rodney Square for a stroll down the historic Market Street district to see its shops and cafes, along with great venues like The Queen for concerts and the Grand Opera House which hosts Broadway shows.
The Delaware Art Museum focuses on American art and the pre-Raphaelite movement of painting, marked by its medieval flowing gowns and drapery.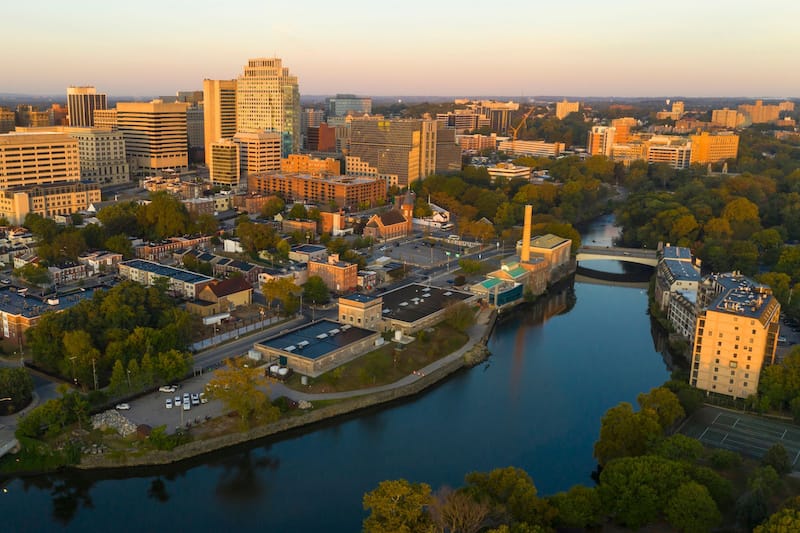 A former shipyard on the Christina River, the Riverwalk has become one of the city's most beloved features. Visitors can wander along its shore to take in its nature, followed by a beer or dinner (lots of seafood) at its many restaurants.
Across town, Union Street is also known for its array of restaurants, while Trolly Square is the nightlife hub with its pubs and renowned speakeasy Hummingbird to Mars.
2. Rehoboth Beach
Rehoboth Beach is the biggest of Delaware's beach resorts, with more than 10 million visitors a year, including President Joe Biden who has a summer home there.
Naturally, the public beach and mile-long boardwalk are the biggest attractions, but there's so much more. Funland is a long-running popular amusement park with rides for all ages.
Rehoboth's most famous landmark is the Dolle's Candyland sign overlooking the boardwalk, a company that has been making salt water taffy and fudge since 1910.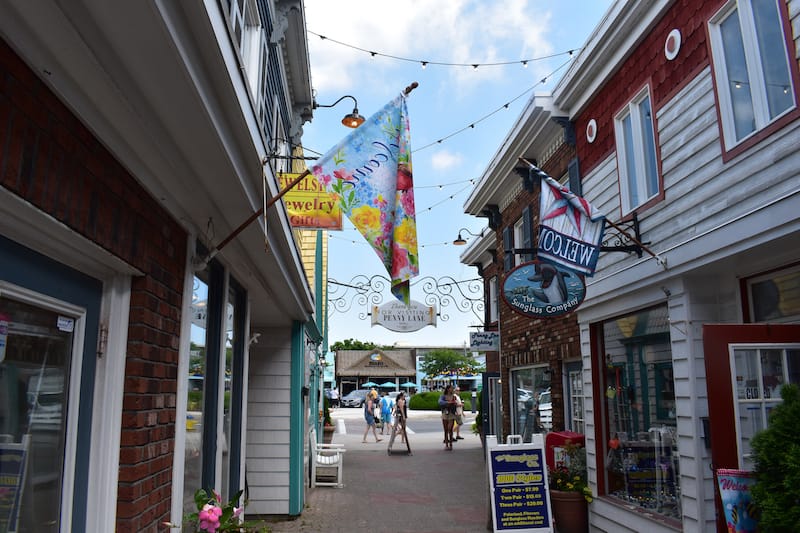 Rehoboth is also a regional shopping mecca with its Tanger Outlets full of famous brands for clothing and accessories.
The resort has also long been an LGBTQ destination with the nightlife to go with that: dance the night away at Blue Moon or enjoys a drag show at The Purple Parrot.
The nightspots continue south of town into Dewey Beach, which is popular with the college-aged crowd.
3. Delaware Seashore State Park
Delaware Seashore State Park is found along a thin strip of land located between the beach resorts of Dewey and Bethany Beaches.
There are campgrounds on both sides of the park's Indian River inlet, and you can walk or bike across its cable bridge for a view of where the bay meets the Atlantic Ocean.
Visit the Indian River Life-Saving Station Museum, which was built in 1876 and manned by surfmen who would patrol the coast to save the victims of shipwrecks, which were a common occurrence along that dangerous stretch.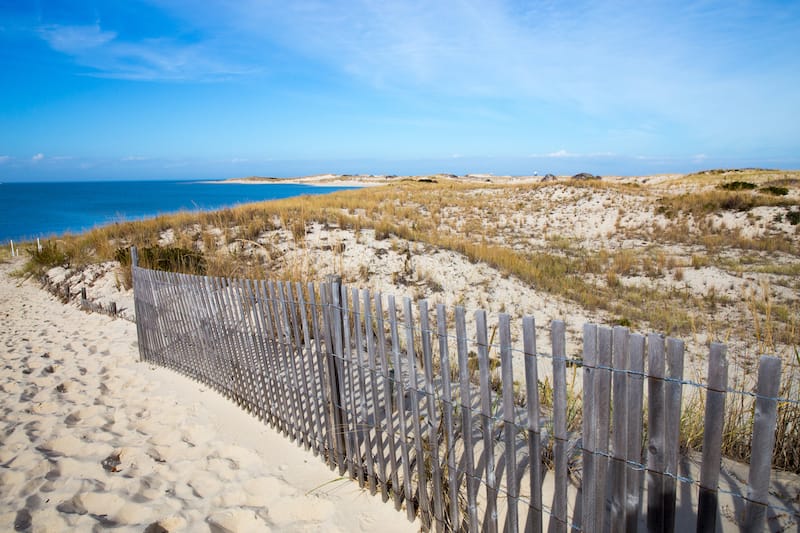 The museum gives you a look into the daily life at the station and the equipment the lifeguards used in their daring rescues.
You can go for a boat or kayak ride around the park's bay to discover its salt marsh islands and marine wildlife.
In particular, Burton Island has raised boardwalks that allow you to pass over the marshes, but best avoided in summer due to the number of insects then.
This park contains some of the best beaches in Delaware!
4. Dover
You can start your visit to Delaware's capital, Dover, on The Green at Dover, the city's historic center laid out in 1717.
On it is the Old State House, open for tours Wed-Sat, surrounded by other early buildings.
Around the corner is the Biggs Museum of American Art, which has a collection that spans American history of paintings from Gilbert Stuart to the 20th century, alongside early American furniture and decorative arts.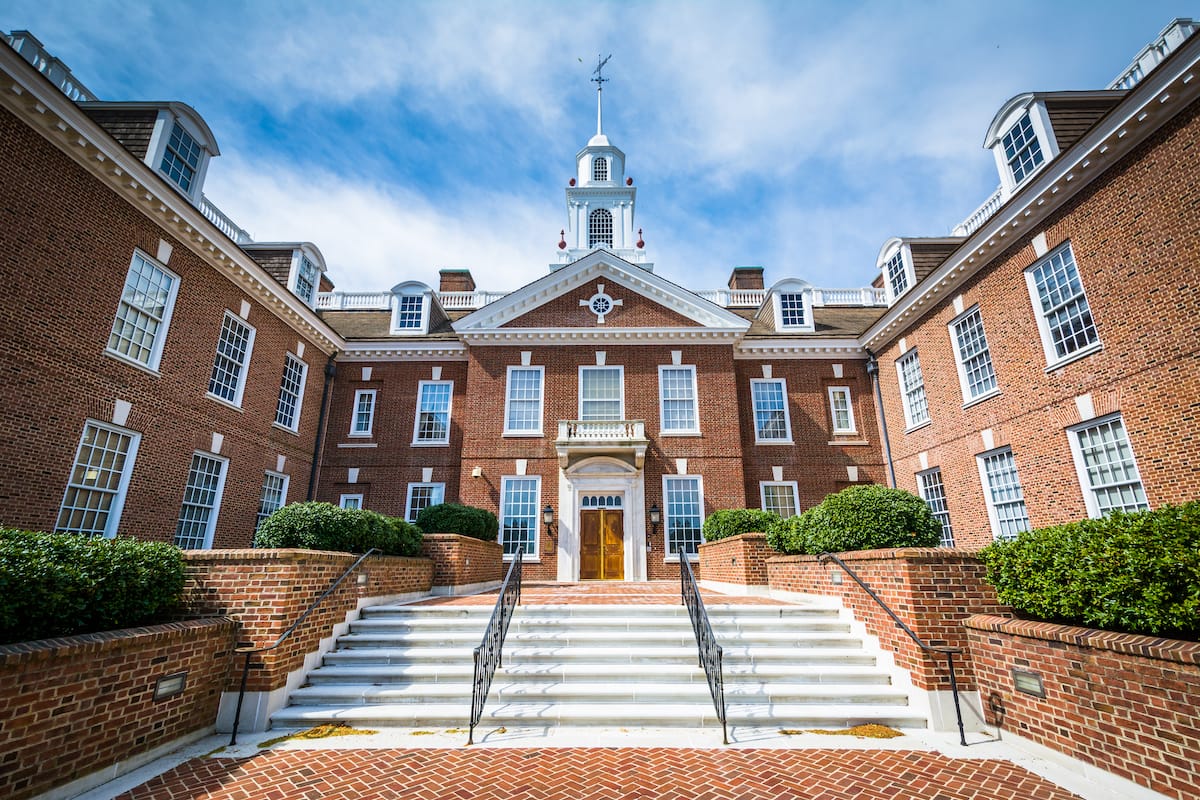 Outside town is the Dover Air Force Base, the Department of Defense's largest aerial port. It contains the Air Mobility Command Museum, which is dedicated to military aviation history with a large collection of vintage planes.
North of the city you'll find a destination dedicated to racing: Dover Downs has horseracing and a casino resort and is located next to the Dover Speedway, which hosts at least one NASCAR Cup Series race a year.
5. Bombay Hook National Wildlife Refuge
While Delaware is best known for its ocean beaches, there's plenty to see along the bay part of the coast as well.
Bombay Hook National Wildlife Refuge has been called a birdwatcher's dream, where a wide variety of avians live or stop to nest, including osprey, egrets, swans, herons, and even bald eagles.
Besides five different hiking trails to choose from, the reserve also has a drivable nature trail to see even more and snap some great nature photography.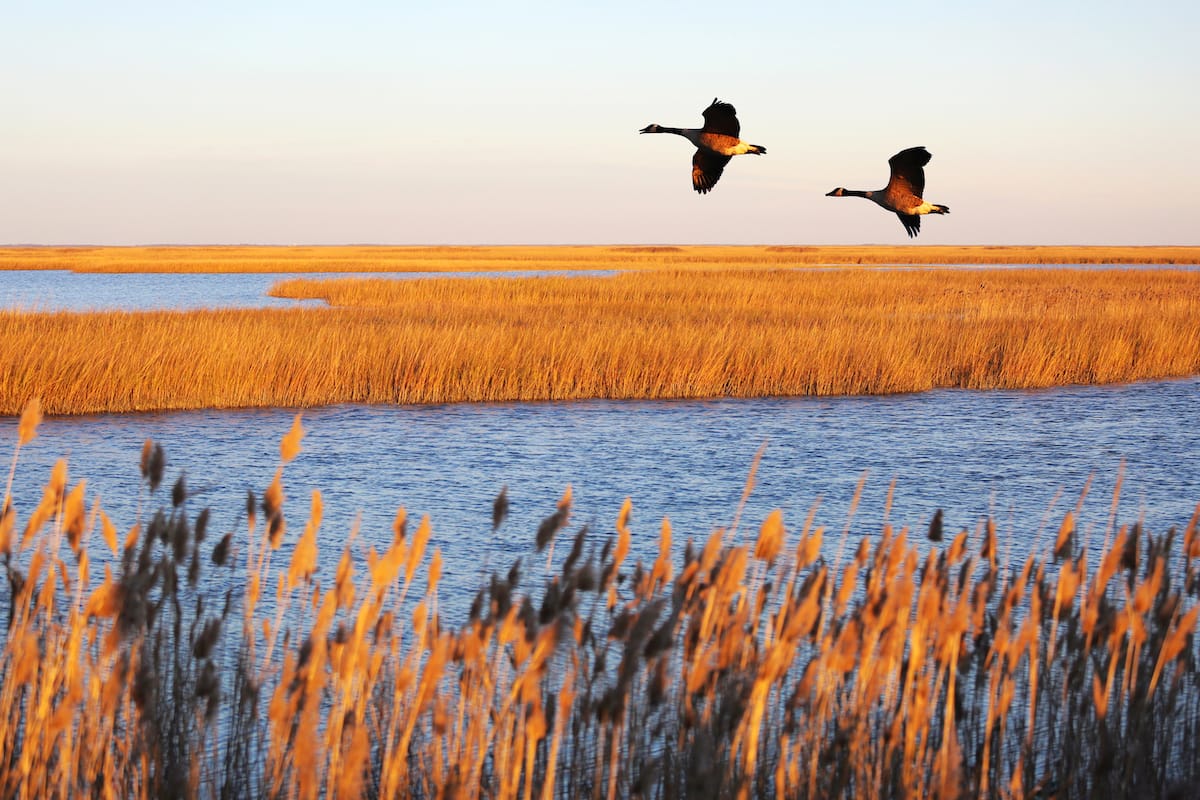 There are all kinds of ecosystems here, including freshwater ponds and saltwater marshes found among its fields and forests.
For even more, to the south is Prime Hook National Wildlife Refuge for another 10,000 acres of vital wildlife preserve, with its own picturesque trails and opportunities for canoeing or fishing.
Like the seashore parks, try to save these for spring or fall when the bugginess goes down.
6. New Castle
New Castle is a required stop for history lovers, with its many colonial-era buildings and cobblestone streets that still hold onto some of that old-world feel.
The Dutch House Museum is located in one of Delaware's oldest houses, dating to perhaps as early as the late 1600s, and is full of antiques from this period.
Guided tours are also available of the Amstel House to experience colonial life inside a 1730s mansion, and the New Castle Court House Museum to learn about New Castle's role in the American Revolution.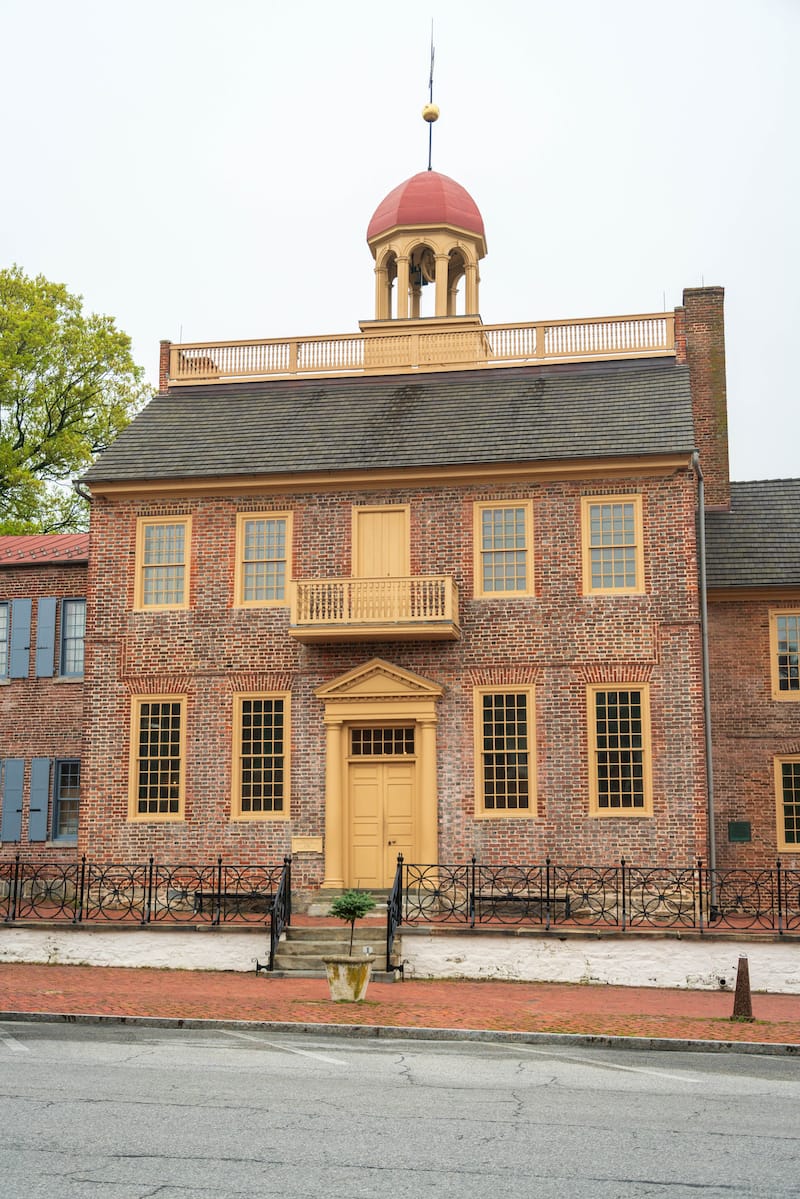 Immanuel Episcopal Church, founded in 1689, is surrounded by an old graveyard well worth the stroll.
When you need a break, laze along the river or have a picnic at Battery Park. Cap your trip off with a colonial-style dinner at Jessop's Tavern located in a building that is well over 300 years old!
7. Lewes
Lewes is not only the gateway to Delaware's beach resorts but also a quaint town with colonial charm.
The first thing you might notice when you arrive is a brick building with unique architecture looking like something you'd more likely find in The Netherlands.
This is the Zwaanendael Museum, built to mark the 300th anniversary of the 1631 Dutch settlement which later became Lewes. It has exhibits both on local history and the many shipwrecks found off Delaware's coast.
Also, check out the Cannonball House, a museum best known for the cannonball fired into its foundation by a British ship during the War of 1812 (but no guarantee the one there today is the original!).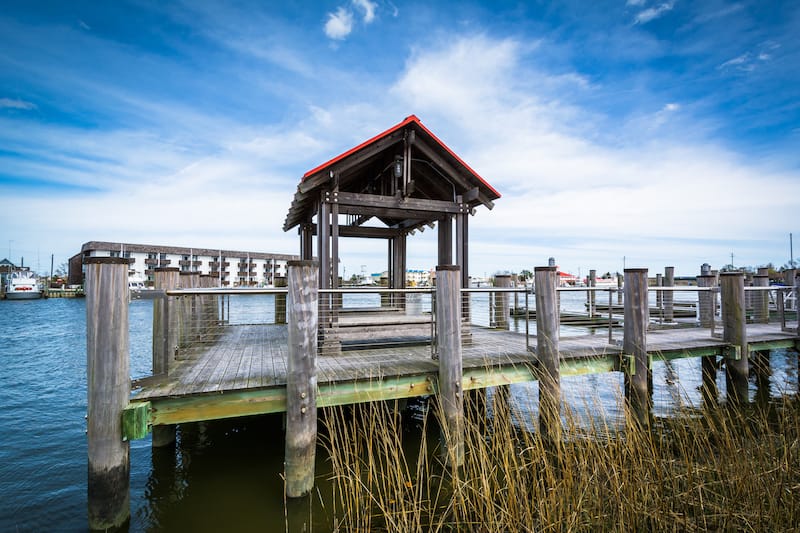 There's also the Ryves Holt House, built in 1665 and said to be Delaware's oldest.
Take a stroll in St. Peter's Churchyard which has gravestones dating back almost as long, including the famous one of Elizabeth Cullen whose stone says she was born on the non-existent date of "February 30, 1760".
At Cape Henlopen Park you can see where the Delaware Bay meets the Atlantic Ocean and take the ferry across to Cape May, New Jersey.
Beer lovers can stop in nearby Milton for a tour of the noted Dogfish Head Brewery with its "retro-futuristic steampunk" treehouse.
8. Georgetown
Georgetown has that small-town community feel with a long history. It is known for its unique holiday "Return Day", which has taken place for over 200 years two days after each Election Day, during which the winning and losing candidates share a carriage ride through the town.
At the town's heart is The Circle, which was laid at its founding in 1791, surrounded by government buildings from its role as the Sussex County seat.
Another of Georgetown's unique attractions is the Treasures of the Sea, an exhibit dedicated to artifacts raised from a seventeenth-century Spanish galleon that sank off the coast of Florida.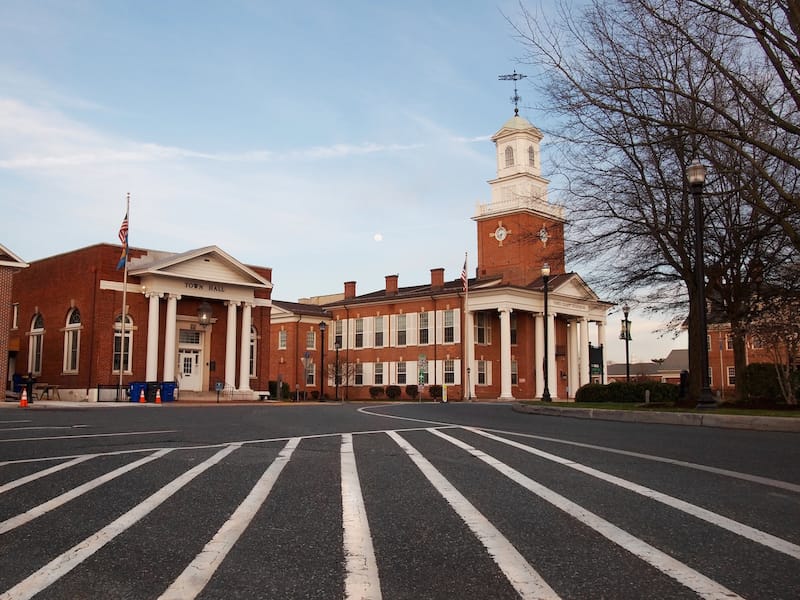 It had closed due to COVID, so make sure it's open before you go see its incredible relics, from cannons to gold and jewels.
Stop by the historic Georgetown train station and catch a stock car race at the Georgetown Speedway.
Aircraft buffs will love the Aviation Museum, which promotes the history of aviation with its collection of vintage planes.
9. Brandywine Creek State Park
Brandywine Creek State Park is made up of four nature preserves and many miles of trails. It has a rare portion of old-growth forest and is bisected by the Brandywine Creek.
It's an important area for pollinators, it even has its own pollinator garden to visit, and so birdwatchers flock here.
As you travel through the park you'll find stone walls dating to the 1800s, remnants of when the land was a dairy farm belonging to the famous du Pont Family.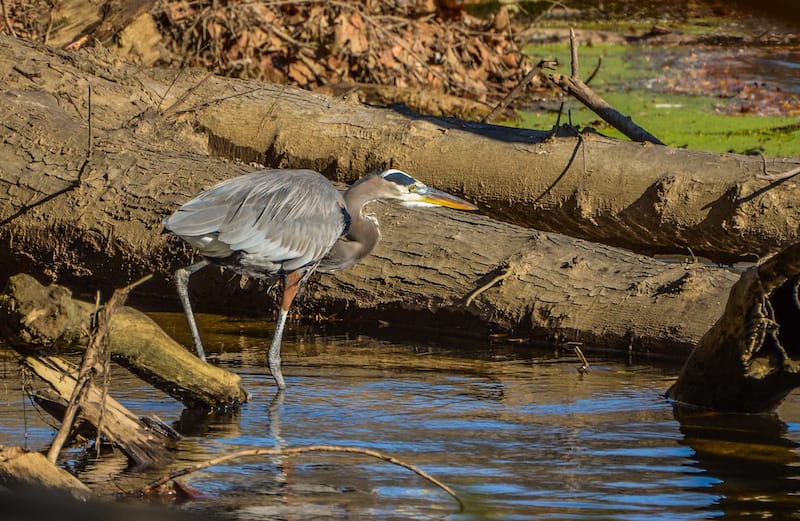 You can purchase a fishing license to try your hand at catching trout in Wilson's Run. A popular pastime all along the Brandywine is tubing, which will take you through parts of the park you might not otherwise see.
Further upriver just over the border into Pennsylvania and named for it is Brandywine Battlefield Park, the site of the largest land battle of the Revolutionary War.
10. Montchanin Village
Many outsiders don't realize despite its small size, Delaware has a number of sprawling estates that wouldn't look out of place on Downton Abbey.
Many are located around Montchanin Village, which was named for a member of the duPont family whose nearby powder works made them one of America's richest families.
The village has an inn and spa for relaxation between visits to the family's surrounding estates.
The Winterthur estate has become one of the world's best museums of American furniture and decorative arts, while Nemours is a French neoclassical mansion with large formal gardens to explore.
Another former DuPont home is now the Hagley Museum and Library, which includes the original powder yards and demonstrates life for both those in the mansion and the workers.
Also nearby is Mt. Cuba, a nature center open to the public from April to November which is renowned for its woodland gardens and wildflowers, said to be some of the most beautiful in the region.
11. Bethany Beach
Known as the "quiet resort", Bethany Beach has a slower, more small town atmosphere compared to the hustle and bustle of Rehoboth and Dewey.
That said, with more and more people seeking out that kind of vacation, its popularity has skyrocketed and is not such a well-kept secret anymore!
Bethany's welcoming landmark and symbol is its Totem Pole, with a carving of Chief Little Owl and topped by an eagle to honor the area's Nanticoke Indian Tribe.
The Addy Sea is a Victorian bed & breakfast that was built as a summer home in 1901 and is located right along the beach.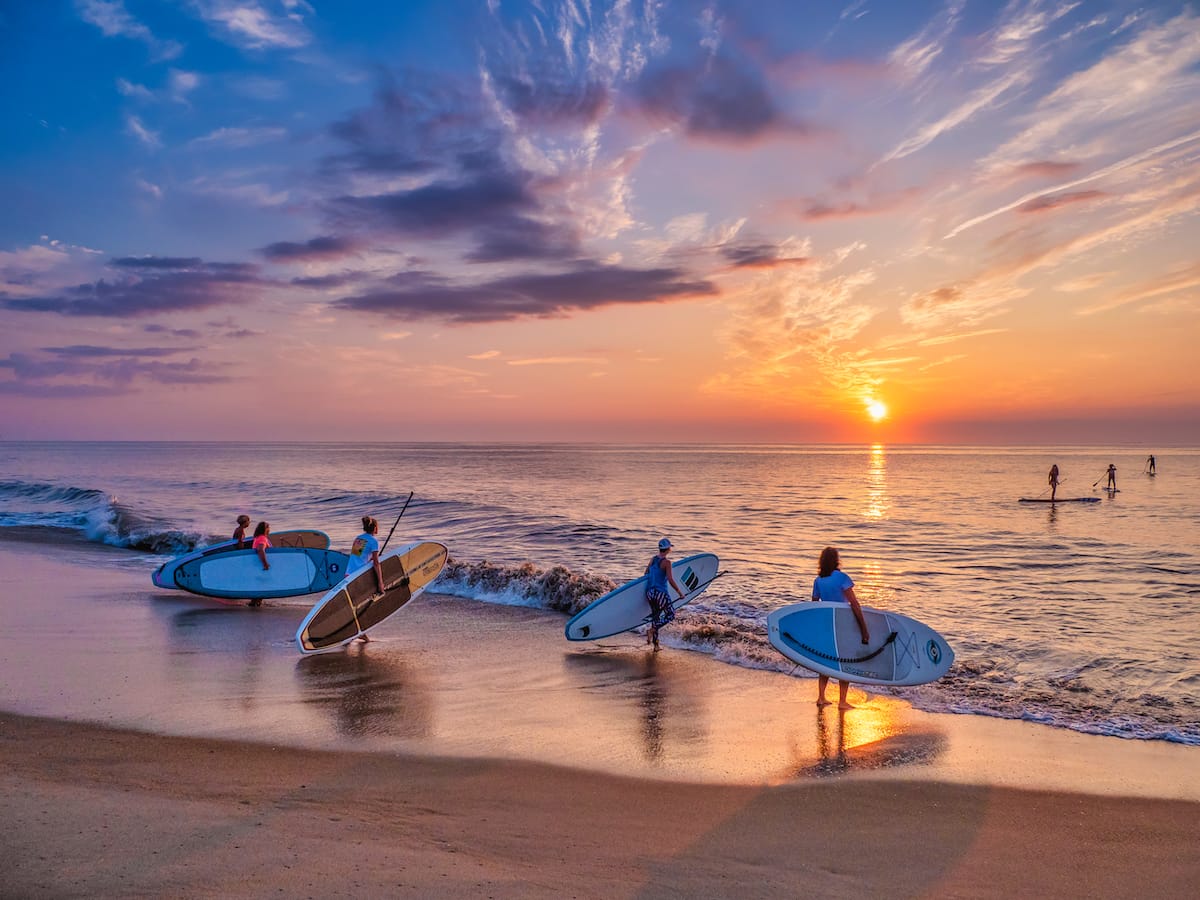 Its half-mile boardwalk is shorter and more narrow than Rehoboth's, but that's the point! It has a bandstand that hosts live music evenings throughout the summer.
There's a range of dining, from the higher end like Bluecoast Seafood Grill, to the Delaware staple family restaurant Grotto Pizza.
For kids, get a treat at another beach staple The Candy Kitchen, and have fun at the Shore Fun second-floor arcade.
There are plenty of cute stores for shopping, and be sure to pick up your next beach read at Bethany Beach Books. Bethany is the perfect place to unwind and get away from it all.
12. Newark
The site of the University of Delaware, Newark is a quintessential college town. Located along I-95, it's an easy stop along the way when traveling between major east coast cities.
After taking a walk around campus, stop off at the Deer Park Tavern for a beer, which has been the site of an inn since 1747 and host to noted travelers.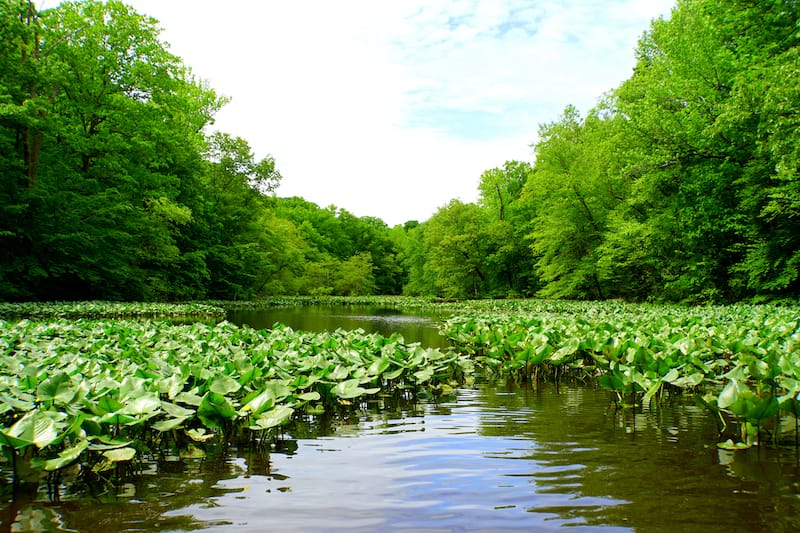 Not only did Charles Mason and Jeremiah Dixon use it as a headquarters when out surveying their namesake line, but there is lore surrounding an 1843 stay by Edgar Allan Poe as well.
You can see some of Mason & Dixon's work in the nearby White Clay Creek State Park, where a small stone monument in the woods marks the famed line's origin point, now accessible by a public trail.
The Iron Hill Center Center is a great place for kids to learn about the natural world with exhibits about animals, insects, fossils, and geology.
13. Odessa
Odessa is one of Delaware's lesser-known yet very historic towns. It has a wealth of 18th and 19th-century homes, which make up what is described as a "pristine colonial landscape".
You can schedule a walk through up to five of those historic homes, such as the Corbit Sharp House built in 1772 which was said to have been part of the Underground Railroad. Behind this house is the Secret Garden with views over the Appoquinimik River.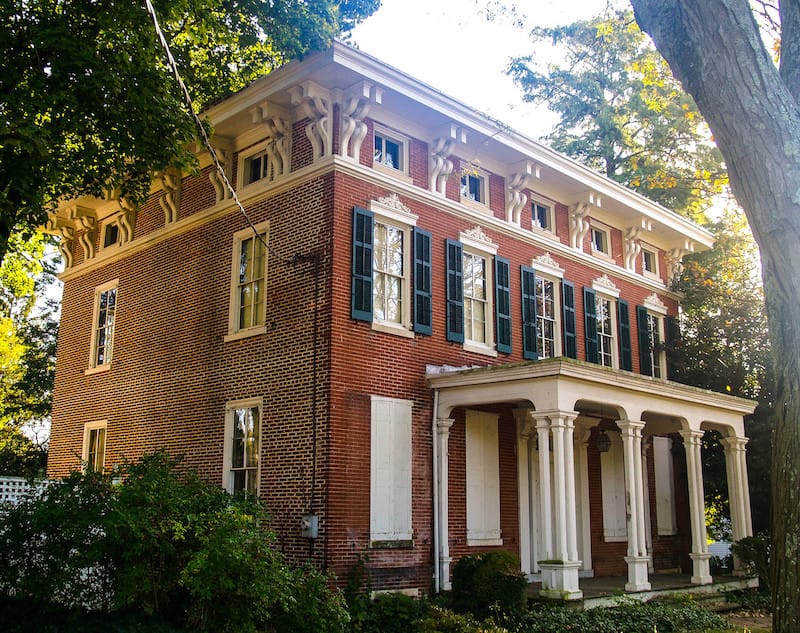 A special time to visit the homes is during the Christmas season when they are decorated based on a different theme every year.
Continue Immersing yourself in Odessa's past by getting dinner at Cantwell's Tavern, a restored tavern from the early 1800s, and stay overnight at one of the historic homes which have been turned into bed and breakfasts.
14. Fort Delaware State Park
Located on the uniquely named Pea Patch Island, based on a legend of a ship carrying peas that ran aground there centuries ago, Fort Delaware State Park is the site of a fortress built in 1859.
Its position at the top of the Delaware Bay made it the ideal place to protect Wilmington and Philadelphia, which became necessary just a year later with the start of the Civil War.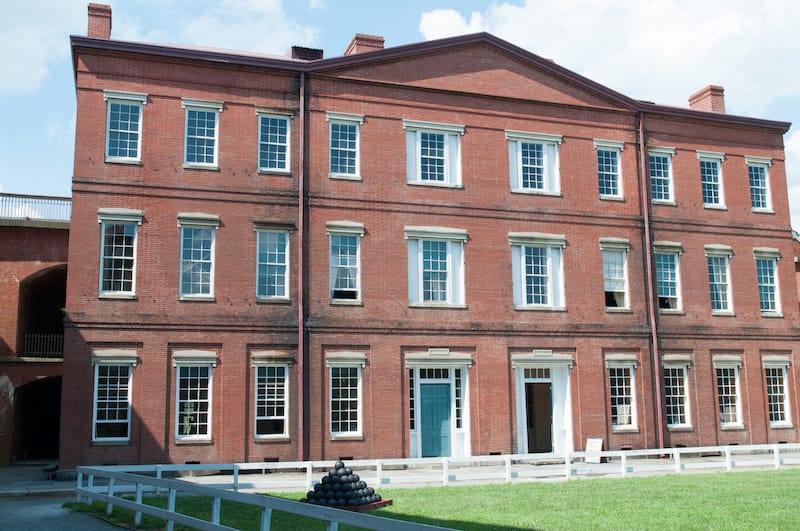 The fort has the appearance of a walled castle, complete with a moat surrounding it. It held Confederate Prisoners during the war, thousands of which died of disease and poor conditions.
Perhaps not surprisingly, it is said to be haunted, and autumn visitors have the chance to visit at night for a paranormal investigation.
The fort itself is open to visitors with living history actors from May until September and is reached from Delaware City by ferry.
15. Milford
Milford is a quaint town along the Mispillion which has undergone a resurgence. Depending on when you visit, you might be able to attend one of its annual festivals or parades which are important parts of community life.
Milford has branded itself as an art town, hosting an art colony and a number of galleries.
A beautiful way to navigate the downtown is along the Mispillion Riverwalk, which is especially good for taking in sunrises and sunsets.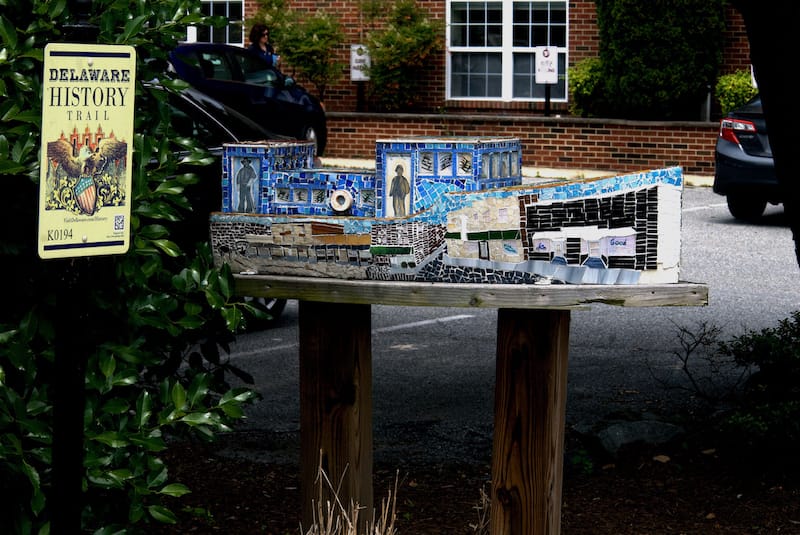 Milford had long been an important center of shipbuilding, a legacy kept alive at the Vinyard Shipyard where you can learn about the equipment used in the industry and see historic ships.
Southwest of town is Abbotts Mill Nature Center, a protected woodland that includes a grist mill over two centuries old.
East of town along the Delaware Bay is the Dupont Nature Center (April-Sept), a favorite of bird watchers that aims to educate visitors about the ecology of the bay.
16. Smyrna
While Smyrna might be best known to travelers passing by for its large rest stop, there are many reasons to venture into town to look around.
Smyrna has a compact historic downtown with numerous historic buildings, some of which are open to the public like The Barracks (now called the Smyrna Museum) on Saturdays.
This self-guided walking tour will show you the sites along with a lesson on the various styles of architecture to be found. Smyrna has its own Opera House for musical performances, and also a summer concert series.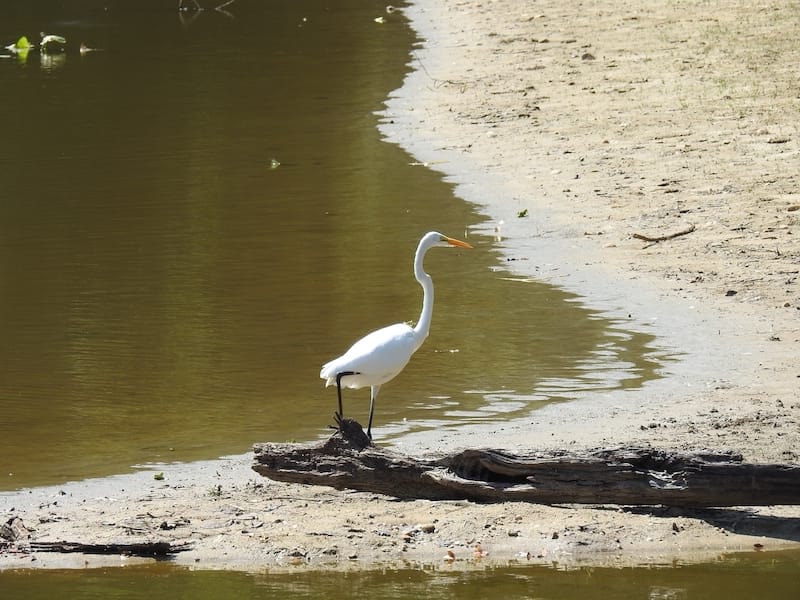 Smyrna boasts one of Delaware's most stately homes, the Georgian mansion Belmont Hall.
The three-story brick mansion surrounded by lawns and gardens can be toured by groups of 4 or more by appointment.
North of town is Blackbird State Forest, which contains 40 miles of hiking trails through almost 6000 acres.
17. Trap Pond State Park
Trap Pond State Park is located in southern Delaware and has everything you need for a relaxing commune with nature.
You can get a view of Trap Pond either by land hiking around it on the 4.6-mile Bob Trail or by water with inexpensive weekend boat rentals.
Kayaking the pond is a peaceful experience as you glide through an aquatic forest of bald cypress trees growing right out of the water. Keep an eye out for the impressive blue heron, which can be up to four feet tall!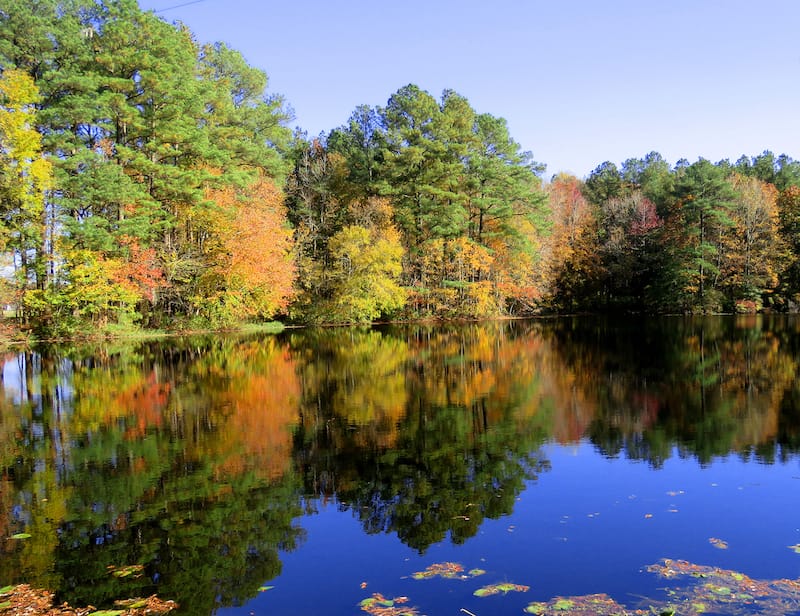 The park's Baldcypress Nature Center has exhibits about the pond's natural and cultural history, which was created in the 1700s to harvest the surrounding bald cypress trees.
Trap Pond is a popular camping spot for RVing, or you can rent a cabin or yurt! The park has a playground for kids and disk golf, and it's also pet-friendly so bring your dogs along for a hike!
Did we miss any of the best places to visit in Delaware? Tell us your favorite towns and cities in Delaware in the comments! Thanks!
More Delaware Travel Guides
Pin this Delaware Destinations Guide