Are you searching for the most beautiful Delaware beaches to visit this coming summer? We've got you covered!
From the most popular beaches in Delaware (such as Rehoboth Beach!) to some smaller favorites, Delaware's seashore is some of the US' most underrated!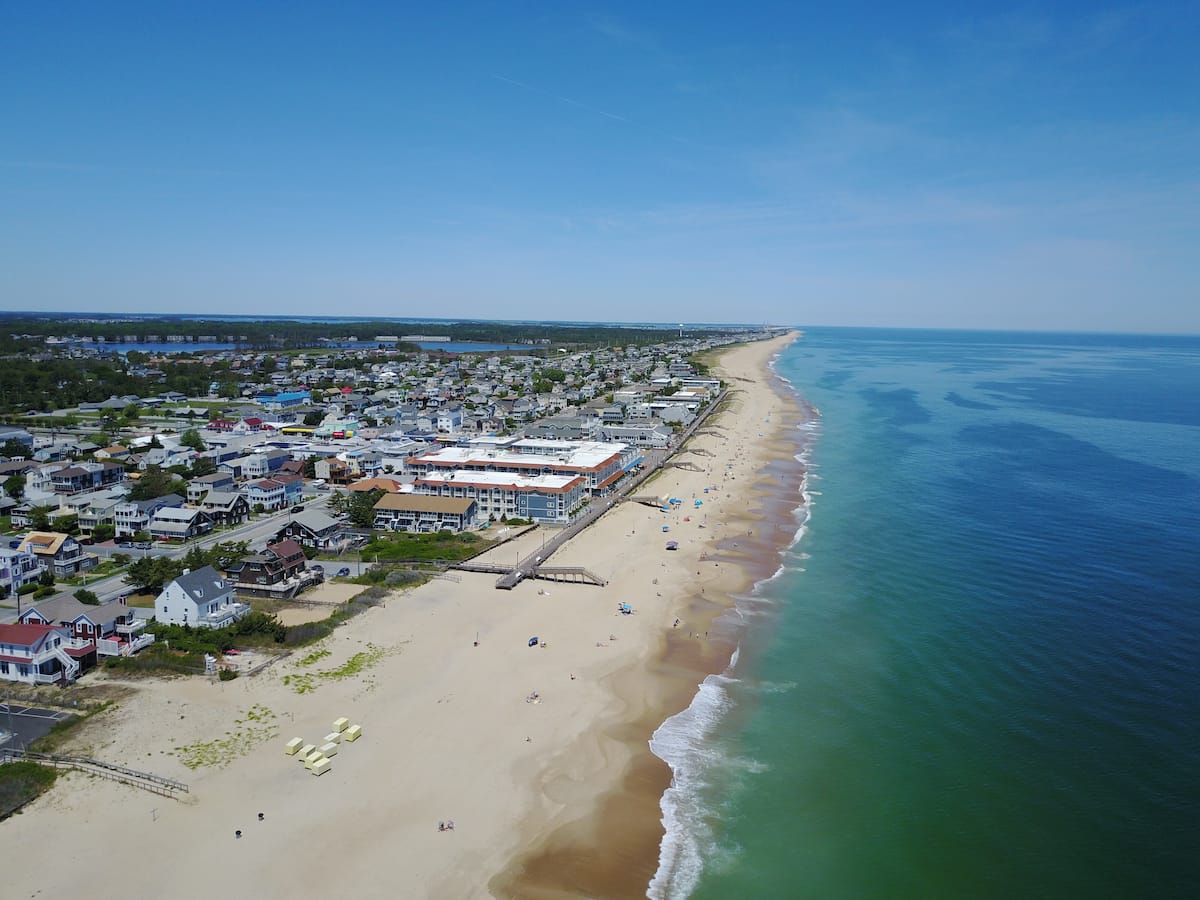 Did we miss any of the best Delaware beaches in this guide? Let us know in the comments.
Best Delaware Beaches
Rehoboth Beach
From the iconic boardwalk and stunning hotels to fine restaurants and specialty stores, Rehoboth Beach, nicknamed the "Nation's Summer Capital," is a must-visit destination.
Just outside the mouth of Delaware Bay on the shores of the Atlantic Ocean, Rehoboth Beach is one of the best among clear water beaches on the East Coast.
The Boardwalk, the centerpiece of the beach line with candy stores, family-friendly eateries, and souvenir shops, is also home to Beach Arcade and the Funland amusement park.
Many visitors and locals flock here to soak up the sunshine, play on the beach, watch for dolphins in the surf and enjoy the cold sea breeze.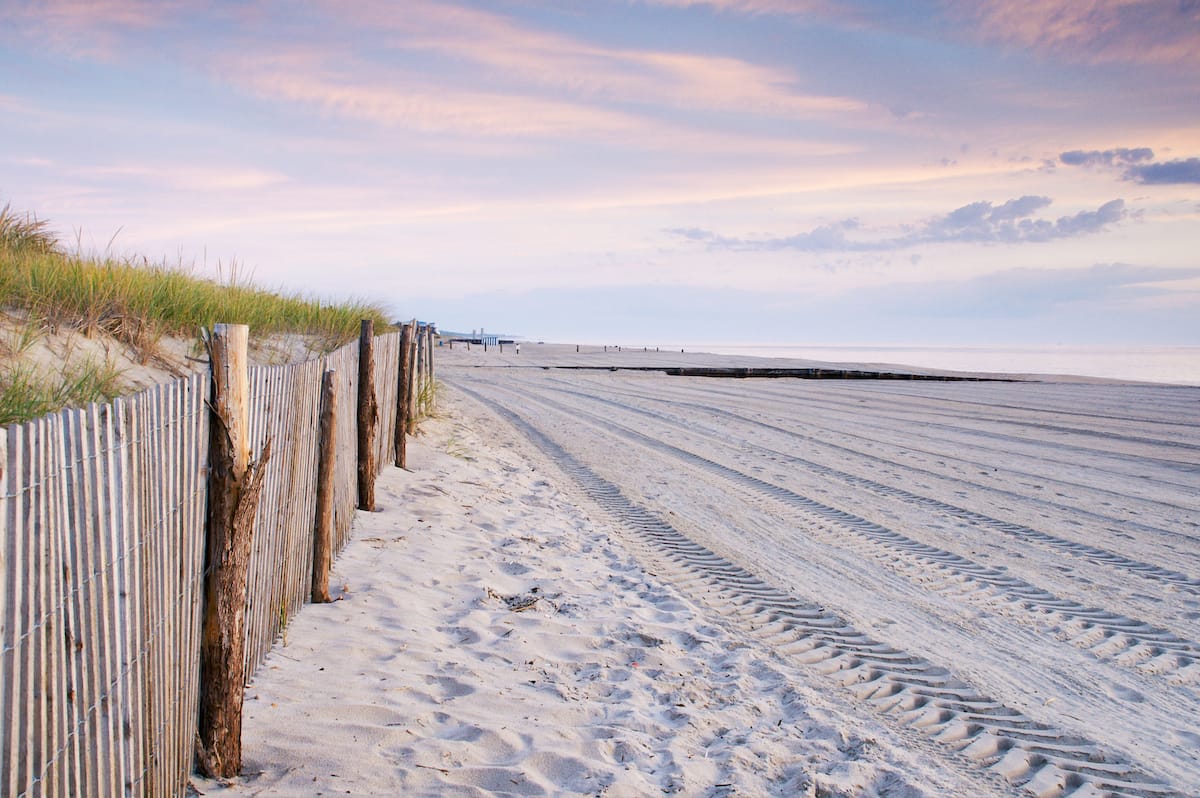 The blue waters are inviting, so don't miss your chance to go kayaking, canoeing, paddleboarding, or fishing and simply spend time in the Atlantic.
After hours of fun in the water, it's time to indulge your taste buds with delicious seafood at the Park's Big Chill Beach Club.
Here you can also enjoy some retail therapy as Rehoboth Beach is home to many chic boutiques, tax-free outlets, and numerous galleries. The beach is free to visit, and lifeguards are on duty during the summer months.
Cape Henlopen State Park (Lewes)
Established in 1964, Cape Henlopen State Park is a more than 5,000-acre park with two swimming beaches along Delaware Bay in Sussex County.
The park is a popular spot for ocean swimming, boating, fishing, clamming, paddle boarding, kayaking, and wind-surfing. The lifeguards are on duty from Memorial Day until Labor Day.
In addition to water-based activities, here you can find an 18-hole disc golf course and basketball courts, hike along miles of scenic trails along the seashore, and bike along a 3.2-mile paved Gordons Pond Trail.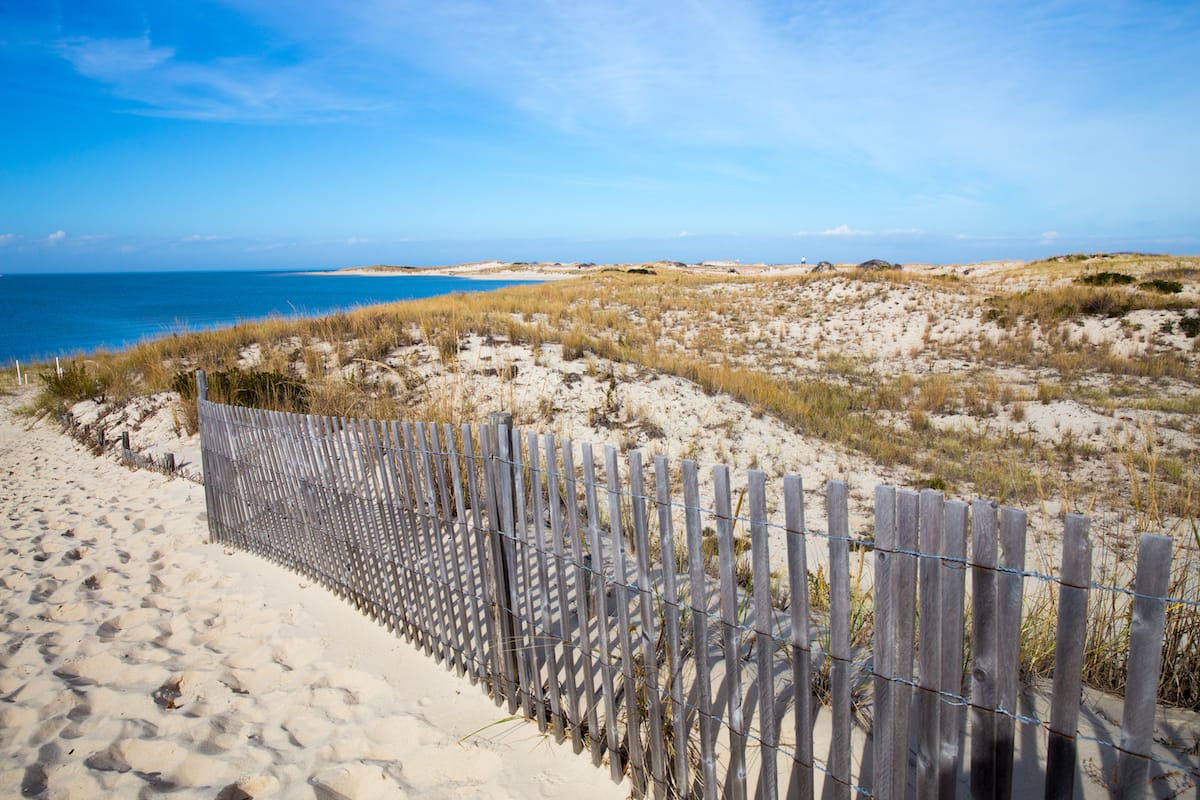 The park features a fishing pier and campground, which is open 24 hours a day throughout the year. A concession area, a full bathhouse with restrooms and showers, and umbrella rentals are available.
Don't leave the park without getting a glimpse into the past at the Fort Miles Historic Area (World War II coastal defense site), visiting the Point Overlook to admire the East End Breakwater and the Harbor of Refuge lighthouses, and taking part in the educational programs at the Seaside Nature Center, which offer free two-hour bike rentals to visitors.
Make sure to keep your eyes peeled for bottlenose dolphins, which are frequent visitors at the bay.
Bethany Beach
Bethany Beach, best known for its white sand and family-friendly atmosphere, is the perfect place for beach bums.
Nestled on the coast of the Atlantic Ocean, this quiet town is one of three areas in Delaware known as the "Quiet Resorts."
Surfing is only allowed during allotted times. The half-mile wooden boardwalk is lined with shops and food vendors selling everything from seafood to souvenirs.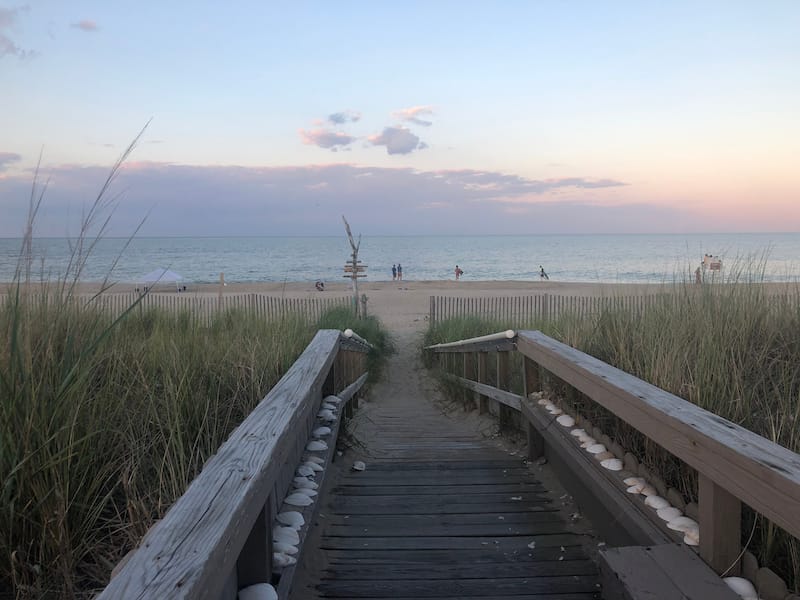 Stock up on the beach gear at Bethany Surf Shop, grab a quick bite at Off the Hook, soak up the sun on the broad beaches, and attend weekly free concerts at the bandstand between June and October, including Movies on the Beach each Monday at dusk and Bonfires on the Beach each Thursday evening at 8pm.
Bethany Beach Patrol Lifeguards are on duty throughout the year. Please note that dogs are not allowed out on the sand.
Fenwick Island Beach
Spanning three miles along the coast of the Atlantic, Fenwick Island State Park is a serene 344-acre park established in 1966.
Once home to the late 1800s Fenwick Island Life-Saving Station, which was lost in the storm of 1962, now the Park features a World War II-era fire control tower that helped protect the coastline.
Relaxation-seeking beachgoers can spend the day sunbathing, enjoy surf fishing and simply take a dip in peaceful waters. Regular beach activities also include beachcombing, bird watching, fishing, ghost crab chasing, sailing, etc.
On-site, you will find a modern bathhouse with convenient showers, changing rooms, bathroom facilities, a satellite park office, and a snack food concession.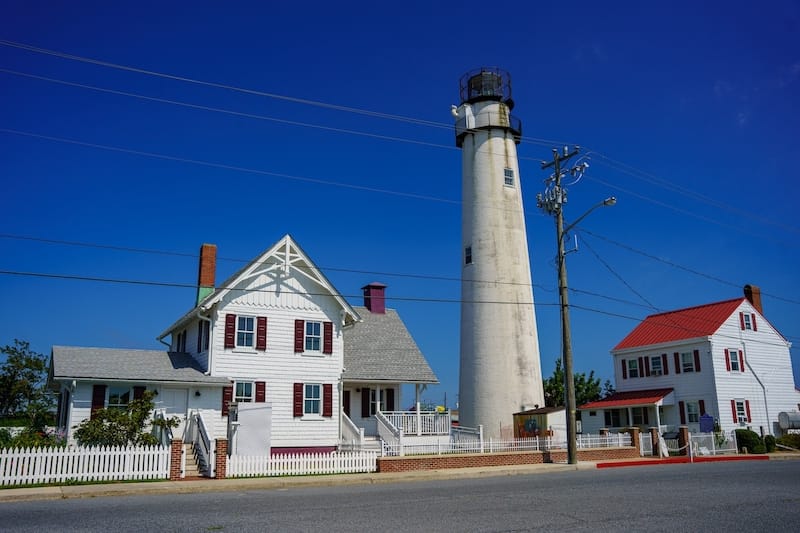 Don't forget to take part in DelMarVa Board Sport Adventures kayak tours or rent a kayak at Coastal Kayak rentals to take in the mesmerizing sunset views of Little Assawoman Bay.
If you are visiting with kids, then make sure to visit Viking Golf Amusements and Thunder Lagoon Water Park, which feature an 18-hole mini-golf course, go-karts, and a 400-foot lazy river and twister waterslides.
Beach umbrellas, chairs, and rafts may be rented on the beach during the summer months. Mobi-Mat equipment makes parts of the beach area wheelchair accessible.
Dewey Beach
Nestled on a small strip of land between the Atlantic Ocean and Rehoboth Bay, Dewey Beach boasts a young-and-restless attitude, water adventures, delicious food, funky music, and buzzing nightlife.
Kayaking, paddle boarding, surfing, sailing, jet skiing, walking trails, and nature cruises are some of the common activities in the area.
Adventure lovers can take part in guided excursions with Delaware Board Sports Adventures and enjoy skimboarding at Alley Oop Skim. Other beach activities include a junior lifeguard program, seaside yoga, and environmental education programs.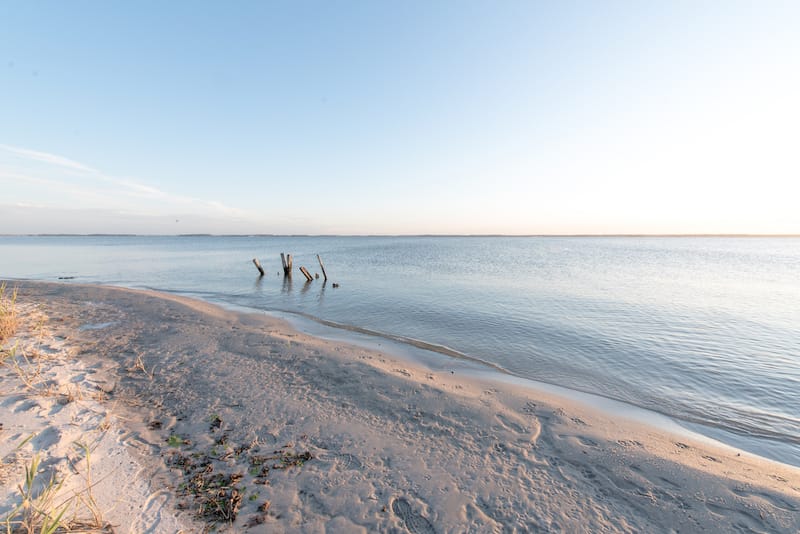 When the sun goes down, Dewey Beach comes alive with a vibrant nightlife. Sip an iconic cocktail at The Starboard, dine like a local at Hammerheads, get a refreshing beer at Dewey Beer Co., and dance until the wee hours at Northbeach.
Notable events taking place in the area are the Dewey Beach Music Conference, the Elvis Festival, the Fiddler's Festival, the Greyhounds Reach, and the annual East Coast Skim-Boarding Championships.
Delaware Seashore State Park
Boasting six miles of ocean and 20 miles of bay shoreline, Delaware Seashore State Park is an important part of the southern Delaware coastline.
Nestled between the Atlantic Ocean and Rehoboth Beach, more than 2,500 acres of Park offer a wide range of opportunities for water sports activities.
Kayak around Rehoboth Bay from Savages Ditch to see laughing gulls, snowy egrets, or osprey, cast a line from one of the full-service Indian River Marina's charter boats or from the beach itself, enjoy crabbing and clamming and catch a wave at the North Inlet Day Area beach.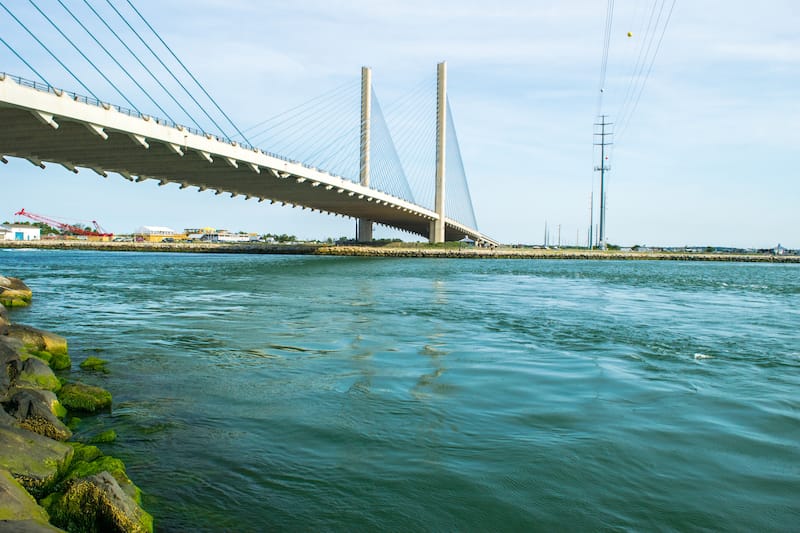 Two ocean swimming areas feature modern bathhouses with showers, changing rooms, restrooms, and concession stands.
There's more than just beaches to explore here. Hike through Burton Island Nature Preserve, get a glimpse into the daily lives of the surfmen who performed high seas rescues over 100 years ago at the Indian River Life-Saving Station, and take a walk to the top of the Indian River Inlet Bridge to admire the mesmerizing views of the Atlantic Ocean and miles of undeveloped coastline.
After an exhausting day exploring the park, you can immerse in casual beach fare at Big Chill Beach Club, where you can have dinner with a sunset view.
Lewes Beach
Nicknamed "First Town in the First State," Lewes Beach is just beside Cape Henlopen State Park along Delaware Bay near the Atlantic Ocean.
This family-friendly beach features calm waters hidden away from the sometimes rough Atlantic waves, which makes it the safest beach for kids.
So those looking for a splash and paddle instead of surfing can add this beach to the top of their list of serene beach destinations.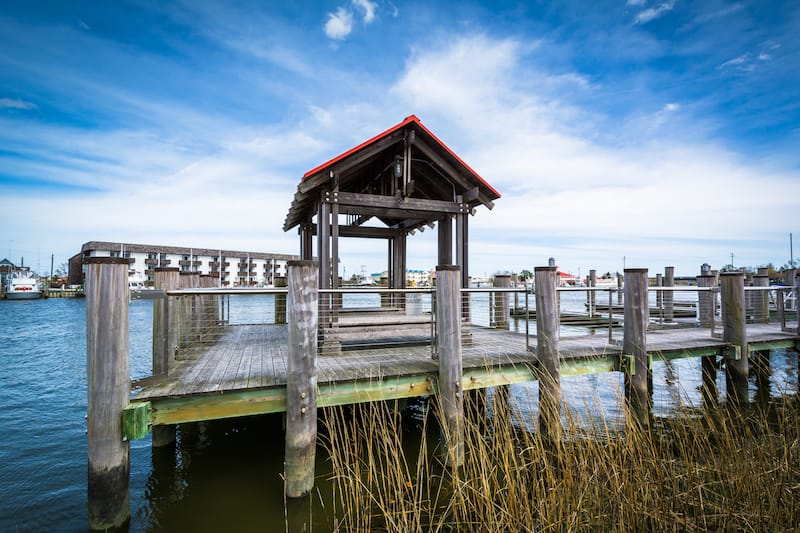 You can also enjoy swimming, fishing, boating, and playing various other water sports while you're here. Get on the water with kayaks or paddle boards, which will allow you to experience breathtaking views and spot one of the many iconic lighthouses, like Delaware Breakwater East End Light and Harbor of Refuge Light.
The quiet town of Lewes, the perfect backdrop to your stunning beach escape, is packed with historical sites, restaurants, shops, and public parks.
Before leaving the city, make sure to grab a creamy ice cream from Hopkins Farm Creamery, Delaware's largest dairy farm, to cool down after a hot day at the beach.
Broadkill Beach (Milton)
Those in search of a low-key charming atmosphere can add Broadkill Beach to their bucket list.
This undeveloped beach overlooking Delaware Bay is a year-round destination for families who want to get away from the hustle and bustle and have this charming beach all to themselves.
Broadkill Beach became the first Horseshoe Crab Sanctuary in Delaware in 2000. Bordering the bayside edge of Prime Hook National Wildlife Refuge, the stretch of white sand offers swimming, kayaking, stand-up paddleboard, surf fishing, and other water-based activities.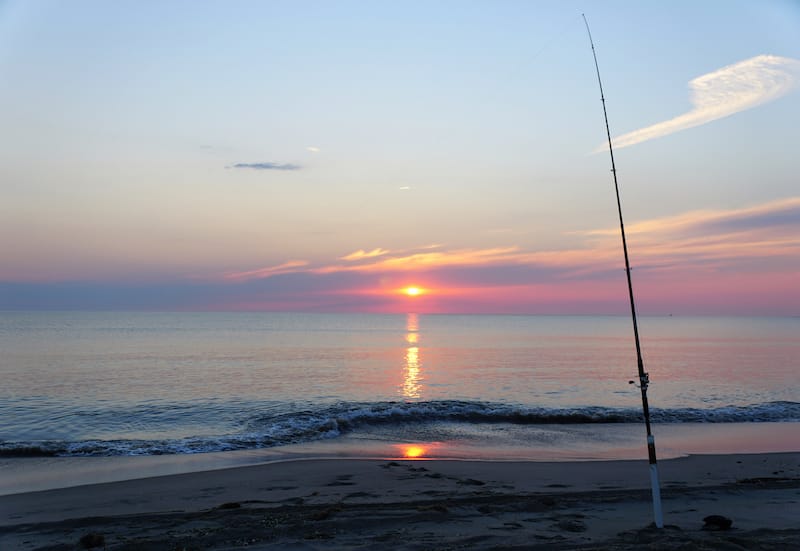 In the nearby Broadkill Store, a seasonal general store, you can find sandwiches, grocery items, beach gear, bait & tackle, and souvenirs on the weekends, as well as features kayak and stand-up paddle board rentals.
Every year you can take part in a good Fourth of July Parade in the summer months. There is limited parking, so it is advisable to arrive as early as possible during mid-summer.
Holts Landing State Park (Dagsboro)
Holts Landing State Park, named for the family that previously owned the land, is tucked away along the southern part of the Indian River.
This 203-acre Park near Bethany Beach offers not only a golden sandy beach but also plenty of natural habitats to explore, including salt marsh, freshwater regions, intertidal zone, marine forests, and grassy fields, which are home to hawks, osprey, and herons.
Hike along the Seahawk Trail (completely ADA accessible), which will take you through the variety of stunning ecosystems at Holts Landing.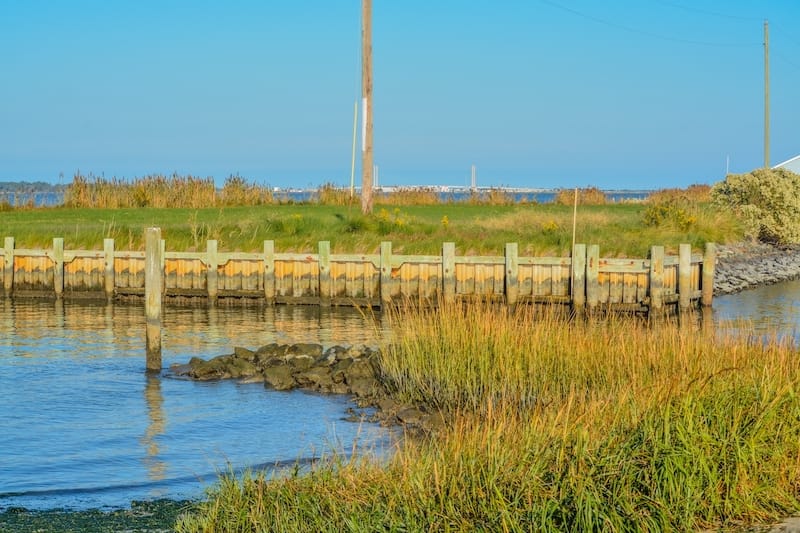 The park features a public boat access ramp, which is open 24 hours a day, as well as a fishing and crabbing pier and various walking trails.
Water junkies can enjoy kayaking, windsurfing, and stand-up paddleboarding. Picnic areas, a large pavilion with a fire pit, restrooms, and a horseshoe pit are among the Park's amenities.
In the summer months, you can bring your picnic basket and enjoy special family fun nights by a campfire and bayside concerts sponsored by the Friends of Holts Landing State Park.
Slaughter Beach (Milford)
The last one on this list will treat you to a secluded beach getaway where you can indulge in the tranquility of a serene coastline.
Despite its crude name, the peaceful Slaughter Beach is a hotspot for some fantastic wildlife. Established in 1681, the beach is home to the famous Milford Neck Wildlife Area.
This is Delaware's official horseshoe crab sanctuary, where you might even catch a glimpse of Diamondback Terrapins, Monarch Butterflies, etc.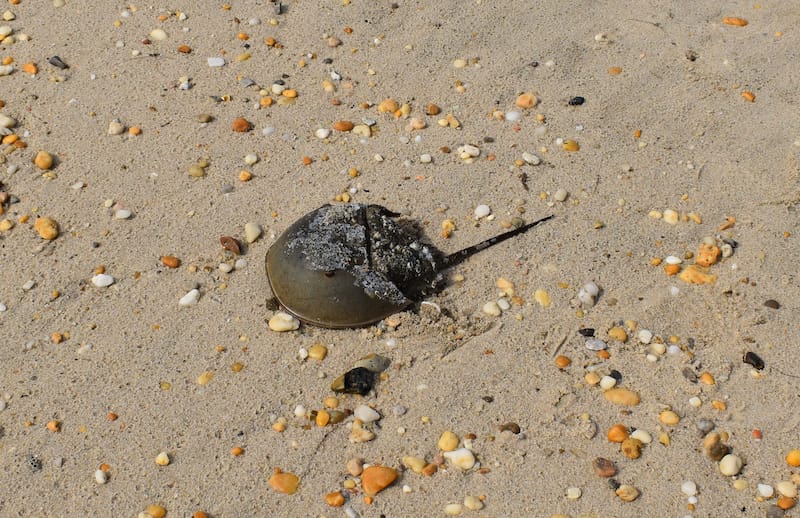 Birders will feel right at home here as the beach is popular for its large population of birds that feed on horseshoe crabs stranded on the shore. Although you can swim here at your own risk, it is recommended to stay warm.
Basic facilities here include a shaded picnic area, bathhouse, restrooms, and parking space. If you are visiting at low tide, you can bring water shoes as the ocean floor is packed with pebbles and numerous crab shells.
Please note that dogs are not permitted on the beach from May through September when the horseshoe crabs come onshore.
Did we miss any of your favorite Delaware beaches? Let us know the most beautiful beaches in Delaware in the comments!
More Delaware Travel Guides
Pin this Beaches in Delaware Guide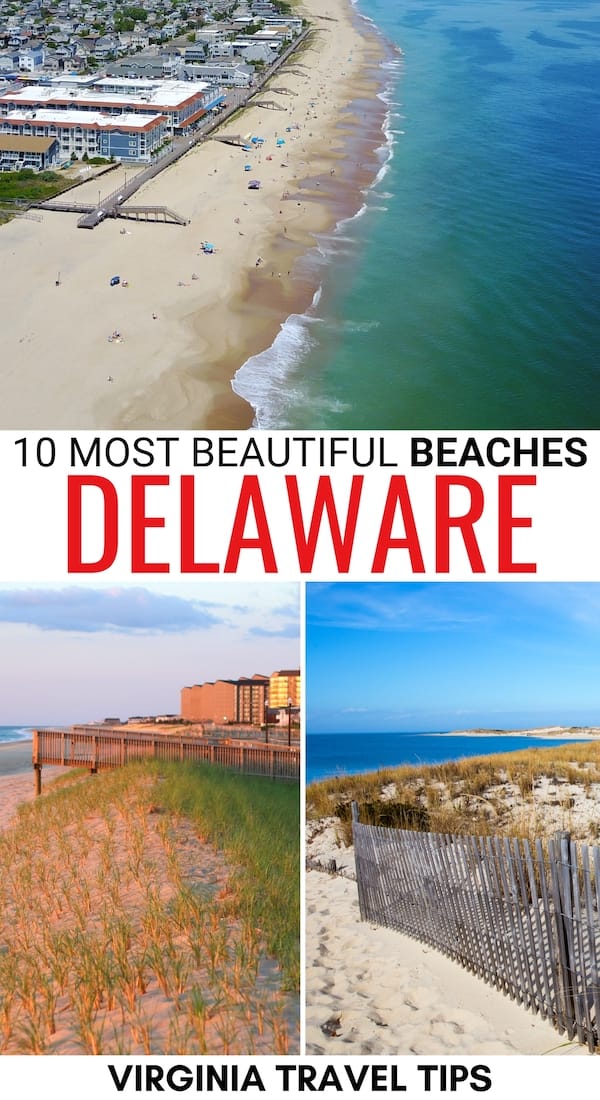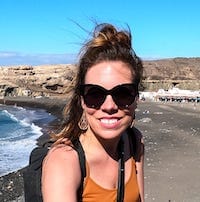 Megan is a travel blogger and writer with a background in digital marketing. Originally from Richmond, VA, she has lived all around the world (including Germany, Finland, Norway, etc) but her heart always finds its way back to Virginia. This blog is to help encourage travelers to explore the great state of VA… and its wonderful neighbors! Megan has written for or been featured by National Geographic, Forbes, Lonely Planet, Fodor's Travel, the New York Times, and more. She has visited 45 US states and 100+ countries… and wholeheartedly believes that Brunswick Stew is probably the greatest food to ever exist.