Are you looking for the perfect kayaking in Maryland experience for your upcoming weekend or trip?
Whether you want to relax on lakes for some family time or feel the adrenaline rush of white water kayaking with friends, the Maryland kayaking scene has something special to offer you.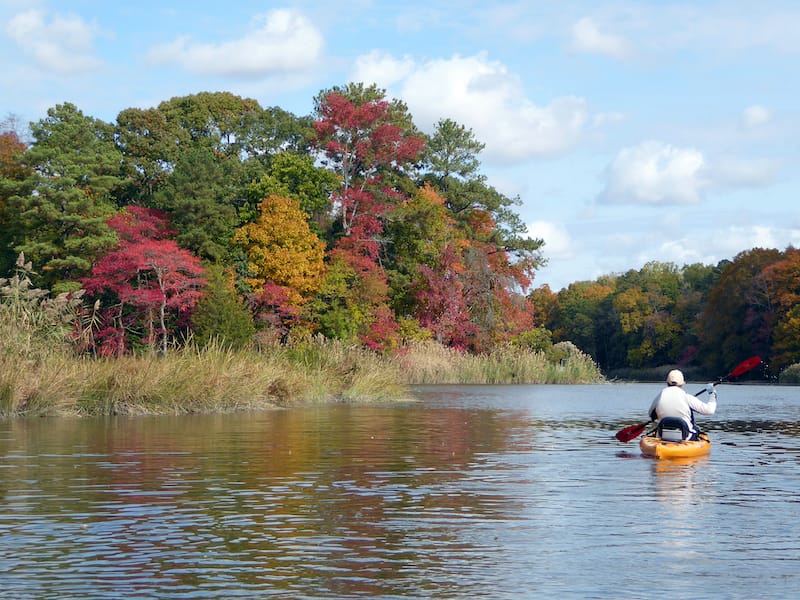 If you're new to kayaking or want to expand your collection, there are some relatively affordable kayaks out there for you to browse.
Maryland is fondly referred to as 'Little America' due to it being home to some of the most beautifully diverse terrains in the country. Also known for its blue crabs and fishing, Maryland boasts breathtaking scenery and you'll experience all four seasons throughout the year.
Although you've already made the easy decision to launch your kayak in MD, the various options to choose from can be overwhelming.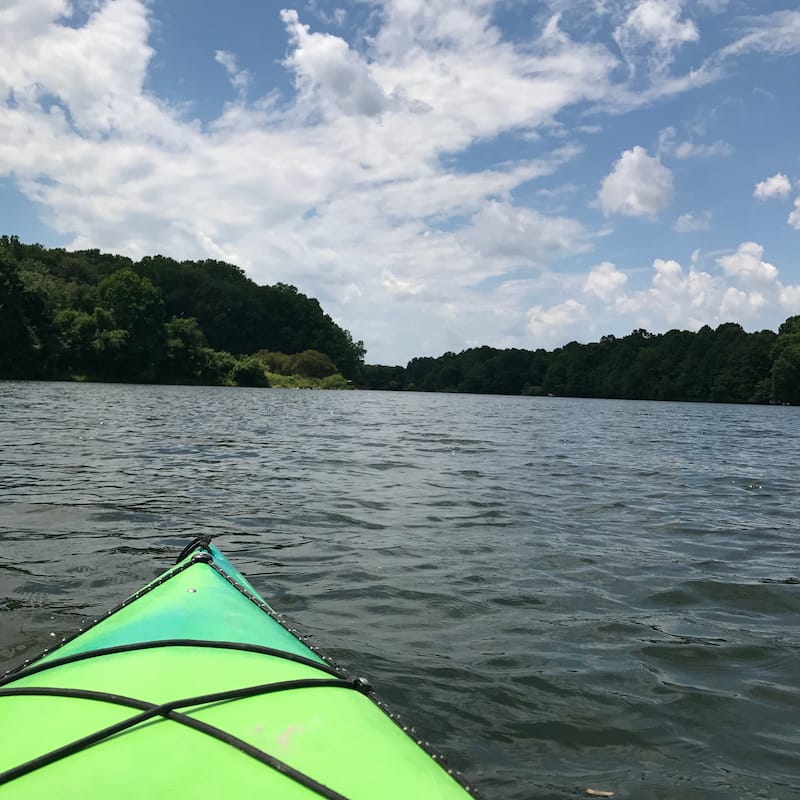 Everything from how to choose a kayak to which water trail best suits you is vast – but we're here to help you, so let's dive right in!
Best Kayaking in Maryland
Maryland's unique, natural diversity makes it the perfect place for a large variety of activities. From Deep Creek Lake to the Chesapeake Bay, the Old Line State is absolutely packed with fun paddling experiences.
Anywhere in Maryland is basically one hour from a paddling launch spot, so all you need to decide is whether you want to kayak or canoe.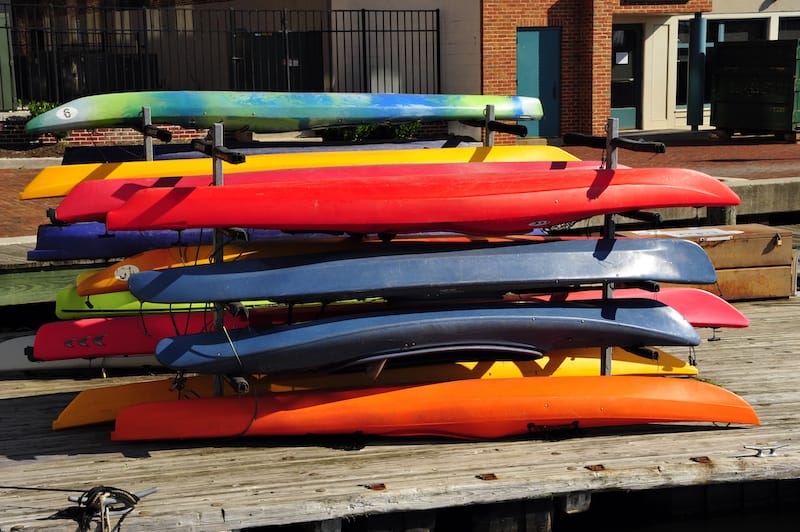 Depending on the time of year make sure you know what to wear kayaking for the different weather you might be experiencing.
Kayaking Through Maryland
If you're more of an adrenaline junkie, your heart should be set on launching a kayak in Maryland. A kayak is much more versatile than a canoe and is great for solo paddling in exposed water as well as over longer distances.
It's also faster and better in difficult weather conditions, meaning this is the route you'll take if you want to try white water rafting.
Due to their slim design kayaks are not ideal for carrying a lot of gear, although a tandem kayak can fit a bit more. Because of this, kayaking is generally an independent sport.
Canoeing in Maryland
To get the best out of canoeing in Maryland you've got to bring some friends, family, and even the dog along with you.
Canoes have a large carrying space for all your gear and are surprisingly easier to portage than a kayak. They're best for multi-day trips if you also plan to go camping, as you can jump from lake to lake quite easily.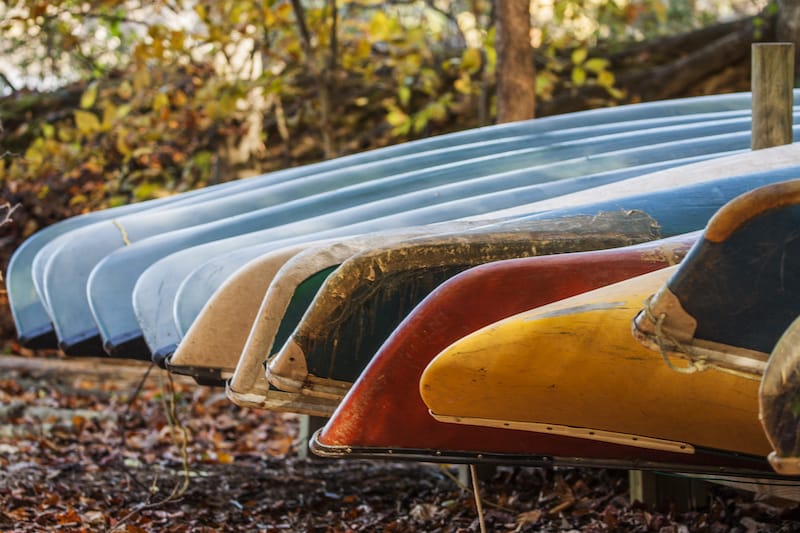 Canoes are more affected by rough currents and strong wind than a kayak, so they're not ideal for solo paddling in rough waters. Best enjoyed as a team activity, if you want to relax then canoeing in MD is what you need.
Places to go Kayaking in Maryland (Water Trails)
With all Maryland has to offer paddlers, you'll constantly be asking yourself where to kayak so that you can take it all in. The Potomac River alone stretches 380 miles from the gorgeous Allegheny Mountains all the way to the lush and lively Point Lookout State Park.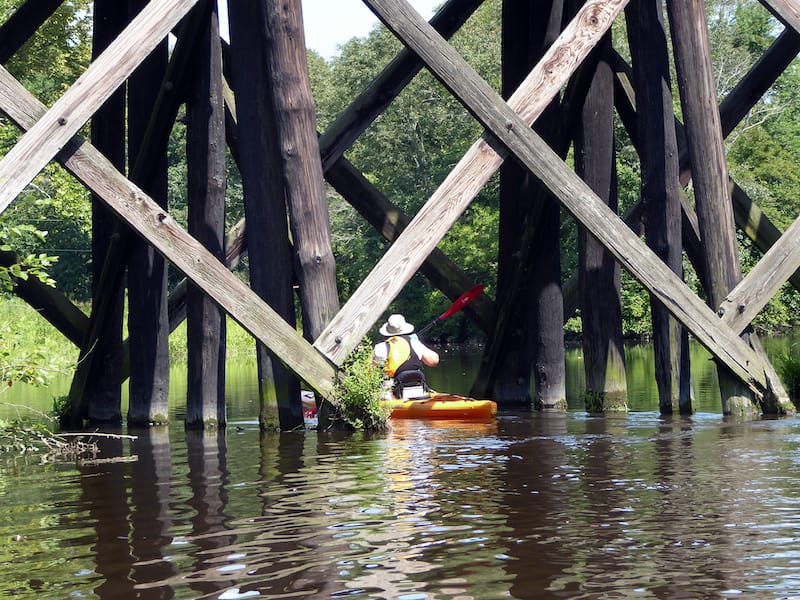 The beautifully diverse Old Line State boasts over 750 miles of exciting water trails. Depending on where you are in the state, there are various paddling spots for whatever your needs may be.
Take a look at some of the popular water trails along the way. All equally worth a visit.
The Potomac River
If you want a secluded adventure to get closer to nature, you should aim to launch in the Northern branch of the Potomac River. There are more than enough river access points nearby with beautiful scenery and possible wildlife encounters. Be ready to capture some stunning photos!
If what you're looking for is more of a tourist adventure with sightseeing, the Lower Potomac is for you.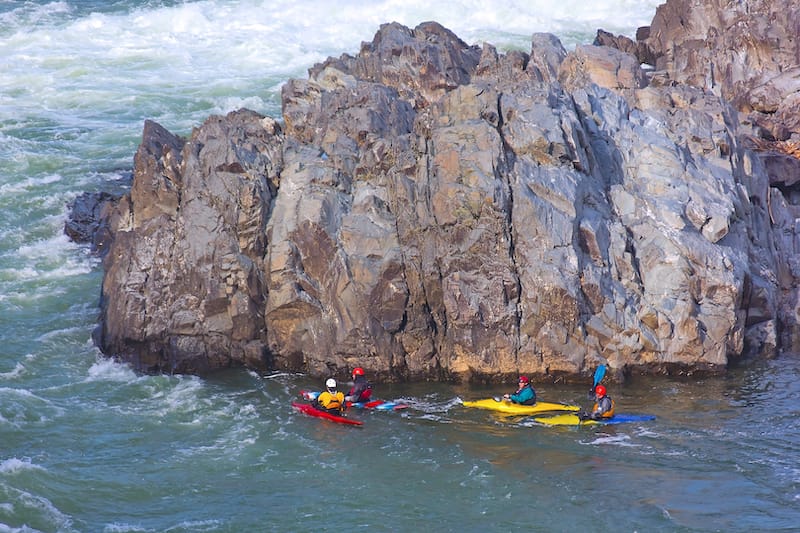 Spanning from Washington D.C down to the Chesapeake Bay, there are many activities including museums and camping. This portion of the Potomac River is best for day trips and family outings.
Chesapeake Bay Environmental Center
Heading towards Eastern Maryland you can find the Chesapeake Bay Environmental Center.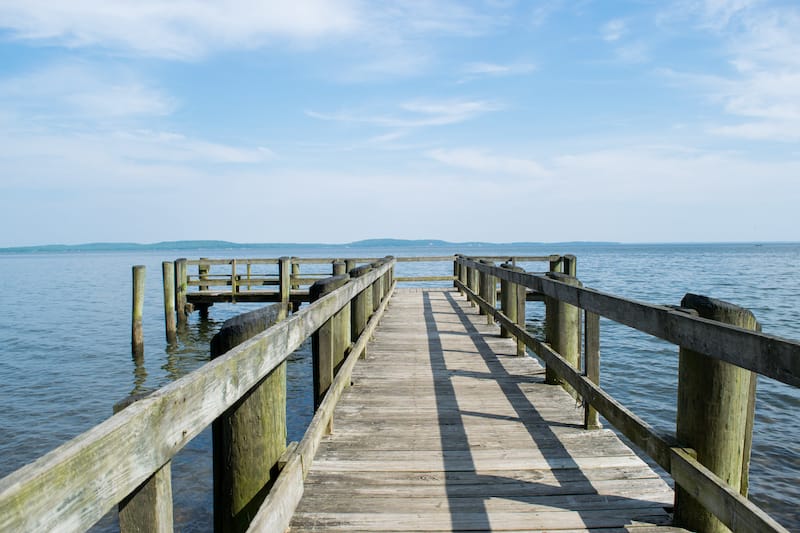 This is the place to be if you want to see some awesome wildlife while kayaking in MD. Go for a solo adventure or guided tour, either way, you'll be having tons of fun.
The Chesapeake Bay is one of the top destinations in Maryland – take advantage of it!
Janes Island State Park
While still on Maryland's Eastern Shore, you can find 30 miles worth of water trails at Janes Island State Park.
There are beautiful beaches and lush salt marshes which alongside the unique wildlife creates a gorgeous setting for a great day of kayaking or canoeing.
Anacostia River
If what you want is to explore MD's Capital Region then Anacostia River is where you need to be launching.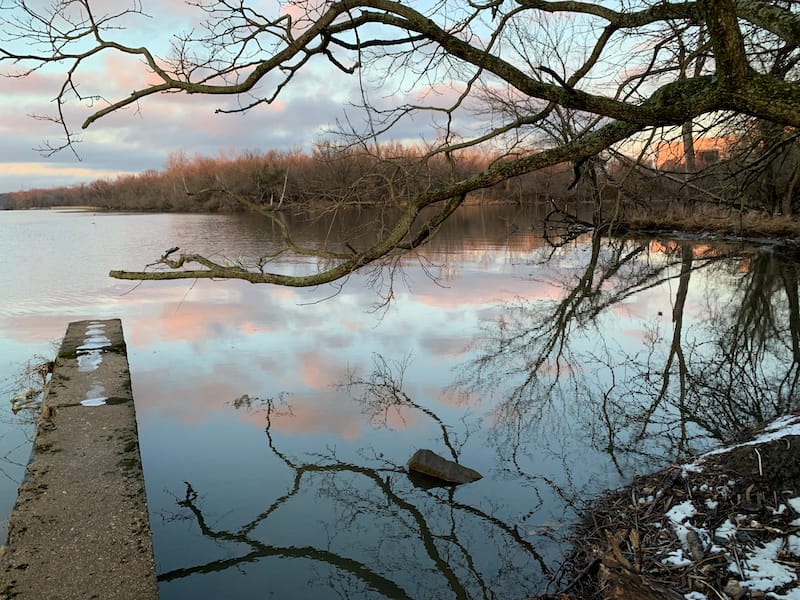 With nine miles of water trails to explore and lots of parks and recreation areas, you can paddle your way through history from Washington D.C to Bladensburg.
Patuxent River
Further down to the south of Maryland you can find the Patuxent River.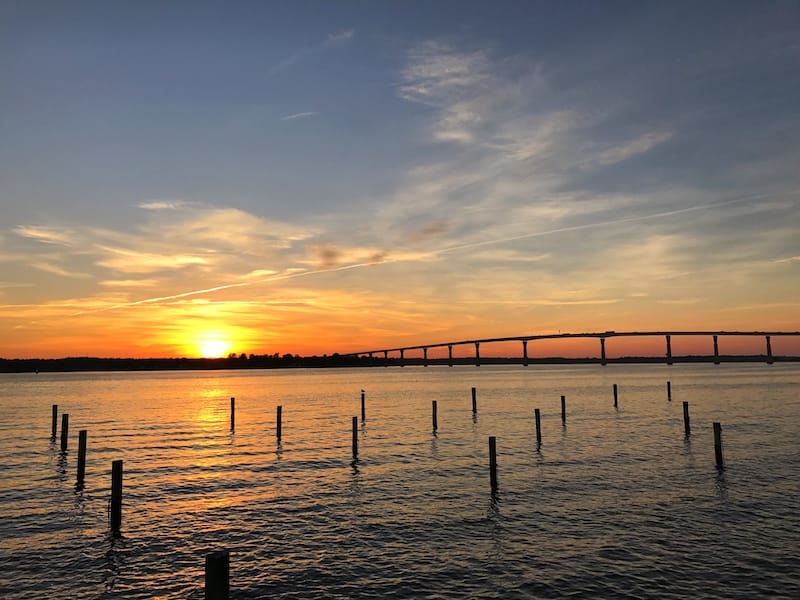 With numerous access points along its 115-mile span and lots of attractions along the way, the Patuxent River water trail is perfect for kayaking or canoeing in groups. You'll definitely be creating some joyous everlasting memories.
Youghiogheny River
For those seeking more of an adrenaline rush, the Youghiogheny River is known for its white water rafting. It has 21 miles of white water rapids surrounded by lush forest and rocky scenes for you to choose from.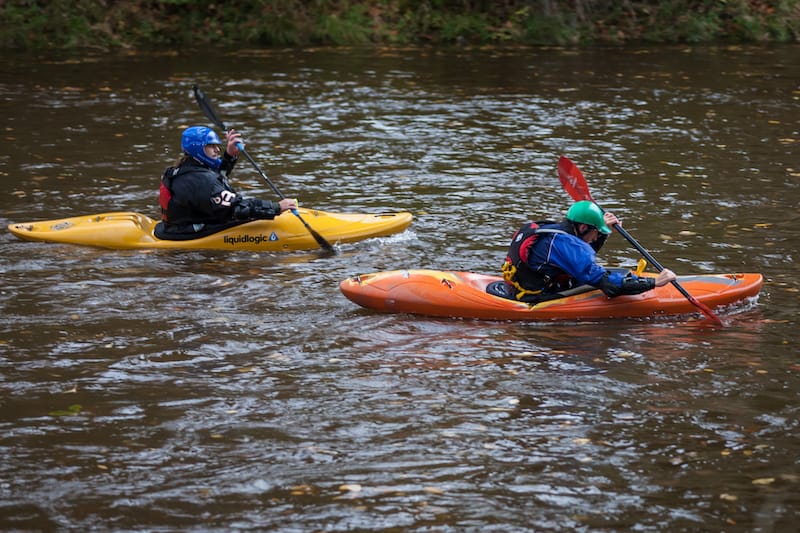 Get a workout, adrenaline rush, and witness some awesome scenery all from within your kayak. There are also many small Maryland towns along the way you can stop at (or stay at for a night).
Ready to go Kayaking in MD?
So, now you know where to go kayaking in Maryland and launch yourself into a world of new adventures.
From Allegany County all the way to the Chesapeake Bay – whether you like natural environments or more urban settings – 'Little America' can offer them all to you.
Go with friends, family, and even your dog to enjoy a large selection of fun-filled paddling experiences.
With all this variety you'll definitely get to satisfy the thrill seeker inside. The beauty in Maryland's diverse landscapes and wildlife is undeniable and ready for you to explore it from the water.
Before you do so, be sure to check up on kayaking safety to ensure your trip remains a fun one. Once you're ready, all there's left to do is get out there and have a great time!
More Maryland Travel Guides
Pin this Kayaking and Canoeing in Maryland Guide