Maryland is known for its lively beaches and being in close proximity to Washington DC, but one thing that people don't often associate Maryland with is its lovely winter atmosphere.
If you want to check out a destination that isn't so crowded during the colder months, plan a trip to Maryland in winter!
These are the best winter getaways in Maryland – and we have selected places for all types of travelers! Click here if you're looking for the best places to spend Valentine's Day in Maryland instead!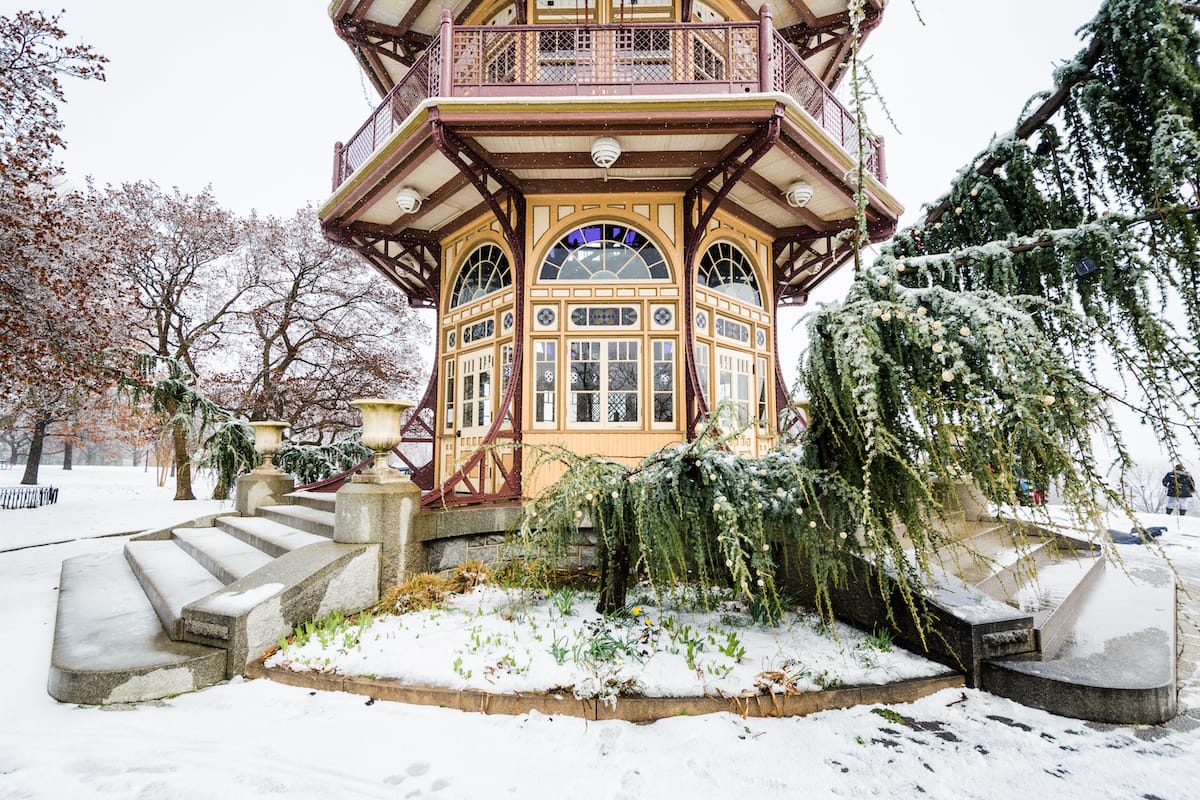 It does get cold in the winter despite the beaches, so you will get to experience winter and snow. With all sorts of resorts, historical towns, events, museums, and more, a trip to Maryland for your winter holiday will prove to be an unforgettable experience.
No matter your age and interests, you are sure to find something you like even during Hanukkah, Christmas, New Year's, or any holiday you celebrate.
We've compiled a list of the things to do during winter in Maryland below. Did we miss your favorite place or activity? Let us know in the comments!
Places to Visit in Maryland in Winter
1. Annapolis
Aside from the beautiful summers in Annapolis that are filled with architectural beauty, sailing, and history, the town is also known for its wintertime.
During the holiday season, Annapolis turns into a magical place with fewer crowds.
Shopping lovers would enjoy a day shopping downtown, exploring Main Street, Maryland Avenue, and City Dock. If you want to get some holiday shopping done, head to the Arundel Mills Mall, the state's largest outlet mall.
Annapolis also closes some small streets and fills them with cafe tables and an outdoor shopping area. When the sun sets, the lights around you will give you the perfect holiday atmosphere.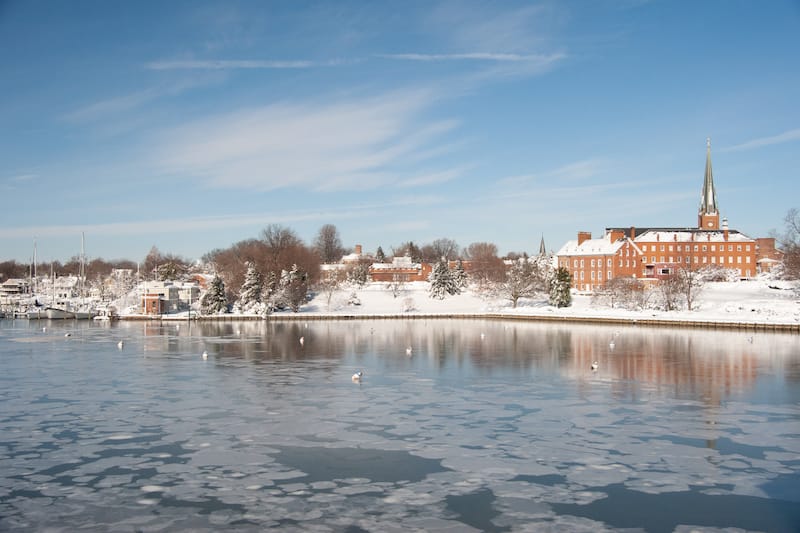 For more fun, head to the Jolly Express cruise on the water. The 45-minute ride includes hot cocoa, holiday music, and everything to help you have a good time. Tickets are $25 for adults and $13 for children.
You can also head to the Chesapeake Bay during Lights On The Bay. From November 19, 2023 until January 1, 2024, the bay turns into an electric wonderland at Sandy Point State Park. You can either take a stroll and enjoy the electric show or cozy up in your car.
Finally, you can also check out the 36th Annual Eastport Yacht Club Lights Parade, where more than 30 brightly lit boats are decked for the holiday season parade.
Themes such as Santa Claus, Polar Bear Christmas, and Abominable Snowman have pleased young and old in this traditional Annapolis event.
2. Eastern Shore
On the Eastern Shore of Maryland, two things are usually constantly present in daily life: water and seafood. Winter on Maryland's Eastern Shore offers its own set of unique options for a fun-filled Maryland trip.
Winters bring with them an ocean full of fresh, in-season oysters. Oyster lovers will not be disappointed in the Eastern Shore and its many opportunities to try stewed, raw, steamed, or fried oysters.
Some restaurants that offer delicious oysters are Chesapeake Landing or Bay Wolf.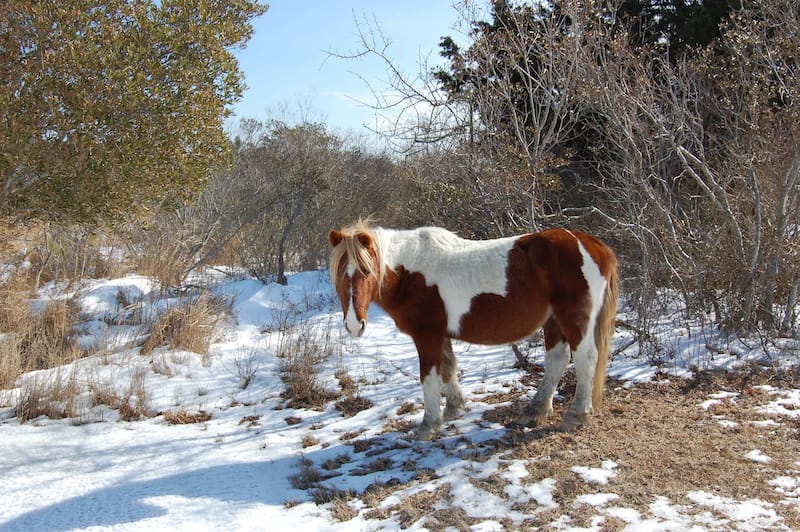 In addition, if you love wine, then you'll certainly enjoy the Chesapeake Wine Trail. In the summer, it does get crowded, but you'll certainly feel a lot more comfortable and enjoy the experience more in the winter.
Here, you will be able to taste wine at many wineries, including St. Michael's Winery and Bordeleau Vineyards.
The wineries offer a lot of events like ladies' night and happy hour, and you may even get a road trip out of the deal. You can even pop down to nearby Chincoteague, Virginia to check things out!
3. Cumberland
Cumberland is a terrific place to visit if you want to experience the great outdoors.
The town has 70,000 acres of public land, which is why hikers will definitely find the perfect trail. Rocky Gap State Park is one of them, which has 3,000 acres of rugged mountain beauty where visitors can enjoy a hike.
Rocky Gap State Park features Lake Habeeb, which is a 243-acre reservoir. When the weather is chilly enough, it turns out to be perfect for ice fishing.
Green Ridge State Forest is another place for nature lovers as it includes over 50 miles of hiking trails.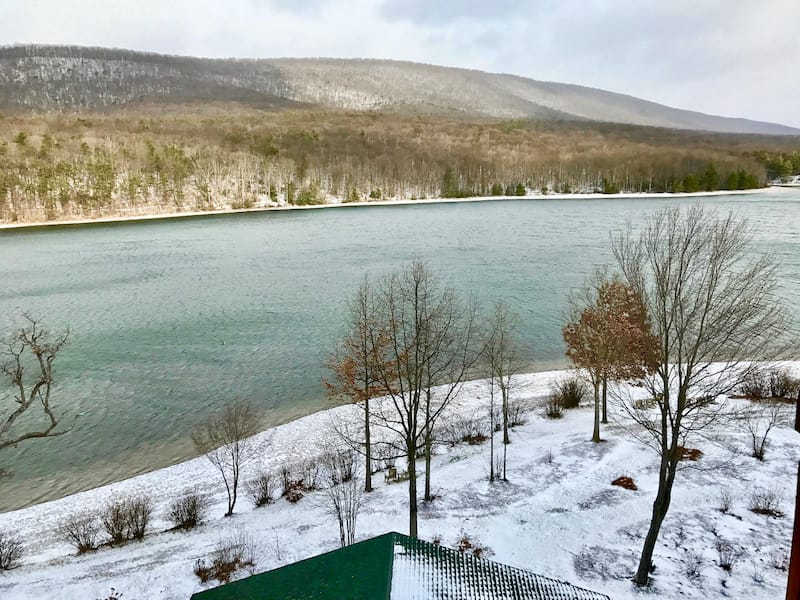 You can also discover Cumberlands' holiday spirit in the historical downtown where the annual City Center Christmas Tree Lighting Ceremony takes place.
The event includes holiday music, entertainment, business open houses, the lighting of the pedestrian mall and Christmas tree, and most importantly, Santa's arrival.
History enthusiasts can also enjoy their day exploring the Allegany Museum. The world-class museum covers Allegany County's rich history and Appalachian Maryland's cultural, commercial, and geographic heritage through the ages.
4. Deep Creek Lake and Wisp Ski Resort
You haven't properly experienced Deep Creek Lake if you've only ever visited during the summer months!
Skiers and snowboarders should head to Wisp Resort. It has 32 slopes and trails that are spread over 132 acres with a 700-foot vertical of a 3,115-foot tall summit.
Five paths are labeled "easy," ten are labeled "more challenging," and five are labeled "most difficult" on the Front Side Trails. Skiers can enjoy their whole day skiing since 90% of the mountain offers night skiing.
The Learning Center offers group and private lessons for those who want to improve their ski and snowboarding skills. You can also check out Wisp Adventure Park, which offers snow tubing and ice skating, and is the only Mountain Coaster in the Mid-Atlantic.
For an unusual and fun experience, visitors can enjoy the Mountain Coaster. The carts ascend a 1,300-foot long track, ensuring a memorable time.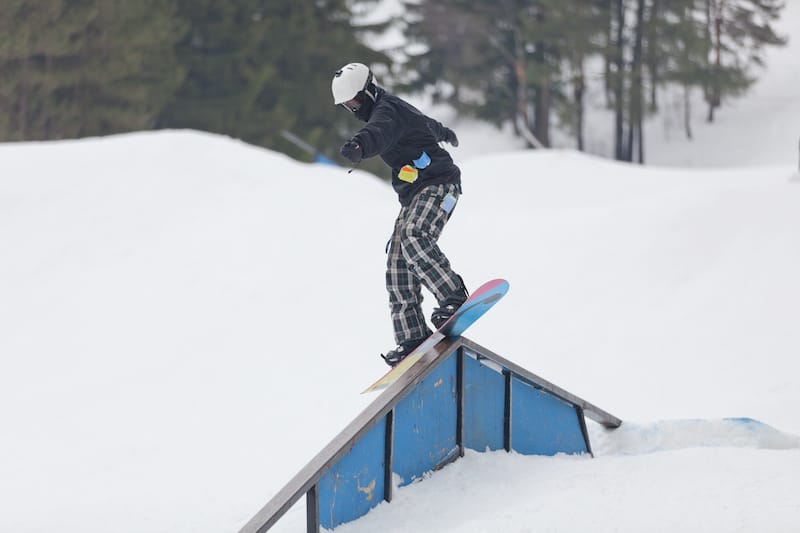 Wisp Resort offers the Lodge, which has six types of rooms among 169 guest rooms. They feature an indoor pool and a comfortable relaxation area.
The resort also has a Fitness Center with a variety of equipment, including treadmills, bikes, and elliptical machines for those who don't want to skip their exercise routine over the holidays (or for those looking to stick to their New Year's resolutions).
Hiking enthusiasts should wear their snowshoes and head to Swallow Falls State Park. The magical place is a must-see when the white snow covers it. If you're ready for a challenge, explore trails to all three of the waterfalls: Swallow Falls, Muddy Creek Falls, and Tolliver Falls.
The 3,900 acres of Deep Creek Lake also offer ice fishing. Cut a hole in the ice and enjoy the experience.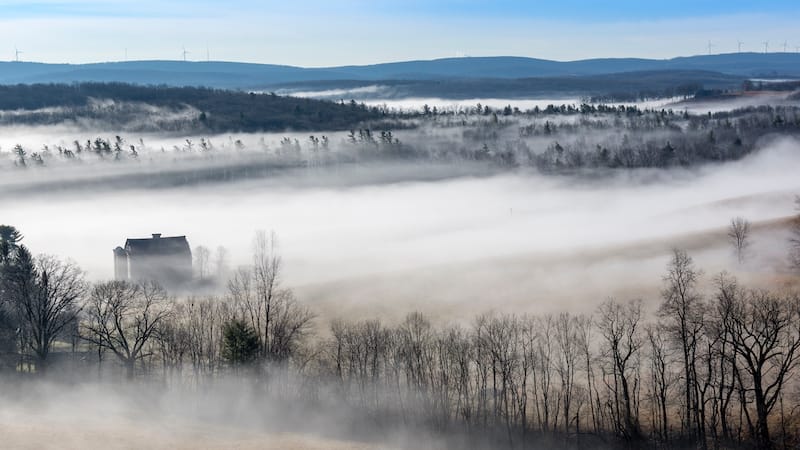 People who are still young at heart will enjoy sledding. Blackwater Falls State Park has the ultimate sledding hill. Visitors can travel uphill using the conveyor. You can also rent a sled if you need one.
At the end of the day, enjoy a delicious bite by the cozy fireplace at one of the local restaurants such as Firewater Kitchen & Bar, Uno Pizzeria & Grill, or Dutch's at Silver Tree.
Address: 296 Marsh Hill Rd, McHenry, MD 21541
5. Rod 'N' Reel Resort
Located on Maryland's seashore, Rod 'N' Reel Resort is a prominent place for vacationers. The resort has 72 rooms that are cozy and exquisitely furnished.
Guests can dine at one of three delectable restaurants throughout their stay, including the immensely appealing Rod 'N' Reel Restaurant, which provides fresh Southern Maryland seafood and overlooks the coastline.
The Chesapeake Beach Salon and Spa offers wellness, peace, joy, and positivity if you want to enjoy a relaxing time. It features numerous massages such as hot stone massages, Swedish massages, and tension relief massages. The spa also offers facials and makeup services.
There are three main beaches in the area. North Beach turns into a massive attraction for ice fishing lovers during the winter. There are also two casinos in the resort (don't forget to play responsibly if you do choose to check them out!).
The Chesapeake Bay Railway Museum and the interactive Bayside History Museum, both within walking distance of the hotel, will appeal to history lovers.
Swimmers can enjoy a swim in the indoor pool that the resort offers.
Address: 4160 Mears Ave, Chesapeake Beach, MD 20732
6. Baltimore
Don't let the cold weather stop you from visiting beautiful Baltimore in winter!
Head to Pandora Ice Rink or Mimi DiPietro Family Skating Rink for some skating. Have a day full of fun with the family or make a romantic date night.
Head to the Baltimore World Trade Center Observatory located in the world's tallest Pentagonal-shaped building. It provides a breathtaking view of Baltimore's skyline, Inner Harbor, and beyond.
In addition to the beautiful views, there is a museum that tributes to the victims of 9/11. Entry tickets are $8 for adults and $5 for children.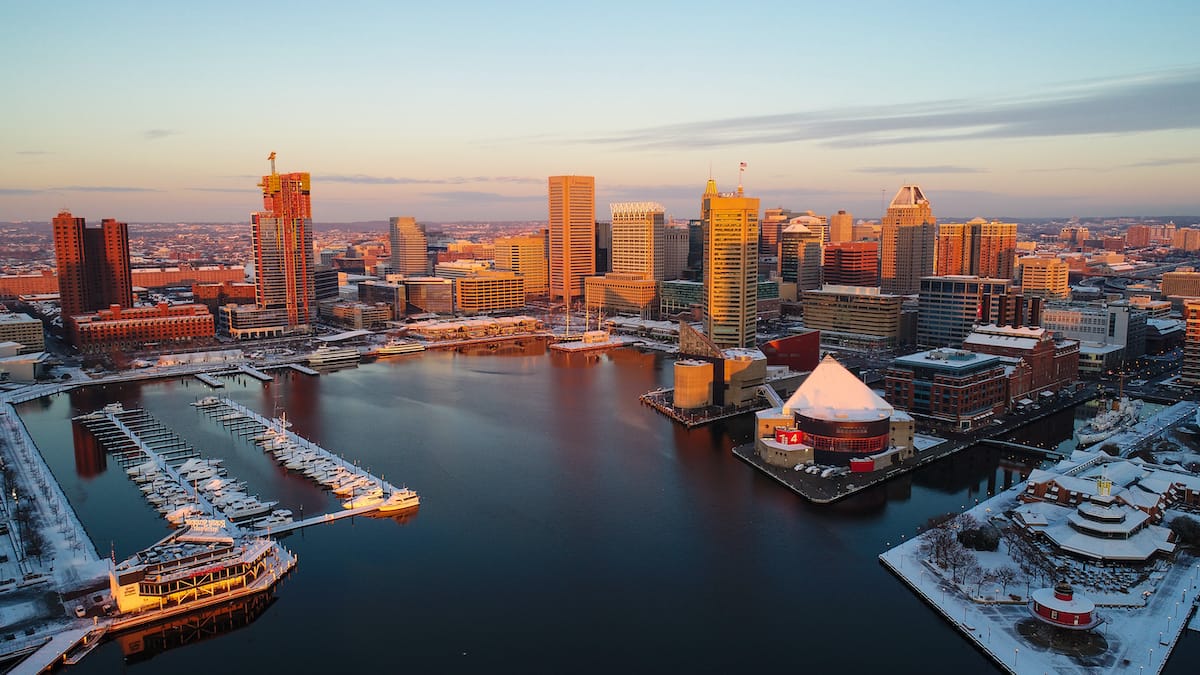 If you want to spend a day imagining what it would be like fighting during WWII while on the submarine, head to the Inner Harbor of Baltimore. It offers historic ships and a lighthouse that you can tour.
There are only the USS Torsk, a submarine, and the USS Constellation, a naval warship, open for tours during the winter months. Adult tickets cost $20, and children's tickets cost $8.
Science fanatics should also visit the Maryland Science Center. It helps guests experience science as something fun and exciting. There you'll find a large modern IMAC theater, the Ramsey observatory, and many permanent and temporary exhibits.
You will also find plenty of worthwhile day trips from Baltimore, even during the winter months!
7. Sandy Point State Park
Sandy Point State Park is a beautiful place to be in during winter. Crowds are smaller, making it perfect for exploring.
The park is not that big, making it easy to explore on foot, so wear your winter shoes and take a scenic hike. The park offers trails such as the Symbi Trail and Blue Crab Trail.
Symbi Trail is a short trail that takes you through an old-growth pine forest and the bayside marshes. Blue Crab Trail is perfect for birdwatchers. You can admire all kinds of birds, from waterfowl to songbirds.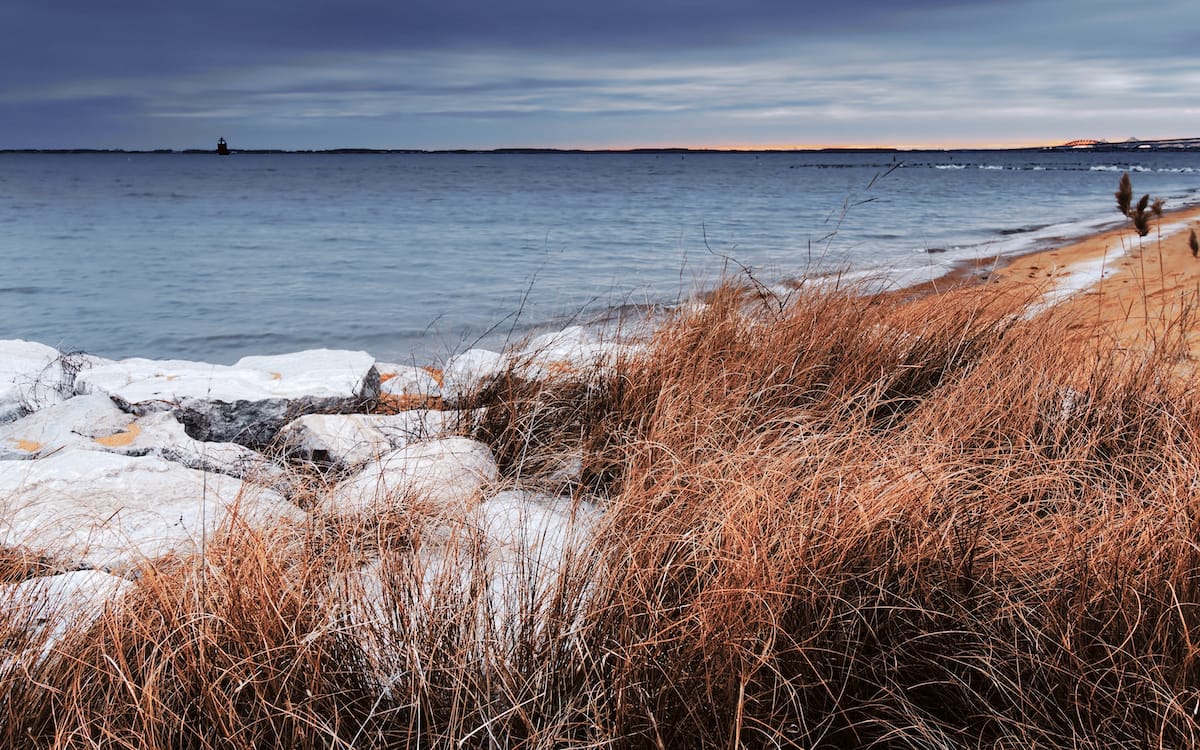 Different events take part in the park during winter, such as the Maryland Polar Bear Plunge. Individuals contribute $75 or more for the pleasure of leaping into the Chesapeake Bay in January in support of 7,782 athletes from across Maryland.
With over 60 magnificent displays during the holiday season, the park is lit with dynamic lights along the Chesapeake Bay beach. Here, you can also see the gorgeous views of the Bay, which is often frozen over in the winter.
In the summer, the park offers many opportunities for picnicking, but if it isn't too cold, you could easily take a walk on the beach to enjoy the winter views as well.
Address: 1100 E College Pkwy, Annapolis, MD 21409
8. Ocean City
Most people vacation in Ocean City during the summer, but you'll soon find that the winter is just as enjoyable and adventure-friendly.
Art enthusiasts would enjoy visiting the Center for the Arts, which is the home of the Art League of Ocean City. It is considered to be the "hidden gem" of the town featuring rotating exhibits of local artworks, seasonal events, and classes of visual arts and performing arts.
Ocean lovers should head to the Ocean City Life-Saving Station Museum. The museum offers sands from around the world and tells stories about the ocean's history and about the ladies who pioneered hospitality.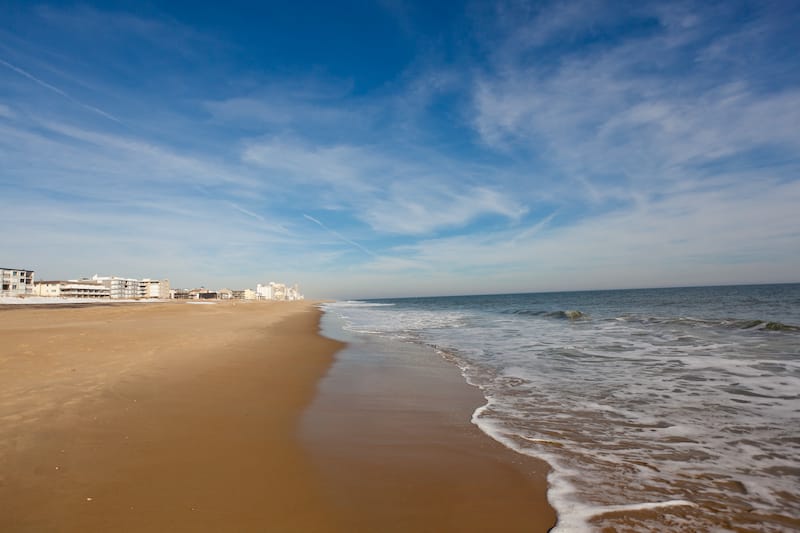 One of the most significant events to get you in the holiday mood is the Winterfest of Lights. A tram is available that will take guests to the Northside Park into a winter wonderland.
Christmas carols will be played on the tram as you explore the 12 days of Christmas display, watch Rudolph fly through the air, and take a visit to Santa's workshop.
While there, visit the Winterfest Village Pavillion, where you'll have a marshmallow-topped hot chocolate, and meet St. Nick himself.
There is also an Ocean City Christmas Parade where visitors see horses, festively themed floats, antique cars, and marching bands.
9. Chestertown
Chestertown is one of Maryland's oldest towns with attractive brick sidewalks, antique shops, delectable restaurants, historic buildings and excursions, and picturesque vistas of the Chester River.
History buffs can visit the Kent County Civil War Monument in Monument Park. The park, which is located on High Street, includes a Civil War trail as well as a monument that includes the names of Maryland's soldiers who served in the Union and Confederate armies.
Walking tours are offered around Downtown Chestertown if you want to go back in time and learn about life before the Revolutionary War. After the chilly walk, the tour ends with a cup of tea at White Swan Tavern.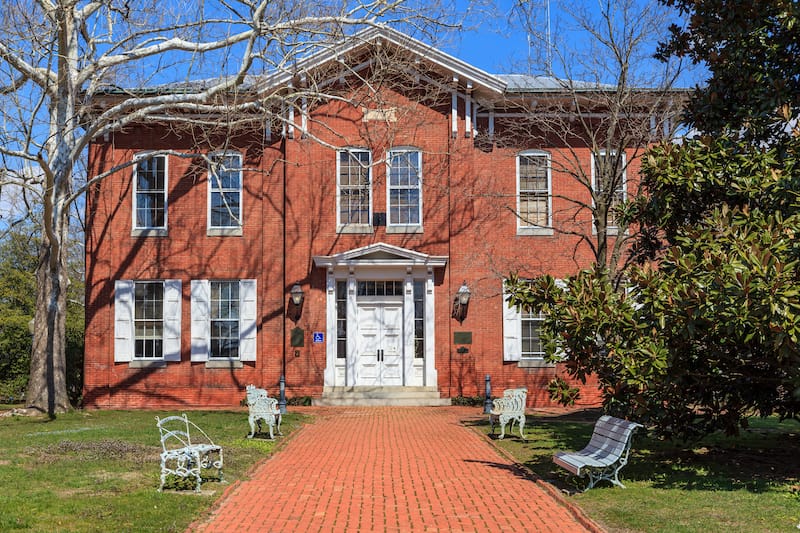 Chestertown is proud of its farm-to-fork cuisine. The town offers many delectable restaurants such as Uncle Charlie's Bistro and The Kitchen at the Imperial.
Don't let the cold bother you and head to High Street and Cross Street for some shopping. Unique bookstores, antique shops, boutiques, and more can be found here.
More Maryland Travel Guides
Pin this Winter Getaways in Maryland Guide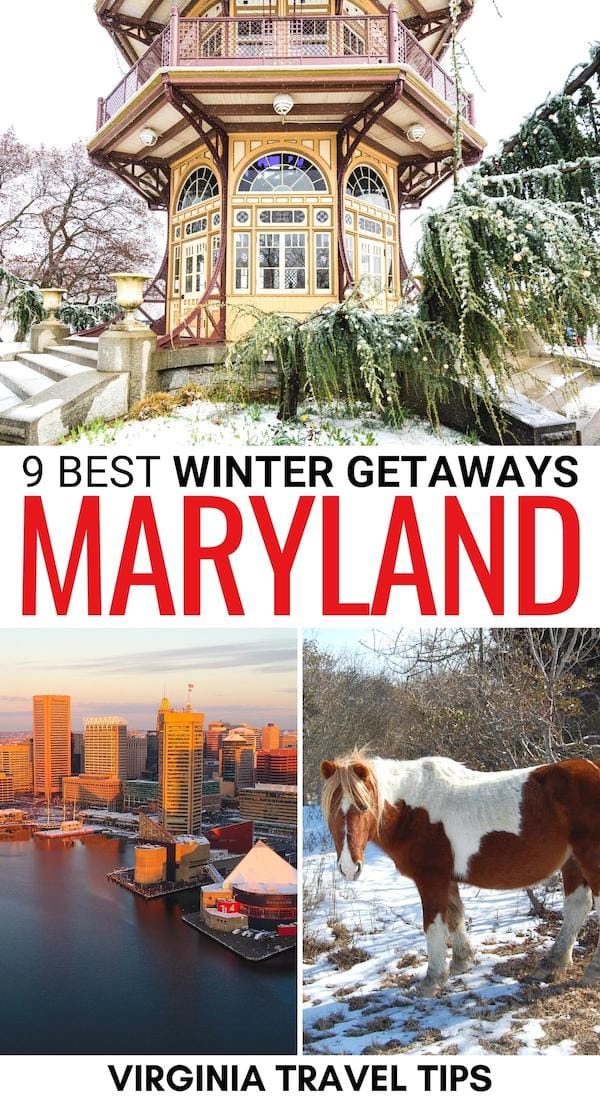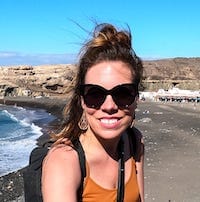 Megan is a travel blogger and writer with a background in digital marketing. Originally from Richmond, VA, she has lived all around the world (including Germany, Finland, Norway, etc) but her heart always finds its way back to Virginia. This blog is to help encourage travelers to explore the great state of VA… and its wonderful neighbors! Megan has written for or been featured by National Geographic, Forbes, Lonely Planet, Fodor's Travel, the New York Times, and more. She has visited 45 US states and 100+ countries… and wholeheartedly believes that Brunswick Stew is probably the greatest food to ever exist.