What's Maryland most well-known for? Its stunning beaches, of course! Whether you're from the East Coast or not, you've certainly heard of the beautiful beaches in Maryland, and this guide will showcase the best ones!
Although Ocean City is the most popular, you'll find many other amazing Maryland beaches, which we will discuss in this article.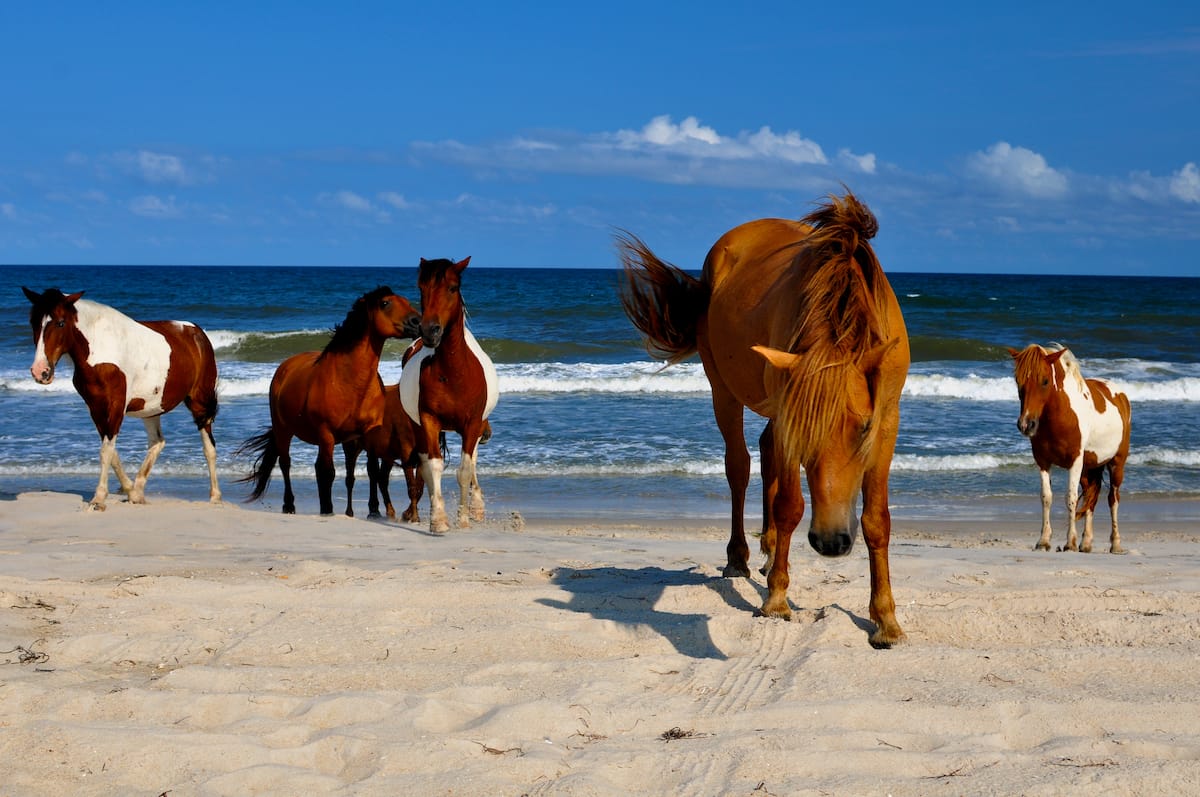 Whether you want to go with your family or have a relaxing trip on your own, Maryland's stunning beaches are sure to offer what you're looking for. Read on to see our top picks for the best beaches in Maryland.
Let us know if we missed your favorite in the comments!
Best Beaches in Maryland
Ocean City
Ocean City is a beautiful resort town located between the Atlantic Ocean and the Isle of Wight Bay. Its history began in 1933 when a powerful storm shredded open a new flow from the bay to the ocean.
The town offers lots of activities for everyone, ensuring a wonderful vacation no matter what you enjoy doing. Head to Ocean City Beach, where you can lay in the sand and enjoy the sun.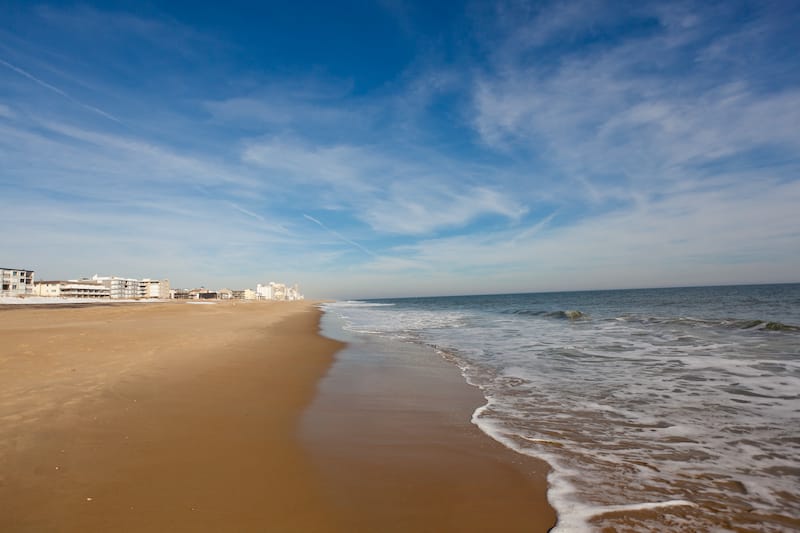 The 10-mile long eastern portion of the island offers some of the most popular things to do. Aside from splashing in the waves, visitors can rent a jet ski or pontoon boat, go parasailing, surfing, and paddling as well.
Spending some time on the Ocean City boardwalk is a must. The 3-mile long boardwalk is full of hotels, restaurants, shops, and bars.
Hilton, Bay Club Resort, and Princess Royale Hotel are some of the best places to stay here if you want to be right on the beach where all the action is.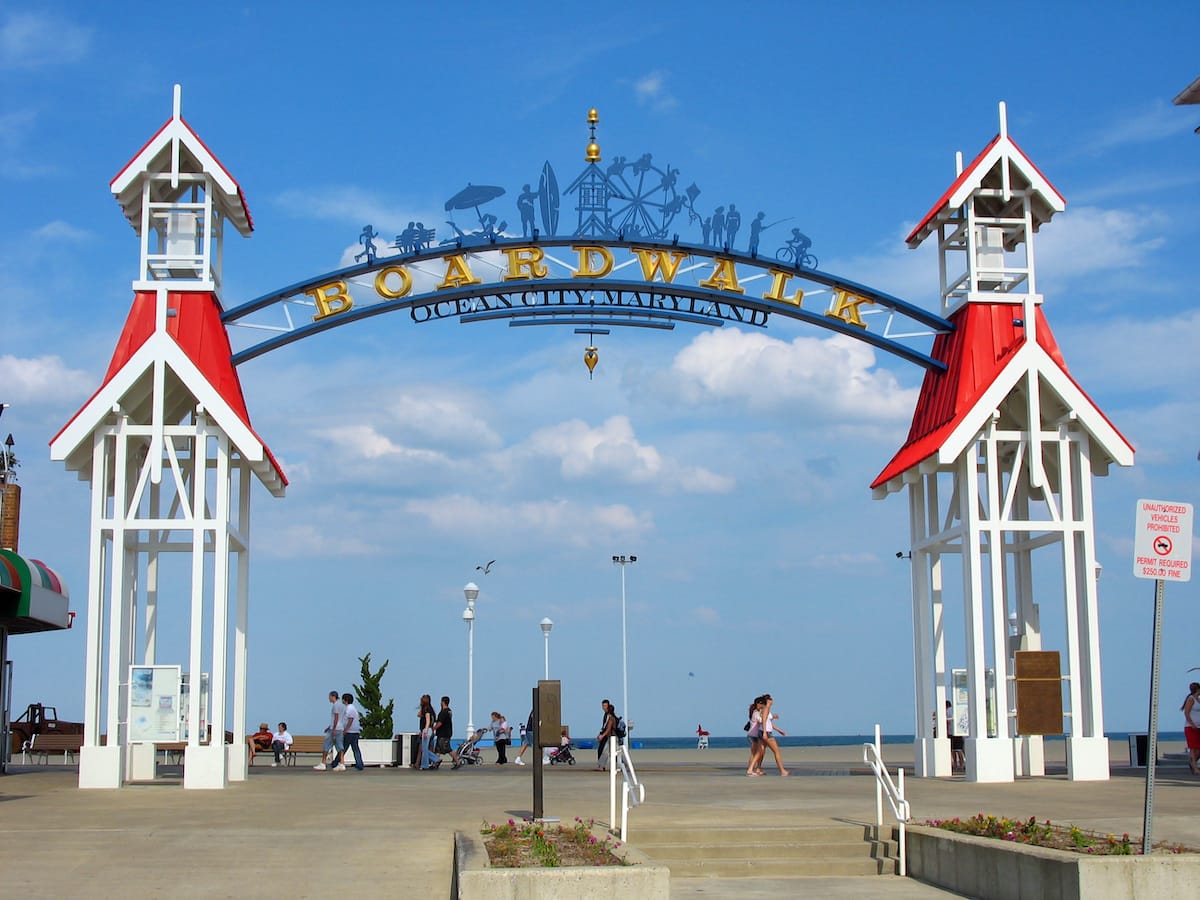 For those who would like to learn more about the beach's history, check out the Ocean City Life-Saving Station Museum.
The museum offers exhibits dedicated to Ocean City's development and its local sea life alongside old shipwrecks. If you're looking for some entertainment, make Trimper's Ride and Amusement Park your next stop.
Open since the 1800s, the park is one of Ocean City's main sources of entertainment. The park offers more than 100 rides that will suit everyone regardless of their age.
Golf enthusiasts also have the chance to visit renowned courses such as Eagle's Landing, which provides a lovely view of the Assateague Island Seashore and Sinepuxent Bay.
Rocky Gap State Park Beach
Surrounded by rugged mountains, Rocky Gap State Park is a quiet place to enjoy the beauty of nature. Here, you can check out the 243-acre Lake Habeeb, which is known to have "the bluest water in the state."
It is an ideal location to have a relaxing lunch, enjoy a quick and cooling swim, and appreciate the sunset. It really is one of the best beaches in Maryland!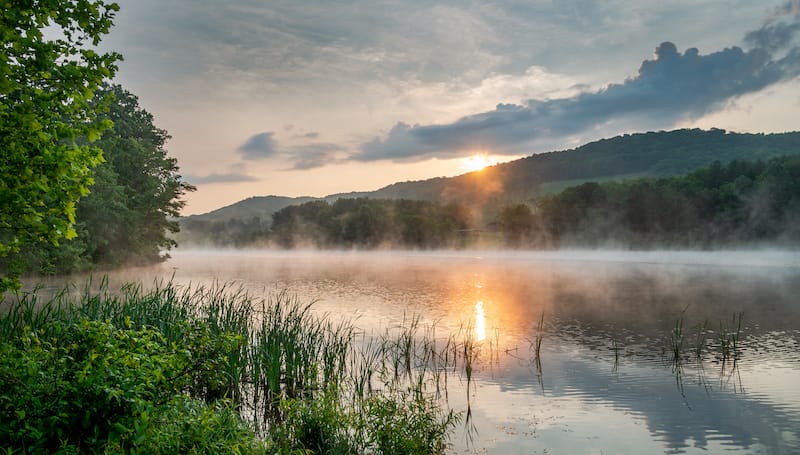 Canoe, kayak, and SUP board rentals are also available at an on-premise camp store for those who want to have some fun in the water.
If you want to try your luck and try your hand at some fishing, rent a boat and give it a whirl. After catching some fish, you can grill it up on the barbecues provided.
You can also enjoy the views of Evitts Mountain, gorgeous cliffs, and luscious greenery during your trip.
Sandy Point State Park
Cooling off in the Chesapeake Bay is a must at Sandy Point. The 786-acre treasure is one of the most beautiful state parks in Maryland.
The park is known for its scenic water views and picnic areas that overlook the beautiful Chesapeake Bay. A trip here will certainly help you to relax and unwind.
The beach is one of the most popular places to visit in the summer. There are also lifeguards at the beach, which makes it especially safe for families with kids.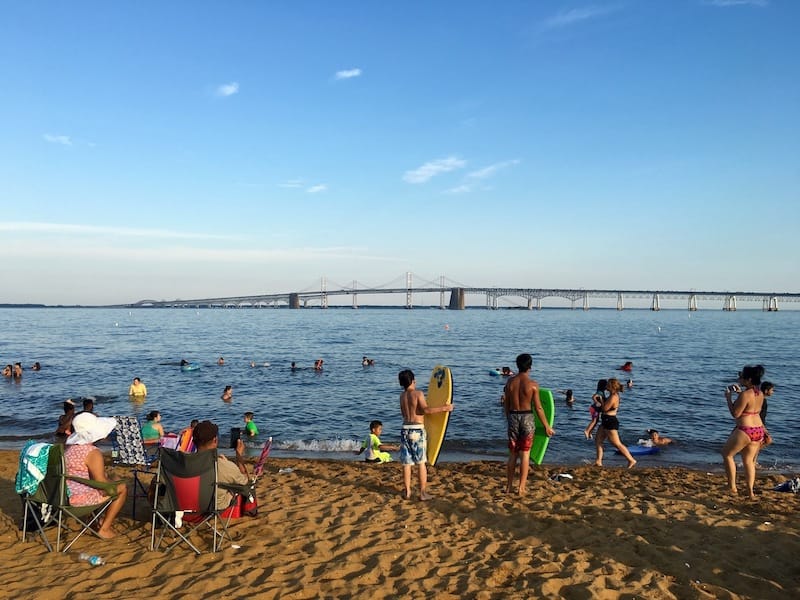 The park offers shelters for groups and large gatherings, including picnic tables, grills, and electrical hookups.
Hiking enthusiasts can also check out Symbi Trail and Blue Crab Trail, which are full of stunning vistas. Fishing and crabbing are also allowed in the park except in the swimming and boating area.
You can rent equipment at the Marina Store and Boat Rentals as an added convenience.
Matapeake Beach
Located on the Chesapeake Bay on Kent Island, Maryland, Matapeake Clubhouse offers a pleasant public beach popular among swimmers and sunbathers.
The historic site was once a ferry terminal between Sandy Point and Kent Island from 1936-1954.
In the clubhouse, delectable food is served on a terrace where a picturesque view greets you. The park also offers an outdoor amphitheater, woodland trails, picnic areas, and a dog beach.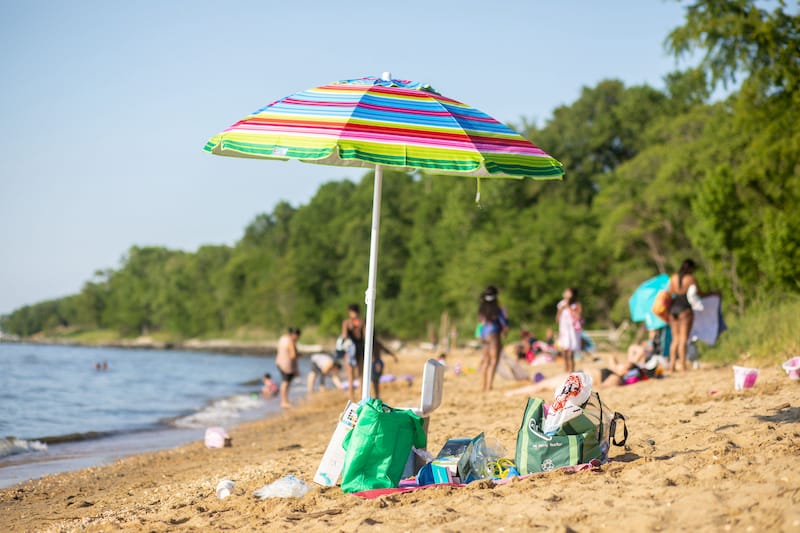 Yes, you read that right- there is a lovely place dedicated to your four-legged pals where they can have a swim and make new friends.
The Matapeake Pier and Boat Ramp and the Romancoke Pier and Kayak Ramp also welcome adventure lovers and provide access for boating, paddling, and fishing.
Hikers can also find a 1-mile trail here with admirable views of the Bay Bridge.
Assateague Island National Seashore
Located along the Atlantic Ocean in Maryland, Assateague Island National Seashore was established to protect Assateague Island in Virginia and Maryland.
It is an excellent destination for a vacation. Visitors can enjoy numerous activities during their time here, such as sightseeing cruises, kayak tours, crabbing, fishing, biking, and hiking.
The national seashore is also known as one of the best beaches on the entire East Coast with its 37-mile beautiful waters.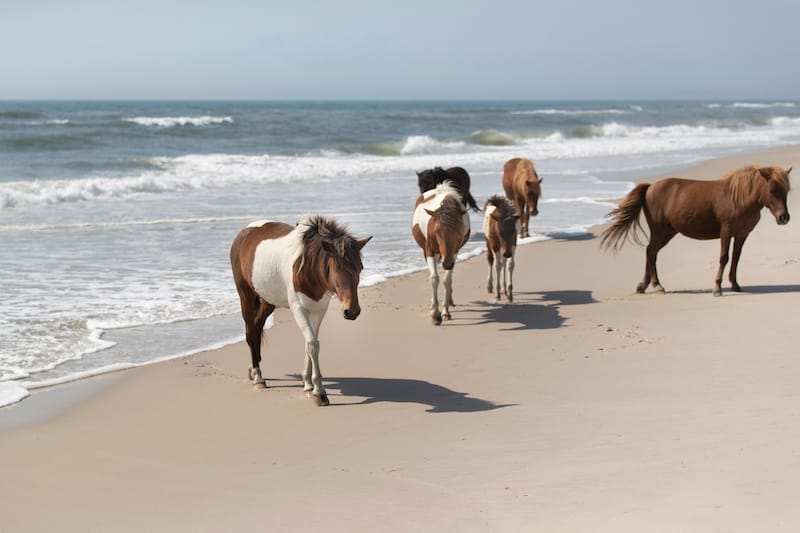 Hikers also have the opportunity to hike on paved and unpaved trails of Assateague Island. It is advised to be prepared since hiking on a barrier island will be a unique experience with its challenges.
Camping is also available in the Maryland district of Assateague Island. For more details and reservations, visit here.
Visitors can also hop on their bikes to explore the island. Several miles of bike trails are available through the island in both Maryland and Virginia.
Deep Creek Lake
Known as the largest inland body of water in Maryland, Deep Creek Lake covers nearly 3,900 acres and has 69 miles of beaches. It is truly the perfect place to spend your vacation since it has a lot to offer to everyone.
Hikers have the opportunity to hike in places such as Potomac-Garrett State Forest, Coopers Rock State Forest, Dolly Sods Wilderness, and Savage River State Forest.
The trails are also perfect for mountain biking. Visit Swallow Falls State Park to see Maryland's tallest free-falling waterfall, Muddy Creek Falls.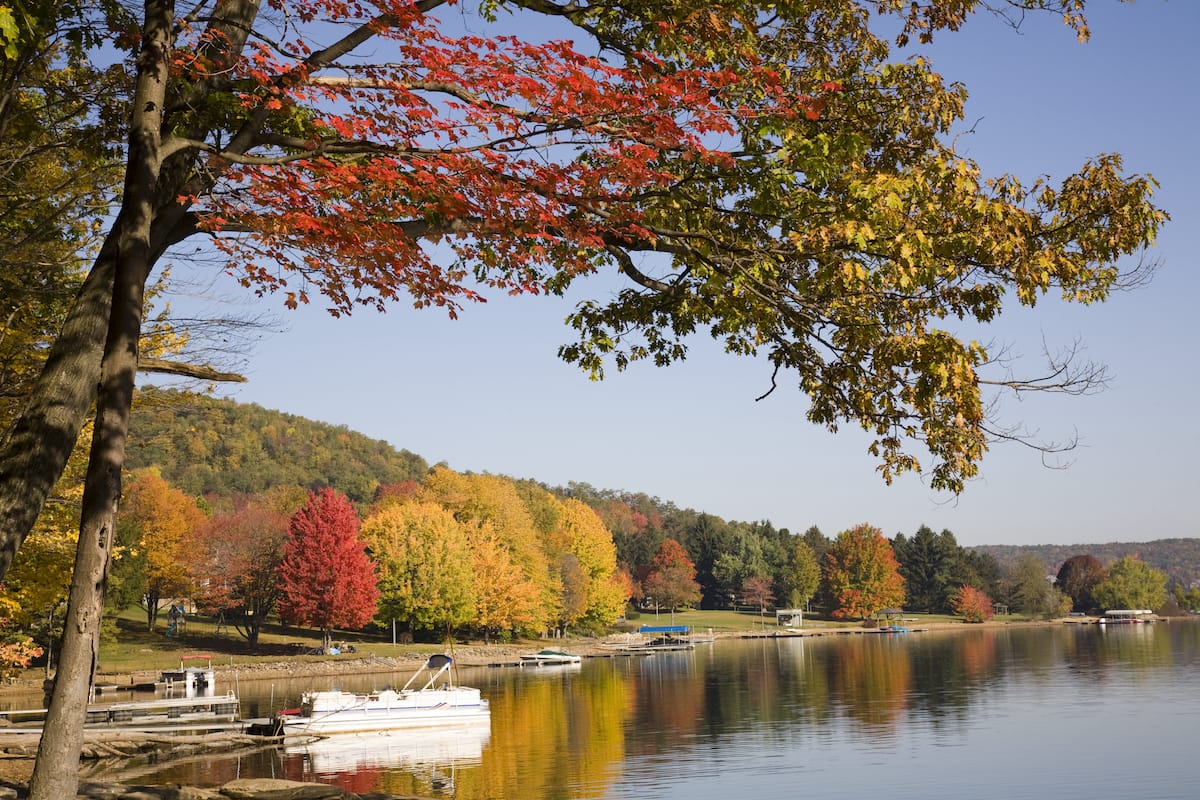 If you want to have some fun in the water, you're in the right place. You can also check out the boat rentals shops to have some fun lake activities such as water-skiing and tubing.
Several locations around the lake also provide jet skis if you're up for an adrenaline rush. During the winter season, the lake turns into a skier's paradise.
Offering 172 acres of ski terrain and 34 downhill slopes, it is a Maryland winter hot spot.
North Beach & Chesapeake Beach
Located on the Western Shore of the Chesapeake Bay, North Beach is a small town full of fun things to do.
The city offers seven waterfront blocks with a well-known fishing pier and half-mile-long boardwalks that have separate bike paths and benches where you can sit and enjoy the scenic views.
Rental stores on-site offer kayaks, bikes, and paddleboards, as well as umbrellas and chairs. If you've had enough of the sun, stroll along the boardwalks where you'll find antique shops and gift shops.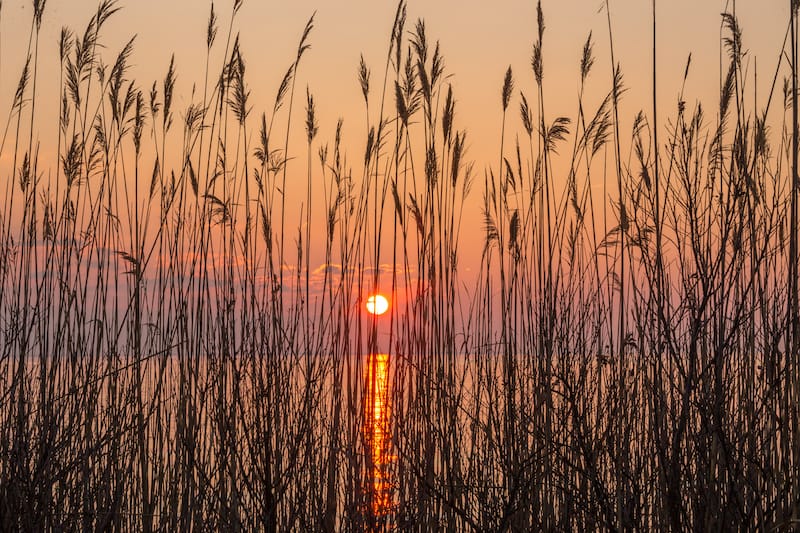 Plenty of restaurants can also be found within walking distance from the pier, such as Plaza Mexico, The Westlawn Inn, and Neptune's Seafood Pub.
If you are visiting the town on a Friday, make sure to visit Friday Night Farmers Market and Classic Car Cruise-in that offers seasonal delights from local farms.
Breezy Point Beach
If you want a large open-air swimming beach with easy access, then Breezy Point Beach is the place for you. The beach is a half-mile stretch of trimmed sand across the Chesapeake Bay.
The swimming area has a net surrounding it in the water to make it a jellyfish-free area. If you want to have some fun on the sand, the beach offers volleyball nets.
Breezy Point also has a 200-foot fishing pier and large picnic area protected from the sun by cedar trees. The picnic area includes picnic tables, grills, and play facilities for your little ones.
Breezy Point Marina Inc., which is a full-service marina located on the western coast, offers boat ramps, fuel, fishing and bait, cabin rentals, and everything else you'll need in one place.
Here, you'll also find some of the best hotels for your stay, such as SpringHill Suites by Marriott and The Inn at Herrington Harbour.
Point Lookout State Park Beach
The serene surroundings of this park on an island between the Chesapeake Bay and the Potomac River in St. Mary's County have a history as the location where nearly 52,264 Confederate soldiers during the Civil War were imprisoned.
Point Lookout got its name from its role as a lookout post during the War of 1812.
A local citizen who established a secret base on Point Lookout monitored the movements of British warships. After a year, the British came ashore and conquered Point Lookout.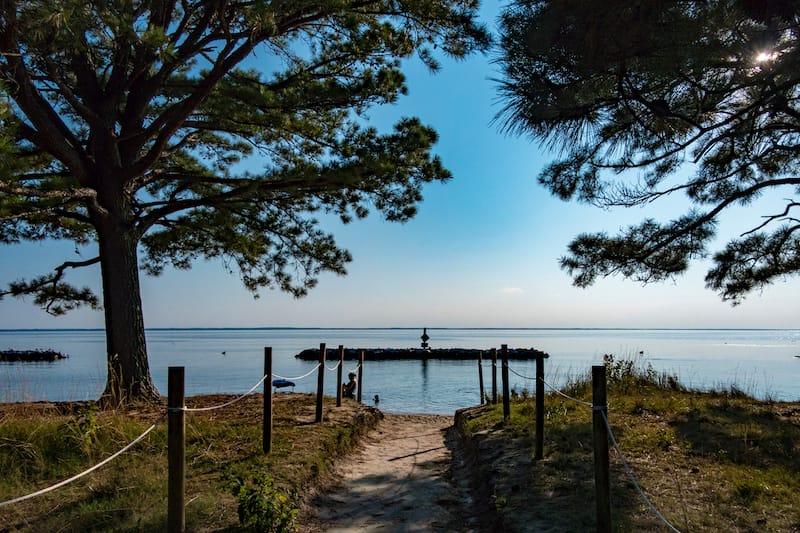 Nowadays, Point Lookout State Park includes the original lighthouse built in 1830, a fishing pier, boat launch facilities, beaches, and overnight camping alongside historical Civil War remains.
The park also has a reputation in local folklore as being haunted.
Rocky Point and Hart-Miller Island
If you want to have a relaxing day miles away from the hustle and bustle of your busy life, head to the hidden beach near Baltimore.
However, it is not somewhere you can get to by car- the 1,100-acre island is only reachable by boat. If you're a skilled kayaker, you can get to the beach from Rocky Point Park or North Point State Park.
It's the best place for some fishing and fun summer activities. There will be plenty of areas to spread out your towel and enjoy the sunshine on the expansive beach, which boasts a beautiful view of the water.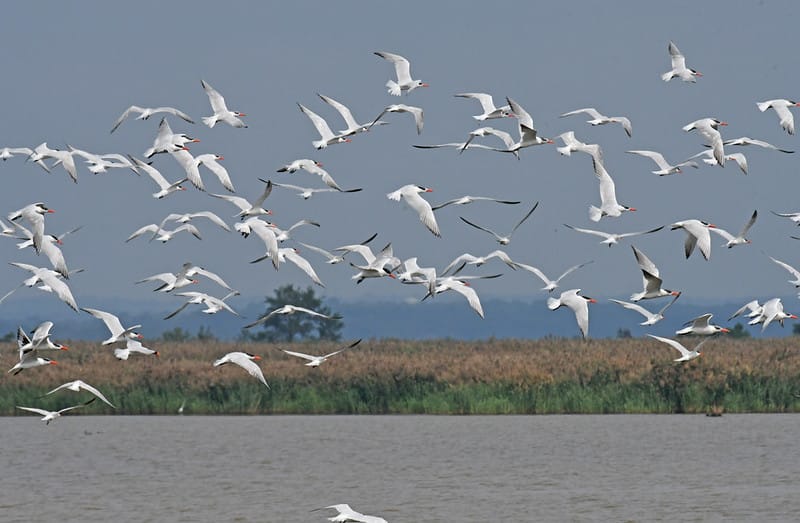 Hikers can also explore the island by the trails nearby. From May 1st to September 30th, visitors can also stay overnight on the island.
Rocky Point Beach is another beloved beach with a gorgeous 300-foot shoreline of soft sands. The beach includes breathtaking views of the bay, Hart-Miller Island, and Craighill Light.
There are plenty of picnic areas available alongside a volleyball court, sailing center, boat ramps, and a fishing pier.
Gunpowder Falls State Park (Hammerman Beach)
Gunpowder Falls State Park, which was established in 1959 to protect the Gunpowder River and the valleys of the Big and Little Gunpowder Rivers, is one of Maryland's largest state parks.
The park offers more than 120 trails, historic sites, fishing, kayaking, canoeing, and of course, a swimming beach. The beach includes 1,500 feet of space for swimming.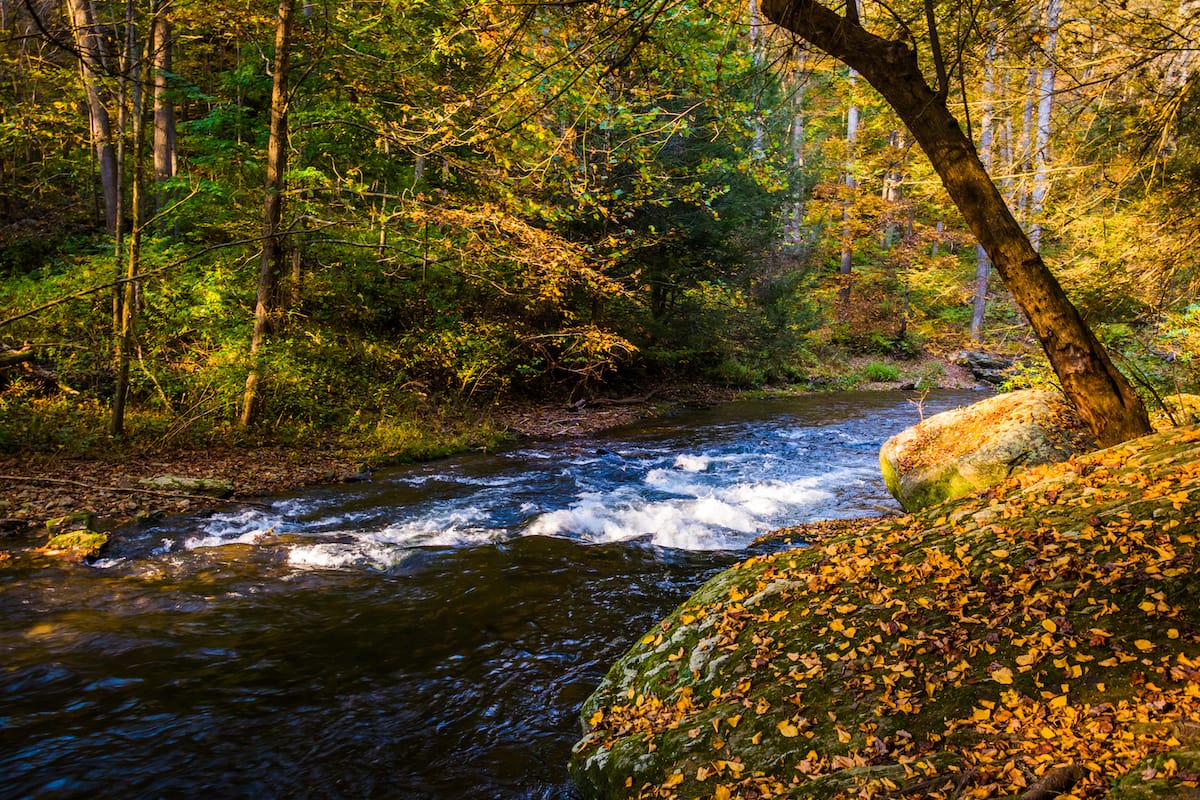 It also has picnic shelters to rent and enjoy a memorable day. You will also find a food stand, playground, and a windsurfing beach.
Hikers and bikers can also enjoy the 21-mile trail. You'll find many picturesque views and historic sites along the route, such as Monkton Train Station and Ranger Station.
For some delicious food, visit the By The Docks Seafood Restaurant, which is one of the best in town and famous for its crab cakes.
Calvert Cliffs State Park Beach
Calvert Cliffs State Park Beach is a day-use beach with a sandy beach, unique fossils, a playground, and a 13-mile hiking trail located in Calvert County.
Visitors need to hike 1.8 miles down a moderately complex trail through the woods. However, the all-natural beach is genuinely worth the long hike.
Another road is also available to the beach- a 3-mile service road- but only official park vehicles can use it. Along the trail, you'll see a one-acre fishing pond and several benches to sit and enjoy nature.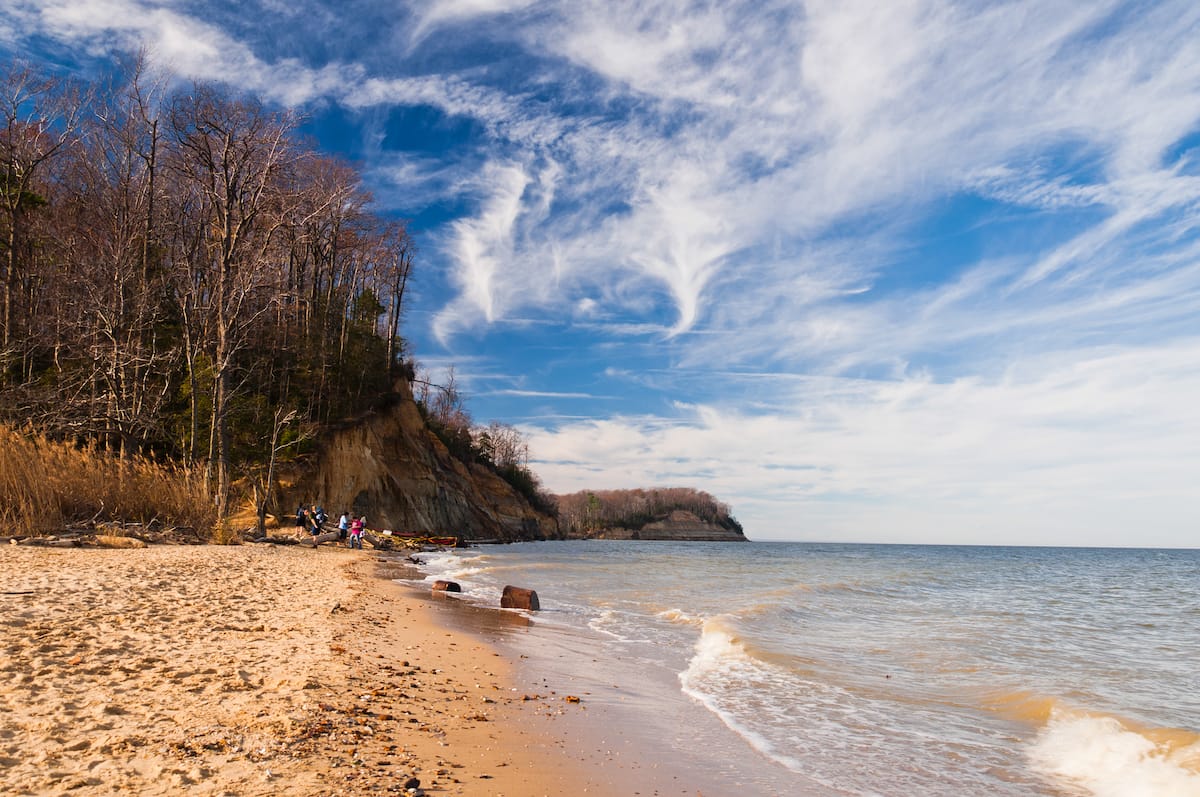 The path is also filled with mile-markers that show you where to go. Once you've hiked down the hill, the trail strolls past a beautiful swamp, after which you'll find the beach at the far end.
On the beach, you'll find a mountain bike rack and a sign that describes the over 600 species of fossils found here.
Did we miss any amazing beaches in Maryland? Let us know your favorite Maryland beaches in the comments!
More Maryland Travel Guides
Pin this Maryland Beaches Guide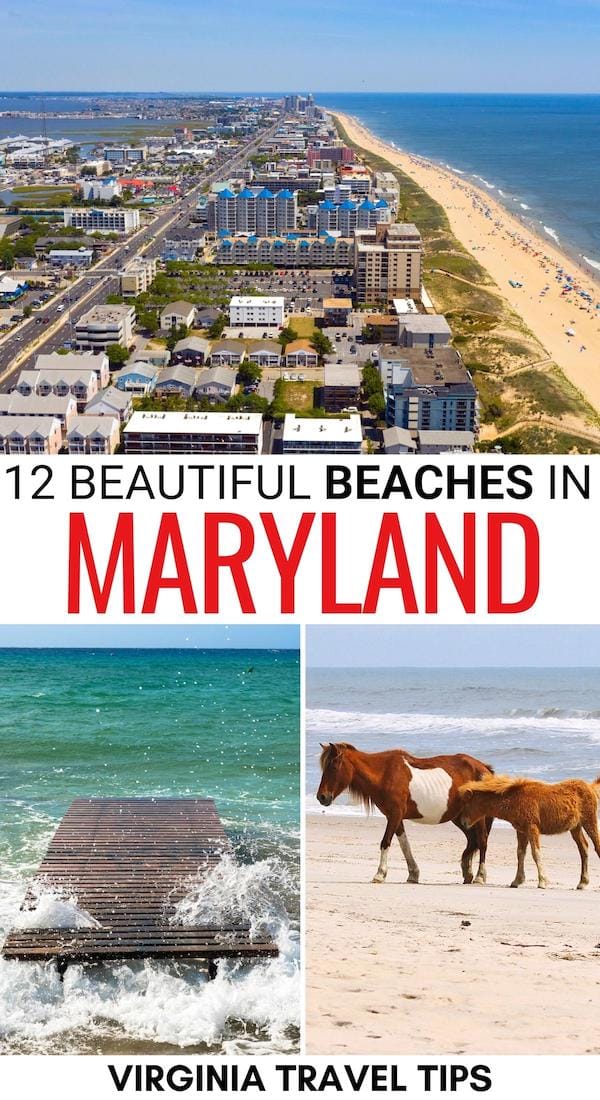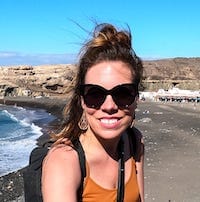 Megan is a travel blogger and writer with a background in digital marketing. Originally from Richmond, VA, she has lived all around the world (including Germany, Finland, Norway, etc) but her heart always finds its way back to Virginia. This blog is to help encourage travelers to explore the great state of VA… and its wonderful neighbors! Megan has written for or been featured by National Geographic, Forbes, Lonely Planet, Fodor's Travel, the New York Times, and more. She has visited 45 US states and 100+ countries… and wholeheartedly believes that Brunswick Stew is probably the greatest food to ever exist.