Maryland is home to some of the most beautiful forests and parks on the eastern seaboard despite the state's small size.
These are some of the best places to experience fall in Maryland.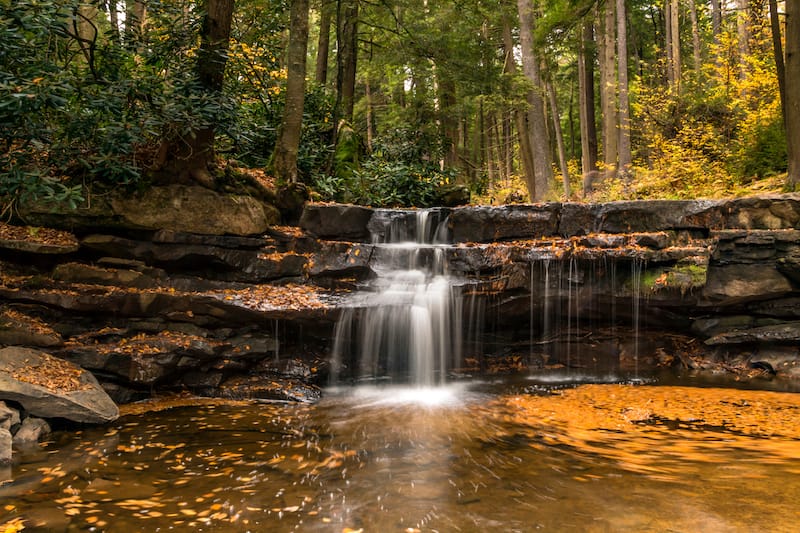 Do you have any recommendations for the best spots for fall foliage in Maryland (or autumn activities like apple picking)? Let us know in the comments! Thanks!
Best Places for Fall in Maryland
Sugarloaf Mountain
Sugarloaf Mountain, a National Historic Landmark in Dickerson, is a real geological wonder that is a product of 14-million-year-old erosion.
Today, you can experience the vibrant explosion of fall colors from this 1,282-feet high small mountain nestled in the middle of gorgeous farmland and wineries.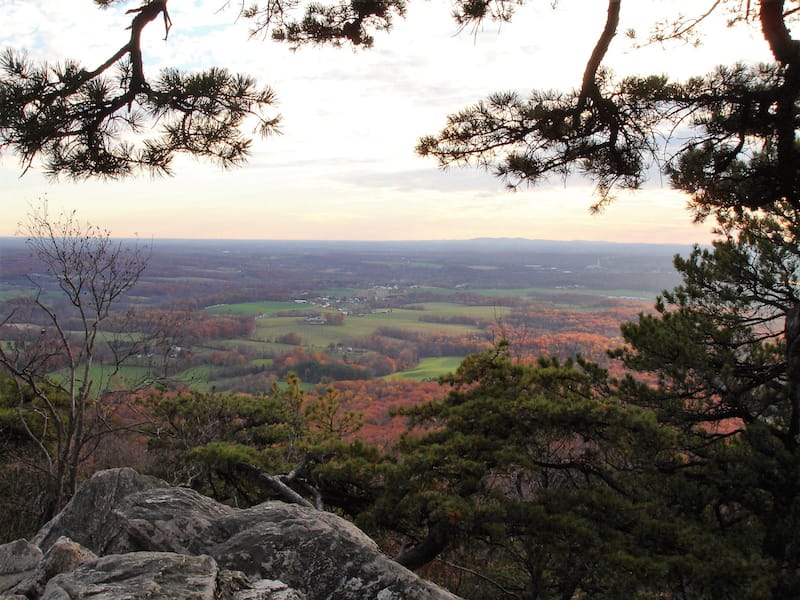 If you are keen to experience postcard-perfect fall foliage, the mountain offers a few scenic hikes from two and a half miles to seven miles through the woods, along which you can take in the stunning colors of nature and appreciate the rich wildlife.
The outdoor enthusiast will certainly love trying recreational activities, such as horseback riding and picnicking near the East View Parking area.
Those driving can also get to the lookout point to admire the blended views of vibrant trees from a distance. It is one of the most romantic views in the state!
Seneca Creek State Park
Stretching along 14 miles of Seneca Creek, the 6,300-acre Seneca Creek State Park is home to Clopper Lake, a restored 19th-century cabin, a disc golf course, playground, and a number of scenic hiking trails.
Visit the Maryland state park during October and November to immerse yourself in colorful foliage and get that perfect pic of those golden leaves reflecting on the water.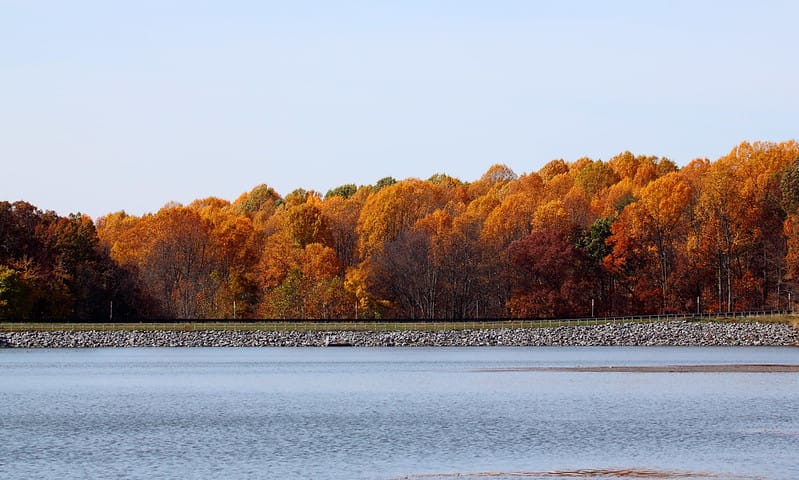 Adventurers will enjoy hiking, cycling, horseback riding on the 16.5-mile scenic Seneca Creek Greenway Trail past brilliant fall foliage, boating, canoeing, and kayaking in a 90-acre stunning lake, fishing from the shore, or simply picnicking or playing disc golf.
You can also drive over to King Fisher's viewpoint to take in the perfect views of Clopper Lake, one of the best places in Maryland for leaf-peeping.
Annapolis
Home to the US Naval Academy, Maryland's capital city is another great spot for fall in Maryland. As the pumpkin-picking season ramps up, Annapolis becomes a must-visit location for family-friendly fun adventures.
Take your kids to one of the local farms, and enjoy hayrides, pumpkin picking, horseback riding, etc.
Stroll around Annapolis to witness the unique architecture of Historic Annapolis, such as the 1700s Maryland State House, Banneker-Douglass Museum, and other 18th-century historic buildings nestled on every corner.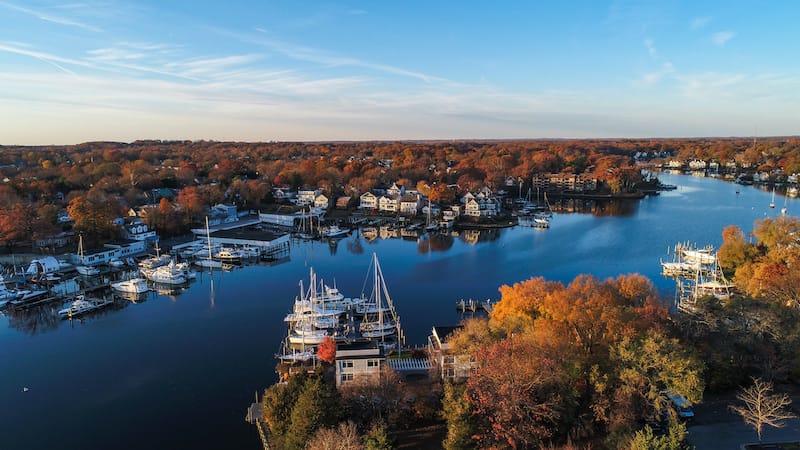 Water junkies can even try kayaking during early fall when the temperature is still relatively warm.
You can take in the views of vibrant fall foliage from the Naval Academy or take part in the annual Renaissance Festival held in Greenstreet Gardens to admire its own natural vistas.
Gunpowder Falls State Park
One of Maryland's largest state parks, Gunpowder Falls State Park is a dream destination for adventurers.
The park was established in 1959 with the main purpose of protecting the Gunpowder River and the Big and Little Gunpowder valleys.
The 1800 acres of land is home to over 100 miles of scenic trails, which are great for hiking, biking, horseback riding, and other recreational activities.
Fishing, paddling, windsurfing, and sailing are also allowed at the park's 1,500-foot-long beach.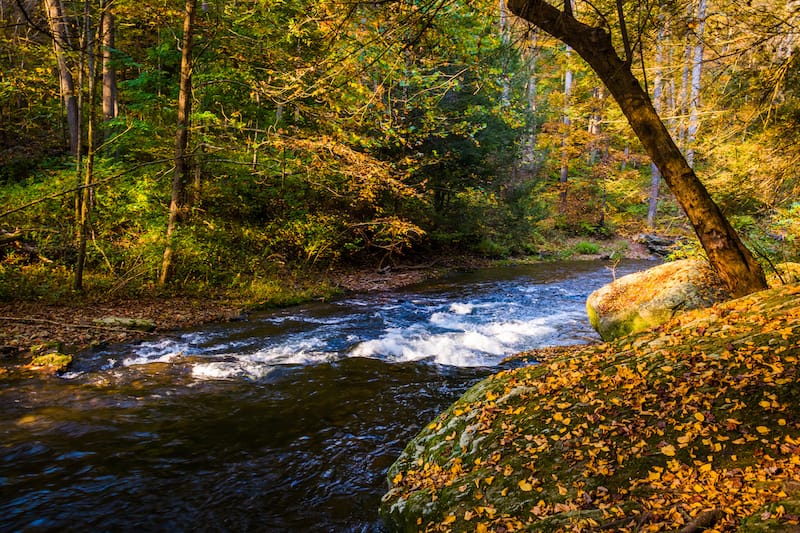 All of these must-try activities will take you through lush greenery, so just imagine trying them during the fall season when you have an explosion of fiery colors taking over the surrounding dense flora!
For a memorable experience, take a swim in the Hammerman Area and immerse yourself in the hues of fall foliage hanging around the Gunpowder River if winter doesn't arrive too early.
C&O Canal
The 185-mile-long Chesapeake and Ohio (C&O) Canal stretches along the north bank of the Potomac River and is a real Maryland gem that definitely needs to be explored during the fall months.
Enjoy the idyllic Maryland fall foliage season while biking, fishing, boating, and horseback riding along the canal, or try hiking and rock climbing on Billy Goat Trail to marvel at stunning vistas of the Potomac River up close.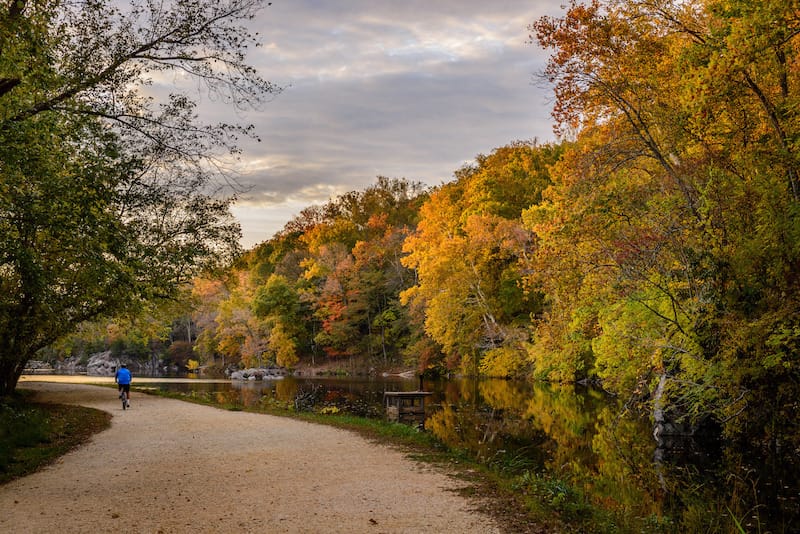 Located in the Georgetown neighborhood makes it one of the most accessible spots for admiring the best fall foliage in Maryland and the DMV.
Enjoy Dulcimer Music at Great Falls series, "A Very Retail Georgetown" historic walking tour, and Scary Stories on the Canal at the Great Falls Tavern – they are just a few of the fall events you don't want to miss for everlasting memories.
This is a designated national historic site in Maryland and the surrounding states and places it goes through.
Chestertown
Chestertown is a gorgeous town nestled on the Eastern Shore that will amaze you with the hues of gold, orange, and red taking over the trees during the fall season.
Don't miss checking out the Eastern Neck Wildlife Refuge for one-of-a-kind fall foliage, where you can also get up close and personal with diverse species of birds and admire spectacular vistas of the Chester River and the Chesapeake Bay.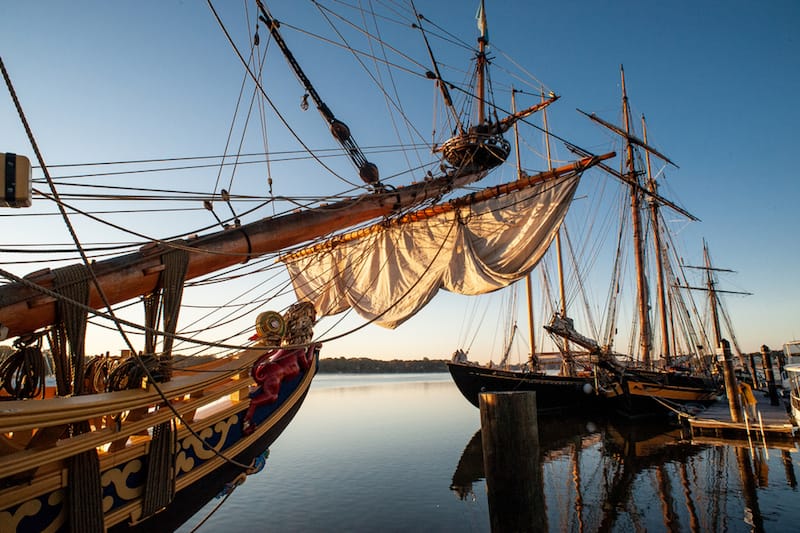 To take in the sights and sounds of the fall in Maryland, take part in self-guided tours and enjoy a picnic lunch along the river's banks with Brampton Inn's Kayaks & Picnic Package.
Another great way to enjoy the explosion of vibrant fall colors is from along the Chester River.
Stop by a few of the 36 attractions on the 120-mile Tubman Byway to learn more about the city's rich history, which also allows you to enjoy nice stretches of color while driving along the road.
Swallow Falls State Park / Deep Creek Lake
Swallow Falls State Park is another great option for checking out gorgeous fall colors in the state.
The state park is home to 360-year-old trees, including groves of Eastern Hemlock and White Pines, which create that magnificent patchwork of vibrant foliage during the fall months.
Visit Swallow Falls during mid-October to take part in the Annual Autumn Glory Festival to celebrate the beauty of the local fall foliage.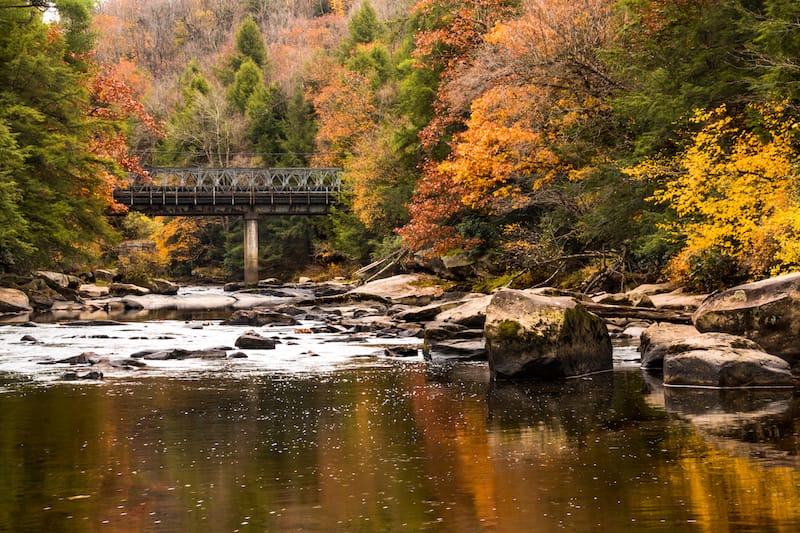 There are also a number of hiking trails through an old-growth forest along which you can witness the 53-foot Muddy Creek Falls along the Youghiogheny River, take in the fresh air, and admire the surrounding flora and fauna.
Nearby, you will find Maryland's large Deep Creek Lake, a four-season lake that offers an abundance of fall colors.
Explore the surrounding area by hiking around the lake or go swimming (weather-permitting, of course!), paddle boarding, fishing, or simply rent a boat to view mesmerizing vibrant foliage from the water.
Cunningham Falls State Park
Head to Cunningham Falls State Park, nestled in the Catoctin Mountains, to get a closer look at Cunningham Falls (Maryland's largest cascading waterfall), the 43-acre, man-made William Houck Lake, and copper-colored views of stunning fall foliage.
The park offers plenty of scenic trails that range from half a mile to 7.5 miles so that you can choose one depending on your time and ability.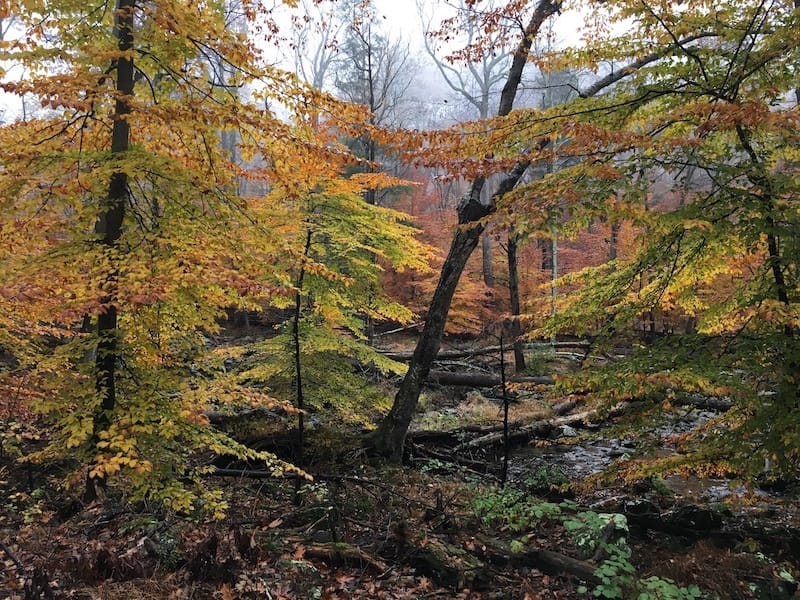 The fall season makes this place a stellar leaf-peeping destination in Maryland where you can stroll around the area and admire the most vivid fall foliage at its best.
Outdoor enthusiasts will enjoy Cunningham Falls State Parks's recreational activities, such as swimming, fishing, canoeing, and even camping for those eager to explore it over multiple days.
Liberty Reservoir
Dividing Baltimore and Carroll Counties, Liberty Reservoir is a great location to gawk at peak leaf colors.
This 3,100-acre reservoir was the former location of Oakland Mills until it was built in 1956 to provide drinking water for the city of Baltimore.
The area is open to visitors and allows mountain biking, hiking, hunting, birdwatching, horseback riding, or simply a spot for relaxing.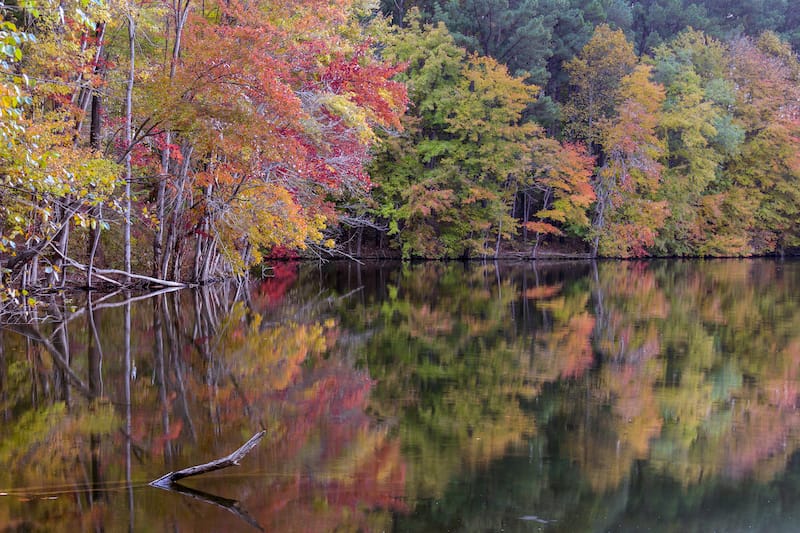 The area is surrounded by a network of unmarked and unnamed scenic trails that will lead you past lush greenery so you can take in the area's best foliage spots.
You can also explore the area from the water by fishing, boating, kayaking, and paddle boating which will grant you access to get up close and personal to all those small islands packed with trees that erupt in colors during the fall season, making it a postcard-perfect location.
Susquehanna State Park
Situated northeast of Baltimore, Susquehanna State Park is a gorgeous 224-acre park that will make you stare in awe at the hypnotic scenery of natural beauty.
Besides offering many recreational activities, the park offers several overlooks where you can admire the Susquehanna River and take in the panoramic fall views.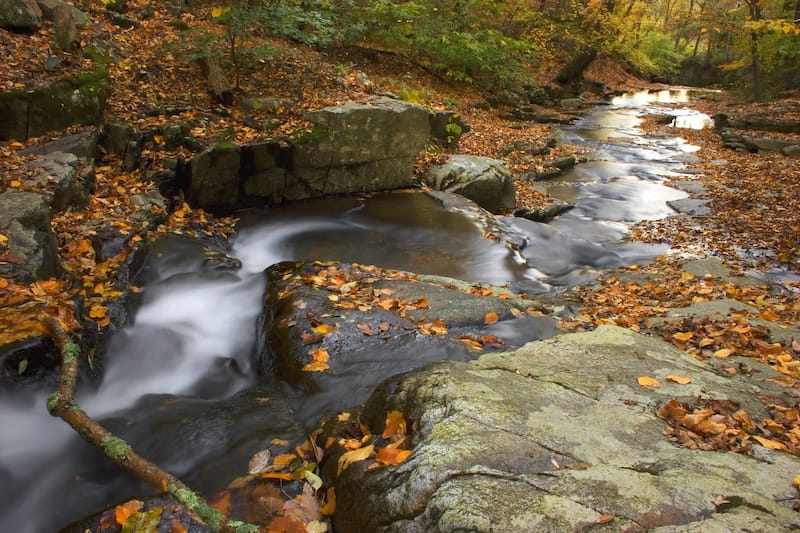 Scenic hikes will lead you through vibrant Maryland fall foliage around the river to the outlooks from where you can see Peach Bottom Atomic Power Station, The Conowingo Reservoir, Holtwood dam, Muddy Run pumped-storage hydroelectric plant, and the Norman Wood Bridge.
Hawk Point and Wissler's Run Overlooks are a few of the noteworthy overlooks which reward you with the best views of the dense woodlands that come alive with colors in the fall.
Eastern Neck Wildlife Refuge
One of the best spots to experience fall in Maryland is the Eastern Neck Wildlife Refuge, a brilliant spot for wildlife lovers who have the chance to enjoy seeing thousands of wintering waterfowl, over 240 bird species, various mammals, amphibians and reptiles, and other endangered species that inhabit the island.
The Eastern Neck Wildlife Refuge is a great place to hike scenic trails, breath in the fresh air, admire rich wildlife, and take in the colorful fall foliage.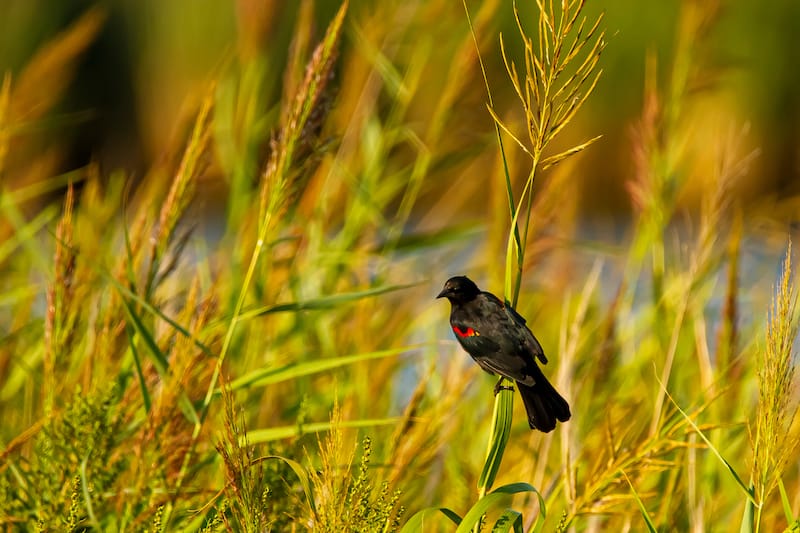 The 2,286 acres of land transforms into a real leaf-peeping destination, making you feel like you are walking in a real fall wonderland.
All 7 trails in the park are the perfect way to spend a fall afternoon outdoors with friends and family.
The picturesque trails also offer a great opportunity to enjoy the stunning vistas of Chester River and the Chesapeake Bay along one of the refuge's two boardwalks.
Where are your favorite places to enjoy fall in Maryland? Let us know in the comments! Thanks!
More Maryland Travel Guides
Pin this Fall Foliage in Maryland Guide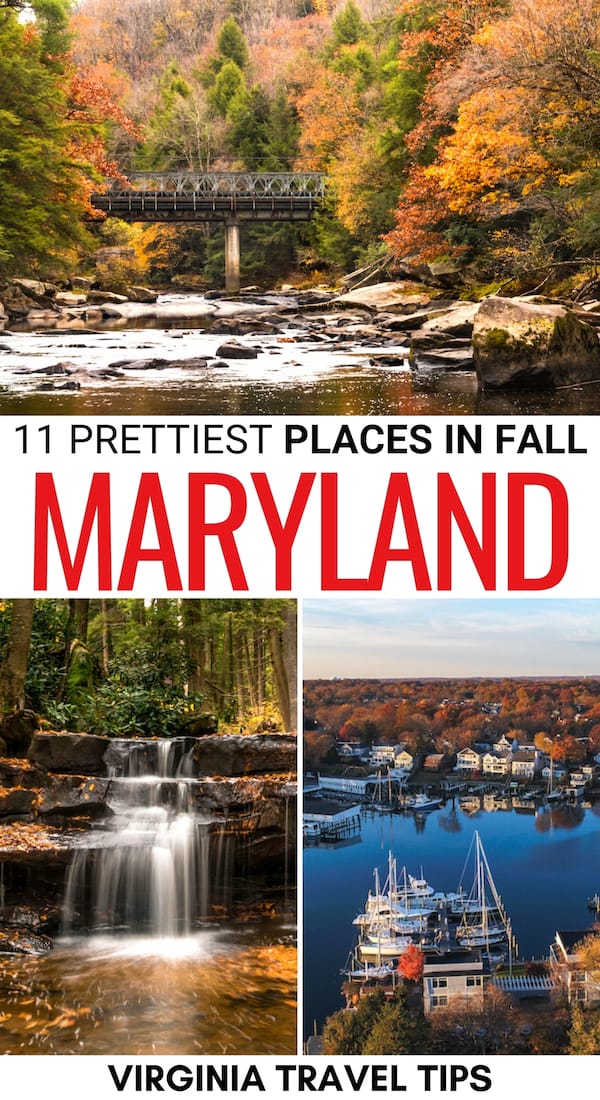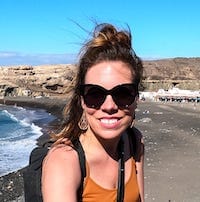 Megan is a travel blogger and writer with a background in digital marketing. Originally from Richmond, VA, she has lived all around the world (including Germany, Finland, Norway, etc) but her heart always finds its way back to Virginia. This blog is to help encourage travelers to explore the great state of VA… and its wonderful neighbors! Megan has written for or been featured by National Geographic, Forbes, Lonely Planet, Fodor's Travel, the New York Times, and more. She has visited 45 US states and 100+ countries… and wholeheartedly believes that Brunswick Stew is probably the greatest food to ever exist.