You will find a plethora of amazing destinations in Maryland and one thing the state does well are small towns! These are the best small towns in Maryland to visit this year.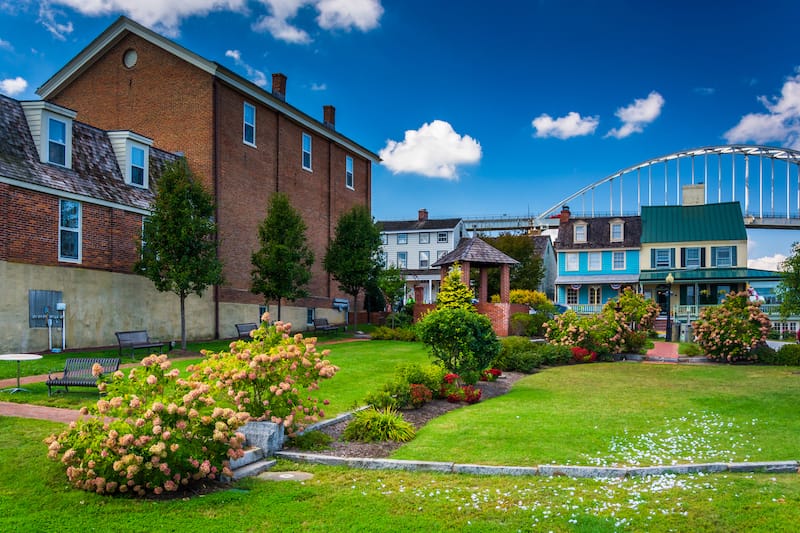 We selected Maryland small towns that span the state – from coastal villages and towns to ones nestled in the forests… and beyond!
Did we miss any cute towns in MD? Let us know in the comments if so – thanks!
Best Small Towns in Maryland
Ellicott City
Ellicott City, founded in 1772, is home to the country's oldest surviving railway station and is one of the state's most historic towns and the best places to visit in Maryland.
The Ellicott City Station is now a museum that is built from blocks of locally quarried granite and features a gabled roof.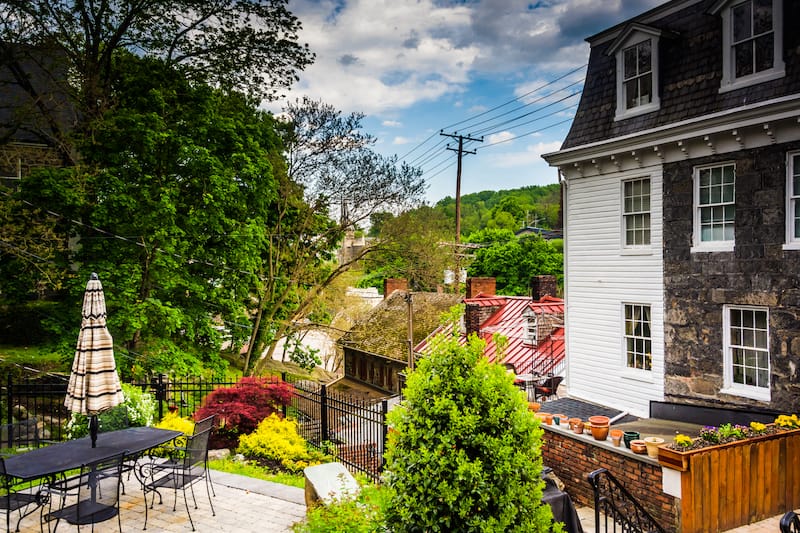 In the town, and especially on Main Street, there are more than two hundred 18th and 19th-century buildings. You will also find several local shops, boutiques, and an array of stunning houses.
Visit the Wayside Inn B&B, where according to rumors, General George Washington once stayed in, or shop at Historic Savage Mill, a former cotton mill that has been turned into an eclectic mix of shops, galleries, and restaurants.
St. Mary's City
This former colonial town was Maryland's first European settlement and capital. It is the fourth-oldest permanent English settlement in the US. Today, the place is one of the ideal vacations for history enthusiasts, who can witness history firsthand.
St. Mary's City is the ultimate place to learn about history in a fun way! You can visit some of the public living history museums, where workers are dressed in period clothing and recreate historical events.
Visitors are also welcomed to see the restored original colonial settlement.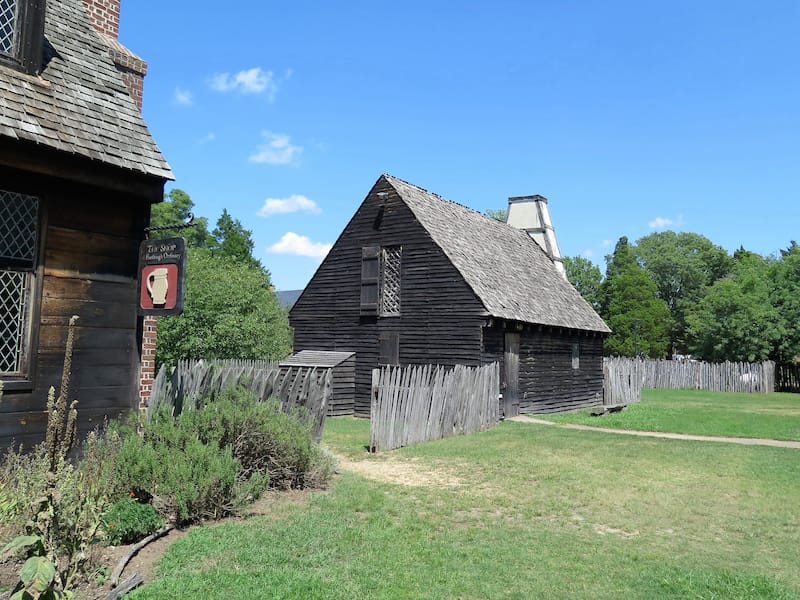 Another interesting thing to explore is a working colonial farm and a working replica of the Dove Sailing Ship, which is one of the two original settlers' ships that established the Maryland Colony.
Bel Air
Bel Air is a small town located 45 minutes north of Baltimore in northern Maryland.
The most popular touristic things to do in Bel Air include afternoon shopping at one of the many boutiques, enjoying a beer at one of the local breweries, or eating at one of the many delicious restaurants.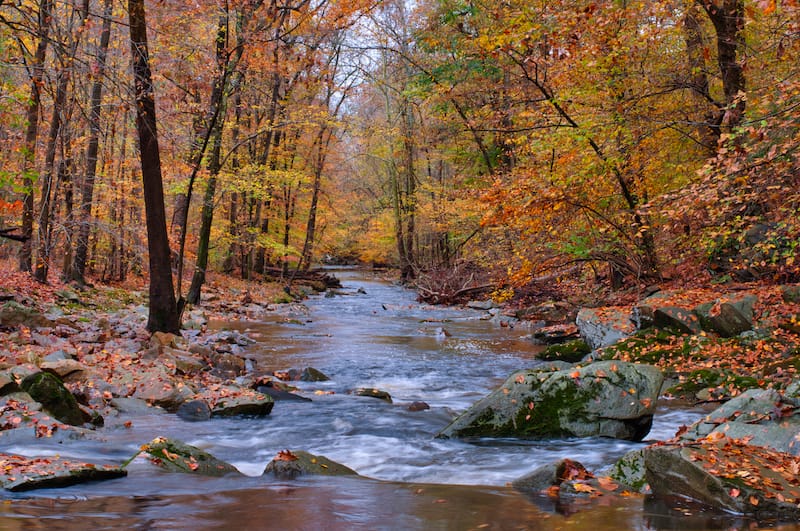 In the past, Bel Air, like many other small towns on the east coast, was a stop on the subway system. Now, we believe it is one of the most romantic getaways in Maryland for couples!
By booking a tour of the Hays-Heighe house on Harford Community College's campus (only a few miles from downtown Bel Air) you'll have the perfect opportunity to learn about the town's heritage.
St. Michaels
One of the most beautiful small towns in Maryland is St. Michaels (or Saint Michaels). The tiny town is situated in Talbot County and has merely just over one thousand residents!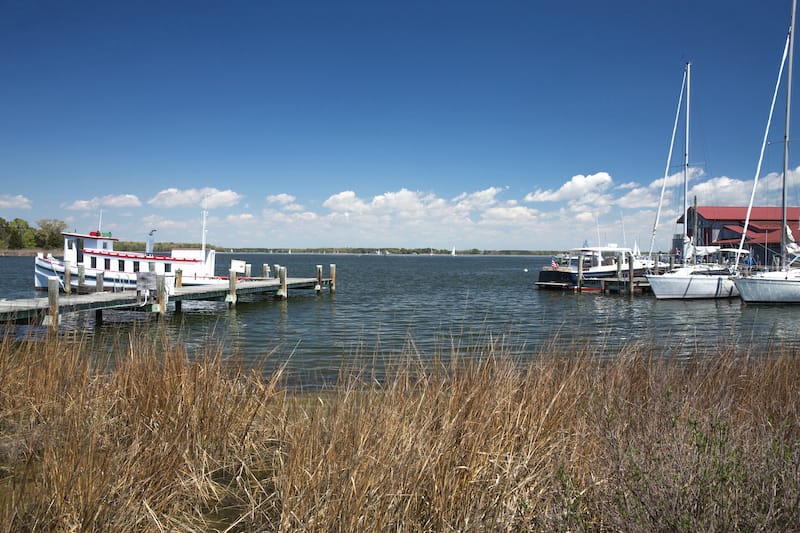 The name came from the parish that settled there in 1677 as the church was known for luring in settlers who wanted to grow tobacco and get into shipbuilding.
A popular attraction in St. Michaels is the Chesapeake Bay Maritime Museum. You can find several historic bay vessels here and it is a National Historic Landmark and definitely worth visiting when in town!
You can also find a 19th-century grist mill in the town called Saint Michaels Mill. It, too, is on the US National Register of Historic Places and has been since 1982.
Mount Airy
Mount Airy is the place where visitors are welcomed to enjoy wine from some of the best wineries in Maryland.
It's a small town in central Maryland that is about 45 minutes from Baltimore and Washington, D.C. Popular activities there are a little retail therapy at specialty boutiques, visiting art galleries along the main street, or grabbing something to eat at one of the nearby bistros and cafés.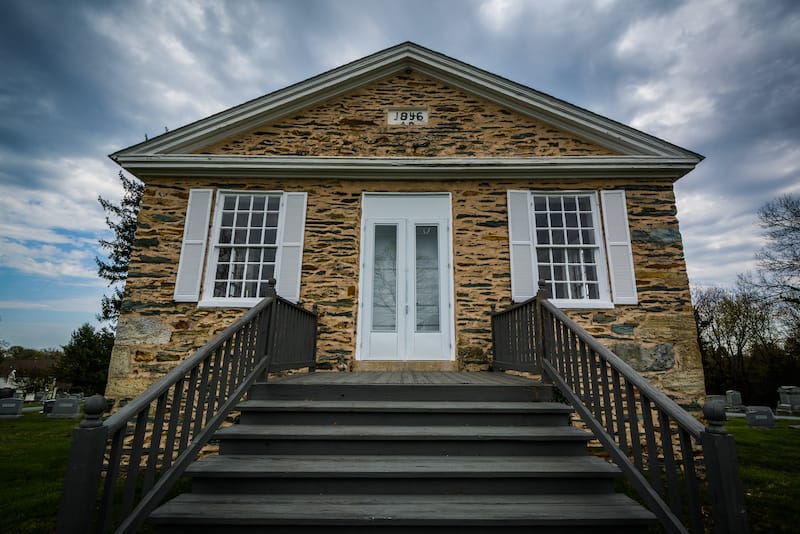 Local wineries are located within a few minutes from the downtown area. If you want to have wine tasting as well as enjoy some live music, you can consider visiting Elk Run Vineyards or Linganore Winecellars wineries.
Oakland
Oakland is a perfect place for a nature getaway. The small Maryland town is a former railroad town in Garrett County, which is now home to a historic and restored B&O railroad station.
There, the trains are still running on the tracks through the station in times of special events.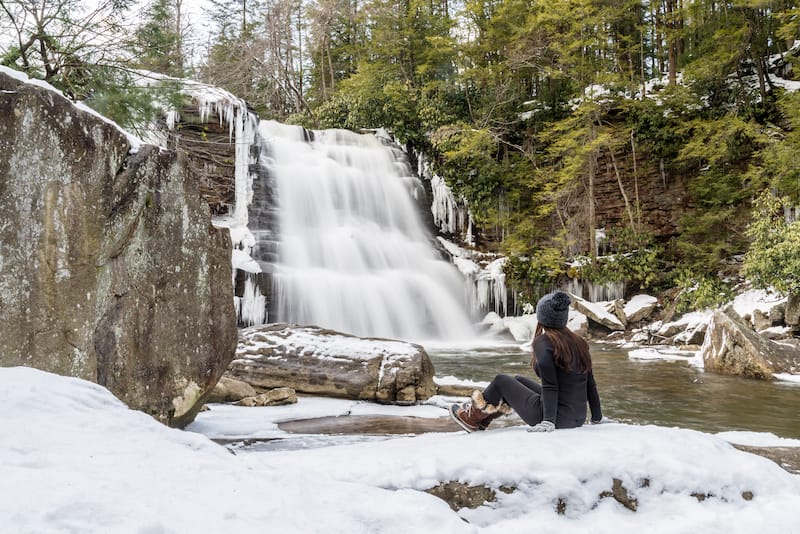 If you're a train enthusiast, the Oakland B&O station is a must-see! Visiting Swallow Falls State Park is yet another interesting site to stroll around, but don't forget to bring your walking shoes with you.
Alternatively, you can arrange to play a round of golf at Lodestone Golf Club, go horseback riding at Circle R Ranch, or get a boat rental from Brill's Marine Service.
Berlin
A small town known for its picturesque main street, Berlin is spotted about 10 miles from Ocean City in the countryside in eastern Maryland. Many think that the name is associated with Germany's capital; however, the story is that it is a variation of Burleigh Inn, an old tavern in town.
If you're in favor of spending some time at the beach, go to spectacular Assateague State Park or Dr. Shred's Surf Adventures.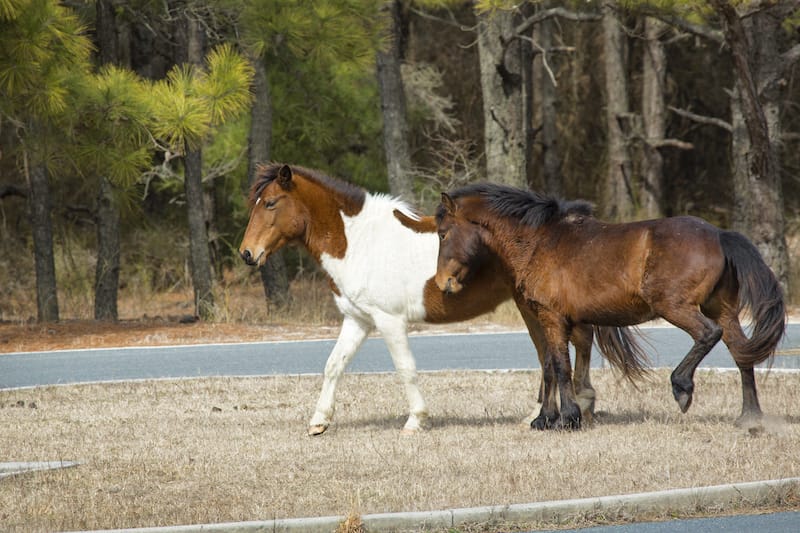 When visiting downtown Berlin, consider taking your camera with you to take some shots of Main Street's old buildings while shopping at Burley Oak Brewing Company or Maryland Wine Bar.
Berlin is also where you can enjoy a variety of outdoor activities all year long, from concerts in the park to the famous peach festival that takes place in the fall.
Monkton
Located in Baltimore County, Monkton is a great option if you're looking for a rural type of getaway. The cute Maryland town is full of sprawling farmland, horse farms, and historic old houses.
If you get to Monkton, you can't miss Ladew Topiary Gardens. There are 22 acres of award-winning gardens, where you're free to take pleasure from a walk in nature. Also, be on the look out for a lovely historic manor house when visiting this site.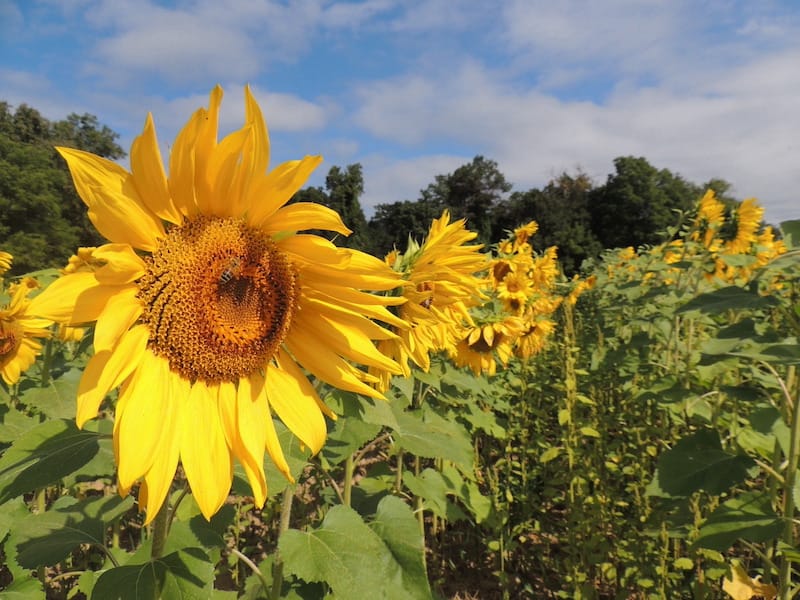 There are many trails in the park for hiking, but the Northern Central Railroad Trail is one of the rarer ones. It passes through Monkton Station and up to the Pennsylvania border (it also features an abandoned railroad).
Hampstead
Hampstead is located in Carroll County and was first called Spring Garden. Due to its fertile lands, the town was originally settled by the English and was an agricultural center.
Nevertheless, the sleepy farming community has now awakened to find itself in a modern town, which constantly welcomes a lot of visitors!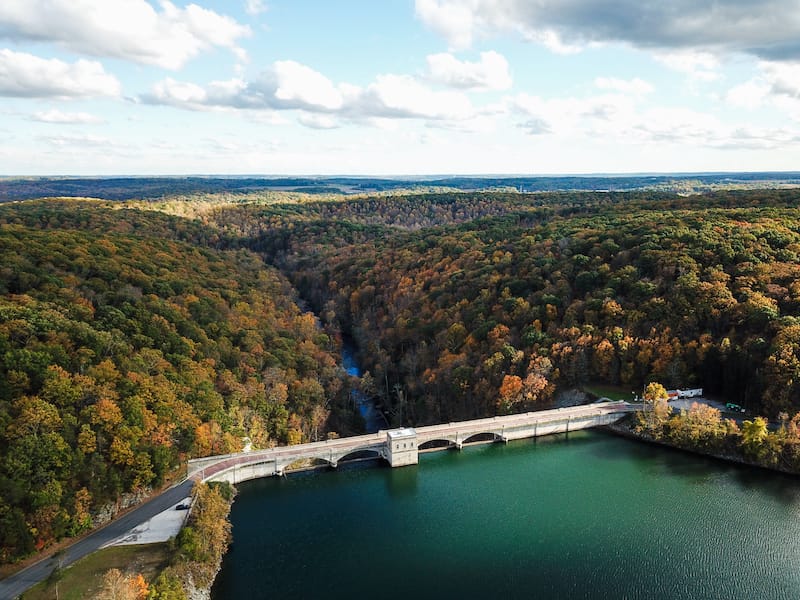 Some of the most visited places here are Leister Park and Cascade Lake (where you can also go swimming by the way).
Thurmont
This is a perfect getaway for outdoor and art lovers! With the motto of "The Gateway to the Mountains", Thurmont is located in Frederick County, quite close to the Pennsylvania border in the northern part of Maryland.
The town is adjacent to two state parks, which makes it full of natural, jaw-dropping sights. The largest cascading waterfall in Maryland can be found at Cunningham Falls State Park.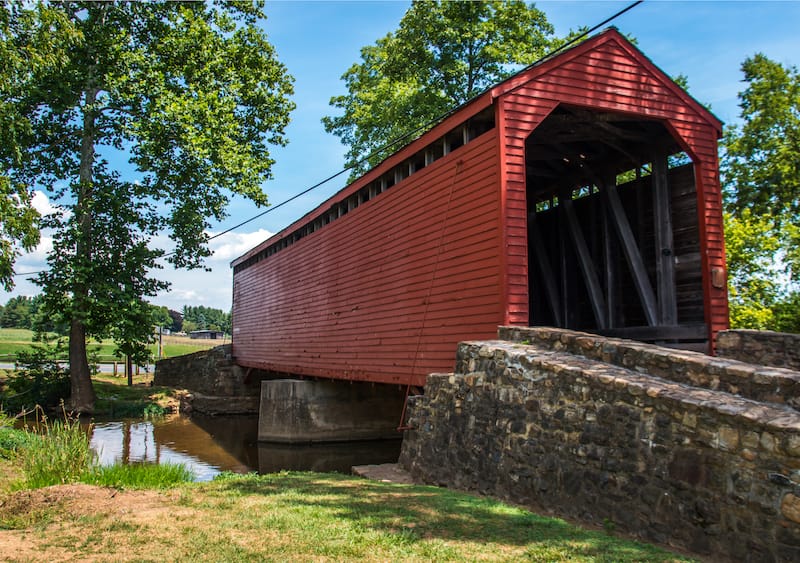 Also, just a short distance from Thurmont is the Catoctin Mountain Park, which includes the edge of the Appalachian Mountains.
The main town is beautiful, and unique with its charming red-brick buildings and a plethora of small, locally owned businesses.
If you happen to be there at the right time, you can catch The Catoctin Colorfest, which is a arts and crafts festival, taking place there annually. This is also one of the best day trips from Frederick!
Eastport
Having the best views of Annapolis' best landmarks, Eastport offers a relaxed and nonchalant atmosphere of a small town.
The town promises sights that you won't find in any other place in the US. Eastport is where you can enjoy the views of the Naval Academy, rent a canoe or kayak for sights of the Harbor, or learn about our watermen's history at the Annapolis Maritime Museum.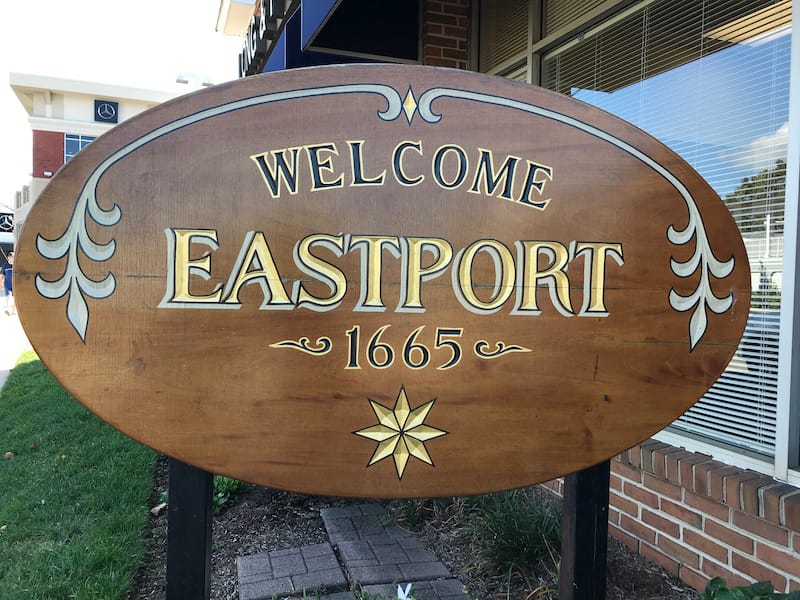 Head out to Third and Severn, get a kayak and spend a day on the water, or go to the Maritime Museum. Make sure you're not missing out on any outdoor concert or festival, as Eastport is known to host pirate ship adventures, outdoor concerts, and oyster festivals.
Crisfield
Famous as the "Seafood Capital of the World", Crisfield is a town in Somerset County, located on the Tangier Sound on the Chesapeake Bay. Many say that seafood here is really amazing. In fact, there are a few seafood restaurants across the country that carry the city's name!
The town's economy has suffered as many Chesapeake Bay industries have somewhat declined but it is maintaining tourism annually as people want to explore the renowned small MD town.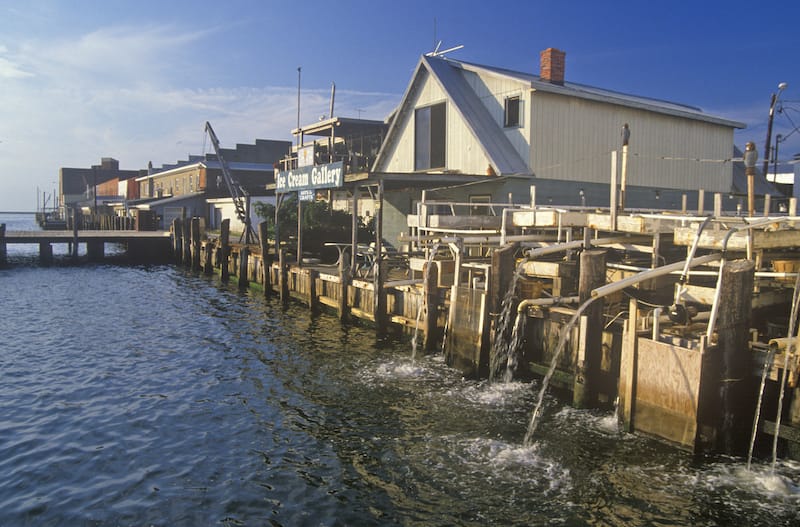 When in Crisfield, you can participate in festivals such as the National Hard Crab Derby, rent a boat to go and explore Smith and Tangier Islands or get into the Janes Island State Park, known for its beautiful marine and birdlife.
Also, an interesting activity there is visiting the J. Millard Tawes Crab and Clam Bake or the Scorchy Tawes Pro-Am Fishing Tournament to see a real crab and clambake.
New Market
New Market, otherwise known as "Antiques Capital of Maryland", was set when trade routes were established among Baltimore and Frederick.
A lot of people visit New Market to see and shop at the town's unique boutiques. A place to start off your day is on Main Street, where you'll enjoy an abundance of antique shops, several charming restaurants, and cafés.
It's worth visiting this town even only for its two famous annual festivals that highlight what life in the 18th and 19th centuries was like. "Christmas in New Market" is being held in December, and "A Day in New Market" in May.
Leonardtown
Leonardtown is yet another hub for seafood lovers and is located in St. Mary's County.
Check out the cultural sites of the area to get acquainted with the town's rich history, architecture, and heritage. Leonardtown offers a great range of sights and activities that will both inform and entertain visitors.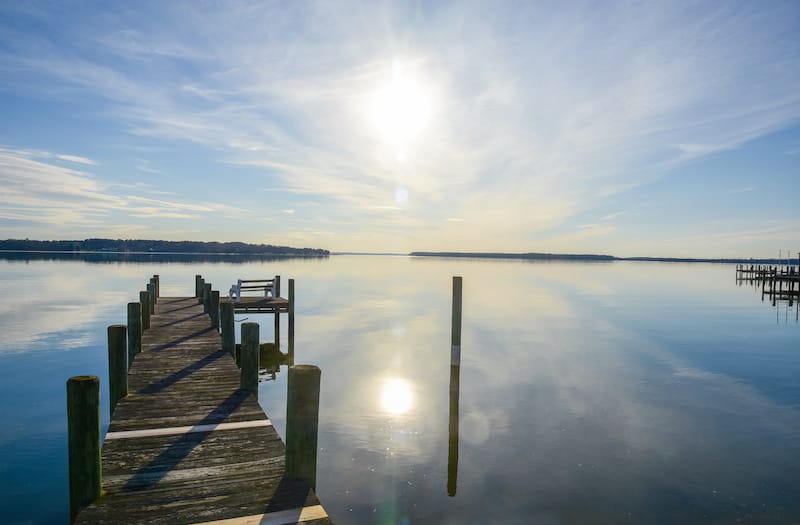 One of Leonardtown's most well-known events is the national oyster-shucking championship, held every year at the St. Mary's County Fairgrounds.
It also hosts family events such as the First Friday, when historic Leonardtown's art galleries, cafes, gift shops, restaurants, antique shops, and bookstores open their doors to showcase local artists and offer specials.
Chesapeake City
Chesapeake City is a town located in Cecil County, with a very small population (673, according to the 2010 census).
There are many old homes from the 1800s that have been turned into bed and breakfasts, restaurants, and the local historical museum. One of the famous tourist attractions there is C&D Canal Museum, where you can learn more about the canal that built Chesapeake City.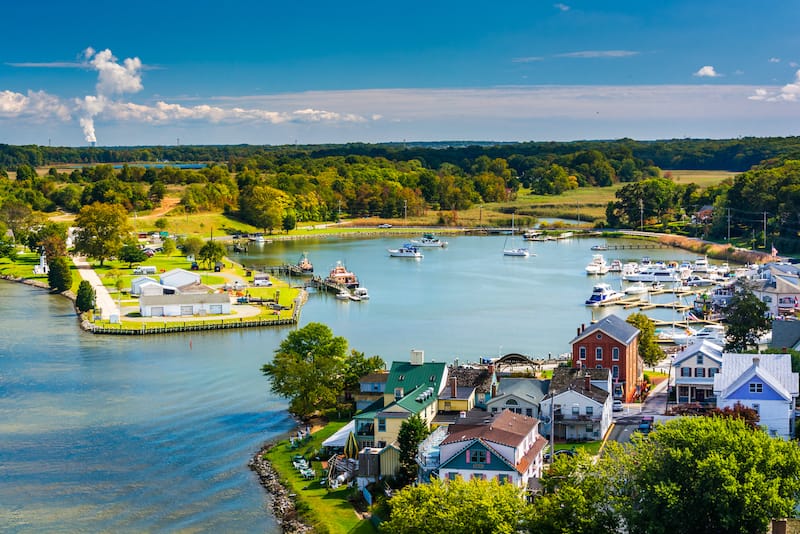 Hiking enthusiasts should get themself to the Ben Cardin Recreational Trail which stretches along the banks of the Canal eastward and reaches up to the Delaware River.
While it is illegal to use anything without an engine in the canal, it is possible to kayak/canoe/SUP down the Bohemia River nearby. Also, Scotchmans Creek is another great place to do so!
What are the best small towns in Maryland that we missed on the list? Let us know in the comments! Thanks!
Additional Maryland Travel Guides
Pin this Maryland Small Towns Guide