I genuinely believe that Frederick is one of the most beautiful cities in the United States.
This is a guide to things to do in Frederick, MD – hopefully convincing you to take a trip there (and see exactly what I'm talking about)!
Are you planning your trip to Frederick last minute?
Are you heading to Frederick, Maryland last minute? This guide has the top city walking tour as well as lodging to help you plan your trip!
Best Hotels and B&Bs in Frederick:
Hilton Garden Inn Frederick (Great location!)
10 Clarke (Great for couples!)
Best Tours in Frederick:
🚗 Looking for the best way to get around Maryland? Click here to check rental car rates for Maryland!
Frederick has a small-town vibe. In fact, when I first went there, I was stunned to find out just how many people called the city home (just over 70,000).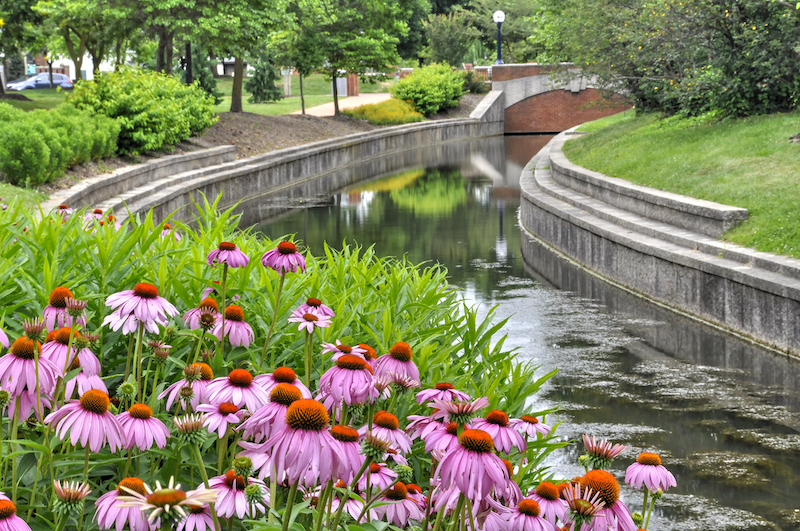 I guess as a Virginian, most of my trips to and through Maryland were to the DC area where everything just felt over-populated and busy, making Western Maryland's Frederick seem like a cozy dream.
Nevertheless, there are so many cool attractions in Frederick and its surrounding area. It definitely is one of the best places to visit in Maryland for a weekend getaway.
Did we miss any cool things to do in Frederick? Let us know in the comments!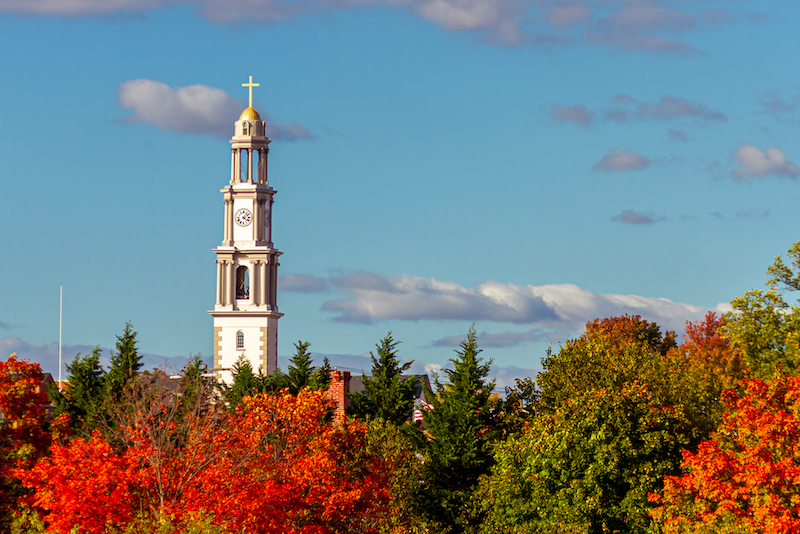 Best Things to Do in Frederick
Catoctin Mountains
The Catoctin Mountains form the easternmost mountain ridge of the Blue Ridge Mountains, which are a part of the Appalachian Mountains range.
The area offers amazing wildlife, an abundance of wildflowers, hiking trails, scenic drives, camping, etc.
You can check out Owens Creek Campground. It's an individual, family, and small-group campsite for tents and small RVs.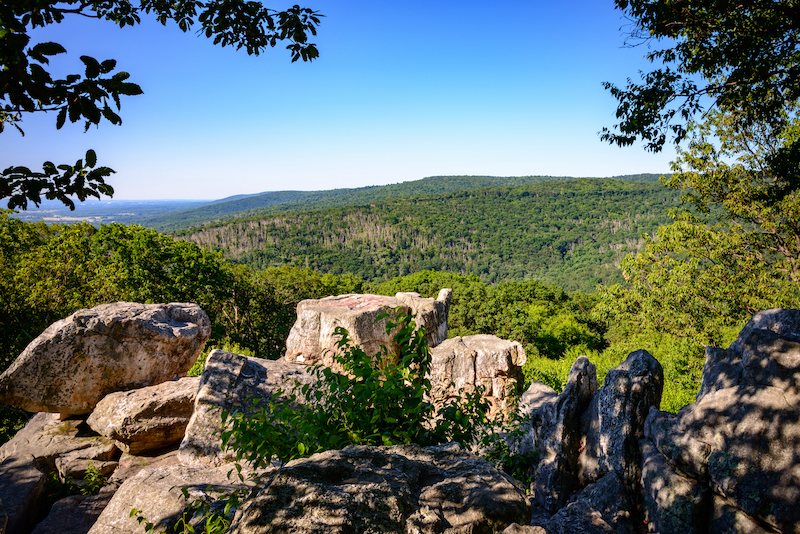 The park is also a great option for enjoying some quality time while picnicking!
The Visitor Center's secondary parking lot, the Thurmont Vista Parking Lot, and the Hog Rock Parking Lot are the best choices to do so.
There is a lot you can explore there, so make sure you find out enough information before you visit to prepare yourself in advance and make the most of the trip.
It is an excellent day trip from Frederick and truly one of the most romantic places in Maryland for a couple's escape.
Rose Hill Manor Park and Children's Museum
Rose Hill Manor was built in the 1790s by John and Anne Grahame. The mission of the park and the museum was to conserve and display the property's living heritage from 1746 to 1950.
A manor house, icehouse, log cabin, carriage set, blacksmith shop, and two barns are all on the property.
In the later years (1972), The Rose Hill Manor Children's Museum opened, offering a hands-on approach to history.
The Frederick museum focuses on giving children hands-on experiences with early American life, such as learning to card wool, grate spices, and play with antique toys, as well as learning about Frederick County's agricultural and transportation history.
Cunningham Falls State Park
From April to October, famous activities that can be enjoyed in Cunningham Falls State Park are swimming, hiking, fishing, and canoeing.
The beautiful Catoctin Mountains are home to Cunningham Falls State Park and it is a fantastic place to visit near Frederick for nature lovers. It is divided into two distinct, unique regions.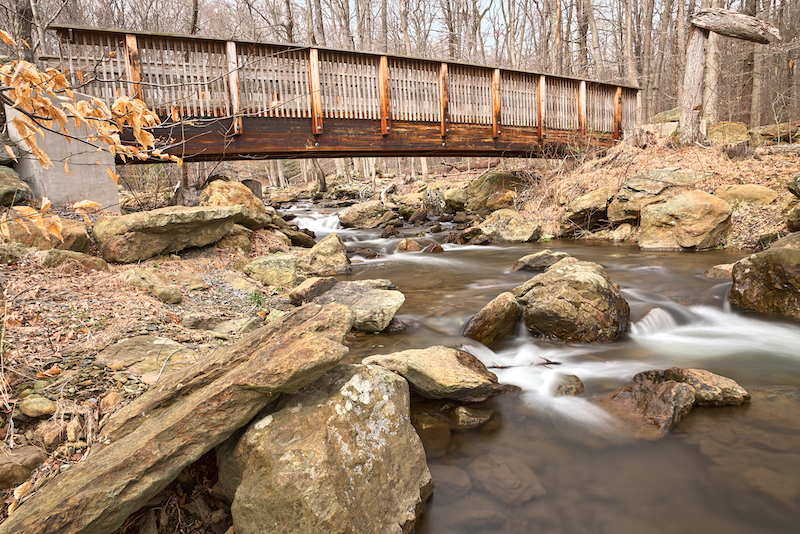 The lake, falls, and camping area is all part of the William Houck Area, which is three miles west of Thurmont on Route 77. The Scales and Tales Aviary, camping, and the historic Catoctin Iron Furnace are all located in the Manor Area, three miles south of Thurmont on Route 15.
The hiking trails range in length from short and flat to steep and rocky ones. Swimming is allowed in certain areas of Hunting Creek Lake, and hunting is permitted on 4,400 acres of wildlands.
Explore Downtown Frederick
Downtown Frederick is home to over 200 retail stores, art galleries, and restaurants. This is a place where every corner has that charming small-town vibe and picturesque scenes.
The downtown of Frederick is very rich with dozens of specialty stores (as noted above) and in that, you'll find vintage stores, gift shops, clothing and toy stores, record stores, comic book stores, antique stores, etc.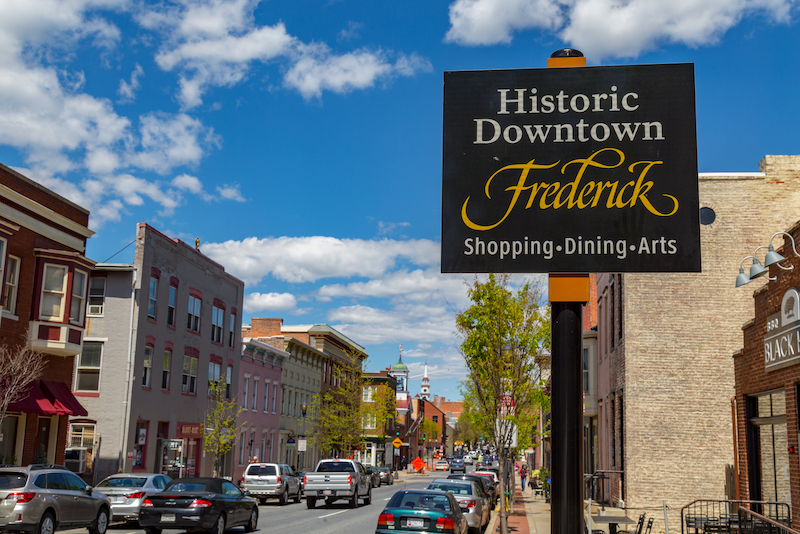 It's recommended to spend some time at the Community Bridge where you can take a carriage ride to see historic and open-air Frederick, and visit the city's art galleries. Also, don't forget to go for a walking tour in Old Town Frederick!
Drink Craft Beer in Frederick
Don't miss a chance to enjoy craft beer in Frederick (and nearby)! Among the best and most popular options are Flying Dog Brewery and Milkhouse Brewery at Stillpoint Farm.
Flying Dog Brewery offers world-class beer and is one of the fastest-growing regional craft breweries in the mid-Atlantic. There are over 20 beers in the tasting room, including limited-edition beers available only at the brewery.
The next on the list is Milkhouse Brewery – Maryland's first farm brewery. There, the fine beer is being carefully handcrafted with ingredients grown at Stillpoint Farm. The brewery is found near Frederick in Mt. Airy.
Frederick Wine Trail
The Frederick Wine Trail is known as the place that connects all of the amazing things Frederick has to offer when it comes to the delicious beverage!
The Maryland wine trail takes you across Civil War battlegrounds and vineyards. This incredible area has now made Frederick a major center for the craft brewing revolution and is now fertile ground for the new Maryland wine movement.
This place invites people to sample some of the area's finest produce within the rolling hills, which encompass around 90 acres of grapes and provides one-of-a-kind beautiful views.
Along the trail, you will find a selection of tasty wines, great hospitality, and an insight into the old art of Maryland winemaking.
Hootch & Banter
Opened quite recently (2015), Hootch & Banter brings new life to the historic South Market Street building known to locals as Kidd's Cafe or The Canal Bar & Grill.
The space features upscale food combined with a casual atmosphere. There is an enlarged vintage photo that hangs on the restaurant walls to celebrate the Kidd family and the building's history.
View this post on Instagram
The menu, as well as the selection of cocktails, wine, and liquor, emphasizes fresh and seasonal, and locally-made ingredients. The house burger is named after Charles Kidd III in honor of the previous owners and their long-running family company.
Barbara Fritchie House
This is the reconstructed home of Barbara Fritchie (heroine of John Greenleaf Whittier's poem), which was a museum for a long period of time (1927-2018) but now, it's an Airbnb.
The place is renovated into a cozy place to stay, but the owners really tried to make it feel like a luxury hotel with a lot of amenities, while also keeping the aura of the past!
The house has a lot of features like a china closet with actual Barbara Fritchie memorabilia, different antiques, and heirlooms, etc. It's a pretty unique place worthy of visiting and staying in when visiting Frederick.
Visit One of the Best Coffee Shops in Frederick
Our top pick of cafes is Dublin Coffee Roasters, a fantastic Frederick cafe owned by Serina Roy. Dublin Coffee Roasters roasts its own coffee on its Sivetz Air roaster and sells it for your own making at home (and of course, in their cafe)!
View this post on Instagram
They have breakfast sandwiches to accompany your coffee and sell everything from red eyes to drip coffee to flat whites and more!
National Museum of Civil War Medicine
The National Museum of Civil War Medicine is dedicated to telling the story of medicine and the Civil War. You will learn about the history of healing and care, courage and devotion in the face of death, and the foundations made for modern medical care.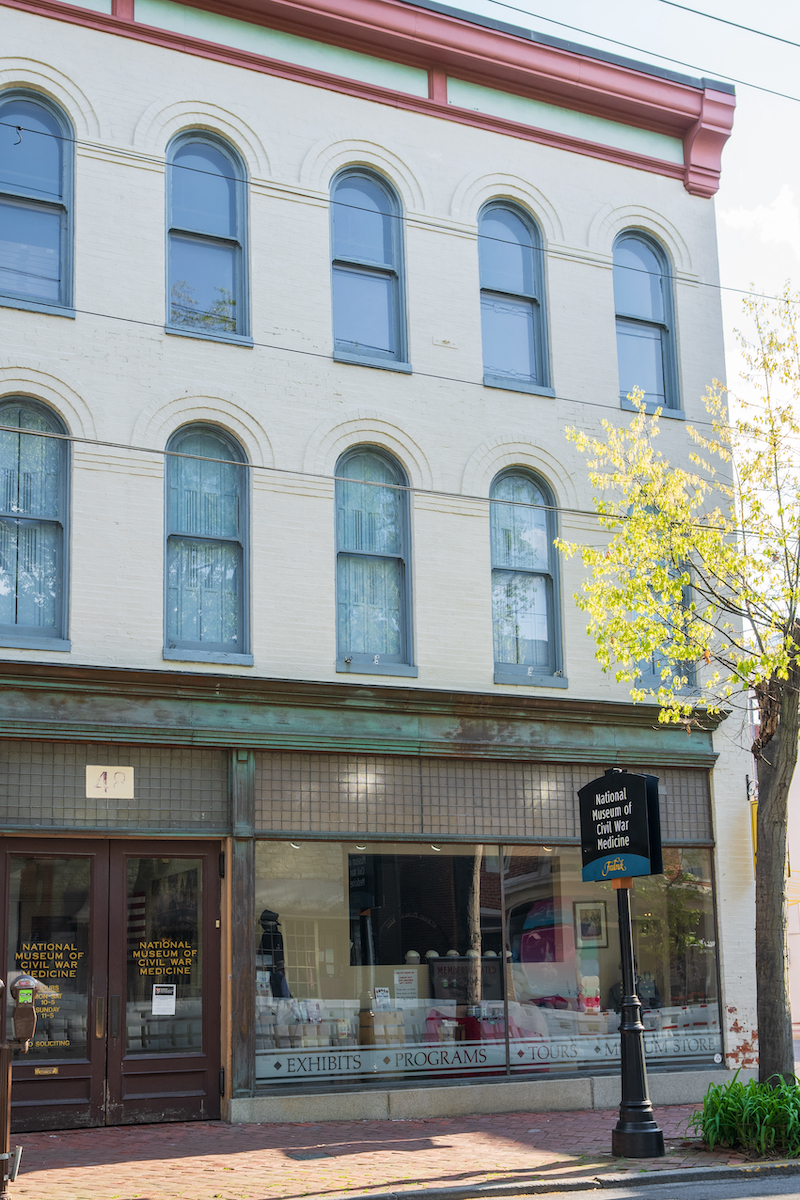 Visiting the Frederick museum gives insight into how the innovation of Civil War medicine impacted present-day medicine To visit, you can get a 10 to 40 people group, request a tour, and explore the museum for about an hour or more (longer tours can also be arranged).
Weinberg Center for the Arts
The Weinberg Center for the Arts is Frederick's cultural center that promotes the performing arts. It's an iconic 1926 movie palace, where professional music, dance, and theater, vintage movies, and family entertainment are available year-round. The season starts in September and ends in May the following year.
Besides viewing amazing performances and events, visitors are also welcome to experience the backstage magic with a free backstage tour.
Discover Art Deco architectural features, get into local theatrical lore, and more backstage secrets with the help of an experienced tour guide. The free tours are offered weekly and last about 45-60 minutes.
Jojo's Restaurant and Tap House
Jojo's Restaurant and Tap House is yet another prominent dining place in Frederick. The restaurant has a taphouse with over 26 beers on draft and a complete bar, a private space for your special event.
It also has a casual dining area separate from the taphouse, for those who want to be separated from the noise and enjoy a more relaxing time in the restaurant.
View this post on Instagram
For casual dining, the brick and floor-to-ceiling windows of the restaurant create a friendly atmosphere for dining and watching what happens around East Patrick Street.
The Tap House side is perfect for individuals searching for a more lively area, a wonderful range of craft beer, and an evening out with friends.
Monocacy National Battlefield
Monocacy National Battlefield, the site renowned for the Battle of Monocacy, is the place that saved Washington during the Civil War. It sits on the Monocacy River just southeast of Frederick.
Visitors can appreciate more than 1500 acres of farm fields, many historic buildings, and amazing vistas. The spot might appear rural at first sight, but it's located quite close to Frederick and has a number of amenities.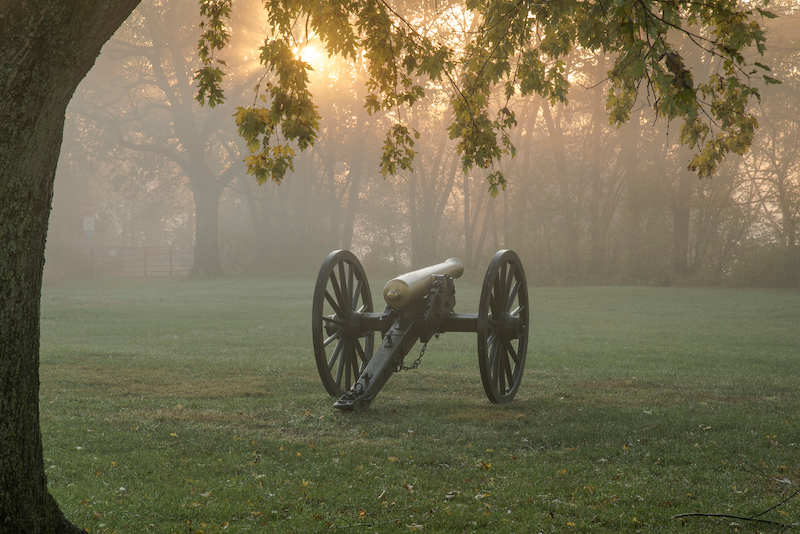 Once you get into Monocacy National Battlefield, the staff is there to help you plan your visit so that you experience both an inspiring and educational trip to the MD national site.
Winchester Hall
Winchester Hall was initially designed to be a boarding school for girls, and later became the seat of the Frederick County government. It was created and named for Hiram Winchester.
The design of the building was influenced by Greek society as they placed a lot of importance on education. The appearance of Winchester Hall has been unchanged for many years and it is a must-visit Frederick landmark!
Baker Park
With nearly 60 acres of space with jogging and bike paths, Baker Park has multiple playgrounds, a beautiful lake, etc. For more than 75 years, this park has been a great venue for holding different recreational activities, festivals, concerts, and sports events.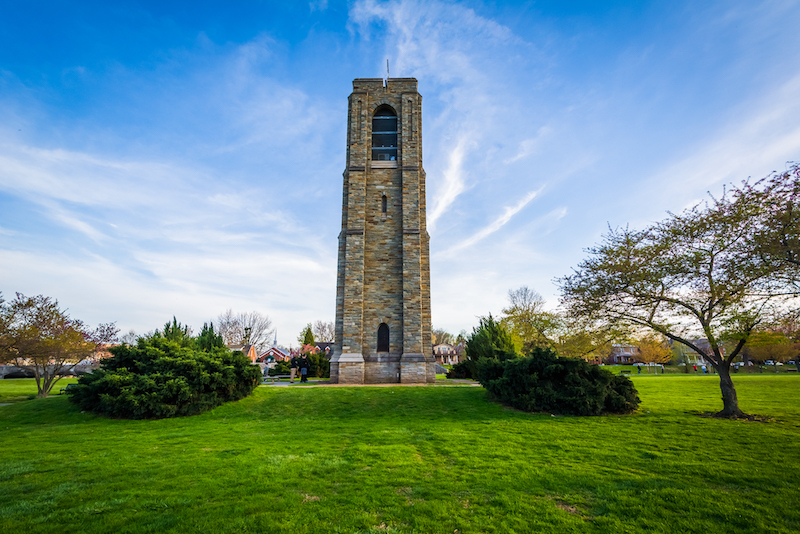 In fact, Baker Park is known to be home to many of Frederick's most popular events. One of them is Frederick's Fourth, which takes place on July 4th, celebrating Independence Day, and ends with a colorful fireworks finale!
The park is pet-friendly, so you can bring your furry companion with you.
Crystal Grottoes Caverns
Crystal Grottoes Caverns are unique as it has more formations per square foot than any cave known to us presently. It's also the only cave with public access in the state of Maryland.
You can see drape-like stalactites and huge columns abound in the cave. The lighting is good there so the guides are well-trained to turn on and off lighting displays while the visitors move through the galleries with the purpose of saving energy.
There are some passages that are relatively low (four feet high) and also a few narrow and twisting ones. The duration of the tour through the cave is 30 minutes.
Schifferstadt Architectural Museum
Schifferstadt Architectural Museum is one of the best examples of German colonial architecture in the US. It's a 1758 stone house, has various distinctive architectural elements, and is one of Frederick's first known residences.
For visitors, some living history events are being held at the home and in the Heritage Garden.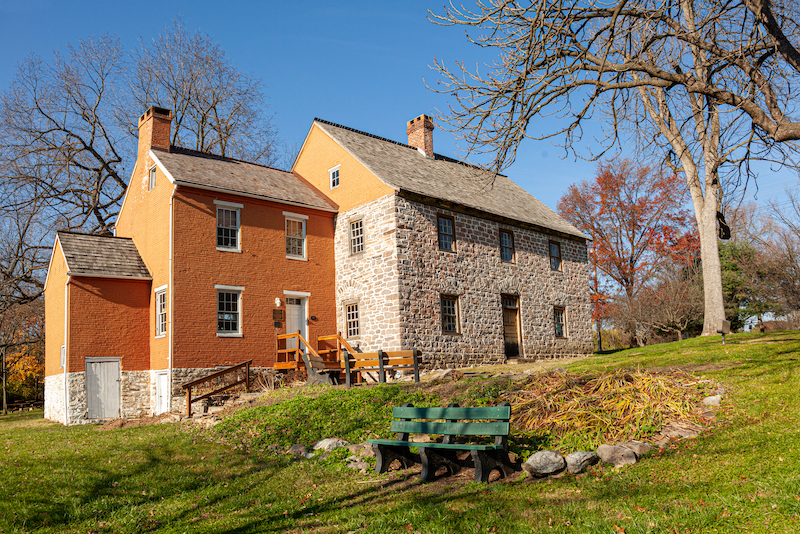 By touring the Schifferstadt Architectural Museum, you can learn the pioneer story of Frederick. While there, get familiar with a colonial four-square kitchen garden named the Heritage Garden.
It's maintained by a Master Gardener and volunteers, and a few years back it was honored with a Frederick City Historic Preservation Award.
Hessian Barracks
The Hessian Barracks and School is a historic barracks and L-shaped school building. Reportedly, the barracks were built during the French and Indian War (1754-1763) and occupied by British General Edward Braddock.
Nevertheless, there is proof that they were not fully completed until 1781, at the same time when the area was used as a prison.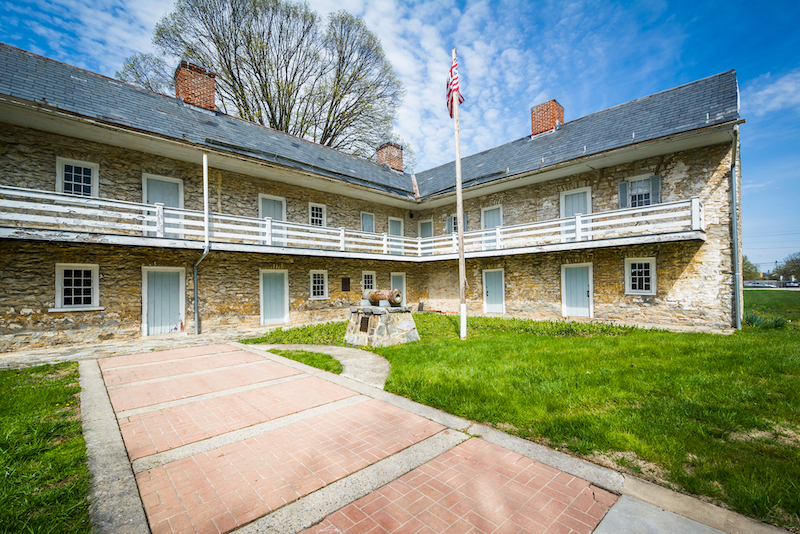 The barracks had multiple purposes once it was built, from a state armory to a hospital and a silkworm farm. The yard also served as the Agricultural Fairgrounds, and later on as the location for the Maryland Institution for the Deaf.
This place has been listed on the National Register of Historic Places since 1971.
McClintock Distilling
Frederick's McClintock Distilling produces gins, whiskies, and vodkas… all from organic ingredients.
They're winners of a lot of awards like "Best Craft Vodka Distillery in The Country by USA Today", "2020's Best Distillery In Maryland By The NY International Spirits Competition ", and more than 75 awards and medals at various international competitions.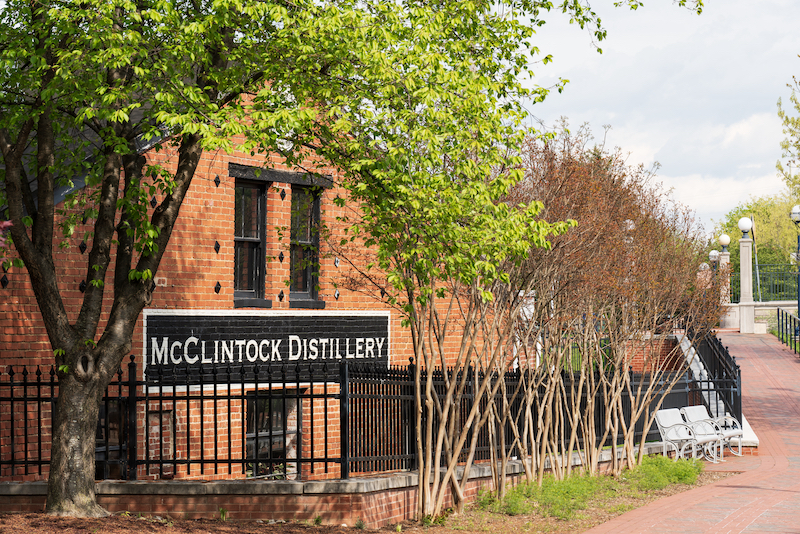 The company is named after McClintock Young, a renowned inventor of the 1800s, whose inspirations and incredible story are integral to the products and experiences of the distillery.
You can see the schedule of the hours and reserve a tour online through their website.
Firestone's Culinary Tavern
Firestone's Culinary Tavern is one of the best-known places in downtown Frederick. It opened its doors in 1999 and quickly became popular around the area. Firestone restaurant consists of 3 separated parts: Culinary Tavern, Sidecar, and Market on Market.
The Culinary Tavern is a combination of an upscale bistro and a cozy neighborhood gathering place. It's located in a 1920-era building that once served as a department store.
View this post on Instagram
The visitors here enjoy a true, farm-to-table dining experience, and many dishes use locally sourced ingredients. Notably, Firestone's is recognized among Frederick residents as one of the best steakhouses, but fresh seafood is constantly available here as well.
Where to Stay in Frederick, Maryland
You will find a plethora of lodging choices for Frederick. Below are some of the top-rated picks for a getaway to this gorgeous city in Maryland!
Did we miss any great things to do in Frederick? Let us know your top travel tips for the Maryland city in the comments! Thanks!
More Maryland Travel Guides
Pin this Frederick Attractions Guide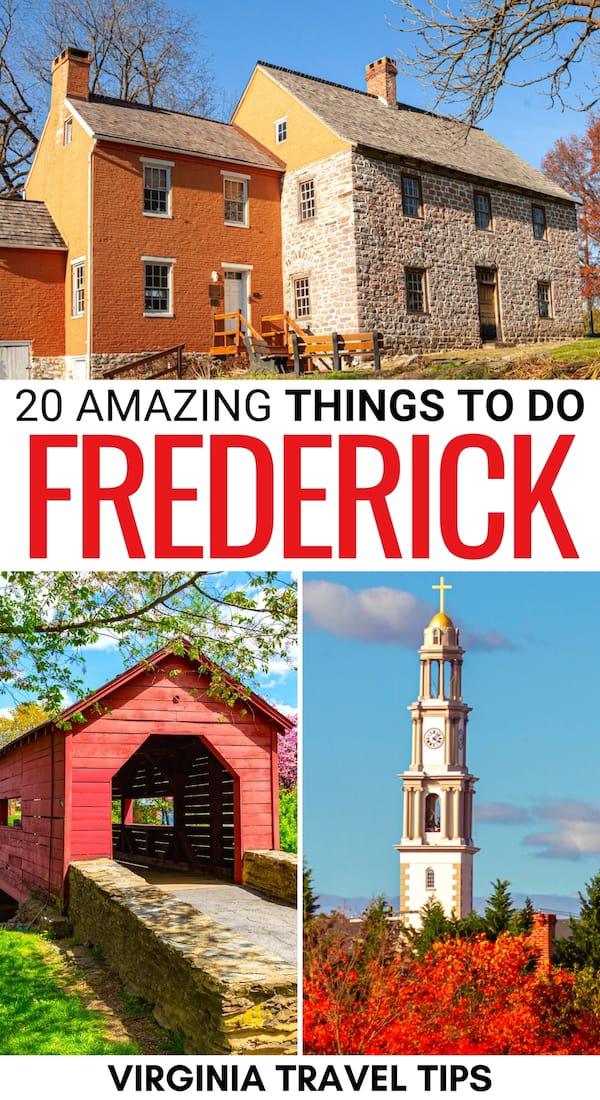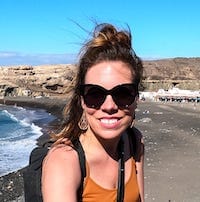 Megan is a travel blogger and writer with a background in digital marketing. Originally from Richmond, VA, she has lived all around the world (including Germany, Finland, Norway, etc) but her heart always finds its way back to Virginia. This blog is to help encourage travelers to explore the great state of VA… and its wonderful neighbors! Megan has written for or been featured by National Geographic, Forbes, Lonely Planet, Fodor's Travel, the New York Times, and more. She has visited 45 US states and 100+ countries… and wholeheartedly believes that Brunswick Stew is probably the greatest food to ever exist.