Are you heading away for an intimate weekend with someone special and are in search of the best romantic getaways in Maryland?
Don't worry- we've got ya! These Maryland romantic getaways are diverse and offer town and B&B/inn options that will help you enjoy a relaxing weekend with your significant other.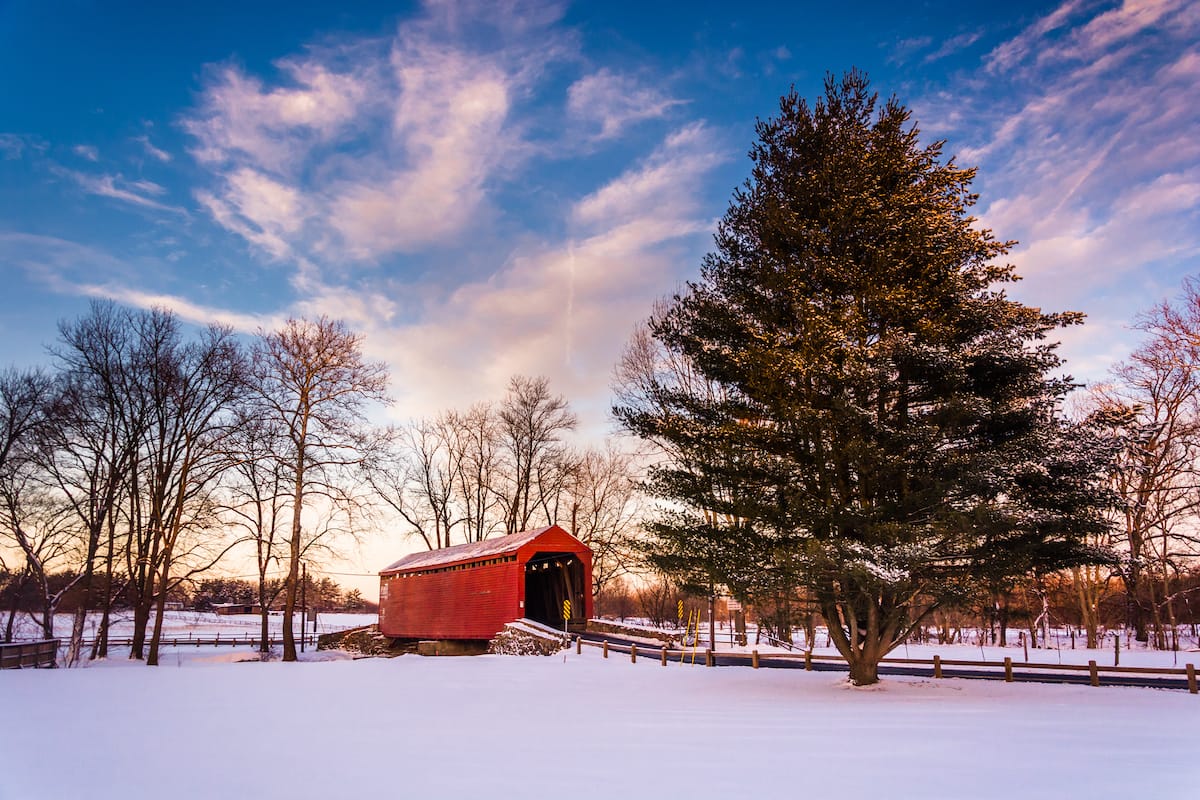 Are there any romantic places in Maryland that we missed or that you recommend (especially if you're going away for Valentine's Day in MD?
Let us know in the comments! Thanks!
Best Romantic Getaways in Maryland
Bel Air
A weekend getaway to Bel Air is the perfect way to say I love you. Head to Scotto's Cafe for a casual dinner, where a delicious Italian menu, indulgent wines, and romantic ambiance guarantee an uncompromising experience.
When in the mood for live music, take your significant other to local's favorite Sean Bolans on S. Main St. to catch a great live music show.
For evening entertainment, pop over to Regal Bel Air Cinema located on Constant Friendship Boulevard to catch the latest movie out in theaters.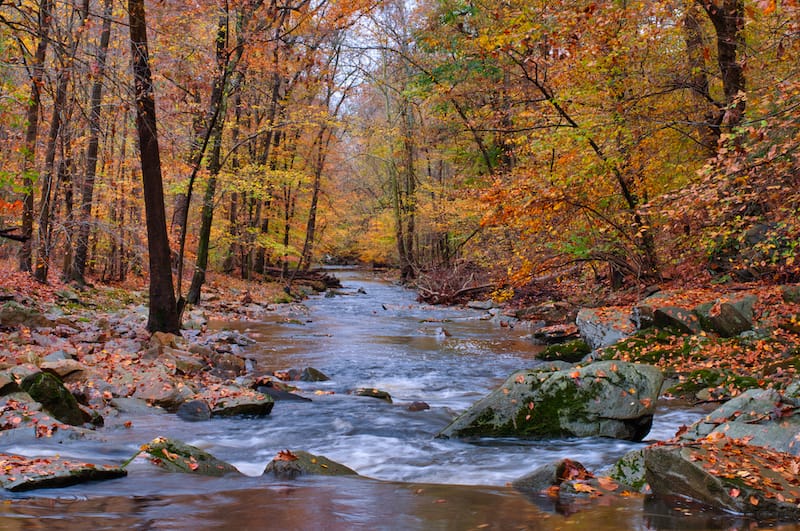 Set the mood for a special night at downtown Club 347, where you can immerse yourself in relaxing jazz and dance with your partner until the wee hours.
Plan your next date in Pairings Bistro, where you can taste the city's mouth-watering braised short ribs and pair it with the finest Gnarly Head 1924 Double Black.
For a one-of-a-kind experience, book a 2000-foot-high hot air balloon ride with Light Flight Hot Air Balloons, where you can make your perfect marriage proposal (or just enjoy time with your partner) while taking in the stunning views of Maryland from above.
St Michaels Harbour Inn, Marina, and Spa
Location: Saint Michaels
BOOK HERE
If you are thinking about going away for a dreamy, luxurious couples trip in Maryland, then St Michaels Harbour Inn, Marina, and Spa should be your top pick.
Treat your loved one to an exciting experience with a spa day for two at Spa at Harbour Inn and finish it off in the outside swimming pool.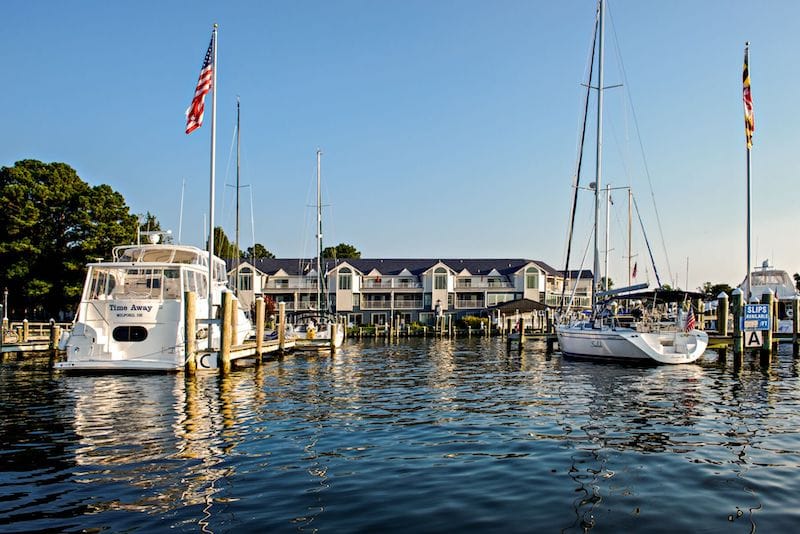 For an intimate setting, book the luxurious Waterfront King Spa Tub Room overlooking the spectacular St. Michaels harbor, which features a two-person spa tub and offers a special bubble bath service for you to share magical moments with each other.
Escape the hustle and bustle at Commodore's Quarters, located at the marina, where a two-person rain shower, covered deck, bar area, and rustic design will guarantee an unparalleled experience.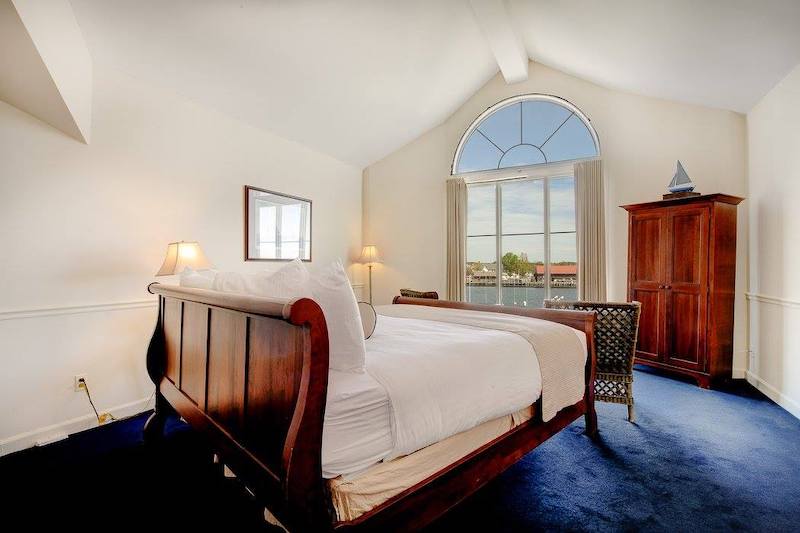 Level up your dining experience at Harbour Lights, where you can enjoy your meal with a view on The River Deck or immerse in a romantic ambiance on the Port Deck packed with a full bar, heat lamps, fans, and a stone fireplace.
>> Click here to check rates and availability for St. Michaels Harbour Inn
Ellicott City
A trip to historic Ellicott City will get you and your soulmate into the mood for a little romance. For some shopping, head down to Main Street, where you can also wine and dine at Pure Wine Cafe or Manor Hill Tavern.
To satisfy your chocolate cravings, pop over to Sweet Cascades for delicious gourmet chocolates that are sure to please everyone's palette.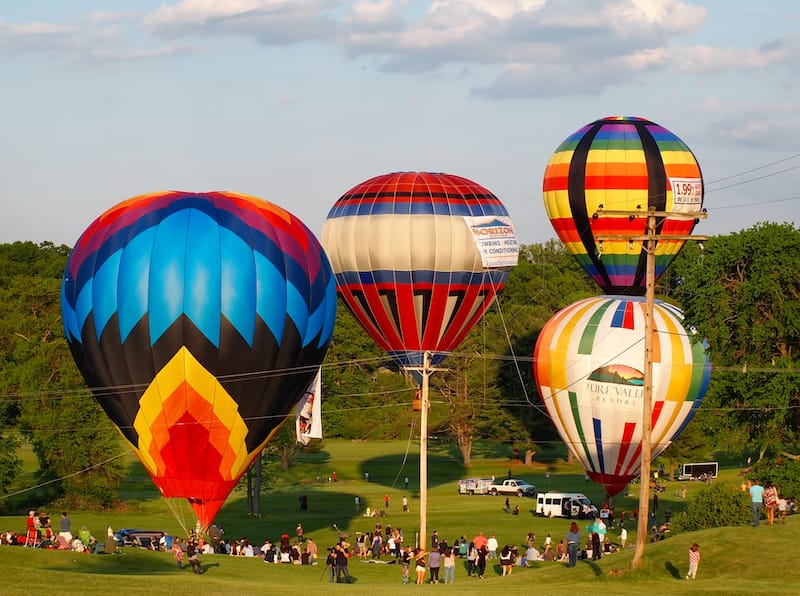 Surprise your loved one with a classic box of eye-catchy flowers from Flower Barn packed where you'll find eye-pleasing bouquets ready to be gifted out.
Plan your relaxing couple retreat at Happy Feet or Erin E. Devlin Wellness, where you can also try acupuncture for another level of rejuvenation.
Step back in time while dining at Tersiguel's French Country Restaurant, nestled in a 19th-century building and offering farm-to-table fare.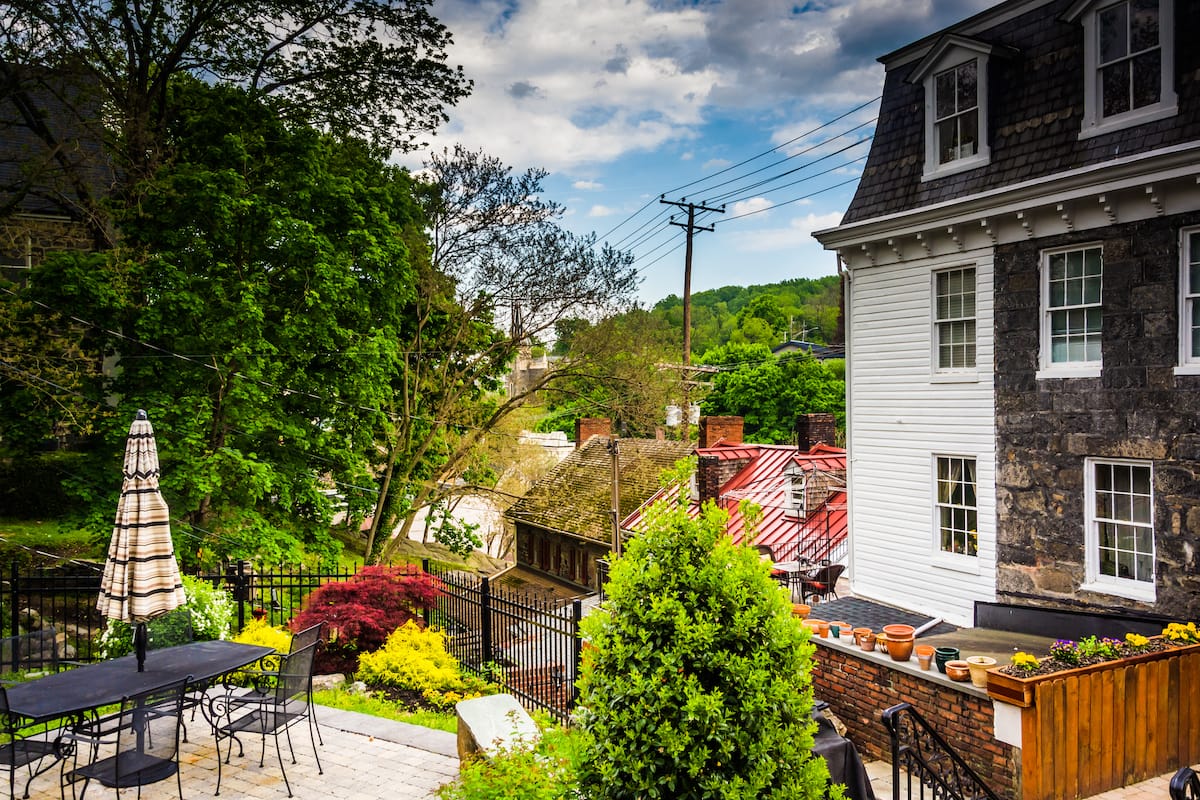 If you both enjoy wine, then The Wine Bin is the place to go. This wine lovers' boutique features a wide range of wines made of different grapes, and if you are leaning towards white wine, you need to try a chardonnay, torrontés, or sauvignon blanc with their recommendations!
Finish off your day at the Turf Valley Resort, which has special Valentine's day packages to make your romantic weekend getaway an incredibly memorable one.
Hampstead
Hampstead is another quaint city for an ideal romantic getaway in Maryland. Enjoy undisturbed moments in Leister Park, a well-maintained park packed with paved walking trails, a playground, and an opportunity to go golfing.
If you are in the mood for a romantic picnic, you can take your own lunch and enjoy it together in the park's picnic pavilions.
Get wet and wild in Cascade Lake, where you can jump onto a water slide, play water volleyball, cool off with high and low pier jumps, or paddle boat in the lake.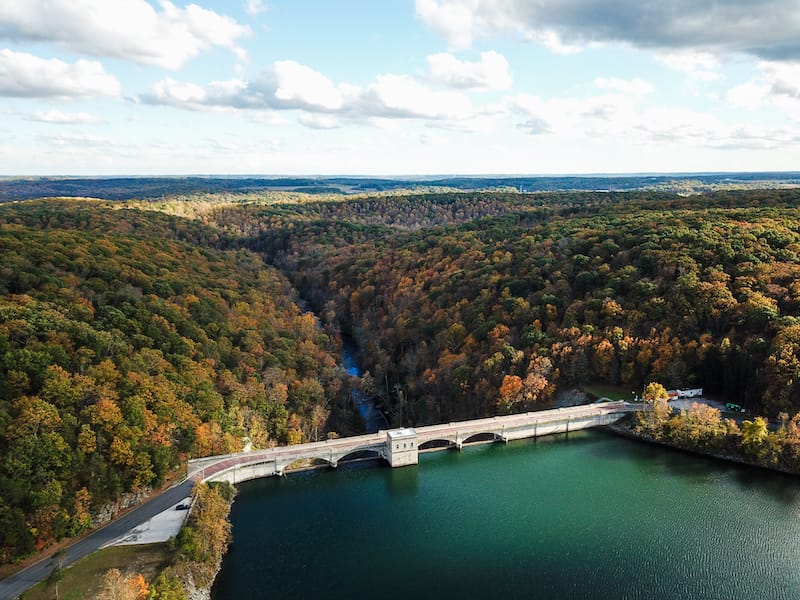 If you have the kids with you, you can let them loose in the Lions Club Park's playground and indulge in a serene walk with your significant other into the woods.
Join little league teams and get into a fun competition with your partner in football and basketball fields, after which you can get back your energy in a nearby snack bar or enjoy it under a covered pavilion.
Lace-up your hiking boots and head to Prettyboy Reservoir Park, where you can hike, fish, and immerse in the beauty of nature together.
For a chance to do something fun with your special date, consider Happy on Hooves, where you can experience the ultimate horseback riding date night.
Havre de Grace
Whether you and your partner are adventure chasers or the couple that prefers to spend their days strolling in a peaceful setting and discovering some history, Havre de Grace has you covered.
If you love sailing, then BaySail School of Sailing should be your first stop.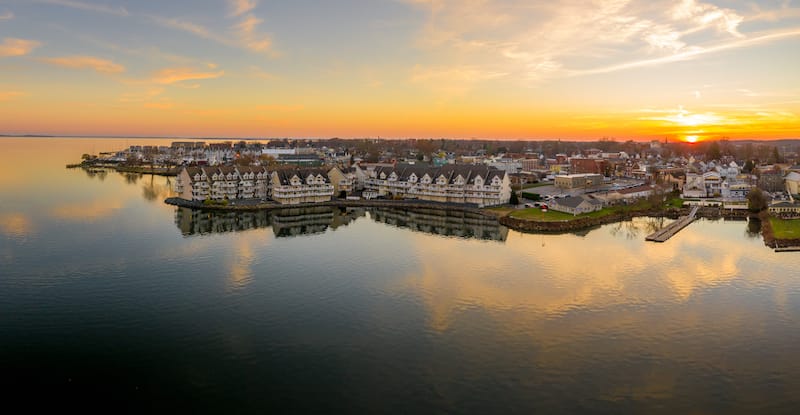 A wide range of ASA-certified courses provided by knowledgeable and friendly instructors will help you enhance your sailing skills. You can also rent a fully equipped daysailer or yacht and show off your newly acquired skills in front of your partner.
The Black-Eyed Susan offers brunch and cocktails cruises and is another thing to do for a romantic escape in Maryland. Delicious food and great service as well as breathtaking views of the Pocomoke River and neighboring Snow Hill will guarantee lifetime memories.
For a more relaxing option, you can stroll the serene Havre de Grace Promenade, take in breathtaking views, and breathe in the fresh air.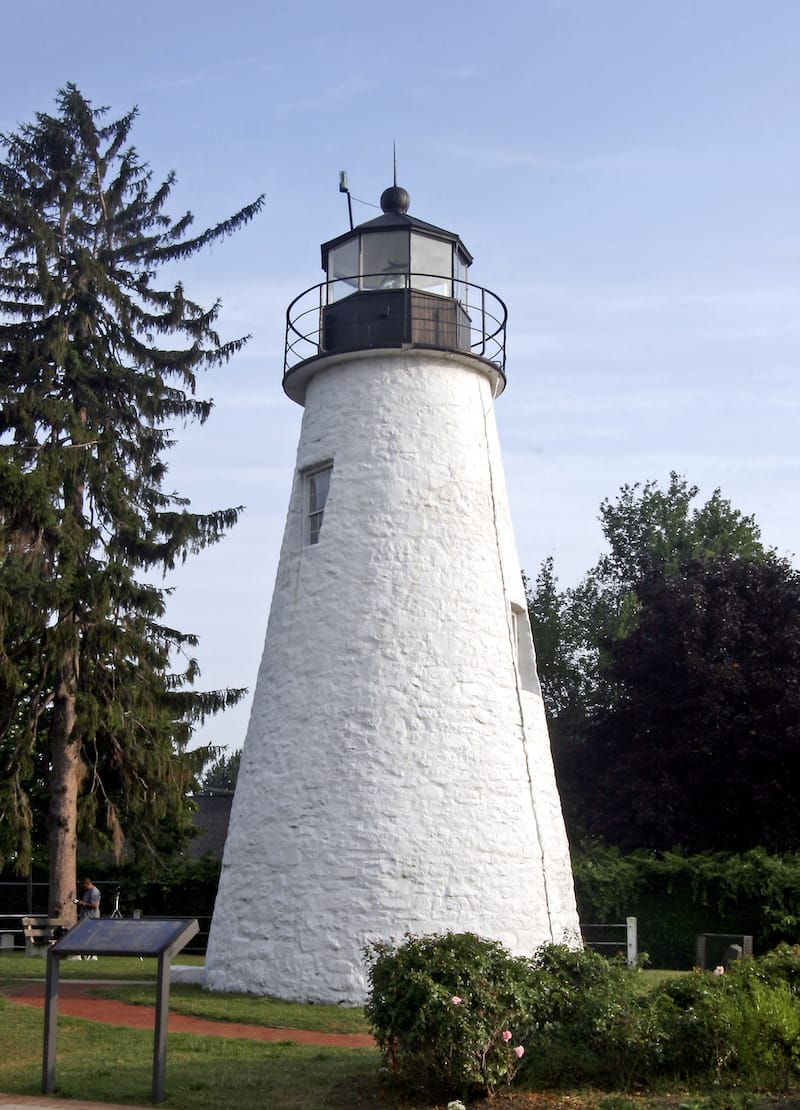 From there, head to admire the historic Concord Point Lighthouse and plan an evening trip to Susquehanna State Park (which closes at dusk!) to end your day with a bang!
Annapolis
Another romantic getaway awaits you in lovely Annapolis, which is the perfect Baltimore day trip for couples.
Get into the romantic spirit by visiting charming Quiet Waters Park, where you can take a relaxing stroll with your partner through lush forests, grassy knolls, and even try kayaking and paddleboarding for some fun in the water.
Take in the golden sunset in each other's arms aboard the Schooner Woodwind schooner that departs from Annapolis Marriott Waterfront Hotel's Pusser's Caribbean Grille Restaurant every Wednesday, or fly together through lush forests on a 330-foot zip line with Terrapin Adventures for some thrilling adventures.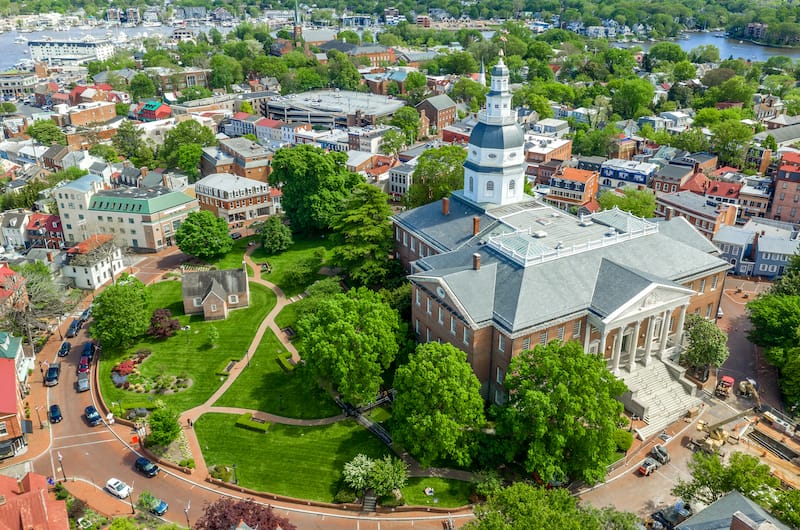 Sandy Point State Park provides everything you need for a romantic picnic date, such as picnic tables and lush meadows backdropped by magnificent views of the Bay Bridge so that you can reconnect with your significant other in a natural setting.
Plan your next romantic date at Great Frogs Winery, and finish off your day at a delicious waterfront restaurant such as Carroll's Creek Cafe, Chart House, or Blackwall Hitch.
Complete your romantic getaway at the nearby Brampton Inn across the bay where a cozy cabin for just the two of you packed with premium amenities will guarantee lifelong memories.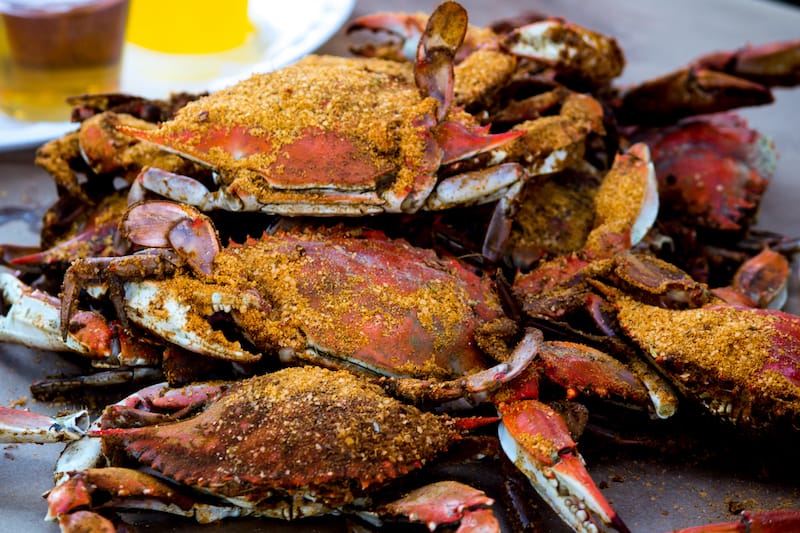 Choose their For Lovers Only Package and get a chilled bottle of Champagne, delicious house-made chocolate truffles, and beautiful red roses upon your arrival. You will find so many things to do in Annapolis that you won't want to leave!
Brampton Bed and Breakfast Inn
Location: Chestertown
BOOK HERE
Whether you are celebrating your honeymoon or just looking for a romantic escape with your partner, the historic Brampton Bed and Breakfast Inn is the place to go.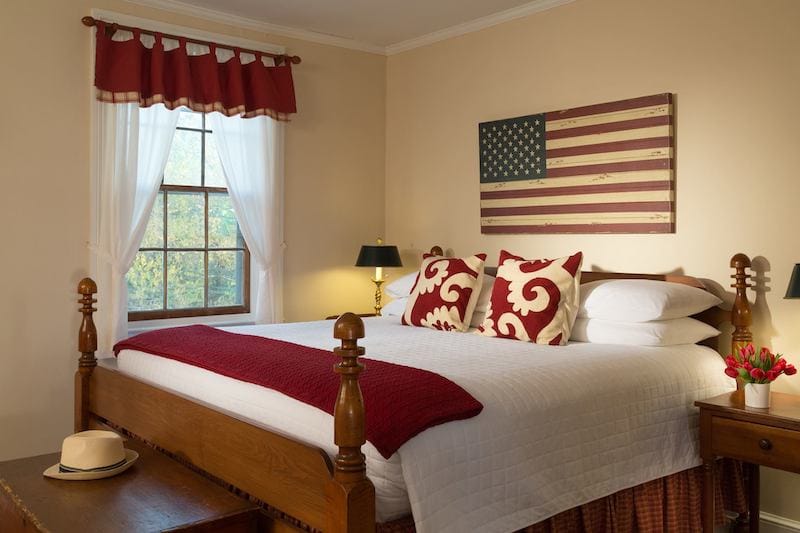 Brampton Inn is a real piece of heaven for couples that offer you a glimpse into the past with its rustic-designed, roomy cottages that feature soaking and infinity tubs, a wood-burning fireplace, king-sized beds, outdoor seating, and additional luxurious amenities.
For the ultimate date night experience, choose the Wine Country Date Night Special which offers a wine tasting flight at Crow Vineyard and Winery, dinner for two with a seasonal menu, a locally-sourced breakfast, and complimentary red or white wine.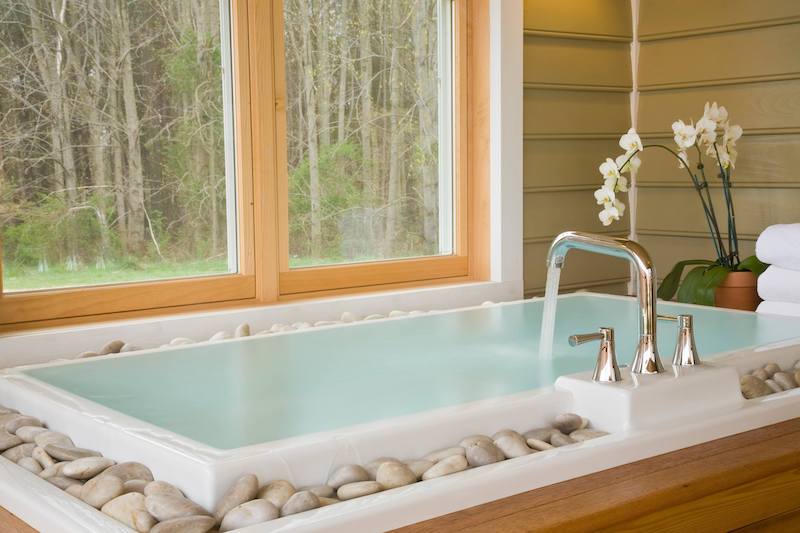 Escape into tranquility with your soulmate in surrounding thirty-five acres of lush gardens and forests, or discover the charm of Chestertown by checking out nearby art galleries and mom and pop shops!
>> Click here to check rates and availability for the Brampton B&B Inn
Chesapeake City
Book your next romantic trip to Chesapeake City, a unique small town in Maryland with serious hospitality that offers a harmonious balance of old and new.
Immerse yourself in its tranquility and treat your date to a majestic sunset by taking M/V Bay Breeze boat tours, where 2-hour boat cruises along the beautiful Elk River and C&D Canal will take you to admire mesmerizing sunset views while having an educational trip.
Chesapeake City Water Tours is a top spot to bring your significant other and enjoy daily sightseeing tours, craft beer and wine tastings, the ultimate sunset cruises, rum and reggae cruises, live music events, and much more.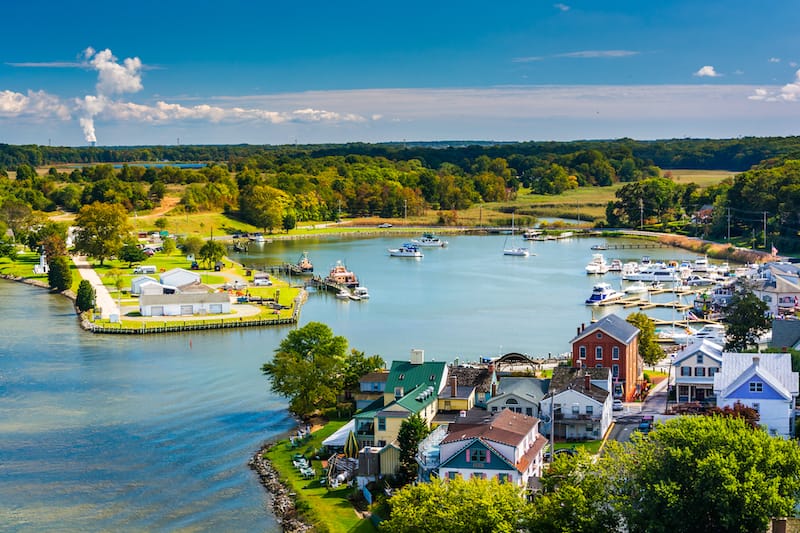 Unleash your competitive spirit with Outdoor Xtreme Chesapeake City, where you can have a fun competition with your partner at 65 acres of Airsoft and Woodsball playing fields.
You can enjoy cycling with your significant other along waterfront Maryland's Ben Cardin C&D Canal Recreational Trail or go sampling the finest wines at Chateau Bu-De Vineyard & Winery.
Plan your next couples cheat day in Chesapeake Inn Restaurant & Marina, where homemade burgers, mouth-watering tacos, and brick oven pizzas are worth every calorie.
Frederick
This list wouldn't be complete without gorgeous Frederick (one of our favorite small places in the United States!), packed with many out-of-the-box date ideas.
Take your partner on a spine-tingling journey by taking part in the Ghost Tours of Historic Frederick that will take you through Crypts and Monuments of Historic Mount Olivet Cemetery, the labyrinth of Graves, and help you learn more about the history of Frederick.
Show off your true teamwork in Clue IQ, filled with state-of-the-art technology and Hollywood-style sets, where you need to solve puzzles, break codes and help each other to unravel the mystery and experience the thrill of escape room adventures.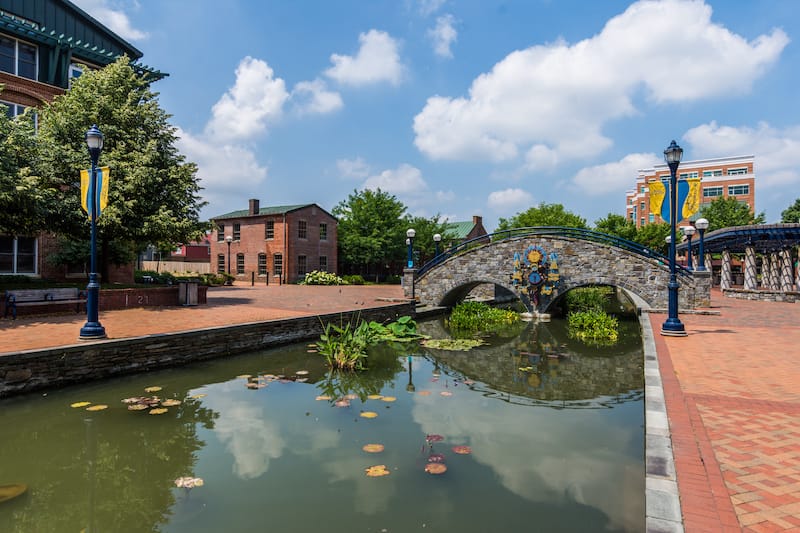 For a more laid-back tour, you can check out Frederick Hops and Vines Tour and enjoy a personalized tour through the city's finest wineries, breweries, and distilleries.
For an adrenaline-filled journey, pop over to Go Ape! to zoom along exciting zip lines or TreeTrekkers to overcome a variety of obstacles and have a unique outdoor adventure.
If you prefer more classic date nights, you can appreciate a stunning performance at the Maryland Ensemble Theatre or catch the latest movie and visit the Great Frederick Fair that takes place during fall.
Inn at Perry Cabin
Location: Saint Michaels (Eastern Shore)
BOOK HERE
Are you thinking about heading off on a romantic trip with your significant other? The Inn at Perry Cabin, nestled on Maryland's Eastern Shore, is the perfect place for an intimate getaway.
Unique and spacious rooms with king-sized beds, a fireplace, and a balcony overlooking the stunning Miles River will really make you appreciate the solitude and beauty of this part of the state.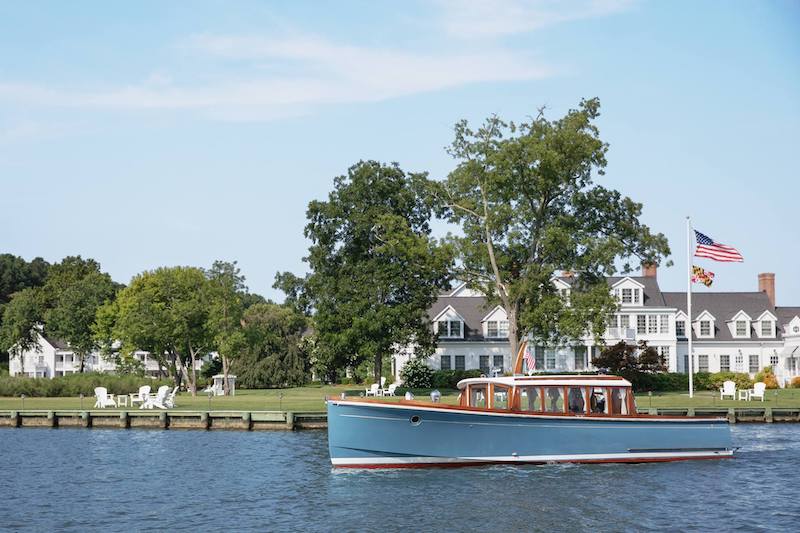 Explore St. Michaels on bike, arrange a private sailing tour with sunset cocktails, play golf at The Links or stroll 26 acres of breathtaking gardens for an unforgettable experience.
The Inn also has a fitness center, so you and your partner will stay in shape during the entire trip! You can book the couples yoga retreat in the fitness center to renew your bond.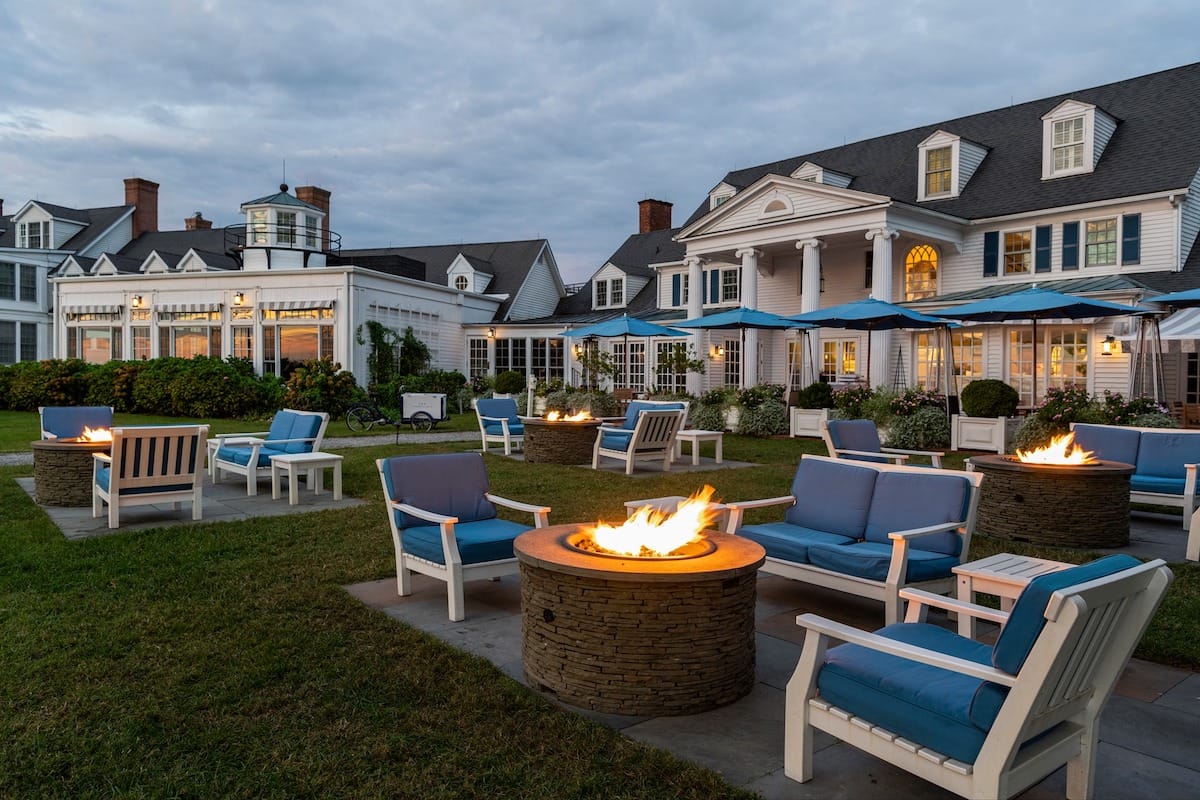 Let the friendly staff help you book the perfect couples spa package, which includes classic massages and herb treatments so that you can rejuvenate with your loved one.
>> Click here for rates and availability for the Inn at Perry Cabin
Whitehaven Hotel
Location: Whitehaven
BOOK HERE
Step back in time with your partner at the Whitehaven Hotel, a 19th-century mansion tucked away on the banks of the Wicomico River.
Spoil your loved ones with a good time in their Victorian-style rooms with private baths, screened porches, and a fireplace, and be ready to indulge in an intimate experience.
East and South porches overlooking the Wicomico River are the perfect place to celebrate a relationship milestone with a glass of wine and a delicious lunch.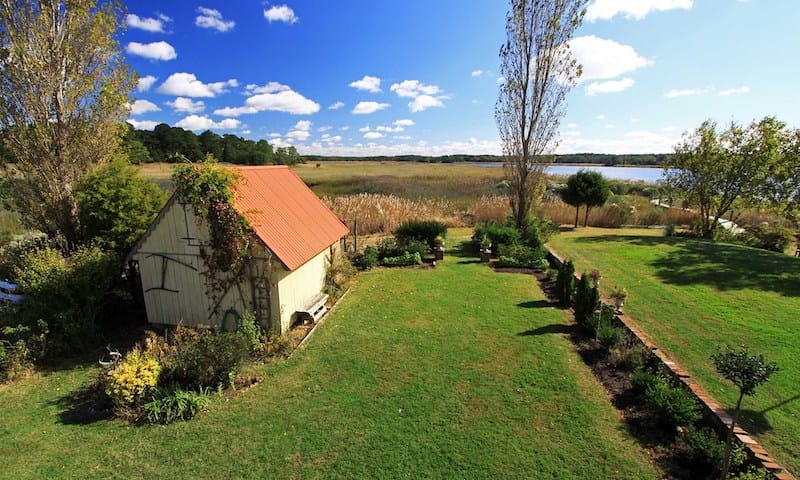 Take full advantage of the hotel's romantic special offers, which include having a fresh bouquet of flowers with chocolate-covered strawberries or a full basket of sweet treats along with red or white wine upon your arrival.
Make sure to check out the gift shop filled with jewelry, antiques, unique art and crafts, garden stuff, and much more to bring a piece of memory from your romantic trip with you.
>> Click here to check rates and availability at the Whitehaven Hotel
What are your favorite romantic getaways in Maryland? Let us know some of the best spots below! Thanks!
More Maryland Travel Guides
Pin this Romantic Places in Maryland Guide