If you're looking for a great city break during the low season, consider Baltimore! This guide covers the best things to do in Baltimore in winter!
Are you planning your trip to Baltimore last minute?
If you're traveling to Baltimore last minute, you want to ensure you have tours and lodging booked ahead of time!
Best Tours and Experiences in Baltimore:
Where to Stay in Downtown Baltimore:
Baltimore is a great place for a winter trip! There are so many museums and delicious restaurants to visit that you'll keep occupied every day of your vacation!
Did we miss any amazing things to do during winter in Baltimore? Let us know in the comments!
Baltimore Winter Quick Info
Average Winter Temperatures in Baltimore
Winter does get pretty cold in Baltimore, especially with freezing temperatures at nighttime.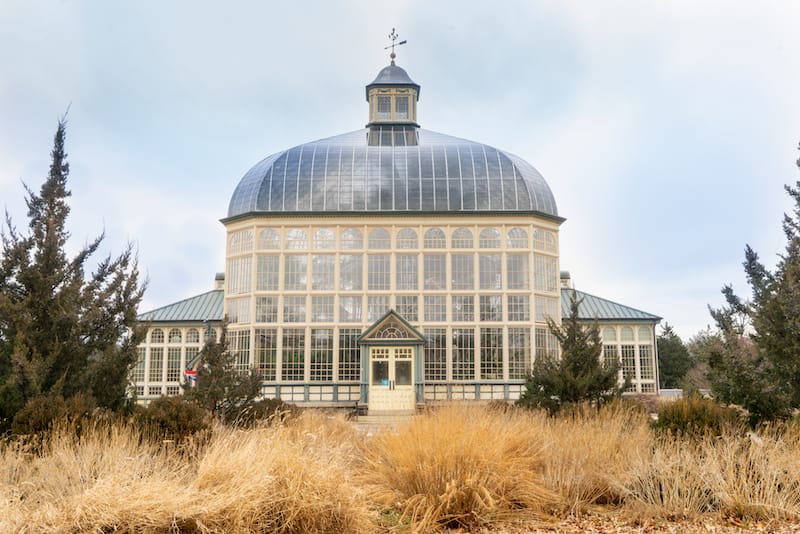 Here are the average temperatures each month during the winter:
Baltimore in December: high: 47 F, low: 35 F
Baltimore in January: high: 43 F, low: 31 F
Baltimore in February: high: 46 F, low: 32 F
Baltimore in March: high: 55 F, low: 40 F
Does it Snow in Baltimore?
While Baltimore might not be the coldest city out there, you're guaranteed to see some snow in the winter.
The season lasts from the end of November to the end of March, with the likelihood of snow being the highest in February, which sees 5.6 inches of snow on average.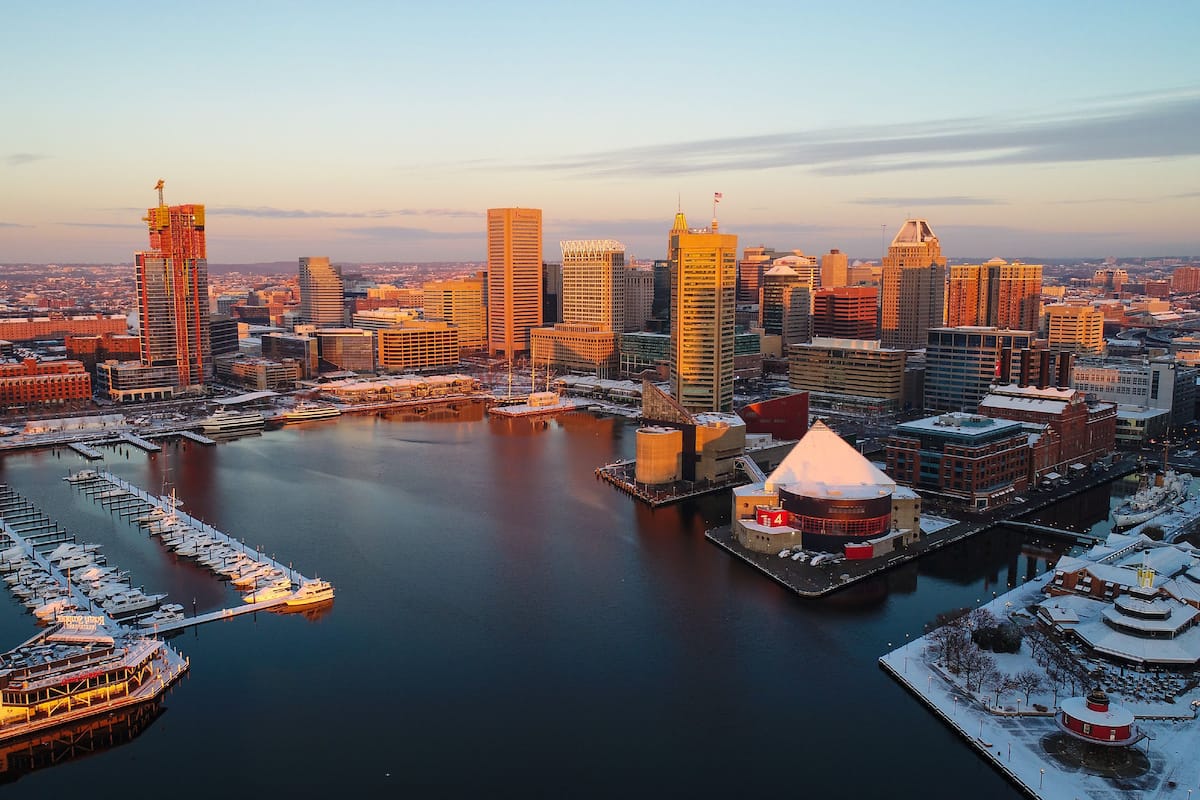 In general, Baltimore sees an average of 19 inches of snow every year.
It's not very common to see snow, but you have a chance at seeing some especially if you visit between December and February.
Best Things to Do in Baltimore in Winter
Explore the Baltimore Museum of Art
Visiting the Baltimore Museum of Art is the perfect way to spend a few hours out of the cold while admiring the unique collection of 19th-century, modern, and contemporary art.
Located near Johns Hopkins University, the museum was originally founded in 1914, but later, in 1929, the Roman temple-style building was constructed.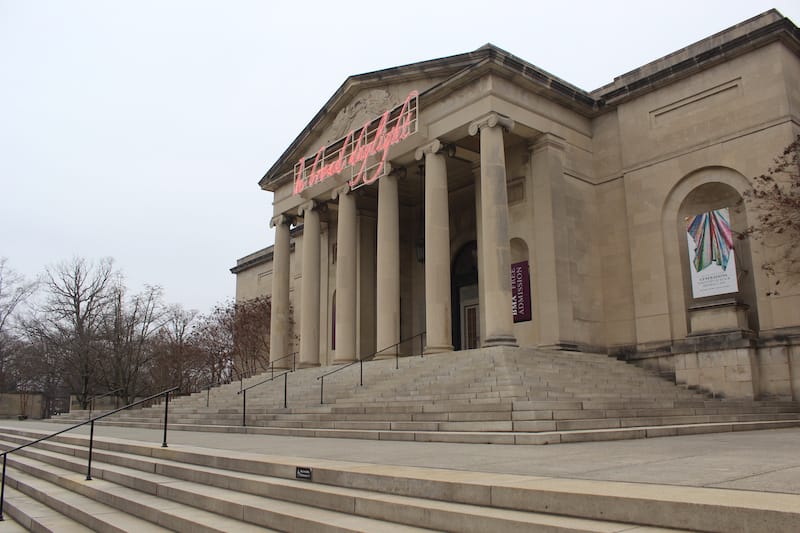 Among the highlights are modern art masterpieces from the internationally renowned Cone Collection from the Baltimore sisters, the world's largest collection of works by Henri Matisse, famous artworks by Cezanne, Gauguin, Manet, Picasso, Renoir, a collection of 15th-through 19th-century European art, Plains beadwork, Navajo textiles, 28 mosaic pavements from Antioch, and many more.
Admission to the BMA is always free. If weather permits, you can take a stroll through the stunning 2.7-acre sculpture garden, which features 33 modern and contemporary sculptures by Louise Nevelson, Auguste Rodin, Isamu Noguchi, and others.
Address: 10 Art Museum Dr, Baltimore, MD 21218
Feel Festive at the German Christmas Market
Soak in the perfect Christmas spirit by visiting the German Christmas Market, nestled right in the heart of the Inner Harbor holiday district.
It is one of the best places to visit in Maryland in winter!
Inspired by the famous Christmas markets in Germany, this unique market is packed with vendors offering traditional European food, sweets and drinks, wine and beer tastings, fun rides like Christmas Village Carousel and Ferris Wheel, and live performances by local artists and bands.
The big Gluhwein Pyramid, traditional German-style wooden huts, the delicious smell of waffles, and a food court with gingerbread, bratwurst, and mulled wine will certainly make you indulge in a complete German-themed atmosphere.
You can enjoy the market for about a month, from around Thanksgiving through Christmas Eve, 11am-7pm daily.
Don't forget to take your holiday pictures with Santa and pick some unique holiday gifts for your loved ones from a large variety of ornaments, jewelry, high-quality arts and crafts, and more.
Visit the Fort McHenry National Monument and Historic Shrine
Get a glimpse into the city's rich military history in Fort McHenry National Monument and Historic Shrine, named after James McHenry, a signer of the U.S. Constitution. It is one of the best Baltimore day trips for history lovers!
This star-shaped fort with a bastion at each of its five points is best known for its role in the War of 1812, where it successfully defended Baltimore Harbor when the British navy attacked it.
The fort served as a prison for the detention of Confederate soldiers during the American Civil War, a public park in the early twentieth century, a hospital during WWI, and a Coast Guard training center during WWII.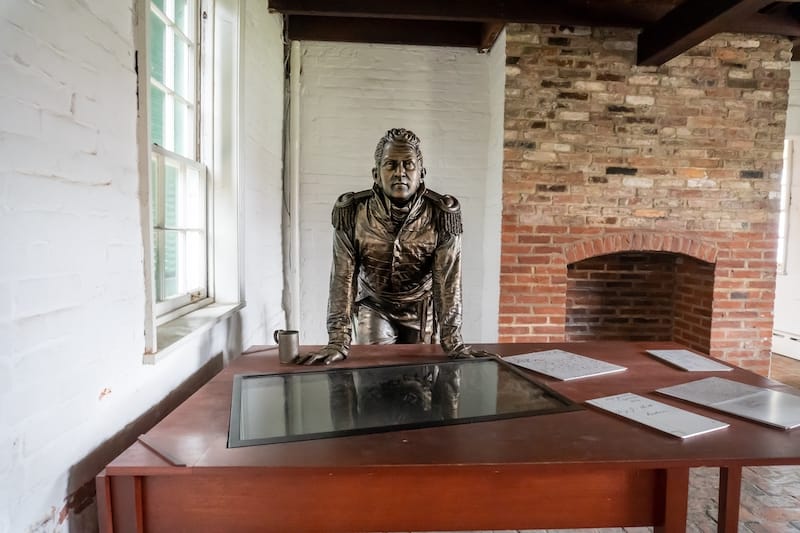 The Battle of Baltimore on September 13-14, 1814, inspired Francis Scott Key to write the nation's national anthem, "The Star-Spangled Banner."
The Maryland national park is open to the public for free, where you can walk, bike, run, browse the Visitor Center's gift shop, enjoy self-guided tours, or take part in a guided experience via a smart device.
Address: 2400 E Fort Ave, Baltimore, MD 21230
Go Ice Skating at the Pandora Ice Rink
It's time to lace up your skates and experience a winter wonderland at Pandora Ice Rink, nestled at the Inner Harbor Amphitheater between the two Harborplace pavilions.
Every year from mid-November to late January, locals and tourists alike gather here to immerse in the holiday tradition of having hours of fun on the ice while admiring stunning views of Inner Harbor.
General admission will cost $10 for adults and $9 for children, senior citizens, and military members.
Skate rentals cost $4. The Inner Harbor Ice Rink will be open on November 11, 2022, and will remain open through January 16, 2023.
Discover the B&O Railroad Museum
There's no better place to escape the chill of Baltimore than at one of the city's must-visit museums.
Channel your inner history buff at B&O Railroad Museum, where you can witness one of the world's largest collections of 19th-century locomotives and other artifacts related to early American railroading, Baltimore & Ohio (America's first commercial railroad), Chesapeake & Ohio, Western Maryland, and other Mid-Atlantic rail systems.
You can explore 40 acres of railroad history that left a permanent mark on the folklore and culture of America in the original and impressive Mount Clare station and roundhouse built in 1884.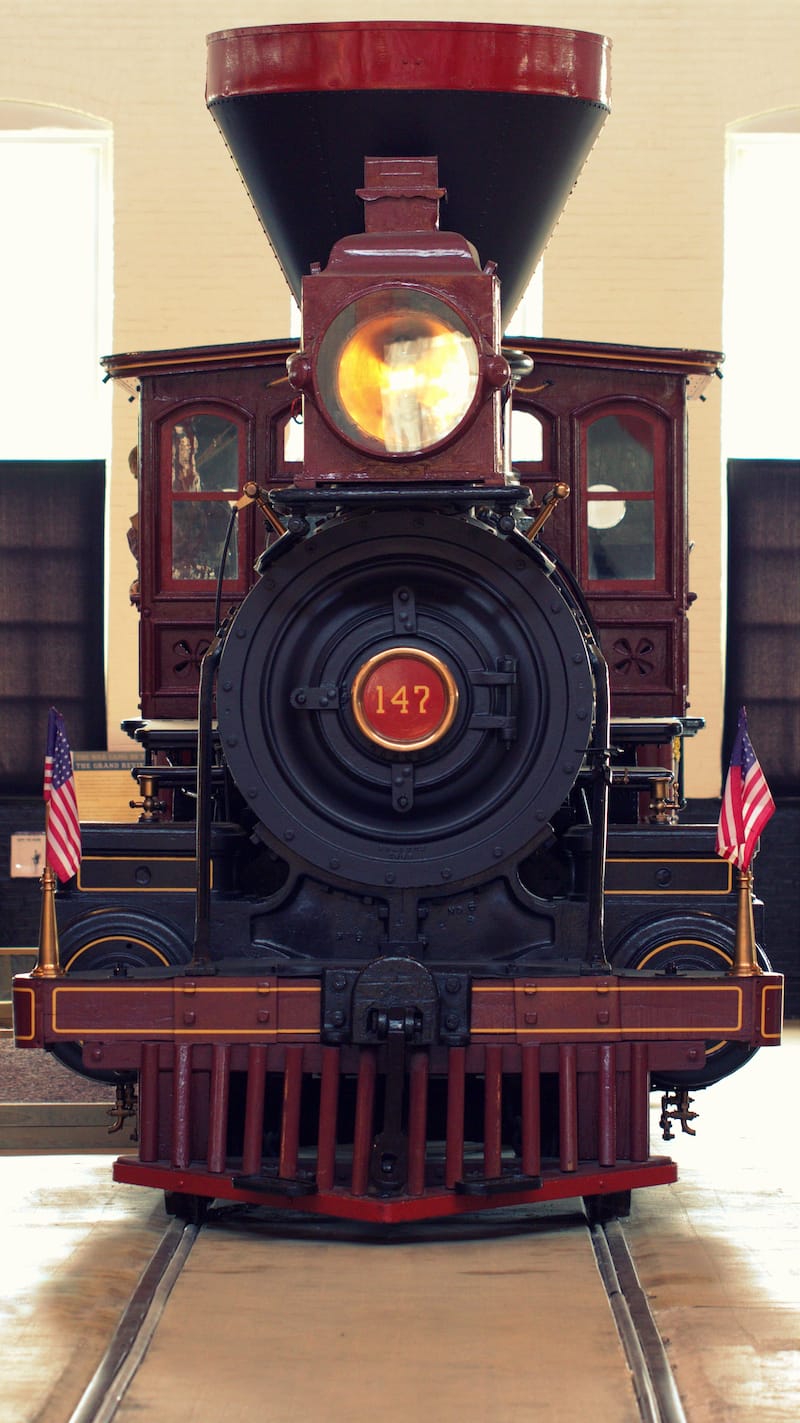 Here you can tour Mt. Clare Station and Yard (The Birthplace of American Railroading), check out Civil War exhibits, and take a historic 20-min train ride along America's first commercial mile of railroad aboard the Mile One Express.
Guided tours, children's programs, including Kids Zone and Toddler Time, and onsite field trips are also available.
Address: 901 W Pratt St, Baltimore, MD 21223
Go to the Miracle on 34th Street Lights and Show
You're in for a treat if you're spending Christmas in Baltimore!
Locals and tourists alike gather to celebrate the Miracle on 34th Street, located in the lovely Hampden section of Baltimore City.
The latter transforms into a fairytale city just in time for Christmas, filled with lights and decorations embracing an extra-heavy dose of holiday spirit.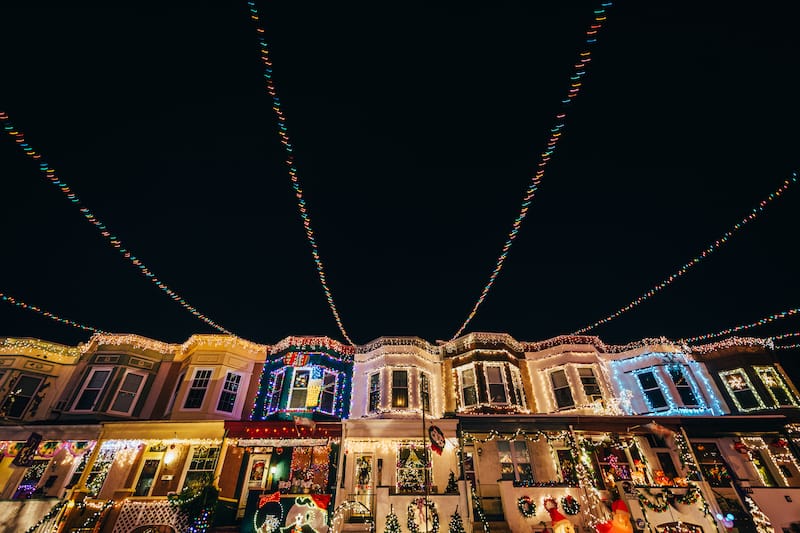 Every year, the official lighting gets turned on at 6 p.m. the Saturday after Thanksgiving, and the lights stay on all night on Christmas Eve and New Year's Eve.
Make sure to keep your eyes peeled for the Hanukkah house, the home of Bob and Darlene Hosier, Hillary Strilko's Dog House, and many others adorned in Christmas decorations.
When hungry, head over to Cafe Hon, get a sweet treat at Charm City Chocolate and warm up sipping coffee at Spro Coffee.
Peruse the George Peabody Library
Nestled on East Mount Vernon Place on the Peabody Institute campus, George Peabody Library is the ultimate stunning library acting as a warm haven for those cold winter days.
Recognized as one of the most beautiful libraries in the world, this research library features an outstanding 300,000-volume collection packed with 19th-century books on a variety of topics, such as architecture, topography, religion, art, science, exploration, geography, travel, etc.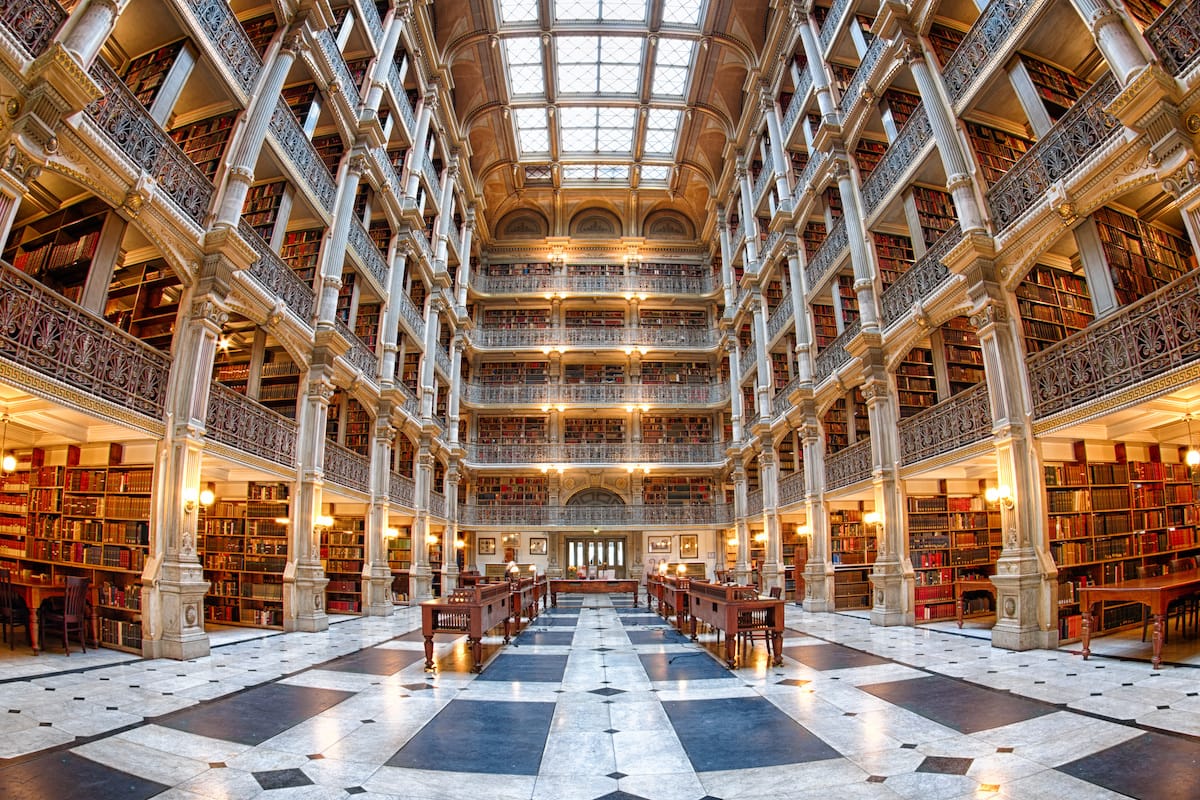 The building, designed by Baltimore architect Edmund G. Lind, opened to the public in 1878 and features an ornately decorated interior with cast-iron balconies and the ceiling of the atrium rising 61 feet above the black and white marble floor.
Due to its classy beauty, the library serves as a popular venue for weddings and other special events. It is one of the best Baltimore landmarks!
Address: 17 E Mt Vernon Pl, Baltimore, MD 21202
Enjoy Ice Cream at the Charmery
Are you looking for a winter twist on a summer treat? If so, then head on over to The Charmery.
This family-owned ice cream shop is the perfect place where you can find premium hand-crafted ice cream in some extremely unique Maryland-themed flavors, like Otterbein's Sugar Cookie, the Vegan Oreo Choconut, Fat Elvis, Maryland Mud, Old Bay Caramel, Earl Grey Gingersnap, and Black Sesame.
Especially on a cold winter's day, you have to stop in for a mug of their seasonal hot chocolate with marshmallows topped with crushed red-hot candies.
Their changing seasonal menu is packed with so many different options, from the buttered-popcorn base with chocolate-covered fortune-cookie pieces to a sweet-cream base with orange-and-black sprinkles and candy-bar bits.
Those who don't want to eat ice cream in the winter can sample their specialty cocoa topped generously with whipped cream, which will definitely make your body winterproof.
Address: 801 W 36th St, Baltimore, MD 21211
Watch the Baltimore Mayor's Annual Christmas Parade
When the holiday season rolls around, people line the streets of Baltimore for the Mayor's Annual Christmas Parade.
Mark your calendars to join the 49th annual Mayor's Christmas Parade on Sunday, December 4th, 2022, at 1pm.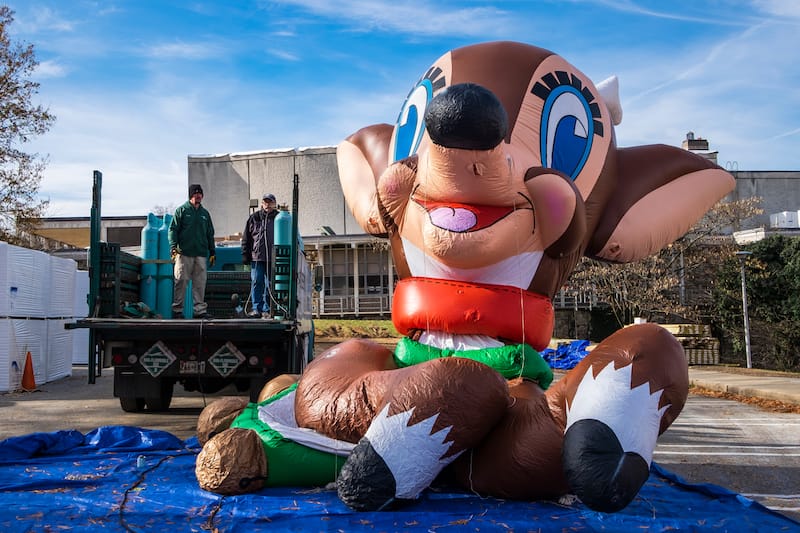 Last year this stunning two-and-a-half-mile-long parade attracted nearly 25,000 people who viewed Santa Claus, over 160 marching units, and a variety of exciting floats.
On December 4th, streets around the Hampden and Medfield neighborhoods will shut down to make way for the marching bands, holiday floats, Harley Davidson motorcycles, enormous balloon characters, Mummers of Philadelphia, dance troupes, Miss Yuletide, Jr. Miss Yuletide, various Santas, reindeer, hot Grinches, Krampus, and many others.
You will also see the mayor of course and some council members.
Watch a Baltimore Ravens Football Game
​​Catching a Baltimore Ravens football game in the winter season is a must when you have a weekend in Baltimore!
It always feels like a holiday when the Ravens play their impressive game.
On January 1, 2023, you can head to M&T Bank Stadium to see for the second-consecutive season the Baltimore Ravens welcome the rivaled Pittsburgh Steelers in a hot-blooded match (disclaimer – I am a huge Steelers fan).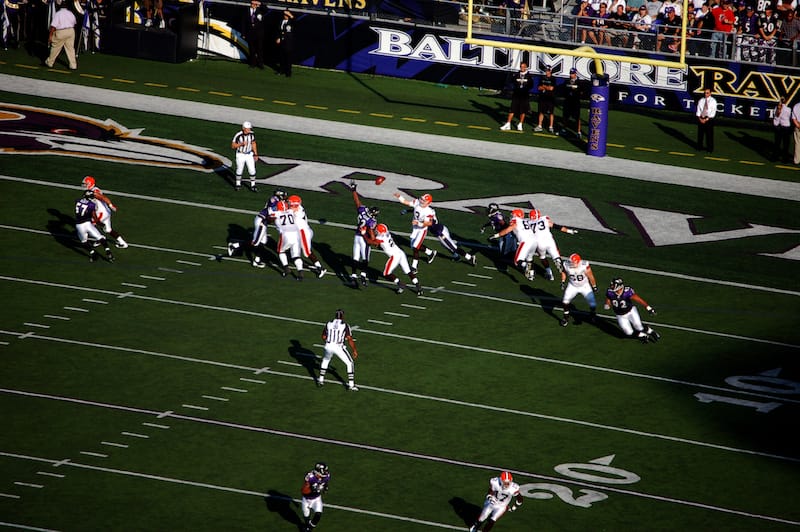 If you want to feel like a local at a Ravens game, make sure to learn the Ravens cheer before the game.
The abundance of not-to-miss food options is waiting for you in M&T Bank Stadium.
Savor delicious burgers at Shake Shack or The Abbey Burger Bistro, BBQ at Boog's Barbeque, the best crab cake at Ryleigh's Oyster, and the crab pretzels at Frank and Nic's West End Grille.
See a Nutcracker Performance at the Hippodrome Theatre
Tchaikovsky's classic Nutcracker is an annual winter treat for the whole family. Bring your loved ones to the stunning Hippodrome Theatre and immerse them in the Magic of Christmas Ballet.
This world-famous ballet, with its playful and imaginative storytelling, will make you relive your fondest childhood dreams with astonishing costumes, soaring birds, fascinating acrobatics, giant puppets, and unique and classical dances performed on a grand and beautiful stage.
The international professional cast will feature local Baltimore children from The Moving Company Dance Center and stars of Ukraine ballet who perform at the highest level of classical technique.
The Nutcracker performance will take place on December 7-8, 2022, at 7pm.
Address: 12 N Eutaw St, Baltimore, MD 21201
Enjoy Dinner at the Woodberry Kitchen
If you want to make the most of Christmas and treat yourself to something delicious on a blustery winter day, then Woodberry Kitchen will definitely hit the spot.
Housed in a renovated 1870s foundry nestled in historic Clipper Mill, here you can indulge in a cozy rustic atmosphere featuring warm wood, a wood-fired oven, and canned preserves lining the walls and savor farm-fresh fare from local growers and watermen highlighting traditions of the mid-Atlantic, try hearty New England dishes and taste Maryland's freshest seafood.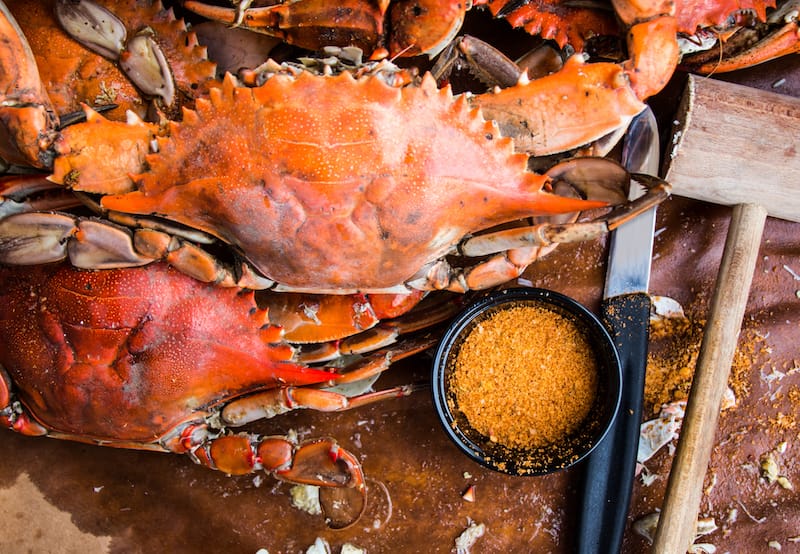 Highlights of their diverse menu are Pan-Roasted MD Rockfish, Deviled Eggs, Cast Iron Chicken & Biscuit, pretty-as-a-peach, peach pie, and more.
If you love hot sauces, don't forget to buy a bottle of their signature Snake Oil on your way out.
Professional and friendly staff, mouth-watering dishes, and a charming atmosphere will guarantee a one-of-a-kind dining experience, making you want to return here every time you visit Baltimore.
Address: 2010 Clipper Park Rd Suite 126, Baltimore, MD 21211
Visit the Cylburn Arboretum
Nature lovers can escape the city's hustle and bustle in the Cylburn Arboretum, a lovely place for a winter walk.
Here you can experience the beauty of nature and immerse in 200 acres of peace and serenity filled with trees, gardens, and trails in a bustling urban setting.
It was once the mansion of Jesse Tyson, a wealthy Baltimore Quaker, after which the city turned it into a home for abandoned children during WWII and, in 1982, named the property Cylburn Arboretum.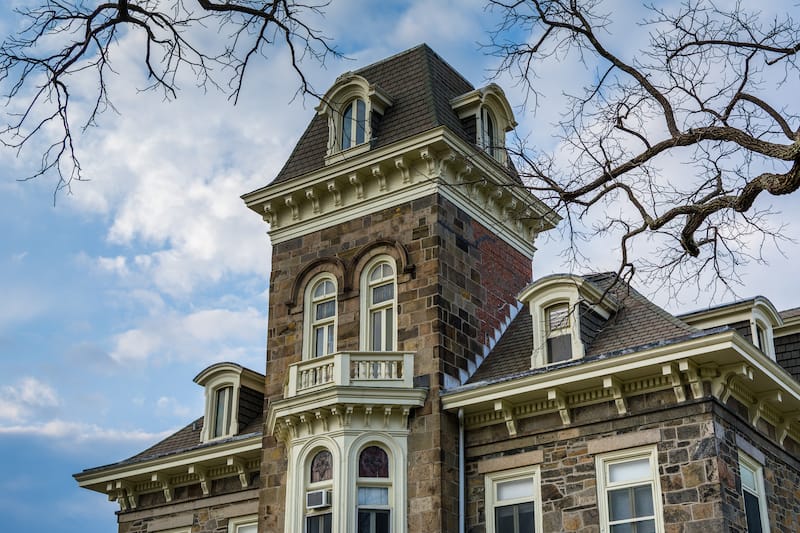 Take a relaxing stroll through unique gardens like Nathans, Moudry Woods, Shady Garden, or Probst to admire a living collection of one-of-a-kind plants, and walk, hike, or jog along the trials to observe birds and wildlife, including spring peepers, red-tailed hawks, tiger swallowtails, red foxes, raccoons, and many more.
Self-guided visits, as well as field trips and educational programs for student groups, are also available.
Address: 4915 Greenspring Ave, Baltimore, MD
Go Sledding in Patterson Park (if There is Snow!)
Your winter trip to Baltimore won't be complete without sledding. Patterson Park, located in the Butcher's Hill and Canton sections of the city, is a favorite sledding spot whenever the snow covers the city.
Just 10 minutes east of the metro area, this 155-acre park is packed with stellar sledding hills where you can find people of all ages using trash can lids and other makeshift sleds to cascade down the hills.
Thrill seekers can try sledding on the big hill near the Pagoda, which offers marvelous views of the city.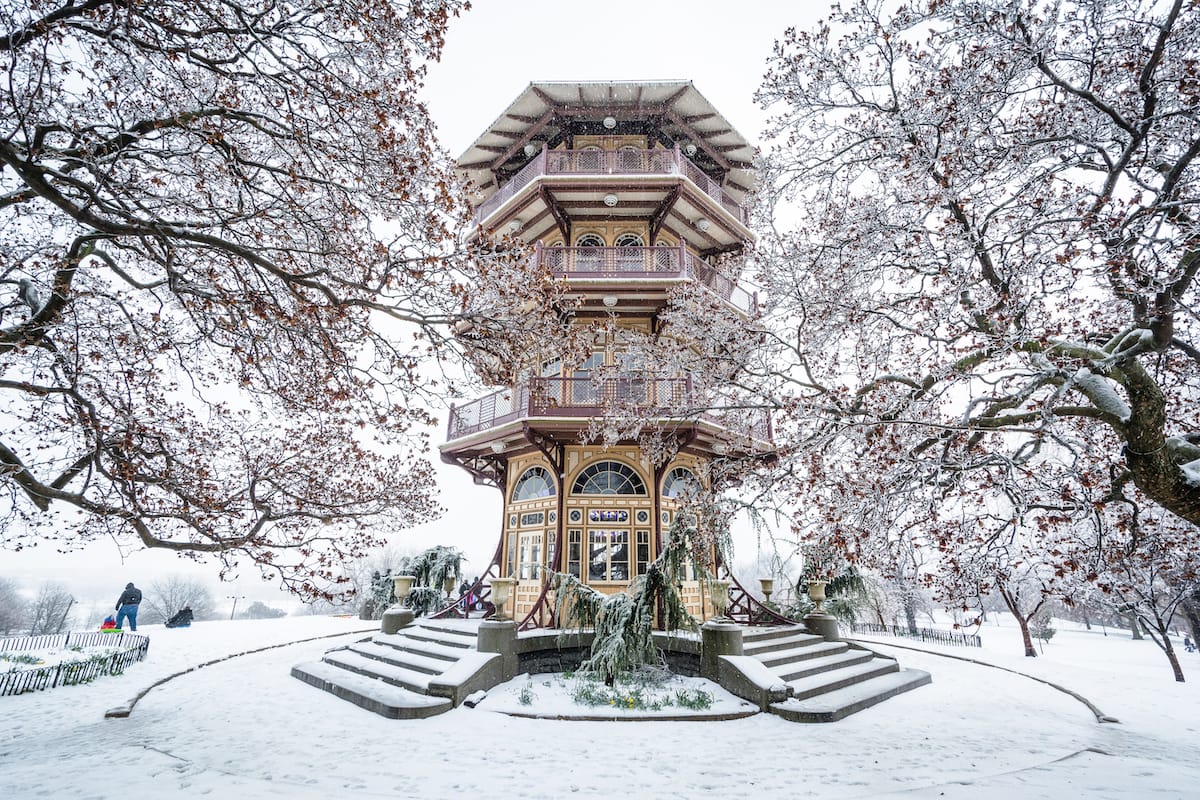 Those who prefer a more private sledding experience should visit early in the morning or later in the evening.
Another thing to look out for in Patterson Park? Try your luck and have fun with the inevitable snowball fight. To top it all off, the park also features an ice rink, dog park, and kid's playground.
Stroll the Broadway Market
The last one on this list is the oldest of the existing markets in Baltimore, dating back to 1786. In the early days, farmers came here by wagon, boat, and ferry from nearby counties to sell their livestock.
Located in the heart of Fells Point, Broadway Market is one of six remaining public markets left in Baltimore, packed with vendors offering local and international cuisine.
Besides getting the real taste of the local produce, here you can also shop for local crafts, specialty foods, gourmet items, and fresh flowers.
Sample Polish specialties at Sophie's Place European Deli, indulge your taste buds with delicious seafood at Sal and Son's Seafood, try home-style Korean food at Old Boy and top it off with mouth-watering ice cream made in Baltimore at Taharka Brothers Ice Cream.
Don't forget to spice things up with craft cocktails at Fat Tiger.
Address: 1640 Aliceanna St, Baltimore, MD 21231
Where to Stay in Downtown Baltimore
Are you looking for the best places to stay in downtown Baltimore? Here are some of our top picks!
Did we miss any amazing places to visit in Baltimore during winter?
Let us know your favorite winter in Baltimore travel tips and things to do!
More Baltimore Travel Guides
Pin this Winter in Baltimore Guide