Are you a first-time Baltimore visitor? This is a guide on how to spend an epic weekend in Baltimore. This Baltimore itinerary will include cafes, museums, and so much more!
Are you planning your trip to Baltimore last minute?
If you're traveling to Baltimore last minute, have your lodging and tours booked ahead! Below are some of our top picks for both!
🇺🇸 Best Tours and Experiences in Baltimore:
🛌 Where to Stay in Downtown Baltimore:
Sagamore Pendry Baltimore (5-star right on the water!)
Hotel Revival Baltimore (warm interior, yet modern!)
🚗 Looking for the best way to get around Baltimore? Click here to check rental car rates for Maryland!
Baltimore, also known as Charm City, is one of America's most cultural and artistic cities.
Best known for its seaport views and being the birthplace of the American national anthem, The Star-Spangled Banner, Baltimore is one of the best places to visit for the weekend.
Whether you want to go as a family, with friends, or on your own, there is so much to do if you have 2 days in Baltimore (or more)!
Don't forget to check out some of its restaurants with delicious local cuisine, as well as the many museums that depict the city's long history and African-American heritage.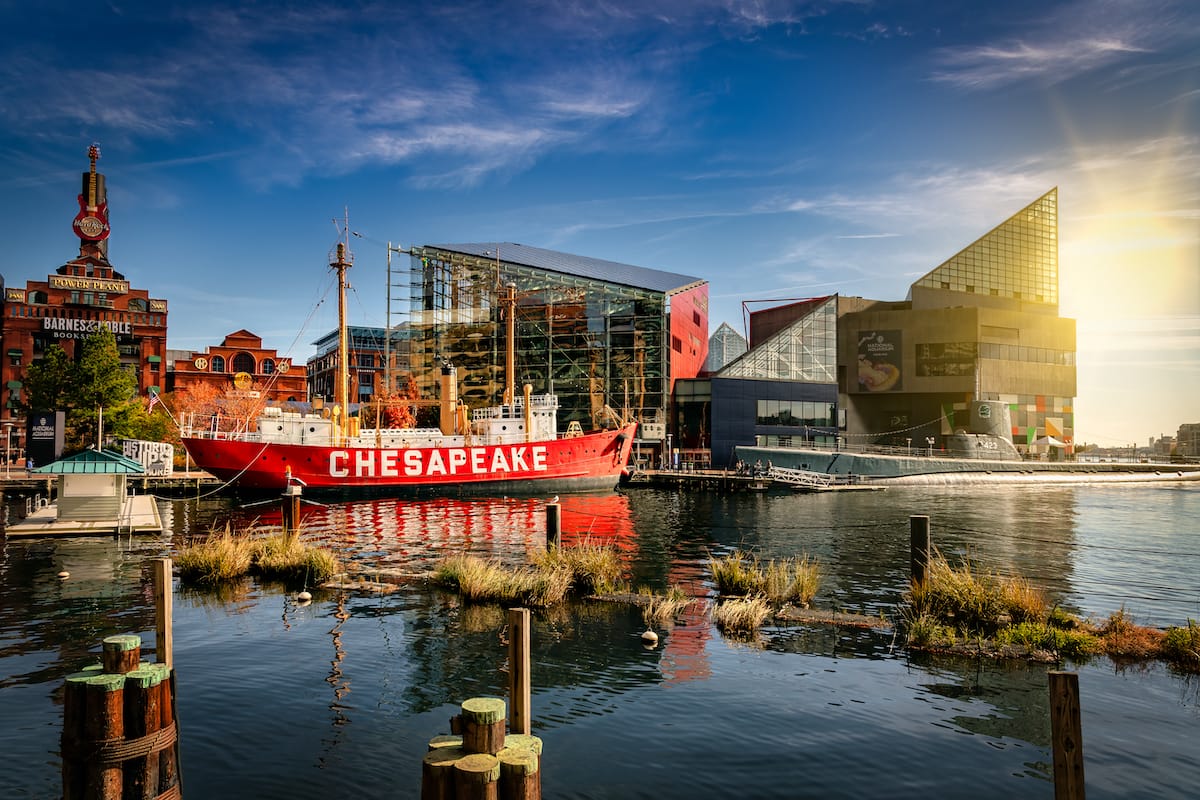 In this article, we have composed a weekend in Baltimore itinerary for those visiting for the first time. Any questions? Let us know in the comments!
How to Use this Baltimore Itinerary (+ Map!)
This Baltimore itinerary takes into consideration the top spots in the city for those who are new to Maryland's largest city!
It has been broken down into two days with an optimal way to see the main highlights of the city in those two days. We also list some of our favorite restaurants and ones that are popular in the city.
At the end of the itinerary, we also give a few additional options in case you have 3 days in Baltimore (or more)! These activities and things to do are perfect for a long weekend getaway there!
It is also recommended to rent a car in Baltimore. It really makes seeing some of these sights (and B-more day trips!) easier!
We have put all activities and things to do in Baltimore on a map to help you plan your trip with ease.
To add this map to your Google Maps account, click the 'Star' icon next to the map name. You can then view it on your cell phone or computer by heading to your Google Maps account, click the menu and add it to 'Your Places'.
How to Get To (and Around!) Baltimore
If vacation or business brings you to Baltimore from out of the region, you will want to fly into BWI. Alternatively, you can fly into Washington DC, and work your way toward Baltimore.
The Baltimore-Washington International Thurgood Marshall Airport is just a 10-mile drive into the city. From here, you can either rent a car or take a taxi or shuttle downtown.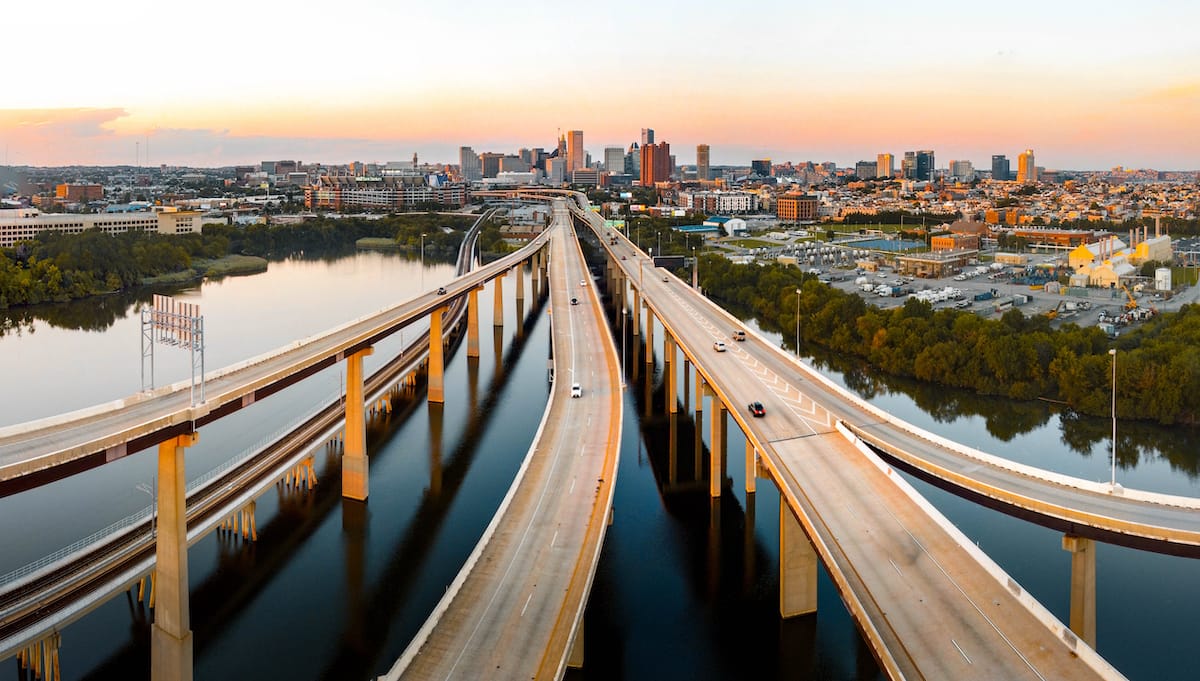 If you plan on staying and exploring the downtown area during your stay, a car is not a necessity due to the many forms of transportation available in the city. The most economical way is to use the free hop-on, hop-off Charm City Circulator.
The free bus service offers four color-coded routes that stop at many tourist destinations in Federal Hill, the Inner Harbor, Fort McHenry, and Penn Station.
Besides the Circulator, the Metro Subway, the MARC train, and the Metro Subway are there. Water taxis are also a different way to get from one side of the Inner Harbor to the other.
The Baltimore Water Taxis have 15 stops, including Fell's Point, Harbor East, Fort McHenry, and the Science Center.
Baltimore Itinerary Overview
Day 1 Overview
Fort McHenry National Monument
Ships and Lighthouse at the Inner Harbor
World Trade Center
Inner Harbor Cruise
Day 2 Overview
Star-Spangled Banner Flag House
Port Discovery Children's Museum
Reginald F. Lewis Museum
The Walters Art Museum
Shop Harbor East
Catch a Baltimore Orioles game
Day 1 in Baltimore
Fort McHenry National Monument
In Baltimore's Inner Harbor lies the Fort McHenry National Monument along the Patapsco River.
Plan on visiting for a few hours as you explore the museum with extensive exhibits on the Battle of Baltimore, the War of 1812, and Francis Scott Key's The Star-Spangled Banner.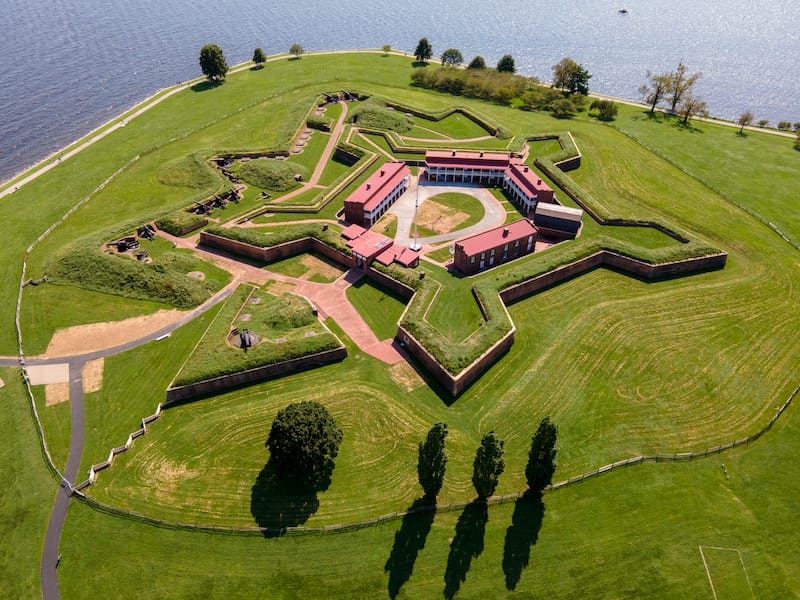 Listen to the park ranger's talks on what inspired Key to write The Star-Spangled Banner and the Battle of Baltimore throughout the day.
While there, attend a morning or afternoon flag-changing ceremony at this Maryland national monument.
Address: 2400 E Fort Ave, Baltimore, MD 21230
Baltimore Inner Harbor Historic Ships
Along Baltimore's Inner Harbor, you will find a collection of historic ships lining the piers. Each location has specific hours and visiting schedule.
At Pier 1, the USS Constellation is a Civil War-era U.S. Navy ship and now a National Historic Landmark and museum.
Step onto the yellow pine deck for a tour, watch a rifle drill, or have all your questions answered by a crew member.
As you explore the four decks, you will find nearly 50,000 artifacts that tell the ship's and sailors' stories. The Lightship Chesapeake guided maritime ships along the Chesapeake Bay for 50 years.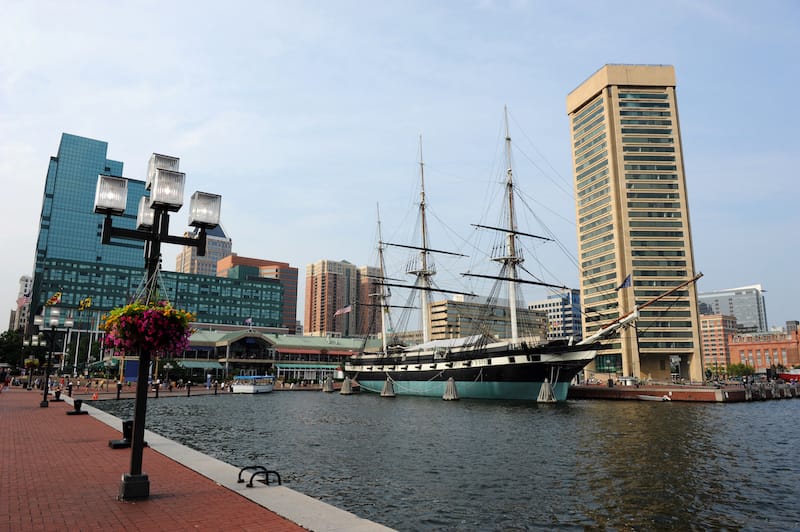 Today it sits at Pier 3 as one of the Historic Ships in the Baltimore Inner Harbor.
Visit the Chesapeake at Pier 3 and learn how this capable ship protected the Chesapeake Bay entrance during two hurricanes, what it was like living on this small ship, and visit the sailor's Canine Companions exhibit.
The USS Torsk is a U.S. Navy sub that was active during WWII, torpedoing enemy ships off Japan. Imagine you and 80 other sailors calling this home as you tour this sub.
Try walking back and forth in the walkways passing someone, then visit the torpedo rooms, the mess hall, and berthing areas. The USCG Cutter spent 50 years leading search and rescue, law enforcement, and maritime missions.
At Pier 5, walk across the gangplank and visit the bridge, wardroom, and the fantail.
Children will love to stop and explore the interactive exhibit about Sookie, the Cutter's mascot dog during WWII. The Seven Foot Knoll Lighthouse was initially located on the Patapsco River.
Today Maryland's oldest screw-pile lighthouse is a lighthouse museum at Pier 5 at Baltimore's Inner Harbor.
From the 165-year-old lighthouse, you can have a great view of the Baltimore Harbor and see a variety of artifacts and exhibits from the area's lighthouses.
Address: 301 E Pratt St, Baltimore, MD 21202
World Trade Center
Next to the historic ships in the Baltimore Inner Harbor, you will find Baltimore's World Trade Center.
From the 27th floor, you will have a spectacular panoramic view from an elevation of 423 feet of the Inner Harbor, Federal Hill Park, and Baltimore's skyline through the floor-to-ceiling windows.
Around the observation floor, you will find binoculars and maps identifying specific sites that you can see from each side of the building.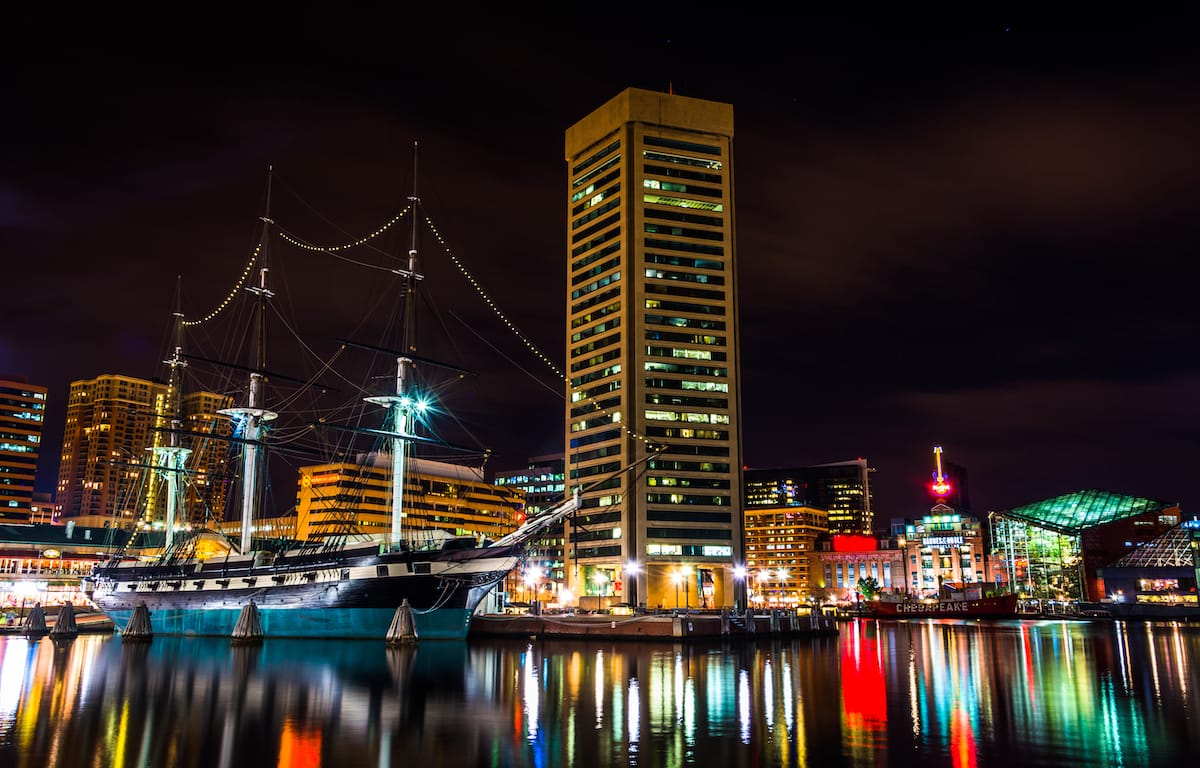 There are also a variety of exhibits on the floor about Baltimore's economic renaissance, famous Baltimoreans, shows and movies filmed in the Baltimore area, and even a display about 9-11 that are all worth your time exploring.
This World Trade Center is the world's tallest pentagonal building, and the observation floor is open from Thursday to Sunday.
Address: 401 E Pratt St. Baltimore, MD 21202
Inner Harbor Cruise
See the Baltimore skyline and ships from the middle of the harbor when you take one of a variety of Inner Harbor Cruises.
For a short cruise, choose the one-hour sightseeing cruise where you will have waterfront views as you pass the National Aquarium, Fells Point, and the USS Constellation on a relaxing sightseeing cruise.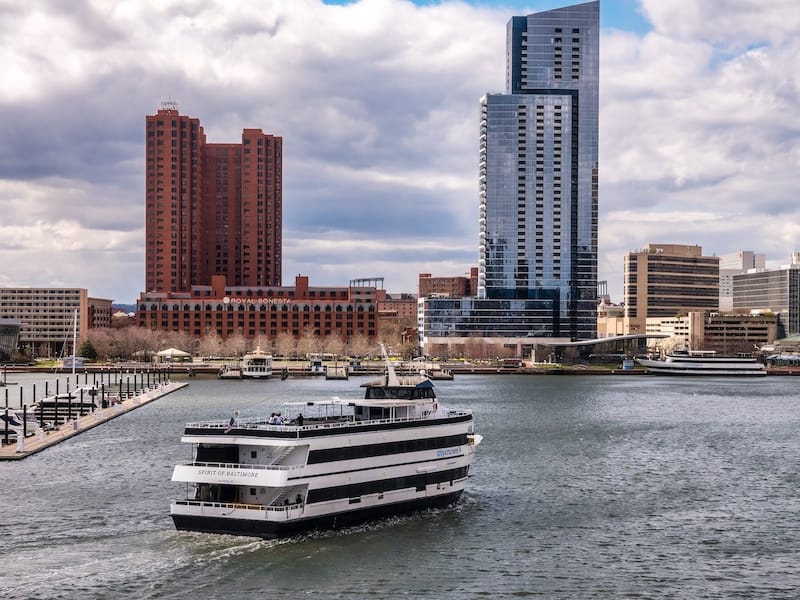 If you want to include a meal as you sail, try the 2-hour buffet lunch cruise or the 2½-hour dinner cruise where you can enjoy the panoramic sights, stroll along with the decks, and enjoy music as you sail under the Francis Scott Key Bridge, past Federal Hill and Fort McHenry.
>> Click here for rates and availability
Day 2 in Baltimore
Star-Spangled Banner Flag House
In the Old Town section of Baltimore near Little Italy, you will find The Star-Spangled Banner Flag House, the former home of Mary Pickersgill.
The interactive museum offers guided and self-guided tours that tell the story of Mary, her family's sewing business, and their African-American indentured servant.
As you continue through the exhibits, you will learn how one of the Pickersgill's flags was raised during the Battle of Baltimore at Fort McHenry in September of 1813 and moved Francis Scott Key to write the US's national anthem.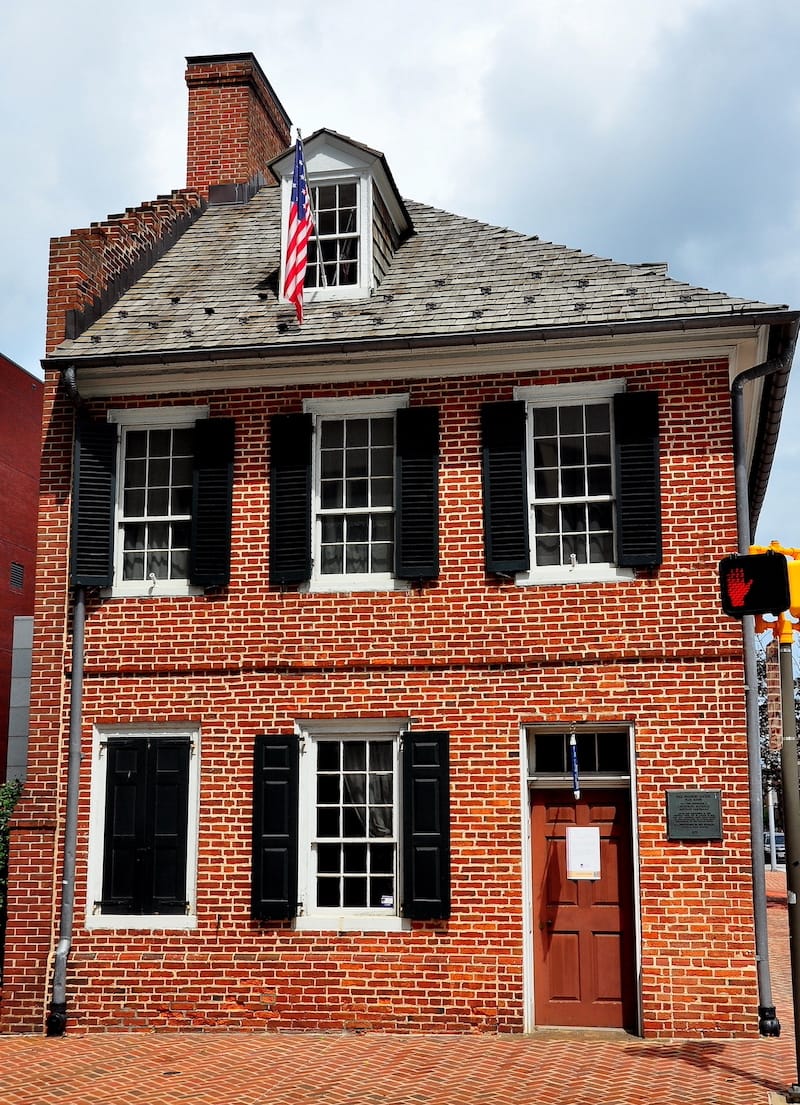 The Star-Spangled Banner House is part of the National Park Service.
It offers a Junior Ranger program, so children will want to get one of the activity books and have fun learning more about Fort McHenry and the Star-Spangled Banner through the booklet's activities and games.
Address: 561 Light Street Baltimore, MD 21202
Port Discovery Children's Museum
A stop at the Port Discovery Children's Museum is a must for those visiting Baltimore with toddlers and young children.
The Port Discovery Children's Museum is one of the top children's museums in the United States.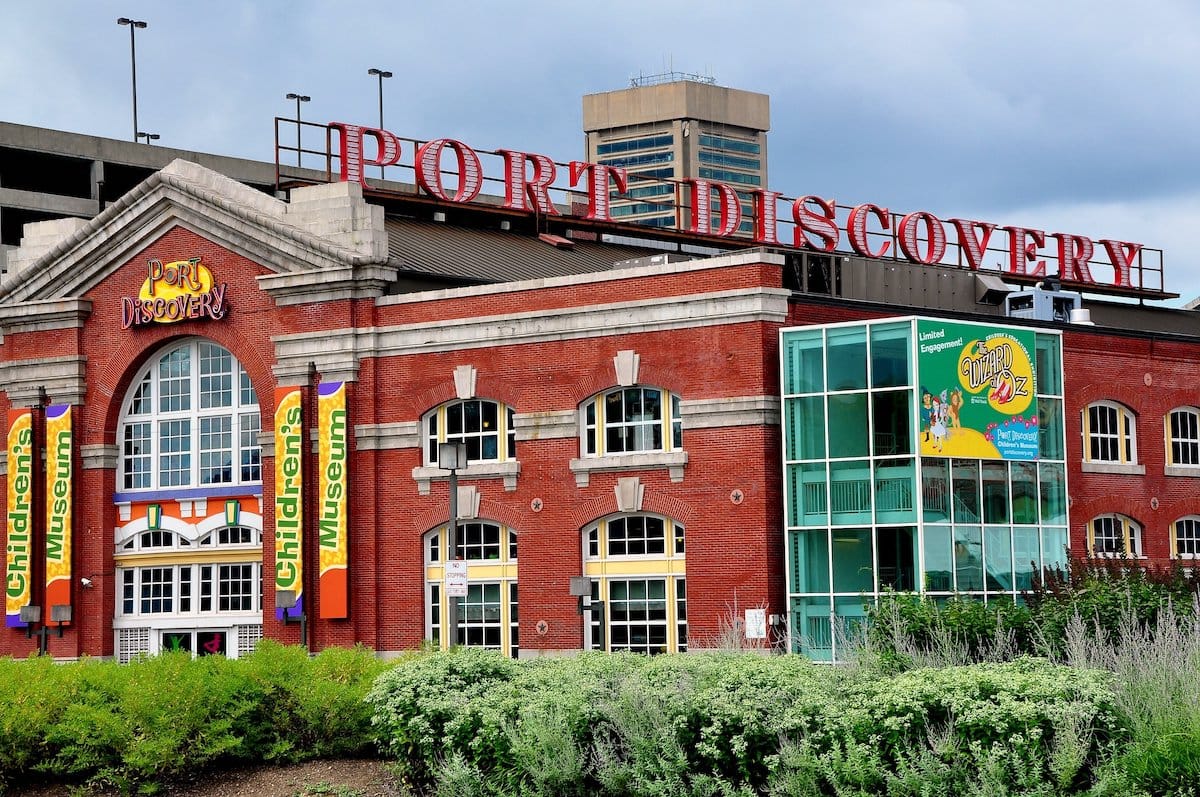 Inside the historic Fish Market building, you will find a variety of hands-on and interactive exhibits that will engage your children.
Enjoy watching children weave their way through the Tot Trails, splash in Wonders of Water, get gas at the Fill'er Up Station, and cook dinner at Tiny's Diner.
Address: 35 Market Pl, Baltimore, MD 21202
Reginald F. Lewis Museum
A few blocks from Baltimore's Inner Harbor, you can learn more about some of Maryland's African-Americans and their accomplishments, pride, and struggles at the Reginald F. Lewis Museum.
The museum is named after the Dunbar High School alumni, the first CEO of a Fortune 500 company who was an African-American.
The exhibits showcase art and objects from the late 1700s to today. Be sure to check the museum calendar for workshops, lectures, musical performances, and unique films throughout the year.
Before heading to your next stop, grab a bite to eat in the Soul Food café.
When you visit, conveniently park across the street in the PMI Garage. The museum will validate your parking ticket.
Address: 830 E Pratt St, Baltimore, MD 21202
The Walters Art Museum
A visit to the Walters Art Museum in Baltimore's Mount Vernon Cultural District is essential for any Asian or European art enthusiast.
At the Walters Art Museum, you will find a wonderful collection of ancient art and furniture, armor, jewelry, and textiles.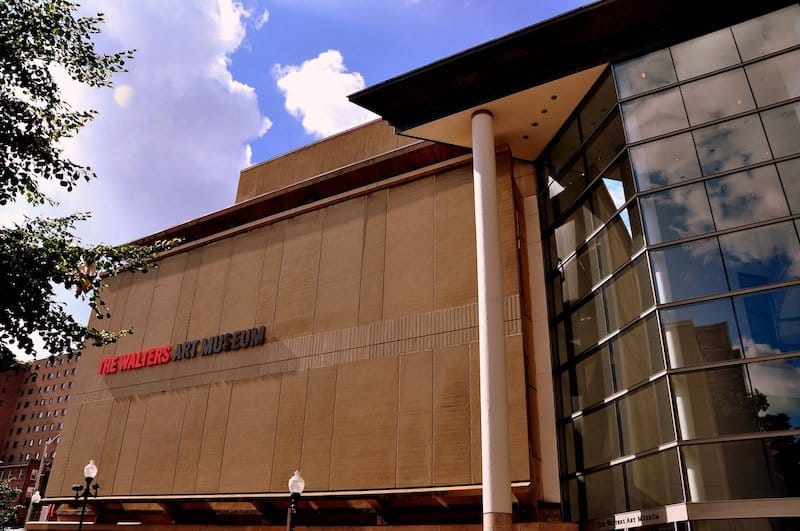 The 19th-century European art exhibits also include works by masters such as Manet, Millet, Monet, and Rousseau.
Address: 600 N Charles St, Baltimore, MD 21201
Shop Harbor East
When you need a break from museums, ships, and Baltimore history, head over to Harbor East for a bit of luxury in this fashionable waterfront neighborhood.
The Harbor East area features upscale hotels, tons of restaurants, and plenty of shops, including a selection of high-end retailers.
If fashion is what you are looking for, then spend the day exploring stores found globally like Anthropologie, Under Armor, and Lululemon.
There are also plenty of fabulous Baltimore boutiques like shoes at Sassanova, leather goods at Handbags in the City, or handcrafted jewelry at Amaryllis.
Harbor East, however, is much more than shopping.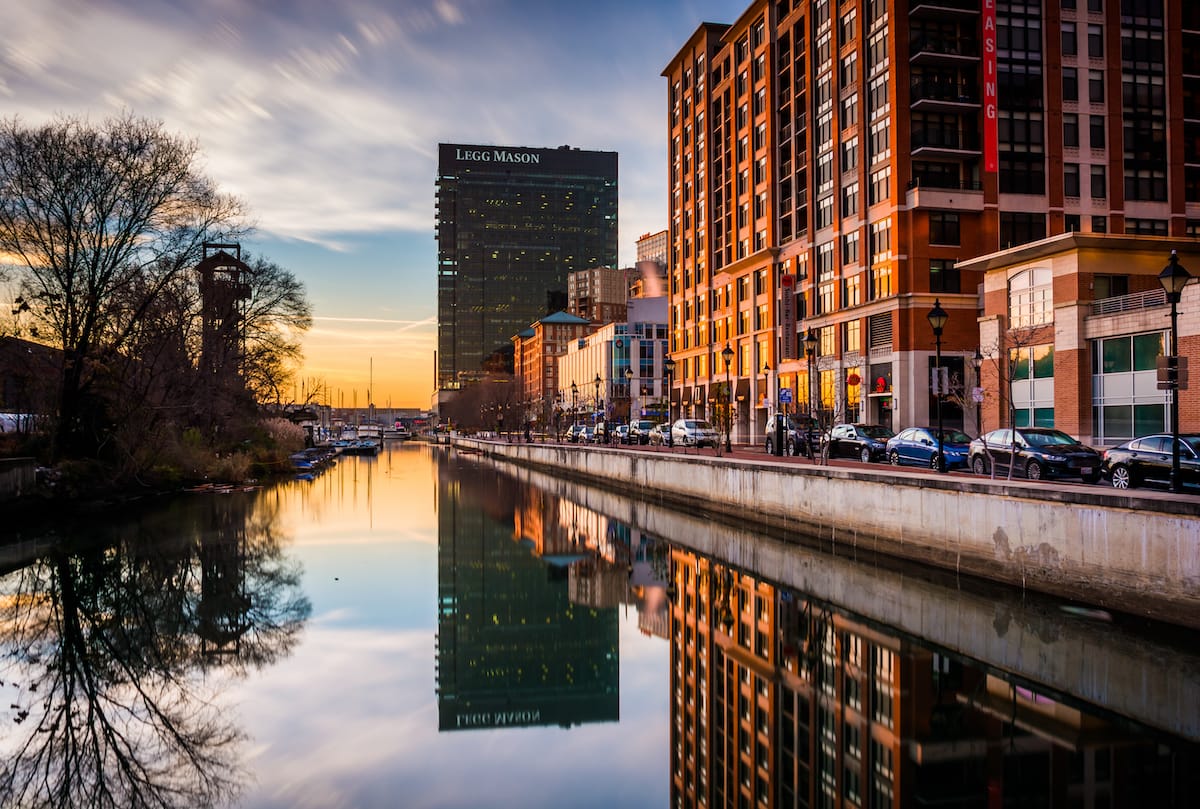 The waterfront promenade makes a great place to stroll and people-watch as you sip a glass of wine from Bin 604 Wine Sellers or tea from Teavolve Café.
For some pampering, head to the Four Seasons Hotelsavor's spa or sit back and relax as you watch a movie at the Landmark Theaters, or head next door to Harbor Point and enjoy the Sandlot beach that features bocce ball and volleyball courts and live music each summer.
Catch a Baltimore Orioles Game
Whether you plan a trip to Baltimore during baseball season or not, visit the home of the MLB Baltimore Orioles.
The park is in downtown Baltimore and is just a 15-minute walk from the Inner Harbor.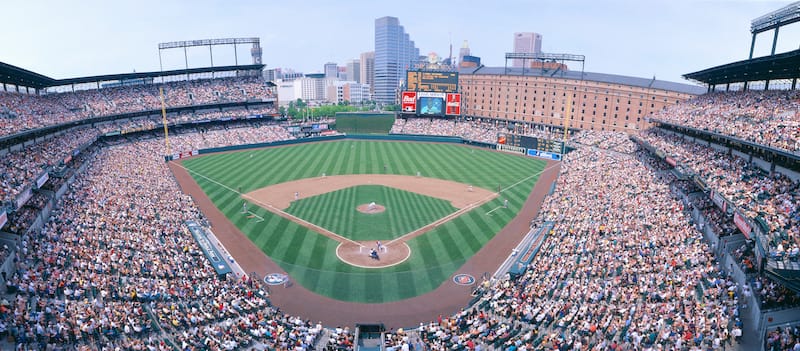 Throughout the year, take a guided tour through the scoreboard control room, club and press level suites, and the Orioles dugout. Guided tours last around 90 minutes. Check the tour schedule to see when tours run when you are in town.
Address: 333 W Camden St, Baltimore, MD 21201
Do You Have 3 Days in Baltimore (or More)?
Edgar Allan Poe House and Museum
Visit Edgar Allan Poe's grandmother's house in the Poppleton neighborhood, where he began visiting shortly after birth and lived there for several years beginning in 1833 until Elizabeth Poe's death.
A visit to the brick house museum is an opportunity to celebrate the life and works of Edgar Allen Poe.
See Poe's writing desk and chair where he wrote some of his famous poetry during your tour.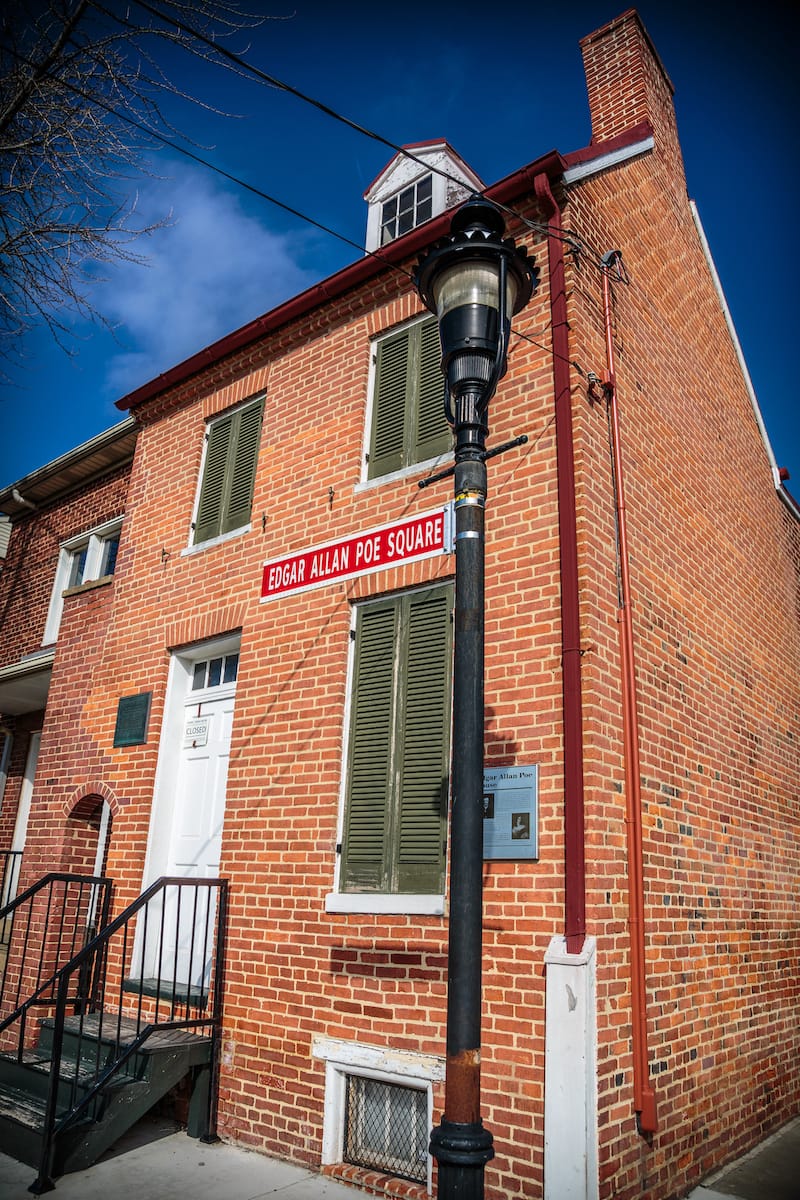 During the first weekend of October, visit during the International Edgar Allan Poe Festival for Poe-themed tours, activities, and performances.
Poe's grave is nearby at Westminster Hall and Burying Ground.
Address: 203 N. Amity Street, Baltimore, MD 21203
Federal Hill Park
Besides having the best views of Baltimore's Inner Harbor, enjoy strolling around Federal Hill Park and the area that was a War of 1812 stronghold.
There are plenty of benches to sit in the park, and people watch or take in the scenery.
Watch a free movie during the summer.
The park features Flicks From the Hill at 9:00 PM on Thursdays.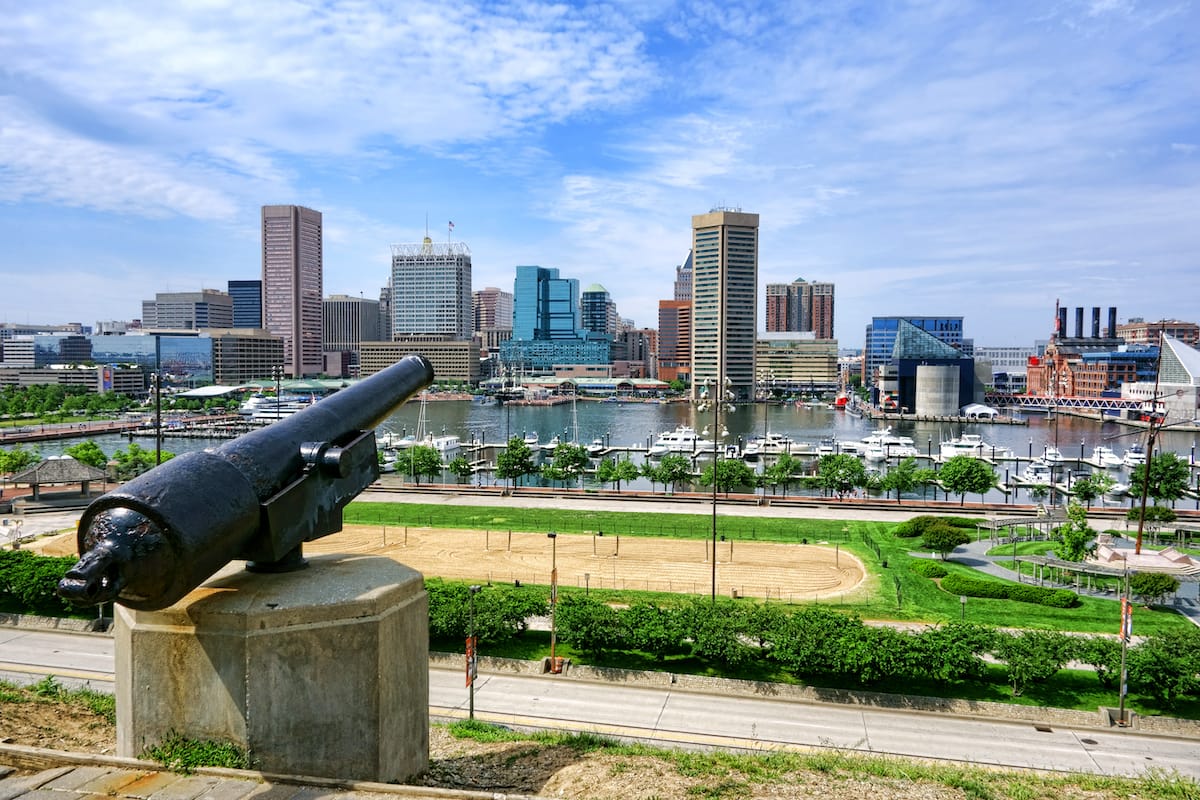 The park also is the location for the Kinetic Sculpture Race in May and the Annual Jazz and Blues Festival in June.
While in the area, be sure to explore the Cross Street Market.
Address: 300 Warren Avenue, Baltimore, MD 21230
The BWI Trail
The 12.5-mile BWI Trail makes the perfect place to do your morning run or bike ride while visiting Baltimore.
The trail weaves around the entire BWI airport and is an excellent place for families to take a morning or evening stroll.
The kids will want to stop at the Dixon Aircraft Observation Area, where they can watch planes take off and land from the overlook and then play at the playground.
Parking Lots:
Dixon Aircraft Observation Area, 1911 Dorsey Road, Glen Burnie, MD 21061
Sawmill Creek Park, 7405 Charley Eckman Ln, Glen Burnie, MD 21061
Patterson Park's Pagoda
In Baltimore's oldest park and one that USA Today has named one of the nation's top 10 parks sits a 60' tall pagoda.
Take time to climb the iron steps in the octagonal base and then up to the four stories of balconies where you can look out over the city.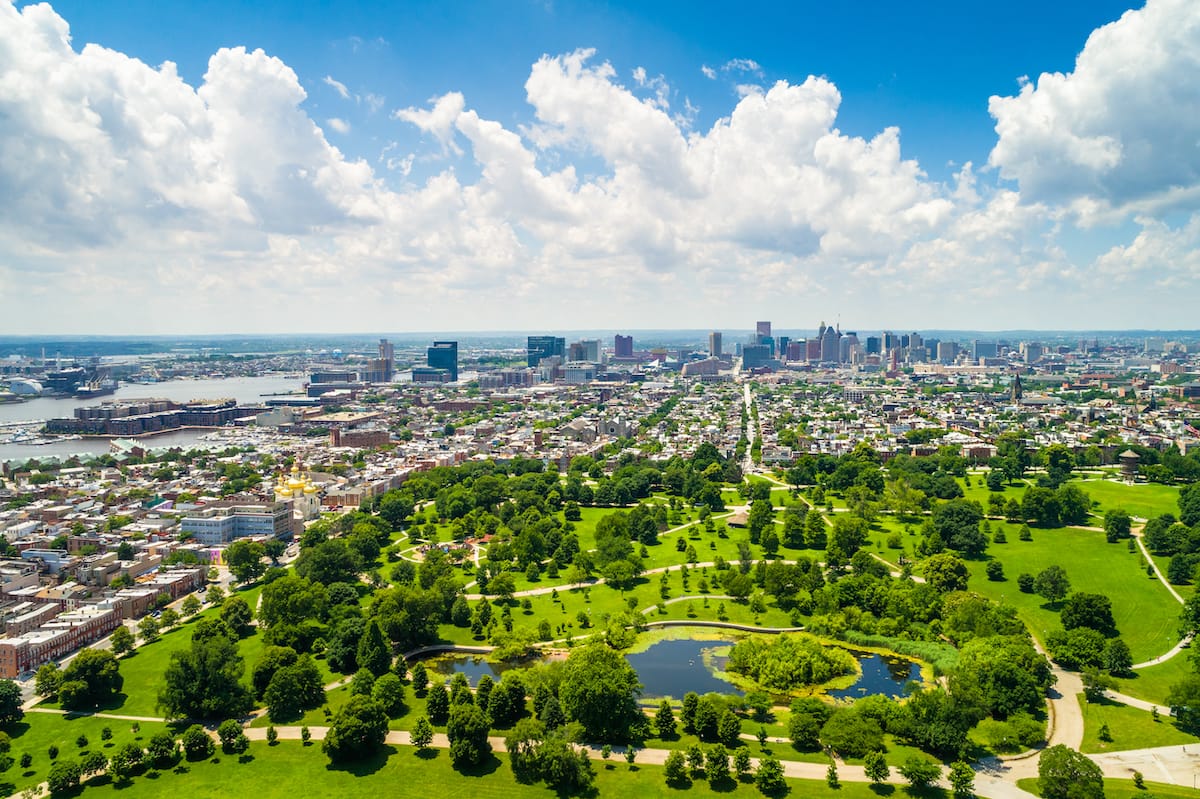 If you have more time to spend in the park, visit the pool, and ice rink.
Address: E Lombard St, Baltimore, MD 21224
Where to Eat and Drink
Miss Shirley's Café
When you want to start your day with a Southern breakfast, Miss Shirley's Cafe has an extensive menu: chicken and waffles, shrimp and grits, a Southern Slammer Sandwich with applewood bacon, fried green tomatoes, a fried egg, and mashed avocado, all between some pumpernickel bread.
Order their specialty, coconut cream-stuffed French toast for those in the mood for French toast.
Miss Shirley's Café has been voted one of Maryland's favorite restaurants and has appeared on Diners, Drive-Ins & Dives.
Address: 513 W Cold Spring Ln, Baltimore 21210
Horse You Came In On Saloon
When in the Fell's Point Historic District of Baltimore, stop into the Horse You Came In On Saloon for lunch, dinner, or a drink with the ghost of Edgar Allan Poe.
Inside, you will find seats at the bar in the shape of saddles where you can enjoy a house special B-more Boh-Garita, delicious Wild West Wings, or their standout specialty, the Famous Crab, a Philly cheesesteak with a side of crab dip.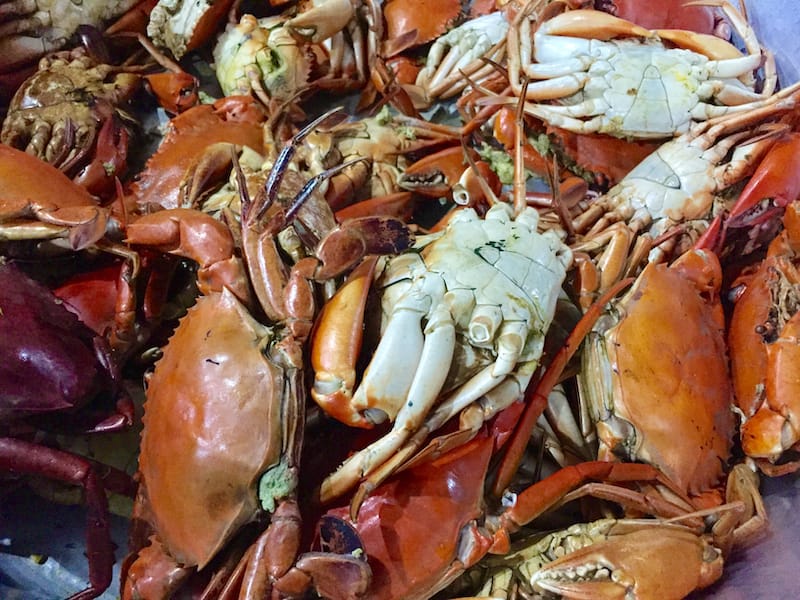 Edgar Allan Poe often hung out at "The Horse" as he wrote poetry and drank the night away. It was here that he had his last drink before falling ill.
Be sure to check for the sign in the seating area that says "Poe's Last Stop."
Address: 1626 Thames St, Baltimore, MD 21231
Dangerously Delicious Pies
When you are in the mood for a piece of pie or a whole 10″ deep-dish pie, stop by one of Rodney Henry's Dangerously Delicious Pie shops for a handcrafted, locally sourced pie.
The Baltimore Bomb Pie is a top seller and was featured on Food Network by Duff Goldman.
The Bomb's vanilla chess base is made with melted local Berger cookies.
Dangerously Delicious Pies has a pie for you no matter the time of day.
Start your day here with a blueberry pancake pie packed with delicious fresh blueberries or the Cowboy Quiche filled with ham, cheese, bacon, potatoes, and more.
Want pie for lunch? Try the Vegan, Crab supreme, or Pork BBQ savory pie followed by a peach crumb or salted caramel pie.
Addresses:
810 W. 36th Street, Baltimore, MD 21211
2839 O'Donnell St., Baltimore, MD 21224
Thames Street Oyster House
When you think of Baltimore, oysters and crab are the first menu items that come to mind.
Here at Thames Street Oyster House, they not only serve local seafood but are an award-winning restaurant that was named Best Restaurant for Seafood in 2015, Best Raw Bar ins 2019, and 50 Best Baltimore Restaurants from 2015-2019 by the Baltimore Magazine.
They have also won Travel & Leisure, Zagat, Trip Advisor, and the Baltimore Sun awards.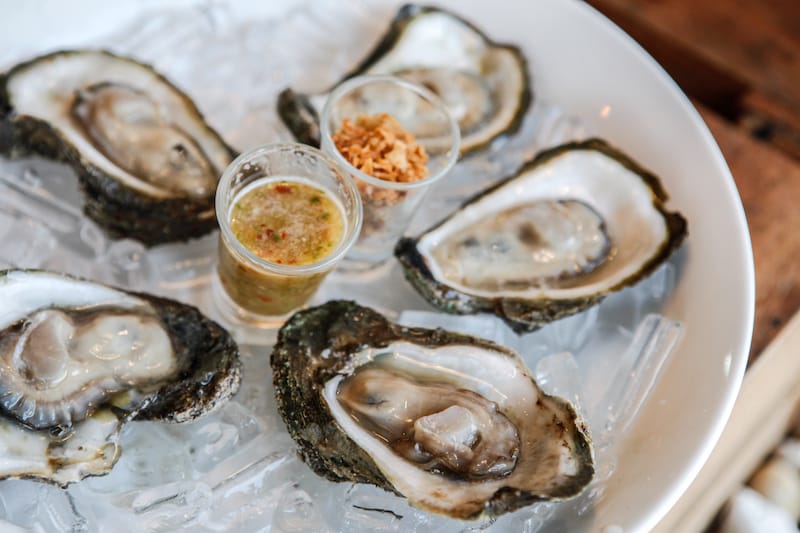 Begin your meal with a cocktail, oyster shooter, or an appetizer of grilled Portuguese rock octopus. Then enjoy the main course specialty, cast iron crab cake, seared Nantucket Bay scallops, or fish and chips.
Address: 1728 Thames St, Baltimore, MD 21231
Lexington Market
For more than 230 years, the Lexington Market has been serving Baltimore with regional culinary favorites and fresh food.
The market is the longest continuously running public market globally and Baltimore's most prominent.
Lexington Market is open every day except Sundays and has more than 40 vendors where you can find baked goods, produce, carry-out food, fresh meat and seafood, and merchandise.
Inside the Lexington Market, you will find the world-famous Faidley's Crabcakes.
For over 50 years, the family has been serving up fresh local seafood. The restaurant is divided into three areas.
The Raw Bar sits in the middle, sells oysters, clams, and beer, and is the place for shucking. You will want to get their famous golden brown Faidley's crab cake on the Fried Fish side. The last section is the fresh fish area.
There is no sit-down seating but tall communal tables to enjoy your lunch, snack, or dinner.
Address: 400 W Lexington St, Baltimore, MD 21201
Best Time to Visit Baltimore
Baltimore's prime tourist season is from June through August when the weather is hot and humid.
Even though you may see temperatures in the 80s and 90s, there is plenty to do in Charm City, including the Maryland State Fair.
If you want to avoid the crowds and high temperatures, visit in the late spring. The temperatures are usually in the 60s and 70s, which is ideal for those who wish to enjoy strolling around the Inner Harbor and Harbor East.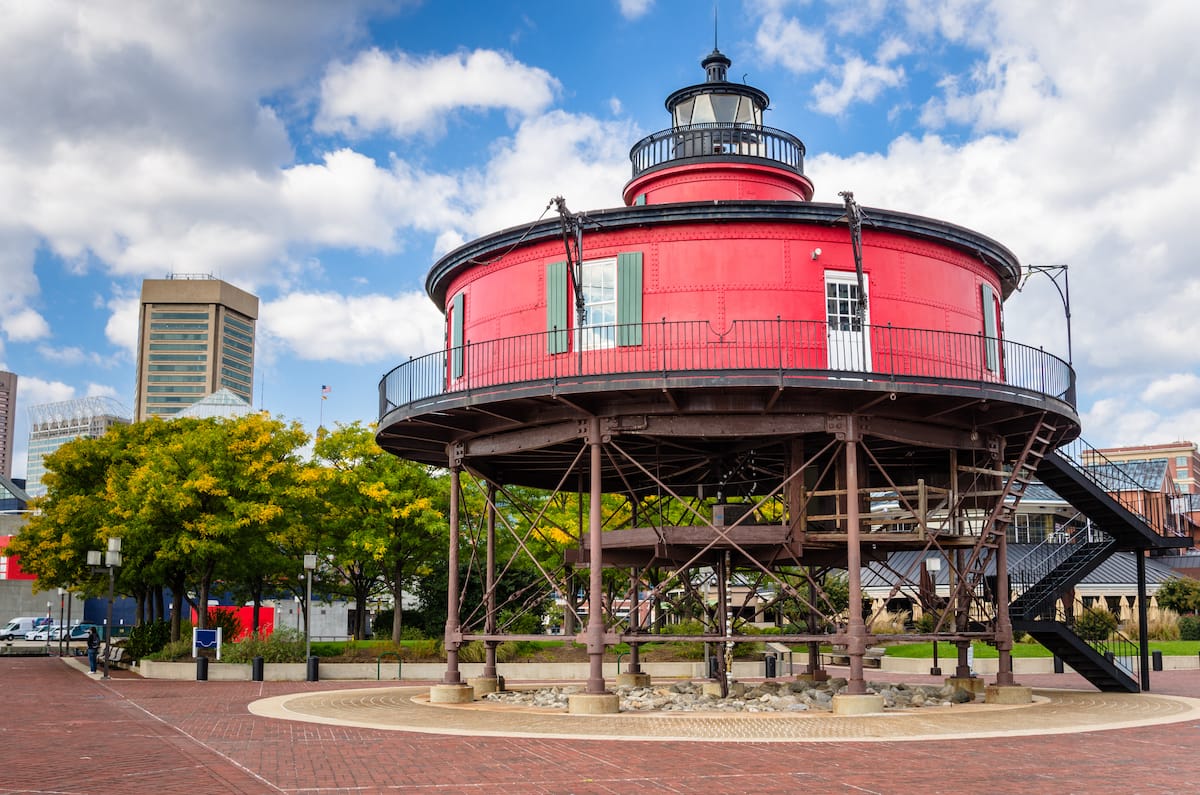 In May, you can even catch the Preakness Stakes.
Where to Stay in Baltimore
If looking for a convenient place to stay, choose between the Inner Harbor, Fells Point, and Harbor East. Here are some of our top options for places to stay in Baltimore!
Tru By Hilton Harbor East (Budget)
Address: 411 S. Central Avenue, Baltimore, MD 21202
The urban True By Hilton Harbor East hotel is in the historic Little Italy section of Baltimore and has plenty of museums and restaurants within walking distance to explore.
The Harbor Point Central Plaza, Fell's Point, and the Baltimore Harbor are all within 0.6 miles of the hotel.
The Tru is also close to the Water Taxi and on the Charm City Circulator's Orange Route and just a few minutes' walk from the Green Route. The hotel features complimentary breakfast and Wi-Fi.
>> Click here for rates and availability
The Inn at Henderson's Wharf (Mid-range)
Address: 1000 Fell Street, Baltimore, MD 21231
At the historic Fell's Point, you will find the upscale boutique Inn at Henderson's Wharf. Not only does it have a marina and boat slips, but you have access to FREE parking, butler service, daily wine hour, a free shuttle, and a garden courtyard.
The classic décor exposed original brick, and hardwood floors give a stay in this 1800s tobacco factory an elegant vibe.
>> Click here for rates and availability
The Ivy Hotel (Luxury)
Address: 205 E Biddle Street, Baltimore, MD 21202
The Ivy Hotel in the Mount Vernon neighborhood has 18 custom suites and guest rooms in the mansion and two other row houses.
You will see the signature color lavender and fresh floral arrangements throughout the hotel.
Each room features a four-poster bed and a gas fireplace. The in-house spa offers massages, facials, hair and nail services, and uses Barcelona Natura Bisse products.
The hotel is also pet friendly and has complimentary dog beds and walking service. The Ivy Hotel was on Condé Nast Traveler Editor's Pick Hot List in 2016 and Gold List in 2018.
>> Click here for rates and availability
Did we miss anything on this 2 days in Baltimore itinerary? Let us know your tips for a weekend in Baltimore in the comments!
More MD & Baltimore Travel Guides
Pin this Weekend Trip To Baltimore Guide