Don't forget to add Annapolis, the charming capital of Maryland, to your travel bucket list. There are many things to do in Annapolis that will make you fall in love with the city!
Are you planning your trip to Annapolis last minute?
If you're traveling to Annapolis last minute, you want to ensure you have lodging and tours booked ahead of time! Below are some of our top picks to help you plan!
🇺🇸 Best tours and experiences in Annapolis:
Heritage Region Wine Tour (near Annapolis!)
Wine & Cheese Tour (day trip from Annapolis)
🛌 Where to stay in downtown Annapolis:
🚗 Looking for the best way to get around Annapolis? Click here to check rental car rates for Maryland!
Although you might think of beaches and overflowing DC traffic when you think of Maryland (sorry… I think the same of Northern VA!), Annapolis is an amazing spot to enjoy culture, history, museums, and gorgeous landscapes.
Located merely two hours from Ocean City and somewhat close to Baltimore and DC, you'll find many worthwhile attractions in Annapolis no matter what your interests are.
And, you also won't find any shortage of delicious restaurants and coffee shops.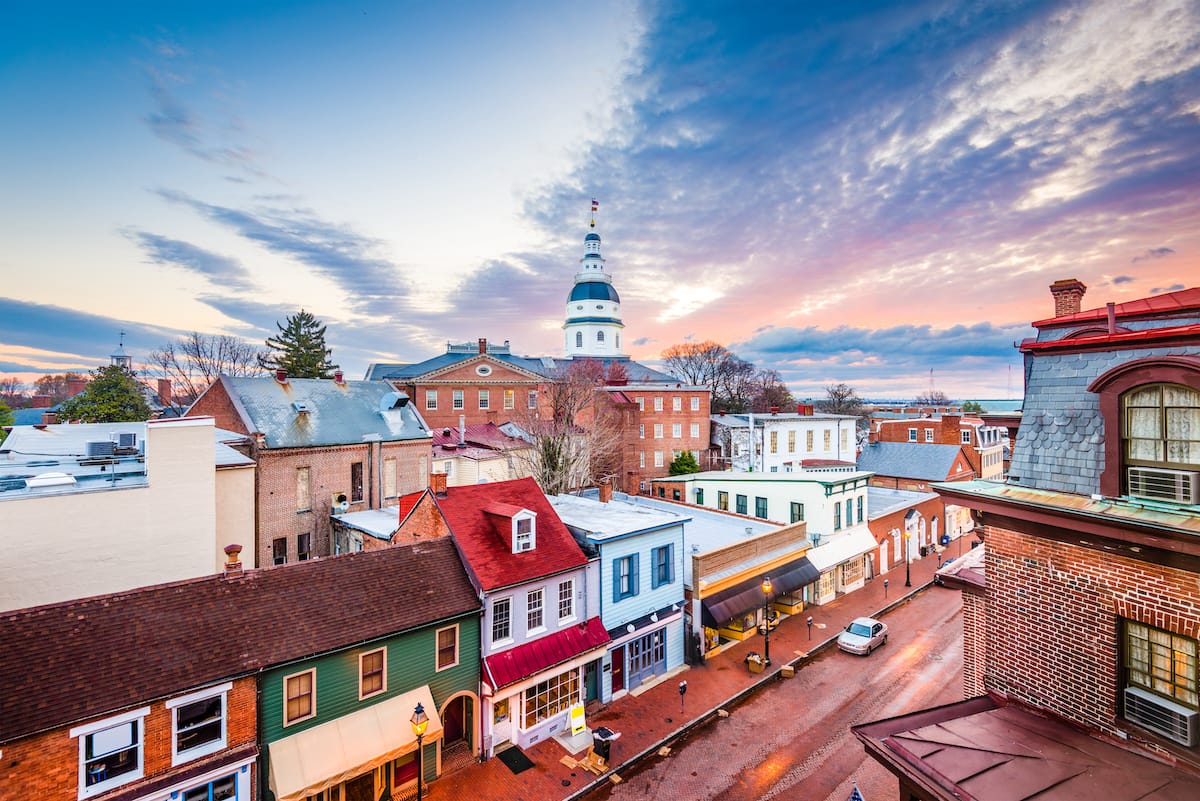 Whether you want to spend a day relaxing in nature or you want to learn more about the history of the United States, Annapolis is the place to go!
This is a guide for what to do in Annapolis – including many landmarks, museums, restaurants, and more.
Did we miss any of the best things to do in Annapolis MD? Let us know in the comments… thanks!
Things To Do In Annapolis
1. Annapolis Historic District
Annapolis is one of the best places to visit on the East Coast and it actually feels somewhat like a small town and not a capital city.
Once a cosmopolitan hub, the city now depicts American history.
It includes the 18th-century Colonial-era district, encompassing St. Anne's Episcopal Church, the State House, historic residences, townhouses, and mansions of influential people such as the Hammond-Harwood House and the Paca House and Gardens (both are discussed more below!).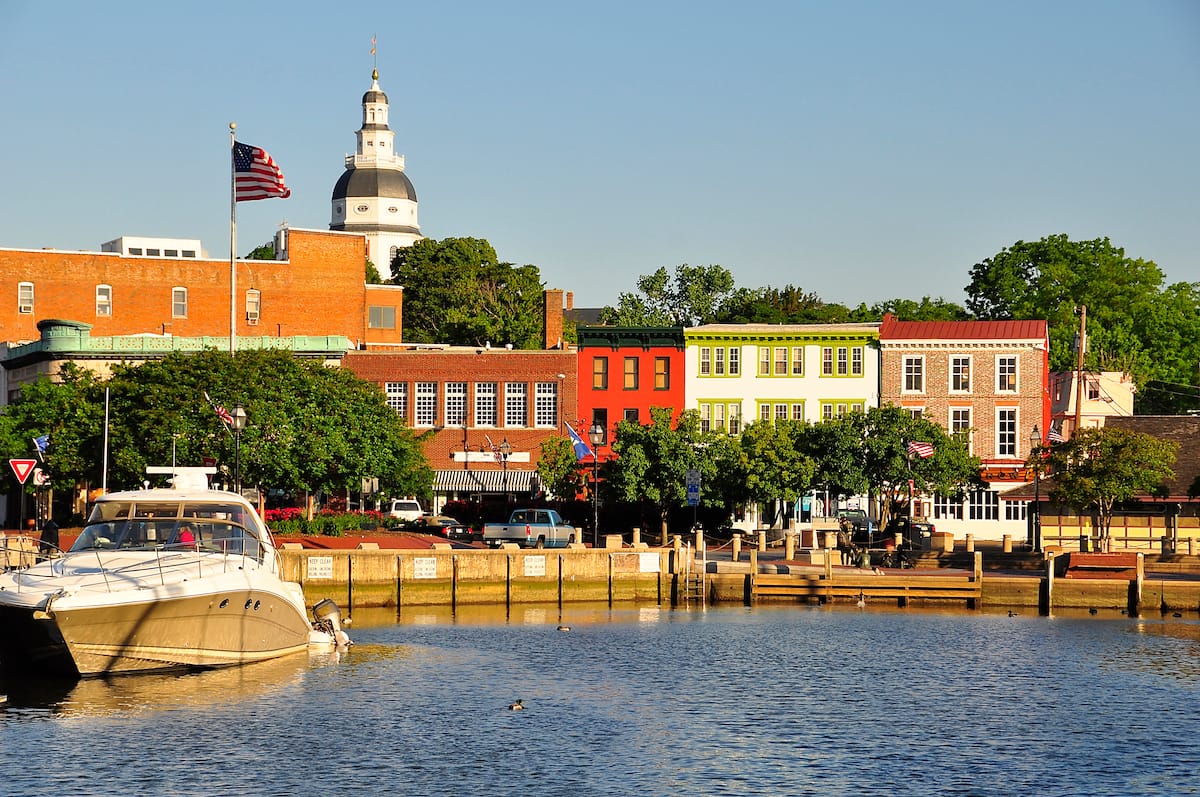 Annapolis is home to several acclaimed national educational schools, such as St. John's College and the United States Naval School.
The historic gem of Annapolis is the City Dock, where visitors can watch boats sailing around the turning basin of Ego Alley.
2. St. Anne's Church
The first house of worship in the city, St. Anne's Episcopal Church, was founded in 1692. This historic Episcopal temple was built to serve the newly established Middle Neck Parish. In late 1775, the old church was razed as a larger worship place was necessary.
In 1792, the new St. Anne's church was completed. The second building, however, was destroyed by fire. The third and final church was built in 1858 in Romanesque Revival style and included part of the old tower.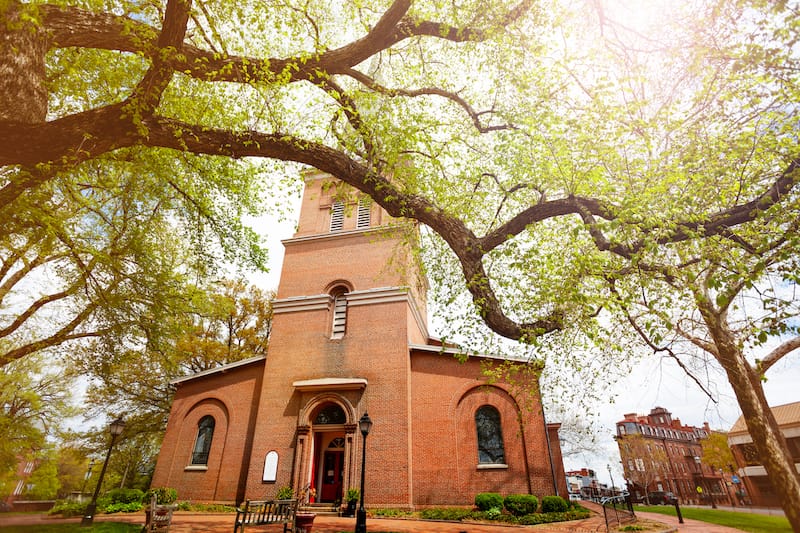 Today, the chapel is a worship home with weekly ministries, services, family, and group programs.
People can visit the church any day of the week from 7 a.m. until 6:30 p.m. It doesn't charge admission, and free guided tours are provided.
Address: 199 Duke of Gloucester St
Website: https://www.stannes-annapolis.org/
3. Annapolis Symphony Orchestra
The Annapolis Civic Orchestra was established in 1962 when a local group of musicians gathered an ensemble to play classical music.
Today, the Annapolis Civic Orchestra boasts 60 years of musical history and is the leading performing art organization in the area, and a perfect place to head for a romantic evening.
With 70 professional union musicians, the orchestra produces and promotes symphonic music, increasing the awareness and appreciation of music for all ages.
Offering a broad spectrum of programs contributes to the vibrant cultural community of the region. Their Masterworks Series promises the most exceptional music written by master composers and performed by master musicians.
Concerts for schoolchildren are specially designed for elementary school students and usually have guest performances. Annapolis Symphony Academy offers private lessons, group workshops, and master classes.
Address: 801 Chase St Pro Shop, Annapolis, MD 21401
Website: https://annapolissymphony.org/
4. Historic London Town and Gardens
Find a mixture of history, archeology, and horticulture in one venue. Eight miles from the city's downtown in Edgewater, the Historic London Town and Gardens is a part of the Four Rivers Heritage Area.
Stroll around the park and explore the William Brown House dating back to 1760, Lord Mayor's Tenement, and Carpenter's Shop. Watch an ongoing archeological investigation and enjoy the magnificent gardens.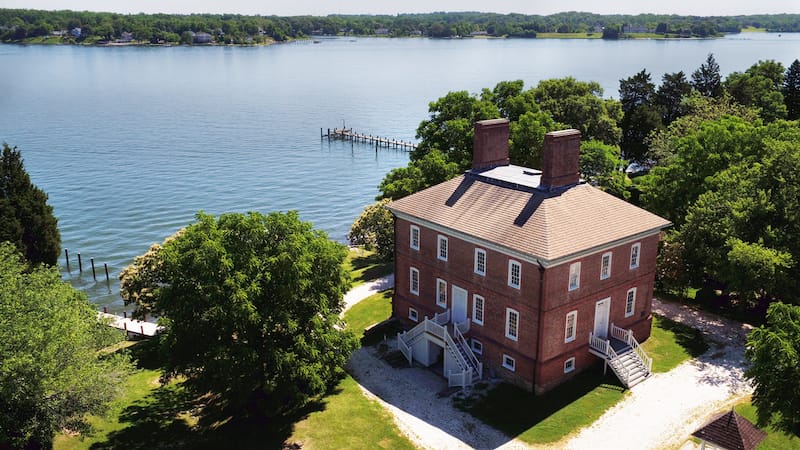 Woodland Garden boasts towering native trees, as well as a collection of magnolias, camellias, dogwoods, and rhododendrons. Ornamental Gardens feature daylilies, hydrangeas, roses, and crepe myrtles.
Children will love exploring nature with musical instruments and discovery tables at Sound and Sensory Garden.
A gem of the park is Living Roof Garden, located between the Visitor Center and the Anne Arundel Archaeology Lab. The park is open from Wednesday to Sunday, 10 am – 4 pm.
Address: 839 Londontown Rd, Edgewater, MD
Website: https://www.historiclondontown.org/
5. Eat Maryland Crabs at Cantler's Riverside Inn
This family-owned restaurant is located by Mill Creek, several minutes from Annapolis City Dock. With its delicious seafood and relaxing atmosphere, the Riverside Inn is an irreplaceable part of the Chesapeake Bay heritage.
For almost four decades, the crab house has been serving fresh seafood to locals and visitors. Cantler's Riverside Inn is the place where watermen gather for steamed Maryland blue crabs all year round.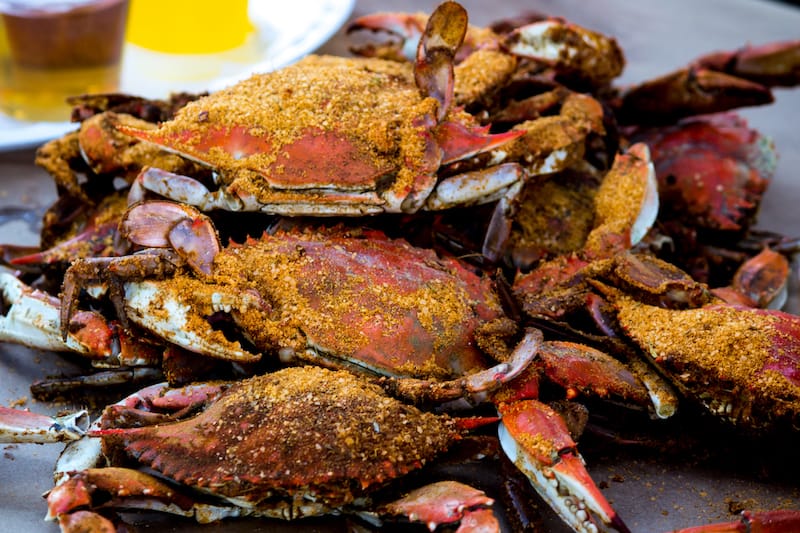 The popular dishes on their menu are crab cakes, clams, oysters, shrimps, sandwiches, and steamed hard-shell crabs. They have no reservation or delivery but offer takeout.
It's open every day from 11 am till 11 pm Sunday through Thursday and from 12 pm Friday and Saturday.
Address: 458 Forest Beach Rd, Annapolis, MD 21409
Website: https://cantlers.com/
6. Maryland World War II Memorial
Another place to experience the historical heritage of the area is the Maryland World War II Memorial. This dramatic memorial is located on Route 450 and overlooks Severn River and the U.S. Naval Academy.
It consists of a rectangular amphitheater surrounded by 48 stone columns, representing the states at that time. Twenty engraved plaques around the circle describe WWII milestones.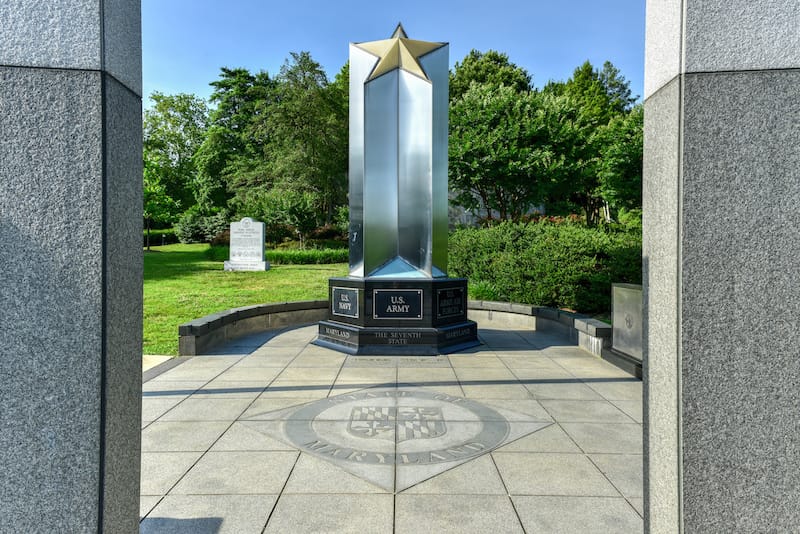 Within the ring, stone panels display the names of 6,454 soldiers from Maryland who died in the war. At the head of the ring stands a seven-sided obelisk with a lighted star at the top, representing Maryland.
Visit the memorial to commemorate history and fallen heroes. You'll find many parking places and free admission at the site.
Address: 1920 Governor Ritchie Hwy
7. Kunta Kinte – Alex Haley Memorial
The memorial is located in historic Annapolis at the City Dock and celebrates Alex Haley's vision for racial reconciliation.
It is dedicated to the African ancestors whose names were lost in the past and to their descendants who struggle to create a nation celebrating ethnic diversity.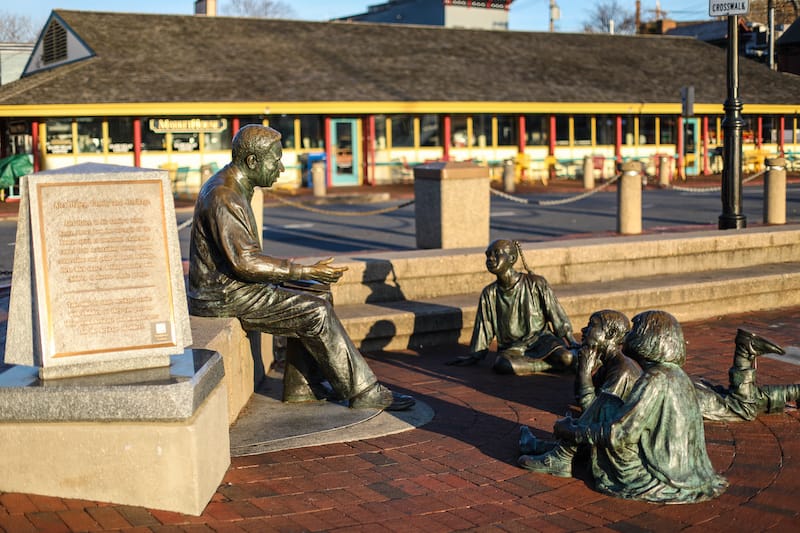 The memorial encourages people of diverse ethnic backgrounds to search for their roots. The monument depicts Alex Haley speaking to children about Kunta Kinte, an enslaved African, brought to Annapolis in 1767.
The building of the memorial is a result of 20 year-long struggle. Today, 1 million people visit every year.
Address: at the City Dock in historic Annapolis, MD 21401
Website: https://kintehaley.org/
8. Hammond-Harwood House
The Hammond-Harwood House was built in 1774 and is one of the preserved colonial houses in America from the British colonial period. Designed by architect William Buckland, it belonged to a wealthy farmer Matthias Hammond.
In the 19th century, the mansion was rented by many famous Annapolitans.
A twist of fate brought the Buckland family to the house when William's great-grandson, William Harwood, married into the Loockerman family that owned it at the time.
Harwood's descendants lived in the house until the last member died in 1924. In 1926, St. John's College purchased the site and used it for a decorative arts program. In the 1940s, the house was finally bought by the Hammond-Harwood House Association.
Today, the mansion is a landmark of colonial architecture and welcomes thousands of visitors. The museum is open from noon to 5 pm and is closed on Tuesdays. The admission fee is $12 for adults and $7 for children.
Address: 19 Maryland Ave,Annapolis, MD 21401
Website: https://hammondharwoodhouse.org/
9. Sandy Point State Park
Since 1952, this picturesque park has been providing various recreational activities for visitors. It's located along the northwestern shore of the Chesapeake Bay and boasts breathtaking water views.
Find majestic beaches, picnic areas, playgrounds, shelters, and bathhouses. Fishing, crabbing, and boating areas are open 24 hours year-round. Fishing licenses are available for sale at the Marina Store.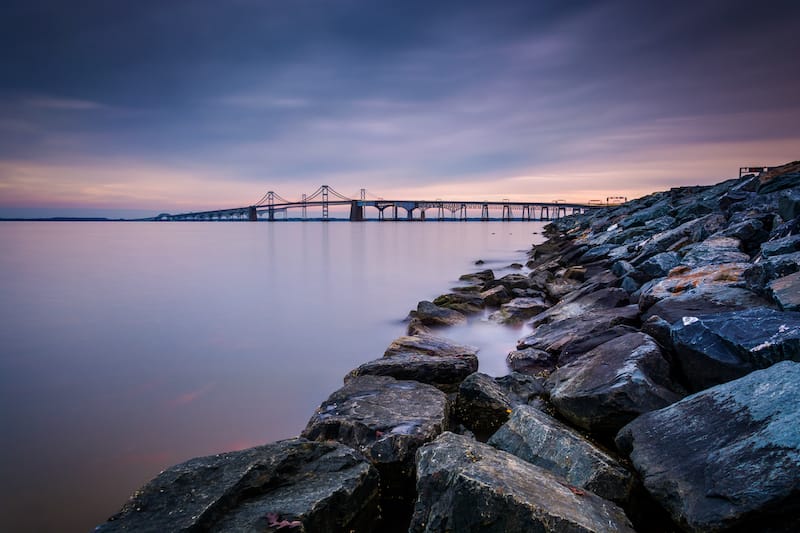 The park includes 22 launching ramps and has boat rentals. It offers two hiking paths: Symbi Trail and East Beach Trail which are especially wonderful during fall.
Sandy Point State Park is open from 7 a.m. to dusk. The entrance fee is $5 per person on weekends and holidays and $4 on weekdays.
Address: 1100 E College Pkwy, Annapolis, MD 21409
Website: https://dnr.maryland.gov/publiclands/pages/southern/sandypoint.aspx
10. Annapolis Maritime Museum
The Annapolis Maritime Museum focuses on Annapolis's rich maritime heritage and the ecology of the Chesapeake Bay. It's housed in the last preserved historic oyster-packing plant in Annapolis.
The center seeks to educate youth and adults through projects, exhibits, and community events.
Located at the mouth of Back Creek, the museum offers its visitors the chance to take part in interactive experiences to build a connection between people and the environment.
Their exhibitions cover three thematic parts: Bay Health, Oyster Economy, and Annapolis Waters.
Every year, the Maritime Museum welcomes 12,000 students and adults. It provides four free programs, family programs, summer camps, and field trips.
The operating hours are 10 am-3 pm from Tuesday to Sunday.
Address: 723 Second St, Box 3088,Annapolis, MD 21403
Website: https://amaritime.org/
11. Enjoy Seafood at the Boatyard Bar & Grill
Find the best fresh Maryland seafood at the family-owned and operated Boatyard Bar and Grill. It's situated in the historic maritime district of the city. The interior is designed to resemble an old yacht with sea-themed ornaments.
The bar is famous for its award-winning handmade crab cakes and has won many titles like Best in the Region and Best Crab Cake You'll Ever Eat. Their raw bar features a variety of oysters, mussels, shrimps, and daily fresh fish. Don't miss out on their rockfish!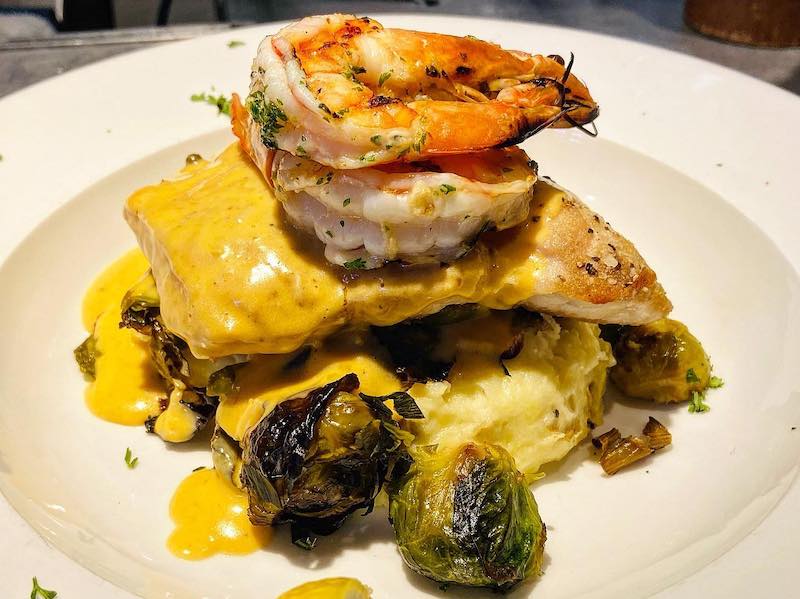 Enjoy homemade specialties, like smoked fish, crab soups, fish and chips, and pint drinks.
They also offer outdoor seating, live music events, and a kid's menu. The working hours are 7:30 am-12:00 am from Monday till Friday, and 8:00 am-12:00 am on weekends.
Address: 400 Fourth St, Annapolis, MD 21403
Facebook: facebook.com/TheBoatyardBarGrill/
12. Banneker-Douglass Museum
Housed in the old Mount Moriah A.M.E. Church, the Banneker-Douglass Museum aims at preserving African-American heritage and culture.
Providing various exhibitions, programs, and projects, it documents and promotes the understanding and appreciation of America's rich cultural diversity.
The museum is included in the Colonial Annapolis Historic District and is named after Benjamin Banneker and Frederick Douglass.
Benjamin Banneker was the first African-American scientist and mathematician. Frederick Douglass was a prominent advocate for the anti-slavery movement.
The museum offers to change exhibitions, films, lectures, tours, and performances. You can visit from Tuesday to Saturday from 10 am-4 pm. Admission to the museum is free. Guided tours are available for $5 per person.
Address: 84 Franklin St, Annapolis, MD 21401
Website: https://bdmuseum.maryland.gov/
13. Maryland State House
One of the biggest parts of your trip to Maryland is the oldest functioning statehouse in America. The Maryland State House served as a venue for many nationally important events, including George Washington's resignation from the army.
The construction of the building was completed in 1779. In 1960, the State House became a National Historic Landmark.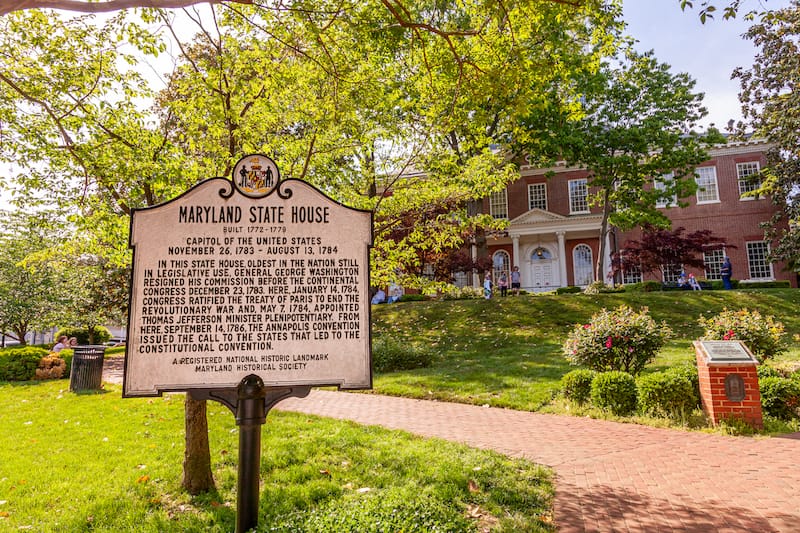 Today, the Maryland General Assembly gathers here three times a year, and the offices of the governor, lieutenant governor, and the speaker of the House of Delegates are situated in the building.
The State House is open to the public. Visitors can check it out every day from 8:30 am – 5:00 pm. The Office of Interpretation provides self-guided tour information to make your visit more enjoyable.
Address: 100 State Cir, Annapolis, MD 2140
Website: https://msa.maryland.gov/msa/mdstatehouse/html/home.html
14. US Naval Academy Museum
Explore the history and development of the US Navy at the Naval Academy Museum. It was founded in 1845 as the Naval School Lyceum.
The museum's oldest collection was established when President James K. Polk ordered to send the Navy's collection of historical flags to Annapolis for care and display.
Today, the museum is a part of the US Naval Academy and is located on the grounds of the Academy. Find numerous historical artifacts combined with video and audio technology on their displays.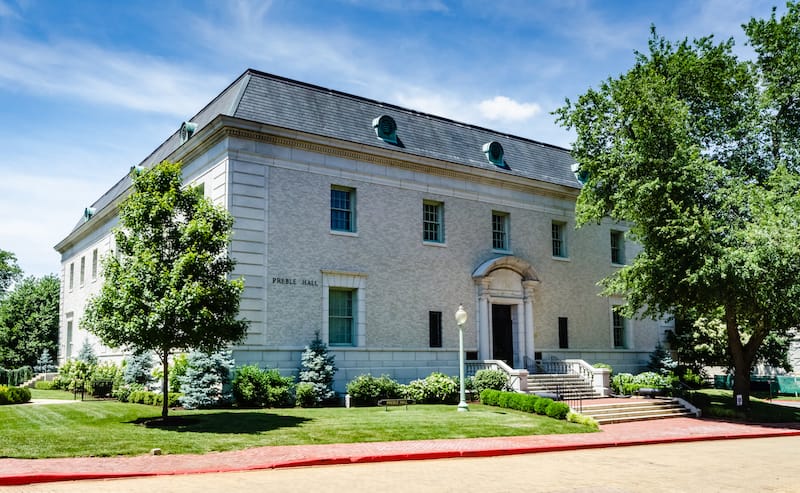 The museum offers two floors of exhibits, including uniforms, weapons, medals, books, instruments, and photographs. The site welcomes its visitors every day except Tuesday from 9 am-5 pm (Sunday 10 am – 4 pm).
Address: 118 Maryland Ave, Annapolis, MD 21402
Website: https://www.usna.edu/Museum/index.php
15. Quiet Waters Park
Located between South River and Harness Creek, Quiet Waters Park is a picturesque place to visit with grassy fields, children's playgrounds, and picnic areas.
The right place to start your visit is the Quiet Waters Visitor Center. Here, you'll find two art galleries displaying works of the best local and regional artists. Explore six miles of paved trails stretching through the park's 340 acres.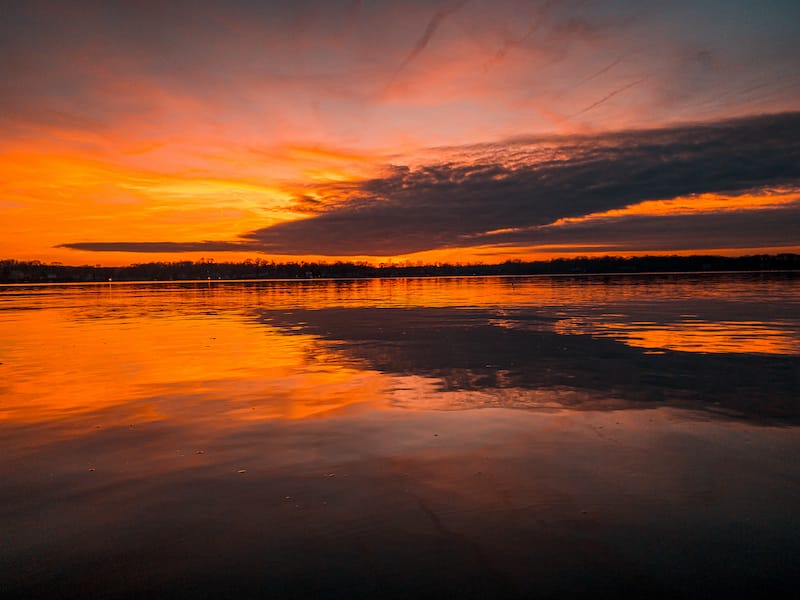 Go canoeing or kayaking from the park's launch dock on Harness Creek. Boats, canoes, paddleboards, and bicycle rentals are available at the dock. In the southern part of the area near the South River, you can also find a dog beach.
The area includes six outdoor pavilions and an indoor facility, Blue Heron Center. All of them are perfect for weddings, parties, and business meetings. Quiet Waters is open every day from 7 am to dusk.
Address: 600 Quiet Waters Park Rd
Website: https://www.aacounty.org/departments/recreation-parks/parks/quiet-waters/
16. William Paca House and Garden
Don't miss your chance to visit one of the finest 18th-century houses in the country. This National Historic Landmark was built in the 1760s by William Paca, one of Maryland's four signers of the Declaration of Independence.
The five-part Georgian mansion features a period household of colonial and revolutionary Annapolis. A majestic part of the house is the two-acre colonial William Paca Garden where visitors can enjoy native and heirloom plants.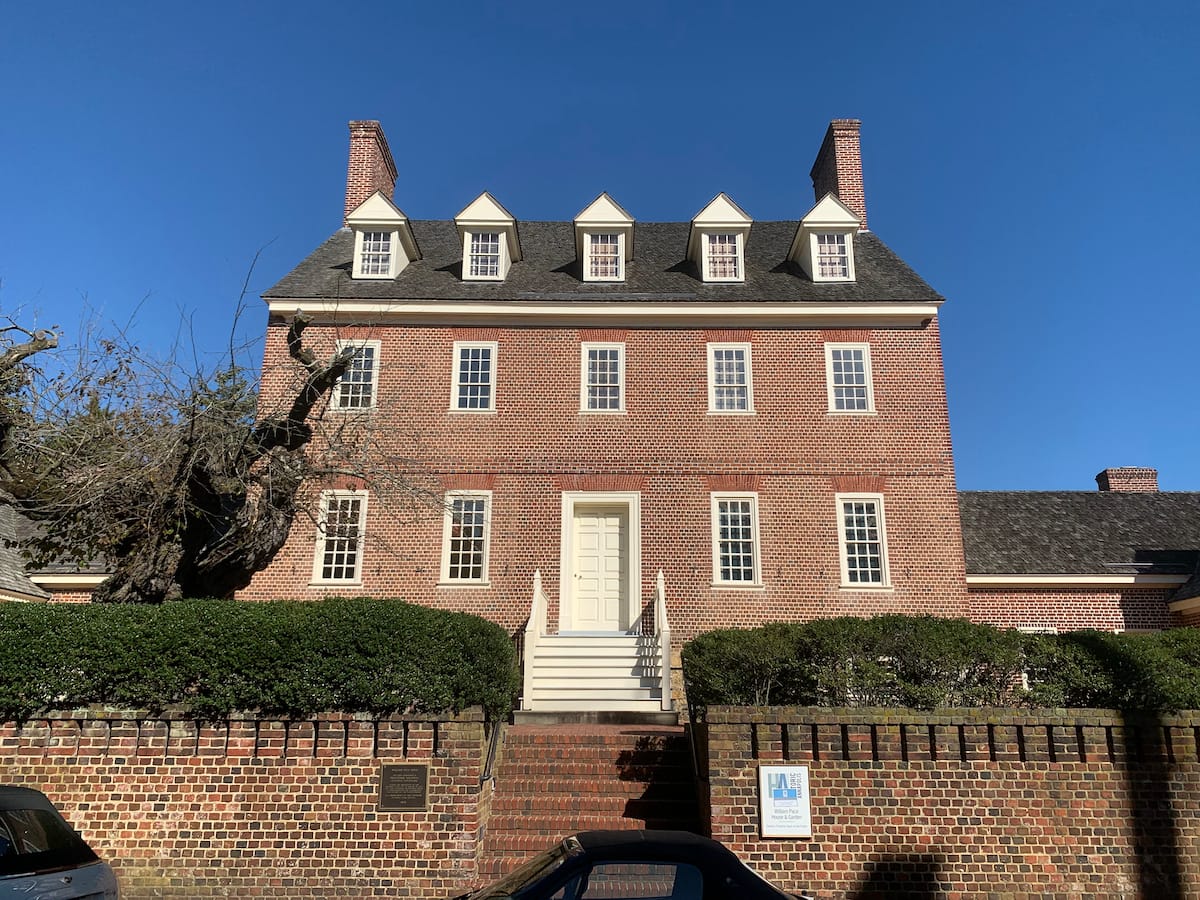 The garden often hosts weddings and other special events. Take a guided tour of the house and garden offered daily and dive into the atmosphere of the past.
Working hours are from Monday to Friday, 10 am – 5 pm, and 11 am – 4 pm on Saturday and Sundays.
Address: 186 Prince George St, Annapolis, MD 21401
Website: https://www.annapolis.org/contact/william-paca-house-garden
17. Lunch at Chick & Ruth's Delly
Serving the locals and visitors for almost 50 years, lunch at Chick & Ruth's Delly offers a unique experience for delicious food.
Find creamed chipped beef on toast, personal pizza, and jumbo lump crab cakes on their menu, as well as a variety of fresh, handmade pies and bread.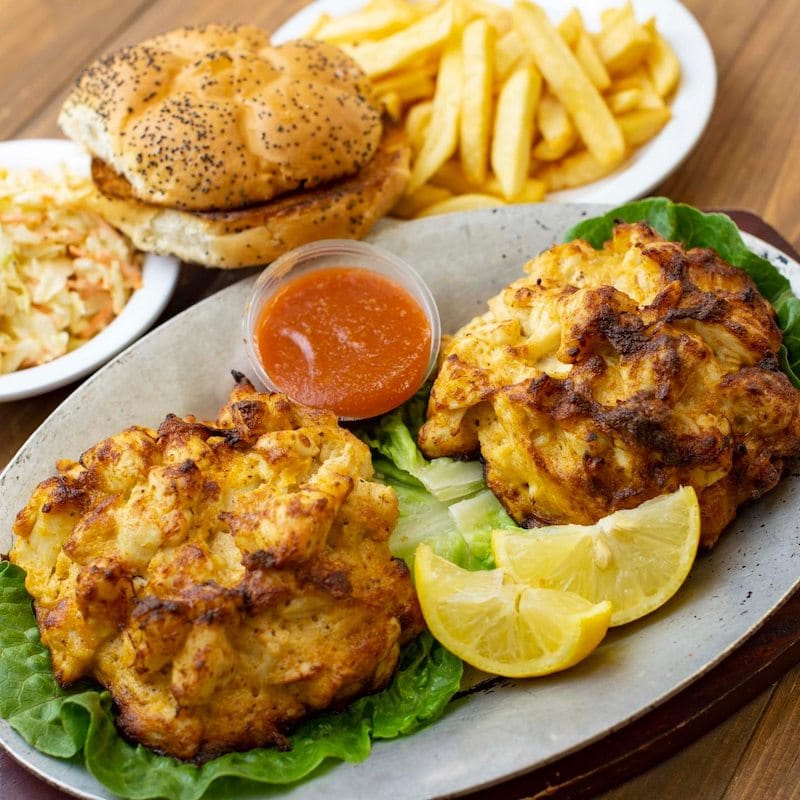 This is one of the beloved eateries in the region, and visitors can see a wall dedicated to their celebrity patrons. Customers can dine-in, take out, or even order catering.
They offer beer, wine varieties, and the largest milkshakes in the world. Once there, you must try their famous desserts made on-site. It's open every day from 6:30 am to 10:00 pm through Sunday to Thursday and from 6:30 am – 11 pm on Fridays and Saturdays.
Address: 165 Main St, Annapolis, MD 21401
Website: https://www.chickandruths.com/
18. Thomas Point Shoal Lighthouse
Take a fantastic tour to one of the most photographed lighthouses in the US. Thomas Point Shoal was built in 1875 and is regarded as a National Historic Landmark.
The experienced guides will introduce the history of the light while walking inside it. You'll learn about how the lighthouse keepers lived, how the site was restored, and about other lighthouses on the Bay.
Tours depart from the dock located behind the Annapolis Maritime Museum. Three trips are offered per day at 9:30 am and 12:00 pm.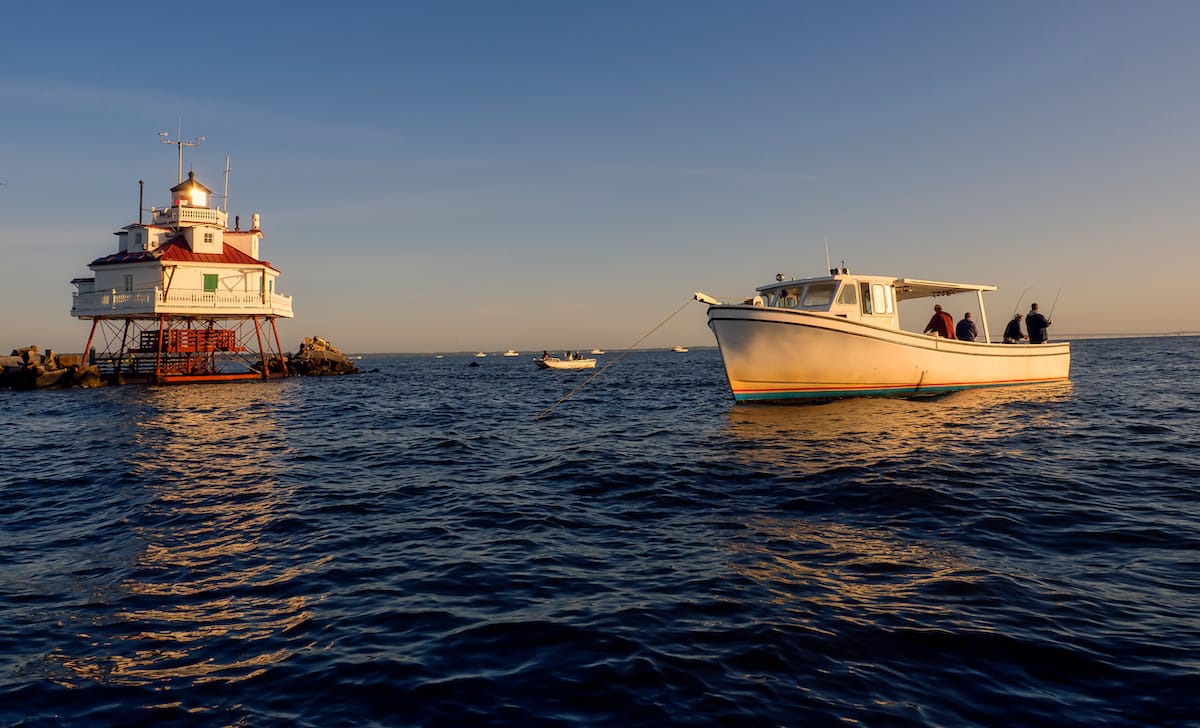 The tour's duration is 1.5 hours, including a 30-minute boat ride to the lighthouse, a guided interior tour, and a 30-minute return ride. Remember, this is a strenuous adventure tour for which you must be physically capable.
Children under the age of 12 aren't allowed for safety purposes. Reservations are required, and the fee is $90 per person.
19. Pennsylvania Dutch Farmer's Market
The Pennsylvania Dutch Farmer's Market or the Amish Market is situated in Annapolis Harbor Center. However, all the Amish merchants come from Lancaster, PA.
This market is a unique place offering high-quality products made with recipes passed through generations of Amish people.
Find plenty of fresh produce selections like salads, cheeses, meat, desserts, homemade snacks, barbecued and fried chicken, and ice-cream varieties.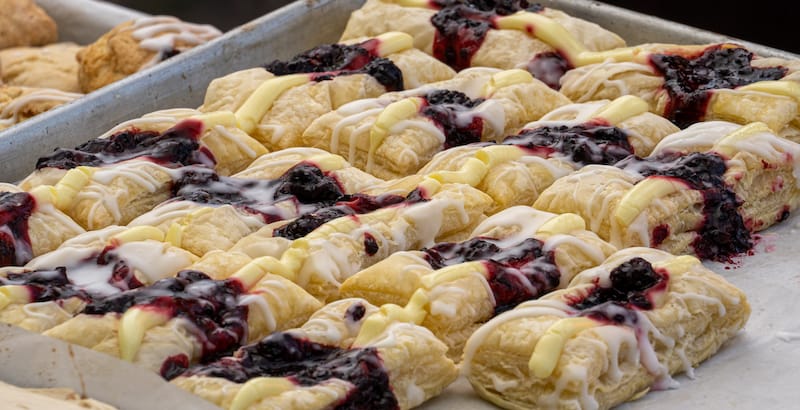 You may have a small portion to enjoy right away or order a larger portion to take home. Visitors can also have a hearty homemade lunch at Dutch Market Restaurant prepared by Amish cooks.
If you're looking for some handmade hardwood furniture for your home, check out Millwood Furniture. The market operates on Thursday and Friday, 8:30 am-6 pm, and 8:00 am – 3 pm on Saturdays.
Address: 2472 Solomons Island Rd, Annapolis, MD 21401,
Website: https://www.padutchfarmmarket.com/
20. Journey on a Watermark Cruise
Have an authentic Chesapeake Bay experience and soak in the local culture and history. Watermark Journeys has been providing sightseeing cruises for over 45 years.
Visitors can join a 40-minute cruise on Harbor Queen or a 40-minute cruise of Spa Creek on Miss Anne.
If you want something more impressive, check out 90-minute cruises to Severn River, the Chesapeake Bay, or Thomas Point Lighthouse.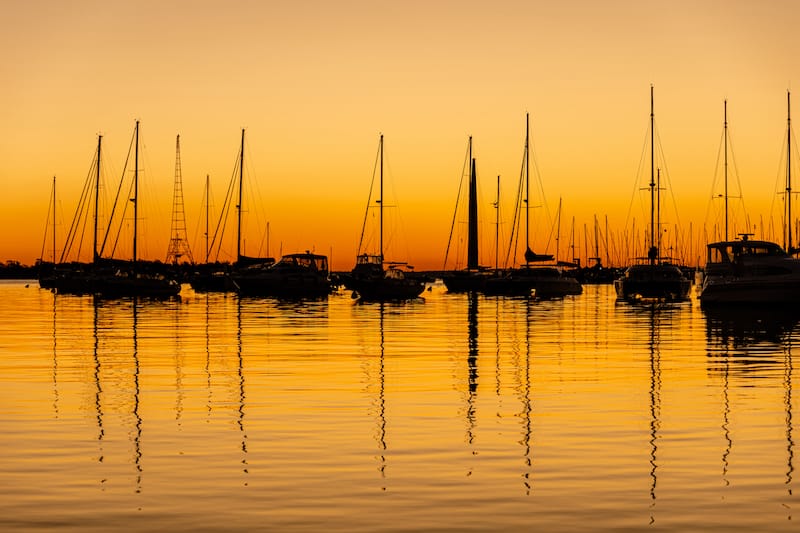 You may even have a Day on the Bay and journey to St. Michaels and back. Watermark provides both public cruises and private charters.
This is an exceptional way to get out on the water and enjoy the magnificent sites of the area. Customers can join the tours from Monday to Tuesday, 8:30 am-5 pm. 8:30 AM – 5:00 PM. Saturday. 8:00 AM – 12:00 PM.
Address: 1 Dock St, Annapolis, MD 21401
Website: https://watermarkjourney.com/
21. Baltimore & Annapolis Trail
This scenic paved 13-mile trail stretches from Boulters Way in Annapolis to Dorsey Road in Glen Burnie. It follows the route of the Baltimore & Annapolis Railroad, and that's where its name originates.
The path winds through parks, neighborhoods, natural wooded areas with majestic vistas of trees, and streams, and it covers plenty of historical sites.
Two major stops on the trip are Severna Park and Glen Burnie. The trek passes the Marley Station Shopping Mall, offering a retail adventure. History buffs can stop at the Earleigh Heights Ranger Station.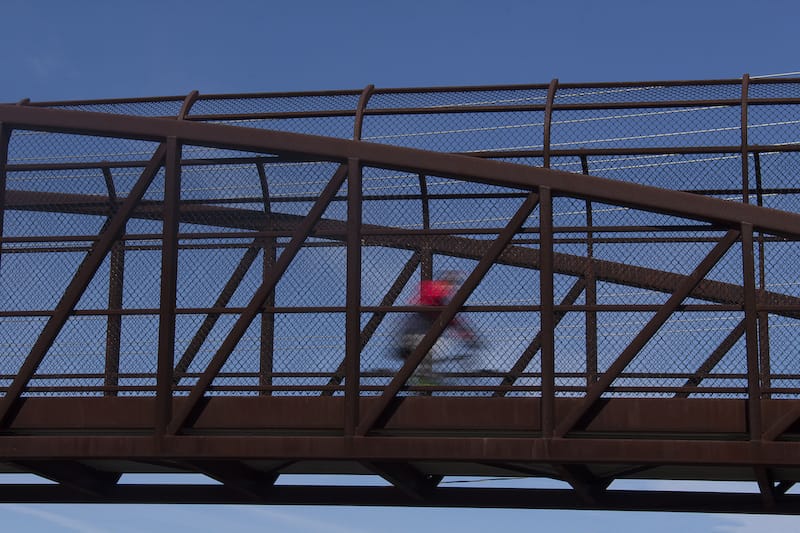 Another interesting stop along your route is Planet Walk, a museum with displays for the solar system.
You can also find several small parks along the way, like Hatton-Regester Green. The trail welcomes visitors from dawn to dusk.
22. Coffee Shops in Annapolis
Annapolis is packed with plenty of coffee houses. Bitty & Beau's is a unique place with fine coffee varieties. The shop is run by people who have mental disabilities and impairments, which will make your visit special and worthwhile.
What can be better than a hot cup of coffee with a good book? Check out Brown Mustache Coffee located behind Old Fox Books. Relax with a favorite book and try their delicious coffee at the cute outdoor garden.
A hidden treasure on our list is Ceremony Coffee Roasters, boasting eight locations. This is where bean roasting magic happens. Another great option to enjoy sustainable coffee and fantastic ice cream is Red Bean.
23. Helicopter Tour of Baltimore and Annapolis
Check out the ultimate way of exploring two cities of Maryland from the sky. Explore Annapolis and Baltimore in a comfortable aircraft and enjoy the scenic landscapes of Chesapeake Bay.
You'll have a chance to view sites like Fort McHenry, Historic Fells Point, Mount Vernon in Alexandria VA, the Baltimore Inner Harbor, the U.S. Naval Academy, Maryland State House, and lighthouses during this 30-minute tour.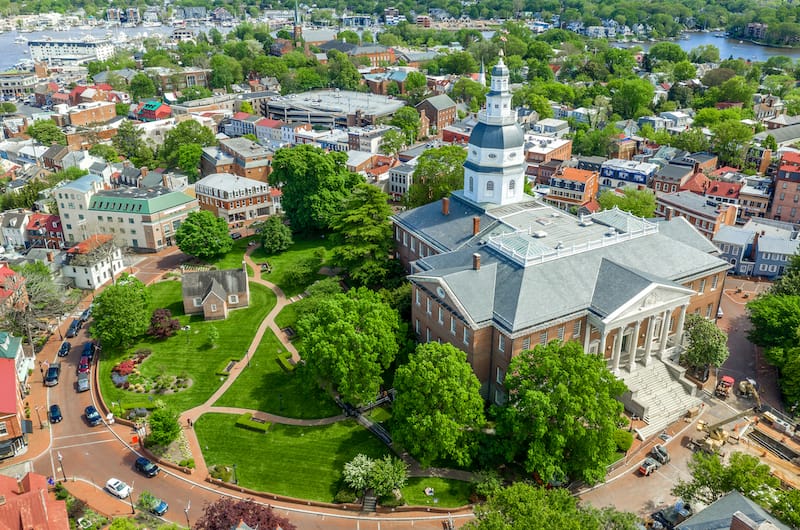 Private or small group tours are available. Passengers are weighed at check-in. The total weight of each flight group must not be more than 600 pounds. Passengers are provided with noise-canceling headsets.
The fee starts from $309 per person, and flights always depend on weather conditions.
>> Click here for rates and availability
Where to stay in Annapolis
If you're looking for the best places to stay in downtown Annapolis – we have you covered. These are some of the top hotels in beautiful Annapolis:
Did we miss any worthwhile things to do in Annapolis? Let us know your favorite Annapolis attractions and landmarks in the comments. Thanks!
More Maryland Travel Guides
Pin this Annapolis Things to Do Guide