Are you looking for the best day trips from Washington DC? This is a list of the obvious Washington DC day trips mixed with a few unexpected choices.
Are you planning your trip to DC at the last minute?
Are you planning your trip to Washington DC at the last minute? Check out these top-rated tours and hotels!
🇺🇸 Top Tours & Activities in Washington DC:
🛌 Best hotels in Washington DC:
🚗 Looking for the best way to get around DC? Click here to check rental car rates for Washington DC!
We have picked a variety of day trips from DC that cater to different types of travelers like historians, family travelers, and more!
There are also a few places on this list that will be great for the active traveler looking to go hiking, biking, or take their skills out on the water!
These day and weekend trips from Washington DC include distance and location and we tried to include some that are nearby and some that are further away in case you're looking for a place to camp or stay overnight for the weekend!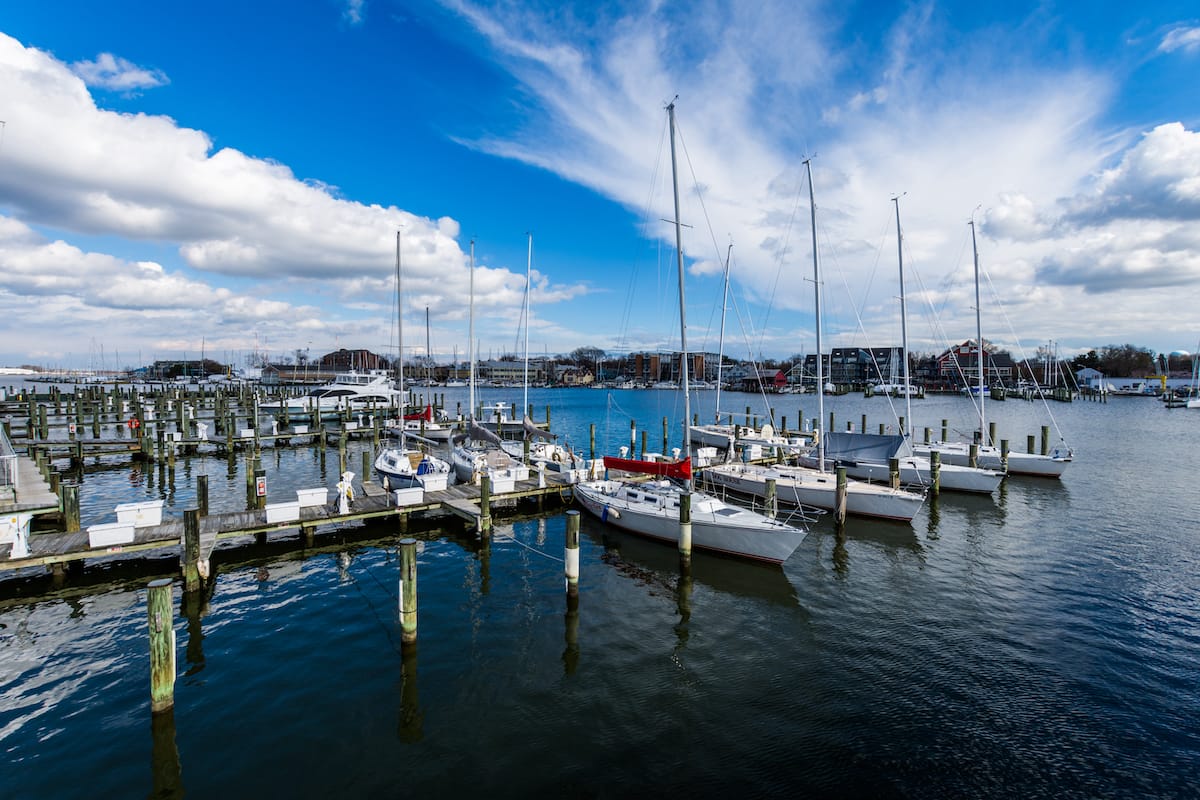 What are your favorite day trips from Washington DC? Please let us know in the comments! Thanks!
Best Day Trips from Washington DC
1. Richmond
Location: Virginia
Washington DC to Richmond Distance: 108 miles (1 hour, 45 minutes)
Founded in 1737, the city of Richmond, Virginia is a famous place in the US for its national history. If youʻre spending a long weekend in Washington DC and want another historical day trip, look no further!
The city was the home of several important historical events during the Revolutionary War and the American Civil War. Today, tourism is flourishing in Virginia's capital city!
Visitors come to see endless historic sites, museums, and enjoy Richmond's amazing food scene (and delicious BBQ!). It is a good idea to mix historical sights and museums along with nature and other attractions the city has to offer.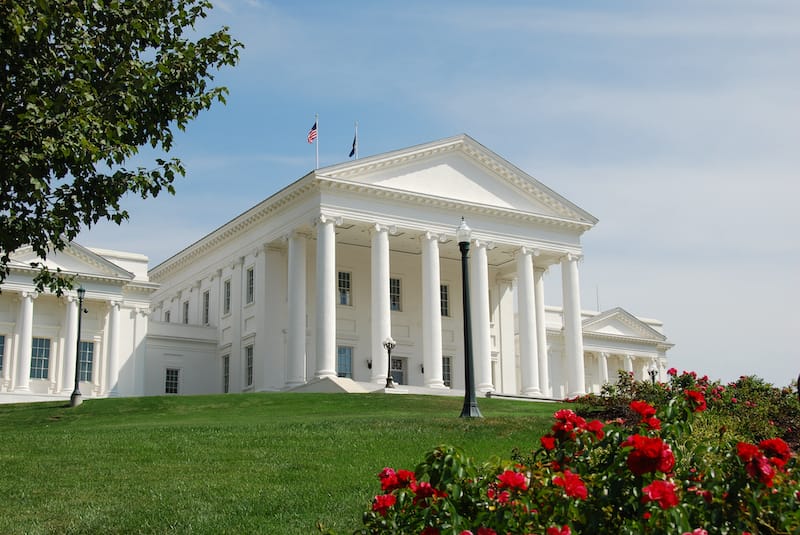 Some of the most famous places to visit in Richmond are the American Civil War Museum, White House and Museum of the Confederacy, the Science Museum of Virginia, Chickahominy Bluff, Armour House, and the Gardens at Meadowview Park.
Be sure not to miss walking past the Virginia State Capitol while you're in town. If you like biking, hiking, and sunbathing – head to Belle Isle, one of my favorite half-day trips from Richmond.
My personal favorite is Maymont Park – it is a green place with several gardens and it is the perfect place for a picnic or strolls around on a nice day.
2. Gunpowder Falls State Park
Location: Maryland
Washington DC to Gunpowder Falls SP Distance: 59 miles (1 hour, 12 minutes)
Gunpowder Falls State Park is a magnificent recreation area, occupying about 15000 acres since it was founded in 1959.
The purpose of it being designated as a Maryland state park was to protect the Gunpowder River and Big and Little Gunpowder Falls. The park consists of 6 areas in total. Hereford Area boasts ideal opportunities for fishing, hiking, and kayaking.
The famous Mill Pond Cottage is also situated here. Torrey C. Brown (TCB) Rail Trail​ is a rail trail and one of the best hikes in Gunpowder Falls State Park, offering summer outdoor activities for families.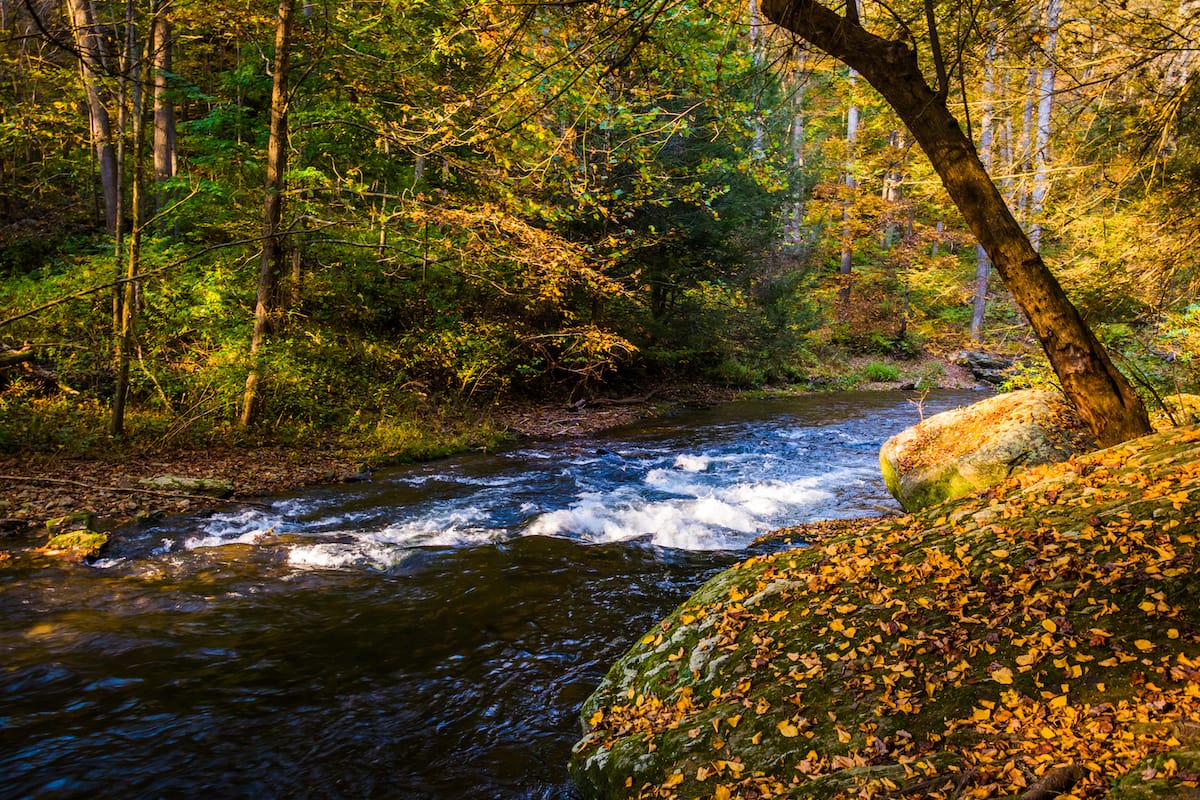 Sweet Air Area is famous for hiking and horseback riding. The oldest part of the park is the Central Area. Besides being home to plenty of recreational activities, it is also home to historic Jerusalem Mill Village.
Hammerman Area has a lovely swimming beach, picnicking areas, and playgrounds for the young ones. Dundee Creek Marina provides boat rentals, dry and wet slips.
Gunpowder Falls is one of the best day trips from Washington DC for families (and the active traveler).
3. Shenandoah National Park
Location: Virginia
Washington DC to Shenandoah NP Distance: 70 miles (1 hour, 21 minutes)
Just 75 miles away from the bustle of Washington DC, you'll find one of the East Coast's best natural treasures- Shenandoah National Park.
Shenandoah is located along the Blue Ridge Mountains and partly covers eight counties in Virginia and has since it was established in 1935.
With picturesque views, thriving wildlife, breathtaking hiking trails (even some with waterfalls!), it has so much to explore, even if you decide to visit in winter.
The park is most famous for Skyline Drive, a 105-mile road offering mind-blowing views along the way.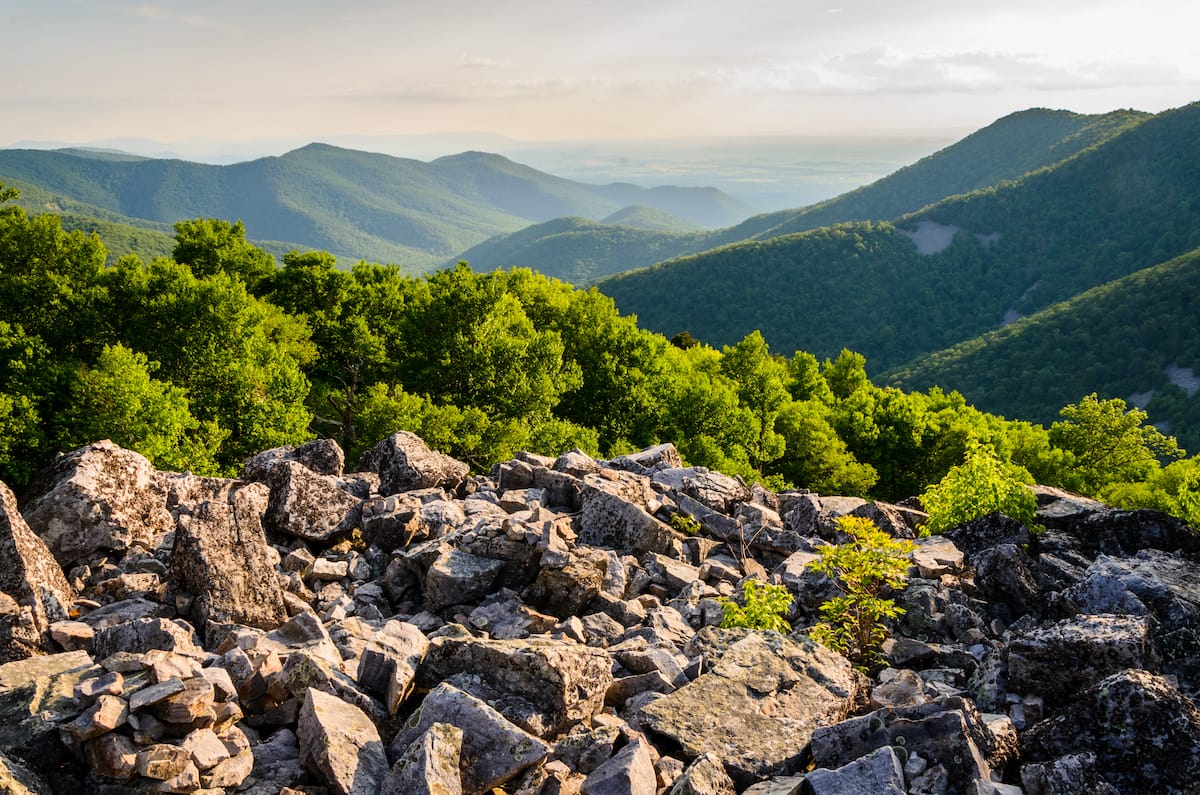 It boasts fantastic hiking trails like the Dark Hollow Falls Trail, parts of the Appalachian Trail, Mary's Rock Summit Trail, and Limberlost Trail.
Shenandoah is home to various camping areas if you're looking to commit to more than just a day from DC- including Mathews Arm, Big Meadows, Lewis Mountain, and Loft Mountain.
In addition, the park features numerous waterfalls like Doyles River Falls, Overall Run Falls, South River Falls, and Lewis Falls.
The entrance fee is $30 per vehicle and your pass lasts for one week.
4. Easton
Location: Maryland
Washington DC to Easton Distance: 73 miles (1 hour, 23 minutes)
The town of Easton was founded in 1710 and was formerly called Talbot Court House. It is located along the Eastern Shore of the epic Chesapeake Bay.
The name Easton is said to have originated from Easton in Somersetshire, England. This is one of the best Washington DC day trips for those looking for a quiet getaway near the coast but close to a larger city.
Easton, famous for its architecture and charming structures, provides a rich historical trip for its visitors and a fantastic Maryland romantic getaway. The Avalon Theatre is a renowned venue for performing arts.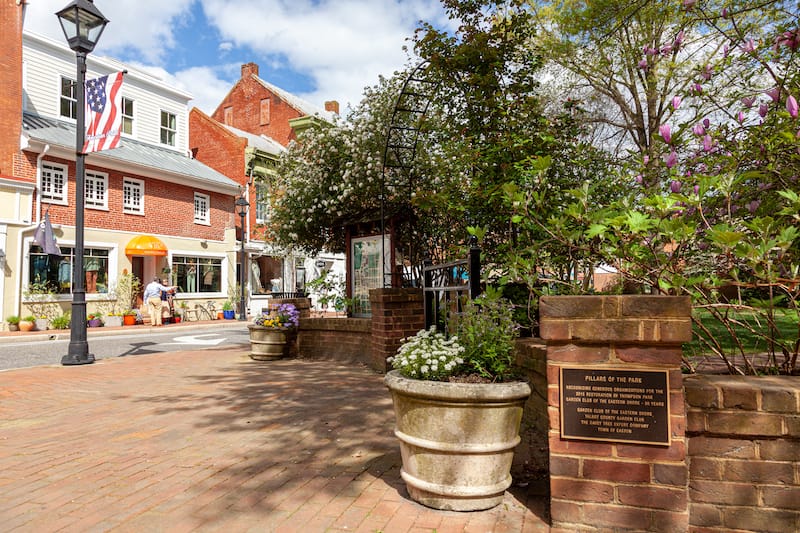 The Academy Art Museum housed the town's first school, dating back to the 19th century. Pickering Creek Audubon Center, a natural attraction in Easton, offers walking trails with panoramic views.
The Third Haven Friends Meeting House is the oldest functioning meeting house that belongs to the Religious Society of Friends. Easton boasts plenty of galleries including The Trippe Gallery and Troika Gallery.
It is one of the cutest small towns in Maryland and is a great day trip from DC.
5. Chesapeake & Ohio Canal's National Historical Park
Location: Maryland
Washington DC to Chesapeake and Ohio Canal NP Distance: between 18 miles (40 min) and 136 miles (2 h 26 min)
For a both a historical and natural otherwise that doesn't require too much driving time, head to the Chesapeake and Ohio Canal National Park.
There is no main entrance to the park– it stretches along the Potomac River for 184.5 miles, with seven different Visitor Centers along the way.
This park offers miles of beautiful trails to hike or bike, as well as places to fish and boat on the Potomac River. Make sure to bring a picnic with you to enjoy along the river.
You also have the chance to learn about the history of the canals and take a free canal boat ride, with staff in period clothing describing what life was like on the canal in the 1870s.
Tickets are given on a first-come, first-served basis at the Great Falls Tavern Visitor Center in Potomac, MD.
6. Annapolis
Location: Maryland
Washington DC to Annapolis Distance: 39 miles (44 minutes)
Often referred to as America's Sailing Capital, Annapolis is the gateway to plenty of rivers, creeks, and inland bays.
It's located on the Chesapeake Bay at the base of the Severn River. It was founded in 1649 and named after Princess Anne and is truly one of the most underrated places in the Mid-Atlantic (and the entire East Coast, to be honest).
Annapolis is a lively town boasting many historically important landmarks and buildings (you will seriously find so many amazing things to do in Annapolis that it will keep you returning for more)!
You can have an unforgettable step back in time by walking through the Annapolis Historic District… so be sure to keep that at the top of your Annapolis itinerary!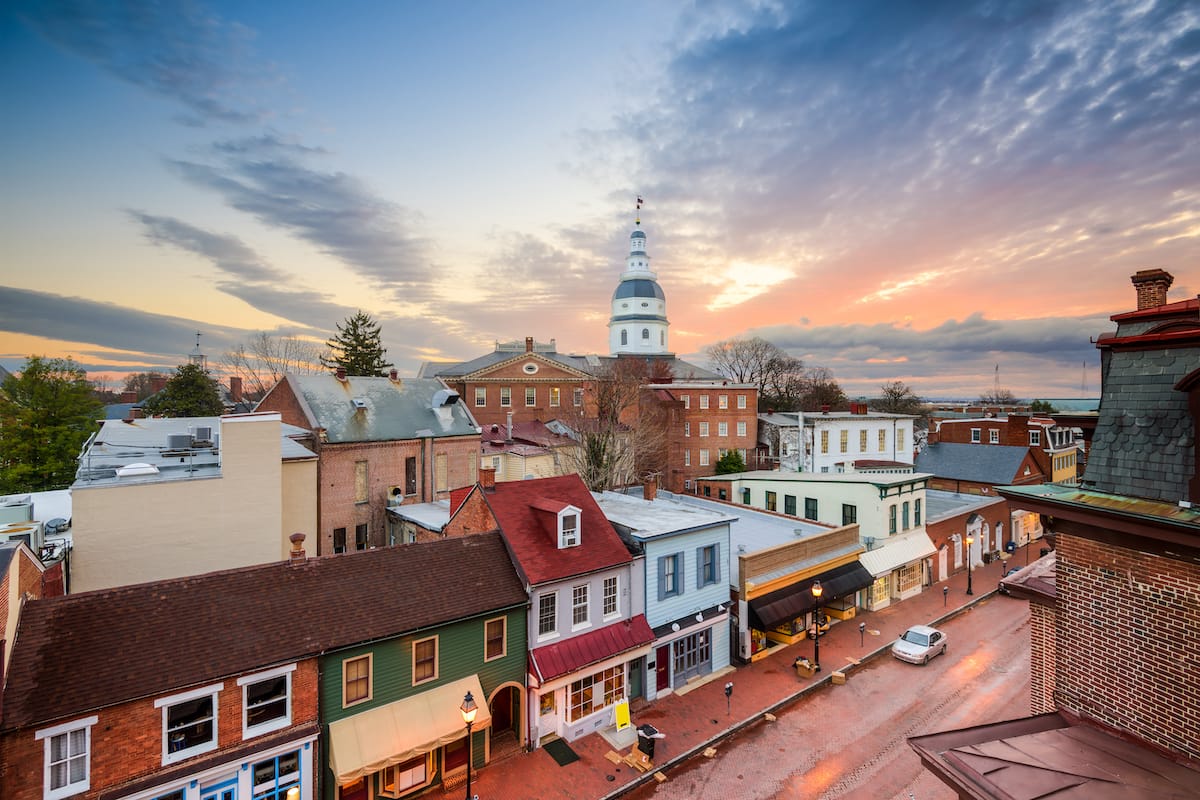 Also don't miss the U.S. Naval Academy Museum, Maryland State House, Hammond-Harwood House, William Paca House and Garden, the Banneker-Douglass Museum, the Annapolis Maritime Museum, and the Fort Meade NSA Cryptologic Museum.
While Annapolis is famous for its history and museums, it is also a great place to get outdoors and be a bit active! Check out Quiet Waters Park, Sandy Point State Park, and take a cruise with Chesapeake Bay Sailing Excursions.
There are several cool things to do in Annapolis that you can easily turn into a weekend getaway from Washington DC instead of just a day trip!
7. Baltimore
Location: Maryland
Washington DC to Baltimore Distance: 42 miles (58 minutes)
The largest city in Maryland was established in 1729 and was named after the Irish barony of Baltimore. It was an important seaport and shipbuilding center during the American Revolution.
Today, Baltimore is the economic heart of the area, brimming with shops, restaurants, and prominent museums.
Start your Baltimore itinerary off with one of the most famous historic sites of America- the Fort McHenry National Monument and Historic Shrine.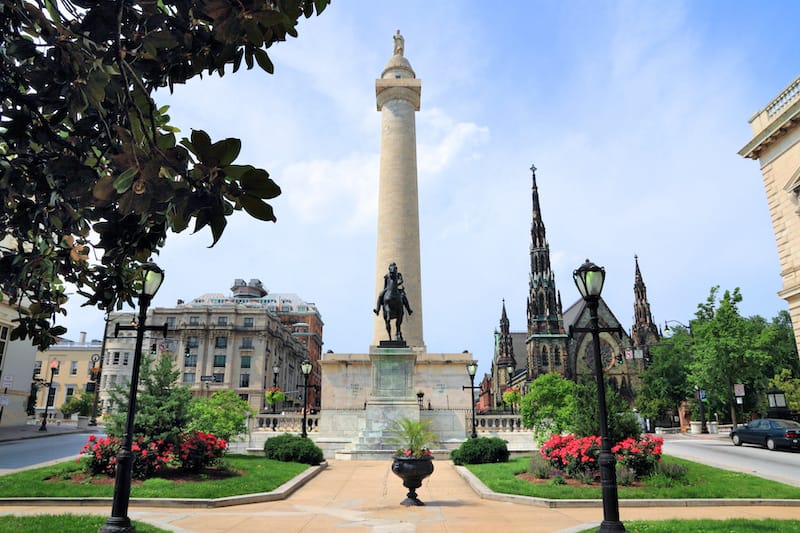 If you admire art and history, don't miss a chance to visit the Walters Art Museum, American Visionary Art Museum, Baltimore Museum of Art, Baltimore Museum of Industry, and the B&O Railroad Museum.
The most popular places to visit in Baltimore include the National Aquarium, Maryland Science Center, and Basilica of the National Shrine of the Assumption of the Blessed Virgin Mary.
8. Loudoun County
Location: Virginia
Washington DC to Loudon Distance: 46 miles (58 minutes)
Loudoun County was settled in 1757 and named after John Campbell, the Fourth Earl of Loudoun. For more than two centuries, the predominant means of living in the Virginia county was agriculture.
Things changed after Dulles International Airport was built, attracting new businesses, families, and workers. The county is a must-see for history buffs and outdoor enthusiasts.
Loudoun features excellent wineries, like Tarara Winery, Bluemont Vineyard, Breaux Vineyards, and Sunset Hills Vineyard so be sure to check out a few when you're there!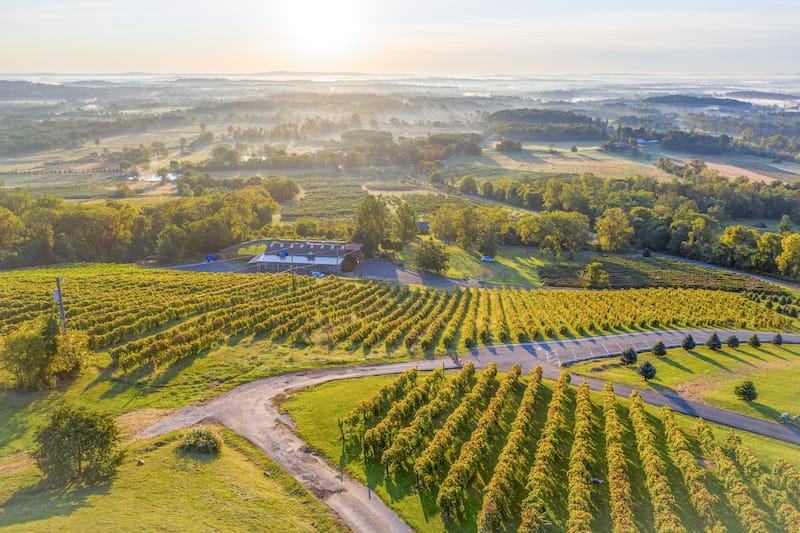 You will also find magnificent parks such as Morven Park, Ashburn Park, Ball's Bluff Battlefield Regional Park, and Trailside Park in the area.
Loudon County has some fantastic museums and places to travel to learn more about the region (and many are great for children and have interactive displays).
Some of the most notable museums in the county are the National Sporting Library & Museum, Loudoun Heritage Farm Museum, Winmill Carriage Museum, Oatlands Historic House and Gardens, and more.
Other popular attractions and places to visit are George C. Marshall's Dodona Manor, historic White's Ferry, Leesburg Premium Outlets (if you're keen on doing a little shopping!), Vanish Brewery, and more.
9. Blackwater National Wildlife Refuge
Location: Maryland
Washington DC to Blackwater NWR Distance: 100 miles (1 hour, 57 minutes)
Blackwater National Wildlife Refuge is located on Maryland's Eastern Shore and is an ideal place for lovers of wildlife and nature.
The park was founded in 1933 and covers about 28000 acres of area in total. It's home to more than 1000 animal species, including over 200 varieties of birds.
The refuge boasts the largest surviving population of Delmarva fox squirrels and bald eagles on the East Coast.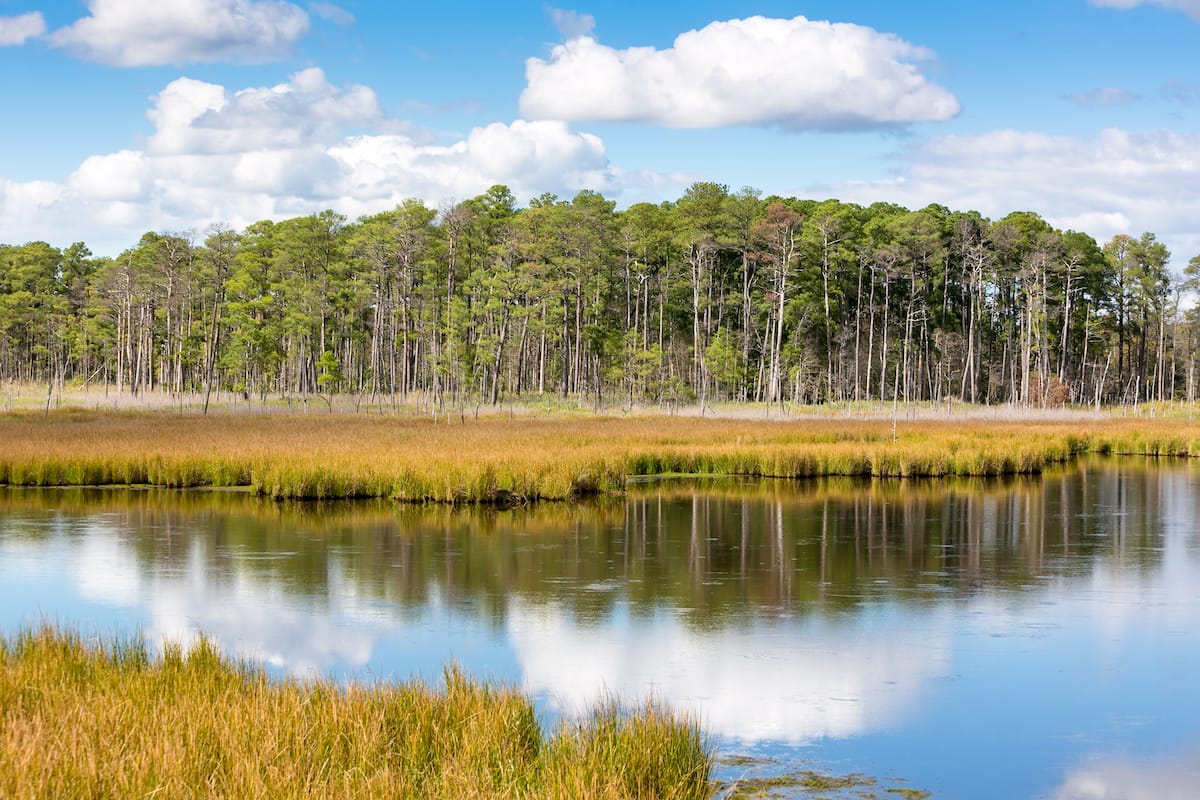 Hiking, biking, running, walking are the most popular activities here due to the abundance of excellent trails, including the Marsh Edge Trail, the Key Wallace Trail, and the Tubman Trail.
The Maryland wildlife refuge also has water trails for kayaking, canoeing, and boating. If you get the proper license, you can also go fishing and hunting.
The park also provides bird-watching tours for its guests. This is definitely one of the most underrated DC day trips, in my opinion!
10. Gettysburg
Location: Pennsylvania
Washington DC to Gettysburg Distance: 85 miles (1 hour, 31 minutes)
Gettysburg was founded in 1786 and was named after the first settler Samuel Gettys. It's famous for Gettysburg Battlefield which became the turning point in the Civil War.
The best way to learn more about the historic event and the battlefield is to take a tour with a licensed guide. There are about 14000 monuments and statues situated on the battlefield and it deserves quite a bit of time during your Gettysburg trip.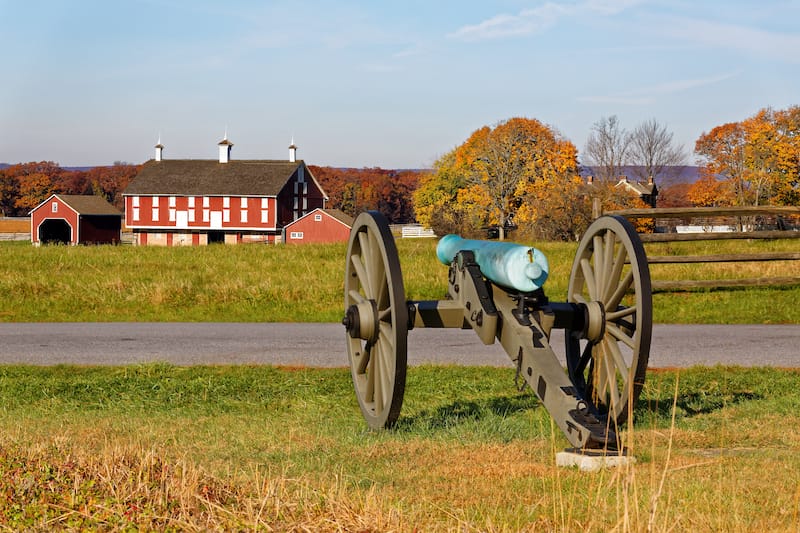 The visitor center and museum will depict the whole history of the battle, including Lincoln's famous words there.
Six months after the Battle of Gettysburg, Soldiers' National Cemetery was built in honor of fallen soldiers and this is where President Abraham Lincoln delivered his famous speech, the Gettysburg Address.
There is plenty to do in Gettysburg beyond the Battlefield and some of the top attractions include Little Round Top, Eisenhower National Historic Site, Shriver House Museum, Jenny Wade House, and the David Wills House.
11. Ocean City
Location: Maryland
Washington DC to Ocean City Distance: 149 miles (2 hours, 55 minutes)
Before 1870, Ocean City was known as the Ladies' Resort to the Ocean. It was a quiet fishing village until the first hotel, Atlantic Hotel, opened its doors in 1875, attracting new visitors and residents.
In 1878, the USA Life-Saving Service station was established here, a predecessor of today's US Coast Guard.
This Maryland beach resort town is filled with restaurants, souvenir shops, arcades, and carousels (and so much more). Ocean City features 10 miles of stunning beaches where travelers can go swimming, surfing, fishing, and kayaking.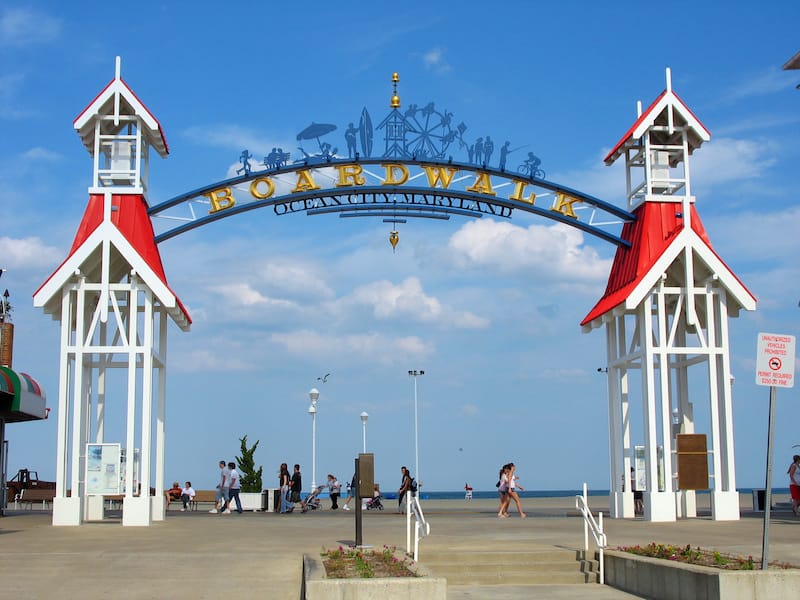 When you're in town, be sure to not miss Northside Park, Ocean City's Boardwalk, the Life-Saving Station Museum, Trimper's Amusement Park, Paradise Watersports, and Old Time Photos.
This is one of the best summer day trips from Washington DC… and a great one for families or those traveling with children. But, if you're visiting Washington DC in winter, it is also not a bad getaway (you will beat the summer crowds)!
12. Charlottesville
Location: Virginia
Washington DC to Charlottesville Distance: 116 miles (2 hours, 20 minutes)
The city of Charlottesville was established in 1762 and named after the British Queen Charlotte. Charlottesville is a former tobacco-trading point that later became known as the home of Thomas Jefferson and James Monroe.
The historic city is the heart of Central Virginia's Piedmont region, offering tourists thriving outdoor activities, prominent museums, cozy cafes, and modern architectural monuments.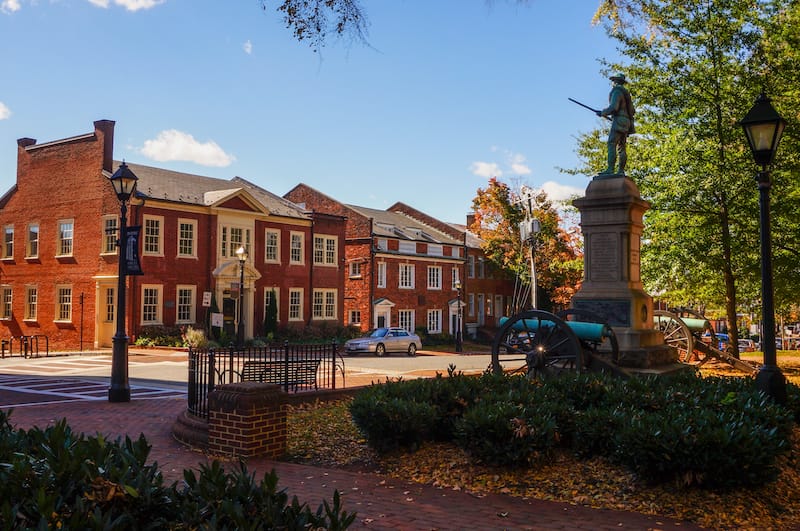 When you're visiting Charlottesville, take guided tours of Thomas Jefferson's Monticello, have a free tour at the University of Virginia, visit historic Civil War sites, stop by James Monroe's Highland, and go hiking in Walnut Creek Park.
You'll find plenty of other hiking opportunities in and around Charlottesville, too, as it is the gateway to the Blue Ridge Mountains.
And for breathtaking views of the Blue Ridge Mountains, jump in a hot air balloon with providers like Monticello Country Ballooning, Boar's Head Ballooning, and Blue Ridge Balloon.
13. Kent Island
Location: Maryland
Washington DC to Kent Island Distance: 51 miles (1 hour, 3 minutes)
Kent Island is the largest island in the Chesapeake Bay, connecting the eastern and western shores of Maryland.
It's the first European settlement in Maryland and has actually been inhabited for almost 12,000 years. Stevensville, Grasonville, and Centreville are the main towns located on the island.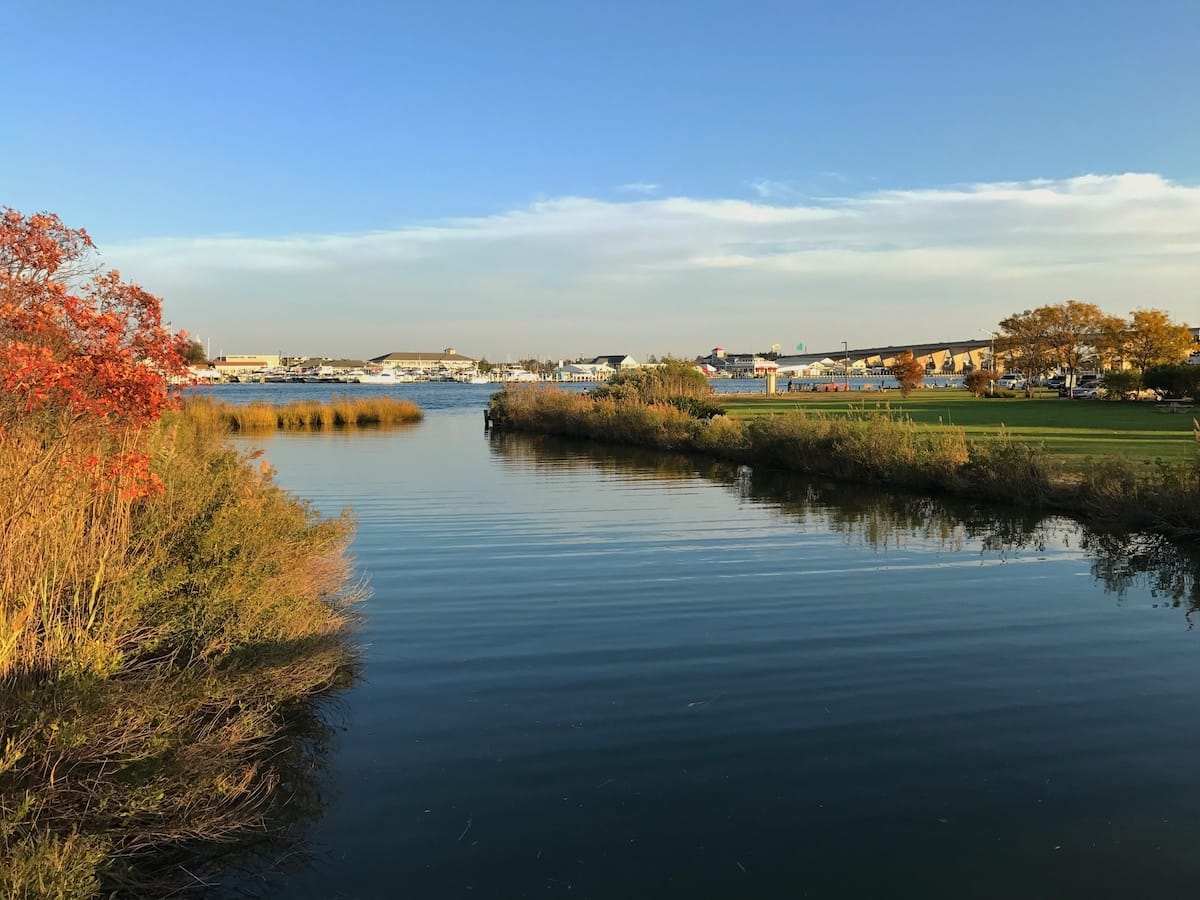 Today, visitors can enjoy significant historic sites and thrilling natural attractions on Kent. Start your trip at Matapeake Beach before heading to Matapeake Pier and the nearby boat ramp that offers opportunities for paddling, fishing, and boating.
If you want to have on-land adventures on Kent Island, some of the most famous attractions are the Chesapeake Exploration Center, Bloody Point Bar Lighthouse, and the Chesapeake Bay Environmental Center.
Enjoy hiking, biking, wildlife-watching, and photography. Kent is also a rather delicious island with plenty of seafood restaurants and wineries like Mark Cascia Vineyards.
14. Berkeley Springs
Location: West Virginia
Washington DC to Berkeley Springs Distance: 104 miles (1 hour, 45 minutes)
Only 90 minutes away from the Washington metro area, the town of Berkeley Springs, West Virginia is waiting for visitors (and it is seriously one of my favorite small towns in the US).
It is also the nation's first spa town! The West Virginia town incorporated in 1776 was formerly, and appropriately, called Bath. In the heart of the town, you'll find Berkeley Spring State Park.
The famous outdoor landmark is dedicated to George Washington's Bathtub, as well as the famous spa history that happened here.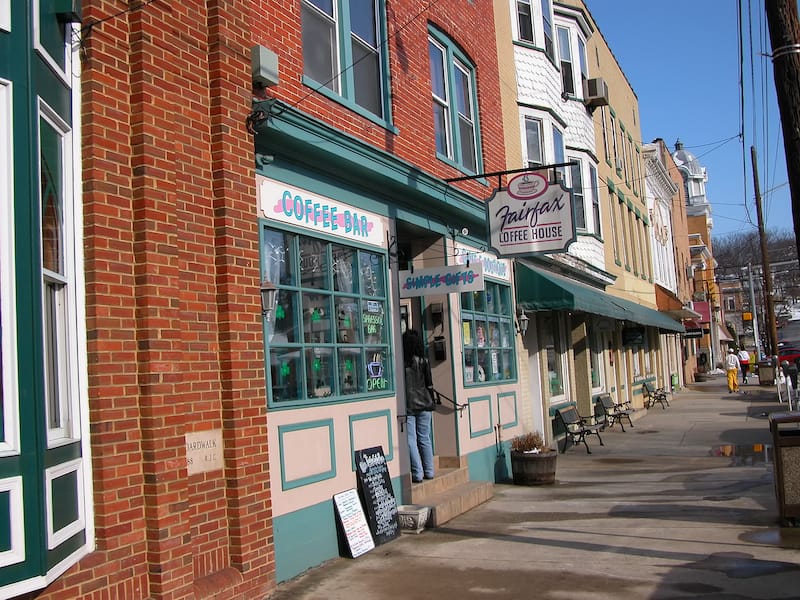 The park also has several running springs, the largest of which is Lord Fairfax's Spring. A must-see in the West Virginia state park is the Museum of the Berkeley Springs, the oldest public building in the area.
Visitors can enjoy plenty of excellent spa centers, like the Renaissance Spa and Atasia Spa, situated not too far from the State Park.
15. Assateague Island National Seashore
Location: Virginia and Maryland
Washington DC to Assateague Island Distance: 150 miles (2 hours, 48 minutes)
Assateague Island National Seashore is a natural area that includes Assateague Island and several nearby islets. It's the largest natural barrier island ecosystem in the Mid-Atlantic states and one of the most famous in the US.
It is the perfect haven for admirers of nature and it boasts sunny beaches, salty marshes, picturesque bays, maritime forests, and more.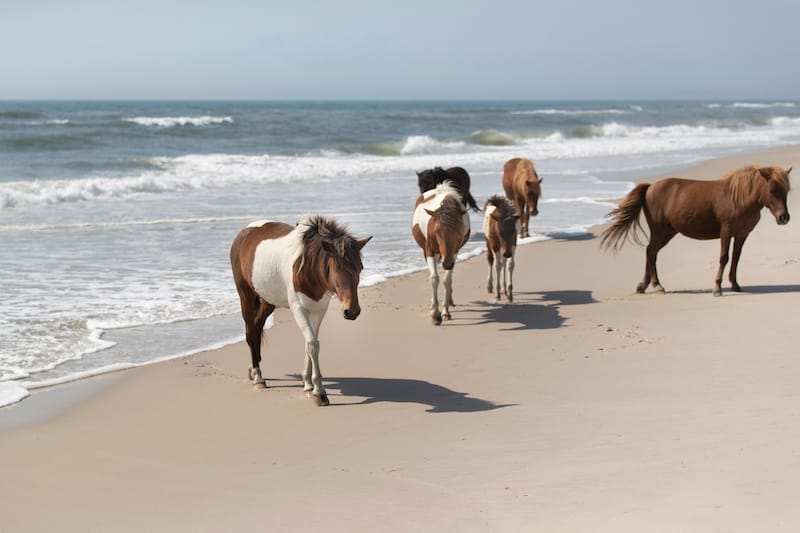 The area is the perfect place for camping if a day trip is just not suitable for you (honestly, this area deserves way more than a day trip). Popular campgrounds include Oceanside Drive-in, Oceanside Walk-in, Bayside Drive-in, Group Camping, and Horse Camp.
The island has wonderful opportunities for hiking and biking and you will see plenty of trail maps around the national seashore. In addition, visitors can enjoy crabbing, fishing, canoeing, kayaking, or just floating in the water!
Be sure to take a trip to gorgeous Chincoteague when there!
16. Leesburg
Location: Virginia
Washington DC to Leesburg Distance: 39 miles (49 minutes)
Situated at the foot of Catoctin Mountain, Leesburg was founded in 1740 and is named after the Lee family.
The former European settlement appeared due to a need for farming and plantations. Leesburg has a rich history and is one of Virginia's most famous small towns. During the War of 1812, it served as a haven for the US Government and Archives.
During the American Civil War, the Battle of Ball's Bluff took place here. There are so many things to do in Leesburg aside from just admiring its beautiful architecture and landscapes!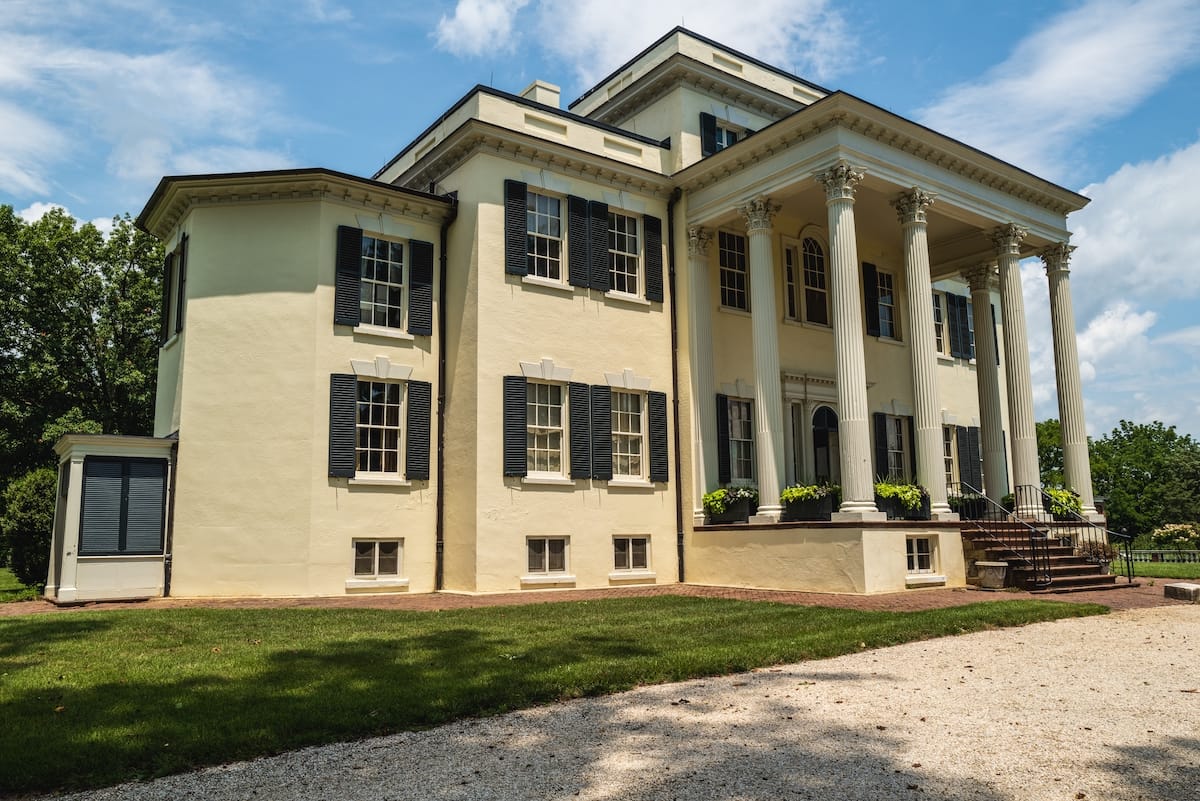 One of the top places to visit in Leesburg is Morven Park, a historic estate that is the site where you'll find Morven Mansion.
Other famous landmarks are the Winmill Carriage Museum, the Museum of Hounds and Hunting in North America; Oatlands Historic House and Gardens featuring 200-year-old buildings and gardens; the Marshall House, Ball's Bluff Battlefield Regional Park, Thomas Balch Library, and White's Ferry.
17. Lancaster County
Location: Pennsylvania
Washington DC to Lancaster PA Distance: 128 miles (2 hours, 25 minutes)
Lancaster is one of the leading agricultural counties in Pennsylvania and the county was established in 1728. The first settlers were German immigrants known as the Pennsylvania Dutch.
Whether you travel to explore the historical sites, enjoy outdoor activities, or go shopping, there's something for everyone in Lancaster! But, let's be honest, most people visit to explore Amish Country!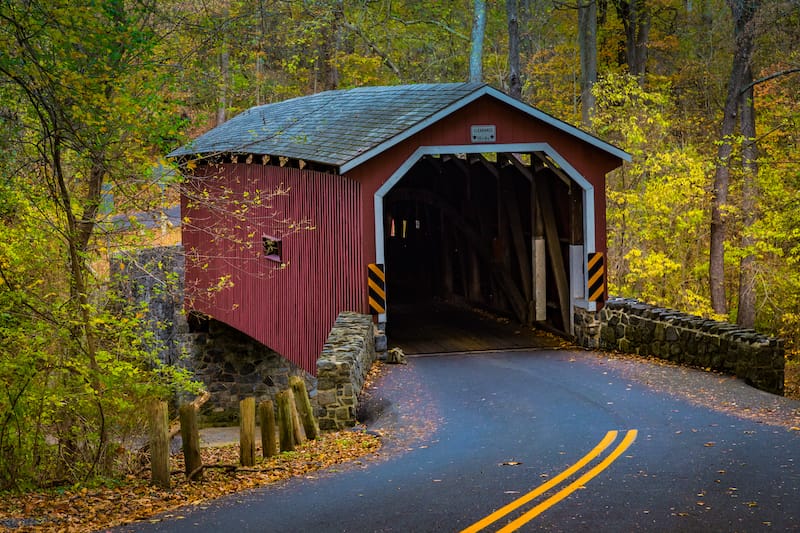 Some of the top sights in Amish Country here are the Amish Farm and House, the Amish Experience at Plain & Fancy Farm, or the Amish Village.
But, there is seriously more to Lancaster County than just Amish Country!
You can take a ghost tour with Ghost Tours of Lancaster, take a ride with Smoketown Helicopters, soar through the skies with the United States Hot Air Balloon Team, or visit the Wolf Sanctuary of PA.
There is also a chance to test your speed on the ziplines at Refreshing Mountain. Don't forget to put your palette to the test at the Dutch Apple Dinner Theater and the Julius Sturgis Pretzel Bakery!
Children will also love visiting the Lancaster Science Factory when there on a day trip or weekend trip from Washington DC.
18. Rehoboth Beach
Location: Delaware
Washington DC to Rehoboth Beach Distance: 123 miles (2 hours, 40 minutes)
Welcome to the nation's summer capital – Rehoboth Beach, Delaware! This beach is the largest beach resort in the state of Delaware and a great (but long) day trip from Washington DC.
Of course, the area's earliest settlers were the Natives until the Europeans came in the 17th century and later established Rehoboth in 1873.
Some of the most famous tourist attractions in Rehoboth Beach are the Rehoboth Beach and Boardwalk (it features family amusements, restaurants, shops, and open-air concerts) and Gordons Pond, which boasts hiking and biking trails with stunning scenery.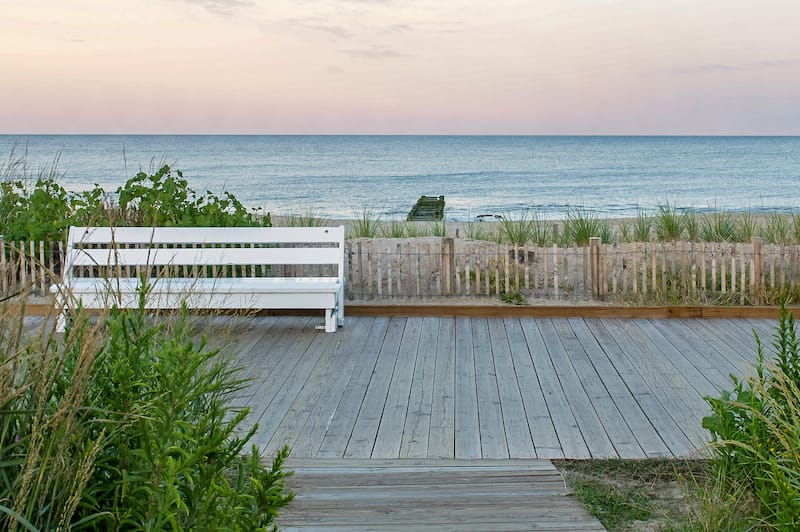 Delaware Seashore State Park covers 2825 acres and is equipped with umbrellas, chairs, and bathhouses for visitors.
For paddleboarding and windsurfing adventures, join DelMarVa Board Sport Adventures.
Unique places of interest in Rehoboth Beach are the Rehoboth Beach Farmers Market and the Clear Space Theatre Company.
19. Luray Caverns
Location: Virginia
Washington DC to Luray Caverns Distance: 94 miles (1 hour, 49 minutes)
Luray Caverns is a famous place in Virginia that is situated in the Shenandoah Valley that was discovered in 1878.
The enormous chambers and Virginia show cave are filled with dozens of stone formations and clear pools and it is one of the top attractions in VA.
The most spectacular formation is the highest calcite column called the Dominating Giant's Hall. Here you can also find and enjoy the music of the 'largest musical instrument in the world', The Great Stalacpipe Organ.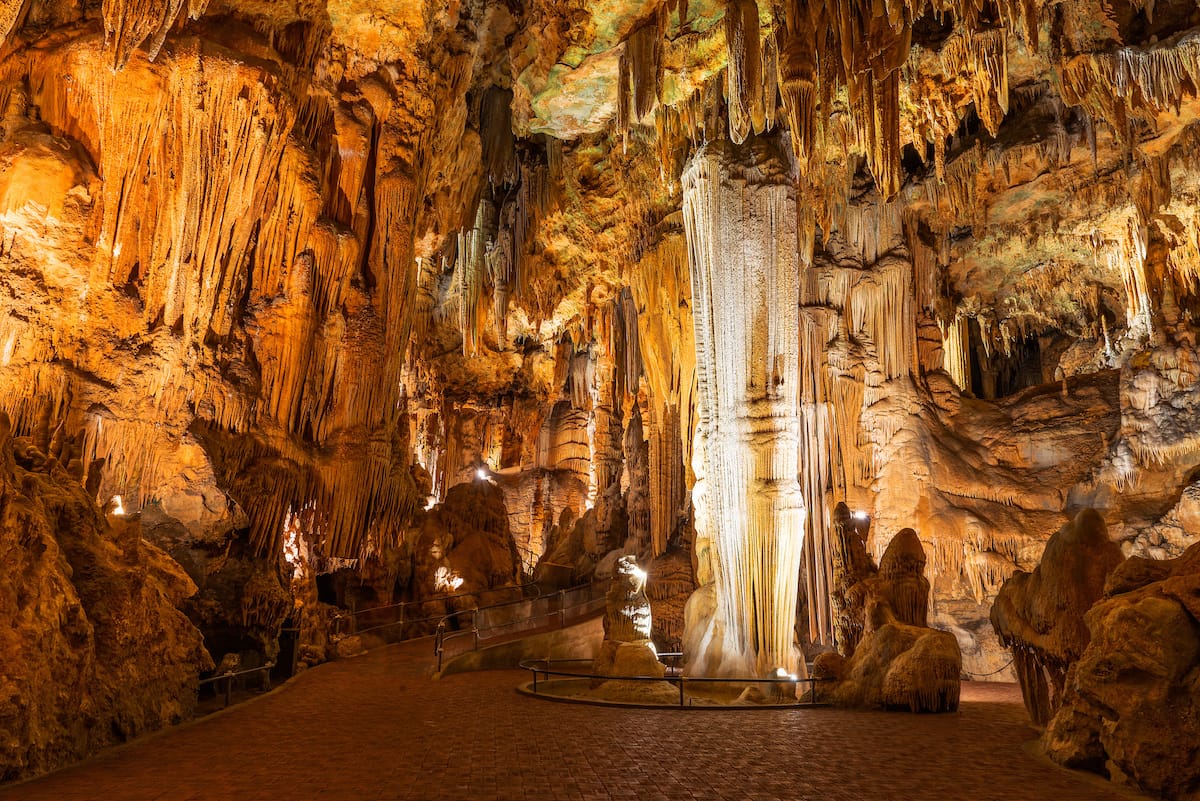 Be sure to not miss the Car & Carriage Caravan featuring an exhibition of 140 transportation means dating back to 1725. Visit the Shenandoah Heritage Village, including the Luray Valley Museum.
For youngsters, a great place of interest will be Toy Town Junction. The complex also boasts an ornamental garden aptly called the Garden Maze.
If you're looking to stay overnight and make this a longer trip, you will find plenty of options and other things to do in Luray, VA.
20. Philadelphia
Location: Pennsylvania
Washington DC to Philadelphia Distance: 142 miles (2 hours, 38 minutes)
It may feel like more than a day trip, but it definitely can be 'done' as one! Philadelphia is one of the largest and most prominent cities in the United States.
Founded in 1682 by William Penn, an English Quaker, it served as the capital of the Pennsylvania Colony (and was also the nation's capital at some point).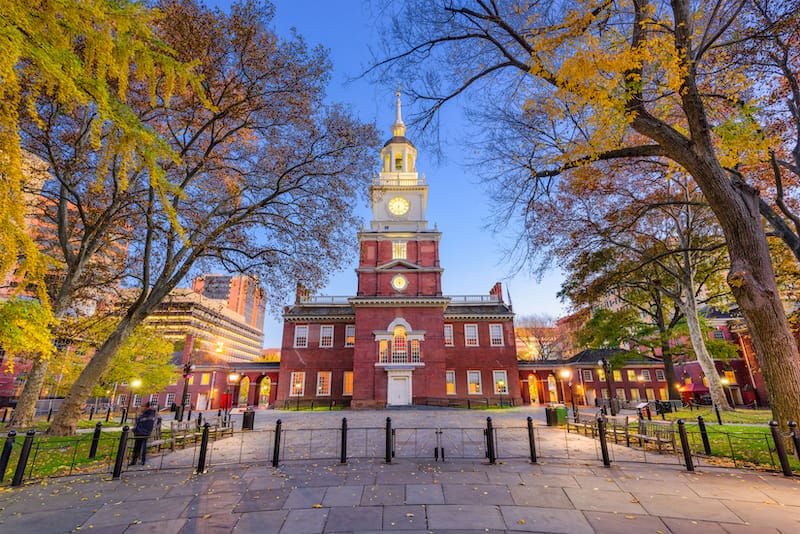 It also played a crucial role in the American Revolution. This is the very place where the Founding Fathers of the United States signed the Declaration of Independence.
This is a great Washington DC day trip or weekend trip for those with an eye on visiting historical sites and cities.
There are many famous places to visit in Philly, including the Liberty Bell Pavilion, Independence Hall, the Philadelphia Museum of Art and the Rocky Steps, Reading Terminal Market, the Barnes Foundation, Love Park, the Rodin Museum, and the Franklin Institute Science Museum.
Fairmount Park, the Pennsylvania Academy of Fine Arts Museum, and the City Hall are also places worth visiting!
What is your favorite day trip from Washington DC? Let us know in the comments! Thanks!
Other DMV Travel Guides
Pin this Washington DC Day Trips Guide