If you love waterfalls as much as I do, you will be obsessed with these incredible waterfalls in Shenandoah National Park!
There are several amazing Shenandoah National Park waterfalls. We have picked a handful of our favorites and many of them are reachable with an easy hike within the park (and are accessible from Skyline Drive)!
Let us know your favorite waterfall in Shenandoah in the comments!
Best Waterfalls in Shenandoah National Park
Jones Run Falls
Jones Run Falls is located in the South District of Shenandoah National Park at Mile 84.1 of Skyline Drive.
To reach this beautiful waterfall, you need to take a 3.2-mile, roundtrip hike and successfully complete a 1,045 feet, easy and gradual climb. This is one of the most popular waterfall hikes in Virginia and the entire park.
The trail passes by the lower and upper parts of the Doyles River.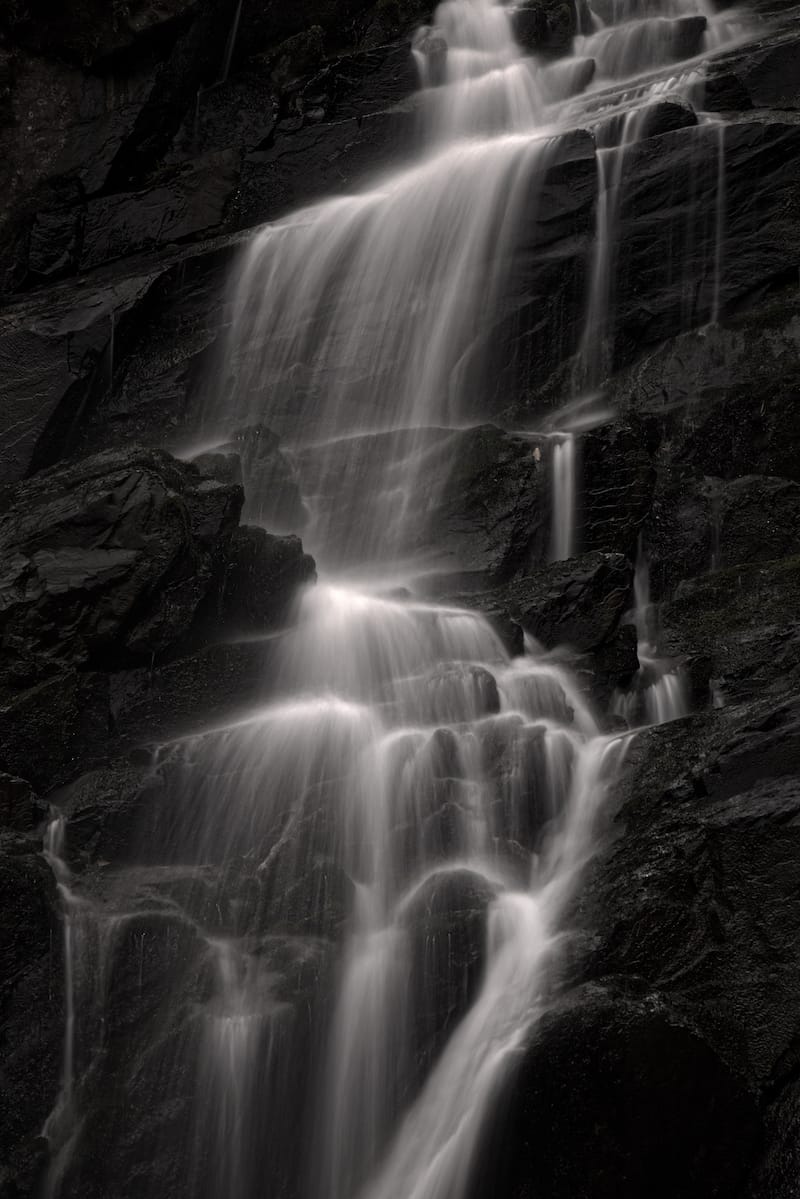 The wonderful jewel of a waterfall is surrounded by lush greenery, rocks, bushes, and moss. It is a location where you can find yourself connected with nature while sitting on the flat rocks next to Jones Run Falls.
The cascade of Jones Run Falls is 42 feet in height with cold water flowing from the mountains.
It is even chilled and refreshing during the hot summer months. Not only is this waterfall a beauty, but it is also one of the best easy hikes in Shenandoah National Park.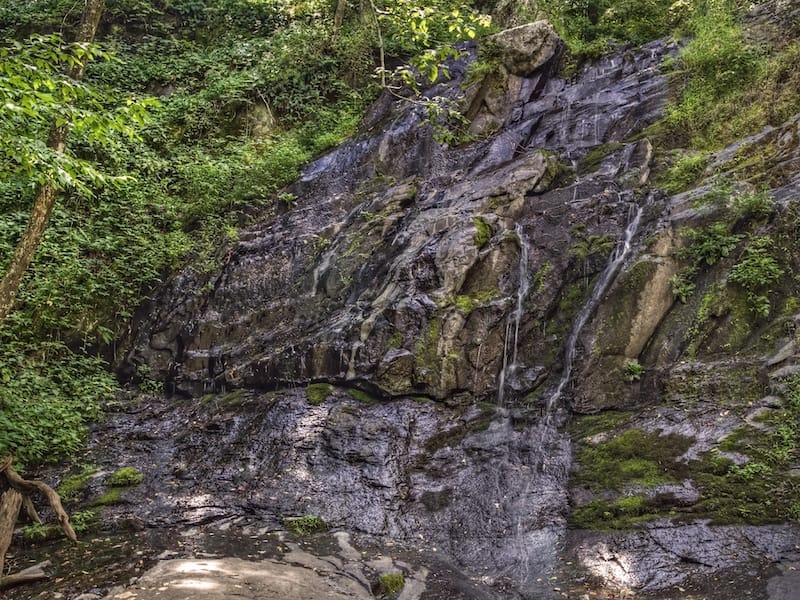 Overall Run Falls
The highest waterfall in the Shenandoah National Park is Overall Run Falls. It is surrounded by dense forest and rocks and has an extremely impressive drop.
It is located at Skyline Drive Mile 21.1 in the North District of the National Park where the visitors will start their hike to the Shenandoah waterfall.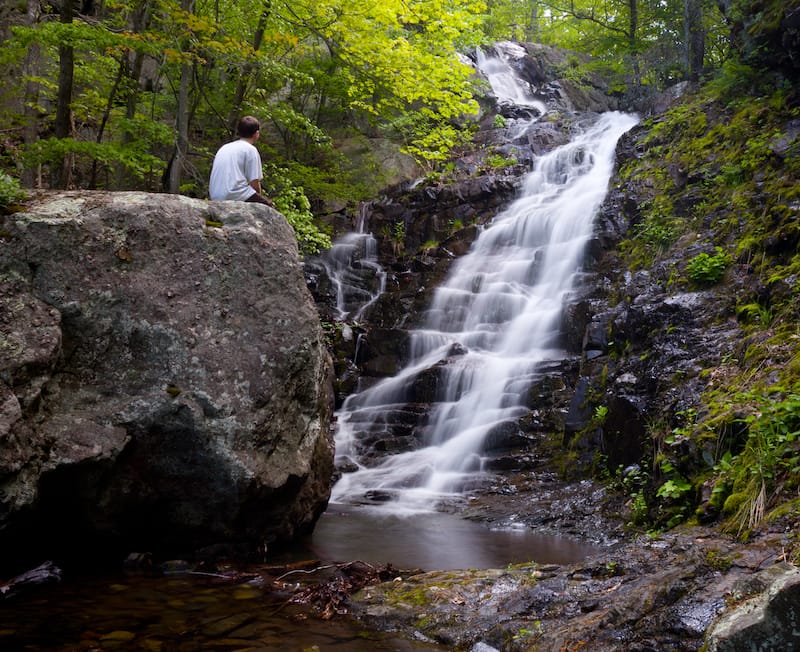 The waterfall hike is 5.1 miles roundtrip and 1,291 feet elevation gain. Once you successfully get to the top, you can see the mesmerizing Shenandoah Valley and Massanutten Mountain located to the west.
The photogenic waterfall has an impressive height of 93 feet and is nestled in the beautiful nature of Shenandoah National Park.
South River Falls
The spectacular South River Falls is located at Mile 62.8 in the Central District of the Virginia national park and it's one of the most beautiful waterfalls in Shenandoah National Park and is the third-highest.
The waterfall is two-tiered and is a unique one because before separating into the two tiers, it first flows into a rock shelf.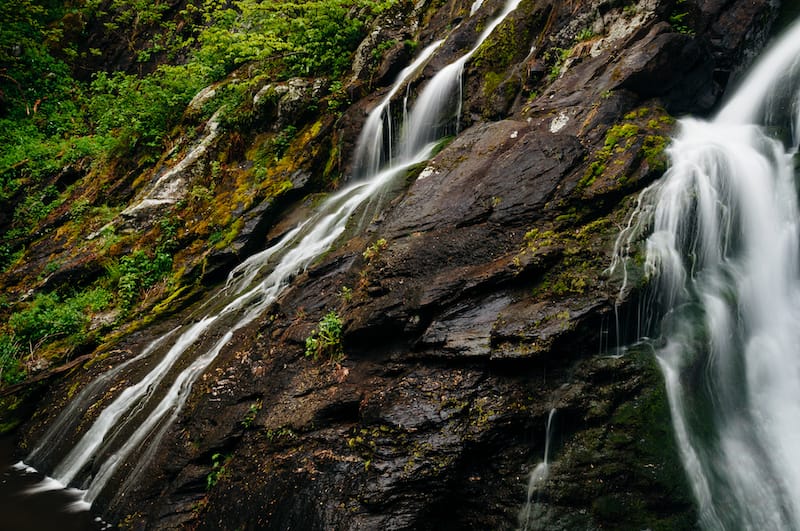 Hiking to South River Falls is comparably short and is 2.6 miles roundtrip. It also is 850 feet in elevation; this is one of the most wonderful and scenic trails within the park.
Don't forget to bring your camera because you will have a chance to see several places during your hike to the waterfall. And, of course, South River Falls itself is a very photogenic place!
Rose River Falls
Extremely impressive, the 67-feet tall Rose River Falls has two cascades that start from the Rose River.
This river is renowned for having less water during the hot season, but when the rainy season occurs, the waterfall is known for having four powerful cascades.
There are even places around the waterfall where you can slide down the rocks into the water – so be on the lookout!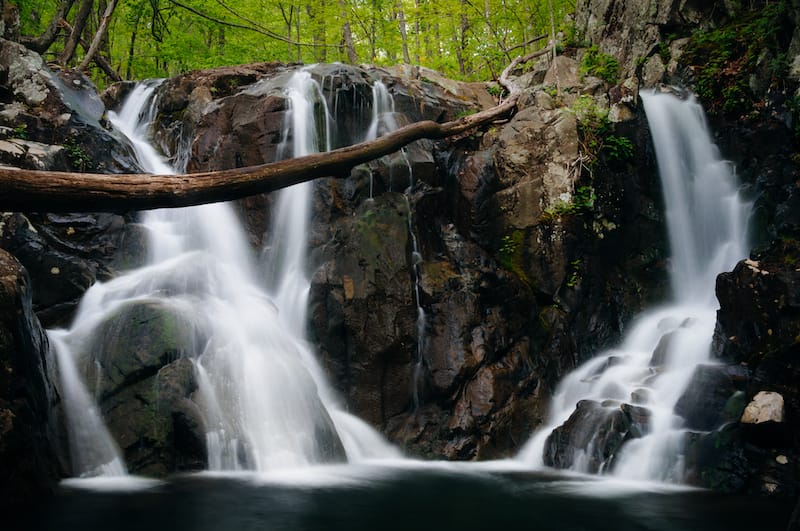 Rose River Falls is located at Mile 49.4 along Skyline Drive in Shenandoah National Park. To get to the waterfall, you need to accomplish a 4-mile, roundtrip hike and do an easy, 910-feet climb.
Doyles Falls
Dreamy and extremely photogenic, Doyles Falls forms two wonderful waterfalls in the lush forests of Shenandoah National Park that attract many hikers and nature lovers.
Located in Shenandoah's South District and at Skyline Drive Mile 81.1, it is a 3.2-mile hike that crosses the Appalachian Trail in order to reach the Shenandoah waterfall.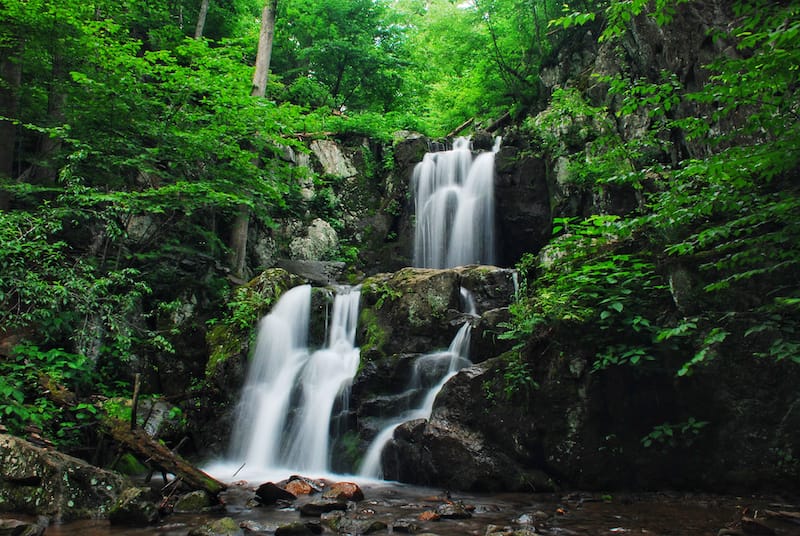 The upper falls have a height of 28 feet and the lower falls have a height of 63 feet.
Both of the cascades are beautiful and it makes putting this waterfall on your list for exploring the gorgeous waterfalls of Shenandoah National Park.
Lower Whiteoak Falls
This gorgeous hike to Lower Whiteoak Falls is a shorter 2.9 out-and-back trail from a boundary trailhead for Whiteoak Canyon Trail.
It is a well-loved hike, so get there early if you can, but the trail always seems less crowded than the parking lot. You will enjoy a walk through the woods next to a babbling river but be prepared for several water crossings.
Make sure you have proper shoes as rocks can be slippery when wet! At the end of the Lower Whiteoak Falls trail, you will be rewarded with a stunning waterfall and swimming hole!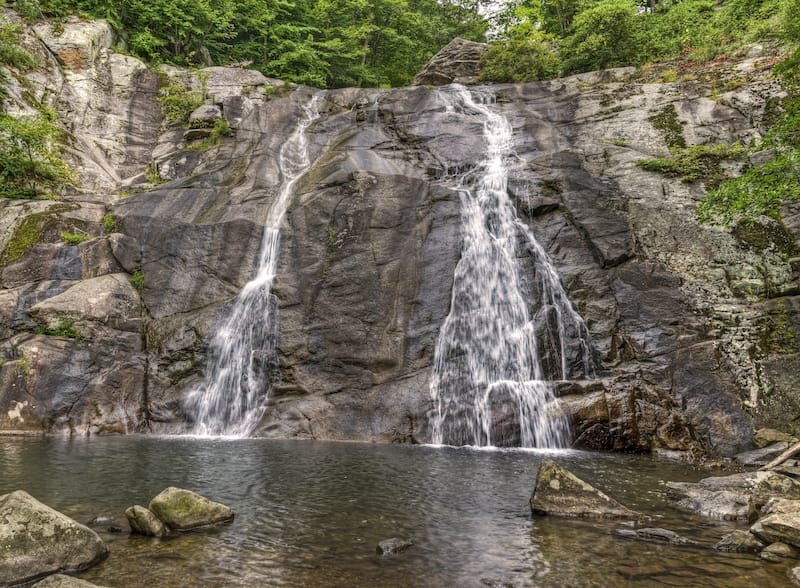 It's a great place to relax, have a picnic, and cool off in the refreshing water.
If you want to keep hiking you can continue further up the trail leading to Upper Whiteoak Falls, or just retrace your steps back to the parking area.
Dark Hollow Falls
Located near Big Meadows Campground and Lodge at Mile 50.7 on Skyline Drive, Dark Hollow Falls is an easily accessible waterfall that has an upper and lower waterfall.
Grab your camera and start discovering and photographing the beautiful surrounding nature because it is only a 1.4-mile hike to the waterfall which is why it is one of the most popular waterfalls in Shenandoah National Park.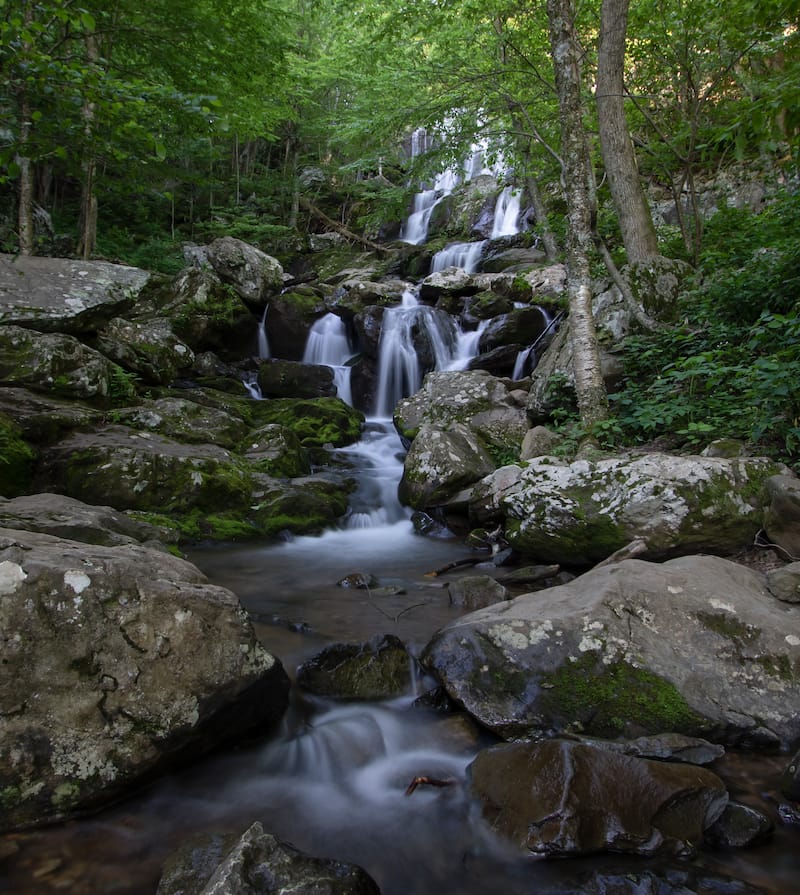 The height of Dark Hollow Falls is 70 feet and it is surrounded by greenery and beautiful rocks where you can sit and enjoy the sound of untouched nature.
Naked Creek Falls
Yet another very beautiful but not as accessible waterfall is Naked Creek Falls near Naked Creek Overlook in the backcountry of Shenandoah.
The waterfall is located at a pretty high elevation (approximately 3,250 feet) and as you get there, you will have a wonderful overlook of the valley of Naked Creek.
It's worth visiting Naked Creek Falls if you are an experienced hiker and ready to pass a rugged terrain hike through the woods because there is not a marked trail to reach the waterfall.
Despite being only a 1.5-mile, out-and-back hike, it passes through fallen trees, overgrown bushes, and a lot of rocks.
Naked Creek Falls comes from a waterfall-rich stream and is definitely one of the best Shenandoah National Park waterfalls for those that enjoy a challenge with a grand reward!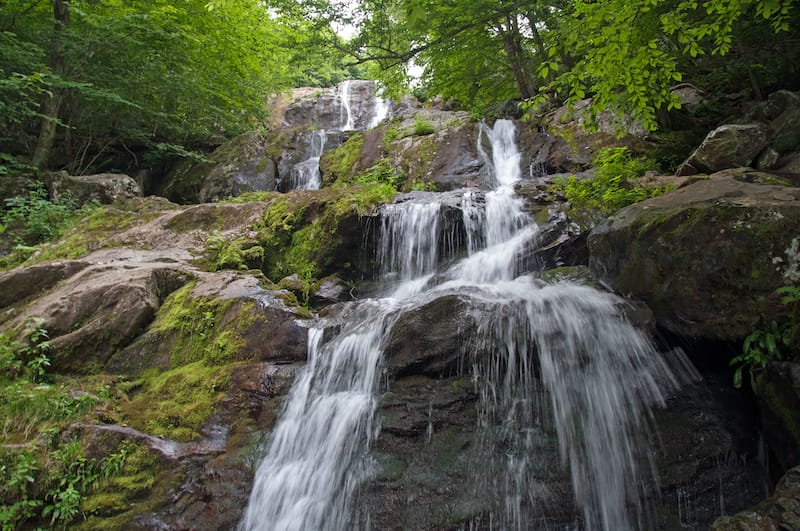 Hazel Falls
For a waterfall hike with an interesting extra bonus of caves to explore, Hazel Falls is the perfect option. You'll start from the Meadow Spring parking area at milepost 33.5. The trail is a 5.2-mile out-and-back.
It is relatively flat most of the way except at the very end of the trail at the falls, where there are steep steps leading down to the falls.
Consequently, the hardest part of the hike is going back up the stairs on the way out, but the gorgeous views are worth it!
There is plenty to explore around the falls, and make sure to check out the nearby shallow caves.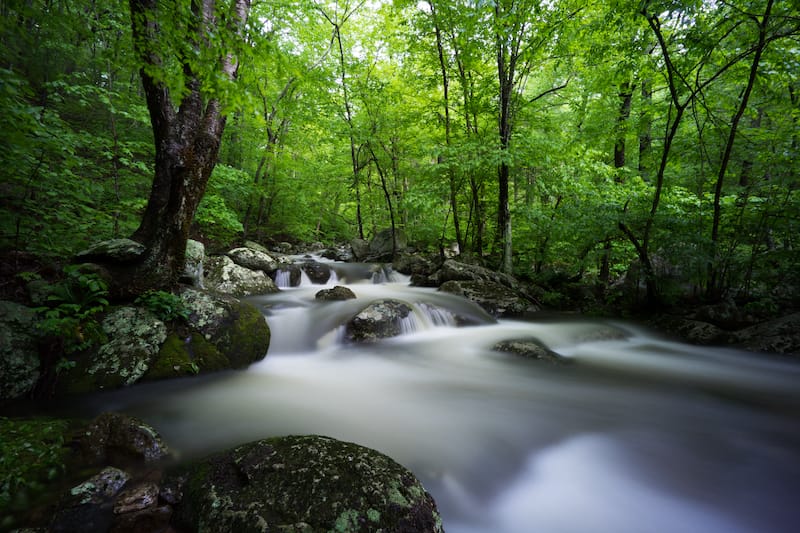 Take a picnic and relax on the shaded, large rocks next to the waterfall, and enjoy your peaceful surroundings.
These are some of the best showcases of nature in all of Virginia and definitely some of the best waterfalls in Shenandoah National Park!
Have you visited any of these Shenandoah National Park waterfalls? Let us know in the comments! Be sure to check out our guide to the best Shenandoah National Park Airbnbs for your trip!
Additional Shenandoah National Park Resources
Pin this Shenandoah National Park Waterfalls Guide