Virginia may not be renowned for its waterfalls, but they definitely do exist and they are in various parts of the state. This guide shows the best waterfall hikes in Virginia that you'll want to add to your bucket list.
If you have a favorite Virginia waterfall hike that was left off this list, please let us know in the comments section!
Virginia Waterfall Hikes You'll Love
Virginia has many beautiful waterfalls to discover. On this list, you will find a variety of options, from easy to moderate hikes to waterfalls viewed from a lookout point with no hike required.
These waterfalls in Virginia range from tall to wide, straight down to tiered. Several are part of the beautiful Shenandoah National Park, Virginia's most famous national park.
And when hiking, make sure to bring water and wear proper footwear, as trails can be slippery! We give a list of things to bring at the bottom of the guide!
And a quick tip is to always check the weather before going. Since many of these waterfall hikes in Virginia are located in the mountains and western part of the state, you may encounter undesirable weather if you don't research a bit beforehand.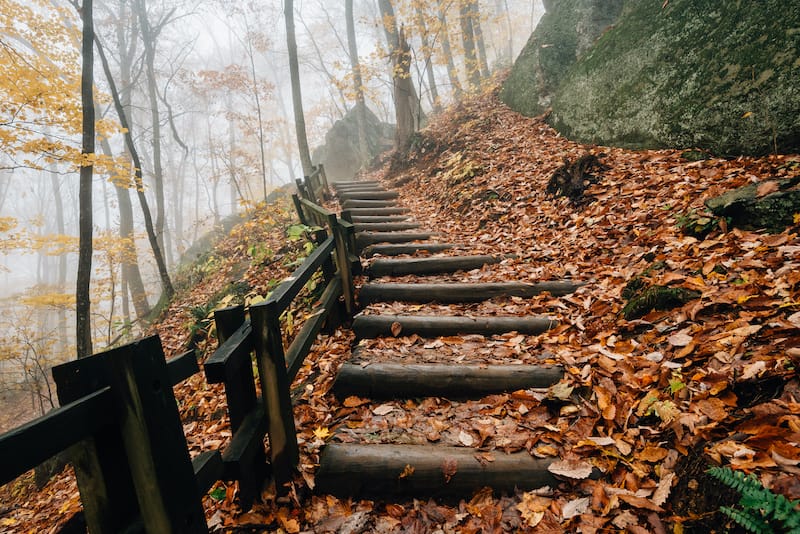 Great Falls Park
Address: 9200 Old Dominion Dr, West McLean, Virginia 22102. It is 17 miles from Washington DC (29 minutes) and 114 miles from Richmond (1 hour and 52 minutes).
Official Website: http://www.nps.gov/grfa
Difficulty: Easy. It is less than a 10-minute walk from the Visitor's Center.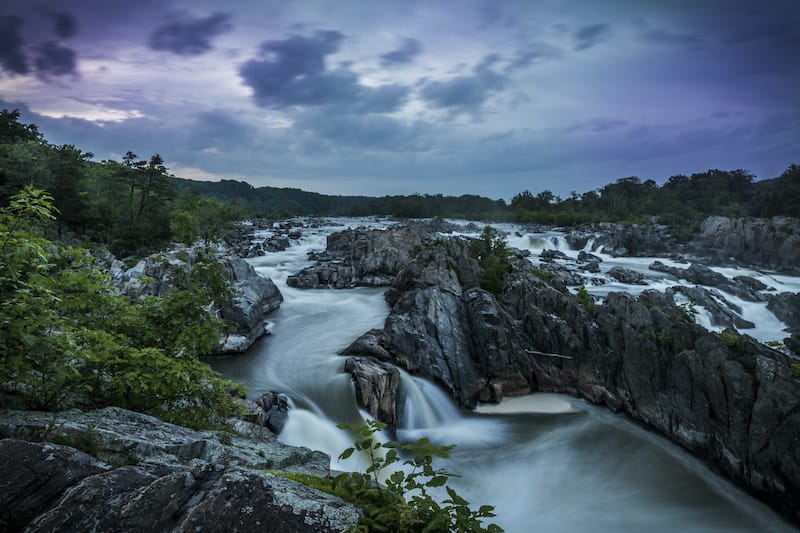 Great Falls Park is only a 15-minute drive from Washington, D.C., giving easy access to nature. Great Falls is where the Potomac River picks up speed and passes through Mather Gorge, flowing over a wide expanse of jagged rocks.
The park itself is over 800 acres and offers other great hiking trails besides just seeing the waterfall. There is also a long history there, as George Washington himself commissioned canals and locks to be built so that barges could get through the river.
There are three lookout points, with two being wheelchair accessible. These points are all within a ten-minute walk from the Visitor Center.
Devil's Bathtub
Address: 214 Big Stoney Creek Rd, Fort Blackmore, Virginia 24250. It is 411 miles from Washington DC (6 hours and 26 minutes) and 360 miles from Richmond (5 hours and 33 minutes).
Difficulty: Moderate to Difficult. It is 3.2 miles out-and-back from the parking lot.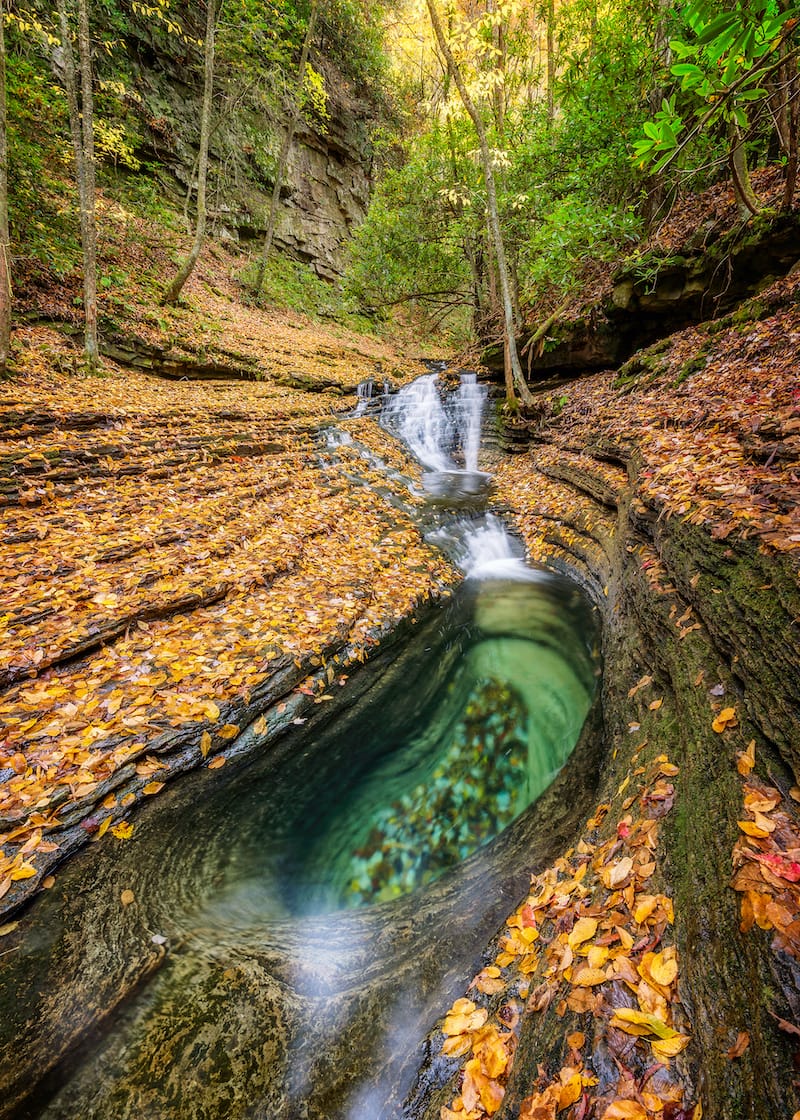 Devil's Bathtub is a beautiful pool of water at the bottom of a small waterfall. The Devil's Fork Loop trail winds its way through a forest and crosses streams several times.
The pool water is cold, but it is definitely worth a swim if you dare to jump in. Make sure to wear good shoes, especially as the stream crossings have loose stones. Weekdays are the least crowded as it's a popular weekend spot.
Falls of Dismal
Address: 395 Dismal Creek Rd, Pearisburg, VA 24134. It is 302 miles from Washington DC (4 hours and 47 minutes) and 250 miles from Richmond (3 hours and 55 minutes).
Difficulty: Easy. It is only a 0.1-mile walk from the end of the road, making it accessible to all.
Dismal Falls (or Falls of Dismal) is anything but dismal; its name comes from its source, Dismal Creek.
As it's a bit off the beaten path, it is a tranquil and lovely spot that isn't overcrowded with tourists. The falls itself is not a very tall waterfall, only about ten feet, but it stretches across the stream to about 50 feet in width.
Wide stones along the side of the stream make good viewing or picnic spots. There is a primitive campground, Walnut Flats, located just up the road that makes an idyllic spot for a quiet camping trip to enjoy the other activities this area offers, such as the hiking trails, swimming holes, and fly-fishing opportunities.
Dark Hollow Falls
Address: Rose River Trail, Shenandoah National Park, VA 22853. It is 101 miles from Washington DC (2 hours and 17 minutes) and 110 miles from Richmond (2 hours and 12 minutes).
Difficulty: Moderate. This Virginia waterfall hike is 1.4-mile out-and-back.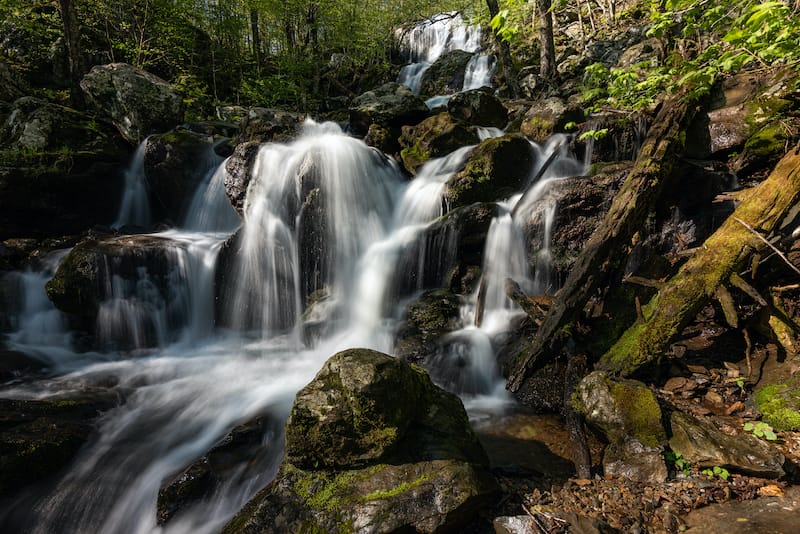 This beautiful and picturesque waterfall in Virginia is located off of Skyline Drive in Shenandoah National Park. It is a popular trail among locals for its gorgeous scenery.
The trail runs along the stream and ends at a tiered waterfall over 70 feet in height. It can be steep in some parts and sometimes slippery, so make sure you wear proper shoes for hiking.
You can enter the trailhead from Big Meadows Area in Shenandoah Park, which has amenities like a Visitor's Center, campground, lodge, and picnic areas. It's a perfect place to have a picnic after your scenic hike to the waterfall. If you want a longer hike, you can connect to the Rose River Falls trail.
Rose River Falls
Address: Rose River Trail, Shenandoah National Park, VA 22853. It is 101 miles from Washington DC (2 hours and 17 minutes) and 110 miles from Richmond (2 hours and 12 minutes).
Difficulty: Moderate. This is a 2.6-mile loop hike to get to the waterfall.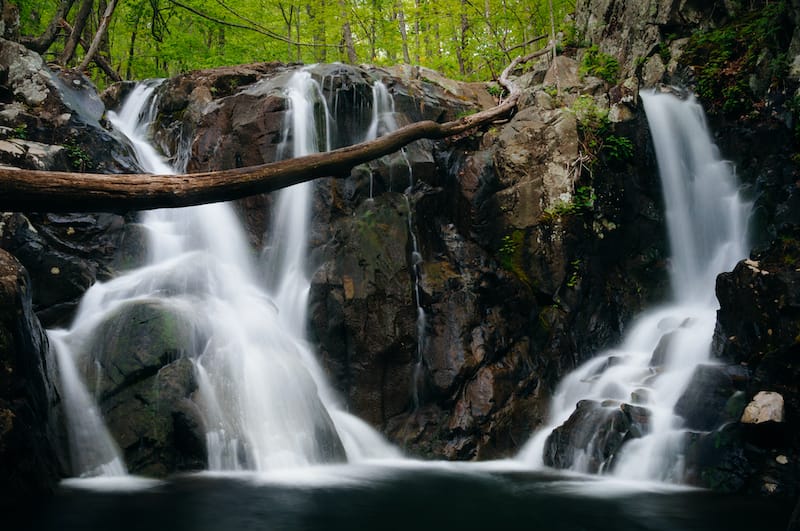 This beautiful hike follows the Rose River almost the entire way to the falls, so you have beautiful views and calming sounds to accompany your walk.
This trail is a little bit longer and less popular than Dark Hollow Falls, lending to a slightly more secluded and peaceful hike. There are plenty of spots to dip your feet in the stream or swim in the pool at the waterfall.
The trailhead is at Big Meadows Area, off of Skyline Drive. Though beautiful at any time, the very best time to do this hike is in the spring, as later in the summer there is less water flowing. If you want to do a longer hike, combine this trail with the Dark Hollow Falls trail.
This is definitely one of the most beautiful waterfalls in Shenandoah.
Falling Springs Falls
>> UPDATE: This hike is now illegal and fines are given if you attempt it!
Address: Falling Spring, VA 24445. It is 236 miles from Washington DC (3 hours and 46 minutes) and 184 miles from Richmond (2 hours and 52 minutes).
Difficulty: Easy. There is no hike required and it is a short distance from the parking lot, making this a very accessible waterfall in Virginia.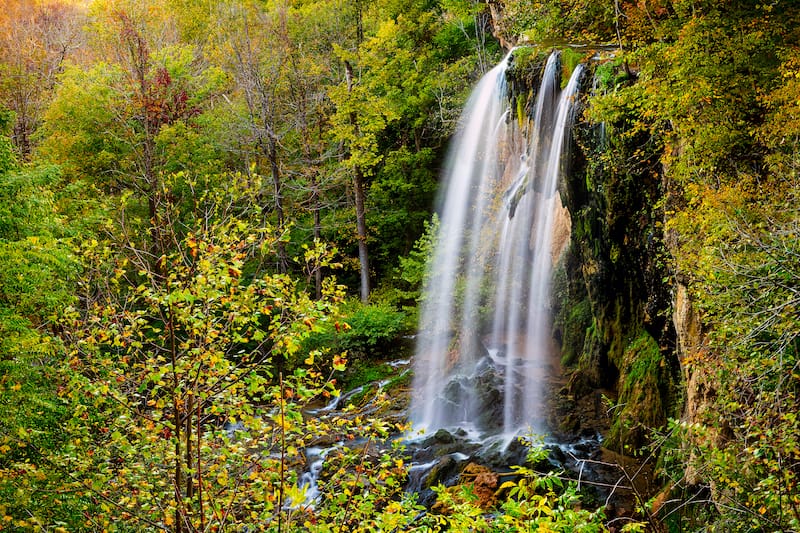 This gorgeous 80-foot waterfall is very easily accessible. There is a viewpoint right off Road 220, with an area to park.
It is a short walk to see the stunning white water cascade nestled in lush greenery. The overlook is a perfect spot to get some great photos. This waterfall was even visited by Thomas Jefferson back in the day. He wrote about it in his manuscripts "Notes on the State of Virginia" and called it a "remarkable cascade."
Note that this Virginia waterfall does not have any hiking access, it is an overlook point only.
Crabtree Falls
Address: 11581 Crabtree Falls Highway. Montebello, VA 24464. It is 182 miles from Washington DC (3 hours and 3 minutes) and 126 miles from Richmond (2 hours and 7 minutes).
Difficulty: Moderate to difficult. The Virginia waterfall hike is a 3-mile loop.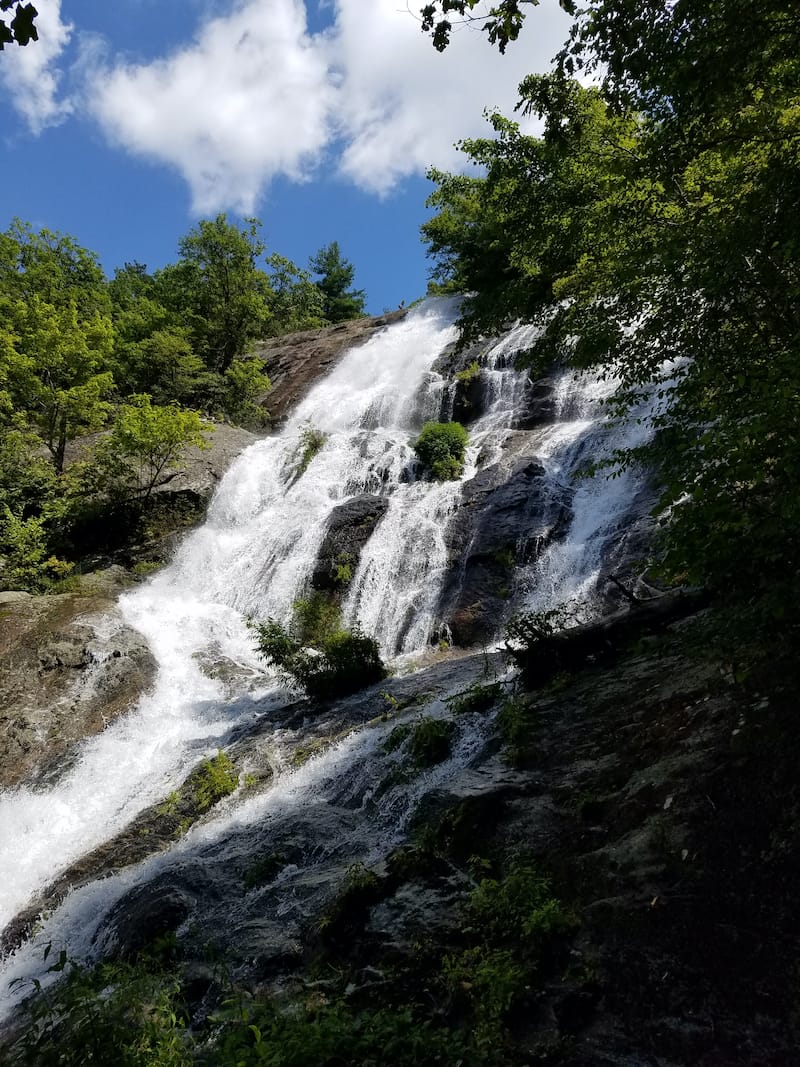 This is the tallest waterfall in Virginia, and one of the tallest east of the Mississippi. In total, it drops 1,200 feet over a half-mile. One section has a waterfall drop of 500 feet straight down.
To get to the falls, you will take the Crabtree Falls trail, which follows Crabtree Creek. There are a series of lookouts, bridges, and stairs that give plenty of opportunities for spectacular photos.
Stiles Falls
Address: 2842 Crockett Springs Rd, Shawsville, VA 24162. It is 260 miles from Washington DC (4 hours and 5 minutes) and 208 miles from Richmond (3 hours and 11 minutes).
Difficulty: Moderate. The waterfall hike is 4.1-miles out and back.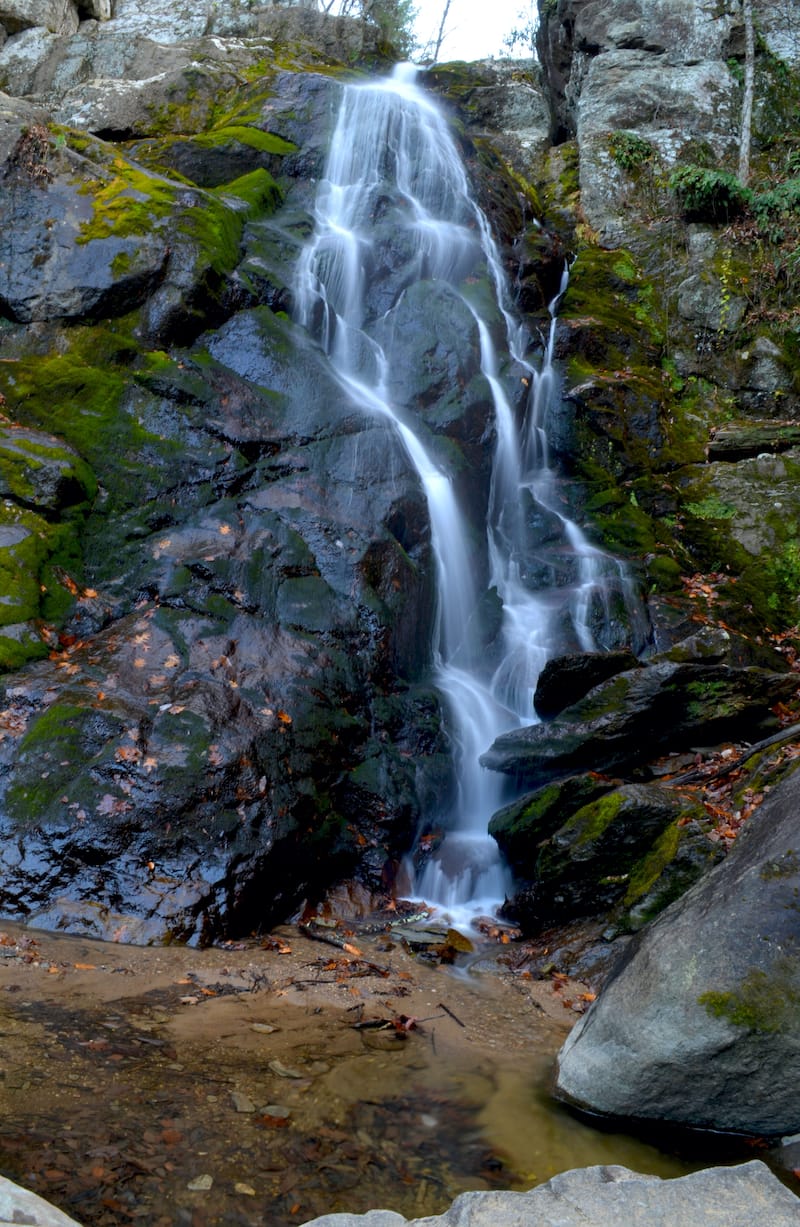 Stiles Falls trail is a beautiful trail leading to a picturesque 40-foot waterfall, tucked away in a lush forest.
Enjoy your walk through the trees, crossing Purgatory Creek before you reach the falls. The trail is leashed-dog friendly, so feel free to bring your pup along!
The property is privately owned but open to public hiking, except during their summer camps. You can check the website to make sure they are open when you plan to go.
Falls Ridge Preserve
Address: Falls Ridge Rd, Elliston, VA 24087. It is 250 miles from Washington DC (3 hours and 52 minutes) and 198 miles from Richmond (2 hours and 58 minutes).
Difficulty: Easy. This waterfall hike in Virginia is a simple, 1-mile loop.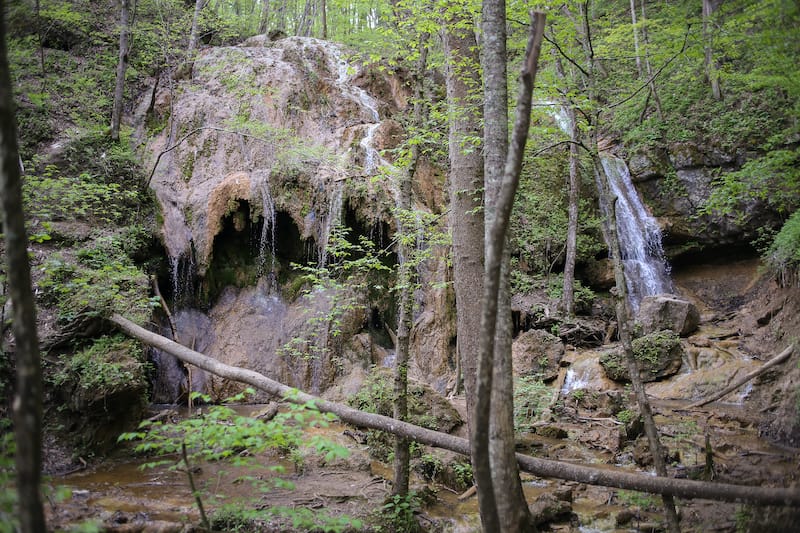 This easy trail leads you to a fascinating, travertine waterfall. Travertine is a tan-colored limestone that is formed by mineral deposits. This waterfall is one of the world's largest exposed travertine deposits.
You can see where plants have been calcified by the green streaks in the rocks. The falls cascade down stair steps for about 80 feet in total. On the way to the falls, you will traverse bridges and see undercut rock formations that almost look like caves.
Please note that when driving to the trailhead, when you are almost there, you will need to take a sharp left after you cross the railroad tracks to find the parking lot at the end of the road.
Cascade Falls Trailhead
Address: Pembroke, Virginia. It is 287 miles from Washington DC (4 hours and 27 minutes) and 235 miles from Richmond (3 hours and 32 minutes).
Difficulty: Easy to Moderate. This is a 4-mile loop hike that is on a well-trodden path.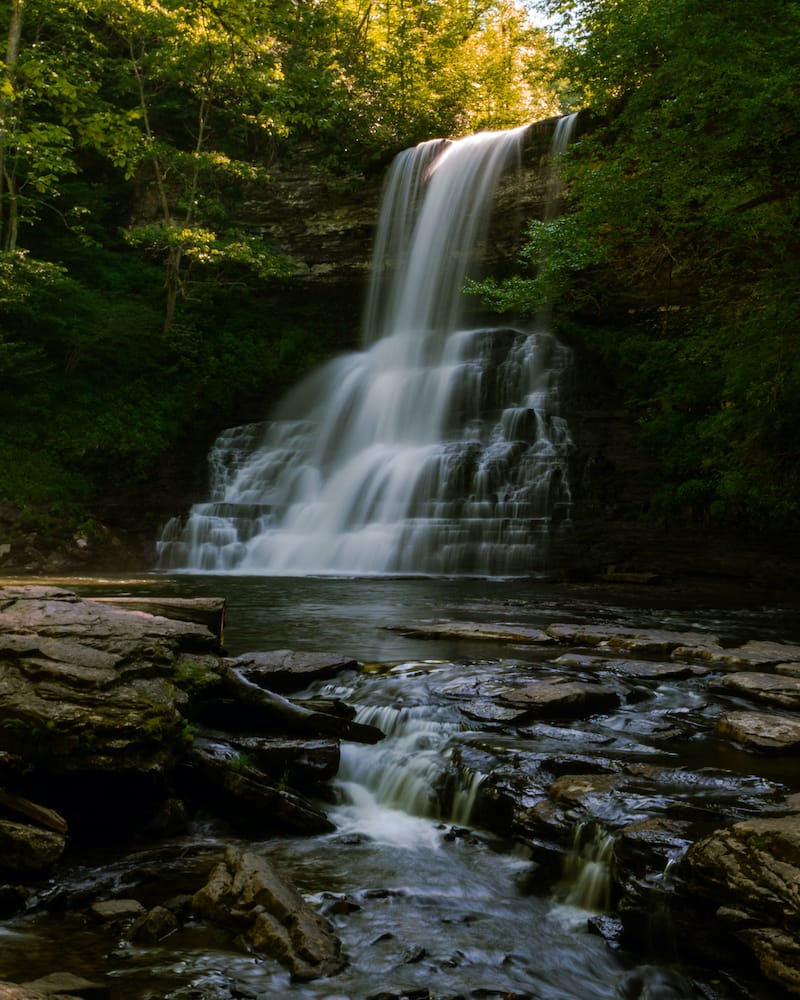 Cascade Falls Trailhead has all the factors for a great hike: not too difficult or long, beautiful scenery, well-maintained trails, a beautiful pooling waterfall, and space to have a picnic when you arrive.
Pack a picnic and enjoy a meal on the stone slabs surrounding the pool. There are two connecting trails- an upper and a lower trail. The lower trail is slightly longer but easier, so you could take this one to the falls and the upper one, which is quicker, on the way back.
Parking at the trailhead is $3, so make sure to have some cash on you.
Statons Creek Falls
Address: Pedlar River Rd, Vesuvius, Virginia 24483. It is 191 miles from Washington DC (3 hours and 19 minutes) and 137 miles from Richmond (2 hours and 19 minutes).
Difficulty: Easy. There is no true hike involved for this waterfall. It has roadside access, making it a great place for all types of travelers, including ones with mobile impairments.
This Virginia waterfall is an easy one to access but tends to be one of the lesser-known ones in the state. If you're looking for a nearby hike to a waterfall, you can actually make this a two-sight stop and also visit Panther Falls, a small 10-foot waterfall and swimming hole.
Apple Orchard Falls Trailhead
Address: Blue Ridge Pkwy, Buchanan, VA 24066. It is 260 miles from Washington DC (4 hours and 11 minutes) and 207 miles from Richmond (3 hours and 16 minutes).
Difficulty: Moderate. This waterfall trail is 2.9 miles long and can be somewhat trafficked depending on the day.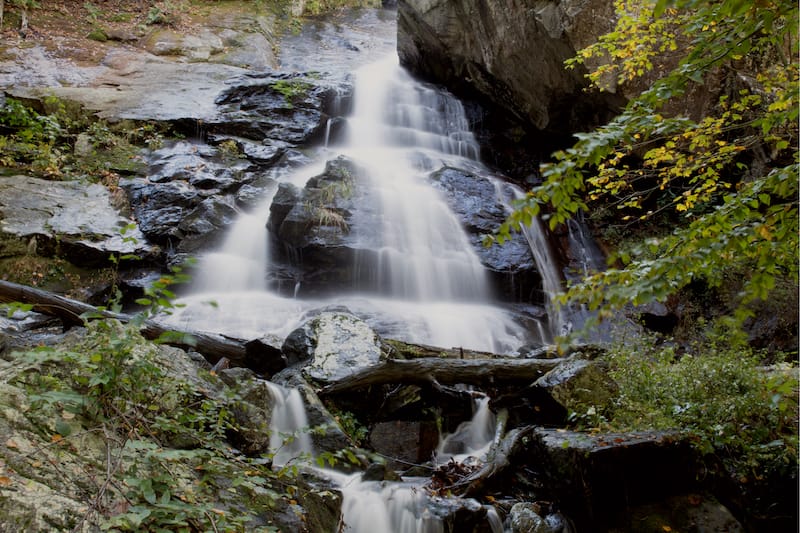 Located in the George Washington and Jefferson National Forests, this waterfall hike is great for families as it is easy to moderate in most locations. There are few parts that can be deemed a bit difficult, however. The trail starts at 3500 feet on the Blue Ridge Parkway close to milepost 78.
There are a few trails you can take to visit the waterfall, so we recommend checking out the official forest website before embarking on one of them to see which one fits your stamina and desires best.
What to Bring
Naturally, dress for the season! Summers in Virginia are humid and hot, but if you're in the forest or in higher elevation, it will most definitely be more comfortable than in the city. Here are some of our top recommendations of what to tote along with you for your waterfall hike.
Reusable Water Jug: I recommend always having a reusable water jug with you at all times. Virginia's weather is unforgiving and you can dehydrate quickly! There are almost always freshwater sources available in and around the area (I mean, you're heading to waterfalls!) but do bring some with you just in case!
I travel the world with my Klean Kanteen water jug and I think it is the perfect one to get the job done when hiking to waterfalls! You can see the one I use here.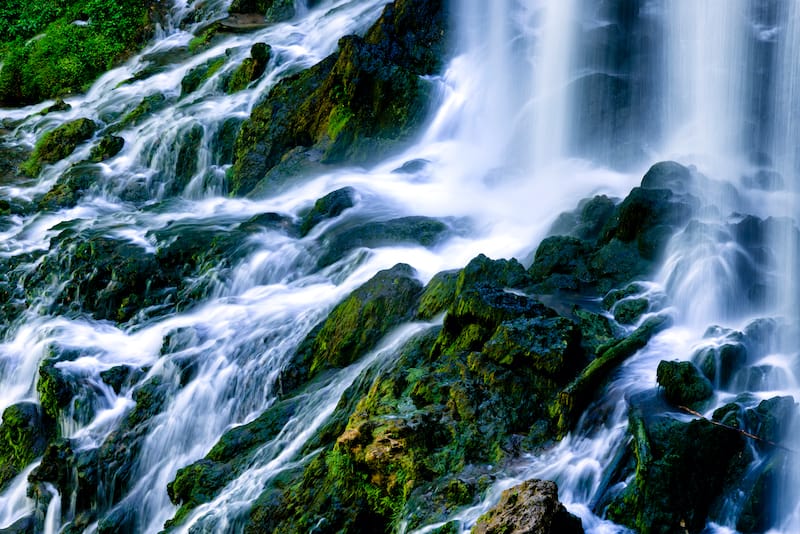 Keen Targhee Hiking Boots: During Virginia's warmer months, evening storms and rain is more common than not and you'll likely experience mud somewhere on your hike.
I have had my Keen Targhee hiking boots for many years and they have helped me trek across some wild environments, so I definitely recommend investing in a pair if you're an avid hiker. You can see my Keen Targhee hikers here.
Mosquito Repellent: One thing I don't miss when I leave Virginia's borders is the mosquitoes. But, they are unavoidable and a complete nuisance when trying to enjoy the outdoors.
I recommend a heavy-duty repellent to put your mind at peace before taking to the Virginia wilderness. Here is the mosquito repellent I use to deter them!
Lightweight Daypack: If there is one thing I have too many of, it is daypacks. While I love my Sandqvist and Ucon Acrobatics Bags, I opt for something a bit more lightweight when hiking.
My top recommendation is the Osprey Ultralight Stuff Pack. It is durable and well-made and will be an effortless accompaniment for your day hike. Click here to check out color options and purchase.
Larabars: When I travel, I always keep some type of 'bars' on me and my favorite are Larabars. I have been eating these for well over a decade and they are perfect for exciting day hikes as they are richer and more filling than their size indicates!
You can buy a variety box or just purchase your favorite. Click here to purchase a box of Larabars for your hike.
Before heading out, give the weather a check to see if rain (or snow) is on the horizon and adapt what you bring accordingly. Also, note that the grounds will likely be slippery at all times since you're trekking to a waterfall!
We hope that this guide to the best waterfall hikes in Virginia has inspired you to get out of the cities and into nature and explore some of these gems! There are also many Virginia caverns that are located close to these waterfalls, so make a whole weekend of it and connect with nature.
Additional Virginia Resources
PIN IT FOR LATER!