The historic city of Charlottesville, Virginia is often associated with the University of Virginia and once being the home of Thomas Jefferson.
However, this Virginia city is the perfect place to get outdoors and soak in the fresh air. One of the most popular activities for active travelers is to go on an adventure hiking near Charlottesville.
There are plenty of hikes in Charlottesville and its surrounding area for all types of fitness levels.
We have compiled a list of the top-rated hikes near Charlottesville, giving options for all levels of difficulty.
We hope that this Charlottesville hiking guide will inspire you to get away from the city and experience the pristine surrounding nature!
Be sure to drop your favorite trail in the area in the comments below!
Hiking Near Charlottesville – The List
This guide is broken into three sections based on difficulty: easy hikes, moderate hikes, and difficult hikes.
We have also listed the type of trail it is and the length for your planning convenience.
Saunders-Monticello Trail (easy)

Highlands Trail Woodland Loop (easy)

Ivy Creek Park Orange, Peninsula, & Red Trail (easy)

The Blue Wheel (easy)

North Fork Moormans River (easy)

Ragged Mountain Natural Area Trail (moderate)

Hollow Trail and Fire Trail Loop (moderate)

Turk Mountain Trail (moderate)

Riprap Trail (difficult)

Austin, Furnance, & Trayfoot Mountain Loop (difficult)
Some of the hikes are in Shenandoah National Park and one of the difficult hikes is done best with an overnight unless you feel comfortable walking over 20 miles in one day.
You will see our packing recommendations toward the bottom of the guide.
Easy Hikes in Charlottesville (& Nearby)
Saunders-Monticello Trail
Distance: 3.9 miles
Type of Trail: Out and Back
Location: Kemper Park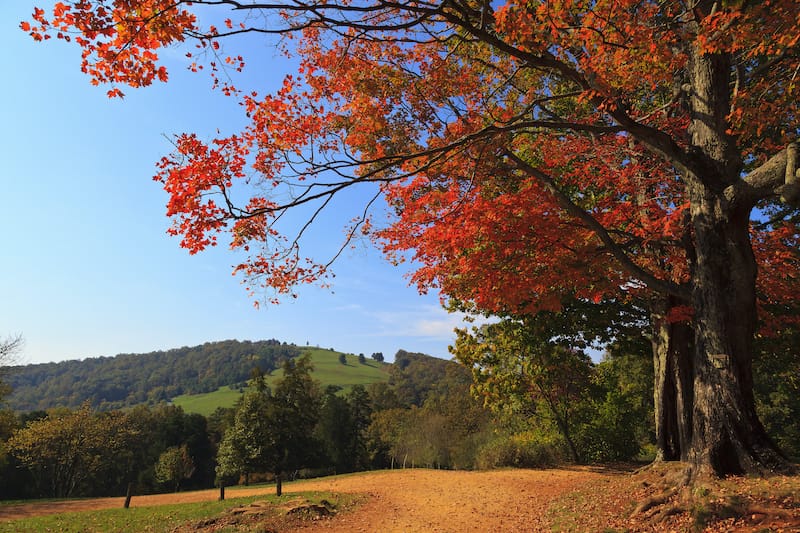 This popular Charlottesville trail is often rather busy but remains a favorite in the city of Charlottesville.
You don't need to go far to enjoy the trail that is situated in a forest and is a good match for all fitness levels.
The trail is usually used for hiking, walking, and running but you will see a variety of activities taking place there.
The trail runs along the southern part of Route 53, across the Saunders Bridge toward the new Visitor Center at Monticello.
While the trail is often deemed a hiking route, it is actually open to wheelchairs and cyclists.
The Saunders-Monticello Trail is located in Kemper Park, one of the best places to visit in Charlottesville, and is open year-round from sunrise to sunset.
Bikes are required to yield to pedestrians at all times and dogs are not permitted on the trail (but are allowed in Kemper Park as long as they are leashed).
The Boardwalk can be a bit slippery if it rains and it may be temporarily closed to cyclists.
Highland Trails Woodland Loop (Green)
Distance: 0.9 miles
Type of Trail: Loop
Location: James Monroe's Highland
The Highlands Trail Woodland Loop is a trail near Charlottesville that is known for its gorgeous wildflowers and is a great place to stroll regardless of fitness level. It is a great place for spring wildflowers in Virginia.
The Virginia trail is a top spot for other activities, too, such as bird-watching and wildlife spotting. It is open all times of the year and is shaded as it meanders over rolling land through pine trees.
This trail is part of a larger system at James Monroe's Highlands where you will find three trails (two easy and one moderate).
This trail is identified as the 'Green' one and you'll also find a 'Blue' and 'Red' one.
The Blue one is the Outer South Pasture trail that is easy and a great place to go picnicking.
The Red trail is of moderate difficulty and is called the Mountain Trail. It has some fairly steep inclines.
Ivy Creek Park Orange, Peninsula, & Red Trail
Distance: 3.3 miles
Type of Trail: Loop
Location: Ivy Creek Park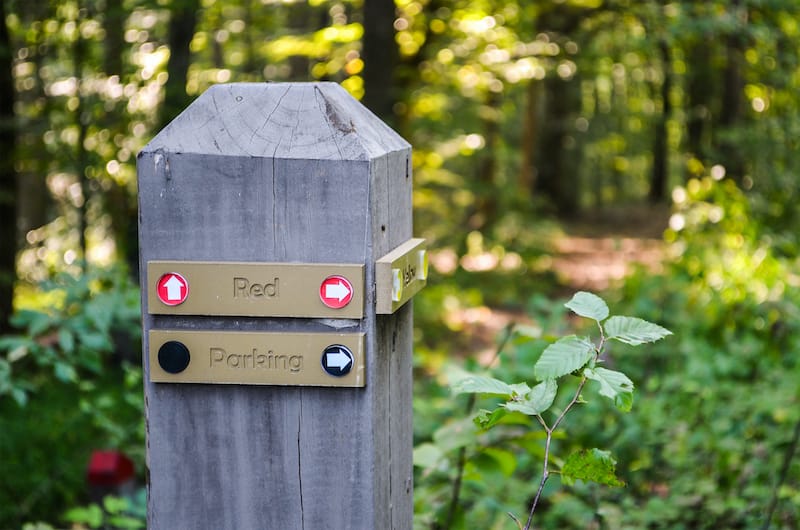 This Charlottesville trail is located near the city and is moderately trafficked and a great option for all levels of hikers and skill levels.
There are several activities along the way but what makes this trail really fantastic is that it is shaded and is a great place for biking, hiking, bird watching, running, and more. It is very family-friendly.
There are a few Ivy Creek Park trails available (orange, red, purple, and brown) that all intersect and you will pass a river along the route. The views are lovely but the water isn't anything to write home about.
However, the forest and trail are diverse and alluring, so it is definitely one of the most popular Charlottesville hikes.
The Blue Wheel
Distance: 2.2 miles
Type of Trail: Loop
Location: Walnut Creek Park
The Blue Wheel trail is a popular hike near Charlottesville and it is known for its lake and is an easy hike for all skill levels. Some of the activities that people do along the trail is running, mountain biking, and taking in the gorgeous views.
It is a moderately trafficked trail and dog-friendly.
Most of the trail is shaded and the terrain is varied but can get muddy if the weather does not cooperate.
It is known for being well-maintained and marked and will take about an hour to do if you move at a leisurely pace.
This trail is best done in spring, summer, and autumn and not during winter.
North Fork Moormans River
Distance: 0.9 miles
Type of Trail: Out & Back
Location: Shenandoah National Park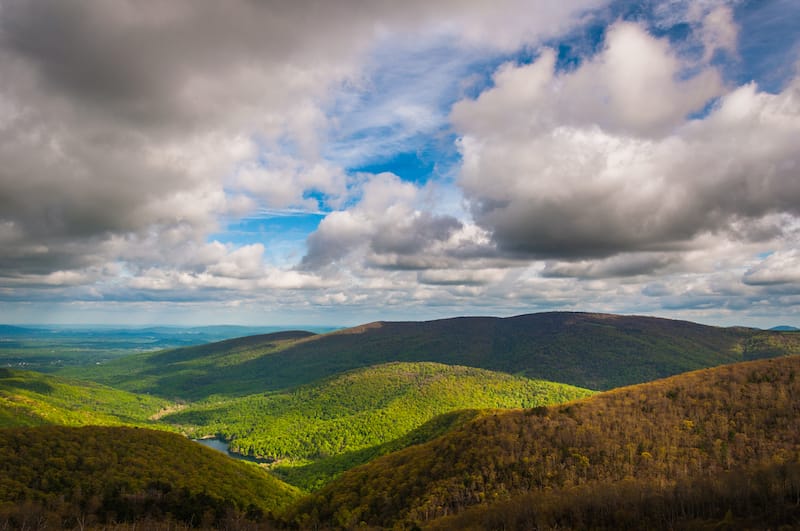 This trail is a very short one and is located inside of Shenandoah National Park.
The North Fork Moormans River Trail is moderately trafficked and located near Crozet, a popular hiking area in Virginia.
It is best visited from May until October as the weather tends to be best then and the trail can become muddy and inaccessible at other times.
Dogs are permitted on the trail as long as they are kept on a leash and there are several activities available such as cross-country skiing, bird watching, fishing, mountain biking, and more.
The trail leads to a small (but worthwhile) Shenandoah National Park waterfall and you actually can continue the trail beyond the noted distance if you wish.
Hiking through Virginia's national parks is definitely something everyone should do if they have the opportunity.
Be sure to wear the right shoes as this trail can be very muddy.
Moderate Charlottesville Hikes
Ragged Mountain Natural Area Trail
Distance: 6.6 miles
Type of Trail: Loop
Location: Ragged Mountain Natural Area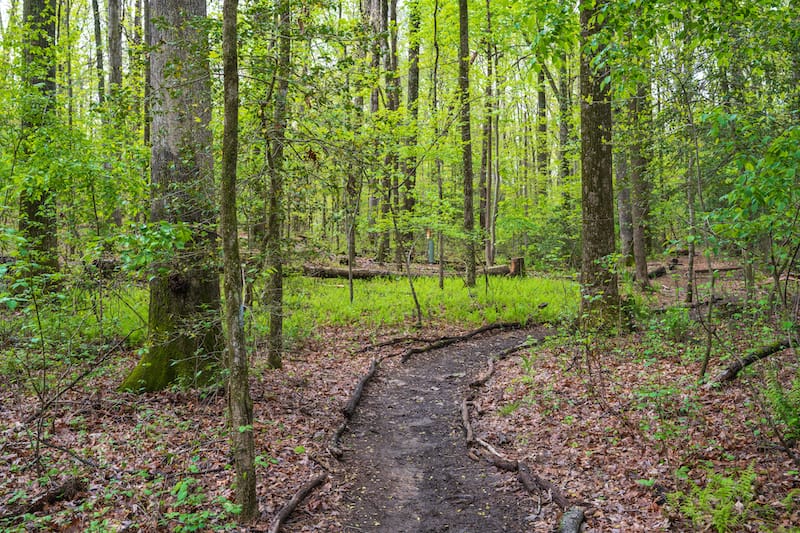 The Ragged Mountain Natural Area Trail is a popular and well-trafficked loop trail located close to Charlottesville.
It is known for its lake (reservoir) and gorgeous scenery. It is accessible all year round and is a family-friendly place.
Visitors sometimes state that the trail is not as clearly marked as they would like, so do where a GPS tracker if you have one, or try to follow the crowds.
No pets are allowed on the trail and it can get a bit rocky in certain areas where the trail is narrow, so it will not necessarily be the safest for dogs.
There is also a floating bridge along this gorgeous Virginia hike.
The entire trail and Ragged Mountain Natural Area are shaded and it is the perfect place to escape the heat in the summers!
Hollow Trail and Fire Trail Loop
Distance: 1.8 miles
Type of Trail: Loop
Location: Mint Spring Valley Park
Located close to Crozet is the Hollow Trail and Fire Trail Loop and it is a relatively short trail that is of moderate difficulty.
It is lightly trafficked and dog-friendly (as long as they are on a leash).
This trail near Charlottesville is known for its lake and is a great place to leisure stroll on while taking breaks to go fishing, picnicking, or relaxing on the shore of the lake.
The trail isn't always well-marked and doesn't offer outstanding views, but the walk through the forest is stunning and relaxing.
While there are no vistas along the way, you will find nice rolling hills in some of the open areas along the path.
Turk Mountain Trail
Distance: 2.5 miles
Type of Trail: Out & Back
Location: Shenandoah National Park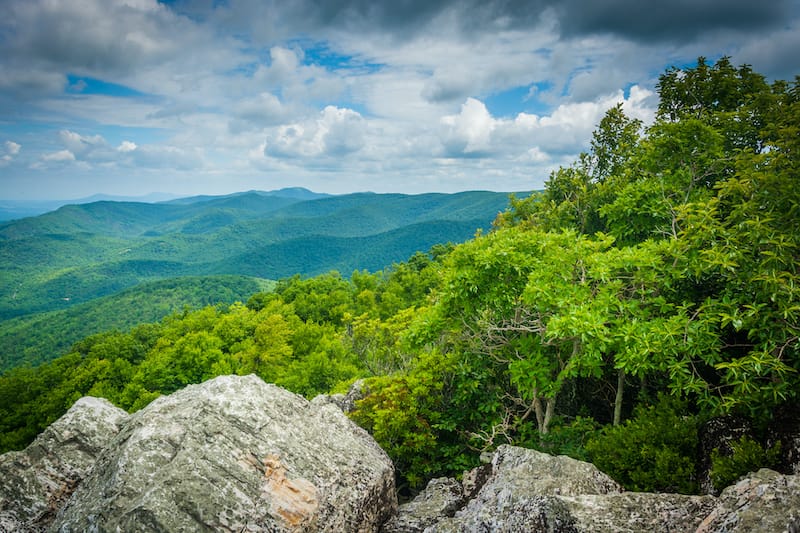 One of the most popular and trafficked trails near Charlottesville is Turk Mountain Trail inside of Shenandoah National Park.
The 2.5-mile trail is located near Crozet and is known for its vistas and colorful wildflowers during spring and summer.
The best time to head to Turk Mountain is from April until September and it is a dog-friendly trail but the pups must be kept on a leash.
The trail can be overgrown a bit, so be sure to wear the right shoes and pants and also make sure to have your bug spray handy as it is known for its mosquitoes.
Also- be on the lookout for snakes as copperheads are known to frequent the area in quiet, hidden corners.
The last part of the trail can be rocky and will require a little bit of climbing so be aware if you're unable to do this!
Difficult Hikes Near Charlottesville
Riprap Trail
Distance: 9.1 miles (people say it is closer to 10 miles, however)
Type of Trail: Loop
Location: Shenandoah National Park
If you're seeking epic views and scenery in wonderful Shenandoah National Park, the Riprap Trail near Charlottesville has you more than covered.
is a difficult trail and NOT suitable for everyone.
This 9.1-mile trail is located close to Crimora and is a fantastic Virginia waterfall hike.
The trail is dog-friendly but they need to be kept on a leash and also be in good physical condition as you will be crossing streams, climbing rocks around Chimney Rock, and more. The trail is very narrow.
You may struggle with cell phone service in this park a bit so be sure to download an offline map before venturing out there.
There is a crystal clear swimming hole and you have a chance to see wildlife- so keep your eyes peeled (and your food locked up!)
Austin, Furnace, and Trayfoot Mountain Loop
Distance: 20.4 miles
Type of Trail: Loop
Location: Shenandoah National Park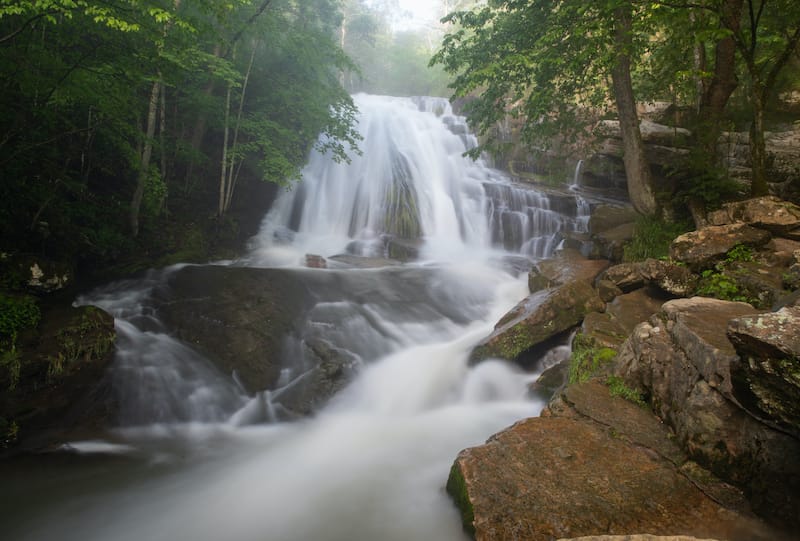 If you're seeking a difficult and lightly trafficked trail near Charlottesville, the Austin, Furnace, and Trayfoot Mountain Loop is a highly-recommended one.
It will likely require an overnight and is fantastic for backpackers and those that enjoy camping.
This Shenandoah National Park trail is best done from March until November and dogs are permitted if on a leash. It is located near Crozet and follows a river.
The best place to overnight is at Trayfoot Mountain and there is a water source at Mike 7.
There is no water at Furnace or Trayfoot Mountain- so plan accordingly.
If you are bringing your dog, be sure to bring extra water as it can be sparse.
Also, there are some areas that are overgrown so be sure to check for ticks throughout the journey.
Hikers love the views from Black Rock and state that it is one of the biggest highlights from the Shenandoah hike.
Try making a stop at some of the epic caverns on the way back and make a few days out of the journey!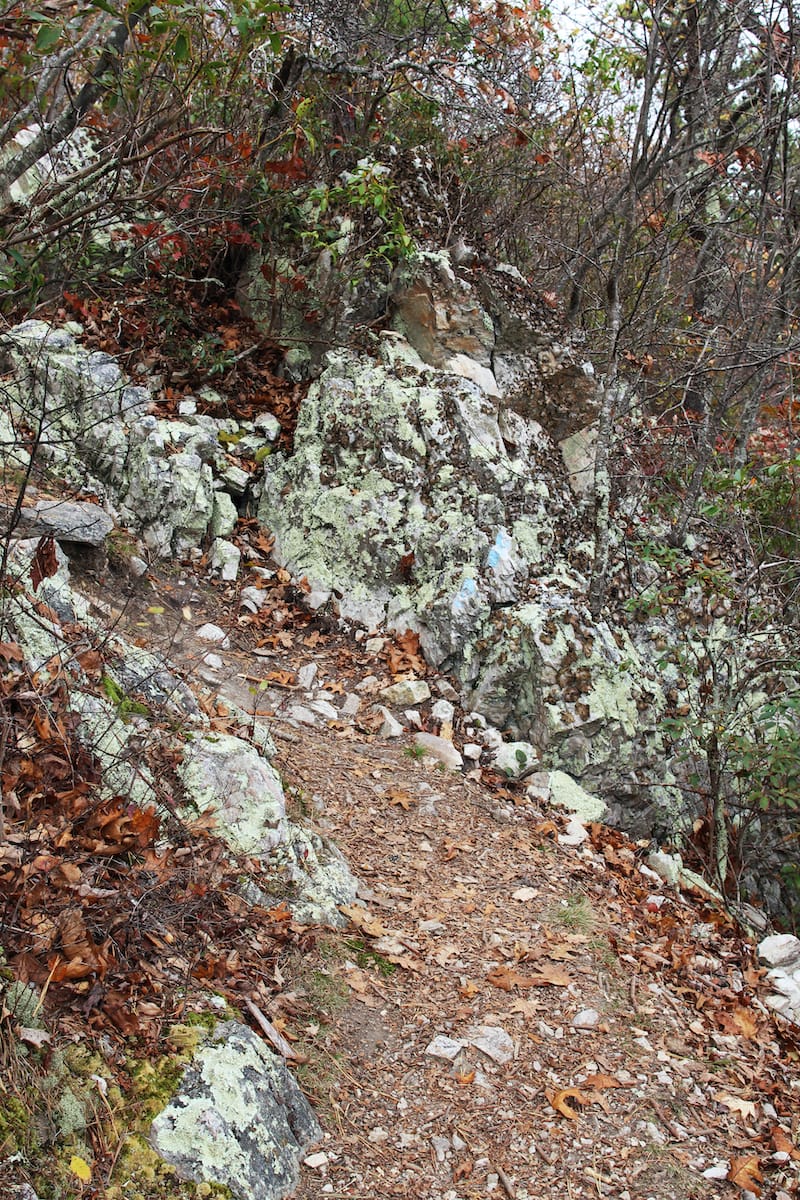 What to Bring
Naturally, dress for the season! Summers in Virginia are humid and hot, but if you're in the forest or in higher elevation, it will most definitely be more comfortable than in the city. Here are some recommendations of what you should bring on a Charlottesville hike:
Reusable Water Jug: I recommend always having a reusable water jug with you at all times.
Virginia's weather is unforgiving and you can dehydrate quickly!
There are almost always freshwater sources available in and around the area but do bring some with you just in case!
I travel the world with my Klean Kanteen water jug and I think it is the perfect one to get the job done when hiking! You can see the one I use here.
Keen Targhee Hiking Boots: During Virginia's warmer months, evening storms and rain is more common than not and you'll likely experience mud somewhere on your hike.
I have had my Keen Targhee hiking boots for many years and they have helped me trek across some wild environments, so I definitely recommend investing in a pair if you're an avid hiker. You can see my Keen Targhee hikers here.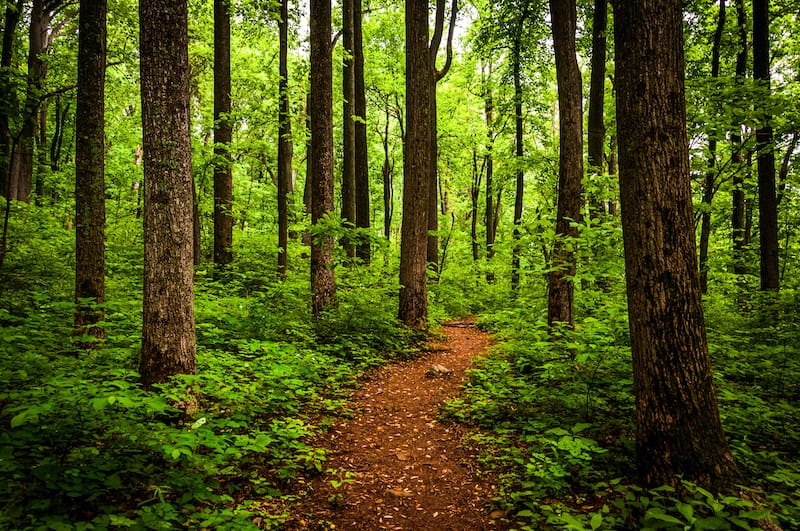 Mosquito Repellent: One thing I don't miss when I leave Virginia's borders are the mosquitoes. But, they are unavoidable and a complete nuisance when trying to enjoy the outdoors. I recommend a heavy-duty repellent to put your mind at peace before taking to the Virginia wilderness. Here is the mosquito repellent I use to deter them!
Lightweight Daypack: If there is one thing I have too many of, it is daypacks. While I love my Sandqvist and Ucon Acrobatics Bags, I opt for something a bit more lightweight when hiking. My top recommendation is the Osprey Ultralight Stuff Pack. It is durable and well-made and will be an effortless accompaniment for your day hike. Click here to check out color options and purchase.
Larabars: When I travel, I always keep some type of 'bars' on me and my favorite are Larabars. I have been eating these for well over a decade and they are perfect for exciting day hikes as they are richer and more filling than their size indicates! You can buy a variety box or just purchase your favorite. Click here to purchase a box of Larabars for your hike.
Before heading out, give the weather a check to see if rain (or snow) is on the horizon and adapt what you bring accordingly.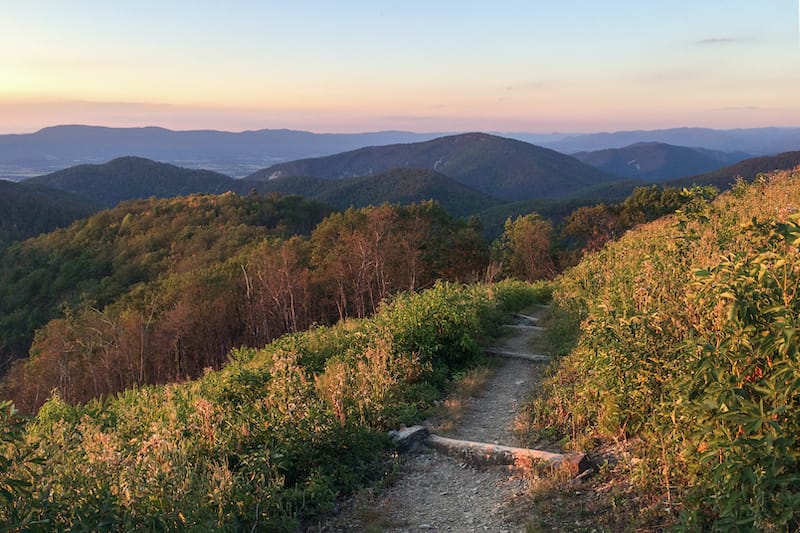 Where to Stay in Charlottesville (and Surrounding Areas)
If you're heading out on a day hike in Charlottesville, we recommend staying in the city or somewhere close to it. Here are a couple of our favorite places to stay, including a few highly-rated Airbnbs in the local area.
» Luxury: The Graduate Charlottesville
» Mid-range: Country Inn & Suites by Radisson
» Budget: Affordable Suites Charlottesville
Airbnbs in Charlottesville (and Nearby)
Alternatively, you can look at staying at an Airbnb in Charlottesville if you want a more independent experience (or just something different!). Here are some top picks of the best Airbnbs in the Charlottesville area:
» Unique Stay: Mountain Time Enchanted Tree Cottage
» Luxury ($100/night and up): Milton cottage (luxury cabin near Monticello and wine country), Tranquil cottage near Charlottesville (sleeps 5)
» Mid-range ($40-$100/night): Mountain view hot tub guest suite near downtown (affordable accommodation with luxury feeling), Minimalistic downtown accommodation (private apartment in Charlottesville)
» Budget (under $40/night): Country Heaven at Welsh Run Farm (private rooms for 2 guests), Private room in a house (near UVA)
We hope you enjoyed our guide to the best hikes in Charlottesville and its surrounding areas. These Charlottesville trails make an excellent Saturday (or weekday!) activity for one that is looking to get out into nature and connect with the gorgeous Virginia scenery.
Additional Virginia Resources
PIN IT FOR LATER!