Are you looking for the best places to see spring wildflowers in Virginia? This guide will show you where (and when!) to find the colorful beauties!
This is a guide to where to see Virginia spring wildflowers, including some options in local areas outside of Virginia. Let us know where your favorite destination for wildflowers in VA is and what are some of your favorite things to do in Virginia in spring!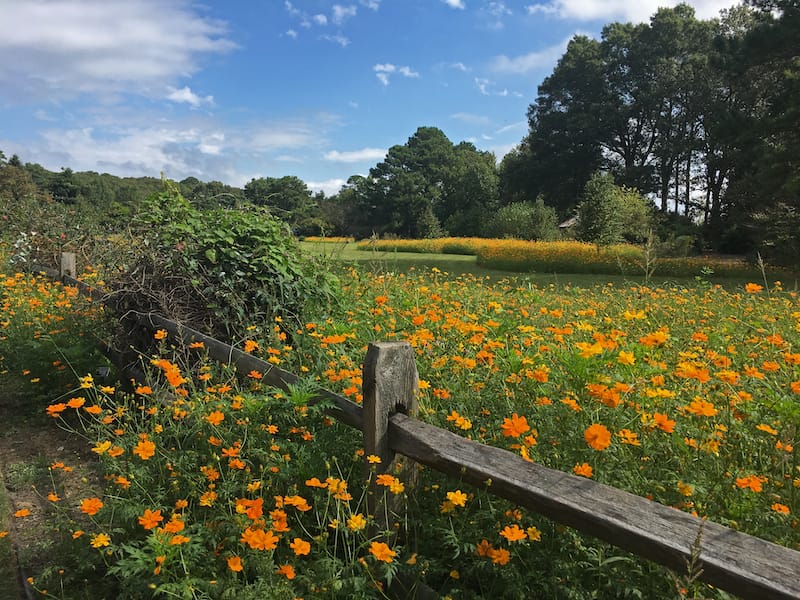 Where to See Spring Wildflowers in Virginia
Shenandoah National Park
Location: Shenandoah National Park
Best time to see wildflowers: early March to late June
Seeing wildflowers in Virginia is one of the most sought-out activities by tourists. Shenandoah National Park has some very diverse wildflowers that bloom only in spring. A very popular tourist attraction, this park is home to some of the most beautiful spring wildflowers in Virginia.
Shenandoah National Park has over 850 species of flowers, with spring wildflowers being more abundant along the Hughes River, Rose River, South River, and Mill Prongs. These are streams you'll find inside of Shenandoah National Park.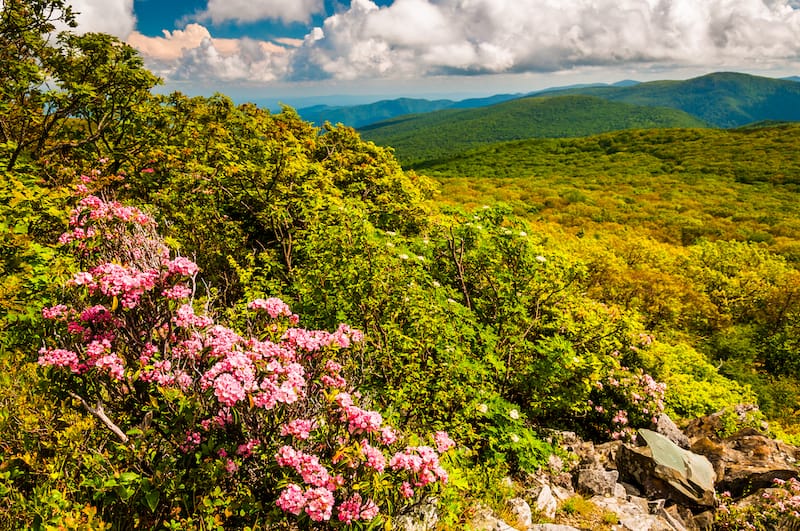 The Virginia national park occupies over 200,000 acres of land which allows it to be more diverse with wildflowers than many places in Virginia. Some spring wildflowers that can be found here include red, white and yellow Trilliums, Mountain Laurel, and bluebells.
The flowers bloom at different times in spring; from early March to late June. Regardless of the time you choose to visit the park, there are always wildflowers to see.
Riverbend Park
Location: Great Falls (Fairfax County)
Best time to see wildflowers: mid/late March to mid/late April
The best place to see a display of Virginia Bluebells in Virginia is at Riverbend Park in Great Falls, Virginia. This park has a hiking trail that is covered on both sides by masses of Virginia Bluebells.
The beautiful display is best seen from mid to late March to mid-to-late April, when they are in full bloom.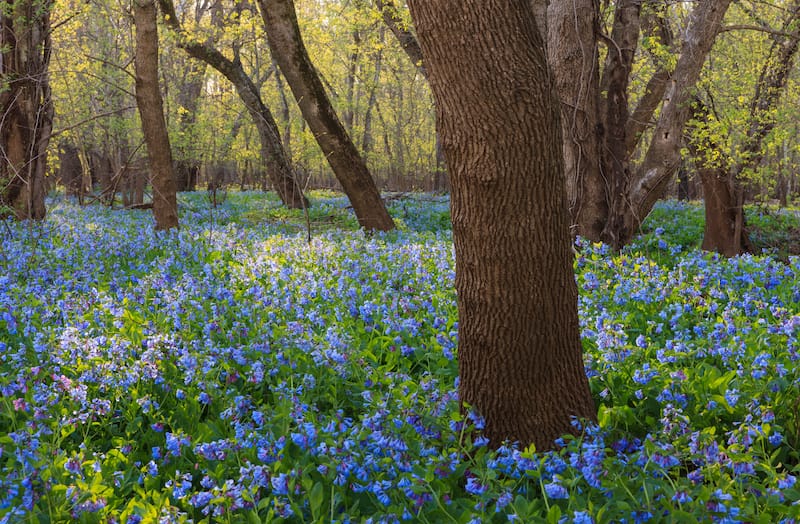 Virginia Bluebells have many different colors, from blue to white and sometimes pink. And, if you get really lucky, you may see the blossoms having a mixture of different colors in one.
Riverbend Park is also home to other spring wildflowers such as Bloodroot (which blossoms for just a couple of days and is therefore often missed by many), Dutchman's breeches, Squirrel corn, and trillium.
Ball's Bluff Battlefield Regional Park
Location: Leesburg (Loudon County)
Best time to see wildflowers: April
Ball's Bluff Battlefield Regional Park rivals Shenandoah National Park in its diverse range of spring wildflowers. This park that was once the site of the Battle of Ball's Bluff is located in Loudon County and is home to a National Cemetery.
It was preserved after the Civil War and is now quite the tourist attraction for lots of nature lovers that also enjoy a bit of history. The park is close to the Potomac River therefore, there are floodplains as part of its terrain. The park also has woodlands and high cliffs.
Spring wildflowers bloom in this park typically in April. Some of the flowers to be found in the park are trout-lilies, Virginia bluebells, and waterleaf, which are all found along the floodplain. It is a great place to visit if you're passing through (or just need a day trip from Winchester).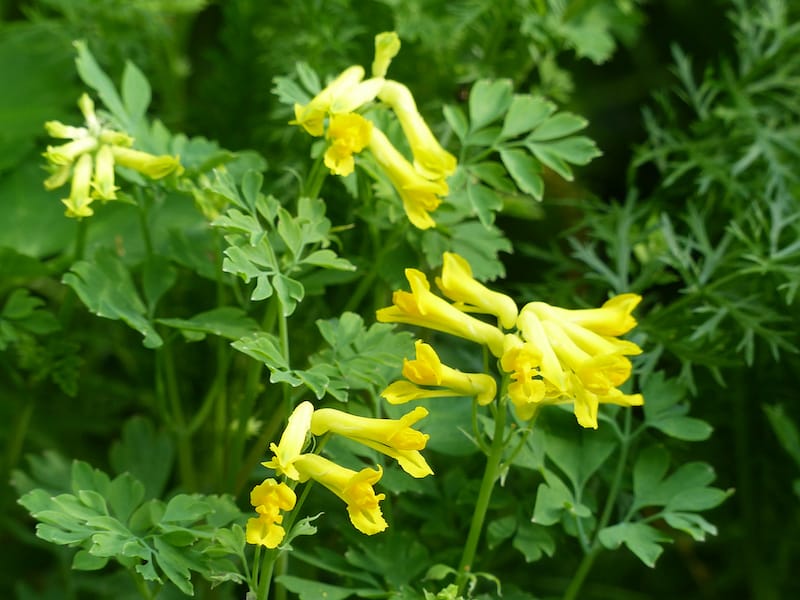 On the cliffside, you can typically find squirrel corn, trillium, wild ginger, star chickweed, sessile bellwort, and a host of other wildflowers, all of which bloom around early to mid-April.
Towards the end of April on the high cliffs, you may be lucky to find bluets, rattlesnake-weed, bastard toadflax, birdsfoot violet, and shooting star.
Scott's Run Nature Preserve
Location: McLean (Fairfax County)
Best time to see wildflowers: early to mid-April to mid-May
This park holds an incredible number of wildflowers in its reserve. Located in Fairfax County, many have called it the most diverse forest from a plant community and species viewpoint seen in the entire Piedmont region.
The Potomac River has formed lots of rugged terrain in the park, which allows for a very exhilarating yet exciting hike for hikers, climbers, and nature lovers. There are woodlands, cliffs, and valleys, some of which have wildflowers hidden in them.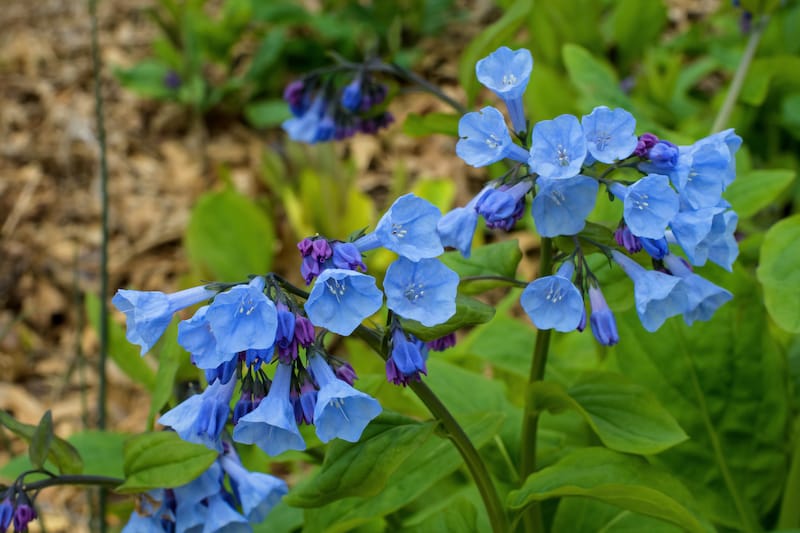 Some wildflowers found in Scott's Run Nature Preserve include Virginia bluebells and trillium, which bloom around early to mid-April along the cliffs' sides.
Stargrass, buttercups, golden alexanders, and lyre-leaved sage can be found blooming around early to mid-May. Visiting McLean in spring is a must if you find yourself in Alexandria or somewhere else in Northern Virginia!
Rock Creek Park
Location: Washington DC
Best time to see wildflowers: March and April
If you are looking for the easiest place to find spring wildflowers, why not a park just a few miles from the White House? There are many different types of spring wildflowers after the Boundary Bridge on the left. Its terrain is a swamp mixed with rocky forests.
The spring flowers start to bloom in March with spring beauties and bloodroot on the side of the rocky cliffs found within the park. On top of the rocks around mid to late March lies hepatica.
Virginia bluebells, and trout lilies. Dutchman's breeches, which rarely bloom, can be found around mid-April.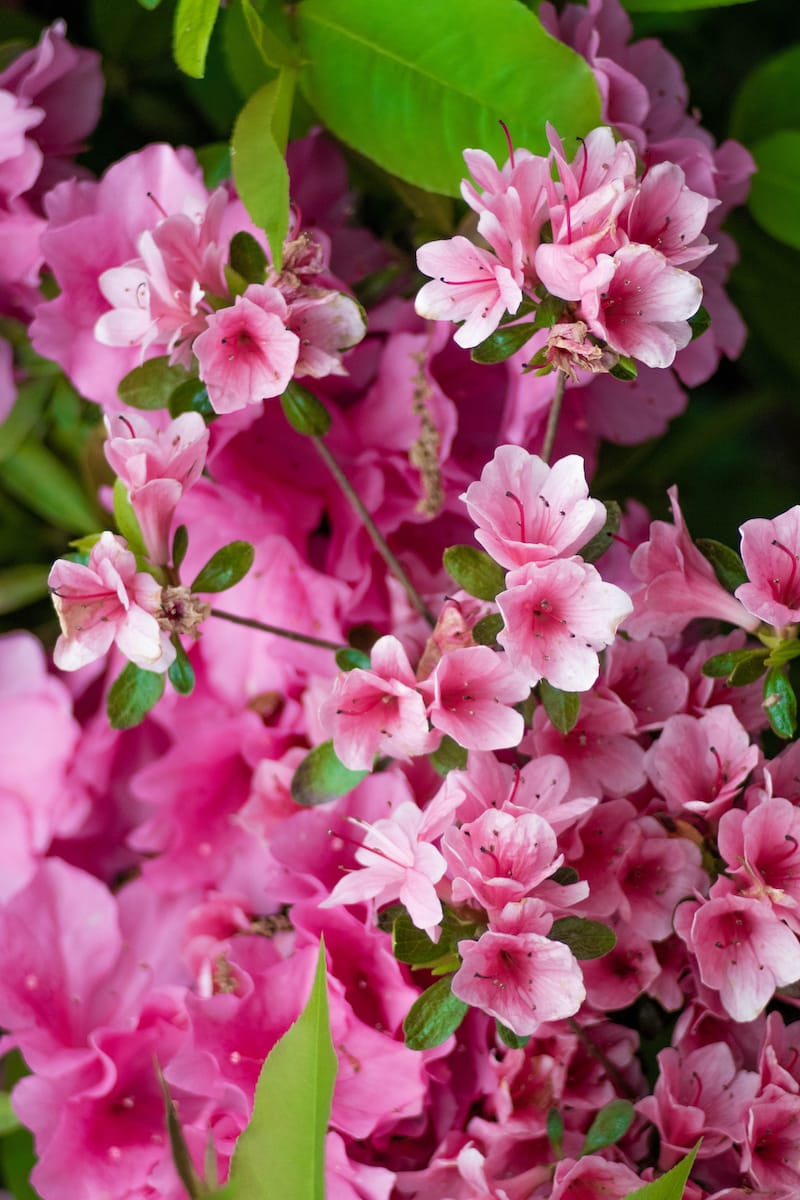 More spring wildflowers such as wild ginger, toothwort, star chickweed, and rue-anemone can be found along the hilly terrains of Rock Creek Park, one of the best places to visit in Washington DC.
Sweet Cecily, golden ragwort, alumroot, saxifrage, and bellwort can be found around mid to late April. Spring in Washington DC is truly incredible.
Seneca Creek State Park

Location: Gaithersburg, Maryland
Best time to see wildflowers: April and May
One of the finest places to see trailing arbutus is at Seneca Creek State Park in Gaithersburg, MD. A massive 6,300 acres park, Seneca Creek has terrain that consists of wetlands, woodlands, and open fields and it is a great escape from nearby Washington DC.
The trailing arbutus can be found on the park's rocky trail, which is somewhat above Black Rock Mill, around early to mid-April. Some other spring wildflowers in the park are large whorled pogonia, round-leaved orchid, and columbine.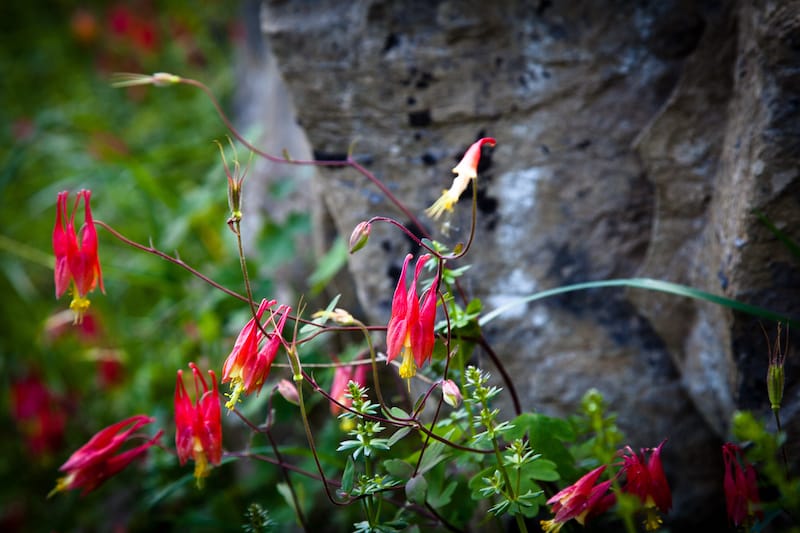 The columbines bloom in early to mid-May and are usually found close to trailing arbutus. Other spring wildflowers in Seneca Creek grow near Black Rock Mill. This is a wonderful Maryland destination for those that love wildflowers.
Cacapon Resort State Park
Location: eastern West Virginia
Best time to see wildflowers: late April until late May
Another place to find trails brimming with spring wildflowers is at Cacapon Resort State Park in West VA. This state park is located on the east of Cacapon Mountain in West Virginia and pretty close to one of my favorite places, Berkeley Springs.
The park has a combination of Oriskany sandstone, open fields, wetlands, and woodlands. It also hosts a couple of spring wildflowers, from redbuds to toothwort.
You may also find flowering dogwoods in different colors as well as hepatica and meadowrue in the woodlands. These flowers are more prominent from late April onward.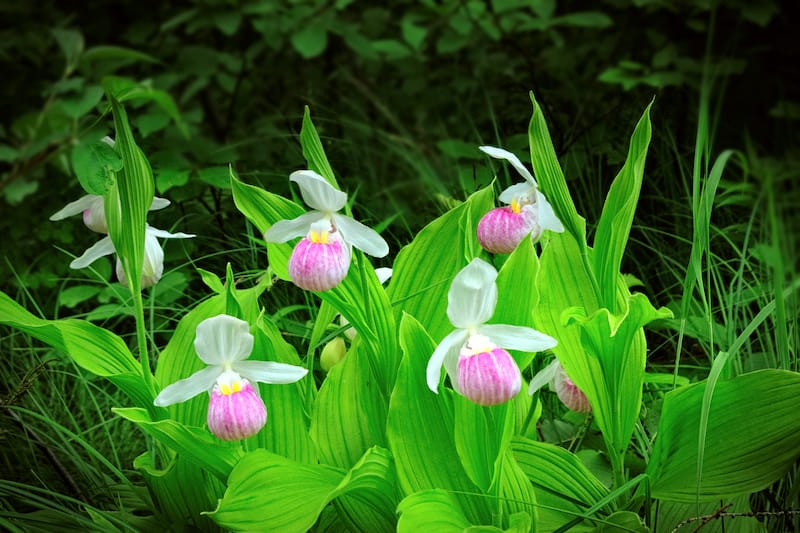 In the wetlands, the most common wildflowers found in the park include lady's slippers in both pink and yellow hues. This also blooms around the start of May. In the open fields, you may be lucky to see white beardtongue and the yellow pimpernel!
There are many more spring wildflowers in WV to see inside of Cacapon Resort State Park. Most of these are mid-bloomers, but there are some early and late bloomers worthy of stopping by to see.
This is definitely one of the top places to view wildflowers in West Virginia.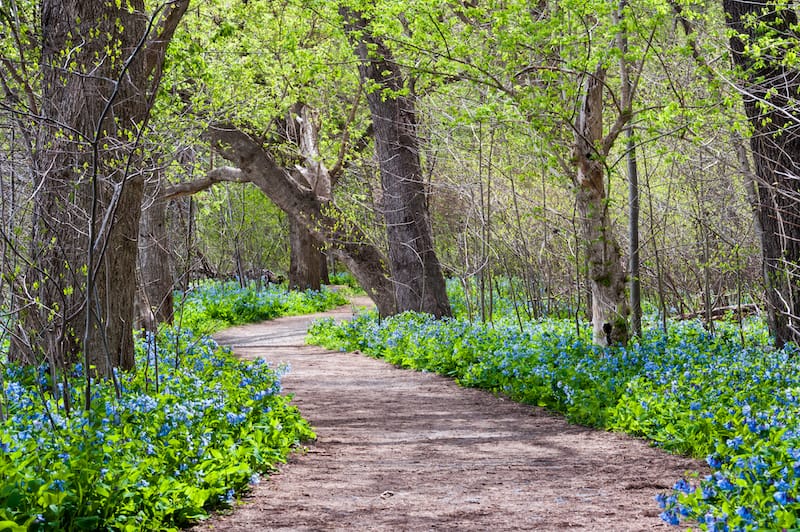 We hope that this guide gave you an idea of where to find spring wildflowers in Virginia and nearby. Please let us know your favorite place to see gorgeous wildflowers in bloom!
Can't make it to one of the locations on the list? Be sure to stop by one of the amazing botanical gardens in Virginia instead!
You Might Also Like:
Pin this Virginia Spring Wildflowers Guide