Are you looking for the best places to go strawberry picking in Virginia? This guide covers the best u-pick strawberry farms in Virginia and more!
Let us know if we missed any amazing Virginia strawberry farms near you! Thanks!
When is Strawberry Season in Virginia?
Strawberry season tends to be a bit over a month long and runs from May until June. Keep an eye out from your local VA strawberry farm for exact dates that season!
If the winter is too cold and late, it could cancel or move things a bit!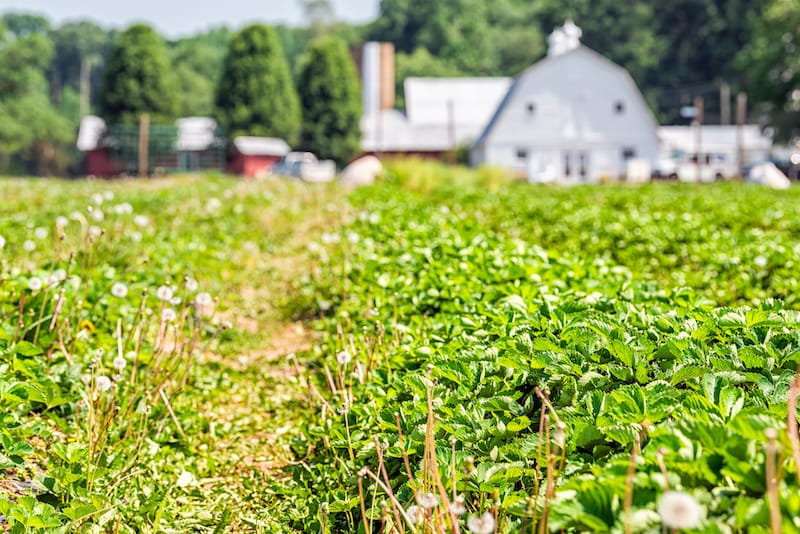 Strawberry Picking in Virginia
Mackintosh Fruit Farm (Berryville)
With strawberry picking season on hold until spring, the Mackintosh Fruit Farm has other treats and goodies to keep you occupied until then!
As of right now, their 'apples and books' packages are in! You get fun and interesting books with a healthy and delicious snack in this VA small town!
They also serve breakfast, lunch, and dessert with other baked goods, meats, cheeses, and eggs! However, when strawberry season is in, it's very hard to look anywhere else!
The season starts May to October, and harvesting is usually on Tuesdays! Near May, check their page for more information on the specific days and hours!
Address: 1608 Russell Rd Berryville, VA 22611
Berry Good Farm (Bealeton)
Berry Good Farm is a berry good farm for berry picking, especially for strawberries! This farm is notorious not only for its berries but its local honey from hives on the farm!
Honey and berries are all you really need for some delightful jam, which you can also just buy straight from the farm! However, in this season, strawberries are in!
They are ripe for picking! Strawberry picking at the Berry Good Farm starts in May and ends in June, strawberries at $3.75 a pound, you'll enjoy fresh strawberries and be able to enjoy the act of picking them yourself!
Address: 6062 Dwyer Ln, Bealeton, VA 22712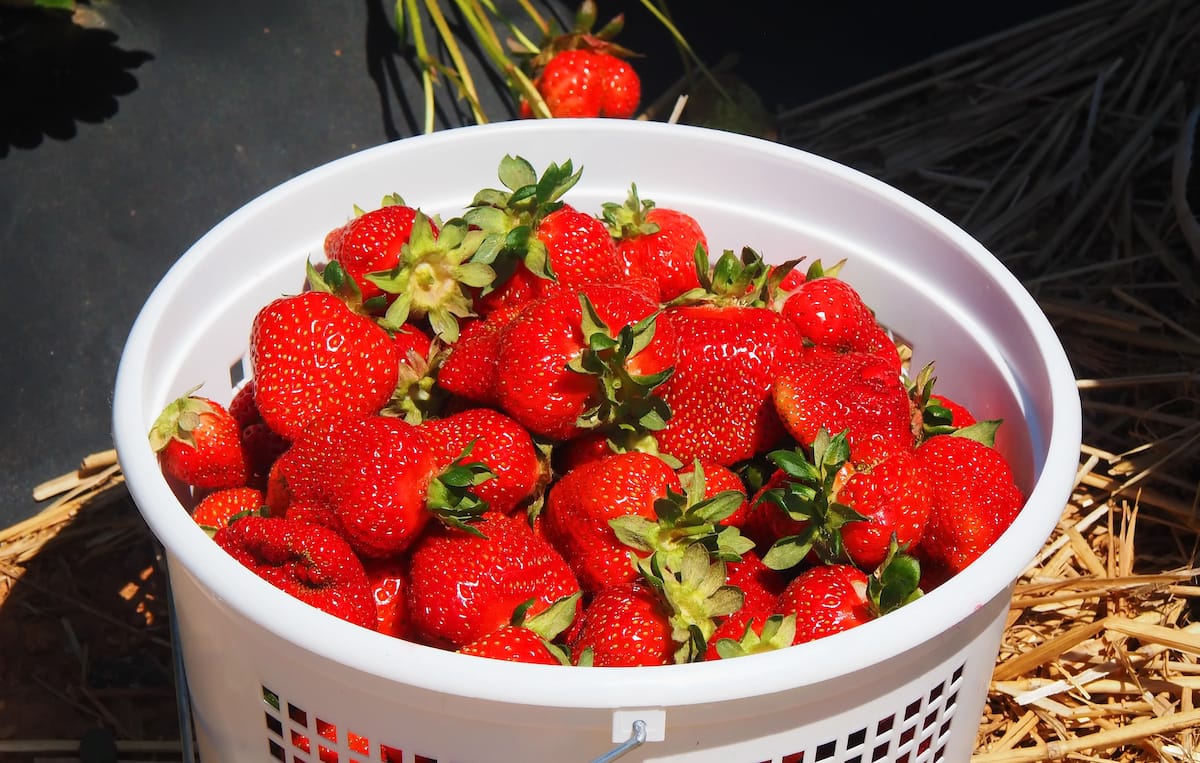 Yankey Farms (Bristow)
Spending the day picking strawberries-is there a better alternative to a typical spring day?
At Yankey Farms, you can spend as much as you'd like picking berries for snacking or making any kind of dessert whether that be pies, cakes, jams, or jellies!
They also have pumpkins in the fall that you can pick, as well!
When visiting the farm, however, make sure to make a reservation at least one day in advance.
Also, please keep any and all pets at home as they are not permitted on the farm!
When harvesting, the harvest containers are provided by the farm and the cost of berries is $30 per gallon of a bucket or $9 per quart container. Remember to come prepared and wear some sunscreen!
Address: 11812 Bristow Road, Bristow VA 20136
Critzer Family Farm (Afton)
What says spring more than strawberries? At the Critzer Family Farm, strawberry season is very important! Making up most of their revenue, berries are the base of this self-pick farm!
However, they do also have other fruits at the Critzer Family Farm like peaches, apples, seasonal fruit, cider, pumpkins, and mums!
Also, besides fruit, they have plenty of house plants and vegetable and herb plants which truly make the place more lively!
The farm is open and ready for you to pick your strawberries from April to October!
Remember, come prepared, and if you get too hot, have some of the Critzer Family Farm's home-churned ice cream, made from farm-grown fruit!
Address: 9388 Critzer Shop Rd, Afton, VA 22920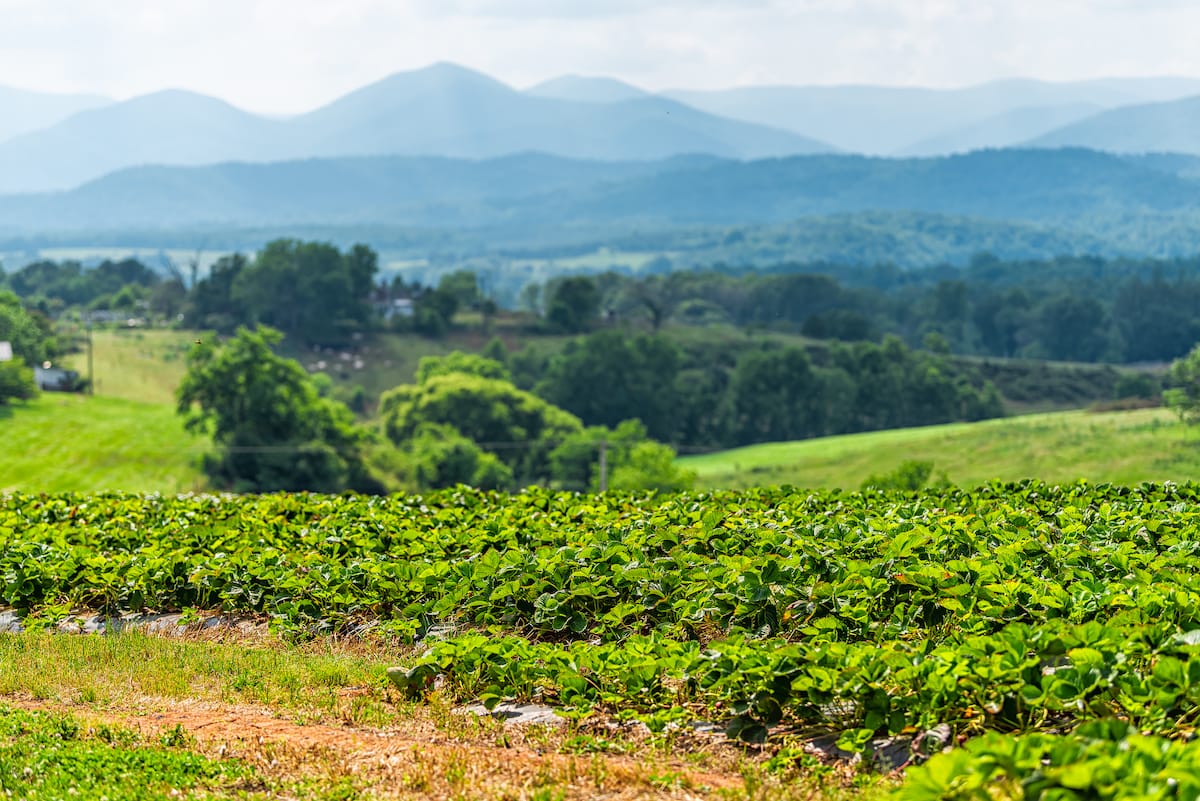 Chesterfield Berry Farm (Moseley)
Besides having a wide range of fruits to pick from including pumpkins, strawberries, and blackberries, the Chesterfield Berry Farm also adds an additional bit of fun and excitement as they provide pony rides, tours, bouncy castles, moon bounces, and face painting services!
This makes your strawberry picking experience both stress relieving and also fun for the kids!
There is also a picnic area where you can relax and perhaps have lunch or a snack!
Remember though, strawberry picking season typically starts from the end of April and takes place on Saturdays from 9 am to 5 pm and admissions are only $5 per person!
Address: 26002 Pear Orchard Rd, Moseley, VA 23120
Gallmeyer Farms The Berry Patch (Richmond)
Perhaps one of the best ones yet, the Gallmeyer Farms: The Berry Patch has by far the best conditions if youʻre looking for strawberry picking in Richmond!
With no parking, admission, or cover fees, all you need to bring is yourself, perhaps your family, and lunch to enjoy by the shaded picnic area!
They also offer free hayrides and have a toy area for children to play in! However, unlike most other farms, the Gallmeyer Farms' strawberry picking starts a little bit later on in Richmond.
They are open daily from 8 am-7 pm starting in June and ending in October! Remember to come prepared and bring your own lunch as they will not be provided, though, sodas will be for sale!
Address: 3622 Darbytown Ct, Richmond, VA 23231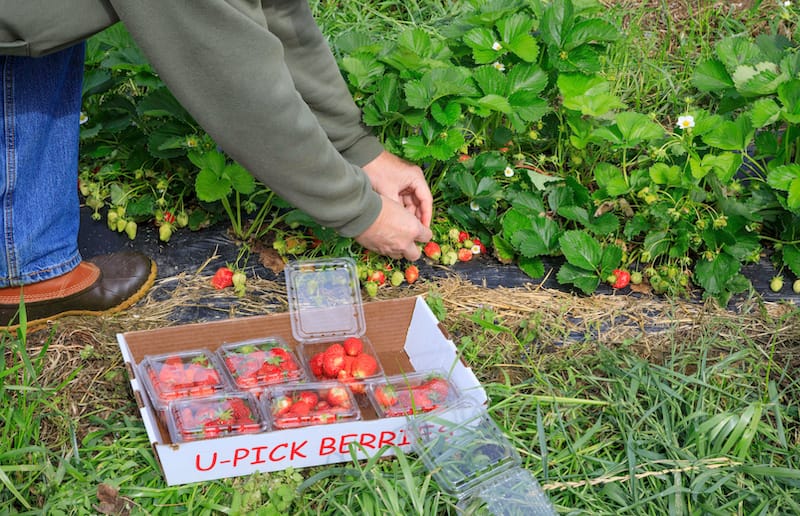 Greenbrier Farms (Chesapeake)
Greenbrier Farms is definitely one of the farms with a lot more variety! Growing all sorts of fruits and vegetables like berries, broccoli, corn, apples, asparagus, apples, peaches, squash, etc.,
Greenbrier is a whole working farm with more than 300 acres! They are especially busy during the strawberry-picking season which starts in April!
The best part is, you can come in any day of the week from 9 am-6 pm! Also, much like the Chesterfield Berry Barn, the kids can get their faces painted and jump in the bouncy house! There's also a petting area and playground for them!
Address: 225 Sign Pine Rd, Chesapeake, VA 23322
Brookdale Farm & Market (Virginia Beach)
Open Monday to Saturday, 9 am-6 pm, and Sunday from 12 pm-5 pm, Brookdale Farm & Market is open to all, especially those seeking the best places for strawberry picking in Virginia Beach.
Known for its Chandler variety of strawberries which is picked when not fully ripe, Brookdale stands out from the rest in VA Beach!
They also have the Ruby Junes this year again, which are both great in size and taste! So hurry along and don't miss out on the strawberry picking at Brookdale Farm & Market!
The season starts in late April through May (keep up with their Facebook page for exact dates)! Also, please take into account that the minimum charge for credit cards is $10 and when paying with cash, $50 bills and $100 bills are not acceptable!
Address: 2060 Vaughan Rd, Virginia Beach, VA 23457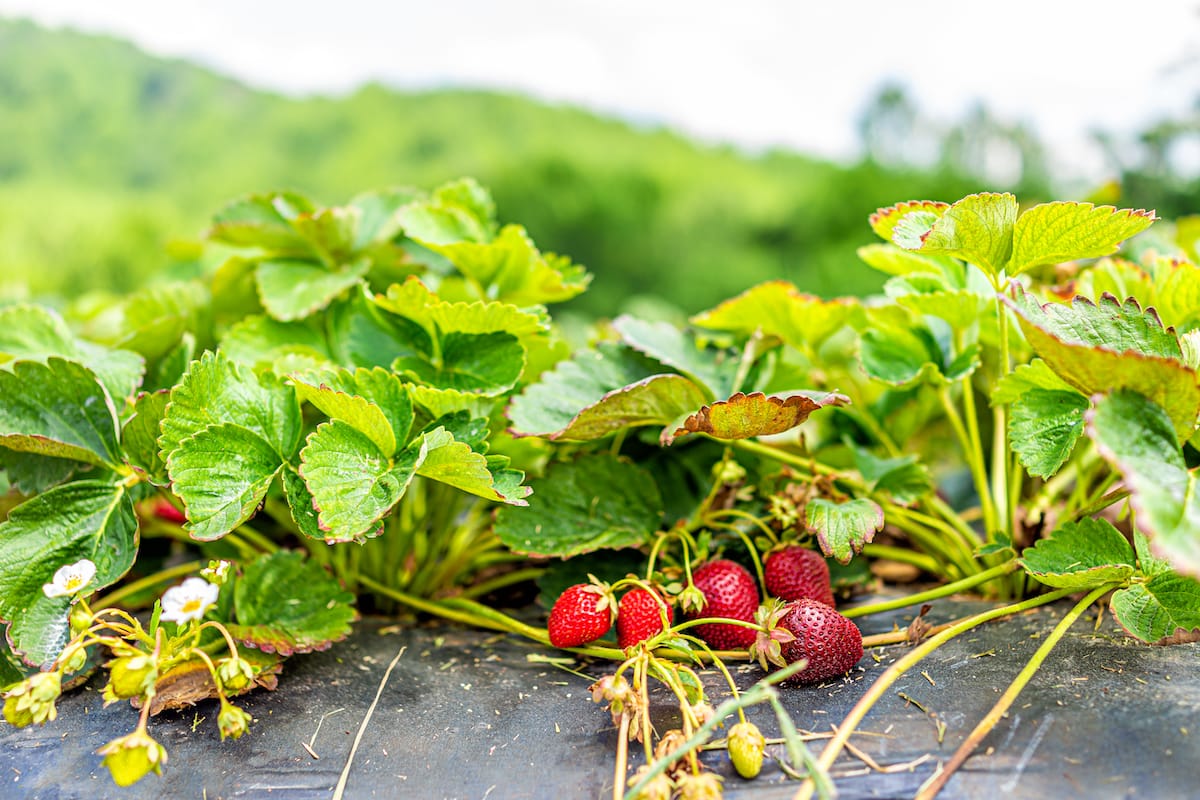 Munden Farm (Virginia Beach)
If in any case, you're in the mood for strawberry-picking now, Munden Farm is the place for you! Already up and running, the Munden Farm is great for those up for an early start! You can go from Monday to Saturday from 8 am – 6 pm!
Please keep in mind, however, that the farm is closed on Sundays! This family-owned farm has been in the family for three generations, and continues to serve its community and all those who visit!
Besides strawberries, they also have different fruits and vegetables like sweet corn, melons, pumpkins, etc.
All in all, the Munden Farm is a great place to spend some time in, especially if you don't want to wait until April or May as most farms start their strawberry picking then!
Address: Virginia Beach, VA 23456
Miller Farms Market (Locust Grove)
With a variety of items on the market including beef, pork, dairy products, fruits, and vegetables, Miller Farms Market is there for you!
They provide everything homegrown on the farm! When visiting, please take into account that it's open Thursday to Saturday 9 am-5 pm and closed Sunday to Wednesday!
Lasting until mid-June, the strawberry patch is one of the biggest attractions down at the Miller Farms Market!
Make sure to check it once the season starts! Also, take into account that the patch is open Monday to Friday 9 am-5 pm, despite the days and hours of the overall place differing.
Address: 12101 Orange Plank Rd, Locust Grove, VA 22508
Pickett's Harbor Farms (Cape Charles)
With the strawberry-picking season starting mid-April, Pickett's Harbor Farms is getting ready!
With the warm wind of spring starting to hit Cape Charles, Pickett's Harbor Farms is taking good care of its field for its pickers to start pickin'!
Their wide selections of different kinds of strawberries help satisfy your strawberry needs!
Also, besides berries, they also have different fruits and vegetables, all locally grown; make sure to check them out if you go!
Besides benefiting the locals, you will also be doing right by your body, as the food is healthier and more fresh than that of the store-bought ones!
Address: 3119 Pickett's Harbor Dr, Cape Charles, VA 23310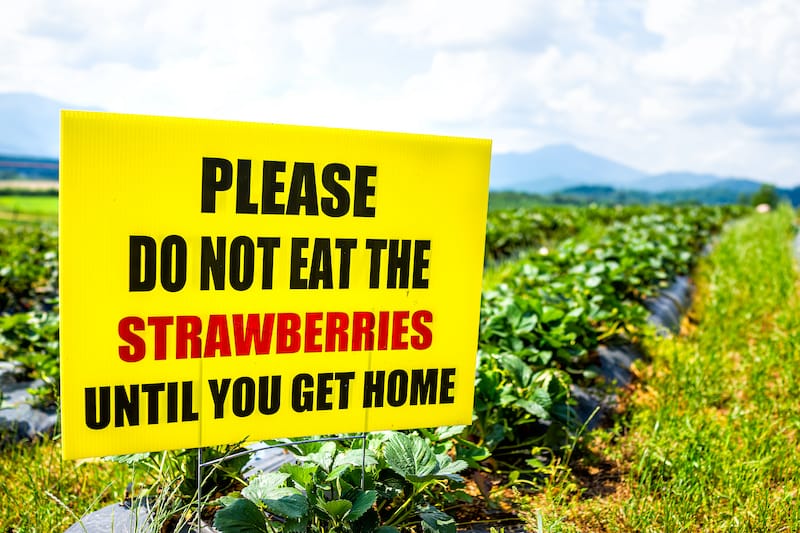 Troyer Nursery (Waynesboro)
The Troyer's Fruit & Produce Farm, known especially for its strawberries! With the strawberry season right around the corner, Troyer's Fruit & Produce Farm is getting ready!
Starting mid-April and lasting 'till mid-June, the wonderful team at Troyer's Fruit & Produce Farm is there to help!
The strawberry patch is open from Monday to Saturday from 8 am-6 pm and Sundays from 8 am-4:30 pm!
Much like most other farms, the Troyer's Fruit & Produce Farm also has a wide range of other fruits and vegetables serving Waynesboro! For example, they have pumpkins, tomatoes, peaches, and more!
Address: 66 Conner Rd, Waynesboro, VA 22980
Motley's Strawberry Farm (Gretna)
Hard work makes great strawberries! That's why, down at Motley's Strawberry Farm, preparations are taking place for this year's strawberry harvest!
You can either buy your pre-picked strawberries, available for $16 per bucket, or pick them yourself! And what better way to spend some time in the spring than to be outdoors and pick some strawberries?!
Plus, if you pick your own Virginia strawberries, they're cheaper and more fun!
For each bucket being $12 or $11 if you bring your own bucket from home, you get a fun activity for as long as you want from Monday to Friday 8 am – 6 pm and Saturday from 8 am – 4 pm!
And remember, the strawberry-picking season starts at the beginning of May and lasts all the way until June!
Address: 240 Steele Rd, Gretna, VA 24557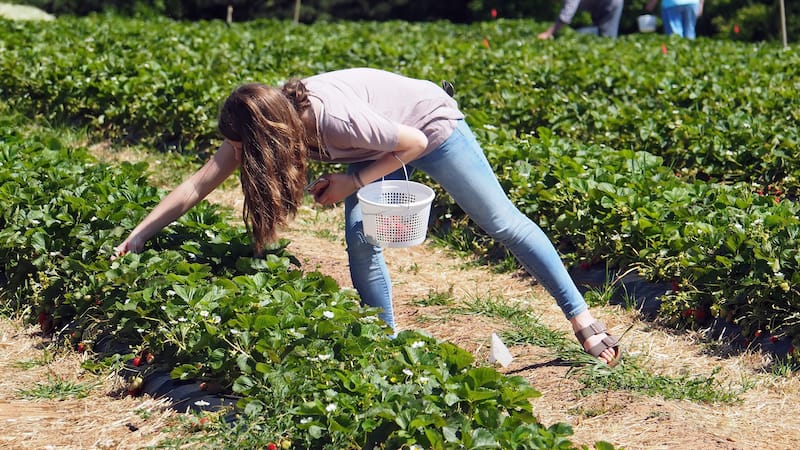 Bachelor Hall Farms and Nursery (Bachelor Hall Farm and Nursery (Danville)
At the Bachelor Hall farms and Nursery, you can find a diverse set of products! From berries to apples to pumpkins to flowers, Bachelor Hall Farms and Nursery is ready to satisfy your farm needs!
With beautiful fall mums available in the autumn season for just $16, you can spice up any corner of your house with the delightful fall colors of the Chrysanthemum! However, as spring is approaching the strawberry-picking is definitely buzzing!
Starting at the beginning of May, you can go and enjoy the great outdoors, finally in the sweet warm weather that is spring! For more information about times and days, you can contact them via Facebook or phone!
Address: 224 Bachelor Hall Farm Rd. Danville, VA 24541
Glenmary Gardens (Bristol)
With a variety of fruits and vegetables pre-picked and ready for sale, the strawberries are by far the most fun to buy as you can pick them yourselves! Starting in mid-May, the strawberries are ripe and juicy at that time of year and up and ready for grabs!
So come on to the Glenmary Gardens down in Bristol this spring season for some strawberry action!
They are open Monday to Saturday from 12 pm – 5 pm! However, times may vary, so please take the precaution of vising their Facebook page or giving them a call before heading on over!
Address: 224 Old Abingdon Hwy, Bristol, VA 24201
Did we miss any amazing strawberry farms in Virginia? Let us know your favorite places to go strawberry picking in Virginia in the comments. Thanks!
More Virginia Travel Guides
Pin this Virginia Strawberry Farms Guide