There are few other towns in Virginia that have as relaxing of a vibe as Cape Charles does.
This is a guide to the best things to do in Cape Charles, VA – a chilled-out destination located on the Eastern Shore.
Are you planning your trip to Cape Charles last minute?
If you're traveling to Cape Charles last minute, you want to ensure you have lodging ahead of time! Below are some of our top picks in town!
Best Lodging in Cape Charles:
🚗 Looking for the best way to get around VA? Click here to check rental car rates for Virginia!
Cape Charles was a place I had always wanted to visit but I just never got around to jaunting off to Virginia's underrated Eastern Shore.
The town of just over 1,000 residents has so much to do and some of the best beaches in Virginia on the Chesapeake Bay.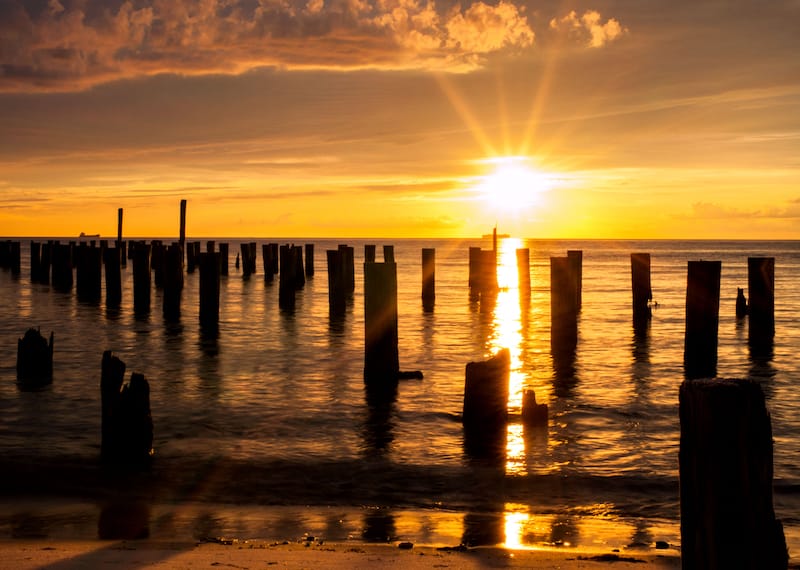 Thankfully, when I did, it was Cape Charles that gave me my first impression of the region. And, of course, the impression was very positive (and has me longing to go back)!
Between the things to do in Chincoteague and Cape Charles, I could stay on the Eastern Shore for a month-long vacation!
If you're looking for what to do in Cape Charles for a day trip or weekend trip there, this guide will help you plan! If you have any suggestions for things to do in Cape Charles, VA, please leave them in the comments!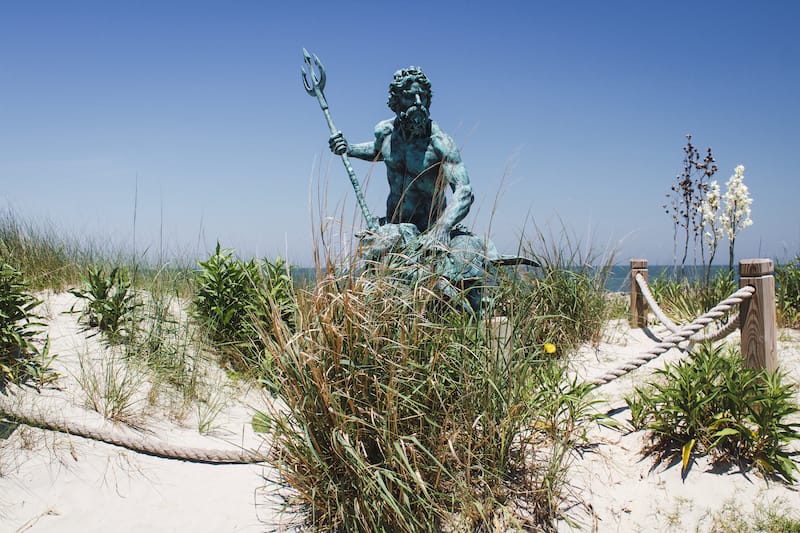 Where is Cape Charles?
Cape Charles is located in the south of Virginia's Eastern Shore. If you're coming over the Chesapeake Bay-Bridge Tunnel and are not driving from Maryland or the north, you will notice signs for Cape Charles and will pass through.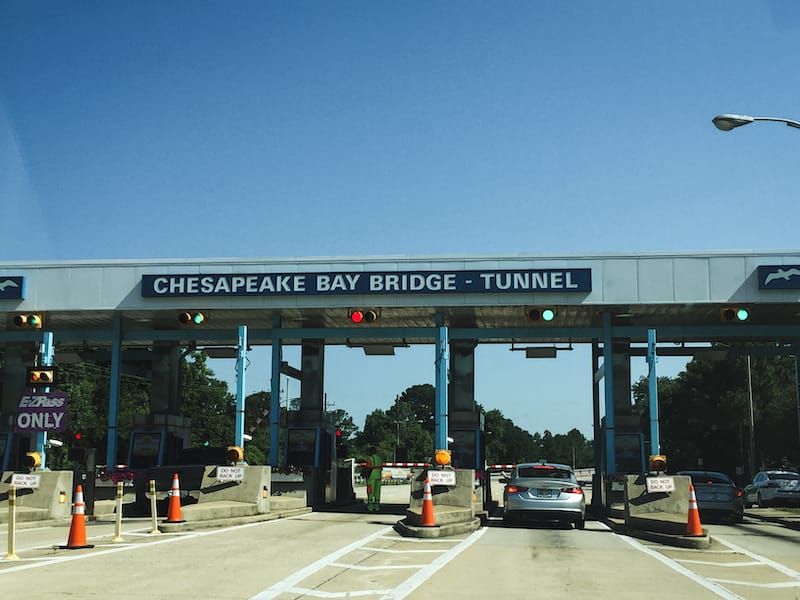 The Virginia town is located on the Chesapeake Bay and not the Atlantic and it is located on a peninsula on that side and is surrounded by water on three sides. It is absolutely worth a stop if you're on the Eastern Shore!
INSIDER TIP:
If you drive over the Chesapeake Bay-Bridge Tunnel, you will have to pay a toll. It is
currently $14 per vehicle
during off-peak times and $18 during peak times. There is a smaller fee coming back if you're making the trip on the same day.
Fun Things to do in Cape Charles, VA
Here is a curated list of exciting things to do in Cape Charles. If you have tips that I did not include on this list, please leave a comment and let me know so I can check out next time and for other readers to add to their itinerary!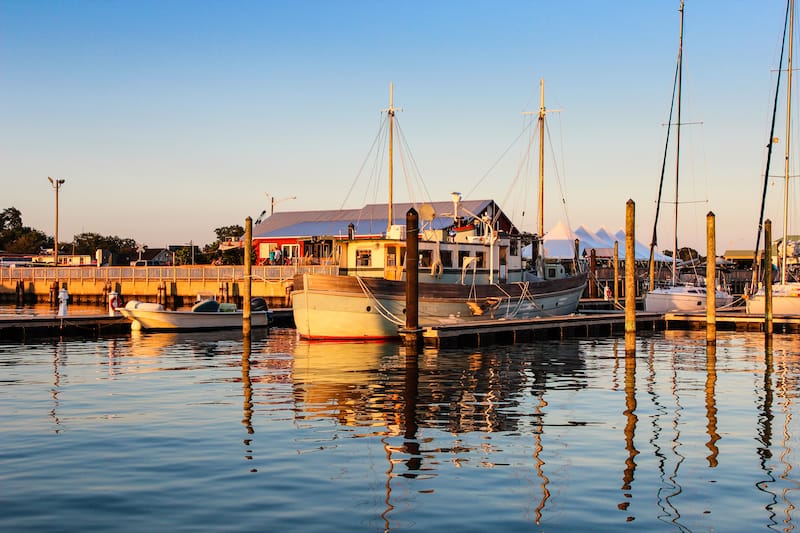 Explore the Cape Charles Historic District
One of the essential places to visit in Cape Charles is the Cape Charles Historic District. This national historic district was surveyed in 1989 and placed on the National Register of Historic Places in 1991.
Visiting this is a wonderful place to go to learn more about Cape Charles' history. The history started back in the 1880s in order to ship goods and produce across the Chesapeake Bay off of the Delmarva Peninsula.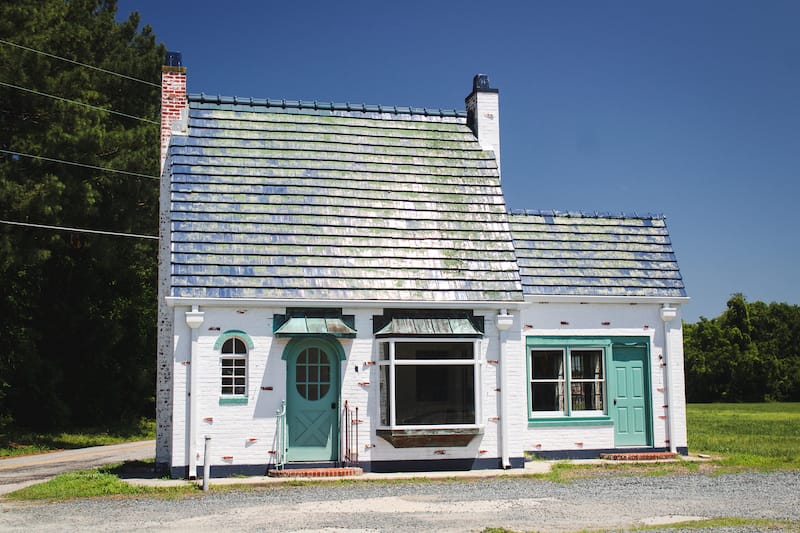 Eventually, the town grew a bit and but once WW2 happened, many services were halted. The ferry service also disappeared around 30 years ago.
The Historic District of Cape Charles includes 526 buildings and 3 other structures.
Some of the most famous buildings included in the town's development and worth seeing are the Seafood Headquarters (1886), A.L. Detwiler House (1919), Kellogg House (1924), and the US Post Office (1932).
In addition, you will find public piers and beaches in this area. And they are truly stunning and worth a visit!
Click here to find the official documents and more information about the 526 buildings that make up the Historic District.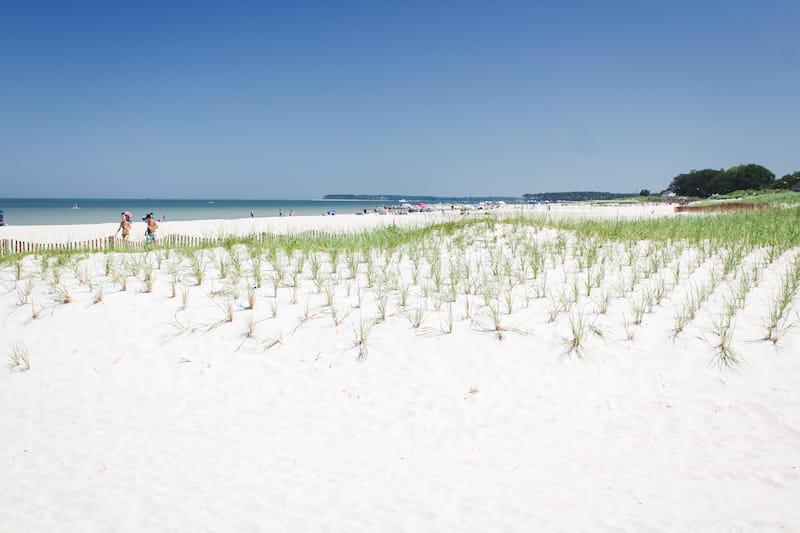 Relax at Kiptopeke State Park
Kiptopeke State Park is situated in Eastern Virginia and acts as a recreation spot for those visiting Cape Charles and the Eastern Shore.
Visitors can experience a variety of avifauna in this place (I saw osprey when there)! During the winter months, when migratory birds gather around, the area really comes to life!
The State Park was established in 1963 and since, it has facilitated the study of the Eastern Shore bird population.
The park is home to birds like hawks, osprey, kestrel, and others. It truly is one of the best places for birdwatching in Virginia.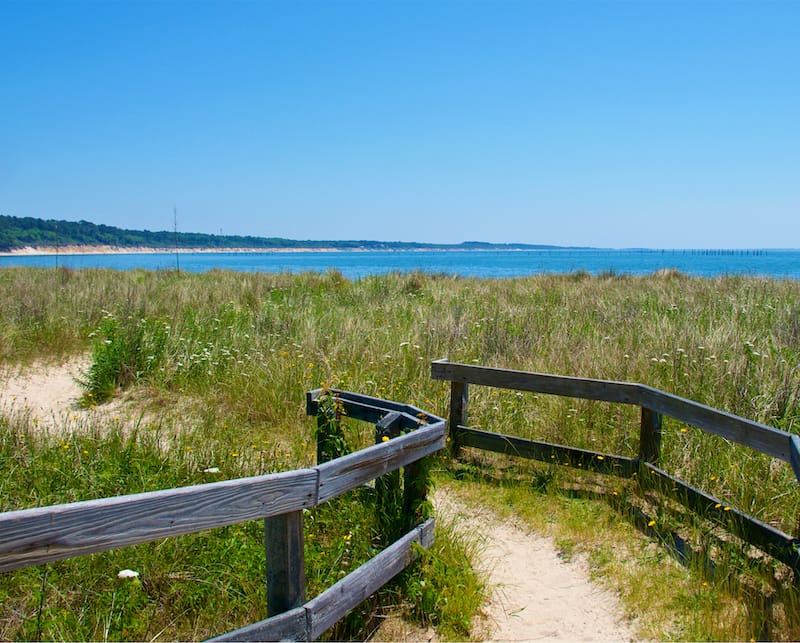 Go Jetskiing
If you are into adventure sports or activities, then Cape Charles isn't a bad place to be!
The sparkling water of the Chesapeake Bay offers the right environment for various types of water sports like kayaking and jet skiing. There are several rental shacks at the beach grounds for various equipment required for jet skiing.
Experience the beauty of the sunset while water splashes on your face or enjoy the sight of dolphins if you are lucky to spot one.
To rent a jet ski, you can wait until you're in town or speak ahead of time with Poseidon Watersports in Cape Charles.
View the Cape Charles Lighthouse
Located on Smith Island, you can see Virginia's tallest lighthouse and the US' second-tallest from Cape Charles. This one was a replacement of the old one that was initially built by a Congressional Order in 1828.
The new Cape Charles Lighthouse was also built by Congressional Order and was built in 1864 in a skeleton-style with cast iron.
While you can't rock up to the Cape Charles attraction, you can certainly see it. It is no longer in service, but it is a beautiful sight to witness, nevertheless.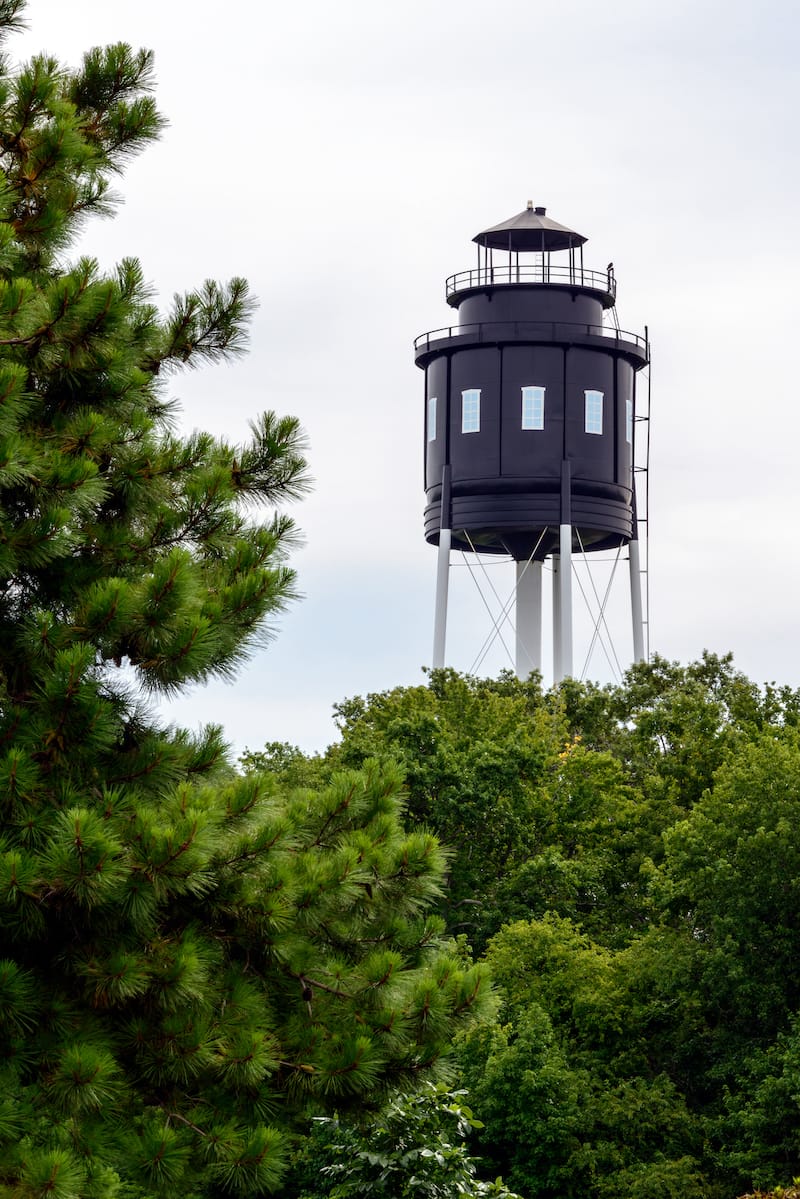 Visit the Cape Charles Museum (Welcome Center)
The Cape Charles Museum was opened to the public in 1996 to showcase the history of the Eastern Shore town.
For all of the people who want to get a real taste of this spectacular place in Virginia, including history lovers, make sure that you include it on your itinerary.
The local history of this place is displayed through storyboards, photographs, and other documents that trace back the history of Cape Charles to the 1880s.
Other exhibits include steamers, barges, local tools, and various artifacts. It will give you a lot of insight into what makes Cape Charles such a beloved place in VA.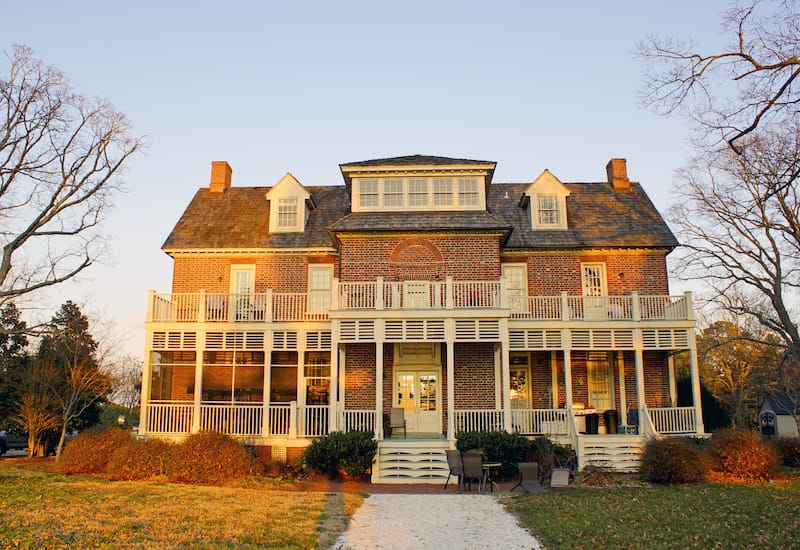 Head to the Savage Neck Dunes State Natural Area
If you are an offbeat traveler who is looking for a little free time away from town amidst the beauty of nature, then Savage Neck Dunes State Natural Area is the perfect place to visit in Cape Charles.
Widely stretched beaches, endless ocean, and blowing cool breeze – all of them make Savage Neck Dunes one-of-a-kind.
The area spans over 298 acres with a Chesapeake Bay beach, migratory songbird habitat, and more!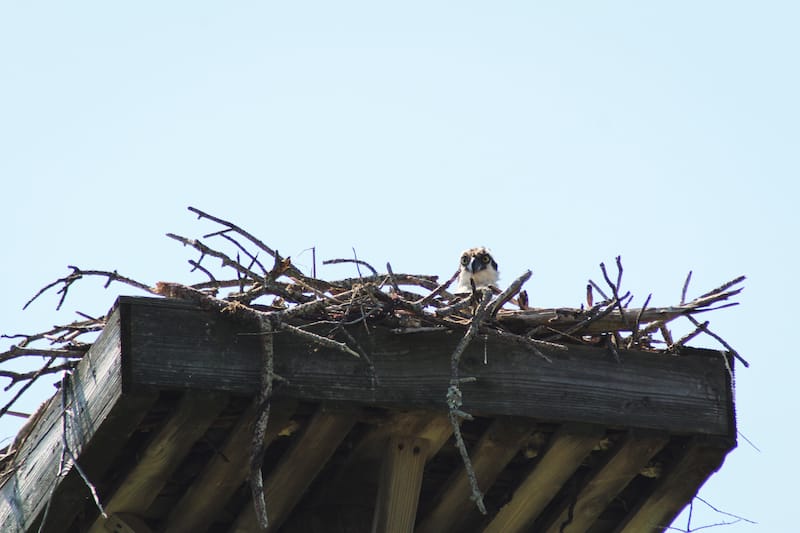 You can also see a huge population of northeastern beach tiger beetles. Note that this is located north of the peninsula where Cape Charles sits so you can't just easily 'walk over' there.
Beware that while this nature area is open to the public daily, there are no restrooms, trashcans, or drinking water. And, the parking lot only fits 8 cars. Do not illegally park and whatever you do, do not leave a trace!
There are three hiking trails at Savage Neck Dunes Natural Preserve. Check out this useful guide and fact sheet provided by the state for additional information about Savage Neck Dunes Natural Area Preserve.
Stop into Lemon Tree Gallery and Studio
Lemon Tree Gallery and Studio is a creative ground for all artists. You can witness the charming environment in this place and other playful events.
It is definitely one of the best places to visit in Cape Charles for those wanting to escape the VA beach town and nature for a bit.
Every week, this Clelia Sheppard-owned art studio and gallery changes its events to entertain the audience. You can also indulge in creative activities for yourself and go for live workshops and lectures with artists like Bethany Simpson and Thelma Peterson.
On a cozy afternoon, you can enjoy some limoncello and chocolate pastries while channeling out your inner artist and taking in all that Cape Charles has to offer.
It's sure to transplant you to the Amalfi Coast while still on the Eastern Shore!
Click here to check out their website.
Take a Stroll at the Cape Charles Natural Area Preserve
Virginia offers remarkable getaways for all types of travelers and one thing we do well is 'nature'. If you love exploring the different ecosystems in VA, then this natural area should be on your list.
The Cape Charles Natural Area Preserve spans over 29 acres and includes some unique coastal flora and fauna. You will get to see some notable species of insects like tiger beetles.
This preserve acts as the natural habitat for several migratory birds during the fall season; therefore, it is a popular spot for bird watching in Virginia then and at all times of the year.
Be sure to keep an eye out for diverse groups of waterfowl during winter. All together, 240+ bird species have been recorded here!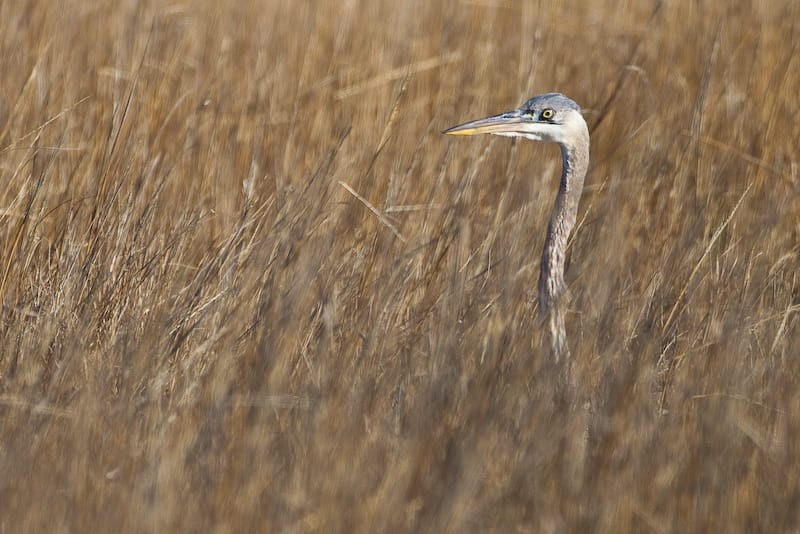 Once there, you will find a long boardwalk that goes through several natural communities, including the Maritime Loblolly Pine Forest, eventually ending on a bluff that gives epic views of the Chesapeake Bay.
Please note that there are no facilities here and beach access is prohibited due to the habitat's sensitivity.
Try Local Craft Beer at
Cape Charles Brewing Co.
Mark Charles formed this Cape Charles brewery along with his brother, Chris, and their mother, Deborah, and it has been a local favorite ever since!
The beer is specially handcrafted to serve its customers. And the tasting room/pub is decorated with all the wooden and handmade products, creating a comfortable and vintage ambiance.
Some of the beers available from Cape Charles Brewing Co. are named after some of the islands of Virginia.
You can grab a glass or growler of their famous beers such as Seaside Sour, Capetoberfest, and Fisherman's Island.
They also host several events on-site, so if you're heading to Cape Charles during the spring, summer, or fall, be sure to check out their website to see what events are taking place!
Have a Seafood Feast at Shanty Restaurant
When you are enjoying your holiday at Cape Charles, don't forget to have dinner at Shanty! Shanty offers some of the most delicious seafood along with a beautiful ambiance.
Their clam chowder is to die for! Enjoy a special meal of fresh catch by the beach while listening to the sound of the water and birds.
There is always something happening at Shanty and a lot of various spaces, from live entertainment to special menus to dockside seating… it truly is a can't-miss dining experience and restaurant in Cape Charles!
Head there on Fridays and you can enjoy their 'Buck a Shuck' where you can taste fresh bay oysters on the half shell!
Click here to check out Shanty's website for additional information.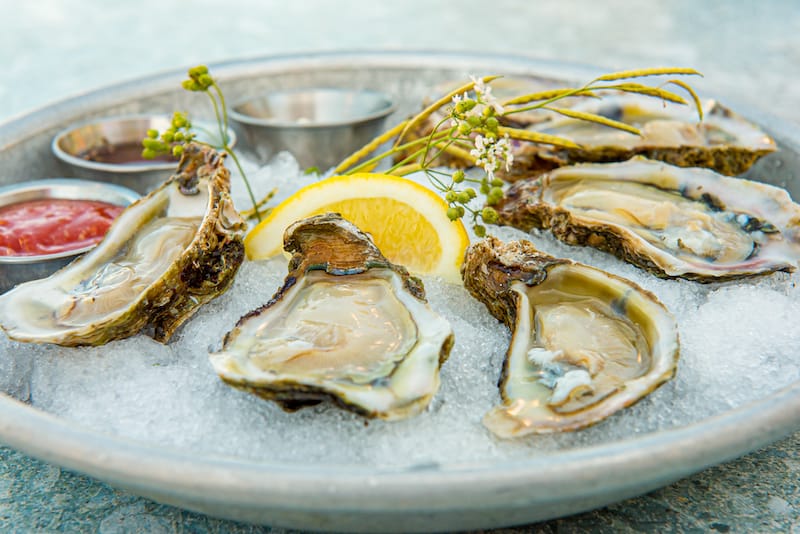 Go Golfing at Bay Creek Resort and Club
Situated on the Eastern shore of Virginia, Bay Creek Resort and Club offers the ideal retreat where you can enjoy a bit of golfing at one of the best courses on the Eastern Seaboard.
The Cape Charles resort is spread over an area of 1,720 acres that consists of a golf course that has 27 holes designed by greats Arnold Palmer and Jack Nicklaus, a private beach where you can indulge in swimming, fishing, coastal hiking, and various water sports.
This is a living community – just to note. But the golfing is top-notch and there are other things to do at the resort for visitors.
Things to Do in Cape Charles (On a Map!)
🗺️ HOW TO USE THIS MAP: You can use your fingers/mouse to zoom in and out. To get more info about a place, simply touch/click the icons. Want to save this map for later use? Click the '⭐' by the map title and it will add it to your Google Maps account (Saved > Maps or 'Your Places').
What to Do in Cape Charles – Recap
Here is a quick list of things to do in Cape Charles that was described in detail above:
Cape Charles Historic District
Kiptopeke State Park
Go jetskiing
Cape Charles Museum and Welcome Center
Cape Charles Lighthouse

Savage Neck Dunes State Natural Area

Shanty Restaurant
Cape Charles Natural Area Preserve
Lemon Tree Gallery and Studio

Cape Charles Brewing Co.

Bay Creek Resort and Club
Where to Stay in Cape Charles
There is a variety of accommodation in Cape Charles available to travelers and here are some of our top picks. Please note that everything on this list is within a walk of the beach and historic district of Cape Charles.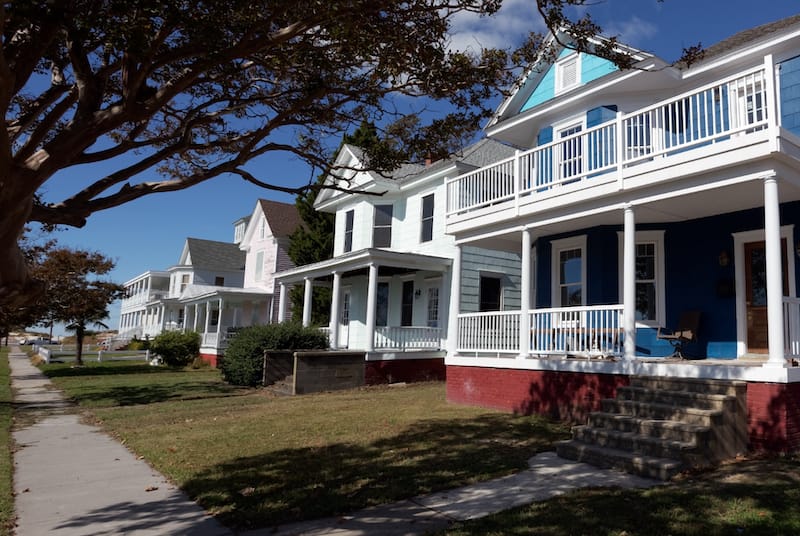 Cape Charles Airbnb Rentals
There are plenty of awesome Airbnbs in Cape Charles, VA to rent for your trip. You can see a few top-rated ones below. Alternatively, if you're staying more north on the Eastern Shore, check out our guide to the best Airbnbs in Chincoteague.
We hope you enjoyed this guide to all the beautiful, historical, and delicious things to do in Cape Charles VA. It is one of my favorite weekend trips from Richmond VA and I think you'll love it too!
If you have any questions or want to let us know of other worthy places (and new openings!), please leave a comment below. Thanks!
Pin this Cape Charles Things to Do Guide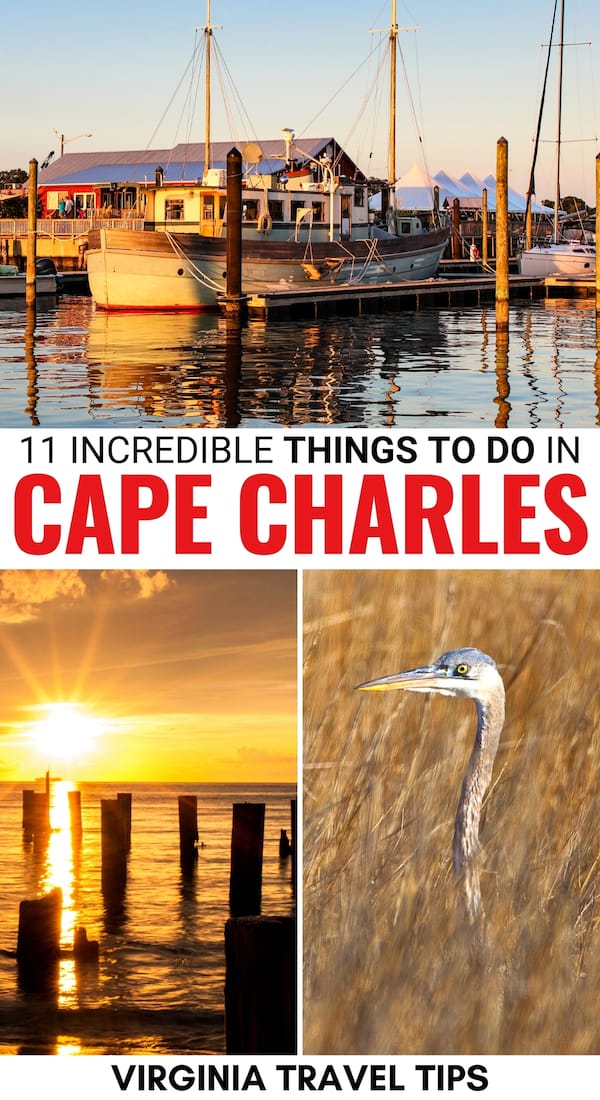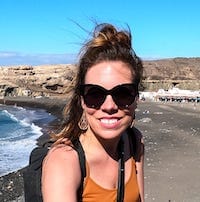 Megan is a travel blogger and writer with a background in digital marketing. Originally from Richmond, VA, she has lived all around the world (including Germany, Finland, Norway, etc) but her heart always finds its way back to Virginia. This blog is to help encourage travelers to explore the great state of VA… and its wonderful neighbors! Megan has written for or been featured by National Geographic, Forbes, Lonely Planet, Fodor's Travel, the New York Times, and more. She has visited 45 US states and 100+ countries… and wholeheartedly believes that Brunswick Stew is probably the greatest food to ever exist.