Virginia doesn't have a huge amount of coastline (only 112 miles), but what we do have in the state is jam-packed with gorgeous beaches and a plethora of things to do. These are the best beaches in Virginia.
Most sit along the Atlantic Ocean, but we are also listing Chesapeake Bay beaches and a few other options depending on what your interests are!
This guide is divided into three different sections: beaches in Virginia Beach, beaches on the Chesapeake Bay, and other Virginia beaches worth visiting.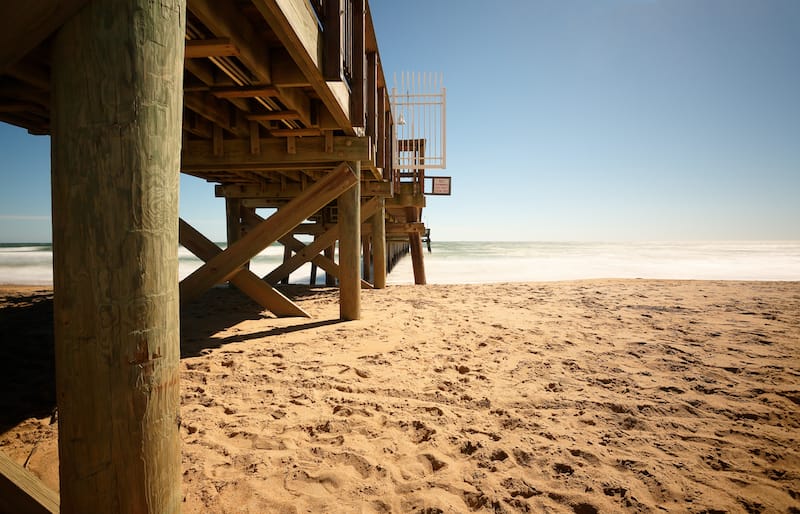 Best Beaches in Virginia – The List
Here is a quick list of the beaches in Virginia that are covered in this guide:
Sandbridge
Virginia Beach
Assateague Island National Seashore
Buckroe Beach
Ocean View Beach
Willoughby Beach
Chic's Beach
First Landing State Park
Croatan Beach
False Cape State Park
Cape Charles Beach
Colonial Beach
Map of Beaches in Virginia
To add this map to your Google Maps account, click the 'Star' icon next to the map name. You can then view it on your cell phone or computer by heading to your Google Maps account and going to 'Your Places'.
Atlantic Beaches in Virginia
Sandbridge
Location: Virginia Beach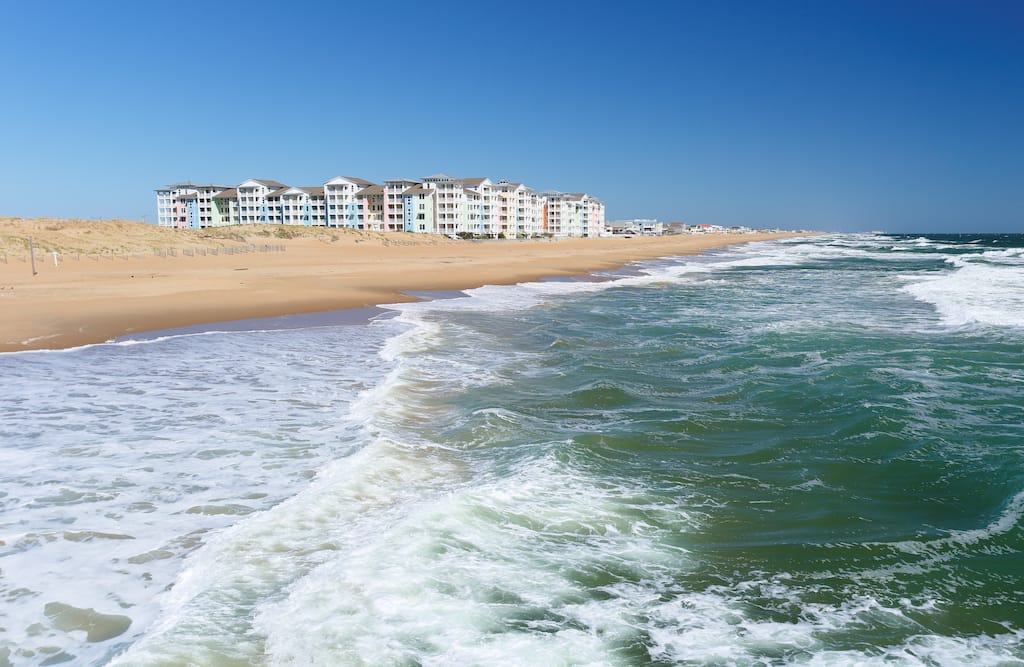 Sandbridge is easily one of the most popular beaches in Virginia amongst the locals but it definitely doesn't garner the attention amongst foreigners or out-of-towners.
It is quite remote, and the sandy beaches, hence the name, add to its appeal. It is located on the Currituck Banks Peninsula south of the main drag in Virginia Beach and on one side of the peninsula you can see the Atlantic Ocean and on the other side, you'll see Back Bay Wildlife Refuge and False Cape State Park (which we mention later in this post!)
The beach is around 4.5 miles long and on the southern part of Sandbridge, you'll find Little Island Park, a fantastic place to go for the solo traveler or people traveling with their family.
There are lifeguards in certain parts of the beach and you'll find four stands at Market Place Beach and ten at Little Island Beach. The lifeguards remain on the stand throughout most of the day (9:30am until 6pm) during the summers.
The area is often referred to as the "Outer Banks of Virginia" due to its similar landscape and location. There are no hotels in Sandbridge, merely beach rentals and condos.
Virginia Beach
Location: Virginia Beach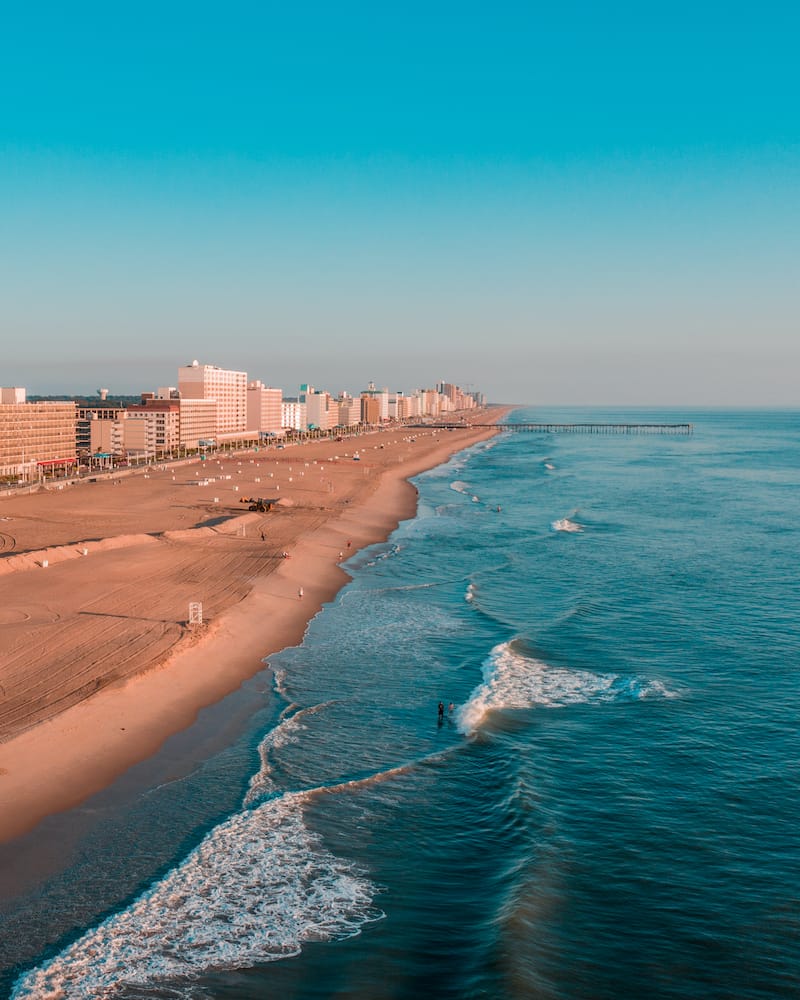 Everyone knows of Virginia Beach so it is definitely the most popular beach in Virginia that is on this list (and in general). Virginia Beach gets 19 million visitors a year, which is more than Miami Beach and almost the same as Myrtle Beach, South Carolina.
What does this number mean? The beach is packed! And, there are so many things to do in Virginia Beach as a whole.
While Virginia Beach is a large city and it technically encompasses many of the beaches on this very guide, the main beach we are detailing is the one that is accessible from the boardwalk.
This is a family-friendly beach and it will have hoards of people on it during the summers. There are restaurants, theme parks, and pretty much everything you can imagine right at your fingertips.
While Virginia Beach can be stressful for local visitors who want space, it is definitely a family-friend destination where you can find all types of food, souvenirs, and things to do. Plus, there are several affordable Virginia Beach timeshare rentals you can stay in!
Assateague Island National Seashore
Location: Eastern Shore (shared with Maryland)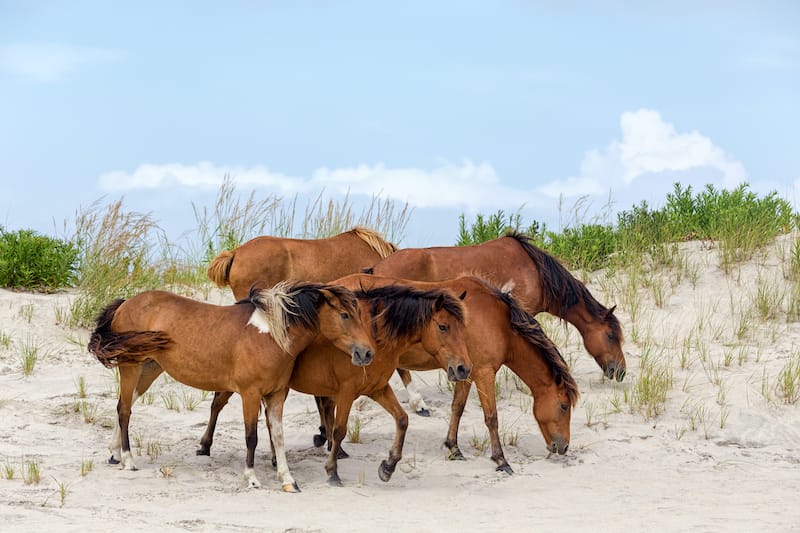 If someone asked me what my favorite places in Virginia are, Assateague Island would easily make the top five (or top three).
Despite it being the last place I got a speeding ticket, it is truly a beautiful beach and wildlife area and it deserves all the tourism it receives and then some.
Assateague Island is a 37-mile barrier island that actually is partially in Virginia and partially in Maryland. It is one of the best beaches in Maryland and Virginia both!
The most famous place on Assateague is the Chincoteague National Wildlife Refuge, one of the best attractions in Chincoteague and a one-mile stretch of land known for its wild horses and white, sandy beaches, and beautiful vacation rentals.
In addition to the wild horses and pristine Eastern Shore beaches, you can also visit the Assateague Lighthouse, one of the most beautiful lighthouses in Virginia.
Also, don't discount the area as a wildlife haven for other animals than horses! Throughout the marshes, coves, and bays, you'll find bald eagles, seabirds, and much more. It truly is a little slice of paradise in Virginia!
Assateague Island is also one of Virginia's gorgeous national parks.
First Landing State Park
Location: Virginia Beach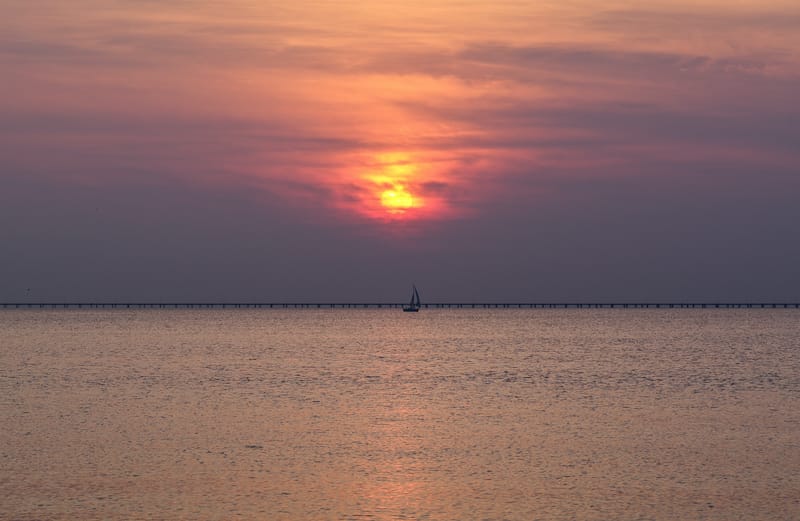 The most visited state park in Virginia is none other than First Landing State Park, the place where the first English settlers landed on North American soil.
This state park is known for its history, rainbow sheen swamps, camping, and gorgeous beaches. You can visit First Landing State Park and simply just hang out on the beach if you wish.
So, the beach at First Landing is technically a Chesapeake Bay beach but it is right on the cusp of the Atlantic and the North End Beaches are so close to First Landing State Park that I decided to list this under 'Atlantic Beaches'.
But, just know that it is technically a Bay Beach at First Landing Beach and the North End Beaches are Atlantic Beaches. First Landing is home to some of the best hikes in Virginia Beach, and many of them end up at the shore!
Croatan Beach
Location: Virginia Beach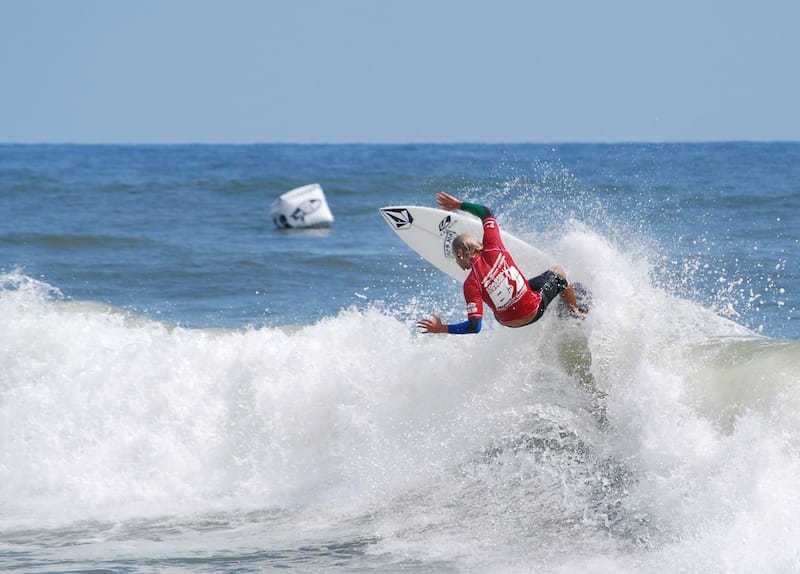 Croatan Beach is another beach in the city of Virginia Beach and one that is known for its water activities and surfing.
It is located south of Rudee Inlet and north of Camp Pendleton. It is where the East Coast Surfing Championships have been held for the last 40 years!
At Croatan, you have two dedicated surfing areas – one is to the north starting at Rudee Inlet and the other one is toward the south near Pendleton)… and the beaches are brimming with surfers every morning.
There are lifeguard services available and you'll find them sprawled out along the entire beachfront during the summers.
If you're looking to take a surf lesson or attend a surf camp, this is likely where you'll end up at.
False Cape State Park
Location: Virginia Beach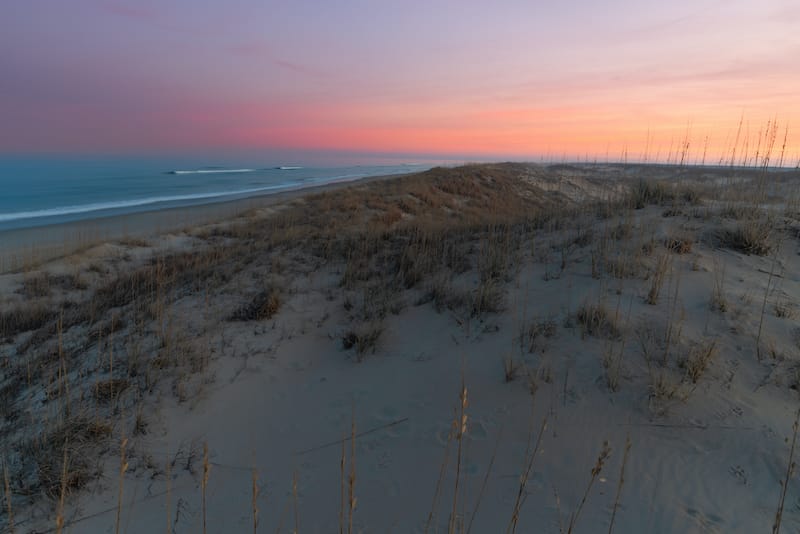 So, technically, False Cape State Park can be considered part of the Sandbridge beaches but it has its own appeal, so we decided to add it anyway.
The Virginia State Park is located on the Currituck Banks Peninsula really close to the border of North Carolina and just a short distance north of Mackay Island National Wildlife Refuge.
The name 'False Cape' was given because it was easily mistaken for Cape Henry which is around 20 miles north of False Cape. As a result of the mistake, ships would end up stuck in shallow waters off the coast of False Cape.
Nevertheless, this isn't your typical touristy 'beach' – it is more for the active traveler who wants to comb through the area's wildlife and nature spots while taking a break on the sandy beaches and watch the waves break.
There are dunes and a lot of waterfowl in the area. Some of the interior reminds me of the Great Dismal Swamp, another Virginia park worth visiting.
Chesapeake Bay Beaches
Buckroe Beach
Location: Hampton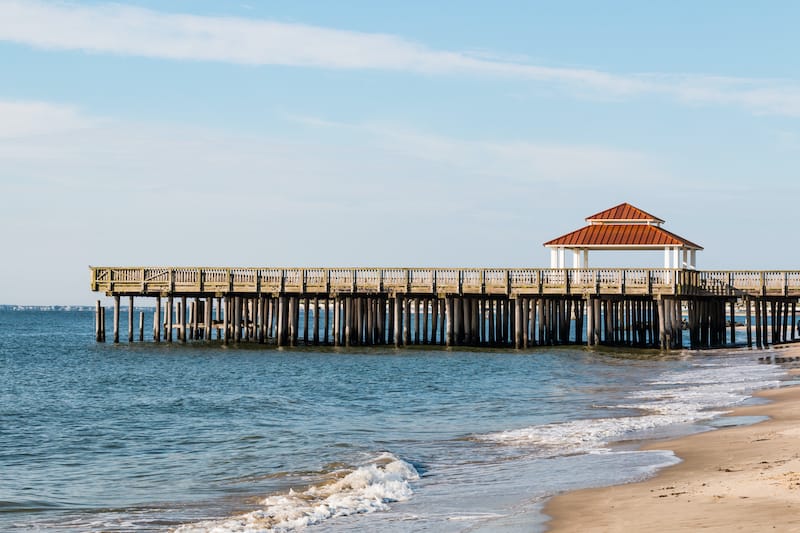 Buckroe Beach is a Chesapeake Bay beach located in Hampton, Virginia just north of Fort Monroe. It is actually one of the oldest parks and recreational areas in the state of Virginia.
The area dates back to 1619 when the English Settlers arrived with the Virginia Company of London. The beach was used as a fishing camp for several years after and all the way until the Civil War.
The beach was damaged (the pier, especially) during Hurricane Isabel in 2003, but it was rebuilt and reopened in 2009 and it is known for its great fishing. The proof is there on summer's day as it will be teeming with fishermen!
At Buckroe Beach, you can find a large pavilion with regular performances, as well as food and ice cream vendors in the vicinity. There are kayaks, umbrella rentals, and lounge chairs for rent there.
This is one of Virginia's most family-friendly beaches.
Ocean View Beach
Location: Norfolk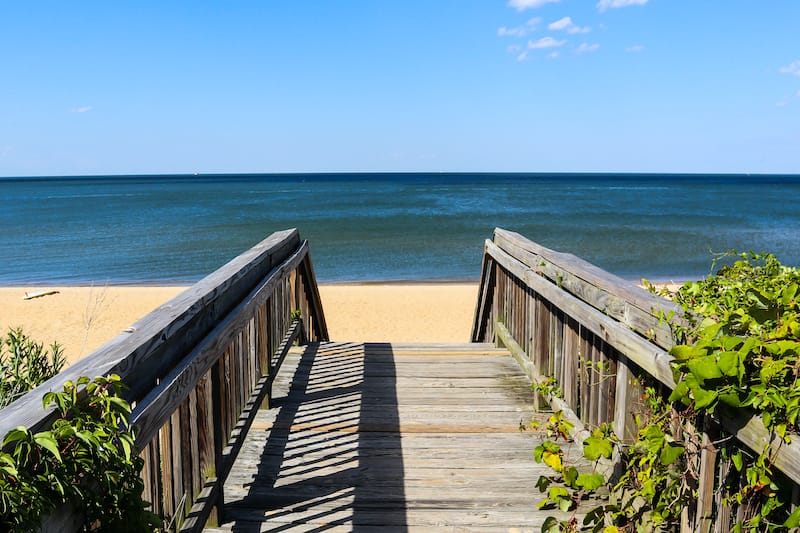 Ocean View is a coastal area in Norfolk, Virginia that has many miles of Chesapeake Bay shoreline.
The beach area has an extensive history and there was even a large amusement park built there at the end of the 19th century and it quickly became a favorite chill-out spot for sailors at the Norfolk Navy Base.
While the beach used to be more popular with out-of-towners after the main highway was built on I-264, it allowed quick access to Virginia Beach, and now Ocean View tends to attract more locals and Virginians than out-of-state tourists.
In the 1990s, the city also developed a new area called 'East Beach', and the American Shore and Beach Preservation Association named East Beach one of the nation's top 7 restored beaches.
There is a fishing pier located at Ocean View that has become a famous landmark and is 1,690 feet long and this is one of the best places to visit in Norfolk VA!
Willoughby Beach
Location: Norfolk
A beach area that is not well-known outside of the local area is Willoughby in Norfolk. While Ocean View is somewhat part of the same area, there are different areas you can visit to explore Norfolk's sandy beaches.
There is a total of 7.3 miles of coastline where you can come to play, relax, or go fishing. This is also a really important bird habitat.
Chic's Beach (Chesapeake Beach)
Location: Virginia Beach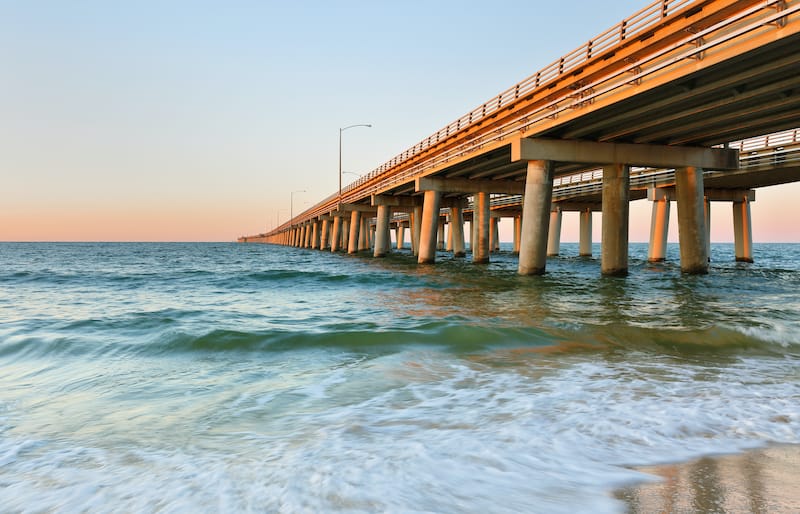 Chic's Beach, or Chesapeake Beach, has been a popular local Virginia beach hangout for over a century and is still popular as ever today.
The beach stretches for over two miles and goes from the Lynnhaven Inlet to the Chesapeake Bay Bridge-Tunnel.
You will see beachgoers out kitesurfing, paddleboarding, swimming, or playing with their dog and it truly is a chilled out vibe and one of the best beaches in Virginia.
One of the best things about Chic's Beach is that in the early morning, it feels like a private beach as you'll likely have it mostly to yourself. It really is one of the prettiest beaches in Virginia.
Cape Charles Beach
Location: Cape Charles on the Eastern Shore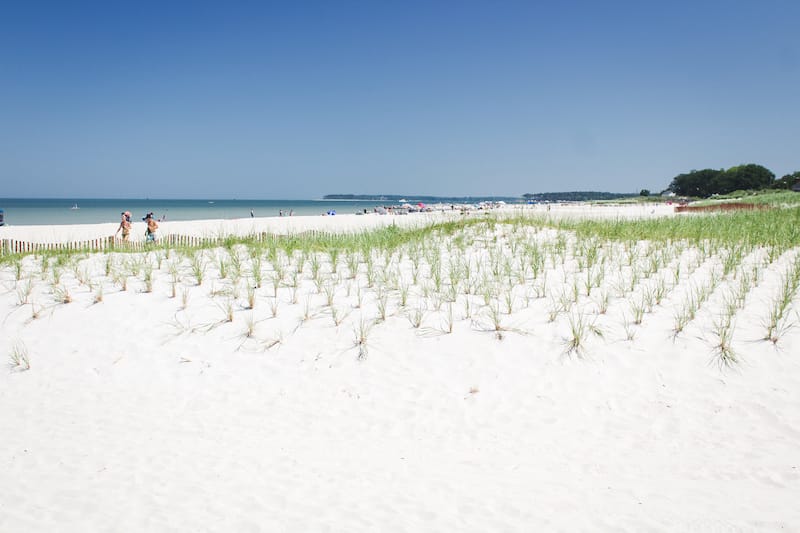 I have to admit that I didn't make it to the Eastern Shore until just a couple of years ago. I always aspired to visit this remote part of Virginia, but it just seemed so far out of reach.
When I did make the journey, Cape Charles was my first stop and it blew me away. I couldn't believe such a place existed and I didn't really know much about it.
Cape Charles Beach is located on the Eastern Shore's southernmost town and the city's beach is the only one on the Eastern Shore that doesn't require a parking or entrance fee.
The beach is located right by the old town and the sand was extremely white and the water was very alluring- it was truly a spectacular sight and I am upset with myself that it took me over thirty years to visit the Eastern Shore!
There are a couple of piers and areas to walk through and we found some really cool birdwatching opportunities in the area. There are many things to do in Cape Charles – so definitely plan a getaway there!
Other Can't-Miss Virginia Beaches
Colonial Beach
Location: Colonial Beach on the Northern Neck Peninsula in Westmoreland County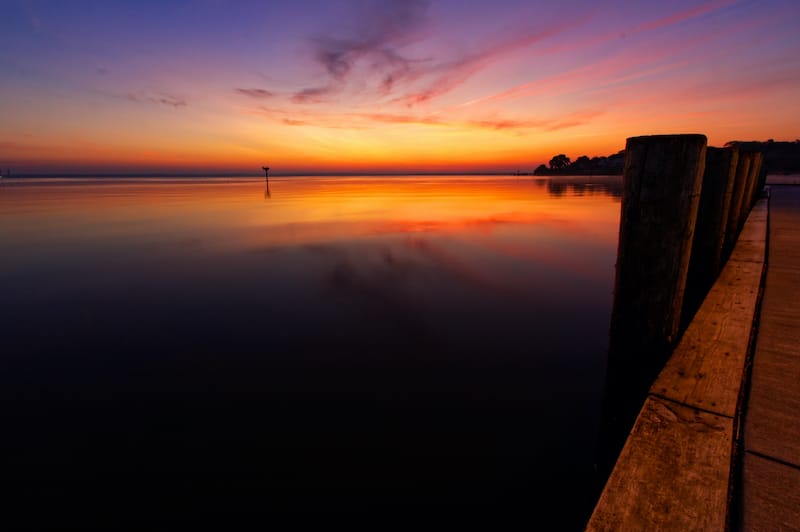 Colonial Beach is a beach town in Virginia located in Westmoreland County on the Northern Neck Peninsula. This beach is not an Atlantic Beach and not completely a Bay one either- it is bounded by the Potomac River, Monroe Bay, and Monroe Creek.
Interestingly, Colonial Beach has the second-largest beachfront in all of Virginia and it is worth visiting if you're looking for a unique place to relax on the water and an area with an immense amount of history (George Washington's Birthplace is here and James Monroe's is located nearby).
The best thing about Colonial Beach is that it is a great day trip from Richmond, Virginia Beach, and Washington DC.
There are many fantastic places to visit in the state, but these beaches in Virginia definitely are all worth checking out if you're a nature lover.
Virginia gets some amazing sunsets and being on location at one of the gorgeous beaches is the ideal way to marvel at them!
PIN IT FOR LATER!