Are you planning a trip to Hampton Roads and looking for the best things to do in Norfolk VA? If so, keep reading!
This guide shows you what to do in Norfolk, including historical sights, green spaces, and much more!
Are you planning your trip to Norfolk, VA last minute?
If youʻre booking your trip to Norfolk last minute, you may want to book your tours and hotels ASAP to ensure availability!
🇺🇸 Top Tours in Norfolk (and nearby):
🛌 Best Hotels in Norfolk:
Hilton Norfolk The Main (wonderful indoor pool in a great location)

🚗 Looking for the best way to get around VA? Click here to check rental car rates for Virginia!
I have to admit, I never gave Norfolk much love growing up. I have no idea why I overlooked it, but I was extremely guilty for doing so. It wasn't until I left Virginia that I started popping by more when I was in the area visiting.
And, my sister now lives there and constantly raves about how cool and dynamic the city is! It is also one of the best day trips from Virginia Beach despite being so close!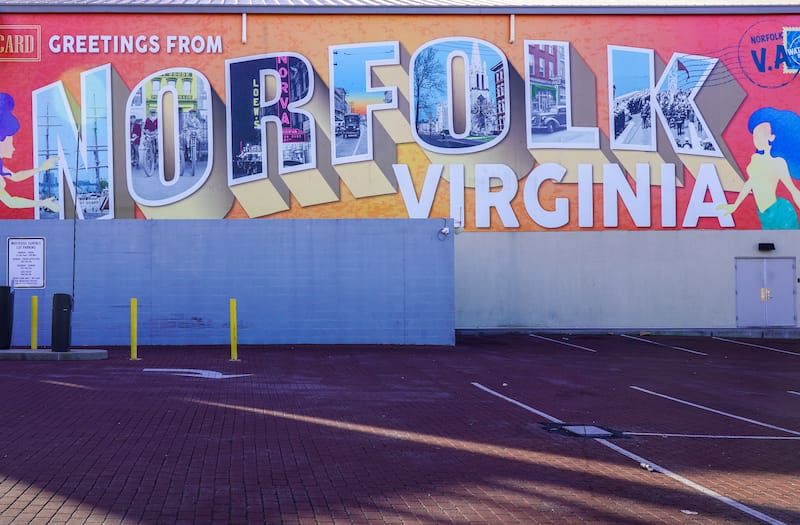 This guide showcases some of the best attractions in Norfolk VA for a first-time visitor. I finally was able to get there this summer and tackle some of the cool places in the city!
Let us know your favorite things to do in Norfolk in the comments – especially if you can highlight some cool small businesses there! Thanks!
Best Norfolk Tours (to Maximize Your Time!)
If you're looking for something more organized when in Norfolk and the surrounding area, here are some awesome Norfolk tours you should check out.
These tours will help you maximize your time, which is especially important if you only have a short amount of time in the city! We listed a variety so that you can pick which one is most suitable for you (and many include multiple places!):
Best Things to Do in Norfolk VA
1. Have Dinner aboard the Spirit of Norfolk
Enjoy a delicious lunch or dinner buffet on this 2-hour cruise on the Spirit of Norfolk. The ship departs from Otter Berth in downtown Norfolk. Keep in mind that you will need to have a form of ID with you.
In addition, the dress code is dressy-casual, meaning that flip-flops, jeans, shorts, and other very casual attire should not be worn.
GOOD TO KNOW: The Spirit of Norfolk boat may not actually be the boat you go on as there were some mishaps this summer and the original boat is not currently in service that I know of. My sister said the tours are running on an equally as nice, new boat!
Once you arrive, you will be taken to a candlelit table, after which you will enjoy a buffet full of fresh options like Caesar salad, creamed corn and cheddar cheese casserole, mashed potatoes, oven-baked flounder filet, baked ziti pasta, and Italian beef meatballs.
Note that the menu is subject to change, and be sure to let the crew know beforehand if you or anyone with you has a food allergy. You can also purchase alcoholic beverages.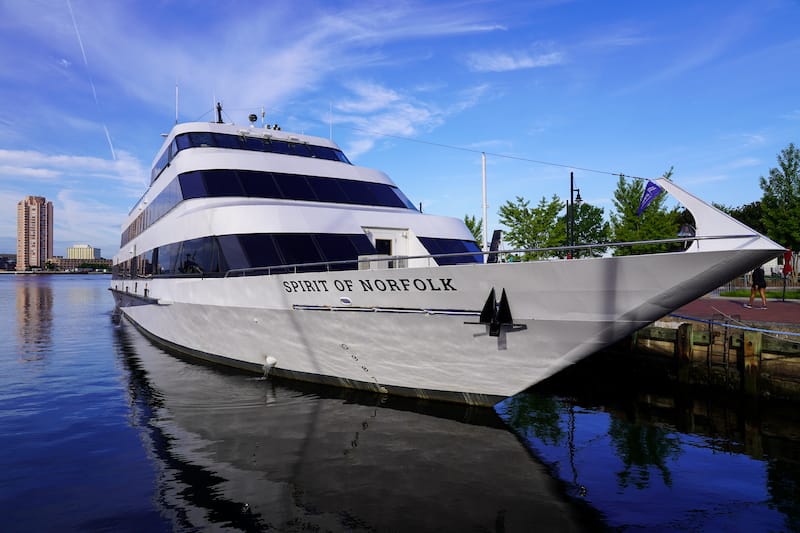 Take as much or as little as you like while admiring the gorgeous views of the Norfolk skyline and, if you choose the dinner tour, a delicious meal under the stars.
>> Click here to book your trip on the Spirit of Norfolk
2. Visit as Many Norfolk Mermaids as You Can
One of the coolest things about Norfolk is the mermaids that you'll find scattered about town!
Implemented in 1999 by local bronze sculptor Kevin Gallup, you can find them all throughout the city despite the 130 that were initially placed!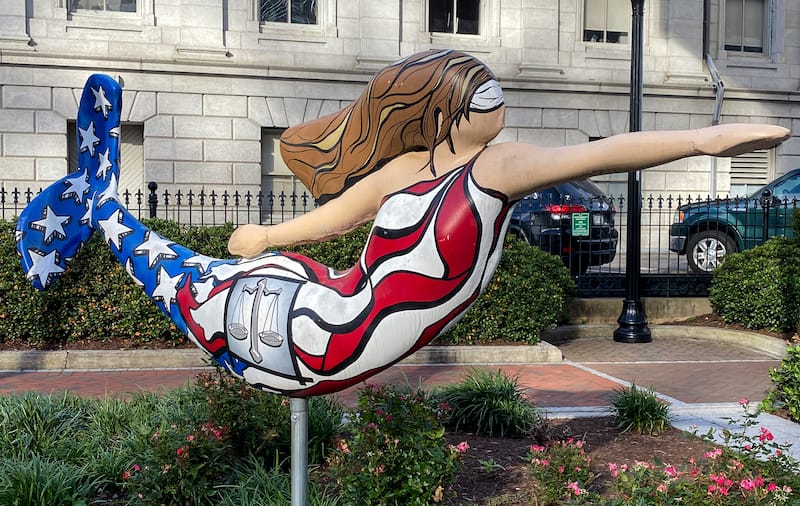 I saw them everywhere when recently there and honestly, it was something so unique to Norfolk that it was one of my favorite things about the city!
3. See Nauticus and USS Wisconsin BB-64
The first thing that you can do during your visit to Norfolk, Virginia is to take a tour of the Battleship Wisconsin. It is berthed at Nauticus and is considered to be one of the largest and last battleships built by the United States Navy.
The ship was launched on December 7, 1943, and it was berthed at Nauticus on the same date in 2000. It has also won many medals, all of which you can learn about during a tour.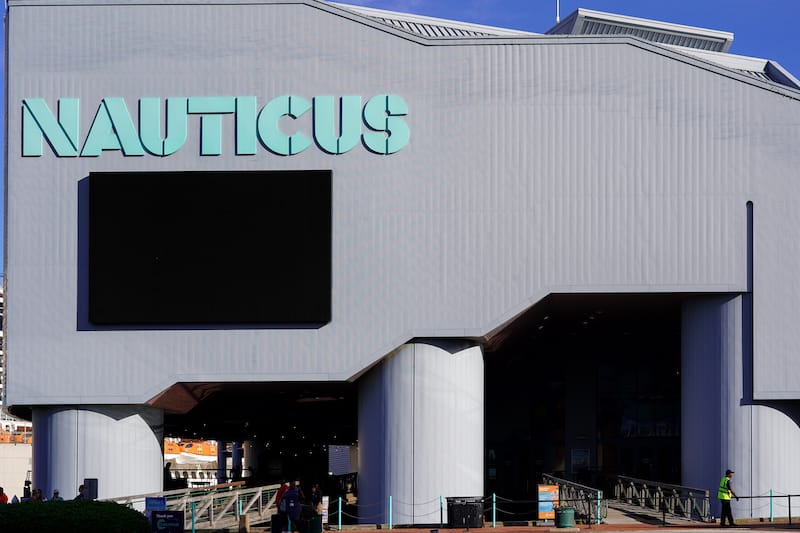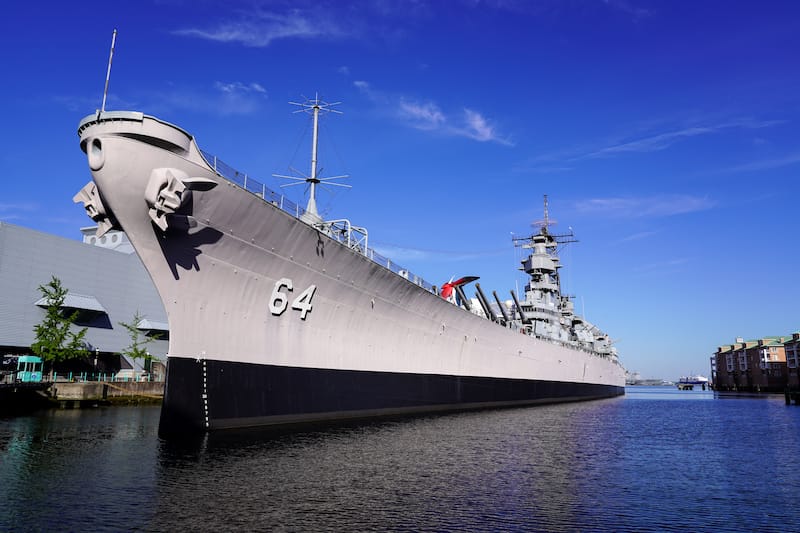 You can take a self-guided tour or one with a tour guide, where you will be able to explore the deck and the history of the ship. In fact, it earned five battle stars during World War II, which you can find out more about during the Topside Tour.
You can also check out the Hampton Roads Naval Museum, which is owned by the Navy. Here, you will be able to see a collection of weapons, ship models, art, artifacts found underwater, and authentic uniforms.
Address: 1 Waterside Dr, Norfolk, VA
Website: https://nauticus.org/
4. Peruse the Norfolk Botanical Garden
The Norfolk Botanical Garden, which is Virginia's largest botanical garden, is a must-see when traveling to Norfolk. It is open every day from 9 AM-7 PM and a great place for both tours and as an event venue.
The gardens feature 175 acres, 7 miles of paved paths, and 7 miles of unpathed paths that visitors can explore. Some of the most popular collections featured here include roses, camellias, and crape myrtles.
Many visitors also enjoy checking out the Butterfly House and the Children's Garden, which suggests that it is also a great place to visit as a family.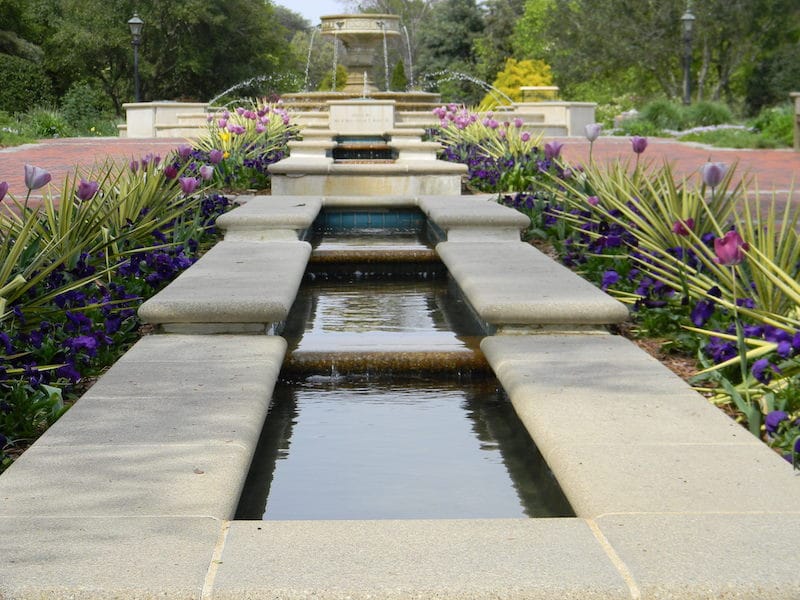 These botanical gardens are unique in the sense that they are the only ones in the country that you can visit by tram, boat, or by foot. The botanical gardens are also surrounded by water on three sides, providing you with stunning views in that aspect as well.
These are some of the most magnificent botanical gardens in Virginia and definitely worth a visit when you're traveling to Norfolk!
Address: 6700 Azalea Garden Rd, Norfolk, VA
Website: https://norfolkbotanicalgarden.org/
5. Check Out the Selden Market
One of the coolest things to do in Norfolk is to visit the Selden Market – a place where you can experience and enjoy many of the city's newer concepts in fashion, food, coffee, and more!
Located in the famous Selden Arcade building in downtown Norfolk, the repurposed space is paving the way for local businesses in Hampton Roads.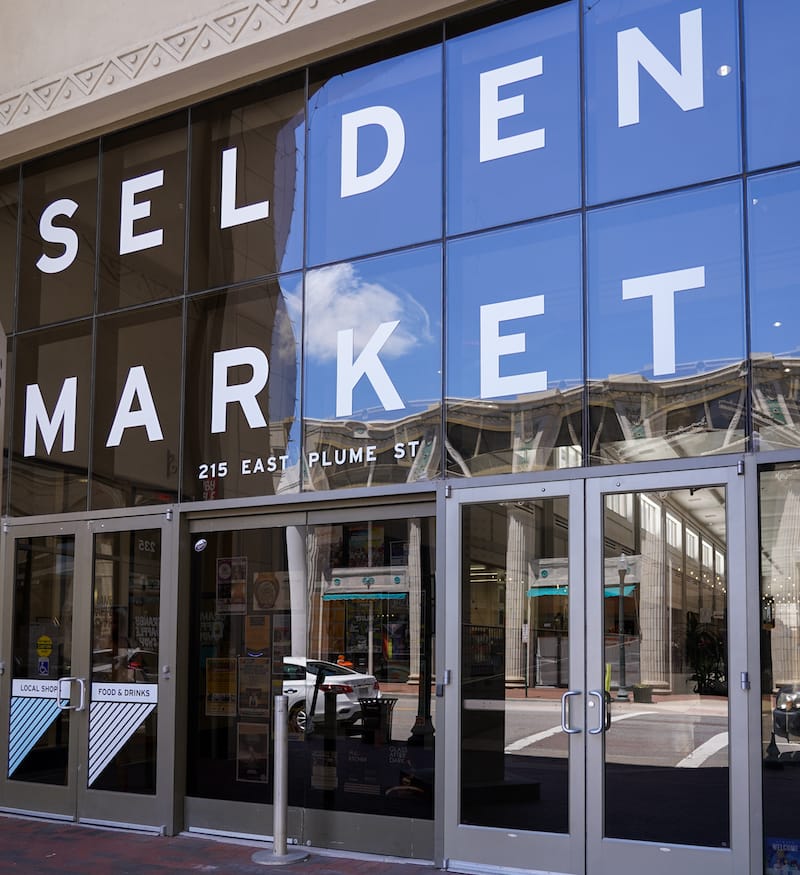 Two businesses you need to check out when there are Vessel Craft Coffee and Pure Lagos.
Vessel Craft Coffee is perfecting the art of specialty coffee and has quickly emerged as one of the best coffee shops in Norfolk.
Pure Lagos is an African art gallery that offers original art, artifacts, and fashion from across the continent. Pure Lagos is a female and black-owned business founded by Sia Alexander.
Address: 208 E Main St, Norfolk, VA
Facebook: https://www.facebook.com/SeldenMarket/
6. Head to the Chrysler Museum
Another popular site to see in Norfolk, Virginia is the Chrysler Museum of Art, which is home to more than 30,000 pieces of art. These artworks were painted at different times throughout history, spanning more than 5,000 years.
In addition to that, visitors will be able to check out the Perry Glass Studio, which is a 7,000-square-foot building where artists gather to showcase their work.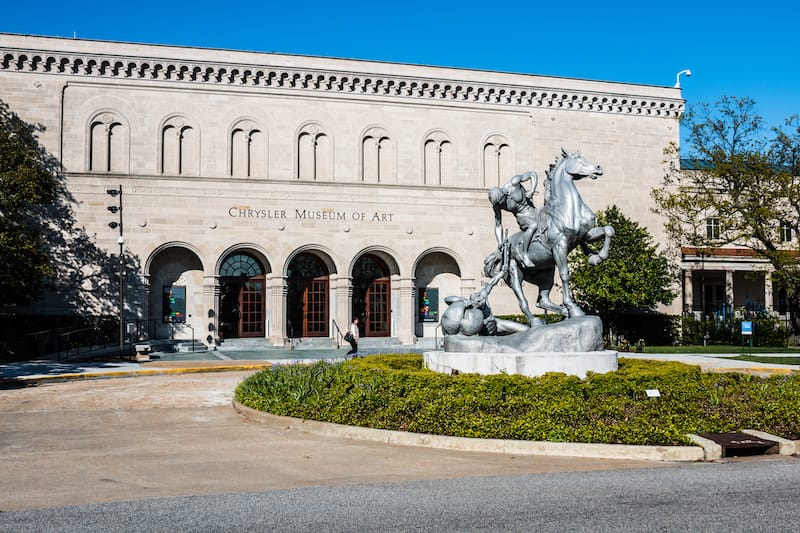 Some of the examples of types of artwork visitors can see here include glassmaking, glassblowing, casting, fusing, flameworking, and so much more, giving the Chrysler Museum one of the best glass collections in the country.
Visitors will be able to check out the free public demonstrations every Wednesday through Sunday at noon.
Be sure to also check out the website for events to see if there is any gallery or exhibition that particularly suits your interests, such as events for children or artwork from other countries.
7. Visit a Norfolk Coffee Shop
One of the best things to do in Norfolk is to check out one of its amazing coffee shops.
There are several cool cafes in Norfolk and places to grab a quick cup of joe, but I definitely recommend spending your money at one of the independent or locally-owned coffee shops in Norfolk if you have the opportunity.
Two highly recommended cafes there are Cure Coffeehouse and Equinox Coffee Co.
However, I discovered Vessel Craft Coffee on my latest trip and am obsessed with it too!
Cure Coffeehouse can be found at 503 Botetourt St, Norfolk, VA, and specializes in espresso drinks, craft beer, sandwiches, and charcuterie.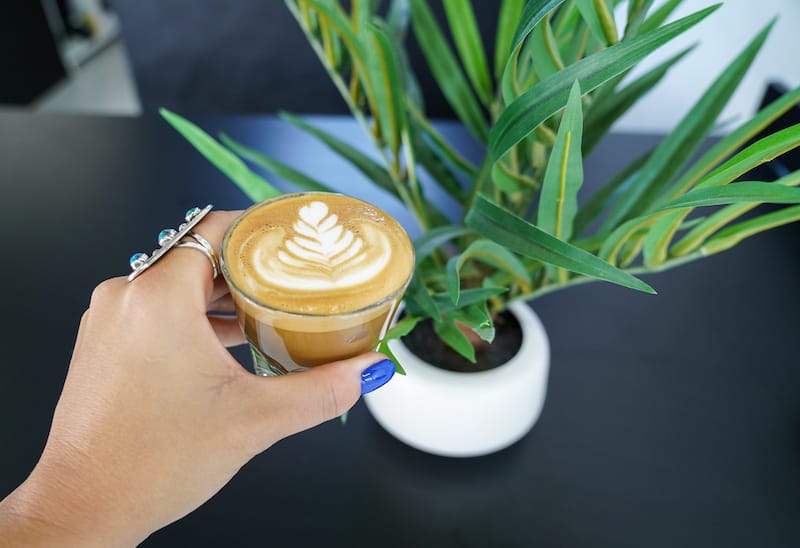 It is an epic place to spend a couple of hours of your day. They have coffee shops in Norfolk and Smithfield both.
Founded in 2017, Equinox Coffee Co. is a Norfolk favorite for those looking for a brilliant cup of coffee.
They have two coffee shops in Norfolk (one at 2800 Colley Avenue and one at 4416 Monarch Way) and their mission is to connect the community and only serve the best, organically grown and ethically sourced coffee.
Vessel Craft Coffee has a location in Chelsea as well as the Selden Market and is a female-owned business. Founded by Sarah Beth Coward, a Norfolk local, Vessel gives 10% of all profits back to community projects.
Click here if you're looking for some amazing coffee shops in VA Beach instead!
8. Relax at Ocean View Beach
Ocean View and East Beach are stunning beaches located in Norfolk, Virginia and both beaches are filled with plenty of exciting activities for people of all ages to do.
Some of the popular activities that people participate in at the beach include kayaking, sailing, fishing, crabbing, swimming, and relaxing. You can also check out the beach parks for live music performances and festivals.
The Ocean View Golf Course is another popular venue located close to the beach for those who don't like getting wet. Ocean View is also famous for its delicious restaurants, many of which feature fresh and local food.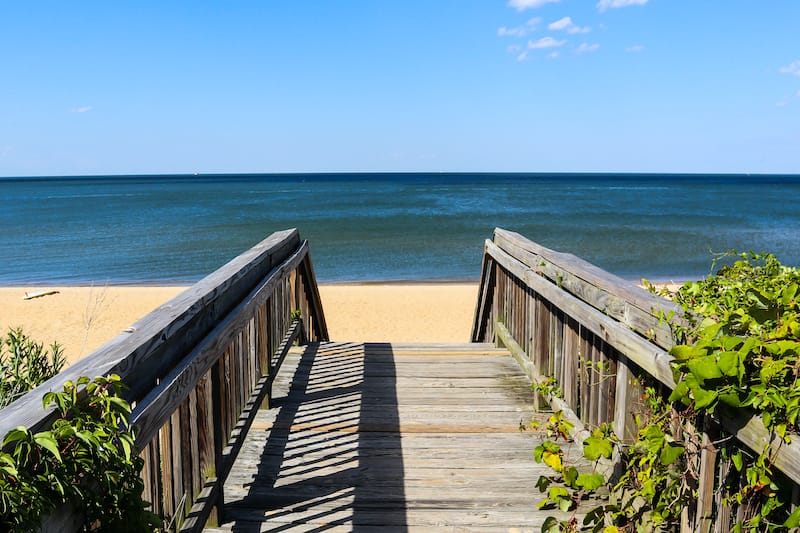 Aside from that, however, you can try some authentic Mexican cuisine at Jessy's Tienda and Taqueria, as well as the dozens of seafood restaurants that will enable you to get a bite to eat right above the water.
History lovers can check out the Ocean View Station Museum to learn more about the unique history of the area. Visiting Ocean View Beach and its surrounding area is one of the best things to do in Norfolk, VA and it is one of the best beaches in VA!
9. Visit Moses Myers House
The Moses Myers House was the property of Moses Myers, who was a Jewish-American entrepreneur. It then became the home of five generations of the Moses family, all of whom became prominent members of the Norfolk community, as well as the first Jewish-Americans in Norfolk.
They were the only Jewish people in the region for more than a decade.
The family was especially known due to the achievements of Moses Myers and Barton Myers, who both made many investments and improvements in the Norfolk community, such as railroads, steam companies, and bridge construction, as well as reconstructing Norfolk in the aftermath of the Civil War.
Visitors will be able to check out the Moses Myers House to get a glimpse into the unique history of the family that formed Norfolk's main Jewish community, how they lived, and how the home was reconstructed after being passed to Barton Myers.
Address: 323 E Freemason St, Norfolk, VA
Website: https://chrysler.org/historic-houses/the-moses-myers-house/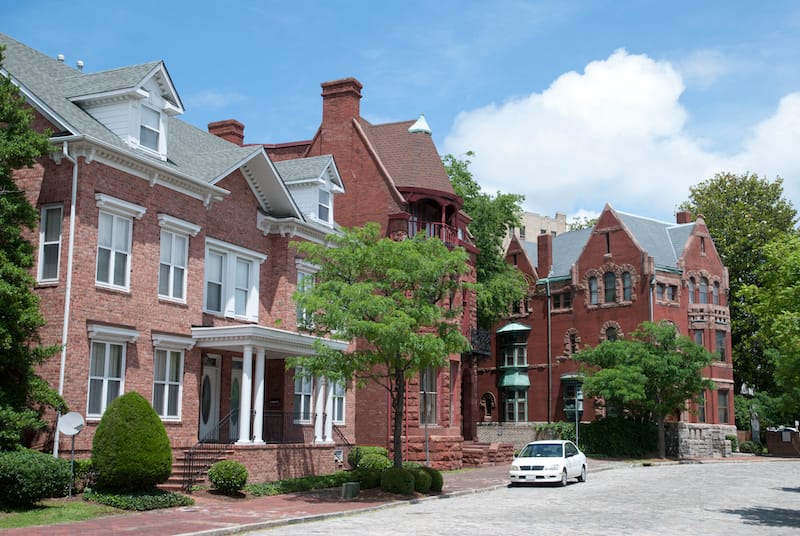 10. Go to the Hermitage Museum and Gardens
The Hermitage Museum and Gardens is another famous art museum in Norfolk, Virginia featuring pieces of art that date back 5,000 years.
Visitors will also be able to check out indoor and outdoor exhibitions that change regularly, as well as the Visual Arts Studio and the 12 acres of land outside where it is possible to view art and culture.
Check out the website frequently to see the different events that are hosted by the museum, many of which are child-friendly. If you live close by, it is also possible to participate in classes, such as pottery classes, and summer camps.
Aside from the fabulous artwork, the museum is also famous for the beautiful gardens outside, which include forests, wetlands, and semi-formal gardens.
In addition, it is possible to see the Lafayette River on three sides, which provides a great backdrop, making the venue perfect for special events. You can also check out hundreds of animals and plants here.
Address: 7637 N Shore Rd, Norfolk, VA
Facebook:https://www.facebook.com/HermitageMuseum/
11. Admire the Murals and Street Art in Norfolk
As one can imagine, Norfolk, Virginia is very famous for its art! The murals located throughout the city are certainly no exception.
The entire city serves as an ideal platform for all artists to showcase their careers, and it's not unusual to see the sides of buildings all throughout Norfolk decorated with stunning murals.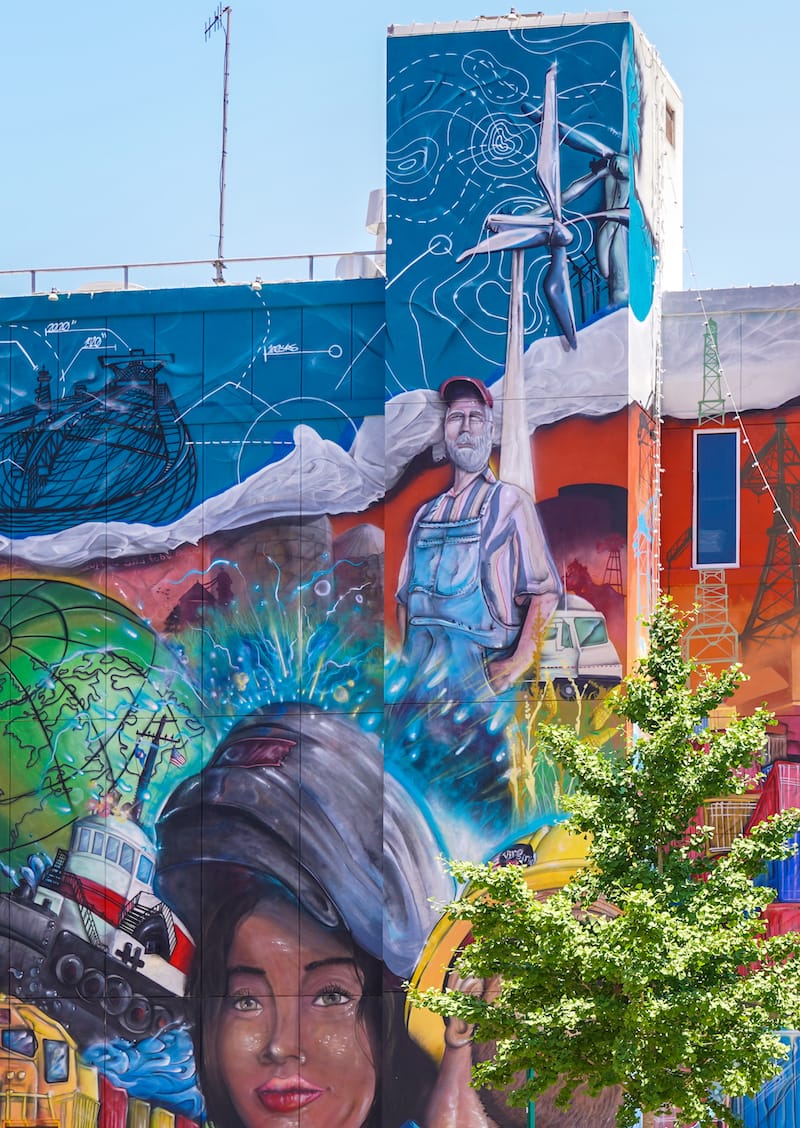 For example, visitors can check out the Bloom Mural painted by Carl Medley III and Charles Rasputin on 801 Boush Street, which features vibrant pink roses and white fangs to showcase the creativity of the Neon District.
Another popular piece is the Razzle Dazzle by Nick Kuszyk on Granby Street, which was inspired by the camouflage on the Navy's battleships from World War I.
Finally, among hundreds of other murals, you can also check out Fathoms of Freedom by Christopher Kozak and students at Fountain Park Garage, which features the goddess of liberty while paying homage to Norfolk's naval history.
Click here to find out more about the Neon District and its murals.
12. Drink Craft Beer in Norfolk
If you're a beer lover, you will definitely find a home in Norfolk's craft beer scene!
There are several fantastic bars, restaurants, and taprooms serving exceptional craft beer, and rather than just pointing out one, we will list a few below so you can take your pick (or visit them all):
However, one place I found that was fantastic was The Birch.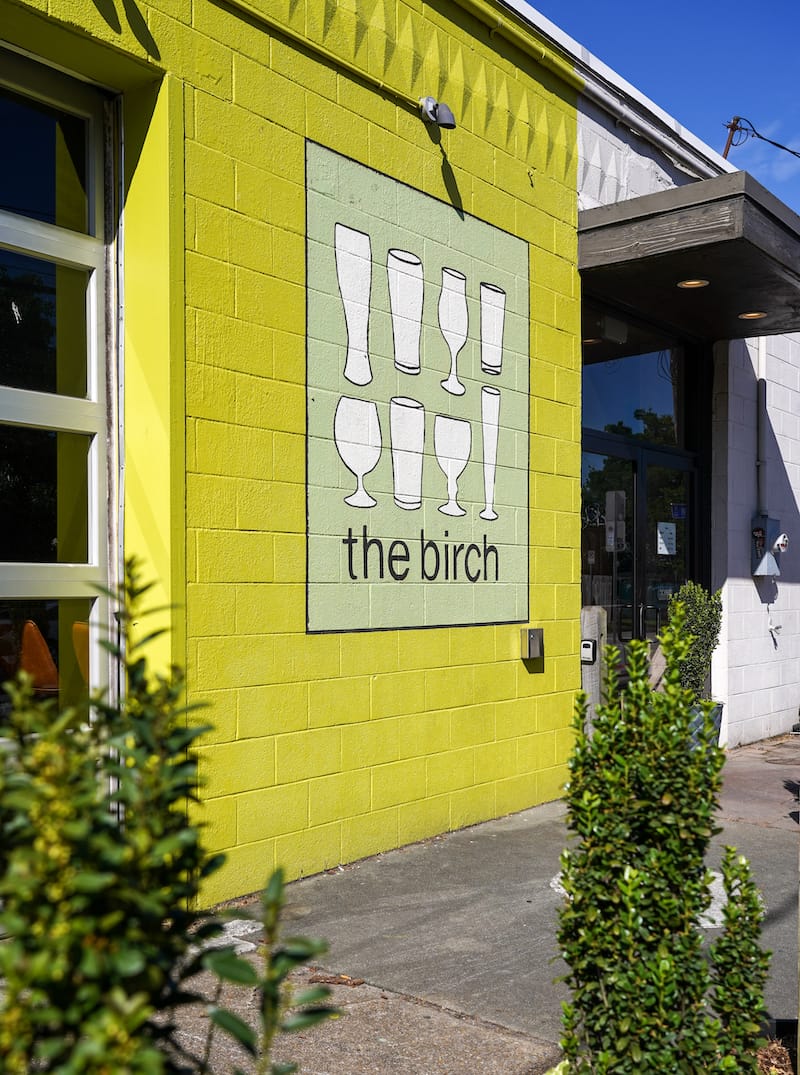 The Birch is a retro-styled bar that has 21 craft beers on draft and pairs them with grilled cheese and cheese boards. They also have mead and cider. It is located in Chelsea on Olney Road.
13. Stroll through the Barry Art Museum
Located at Old Dominion University in Norfolk, the Barry Art Museum aims to make the community more interested in art while enabling the university to grow sustainably.
In addition, the university's goal is to create an arts village in the area, which is yet another reason why Norfolk is so well known for its art. The museum is especially famous for its glass sculpture collection, which helps the city to maintain its reputation for stunning glass art.
Admission to the museum is free and it is open to the public every day except Monday. Aside from the glass art, some other collections that visitors will be able to check out include paintings, dolls, and works on paper.
Be sure to check out the website prior to your visit to Norfolk to get an idea of some of the events and exhibitions available at the museum. The best part is that it is child-friendly, adding another spot to your Norfolk itinerary to visit as a family.
Address: 1075 W 43rd St, Norfolk, VA
Website: https://barryartmuseum.odu.edu/
14. Stop by the VisitNorfolk Tourist Info Center
Is it weird to put a visitor center on a travel blog? Maybe, but I think this is easily one of the best tourism information centers I have visited in the US and it should definitely be on your list of places to visit when you're traveling to Norfolk!
The VisitNorfolk Tourism Information Center is located in the downtown area (near Waterside) and it is open Monday-Friday from 8:30am until 5pm, Saturday from 10am until 4pm, and Sunday from 11am until 3pm.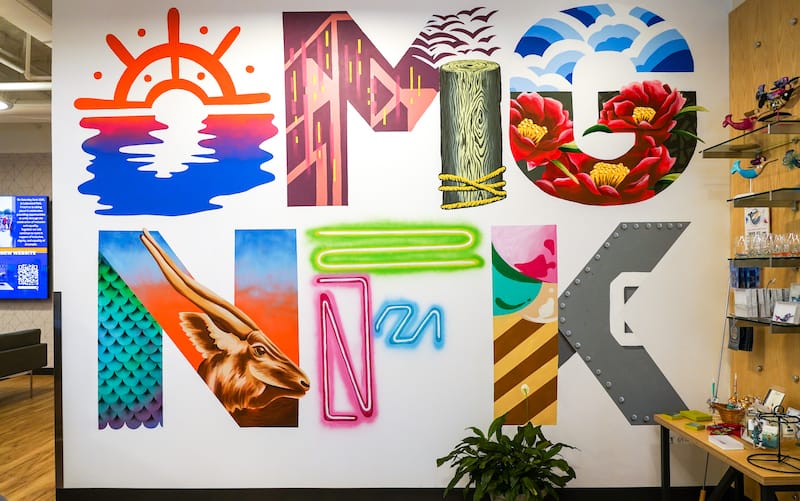 The info center has everything from guidebooks about the city (and even other places in VA) as well as souvenirs (and plenty of VA merch).
The woman working there when I visited was super helpful and knowledgeable and her passion made me love the city even more!
Address: 232 East Main Street, Norfolk, VA 23510
Website: https://www.visitnorfolk.com/
15. Enjoy Ice Cream at Doumar's Restaurant
Doumar's, which is the home of the original waffle cone, is an ice cream lover's heaven. Here, you will be able to try homemade creamy shakes, sundaes, desserts, and everything pertaining to ice cream.
Back in 1904, the founder, Abe Doumar, made the first waffle cone at the St. Louis World's Fair and the rest was history. The waffle cone became so popular that Abe Doumar became the owner of several ice cream stands, including one in Ocean View
The current restaurant is one of the most beloved locations for residents and tourists of Norfolk. Aside from that, you can dine here as a family for a North Carolina style barbecue, hamburgers, and limeade, which are all homemade and fresh.
Doumar's has become one of the best landmarks in historic Hampton Roads over the past 100 years, and it is open every day besides Sunday. Visitors can choose to dine in or curbside dining.
Address: 1919 Monticello Ave, Norfolk, VA
Website: https://www.doumars.com/
16. Walk the Elizabeth River Trail
The Elizabeth River Trail features nine miles of scenic views from Norfolk State University to Terminal Boulevard. Here, you will be able to start your tour from an abandoned railroad that was transformed into a walking trail and one of the best bike trails in VA.
The trail is paved to be accessible to anyone with physical disabilities. It is advised that you bring plenty of water and snacks with you when you check out the trail. You can also bring your furry friends along with you, but dogs must be kept on a leash.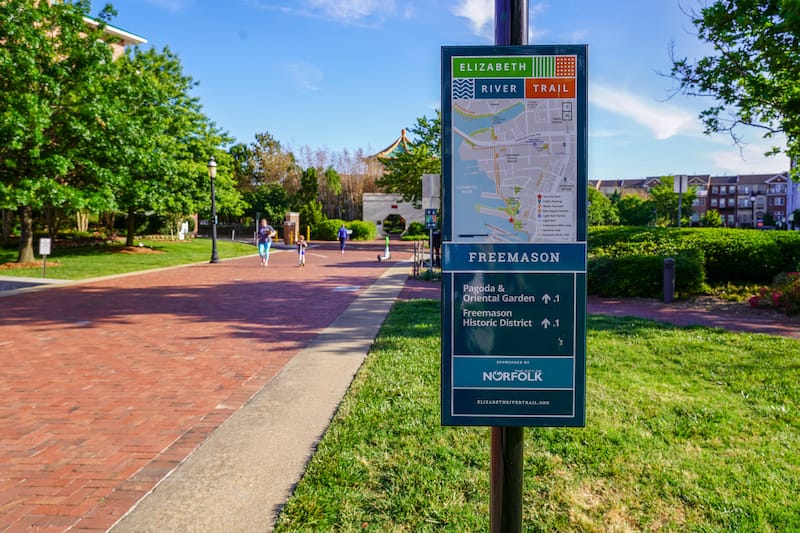 As with most other sites in Norfolk, you will be able to get a glimpse of the town's seafaring history since the trail is right next to the waterfront.
This also means that you're likely to see ducks, seagulls, skimmers, and other seabirds on your run.
Some of the most popular activities that visitors participate in include walking, running, bird watching, and road biking, and you will be able to visit year-round.
17. Have Dinner at Freemason Abbey Restaurant
Located inside a repurposed church from 1873, Freemason Abbey Restaurant is consistently rated as one of the top restaurants in Norfolk.
They serve a variety of food and have several different menus from lunch to dinner to a special Sunday brunch menu. You will find vegetarian options as well as gluten-free items on the menu.
Some of the top menu items are the Freemason Abbey Onion Soup, the She Crab Soup, Crab Cakes, and more. They also have an array of hand-cut steaks to choose from with delicious sides.
Address: 209 W. Freemason Street Norfolk, VA
Facebook: https://www.facebook.com/FreemasonAbbey
18. Hit Up The Bakehouse at Chelsea
I have visited a fair number of places in Norfolk and one place that sticks in my mind is The Bakehouse in Chelsea.
This place was out of this world and I kind of stumbled upon it by accident when visiting nearby businesses!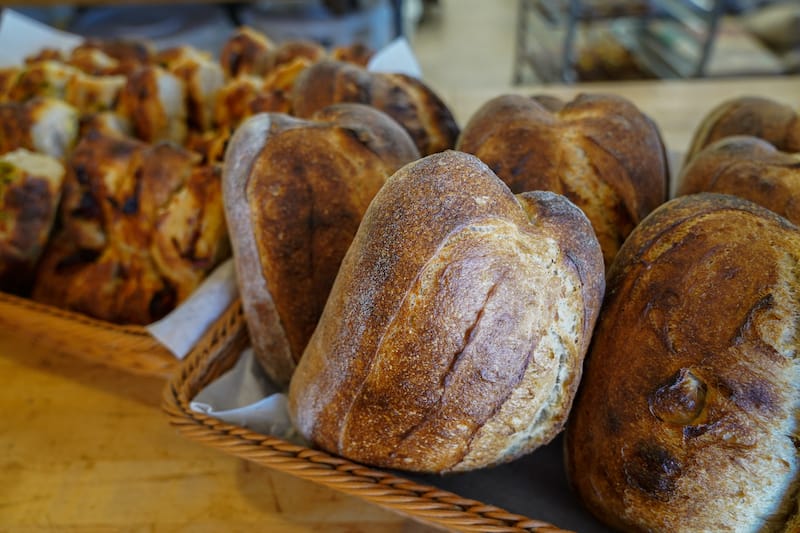 The Bakehouse is known for its wood-fired pizza, but they also have an array of delicious baked goods (including insanely good sourdough bread!).
You can find them in Chelsea, Elation, and Smartmouth in VA Beach.
This is an epic place for lunch!
Address: 1233 W Olney Rd, Norfolk, VA 23507
Website: https://www.bakehouse757.com/
19. Visit the Hunter House Victorian Museum
The Hunter House Victorian Museum, which is located in the Freemason Historic District of Norfolk, once belonged to James Wilson Hunter and his family.
Now, visitors will be able to take guided tours of the museum between April and December. In addition, the museum features plenty of events, tours, and exhibits for visitors to get a glimpse of Victorian social history and customs.
Each guided tour lasts around one hour, and the last tour of the day begins at 3:30 PM. The museum is open from Wednesdays to Saturdays. Visitors of all ages can visit the museum, as well as educational groups.
Another popular part of the museum is the shop, which offers souvenirs, tea-time items, and other knick-knacks that will take you back to the Victorian period.
The Historic District where the museum is located is also close to many cultural sites, shops, and eateries, making your trip much more exciting.
Address: 240 W Freemason St, Norfolk, VA
Website: https://hunterhousemuseum.org/
20. Explore the Norfolk Waterside District
Another place to visit if you're traveling to Norfolk VA for the first time is the Waterside District.
You will find a lot of restaurants, events, festivals, live music, and more situated right along the waterfront.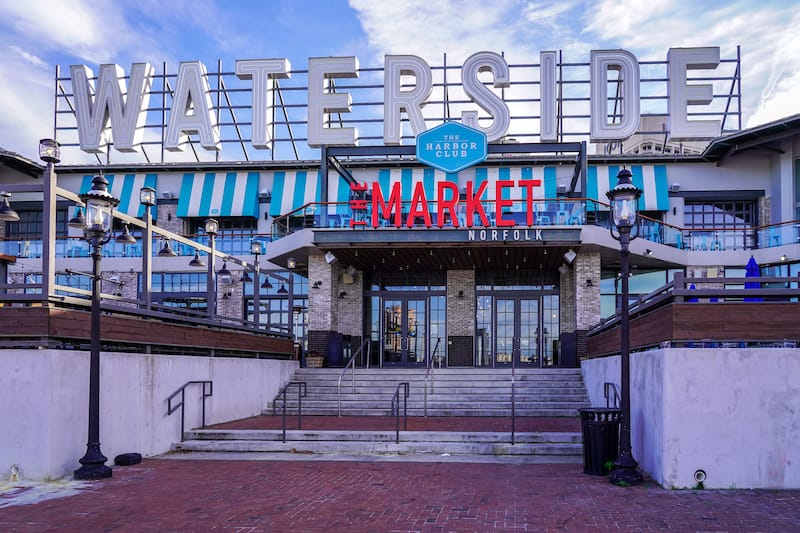 Some of the notable restaurants there are Cogans Pizza, Starr Hill Market Bar, Stripers, and The Market Norfolk.
Address: 333 Waterside Drive Norfolk, VA
Website: https://watersidedistrict.com/
21. Go on an American Rover Sailing Cruise
Anyone familiar with the Hampton Roads area is aware of the American Rover's tanbark sails, which is one of the area's main sights. You can take a cruise from Waterside in Norfolk, Virginia.
The ship can carry up to 149 passengers and offers comfortable seating and a shade topside. Try to arrive 30 minutes before the cruise.
Visitors will be able to sail the Elizabeth River and the Hampton Roads Harbor every day between April and October for two-hour cruises that are narrated.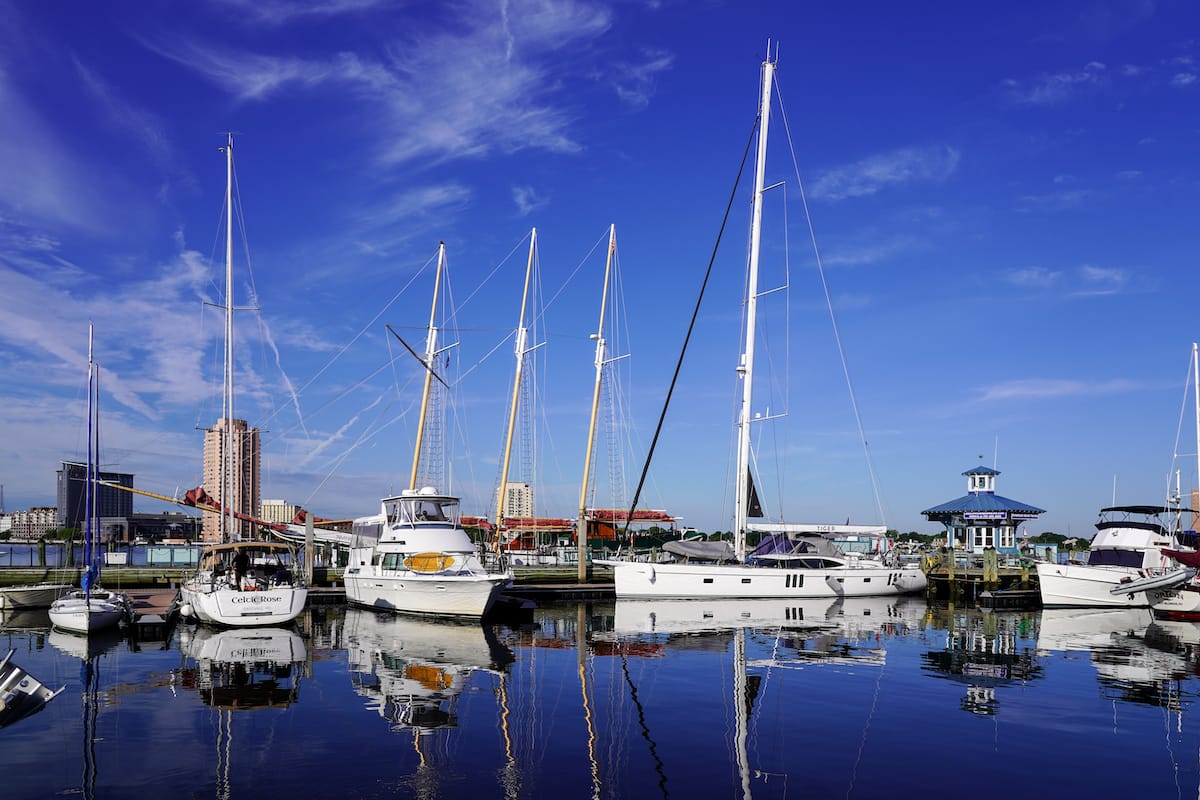 In addition, you can choose one of the sunset cruises for stunning views of the setting sun. Visitors can either relax and enjoy the trip, or they can lend a hand with the sails and take a turn at the helm.
It's highly encouraged that you make a reservation beforehand, and you can check out the schedule 30 days in advance of your trip.
Best Places to Stay in Norfolk
There are many fantastic places to stay on your trip to Norfolk, VA! Here are some of the top picks that will get you started!
We hope that you found some of these things to do in Norfolk perfect for your itinerary for the city! Let us know if you have any Norfolk landmarks we missed in the comments!
Heading to VB after? Be sure to check out our guide for things to do in Virginia Beach as well!
Pin this Norfolk Attractions Guide