If you're an outdoor enthusiast, you will love the many Virginia bike trails that exist throughout the state. The trails vary in level of difficulty and all have a different history behind them.
These are the best bike trails in Virginia. We have excluded mountain biking trails from this guide as we will create a separate one for it! This list includes mostly rails to trails paths that are typically easy for most cyclists.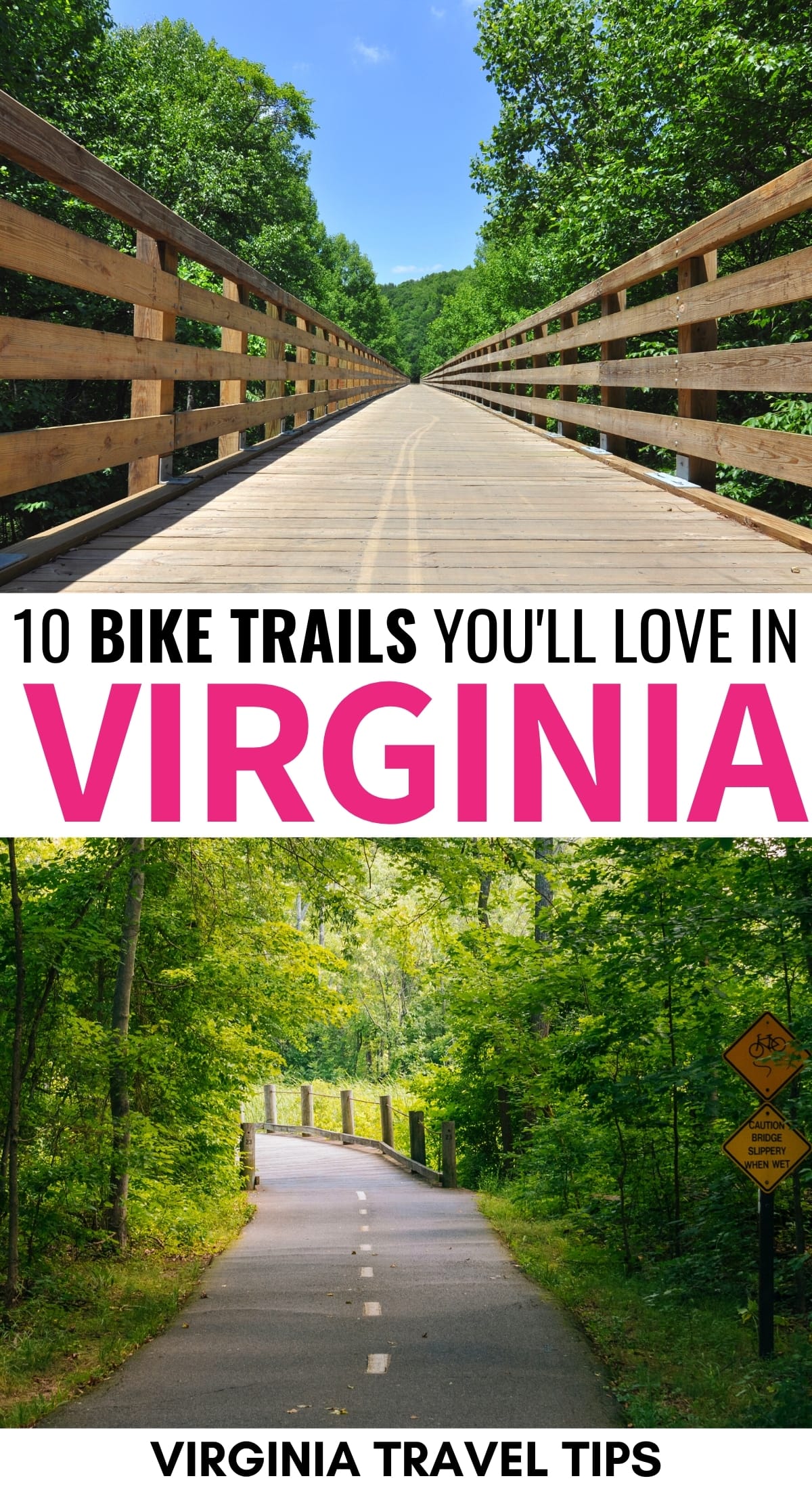 Bike Trails in Virginia
Virginia has heaps of bike trails. And, we believe that it might just be one of the best places to ride a bike in the US because the state has so many varieties of landscapes within a short distance of each other- satisfying all types of skill levels.
You can find easy level Virginia bike trails almost everywhere in the state and with a variety of distances. You can also take to the Blue Ridge Mountains for a more challenging biking experience.
This guide, however, is sticking with 'easier' trails, including several 'rails to trails' biking opportunities in Virginia. We will do a Virginia mountain biking guide soon.
If you have a favorite biking path in Virginia, please leave us a comment and let us know where it is!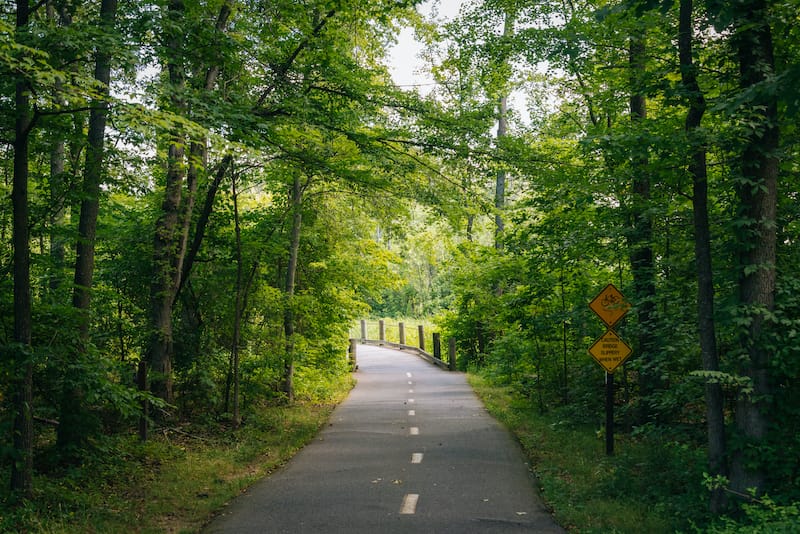 Rails to Trails Virginia
What is 'rails to trails'?
In Virginia, many of our old railroad lines have been converted into bike trails and multi-use recreation paths. They are often graveled, paved, or built into wooden platforms, making biking a pleasurable experience and one anybody can embark upon!
Many of the rails to trails in Virginia go through some of the state's best scenery, so they are are all Virginia biking trails to put on the bucket list.
These trails tend to be flatter and range anywhere from a few miles to nearly 60 miles!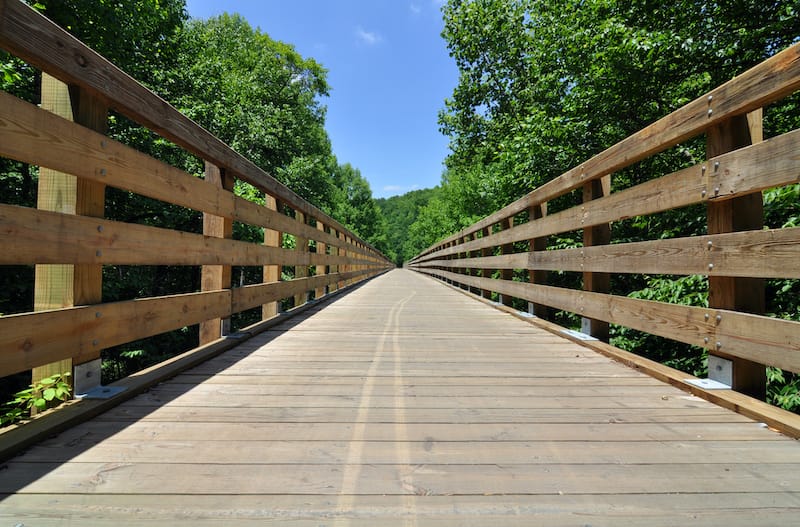 Virginia Biking Trails – Summary
There are several biking trails in Virginia that deserve to be on this guide, but we have curated it to contain our top ten favorites. We also list a start and endpoint for the trail, but if the trail is super short, we are only listing one access point.
The trails we detail in this guide are as follows:
• Virginia Creeper Trail (Abingdon to Whitetop)
• James River Heritage Trail (Madison Heights)
• Tobacco Heritage Trail (La Crosse to Lawrenceville)
• High Bridge Trail State Park (Rice to Pamplin)
• Guest River Gorge Trail (Jefferson National Forest)
• New River Trail State Park (Pulaski to Galax)
• Huckleberry Trail (Blacksburg to Christiansburg)
• Mount Vernon Trail (Mount Vernon to Rosslyn)
• Dismal Swamp Canal Trail (Great Dismal Swamp State Park)
• Virginia Capital Trail (Jamestown and Richmond)
Map of VA Bike Trails
To add this map to your Google Maps account, click the 'Star' icon next to the map name. You can then view it on your cell phone or computer by heading to your Google Maps account and going to 'Your Places'.
Virginia Creeper Trail
Distance: 34.3 miles
Location: Abingdon to Whitetop (Mount Rogers area)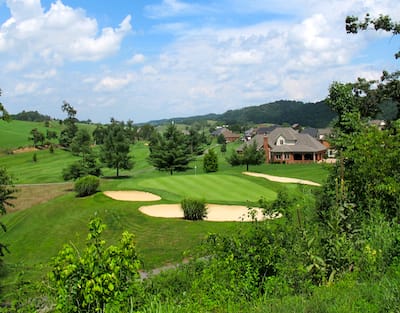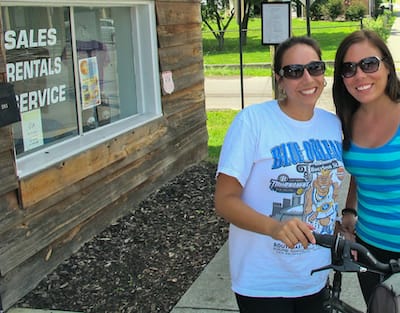 The Virginia Creeper Trail is easily one of the best bike trails in Virginia and it is my personal favorite.
The unique trail name was a tribute to a steam engine that used to creep up the rails into the Iron Mountains. In addition, there was a plant in the area that was also named the 'Virginia Creeper'.
The Virginia bike trail begins in Abingdon, which is Mile 0. This is where I previously entered the trail as I needed to rent a bike (I was visiting from Norway).
There is plenty of parking available there and many other things to do in Abingdon, so I suggest you make this your starting point. You will see a steam locomotive on display at the start of the trail.
Other places that you can access the trail are Alvarado (Mile 8.5), Damascus (Mile 15.5), Creek Junction (Mile 25), and Whitetop State (Mile 32.3).
There are no facilities along the trail, so ensure you pack water and everything else you need. No facilities also mean no toilets. There are 11 access points along the way, however, where you can detour and take care of all needs.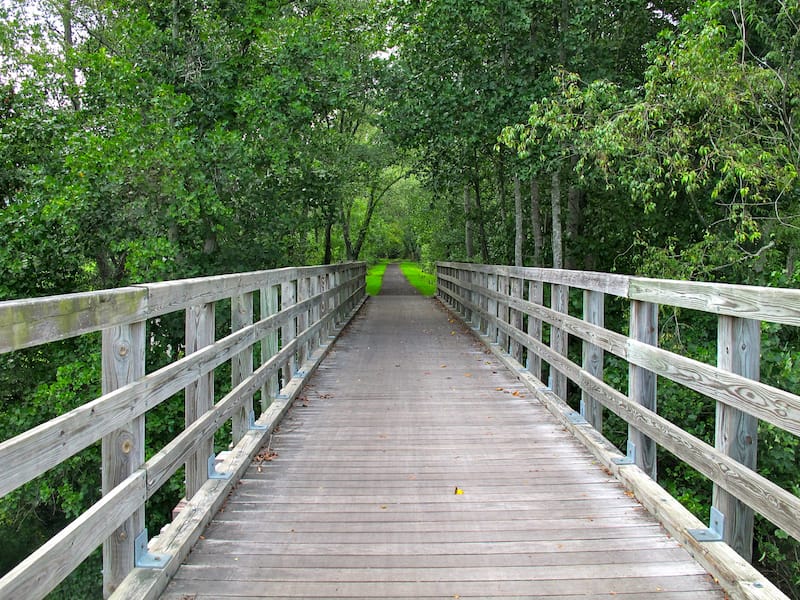 There are bike rental shops in Damascus and Abingdon. The trail leads you to Mount Rogers National Recreation Area (merely 100 feet from the trail!) and you can camp there.
I found this trail quite easy and there were no sharp inclines, which was nice. There was a gradual incline in some areas which was a bit tough as I have terrible knees, but it is nothing that the average person can't enjoyably do.
James River Heritage Trail
Distance: 9.5 miles
Location: Madison Heights (near Lynchburg)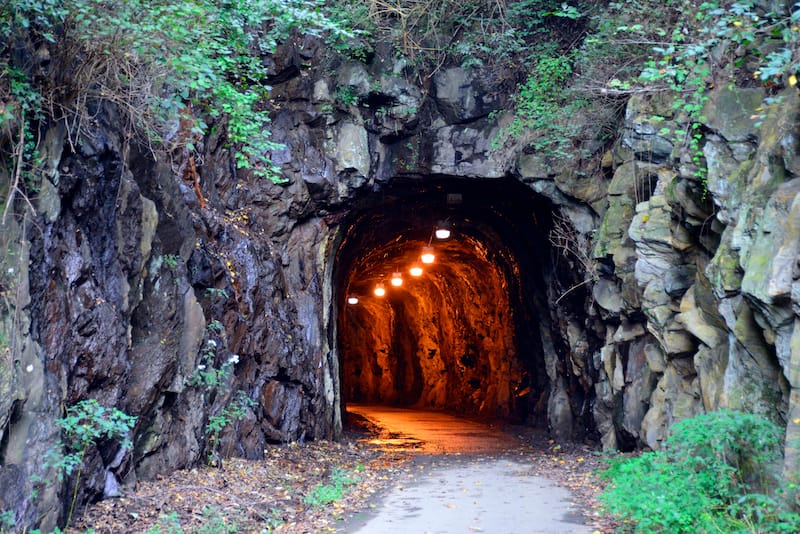 One of Virginia's most popular bike trails is the James River Heritage Trail, located in the central part of the state. It passes through lush, green forests and the historic downtown of Lynchburg, VA.
The trail is a shorter one and has several trails within it, each with its own name. You will see references to the Blackwater Creek Bikeway, the Point of Honor Trail, the Kemper Station Trail, the Riverwalk, and the Percival's Island Trail.
All trails are clearly marked despite there being a few unpaved areas along the route. The trail's endpoints are Old Langhorne Road and an area near Fertilizer Road.
Click here to see the best hiking near Lynchburg VA if you want to see more trails in this region!
Tobacco Heritage Trail
Distance: 22.1 miles
Location: La Crosse to Lawrenceville
In southern Virginia, you will find the Tobacco Heritage Trail that runs for 22 miles from La Crosse to Lawrenceville and through Brunswick, Halifax, Lunenburg, and Mecklenburg counties.
This is a rail trail and along the way, you'll be able to picnic and make frequent stops to admire the landscapes around the Meherrin River. There is also a famous 300-foot bridge that crosses the river, which offers a unique perspective of the area.
Another cool thing about this bike trail in VA is that it crosses over historical sites in addition to the natural sites you will see.
It is also in the works to designate a portion of this trail as part of the East Coast Greenway, a network of trails that run from Maine to Florida.
You can access the trail in Lawrenceville, La Crosse, Victoria, South Boston, and Boydton.
High Bridge Trail State Park
Distance: 32.4 miles
Location: Rice to Pamplin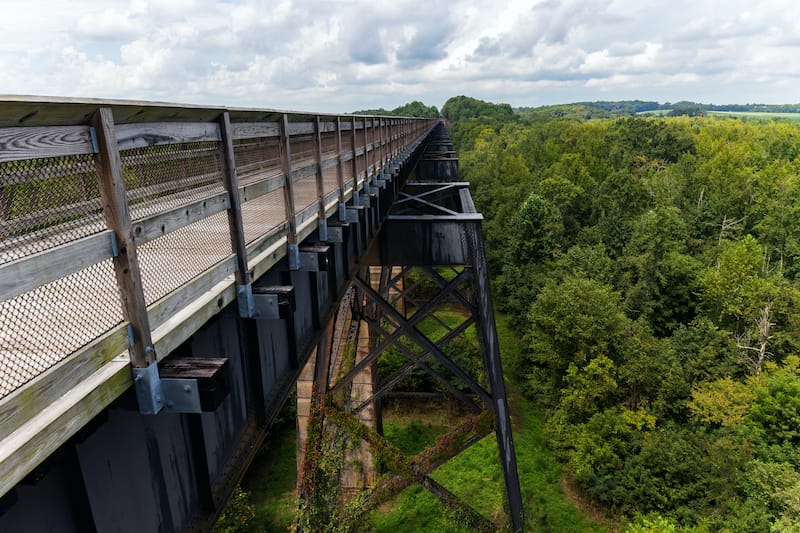 One of the best things about this Virginia bike trail is its central location in the state; it is only one hour from Richmond and an hour from Lynchburg. It is definitely the perfect Lynchburg or Richmond day trip.
The High Bridge Trail was named after the bridge that it runs across for a portion of the trail. The bridge dates back to the Civil War and was a strategic point for both Union and Confederate Soldiers. Only 12 miles away sits Appomattox Court House, where General Lee eventually surrendered.
Nevertheless, this trail is fairly easy but also have some detours that the more adventurous cyclist can embark upon. The trail is made up of crushed limestone and you'll have the chance to see several historic markers along the way.
The trail runs through Farmville, Rice, Prospect, and Pamplin City. The eastern end of the trail ends up just outside of the town of Burkeville.
Just a note- it will cost a small fee of about $5 to park in the state park.
Guest River Gorge Trail
Distance: 5.8 miles
Location: Jefferson National Forest (near Wise)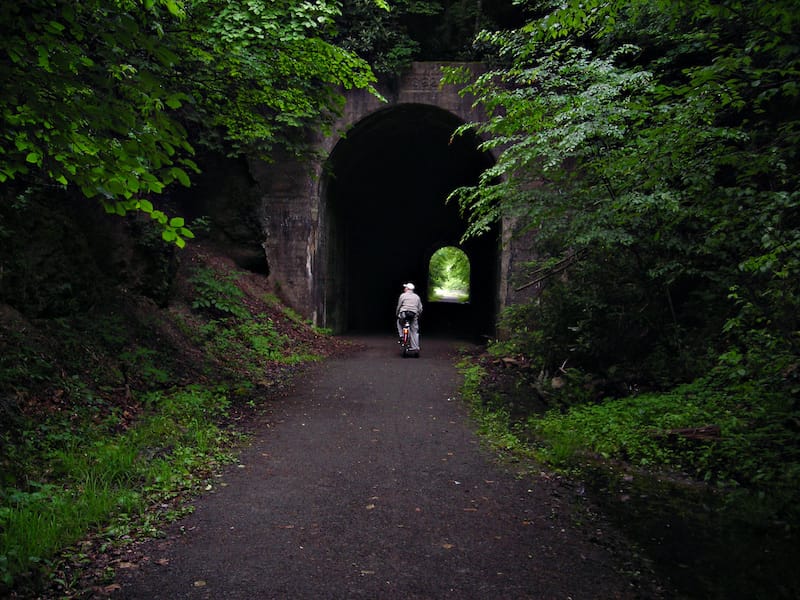 I used to live out in this area of Virginia and its beauty is remarkable. The Guest River Gorge Trail is an easy trail that is around 6 miles in length and it winds along 300-million-year old sandstone cliffs and drops dramatically 400-feet into the water below.
The gorge is incredibly breathtaking and worth a visit, especially since one of the most beautiful bike trails in Virginia is located along the route.
The trail is on gravel and it is fairly easy when the grade decreases but can be a slight challenge when there are inclines. There are plenty of benches along the trail where you can stop and take a break (and admire the scenery!).
One of the most notable stops along the way is Swede Tunnel dating back to 1922. There are also several Virginia waterfalls along the way.
While this trail is short, there is a connection to the Heart of Appalachia Bike Route along the way that will take you another 125 miles to Burke's Garden in Tazewell County (VA).
This trail is an out-and-back, so you only have one place to start from. In order to get to the access point, you will need to head toward the Guest River Gorge and take a left on the paved road (Forest Road 2477) and go 1.4 miles until you see the parking lot where you can start your journey. The trail is well-marked.
Huckleberry Trail
Distance: 7.9 miles
Location: Blacksburg to Christiansburg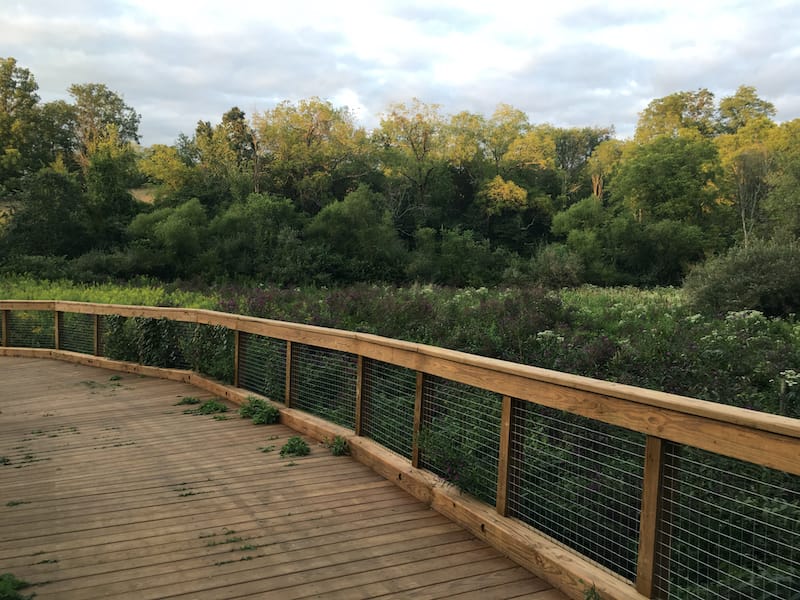 Winding through Montgomery County in western Virginia is the Huckleberry Trail, a 7.9-mile rail-trail that runs from Blacksburg to Christiansburg.
In the early 1900s, there was a train line in the area called 'the Huckleberry' and it was built as a coal transporter and to provide mail and passenger services to residents in the area. It was named after the huckleberries that grew in the area and the name kind of just stuck.
The Huckleberry Trail is varied and traipses across rolling landscapes, through forests, and sometimes it passes through town life.
As noted, the trail starts in Blacksburg and ends in Christiansburg. You can pick it up near the Virginia Tech campus.
On the trail, you will find information kiosks that detail the enthralling history of the area and the huckleberries. It truly is one of the coolest Virginia bike trails for those that love a short ride in a gorgeous setting. It is known for also being well-maintained.
New River Trail State Park
Distance: 57.7 miles
Location: Pulaski to Galax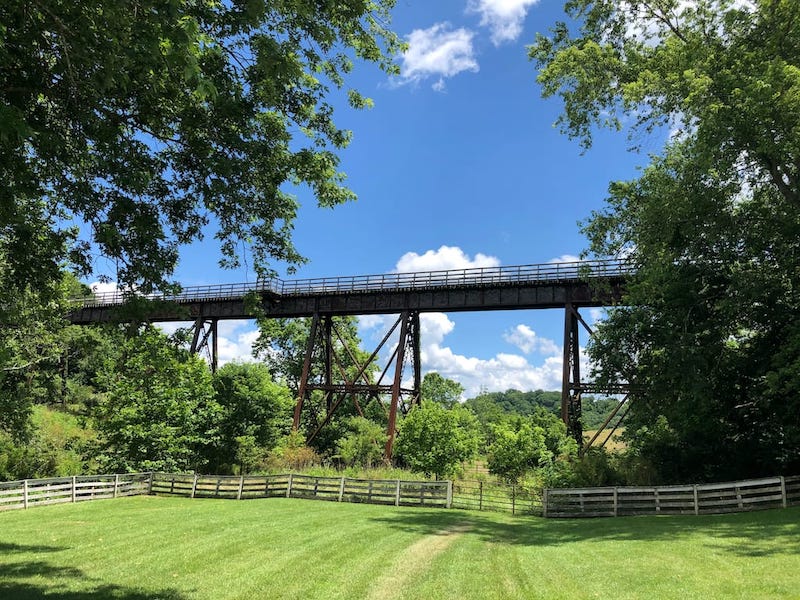 The New River Trail is one of the premier trails in Southern Virginia and it is known for being one of the best rail-trails in the state.
It is noted for being a state park as well as an official National Recreation Trail by the US Department of the Interior.
This trail runs from Pulaski to Galax… or you can take an alternative detour that will take you through Fries.
From south to north, most of the trail is downhill (this would be Galax to Pulaski). If you do choose to start in Pulaski at Dora Junction, the first three miles are uphill. It is not too steep and most people won't find it too challenging.
Many cyclists opt to start at Foster Falls at the New River State Park headquarters. That is a midway point and you are able to rent bikes there (116 Orphanage Drive in Max Meadows). You can also rent canoes, kayaks, and tubes there if you're looking for another activity.
Some of the highlights you'll see along the way are cave tunnels, steep dams, and trestle bridges (including the jaw-dropping Hiawassee trestle at Mile 8 that is 950-feet tall!)
If you're starting or finishing in Pulaski or Galax, you'll be able to find all amenities in both places. There is a campground at Foster Falls.
Virginia Capital Trail
Distance: 52 miles
Location: Jamestown to Richmond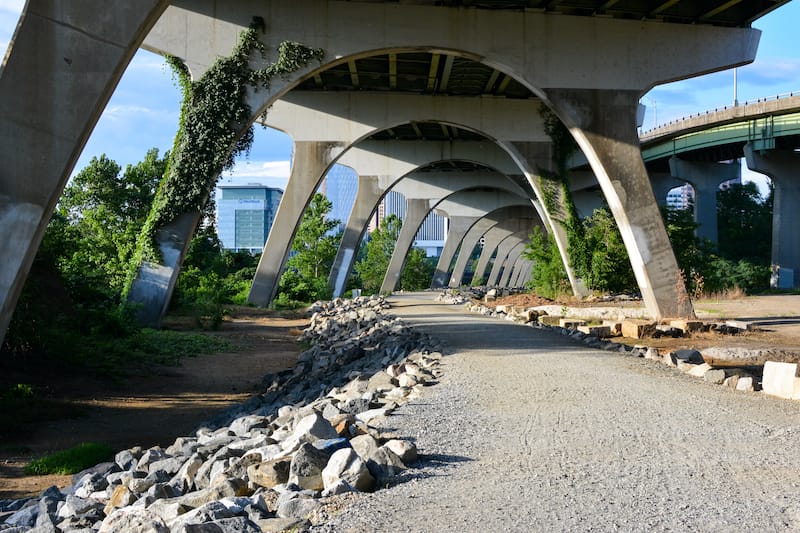 The Virginia Capital Trail runs from historic Jamestown all the way to the state capital of Richmond. It is a 52-mile asphalt and boardwalk trail that is extremely popular and that passes through many historical sites along the way.
It runs along the James River and State Route 5. It is not a rail-trail per se, but a tiny portion in Richmond is one, so it is designated as a Virginia rail-trail.
The southern end of the trail is called the Greensprings segment and it starts around Jamestown settlement. You will then pass through the Williamsburg area and Revolutionary War battlegrounds along the way.
Other worthy sites are the Chickahominy Riverfront Park, where you can see views of both the James and Chickahominy Rivers. You will also cross over the Judith Stewart Dresser Bridge.
The trail passes through many areas where plantations are and other landmarks. Dorey Park is also situated along the route and you will find a playground, sports fields, an off-leash dog park, and more.
At the Richmond Riverfront segment, you will wind through Shockoe Bottom, one of the city's oldest and most well-known neighborhoods.
Please do note that you are kind of close to the highway for parts of this. The trail is well-maintained. There are also many great Richmond hiking spots around this trail.
Mount Vernon Trail
Distance: 18 miles
Location: Mount Vernon to Rosslyn in Northern Virginia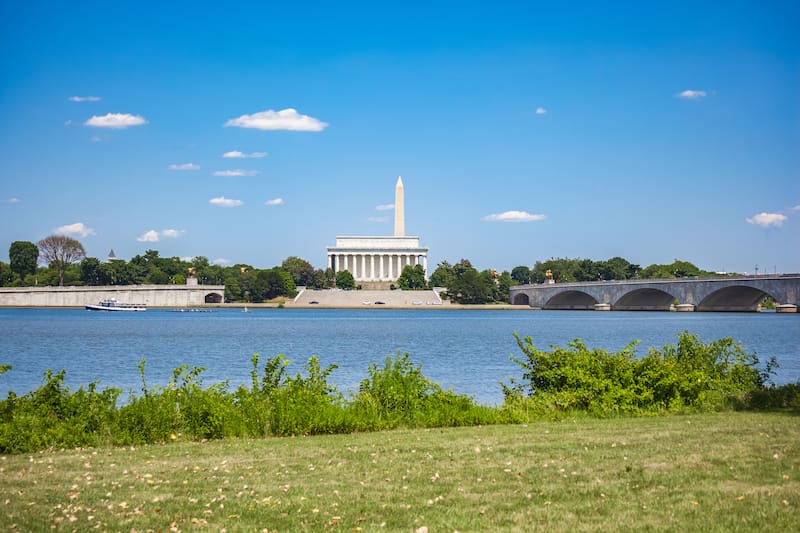 History and nature lovers will both salivate over the landmarks and history that sits along this Virginia biking trail.
The Mount Vernon Trail is one of the best things to do in Alexandria, as well as other surrounding cities in Northern Virginia and it takes you from Mount Vernon all the way to Rosslyn with epic views of Washington DC.
The asphalt and boardwalk biking trail is one of the metro area's most popular and trafficked trails and it winds along the Potomac River and has links to Theodore Roosevelt Island Park along the way.
You will pass through wetlands, neighborhoods, towns, forests, and more.
This trail is very popular, and for good reason, so be prepared for heavy weekend traffic and possibly having to dismount from your bike at some of the narrow bridge crossings.
If you're seeking additional trail, there are several places where you can veer off along the way, including picking up the Custis Trail near Roosevelt Island which leads to the W&OD Trail.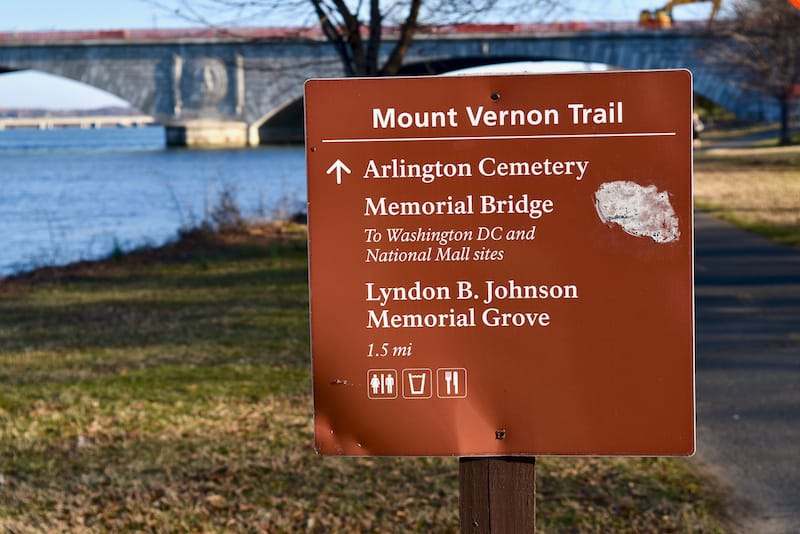 The 3 main access points to the Mount Vernon Trail are at Theodore Roosevelt Island, Old Town Alexandria, and Mount Vernon Estate. Since Mount Vernon is one of the national sights of Virginia, you can read more about it on the NPS website.
Alternatively, you can also pick up the Mount Vernon trail from DC metro stations along the Blue and Orange lines. This is a great day activity if you're visiting Arlington, Alexandria, or anywhere in Northern Virginia.
Dismal Swamp Canal Trail
Distance: 8.5 miles
Location: Chesapeake to just north of the North Carolina state line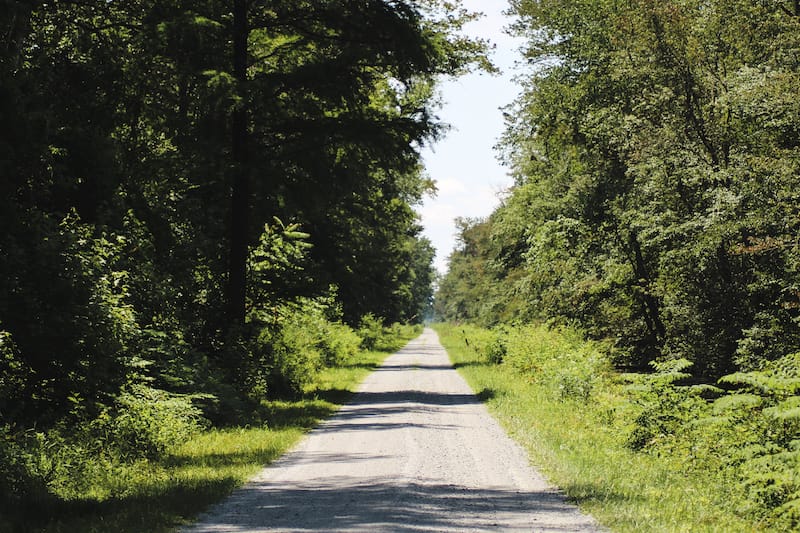 One of the most underrated places in Virginia is definitely the Great Dismal Swamp in the southeastern corner of the state.
This Virginia bike trail winds along the Great Dismal Swamp Refuge and it is mostly paved and flat along the way. It will give wildlife enthusiasts a great chance to see some animal sightings (I saw a bear when I was at Great Dismal Swamp a few years back!)
What makes this bike trail and state park so captivating is its history. It was actually a stop on the underground railroad and there were many maroons in the murky waters and land around the swamps.
You can actually continue this trail into North Carolina where it shares the same name. To access the trail, you will need to go on US 17 Business Hwy south from Chesapeake.
You will see an entrance to a parking area on the right. This is not a well-trafficked trail and the landscapes will take your breath away.
Do be sure to venture into the park when you have a chance. You can still ride along on graveled roads and boardwalks.
What to Bring
Naturally, dress for the season! Summers in Virginia are humid and hot, but if you're in the forest or in higher elevation, it will most definitely be more comfortable than in the city.
Here are some recommendations of what you should bring on a Virginia bike ride:
Reusable Water Jug: I recommend always having a reusable water jug with you at all times. Virginia's weather is unforgiving and you can dehydrate quickly. Some of these trails do not have many stops along the way. I travel the world with my Klean Kanteen water jug and I think it is the perfect one to get the job done when biking! You can see the one I use here.
Mosquito Repellent: One thing I don't miss when I leave Virginia's borders are the mosquitoes. But, they are unavoidable and a complete nuisance when trying to enjoy the outdoors.
I recommend a heavy-duty repellent to put your mind at peace before taking to the Virginia wilderness whether you're biking or using one of the trails to hike. Here is the mosquito repellent I use to deter them!
Lightweight Daypack: If there is one thing I have too many of, it is daypacks. While I love my Sandqvist and Ucon Acrobatics Bags, I opt for something a bit more lightweight when hiking.
My top recommendation is the Osprey Ultralight Stuff Pack. It is durable and well-made and will be an effortless accompaniment for your Virginia biking trip. Click here to check out color options and purchase.
Larabars: When I travel, I always keep some type of 'bars' on me and my favorite are Larabars. I have been eating these for well over a decade and they are perfect for biking trips as they are richer and more filling than their size indicates!
You can buy a variety box or just purchase your favorite. Click here to purchase a box of Larabars for your hike.
Before heading out, give the weather a check to see if rain (or snow) is on the horizon and adapt what you bring accordingly.
We definitely think these Virginia bike trails will keep outdoor enthusiasts satisfied during the warmer months as well as into the cooler ones. If you have a favorite bike trail in Virginia, please leave a comment letting us know!
PIN IT FOR LATER!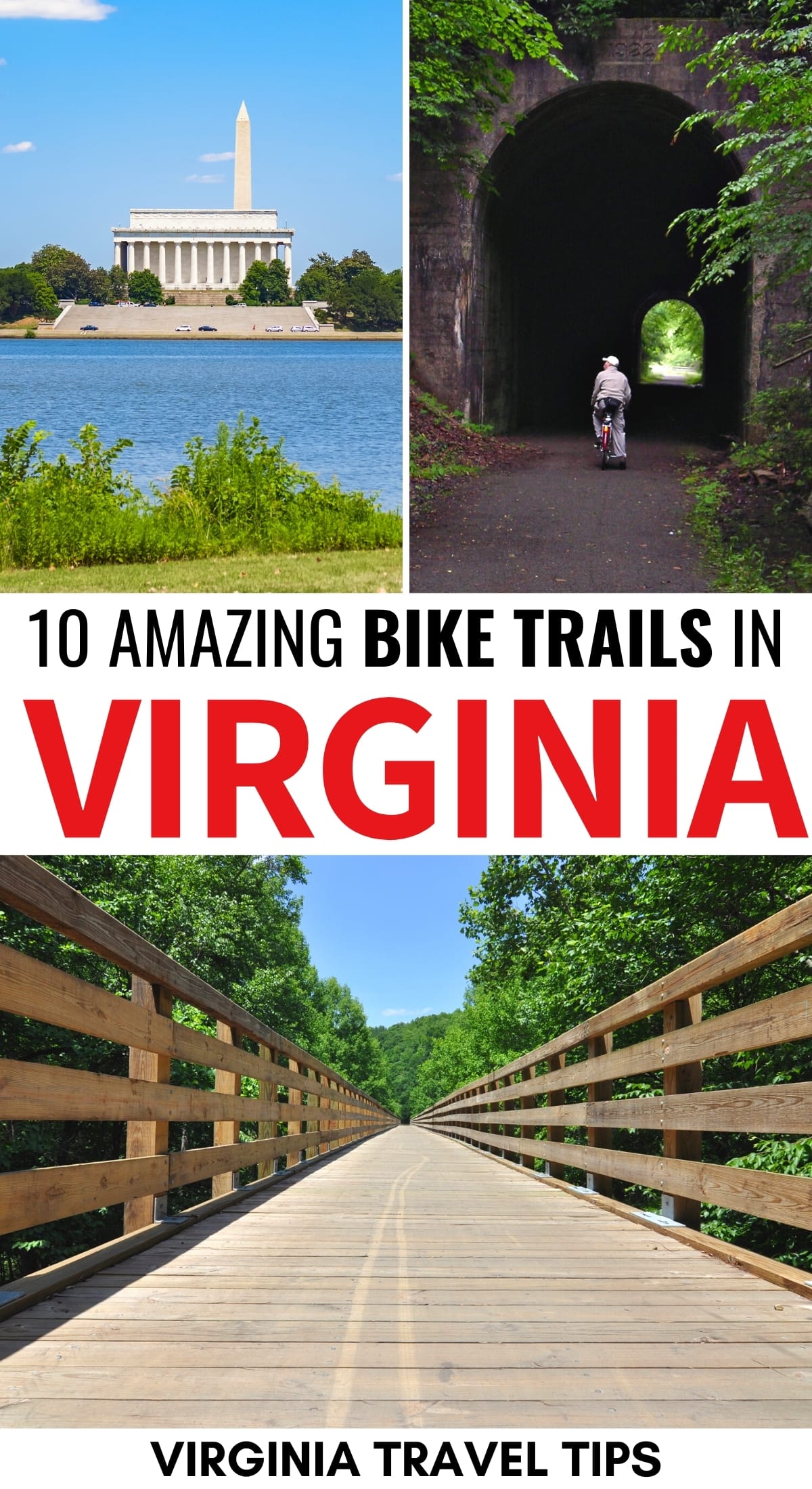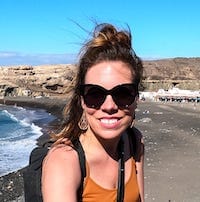 Megan is a travel blogger and writer with a background in digital marketing. Originally from Richmond, VA, she has lived all around the world (including Germany, Finland, Norway, etc) but her heart always finds its way back to Virginia. This blog is to help encourage travelers to explore the great state of VA… and its wonderful neighbors! Megan has written for or been featured by National Geographic, Forbes, Lonely Planet, Fodor's Travel, the New York Times, and more. She has visited 45 US states and 100+ countries… and wholeheartedly believes that Brunswick Stew is probably the greatest food to ever exist.