Virginia's capital city of Richmond is located in a very strategic and optimal place to take advantage of some of the state's best nature. This is a guide for where to go hiking near Richmond.
Are you planning your trip to RVA last minute?
If you're traveling to Richmond last minute, you want to ensure you have lodging and tours booked ahead of time! Below are some of our top picks to help you plan!
Where to Stay in Downtown Richmond:
Best Tours and Experiences in Richmond:
🚗 Looking for the best way to get around VA? Click here to check rental car rates for Virginia!
There are many hikes in Richmond that are perfect for all levels of fitness and desires.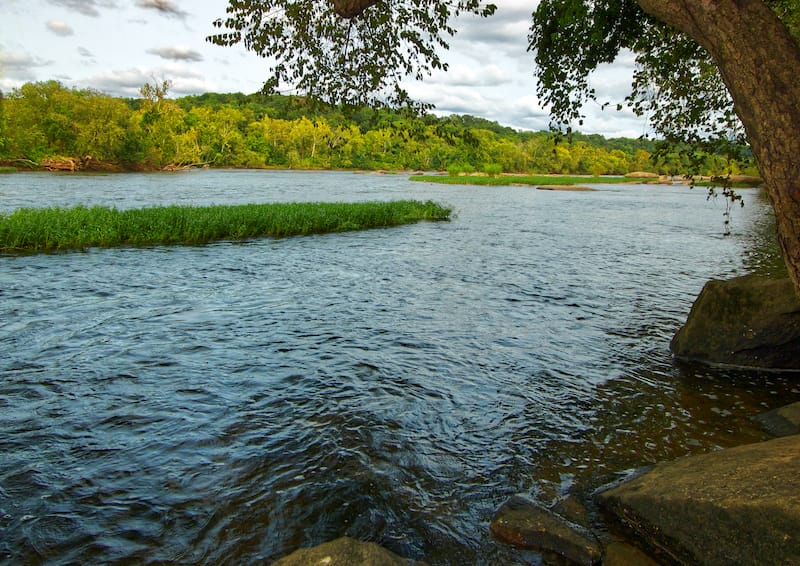 We are detailing the difficulty of the hike, the distance, and where it is located in this Richmond hiking guide.
If you have any other trail suggestions or outdoorsy things to do in Richmond, please leave them in a comment below! Thanks!
Hiking Near Richmond – The List
This guide is broken into three sections based on difficulty: easy hikes, moderate hikes, and difficult hikes. We have also listed the type of trail it is and the length for your planning convenience.
We have avoided placing trails in Shenandoah National Park or any hiking near Charlottesville on this list as it will possibly require an overnight and we wanted to make this a list of trails that can be hiked on as a day trip from Richmond.
To be honest, there are not really any 'difficult' hikes in the Richmond area, just like the easy hiking trails in Virginia Beach, so this list will mainly contain easy and moderate hikes but some of them may be deemed difficult depending on your condition and stamina.
We will leave that up to you despite how we said we would break it up above.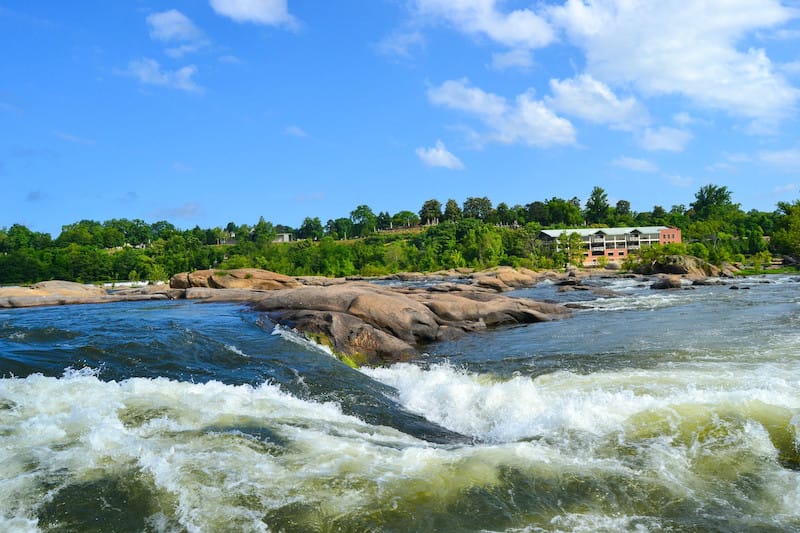 Easy Hikes in Richmond (& Nearby)
Dogwood Dell – Hiker Only Trail
Distance: 0.9 miles
Type of Trail: Loop
Location: William Byrd Park
This trail is located in William Byrd Park and is a moderately trafficked trail that is a fantastic place for wildlife watching and any skill level. It is dog-friendly as long as the pup is kept on a leash.
Be cautious you don't get on the wrong path! There are multiple trails and if you don't pay close enough attention, it could land you on the mountain biking trail instead of the easy walking path.
The Dogwood Dell – Hiker Only Trail is great for hot, summer days as it is mostly covered by trees and vegetation.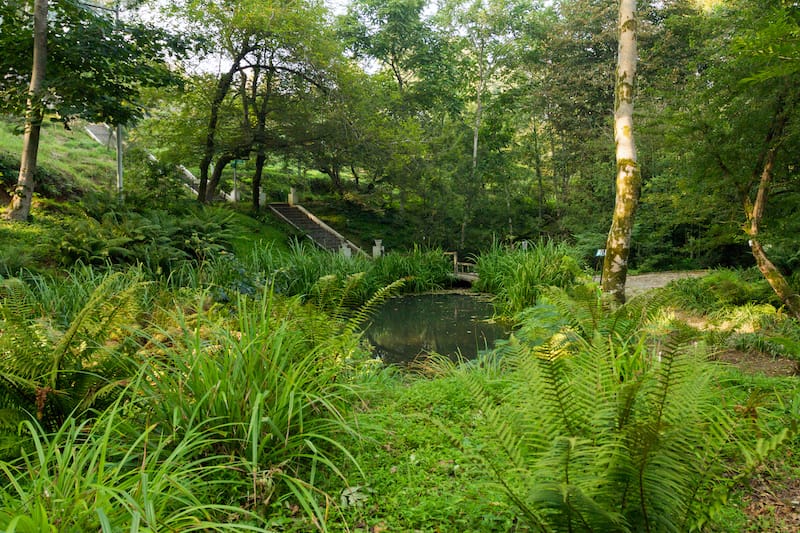 This trail is best used from February until November and we recommend downloading a map beforehand to ensure you stay on the correct path!
Belle Isle Trail
Distance: 1.7 miles
Type of Trail: Loop
Location: James River Park
This Richmond trail tends to be one of the more popular ones and consistently remains heavily trafficked. It is an essential place to visit if you have more than a weekend in Richmond!
It is located in James River Park close to the river and has a lot of activities for anyone finding themselves there. It is a pup-friendly trail as long as they are on a leash.
Belle Isle Trail is open and accessible year-round and there are many spots along the way where you can deviate from the trail and go down on the rocks by the river.
There is also a bridge that crosses the river and some claim it can cause nerves as it may sway back and forth.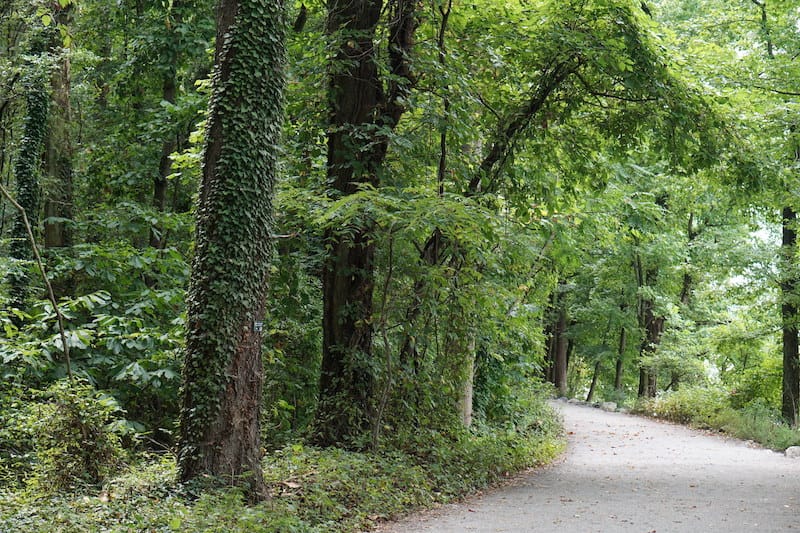 The trail is very wide and flat and you can see ruins of a hydroelectric plant from the 1800s on the southside of the island. There are also opportunities to swim in several places along the trail.
Bring water- it can be hot during the Virginia summers! Also, please pick up after yourself if you are on this trail (or any trail, for that matter).
Pony Pasture Rapids Trails
Distance: 2.1 miles
Type of Trail: Loop
Location: James River Park
One of my favorite places to go in Richmond is Pony Pasture Rapids and I have some fond memories from there after I graduated high school. However, nowadays, I look at it more as a nature respite than simply just a place to socialize with friends.
The Pony Pasture Rapids trails are just over 2 miles of trails that are a loop located in James River Park.
It is heavily trafficked as this is a very popular weekend spot in Richmond to escape the city, but it is worth it. Dogs are permitted on the trail as long as they are kept on leash.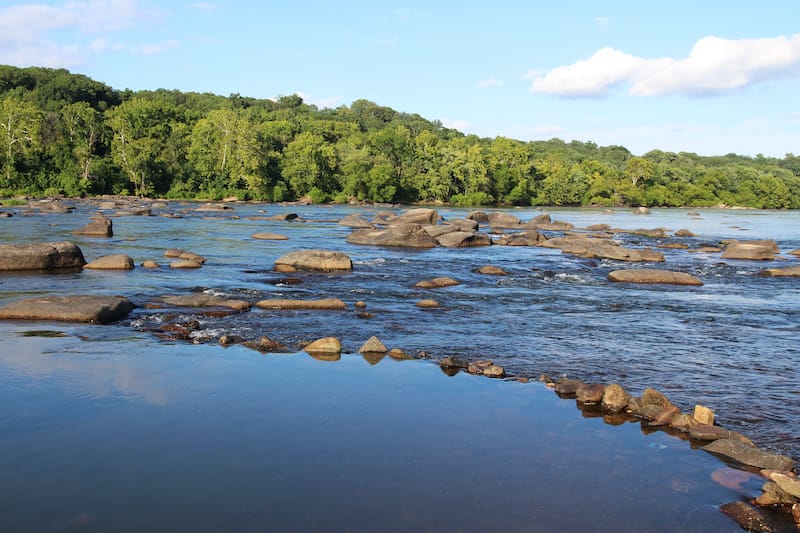 The biggest issue with this trail is that it can be quite crowded so if you have the chance to go during the week, opt for that instead. There are also wetlands in the area that can you explore if you're looking for a place slightly quieter.
North Bank Trail
Distance: 2.7 miles
Type of Trail: Out & Back
Location: James River Park
Another popular hike in Richmond is the North Bank Trail in James River Park. This easy trail is heavily trafficked and is dog-friendly pending that they are kept on a leash.
The North Bank Trail in Richmond is accessible year-round and is a great place for families, bird watching, or just leisurely strolling and enjoying the gorgeous views and Virginia nature.
The trail is a bit rocky in parts so be sure to wear the right shoes for your journey and whatever activity you engage in.
This trail offers fantastic city views and views of the James River and the Kanawha Canal. It is a popular spot for mountain bikers but beware- it can be steep at certain points. If you're seeking swimming opportunities, you're close to Texas Beach.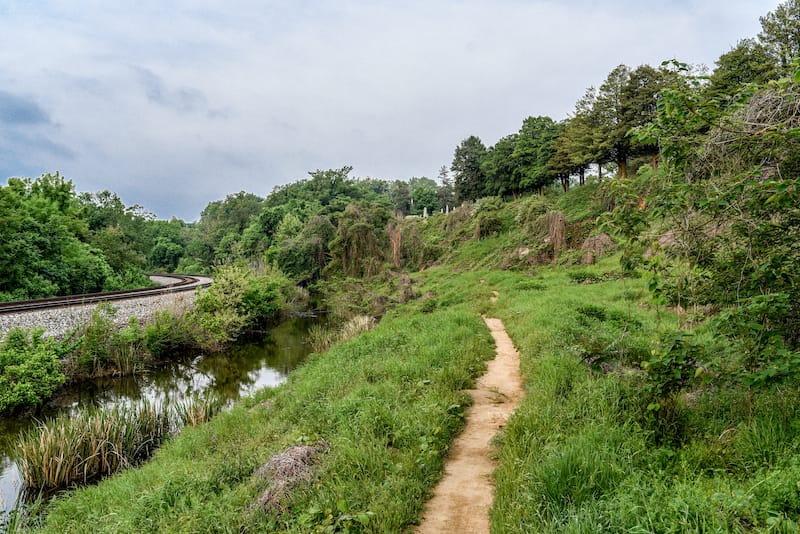 Forest Hill Park Trail
Distance: 2.7 miles
Type of Trail: Loop
Location: Forest Hill Park
This loop trail is an easy jaunt through some lush greenery in Forest Hill Park near Richmond.
It is one of the more popular spots for hiking near Richmond and a fan favorite year-round. Dogs are allowed on the trail if they are on a leash.
While the Forest Hill Park Trail is classified as 'easy', many people say it can actually be more strenuous than anticipated if you're not a regular hiker. Just be warned!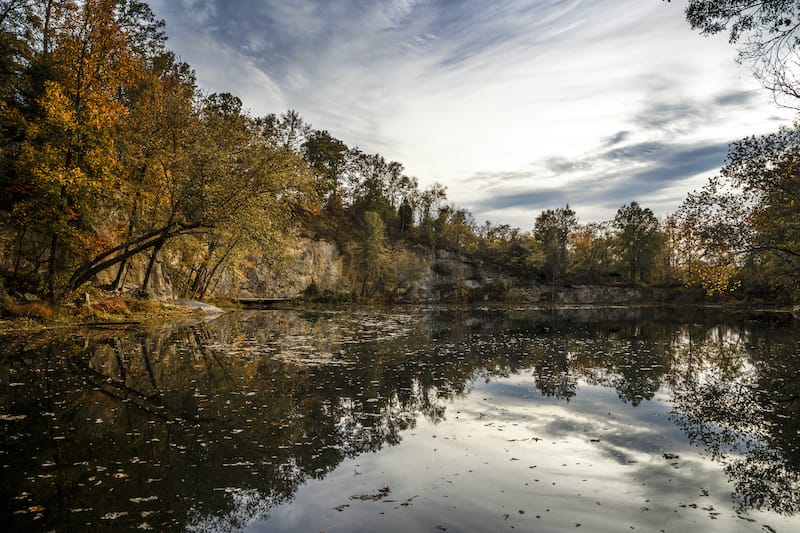 Another thing to note is that this trail gets several mountain bikers on it as opposed to hikers, so be on the lookout and stay to one side of the trail if at all possible.
It is also a great idea to download an offline map before going to ensure you stay on the right trail at all times.
James River Canal Walk
Distance: 2.5 miles
Type of Trail: Loop
Location: James River Park
The James River Canal Walk is a moderately trafficked loop trail near Richmond. It is a suitable walk for all levels and ages.
It is also partially paved making it a great place for those that may otherwise have issues on alternative trails in the Richmond area.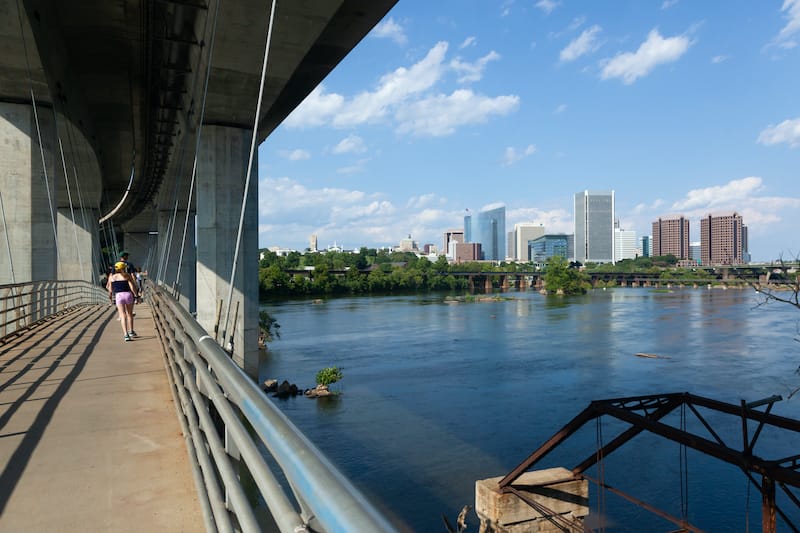 Dogs are permitted on the trail if they are on a leash. If you get there early enough, there is free parking near the museum close by.
People love this trail because it is a great mixture of city and nature and offers a nice refuge from the hectic city life. There is some urban art along the way, spicing up the trail just a bit.
Moderat

e Richmond Hikes
Buttermilk Trail
Distance: 4.5 miles
Type of Trail: Out & Back
Location: James River Park
This Richmond trail is and out and back located near the city and is of moderate difficulty. It is accessible year-round and is pup-friendly. In the park and by the trail, you will find several exciting activities ranging from bird watching to mountain biking and more.
This trail is popular for runners, as well and it is well-shaded so it can serve as a refuge from the scorching Virginia heat during the summer months.
There is an extension if you are not satisfied with 4.5 miles. Some people indicate that the Buttermilk Trail can be more toward the 'difficult' level if you're not well-versed in hiking but on average, it is moderate.
If it is wet, it will definitely be muddy so dress accordingly. The Richmond hike goes right along the James River.
Chimbarazo Park Trail
Distance: 0.9 miles
Type of Trail: Loop
Location: Chimbarazo Park
If you're seeking hiking in Richmond opportunities, the Chimbarazo Park Trail may be a great starting point.
The almost one-mile-long trail is moderately trafficked and has gorgeous Virginia wildflowers and activities along the way. It is dog-friendly as long as they are on a leash.
While the trail is marked as moderate, if you park your car near Broad Street instead of down the hill a bit, it becomes a much easier feat! There is also an off-leash dog park at the end of the hill if you decide to bring your dog along.
Close to the trail is a Battlefield Museum and the top end of the trail is also a fantastic place for admiring the sunset over the Virginia capital.
Beaver Lake Trail
Distance: 2.3 miles
Type of Trail: Loop
Location: Pocahontas State Park
One of my favorite places in Richmond is Pocahontas State Park and this trail is a fan-favorite near Chesterfield County.
Beaver Lake Trail is dog-friendly as long as your dog is on a leash and the trail is best used from March until November.
A couple of notes about the trail- it is somewhat overgrown in certain areas, so make sure you wear the right clothing and tote along with some bug spray and check for ticks after. Bikes are also NOT permitted on this trail.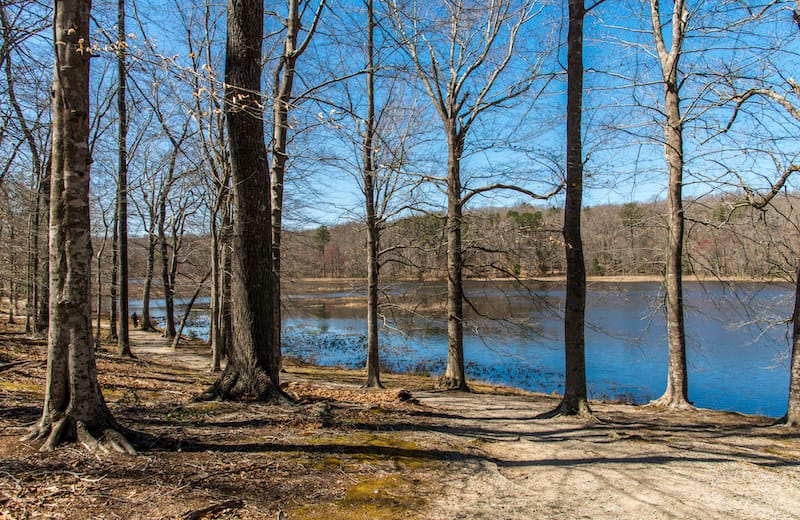 The hike near Richmond has a lake and the trail gives you some really great overlooks toward it along the way.
It can get somewhat crowded on weekends and become heavily trafficked, so if you're looking for a little bit of peace, try opting to go during the week.
While this is labeled as a moderate trail, it is an 'easier' moderate trail. While some people indicate that this trail is wheelchair friendly, most people are saying it is definitely not, so beware.
What to Bring
Naturally, dress for the season! Summers in Virginia are humid and hot, but if you're lost in the forests near Richmond, it will most definitely be more comfortable than in the city. Here are some recommendations of what you should bring on a Richmond hike:
Reusable Water Jug: I recommend always having a reusable water jug with you at all times. Virginia's weather is unforgiving and you can dehydrate quickly!
There are almost always freshwater sources available in and around the area but do bring some with you just in case! I travel the world with my Klean Kanteen water jug and I think it is the perfect one to get the job done when hiking! You can see the one I use here.
Keen Targhee Hiking Boots: During Virginia's warmer months, evening storms and rain is more common than not and you'll likely experience mud somewhere on your hike.
I have had my Keen Targhee hiking boots for many years and they have helped me trek across some wild environments, so I definitely recommend investing in a pair if you're an avid hiker. You can see my Keen Targhee hikers here.
Mosquito Repellent: One thing I don't miss when I leave Virginia's borders are the mosquitoes, especially if you are hiking near Richmond! But, they are unavoidable and a complete nuisance when trying to enjoy the outdoors. I recommend a heavy-duty repellent to put your mind at peace before taking to the Virginia wilderness. Here is the mosquito repellent I use to deter them!
Lightweight Daypack: If there is one thing I have too many of, it is daypacks. While I love my Sandqvist and Ucon Acrobatics Bags, I opt for something a bit more lightweight when hiking.
My top recommendation is the Osprey Ultralight Stuff Pack. It is durable and well-made and will be an effortless accompaniment for your day hike. Click here to check out color options and purchase.
Larabars: When I travel, I always keep some type of 'bars' on me and my favorite are Larabars. I have been eating these for well over a decade and they are perfect for exciting day hikes as they are richer and more filling than their size indicates! You can buy a variety box or just purchase your favorite. Click here to purchase a box of Larabars for your hike.
Before heading out, be sure to check the weather. Richmond can have unpredictable weather at times and if you're there in the summer are not a local, beware that we have storms almost every evening (like torrential rain!). An early start is the best way to go!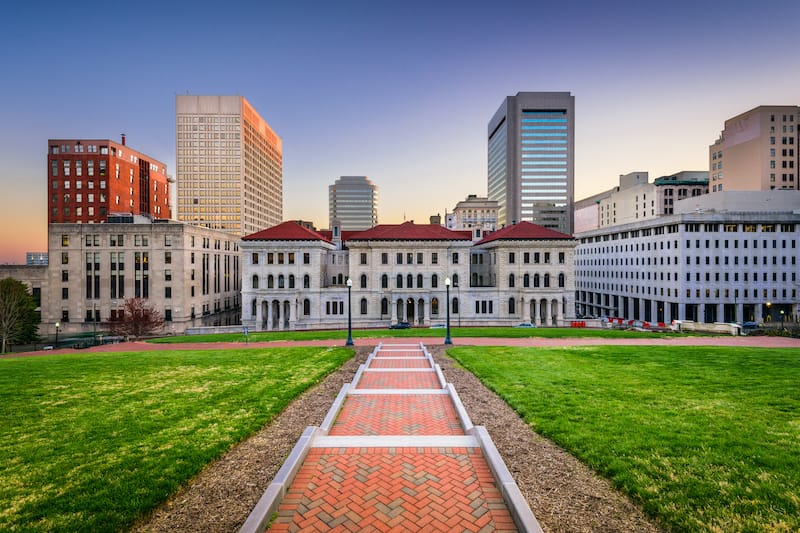 Where to Stay in Richmond (and Surrounding Areas)
If you're heading out on a day hike in Richmond, we recommend staying in the city or somewhere close to it. Here are a couple of our favorite places to stay, including a few highly-rated Airbnbs in the local area.
» Luxury: The Graduate Richmond
» Mid-range: The Commonwealth
» Budget: HI Richmond Hostel
Airbnbs in Richmond (and Nearby)
Alternatively, you can look at staying at an Airbnb in Richmond if you want a more independent experience (or just something different!). Here are some top picks of the best Airbnbs in the Richmond area:
» Unique Stay: Sharp's Island (you literally get the entire island in the James River all to yourself with your friends!), Treehouse glamping experience in Richmond (rated one of the best stays in VA)
» Luxury ($100/night and up): Little cabin near Richmond (you will have the entire cabin to yourself and it's beautiful and located near The Fan)
» Mid-range ($40-$100/night): Entire flat in charming Carytown (such a great location and Carytown is hip with so much to do)
» Budget (under $40/night): Private room in Richmond (gorgeous home with a private room downtown)
We hope that this guide to hiking near Richmond gets you energized and pumped to take to the nature in the capital. While Richmond is rather flat and the hikes are not too difficult, just enjoying the scenery of the city is enough to get your mind back into the right place.
More Central Virginia Travel Resources
Pin This Richmond Trails Guide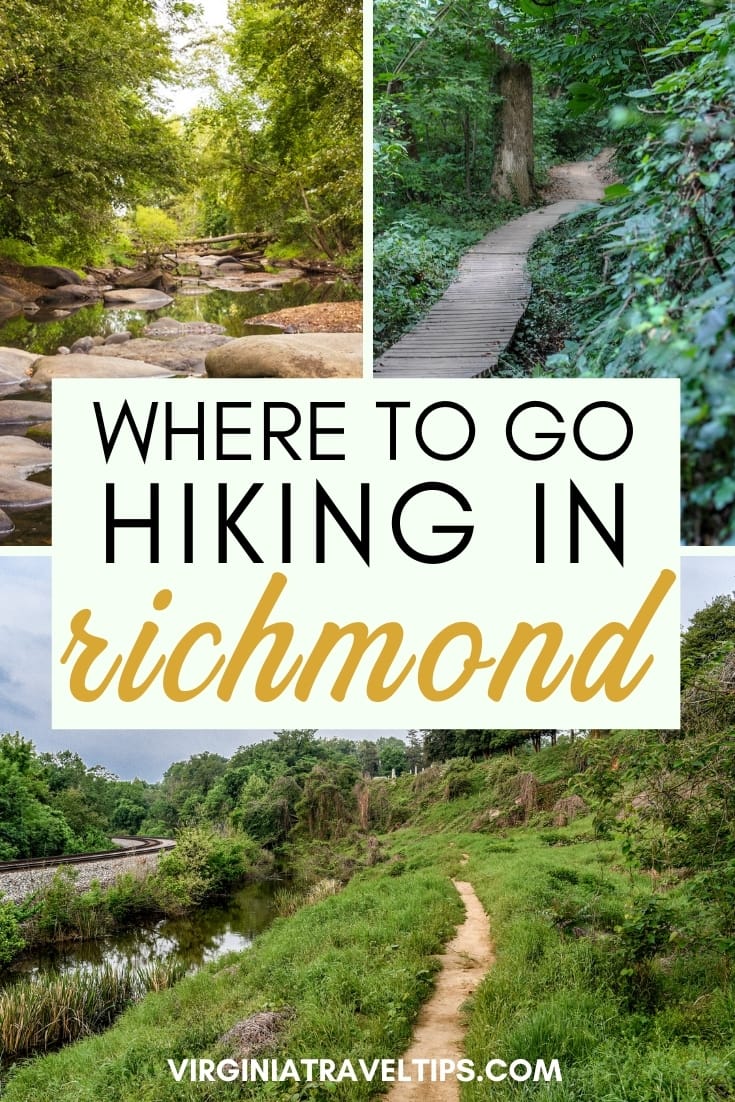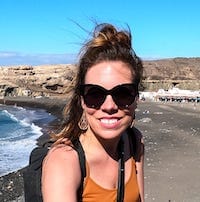 Megan is a travel blogger and writer with a background in digital marketing. Originally from Richmond, VA, she has lived all around the world (including Germany, Finland, Norway, etc) but her heart always finds its way back to Virginia. This blog is to help encourage travelers to explore the great state of VA… and its wonderful neighbors! Megan has written for or been featured by National Geographic, Forbes, Lonely Planet, Fodor's Travel, the New York Times, and more. She has visited 45 US states and 100+ countries… and wholeheartedly believes that Brunswick Stew is probably the greatest food to ever exist.