The capital of Virginia is one of the best places to visit if you're looking for a trip that's full of culture and history! This guide details how to spend an epic weekend in Richmond (and this Richmond itinerary even has a map)!
Are you planning your trip to RVA last minute?
If you're traveling to Richmond last minute, you want to ensure you have lodging and tours booked ahead of time! Below are some of our top picks to help you plan!
Where to Stay in Downtown Richmond:
Best Tours and Experiences in Richmond:
🚗 Looking for the best way to get around RVA? Click here to check rental car rates for Virginia!
One of the oldest major cities in America, Richmond is most famous for its sites relating to the American Revolution and the Civil War. It's also where Patrick Henry said, "Give me liberty or give me death!"
If history isn't your cup of tea, don't worry! There are plenty of restaurants, parks, gardens, and tours waiting for you in Richmond. And colorful street art!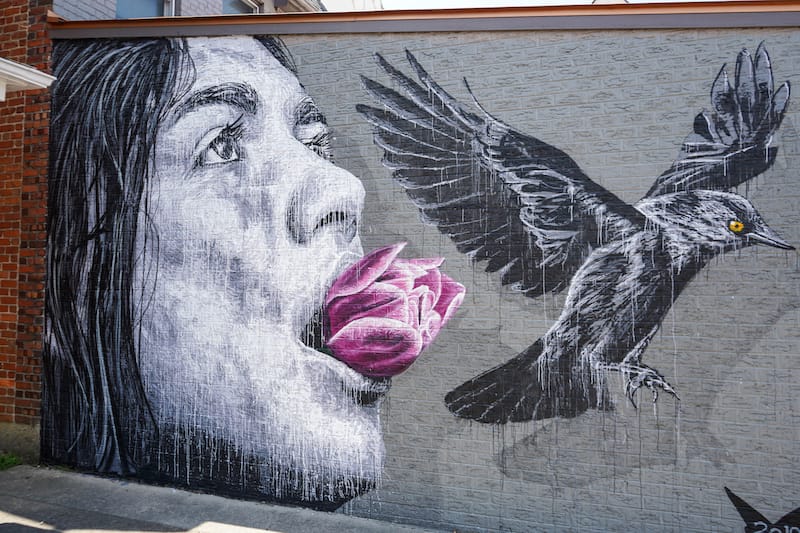 Here are our top picks for places to visit if you want to spend a weekend in Richmond. It truly is one of Virginia's best weekend escapes!
Let us know your favorite things to do if you have 2 days in Richmond, VA!
How to Use this Richmond Itinerary (+ Map!)
This Richmond VA itinerary takes into consideration the top spots in the city for new visitors!
We have broken it down into 2 busy days, but you can spend 3 days in Richmond with the same itinerary, just move things around at your discretion.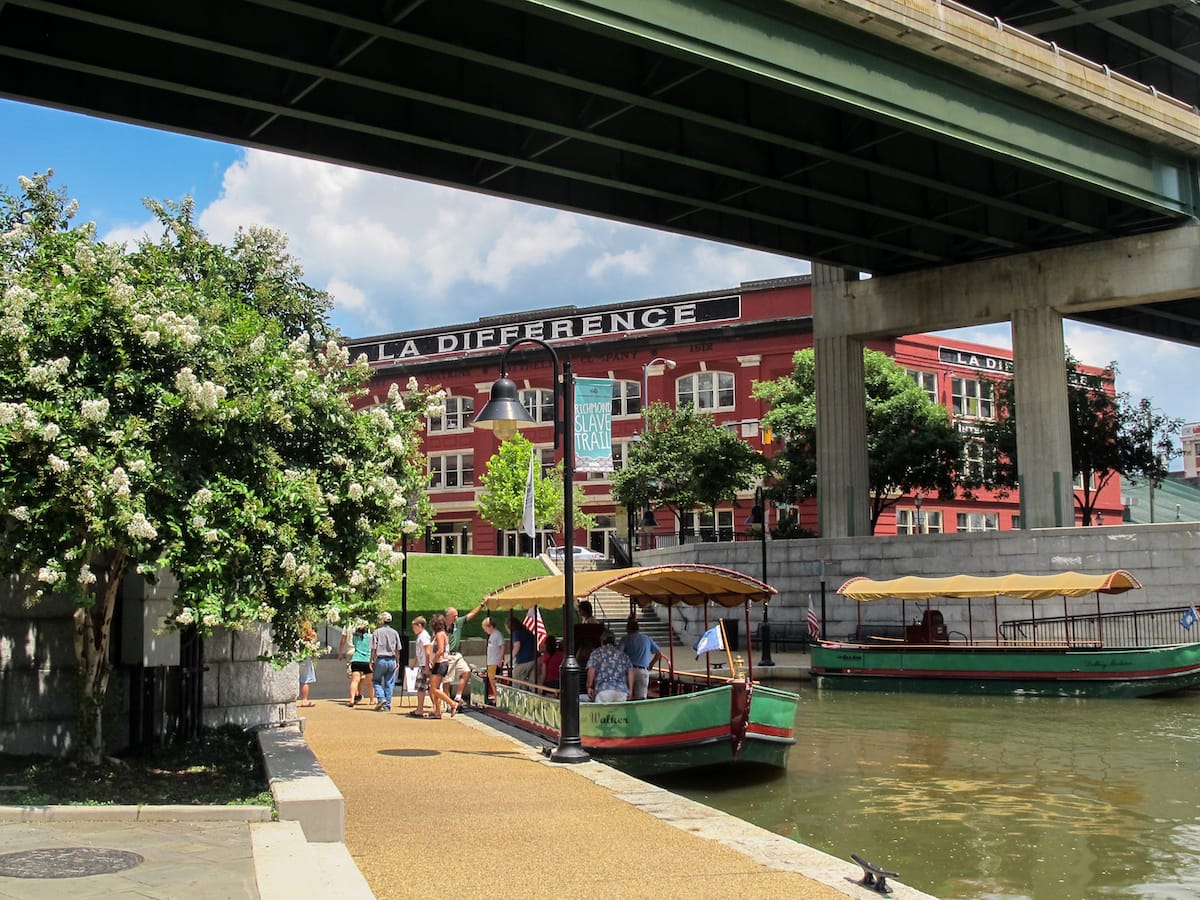 While the first day is a bit centralized, the second day definitely is not. We have Carytown on the second day of the RVA itinerary, but a place to get dessert there the first day… this allows changes where you see fit.
Richmond is easy to get around, but we definitely recommend having a car. Click here to check rental car rates in Richmond.
We have put all activities and things to do in Richmond on the map below to help you plan a bit better.
To add this map to your Google Maps account, click the 'Star' icon next to the map name. You can then view it on your cell phone or computer by heading to your Google Maps account, click the menu and add it to 'Your Places'.
How to Get to (and around!) Richmond VA
If traveling by car, the capital of Virginia is easy to get to from anywhere along the East Coast.
From Washington DC, drive I-95 south 2 ½ hours, or if you are coming from Raleigh-Durham, NC, it is about a 3-hour drive north on I-95.
Virginia Beach is two hours east of Richmond, Charlottesville, VA, is 1 hour to the west, and Charleston, WV, is nearly a five-hour drive east on I-64 to Richmond.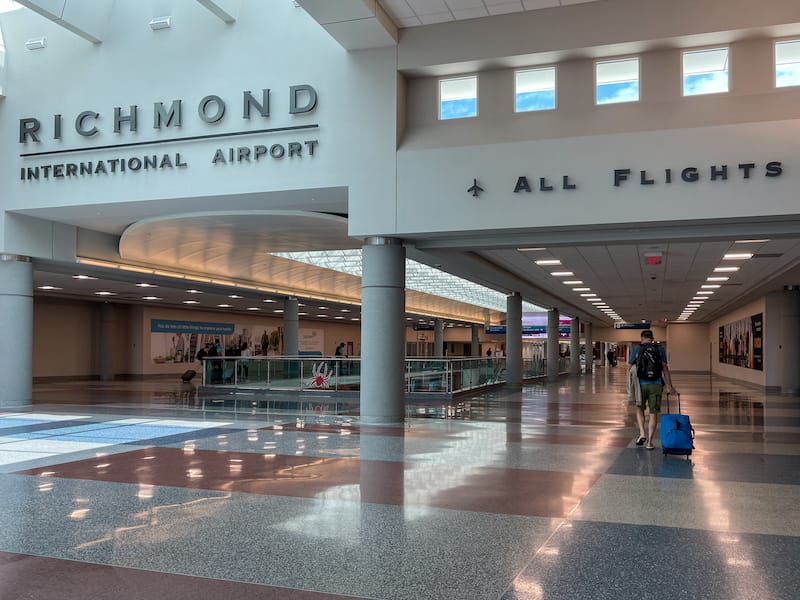 If you are coming to Richmond from further away, plan to fly in and out of the Richmond International Airport (RIC). The airport offers more than a handful of airline options.
Amtrak provides service to Richmond with their Northeast Region Train that stops at the Main Street Station for those who want to keep their feet on the ground.
Once there, the city is easy to navigate by car, but the GRTC buses have 40 routes throughout the city and surrounding areas.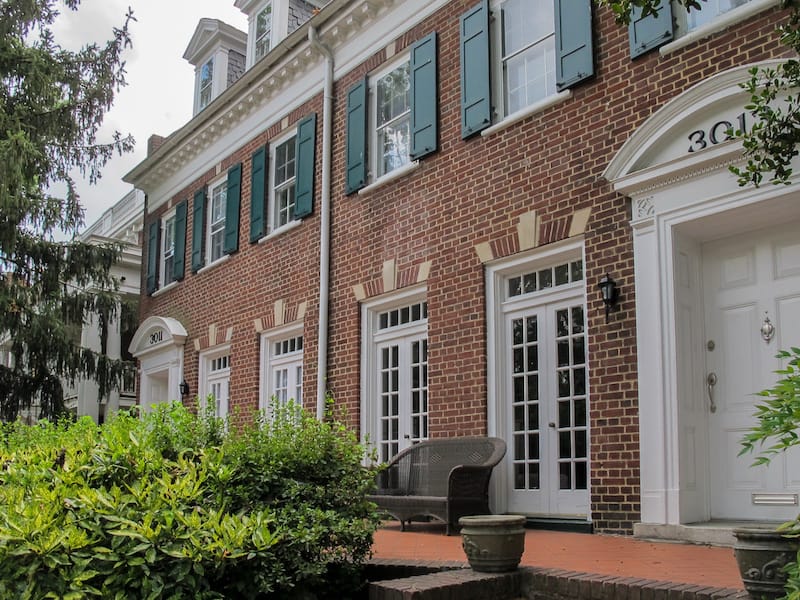 Richmond VA Itinerary Overview
Day 1 Overview
Enjoy Breakfast at Millie's Diner

Visit the Virginia Holocaust Museum

Explore The Edgar Allen Poe Museum

Stroll along the Canal Walk

Have dinner at Old Original Bookbinder's Seafood and Steakhouse

Watch the sunset at Libby Hill Park

Grab an ice cream at Bev's Homemade Ice Cream and Cafe
Day 2 Overview
Begin with Breakfast at 821 Café

Take in the beauty at Lewis Ginter Botanical Gardens

Stop at The Veil Brewing Co. for a local brew and lunch from the food trucks

Shop Carytown

Visit the American Civil War Museum

Take to the James River for some Whitewater Rafting, SUP, or Kayaking with RVA Paddle Sports

Say the password and enjoy dinner at Grandstaff & Stein
Day 1 in Richmond
Millie's Diner
Begin your day at a Richmond landmark. Millie's has served both locals and visitors classic breakfasts for more than three decades along Tobacco Row in the Church Hill neighborhood.
Your breakfast order of Lump Crab and Scrambled Egg Enchilada, Corned Beef Brisket Hash, or the favorite Millie's Messes, a three-egg frittata, comes with Millie's spicy curry home fries.
If you can't make it for breakfast, come back for lunch or dinner and enjoy some of Millie's favorite curry and Indian foods paired with one of the more than 100 bottles of wine in stock.
Address: 2603 E Main St, Richmond, VA 23223
Virginia Holocaust Museum
In 1997, Holocaust survivor Jay Ipson opened the Virginia Holocaust Museum.
The museum focuses on the moving story of the Ipson family's survival and experiences. You will listen to stories of those who survived the Holocaust and began a new life in the Richmond area.
The second focus of the museum is to highlight the role the Holocaust had on world history.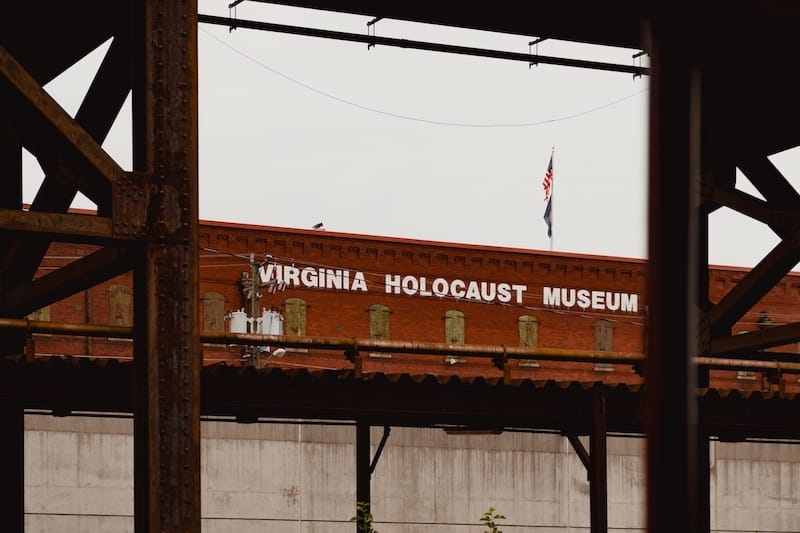 The chronologically displayed Holocaust exhibits take you through the European Jewish destruction and the intolerance for the Jewish people.
The displays feature over 300 artifacts and audio recordings of local survivors' testimonies.
Address: 2000 E Cary St, Richmond, VA 23223
Edgar Allan Poe Museum
Head down the cobblestone streets of East Main Street to the oldest Richmond building, the Old Stone House, and home to the Edgar Allan Poe Museum.
First established in 1906, the museum is a historical and literary museum that commemorates Poe's work and time living in Richmond. Today, it is one of the top historic sites in Virginia!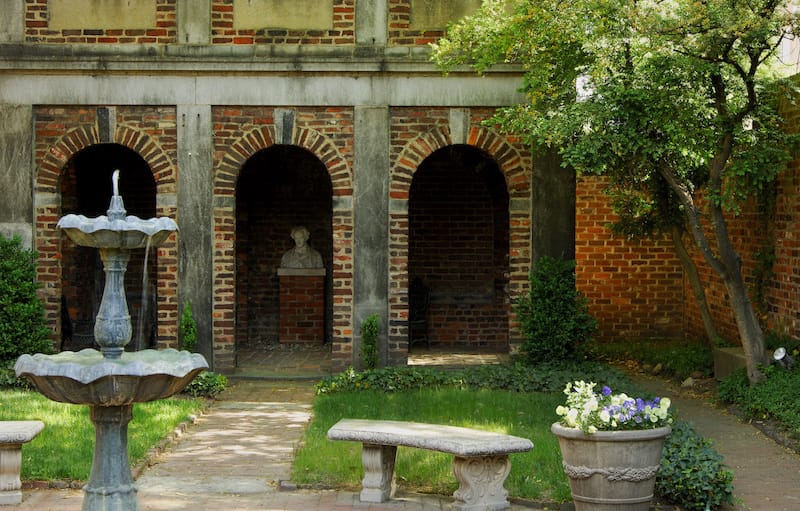 The museum features exhibits showcasing Poe's life through manuscripts, artifacts, and even his socks. Be sure to explore the secret garden inspired by the poems To Helen and To One in Paradise.
Address: 1914 E Main St, Richmond, VA 23223
Take a Stroll Along the Canal Walk
Take time out to walk the 1 1/4-mile Canal Walk. Along your walk, explore the 400 years of Richmond history through the sculptures, historical markers, and statues that are part of the trail along the Kanawha Canal and James River.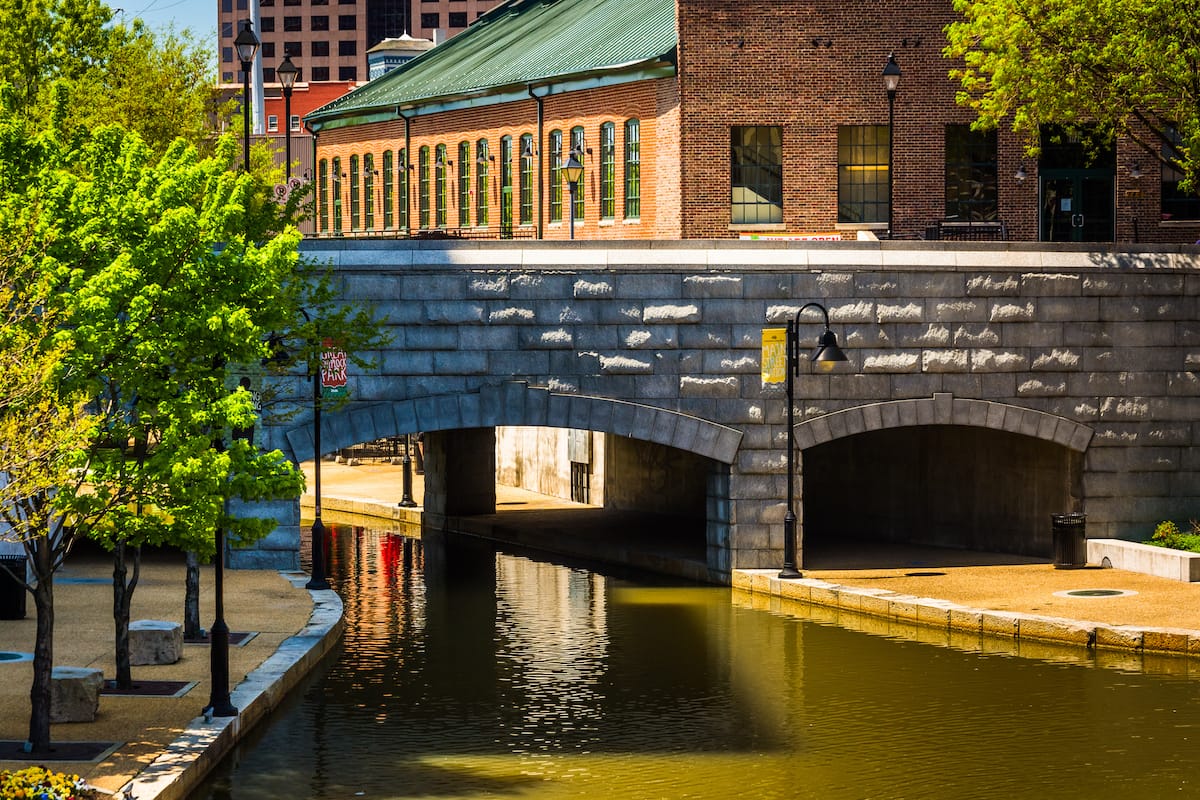 The trail also passes Brown's Island, where you can catch a concert, bike, walk the trails, or find a grassy area to have a picnic.
A 40-minute historical cruise along the canal and James River is also an option at the Turning Basin.
Old Original Bookbinder's Seafood and Steakhouse
Join the Taxin family for a delicious steak or seafood dinner along Tobacco Row in the American Cigar Building, a 1901 tobacco warehouse that now houses Samuel and Sarah Bookbinder's Old Original Bookbinder's Seafood and Steakhouse restaurant.
The restaurant's beginning was just after the end of the Civil War in 1865 in Philadelphia.
Today, you can enjoy a mouth-watering steak, fried shrimp, pan-seared salmon, and scallop scampi in the elegant brick building that features exposed beams and a rich Richmond and family history.
Members of the Taxin family continue to work and greet guests to their family-owned restraint each day. Choose between sitting in a tiny romantic alcove, the beautiful dining room, or dining al fresco on the patio.
Be sure to make your dinner reservations through Open Table, which named the Old Original Bookbinder's one of the 100 Most Romantic Restaurants in America in 2018.
A parking lot with free parking is conveniently located across the street from the restaurant.
Address: 2306 E Cary St, Richmond, VA 23223
Libby Hill
Take a drive to Libby Hill Park in the Church Hill district. The park is one of the city's earliest and offers a magnificent view of the city.
From here, you can watch the evening sun sink into the horizon as you sit on one of the park benches.
The city skyline at sunset can be a picture to remember. While there, see if you can find Connecticut, the Indian, and the old Richmond Braves team mascot on the top of nearby buildings.
Bev's Homemade Ice Cream and Café
After a busy day sightseeing, visit Beverly Mazursky, who has been making some of Richmond's best homemade ice cream for the past 25 years.
Bev's Homemade Ice Cream and Café feature 13 regular flavors like mocha almond, cookies and cream, butter pecan, and a selection of three rotating weekly unique flavors. Choose between a cone, scoop, or sundae.
If you want something more than a cone, try one of the sundaes, the classic sundae, the local Cary Street Sundae, a brownie sundae, or the Shockoe Banana Split Sundae.
Try the sherbet, vegan sorbet, or gelato if ice cream isn't your thing.
Address: 2911 W Cary St, Richmond, VA 23221
Day 2 in Richmond
821 Café
If you want to go to the number one breakfast spot in Richmond, head to the contemporary 821 Café. Here you will find a menu with a wide selection of biscuits and gravy, French toast, omelets, and all the sides.
They also serve a variety of vegan and gluten-free entrees, including Tofu Scrambles Breakfast Burritos. If you need something to drink during your morning celebration, they offer a large selection of mimosas.
Address: 825 W Cary St, Richmond, VA 23220
Lewis Ginter Botanical Garden
The beautiful Lewis Ginter Botanical Garden is a 50-acre gem of a garden that was once the hunting grounds of the Powhatan tribe.
Today you can stroll the pathways and marvel at all the beautiful flowering plants inside the 63-feet-tall domed conservatory and outside.
Be sure to visit often throughout the year for special garden events like the Butterflies LIVE program in the summer, during Halloween for Goblins and Gourds, and the GardenFest of Lights from Thanksgiving through early January.
The teahouse and café make the perfect place to get a refreshing drink or lunch when exploring the botanical gardens.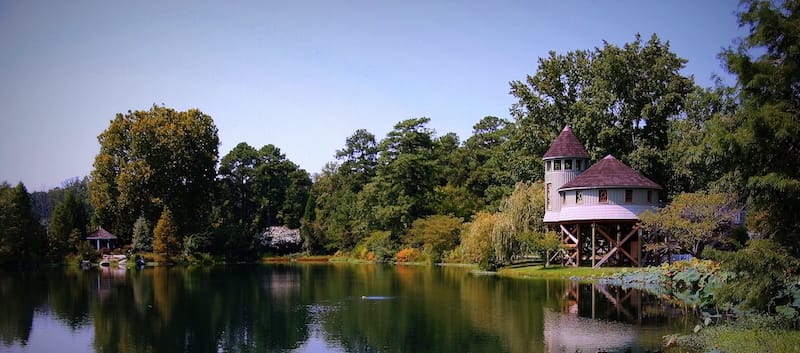 The garden shop has a variety of plants to entice you into beginning or adding to your garden.
Children will also have fun exploring the gardens, especially those designed specifically for children. In the Children's Garden, they can cool off on hot days in the water-play area, climb into the treehouse, and view the gardens.
Get your Instagram-worthy picture with the garden's LOVEwork sign that features garden tools, a honeycomb, and the Earth.
Address: 1800 Lakeside Ave, Henrico, VA 23228
Veil Brewing Company in Scott's Addition
Veil Brewing Company has several locations around Richmond, but Scott's Addition location is the original brewery and where most of their beer continues to be produced.
Choose between a hop-forward beer, spirit barrel ages stouts, lagers, or fruited ales that will keep you coming back.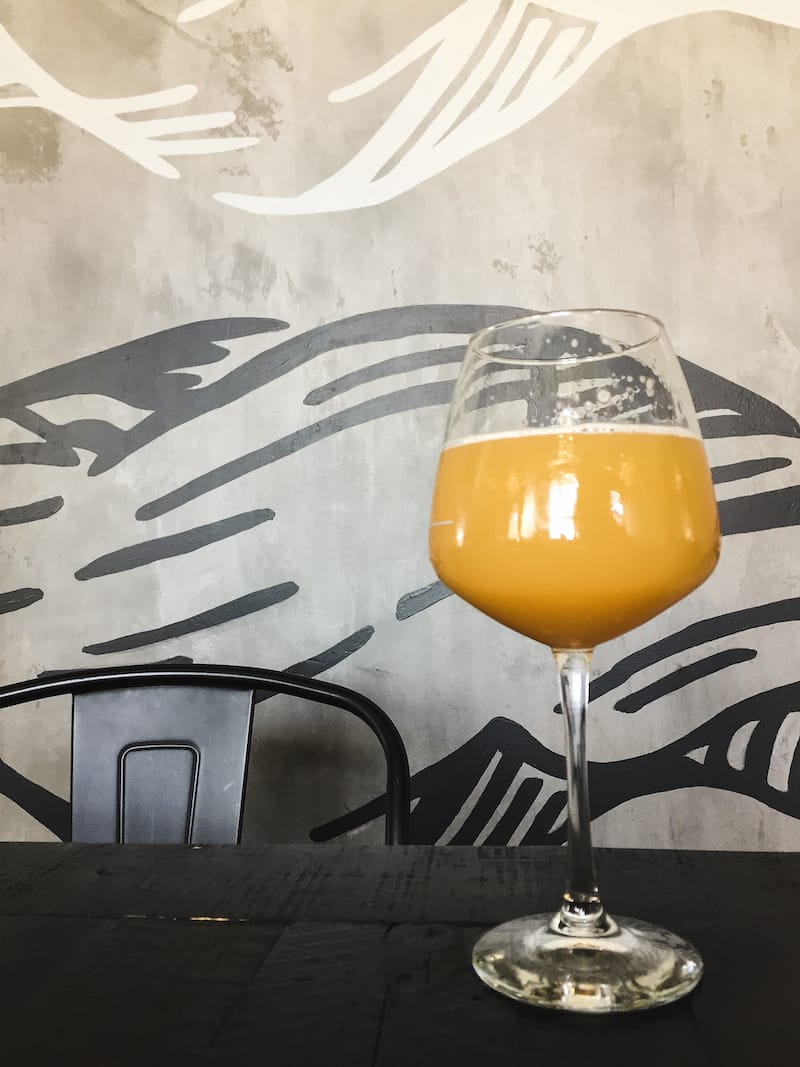 Walk inside and you will find plenty of seats in the taproom or enjoy a drink on the patio. Grab a draft from on-tap and then head outside and pick up lunch or dinner from the on-premises food truck.
The food trucks have a rotating daily schedule, so check out the schedule to see what you may have to eat.
Address: 1301 Roseneath Rd, Richmond, VA 23230
Carytown
Carytown's nine-block strip is a historic shopping district that Huffington Post named one of Virginia's must-dos and the Best Shopping Neighborhood in Virginia by Southern Living Magazine.
Along the street, you will find a variety of boutique shops, coffee shops, restaurants, movie theaters, and Byrd Park.
Take a bit of time to window shop or explore The Byrd Theatre for a movie, the music store Plan9 Records, the culinary shop Ladles and Linens, or the unique gift shop Mongrel.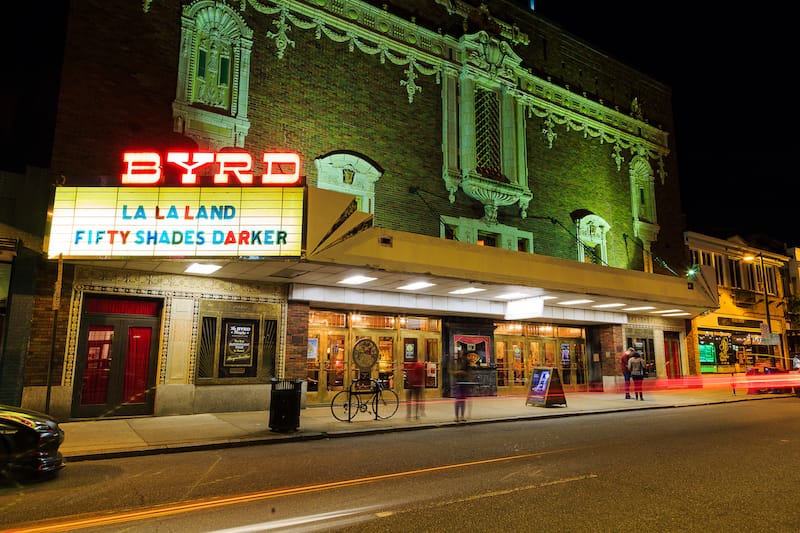 Stop at Carytown Cupcake or a European pastry Jean Jacques when you need a sweet treat.
Byrd Park offers a variety of walking trails and an amphitheater with performances throughout the year.
The New York Deli, the birthplace of the Sailor Sandwich, The Broken Tulip, and the French restaurant Can Can Brasserie are just a few restaurants you may want to try in Carytown.
Try the Sunday Farmers Market at Kickers' Stadium if you want something to take home.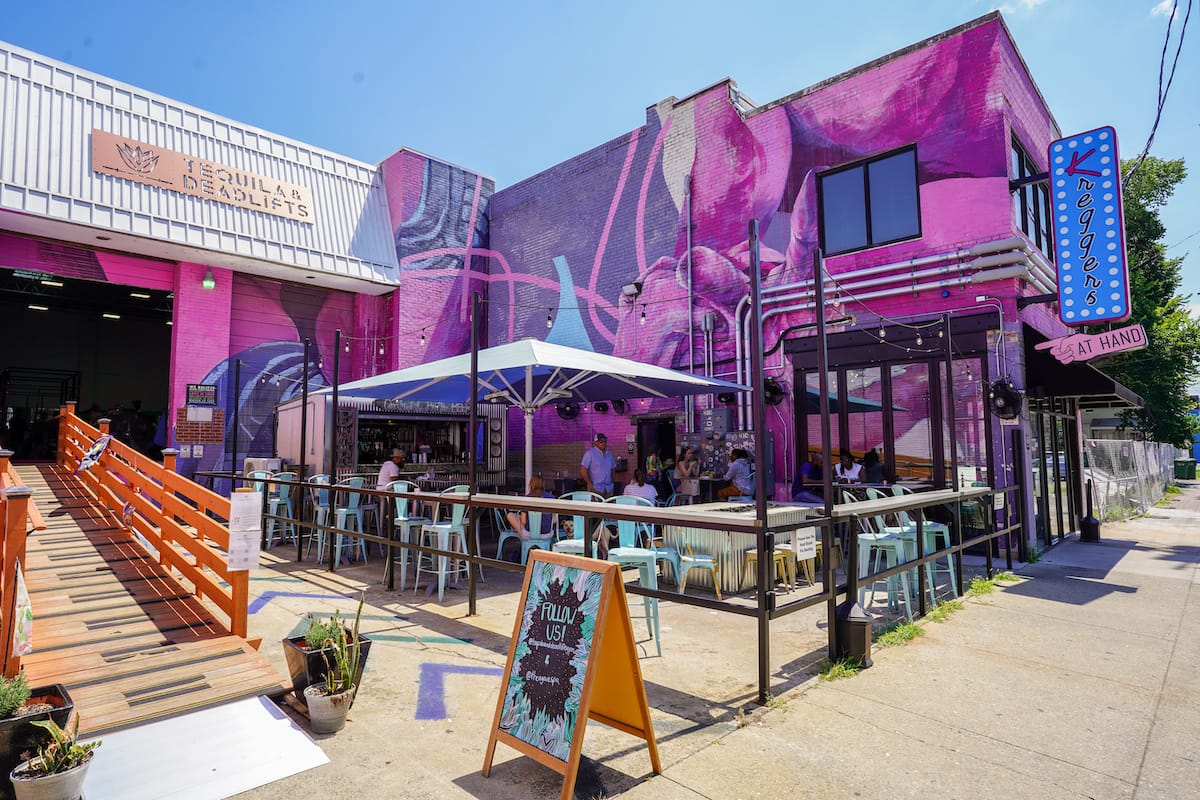 The weekly market is open from 11:00 AM – 3:00 PM and features honey, fresh produce, Irish soda bread, and many more goodies.
Carytown is also known for its murals. As you walk along, be on the lookout for beautiful street art. It was named the world's best street art neighborhood in 2013.
American Civil War Museum
The American Civil War Museum is located in three areas around Richmond and features artifacts and exhibits that showcase unique Civil War stories.
The American Civil War Museum at Historic Tredegar, along the James River, includes the Tredegar Ironworks ruins and two exhibit galleries.
For those wishing to learn more about the Civil War, slavery, and Emancipation in Richmond's historic areas, join the 1½-hour golf cart tour where your tour guide will tell stories of Richmond's fall during the Civil War.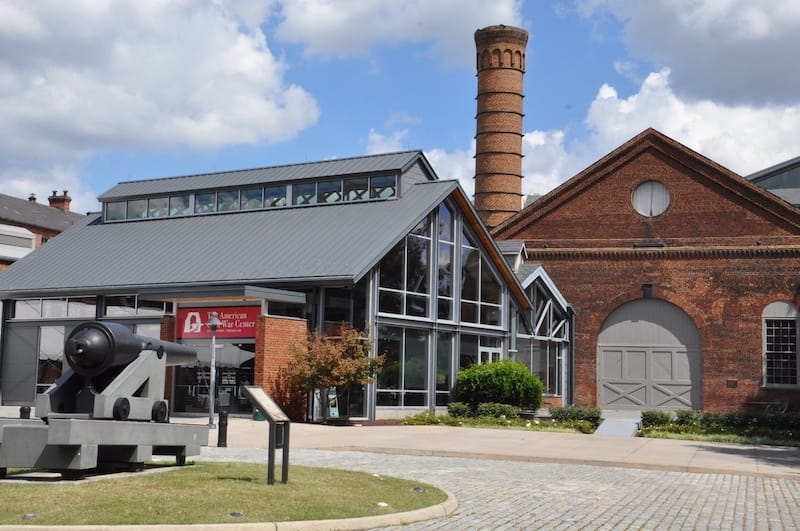 At the American Civil War Museum at Appomattox, peruse more than 400 documents, artifacts, and pictures that bring to life soldiers, missions, and life at home during the Civil War.
Address: 480 Tredegar St, Richmond, VA 23219
Take to the James River
RVA Paddlesports will help you get out on the James River.
Their rafting excursions include flat, relaxing float trips along the Upper James River and Class 3 and 4 rapids along the Lower James River.
Kayakers and paddleboarders can explore the scenic James River while improving their techniques and learning a little of Richmond's history.
Do you also want to learn to rock climb? RVA Paddlesports will take you to the Richmond and Petersburg Railroad Bridge and the Manchester Climbing Walk to work on your techniques
Grandstaff & Stein
Dinner at Grandstaff & Stein's comes with a twist. This Richmond restaurant will remind you of a 1920s speakeasy, and yes, you will need the password to enter for dinner.
Before heading out for dinner, check their Facebook page for the 1920s slang password. Saying that will get you in.
The fabulous 1920-era dressed waitstaff will take your orders and fox you one of their speakeasy signature drinks with brandy, mezcal, bourbon, and rye, while the chef fixes you a delicious dinner of pot pie, seared snapper, St. Louis ribs, or crab cakes.
Try the apple dumplings with caramel sauce or the Outer Banks rum cake bread pudding for dessert.
Address: 2113 E Main St, Richmond, VA 23223
Best Time To Visit Richmond VA
With Richmond's mid-Atlantic location, a visit to the area in any of the four seasons makes it the perfect destination, depending on what you would like to experience.
However, if you are looking for pleasant temperatures and low humidity, visiting during the spring in April and May or the fall during October and November would be the preferred travel time.
These months are also the off-season when school is in session, and the crowds are sparser.
If you don't mind a bit colder weather, a visit during December will feature beautiful festive holiday decorations, and January and February are perfect for exploring all the museums.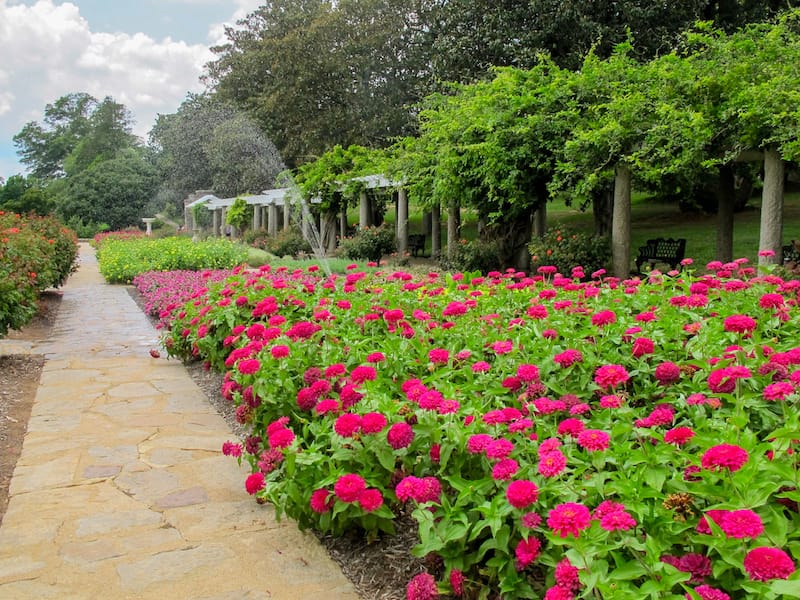 January and February occasionally bring snow to the area, but mild winter days are excellent for enjoying the outdoors.
In July through September, temperatures are often in the 80s and 90s and occasionally into the 100s with much higher humidity and heat index readings.
Most people don't enjoy being outside for long periods unless heading to the beaches.
Where To Stay in Richmond VA
Richmond is full of beautiful neighborhoods and districts to explore. Pick a hotel within the city limits to save time driving! Many are within walking distance from various tourist locations you will want to visit.
The Commonwealth (Budget)
The brightly decorated Commonwealth boutique hotel sits across the street from the Governor's Mansion and State Capitol in downtown Richmond's Capitol Square.
The hotel offers 59 suites with refrigerators and microwaves, and each showcases the work of local artisans, craftsmen, and artists.
The in-hotel restaurant Rueger's provides an array of Virginia specialties.
The convenient location is just a 12-minute walk to the American Civil War Museum and 5-minutes to the Virginia Capitol.
>> Click here to check rates and availability
Delta Hotels by Marriott (Mid-range)
The 16-story Marriott Richmond Downtown is a pet-friendly hotel along the banks of the James River. The hotel offers nearly 300 rooms, an indoor pool, a whirlpool, a fitness center, and a restaurant.
If you are looking for a quiet room, choose one with beautiful views overlooking the river and Brown's Island.
Leave your car behind and enjoy a stroll to the American Civil War Museum – Tredegar Iron Works, festivals on Brown's Island, and shows at the Altria Theatre.
The hotel also offers a complimentary downtown shuttle service.
>> Click here to check rates and availability
Quirk Hotel (Mid-range Boutique)
This lovely Richmond hotel offers you a chance to stay in a comfortable and beautifully designed room right in downtown RVA!
Guests can enjoy a wide range of cocktails at the rooftop bar, relax in the garden and terrace, and dine at on-site Maple & Pine Restaurant. They also have delicious coffee in the lobby!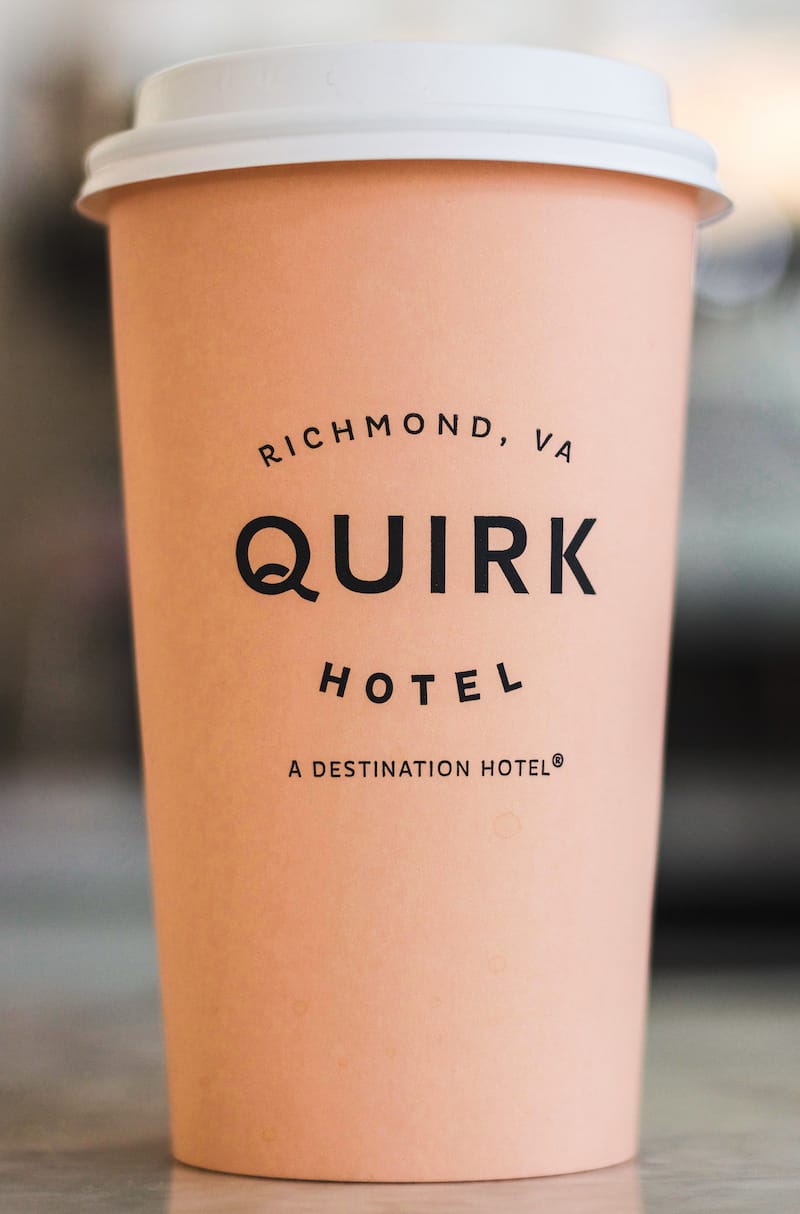 Quirk Hotel Richmond also offers its guest to see local artics work such as rotating artworks exhibits.
The rooms are equipped with all necessary amenities including cable TV, a private bathroom with bath robes, and more. The front desk works 24 hours and there is access to a fitness facility!
>> Click here to check rates and availability
The Jefferson Hotel (Luxury)
The Jefferson Hotel has been a Southern icon with impeccable service since opening in 1895.
Not only does The Jefferson Hotel have a AAA Five Diamond and Forbes Five Star rating, but it has also welcomed 13 former presidents, Elvis, Frank Sinatra, and other famous guests, through its doors.
The lobby with the sweeping Grand Staircase and stained-glass ceilings are gorgeous, along with the lavishly decorated 181 guestrooms with deep soaking tubs.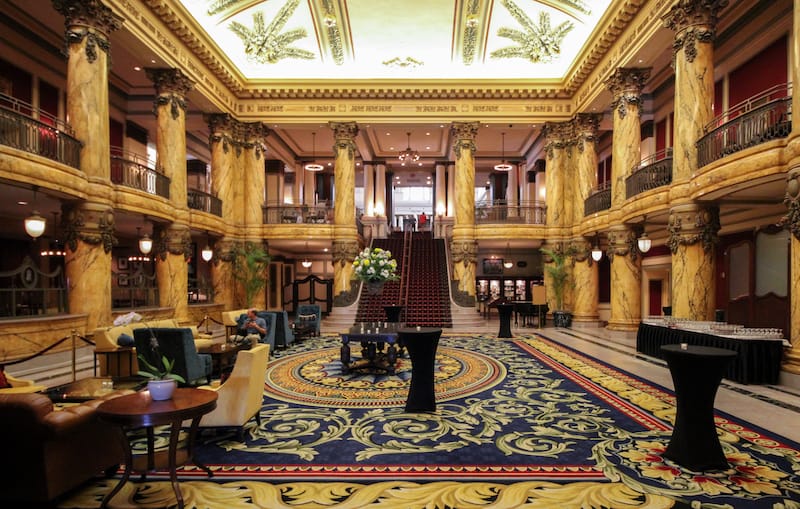 Lemaire's Restaurant features a menu of southern dishes, including fried green tomatoes and brown butter scallops.
The hotel offers complimentary car transfers to anywhere in downtown Richmond and bicycles with baskets. After a busy day exploring Richmond, return to relax with a visit to the salon, exercise room, or swim in the atrium roofed indoor pool.
>> Click here to check rates and availability
Did we miss anything on this 2 days in Richmond itinerary? Let us know your tips for a weekend in Richmond VA in the comments!
More RVA Travel Guides
Pin this Weekend Trip To Richmond VA Guide