One thing I repeatedly miss not being in Virginia during fall are the colors. This guide showcases some of my favorite places for beautiful fall foliage in Virginia.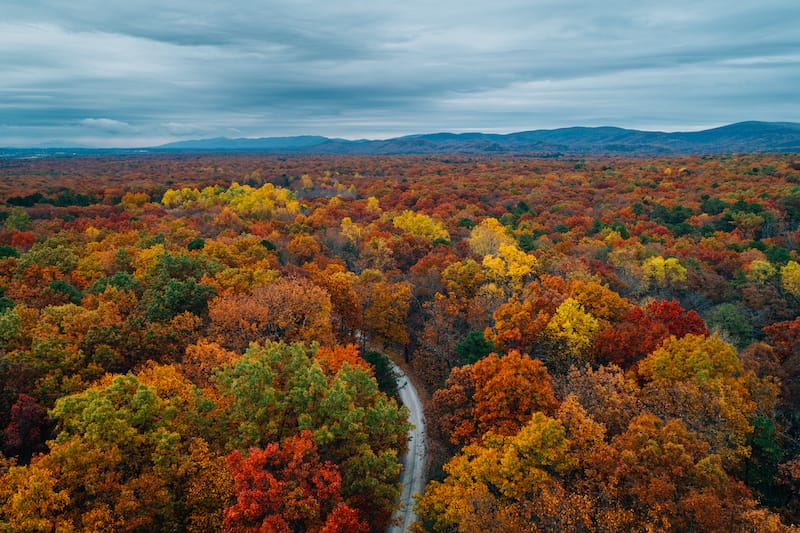 Many places on this list are the usual suspects as I have written this for those that may be visiting from out of state.
But, there are a few lesser-known places on here!
Where do you think Virginia's fall foliage shines best? Let us know in the comments your top places for leaf peeping in Virginia!
Fall Foliage in Virginia
Grayson Highlands State Park
Located near Mount Rogers and Whitetop Mountain, Grayson Highlands State Park has scenic views of beautiful peaks that rise over 5,000 feet.
A visitor center, campgrounds, and hiking trails leading to beautiful waterfalls and overlooks are all accessible facilities in the park.
Also, you'll find scenic horse walks, a horse camping area with electric and water hookups, stables, and trailer parking.
Here, visitors get year-round access to the Appalachian Trail and the Virginia Highlands Horse Trail.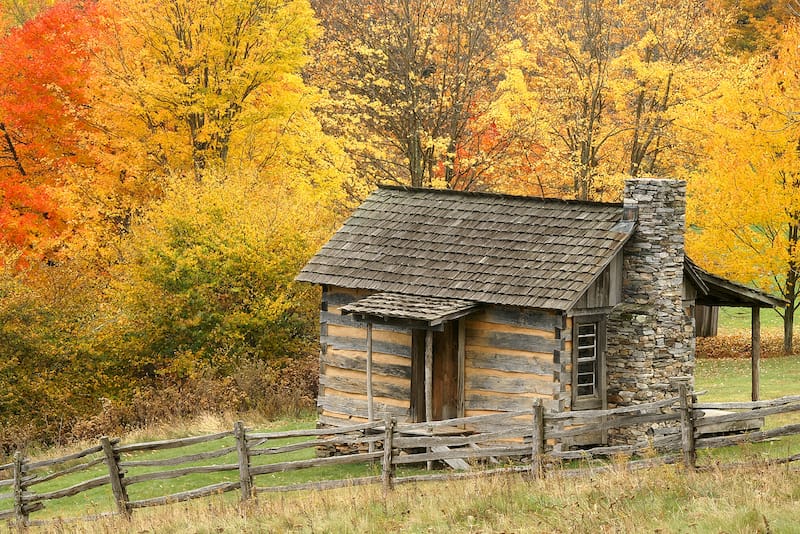 Visiting the area you can also see more than 100 semi-wild ponies roaming within the Mount Rogers National Recreation and state park. Don't get too close to these beautiful creatures and just admire them from a distance!
Also, check out the mile-long Rhododendron Trail here. It offers amazing Blue Ridge vistas, and you'll almost certainly be sharing the trail with the park's famous hoofed residents.
During fall, Grayson Highlands comes alive with color! And, there is a fall festival there!
During the end of September, the Grayson Highlands Fall Festival takes place and is a must-visit if you're around during this time!
Mount Rogers National Recreation Area
The Mount Rogers National Recreation Area is located in southwest Virginia and manages approximately 200,000 acres of National Forest close to Grayson Highlands mentioned above.
It features four Congressionally designated wilderness areas, the Virginia Creeper Trail, the Crest Zone featuring elevations over 4,000 feet, the highest elevated road in the state of Virginia leading to the summit of Whitetop Mountain, etc.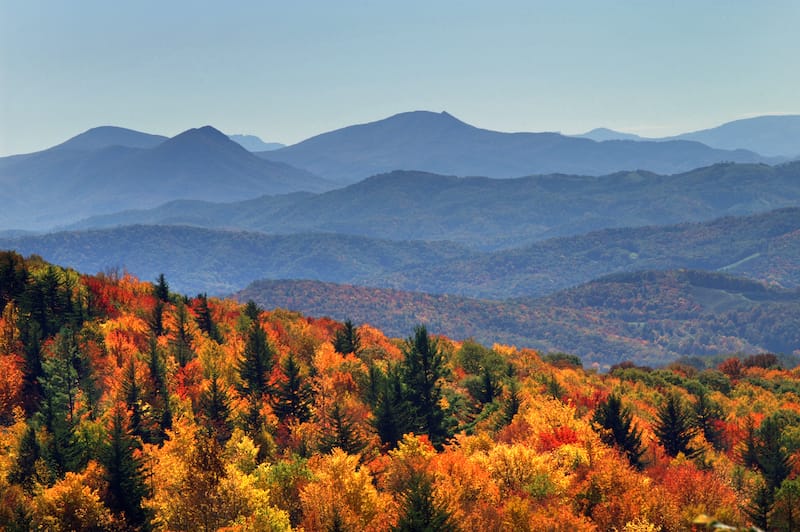 There are over 500 miles of trails in the area, including the Appalachian Trail (60 miles long), the Virginia Creeper Trail (18 miles long), and the Virginia Highland Horse Trail (67 miles long).
It's known that fall foliage is at its best in mid-October, so many visitors get here during this season.
If you want a self-guided leaf-peeping tour, get yourself on the 60 miles of the Appalachian Trail meander through the highlands of the Mount Rogers National Recreation Area, which offers views of Virginia's two highest peaks, Mount Rogers (5,729 feet) and Whitetop Mountain (5,518 feet).
Potomac Heritage Trail
The Potomac Heritage Trail is a diverse network of trails that routes through Maryland, Pennsylvania, Virginia, and the District of Columbia.
The area offers trails with varied terrain, frequently following the banks of the Potomac River through land explored by George Washington.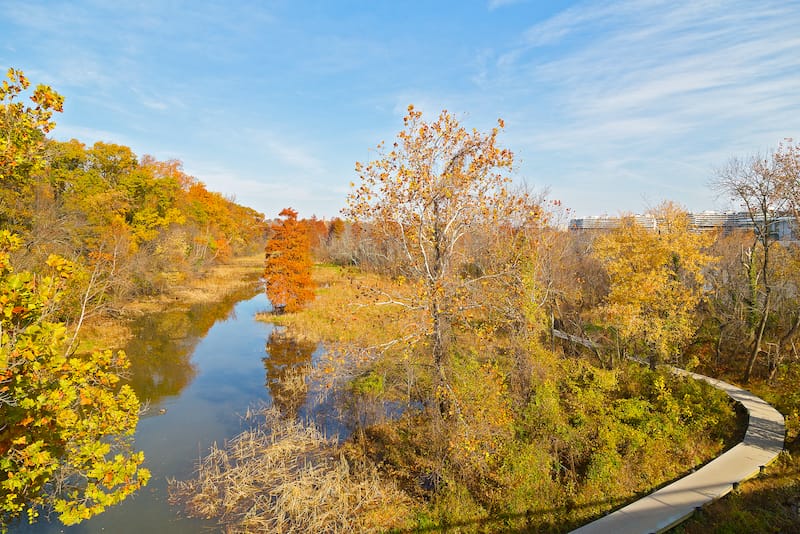 Along the trail, there are even sections of stone wall from Washington's days, and a section of the Patowmack Canal that he spearheaded. You can explore the area on foot, on a horse, on a bicycle, and even by boat.
The historic Alexandria Heritage Trail in Alexandria, Virginia, George Washington's historic estate at Mount Vernon, and the Fort Circle Parks Trail (part of Washington, D.C.'s Civil War protection system) in Washington, D.C. are just a few examples of amazing historical sites along the Potomac Heritage Trail.
The area is known for mild falls and breathtaking fall colors along the Allegheny Highlands.
The trail's southern terminus is located at the north end of the Theodore Roosevelt Island parking lot.
Potomac Overlook Regional Park, Gulf Branch Nature Center, and Turkey Run Park all have additional parking lots and trail access to the Potomac Heritage Trail.
Shenandoah National Park
Shenandoah National Park rises above the Virginia Piedmont to the east and the Shenandoah Valley to the west.
Being the only habitat of Shenandoah salamanders, the park hosts a true variety of wildlife, from black bears to tiny aquatic insects.
The best time to visit Shenandoah National Park is in the fall, especially during October when the warm colors of leaves make up some mind-blowing views.
Fall foliage fans are most likely to be left speechless after seeing the views of this area! Winter in Shenandoah sneaks up on you quickly, so be warned!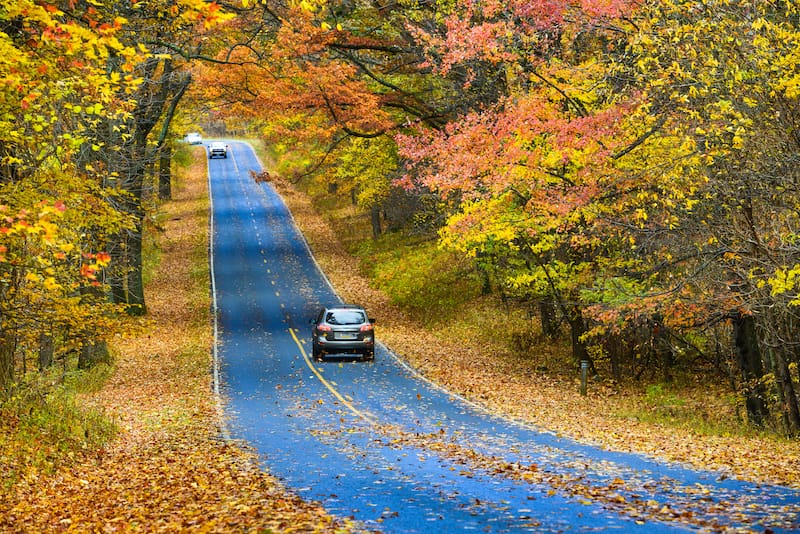 One of the best ways to enjoy those views would be to drive along Skyline Drive, a road that runs 105 miles north and south along the crest of the Blue Ridge Mountains and features 70 overlooks.
You can also hike the Little Stony Man Overlook, one of the easier trails in Shenandoah, which is just a 1-mile round trip, or if you prefer a longer walk, Old Rag Trail is recommended (you need reservations from spring until late fall, however).
It's a 9.2-mile hike filled with breathtaking views, narrow rock paths, and interesting stone formations.
If you're not that into hiking but still want to experience Shenandoah National Park during fall, head to some of the areas surrounding it!
We love the city of Luray and all of the fantastic wineries near Shenandoah!
The Priest Wilderness
The Priest Wilderness spans 5,726 acres and is part of the massive George Washington National Forest. Known as one of the wildest spots in southwestern Virginia.
Hiking enthusiasts can get to the summit of the Priest, which can be reached on the Appalachian Trail either via a short 1.5-mile climb from the Crabtree Falls trailhead or at the Tye River trailhead (a route that is one of the most grueling climbs on the entire Appalachian Trail).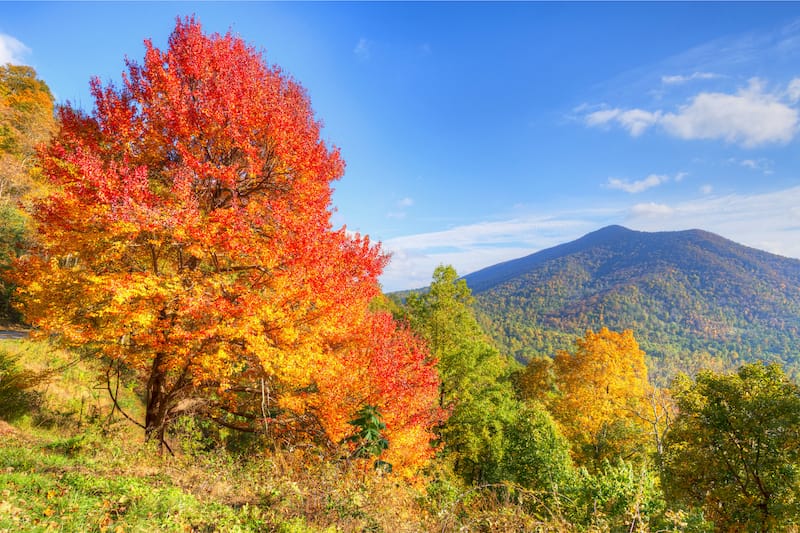 The fall color peak here takes place from mid-October to November 1st. It's the best time to enjoy the fall foliage and the views are just stunning!
From Crabtree Creek, and the color-framed outcrops of Pinnacle Ridge from the left to the Big Levels on the Blue Ridge Parkway, then Torry Ridge, then the Devils Knob and Three Ridges Wilderness. Base yourself in Abingdon, a cool place nearby!
Pocahontas State Park
Pocahontas State Park is located in Chesterfield County, nearly 20 miles from Richmond. It has easy access from Interstate 95, Route 288, and Route 360.
This is yet another amazing getaway into nature and one of the best day trips from Richmond.
Apart from offering boating, picnicking, camping, 90-plus miles of trails, the park has several famous places such as the Aquatic Center, 3 lakes that offer plenty of fishing, and the Civilian Conservation Corps Museum, which is dedicated to Depression-era workers who helped build the state park system.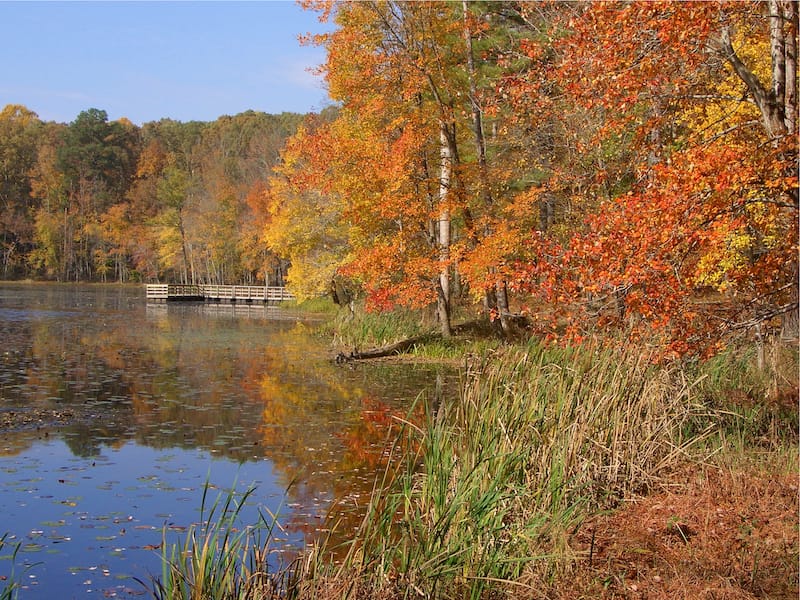 During the fall season, camping is a beloved thing to do here – it has some of the most popular campgrounds near Richmond.
Campsites that offer cozy spaces and cabin rentals can surely make up for an unforgettable weekend quality time with friends or family. Note that you can rent campsites, cabins, and yurts until the first weekend in December.
Mabry Mill
One of the most photographed places in the US, this water-powered mill in Virginia's Blue Ridge Mountains was built by Edwin Boston Mabry.
It catches the attention of thousands of visitors each year and has now become a community gathering place.
Mabry Mill is somewhat close to Roanoke (and near small Galax) and is just great for taking some epic pictures full of the fall colors in Virginia.
The area also features displays where you can explore and grasp an idea of what life was like here some 100 years ago.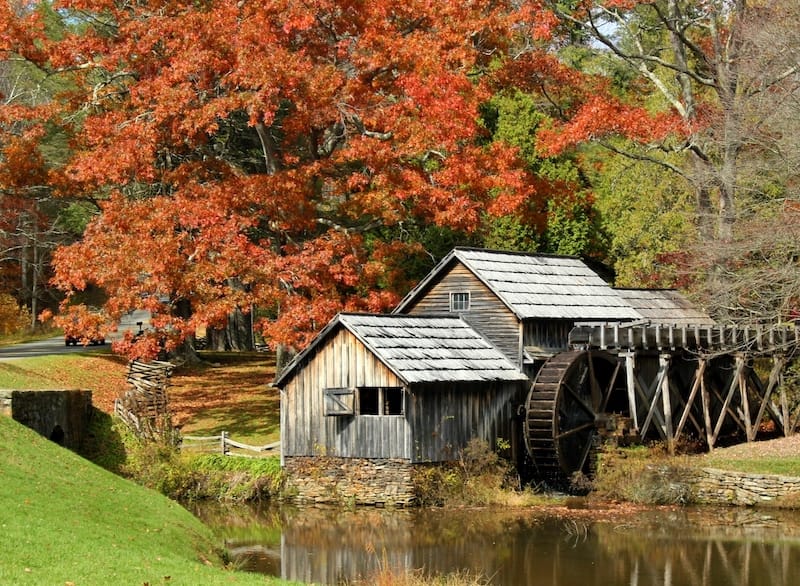 Mabry Mill is particularly known for its restaurant!. It serves a country-style menu, tasty pancakes, pot toasts, and many other meals in a very iconic and traditional environment.
For amazing Mabry Mill and Blue Ridge Parkway-inspired souvenirs, clothing, as well as some Virginia crafts and foods get to the gift shop nearby.
Hungry Mother State Park
Hungry Mother State Park is situated in Smyth County and was one of the original six Virginia State Parks.
It has beautiful woodlands and a tranquil 108-acre lake nestled in the mountains.
Here, visitors are welcomed to enjoy relaxation close to the sandy shores, rent a kayak, fish off of the fishing pier, go hiking, and take to some of VA's best biking trails.
You will also have a chance to camp there.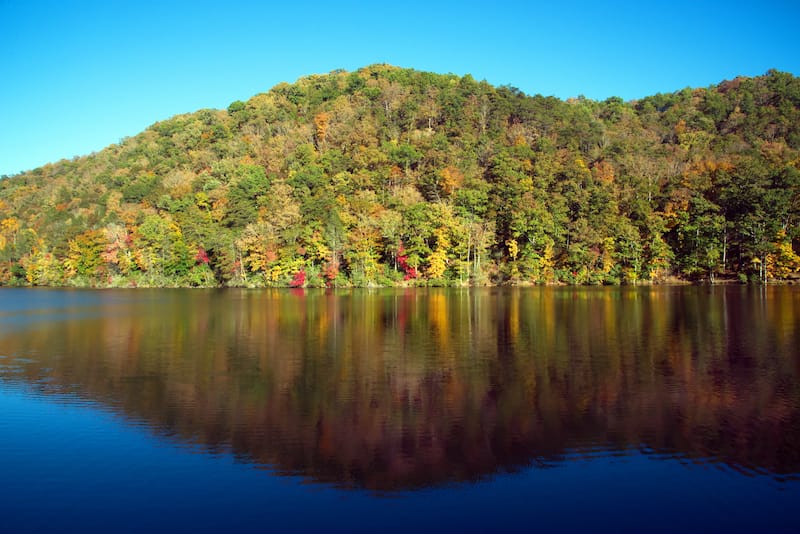 During the fall season, breathtaking vistas are guaranteed here. It's the perfect and colorful time when the leaves fall!
Driving to the park from Richmond takes five hours, from Roanoke two hours, and just 45 minutes from Bristol, VA. It's located not too far off I-81 and the quaint small town of Marion.
Alexandria
Fall is the most vivid and colorful season in Alexandria. It's the ideal place to walk historic streets while savoring the fresh air.
Besides being famous for historic houses and museums, this place is also home to over 100 notable trees, which promises an amazing fall foliage experience for tourists.
There are also plenty of apple orchards nearby!
The fall colors peak here around mid-October. You can get to one of the many parks here and spend a day leaf-peeping.
Each park has its own special and multicolored trees.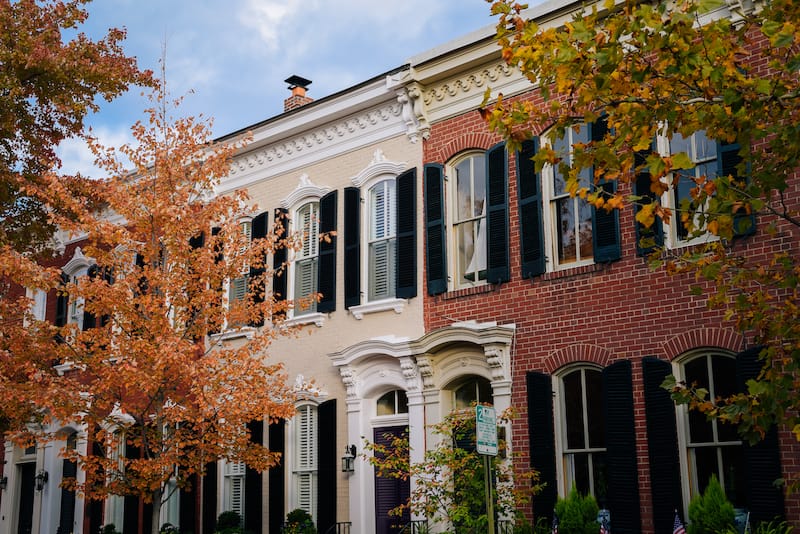 If you want to enjoy fall foliage on the go via driving, biking, or walking, get to George Washington Memorial Parkway. All the way to Mount Vernon, the path winds along the Potomac under the canopy of beautiful trees.
Once you're done, head to one of Alexandria's cozy cafes and drink a warm cup of coffee or hot chocolate.
Natural Bridge State Park
The Natural Bridge, a 215-foot tall limestone gorge, was listed on the National Register of Historic Places as a National Historic Landmark in 1988.
But, there is more to the park than the bridge!
The area's karst landscape is highlighted by beautiful forests and rolling meadows, while vistas of nearby mountains and the James River valley show nature's splendor.
This can be accessed through 7 miles of trails that include the Cedar Creek Trail leading to the Natural Bridge State Park's visitor center and to the Monacan Village and Lace Falls.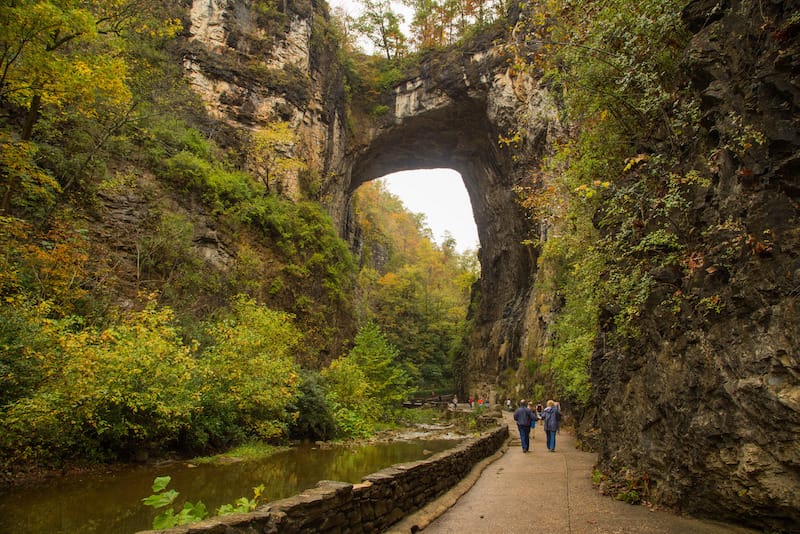 During fall, one of the best activities you can do is to rent a private cottage or lodge room to enjoy the rich colors of fall foliage and wake up to them!
The Virginia fall foliage usually arrives in mid-October, but sometimes doesn't arrive until the first week of November.
If you want to combine hiking and leaf-peeping, don't miss the Laurel Ridge Trail. The length of it is less than a mile, begins at Natural Bridge, and heads to Lover's Leap Overlook.
To get here from I-81, take exit 175 or 180A to U.S. 11 and follow signs leading to the park.
Virginia Creeper Trail
One of the premier rail trails in the US, the Virginia Creeper Trail is where you can get acquainted with the amazing native fauna and flora of the state.
Here, you'll also learn about not only the important history of the region but also the economic role the railroad played in Southwest Virginia.
Visitors can enjoy their time here while hiking, biking, or horseback riding.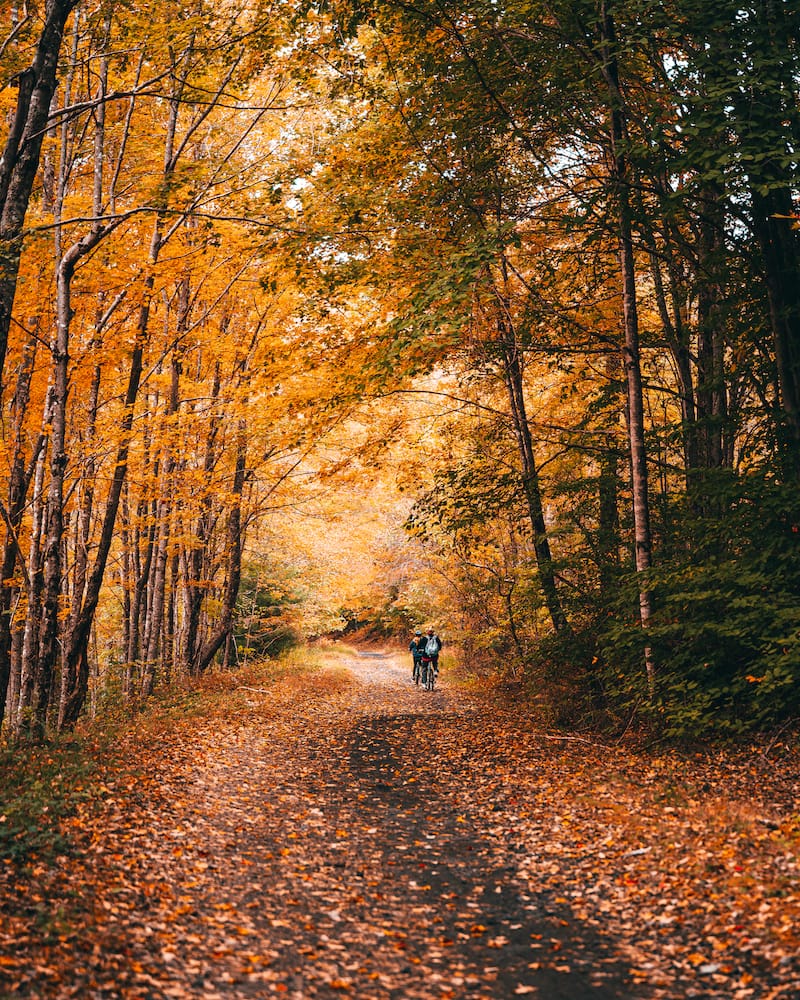 The fall foliage here is stunning and the temperatures are ideal.
Renting a bike or toting along your own, taking a shuttle to the highest point, and riding through Jefferson National Forest are the most common activities known by tourists who visit this area.
An important thing to note here is that the trail is suitable for everyone.
It's easily accessible, has various levels of difficulty, and is an excellent choice no matter if you're planning a romantic Virginia getaway or a family vacation.
This is one of my favorite places in Virginia in spring and fall both!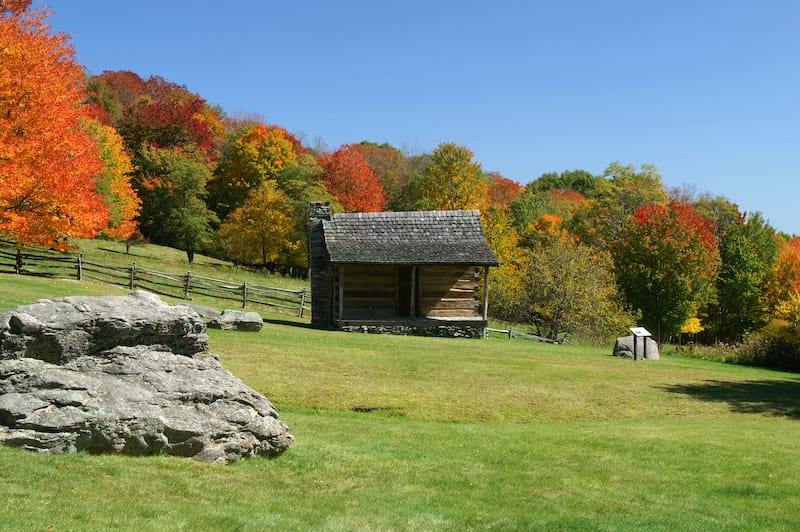 Where is your favorite place to see beautiful fall foliage in Virginia? Let us know the top places for leaf-peeping in VA that we missed! Thanks!
More Virginia Autumn Guides
Pin this Virginia Fall Foliage Guide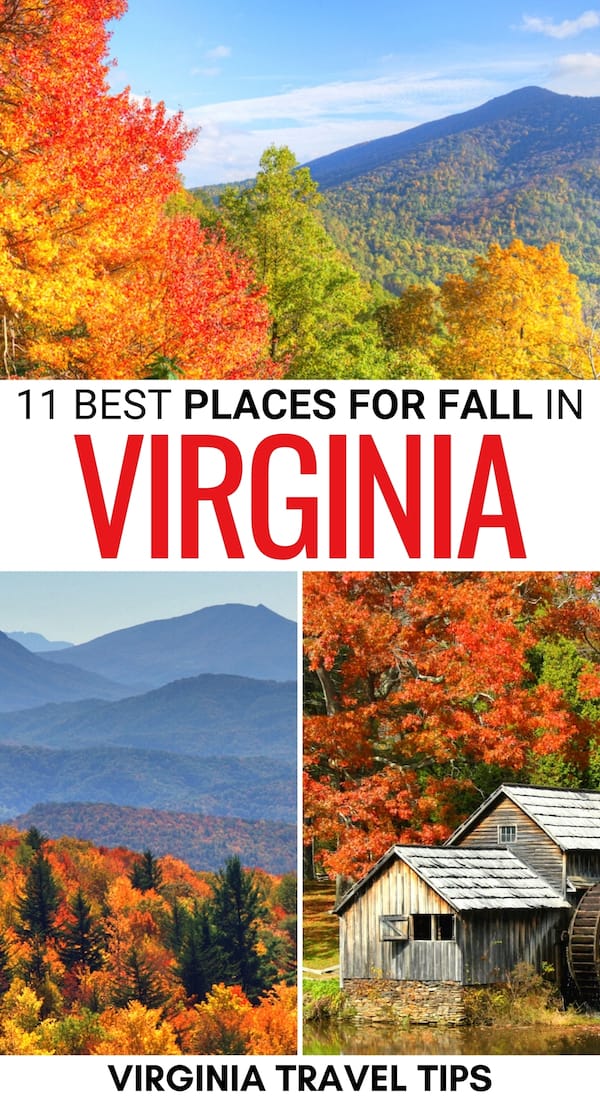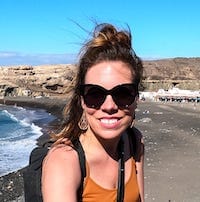 Megan is a travel blogger and writer with a background in digital marketing. Originally from Richmond, VA, she has lived all around the world (including Germany, Finland, Norway, etc) but her heart always finds its way back to Virginia. This blog is to help encourage travelers to explore the great state of VA… and its wonderful neighbors! Megan has written for or been featured by National Geographic, Forbes, Lonely Planet, Fodor's Travel, the New York Times, and more. She has visited 45 US states and 100+ countries… and wholeheartedly believes that Brunswick Stew is probably the greatest food to ever exist.