Something that many people don't know is that there are only two lakes in Virginia that are naturally formed.
However, it doesn't make the others not worth visiting! This is a guide to the best lakes in Virginia – including ones spread all across the state!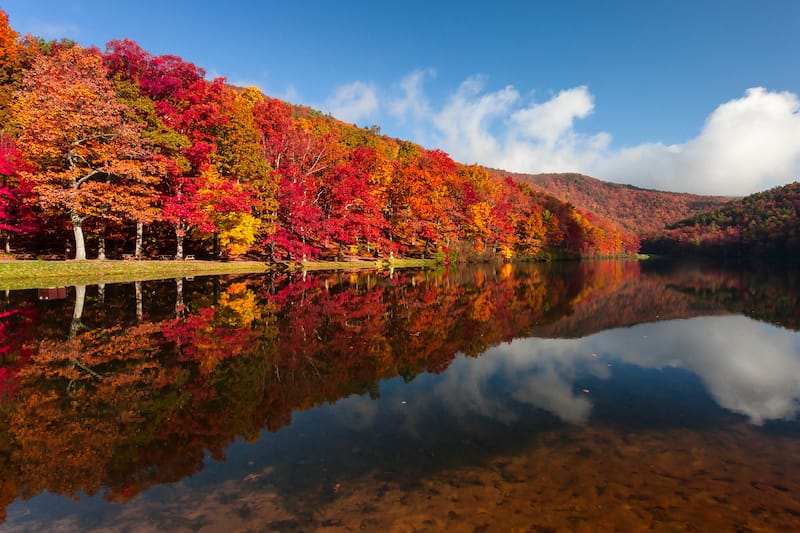 What are your favorite Virginia lakes? Let us know in the comments!
Best Lakes in Virginia
Smith Mountain Lake
Considered to be the second-largest freshwater source in Virginia, this lake has 500 miles of shoreline, making it a great spot to visit all across the state.
In addition, Smith Mountain Lake is surrounded by the Blue Ridge Mountains, so outdoor lovers of all kinds enjoy spending time at this scenic location.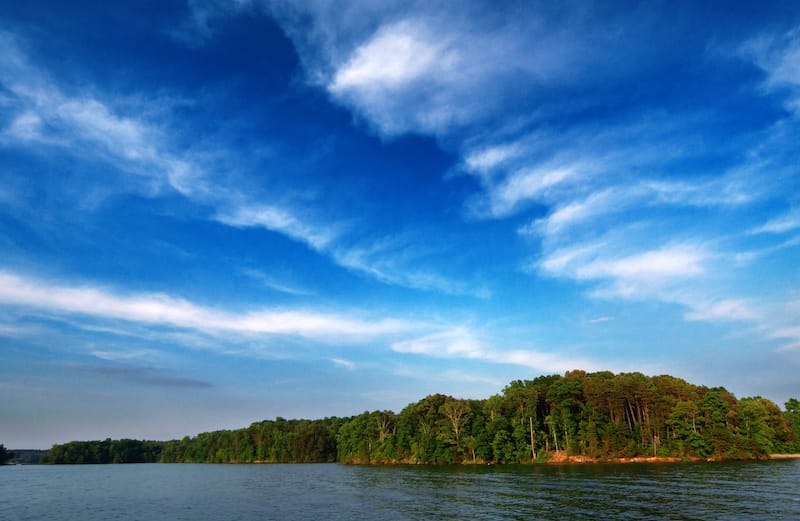 You can visit Smith Mountain Lake State Park for camping in tents or cabins, as well as to enjoy beautiful hikes and canoe trips. In the town of Moneta, you can rent boats, lakefront vacation homes, and condos.
Finally, in Pittsylvania County, it is possible to explore all the freshwater fishing and boating opportunities on Smith Mountain Lake.
Lake Anna
Lake Anna is also one of the most popular lakes in Virginia. Here, you will be able to have access to a fishing pond, boat launch, camping cabins, and so much more.
In addition, the lake is close to 15 miles of trails for hiking, biking, and horseback riding. With so much to do at Lake Anna, it is easy to see why families and people of all ages enjoy spending the warm summer months here cooling off.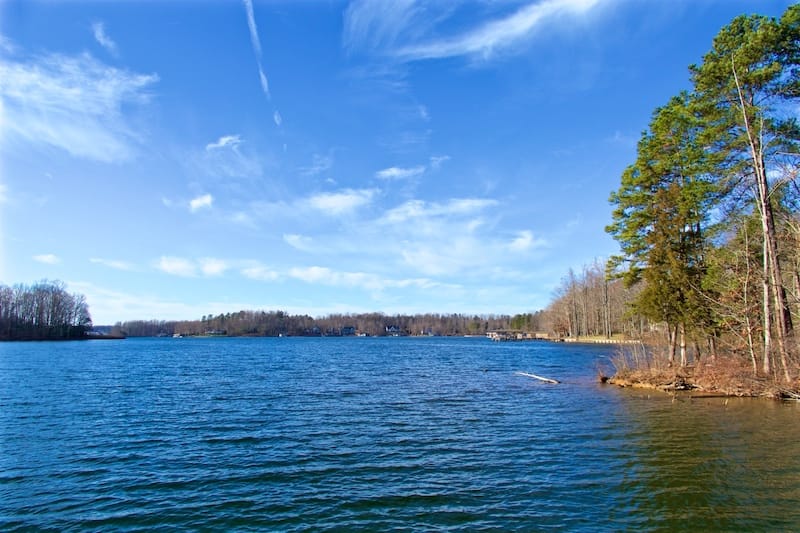 You also will get the opportunity to go on a guided tour of the nearby Goodwin Gold Mine.
Lake Gaston
Located right on the border between Virginia and North Carolina, Lake Gaston is a favorite vacation spot of many. Some of the activities that people enjoy here include fishing, boating, swimming, water skiing, and wakeboarding.
Since it is in close proximity to the Research Triangle region of North Carolina, you won't have any trouble finding Lake Gaston or enjoying all the activities it has to offer.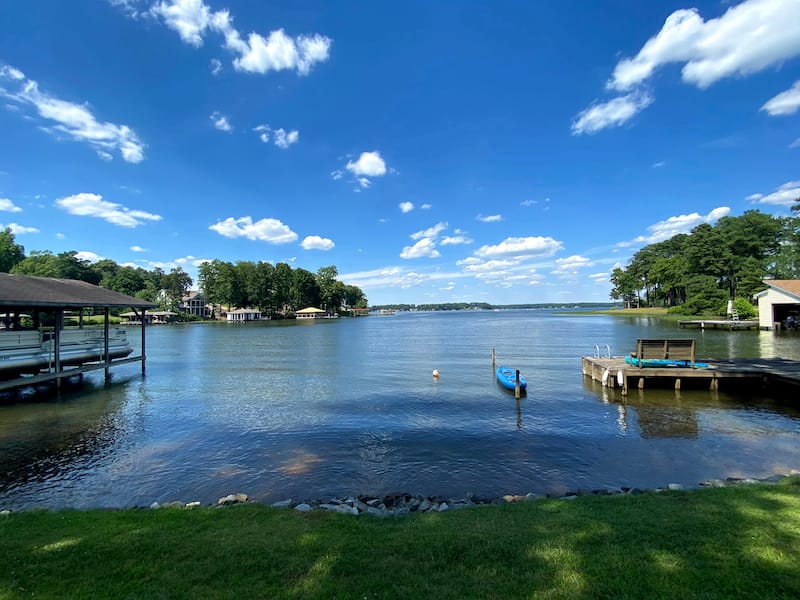 The large lake is the perfect spot to cool off in the hot summer. It is the perfect day trip from Richmond and Raleigh both!
Claytor Lake
Claytor Lake is a stunning sight to visit for watersports such as powerboating and sailing. Fishing is also a popular activity due to the varieties of fish that call the lake home.
You can also check out the hiking trails, swimming, camping, and cabin sites. Swimming is available between Memorial Day and Labor Day, and visitors have access to three miles of hiking trails all year.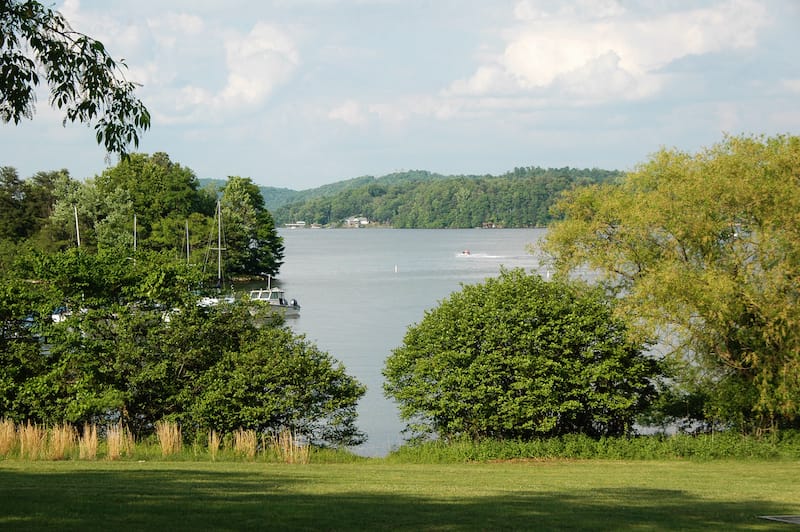 Picnic areas are available for families. You can also check out some of the tours and programs dedicated to nature here.
Cavitt's Creek Park
Cavitt's Creek Park is home to a 54-acre lake that promises to be a quiet retreat for anyone who enjoys outdoor activities.
Here, you will be able to partake in a wide variety of activities, such as hiking, camping, fishing, bird watching, and simply relaxing. At the park, you will also gain access to tent sites with water, RV campsites, cabins, and fully equipped showers and restrooms.
You can also rent out kayaks and paddleboards for more fun. Keep in mind that you will need a Virginia fishing license if you want to go fishing.
Philpott Lake
This reservoir, which extends throughout Franklin, Henry, and Patrick counties of Virginia, is a gorgeous sight to visit any time of the year. It is located near the Blue Ridge Mountains, providing stunning views at all times.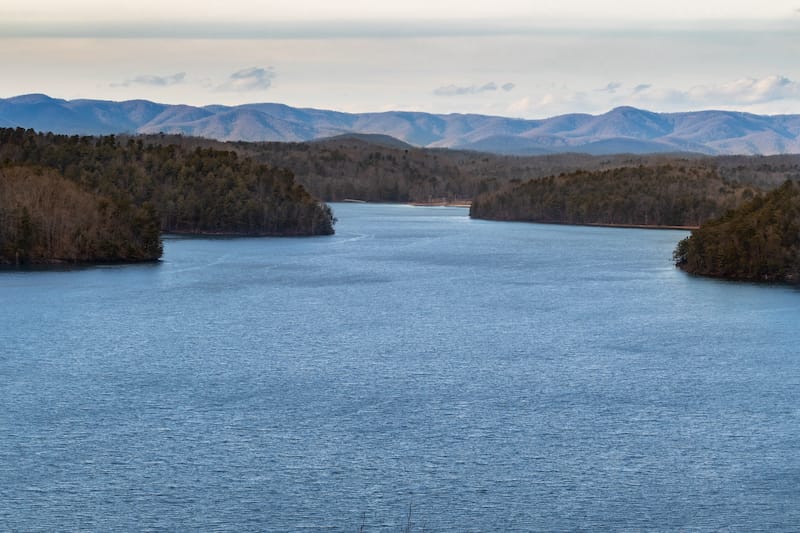 With the hundreds of miles of shoreline, any visitors will be able to enjoy activities such as boating, fishing, hiking, picnicking, and camping. Philpott Lake offers many facilities, such as boat ramps and observation platforms, to make your trip more convenient and exciting.
Mountain Lake
Mountain Lake, a freshwater lake in the Appalachian Mountains of Virginia, is definitely not a site to miss if you wish to visit the state's lakes. It is actually one of Virginia's only natural lakes.
As many efforts are being made to preserve the lake, you can trust that there is a lot to do here to increase tourism.
For example, near the lake you will be able to see the old stone hotel that was featured in Dirty Dancing, check out the various activities offered at the Mountain Lake Lodge, dine at delicious restaurants, go on relaxing nature walks, and so much more.
South Holston Lake
Located right between Tennessee and Virginia, South Holston Lake is a popular site for fishers and anglers alike due to the vast variety of species it boasts.
Black bass, bluegill, walleye, and catfish are only a few of the many species of fish that you will be able to catch here.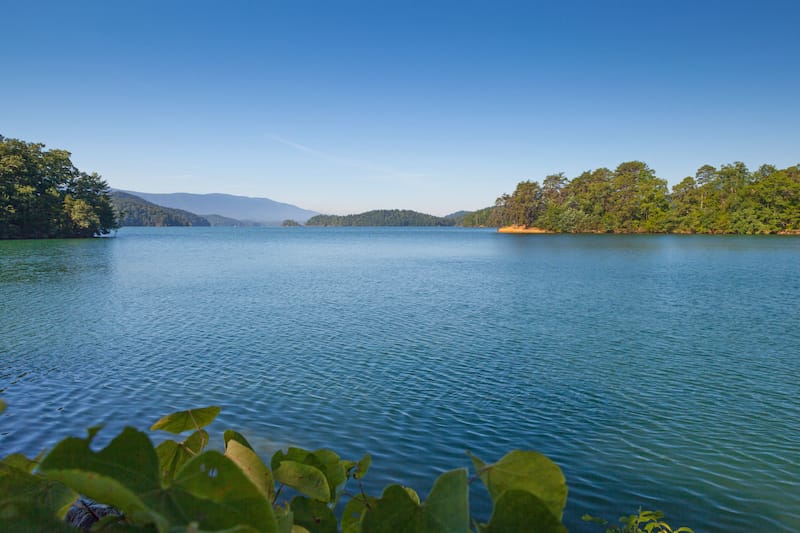 In addition, there are tons of events throughout the summer for fishing and boat racing, so if you enjoy spending time on the water, this is the place for you.
And the most spectacular of all is the fireworks show every year in honor of July 4, which can be seen all around the lake. It is one of the best things to do in Bristol if you're looking to escape the town for a bit.
Lake Moomaw
Lake Moomaw is located right in the Alleghany Highlands and home to warm water and cold-water fish. Trout and bass are the most common fish that you will encounter if you choose to go fishing here.
Aside from fishing, you can check out the picnic amenities, boat ramps, and campgrounds, so you can get a lot out of a nice trip in nature.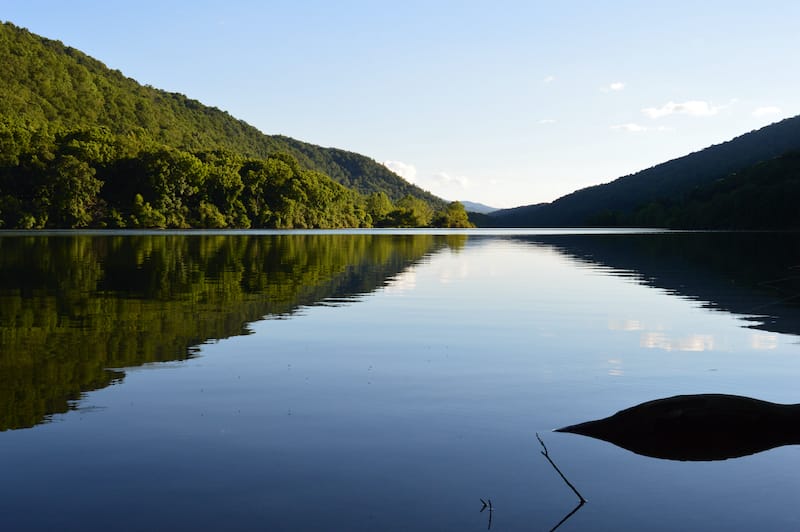 It's the perfect spot for families, and it's handicap accessible, making the lake an even better site to check out.
Cave Mountain Lake
Cave Mountain Lake, located right in the Blue Ridge Mountains, is home to 28 open campsites and 13 first-come, first-serve campsites.
They all include picnic tables and the amenities that can make your trip even more enjoyable. You also will get access to the beach, birding activities, fishing, hiking, trails, and wildlife viewing.
It's a great place for anyone who enjoys spending time right in the heart of nature.
Lake Drummond
This freshwater lake located between Virginia and North Carolina is the only other freshwater lake in the state after Mountain Lake. It's the site of several folktales and Native American traditions.
But, Lake Drummond has so much to offer visitors, including canoeing and kayaking. Families particularly enjoy going out on a boat to explore the lake, as well as make use of the many opportunities for birdwatching.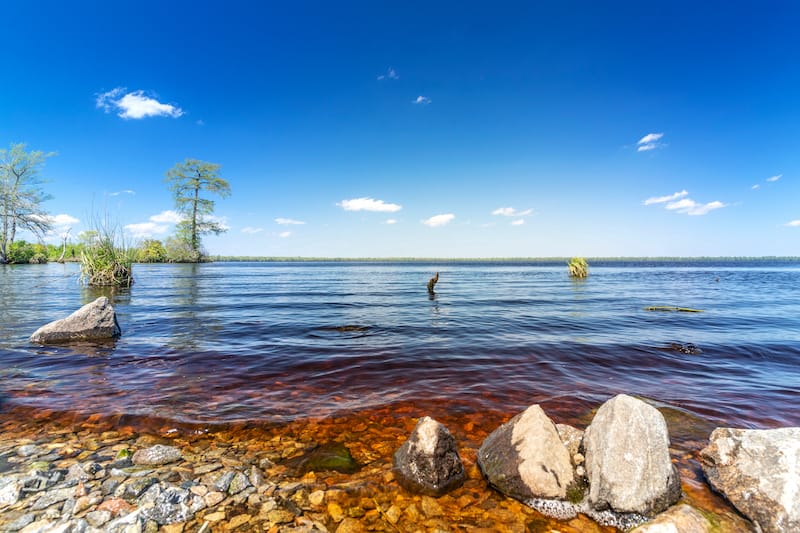 The lake has a low pH, limiting the species of fish that are available, but that doesn't stop avid fishers from making use of what the lake has to offer. There is a rustic campsite here that offers gorgeous views and privacy, too.
One of the best things about Lake Drummond is that it is in the center of the Great Dismal Swamp!
Lake Chesdin
Home to tons of fishing opportunities, Lake Chesdin is the ultimate site to see for anyone who enjoys waterside activities. There is a public boat ramp, fishing pier, rental boats, picnicking sites, and so much more to see here.
With the variety of fish here, you won't have any lack of fishing opportunities during a visit to Lake Chesdin. It's also home to campgrounds that offer jet skiing, water skiing, canoeing, and kayaking.
In addition, the Lake Chesdin Campground has a playground for children and a sandy beach for a fun day in the sun. If you're looking for a weekend trip from Richmond that is close but a good escape, this is a fantastic option!
Buggs Island Lake
Virginia's largest lake is not one to miss! With more than 50,000 acres of fresh water and 800 miles of shoreline, you can imagine that there is no shortage of activities to partake in.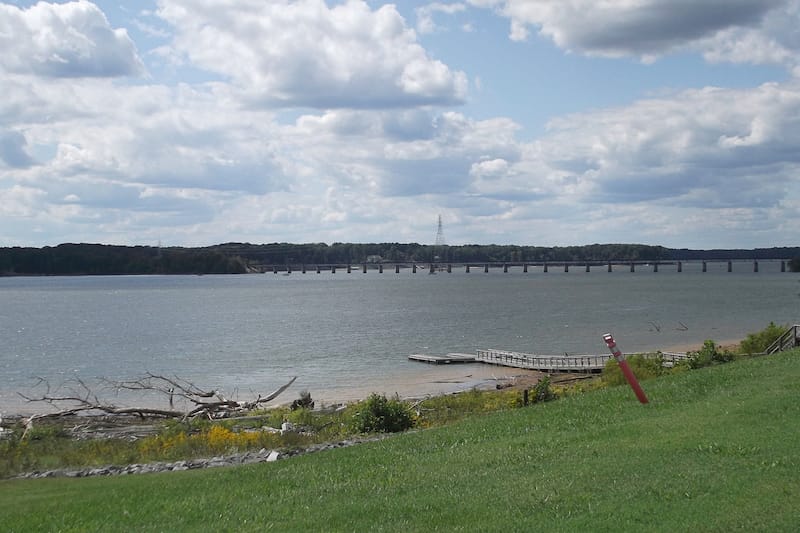 You can go boating, water skiing, fishing, sailing, and swimming, and the lake offers plenty of sites for camping, hiking, bicycling, hunting, and fishing. In addition, it's considered to be the number one Crappie fishing lake in the US.
Don't miss the chance to enjoy Buggs Island Lake for the perfect escape!
Lake Keokee
Lake Keokee is a popular spot in Virginia for fishing multiple species, including largemouth bass, redear sunfish, channel catfish, and bluegill.
The 92-acre lake is also surrounded by lovely woods, which also offers plenty of opportunities for adventure outside of fishing. For example, the lakeshore loop trail is a great spot for wildlife walking, picnicking, and hiking.
The picnicking sites with grills can enable you to relax as a family or take a rest after a long day of fishing.
Lake Arrowhead Recreation Area
Right in the beautiful Lake Arrowhead Park, you can check out Lake Arrowhead Beach, which offers white sandy beaches and picnic shelters.
The 34-acre lake is home to many activities, such as fishing, nature trails, kayaking, and canoeing. It is is open between Memorial Day and Labor Day, and the park is open from sunrise to sunset every day.
It's the perfect site for anyone who loves recreational activities and fun in the sun.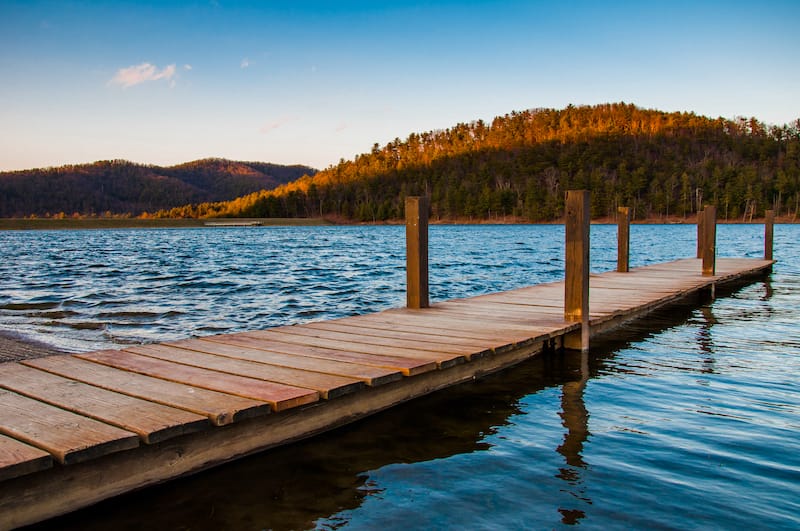 Wise Lake Reservoir
The Wise Lake Reservoir, also known as the Bear Creek Reservoir, is a popular venue for picnicking, kayaking, and wildlife watching. It's a stunning vacation spot no matter what time of the year it is!
For example, in the summer, you can check out the walking trails around the reservoir, as well as the many species of birds that visit for the season.
If you enjoy birdwatching, you'll be able to come across many unique species all throughout the year. In addition, there are so many unique reptiles and amphibians that call this reservoir home, making it the best location for naturalists to explore.
Sherando Lake
Known to locals as the jewel of the Blue Ridge Mountains, Sherando Lake offers plenty of points of interest for people to enjoy, including a shady and wooded area for picnicking and sandy beaches for relaxing.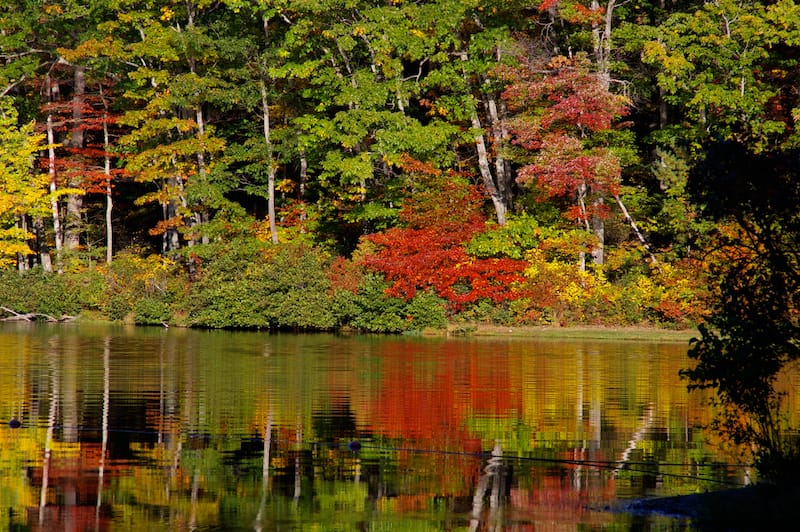 There are multiple trailheads and sites of architecture to check out whether you're with your family, a group of friends, or on your own. The open season is between April 1 and October 31, and you'll never run out of relaxation and enjoyment at this stunning Virginia lake.
Stonehouse Lake Park
Stonehouse Lake Park is the perfect place if you want to get away from everything and relax in a quiet, tranquil spot. It is located in the small Virginia town of Amherst and is the perfect family vacation spot.
The 41-acre watershed lake is only open for fishing, and you can also gain access to the lake via the boat ramp, but no gas-powered boats are allowed.
For families, the park offers a picnic pavilion, grills, and playing areas, which makes it a great place to relax and enjoy the day.
Lake Fairfax Park
For fun-loving people, Lake Fairfax Park is the best place to be in the northern part of the state! You can cool off at the water park or take the children out for a day of activities.
Here, you will have access to a waterpark, carousel, picnic areas, campgrounds, trails, a playground, and so much more. The Water Mine is a fan favorite with the water park, lazy river, and water play activities.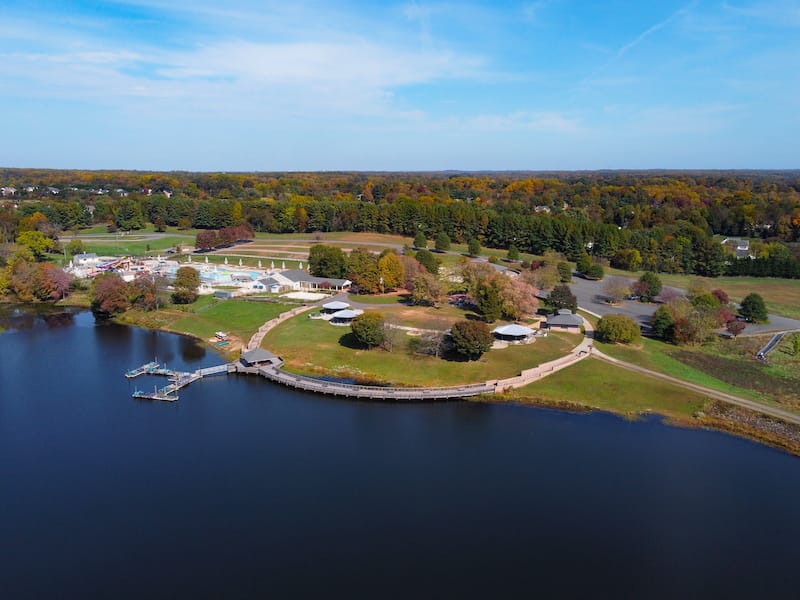 You can also visit the park to take part in festivals, such as Lollapalooza and HFStival. It is a fantastic weekend getaway in Virginia for families.
Lone Star Lakes Park
You'll never grow bored during a trip to Lone Star Lakes Park! Packed with all kinds of activities, no matter what you're interested in, there are plenty of things to do and check out.
Some of the amenities and activities that you can do at the park include a 3D archery range, boat ramp, canoeing, crabbing, fishing, picnicking, and hiking trails.
The park also offers a four-mile horse trail, model airplane flying field, and picnic areas with tables and grills to make you and your family feel at home.
Did we miss any of your favorite lakes in Virginia in this post? Let us know the Virginia lakes that deserve to be listed here in the comments. Thanks!
Pin this Virginia Lakes Guide