Are you on the hunt for the best places to visit in Tennessee for your upcoming trip?
This guide details some of the coolest destinations in Tennessee – from large cities to historical landmarks to some of the nation's most prized natural spots!
Tennessee truly has it all. The culture is deep-rooted, the nature is pure, and the people are hospitable! We hope that you find some of these places in Tennessee worthy of being put on your itinerary!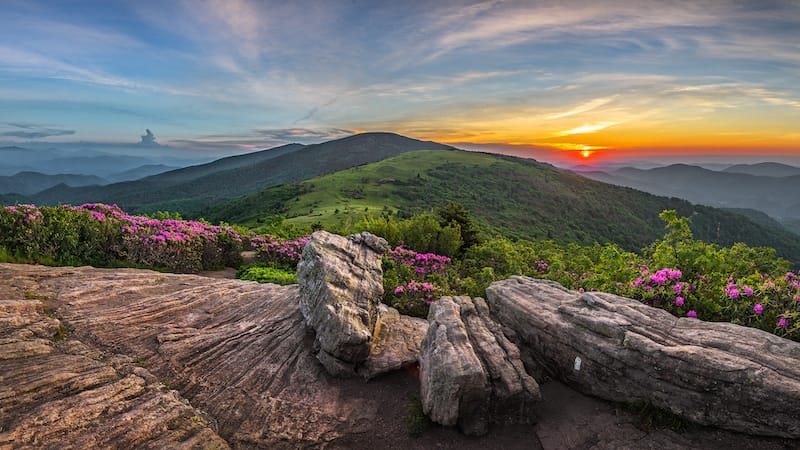 Let us know the top places that you think should be on a Tennessee bucket list in the comments!
Tennessee Bucket List Destinations Map

To add this map to your Google Maps account, click the 'Star' icon next to the map name. You can then view it on your cell phone or computer by heading to your Google Maps account, click the menu and add it to 'Your Places'.
Best Places to Visit in Tennessee – The List
1. Knoxville
Located in the eastern part of the state of Tennessee on the Tennessee River, Knoxville has a lot to offer its visitors all year round!
Knoxville is well-known for its delicious Southern food, a lovely and historically renovated downtown, and an enthusiastic sports culture that unites sports lovers from all around the US.
Also, if you are visiting Knoxville then you have an excellent opportunity to take a road trip to Great Smoky Mountains National Park since it is located only one hour away from the city.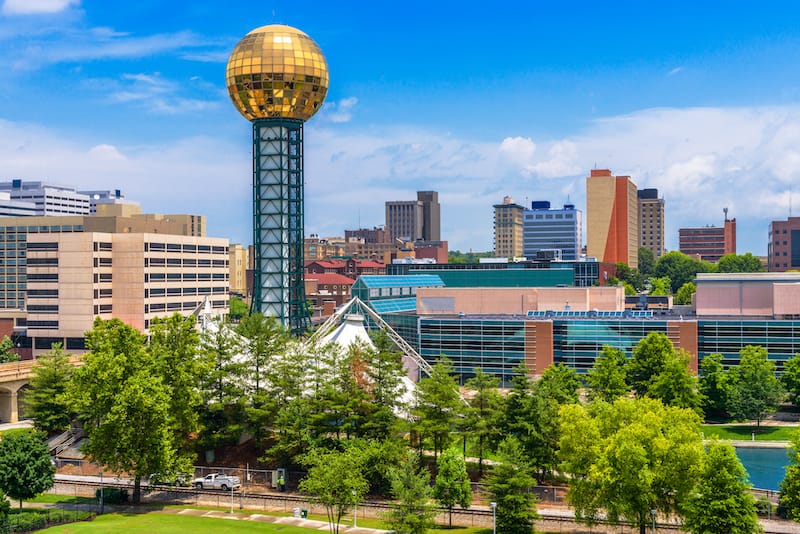 When you're in America's most-visited national park, you can find a wide range of activities like hiking, biking, kayaking, and of course, photographing the wonderful nature.
There are many attractions in Knoxville that you can visit such as popular places like World's Fair Park at the Sunsphere building, the Tennessee Amphitheater, pedestrian Market Square where you'll find colorful historical buildings and many lovely cafes and shops, the Women's Basketball Hall of Fame, and much more!
2. Memphis
The city of Memphis is located in southwestern Tennessee and is a huge hub for rock 'n' roll, blues, hip-hop, and soul music.
Famous Sun Studio legendary artists like Johnny Cash, Elvis Presley, BB King, and more recorded their masterpieces in the city. Memphis is also home to Graceland and it attracts heaps of visitors annually!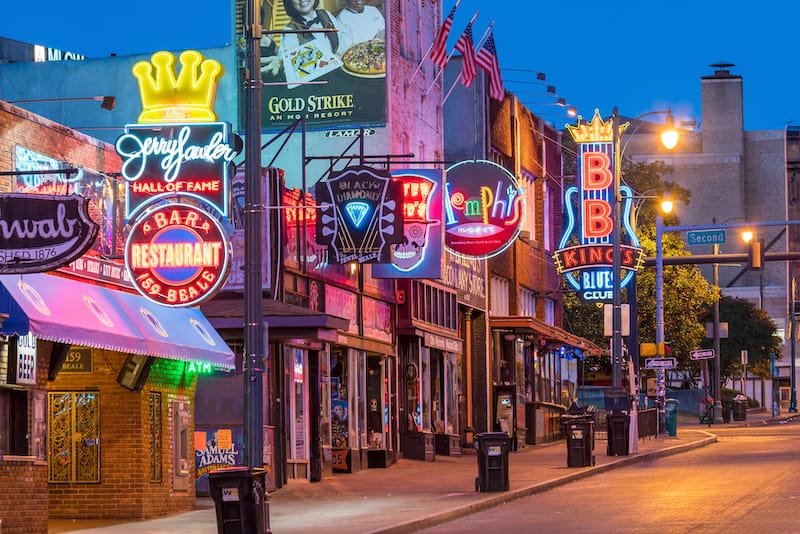 Memphis is also a great place for food lovers because the city can offer you one of the best barbecues in the state – so be sure to try some delicious Memphis BBQ when you're there! It is a must for any itinerary!
You can also visit the STAX Museum of American Soul and Rock 'n' Soul Museum to dive more deeply into the city's musical history and learn more about it.
There are so many things to do in Memphis that everyone will fall in love with the city!
3. Nashville
Nashville is the capital of the state of Tennessee and was founded in 1779 and is one of the most popular destinations for country music in the United States.
It is where you will find the famous Country Music Hall of Fame which is located in one of the most well-known parts of the city in Music Row. This is also where you will find the famous Grand Ole Opry House.
Nashville has many other beautiful and great attractions to visit and one of them is the Nashville Parthenon, a reproduction of the Athens Parthenon.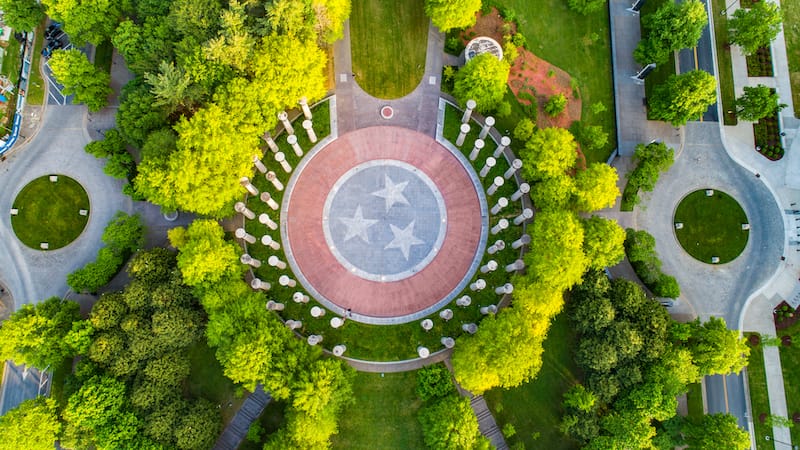 An essential thing to do in Nashville is to indulge in some of the famous Nashville hot chicken – a very typical local treat that is fried chicken with tons of cayenne in the seasoning. It is the perfect warming dish for winter too (if you like things spicy)!
Head to Prince's Hot Chicken Shack, the place that is regarded as original hot chicken (although it is thought that Nashville's African-American community actually has been preparing this style of chicken for generations).
Need more tips? Check out our guide for how to spend an epic weekend in Nashville!
4. Chattanooga
Located on the Tennessee River close to the beautiful Appalachian Mountains, Chattanooga is the state's largest city in the southeastern corner of the state close to the border of Georgia.
Chattanooga is renowned for Ruby Falls, the largest underground waterfall near Chattanooga… and in the entire United States! It is also famous for being home to one of the country's most famous and largest military parks, Chickamauga & Chattanooga National Military Park in the country.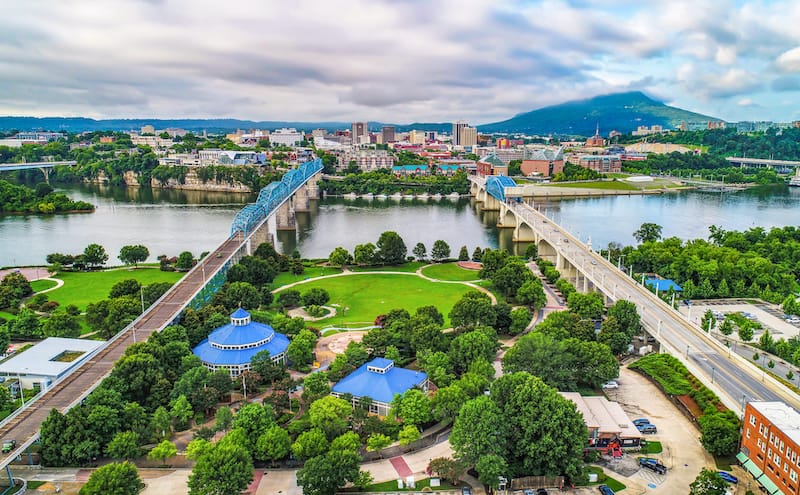 Chattanooga is one of the best places to visit in Tennessee and is also famous for being close to the world's steepest incline railway called Lookout Mountain Incline Railway.
Another popular place in the city is the small neighborhood called Bluff View Art District.
Another interesting place to stop by in Chattanooga is the Tennessee Valley Railroad Museum. You will have the chance to see how to explore deeper into the history of the railroad in the state, dating back to the beginning of the 20th century.
Another reason to visit the city? There are so many cool places to go hiking near Chattanooga – seriously, you will be amazed!
5. Gatlinburg
One of the most beloved places to visit in Tennessee is Gatlinburg, the gateway to the gorgeous Great Smoky Mountains National Park.
Gatlinburg is also famous for having an observation tower called the Space Needle which is 407 feet tall, which is essential for any weekend itinerary!
You'll also find the Sky Lift, an aerial cable car with a length of 2.1 miles that connects Gatlinburg's downtown to the Ober Gatlinburg ski resort and amusement park.
If you're seeking something unique and interesting to do, be sure to visit the Salt & Pepper Shaker Museum where you can see more than 20,000 different salt and pepper shakers.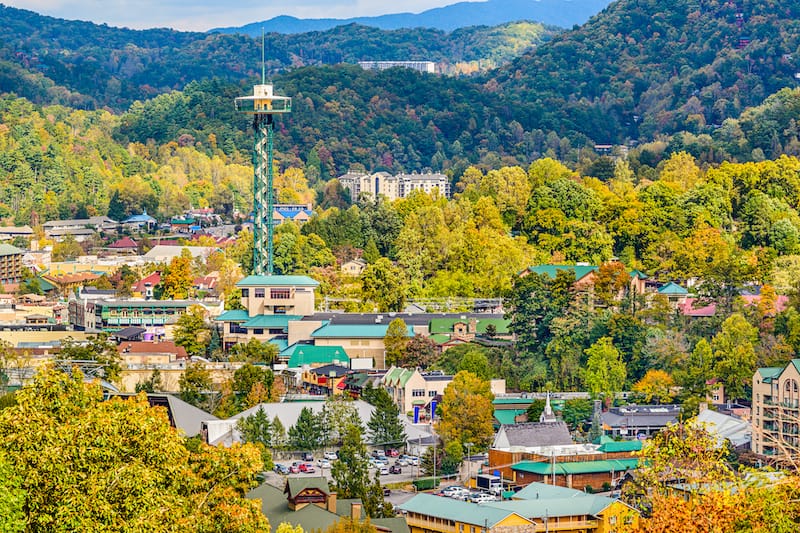 Another great attraction in Gatlinburg that will keep you entertained is the Anakeesta theme park where you can hike near and on rock formations in the Smoky Mountains, walk on the tree canopies that are connected to each other and located 60 feet above the ground, and much more.
Movie buffs can visit the Hollywood Star Cars Museum where you can see more than 60 different types of famous cars from iconic movies like the Batmobile (from the 60s), and more!
One thing you'll love about the city is that it is a great place to visit any time of the year. Gatlinburg is pretty in winter and also remarkably beautiful in every other season!
6. Pigeon Forge
The Tennessee mountain town of Pigeon Forge is one of the best vacation destinations in the eastern part of the state.
Pigeon Forge is the home of Dollywood, an Appalachian theme park where you can have a blast and ride roller coasters, enjoy water slides and parks, and see the Museum of Dolly Parton that showcases her costumes.
Pigeon Forge is also famous for other attractions like the Smoky Mountain Opry which is a country music venue, Dolly Parton's Dixie Stampede (a famous dinner theater), and more.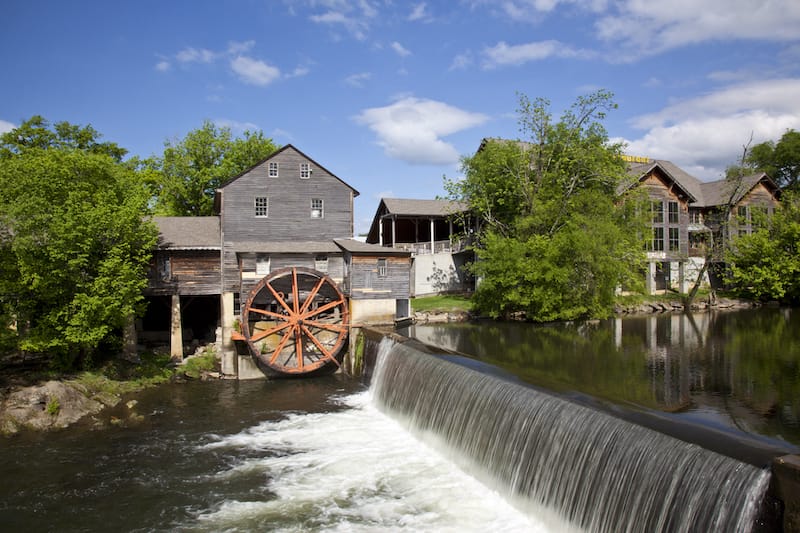 Another cool thing to do in Pigeon Forge is to take a ride on the Great Smoky Mountain Wheel that was built on the island there – it is a great attraction for both adults and kids!
During your visit to Dollywood, make sure you try the world-famous cinnamon bread at The Grist Mill. You can even see how it is made!
There are also plenty of cabins nearby if you're planning on turning this into a romantic escape with your loved one.
7. Great Smoky Mountains National Park
One of the best places to visit in Tennessee (and North Carolina) for nature lovers is definitely the Great Smoky Mountains National Park in the eastern part of the state.
Great Smoky Mountains National Park is the most visited national park in the United States and even outranks Yellowstone National Park and Zion National Park with its 12m+ annual visitors!
The gorgeous and spacious national park is known for its diverse animals, ancient mountains, and miles upon miles of forests. It is beautiful in every season, including winter!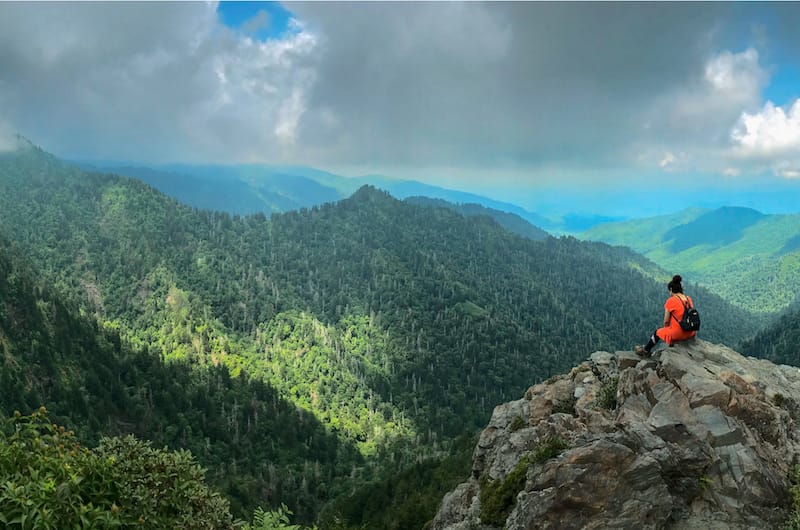 The Tennessee National Park has many stunning natural and historical sites like Cades Cove, an isolated valley surrounded by mountains and colorful forests, camping sites, and hiking trails.
The Great Smoky Mountains Railroad historical railway is a place where you can take an old train around, a perfect activity for children and families.
The Great Smoky Mountains is the perfect weekend getaway from Nashville and other places in Tennessee (and outside of the state)!
8. Graceland
Spanning over 13.8-acres, Graceland is one of the most famous landmarks in the state of Tennessee. It used to belong to the King of the Rock 'n Roll, Elvis Presley, and since 1977, it has been in the possession of his daughter.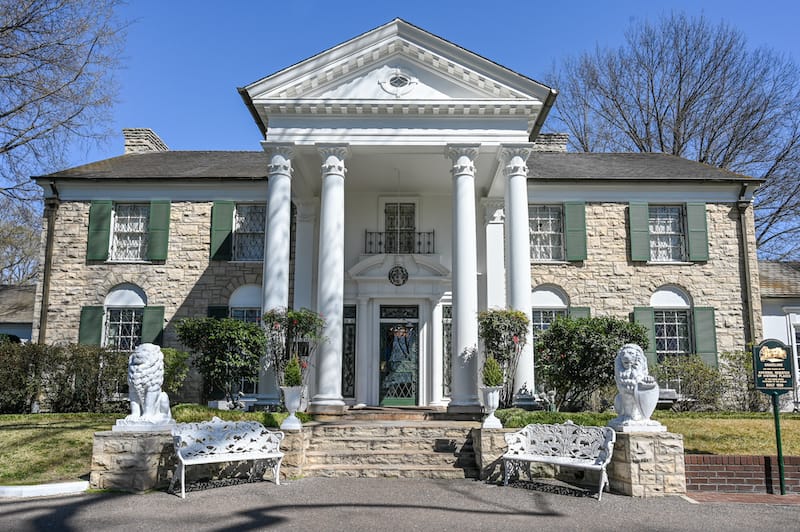 Graceland opened to the public on June 7, 1982, and thousands of fans and tourists annually visit. Since 1991, Graceland has been on the list of the National Register of Historic Places. In 2006, it was declared a National Historic Landmark.
If you are visiting Memphis, you will definitely need to stop by this legendary attraction!
9. Cades Cove
Located in the Great Smoky Mountains National Park's isolated valley, Cades Cove is one of the most beautiful places in the park and has been well-known over the years by settlers and those who have visited.
If you are visiting Great Smoky Mountains National Park, you'll definitely need to take the Cades Cove Scenic Loop drive where you will see breathtaking nature brimming with mountain peaks and green forests.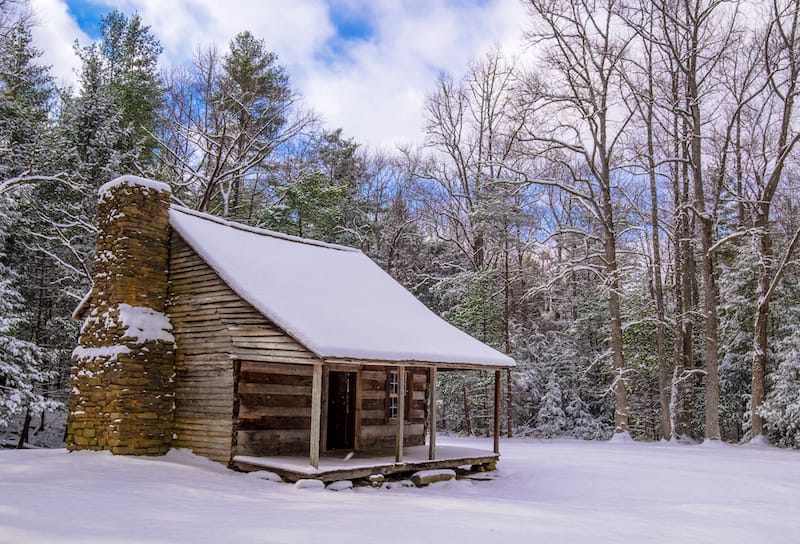 There are three access points to Cades Cove Loop Road: Laurel Creek Road, Parson Branch Road, or Rich Mountain Road. They can be closed during wintertime, so research before planning your trip!
10. Ruby Falls
In 1928, Leo Lambert discovered one of the most beautiful natural wonders in the United States. Ruby Falls is the tallest and deepest underground waterfall in the country and one of the best places to put on your Tennessee bucket list!
Ruby Falls is open for visitors and is located near Chattanooga at Lookout Mountain.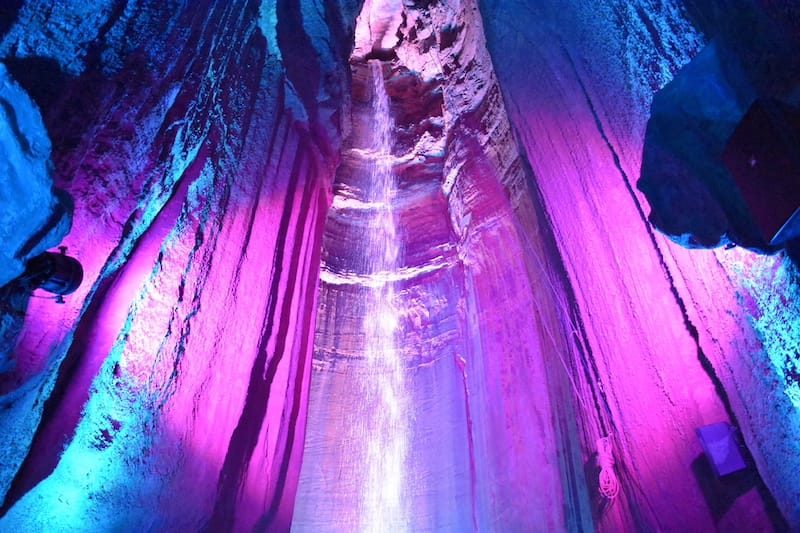 You will take a glass elevator ride down into the mountain to see the falls. You'll be able to admire the light show at the cave and can learn why it's one of the best places in the state to visit.
11. Cherokee National Forest
Situated between the states of Tennessee and North Carolina, Cherokee National Forest is 655,598 acres of protected national forest with many beautiful places, hiking trails, and more.
Cherokee National Forest is known for its location in the Southern Appalachian mountain range and diverse animal and plant life as there are more than 20,000 species growing and living in the forest!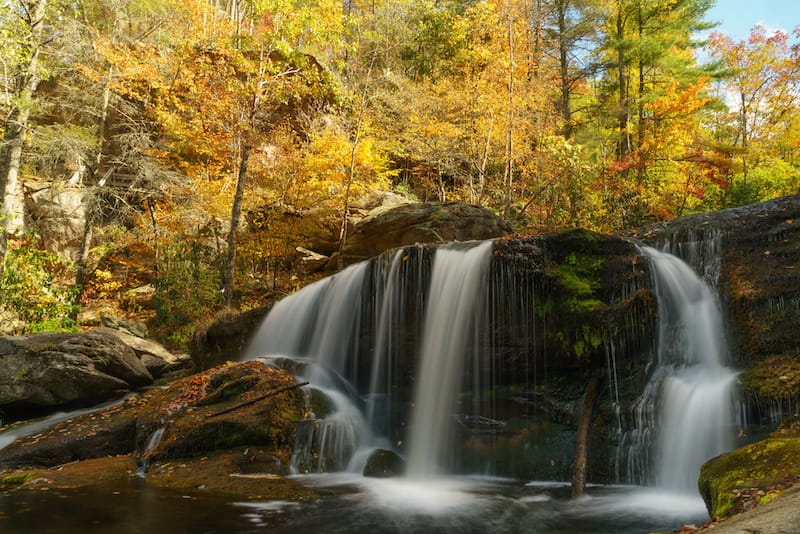 The area offers a wide selection of activities for nature enthusiasts and active travelers like Ocoee River Rafting where the Olympic games happened in 1996.
You can camp at the many campsites in the forest where you will be greeted with jaw-dropping views of the mountains.You can also hike along the Appalachian Trail here and go birdwatching (it is home to more than 260 species of birds)!
12. Sevierville
Located in the eastern part of the state of Tennessee, Sevierville is located close to Great Smoky Mountains National Park and has access to many hiking trails and wonderful waterfalls.
Sevierville is famous for its architecturally-beautiful courthouse from the ten of the 19th-century as well as the city's statue dedicated to the famous country singer Dolly Parton.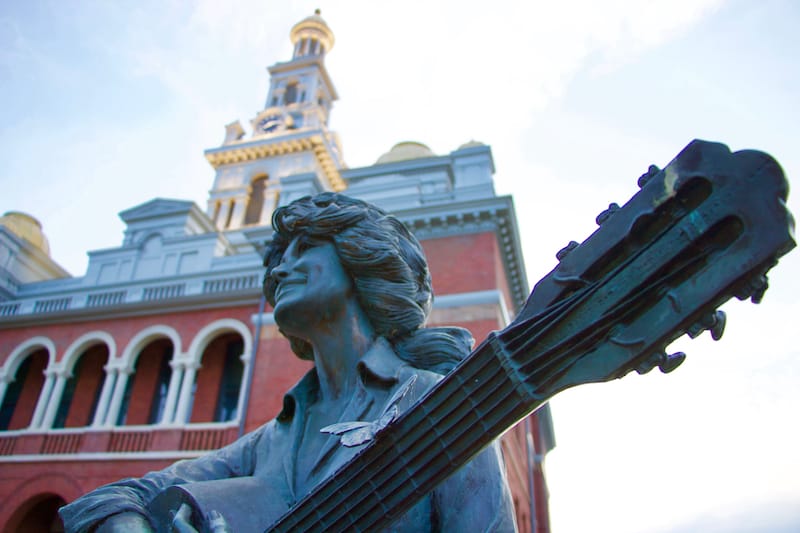 Some other popular attractions in Sevierville are the caverns inside of Hillside Winery where you can enjoy bubbly and some delicious Italian wine while taking a free tour, the Titanic Museum with a replica of the ship, and a museum built around its history, and the Hatfield & McCoy Dinner Show.
Also, don't miss out on one of the most famous places in Sevierville, the WonderWorks Pigeon Forge, an upside-down amusement park located indoors. It is one of the best places to visit in Tennessee with children!
13. The Lost Sea Adventure
The largest underground lake in America, otherwise known by the name of The Lost Sea (or Craighead Caverns), is one of East Tennessee's treasures.
The lake itself was discovered in modern times in 1905, however, it is understood that the Cherokees also used them in the past and identified each of them.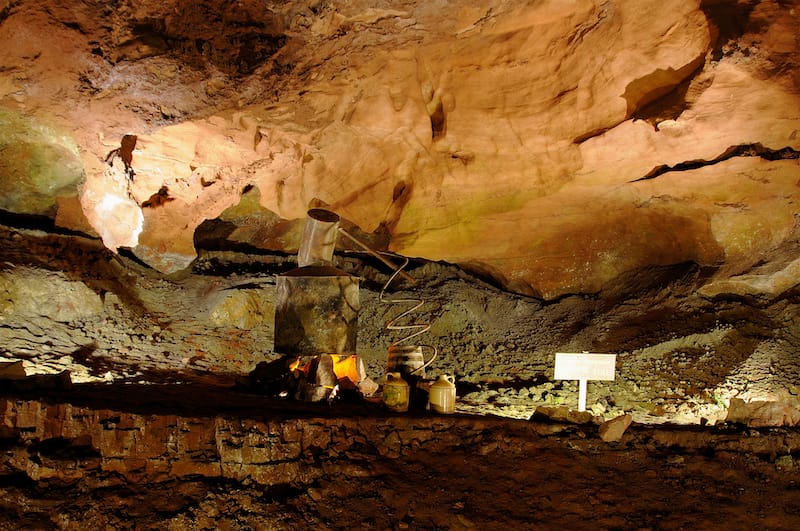 In 1915, an idea was shared to develop the cave to make it accessible for visitors. After some construction, a special pathway was built, leading to the hidden lake. Apart from that, a very famous thing to do at The Lost Sea Adventure is to take a boat tour of the lake.
Nowadays, the place welcomes more than 150,000 visitors per year and is one of the coolest places to visit in Tennessee.
14. Cummins Falls State Park
Cummins Falls State Park is located northwest of Cookeville in Jackson County.
The nature of the area has some really unique features such as a variety of oaks, beech, buckeye, sycamore, and hemlock that are part of the forest that borders the river.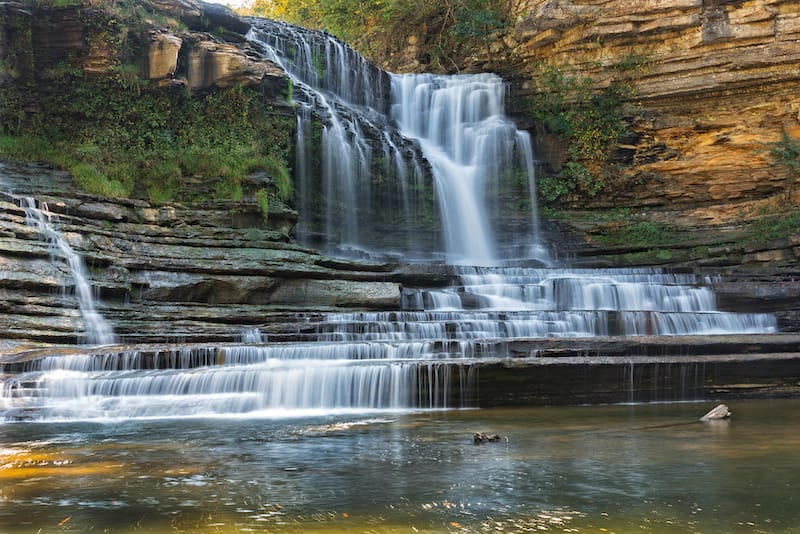 There is also quite a rich history associated with the park's location. The history of Cummins Falls includes a period when Natives used the region to track the numerous buffalo wallowing in the shallow rivers.
For avid swimmers, please note that Cummins Falls is classified as one of the ten best swimming holes in the United States. Other well-known activities available there include fishing, picnicking, and hiking.
15. Land Between the Lakes National Recreation Area
With over 170,000 acres of forests and wetlands, this recreation area is located in the Barkley Lakes area between Kentucky and Tennessee. It is also home to some beautiful waterfalls in Kentucky and Tennessee hidden in the forests.
Lake access offers the perfect environment for camping, hiking, picnicking, fishing, boating, and water sports with over 300 miles of natural shoreline. Throughout the year, approved hunts occur for animals like deer, turkey, squirrels, etc.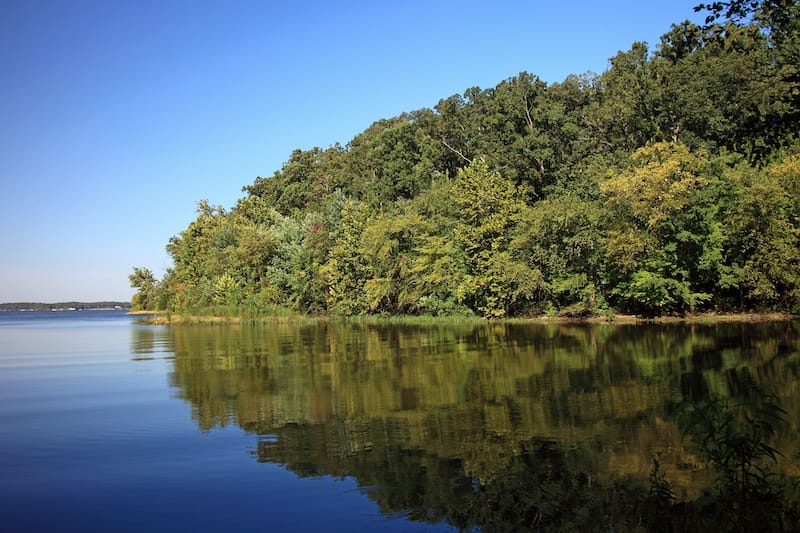 Aside from more than 100 miles of horse trails, there is also a horse camp open and available for visitors during the year. Another great way to spend spare time there is to embark on one of the impressive scenic drives where you can enjoy wildlife viewing while being comfortable in your own car!
Birdwatching is a popular thing to do there – there are over 240 distinct bird species. As a result, there is a special celebration festival for the hummingbird migration every August.
16. Murfreesboro
As one of the fastest-growing major cities in the country, Murfreesboro is the geographic center of Tennessee. Murfreesboro is well-known for being the home of Middle Tennessee State University, the largest undergraduate university in the state.
The bunch of recreational activities and historical sites keep Murfreesboro on the list of exciting locations in Tennessee.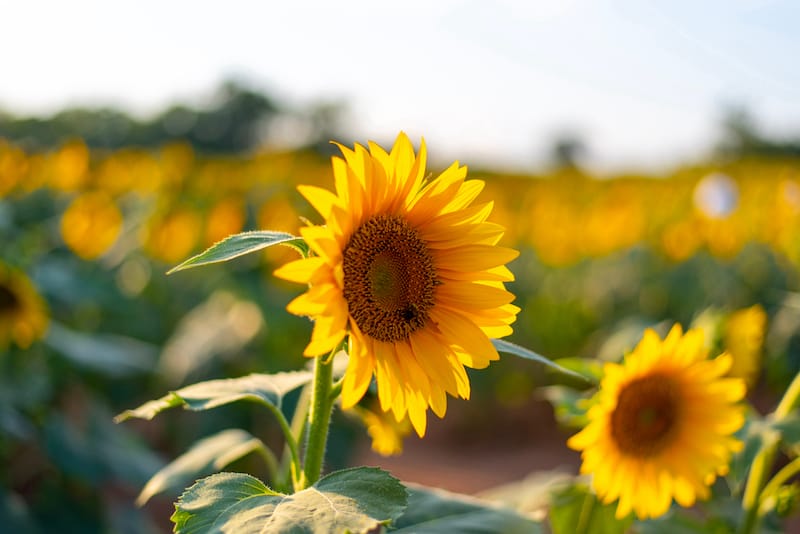 One of the most famous attractions in Murfreesboro is the Murfreesboro Greenway System, which contains the Stone River and Lytle Creek trails.
Both trails lead to the National Battlefield of the Stones River, the Village of Cannonsburgh, and Fortress Rosecrans. All of which are great spots for walking, running, biking, and more.
When it comes to cultural places to visit in Murfreesboro, Cannonsburgh Village, Stones River National Battlefield, Black Cat Cave, and Oaklands Historic House Museum are some of the most visited places.
17. Johnson City
Acknowledged as one of the best places to live in Tennessee, Johnson City is famous for its vast options of outdoor adventures.
You can travel down and enjoy nearby Roan Mountain on a bike, check out the Nolichucky River over a Class IV waterfall, catch fish or float down the Watauga River, or walk the Appalachian Trail where it crosses into Tennessee.
Other notable activities that are popular in JC include disc golf, hiking, or boating at Winged Deer Preserve.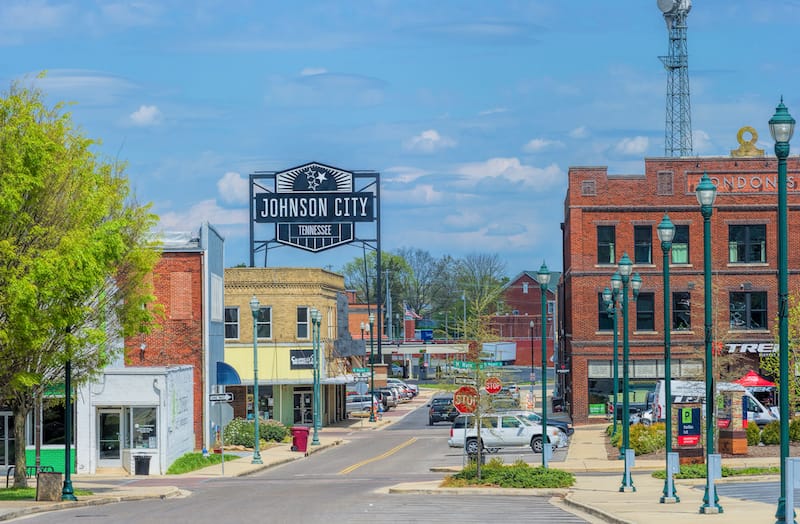 In case you're more into getting acquainted with the art and history of the East Tennessee city, then one of your best choices would be to visit Tipton-Haynes State Historic Site.
Alternatively, you can also visit Sycamore Shoals State Historic Area in nearby Elizabethton, which incorporates crucial historical moments from the first democratic government to history's largest real estate transaction.
If you want to explore this area a bit more, head over to Bristol! The city straddles the Tennessee and Virginia state line and you'll find all kinds of exciting things to do in Bristol VA and TN!
18. Jackson
Jackson is a regional center of trade for West Tennessee and is Madison County's largest city.
The city is known for being the home to the Tennessee Supreme Court's courthouse for West Tennessee and it's because Jackson was the major city in the west when the court was established in 1834.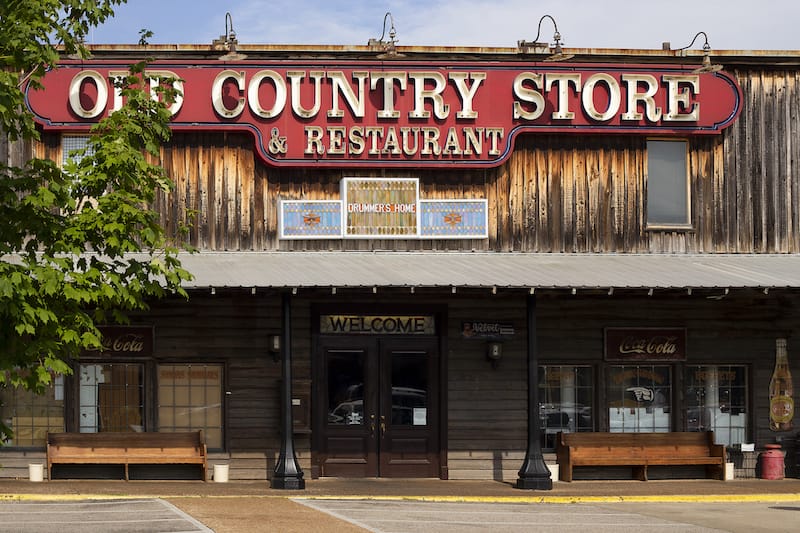 One of the best perks about Jackson is that you're a short drive away from numerous state parks, like Shiloh National Military Park, Reelfoot Lake, Chickasaw State Park, and Natchez Trace State Park. All of these are known for their incredible scenery, rustic trails, and picnic areas.
Paris Landing State Park and Pickwick State Park also deserve a place on this list as they're located on the scenic Tennessee River and offer boating, lodging, golf courses, and other recreational activities.
19. Clarksville
This historic town that played an essential role during the Civil War has been given a variety of names over the last 30 years.
Clarksville is home to a few dozen community parks and recreational areas that give its residents and visitors a chance to unwind themselves in nature.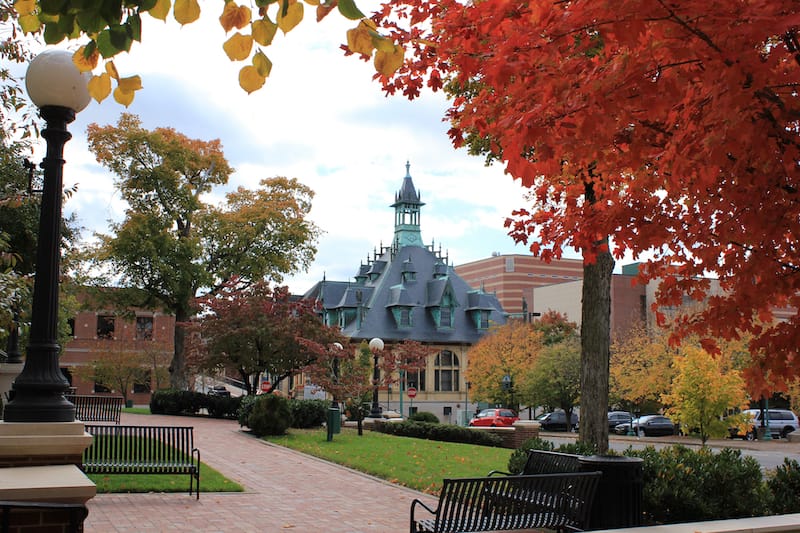 The most well-known outdoor attractions there are Dunbar Cave, the Cumberland River,
and the Clarksville Greenway. The Clarksville Greenway is a 9-mile abandoned railway that is completely paved and is the perfect place to exercise, bike, skate, run, or just walk down the trail.
20. Fall Creek Falls State Park
Being Tennessee's largest and most visited state park, Fall Creek Falls State Park is a gorgeous getaway that takes you to many waterfalls, gorges, waterfalls, streams, and more. One of the highest waterfalls (256 feet tall) in the eastern United States is located right inside of the park!
The park has an abundance of activities that are suitable for all ages. Hikers may choose from long or short walks around the lake and to the base of Fall Creek Falls.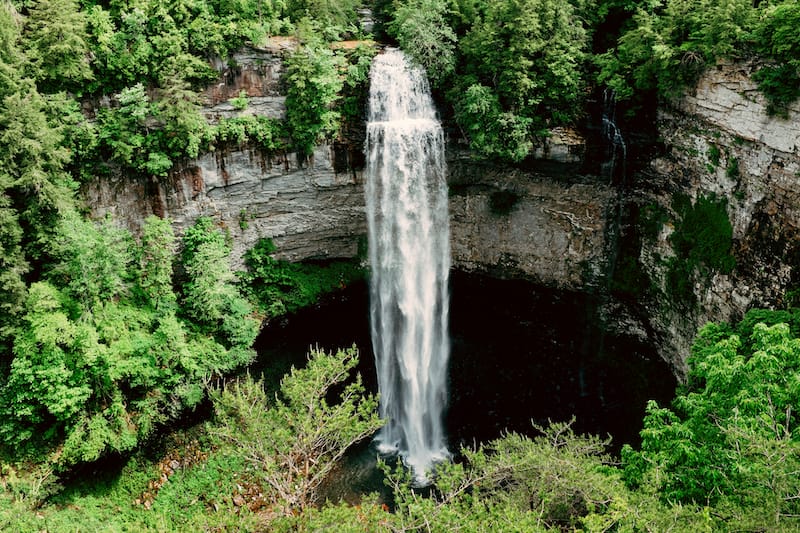 Other than that, at Fall Creek Falls, the Nature Center provides direct environmental education through a number of naturalist-led programs. Also, there are a lot of additional programs like arts and crafts, campfires, movies, organized sports, and live musical entertainment.
21. Lynchburg
This little town located to the southeast of Nashville is known as the birthplace of Jack Daniels, the world-famous Tennessee whiskey.
Visitors flock to Lynchburg from afar to enjoy the scenery and to tour the distillery. Every ounce of the historical Tennessee Whiskey is made there, fed by the nearby pure, iron-free cave water springs.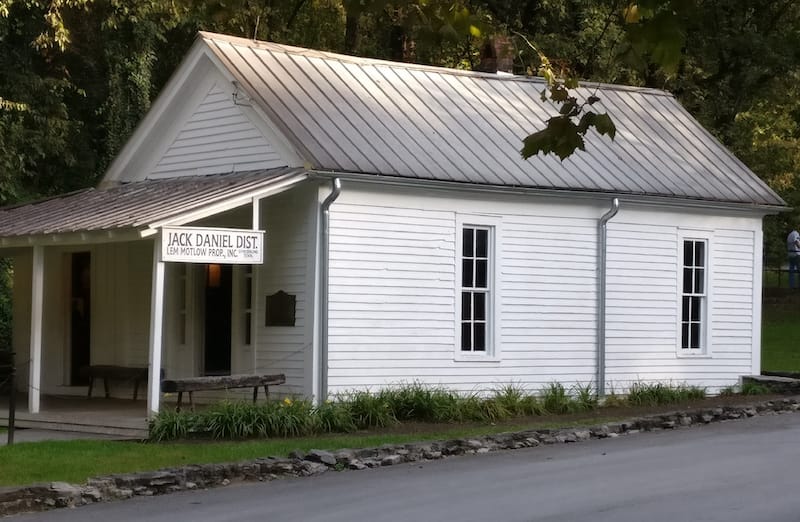 If you're interested to learn more, head over to Jack Daniel's website.
22. Lookout Mountain
Lookout Mountain is home to three world-famous attractions, all of which are top-rated and beautifully highlight the natural and historic beauty of the Tennessee Valley.
At Lookout Mountain, you enjoy the magnificent views of Ruby Falls, which is the tallest and deepest underground waterfall open to the public in the US. Another famous place there is the Incline Railway, which is one of the world's steepest passenger railways.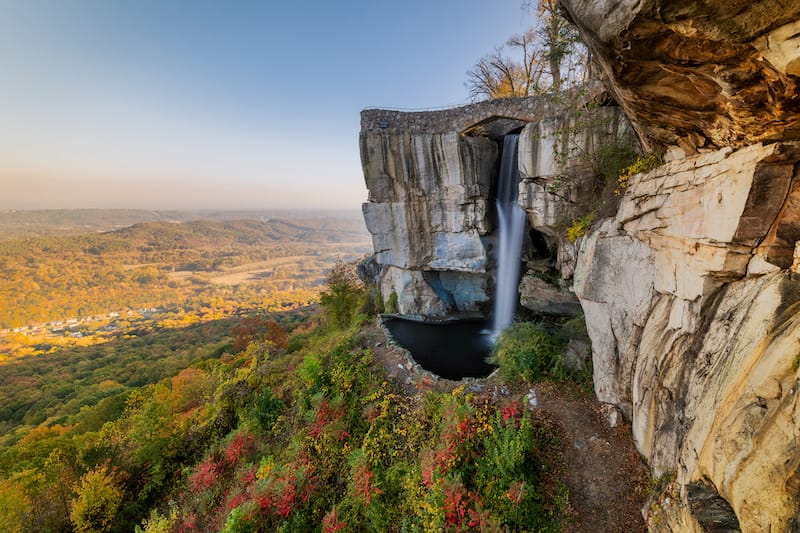 Last but certainly not least, another place you will want to visit is Rock City, located 1700 feet above sea level. The area includes a 100-foot waterfall that cascades down the mountain. Also, be sure not to miss the famous Swing-A-Long bridge that is nearly 200 feet long!
23. Big South Fork National River and Recreation Area
The Big South Fork National River and Recreation Area preserves the free-flowing Big South Fork of the Cumberland River and its surroundings, encompassing over 125,000 acres of the Cumberland Plateau.
From nature's side, there are many places worthy of visitors' attention, and one of those is the State Natural Area of Twin Arches.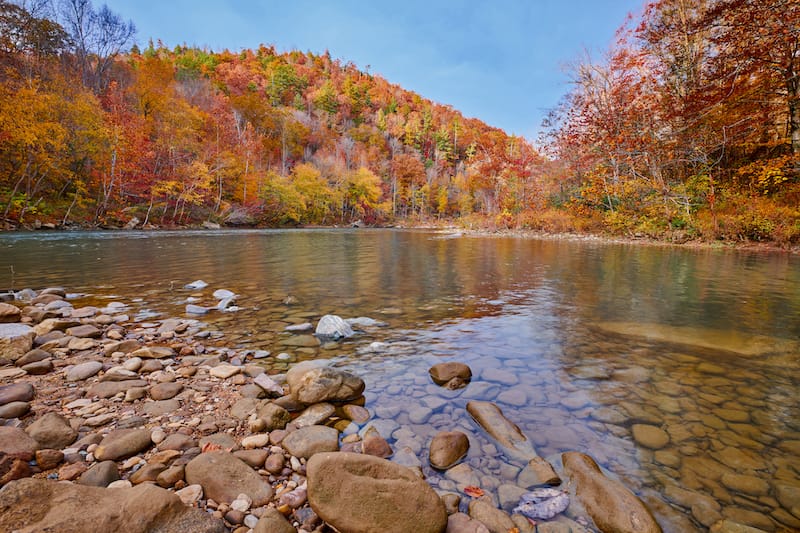 With roughly 1,500 acres in size, it features two remarkable geological formations that form the largest complex of natural bridges known in Tennessee and constitutes one of the largest complexes of this kind in the world.
Other prominent places and activities in this area include horse trails at Airpark Equestrian Stables, 5 developed campgrounds and 5 established trails, fishing, paddling, and more.
24. Franklin
Named after Benjamin Franklin, the city is where one of the Civil War's bloodiest battles took place. It attracts thousands of history buffs that want to visit the Battle of Franklin, Carnton, the Carter House, and many other historic sites in Franklin annually.
Another memorable way of enjoying a trip to Franklin can be witnessing the sunrise on the Natchez Trace Parkway.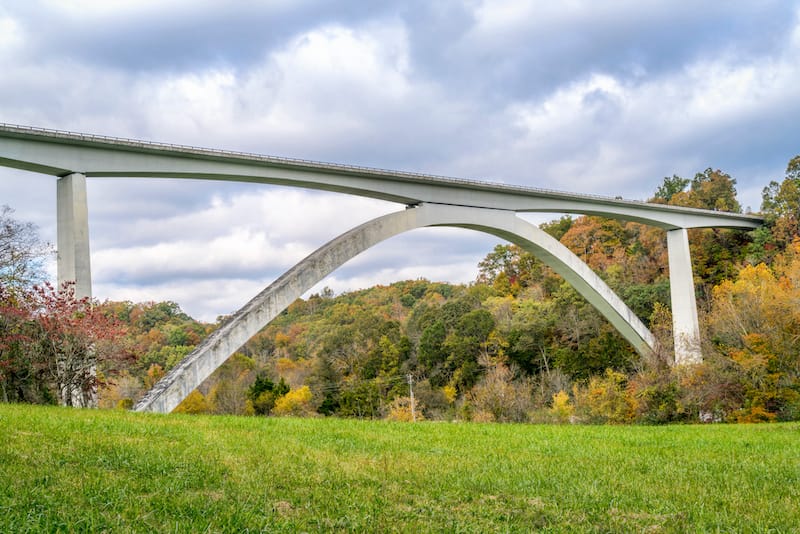 Being one of the most used forest trails and parkways in the United States, this place is also a bike path, complete with campgrounds and incredible viewpoints that photographers and nature enthusiasts will absolutely love.
25. Townsend
Situated close to Great Smoky Mountains National Park, Townsend is renowned for its extra variety of wildlife and the preservation of Southern Appalachian culture.
There are many historical sights in Townsend and one can't-miss location is Tuckaleechee Cove as it offers visitors a glimpse into Appalachian history. Near the Townsend entrance to the national park, you can do some hiking at Rich Mountain Loop, which promises spectacular views of nature (and waterfalls)!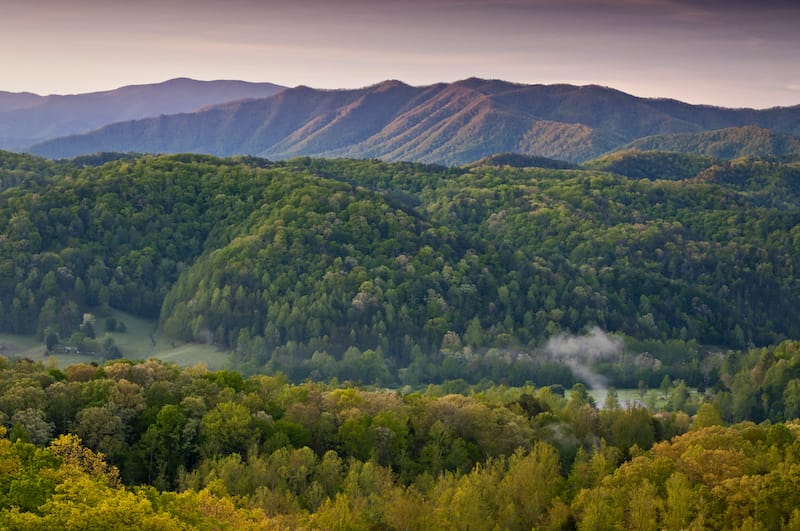 We hope you found some of these Tennessee destinations to be of interest to you! What are the best places to visit in Tennessee, in your opinion?
Let us know which destinations we missed in the comments! Thanks!
Additional Tennessee Travel Resources
Pin this Guide to Places in Tennessee