Gatlinburg is one of the most popular resort towns in the United States.
Located in Eastern Tennessee in the Smokies, visiting Gatlinburg in winter is an epic bucket list item as there is so much to do and see!
Are you planning your trip to Gatlinburg last minute?
If you're traveling to Gatlinburg and Pigeon Forge last minute, you want to ensure you have lodging ahead of time! Below are some of our top picks in town!
Top hotels in the area:
🚗 Looking for the best way to get around TN? Click here to check rental car rates for Tennessee!
With ski lifts, resorts, parks, cabins, and more, Gatlinburg is the place to be each winter season!
In this article, we have compiled a list of all the best attractions and activities to check out if you're planning your trip to this charming resort town.
Don't forget to take your camera and plenty of warm clothes!
The best part is that the town won't lose its charm after Christmas; you'll still be able to find plenty to do, and especially enjoy the snow, even if you wish to take a vacation in the latter part of winter!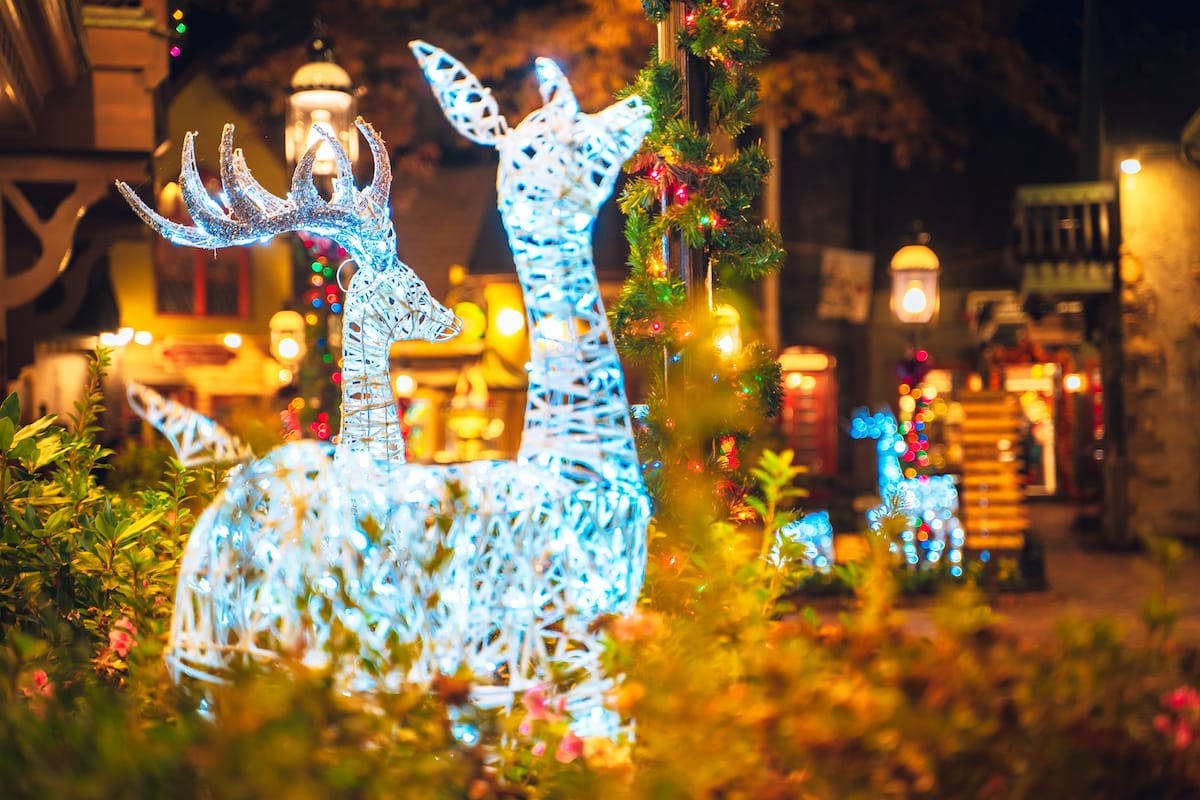 What is your favorite thing to do during winter in Gatlinburg? Or do you have tips for visiting the Great Smoky Mountains in winter? Let us know your tips in the comments! Thanks!
Average Winter Temperatures in Gatlinburg, TN
During any visit to the mountains, you should expect cooler weather, and don't forget to take plenty of warm clothes if you visit Gatlinburg, especially if you plan to go skiing!
The temperatures tend to be above freezing during the day, but it's bound to get very cold at night.
Here is a breakdown of the average monthly temperature in Gatlinburg between November and March (high/low).
Gatlinburg in November: 61° / 35°
Gatlinburg in December: 52° / 29°
Gatlinburg in January: 49° / 26°
Gatlinburg in February: 53° / 29°
Gatlinburg in March: 62° / 35°
Does it Snow in Gatlinburg?
Gatlinburg is known for being a charming mountain town, and one of the biggest features of any mountain town is the snow.
You will definitely see a lot of snow in Gatlinburg, but perhaps you won't get so lucky if you're visiting around Thanksgiving or Christmas.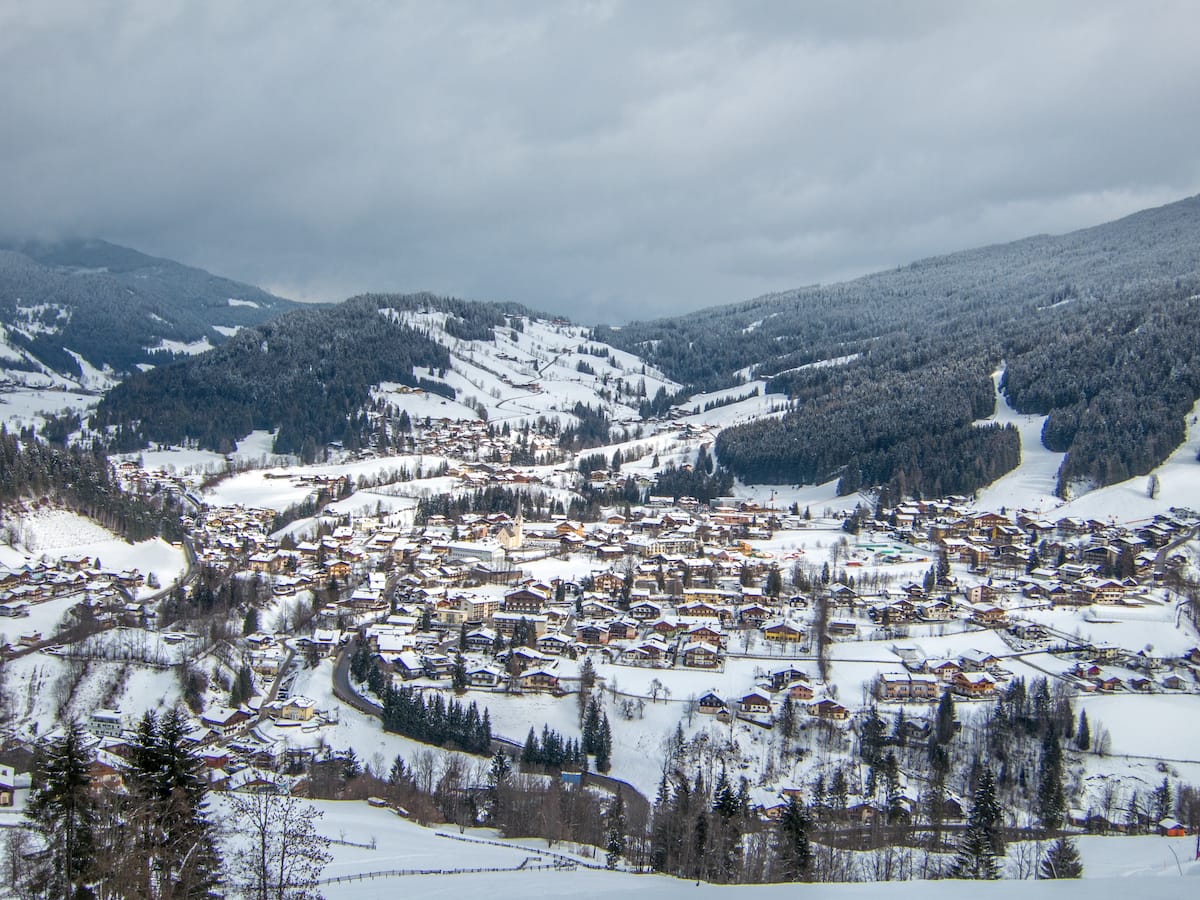 The town usually gets the most snow in January or February, and it's possible to get lucky in December. On average, Gatlinburg gets an average of 9 inches of snow every year.
Things to Do in Gatlinburg in Winter
Check Out Sevier County Winterfest Lights (+ Activities)
From November 12 until February 21, visit Sevier County Winterfest Lights to get into the holiday spirit.
Pigeon Forge transforms into a winter wonderland for locals and visitors during the city's annual Winterfest festival, which features more than 15 million holiday lights.
It is a beautiful place, and once you arrive at Sevierville, there are plenty of activities to enjoy.
You can also visit Dollywood's Smoky Mountain Christmas, which is a park where you'll admire more than 5 million lights, holiday music, and plenty of rides.
There are also going to be fireworks that will light up the sky this year.
Check out Lights Over Gatlinburg, where you'll be mesmerized by the winter wonderland at SkyLift Park.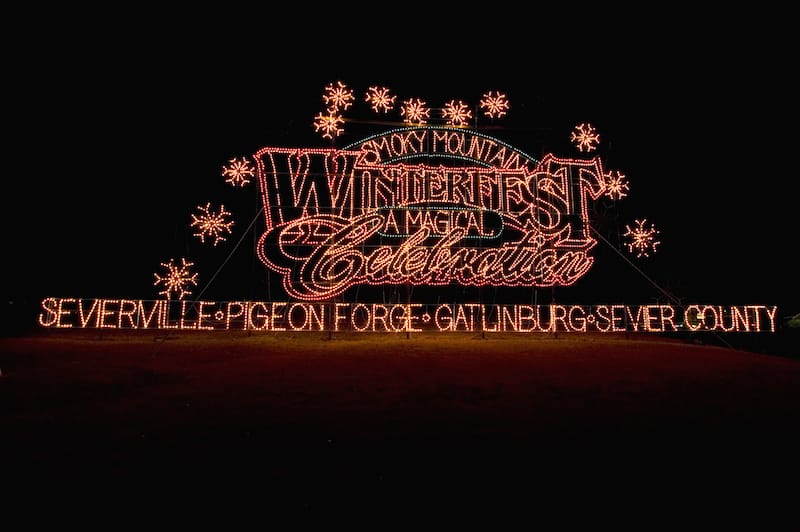 Visitors will enjoy the thousands of holiday lights, decorations, and views. Guests can enjoy the day with hot chocolate or cider around the fire pit.
Shadrack's Christmas Wonderland is another place where you can enjoy a drive-through light display. It takes place from dusk until 10 pm at the Smokies Stadium.
There, you'll also be able to meet Santa for some memorable pictures. Entry costs vary from $25-$40 per car and $50-$80 per van.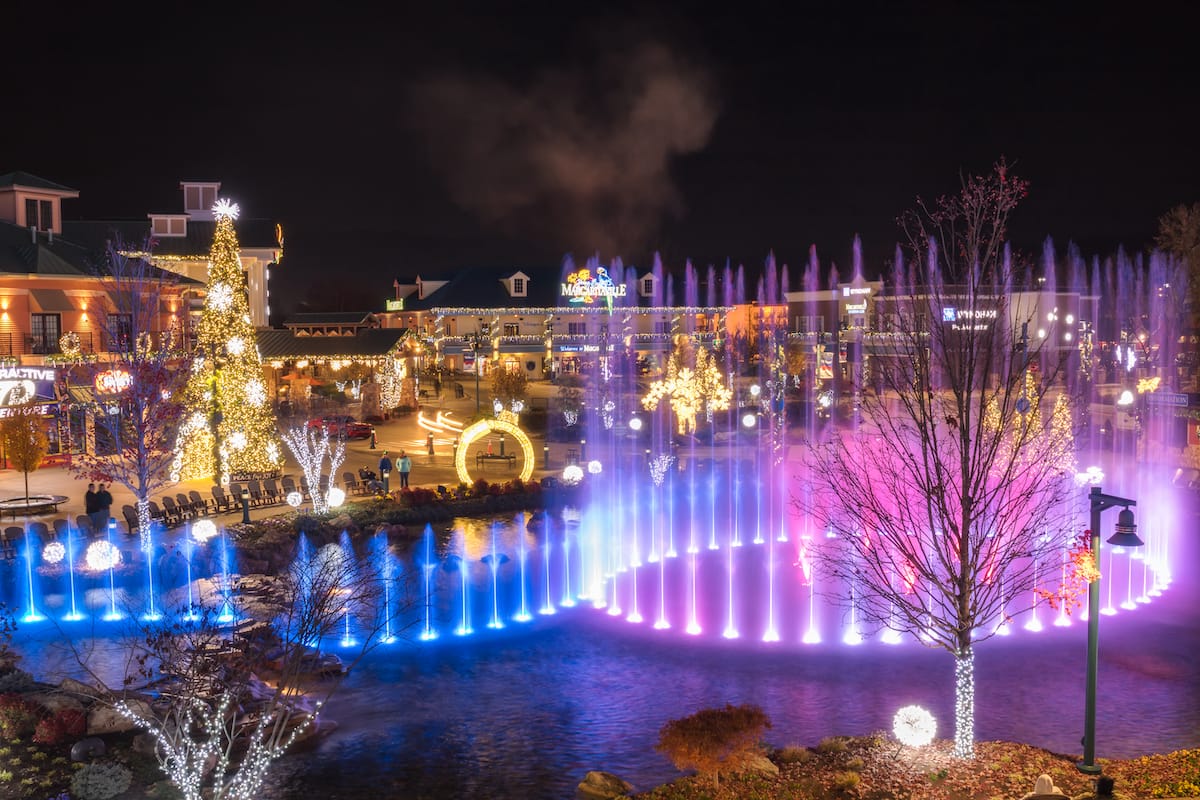 For some more fun, head to the Wilderness at the Smokies for ice skating. It is a magical ice skating rink with hot cocoa to enjoy. It is open from 10 am until 10:30 pm, and the admission fee is $17.99.
A DJ is also available on-site every Friday and Saturday from 7 pm if you're looking for a little evening fun!
Enjoy Great Smoky Mountains National Park Winter Hikes
Hiking enthusiasts who want to see icy waterfalls, snowy mountaintops, and gorgeous mountain views… get ready to head to Tennessee's only national park for all of that and more!
Laurel Branch, the beautiful 2.3- mile round trip, takes visitors to the magical multi-tiered Laurel Falls. During the colder months, the waterfall is an excellent place to see some ice formations.
The waterfall consists of an upper and lower section divided by a walkway that crosses the stream at the base of the upper falls.
The hike is considered moderately difficult and it will take about 2 hours to hike to the waterfalls and back. It is great for an adventurer's Gatlinburg itinerary!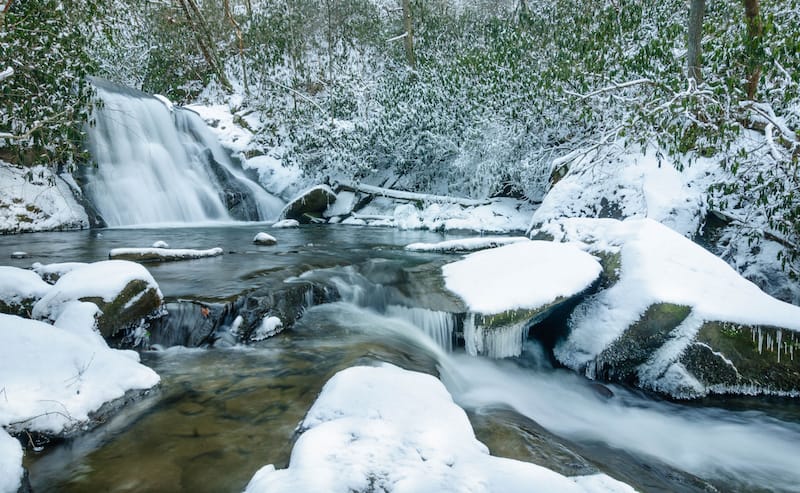 For those who are looking for a challenge, head to the Rainbow Falls. It is a 5-mile heavily trafficked trail located near Gatlinburg, Tennessee. By hiking there, you'll reach the magical Rainbow Falls, which is 80 ft tall and known for forming large icicles.
This route climbs steeply as it meanders along LeConte Creek, beginning at the Rainbow Falls and Bullhead Parking Area.
Another popular place that hikers enjoy is Alum Cave. It is a 10-mile round trip trail and is the most popular route to Mt. LeConte, the third tallest peak in the Smokies.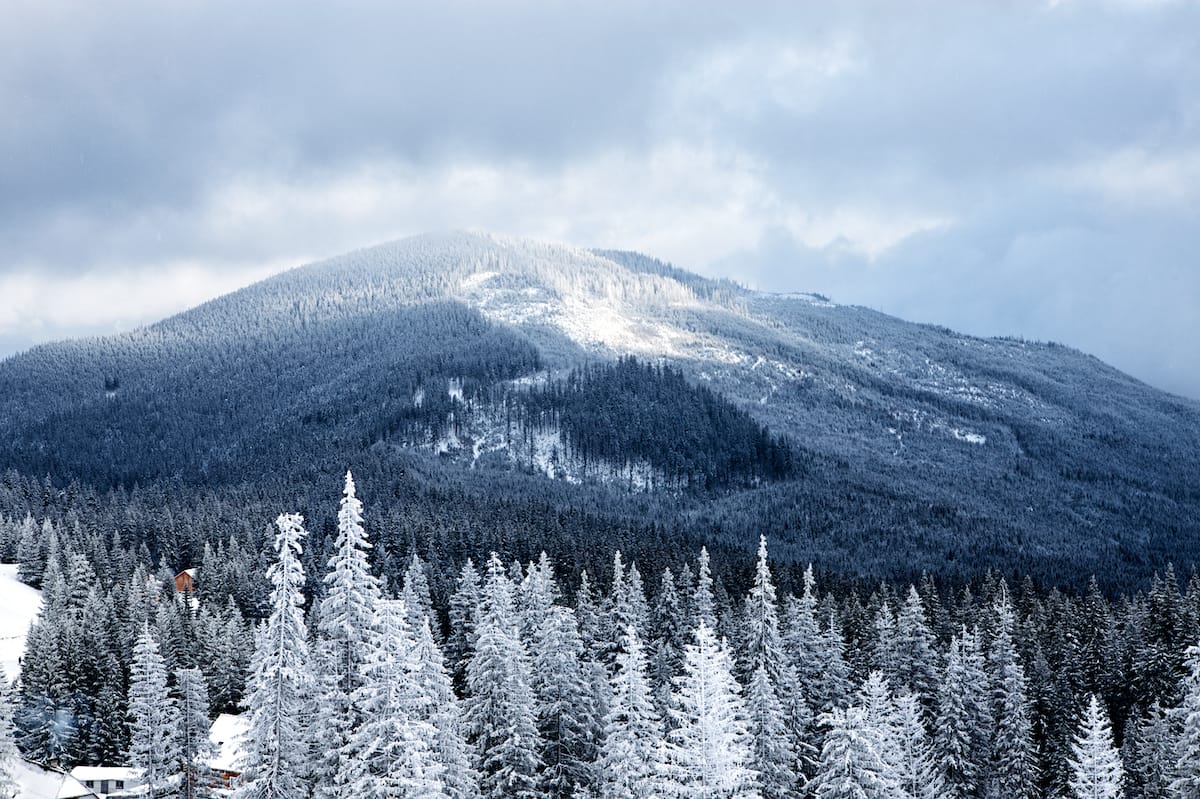 The trail features a waterfall, a cave, and magical views. It is rated as being complex.
This trail ascends to high elevations in the Smokies, making it an ideal way to enjoy some snow during your visit.
Get to Know the Great Smoky Arts and Crafts Community
Located in Sevier County, Great Smoky Arts and Crafts Community is a series of shops, galleries, and locally-owned restaurants on an 8-mile two-laned ring.
Everything from basket weaving to painting and metalsmithing can be found in this community of artists and artisans selling their crafts. Visitors will find plenty of things they like there, including some thoughtful gifts for friends and loved ones.
Some artists paint magical mountain scenery or specialize in portraits. Some people make hand-woven baskets and brooms.
Trendy clothes and photography, which are part of the new art forms, can also be found there!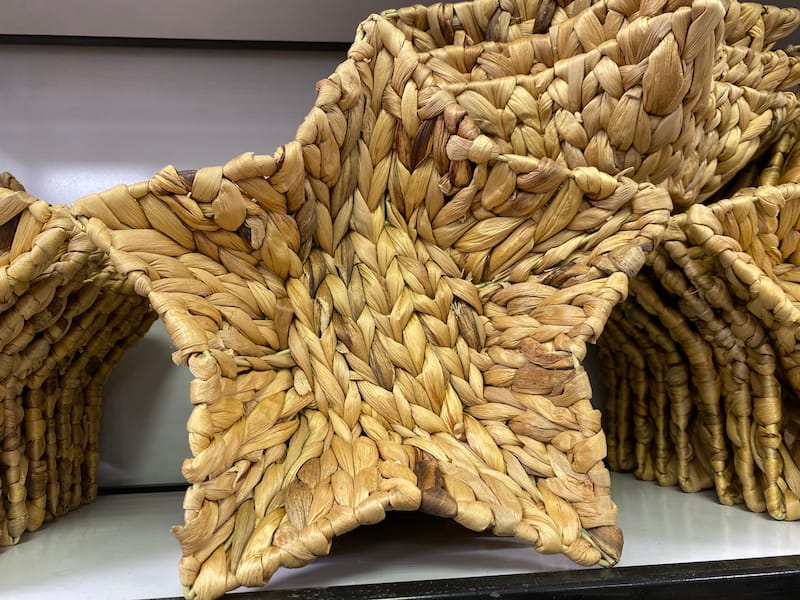 Guests can join the artists and practice making their own custom crafts that will be a memorable experience.
Visitors can also sit and enjoy a nice drink or a delectable meal throughout the community to check out some of the artists' cooking skills.
Don't forget about music since some musicians celebrate Appalachian history through the art of music.
Head to the Sevier Air Trampoline and Ninja Warrior Park
The perfect place to visit when it's cold outside is the Sevier Air Trampoline and Ninja Warrior Park, which will make you burn off some energy and a few extra calories.
The facility offers 38,000 square feet of advanced and junior Ninja Warrior Courses, trampolines, and a three-story net suitable for all ages.
Visitors can bounce around and play dodgeball or basketball.
The park also offers a ninja obstacle course to track your progress by scanning your thumbprint.
There is also a foam pit available, so be ready to have a day full of thrills, adventure, and fun.
View this post on Instagram

For one hour of play in Sevier Air Trampoline and Ninja Warrior Park, the fee is $17.90 for adults and $12.53 for kids six and under.
If you want to get more jumps, there is a two-hour session for $25.95 for adults or $17.90 for kids six and under.
Enjoy the Snow at Ober Gatlinburg
High above Gatlinburg, on a mountaintop filled with fun, excitement, and beauty Ober Gatlinburg is waiting for you.
Of course, you must go skiing while you're in Ober Gatlinburg.
Usually, the ski slopes are open in early to mid-December and close in March. Before skiing or snowboarding, visitors will need a ticket and approved equipment. For first-timers, it is mandatory to take a lesson before starting.
There are rental areas available for the required types of equipment.
The Resort offers ten trails for skiing and snowboarding serviced by two quads, one double and one surface lift.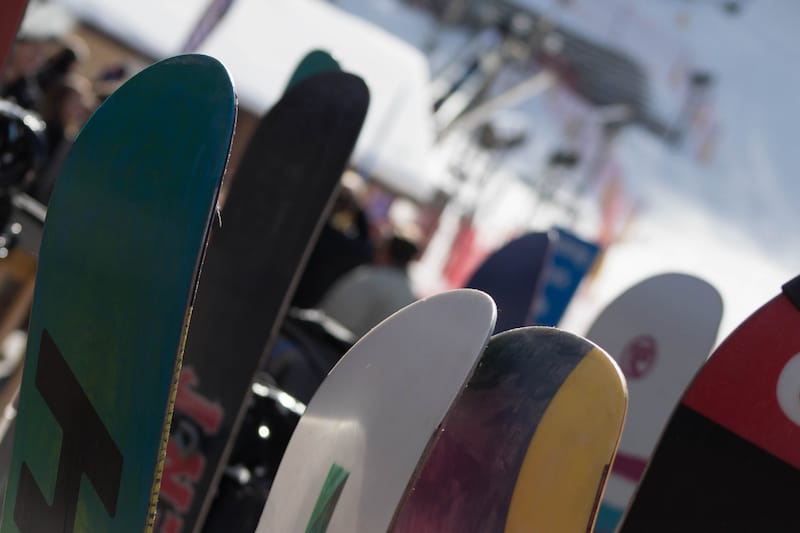 Ski Area tickets give access to all Open Ski Slopes and Lifts that service them.
Full sessions from 12pm-9pm cost $40, or $35 for juniors. Night sessions are from 5 pm-9 pm, and they cost $30 for both age groups.
Another fun thing to do is take the Gatlinburg Aerial Tramway. The breathtaking vistas of the Great Smoky Mountains will leave you breathless after a 2.1-mile journey.
Don't forget your camera to capture the picturesque views! The ride costs $19 for a roundtrip.
Snow tubing is another winter activity available in Ober Gatlinburg. It is suitable for all members of the family, regardless of their age.
The park offers ten lanes across a 400-foot hill.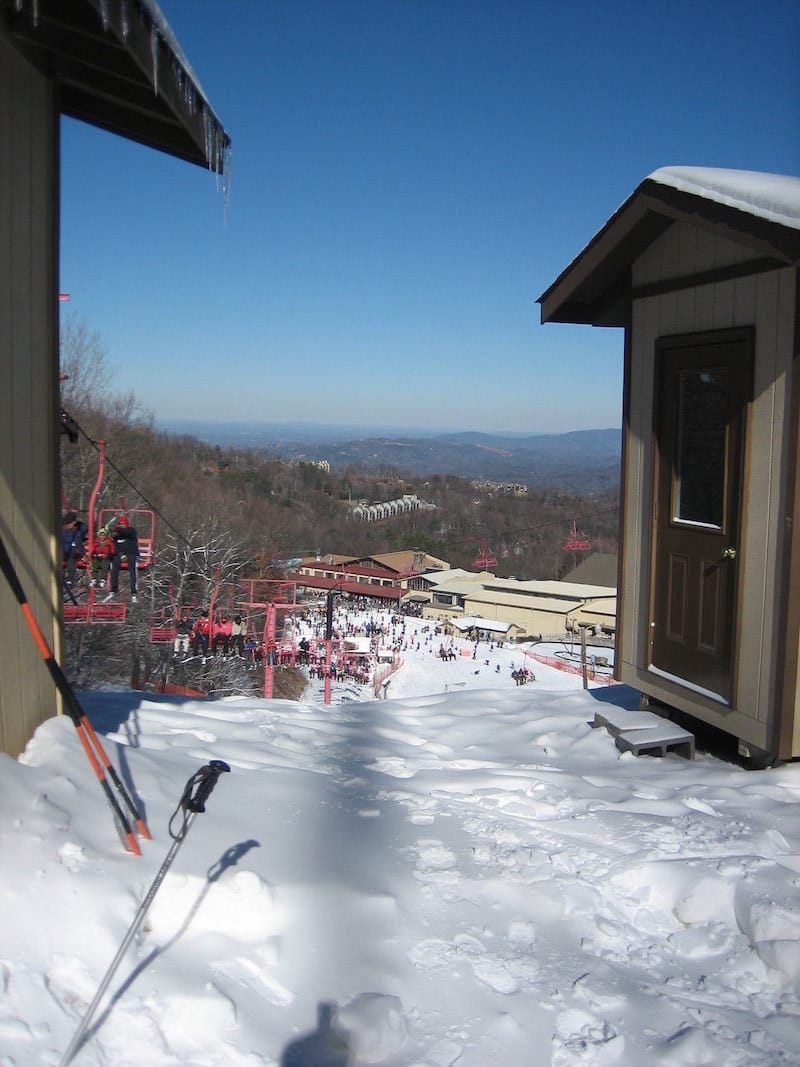 You can enjoy all of the fun of tubing downhill in the snow during your 90-minute session without having to make the long trip up the mountain.
Ober Gatlinburg's "Magic Carpet" escalator will take you back to the top of the hill after you've finished tubing down the mountain so you can do it all over again.
On weekdays the session costs $30, and on weekends and holidays, it is $35.
Drive the Cades Cove Scenic Drive
Cades Cove is a broad, lush valley surrounded by mountains that is one of the most famous tourist locations in the Great Smoky Mountains.
When the weather gets colder, Cades Cove turns into a winter wonderland and offers views of snow-covered mountains and historical sites.
There is a one-way 11-mile road that circles the cove.
While driving the route, you'll notice several churches, barns, log houses, and many other rebuilt 18th and 19th-century architecture.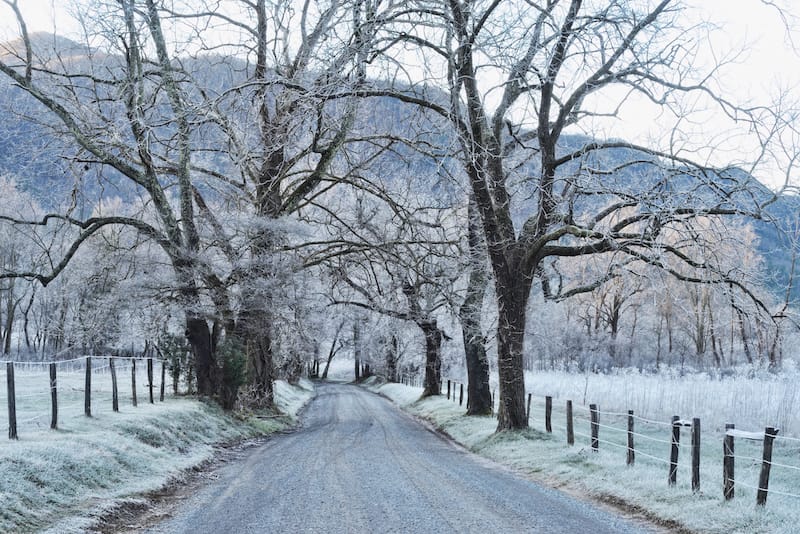 Since they can be lightly covered in snow, it will make the perfect picturesque view.
If you want to learn about the sites, you can pick up the self-guided booklet at the entrance of Loop Road.
One of the benefits of visiting the site during winter is that there is less traffic, allowing you to sightsee at your own pace.
Hikers can also find numerous trails in the cove, including a trail that takes you to the Abrams Falls and Codes Cove Nature Trail.
Visit Anakeesta Family-Friendly Adventure Park
Visit Anakeesta for a unique experience surrounded by beautiful scenery at every turn. It is located on a 70-acre mountain 600 feet above the city of Gatlinburg.
To get there, visitors need to either take the scenic Chondola or the Ridge Rambler.
During the wintertime, when the sun sets, the park turns into a winter wonderland with a celebration of lights during their Enchanted Winter celebration.
Enchanted Winter is an extravaganza packed with tens of thousands of glittering lights that takes place across the mountain top park.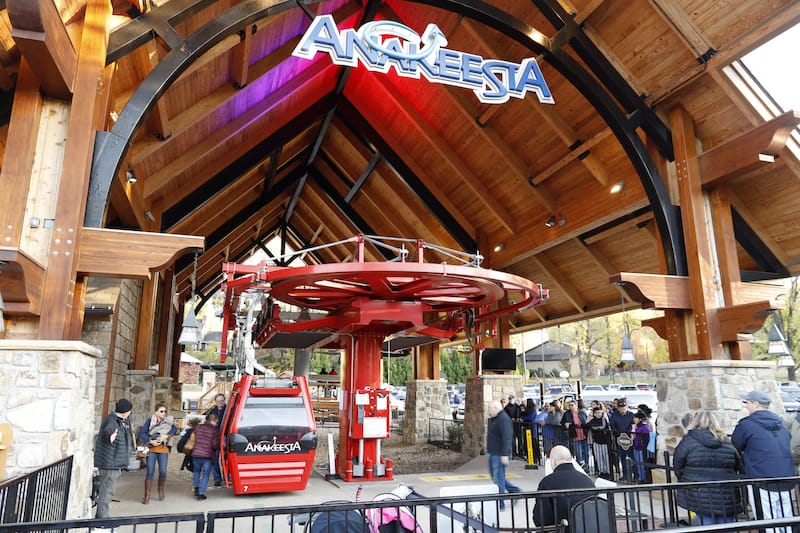 The parks also offer some holiday music from their musical stage where you can sit and relax by the fire while enjoying the picturesque views.
Little ones can play at TreeVenture that lights up during the night, while you can enjoy a stroll along the TreeTop Skywalk and admire the beautiful villages.
Visitors can also climb to the top of Anavista Tower, where you'll have a breathtaking view down on the city's sparkling lights, which is 600 feet below.
At the end of the day, enjoy some dinner with your loved ones.
Everyone will find something to satisfy their hunger, from elevated dining at Cliff Top in Black Bear Village to slow-smoked meats and delectable Southern barbeque at The Smokehouse in Firefly Village.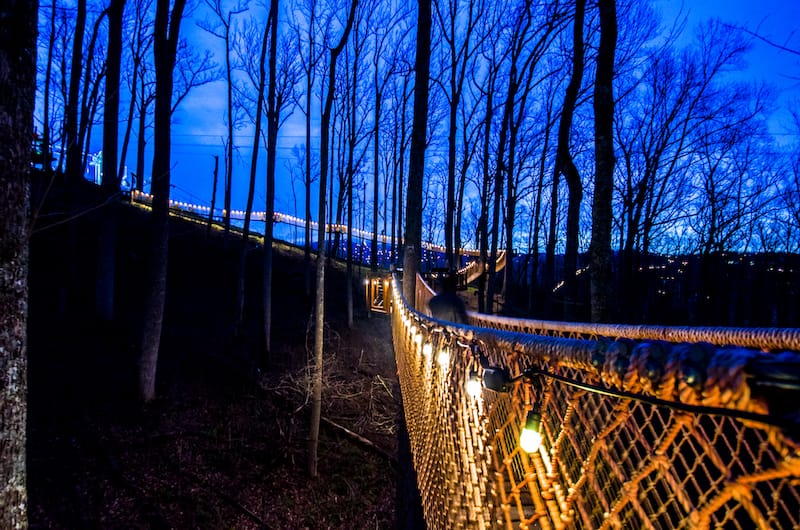 Admission fees for adults are $28.99 and for children are $19.99. Vacations may be costly, particularly for families.
Hence, using the Smoky Mountains sightseeing flex pass allows you to choose from three or five attractions while saving up to 30%.
The cost of the flex pass ranges from $90 to $150.
>> Book your Smoky Mountains Sightseeing Flex Pass here!
Stay at the Cozy Bare Necessities Cabin
If you are searching for a lovely and cozy place to spend your holiday season, the Bare Necessities Cabin is the right choice.
Located in Gatlinburg, only 9 miles from Pigeon Forge and Dollywood, the cottage is a great place to escape with your loved ones.
The Ober Gatlinburg Amusement Park and Ski Area is only a mile away, making it perfect for those who want to enjoy some fun while on vacation.
The 2,768 square foot cottage is located on the ground floor and has four bedrooms and four bathrooms.
The cottage also offers a private deck with a hot tub and pool table, making your stay relaxing and enjoyable.
A flat-screen TV with cable channels and a fully equipped kitchen with a microwave and a dishwasher, fridge, and oven are offered.
Local breweries and distilleries are only 3 miles away from the cottage, perfect for travelers who want to try some local drinks.
The nearest airport to the cabin is McGhee Tyson Airport at 25 miles away.
>> Check rates and availability for the cabin here
Go Shopping at the Christmas Place
Christmas lovers would enjoy a day at the magical Christmas Place.
The store offers Christmas ornaments, nativity scenes, designer trees, dollhouses, fudge, and much more.
It is the destination where you'll find gifts, decorations, collectibles, and of course, the Christmas spirit.
If you want your Christmas tree to be unique, Christmas Place offers designer-inspired decorating themes.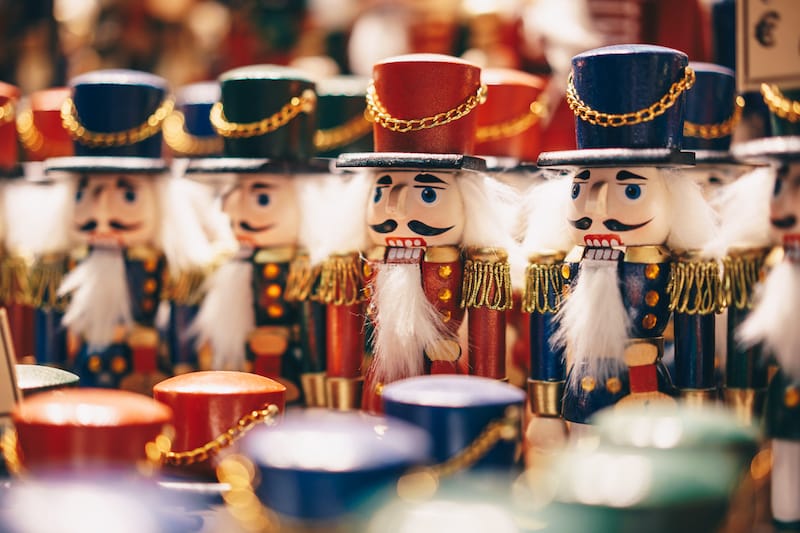 Each tree features ribbons, floral stems, and Christmas ornaments.
Decorations including cabins, elves, farmhouses, gnomes, and more can be found there.
The store also offers personalized ornaments, Christmas lights, and everything else that crosses your mind.
Collectible lines including 56 lighted houses, Mark Roberts fairies and elves, Christopher Radko Ornaments, Egyptian Glass ornaments, and many more can be found there.
Visitors should also visit Mrs. Claus's Candy Kitchen, which serves delicious homemade fudge in seasonal flavors, caramel and candy apples, hot popcorn, ice cream, sandwiches, and drinks.
If you want some Christmas-themed clothing and accessories, head to the Partridge & Bear Boutique, where you'll find a variety of them.
Head Downtown for More Shopping
Shopping may not be the first thing that comes to mind while thinking about Gatlinburg. However, Downtown Gatlinburg offers the most unusual and unique stores in America.
Tucked away off of downtown Parkway, The Village Shops is a known place to go shopping.
While walking there, you'll notice that it resembles a quaint German Village with its brick walkway with old-fashioned architecture and fountains.
Visitors will find 27 unique boutiques to explore, such as Pepper Palace, The Donut Friar, The Silver Tree, and more.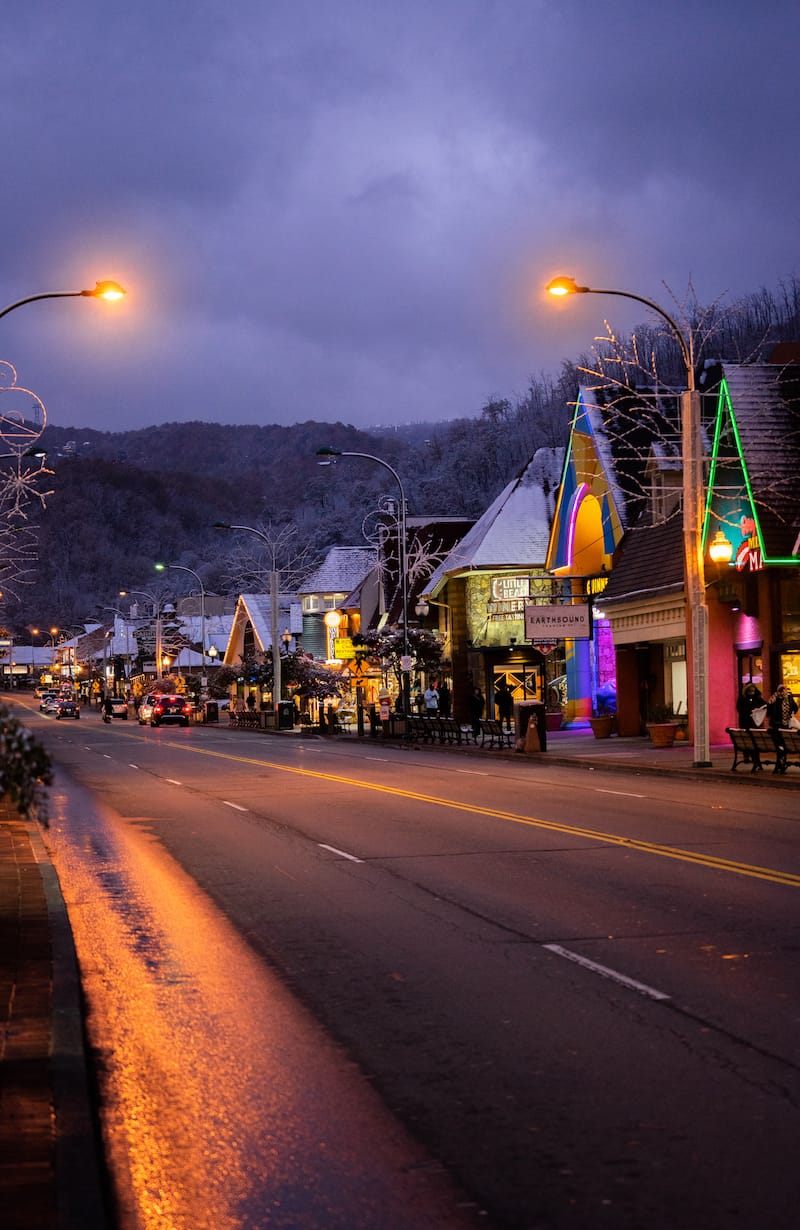 If the winter weather is too much to handle, you head to the Mountain Mall, Gatlinburg's premier indoor shopping location.
Most of the stores there are owned by locals. From artists to chefs, many people sell different items in these stores.
The Marketplace, located in downtown Gatlinburg, offers universal brand name, specialized, and artisan retailers.
This fascinating collection of boutique shops offers vintage candy, shoes, caps, souvenirs, and much more.
If you want to have a delicious meal and take a break from the shopping, head to Tom & Earls Back Alley Grill while exploring the Marketplace.
Take a Haunted Gatlinburg Ghost Tour
Beautiful Gatlinburg, known as the Gateway to the Smoky Mountains, was not always the peaceful tourist town that everyone knows and enjoys.
Horror enthusiasts would enjoy this 1-hour walking ghost tour where you'll discover the real story behind Gatlinburg's rough frontier town origins and learn more about the ghostly encounters.
Besides the ordinary tourist trappings like the Skylift, mini gold mines, and chain restaurants are compelling haunted locations that not many dare to explore and believe in.
During the tour, stories of one of the oldest graveyards, built-in 1830, will be told. Tales of murder, jealousy, and revenge will also be told while touring the town.
Learn more about the story of a lovely young woman who committed suicide and her efforts to prevent others from following in her footsteps.
The tours begin from the Gatlinburg Strip, starting at the Gatlinburg Space Needle. The price is $21 per person.
>> Book your haunted Gatlinburg ghost tour here
Breakfast with Santa
Head to the beautiful Anakeesta to enjoy a delightfully enchanted breakfast with Santa Claus himself!
Make lasting memories for your children and the whole family by enjoying a delectable breakfast or lunch with Santa.
Guests will be greeted in downtown Gatlinburg at 7:30 am, after which they will ride up the Anakeesta mountain for even more fun.
View this post on Instagram

Ticket prices are $98.99 for adults, $84.99 for Children, and $91.99 for seniors.
The ticket includes early access with all-day admission to Anakessta, delicious breakfast at Cliff Top Restaurant in Black Bear Village, a family holiday craft and sing-a-long, and of course, a photo session with Santa.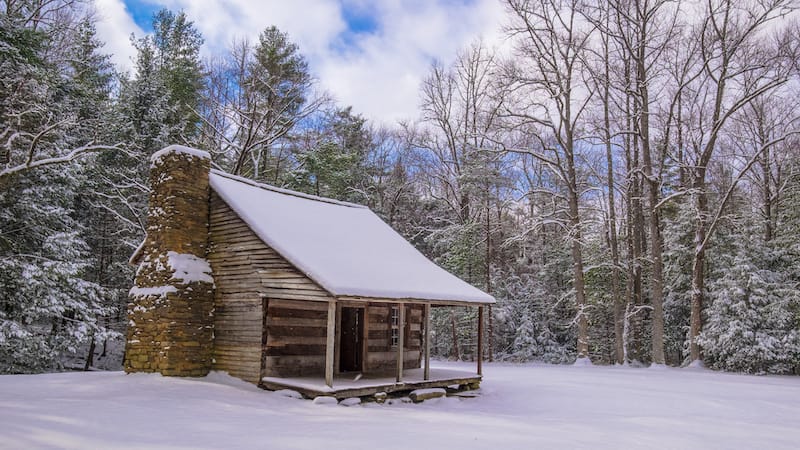 Where to Stay in Gatlinburg
You will find several amazing places to stay in Gatlinburg in winter – including many cozy cabins and resort lodges. Here are some of the top picks for your trip:
Did we miss any amazing things to do on your winter trip to Gatlinburg? Let us know your Gatlinburg winter tips in the comments! Thanks!
More Tennessee Winter Guides
Pin this Winter in Pigeon Forge & Gatlinburg Guide