Christmas is one of the best times of the year to explore new towns and enjoy the magical spirit all around. For this holiday season, consider spending Christmas in Tennessee!
Although it might not have been the first place on your list, Tennessee should not be overlooked as you'll find many things to do if you visit Tennessee in December and around the holidays.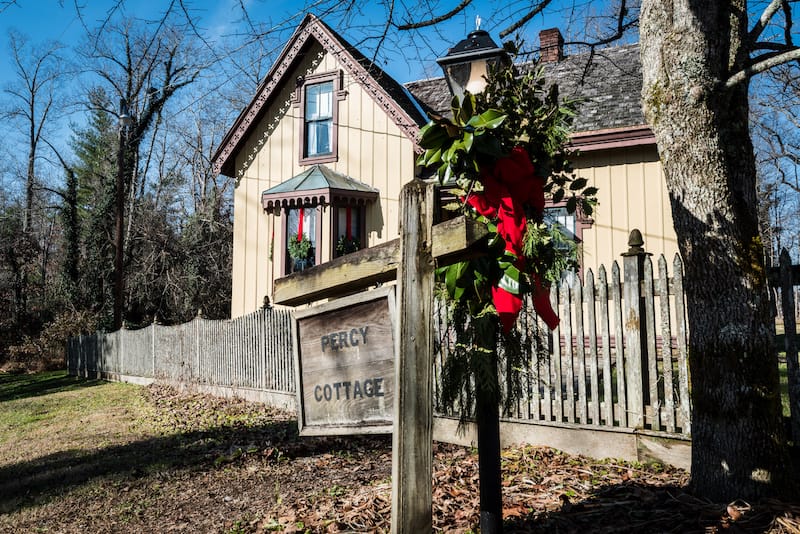 From all the festivals to the beautiful lights and the houses, trails, and more, Tennessee truly knows how to get into the holiday spirit.
And, if youʻre traveling with kids, you can even book one of the hotels with waterparks in Tennessee for an indoor adventure during the cold season!
We have compiled a list of some of the best places to celebrate Christmas in Tennessee, surely making your next Christmas unforgettable!
Do you have any other suggestions that we didn't include? Please let us know!
Christmas in Tennessee – Events + Things to Do
1. Pigeon Forge Winterfest
If you are planning where to go for Christmas, head to Pigeon Forge Winterfest, which comes alive with its Christmas celebration from November 9, 2023 until February 18, 2024. The place is truly a winter wonderland filled with millions of twinkling lights, shows, and events.
Suppose you are a music and entertainment lover…in that case, Pigeon Forge offers shows in places such as Christmas at the Comedy Barn, Christmas at Country Tonite Theatre, and Hatfield and McCoy Christmas Disaster Dinner Show, where you'll celebrate the season with holiday-themed performances.
Pigeon Forge is also filled with places that offer hot beverages and candy samplings, where you'll also find the finest handcrafted chocolates and world-renowned artisans creating pottery and quilts.
The town is the perfect destination to walk around and enjoy the magical time of the year since it is filled with millions of sparkling lights and restaurants to enjoy.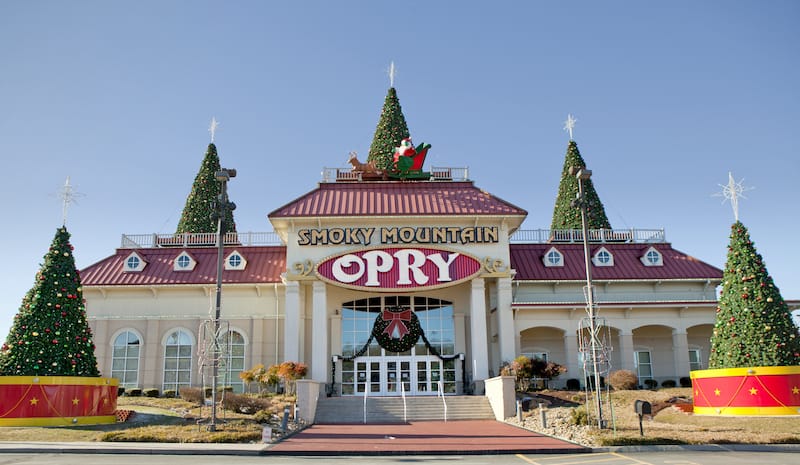 Alamo Steakhouse & Saloon, Mama's Farmhouse, Brick & Spoon are some of the places filled with delectable food to savor.
It is a shame to miss out on an award-winning festival while you are around! Enjoy Dollywood's Smoky Mountain Christmas, a celebration filled with lights and shows such as It's a Wonderful Life, the Parade of Many Colors, and more.
Also, if you love nature, be sure to head nearby and visit the Great Smoky Mountains in winter!
2. Peppermint Trail in Knoxville
Holiday magic awaits you along the Peppermint Trail if you are visiting Knoxville for Christmas. From November 24, 2023 until January 7, 2024, you can follow the peppermints along the sidewalks and explore all sorts of delectable treats with your red-white candy.
Those with a strong sweet tooth can enjoy a variety of gingerbread, cinnamon, cranberry, apple spice, and other favorite holiday flavors. Restaurants such as Awaken Coffee, Balter Beerworks, and Bistro at the Bijou offer the finest cocktails with seasonal flavors.
From November 24 to January 7, enjoy the magical Christmas tradition of scavenger hunting in The Elf on the Shelf.
Have a stroll downtown and explore Knoxville's businesses to find the naughty elves sent by Santa. Along the way, there will be many treats, prizes, and fun until you find your way to the elves.
For more fun around Knoxville, visit Tour de Lights. Thousands of people ride their bikes around downtown and North Knoxville. What makes this place unique is the fact that there are lights and decorations everywhere.
People are encouraged to decorate themselves and their bikes while trying to win coveted awards. It is the perfect event for families to enjoy the holiday season fun together.
3. Nutcracker in Nashville
Enjoy the magical Christmas tradition in TPAC's Jackson Hall, where the Nashville Ballet company will hold a live performance of the unforgettable and magical Nashville's Nutcracker.
The stunning show is choreographed by Artistic Director Emeritus Paul Vasterling and will run from December 8-December 24, 2023.
Tickets can be purchased online, and the prices range from $55 to $115 based on your chosen seat. You can also contact the Nashville Ballet in case you want to buy a ticket in person.
Nashville's Nutcracker is definitely a can't-miss event, and it will be the greatest gift to give or get from someone.
Another place to make sure you hit up during Christmas in Nashville is Gaylord Opryland Hotel – it always has a wonderful display of lights!
Address: 505 Deaderick St, Nashville, TN 37243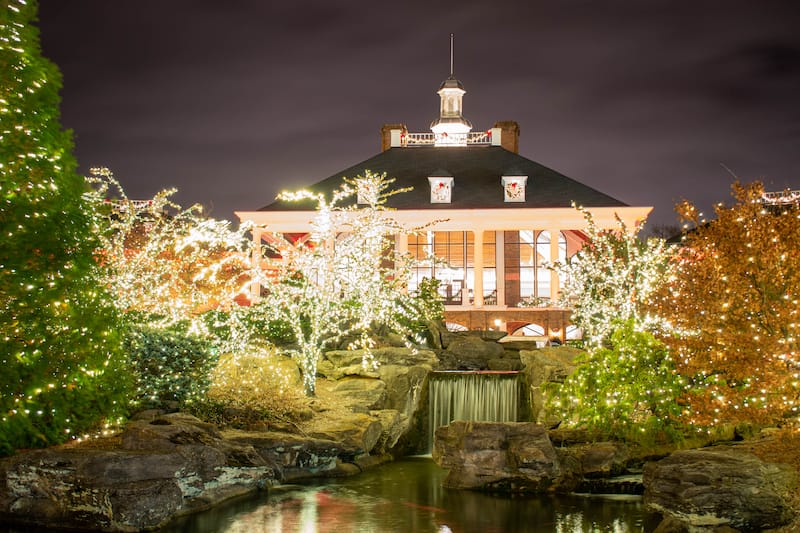 4. Graceland at Christmas
Graceland, Elvis Presley's mansion, is the epitome of glitz and glam in Memphis, and it decks the halls royally every Christmas season.
It all starts on November 18 at the annual lighting ceremony, and the mansion and grounds are decorated with holiday decorations and red velvet curtains alongside Presley family mementos.
After that, spend three days enjoying tours, performances, and festive events. It is one of the best things to do in Memphis during your stay in the western TN city!
Graceland Christmas UVIP, Graceland Christmas, Dean Z'S Rockin' Christmas Show are some of the tours offered where you'll get to learn more about the history of the mansion and how the King spend his holidays, enjoy shows and music, as well as tours around the mansion grounds to see the mesmerizing decorations up close.
Ticket prices vary from $62 up to $285, where you'll have the unique opportunity to walk in the King of Rock 'n' Roll's footsteps.
If you want to have the whole luxury experience, book a room at Gracelands unique resort hotel, The Guest House, introducing you to the Southern hospitality that the King was known for.
If you are lucky enough during your stay, the hotel might have live music shows that will complete your holiday season.
Address: Elvis Presley Blvd, Memphis, TN 38116
5. Dancing Lights of Christmas in Lebanon
The Magical Dancing Lights of Christmas is located in Sparta Pike, Lebanon and runs from November 10-December 31, 2023. It is the largest synchronized drive in Tennessee.
Driving through more than two million lights and enjoying the music shows offered will be a joyful activity to do with your loved ones during the holiday season.
Tickets to the drive can be purchased on-site or online if you want a contactless experience. The price of the tickets is $30 per family vehicle.
You will undoubtedly have lots of fun and make lasting memories!
6. Dollywood's Smoky Mountain Christmas
More than five million twinkling lights fill the air of Dollywood, Tennessee's number one attraction.
You can visit the magical place from November 4, 2023 to January 6, 2024 to see a symphonic Christmas Light Show, a unique Aurora Borealis walk-through, and a plethora of lit exhibits and brilliant colors in the Smoky Mountain Christmas.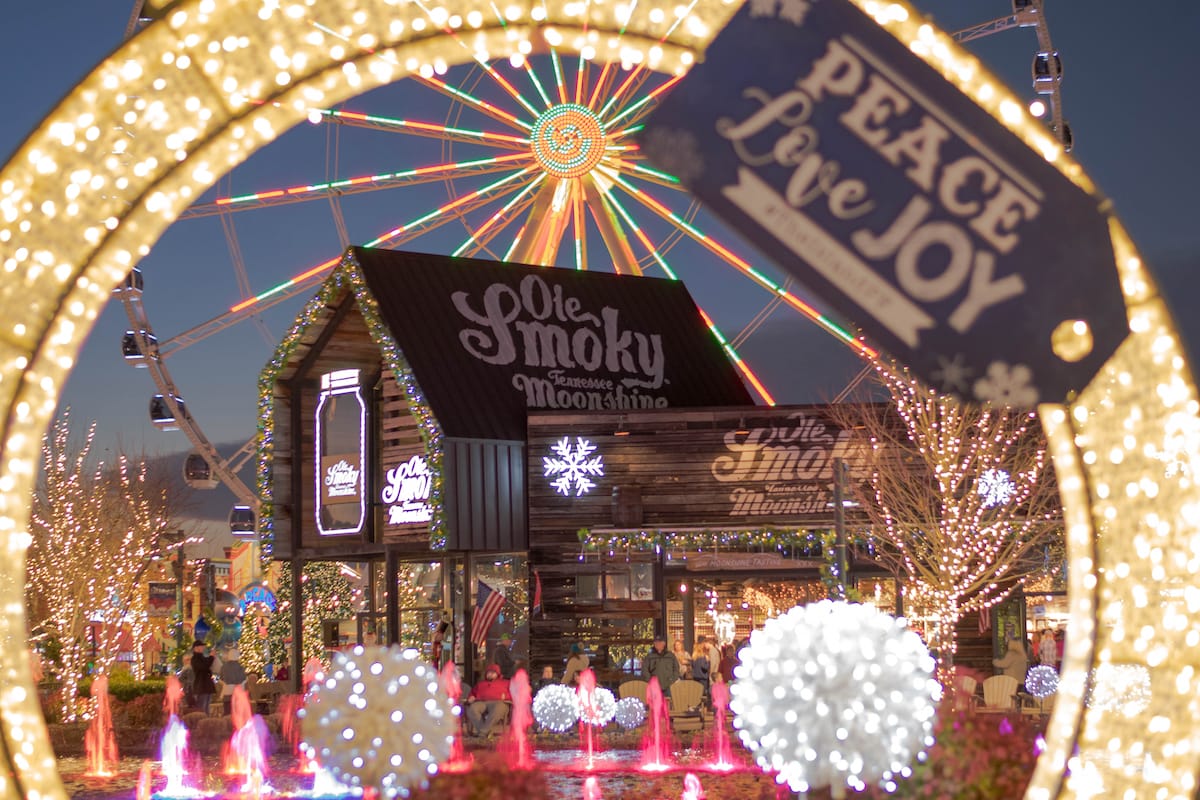 A Dollywood Express also offers festive rides and delicious seasonal treats to make your holiday season sweeter. You'll end your magical day with a beautiful firework show.
Indeed, Dollywood is a place where you will make unforgettable memories with your loved ones to treasure for a lifetime.
Address: 2700 Dollywood Parks Blvd, Pigeon Forge, TN 37863
7. Hidden Hollow Park in Cookeville
A magical place to visit during the Christmas season is Christmas Light Spectacular, located in Hidden Hollow Park in one of Tennessee's best small towns.
Christmas Light Spectacular is a drive-thru display with thousands of sparkling lights in the air between Thanksgiving and Christmas.
The place offers many activities to help you make your holiday season more memorable with your loved ones. You can buy a snack from the gift shop on-site on Saturday nights and enjoy sitting cozily next to the bonfire.
If you are lucky enough, Santa might visit the park, so don't forget your cameras to have some lovely pictures. The park also offers $5 Christmas Sleigh wagon rides where you'll enjoy some fun time.
Address: 1901 Mt Pleasant Rd, Cookeville, TN 38506
8. Pinnacle Speedway in Lights at Bristol Motor Speedway
Visiting the Pinnacle Speedway in Lights will give you the opportunity to drive through more than 2 million magical Christmas Lights.
Held at the Bristol Motor Speedway in Bristol Tennessee and Virginia, the light show kicks off November 17, 2023 until January 6, 2024.
Drivers will go through "The World's Fastest Half-Mile" as part of their festive drive, which will be an experience to remember and cherish with your loved ones.
The drive-through show is a four-mile journey through the parking lot and onto the famous half-mile track. Prices of the event vary depending on the size of your vehicle and the day of the week.
A family vehicle can cost $20 during weekdays and $25 on weekends. Vans cost $50 for both weekdays and weekends, and buses cost $125.
Address: 151 Speedway Blvd, Bristol, TN 37620
9. Gatlinburg SkyPark
If you want to enjoy scenic views of the Smokies, then SkyLift Park and SkyBridge is the place to go when you're visiting Gatlinburg. The iconic yellow chairs have taken people to the top of Crockett Mountain since 1954.
It will be a perfect activity to do around Christmas since it's a once-in-a-lifetime experience and worth checking out during the magical season.
Visitors will also have the chance to walk across the Gatlinburg SkyBridge, which is the longest pedestrian suspension bridge in North America measuring 680ft in length, and one of TN's best attractions.
You'll be greeted by a picturesque view of the city below and Great Smoky Mountains National Park, Tennessee's only national park.
If you are not scared of heights the bridge includes glass-floor panels at its 150-foot high midpoint which is a view to remember.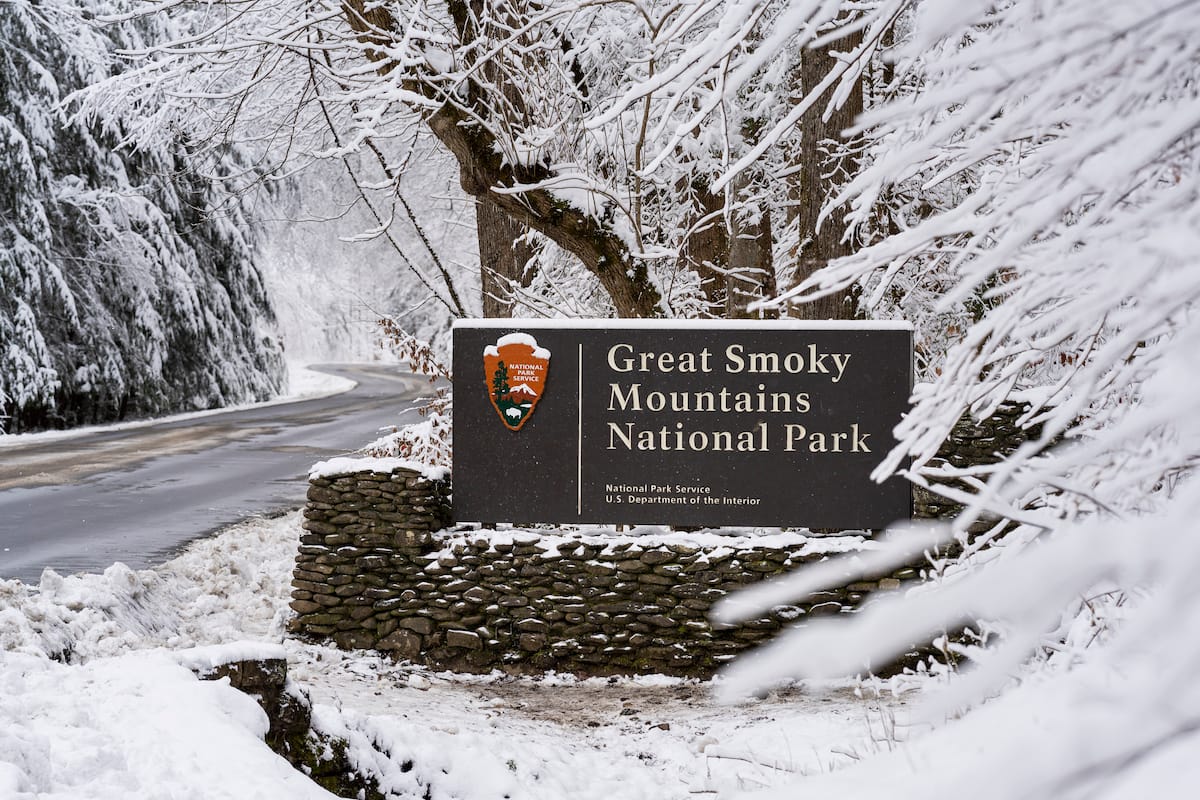 The Sky Lift Park ticket costs $37. It is one of the highlights of visiting Gatlinburg in winter!
Address: 765 Parkway, Gatlinburg, TN 37738
10. Christmas in Collierville
Enjoy a magical Christmas season with your loved ones in the town of Collierville. From November 6-19, 2023, you can drop letters to Santa in the mailbox located outside the Depot Visitors Center on the Town Square.
The letters dropped are promised to get a reply from Santa himself postmarked from the North Pole, which will be an amazing experience for the little ones!
Collierville kicks off its Christmas celebration starting November 21st with a tree lighting ceremony where you can sip hot chocolate, get your photo with Santa, and enjoy a live concert.
Each Saturday from November 25th to December 16th, Santa will be waiting for you. Bring you camera for a free opportunity to make some memorable pictures.
On December 1st, Collierville's annual Christmas Parade will take place on-site where seasonal snacks will be offered.
11. Enchanted Garden of Lights in Rock City in Chattanooga
Rock City Gardens, a magical 4,100-foot walking trail exhibiting majestic rock formations, caves, and lush gardens, is located atop Lookout Mountain in Georgia.
During the holiday season, the gardens turn into a nighttime wonderland where you can enjoy a stroll with your family and friends and experience the mesmerizing Christmas lights.
Over a million LED lights surround the gardens turning it into a fantasyland. When on-site, you have the chance to enjoy some seasonal snacks such as gingerbread cookies which you can decorate yourself, hot cocoa, and homemade fudge.
You'll also meet Santa in his workshop where you can get some pictures with him. The holiday extravaganza starts nightly from November 17, 2023 until January 6, 2024 (closed December 24th). Prices range from $20 to $32 based on the date of your visit.
Address: 1400 Patten Rd, Lookout Mountain, GA 30750
12. Holiday in Lights at Cheekwood Estate and Gardens in Nashville
Enjoy the winter wonderland at Cheekwood and make cherishing holiday memories filled with fun activities for all ages. Open from November 18, 2023 until January 7, 2024, Holiday LIGHTS is one of Nashville's favorite holiday traditions.
The gardens feature more than a million lights, making it the prettiest place for a holiday stroll. For your little ones, there is a special Children's Garden where they'll enjoy a Pinnacles of Light display featuring colorful cones synchronized to festive music.
Cheekwood is also famous for its trains filled with all the bells and whistles. The prices of the tickets for adults cost $26-$31 and for youth (3-17) $20-$25.
Address: 1200 Forrest Park Dr, Nashville, TN 37205
What is your favorite thing to do during Christmas in Tennessee? Let us know your holiday tips in the comments. Thanks!
More Tennessee Winter Guides
Pin this Tennessee Christmas Guide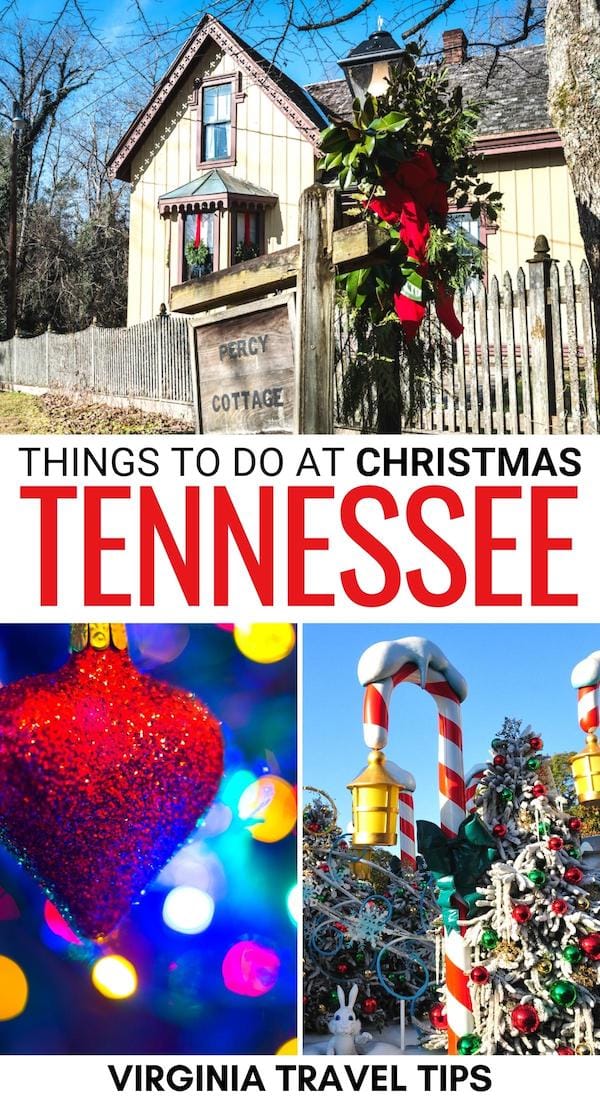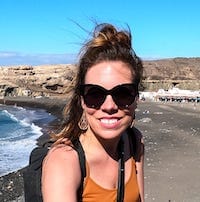 Megan is a travel blogger and writer with a background in digital marketing. Originally from Richmond, VA, she has lived all around the world (including Germany, Finland, Norway, etc) but her heart always finds its way back to Virginia. This blog is to help encourage travelers to explore the great state of VA… and its wonderful neighbors! Megan has written for or been featured by National Geographic, Forbes, Lonely Planet, Fodor's Travel, the New York Times, and more. She has visited 45 US states and 100+ countries… and wholeheartedly believes that Brunswick Stew is probably the greatest food to ever exist.