The gorgeous state of Tennessee has 12 national designated parks and historical sites worth visiting!
This guide details all national parks in Tennessee, including national battlefields and the most visited national park in the US – Great Smoky Mountains National Park.
Which Tennessee national park is your favorite? Let us know in the comments!
Historical Sites & National Parks in Tennessee
Andrew Johnson National Historic Site
Location: Greeneville
Official Website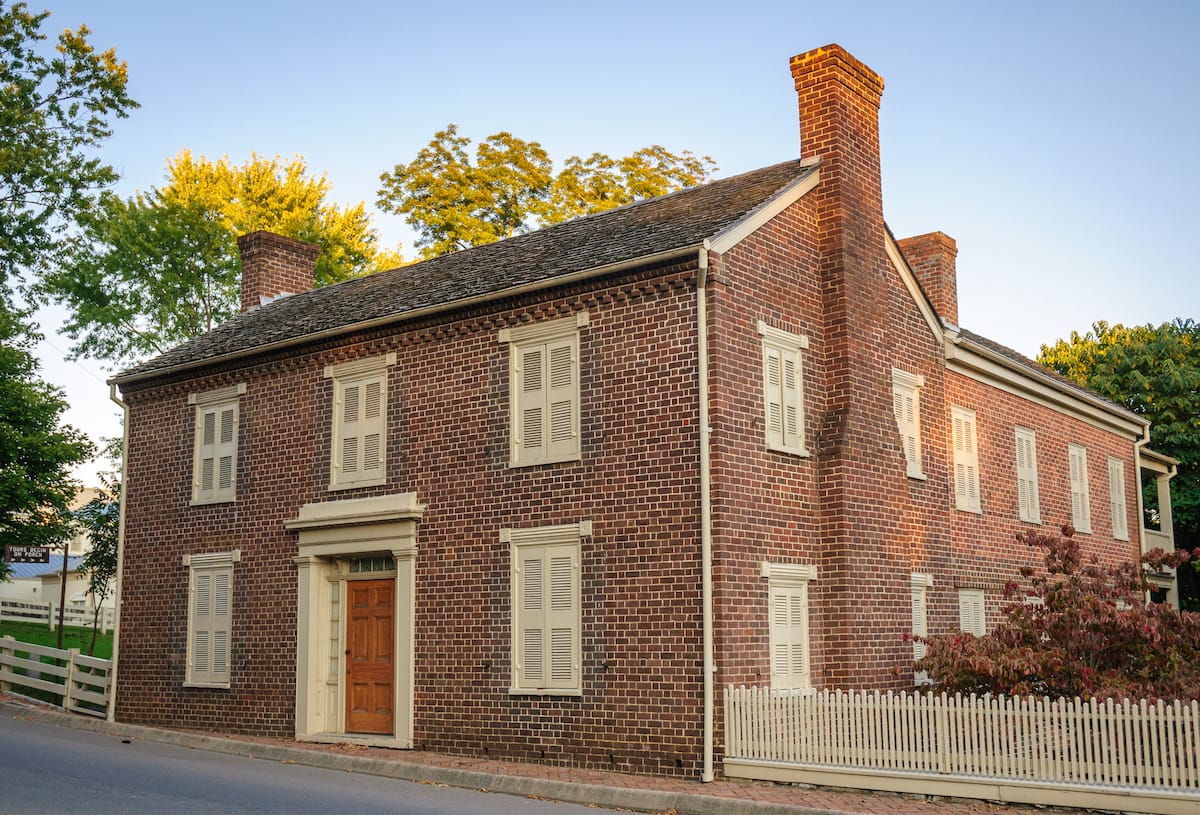 Immerse in American history and explore the life of the US's 17th President by visiting the Andrew Johnson National Historic Site.
The designated national historical site is comprised of four units, and your first stop should be the Visitor Center, where you can find visitor information and brochures, buy tour tickets, and get directions around the area.
Nearby Memorial Building is home to the Presidential Museum, Andrew Johnson's original 1830's Tailor Shop, and many other unique artifacts.
Learn more about Johnson's 'American Dream' (from tailor to President) in his early home, featuring many exhibits from his early life and detailing his notorious history of enslaving people.
Next, tour Johnson's Homestead, where he lived before and after his Presidency. The latter was demolished by soldiers during the bloody Civil War, but later on, was renovated (you can still see some graffiti etched into the walls).
Your final stop should be the National Cemetery at the crest of Monument Hill and surrounded by Unaka Mountains, which honors the nation's veterans and fallen soldiers and serves as the final resting place of Andrew Johnson and his family.
Appalachian National Scenic Trail
Location: various
Official Website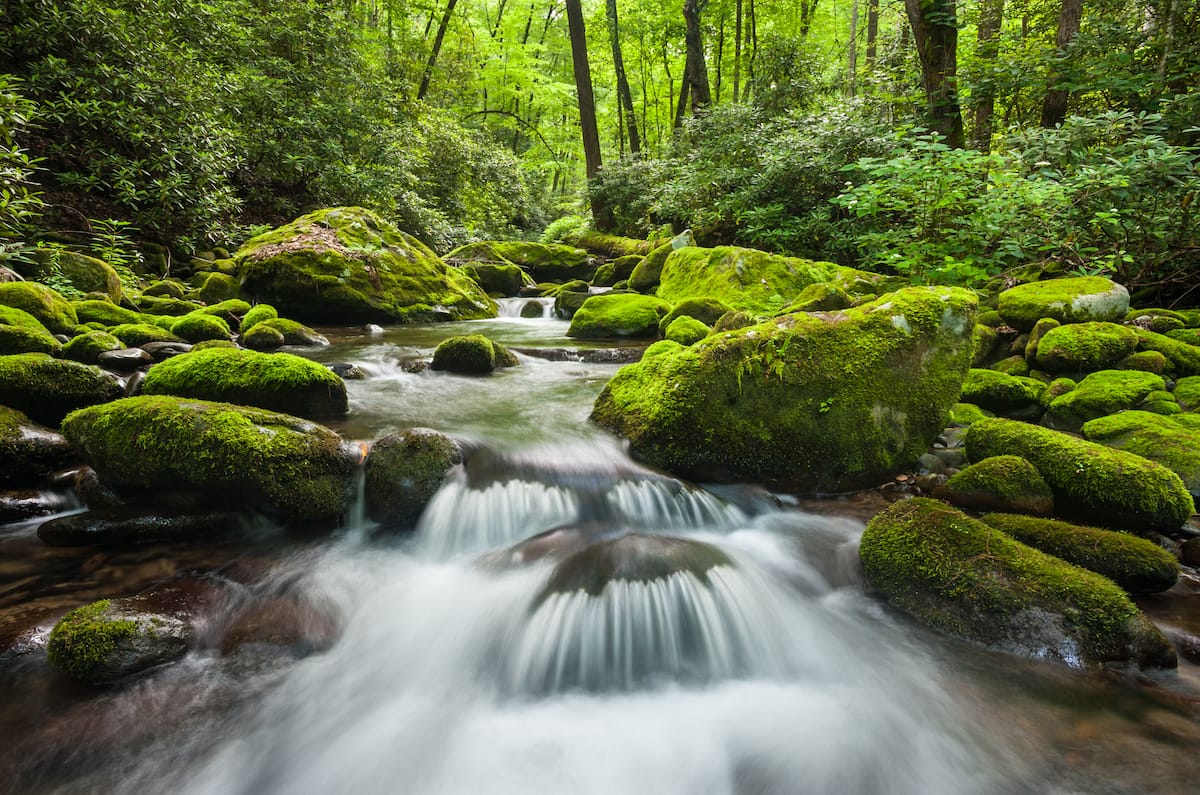 If you are chasing after spectacular vistas, then you need to add the Appalachian National Scenic Trail to your USA bucket list.
More than 2,100 miles of footpath along Appalachian Mountain ridgelines will take you through 8 national forests, from Mount Katahdin in Maine to Springer Mountain in Georgia, and 6 national park system units.
The trail was created and built by the efforts of forester Benton MacKaye and opened to the public in 1937.
It is mainly used for short-term or section hiking by nature enthusiasts or backpackers as a weekend getaway, but some people embark upon the entire trail (passing through 14 states), which takes approximately 5-7 months.
Get ready to admire rich wildlife along the way, such as black bears, moose, deer, bobcats, etc. and make sure not to miss a few of the main highlights of the Trail: the Delaware Water Gap National Recreation Area, Baxter State Park, the White Mountains, Harpers Ferry National Historical Park, the Great Smoky Mountains (in Tennessee and North Carolina!), Springer Mountain, Mount Rogers, and the Blood Mountains.
Hike the Appalachian Trail in spring to witness the explosion of azalea, dogwood, and rhododendron or in fall to take in hypotonic scenery of vibrant fall foliage.
Big South Fork National River and Recreation Area
Location: Oneida
Official Website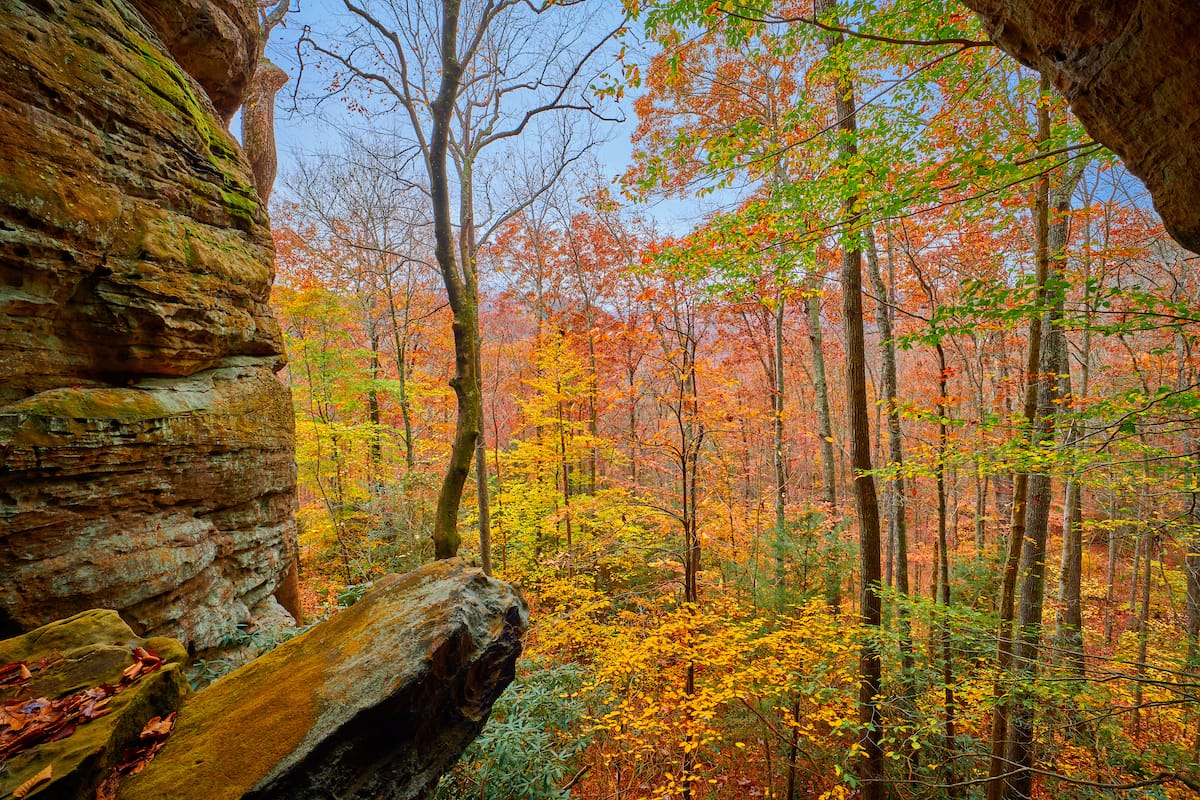 Stretching for over 125,000 acres along the Cumberland Plateau, the Big South Fork National River and Recreation Area offer you to discover a pristine corner covering both Tennessee and Kentucky's natural beauty.
The area protects the Big South Fork of the Cumberland River and its tributaries and features 90 miles of scenic gorges, valleys, sandstone bluffs, majestic cliffs, stunning chimneys, arches, and is rich with plenty of natural and historic sites.
For a history-filled tour, hop on the Big South Fork Scenic Railway and head to explore a coal mining town, the Blue Heron Mining Community, that was once owned by the Stearns Coal and Lumber Co.
Outdoor adventurers can enjoy a wide range of recreation opportunities here, such as whitewater rafting, canoeing, camping, horseback riding, hunting, mountain biking, and fishing.
The Tennessee park also offers 180-miles of scenic hiking trails for you to take in splendid vistas of the Cumberland Plateau Valley and the Big South Fork River along the way.
Just note that while on the trail, dogs must be kept on a leash at all times. For a fun and informative trip, take part in ranger-led programs and events organized year-round.
Chickamauga & Chattanooga National Military Park
Location: Chattanooga
Official Website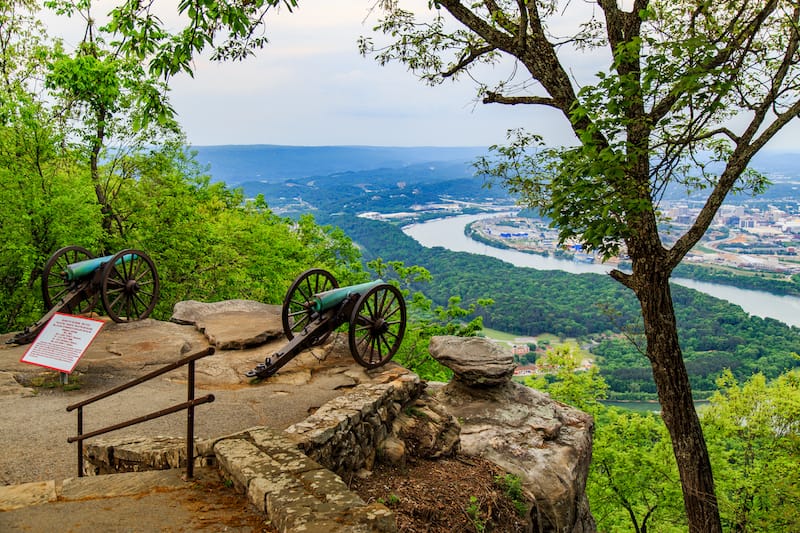 Nestled at the foothill of Lookout Mountain, Chickamauga & Chattanooga National Military Park is the oldest and largest of Americas' Civil War parks.
The latter commemorates fallen soldiers who fought in 1863 for control of Chattanooga and features Lookout Mountain, the battlefields of Orchard Knob, Signal Point, and sections of Missionary Ridge.
Civil War buffs will certainly appreciate exploring Moccasin Bend National Archeological District, the Brotherton House, symbolizing the site where the Union line was breached, as well as Cravens House, serving as a Confederate field hospital, and Snodgrass House, serving as a Union field hospital.
Over 50 miles of hiking trails in Chickamauga Battlefield and 30 miles of trails in Lookout Mountain Battlefield will immerse you in history by taking you to the heart of the battlefield through historic roads that were present at the time of the battle.
You'll have a chance to witness more than 600 significant monuments and markers along the way!
Make sure to check out the Visitor Center to find maps of hiking and biking routes, useful information on how to experience Civil War history throughout the park, see extensive exhibits, an orientation film, and admire the Fuller Gun Collection.
This is a great day trip from Chattanooga for those wanting to dive into the area's 150-year-old past.
Cumberland Gap National Historical Park
Location: various
Official Website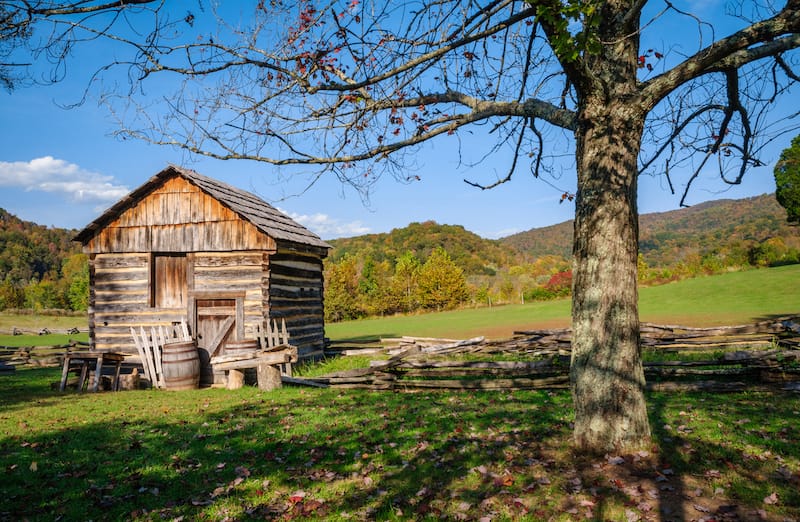 Visiting Cumberland Gap National Historical Park is an escape into another world.
Established in 1940, the Park preserves Cumberland Gap, the first great mountain gateway to the west that was used by Native tribes, wildlife, and people for getting into Kentucky's wilderness through mountains.
The latter includes the Wilderness Road, blazed by Daniel Boone, where you can follow the footsteps of early settlers, Native Americans, and Civil War soldiers.
Ample outdoorsy fun and adventures await you in 20,000 acres of land, home to 70 miles of scenic hiking trails that will take you through splendid vistas, stunning underground caverns, and help you learn more about unique geologic sandstone formations, as well as diverse flora and fauna.
The Visitor Center is one of the must-visit spots for you to check out the Museum and Eastern National Bookstore, watch dramatic films, and admire Appalachian art at Cumberland Crafts.
The Park also has something for bird-watching enthusiasts, allowing you to admire numerous species of warblers, wild turkey, barred, ruffed grouse, great horned and screech owls, bald eagles, etc.
Take a ranger with you and head to explore Gap Cave to learn about its formations, and tour Hensley Settlement for immersing deeper in the Park's rich history.
Fort Donelson National Battlefield
Location: Dover
Official Website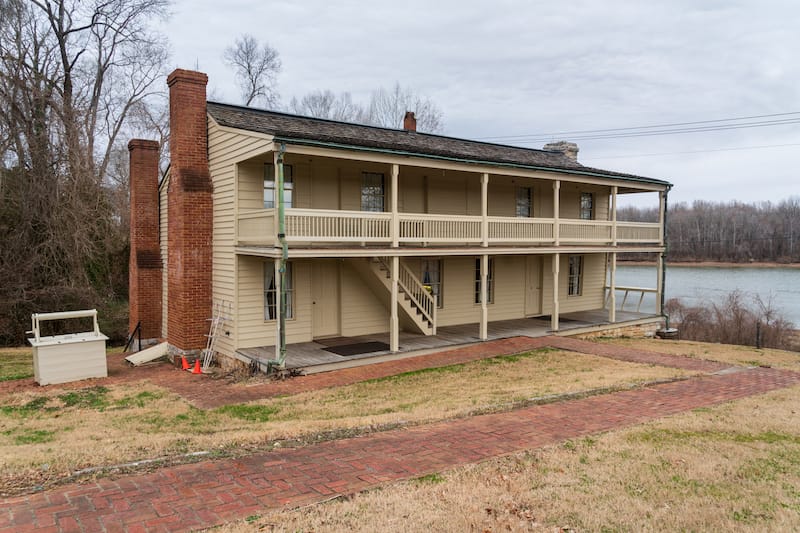 If you want to dive into some Civil War history, where better to begin than at Fort Donelson National Battlefield?
Nestled along the banks of Cumberland River, the Park is home to a Visitor Center, the Confederate Fort, Water Batteries, Dover Hotel, National Cemetery, Fort Heiman, and Fort Henry Units.
One of the highlights of the Battlefield is the Confederate Monument erected in 1933 by the Tennessee Division of the United Daughters of the Confederacy to honor fallen soldiers.
Next, head to see the Cumberland River Batteries that were built with the main purpose to protect the strategic transportation routes of the river and defend major supply bases in Clarksville and Nashville.
Those heavy artillery bombardments forced ironclads to retreat, resulting in General Buckner's surrender and Grant and his troops' Union victory.
Visit the historic Dover Hotel to get the real feel of what happened here during the Civil War, which served as headquarters for General Buckner and his staff and a Union hospital after Buckner's surrender.
Nearby Fort Donelson Cemetery was built in 1867, serving as the final resting place for fallen Union soldiers and sailors who had already been buried in the Fort Donelson area.
Great Smoky Mountains National Park
Location: various
Official Website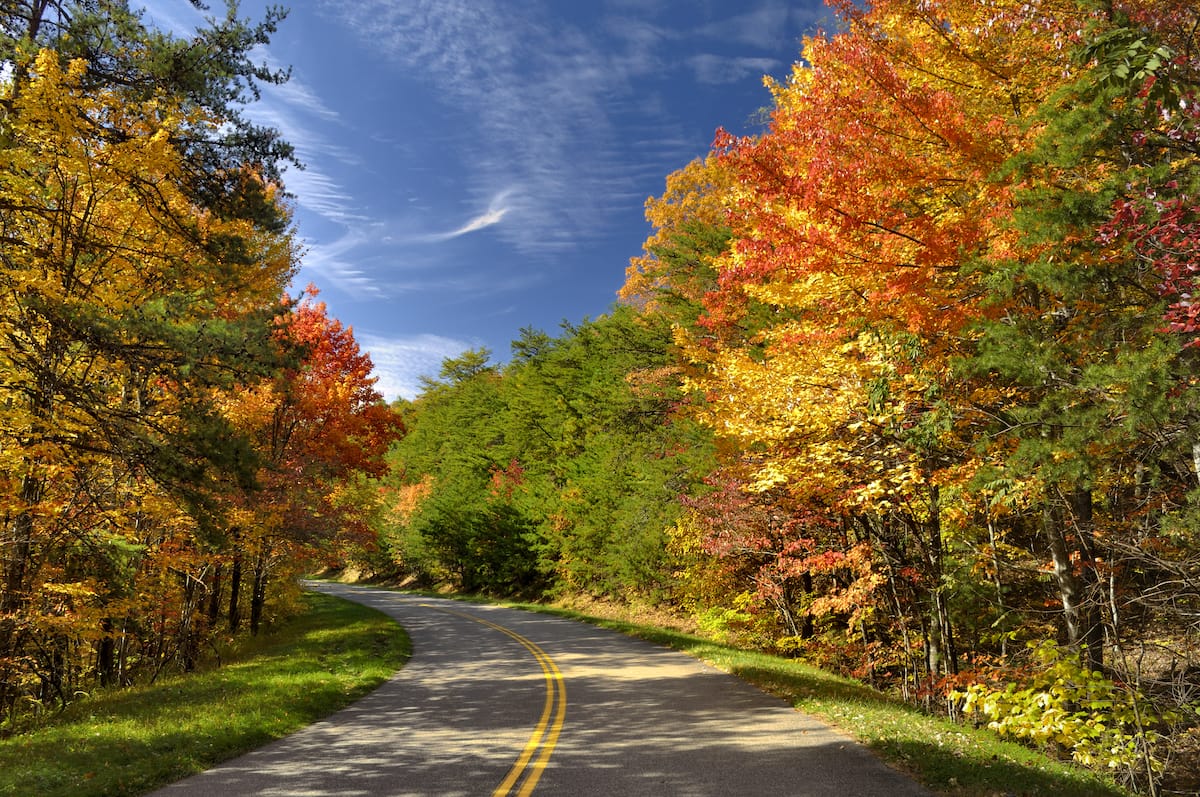 Great Smoky Mountains National Park, the United States' most visited national park, is a true heaven on earth for outdoor lovers.
Your first stop should be Sugarlands Visitor Center to see plenty of natural history exhibits, check out gift shops, get information about ranger-led program dates, and access trail maps.
Fontana Lake is one of the treasures of the Tennessee national park that offers many types of water-based recreation, such as kayaking, canoeing, angling, stand-up paddleboarding, and lakeshore camping.
Get ready to marvel at the hypnotic scenery of Laurel, Abrams, Meigs, and Rainbow Falls, wildflower explosions in spring and summer seasons, and vibrant fall foliage during leaf-peeping season.
If you still have time, go hiking along the stunning Appalachian Trail to take in the astonishing mountain views. For a one-of-a-kind experience, try auto touring on Cades Cove Loop Road!
Additionally, you can cruise along Upper Tremont Road to visit historic buildings or wildlife watching. On Roaring Fork Motor Nature Trail, you will have a chance to check out log cabins (perfect for a romantic getaway!), grist mills, rushing streams, etc.
Manhattan Project National Historical Park
Location: Oak Ridge
Official Website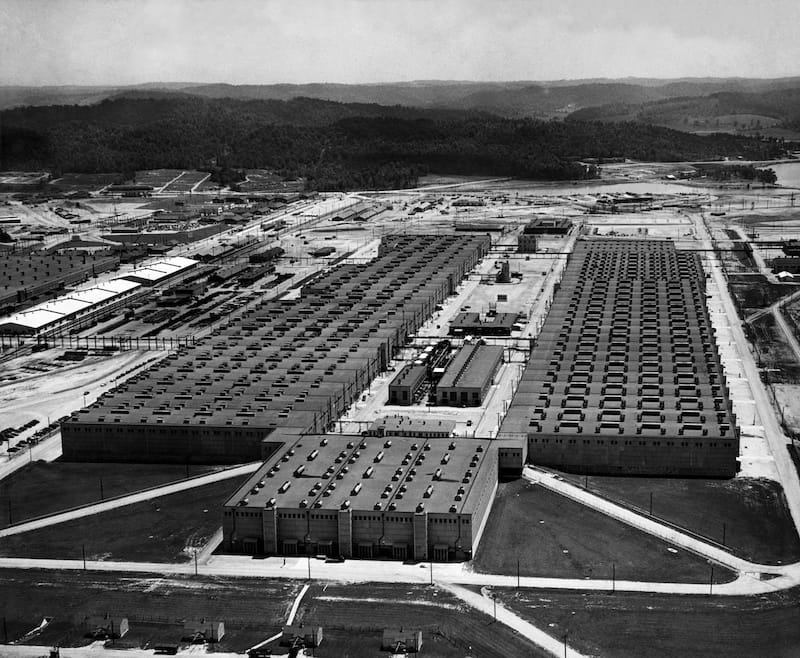 Travel back in time by visiting Manhattan Project National Historical Park that preserves a significant time in history.
It is comprised of 3 separate sites, which are located in Hanford, Washington; Oak Ridge, Tennessee; and Los Alamos, New Mexico.
All of them were involved in developing a top-secret government program called the Manhattan Project, which aimed to create the world's first atomic bombs for World War II that were later dropped on Hiroshima and Nagasaki.
The Park, which opened in 2015, features many historic sites, facilities, and artifacts and highlights the story of people, science, and engineering that permanently changed the world.
Here, you can learn more about why and how the first atomic bombs were developed and what the devastating consequences on society ended up being.
Laboratories for designing and building the bombs were in Los Alamos, including the Gun Site Facilities, the V-Site Facilities, and the Pajarito Site; plutonium making "B Reactor" in Hanford and 3 hidden complexes in Oak Ridge, which are the X-10 Graphite Reactor National Historic Landmark (producing plutonium), the K-25 Building and Buildings 9731 and 9204-3 at the Y-12 complex (enriching uranium).
You can still tour those sites in Hanford and Oak Ridge, but public access is prohibited for viewing DOE facilities in Los Alamos.
Natchez Trace National Scenic Trail
Location: various
Official Website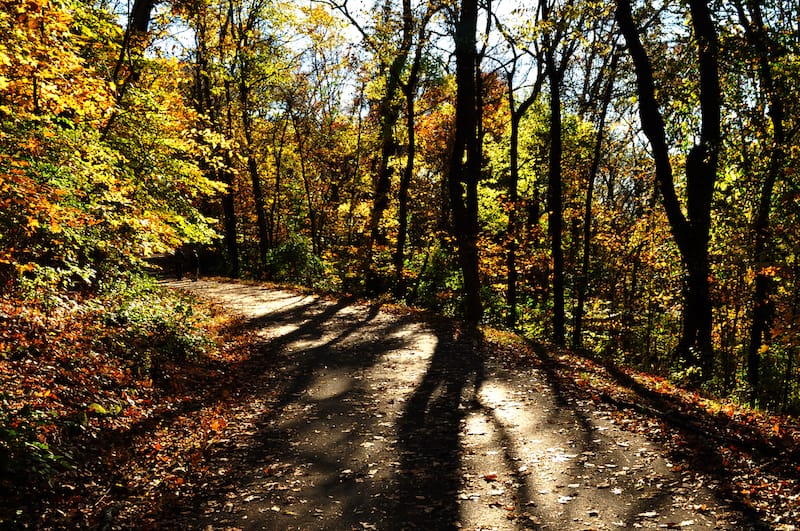 The Natchez Trace National Scenic Trail is a true heaven on earth for hiking enthusiasts!
Once a 500-mile trail connecting Natchez, Mississippi to Nashville, Tennessee, it is now comprised of 5 sections (Highland Rim Trail, Blackland Prairie, Yockanookany, Rocky Springs, and Potkopinu), which can be accessed through the scenic 444-mile Natchez Trace Parkway's parking areas and many other points.
Most of this 60-mile trail follows an early American footpath that became one of the US's first National Roads; the rest encompasses newly formed trails and is a great day trip from Memphis.
The trail allows hiking and horseback riding through hardwood forests, wetlands, Spanish moss, swamps, overlooks, and rock outcroppings to discover the area's history. Just note that biking is not allowed here.
Step back in time by leisurely walking along some portions of Old Natchez Trace, where you can experience the sights and sounds and follow the footsteps of people who have walked many years before you.
All of the sections range from 3 to 25 miles, the Yockanookany section being the longest one (26 miles) as it is perfect for nature walks through lush forests and historic areas, while the most challenging 20-mile Highland Rim Trail serves as a hiking and equestrian corridor.
Obed Wild and Scenic River
Location: Wartburg
Official Website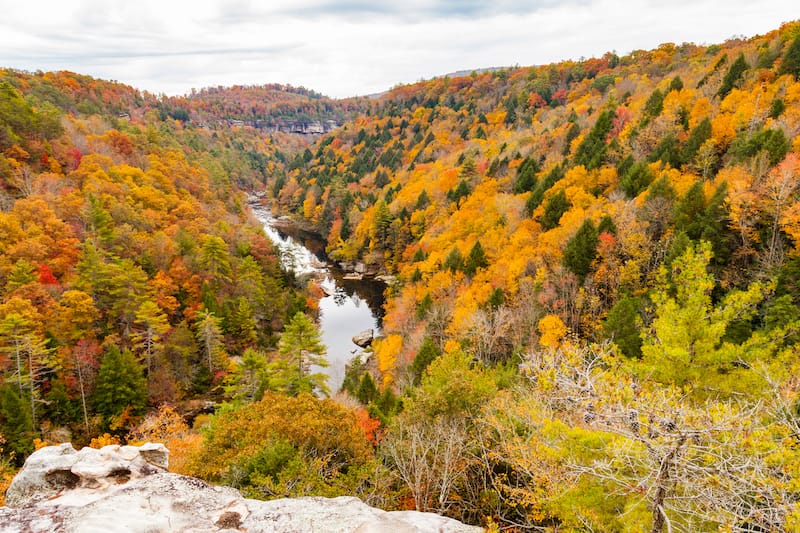 Stretching along the Cumberland Plateau, the Obed Wild and Scenic River runs through Tennessee, traversing through 500 ft. deep gorges.
The Obed River appears much the same as it did in the late 1700s when the first European settlers walked on its shores.
A wide range of outdoor recreation activities awaits you here, including canoeing, kayaking, and even rafting in 45 miles of whitewater featuring Class II to Class IV rapids.
Thrill-seekers can also try rock climbing on up to 200 ft. long numerous climbing routes along sandstone rock faces.
In case you are a photographer and have already captured an astonishing photo highlighting the Park's spectacular views, you can submit it for the 10th annual photography exhibition held at the Obed Wild & Scenic River Visitor Center.
Fishing enthusiasts can certainly bet on their next great catch in the river, which is abundant with a variety of bass, catfish, bluegill, muskie, etc. You can also discover Obed by taking part in ranger-led and free guided programs.
Nearby, you can go hiking along the scenic trails to enjoy breathtaking vistas, camp under a truly dark night sky at Rock Creek Campground for only $7, or find picnic benches and grills at Nemo Picnic Area.
Shiloh National Military Park
Location: Shiloh
Official Website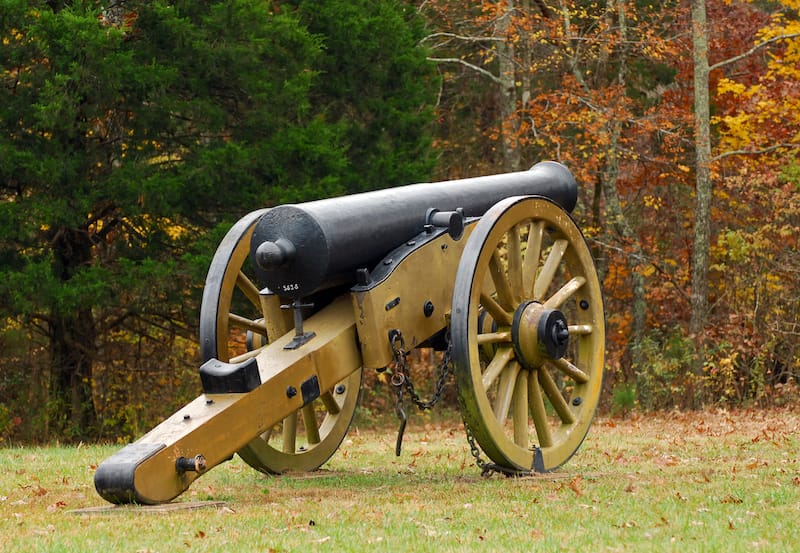 Established in 1894, Shiloh National Military Park is one of the US's best-preserved Civil War battlefields and one that is imperative to visit to understand the history of the war better.
The 4,000 acres of the park are home to many historic sites, such as the battlefield of Shiloh (Pittsburg Landing), the battlefield of Corinth, Hornet's Nest, the Bloody Pond, the General Albert Sidney Johnston death site, and a National Cemetery.
This was one of the first major battles in the Western Theater of the Civil War and lasted only two days (it took place on April 6 and 7, 1862).
Over 24,000 lives were lost (more losses than any of America's previous wars combined) out of 110,000 American troops, including 65,000 Union troops under Grant and Buell and 44,000 Confederates under Johnston and Beauregard.
Head to the Visitor Center to start your journey with a short video, view many war exhibits inside the Museum, and check out the gift shop.
Take in the park's stunning views, experience the history, and discover this battle's influence on the nation while taking part in self-guided 13-mile auto tours or daily ranger-led interpretative programs.
Finish off your tour by visiting the National Cemetery, the burial site for 4,000 fallen soldiers and their family members.
Stones River National Battlefield
Location: Murfreesboro
Official Website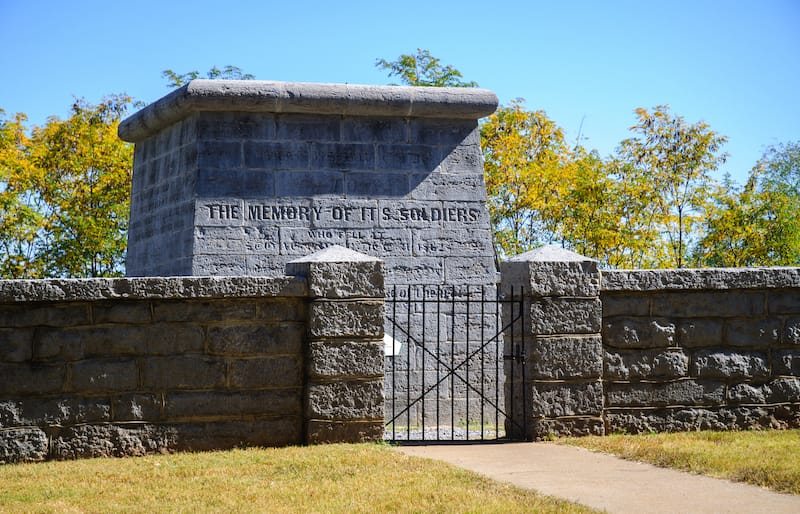 Another one of the best national parks in Tennessee for history buffs is Stones River National Battlefield, one of the Civil War's bloodiest battles and where you can tour the site of one of Lincoln's military victories for the North.
The Union gained substantial military and political achievements during the Battle of Stones River despite over 24,000 losses.
Here, you can stroll along the fields and forests to experience the real feel and consequences of this significant battle which escalated on December 31, 1862, and lasted until January 2, 1863.
The 600 acres of land is home to Stones River National Cemetery, built in 1865 and serves as the final resting place of more than 6,000 Union soldiers, and the oldest Civil War monument, Brigade Monument, that still stands in its original place.
Your first stop should be the Visitor Center, where you can tour the Museum and watch an orientation film capturing the human drama of the bloody battle.
If you want to take part in ranger-led programs, then visit from May to October, and learn more about one of the most important Union victories of the Civil War during special living history events that take place every month.
Have you visited any of these national parks in Tennessee? Let us know your favorites in the comments!
More Tennessee Travel Inspiration
Pin this Tennessee National Parks Guide