Are you planning to spend a weekend in Nashville soon? This Nashville itinerary will give you all the info you need to spend two amazing days in the city!
Are you planning your trip to Nashville last minute?
If you're traveling to Nashville last minute, you want to ensure you have lodging ahead of time! Below are some of our top picks in town!
🇺🇸 Best Tours and Attractions in Nashville:
🛌 Best Hotels in Downtown Nashville:
🚗 Looking for the best way to get around Nashville? Click here to check rental car rates for Tennessee!
Whether you have 2 days in Nashville or more, you will never run out of options for things to do! This guide covers the top attractions for first-time visitors.
Did we miss any amazing places to visit on this itinerary for Nashville? Let us know in the comments! Thanks!
How to Use this Nashville Itinerary (+ Map!)
This Nashville itinerary takes into consideration the top spots in the city for those who are new to the Tennessee capital!
It has been broken down into two days with an optimal way to see the main highlights of the city in those two days.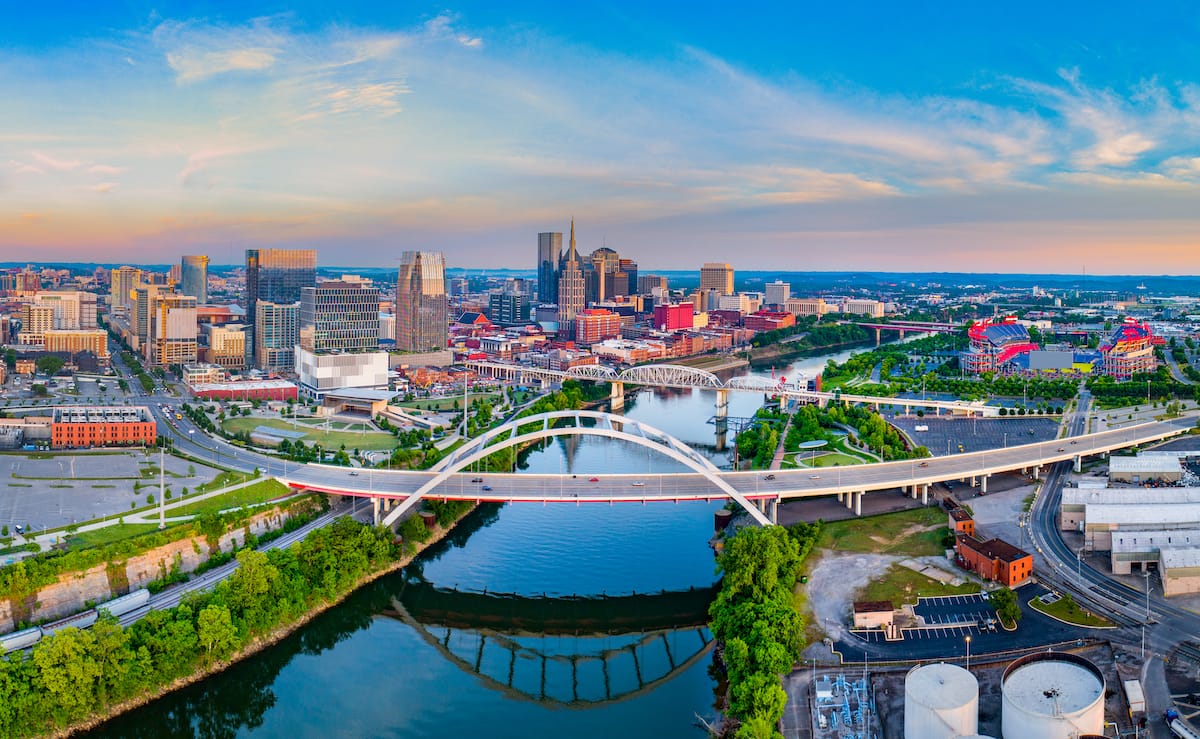 At the end of the itinerary, we also give a few additional options in case you have 3 days in Nashville (or more)! These activities and things to do are perfect for a long weekend getaway there!
It is also recommended to rent a car in Nashville. It really makes seeing some of these sights (like Radnor Lake State Park) much easier and you can do it at your leisure.
We have put all activities and things to do in Nashville on a map to help you plan your trip with ease.
To add this map to your Google Maps account, click the 'Star' icon next to the map name. You can then view it on your cell phone or computer by heading to your Google Maps account, click the menu and add it to 'Your Places'.
How to Get to (and around!) Nashville
The best way to get to Nashville is by driving if you are arriving from somewhere close (especially from the east as the drive will be very pretty crossing over the mountains)!
You can fly into the Nashville International Airport which is located around 8 miles from the downtown area. The airport is serviced by airlines and cities all over the US, as well as a few international locations like London.
Getting around Nashville is also easy compared to many other US cities! You will have options to take a taxi, scooter, or bike rental.
But, the coolest thing about getting around Nashville as a traveler is that the public transportation is easy (46 bus routes) and cheap (under $2 for a ride for adults).
You can see timetables and additional information here.
Nashville Itinerary Overview
Day 1 Overview
Tennessee State Capitol
Explore the downtown area
Country Music Hall of Fame Museum
Honky Tonk Highway
Day 2 Overview
Parthenon
12 South neighborhood
Gaylord Opryland Resort Gardens
Grand Ole Opry
Day 1 in Nashville
Tennessee State Capitol
Start your day by touring one of the oldest working capitols in the United States, which serves as the home of the Tennessee General Assembly and houses the governor's office.
Built between 1845 and 1859, the Tennessee State Capitol sits atop Cedar Knob, downtown Nashville's highest point.
It was designed in the Greek Revival Style by noted architect William Strickland, who considered it to be his greatest work.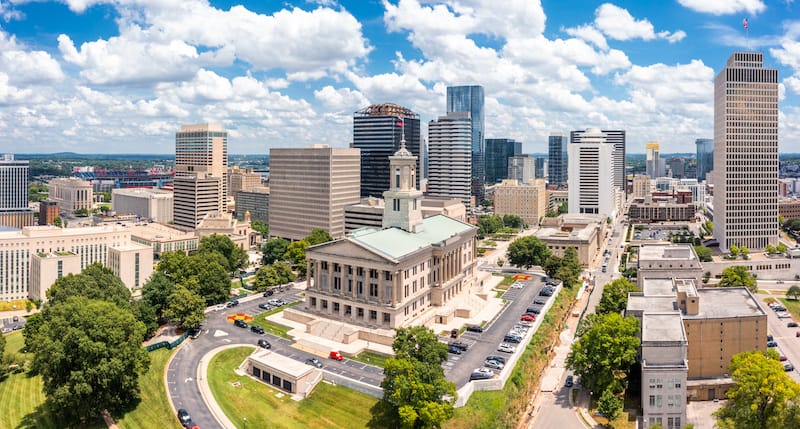 Visitors wishing to take a closer look at the building's interior can sign up for a 45-minute walk-in guided tour or guided group tours for up to 10 people. Self-guided tours are also available Monday through Friday from 9 am to 4 pm Central Time.
On-site, you can witness statues honoring Sam Davis, Sgt. Alvin York, Presidents Andrew Jackson, Andrew Johnson, and the tombs of President and Mrs. James K. Polk.
The Tennessee State Capitol was registered on the National Register of Historic Places in 1970 and named a National Historic Landmark in 1971.
Address: 600 Dr. M.L.K. Jr Blvd, Nashville, TN 37243
Explore the Downtown Area
Afterward, it's time to explore the downtown area, admire historic buildings that have been reimagined into music attractions, visit honky-tonks to enjoy world-class live music, dive into your creative side at art galleries, and dine at chef-driven restaurants.
Segway, bus, and hop-on hop-off trolley tours are great ways to get around and see a lot of things in a short time.
Book the Downtown Nashville Guided Sightseeing Walking Tour to swing by the city's most famous and infamous places, see the streets where musical legends were made, and hear stories about Andrew Jackson's many duels.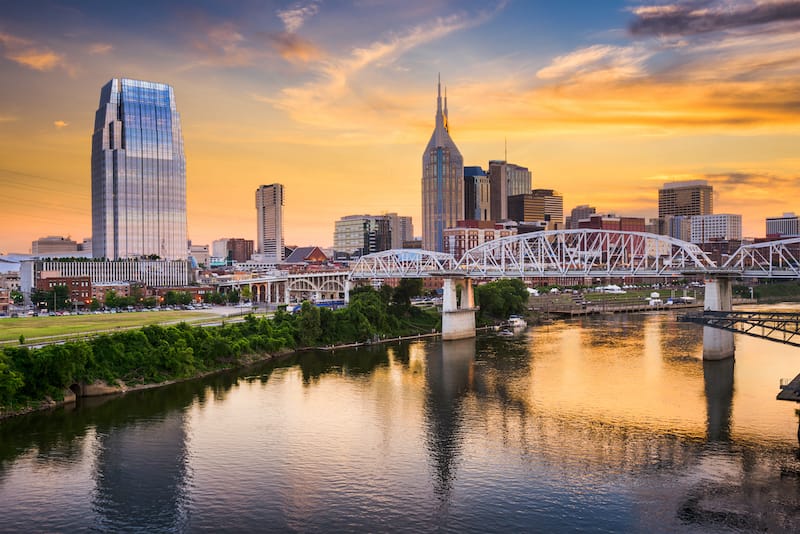 The local guide will take you around to the Ryman Auditorium, Pass Tootsie's Orchid Lounge, Nashville Public Square, the Tennessee State Capitol building, and the Downtown Presbyterian Church.
You will also visit Printers Alley and the Men's Quarter, so you can see where Little Richard and Hendrix practiced the blues before becoming famous and where Johnny Cash drank at Skull's Rainbow Room.
>> Click here for Nashville Downtown tour rates and availability
Country Music Hall of Fame Museum
Next, you can make your way to the Country Music Hall of Fame, also known as the "Smithsonian of Country Music," to immerse yourself in the sights and sounds of country music as you walk around this top attraction.
It is home to the world's largest collection of country music artifacts (2.5 million), over 350,000 square feet of state-of-the-art galleries, retail stores, education classrooms, and special event space.
The museum is open every day from 9 am-5 pm. You can purchase your tickets in advance here!
Admission tickets cost $27.95, which includes touring two floors of the Museum, and viewing a diverse mix of displayed artifacts, video footage, and carefully selected sound recordings.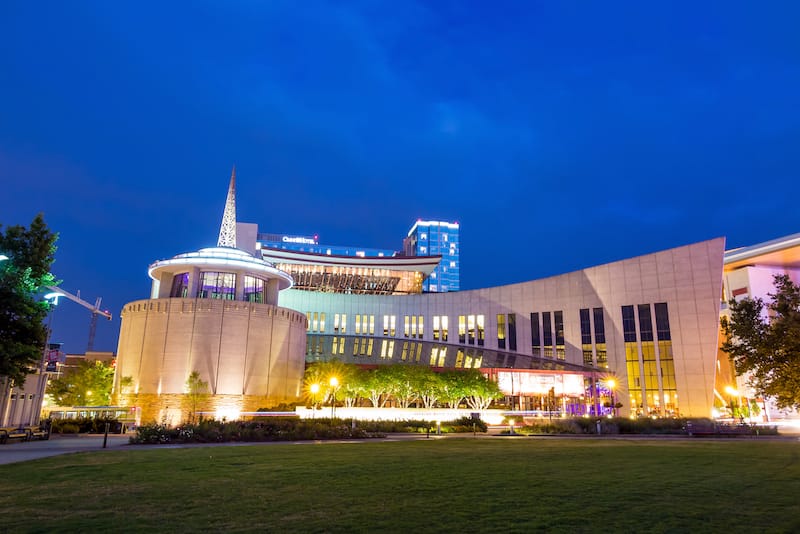 Visitors can also check out many artifacts from today's groundbreaking artists such as Luke Bryan, Taylor Swift, Keith Urban and even play an instrument, enjoy an archived film, or listen to live music from country legends.
Before leaving, check out The Museum Store, Circa, Hatch Show Print, or the Haley Gallery packed with museum souvenirs, locally-made gifts, and country lifestyle apparel, or stop by 2|22, Red Onion, or Bajo Sexto Taco to fuel up for adventures.
>> Purchase your Music Hall of Fame Museum tickets in advance here
Address: 222 Rep. John Lewis Way S, Nashville, TN 37203
Honky Tonk Highway
Those who love a good party will absolutely love this landmark district known as the Honky Tonk Highway.
Located on Lower Broadway, where you'll want to hang out in the evening in the best live music honky-tonk venues, which pump live music into the streets from 10 am to 3 am.
Order a drink and party until the wee hours at Miranda Lambert's Casa Rosa or Legends Corner, visit Ole Red or Famous Nashville to take in breathtaking views from one of the tallest rooftops in town, and enjoy live music at three-story AJ's Good Time Bar.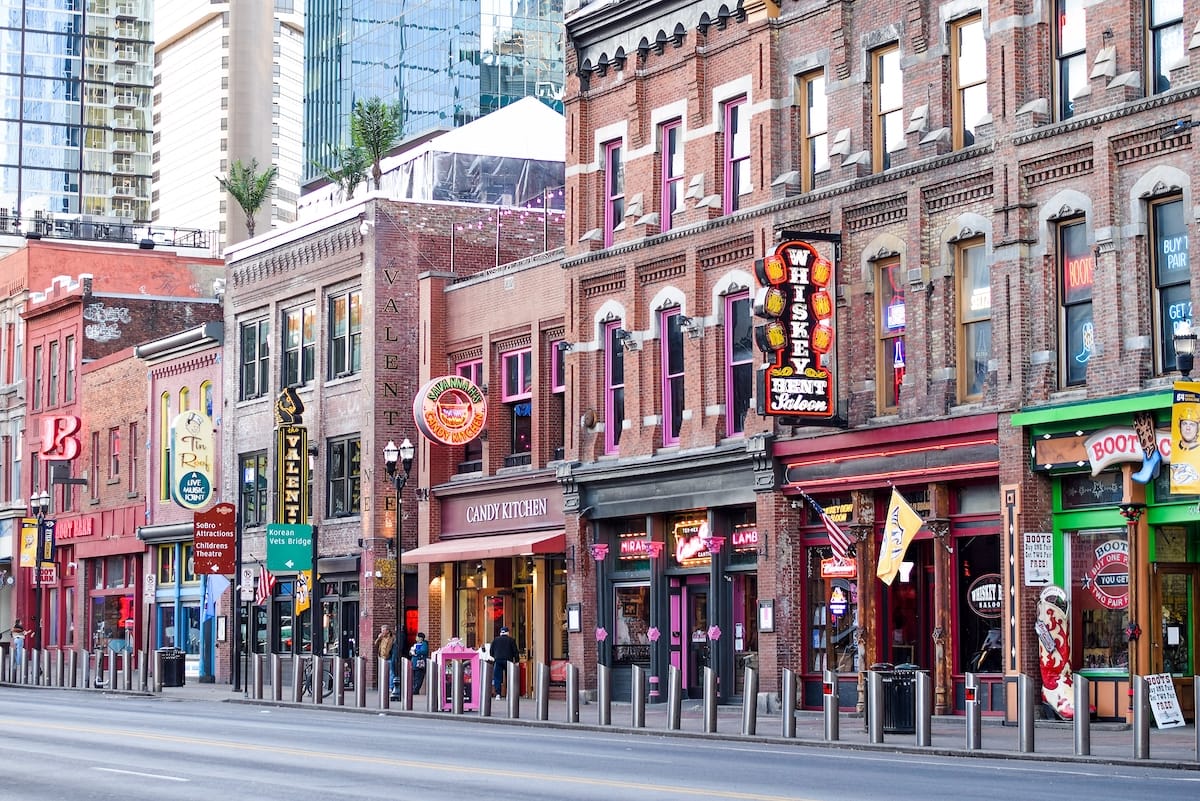 You can also savor Southern food and local craft beer at Jason Aldean's Kitchen + Rooftop Bar.
The best part in all of this: there is absolutely no cover charge.
If you prefer more family-friendly options, then you should consider Rippy's, which stands out with its signature ribs and Honky Tonk Tea.
Wild Horse Saloon offers free dance lessons on the largest dance floor in the city, while Tootsie's Orchid Lounge is where Willie Nelson earned his first songwriting gig.
Please note that the over-21 age restriction is enforced after 7 or 8 pm.
Address: 501 Broadway, Nashville, TN 37203
Day 2 in Nashville
Parthenon
Kickstart your second day the right way by visiting Parthenon to witness the world's only full-scale replica of the famous Greek temple Parthenon that undoubtedly stood the test of time.
Located atop a rolling hill in the heart of Centennial Park, Nashville's premier urban park, you can explore the legacy of the ancient Greeks and their impact on American civilization.
It was originally built in 1897 to celebrate Tennessee's 100th birthday and now serves as the perfect example of Nashville's classical architecture giving Nashville its nickname "Athens of the South."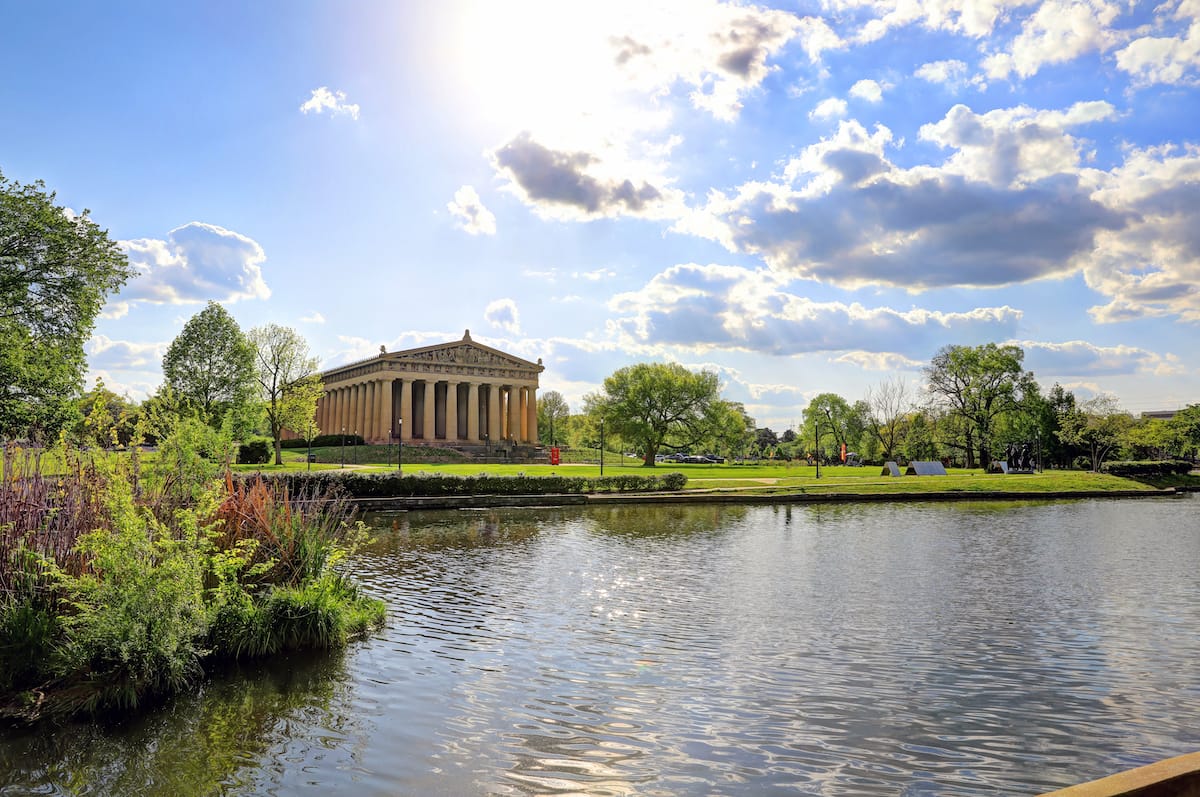 The Parthenon was built to be temporary, but with its popularity, it was left standing after the Tennessee Centennial Exposition.
The museum is home to art galleries, many sculptures, and paintings created by 19th and 20th-century American artists, including the 42-foot tall Athena Parthenos sculpture, which you can see for a fee of $10.
The Parthenon was initially built of plaster, wood, and brick, but in 1920 the city was forced to rebuild it in lasting materials. You can tour inside the building from Tuesday through Sunday from 9 am to 4:30 pm.
Address: 2500 West End Ave, Nashville, TN 37203
Walk around 12 South Neighborhood
A half-mile stretch along 12th Avenue South, also known as the 12 South, is one of the most walkable and trendiest neighborhoods in Nashville.
This dynamic neighborhood is brimming with vintage clothing stores, gourmet restaurants, cafes, bars, stunning wall murals, and more.
Make sure to set aside a few hours to grab lunch, do some shopping, or simply stroll around to take in gorgeous views.
Most of the shops and eateries along the walkable zone don't open until 10 or 11 am, so in case you are early, you can admire gorgeous murals that adorn exterior walls.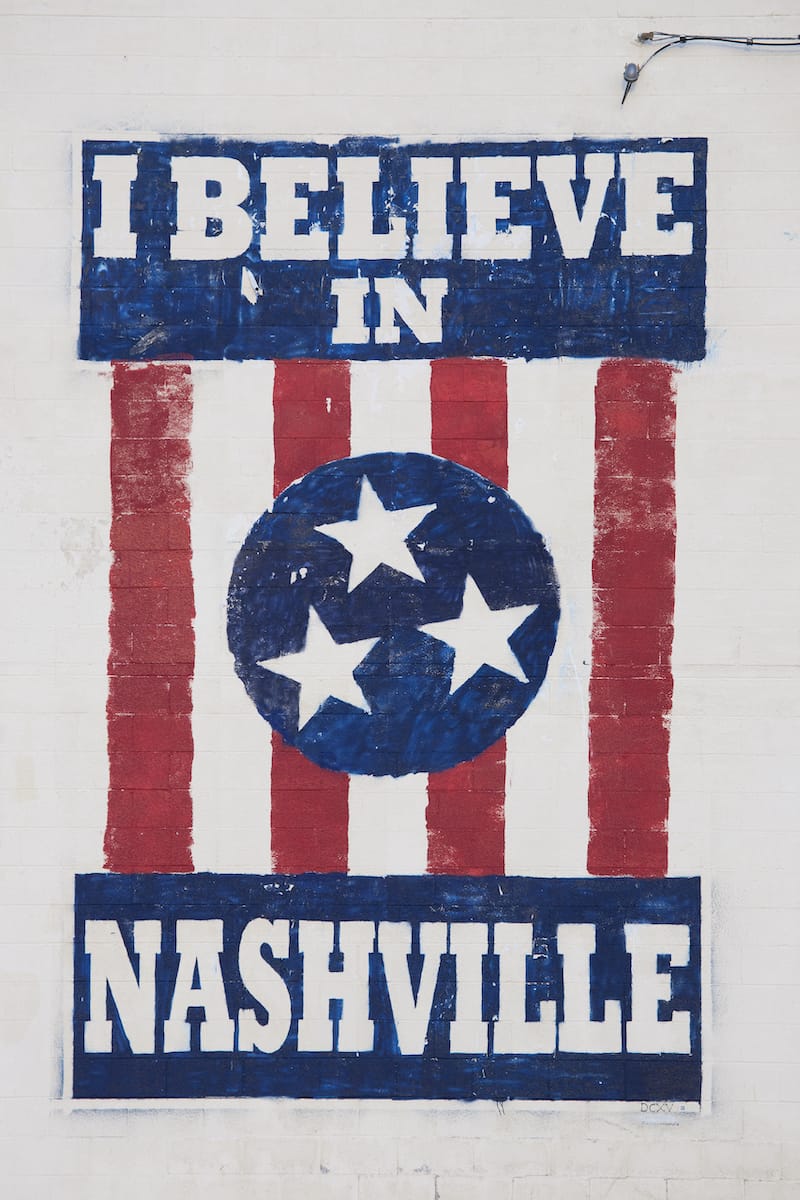 Buy locally made merchandise in White's Mercantile, savor Nashville tacos and margaritas in Bar Taco, create your own bouquet at Amelia's Flower Truck, soothe your taste buds with the most delicious smoked wings at Edley's Bar-B-Que, and satisfy your sweet tooth at Five Daughters Bakery.
Don't forget your camera to snap the perfect shot of the iconic murals, such as "I Believe In Nashville," "Make Music Not War," "Rainbow Peace Sign," etc.
Gaylord Opryland Resort Gardens
It's time to treat yourself to an extraordinary stay at Gaylord Opryland Resort & Convention Center that will keep you reminiscing for years to come.
This luxury state-of-art resort features 9 acres of indoor gardens, the world-class Relâche Spa, indoor and outdoor pool, golf course, fitness center, event venues, and a wide selection of award-winning restaurants and bars, which will certainly guarantee a one-of-a-kind resort experience.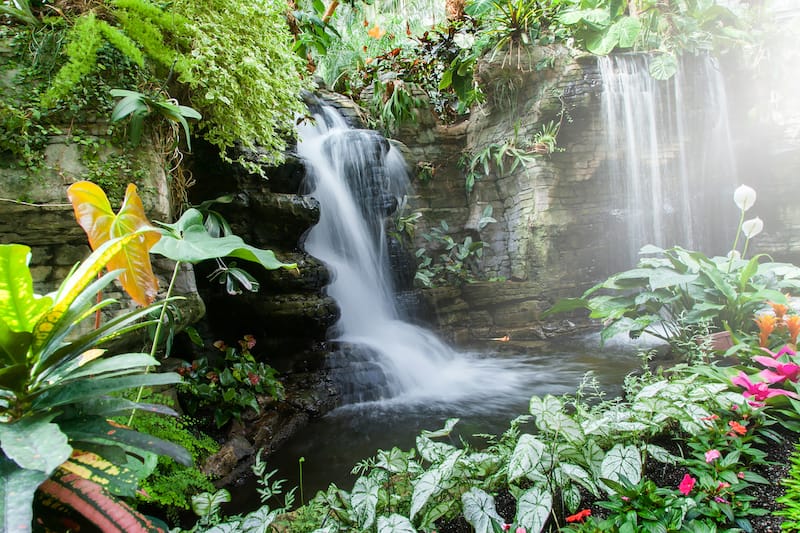 Indoor gardens feature trees, bridges, lush tropical plants, winding pathways, waterfalls, and guitars suspended from the ceiling.
Inside, you can even hop aboard flatboats and enjoy a leisurely ride down the scenic Delta River with your loved ones.
Let the kids loose in Pirates and Princesses Academy, marvel at mesmerizing Fountain & Atrium Shows, get wet and wild at SoundWaves and catch a live performance at the magnificent Wildhorse Saloon.
Just a stone's throw away, you can also visit the legendary Grand Ole Opry, Ryman Auditorium, or simply explore Music City.
Address: 2800 Opryland Dr, Nashville, TN 37214
Watch a Show at the Grand Ole Opry
Round off your second day by enjoying a great show at the Grand Ole Opry that marked Nashville on the map as the "Country Music Capital of the World."
Being the longest-running radio broadcast in the US, going way back to 1925, it has always hosted legendary country performers, such as Loretta Lynn, Dolly Parton, Brad Paisley, Carrie Underwood, and Keith Urban.
If you are not in a mood for a show, you can still see inside this famous music venue on a backstage tour that will help you get a real taste of what the country stars experience when they perform at the Opry as you walk on the iconic stage and see photos from the Opry's venerated history.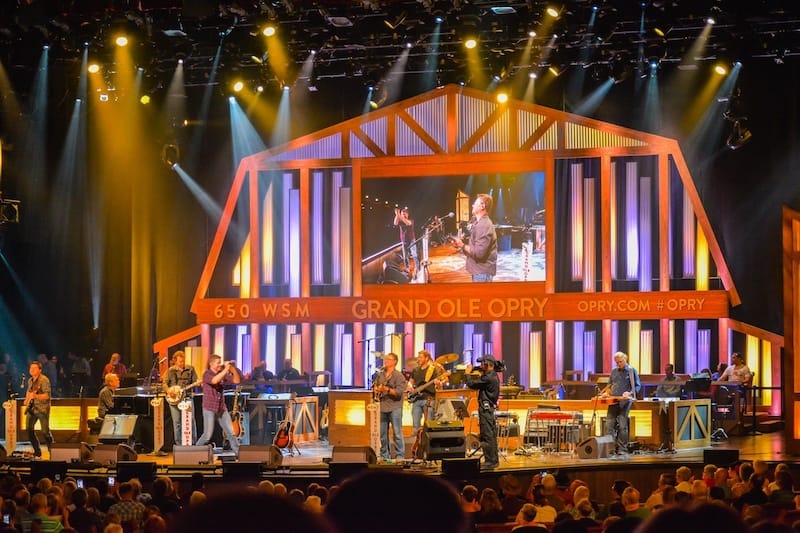 Post-show tours allow you to visit Studio A, where "Hee Haw" was filmed, and step inside 18 dressing rooms.
Tours are offered seven days a week. Tickets for the daytime backstage tour cost $39 for adults and $34 for children. Post-show tours have similar fees.
Concert ticket prices cost at least $60 per person, depending on where you sit.
If you don't plan on going to catch a show at the Grand Ole Opry, then you can go back to Honky Tonk Highway to enjoy plenty of country music and live bands.
>> Click here for Grand Ole Opry show rates and availability
Address: 2804 Opryland Dr, Nashville, TN 37214
Where to Eat During Your Trip
Delicious food is pretty ubiquitous in Nashville and rather than list only our favorites, we gave a diverse list of some of the top-rated places mixed with our recommendations!
We have selected places that have a few locations in some instances to ensure there is one close to wherever you are at if you end up hungry!
You can see the restaurants and coffee shops in Nashville below:
Frothy Monkey
After an entire day of sightseeing, you'll be ready for a hearty lunch at the Frothy Monkey.
This is an all-day cafe, specialty coffee roaster, and wholesale bakery that serves breakfast, brunch, lunch, dinner, kids menu, craft beer, wine, cocktails, and so much more.
The cafe features indoor and outdoor areas overlooking 5th Avenue and also has locations in 12South, The Nations, East Nashville, Southside, and Downtown Franklin.
The diverse menu is packed with sandwiches, salads, sides, Charcuterie Board, desserts, and many healthy alternatives.
Their original dishes like Pork Barbacoa, Sun-Dried Tomato Pesto Pasta, PRB Andouille & Hash, and other options are made of local thoughtfully-sourced ingredients.
View this post on Instagram
Don't forget to spice things up with their must-try cocktails, such as FM Bloody Mary, Red Eye Martini, and Aperol Spritz.
A unique shotgun layout with the original brick walls and wood flooring, a delicious menu, and professional staff will guarantee your one-of-a-kind experience.
Address: 2509 12th Ave S, Nashville, TN 37204
Crema Coffee Roasters
Established in 2007, Crema Coffee Roasters' delicious coffees make it worth a stop.
Come in for an Americano or signature coffee by the cup before hitting the town.
Nestled in the heart of Nashville, this carbon-neutral, zero-waste coffee roaster housed in the 1930's era brick building has three locations in Nashville.
With bright interiors and minimal modern touches, earth-conscious materials, attention to detail, and delicious coffee, each location offers a cozy and minimalistic atmosphere.
This top-notch takeaway cafe has become a popular work spot and hangout for many locals.
Their highly-skilled baristas use small-batch, locally-roasted beans combined with superior equipment and unique methods to provide you with the finest traditional Italian coffee and espresso.
Visit with a friend or two to pair your coffee or tea with seasonal quiche, muesli, seasonal granola, avocado toast, or berry tartine.
Address: 15 Hermitage Ave, Nashville, TN 37210
The Well Coffeehouse
Get your caffeine fix at this non-profit coffee house in Nashville, which has been roasting and serving delicious coffee since 2012.
The Well Coffeehouse focuses on donating proceeds to provide clean water in those countries from which they source the world's best coffee.
Coffee aficionados in search of coffee heaven will certainly appreciate this coffeehouse's large selection, including Blue Note Blend, Rustic Blend, Tico Blend, La Laja Huatusco Honey, and many other options.
View this post on Instagram
Here you can also stop in for breakfast on-the-go as the menu features avocado toast, bagels, honey bee, athena breakfast burrito, eden bowl, seasonal salad, and more.
Stop by to indulge in a complete coffee experience in their cozy and modern atmosphere, or order your grab-and-go cup of deliciousness if you are in a rush.
Address: 4002 Granny White Pike, Nashville, TN 37204
Edley's Bar-B-Que
If you have a hankering for delicious Nashville-style BBQ, then add Edley's Bar-B-Que to your bucket list.
It is a family-owned restaurant that has been awarded Best Bar-B-Que in Nashville for four years straight.
Edley's Bar-B-Que takes great pride in pork, turkey, brisket, chicken, and wings smoked low and slow using Southern white oak.
Catfish Tacos, Baby Back Ribs, Brisket Sandwich, and Wings Platter with blue cheese dip sauce are some of their must-try options to savor in a casual and inviting atmosphere.
Don't forget to top it off with Pecan Pie, Brownie, or Chess Pie.
The bar serves up signature cocktails, like Bourbon Tea and Bushwhackers, and 18 craft beers on tap, which you can enjoy on one of the two patios.
They also offer corporate and wedding catering services.
Address: 2706 12th Ave S, Nashville, TN 37204
Adele's
Level up your dining experience in Adele's, housed in a repurposed car garage originally built in 1930.
The diner features an industrial interior with modern décor embraced by white oak tables, and mid-century dining chairs with leather seating, and it is sprinkled with fine art from award-winning artist Jack Spencer.
It also features an open kitchen with a large fireplace grill, wood-burning oven, white quarter-sawn oak bar, chef's counter, and outdoor dining patio with umbrellas.
View this post on Instagram
Diverse California cuisine and mouth-watering Italian dishes are shaped by the unique touches of executive chef Hannah Young.
Delicious appetizers will certainly whet your appetite for the restaurant's main dishes like seasonal whole roasted fish, signature roasted chicken with salsa verde, kale salad with anchovy dressing, and more.
Make sure to check out the menu of seasonal cocktails, as Adele's Milk Punch, Mimosa, and Bloody Mary are real showstoppers.
You can dine here seven nights a week and enjoy brunch on Saturdays and Sundays from 10:00 am-2:00 pm.
Address: 1210 McGavock St, Nashville, TN 37203
Dozen Bakery
There's no place like the Dozen Bakery for indulging a sweet tooth.
Nestled in the Wedgewood-Houston neighborhood, this bakery has evolved from a bake-and-deliver concept to its own brick-and-mortar shop so you can savor a good muffin with a cup of coffee right on site.
Wood-paneled walls, concrete floors, and a garage door that rolls up in warmer months create the perfect atmosphere for work and hanging out with friends.
Here you can also take a glimpse into the bread-making process on their custom Italian oven through a see-through glass box.
In addition to the pastry and bread options like madeleines, lavender pie, croissants, scones, ginger cookies, focaccia, and olive sourdough, Dozen Bakery makes some killer tartines, baguette sandwiches, vegetable-based salads, and regularly-rotating soup.
The minimalistic and welcoming atmosphere, friendly and professional staff, and one-of-a-kind treat made from locally sourced fresh ingredients will make sure you return here every time you visit Nashville.
Address: 516 Hagan St #103, Nashville, TN 37203
Jason Aldean's Kitchen + Rooftop Bar
Nestled in the heart of Broadway, the Three-Time ACM Entertainer of the Year teams up with world-renowned Chef Tomasz Wosiak at Jason Aldean's to offer an unmatched dining experience inside four levels and serve a mix of Southern cooking favorites, steaks, salads, local craft beer, and signature cocktails.
Jason Aldeanʻs Kitchen features "My Kinda Party," Broadway's largest rooftop patio, where you can party all day, catch live entertainment and take in panoramic views of downtown.
Build your own basket of food while enjoying "Eat To Your Own Beat," or savor freshly made cocktails at the Night Train bar.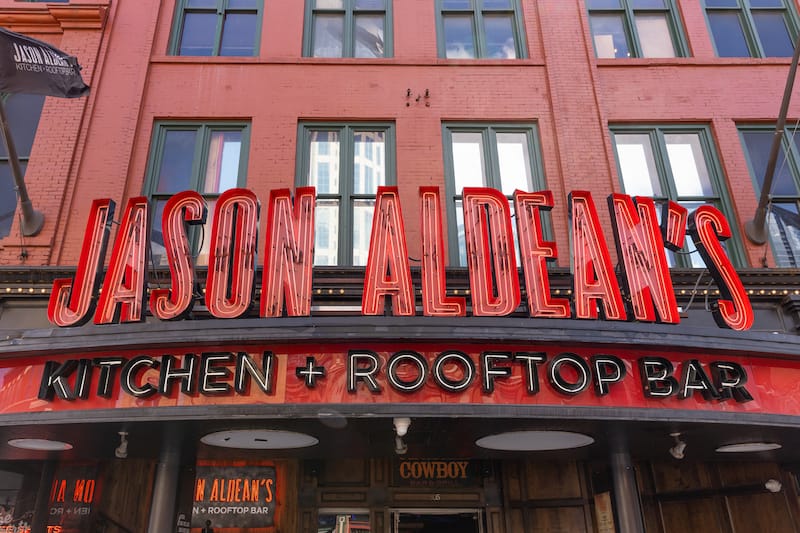 If you hop in for dinner, you'll have your choice of Seafood Basket, Jason's Mac & Cheese, Prime Rib Sandwich, Tommy Hawk Ribeye, along with many other Southern favorites.
The taste of their signature Southern Meatloaf and Grilled Atlantic Salmon are out of this world.
Make sure to leave a little bit of space for mouth-watering desserts, such as Mama Aldean's Peach Cobbler and Warm Skillet Cookie.
Address: 307 Broadway, Nashville, TN 37201
More than 2 Days in Nashville?
Do you have 3 days in Nashville or more? Below are a few of our favorite things to do if you have extra time!
Visit Johnny Cash or Patsy Cline Museum
If you have extra time, be sure to discover Nashville's specialty museums. Explore the life of the "Man in Black" in Johnny Cash Museum, packed with a wide collection of artifacts and memorabilia.
Witness the costumes, handwritten letters, and other personal mementos of this legendary performer and experience significant periods in his life, including his stint in the Air Force and marriage to June Carter.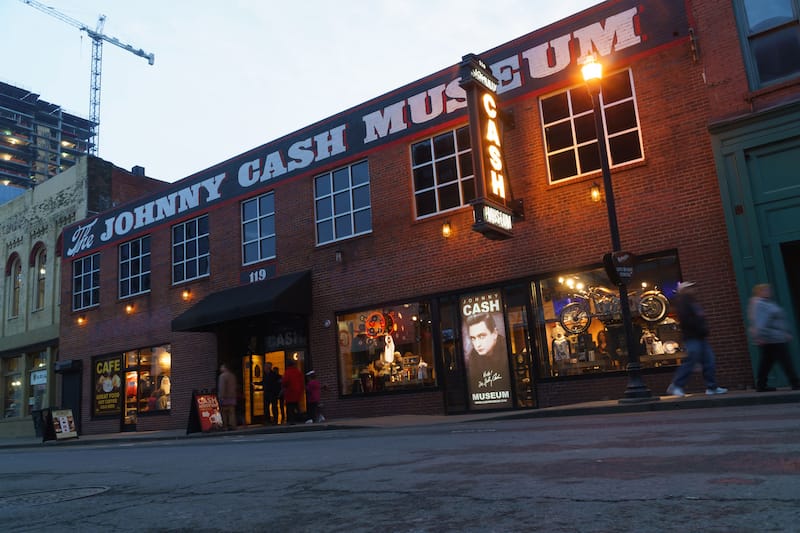 Next, you can pop over to The Patsy Cline Museum, located above the Johnny Cash Museum, to learn about the life of ​​the country music legend Patsy Cline who tragically died at the age of 30.
The museum chronicles the career of this legendary songstress known for famous hits like "Crazy" and "I Fall to Pieces."
The 4,000-square-foot gallery features personal belongings, hundreds of artifacts, videos, and many unseen items, where you can view her awards, costumes, furniture, and other memorabilia.
Both museums are open 7 days a week.
Address (For Both): 119 3rd Ave S, Nashville, TN 37201
Radnor Lake State Park
Radnor Lake State Park, protected as a Class II Natural Area, is a piece of heaven for nature enthusiasts.
The 1,368-acre park is home to ​​The Barbara J. Mapp Aviary Education Center; 7.75-miles of the trail for hiking, biking, and wildlife viewing (Lake Trail, Ganier Ridge Trail, Dam Walkway Trail, etc.); Visitor Center; and magnificent scenery.
Your first stop should be the Walter Criley Visitor Center, open Thursday through Monday, where you can learn about the history of the natural area through interpretive exhibits, view historical artifacts, wildlife displays, a wall-size map of the trail system, and watch an 18-minute film detailing the natural area's 1970s events.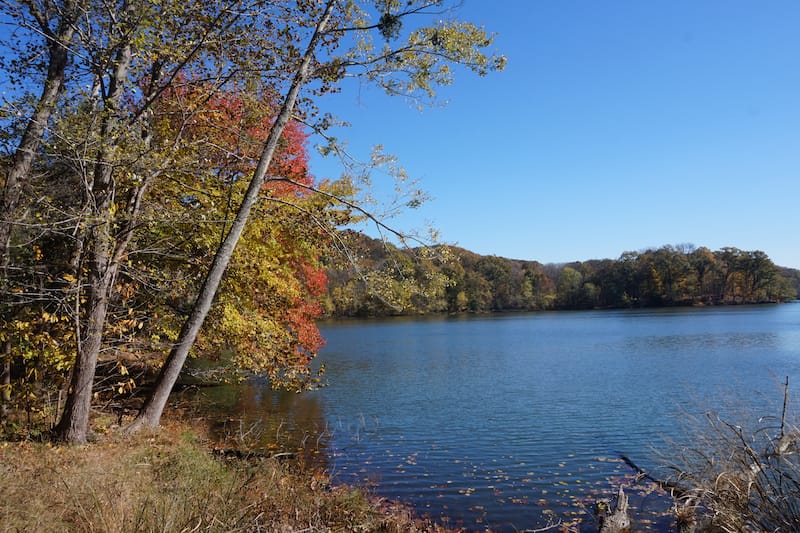 To get up close and personal with the Park's diverse flora and fauna, several ranger-led programs are available throughout the year.
Some of these include astronomy night hikes, canoe floats, programs on snakes, off-trail land acquisition hikes, wildflower walks, nature hikes, and birds of prey.
Address: 1160 Otter Creek Rd, Nashville, TN 37220
Nelson's Green Brier Distillery
Get the real taste of the area's signature spirits in Nelson's Green Brier Distillery, which was once the largest producer of Tennessee Whiskey in the world.
Charlie and Andy Nelson, great-great-great-grandsons of the founder, resurrected their family's rich whiskey heritage in 2006.
Tours are organized in the distillery year-round, so you can experience the past as you hear the extraordinary true story of Nelson's Green Brier Distillery, walk through the production floor, learn the secrets of this unique process, and visit the Tasting Room.
After treating yourself to a sip of four of Nelson's Green Brier's products, such as Belle Meade Bourbon, Louisa's Liqueur, Nelson Brothers Classic Bourbon, and Nelson's Green Brier Tennessee Whiskey, you will certainly taste the history and immerse in it.
Before leaving, head over to the gift shop to get the Nelson's First 108, made according to the original recipe, filtered through charcoal, and aged 2 years in charred white oak barrels.
Address: 1414 Clinton St, Nashville, TN 37203
Did we miss any worthwhile places to visit on a weekend in Nashville? Let us know your tips for this Nashville itinerary below. Thanks!
More TN & Nashville Travel Guides
Pin this Weekend Trip To Nashville Guide