Are you planning your Tennessee trip and are in search of the best things to do in Nashville TN? Our guide is here to help!
Are you planning your trip to Nashville last minute?
If you're traveling to Nashville last minute, you want to ensure you have lodging ahead of time! Below are some of our top picks in town!
🇺🇸 Best Tours and Attractions in Nashville:
🛌 Best Hotels in Downtown Nashville:
🚗 Looking for the best way to get around Nashville? Click here to check rental car rates for Tennessee!
This guide has some of the best Nashville landmarks and attractions, ranging from country musicʻs most iconic spots to historical places throughout the capital city.
Whether you are visiting Nashville in winter or in summer, there is truly something for everyone in this lively city!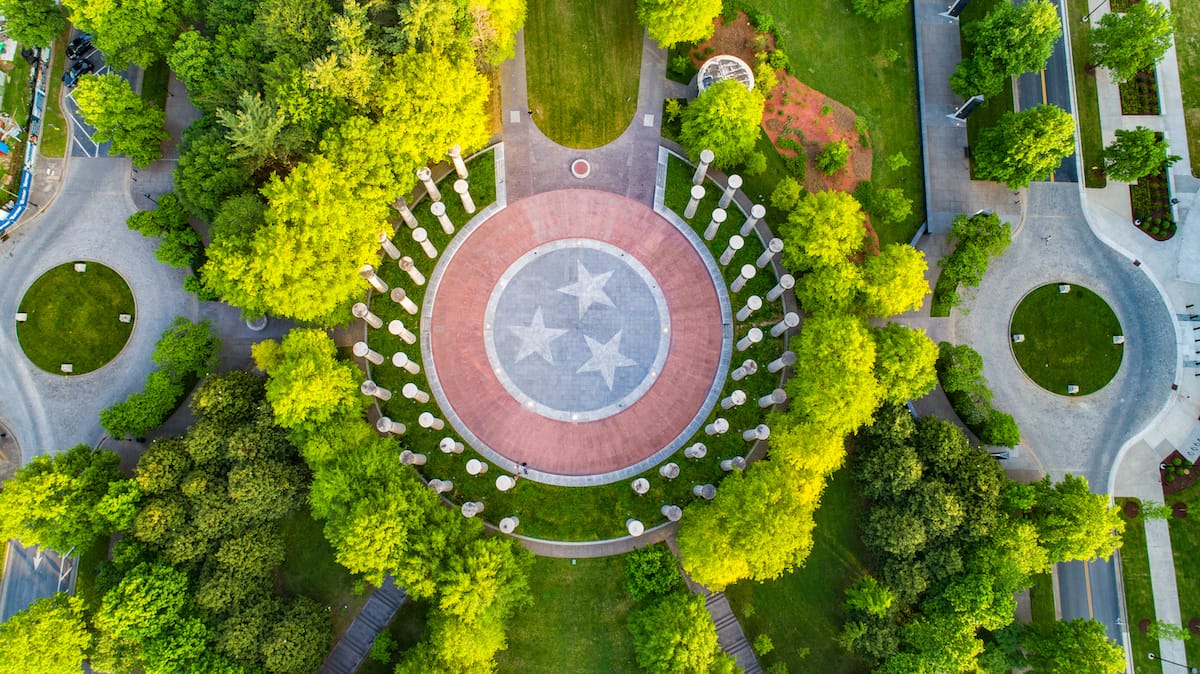 Did we miss any amazing places to visit in Nashville? Drop the places that must be on every Nashville bucket list in the comments for us!
Be sure to also check out our weekend in Nashville itinerary for additional planning tips!
Best Nashville Tours (to Maximize Your Time!)
If you're looking for something more organized when in Nashville and the surrounding area, here are some awesome Nashville tours you should check out.
These tours will help you maximize your time, which is especially important if you only have a short amount of time in the city! We listed a variety so that you can pick which one is most suitable for you (and many include multiple places!):
Best Things to Do in Nashville
Ryman Auditorium
When visiting Nashville, a visit to the iconic 2,300-seat Ryman Auditorium should be near the top of your list. This historic structure was opened in 1892 and is known for its fantastic acoustics.
The Grand Ole Opry called it home from 1943 to 1974 and it is one of the best things to do in Nashville these days!
Before entering the Ryman, the Thomas Ryman statue will greet you. Once inside, you will find the tributes to Roy Acuff and Minnie Pearl in the lobby.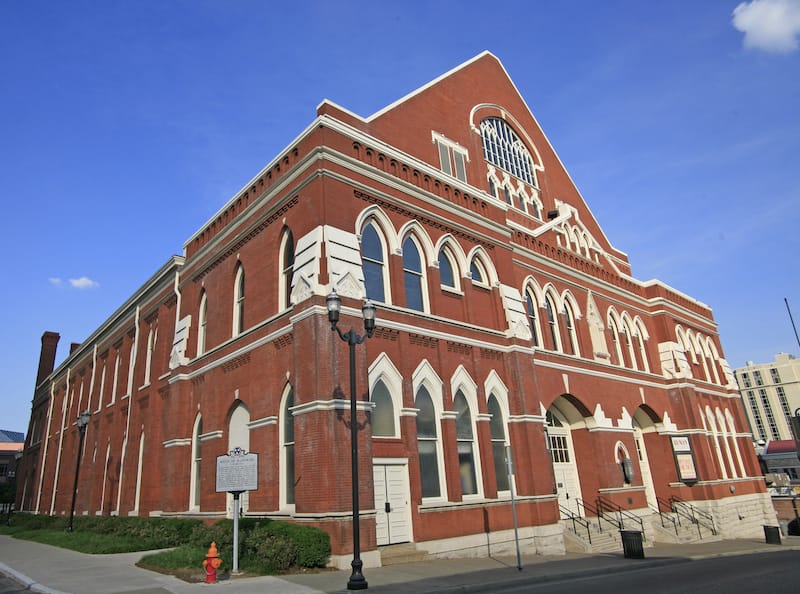 Choose between visiting for a concert or taking a guided or self-guided tour to learn all about how the Ryman influenced county music over the years.
Take time to explore the Johnny (Cash) and June (Carter Cash) exhibits as well as the Opry 40s and 50s and Opry 60s and 70s.
Guided tours will take you backstage and into the dressing rooms. There is also a recording studio on-site where you can visit to record a CD of a select set of songs.
Address: 116 5th Ave N, Nashville, TN 37219
General Jackson Showboat
Enjoy seeing the Nashville skyline from any of the four decks on the General Jackson Showboat as its paddlewheel ferries you up and down the Cumberland River.
General Jackson is one of the largest showboats and holds 1,000 passengers for its 2½ hour lunch or 3-hour dinner cruise.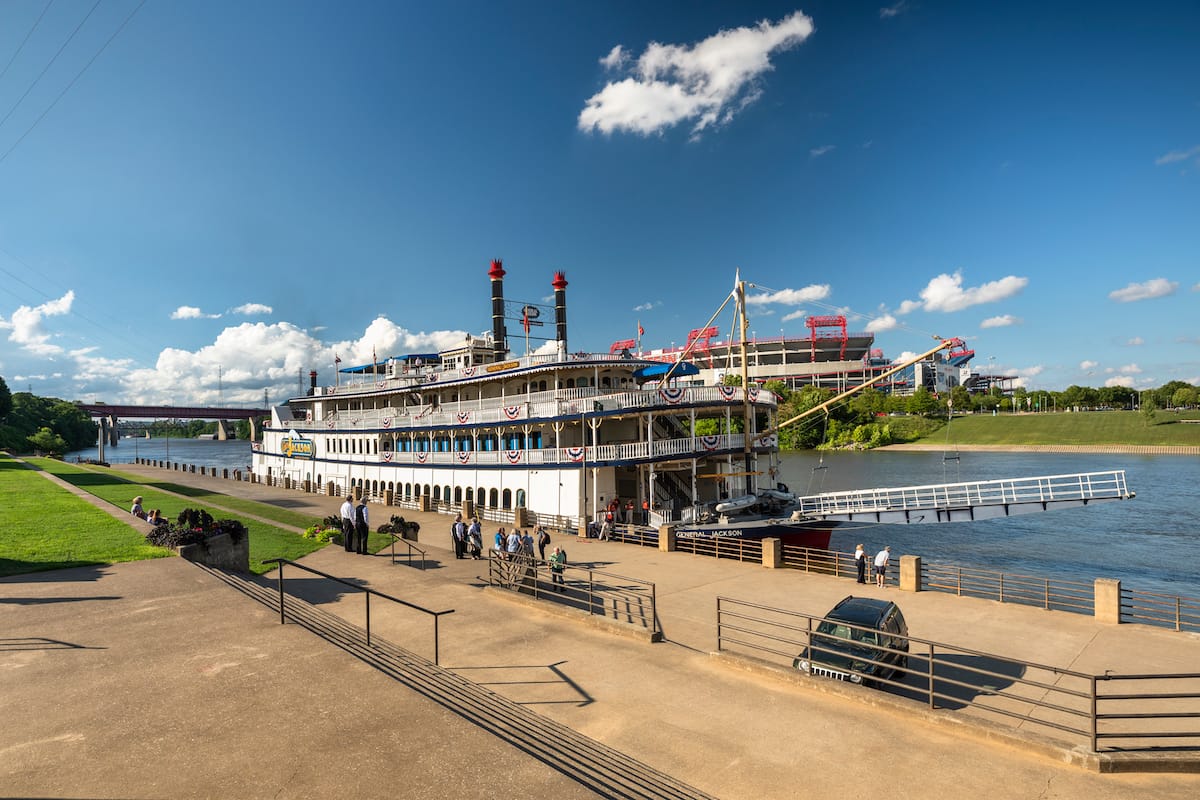 Not only will you have a delicious meal, but you also be able to listen to a group of talented singers and musicians.
In the afternoon, they will share a bit about Tennessee legends and each evening take a musical tour of New Orleans jazz, Memphis blues, and the early music of Nashville.
Address: 2812 Opryland Dr, Nashville, TN 37214
Grand Ole Opry
A visit to the Grand Old Opry should include time to take in a live viewing of the longest-running radio show in the world and a backstage tour.
Take a seat in the 4,400-seat auditorium, where you will hear some of the best bluegrass and country music. The show is a mixture of country legends and today's hot top ten, along with up-and-coming artists.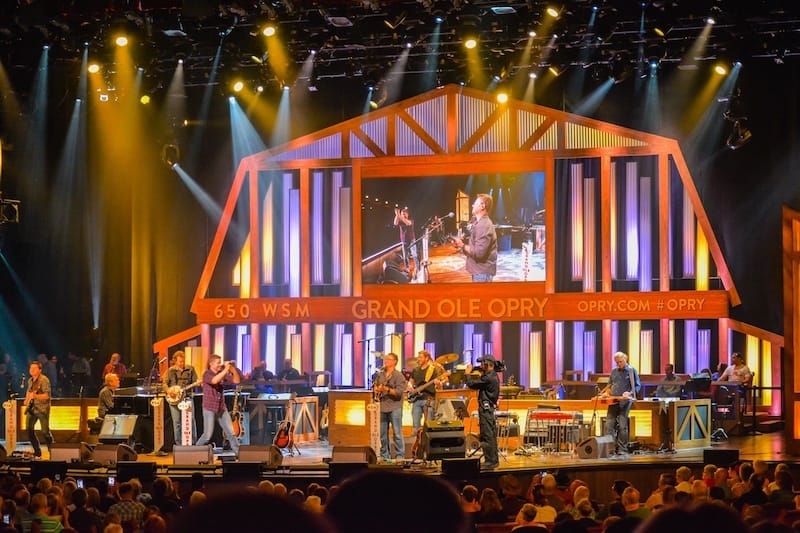 Backstage guided tours happen each day in the afternoon and after the show. The afternoon tour ventures through the hallways onto the stage.
The post-show tour will take you to some of the unique dressing rooms and Studio A, where the iconic Hee Haw was filmed.
Whatever your time allows, don't miss Nashville's number 1 attraction.
Address: 2804 Opryland Dr, Nashville, TN 37214
>> Click here to check backstage tour rates and availability
Country Music Hall of Fame
Take a trip down memory lane through the 2½ million artifacts commemorating the history of country music along with honoring songwriters and performers at the Country Music Hall of Fame.
Walk through the Sing Me Back Home permanent exhibit at this downtown Nashville Museum and meander through the Country music timeline.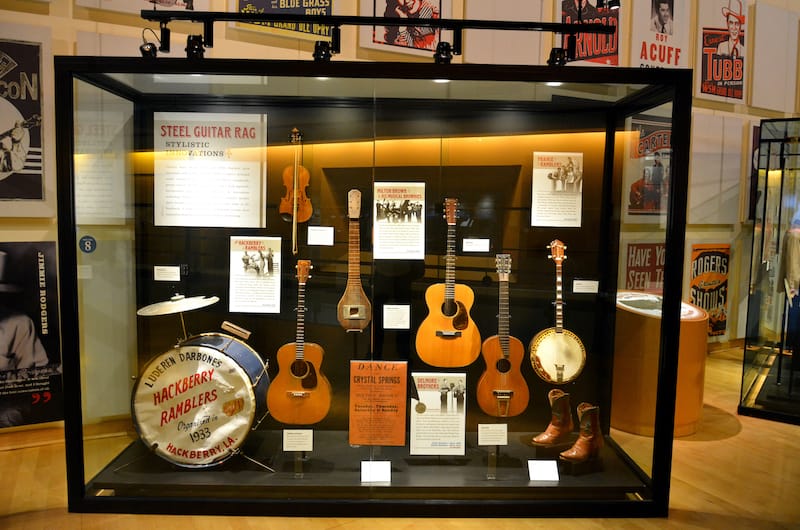 View archival videos, photographs, artifacts, musical instruments, stage costumes, and recordings along your journey. There are even interactive media displays throughout the exhibit.
Begin your time here exploring the history of recording technology in the rotunda.
Address: 222 Rep. John Lewis Way S, Nashville, TN 37203
>> Click here for an entrance ticket to the Country Music Hall of Fame
Willie Nelson and Friends Museum
Behind the General Store, you will find the Willie Nelson and Friends Museum, which not only features Willie's 1979 CMA Entertainer of the Year Awards and his first Martin Guitar, but artifacts from over 30 of his music-performing friends.
In the center of the museum are microphones, chairs, and even a pool table from Willie's Texas studio.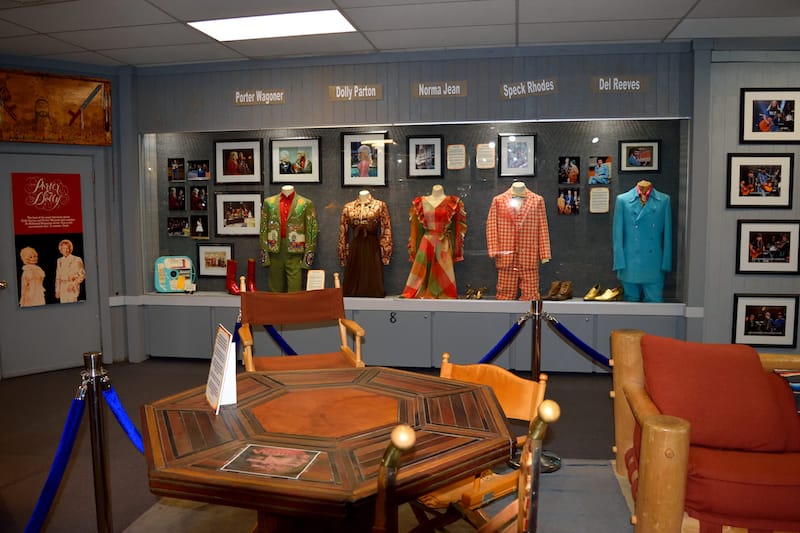 The self-guided tour will take you past displays on Patsy Cline featuring some of her diaries, Kenny Rogers' concert attire, as well as glass cases honoring Merle Haggard, Glenn Campbell, Porter Wagner, and many more.
The general store in front is the perfect place to grab a souvenir or a Western cowboy hat.
Address: 2613A McGavock Pk, Nashville, TN 37214
Nashville Hot Air Balloon
Catch a Nashville sunrise or sunset with Pilot Bob as you float 500-2000 feet above the ground in a Nashville Hot Air Balloon.
What could be more relaxing than floating along for 45 – 60 minutes at around five to ten miles per hour?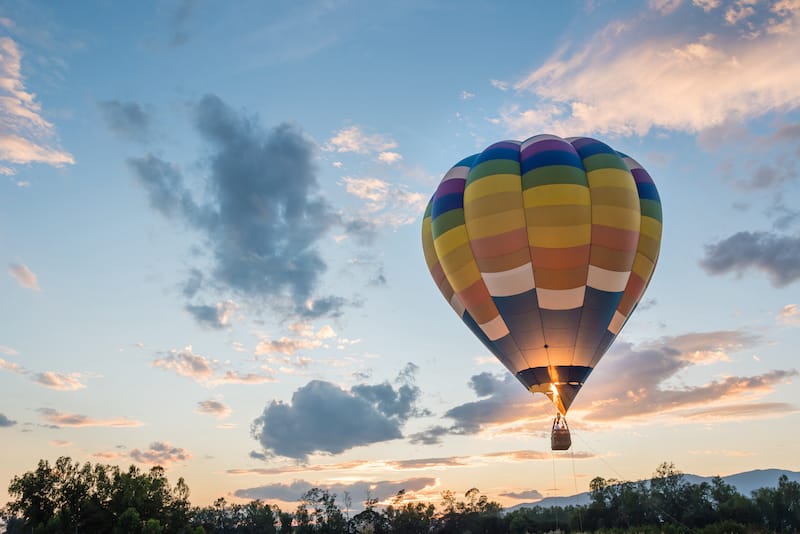 This 3-hour experience begins by lending a hand will preparing the balloon for flight and upon landing packing the balloon back up before partaking in the ceremonial champagne toast.
Each balloon accommodates up to six guests.
Belle Meade Historic Site
Take a trip back to the 1840s and visit the stunning grounds of the Belle Meade Historic Site.
On the 30 acres of land, you will find the original 1807 log cabin, a vast Carriage, and Stable House dating back to the late 1800s, and the quarters for the Enslaved people that lived there.
Either take a self-guided stroll around the grounds or join one of the two guided tours with period-dressed guides through the interior of the Greek Revival mansion.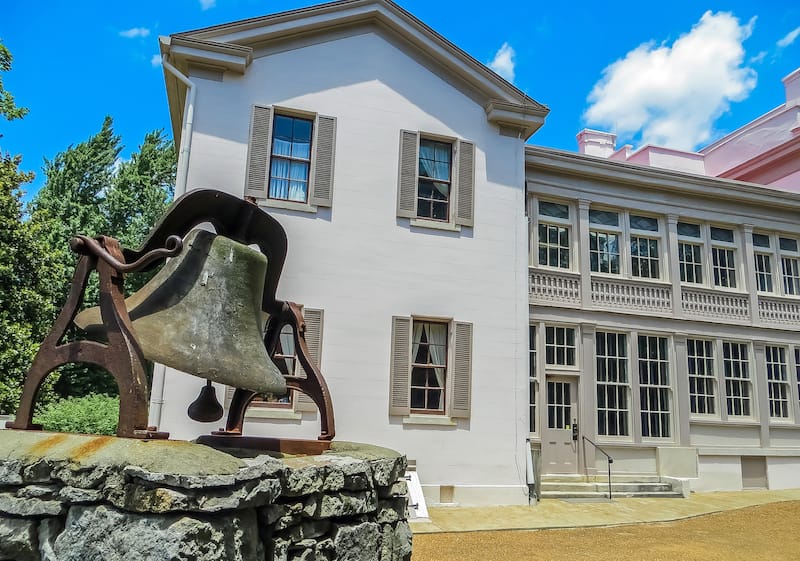 During the Mansion Tour, you will learn about the Jackson family, and the Journey to Jubilee tour tells the story of the Enslaved residents.
On the property, there is a winery that offers complimentary tastings and The Belle Meade Meat and Three restaurants.
Here you can enjoy a delicious meal of smoked meats, cornbread, and homemade desserts.
Address: 5025 Harding Pike, Nashville, TN 37205
Andrew Jackson Hermitage
Explore the life of President Andrew Jackson, his family, and enslaved people by touring the Hermitage.
Whether you choose to take the guided tour or not, watch the 22-minute film that highlights both the good and bad of Jackson's life and pick up a free headset that will give you additional information as you walk around the site.
The Andrew Jackson: Born for a Storm is an award-winning exhibit. It focuses on Jackson being an orphan, his flexibility as a general, and his fantastic vision as the 7th President of the USA.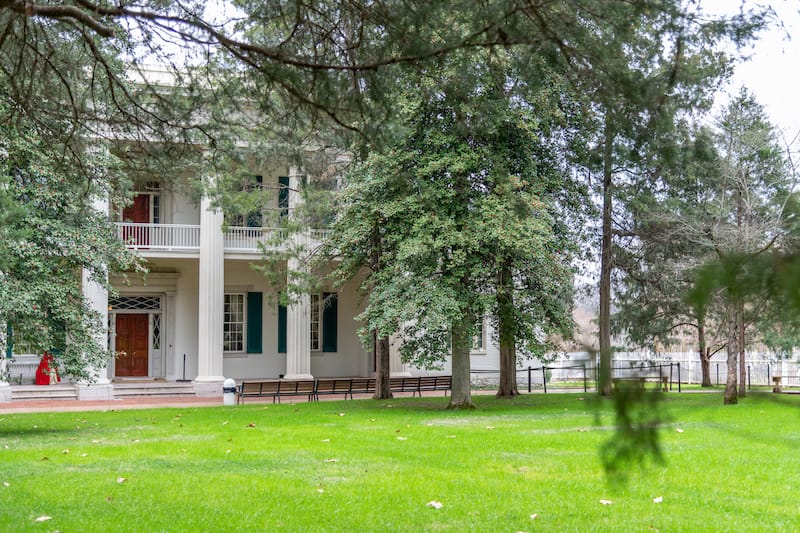 Jackson built The Hermitage and lived there following his presidency, and is buried there. Inside you will find original furnishings and bound books of newspapers, which Jackson kept as a reference.
The guided tour takes you through bedrooms, the living room, and the impressively set dining room.
Outside you will find the cemetery where Jackson and his family have been buried. You can also visit Alfred's, the grave of an enslaved man who requested to be laid to rest beside his master.
Nearby you can also walk into Alfred's cabin, where many as ten enslaved people could have lived.
Address: 4580 Rachel's Lane Nashville, Tennessee 37076
Johnny Cash Museum
Inside the Johnny Cash Museum, you can spend time honoring the "Man in Black."
Throughout the museum, you will see a wide selection of memorabilia and artifacts Johnny collected throughout his career, including vintage guitar amps, an old Martin guitar with a dollar bill weaved in the strings, and a San Quentin tin cup.
Each exhibit showcases a period of Cash's life, including his time in the Air Force and San Quentin, along with his marriage to June Carter Cash and his childhood on the cotton farm.
The Musical Mementos exhibit includes a collection of Cash's stage outfits and various instruments, while awards and chart-topping records line the walls.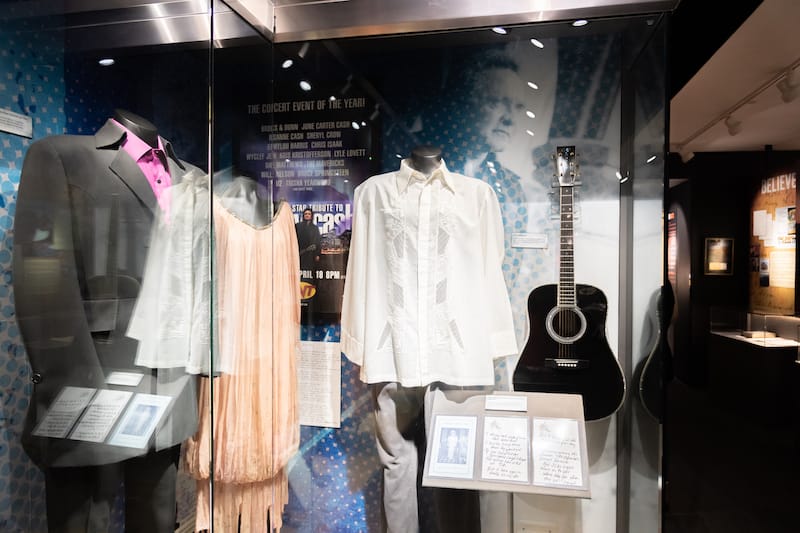 The Artist's Career exhibit focuses on Johnny's time with Sun Records. You will see the Sun Records microphone Elvis uses and Roy Orbison's signature glasses on display.
Just before leaving the museum, watch the video of the song Hurt.
Address: 119 3rd Ave S, Nashville, TN 37201
Historic RCA Studio B
For 20 years, beginning in 1957, RCA Studio B was The place to record in Nashville.
More than 1,000 hits were recorded by Eddy Arnold, Charlie Daniels, The Everly Brothers, Waylon Jennings, Marty Stuart, Willie Nelson, Conway Twitty, Dolly Parton, Dottie West, Elvis, and so many more inside Studio B.
In this famous recording studio, cam hits like Oh Lonesome Me, Only Daddy That'll Walk the Line, I Will Always Love You, and Are You Lonesome Tonight?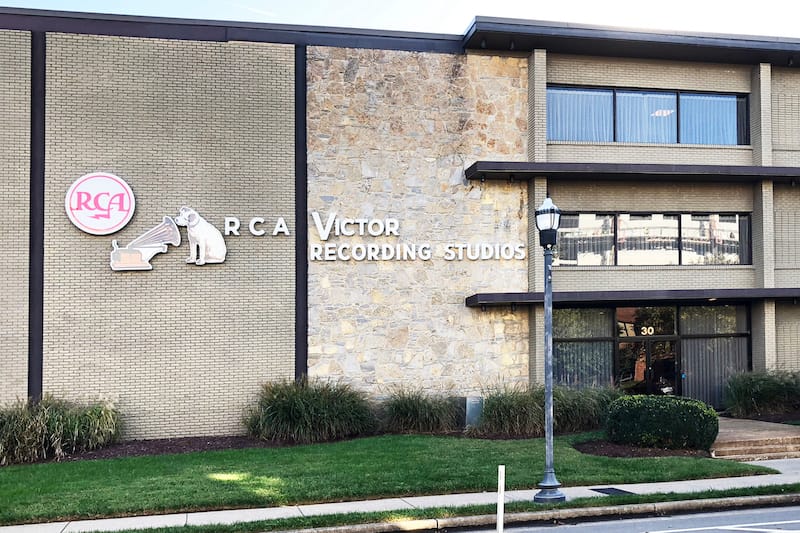 Studio B gives you a glimpse into the beginnings of the Nashville Sound as it is the only historic studio that you can tour in Nashville.
Address: 222 5th Avenue S., Nashville, TN 37203
Musicians Hall of Fame
Nashville isn't just about singers and songwriters, because Nashville, Memphis, and Detroit wouldn't be the same without the musicians that play the music.
At the Musicians Hall of Fame, explore the exhibits that honor not only the rock, jazz, soul, and country artists, but the session musicians.
The Grammy Museum Gallery offers interactive exhibits about songwriting, singing, playing instruments, and producing.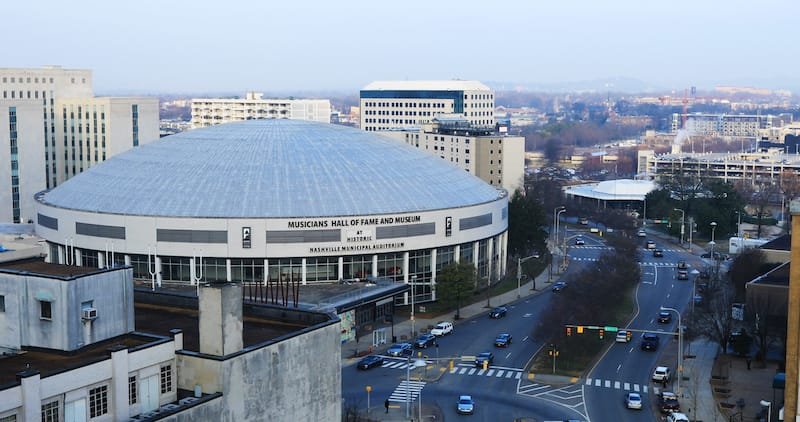 In this exhibit, you can set on the stage, put on the headphones and sing backup or play an instrument to an award-winning song.
While the other galleries feature the unique sounds of Detroit's Motown, Memphis' Rock 'n Roll and Blues, R&B from Muscle Shoals, and Nashville's own country roots.
As you wander through the Musicians Hall of Fame look for the Baby Grand piano that John Lennon, Elton John, and Michael Jackson played, Roy Orbison's musical instruments, and a wide selection of session musicians and chart-topping performers' instruments.
Address: 401 Gay St, Nashville, TN 37219
Cheekwood Estates
When looking for a place to take a peaceful walk or enjoy the beauty of a botanical garden, then spend some time exploring Cheekwood Estates.
This botanical garden offers a 1 ½ mile trail past various outdoor sculptures and 12 diverse gardens to enjoy.
The estate was named one of the top 10 botanical gardens by USA Today three times.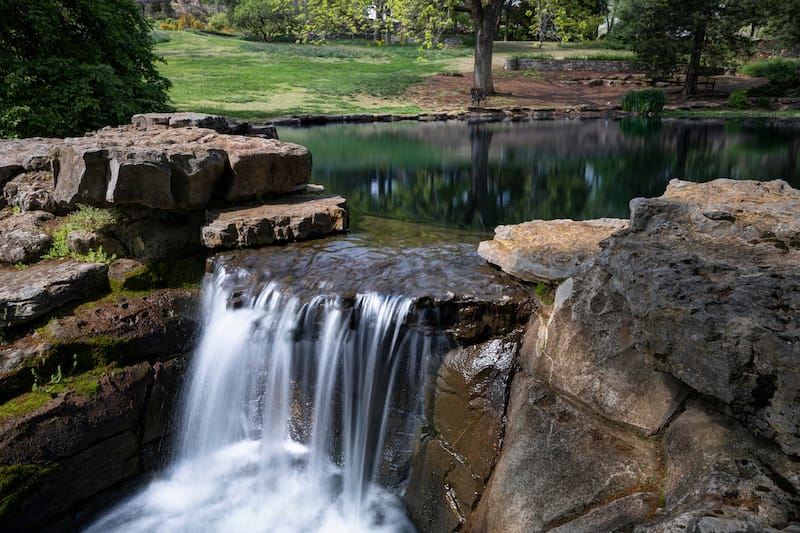 The 55-acre estate includes the 1930s Georgian mansion that was the former home of Mabel and Leslie Cheek, which is now a museum featuring art galleries and historic rooms.
Throughout the year, Cheekwood hosts festivals on the grounds. In the spring, attend the Cheekwood in Bloom, then Summertime at Cheekwood, and finally, in the winter, Cheekwood Harvest and Holiday LIGHTS are extremely popular.
Address: 1200 Forrest Park Dr, Nashville, TN 37205
Frist Art Museum
The Frist Art Museum is housed in the historic 1930s building once the main post office in Nashville.
Inside, you will find a world-class art museum with a wide range of media, from photographs to paintings and even sculptures.
The Martin ArtQuest Gallery is a family favorite since it has 30 interactive art-making stations.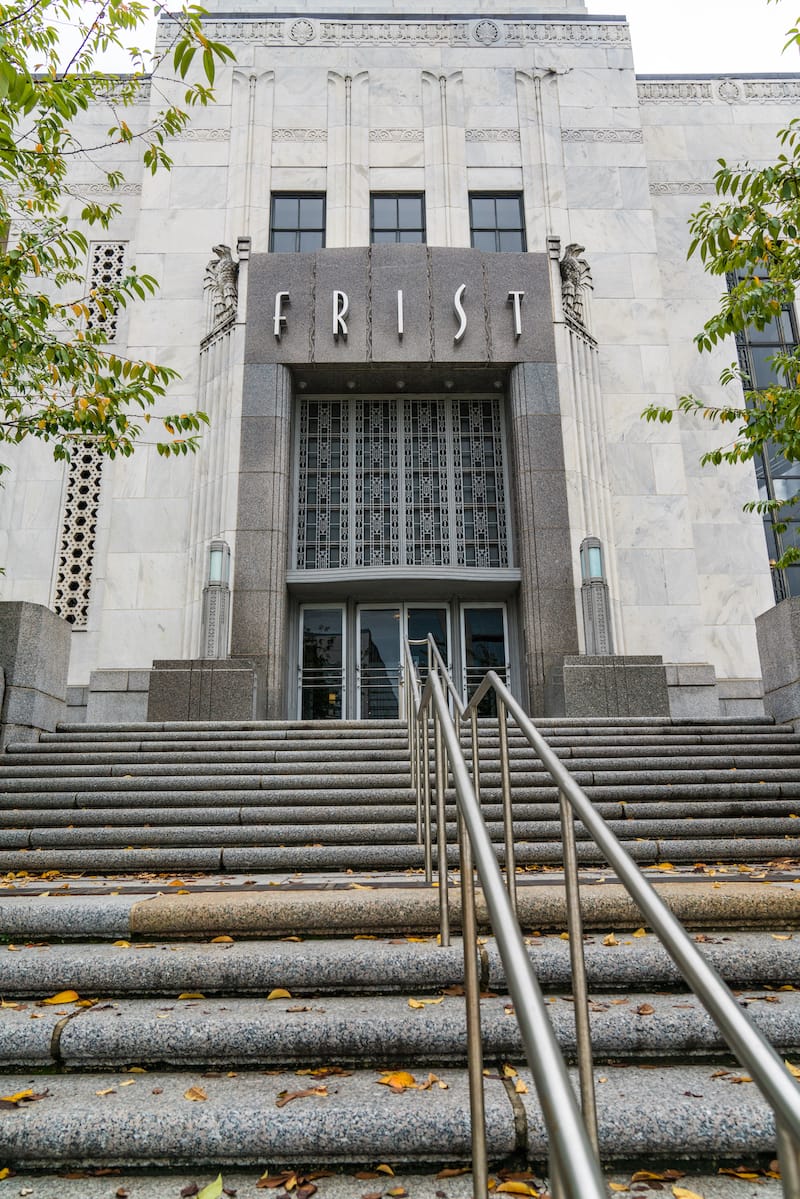 Here you can explore painting, animation, drawing, and printmaking. Come see where your talent lies.
Besides the hands-on gallery, several other galleries host exhibits of local, national, and international artists.
Currently on display is contemporary Cuban art, local artist LeXander Bryant's Forget Me Nots exhibit, and Nashville Art Teachers: Beyond the Classroom, which salutes teachers and their efforts throughout the COVID-19 pandemic.
Address: 919 Broadway, Nashville, TN 37203
John Seigenthaler Pedestrian Bridge
Grab your walking shoes or bike and travel over one of the world's longest pedestrian bridges.
The John Seigenthaler Pedestrian Bridge spans 3,150 feet over the Cumberland River connecting Riverfront Park and Cumberland Park.
During the day, the bridge provides a great spot to enjoy panoramic views of the river and the Nashville skyline.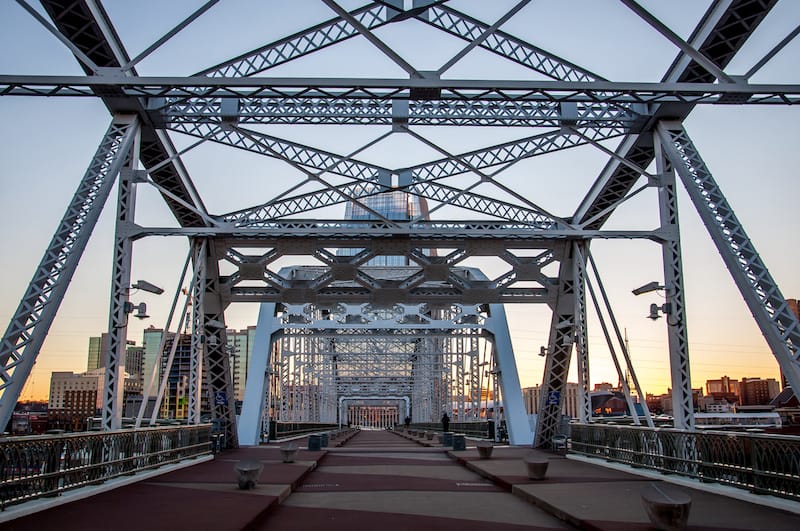 However, at night when there is a full moon, it is stunning as you look out onto the city all lit up.
The bridge offers bikers a 15-foot-wide bike lane in the bridge's center with pedestrian walkways on either side. Along the bridge, there are four overlooks where you can stop and enjoy the sights.
Radnor Lake State Park
Spend some time outdoors exploring the Radnor Lake State Park. Here you will have nearly eight miles of trails to hike, join a ranger-led program, or float down the river on a canoe.
In the Walter Criley Visitor Center, you can see exhibits about the park's history, wildlife, and historical artifacts. There is also a film on birds in the park.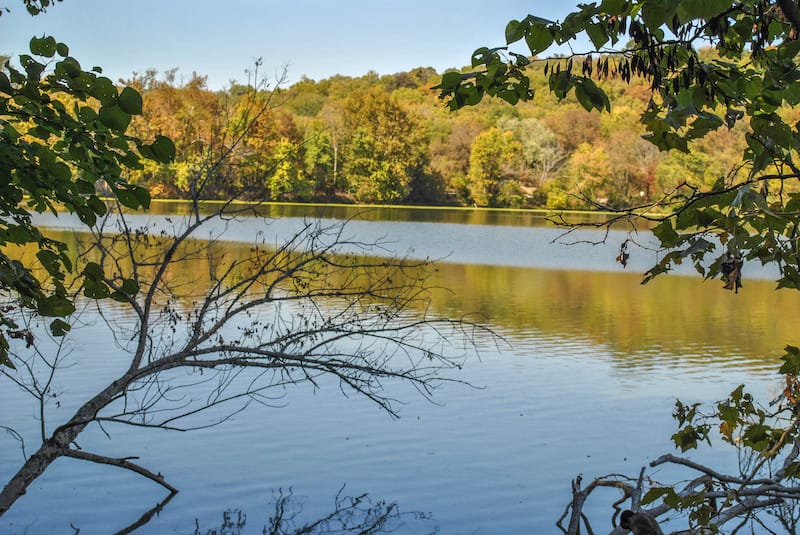 Some of the favorite walking trails are the 2.4-mile Lake Trail loop and the Garnier Ridge Trail. The Lake Trail is pretty flat and offers hikers a view of the lake at several spots along the trail.
Even though the Garnier Ridge Trail is only 1.6-miles, it is the park's most challenging but only has less than a 400-foot elevation change to reach the ridge.
Address: 1160 Otter Creek Rd, Nashville, TN 37220
The Parthenon
The Parthenon in Nashville is a replica of the ancient Greek temple in Athens. Stop by Nashville's Parthenon and take a picture outside the Sunken Gardens with the Parthenon in the background.
Then head inside and examine the Western Hemisphere's tallest indoor artistic work, the 42-foot-tall gold-leaf statue of Athena. Stand on the right side to get a great photo.
Inside this unique Centennial Park museum, you will also find a great collection of photographs that show a timeline of the construction of the buildings and park for the 1897 Centennial Exposition.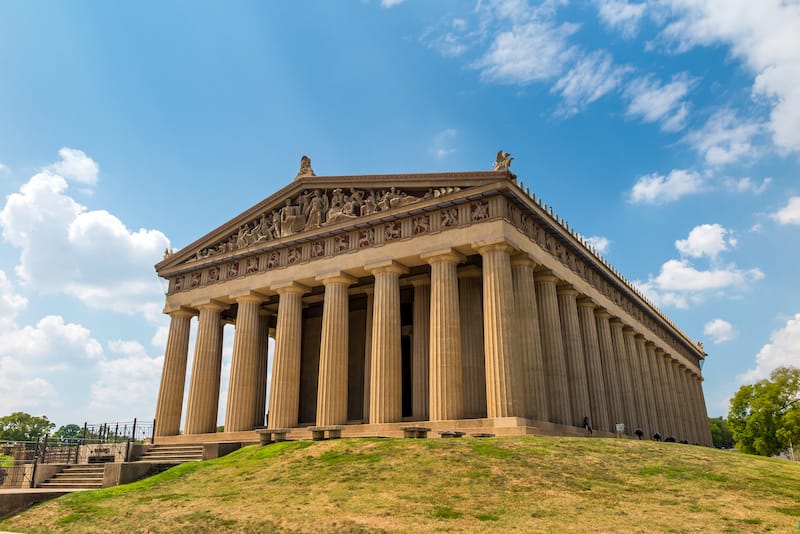 Other exhibits in the museum feature a Cowan collection and about 50 Impressionist landscape paintings.
Centennial Park is also a great place to lay out a blanket and enjoy a picnic.
Address: Centennial Park, West End Avenue, Nashville, Tennessee 37203
Instagram Murals
Take a walking/driving tour around the Nashville neighborhoods and enjoy a taste of artistic murals. The Nashville Walls Project was started in 2016 and encouraged artists to personalize a wall.
You will find Instagram-worthy backdrops for your selfies and family vacation album on the sides of various stores, restaurants, and industries.
Around Nashville, you can spot over 100 of these murals, but we have listed a few of our favorites below.
In East Nashville, visit the Walden Bar's Flowerbalm at 2909 Gallatin Pike or the Cleo Apartments at 1034 W Eastland Avenue to see What Lifts You Up – Hot Air Balloon.
At the JuiceBar at 1129 4th Avenue in Germantown, you will find the Kindness is… mural. Bring your card to fill in the blank and show a bit of kindness.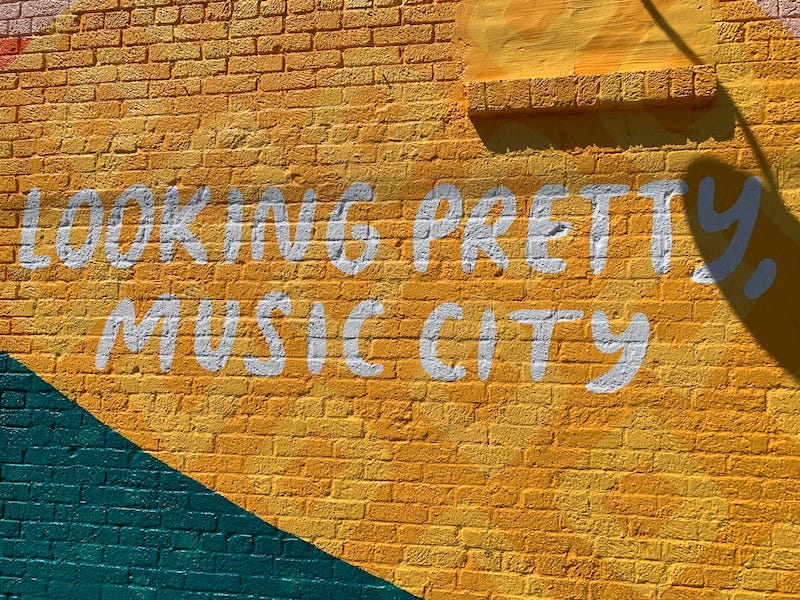 West Nashville features a mural of sunflowers at 3636 Murphy Road, It's Going to be O.K. at 3020 Charlotte Avenue, and at 1404 51st Avenue N, you will find Spread Love It's the Nashville Way.
In the Midtown – West End neighborhood, stand in front of the butterfly or bat wings and become the body at Smack Clothing, 2201 Elliston Place.
If you would like to have angel wings, head to The Gulch to Tazikis at 302 11th Avenue S., pretend to take the dog for a walk at Urban Outfitters, 405 12th Avenue S., or see the Acoustic Skyline mural at cycle Bar, 911 Division Street.
The Highwaymen, Loretta Lynn, and Dolly Parton murals in the Sobro neighborhood are at Industrial Fire and Safety, 608 Ash Street.
Old Town Trolley
The 14-stop Old Town Trolley offers a 90-minute round-trip ride around Nashville where you will learn some behind-the-scenes tips and some interesting facts from the entertaining trolley conductor.
If you want to explore Nashville, but don't want to hunt for parking after each stop, hop on and off the trolley all day long and explore places like the Ryman, Music City Walk of Fame, Country Music and Musicians Hall of Fame, Centennial Park, Belmont Mansion, and Frist Art Museum.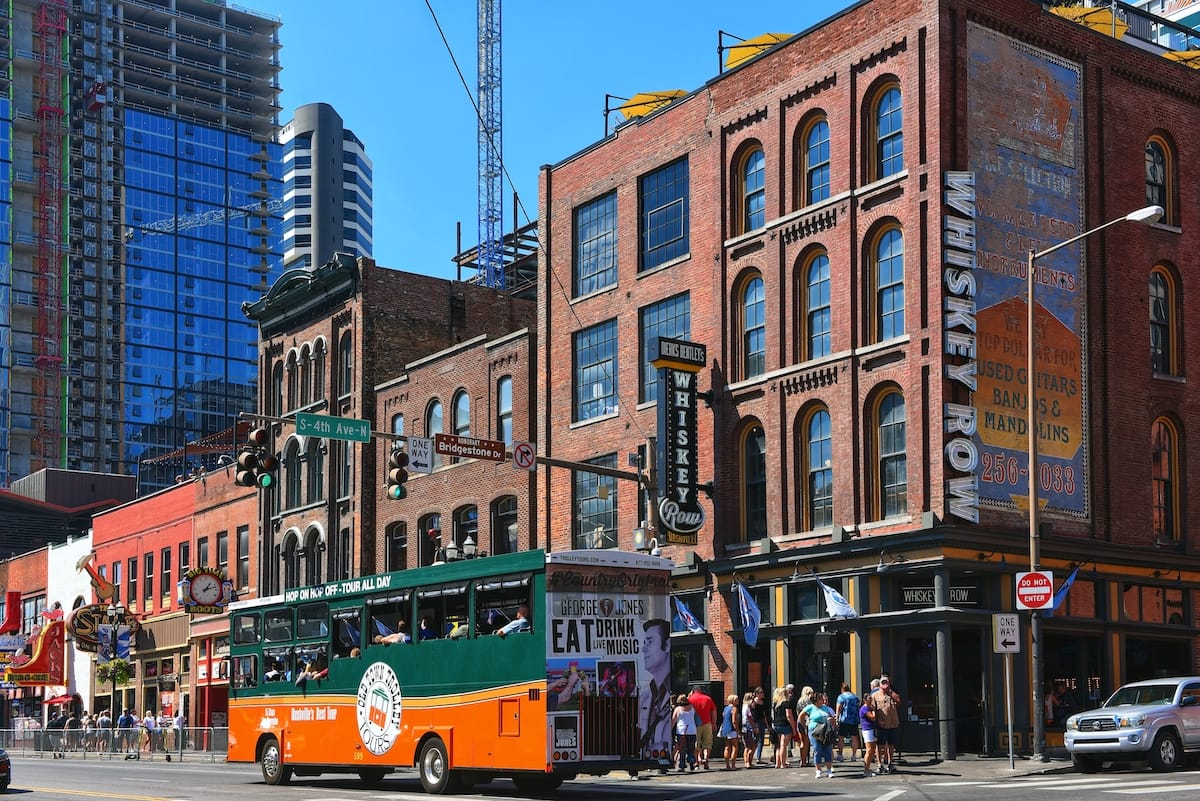 The trolly weaves its way around Nashville each day from 9:30 AM until 4:00 PM except Tuesdays. It makes it easy to pay tribute to the Nashville music legends and the pioneers that first inhabited the area.
Bluebird Café
A visit to the Bluebird Café's four songwriter-in-the-round sessions is a must.
However, you need to be quick to get tickets to this 90-seat cozy venue where you might see both up-and-coming songwriters along with pop, rock, Christian, and country stars sharing their songs.
Tickets go on sale seven days before each show and often sell out within a few minutes.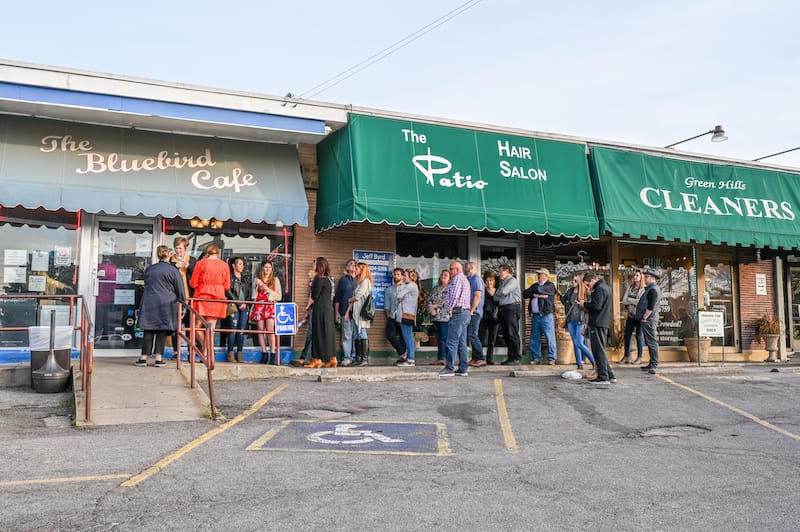 Country stars like Taylor Swift, Faith Hill, Garth Brooks, and Kathy Mattea have all sat in the circle discussing their songs.
The Bluebird Café is a chance to sit in one of the world's famous listening rooms and hear the stories behind the song from its creator.
Address: 4104 Hillsboro Pike, Nashville, Tennessee, 37215
Fort Nashborough
In Riverfront Park along the Cumberland River at The Cedar Bluffs, you will find Fort Nashborough.
The original fort was a shelter for the pioneers who crossed the frozen Cumberland River in 1780.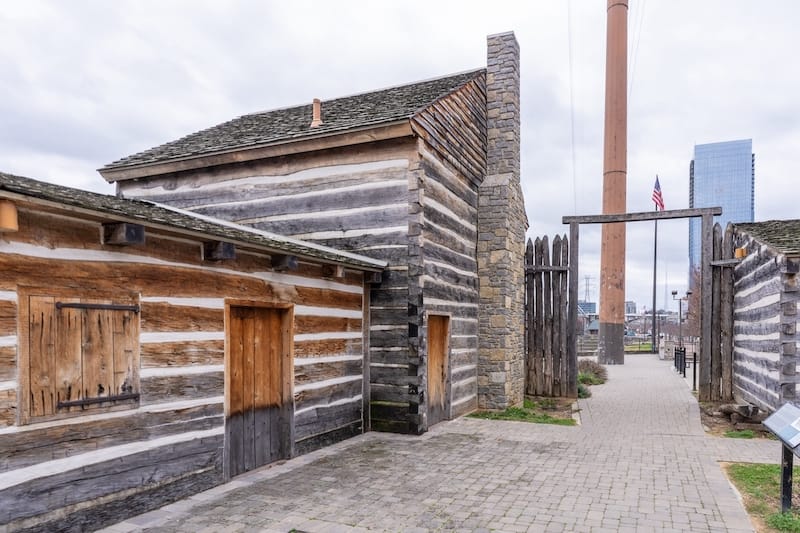 The fort and settlement replica is open every day except Mondays. Along your self-guided tour, you can learn about what life was like in the late 1700s for the frontier pioneers.
Address: 170 1st Ave N, Nashville, TN 37201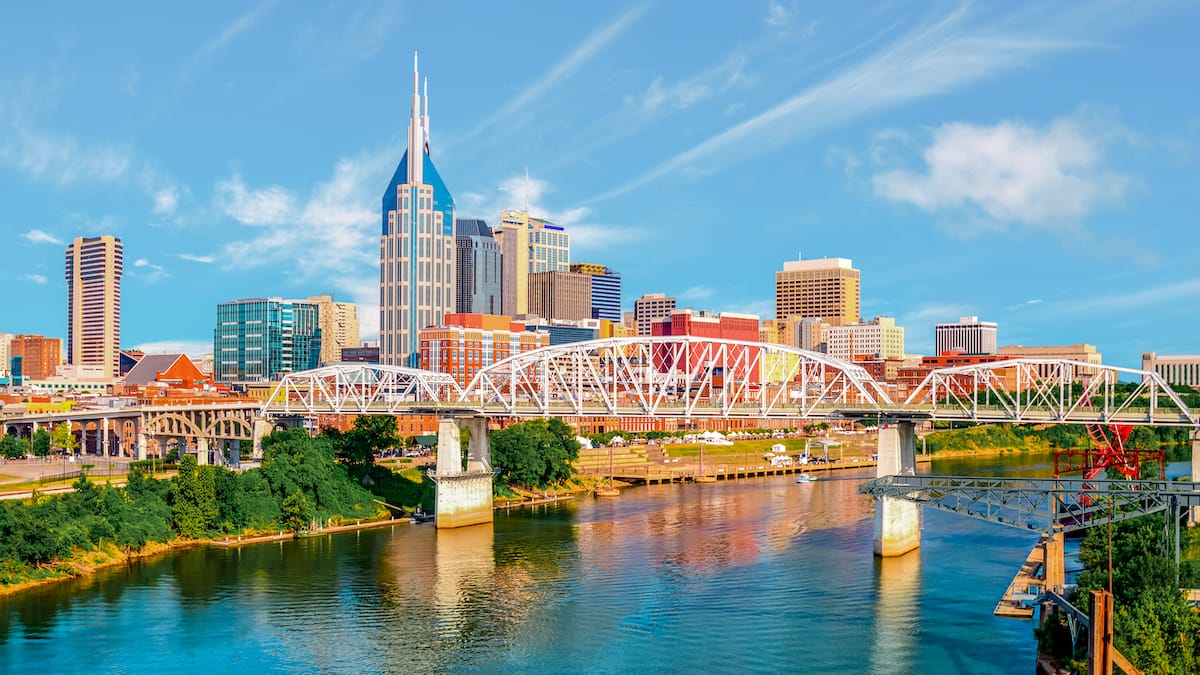 Where to Stay in Nashville
If you are looking for a good place to stay in Nashville for your trip – these are some of the top-rated places in the downtown area.
Did we miss any amazing things to do in Nashville TN? Let us know your favorite Nashville attractions and sites in the comments! Thanks!
More Nashville Travel Guides
Pin this Nashville Things to Do Guide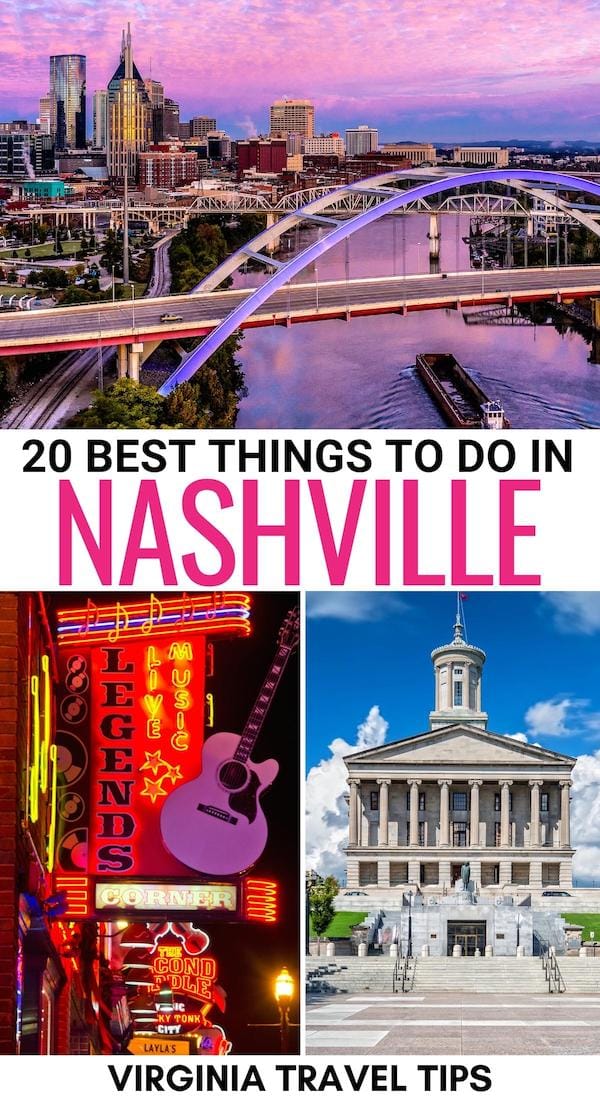 Laura Gray is a travel blogger and retired teacher. She is from Western Pennsylvania but has lived in Virginia for the past 30+ years. During the summer months, you will find her enjoying the beach in her hometown when not out on an adventure. Laura thrives on creating itineraries to make the most of each place she visits. She enjoys exploring National Parks (Laura has explored 1/3 of all the US National Parks), waterfalls, and beaches. Her travel blog posts have been featured on nearly a dozen sites.