The world's capital of country music is also one of the most inviting cities out there.
It doesn't matter if you visit Nashville in winter or another time of the year, you will fall in love with the bustling city!
Are you planning your trip to Nashville last minute?
If you're traveling to Nashville last minute, you want to ensure you have lodging ahead of time! Below are some of our top picks in town!
Best Hotels in Downtown Nashville:
Best Tours and Attractions in Nashville:
There are many things to do in Nashville in winter, and you will find a lot of them in this guide!
With festivals, light shows, parades, breweries, and more, you'll soon realize that Nashville has become one of your favorite cities despite the cooler temperatures.
And, of course, if you love country music, then there's no better place to go for your vacation.
Here are some of the best activities that you don't want to miss out on during your Nashville winter getaway!
If we missed anything great to do during winter in Nashville, leave a comment below.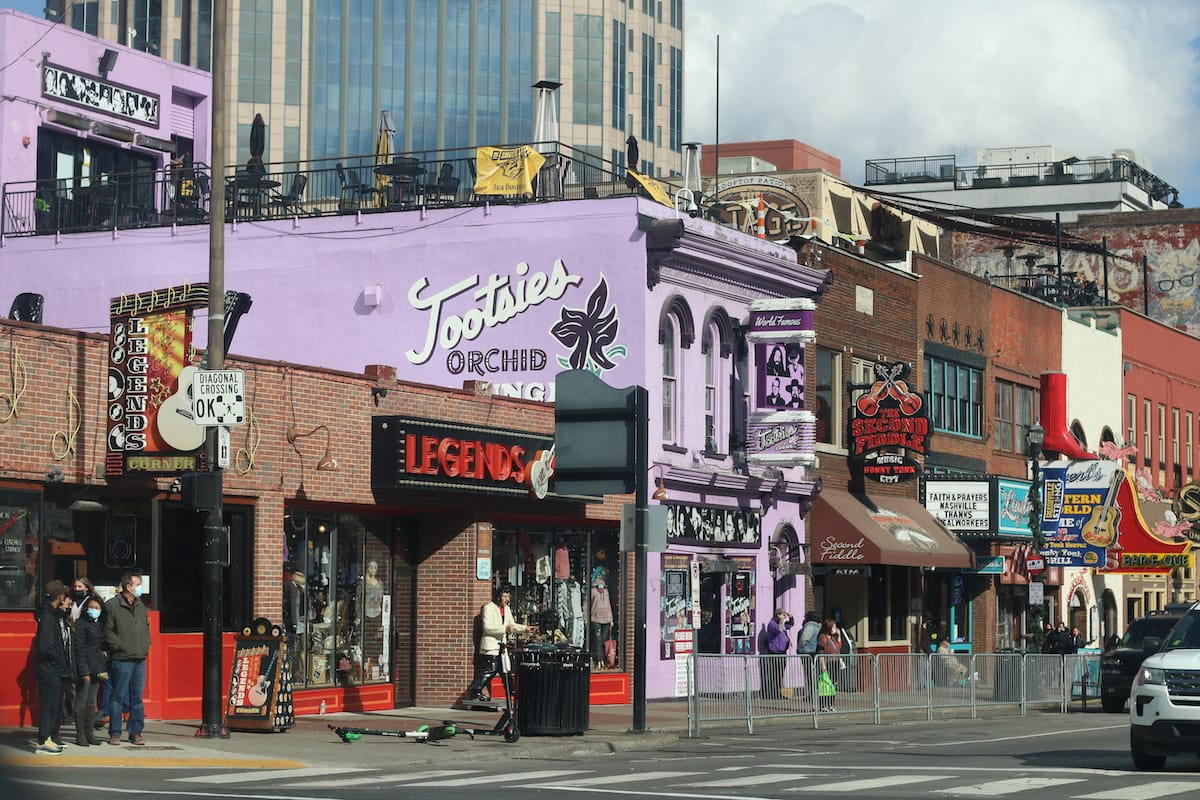 Average Winter Temperatures in Nashville
Nashville can get pretty chilly in the winter.
You can even expect some nights to reach around 20 degrees or so, and you can get some frost on your windshield.
So, don't expect Nashville to be very hot, and make sure that you bring warm clothes for your trip.
Generally, the coldest and snowiest month in Nashville is January.
Here are the average monthly temperatures (high/low) for Nashville between November and March.
Nashville in November: 61° / 40°
Nashville in December: 51° / 32°
Nashville in January: 47° / 29°
Nashville in February: 52° / 32°
Nashville in March: 62° / 40°
Does it Snow in Nashville?
Even though Tennessee is in the southern United States, you can still expect it to get pretty cold in Nashville during the winter, and sometimes, you might even be able to expect snow.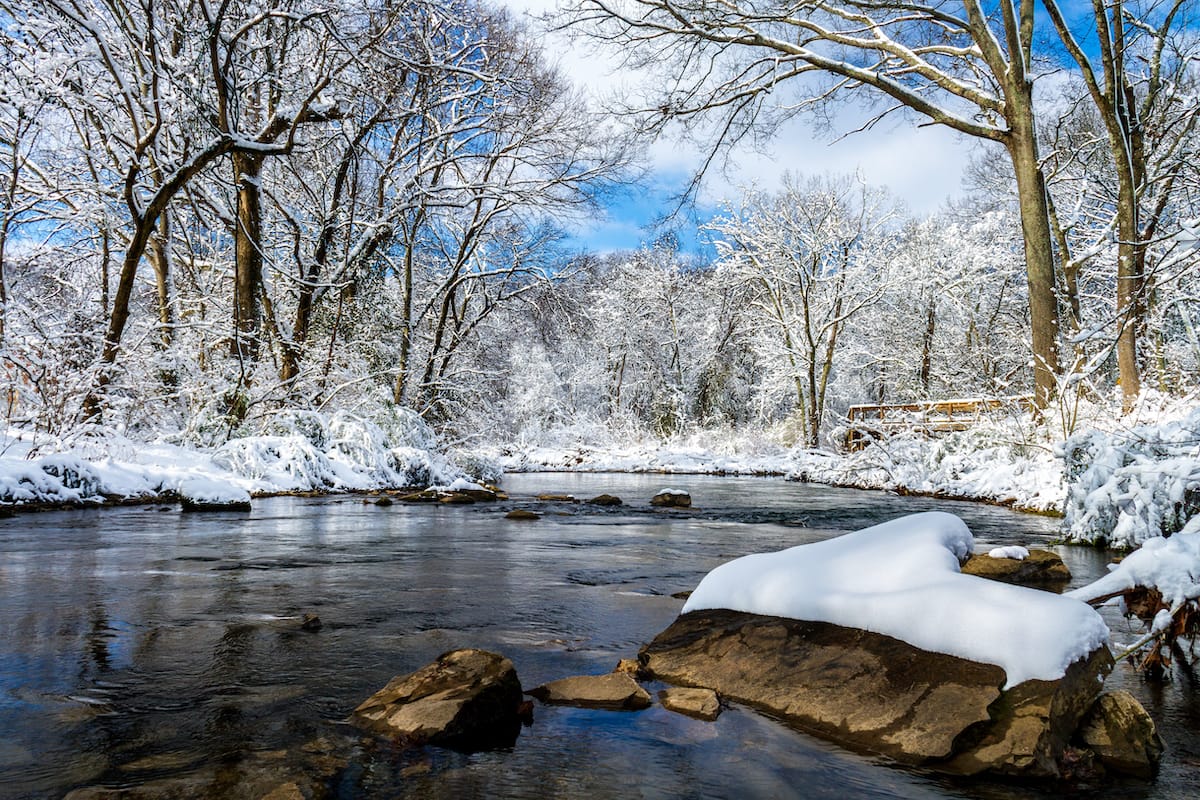 Nashville can get around 4.2 inches of snow every year, and in 2021, the city got 5.2 inches.
Certainly less than other towns, but that doesn't mean it's impossible.
It can snow any time between November and April, but the snowiest month in the city is January, so you might just get lucky then!
Best Things To Do in Nashville in Winter
Visit Porter Flea Holiday Market
The perfect place to kick off the start of the holiday season is the Porter Flea Holiday Market.
Located at the Nashville Fairgrounds, it is one of Nashville's unique holiday shopping locations where you will find local and handmade gifts for you and your loved ones.
It will be a two-day indoor marketplace starting from December 10-11.
More than 200 jury-selected artisans and designers, as well as a swarm of enthusiastic shoppers, will be present at the event.
View this post on Instagram
Once accepted, local designers and artisans can apply for a booth license and sell everything from jewelry to handmade art prints to home decor.
Porter Flea is a fantastic place to find unique gifts or something special for your home.
Before December 10, visitors should buy tickets online for entry if they want to attend the preview event, which is 21+.
The tickets cost $25 per person.
The preview market guests will get complimentary presents and first access to apparel and accessories, home goods, furniture, and more.
There is also going to be a DJ deck inside, so be prepared to dance!
See the Dancing Lights of Christmas
If you are searching for a new holiday tradition for your family, then the Dancing Lights of Christmas is sure to become one.
Located in Wilson County Fairgrounds, Sparta Pike, Lebanon, it is Tennessee's largest synchronized light and music show with a 2.5-mile route.
It is a magical place with more than two million lights dancing to some upbeat, traditional holiday songs.
Drivers can tune their radios to the correct station, and the lights will dance to the songs played.
Every year there is a new display to see, so there is always something new to admire. All you have to do is sit back and enjoy a fun Christmas caravan-style journey.
After the drive finishes, guests can visit Santa's Village for a fantastic variety of holiday-themed activities such as pony rides, inflatables, train rides, and of course, pictures with Santa.
The Dancing Lights of Christmas is open seven days a week. Keep in mind that Saturdays are the busiest, so expect some waiting time.
There are entry fees available per vehicle. A family vehicle and van are $30, and larger vehicles are $100.
Ride an Old Town Trolley
If you want to go around downtown and learn more about the famous and popular Nashville sights, then hop on the Old Town Trolley.
The Old Town Trolley Tours is a 90-minute trolley tour offering visitors a fully narrated tour of St. Augustine.
Augustine has a lot to offer, from its 500 years of history to its scenic sights and attractions that entertain and educate.
Visitors can enjoy 100 points of interest and 22 stops, such as the Fountain of Youth, Fort Castillo de San Marcos, and the Lightner Museum.
Visitors will enjoy the European flavor of the city and the brick-lined streets and sights.
During the 90-minute ride, you'll stop at areas where you can dine and shop.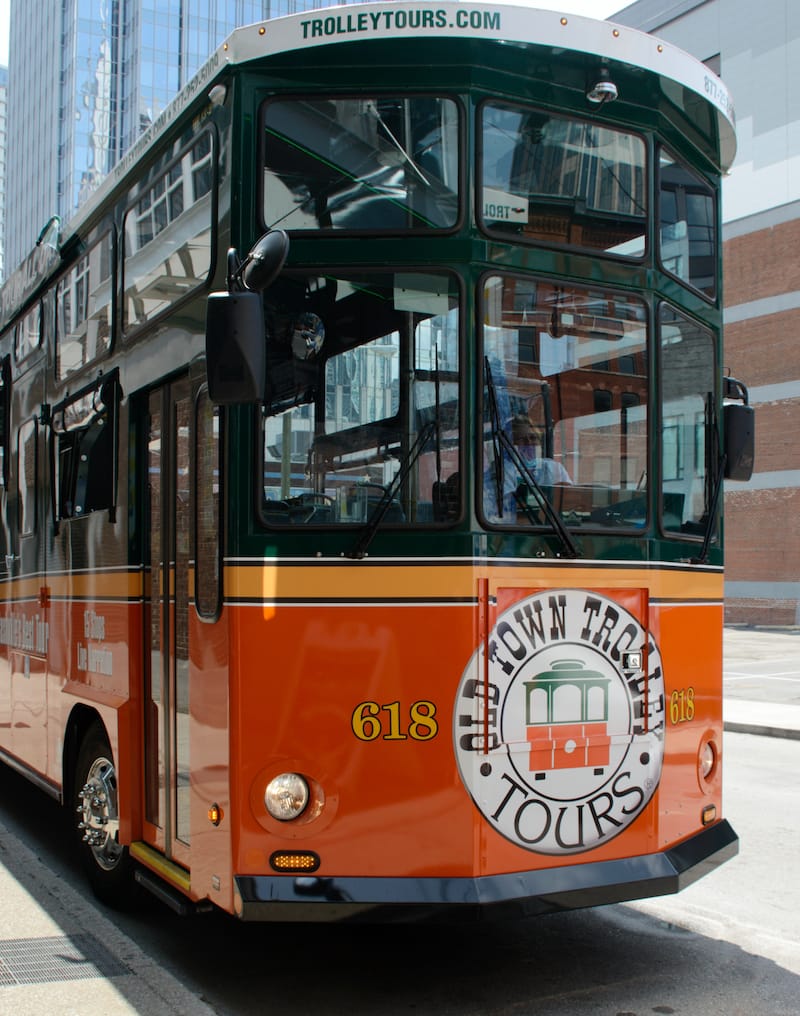 Trolleys arrive every 15 minutes, so you will be able to explore the city at your own pace.
One-day tickets cost $39 for adults and $19 for children.
The tickets include free admission to the St. Augustine history museum, complimentary hotel shuttle service, and use of the Beach Bus to St. Augustine Beach.
Don't forget your cameras since the open-air sightseeing is perfect for taking some pictures.
>> Click here to book a Trolley Ticket for your trip
Visit the Wineries and Breweries in Nashville
Drinks may not be your first thought when coming to Nashville. However, it is a city that enjoys beer, wine, and whiskey, which can be seen in the number of craft breweries, distilleries, and wineries.
Let's start with the Yazoo Brewery, one of the best and oldest craft breweries in Nashville.
You'll find their beers in almost every bar and restaurant in the Nashville area, Birmingham, and Alabama.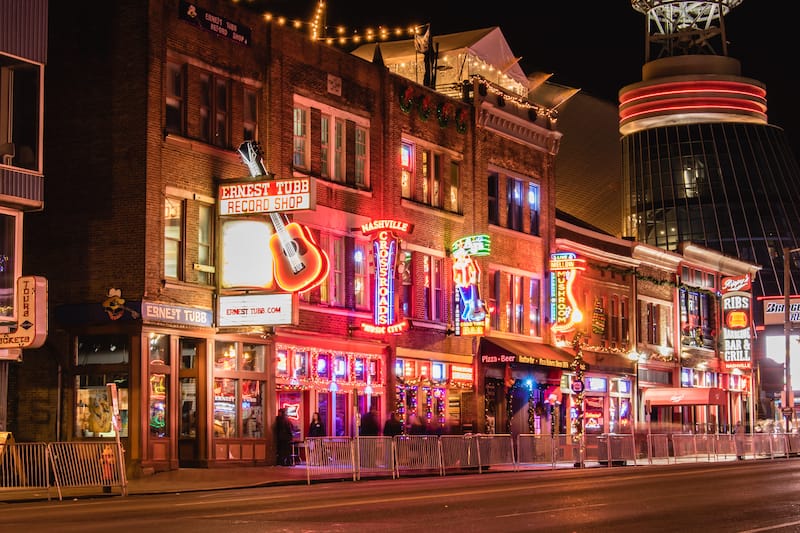 Jackalope Brewery is also an excellent choice. It is a woman-owned brewery that offers locally hand-crafted beers, brewery tours, and an outdoor patio to sit, have a sip, and enjoy your day.
Wine lovers would enjoy visiting the Amber Falls Winery, which opened its second location in Nashville. People can enjoy their award-winning wines from the tasting bar. There is also a gift shop.
Enjoy some outstanding wines and picturesque views in Arrington Vineyards.
It is a premier winery located 30 minutes south of Nashville.
The beautiful 95-acre property has 16 acres of vineyards, five tasting rooms, and a picnic area where live music plays during the weekends.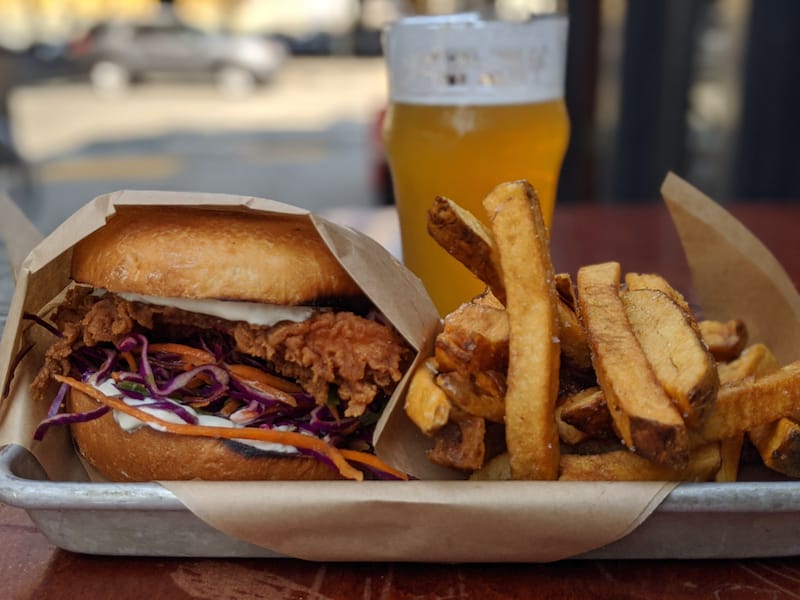 To better your itinerary around Nashville and all that it has to offer, look for a professional and timely car service.
Signature Transportation can be counted on with highly trained chauffeurs that know their way around the town and will cater to your needs, leaving your full attention to enjoy your winery and/ or brewery tour.
For those who want to visit a distillery, the Jack Daniel Distillery is the country's oldest registered distillery and one of the most significant National Register of Historic Places listings.
Visitors are given personal tours of the distillery and get to see Mr. Jack Daniel's famous whiskey-making process, which he perfected in 1866.
Visit the Country Music Hall of Fame
What would a visit to the capital of country music be without checking out the Country Music Hall of Fame?
The Country Music Hall of Fame honors legendary performers, songwriters, and others significantly devoted to country music.
It was established in 1961 by the Country Music Association. The Country Music Hall of Fame is a must-see for lovers of Johnny Cash, Kenny Rogers, Dolly Parton, and John Denver when in Nashville.
Regardless of how much or how little you appreciate country music, the Country Music Hall of Fame is well worth a visit.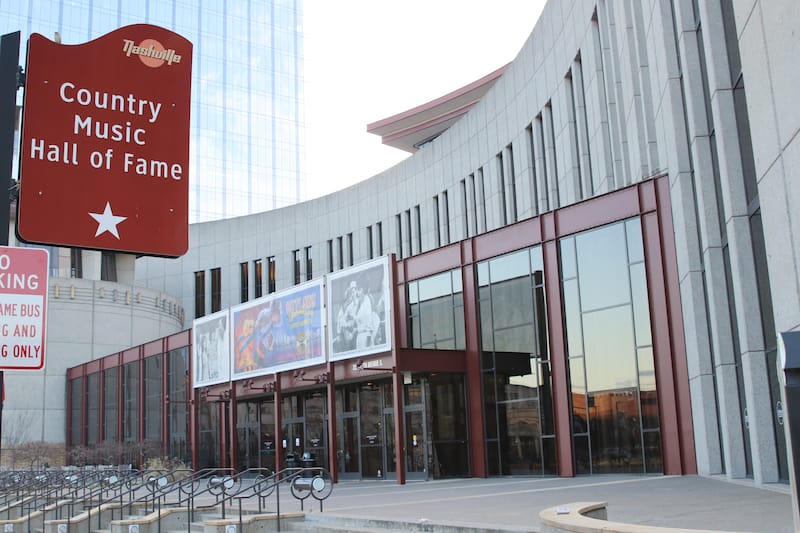 When you visit, you'll be treated to a wide range of exhibitions and events that give you a fascinating look at how the genre has grown over time.
One of the permanent exhibits is "Sing Me Back Home," which shows a historical timeline of country music that dates back to its origins. It includes the sounds, stories, and voices that changed the genre.
Photographs, text panels, audio recordings, antique videos, interactive touch displays, and various artifacts are on display.
>> Click here to book your Country Music Hall of Fame ticket in advance!
Support Local Coffee Roasteries
Coffee lovers should feel lucky since Nashville has no shortage of locally-owned coffee shops from which you can choose your brew.
One of the shops that caught the attention of coffee lovers is Sump Coffee.
Their roasts are on the lighter side of the spectrum, to the point where they're described as "sushi coffee" occasionally.
This allows the barista's talent and the coffee bean's quality to shine through. Head to the Crema Coffee Roasters if you want to enjoy your coffee on a wooden patio with a picturesque view.
They are carbon neutral, zero waste coffee roasters who are known for their delectable brews.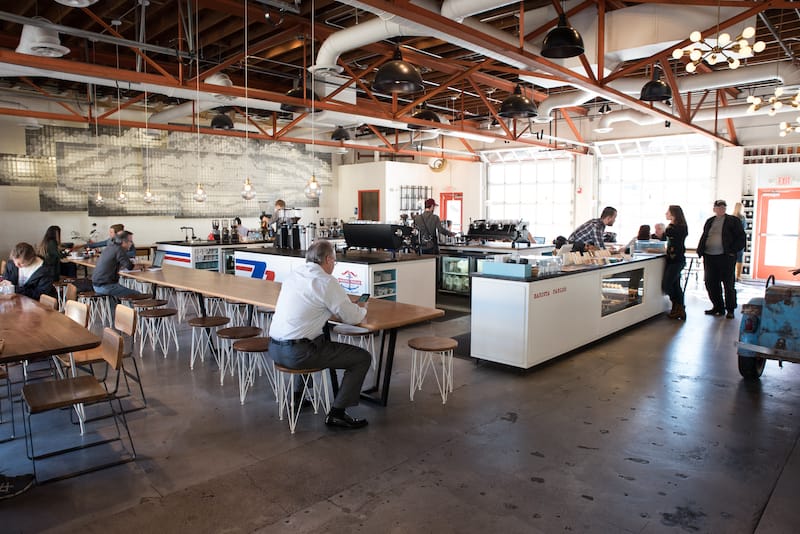 Frothy Monkey Franklin is another place with a cozy and approachable atmosphere. It is a coffeehouse that offers breakfast, lunch, and dinner, and it uses local ingredients.
Union Teller is a place where you can quickly stop by for a quick bite and something to drink. Located in downtown Nashville, they offer breakfast and lunch as well as coffee.
Visit Nashville Music City Center
Visiting the Nashville Music City Center is a must while you're in town. It is a convention complex that opened in 2013 and hosted numerous SCALE conferences and sporting events.
The Music City Center's stunning architecture is one of its most prominent features.
Both the interior and exterior designs have been praised for being both functional and innovative.
The property is massive with 1.2 million square feet that includes a 350,000 square foot exhibit hall, a 57,000 grand ballroom, and an 18,000 square foot junior ballroom.
It also has parking spaces of 1,800 square feet.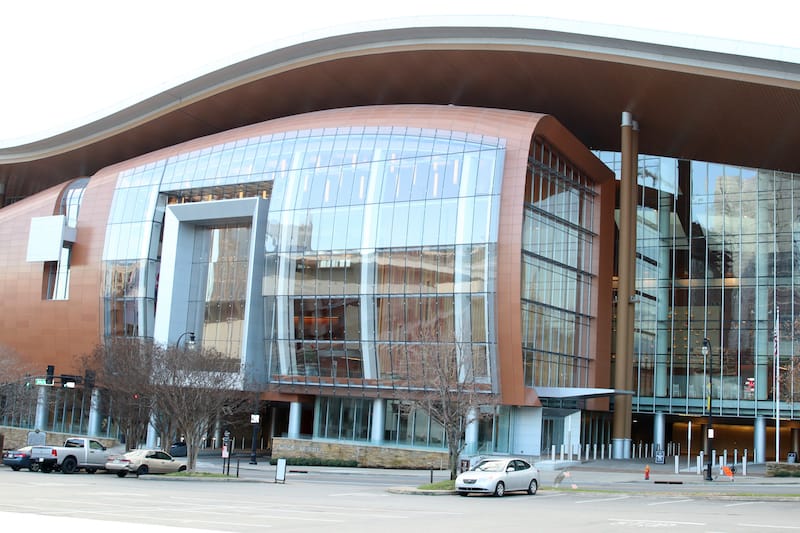 The convention center was meant to be a landmark facility in Nashville, with a vast outdoor green space bordering the Country Music Hall of Fame that may be used for performances and events.
Public art is featured on both the façade and interior of the building.
The Nashville Music City Center has become one of the most popular tourist attractions in Nashville.
Visitors can have guided tours of the property to learn about it more and check out the space.
Watch the Nashville Christmas Parade
The Nashville Christmas Parade is happy to return after skipping the in-person parade in previous years due to the pandemic!
Since 1927, the Nashville Christmas Parade has been something many people look forward to during the holidays.
The parade supports the excellent community work of Monroe Carell Jr. Children's Hospital.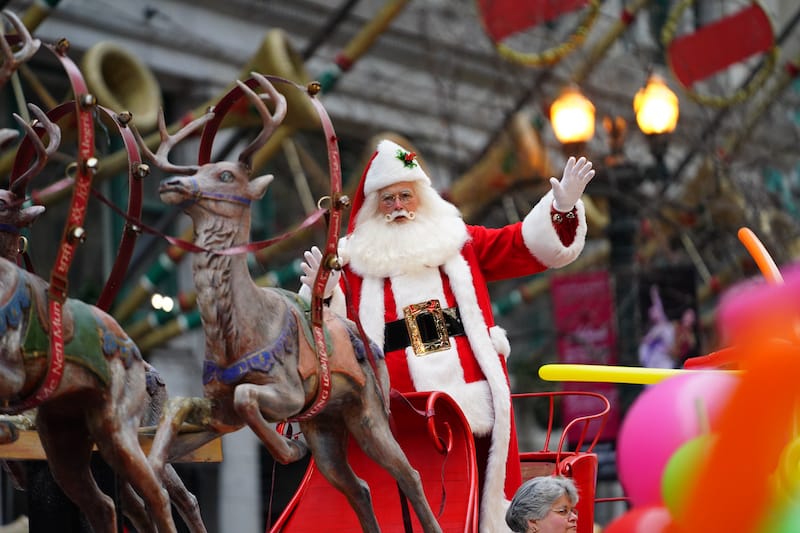 Celebrity appearances, extravagant floats made by the Kern Company in New Orleans, helium balloons, mass performing groups involving singers, dancers, choirs, and marching bands from different states all take part in the Nashville Christmas Parade.
It usually takes place on December 4th at the Nashville Public Square.
Celebrate Christmas at Gaylord Opryland
From November 12 to January 2, head to the beautiful Gaylord Opryland Resort & Convention Center to celebrate Christmas with your loved ones.
The resort will glow with millions of Christmas lights.
There are many classic holiday activities to participate in while there, such as taking pictures with Santa, watching engaging shows like The Oak Ridge Boys Christmas In Tennessee Dinner show, ice skating, and tubing.
The award-winning Oak Ridge Boys will celebrate the holiday season at the Gaylord Opryland Resort by performing Christmas classics, new songs, and timeless hits.
The show includes a delectable meal to enjoy your day to the fullest.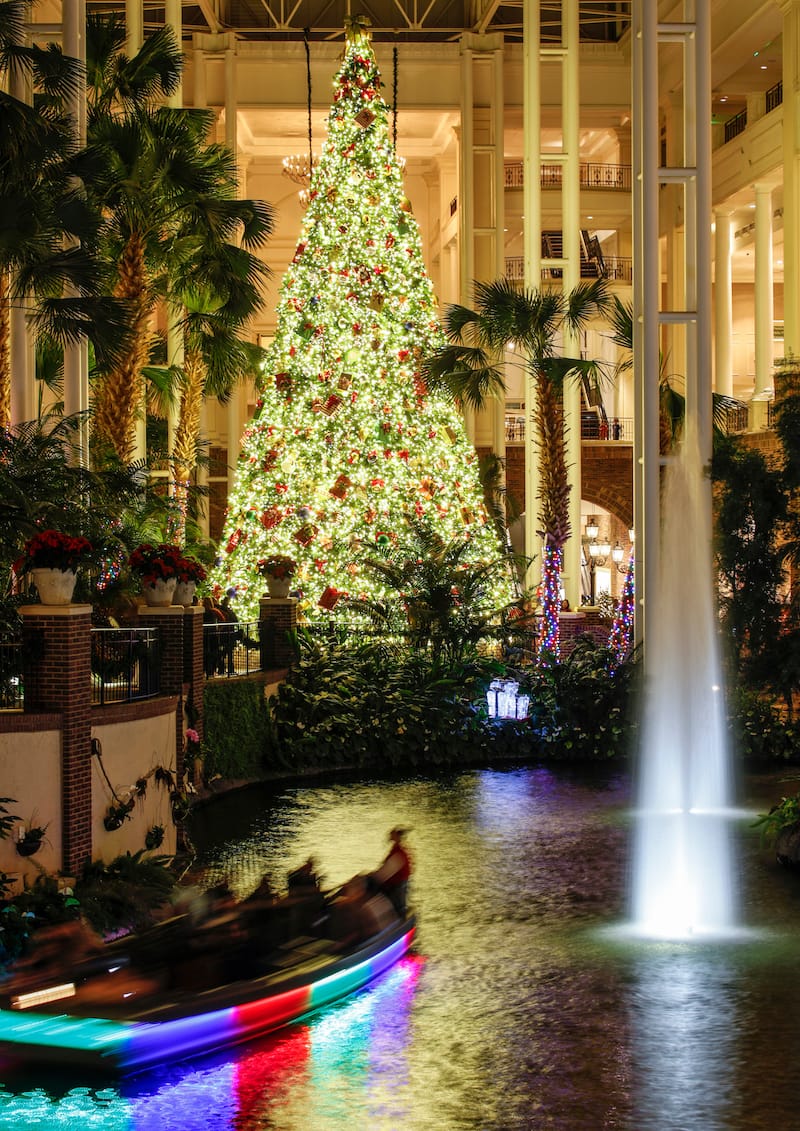 The Gaylord Opryland Resort provides a 9,000 square-foot ice skating rink made with real ice where you can enjoy a perfect day or evening surrounded by the holiday atmosphere.
Lessons are also available for those who want to improve their skills.
There is also a 15-foot-high, four-lance ice tubing hill. Have some fun racing with friends and family. It ensures an absolute blast for everyone.
If you want to explore the property and admire the magical rides, you can also enjoy private horse-drawn carriage rides.
The entire family will be delighted with the magical lights and decorations. You can visit the resort without staying there.
However, new restrictions limit access on weekends this holiday season.
Stop by the Christmas Village
When spending the holidays in Nashville, it is a must to visit the Christmas Village. It is one of the best places to shop for yourself and your loved ones' gifts.
This renowned event, which is considered the oldest consumer function in Tennessee's capital, is known to attract around 30,000 customers and 260 businesses from across the country.
It has been going on for 60 years and is known to be Nashville's oldest and most prestigious consumer show.
There you'll find plenty of seasonal gifts, unique pieces of jewelry, clothing, food items, pottery, and unusual collectibles.
The event will take place from November 12-14, 2021.
Remember that no tickets will be sold at the door this year, so buy your tickets beforehand online.
The tickets cost $10 with a $2 processing fee.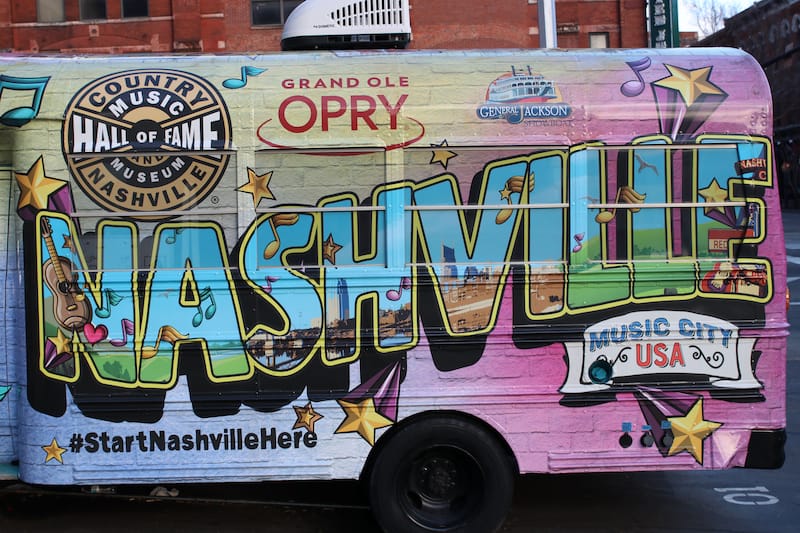 Where to Stay in Nashville
There are plenty of places to stay during winter in Nashville and a few of our top picks in the downtown area are listed below:
What are your favorite things to do in Nashville in winter? Let us know your tips for a winter trip in Nashville in the comments!
More Tennessee Winter Guides
Pin this Winter in Nashville Guide