Visiting the Great Smoky Mountains in winter offers travelers a chance to see one of Tennessee's (and North Carolina's!) most famous destinations during a serene and beautiful time of the year.
Are you planning your trip to the Smokies last minute?
If you're traveling to the Great Smoky Mountains last minute, you want to ensure you have lodging ahead of time! Below are some of our top picks in town!
Top hotels in the area:
Calhoun House Inn & Suites (in Bryson, NC)
🚗 Looking for the best way to get around TN? Click here to check rental car rates for Tennessee!
This guide discusses what you can do during winter in Great Smoky Mountains National Park (and beyond), including some travel tips and weather insight!
Did we miss any important information for your winter trip to the Smokies? Let us know in the comments! Thanks!
Winter in Great Smoky Mountains National Park (Overview)
Is there an Entrance Fee for the Great Smoky Mountains National Park?
Great Smoky Mountains National Park, alongside its numerous recreational opportunities and breathtaking vistas, boasts a unique feature making it completely different from many other parks in the country. The area has no entrance fee and is free to enter.
The background for the free admission to the park dates back to the 1930s. The land was once private property.
The states of Tennessee, North Carolina, and local communities constructed Newfound Gap Road, which joined two main entrances of the park.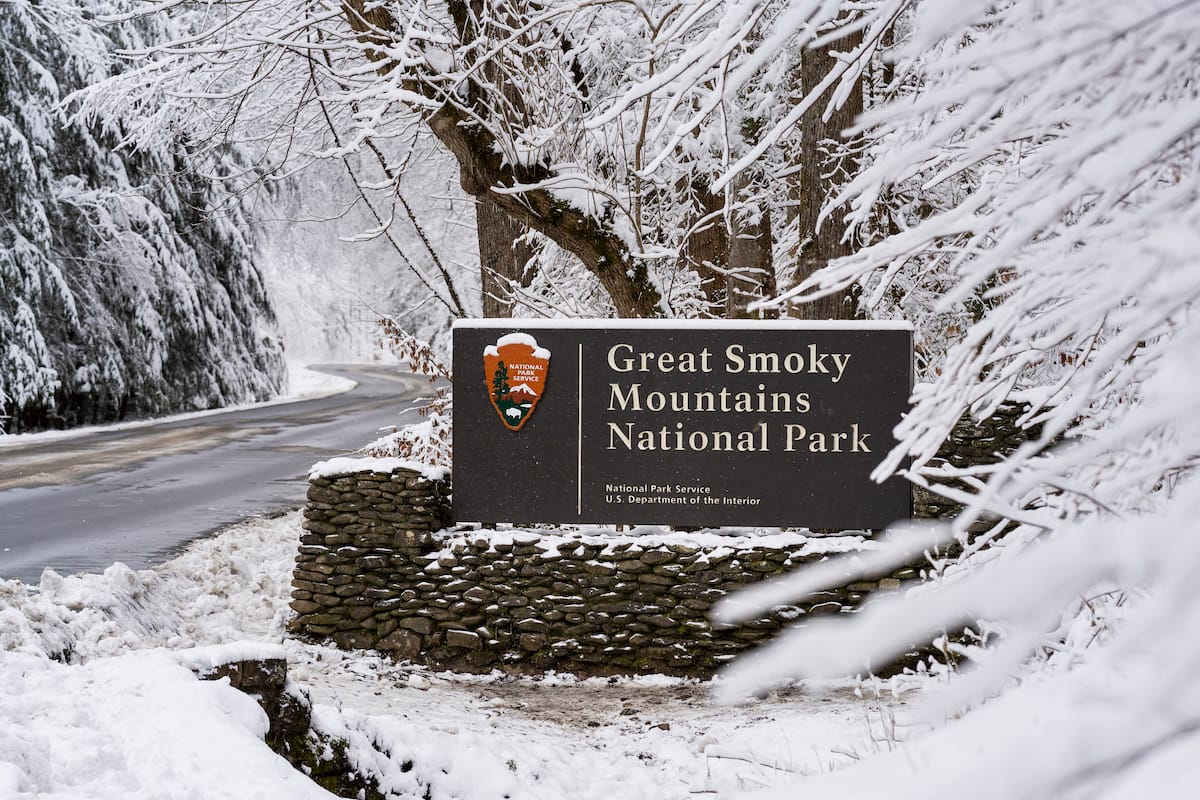 When the time came to pass the ownership of the road to the federal government, thanks to the state of Tennessee, a stipulation was made imposing no toll or license fee for traveling the road.
However, don't leave your wallet at home because campsites, lodgings, booklets, maps, and some tours still have a fee.
Winter Weather in Great Smoky Mountains National Park
Winter in the Smokies is generally mild. With an increase in elevation, extreme weather may occur. So, it's a good idea check the weather forecast conditions before your journey.
In the low elevations, visitors can expect warm temperatures and snow in the higher areas. Half of the days in the winter, the temperature is high, over 50 degrees.
Sometimes, it may even reach the 70s. Low temperatures are freezing or below freezing at night. At high elevations, -20°F lows are possible. In lower elevations, expect to find snows of 1'', occurring up to 5 times a year.
In the higher mountains, there is frequent snowfall. During a storm, it's possible to get up to two feet of snow.
If you want to enjoy the mountain snow, spend a weekend in Gatlinburg and the Smokies in January and February.
Does it Snow in the Smoky Mountains?
Those waiting for the snowy adventures in the Smoky Mountains won't be disappointed. Enjoy lots of winter activities and snow-covered magical views, especially when visiting the Great Smoky Mountains in December, January, and February.
The weather in the winter is unstable in the park. In the lower elevations, snows of 1'' may happen, but only several times a year. Generally, this snow melts after a few hours of falling.
The condition is different at higher elevations. The climate is much cooler, and the mountain peaks receive tons of snow. During the winter season, at about a mile high, Newfound Gap gets 69'' of snow.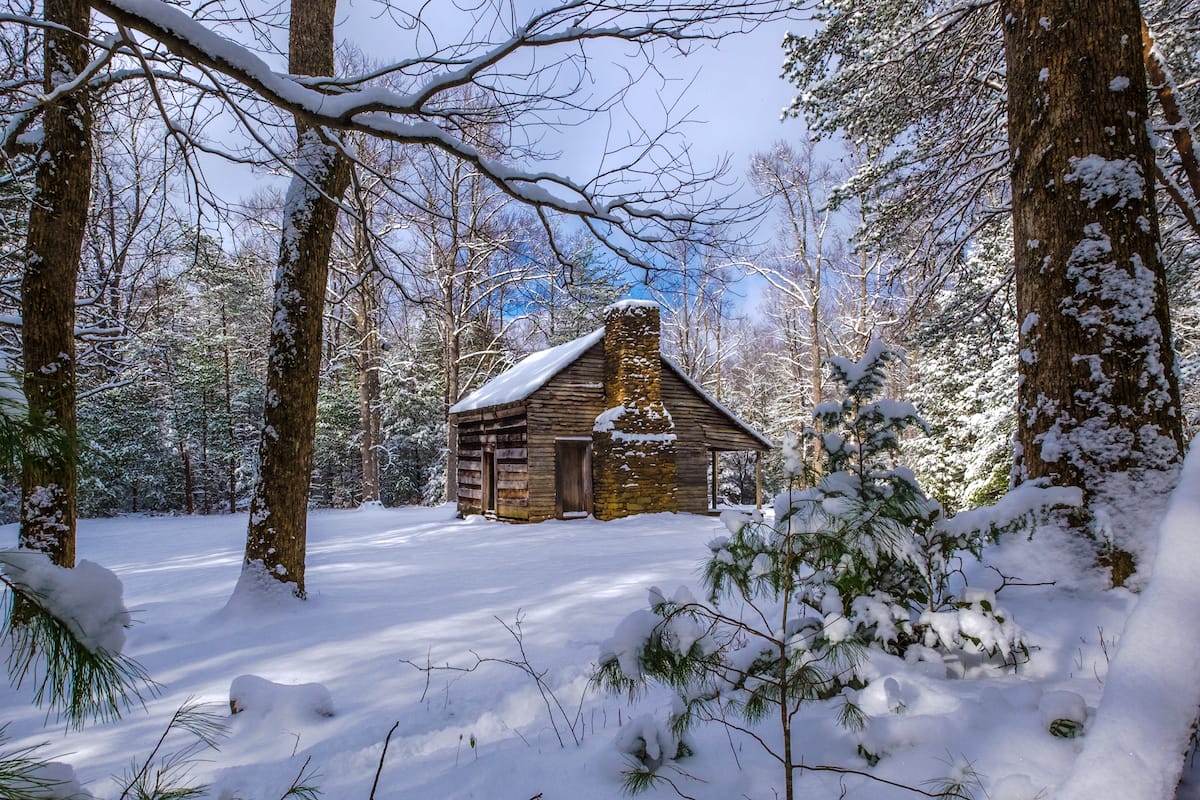 However, winter precipitation may make traveling conditions very hazardous in the park. Because of the winter storms, the paths in the park, including Newfound Gap Road, are often temporarily closed.
Phone extensions 630 and 631 for weather forecast and updates on temporary closures. If Newfound Gap Road isn't closed, grab your winter gear and head to the park. Relish cross-country skiing or hiking in the snowy wonderland.
Are Roads Closed in the Winter?
The main roads of the park, such as Newfound Gap Road, Cades Cove Loop Road, and Little River Road, are mostly open year-round, depending on weather conditions.
Seasonal closures are possible on some secondary roads. Here's a short guide on the park's roads: From April to November, visitors can drive on Clingmans Dome Road, Heintooga/Round Bottom Road, and Straight Fork, again weather permitting.
Heintooga Ridge Road, Little Greenbrier Road, Rich Mountain Road, and Roaring Fork Motor Nature Trail are also open from April to November.
However, buses, motorhomes, vans more than 25 feet in length, and passenger vehicles with towing trailers aren't allowed on these roads.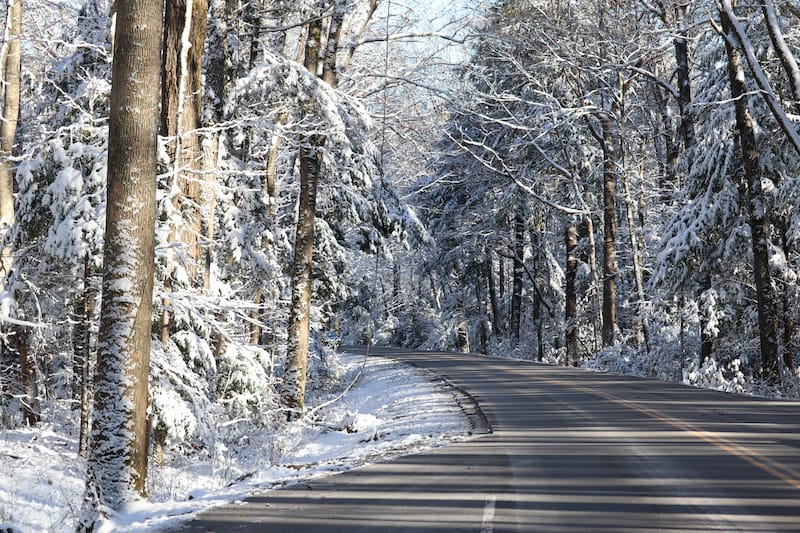 Things to Do in the Great Smoky Mountains in Winter
1. Snow Tubing in Ober Gatlinburg
One of the top attractions of Gatlinburg is flying down its snow tubing slopes. Enjoy this 90-minute snow tubing session, a perfect winter adventure. Below are some tips on how to have an exciting time.
The snow tubing park is open from November to the end of March. The entrance fee is $35 for ages five and up Sunday-Thursday in non-holiday periods, and $45 during weekends and holiday periods. Visit the ticket booth before getting in line or pre-purchase your tickets online.
If you purchase them online, grab an actual laminated pass with you. There are two ways to reach the top of Ober Gatlinburg, by car or the aerial tramway. The tubing hill is 350 feet long and has a 50-foot drop.
Remember to get dressed accordingly in this winter wonderland. Layers are advisable. Children must be 6 yrs old and 42″ tall to ride alone.
Address: 1339 Ski Mountain Rd, Gatlinburg, TN 37738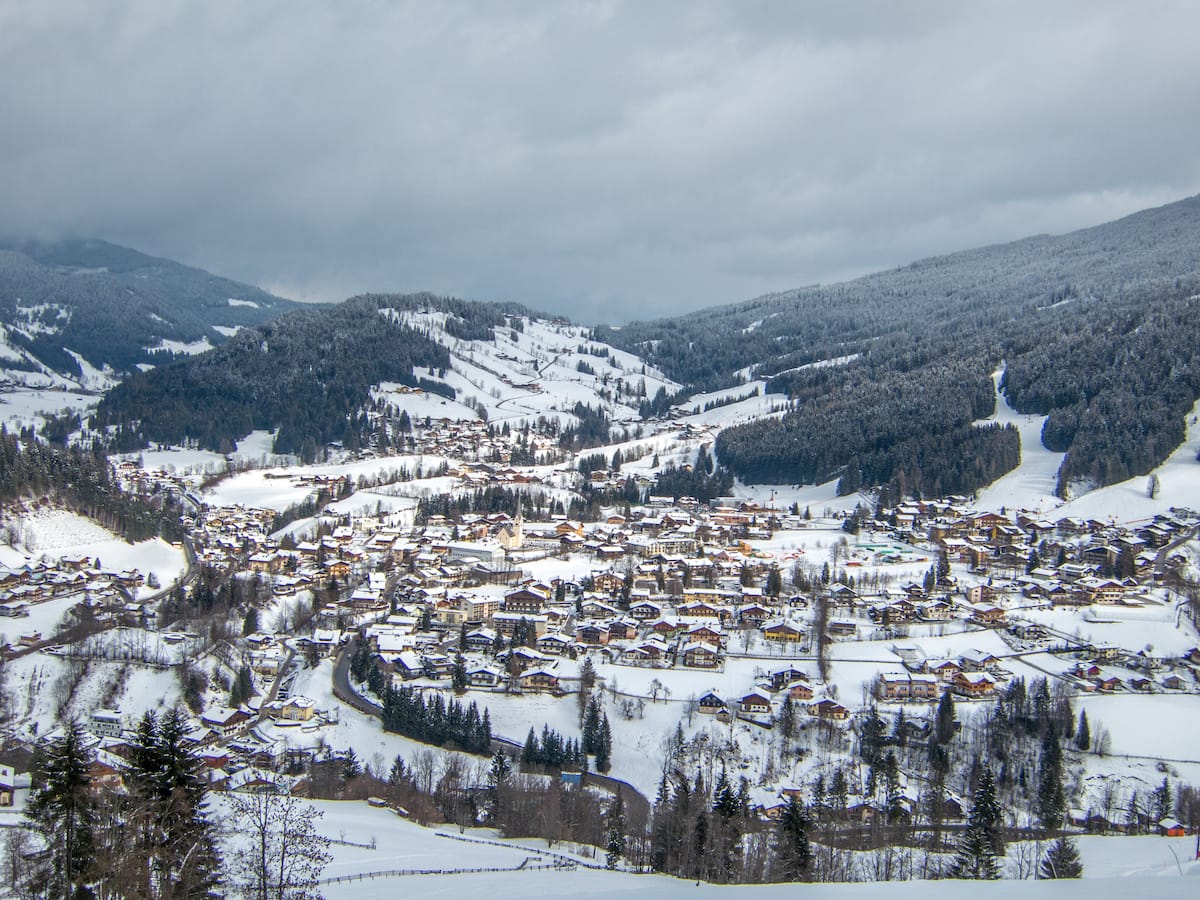 2. Skiing and Snowboarding at Ober Gatlinburg
Meet the longest skiing season in the southern US at Ober Gatlinburg. The resort provides eight different trails for skiing and snowboarding, covering two green slopes, four blue slopes, and two black diamond slopes.
The elevation is 3,300 feet with a drop of 600 feet. The visitors will find a tow lift, a quad chairlift, and two double chairlifts here. Ski area tickets give admission to all open ski slopes and lifts.
The pricing may vary depending on dates and ages. Ober Gatlinburg also offers rentals for all the required skiing and snowboarding gear and clothing. Rentals can't be reserved in advance.
If you need to sand or wax your snowboard, visit Ober Gatlinburg's tuning shop. Newcomers may join a group or private lessons to learn skills for their thrilling adventures.
Address: 1339 Ski Mountain Rd, Gatlinburg, TN 37738
3. Smoky Mountain Winterfest
Winterfest in the Smoky Mountains is a fairytale packed with tons of fun and entertainment for the whole family. Take a winter trip with millions of twinkling lights stretching through Pigeon Forge, Gatlinburg, and Sevierville.
There are so many events to enjoy during this season. Visit an award-winning festival, regarded as one of the bests in America, Dollywood. Enjoy all the classic holiday attributes like lights, shows and productions, and parades.
Take part in the Gatlinburg Festival of Trees, featuring a children's craft area, play area, beautifully decorated Christmas trees, and various entertainments during a week.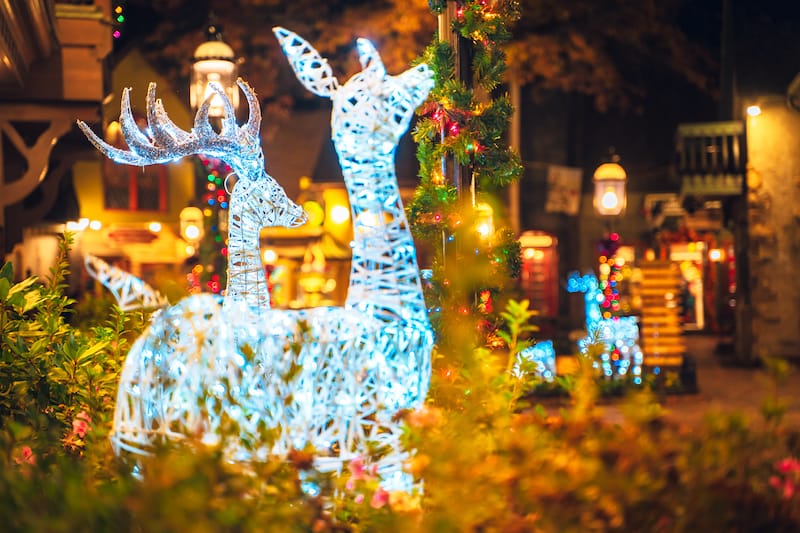 Another must-visit of the season is the Great Smoky Arts & Crafts Festival. Find gorgeous unique items like quilts, old-fashioned straw brooms, woven baskets, Victorian ceramic pitchers, and pottery.
Don't miss your opportunity to join the Festival of Christmas Past and Annual New Year's Eve Ball Drop and Fireworks Show. You will find so much to do in Gatlinburg in winter – make sure you plan a day to enjoy it!
This year's festival spans from November 10, 2023 to February 19, 2024.
4. Cross-country Skiing Clingmans Dome
Join this scenic seven-mile road to Clingmans Dome, the highest point in the Great Smoky Mountains National Park. Reach the observation tower on the summit and enjoy stunning panoramic views of the Smokies.
Since the road gets a lot of snow in winter, it's closed for all motorized vehicles. So, visitors enjoy great snow conditions for cross-country skiing and spectacular winter scenery.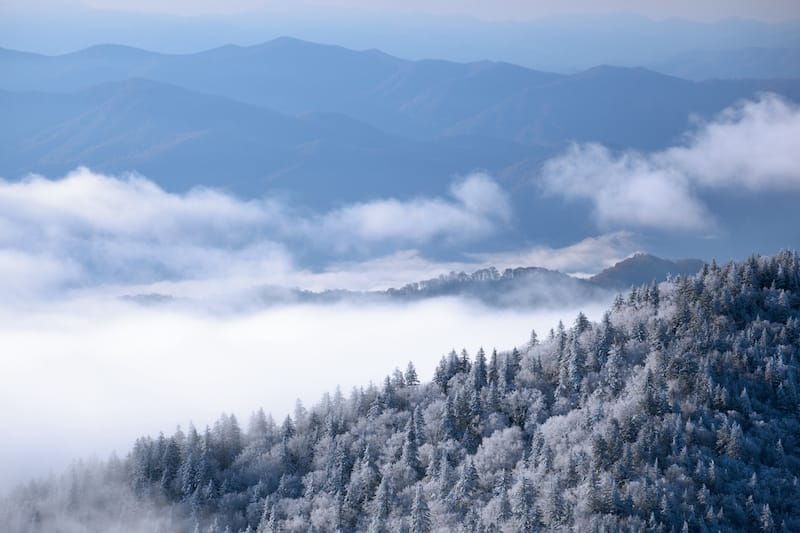 The trip is not one of the easiest, and sometimes it may even be quite hazardous, but the reward is well worth it. This is the only chance in the year to avoid the crowds at the observation tower.
As with many other winter activities in the Smokies, be sure to stay hydrated and dress in layers.
As a bonus, the Great Smoky Mountains National Park has no entrance fee, and visitors can enjoy cross-country skiing on Clingmans Dome Road for free.
5. Have Coffee and a Bagel at the Gatlinburg Grind
Before heading your Smoky adventures, check out the Gatlinburg Grind for a cup of delicious coffee. Find the coffee house at the Gatlinburg Arts and Crafts Community.
They handcraft coffee with a proper selection of beans and use the right equipment. You'll relish the most popular espresso drinks plus unique drip coffee there.
The Gatlinburg Grind offers a variety of freshly ground coffee and a hot chocolate bar with plenty of toppings, and add-ons. Choose your coffee and a bagel or fruit tart to go with your drink.
Gatlinburg Grind isn't all about coffee, visitors can also enjoy all kinds of baked goods, and there's something for everyone.
Address: 680 Glades Rd STE 3, Gatlinburg, TN 37738
6. Winter Hiking in the Great Smoky Mountains
Alum Cave Trail
Looking for a challenging winter hike in the Smokies? Check out Alum Cave Trail and enjoy the stunning views of icicle formations.
The trail starts by crossing Walker Camp Prong and Alum Cave Creek on log bridges, stretches through a hardwood forest, reaching the Arch Rock, the highlight of the trip.
After climbing up Peregrine Peak, the trail approaches a heath bald and finally reaches a rocky outcrop, Inspiration Point. This is a great place to watch the rugged valley surrounded by mountains.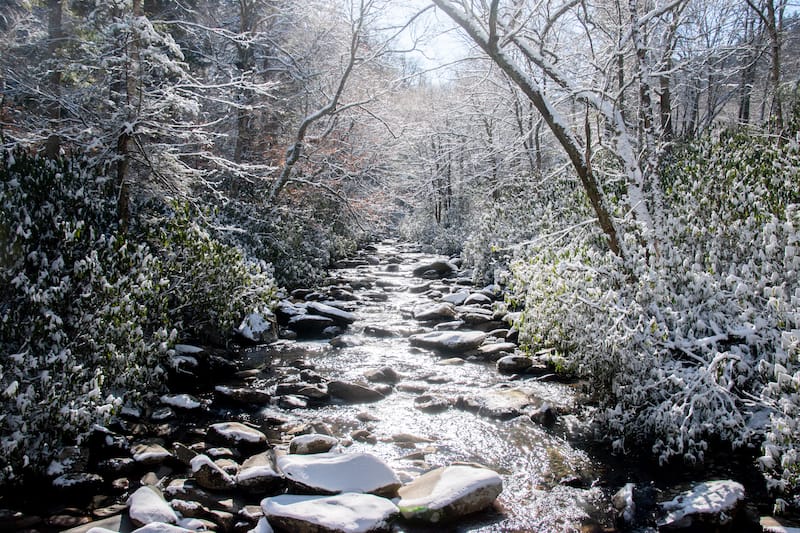 After 2.3 miles from the trailhead, you'll find The Alum Cave Bluffs. The trail gains an elevation change of 1,200 feet, becoming steeper and more challenging.
Many visitors turn around at this point, but if you feel ready to go on your journey, the trail will take you to the summit of Mount LeConte, offering fantastic sweeping panoramas.
Porters Creek Trail
Choose the Porters Creek Trail with a moderate challenge for a family winter adventure. This 4-mile round-trip trail to Fern Branch Falls offers stunning vistas located on the lowest terrain of the park.
It's open year-round and is perfect for winter recreation. The first mile of Porters Creek Trail is a gravel road, broad and easy to hike. Two miles down the path, you'll reach Fern Branch Falls.
Afterward, the trail will take you to the Elbert Cantrell farmstead, providing a great chance for a historical drawback. Keep in mind winter hikes require appropriate cold-weather clothing and outdoor gear.
Take a snowy trip, see a different side of the Smokies, and make lasting memories.
Rainbow Falls Trail
Experience one of the celebrated winter adventures at Rainbow Falls Trail, which is another popular route leading to Mount LeConte, the third-highest peak in the Great Smoky Mountains.
Take the adventurous trek with an elevation gain of 1,700 feet, switchbacks, and rocky sections. About 2.7 miles from the trailhead, you'll find amazing views of the winter fall.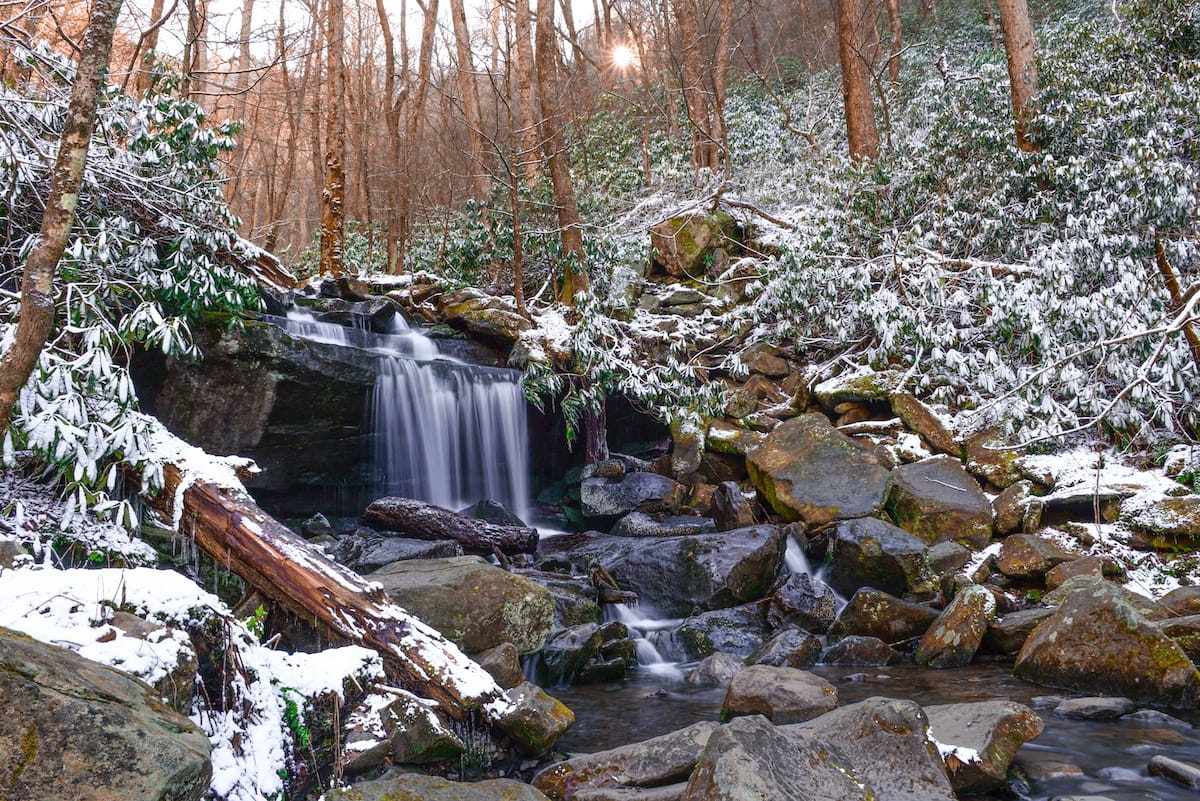 The 80-ft tall Tennessee waterfall is known for huge icicles, displaying spectacular scenery for those heading this path. This popular trail is of moderate difficulty, making it manageable for most visitors.
Four more miles beyond the trek, you'll reach Southern Sixer, offering mountain top landscapes and atmosphere.
Trillium Gap Trail
Trillium Gap Trail is also one of the routes leading to Mt. LeConte. Winter is a perfect time to hike this trail and see one of the gems of the Smokies, Grotto Falls.
This is the only waterfall in the park, where the path leads you behind the fall. Trillium Gap Trail starts in Cherokee Orchard and stretches 8.8 miles long, covering 3.4 to Grotto Falls and 8.9 to Mt. LeConte.
Regarded as strenuous and physically demanding, it's the second-longest trek to reach LeConte Lodge. Remember to take the necessary measures before starting.
Check the weather, take layers, stay hydrated, stay on the trail, and let someone know where you go. Enjoy a winter wonderland with a frozen falls and mountain vistas.
7. Christmas Place
Have a wonderful holiday at Christmas Place, the South's largest Christmas shopping village. Located at the foothills of the Smoky Mountains, this is a top Christmas destination for gifts, designer-themed Christmas trees, traditional lights, and ornaments.
Find the most famous collectible lines like Department 56 lighted houses, Christopher Radko ornaments, Christian Ulbricht German nutcrackers, Egyptian Glass ornaments and gifts, and the Jim Shore collection.
Enjoy exclusive concerts with various artists and other special events. Year after year, visitors come for wreaths, swags, and arrangements made by their floral designers.
Check out Mrs. Claus' Candy Kitchen offering homemade concoctions with seasonal flavors, as well as sugar candies, caramel and candy apples, hot popcorn, and light sandwiches.
Find also Christmas clothing, jewelry, and accessories at the Partridge & Pear Boutique.
Address: 2470 Parkway, Pigeon Forge, TN 37863
8. Winter and Backcountry Camping
Winter is an exciting time of the year to go camping in the Great Smoky Mountains. This season has its advantages with fewer crowds and snow-peaked mountain vistas.
The national park service manages more than 800 miles of trails, 100 backcountry campsites, and shelters where you can go winter camping. So, pick up a trail map and decide where to go.
Visitors can also check out the park's backcountry office at the Sugarlands Visitor Center for maps and information. Before planning your trip, remember background camping requires permits and reservations.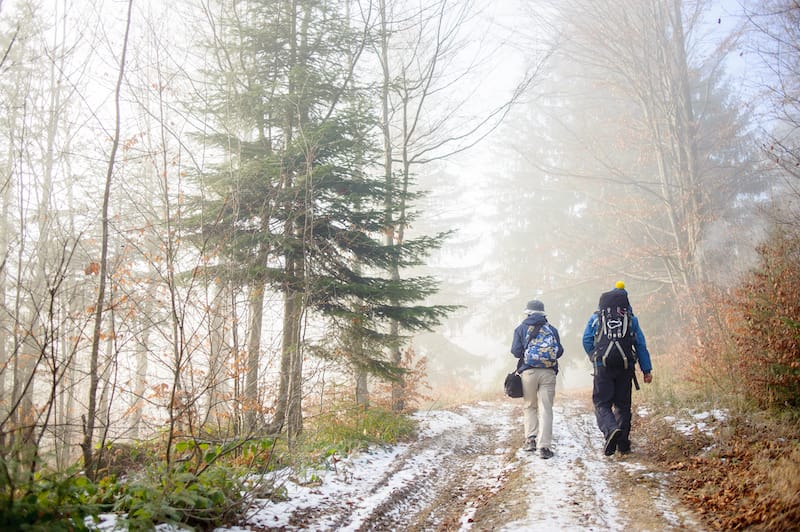 Be prepared for sudden temperature changes at higher elevations. It's better to start your winter camping at one of the Visitors Center, where you can have a talk with a ranger about current information on the park's weather conditions.
9. Ole Smoky Distillery
Check out Ole Smoky Distillery to experience the smells and tastes of moonshine culture. The first legal moonshine distillery in Tennessee boasts rich historical background and a centuries-old family recipe.
Find 15 flavors for purchase in their bottle shop or take a self-guided tour distillery open for all ages. The Holler, as it's called now, is one of America's most visited distilleries, producing a variety of signature flavors.
You may also take a guided tour and enjoy a 13-sample tasting of the finest moonshine and whiskey. Try one of the finest liquors in the mountains and listen to the real mountain music at Ole Smoky.
Address: 903 Parkway Suite 128, Gatlinburg, TN 37738
10. Cades Cove in the Winter
One of the top destinations in the Great Smokies is Cades Cove. Explore this sweeping valley with scenic views and abundant wildlife nestled among the mountains.
Cherokee Native Americans used to hunt in the area for hundreds of years. The first Europeans appeared in 1818 and 1821. Today, Cades Cove is a popular historic site, attracting more than two million visitors a year.
Explore numerous historical buildings, like the three churches, barns, log houses, a working grist mill, and other restored structures dating back to the 18th, 19th centuries. Cades Cove also provides year-round recreational opportunities.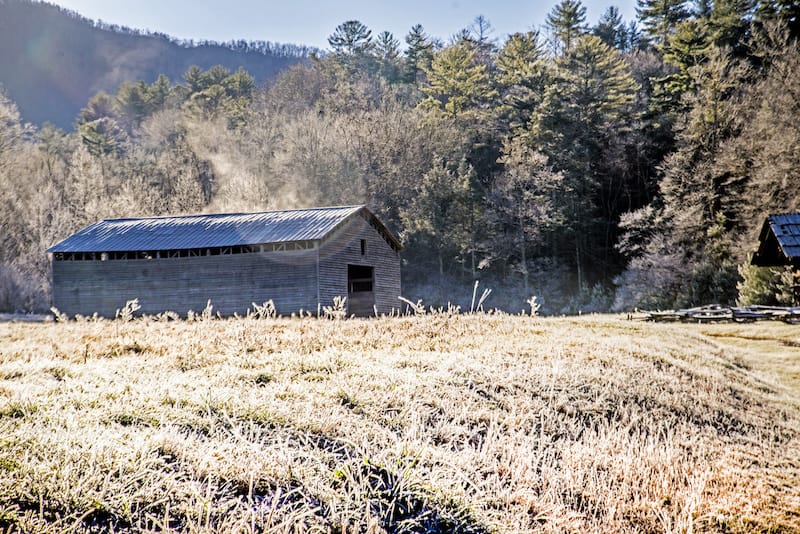 The best thing to do here in winter is hiking. You'll have a chance to see gorgeous snow-covered vistas of mountains and watch some wildlife.
The best place to go hiking in Cades Cove is Abrams Falls, where you will get views of the 20-foot frozen waterfall.
To reach Cades Cove in winter, take Cades Cove Loop Road, open daily, weather permitting. Be sure to check for closures before making the trip if the weather is bad.
11. Driving Tour of Lights
Your holiday journey will be incomplete if you don't take the Winterfest Driving Tour of Lights! See five million twinkling Pigeon Forge lights.
Pick up the tour brochure and map at the Pigeon Forge Welcome Center and enjoy the spectacular light displays from your seat. Watch bears, deer, foxes, and other animals in the Smokies wandering through the Pigeon Forge streets.
Watch shining lights, giant ornaments, and trees on Island Drive. Even the 200-foot-tall Great Smoky Mountain Wheel is sparkling with red, green, and white lights.
Find your favorite fairy-tale character like Mother Goose, Humpty Dumpty shining along the Pigeon Forge Parkway. A must-see of your tour will be a 60-foot-tall tree decorated with colorful lights, ribbons, and ornaments.
Have a fantastic Christmas tour filled with holiday music, firework displays, and shimmering lights.
Where to Stay in the Great Smoky Mountains
If you're looking for a great choice of accommodation in the Smokies, the following top-rated hotels should be at the top of your list!
Have you ever visited the Great Smoky Mountains in winter? Let us know your winter tips in the comments. Thanks!
More Regional Travel Guides
Pin This Winter in the Great Smoky Mountains Guide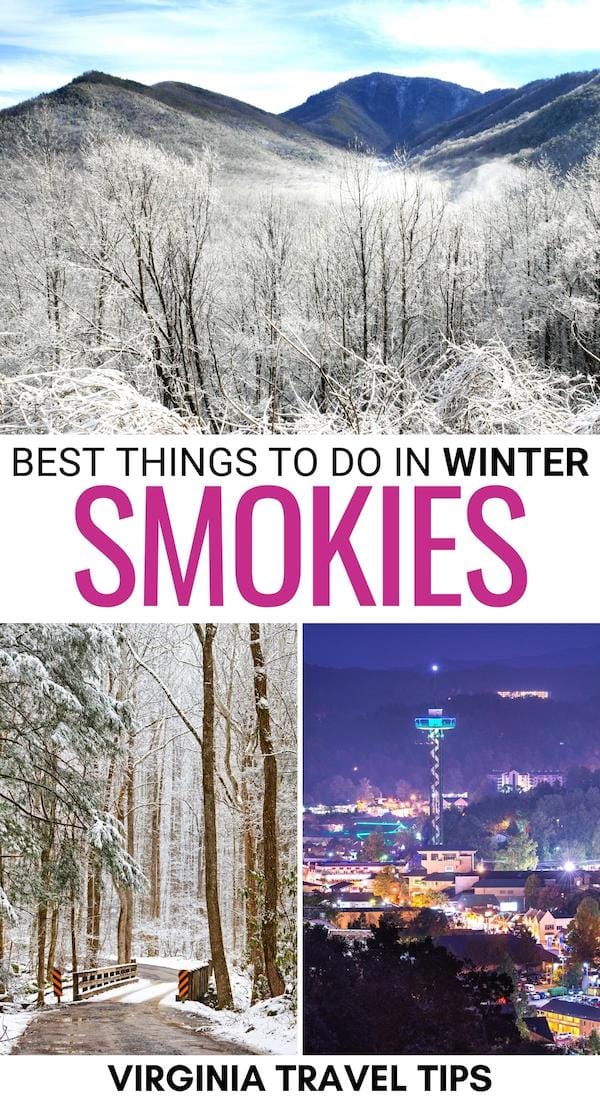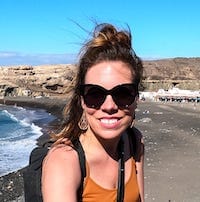 Megan is a travel blogger and writer with a background in digital marketing. Originally from Richmond, VA, she has lived all around the world (including Germany, Finland, Norway, etc) but her heart always finds its way back to Virginia. This blog is to help encourage travelers to explore the great state of VA… and its wonderful neighbors! Megan has written for or been featured by National Geographic, Forbes, Lonely Planet, Fodor's Travel, the New York Times, and more. She has visited 45 US states and 100+ countries… and wholeheartedly believes that Brunswick Stew is probably the greatest food to ever exist.