Gatlinburg is one of the most exciting places to visit in the south! And these are the best things to do in Gatlinburg TN (if youʻre making your first visit)!
The green, resort town of Gatlinburg is the most popular base for exploring the Great Smoky Mountains as well as Pigeon Forge.
You will find plenty of cool attractions, day trips, and more listed in this guide!
Gatlinburg is also home to the only ski resort in Tennessee, making it especially popular during the winter season for winter sports lovers.
From museums to parks to distilleries and more, there's so many places to visit in Gatlinburg no matter the season.
In this article, we have rounded up some of the most visited attractions in Gatlinburg that you must include on your trip itinerary!
Best Things to Do in Gatlinburg
1. Visit Great Smoky Mountains National Park
Welcome to the most popular national park in the country! With spectacular vistas of wildlife, historic buildings, and beautiful mountains, the park offers tons of adventures for visitors. A fantastic time for exploring the area is winter.
Hit the paths winding through the snowy wonderland. Hiking trails such as the Laurel Falls Trail and Alum Cave Trail are fantastic options to start with. Another option popular among winter hikers, snowshoers, and cross-country skiers is Clingmans Dome Road.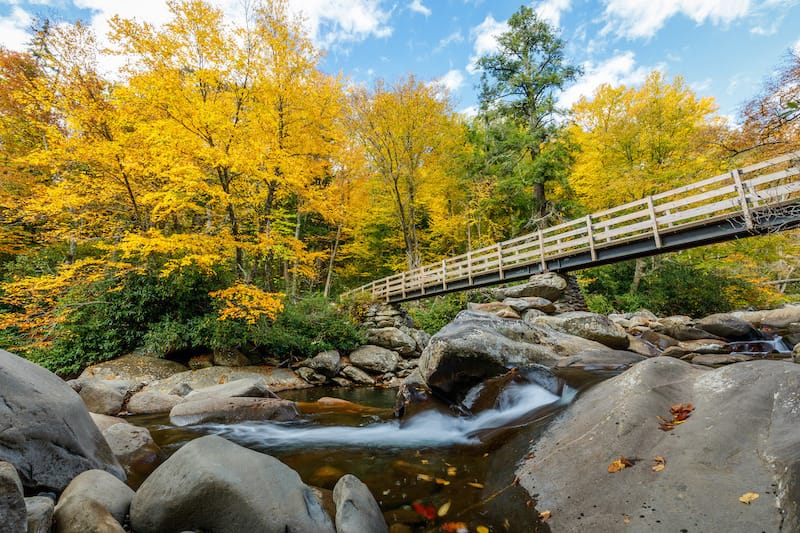 Depending on the weather conditions, the treks may be completely snow-free or ice-crusted. Be sure to pack all necessary equipment and take layers for your winter adventure.
Visitors can also find several campgrounds open during this season, including Cades Cove, Elkmont, and Smokemont.
The picnic areas available in winter are Cades Cove, Deep Creek, Greenbrier, and Metcalf Bottoms. The park provides plenty of summer recreation opportunities as well, such as hiking, camping, fishing, picnicking, and horseback riding.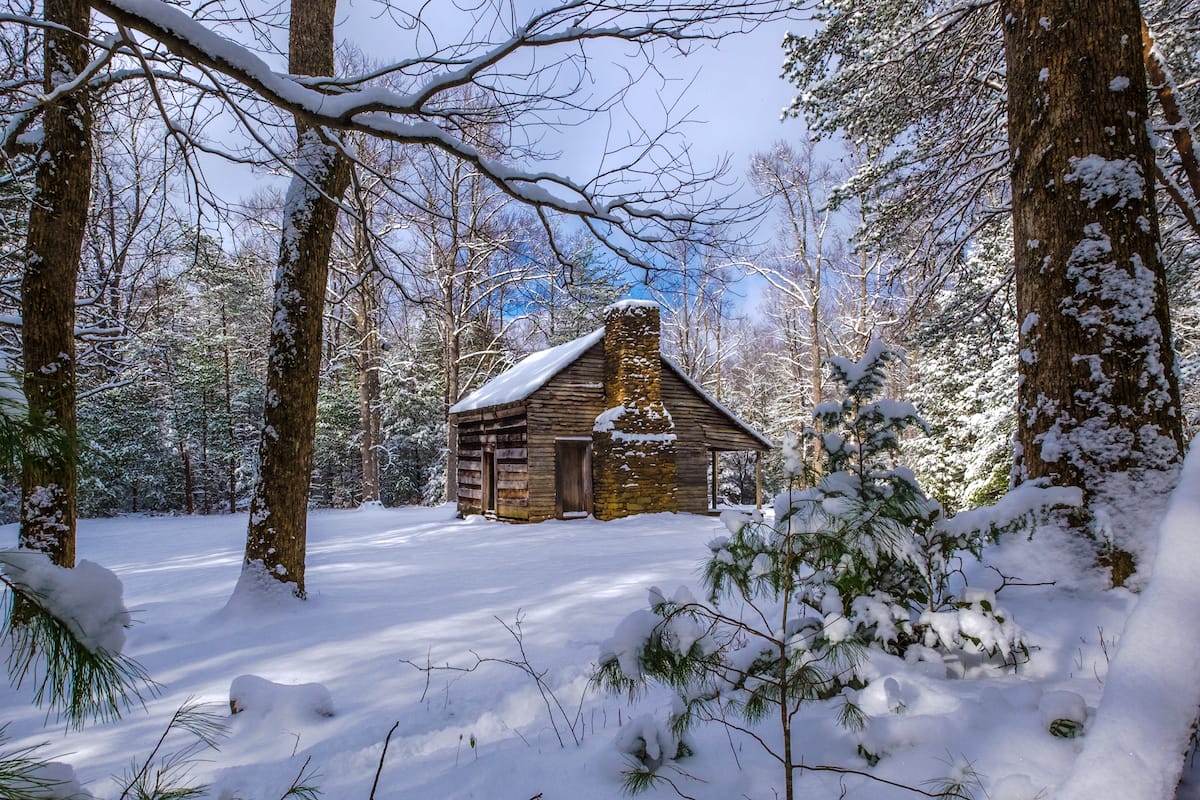 History buffs can enjoy over 90 preserved historic buildings like houses, churches, schools, and grist mills. The best places for a 'history trip' are Cades Cove, Cataloochee, and Oconaluftee. In the summer, visitors can also go auto-touring.
The park provides 384 miles of roads that are mostly paved. Check out Cades Cove Loop Road, Newfound Gap Road, and Roaring Fork Motor Nature Trail.
2. Head to Smoky Mountain Winery
When traveling to the Smokies, don't miss your chance to visit the oldest winery in east Tennessee. Since 1981, the company has been producing award-winning varieties of wine.
The Smoky Mountain Winery boasts more than twenty vintages, introducing the best of Tennessee wine-making. A good collection of their specialties include peach, raspberry, and the famous blackberry wine.
The company has something to offer for every taste. If you don't like sweet fruit varieties, try a selection of dry white wines aged in American Oak.
Visitors can stop at the tasting room to enjoy the flavors of delicious Southern wines. Prices are reasonable, and perhaps best of all, you can bring your dog with you!
3. Take the Ober Gatlinburg Aerial Tramway
Soar in the panoramic views of the Smoky Mountains. A 2.1-mile ride up the tramway has a 1,472-foot rise elevation reaching the highest point 2,813 feet above sea level.
Two counterbalanced cars provide an amazing experience, taking passengers to Ober Gatlinburg Ski Area and Amusement Park.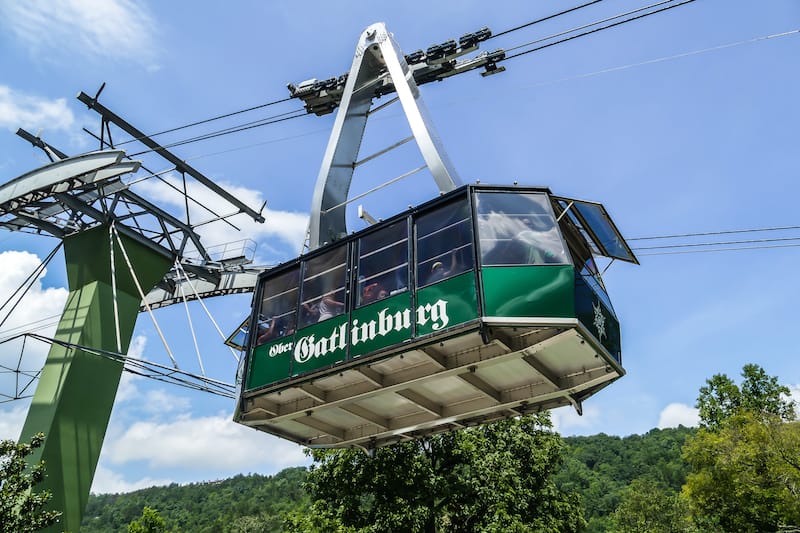 Constructed in 1973, the tramway is the most comfortable and safest way to reach the ski area. It carries over 3,000 guests daily.
The tram departs every 20 minutes from downtown. Hours of operation are from Monday to Sunday, 9:40 am- 5:00 pm. Tram tickets cost $19 for adults and $16 for children.
4. Go to the Gatlinburg Pinball Museum
Another unique attraction in the city is the Pinball Museum. It includes over 100 pinball machines and retro arcade games.
This interactive center houses one of the largest collections of pinball and retro games in the US. See Medieval Madness, Lord of the Rings, Attack from Mars, Dialed In, Metallica, the Walking Dead, and The Addams Family Gold Edition.
The museum is open daily from Monday to Thursday, 2 pm – 10 pm, Friday: 12 am – 10 pm, Saturday: 11 am – 11 pm, and Sunday: 12 am – 10 pm.
The cost of admission is $15 for adults and $12 for children. This price includes the ability to play all the games.
5. Stop by the Sugarlands Distillery
A trip in the Smokies isn't complete without exploring how moonshine is made. Check out the famous Sugarland Distillery, which is a great place to watch the distilling process, try a few exceptional flavors at the tasting area, and listen to live music.
Located in a rustic barn-house, it provides three sippin' stations where customers can try up to 12 flavors.
The delicious flavors of Sugarland Shine include Mark & Digger's Rye Apple, Silver Cloud Tennessee Mash, Butterscotch Gold, and Mint Condition Peppermint.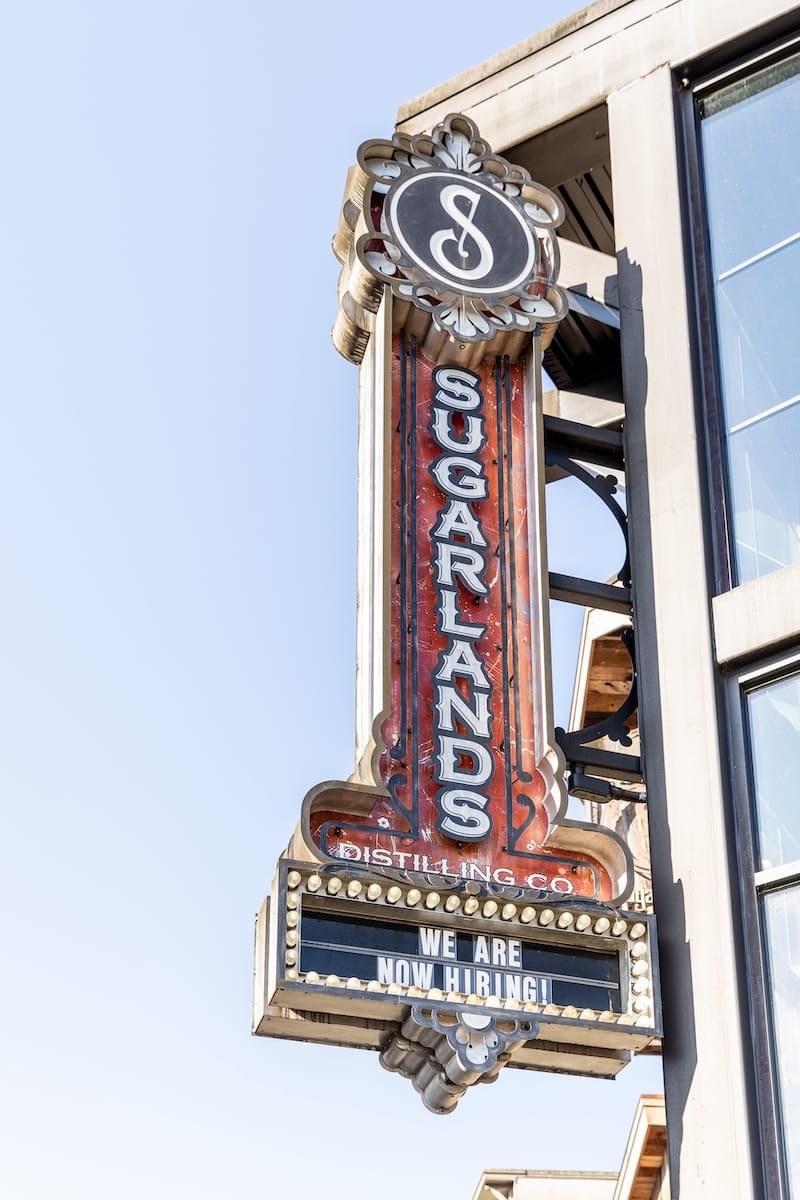 Visitors can watch the whole distilling process on display by taking a free guided tour. Here you'll see a stone mill, copper still, and distillation column.
Besides tasting award-winning spirits, you can also buy mountain merchandise and apparel at the store. The distillery is open daily, 10:00 am – 10:30 pm.
6. Head up in the Space Needle
This is the most iconic attraction of Gatlinburg, towering at 407 feet and offering panoramic views of the Smokies from a 360-degree platform.
Two glass elevators whisk visitors to the observation deck to watch breathtaking vistas of the Tennessee town below, the surrounding national park, and Mount LeConte.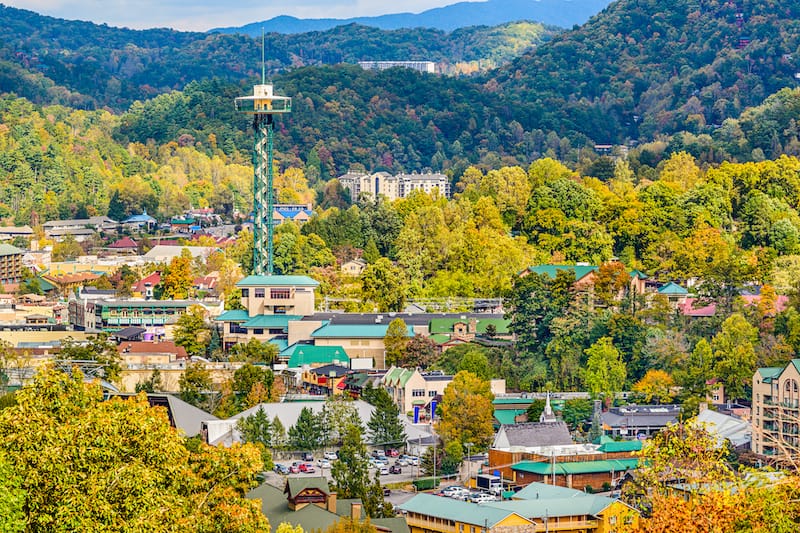 The Space Needle also boasts a 30,000 square foot amusement center packed with games, simulators, and activities. The tower houses a quick-service restaurant and even a theater providing popular shows.
The attraction is especially crowded during holiday fireworks. Don't miss your chance to enjoy the sparkling lights of the night city from above.
7. Go Skiing at Ober Ski Mountain
The Ober Ski Mountain resort is a top destination for winter enthusiasts visiting Gatlinburg, providing perfect skiing, snowboarding, ice skating, and snow tubing opportunities. This ski area offers breathtaking scenery alongside slopes on Mt. Harrison.
Ten trails of skiing and snowboarding are serviced by two quads, one double, and one surface lift. The longest run from the top Ober Chute is a mile long and descends over 500 vertical feet to the base.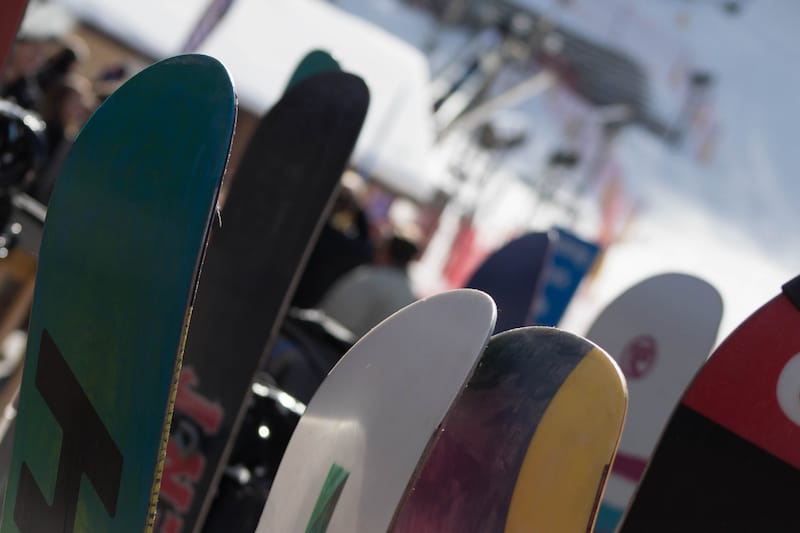 The ski season kicks off in mid-December and may last to mid-March. Another popular activity is snow tubing, providing 300 feet of downhill action and a carpet conveyor transporting tubers to the top.
The tubing season starts the Saturday before Thanksgiving and lasts through March. Find great equipment rental programs and lessons at the resort.
8. Take a Ghost Tour in Gatlinburg
Join a 2-hour night walking tour and experience a haunting adventure in Gatlinburg! Learn about the mysterious history of the city while hunting for supernatural spirits.
The nightmare trip kicks off from the lobby of the Holiday Inn's Smoky Mountain Resort at 7 pm or 9 pm. A one-mile walking tour stretches through the streets of the city and encompasses several stops packed with spooky stories.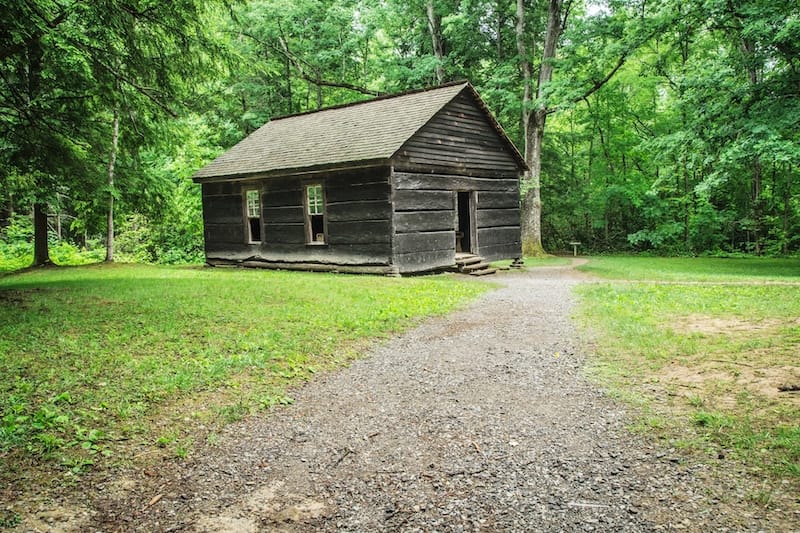 You'll get acquainted with the famous ghosts and walk the paths they used to stroll when they were alive.
At the end of the trip, visitors have a chance to track down spirits using actual ghost-hunting equipment. Experience Gatlinburg's folklore and history during this thrilling activity.
>> Click here for rates and availability
9. Go White Water Rafting with Smoky Mountain Outdoors
Rafting in the Smokies is the best option for a whole day worth of fun. Since 1993, Smoky Mountain Outdoors has been providing whitewater rafting services. This is a perfect adventure for all family members, including kids age three and up.
The most popular option is the Upper Pigeon River Rafting trip. It's a 6.5 mile trip down the river on class 3 and 4 rapids.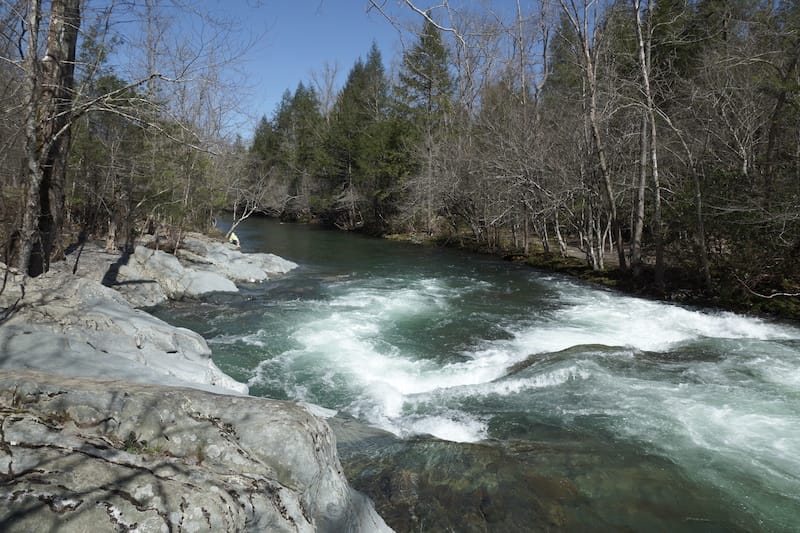 For a relaxing ride down the river, join the Lower Pigeon River rafting tour. Want something extreme? Try Extreme Upper River Rafting.
You may also join combo packages, covering whitewater rafting and ziplining. Experienced and certified guides will accompany you throughout your trip. Be sure to make reservations.
10. Visit the Rocky Top Wine Trail Wineries
Join the Rocky Top Wine Trail in the heart of the Great Smoky Mountains. The tour covers five local wineries and offers 75 high-quality wines for tasting, perfect for a romantic Tennessee getaway!
This trail is free- just grab your ID and go for a visit. Hillside Winery features Italian-style wines as well as traditional and award-winning varieties.
The next stop on the trail is Apple Barn Winery. It's located on the banks of the Little Pigeon River and offers a handcrafted apple wine selection.
Another great spot included in the tour is Apple Barn Cider House. Open since 1976, it's been producing specially crafted hard ciders.
The oldest winery in the state featuring unique wine selections is Mountain Valley. It specializes in sweet fruit wines.
Last but not least is Mill Bridge Winery, offering local wines, handcrafted hard cider, and an outdoor patio overlooking Little Pigeon River.
11. Discover the Hollywood Star Cars Museum
This is a top-rated attraction in Gatlinburg. Explore the most exceptional collection of movie cars in recreated settings. The museum houses various cars from blockbuster hit movies.
Popular examples include Two Batmobiles from Batman TV Show and Batman Returns, The Ghostbusters Ecto-1, The Munsters Drag-u-la, and Back to the Future DeLorean time machine.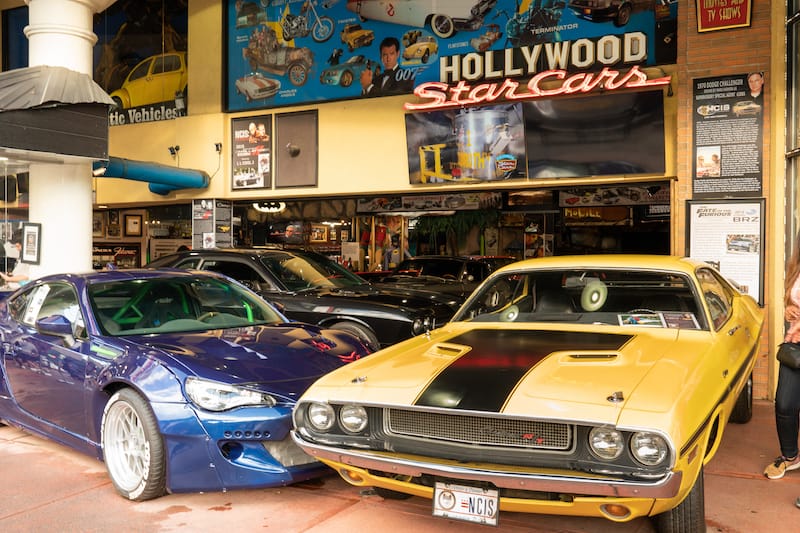 Many cars from the collection are made by George Barris, who has created more Hollywood movie and TV cars than anyone else.
An average tour lasts about an hour. Tickets for adults cost $12.99 and tickets for children cost $7.99.
12. Get Active at Gatlin's Rugged Ropes Course
Gatlin's Rugged Ropes Course provides high-quality entertainment for the whole family. Check out various activities like escape rooms, mini-golf, laser tag, bumper cars, and have an exceptional adventure at Rugged Ropes.
Take this high ropes adventure course, which is the first of its kind in Gatlinburg. Get harnessed in an overhead track and climb three stories in the air facing challenges like suspended ropes, shaky bridges, and other obstacles.
Whether you're an experienced trekker or a newbie, the attraction awaits you. No special athletic skills are required. Children of all ages will like it. The cost of admission for the Rugged Ropes Course is $19.99.
13. Thrill Yourself at Anakeesta Theme Park
Create unforgettable memories with your family at the mountaintop park Anakeesta. Located in the heart of Gatlinburg, the park provides outdoor adventures and relaxation.
Take a walk along the 14 bridge Treetop Skywalk. Visit Anavista Tower and enjoy 360⁰ views of the Smoky Mountains. Explore Vista Gardens with its winding trails and waterfalls.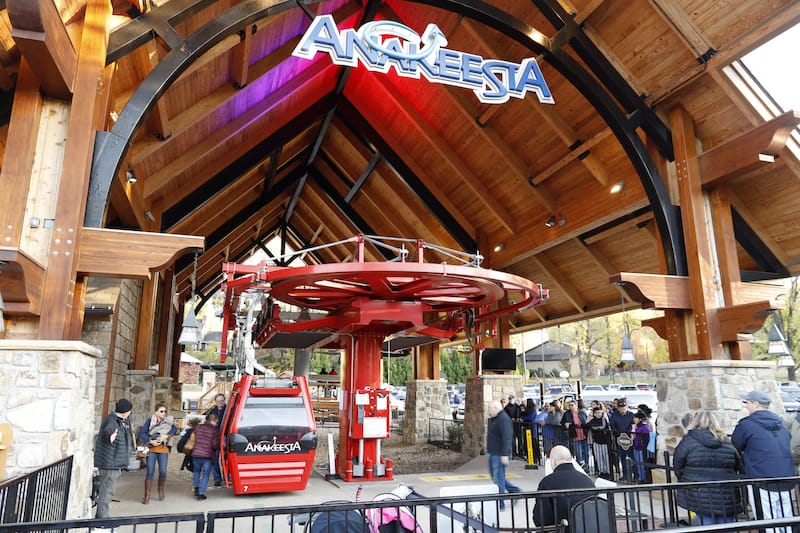 Check out Dueling Zipline Adventure and soar in the sky with your friends side-by-side. For more thrilling impressions, race down the mountainside on the Rail Runner mountain coaster.
The cost of admission covers all-day park access and unlimited rides via Chondola or Ridge Rambler to the summit. The cost of admission is $28.99 for adults, $19.99 for children, and $21.99 for seniors.
14. Enjoy the Ole Smoky Candy Kitchen
Experience sweet smells and flavors in a classic candy shop. Ole Smoky Candy Kitchen opened in 1950. It boasts a rich history spanning several generations and is perfect for a weekend itinerary.
Located in the heart of Gatlinburg, this is the ultimate destination for taffy and chocolate lovers. Check out the store and watch the magic happen. See the cooks prepare fudge, pull taffy, or dip apples.
And now you're ready to taste the delicious offerings. The store boasts 27 flavors of homemade taffy, award-winning fudge with six different flavors, gummies, and chocolates.
And don't forget about the wide selection of boxed candies. The shop is open from 9:30 am to 11:00 pm.
15. Take a Ride on the Gatlinburg Mountain Coaster
Gatlinburg Mountain Coaster offers a perfect start for your vacation in the Smokies and is one of the best Gatlinburg attractions! This family amusement attraction is located at the beginning of downtown.
Youngsters will especially like the fastest thrilling roller coaster in the Smokies. Try seven minutes of riding filled with plunges and zips at speeds up to 35 mph.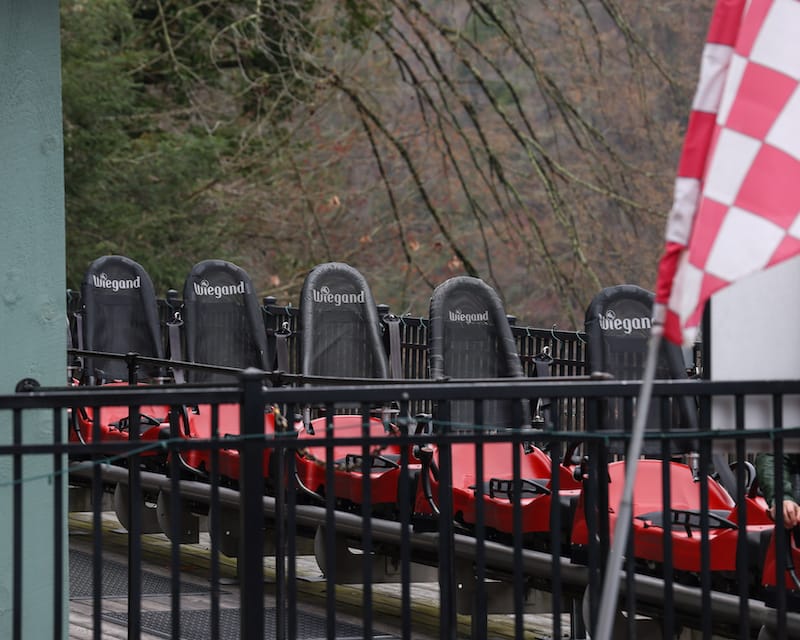 Don't worry about walking uphill as the lift system carries visitors to the top. You may ride alone or take double options. Parent-child combos are also available.
Tickets are $14.32 for a single rider and $24.16 for two riders. Enjoy your riding adventure during the day or at night.
16. Get Spooked at the Mysterious Mansion
This Victorian-style mansion is Gatlinburg's oldest and scariest haunted house. Have a terrifying excursion through secret passageways, dark corridors, dreadful staircases, and chambers.
Be ready to meet live actors with super-realistic makeup and costumes appearing and disappearing throughout the house.
According to legend, this house is packed with ghosts of a family who died there in 1903. Since then, the house is believed to be haunted.
Touring the three-story building takes 15-20 minutes and is self-guided. It's open daily, Monday-Thursday: 3 pm-11 pm, Friday: 12 pm – 11 pm, and Saturday – Sunday: 11 am – 11 pm.
Tickets for adults cost $15 and $9 for children. The tour isn't recommended for children under eight.
17. Learn about Moonshine on the Wine and Shine Tour
Learn the traditions of moonshine distilling and try plenty of flavors on this moonshine distillery tour. Check out the most popular local companies with an experienced guide and dive into the moonshine culture.
Your first stop will be at Tennessee Shine Company, offering amazing varieties of 35-proof cream-based moonshine.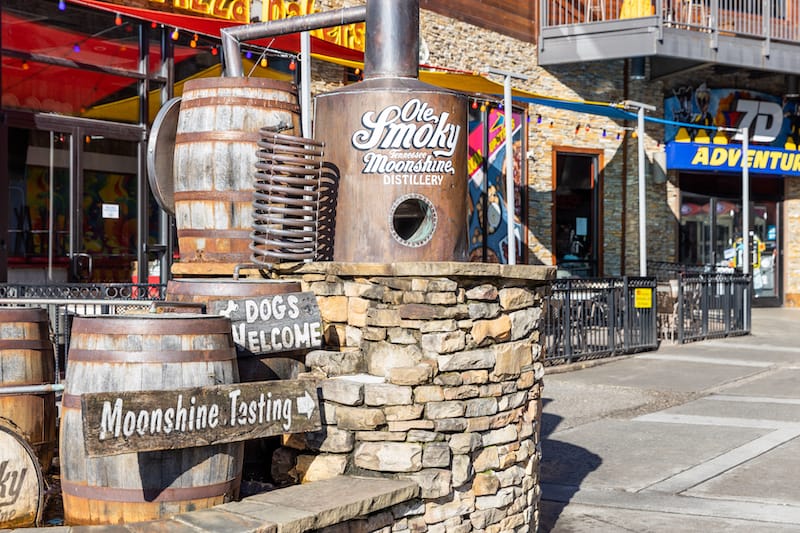 Afterward, you'll walk to Little Bear Winery, a unique winery providing a real VIP experience and various selections of wine.
Your last stop will be at Sugarlands Distilling Company. Explore working distillery scenes with your guide and taste actual moonshine cocktails. The tour includes 12 travelers maximum. The lowest price starts at $48 per person.
>> Click here for rates and availability
18. Enjoy a Delicious Coffee in Gatlinburg
Gatlinburg is the right place to start your day with a cup of coffee. Here are some spots you must visit to experience local coffee offerings.
Try a variety of espresso drinks, iced and hot, chai tea lattes, hot chocolate, remarkable homemade ice cream, and handcrafted soda drinks at the Village Cafe & Creamery.
Burg Coffees is a family-owned cafe providing high-quality coffee, espresso, baked goods, and chocolate in a peaceful atmosphere with mountain views.
Another great option is Coffee and Company, a cozy gem of Gatlinburg that serves fresh-roasted coffee and other specialty drinks alongside various pastries, including their famous muffins.
And if the weather cooperates, visitors can enjoy coffee on the outdoor patio. Be sure to grab your favorite specialty coffee beans to enjoy at home, too! It makes for the perfect Christmas gift!
19. Stop by the Tennessee Cider Company
Amazing flavors await you at the Tennessee Cider Company. Located in the heart of Gatlinburg, this is the first cidery to run a shop in town. The company produces a variety of hard ciders made by locals.
Their top-selling signatures include watermelon, strawberry, blueberry, traditional red apple, golden apple, citrus mash, and peach ciders.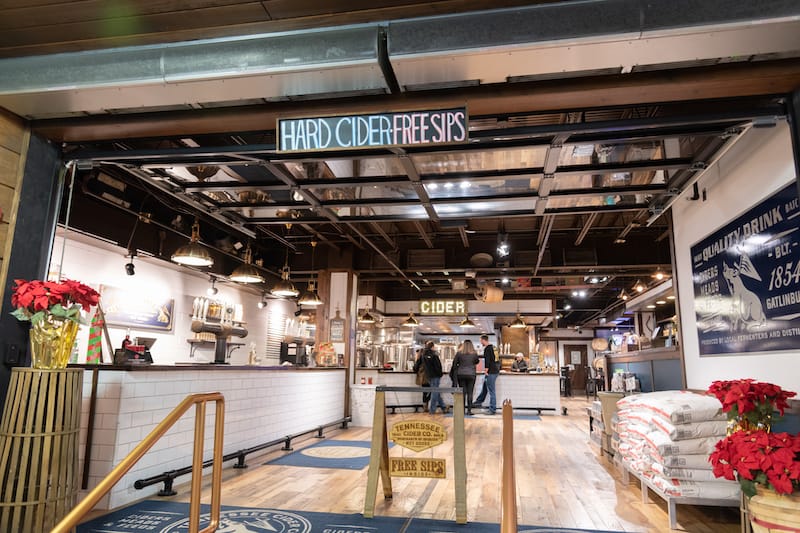 Stop by to try drinks served all day long, choose souvenirs, and take a few southern ciders with you to share with friends and family.
Tennessee Cider Company operates seven days a week, from Sunday to Thursday, 10 am – 11 pm.
20. Play a Round at Hillbilly Golf
Have you ever played golf on the top of a mountain? Open for more than 50 years, Hillbilly provides an unusual golf experience.
A cart carries visitors up the mountain, where two challenging courses are located. You'll explore many typical Appalachian traits like Moonshine stills, wagons, and decorations.
If you're afraid of heights, you may choose a more grounded mini-golf course. The admission fees are $12.99 for adults and $8.99 for children.
Tax isn't included. The operating season lasts from March through November, 9 am – 10 pm, weather permitting. And remember, you'll play downwards.
21. Get Lost in the Amazing Mirror Maze
Finally, an ultimate attraction of Gatlinburg that you shouldn't miss is the Amazing Mirror Maze. Find two great family attractions in the same location: the Amazing Mirror Maze and Circus Golf in Blacklight 3D.
Operating since 2006, this is the largest mirror maze in the area, featuring a spectacular sound and light show. You may enjoy only one attraction or save money by choosing both as a combo.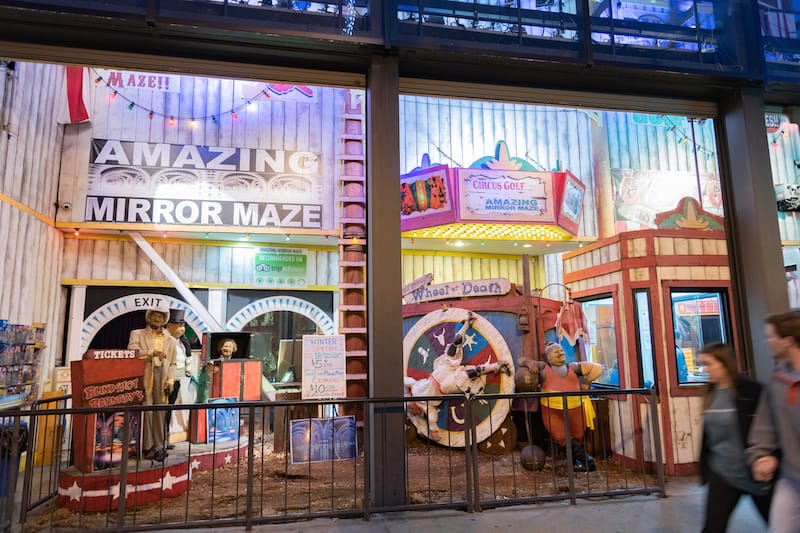 Tickets for Mirror Maze cost $8.75 for adults and $6.75 for kids. The combo price for mini golf and the maze is $10 for all ages.
The attraction is open year-round. Their usual operating hours are 9 am – 10:30 pm in the cooler months and 9 am – 12 am in the summer.
22. Ride the Gatlinburg Trolley
Want an even more exciting way to go sightseeing throughout Gatlinburg?
Consider checking out the Gatlinburg trolley! You can travel back in time on this charming bus and see some new routes throughout the city.
Along the Red Route, you will be able to see all of downtown Gatlinburg's finest, including its malls, restaurants, museums, and more. You will also travel down River Road.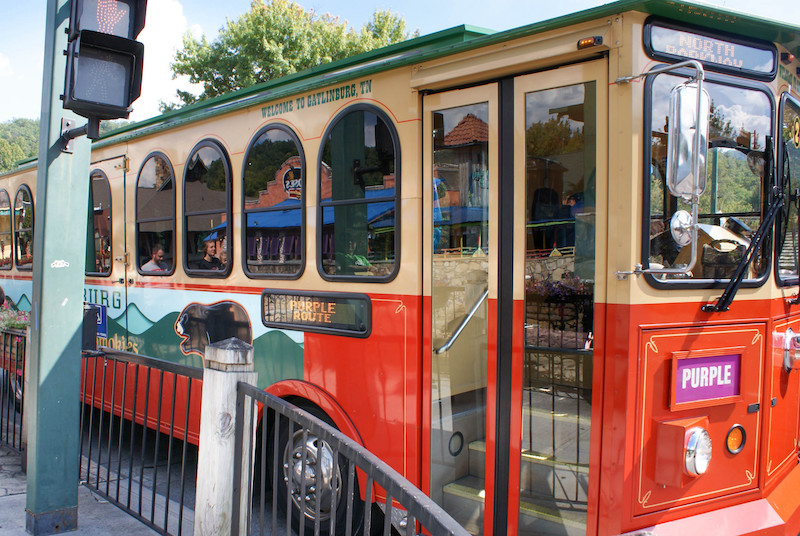 There is also the Yellow Route, which travels throughout Gatlinburg's Arts and Crafts Community, making it the perfect choice for art lovers.
And, if you want to see more of Gatlinburg's nature, consider taking the Tan Route, where you can check out the parks, campgrounds, and Great Smoky Mountains National Park.
23. Watch a Live Comedy at Sweet Fanny Adams Theatre
If you're a fan of comedy, definitely make it a point to check out Gatlinburg's only live comedy theater, the Sweet Fanny Adams Theatre. Here, you will be able to see the vaudeville performances full of dances, songs, and jokes.
The performers often involve the audience in their skits, so you don't have to worry about sitting there in silence!
Whether you want an idea for the perfect family event or you've always dreamed of checking out a vaudeville theater, definitely have this one on your list- and be prepared to laugh a lot!
Address: 461 Parkway, Gatlinburg, TN 37738, USA
24. Go Shopping at Mountain Mall
Love shopping but want something a little different than your usual shopping mall?
Be sure to check out Mountain Mall, which features homemade goods and specialty shops. In fact, some consider Mountain Mall to be more of a tourist attraction than a place where you should go shopping.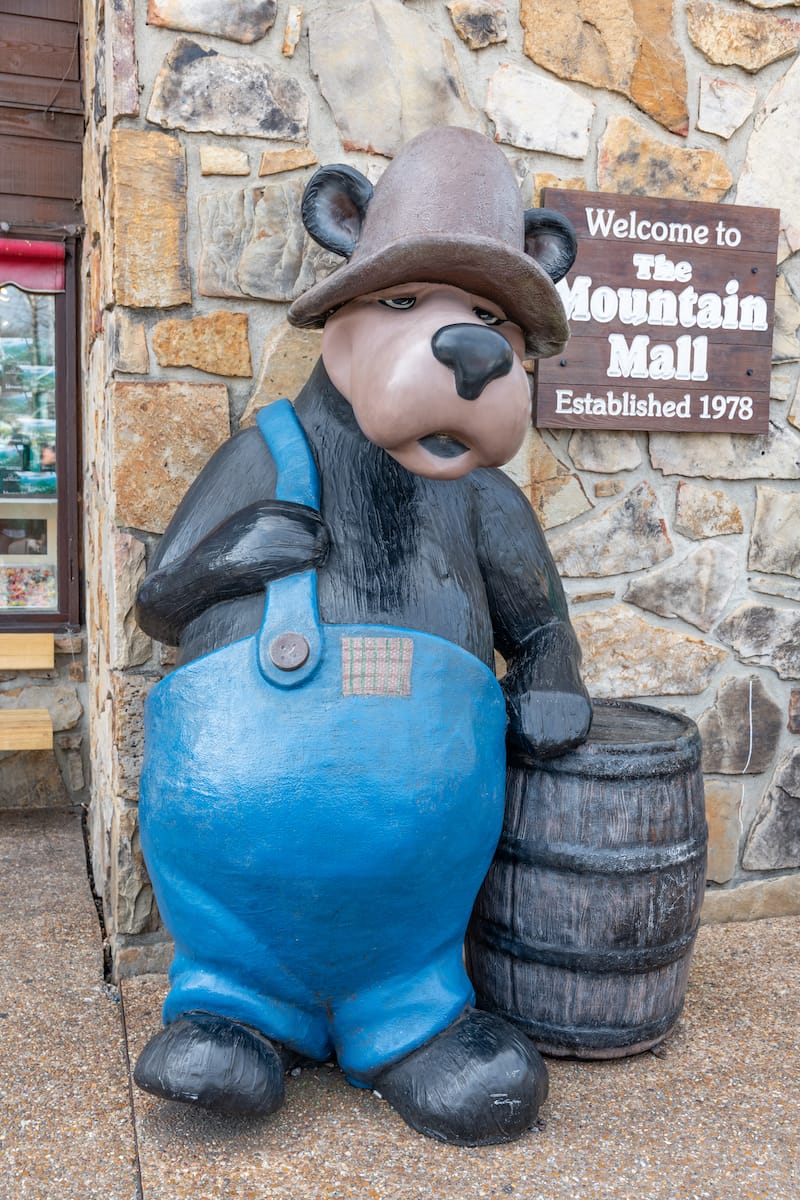 You can take a look at the homemade candy, handmade jewelry, movies, leather goods, books, sports collectibles, original artwork, and more.
The whole mall has a mountain theme with everything from the walls to even the trash cans completely matching the vibe. While shopping, you will also be able to listen to Appalachian mountain music.
Address: 611 Parkway, Gatlinburg, TN 37738, USA
Where to Stay in Gatlinburg
There are plenty of awesome places to stay in Gatlinburg and below are some of the top choices!
Did we miss any incredible places to visit in Gatlinburg? Let us know the best things to do in Gatlinburg TN in the comments! Thanks!
More East Tennessee Travel Guides
Pin this Gatlinburg Things to Do Guide